Two friendly dogs will welcome you to this serene and comfortable retreat center. Ideal as a base to explore the town or the Gila wilderness. Rooms are colorfully decorated and wildlife is abundant. Hike from the house or relax on the front porch.
Set in the hills on the outskirts of Silver City, NM, this peaceful property is home to deer, quail, jackrabbits and hummingbirds. Rooms are decorated with Mexican rugs and mirrors. We are five minutes from the highway that runs through Silver City, and 10 minutes from downtown. You can walk to the Bear Mountain Lodge that has miles of hiking trails. We are 15 minutes from the Continental Divide trail. Silver City is a jewel of a town, full of art galleries, great restaurants and live music.
beautiful quiet area, great for hiking, enjoying wildlife
Everything was just wonderful. Azaima actually helped us with some website booking issues we were having, she helped us find her place by phone once we were close to her place, and she had the tastiest watermelon juice waiting for us. The location, views, bed comfort, linens...... it couldn't have been better. The description was accurate.
julie
2014-08-10T00:00:00Z
Perfect location in silver city. My stay was short so didn't get to take a hike outside the property or enjoy a soak in hot tub. Azaima was very welcoming, super roomy accommodation.
Patricia
2016-04-08T00:00:00Z
We had been hiking for a few days in the Gila Wilderness with not wifi and contacted Azaima through Air BnB in a cafe in Silver City on the day of booking. Azaima responded immediately and was very welcoming and accommodating. She appeared to have a great love of the area and was keen to share it, but we had arrived in the evening and were only staying one night so were unable to make the most of this. The double bed was very comfortable and the house, at the edge of the city, very quiet. We had a bathroom for our own use with a great shower and there was also an adequately equipped kitchen where we were able to heat some food for the evening. All in all a great stay and to be recommended.
Dave & Sadie
2014-05-15T00:00:00Z
Thank you Azaima for a brief but delightful stay!! Heart and Wings is colorful, comfortable, immaculately clean, and ideally situated outside silver city. Clear and helpful communication, privacy, friendly and warm rooms - a great place to stay. I highly recommend the stay, as well as the healing therapies that Azaima offers.
sara
2016-07-18T00:00:00Z
My boyfriend and I came to stay with Azaima in Silver City for our 4-year anniversary. It was our first experience with Airbnb and we couldn't have asked for anything better! Azaima has a beautiful home just outside of the small town with lots of space, surrounded by nature. Our quarters were very much private and we were provided with everything we needed. Azaima also made herself available to help us with anything and everything (dining suggestions, maps/guidance to trails and hikes, she even made us each a fabulous mango drink upon our arrival!) She has two of the friendliest dogs in the world who we had the pleasure of hanging out with. They were a wonderful addition to our stay! Overall I would recommend Azaima's home to anyone seeking a relaxing visit to Silver City. You absolutely will not be disappointed!!
Jennie
2014-09-01T00:00:00Z
Azaima has a wonderful home and the space that we had was perfect. We were welcomed with a warm conversation, dinner recommendations and a yummy mango lassi. This is a perfect home base for exploring the Gila wilderness.
Charly
2016-04-06T00:00:00Z
We felt very welcome and comfortable. We loved the house! Azaima's attention to detail and decor makes her house a wonderful experience. It was quiet and I slept very well. I particularly enjoyed sitting on the covered porch and rocking on the settee.
Susan (Soleil)
2016-06-29T00:00:00Z
Azaima's place is a perfect little sanctuary nestled between some of the most gorgeous views of Silver City. The room and shared space make for a cozy and relaxing stay. She goes out of her way to make you feel welcome while being respectful of your privacy at the same time. I highly recommend staying with her if you find yourself in the area.
Melissa
2015-11-28T00:00:00Z
Art der Unterkunft
Ganze Unterkunft
---
Objekttyp
Wohnung
---
Unterkunft für
2
---
Schlafzimmer
Silver City, New Mexico, Vereinigte Staaten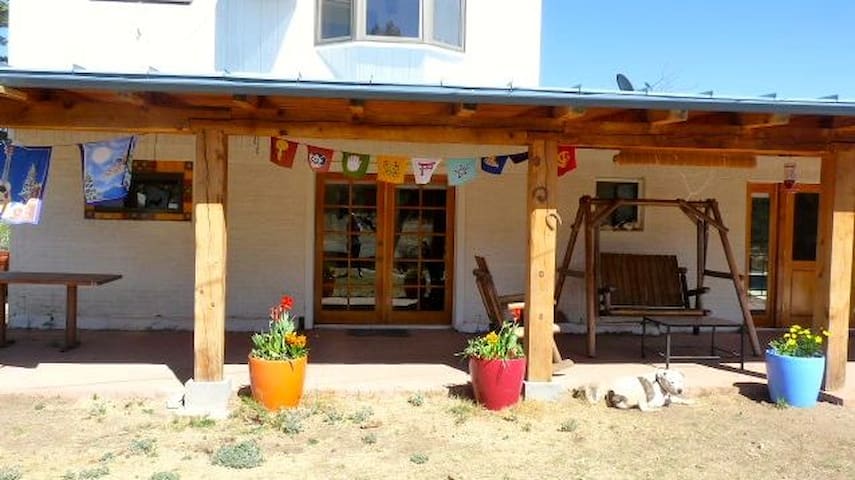 I once listed this as a private room but so many guests tell me it's like an apartment I've switched to that. It's 400 square feet with a private entrance and has everything you need except the kitchen sink and a dishwasher. That's me.
This big sunny (most of the time) apartment and the older house it's built onto sit on six acres on a dead end and are completely private, secluded and peaceful, yet are only four miles from downtown Silver City. Drive another mile and you come to the Gila National Forest with a picnic area and several immediately accessible trailheads. You have your own private entrance and patio, and there are big windows (and country views) on three sides, with a full size bed (and an air mattress available for the intrepid). The bathroom is kind of special and has a giant tiled shower with three high windows, so you're looking at treetops and sky while you soap yourself. There's satellite TV, a desk and wifi, a couple of easy chairs, some interesting books by local and non-local authors and a big old dresser with a fridge, microwave, toaster oven, coffee maker, cutlery and dishes - everything you need to make breakfast and simple meals. AND I wash the dishes when you've used them and put them back clean. Give me a heads up and I'll do my best to accommodate your breakfast preferences. (There's no way to show this on the first page so I have to stick it in here. I list a two-night minimum stay. Should you wish to book for one night only, there's a $15 surcharge, making the price for the night $75.) Half a dozen deer (at least) parade by twice a day on their daily travels, and foxes and coyotes aren't exactly rare. I did once have an enormous steer and two sheep appear outside the kitchen window, but I can't promise that. And if star gazing is your thing, you can sit outside at dusk, watch the moon come up if the timing's right (and maybe a skunk or two glide by - and they really do glide; they're beautiful) and thanks to Silver City's usually cloudless weather, be almost guaranteed a sky filled with brilliant stars - much better than the TV. (One word of warning: Silver's altitude is 6,500 feet - not high enough to cause severe altitude sickness but enough to make your first couple of days here difficult if you're not used to it. It's never bothered me but I've learned from visiting friends the lower oxygen supply can easily tire you out and make you light-headed and sometimes nauseous - nothing that doesn't pass quickly and nothing life-threatening, but nothing you want while you're on vacation either! I've begun to advise anyone who comes to visit to get themselves some ChlorOxygen - Amazon and health food stores stock it - and start to take it a couple of days before they're due to arrive. It's completely harmless - made from English stinging nettles - and will boost your body's red cell production just enough to prepare you for the lower air pressure here. It's worked for all my friends so far, I highly recommend it and should you choose to ignore my advice, I always have some in the fridge! )
Pamela Reeves made my all too brief stay at her peaceful, soothing retreat of a home absolutely wonderful. Her charming New Mexico-style home, filled with artworks, books, personal memorabilia is quite tranquil, suits her authentic self quite well and she made me feel most welcome. My life schedule is often quite erratic and things and events in my life are often very erratic and different than most. Pamela was unfazed at my running late, or snoozing way past noon, or my choice of cuisine. She knows Silver City, and we spent those few waking hours when our paths crossed bagging fantastic bargains at area thrift shops (my car could not fit even another potato chip it was so stuffed with treasures), enjoying cocktails at sunset surveying her property and the mountains beyond, and hours of good conversation and exchanging different points of view, which I value highly. Pamela is quite active (an avid tennis enthusiast), and has led a fascinating life across the USA now and the UK before that. She likes to interact with others or give you your own space (did i mention i sleep a lot!) - or a mixture: she genuinely wants you to have an enjoyable happy stay, and where appropriate, show you her world. I most definitely will be back, maybe at Christmas-time. Thank you Pamela. Love, hugs and all the best, JS from PS (and NYC) I read the many glowing remarks of previous guests, and all are true. I must say though the house, while nestled in some small foothills, does not require any altitude climbing equipment. It's a few steps here and a few steps there, easily accessed by most. One especially important thing that I can concur - take your Chlor-Oxygen pills before you arrive. At 6500 feet the altitude takes a little bit of getting used to - those softgels really do pump more oxygen into your system, and work wonders.
John-Steven
2014-10-19T00:00:00Z
Pamela's property epitomizes everything I truly love about New Mexico. She was amazingly accommodating with my late arrival and a very gracious host. Her separate entrance apartment, which is directly connected to the main house, is cozy, cute and functional. The back porch is a perfect place to drink a cup of tea and take in all the beauty of the high desert. The only recommendation I have is if at all possible arrive in daylight!
Cari
2016-09-21T00:00:00Z
Pamela has created a lovely little spot just a few miles from downtown Silver City! Pamela was a lovely host providing us everything we needed for our two night stay. I had medical appointments in town & found I needed to relax for one of the days. The room was perfect with its soothing colors & beautiful light. The photos do not do the space justice! We would go back in a heartbeat!!
Debra
2015-12-12T00:00:00Z
This is a wonderful spot and well worth the 5 minute drive from town. The room is in a beautiful, peaceful setting, and is self-contained. The host is pleasant and welcoming, and yet she was very respectful of our privacy.
Annette
2015-02-11T00:00:00Z
Staying at Pamela's place was like hitting the jackpot. The house is very cosy and relaxing to stay in, nicely decorated and perfectly located. Pamela was vey helpful and interesting to talk to host. Very candid and direct too which we appreciated. She also let us use her kitchen to cook Christmas dinner two days in a row. Her house is close to Gila where we spent our days. We were very very veeery happy to stay at her place. Have a happy new year!
Dimitar
2015-12-26T00:00:00Z
Pamela was extremely gracious, even though I showed up late and well into the evening. I would recommend that you plan to show up during daylight hours because even though her directions were clear, the semi-rural neighborhood is easier to negotiate in daylight. You will sleep in a well decorated, clean, spacious room with a comfortable bed, without any city noise, and wake up to beautiful views of juniper on rolling hills and can enjoy your coffee on a patio with views to wide blue skies and acres of woods. The shower is huge with perfect water pressure. Pamela was the ideal host, sensitive to my need for privacy or conversation. And she greeted me with home made cheese straws...what could be nicer?
Elaine
2014-10-29T00:00:00Z
We thoroughly enjoyed staying at Pamela's big sunny space. It was clean, comfortable, quiet, private and had lovely views of the surrounding hills. Pamela is a perfect hostess, and the apartment had everything we could have wanted or needed. We will definitely stay here next time we're in Silver City.
Kay
2016-05-25T00:00:00Z
We enjoyed our stay. The room is large. There is heating for the room and a heater in the bathroom as well. There is a private entrance, but right now it is a bit of a climb (for older folks) to get there as the path is a bit steep and not manicured. Pamela did offer to let us come through the front entrance, which is the one pictured. There is a parking space on a cement slab in front. The house is not that easy to find. We went all the way to the end of Village Road, which was way too far, before we called Pamela and got directions. It is really just after the first dip on Village Road. One turns right at the end of the high wooden fence and drives all the way back on a small side road. One of the best parts is the location. It is a mile from Little Walnut Picnic Area in the Gila Forest and one can take a variety of hiking trails from there. The bed is a double bed, which was adequate for us. Some might want a queen bed or a king bed. We did see four deer one morning. The room is bright and sunny. The breakfast was a do-it-yourself affair, which was quite adequate for us. There is a small fridge in the room where Pamela left such things as English muffins, yogurt, milk, orange juice, water, and Coke Zero. There is also a coffee maker in the bathroom. There are plenty of dishes, a microwave, and a toaster oven. Pamela was very pleasant and asked if we wanted anything additional. When we asked for skim milk for cereal and decaf coffee, she got those for us.
ANNIE
2014-03-31T00:00:00Z
Art der Unterkunft
Ganze Unterkunft
---
Objekttyp
Wohnung
---
Unterkunft für
2
---
Schlafzimmer
Silver City, New Mexico, Vereinigte Staaten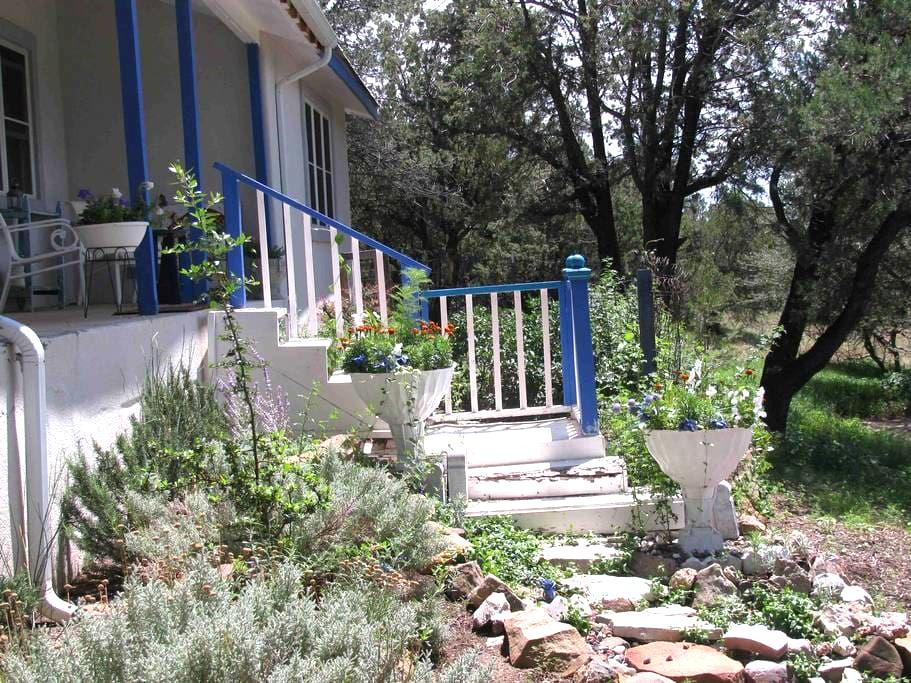 Welcome to our homey southwestern log cabin style, pet friendly apartment. It features a full kitchen, very spacious living room with log beam ceiling and pine paneling, a fireplace and hand-made rustic log furnishings, and includes a queen sofa bed. The large bedroom has a queen log bed. We're located in a quiet neighborhood close to downtown, Boston hill & WNMU. It offers a private entrance and off street parking as well and a fenced and landscaped backyard for guest and shared pet use.
This rustic SW log cabin style space was created in the 50's and was once used as a dance studio. The kitchen has a country feel with lots of cabinets and older appliances and eating space within. The tiled bathroom with shower has a retro art appeal straight out of the 50's. Rooms are large and private and the space is quiet, secure and homey.
The apartment is on the ground level of our home in one of Silver City's older and nicer neighborhoods close to the University. Traffic is light and the neighborhood is quiet and among the safest in the city.
Hey Travelers! If you are in Silver City NM, consider staying with Mike & Becky. They are wonderful hosts and we enjoyed our time with them. Becky shared her baked goodies and yummy yum! Their property has a wonderful view of the valley and Bullard St. is straight down 6th. The accommodation's very comfy cozy and a lot bigger than we expected. Mike & Becky made us feel First Class!
David
2017-02-11T00:00:00Z
Mike and Becky were great hosts and their house is a cozy rustic place, very close to the historic downtown. Overall we had a great experience!
Udaysen
2017-02-19T00:00:00Z
Very pleasant walk-in basement apartment, well furnished, comfortable. Great location on a hill, but close enough to town to walk down. Easy walk to University. Mike and Becky are great hosts!
Sue
2017-03-19T00:00:00Z
This was a great place exactly as described. Mike gave us great tips for walks and you can explore the old mining remains on Boston Hill within walking distance. Very comfortable bed and perfect for travelers requiring two beds.
Anne
2017-02-06T00:00:00Z
Mike and Becky are the perfect hosts, and their apartment is top notch. (If you are very tall or highly allergic to cats, please see the end of this review). First, the apartment. Location can't be beat - a few minutes drive to the downtown arts district, and a few minutes walk to the university. The apartment itself is spacious, comfortable, clean and private. The queen sized bed was comfortable for this insomniac. The living room has a comfy sofa and easy chair, plus a futon love seat and dining table / chairs - plenty of room to relax and enjoy. Access to the rooftop sun room is an added bonus. We were there during the coldest days of winter, and this basement apartment was toasty warm (the beautiful hand-made quilts were an unexpected treat!). Kitchen is clean and well-stocked with pots/pans/plates/utensils. We cooked and used it all. As for hospitality, we were welcomed with a plate of fruit and pastries, as well as very warm hearts and big friendly dogs. Mike and Becky were very responsive with whatever we needed, and eager to be great hosts. We highly recommend Mike and Becky's place! Now the 2 caveats: 1) If you are over 5'11" tall, there is a low beam in the kitchen that you are likely to bump your head against. 2) If you are allergic to cats, note that the owners have cats. We do not recommend this place for people with cat allergies.
Dimitri
2017-01-29T00:00:00Z
Mike and Becky are the best hosts we have ever had and we have had wonderful hosts in the past. They greeted us, gave us a tour of the apartment and left us with fresh fruit, homemade pastries, and gorgeous flowers from their garden. They were very welcoming to our service dog which is not always the case. Their apartment has tons of personality, great WiFi, satellite TV, a full kitchen, and a rustic cabin feel. There is no hotel or motel on the planet that would live up to their standard. They made us feel like we were visiting family.
Valerie
2017-03-14T00:00:00Z
My husband and I enjoyed visiting Silver City and staying at Mike & Becky's place. It is a great location and we loved walking our dogs through the neighborhood and downtown. Becky baked some amazing cupcake-muffins! She and Mike were both very responsive to our requests. They are animal lovers and welcomed our two dogs. The place was larger than I expected with a full living room, kitchen, bedroom and bathroom. The bathroom is very small - an authentic, classic art deco - but small. I would caution anyone over 6 ft tall - the ceiling in the kitchen, bedroom and bathroom is low. We look forward to visiting again.
Sharon
2017-01-03T00:00:00Z
The host canceled this reservation the day before arrival. This is an automated posting.
Marco
2017-01-31T00:00:00Z
Art der Unterkunft
Ganze Unterkunft
---
Objekttyp
Wohnung
---
Unterkunft für
4
---
Schlafzimmer
Silver City, New Mexico, Vereinigte Staaten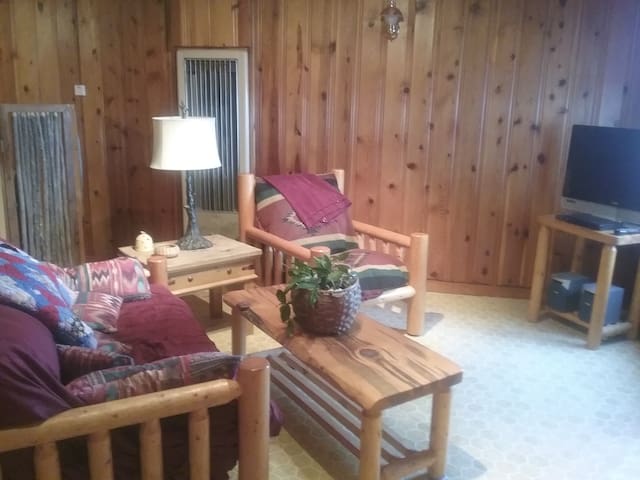 This apartment is near everything downtown Silver City has to offer. Located on the second floor with amazing views in all directions. Very compatible with walking and bike riders. Quiet neighborhood. Fully equipped kitchen. Surrounded by trees
I already wrote all this on the previous page.
Lissa
2016-10-22T00:00:00Z
Gary and Elizabeth are absolutely wonderful hosts! From me arriving slightly later than I anticipated only to be greeted with a warm smile and a pair of keys, to me forgetting a sandwich in the fridge and having to swing back through after I had already checked out to pick it up, everything went incredibly smooth. When I arrived the apartment was clean from kitchen to bathroom to bedroom. There wasn't anything I felt uncomfortable with. It was a safe quiet neighborhood where I felt more than secure. Beautiful views off the front porch pair great with a cup of coffee (coffee maker, coffee, and creamer were all there for my use upon arrival!). Gary also provided insight into the community and offered many recreational and dining suggestions. He responded to any and all inquiries as they arose and no question or consideration went unattended. All of my needs as a tenant were exceeded. The whole stay was flawless. Just the right amount of interaction, assistance, and space. In fact, I was so pleased with the stay that I already booked the location again for another stay in Silver City, NM. Thank-you again Gary and Elizabeth and I look forward to staying at this location again in the future!
Taylor
2016-10-16T00:00:00Z
Gary and Elizabeth were amazing! We had some car trouble during our road trip that delayed our arrival, and they stayed in touch with us the whole time, checking in on our progress and offering advice and encouragement the whole way! They were there to meet us (with their adorable kitty!) when we finally made it, gave us a kind and warm welcome, helped unload the car, and made sure we were settled and comfortable. Perfect combination of friendly & available and professional & courteous, giving us our space but also willing to engage. The place itself was perfect! Super cute, comfortable second-story apartment with everything you'd need. Right in town, and the apartment had maps and brochures with information about the area. Great place to stay, would absolutely stay there again if we find ourselves in Silver City in the future!
Nic
2016-06-19T00:00:00Z
Friendly neighborhood within walking distances of many area attractions, shops, parks, history, sports. Numerous hiking trails around the area. The apartment itself was comfortable and cozy and had all the appliances to cook your own food. Endless sunshine, cool and comfortable nights.
Ken
2016-03-01T00:00:00Z
Gary and Elizabeth are great hosts! They accommodated us when we arrived very late and they were very friendly and helpful overall. Their place is comfortable, clean, and very affordable, which we really appreciated. It's in a great location, walking distance to downtown and to Boston Hill park.
Jennifer
2016-04-15T00:00:00Z
This was a great experience, lovely apartment, great location. Gary was helpful, easy to reach, the apartment was clean, comfortable, with good work space. We hope to stay here again.
Mary Kae
2017-02-28T00:00:00Z
This was the most wonderful place to stay - and I do hope to come back! This is a lovely one bedroom apartment above the garage - very quiet and peaceful. The kitchen is fully stocked with everything you need. Gary and Elizabeth provided some great coffee and milk as well - so that was especially sweet! The bedroom is very comfortable - plenty of space, a comfortable bed, desk, dresser, closet, and some fun books for reading. The apartment is very close to downtown Silver City - a very convenient location. It would probably be about a 12-15min walk to downtown. (I had my bike, so it was only 2minutes!) Gary and Elizabeth are very kind, thoughtful hosts. They were very kind to help me during my stay, were delightful to chat with, and gave great recommendations. I can't more highly recommend this place to stay during your trip to Silver City!
Beth
2016-05-05T00:00:00Z
Even though I arrived later than expected, I was warmly welcomed and felt right at home. The upstairs apt is quiet, lovely, and fully equipped. Thank you so much Elizabeth and Gary for a wonderful stay.
patricia
2016-10-27T00:00:00Z
Art der Unterkunft
Ganze Unterkunft
---
Objekttyp
Wohnung
---
Unterkunft für
2
---
Schlafzimmer
Silver City, New Mexico, Vereinigte Staaten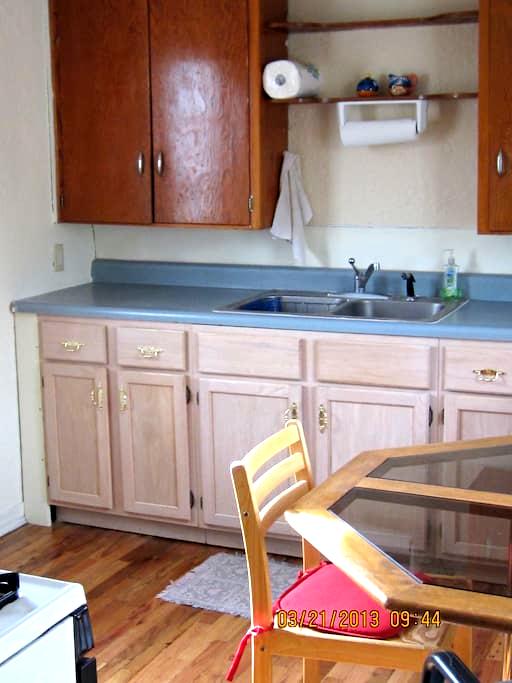 "Inn at the LC".. Stay at the Historic Lyons & Campbell Ranch Headquarters in the well appointed "Gate House", in secluded Gila, NM. Not a "dude" or working ranch, but an Historic glimpse into the legendary million acre cattle empire. Tour the Main House where Cattle Baron Tom Lyons and wife Ida Campbell lived their lavish lives, then relax in the pool, the Historic old saloon, or enjoy the art and music filled Gallery.
The "Gate House" is a newly renovated, well appointed accommodation perfect for a couple, or couple "plus one". King Size four-post bed, Air conditioned, full kitchen, Satellite TV, private bathroom with Jacuzzi. (Two more accomodations will be ready next year.) Once you're settled in, time to check out the Ranch. A New Mexico Historic Site, and on the National Registry of Historic Places, The National Park Service, in their publication "The Cattleman's Empire" described the million acre L & C as "Overshadowing all other ranching operations in the Southwest", and "The L.C. remains as one of the last surviving Great Ranch Houses of the Old West". The Lyons and Campbell Ranch Headquarters is a 60 room, 8 acre, Adobe compound that today includes a 27 room Main House, Saloon, Jail, Wedding Chapel, Theatre, Gallery, Bunkhouse, Bath house with large wood-fired communal Hot Tub, Swimming Pool and Lanai with wood burning brick pizza oven and BBQ. (Bath house, Hot Tub, Swimming Pool and pizza oven are seasonal.) The cattle, cowboys and million acres are long gone. Cattle Baron Tom Lyons' 27 room adobe mansion, lavishly refurnished, remains along with all the outbuildings of the L C Ranch Headquarters. A 501(c)3, your stay will help fund ongoing restoration projects. Donations are tax-deductible.
Although the LC is a destination in itself, the surrounding area has lots to offer from hiking and bird watching to off-road adventures in the nearby Burro mountains and scenic on-road driving adventures, with very little traffic, suitable for family outings or spirited forays through picturesque landscapes in your sports car or motorcycle. The GILA is a beautiful river valley at the base of the Mogollon Mountains and the Gila Wilderness. A true Oasis in the desert Southwest. It is remote and secluded, with 5 seasons, including the delightful late summer monsoons. There is a post office, public library, medical clinic and 3 churches. And 3 miles away in the nearby village of CLIFF there is a gas station with a few very basic groceries. There is one new restaurant, but no grocery, or Liquor stores here! You will need to do your shopping in Silver City, 30 miles before you get here. Wal-Mart and Albertson's, right on U.S. 180 in Silver City, are your best bets. With some advance notice, and a fee, Weekend guests can request a BBQ ($100), or Wood Fired Pizza party by the pool $25/person, $50 minimum. Or do your own BBQ n/c. Your apartment has its own BBQ, or you can use the one at the pool. Your cell phone probably won't work either. If you have Verizon, and stand down by the jail, on one foot, and jump up and down, wave your arm, you might get a signal.....I am not joking, well, maybe a little...
The weekend was great! It was nice to get away and just relax. The saloon and gallery were great places to hangout. The atmosphere was just like an old time saloon. We spent most of our time during the day around the pool. Very nice! Alex and Robin were great hosts, they made us feel very comfortable. The room was really like an apartment. Large kitchen and living room area, nice bedroom and a bathroom with a jetted tub. The compound is an historic ranch it was interesting to learn about the history of the buildings. We will definitely be going back!
Tim
2016-08-15T00:00:00Z
Alex is a wonderful host and makes wonderful pizza. We enjoyed our tour and the history of the area very much. We took a nice walk along the river and even saw some deer. We were quit comfortable in our apartment. We especially enjoyed our short walk to church and meeting some of the local ranchers. Heads up that the wifi is not in the apartment but accessible in the gallery at any time. Thanks!
James
2017-02-20T00:00:00Z
My husband and I stayed at the LC Ranch Gate House over Christmas, and had a great time! We were looking for something off the beaten path where we could explore a beautiful part of New Mexico, relax and enjoy each other's company. We are also dog owners, and it was important that we were able to bring them on our holiday. Alex greeted us right away when we arrived (there were even Christmas cookies waiting for us:), and later gave us the tour of the property, complete with a lot of history about the ranch . Alex and Robin's dogs are super friendly and got along great with ours. The space was comfortable and a good fit for our simple needs. There were a few kitchen things we needed to prepare our dinner, and Alex graciously got us what we needed. If you are looking for a unique getaway in a beautiful and remote place (especially if you like interesting historical places), the LC Ranch is for you!
Mikell
2016-12-26T00:00:00Z
We had a great time at the LC Ranch, it is unlike any place we've ever stayed before. Our hosts Alex and Robin were amazing and made sure we were comfortable and settled in before taking us over to the historical buildings which completely blew us away. Each room that we entered seemed to peel back an onion layer of increasingly interesting artwork and artifacts. When we were done with that we hit the nearby pool which had a great tiki bar that made you feel like you were hanging out on a beach. That evening we checked out the Theater and Gallery where they joined us for music and drinks before finally calling it a night. It's not the Four Seasons but the room itself was charming, clean and comfortable. Any time we were in our room it was always peaceful and quiet. The ranch is a little rougher around the edges than we expected and seemed to be a work in progress, but far more fascinating and fun as well. If you want to see something different and unique then this is definitely the place to stay. Overall we had a blast and have already told our friends to go check it out.
Steve
2016-08-17T00:00:00Z
We had a great time at the Inn at the LC. The drive was beautiful & we were immediately greeted by the friendly Newfoundland, Gunnar and our host Alex. Our "Stanley Steamer" Carriage House was everything it promised. Alex was friendly & very willing to share the history. A great deal of labor & love have gone into preserving the historic site.
Ann
2016-09-02T00:00:00Z
A comfortable, relaxing place to stay in the country with it's own interesting history. Alex is a wealth of information. We enjoyed the time we spent talking with him. He also makes the best pizza I have ever eaten, and he showed me how to make it.
Susan
2017-04-08T00:00:00Z
Art der Unterkunft
Ganze Unterkunft
---
Objekttyp
Wohnung
---
Unterkunft für
3
---
Schlafzimmer
Gila, New Mexico, Vereinigte Staaten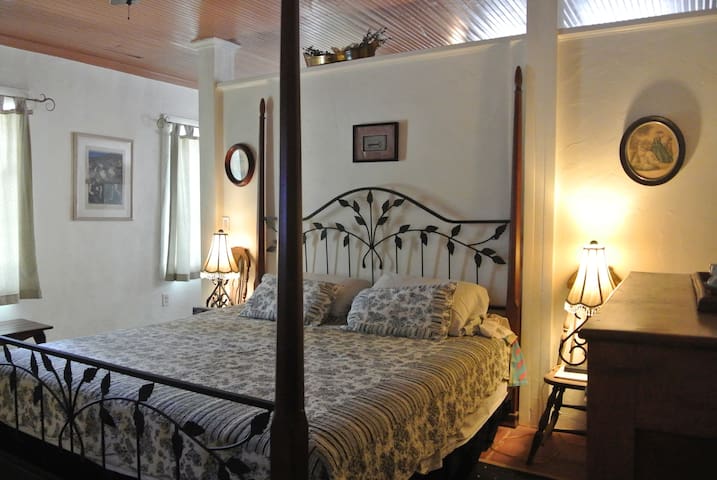 This serene getaway is 5 minutes from Hwy 180 and 10 minutes from downtown. Hot tub, and mountain scenery. It sleeps 5, but can more comfortably and privately fit two or three. Kitchen and dining area may be shared with other downstairs guests.
Huge picture windows reveal an abundance of wildlife in a beautiful mountain setting. Tasteful Mexican decor, hand painted furniture and custom tile work make this a unique destination.
The neighborhood is rural, full of deer, rabbits, quail, hummingbirds and other wildlife. There is an abundance of hiking trails. You can hike directly from the house or drive just 15 minutes to the Continental Divide trail.
Azaima has been very kind to us. We arrived late but she was totally prepared for late arrivals. The house is clean, smooth floors and odorless. The beds were comfortable and the rooms were bigger than I thought. Kitchen has the essentials plus paired with a nice dining room. The bathroom is great! Stronger style showerhead and overall clean. I had a pleasure of getting to know her and as well as the amazing, easy-going dogs.
Aria
2015-05-04T00:00:00Z
The reservation was canceled the day before arrival. This is an automated posting.
Angel
2014-10-11T00:00:00Z
Azaima arranged everything perfect for us and we also have to say thanks to April, she was very kind by helping and advising us. The place is absolutely beautiful and outstanding were the two dogs - as Azaima was not there the dogs were our host ;-) and we were thrilled by staying with them. Azaima allowed us to use here private area as well and enjoyed that very much.
Lutz
2016-03-30T00:00:00Z
We loved staying at Azaima's place! Such a tranquil setting with beautiful views. With directions, it was easy to find and communication with Azaima was seamless. Looking forward to our next visit already!
Kristian
2016-03-28T00:00:00Z
Azamia has a beautiful place right outside of town, but close to it all. The master retreat was all my husband and I needed to spread out and relax while visiting our son at the college. The home was an oasis and we enjoyed the nature and the birds in the morning.
Wendy
2016-04-11T00:00:00Z
This space was a joy to stay in. The property is on the edge of Silver City and was a just 10 minutes to the downtown area. While Azaima was away herself, she provided excellent response and detailed directions by email. Her house sitters greeted us warmly and provided a good overview of the place. The main bedroom was lovely with huge windows and we made use of the foldout couch for a third guest. The space includes a kitchenette with coffee maker, small fridge, etc., which was very useful. A dining area was almost complete and Azaima apologized ahead of time for the work being in progress. I would definitely stay here again.
Nadine
2014-09-16T00:00:00Z
A very beautiful get away in a location that feels removed from the world yet is only a ten minute drive from downtown Silver City. The view from the bedroom is gorgeous - trees and rolling hills - a great sight to wake up to. Restful, peaceful, inspiring. Would definitely return.
Gregory
2015-11-28T00:00:00Z
The magnificent and awe-inspiring place with a lovely view, cozy pad, friendly landlord, and adorable dogs. The very special moment with inspirits energy and unforgettable weekend. Two thumbs up and I must come again.
dean
2017-02-19T00:00:00Z
Art der Unterkunft
Ganze Unterkunft
---
Objekttyp
Wohnung
---
Unterkunft für
5
---
Schlafzimmer
Silver City, New Mexico, Vereinigte Staaten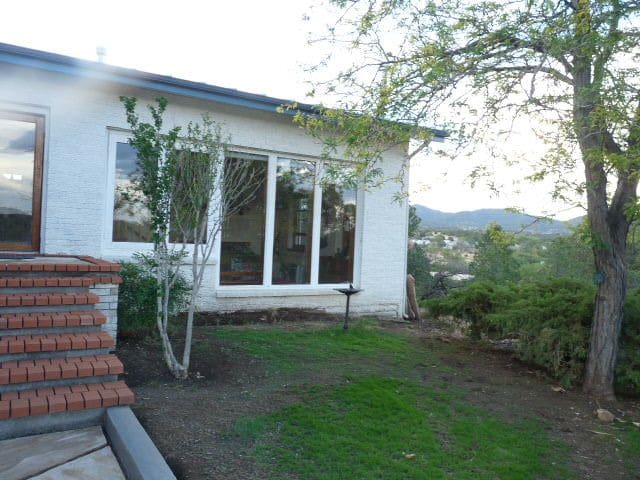 Gib deine Reisedaten ein, um den aktuellen Preis zu sehen. Es können zusätzliche Gebühren und Steuern anfallen.