This is a detached, completely private apartment. It has a full private bathroom with shower and tub, a private keyless entrance, and a kitchenette with a small refrigerator. Entrance: Check-in is easy, because the door is secured with an entrance code that is not reused. No keys to get or return! We send you your code and you can enter at any time day or night without arranging a time for us to give you keys. Privacy: This is a 100% private, detached unit. Parking and Driving: There is free parking available on 30th Avenue or on Dewey behind the unit. 520 is about 5 minutes away, giving you very quick access to either I5 or the East Side. Transportation: There is a ZipCar at 24th and Madison. There are usually Car2Go cars on Madison near by. The bus stop is at E Madison St & 28th Ave E, less than a five minute walk away. Downtown is about ten minutes on the 11 bus. The 8 bus provides quick access to Seattle Center, Capitol Hill, Rainier Valley, and the Mount Baker Link station. Internet: Free internet of course. We *don't* currently have a TV in the unit. Fine Dining: Madison Valley has some of Seattle's best dining. Our favorite reastaurants within a five minute walk are: Luc, Voila, La Cote, and Belle Epicurean (all French), The Harvest Vine (Basque), Cafe Flora (vegetarian), and Jae's (Asian bistro). Fast Food: Pagliacci Pizza is located one block North East on Lake Washington Blvd and Madison. There is also a Pizza Hut (carryout or delivery only) and a Terriaki place on Madison and 28th. Groceries: For groceries Trader Joe's (Madison and 17th) and Safeway (Madison and 22nd) are within walking distance, but be aware they are uphill! Convenience Store: Madison Valley Market (Madison and 29th) is less than five minutes away and has lots of groceries, snacks, beer and wine. Coffee: The Essential Baking Company (Madison and 29th) is a great place to grab a cup of coffee and a snack, or a full meal. Belle Epicurean is also a good place for a quick cup of coffee. Bed: This is an Ikea Hemnes king-sized bed with mattress and boxsprings. Bath: You get a full private bathroom with a soaker tub, shower, and plenty of towels. Kitchen: You have a half-sized refridgerator with freezer in the unit that you can use. There is also a kitchen sink, a microwave and a small (two person) coffeemaker. We also provide a tea kettle, a hot-plate and a small sauce pan. (Although we don't recommend this kitchen for lots of cooking as there is no kitchen exhaust fan.) Safety: This is one of Seattle's safest neighborhoods. Since you're in our backyard, we're around in case you need any assistance. Health & Fitness: Lila Yoga (29th and Madison) is a fantastic yoga studio. Kate's Day Spa (2713 E. Madison Street) is an excellent place to relax, and is open on weekends. Seattle Shambhala Center is a Buddhist Temple and is located two blocks down. It has an Open House (good for beginners) every Thursday evening. Arboretum: The best thing about this neighborhood is the Arboretum. You're less than five minutes away -- just cross Madison. Arboretum highlights include hiking, canoeing and kayaking, picnics, a full soccer court, and enjoying the year-round collection of magnificent flowers, plants and trees. The Arboretum also houses the Seattle Japanese Garden, open from February to November, a 3 1/2 acre formal garden. It features a lake with koi and turtles, community room rentals, tea ceremonies and special events all year round. At the north end of the park is Foster Island, which is an amazing and peaceful place to visit, with pedestrian trails that connect the island to the mainland. Madison Park: Madison Park is within walking distance, although a longer walk than some may want to take. In the summer this park becomes Seattle's access to swim in Lake Washington.
Me and my boyfriend stayed at Julius place only for a night but the whole experience was great!! We got to seattle a little bit earlier than we expected and he accommodated our early check in! The space was perfect, very comfy king size bed and it's very cute and cozy! Love how he responds right away with our requests and questions. The keyless door and private entrance was very convenient. Perfect place to stay and lots of walking distance restaurants! Will definitely stay here again!
Janine
2014-11-11T00:00:00Z
Julius has a great place to offer. His guesthouse is very comfortable, stylish, clean, and functional. My friend Grace and I stayed there one night after we ran a half marathon and wished we could have stayed longer. Thanks Julius!
Morgan
2015-01-13T00:00:00Z
The description was exactly what I expected. Very clean, quiet, and a very comfortable bed. Modern and decorated nicely. The location was good for us, near where my daughter and family live. Close to and in walking distance to good restaurants. Near the Arboretum for walking or cycling.
Rhonda
2015-05-27T00:00:00Z
The second part of our eight night stay. We will certainly return. All good things to say about this place. Thank you.
John
2014-09-24T00:00:00Z
Excellent place to stay, looks just like the pictures and was very cozy. Check in and out was very easy and the place had everything we needed for 2 nights. There are even lots of books to read! Would definitely stay here again.
Jonathan
2015-11-28T00:00:00Z
The stay was very quiet and private. The room was well appointed but would benefit from a trash can in the bathroom.
Jill
2015-09-10T00:00:00Z
Julius was very responsive and hospitable. His place was comfortable, super clean and adorable! I loved how you can open all the curtains and let a lot of the sunlight in. Everything you needed was provided, including a ton of reading material. You could spend an entire day just enjoying the quietness and getting lost into one of his books. Parking was easy and convenient and his place is located in a great area.
Marigelle
2015-06-18T00:00:00Z
We had a great stay, clean, cozy and quite. A great location with easy access to the city and lots of stuff within walking distance.
Jackson
2016-11-06T00:00:00Z
Art der Unterkunft
Ganze Unterkunft
---
Objekttyp
Haus
---
Unterkunft für
2
---
Schlafzimmer
Seattle, Washington, Vereinigte Staaten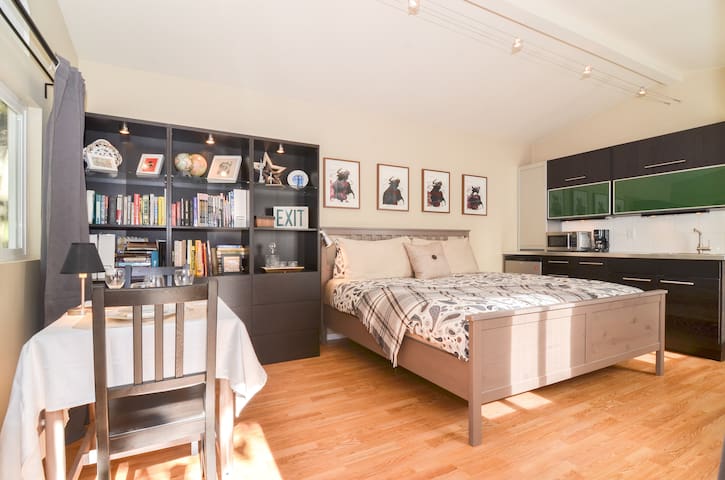 For travelers who are passing through town short-term and like a rustic cabin vibe in a great city location. Features: Futon pull out double bed, twin single loft bed, toliet & kitchette, but note: No bathing facilities available on site. Welcome!
This space has a lot of funky charm and is in a great part of the city. The room is cozy and a bit quirky with a rustic/self built vibe as we inherited the space (for example, the walls are simple paneling) but if you like its charm like we do, you will always have clean sheets, fresh duvets and coffee. You can have your coffee on the roof to see the tips of the skyscrapers while listening to the collection of birds that seem to like our yard! We hope you will love this place so please do not book just because it "will do for the price." Not everyone likes ladders, futons, old wood wall paneling or lack of a shower, but some people love cozy and fun and will truly resonate with our offering as they travel like we do! We love people to be happy and feel safe. There is a toliet is in the room with a curtain and half wall dividing it from the rest of the space, but no solid door. There is a single foam bed in the loft for those that are comfortable on a loft ladder. The futon in the main space is a pull out that could fit two people and is comfy. I set it up with clean sheets and bedding always. It will take up most of the room, so if you are staying more then a night, you may want to push it back to have a sitting space as there is a small table and two seats for eating space and a kitchenette, but no drawers for clothes..though we have lots of hooks and a shelf- if you have large wheel suitcases it will be possibly too tight...I offer all this to be upfront so you will enjoy your stay if you select the Zen Loft :) The wifi password for the zen loft is hulahoop :)
Ravenna is a wonderful neighborhood with an extemely good walking score. You are only a few blocks from so much! Less than 10 minutes walk and you are walking around Greenlake, or at Ravenna Alehouse, Zeeks Pizza, Ravenna Park, Third Place books, you name it! There is so much in our area to enjoy! For drivers, you are just 10 blocks from 1-5 and 5 minutes drive to the University District and 10 minutes to areas like Phinney, Fremont and the Woodland Park Zoo. In the city, but without the traffic, noise or high rises.
Vielen Dank für einen warmherzigen Empfang, unser Sohn hat die Zeit mit Euren Jungs sehr genossen. Wir hatten eine tolle Zeit in Seattle und hoffentlich sehen wir uns wieder. Viele Grüsse und Danke für alles! Eine super Übernachtung und genau wie beschrieben.
Pia
2016-05-07T00:00:00Z
Lara and her cabin were great. Exactly what we wanted. My son and I were doing a museum tour for a couple of days and this was a perfect man cave. Thanks Lara and family!
Jeff
2016-04-01T00:00:00Z
Lara was very nice and accommodating. The space was peaceful and quiet. Just what I needed.
Jessica
2017-01-20T00:00:00Z
The description of the zen cabin matched its reality perfectly. The only surprises were positive, charm of the setting, the magic of lanterns and fairy lights guiding my way back to the front door after an evening with friends and the total coziness of the interior. Lara made me feel welcome and helped me find my way around while giving me my space which I needed after a busy day of meetings. She is super friendly and helpful. I'm a tiny house aficionado and this was my first overnight stay in what is essentially a tiny house so I was completely charmed. If you are planning on staying more than overnight the lack of a shower is a draw back but for me it was perfect. I have a husband and daughter and I could envision this working for a family with one child who wanted a weekend in the city. (Provided you don't mind being very cozy) There is a mini kitchen that looks like it would work for breakfasts and a simple lunch or dinner. Really really nice.
Nanda
2016-06-02T00:00:00Z
Lovely "little" place, a bit tight but fun. Wifi wasn't working which was a bummer but other than that nice for a quick in and out. Not a place to spend much time but perfect for on the go visitors.
Lina
2016-05-30T00:00:00Z
The Zen Cabin was cute and comfy -- we had so much fun there! There were three of us and we had no problem flitting around in the space. Made for a cozy get together at a great price!
Debbi
2015-05-16T00:00:00Z
Lara is a delight and made us feel comfortable from initial contact. Communication was very responsive. The cabin was exactly as described (flexibility & balance are assets when clambering over beds and ladders). We had a refreshing sleep -- deep and quiet, and awoke to bird song. Next time we'll bring more things to amuse us, as there's no TV. We enjoyed the garden, the rooftop view, and Lara's tolerance of our laughter.
Jan
2015-08-25T00:00:00Z
This is a great space to rest and recharge while exploring the neighborhood. Lara is very delightful and accommodating. I was extremely comfortable and felt very welcome.
Rebecca
2016-03-19T00:00:00Z
Art der Unterkunft
Ganze Unterkunft
---
Objekttyp
Andere
---
Unterkunft für
3
---
Schlafzimmer
Seattle, Washington, Vereinigte Staaten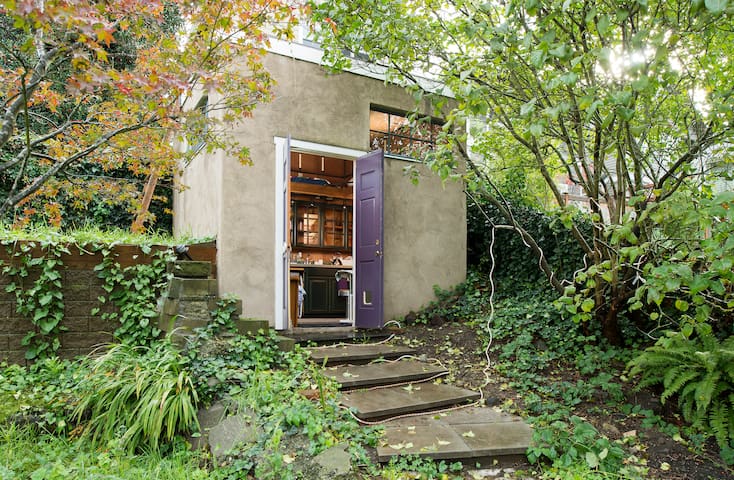 Our guest studio is in a detached guest house behind our main house. Guests enjoy the privacy this allows. We are located in a quiet upscale north Capitol Hill neighborhood, quickly accessible to Capitol Hill's many restaurants and nightlife. We have free off-street parking for one guest car (with prior notice). There is no additional cleaning fee.
We kindly request a two night minimum. Since we are not a commercial business, we encourage you to have a full profile and a photograph of yourself with your profile. We appreciate knowing a little bit about you and the reason for your visit. This is especially important to us if you do not have reviews from other hosts. Thank you for your understanding. The "Blue Door" Guest Studio is a self-contained two story loft/ studio located in one of Seattle's most prestigious neighborhoods, North Capitol Hil. The "Blue Door" is a very special, comfortable and private space that is connected to our detached garage. In its entirety, it is about the size of a hotel room but divided into two levels. The sitting room is on the ground level along with the bathroom. The ground level private entrance opens out to a beautiful shared courtyard with the main house. A very comfortable queen sized bed is on the second level. In the bedroom you can enjoy a 32" flat screen TV with cable. The bathroom in the studio has a shower. Bed and bath linens, soap, shampoo and conditioner, and a hair dryer are provided. The guest studio does not have a kitchen nor do we permit the use of a BBQ (due to insurance reasons) but the studio does come with wireless internet, a small refrigerator, a microwave oven and off street parking. Please note, even during summer months the temperature most evenings in Seattle is cool and so most Seattle homes are not air conditioned. The guest studio is not air conditioned but does have a ceiling fan and good cross ventilation. North Capitol Hill is known for its fabulous location in Seattle. We are just minutes away from Capitol Hill's hip commercial areas, as well as from both Downtown and the University District. Our home is a two minute walk to the bus stop for the #49 bus. On Capitol Hill, we are a seven minute walk to Volunteer Park. You will find numerous Capitol Hill cafes, coffee houses and stores located in both the 15th Avenue E. commercial area and the Broadway/Pike & Pine commercial area; each about a 20 minute walk from the studio. If you are not into walking and public transportation, you will appreciate your private off-street parking space provided at no extra charge. We do not permit smoking inside our guest studio or in the guest studio doorway; however guests are welcome to smoke in the courtyard. Although we have dogs, we do not allow pets in the guest studio. The studio is ideal for one person or a couple. There is only one bed. Our guest studio is not set-up to be toddler or child friendly. Our studio may not be suitable for guests who have difficulty with stairs. The "Blue Door" Guest Studio is a fun creative space in an excellent neighborhood. We look forward to hosting your visit!
North Capitol Hill is a quiet upscale neighborhood where you will see people walking, running, bicycling, and out with their dogs 12 months of the year. Capitol Hill's Volunteer Park, with its Victorian Glass House, Asian Art Museum, and views of downtown Seattle and Elliott Bay is near by. Our neighborhood is approximately one mile from the commercial areas of Capitol Hill where you will find restaurants, coffee houses, stores, pubs and bars.
DEUTSCH: Sehr freundliche, unkomplizierte und unauffällige Gastgeber. Die Unterkunft liegt mit Capitol Hill in einer sehr schönen Gegend von Seattle in der Nähe des East Broadway. Zum Zentrum fährt ein Bus in 10 Minuten, aber auch zu Fuß kommt man überall bequem hin. Vom und zum Flughafen dauert's etwa eine Stunde. TIPP: Nehmt kein Taxi...kostet wahnsinnige $60. Bahn und Bus in Summe nur $7. Das Zimmer war wie erwartet sauber, ausreichend groß für 2, aber im unteren Bereich etwas kühl trotz Heizlüfter. Das dürfte aber im Sommer kein Problem darstellen. Erwähnenswert sind die Kühlgetränke, die uns zur Verfügung gestellt wurden, die für unsere 3 Nächte ausreichend waren! Top Service! Alles in allem ein gelungener Start unserer Westküstentour...gerne wieder. ENGLISH: Very friendly , uncomplicated and unobtrusive hosts. The property is located at Capitol Hill in a very nice area of Seattle near the East Broadway. The center is reached within 10 minutes by bus, but also within walking distance one can go to anywhere in Seattle easily. (we like to walk, which seems unusual in America ;)) And from the airport it takes about an hour. TIP: Don't take a taxi ... insane costs $60. Train and bus in sum only $7. The room was as expected clean, big enough for 2, but at the bottom a little chilly despite heater. But that should be no problem in summer. Worth mentioning are the cooling beverages that have been made available to us, which were adequate for our 3 nights! Top Service! All in all, a good start of our West Coast Tour...See you next time.
Stefanie
2015-05-06T00:00:00Z
Maisonetteartige Separate Unterkunft , welche sich auf demselben Grundstück befindet wie das Haupthaus der Gastgeber . Sehr großzügig geschnitten und sauber. Sichere, wohlhabende Gegend ( man kann um 10p.m. Auf der Straße unbesorgt spazieren gehen ) , Spitzen Busverbindung nach downtown (15min) , 20min mit dem Auto zum Airport. Craig ist nett, gut strukturiert und zuvorkommend . Fazit : Top Unterkunft allein oder als Paar in einer sehr sicheren und schönen Gegend mit super Verkehrsanbindung Nach downtown. eher nicht Kinder geeignet , keine koch Möglichkeit .
Jim
2015-05-03T00:00:00Z
Wir hatten einen wunderbaren Aufenthalt im Apartment von Craig und John in Seattle. Es ist wunderschön gelegen nahe dem Stadtzentrum, top ausgestattet und Craig, der uns in Empfang genommen und das Apartment gezeigt hatte, war super freundlich. Ich kann diese Unterkunft nur weiterempfehlen - sie ist ein Bijou!
Olivia
2016-09-05T00:00:00Z
Wir hatten zum Start unserer Reise zwei Übernachtungen bei John und Craig gebucht. Der Kontakt war sehr professionell und sympathisch. Der war für die Verhältnisse in Seattle gut. Bei unserer Ankunft haben wir John und Craig und ihre drei lieben Hunde kennengelernt. Die Unterkunft war ein separates Studio mit Loft-Charakter. Alles war sehr sauber und nett eingerichtet. Das Bett war super bequem. Der Kühlschrank war sogar mit Getränken für uns eingerichtet. Und als absolutes Highlight waren die beiden auch noch so nett, uns am ersten Abend zu ihrem Lieblings-Diner zu fahren. Insgesamt super Erfahrung. Immer wieder gerne zu John und Craig!
Harald
2015-07-10T00:00:00Z
Craig showed us around when we got in and we spent the next two days enjoying their adorable studio. The place was very cute and just like the pictures. Loved our stay and hope to return!
Laura
2015-07-26T00:00:00Z
This Airbnb was perfect! John and Craig were extremely helpful and brilliant communicating information before the stay, and also during our visit. The apartment was a great size for two to share and beautifully decorated. A great location with off-the-street parking making it perfect. Would definitely recommend.
Thomas
2015-07-24T00:00:00Z
Place is just as pictures indicate - compact, stylish. Bed is very comfortable. The place is very "light" - with the skylight and the frosted windows in the bedroom the light does come in very early in the summer (like 5am) so if light wakes you up you might bring something. Great host, on time, place is spotlessly clean. If you are someone who rents "entire homes" on airbnb because you prefer to cook instead of going out do note this place does not have a "kitchen" per se, just a microwave and small fridge (as you can see from the pictures). The courtyard outside the place is wonderful, a great place to eat or work or just relax. Internet speed not the fastest while I was there but adequate for email, etc. just not so much for streaming. This area of Capitol Hill is quite beautiful, an easy walk to Volunteer Park - grocery stores and/or restaurants are a much longer walk or bus ride so the place is probably best for those with a car (as I had).
Christopher
2015-06-14T00:00:00Z
The studio is quiet and comfortable with complimentary beverages provided. The bed is wonderfully comfortable and inviting. The location is excellent with a bus stop just down the street and a nice cafe just a few minutes down the street. I would absolutely stay here again and recommend it to anyone coming to the area in need of a place to stay.
Jean
2011-10-17T00:00:00Z
Art der Unterkunft
Ganze Unterkunft
---
Objekttyp
Haus
---
Unterkunft für
2
---
Schlafzimmer
Seattle, Washington, Vereinigte Staaten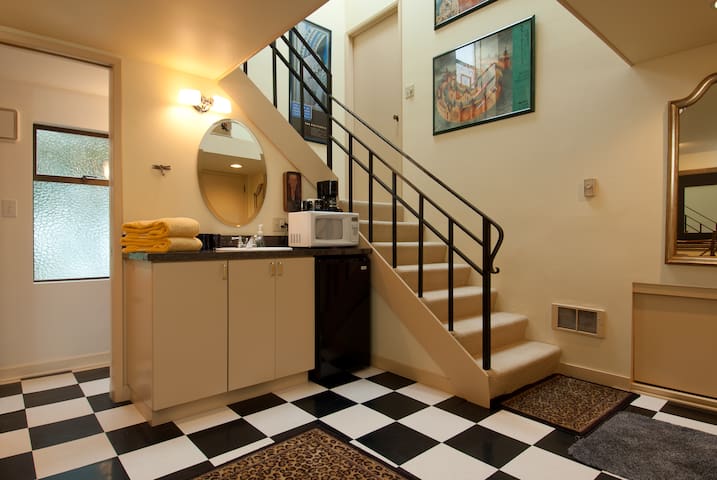 Beautiful apartment in historic Capitol Hill building. Rooftop view of the city. Walking distance to bars, restaurants, grocery & transit. Clean, efficient kitchen, hardwood floors, bathroom with clawfoot tub, queen bed and stylish modern furniture.
A cute studio with a bedroom nook that fits a queen bed, (bed has high quality pillows and 1200 thread count sheets!).
Welcome to your classic NW urban experience located in Seattle's most vibrant neighborhood. In walking distance (95 walking score) to restaurants, classic local coffeehouses or enjoy the panoramic views of the iconic space needle from the open rooftop.
Matthew war ein toller Gastgeber! Hat stets auf alle unsere Fragen innerhalb kurzer Zeit mit hilfreichen Kommentaren und Empfehlungen geantwortet. Die Wohnung hatte alles, was die Seele begehrt, inkl. Duschmittel, Badetücher, Kaffee etc. und Dachterrasse mit Sicht auf Downtown. Alles top, würde dieses Apartment wieder buchen! Thanks Matthew!!
Ewa
2016-08-16T00:00:00Z
Die Wohnung war echt super. Sehr schön und modern eingerichtet mit Allem was man so braucht. Matthew haben wir zwar nicht persönlich getroffen, doch es funktionierte alles sehr unkompliziert und war dementsprechend auch nicht nötig. Das Quartier ist ein wenig ausserhalb Downtown, hat jedoch viele süsse kleine Restaurants und Läden. Zu Fuss ist man innert 20 Minuten in der Stadt, aber es hat auch einen Bus der regelmässig fährt. Wir würden das Apartement sicher jederzeit wieder buchen, wir haben uns wohl gefühlt und es hat uns an Nichts gefehlt!
Fabienne
2016-10-11T00:00:00Z
Matthew was an amazing host. His apartment is just how it looks in the photos online and BETTER! The apartment is small and quaint, great for a couple or 2 friends. He had everything we needed (URL HIDDEN) shampoo/conditioner, iron, hangers, full length mirror, mini fridge, stove, even complimentary coffee, tea, granola bars and oatmeal. My friend and I were so impressed with how well his place was (URL HIDDEN) stylish! We also loved the rooftop access. Great to watch the sunset with a bottle of wine. This place is 5 stars.
Ashley
2016-08-02T00:00:00Z
We are so pleased with our stay! The place is tastefully furnished and Matthew has supplied little thoughtful things like toothbrushes, crumpets, and teas for his guests. He was even there to show us around the unit when we arrived. He definitely made our 3 nights away from home very comfortable!
Yayitsshouaa
2015-12-20T00:00:00Z
We had an excellent stay! Clean and welcoming, plus close to everything. We couldn't have asked for more.
Brenna
2016-06-11T00:00:00Z
This vintage apartment is a real jewel. Matthew has such taste in furnishings and decor. We so enjoyed this place and the well-stocked kitchen. It is quite amazing what he has accomplished in such a small space. Everything went so smoothly from start to finish. Highly recommended!
Joan
2016-04-15T00:00:00Z
The Hampton Court was a wonderful base for my visit to Seattle. And as a single female traveler, I always felt safe in the building and in the Capitol Hill neighborhood. Matthew was a very gracious host: prompt with communications, and gave great ideas for lesser known places to visit within walking distance. The apartment was nicely furnished, cozy and had everything I needed for my urban oasis: a comfy bed, high-end bath products to instant oatmeal and Tazo tea to start my day. The views from the rooftop of the Olympics and of the Space Needle really brought the authentic Seattle experience. I would recommend this place to friends.
Frances
2015-11-30T00:00:00Z
Great place! I really felt like I was a local living in Capitol Hill. Close by lots of restaurants and easy to get to other parts of Seattle! Highly recommend!
Andrew
2017-02-24T00:00:00Z
Art der Unterkunft
Ganze Unterkunft
---
Objekttyp
Wohnung
---
Unterkunft für
2
---
Schlafzimmer
Seattle, Washington, Vereinigte Staaten
This artistic 1-bedroom apartment on the ground floor of a classic 1931 home is designed for travelers who appreciate a quiet oasis in Seattle's urban Central District neighborhood. Private entrance with key code entry. Kitchenette. Full bath. WiFi. Laundry. Magical garden! Walk to cafes, p-patch garden, restaurants. Steps to buses (#2, 3, 8, 48) to downtown, Pike Place market, Space Needle. Free street parking, 100% natural green clean, fragrance-free home. 5% donated to local charities!
My guest space is a fully furnished one-bedroom basement apt with a full bath, living room and small kitchenette with your own private entrance and access to a tiny magical garden. Quiet urban retreat with music, books and maps on Seattle parks and neighborhood local hot spots (Cortona Cafe, Katy's, St. Clouds, Hi-Spot), wifi, one bicycle, popcorn, chocolate, coffee, tea and snacks provided. Walk 1-3 blocks to 4 buses. On street parking is free. Sales tax included. A tiny Notebook laptop with a DVD player is provided for watching movies. 5% of all proceeds are split between two community agencies: - The Urban Rest Stop for the homeless in Seattle and - Coyote Central, an innovative Central District Youth Arts organization
Foot friendly with lots of community gardens, called p-patches! I am in a neighborhood called the Central District (locals call it 'The CD') between the fantastic local eateries and shops in nearby Capitol Hill and Madrona 'hoods.' Like many US cities, the CD neighborhood has both has million dollar homes as well as a homeless population.
Julie war super nett und zuvorkommend. Sie hat regelmäßig per Airbnb Message nachgefragt ob es uns gut geht und ob sie noch etwas für uns tun kann. In der Unterkunft waren für alles und mehr gesorgt. Auch Flyer von Seattle und Umgebung, ein Laptop, DVDs, Bücher stand bereit. Außerdem gibt es einen Ordner mit FAQs, Karten, Buslinien, nächsten Restaurants, Coffe Shops und Supermärkten. Julie hat sich sehr viel Mühe gegeben, damit ihre Gäste alles haben was sie brauchen und sich wohl fühlen. Eben ein richtiger Cozyspace :)
Peter
2015-09-26T00:00:00Z
Julie's guest apartment is cute, clean, comfortable, quiet, and centrally located. Julie is a pleasant, easy going hostess, provides snacks, and cares about your comfort. The place is reasonably priced, parking is readily available, and I would highly recommend it as a hotel alternative.
Amanda
2012-02-10T00:00:00Z
The accomodation was so amazing. Julie was absolutely lovely, and helpful in every way. The location was perfect, and the unit was so comfortable, and felt like home. I recommend this place to everyone. Its extremely good value for the cost, and I promise you wont be disappointed. It's worth it! I will definitely be back again, it surpassed any of my expectations. Thank you Julie!
Leilani
2012-09-01T00:00:00Z
Apartment was as shown. Julie (host) is very accommodating with requests and helpful. Great to have use of washing machine & dryer. Apartment very comfortable and quiet neighbourhood. Access to public transport easy and close. Information avail in apartment. Highlights were Lunch at the Space Needle revolving restaurant (includes observation deck access), Chihuly Garden & Glass & Pike Place Market. Lovely stay in Seattle.
Julie
2014-09-29T00:00:00Z
Enjoyed my stay very much felt welcome. Highly recommended, it was everything I expected based on her posting and Julie's feedback was immediate. Located in a very safe and centrally located area with easy parking right in front of the door. It definitely was very cozy, loved the electric fireplace.
Cheryl
2016-02-10T00:00:00Z
We loved our stay with Julie. She offers a cozy, private space with lots of nice extras: shampoo/conditioner or a toothbrush/toothpaste in case you forgot, popcorn, easy connection to wireless, fresh flowers on the table, the kitchen was adequately stocked with utensils for cooking and information about local access to transportation. She is a short bus ride from downtown Seattle in a quiet community. It was perfect for our needs. Our son came by to see our space and will recommend her to others coming to visit Seattle. We will definitely be contacting Julie again when we return to Seattle. Julie is a gracious host.
Beth
2011-09-01T00:00:00Z
We arrived earlier than check-in and Julie was able to meet us. Great location! We walked to everything. Julie checked in often to make sure we were doing alright. The bed was super comfy and shower was amazing! I would recommend Julie's place to friends.
Maurine
2014-09-16T00:00:00Z
This was our first stay at an Airbnb and it was absolutely wonderful! Julie's place is quiet and cozy and was perfect for our long weekend stay. Julie provides everything you could possibly need and is a quick message away if you end up needing something (we did not). Her place is a convenient Lyft, bus, or even walk to many of the landmarks around Seattle. We will definitely be back! Thanks Julie!
Samantha
2017-02-20T00:00:00Z
Art der Unterkunft
Ganze Unterkunft
---
Objekttyp
Haus
---
Unterkunft für
3
---
Schlafzimmer
Seattle, Washington, Vereinigte Staaten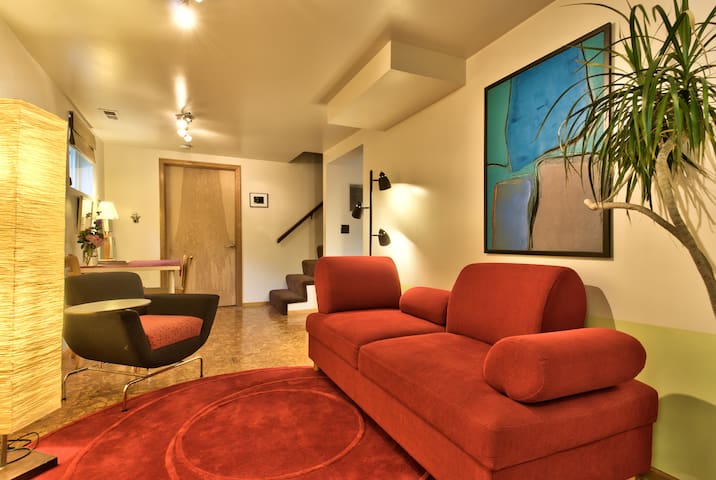 Spacious and vibrant studio apartment in a sweet 1902 Craftsman house, with loads of amenities. Read the reviews, look at the photos, and book it. Sleeps 4, with lots of room to spare. Really. It's almost 1000 sq ft! You can spread out and still have room to dance! This is flat out one of the coolest Airbnb's in the Emerald City!
"Dreampop Studio" is a big, bright open space with gorgeous fir floors and a cool pop art, retro vibe. Includes a big kitchen with a sunlit bistro area, a full bath w/ a cozy claw foot tub and shower, a dining area, living room, and lots of sleep options for up to 4 guests with a comfy queen bed, two airbeds, and two sofas. Also includes a washer/dryer and speedy wi-fi, + a 40" flat screen television.
We are just one block from dozens of quaint, wonderful, and award-winning restaurants, bars, coffee & tea shops, and grocery stores... everything you want is around the corner, and then you get to come home to this quiet, amazing studio apartment, tucked into the lower level of our charming 1902 Craftsman bungalow. All the cool kids hop a 2 minute Uber (or flat 15 min walk) to the Pike/Pine corridor where you'll find approximately 3 million restaurants, shops, galleries, craft beer, and weirdos (and i mean that in a good way). Volunteer Park, with the Asian Art Museum, The Conservatory, and the historic brick Water Tower (with observation deck) is just a 10-minute walk north. The house itself is on a serene, tree-lined street full of classic Craftsman homes... this is truly the perfect walking, shopping, and dining neighborhood!
I traveled to Seattle to escape for a brief, writerly weekend, and absolutely adored this place. The neighborhood is quaint and quiet, within blocks of restaurants and shops (and delicious tea and coffee!), and a brief jaunt to bus lines, but also far enough from the buzz to enjoy the stillness of a cute residential neighborhood. The apartment itself is fantastic—spacious, spotless, inviting, and cozy. There's a full kitchen for those who'd prefer to venture to the nearby grocery store and prepare some meals at home. The heated floor is an indulgence, and the artwork (including a full mural) really brightens the place up. I also appreciated having a separate entryway so I could come and go without having to bother my hosts. Scooter has done an amazing job with this space. He is also a superb host, who kept in contact with me prior to and throughout my visit to make sure I had everything I needed. His knowledge of and appreciation for the neighborhood is extensive, and his hospitable nature genuine. He clearly takes pride in this endeavor, and sincerely appreciates his guests. Not to mention that he's an interesting person with whom I shared some great conversation! I would absolutely stay at this spot again, and wholeheartedly recommend it to anyone looking for a private, cozy spot to get some work done or just to be in the heart of an awesome Seattle neighborhood.
Candace
2015-04-17T00:00:00Z
Thanks for having us Scooter and Jeff (not to mention Bart). Capitol Hill is an awesome location with a great sense of community. Jeff was helpful with local info and great communication prior to arriving. Thanks again
Gretchen
2014-05-22T00:00:00Z
Oh Scooter... What can we say about him that hasn't already been said? Scooter was a phenomenal host and the space was even cooler in person that it looked in the pictures (and that's saying something). It was immaculate, cozy, and we immediately felt right at home. The neighborhood was also excellent and Scooter gave us an awesome walking tour- we definitely recommend taking him up on that. All around an awesome stay with an awesome host!
Kailey
2014-09-20T00:00:00Z
I cannot say enough about the amazing experience my boyfriend and I had at Scooter's Dreampop Studio. The studio itself is furnished with everything one may need and if it isn't I'm sure the wonderfully helpful Scooter will try to get it. It is the perfect place to escape the rain and cozy up. The location is ideal. It is so close to all the best that the city has to offer (we walked to most areas or took the bus, at the corner of the block). There was nothing like coming home from restaurants and bars just a block away. The host. Oh man, the host! In the short time we stayed in the studio, Scooter made us feel like friends. He has the most magnetic personality and is definitely a Seattle staple himself. We would come back in a heartbeat, I hear the cherry blossoms in the spring are to die for...
Faye
2015-01-19T00:00:00Z
CANNOT BE BETTER is the only word I can say about our experience with Scooter. Scooter is the best host I have ever seen! We had an ENTIRE floor as our private space. Scooter is very very nice and supportive. I am sure I will be back here again with Scooter next time.
Zixuan
2015-02-16T00:00:00Z
Great spot. Beautiful home. Very comfortable space with all amenities. Scooter was on his honeymoon, but his friend Jeff took very good care of us including letting us know the apartment was available to check in early. Good restaurants and coffee shops just a few blocks away. If you are a walker, you can pretty much access the entire city from capitol hill. Thanks for a great stay.
John
2014-05-04T00:00:00Z
Had a great stay for 2 nights,many thanks Adam & Kim
adam
2014-06-21T00:00:00Z
Scooter your a great host you went out of the way to meet any of our needs your reference books are great tool to any one who stays at the apartment We enjoy your our stay and look forward to another stay Give Bart a warm hug for me
Chris
2014-07-31T00:00:00Z
Art der Unterkunft
Ganze Unterkunft
---
Objekttyp
Haus
---
Unterkunft für
4
---
Schlafzimmer
Seattle, Washington, Vereinigte Staaten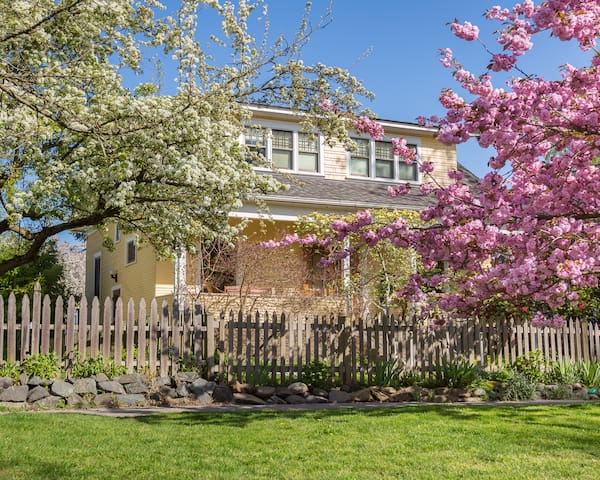 independent guest house with own entrance in a safe and quiet area. you will become neighbor of Bill Gates. 5 minutes walking to the lake deck. 1 living room with micro wave ,refrigerator ,TV and apple TV, sonos, furnace, 1 bedroom, and 1 bathroom.
This is a very cute place, great location, quiet and private. Nice!
michael
2016-08-01T00:00:00Z
Fantastic and safe neighborhood. Well maintained accommodations.
Michael
2016-07-29T00:00:00Z
We had to arrive very late, and Wei was kind enough to be flexible with that. The guest house was comfortable and we slept well. We would stay here again if in the area.
Kyle
2016-06-12T00:00:00Z
Wei made us feel welcomed but also gave us space to enjoy the unit. Even though it was a guest house it felt very private.
Stacy
2016-06-13T00:00:00Z
If you want to feel more "zen" in your life, this is the place to find it. Appreciated the accommodations to our check-in, the super cozy bed, and that the place was super clean. Thanks Wei for the sun-kissed blanket :) We really enjoyed it.
Lin
2016-06-14T00:00:00Z
The place was just as described and very clean. It was really close to downtown and in a very convenient location.
Iggy
2016-08-02T00:00:00Z
We had a Wonderful Time!! Great retreat, nice and quite, simple and comfortable.
Ian
2016-06-16T00:00:00Z
Beautiful home in an amazing neighbor hood! It was convient to everything! The bungalow was private and clean. The only complaint was no directions for the TV ( high tec)and would have been nice to have a couple of bottled waters in the fridge. We would definitely stay here again!
Robin
2016-06-26T00:00:00Z
Art der Unterkunft
Ganze Unterkunft
---
Objekttyp
Bungalow
---
Unterkunft für
2
---
Schlafzimmer
Yarrow Point, Washington, Vereinigte Staaten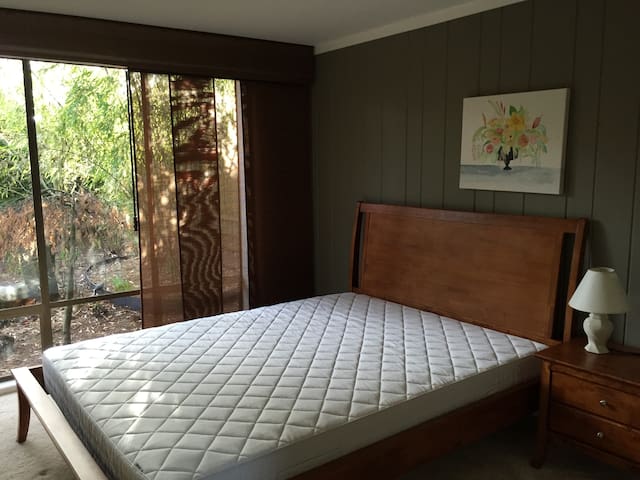 Welcome to my place! My 3 fl. modern townhouse with 3 bedrooms and 2.5 bathrooms is close to everything. You will have a room on the 3rd floor, with a bathroom on the floor. Myself and possibly my other guests will be staying on the 1st fl. Location is conveniently located near notorious Starbucks roastery, Jimmy Hendrix statue. Walking distance to Pike Place market, ferry, Columbia building, and Great Wheel. You'll love my place because of the location in the heart of Capitol Hill.
It is a spacious three floor townhouse. Location is great for day sightseeing: walking distance to Pike place market, Seattle U, legendary Starbucks roastery. Fantastic for night life: the most unique Seattle restaurants bars and clubs, like Canon, Presse, and great seafood places located within the walking distance to my place. I am happy to recommend you my favorite places when you arrive. I have a modern kithcen you can enjoy 24/7. Your room will have comfortable new queen bed that I recently bought, always clean and fresh beddings and towels.
Good location. The spot is good if you plan to be in Seattle most of the day just planning to sleep here at night as there isn't much of a common space to hang out. Didn't interact with Adam as he was out of town, but his roommate was extremely nice. Clean comfortable bed, my only complaint is that the shower got cold both mornings when we had 3 people showering.
Levi
2017-03-30T00:00:00Z
Our stay in Adam's place was perfect. Everything was clean and nice. Walking distance to downtown seattle.
Claudia
2017-01-22T00:00:00Z
Pretty good
Winnie
2017-03-11T00:00:00Z
Adam was a wonderful host: he was there to greet me and was super accommodating. He quite frequently had a pot of coffee ready and would answer any questions I had. The place is situated near a school and a good neighborhood. There's lots of available stores and places to go nearby. I stayed here twice, it was just that great. And the bed is comfortable enough to find sheep without trying.
Jordan
2016-12-02T00:00:00Z
Adam was very helpful and friendly to us all through the period of our stay. He used to help us in our daily activities too, was such a nice friend to have conversations in the evenings :)
Sravan Babu
2017-02-05T00:00:00Z
Everything was so great- super easy time excanging keys and it was a comfy room with towels and water and protein bars.. felt very easy and everything was walking distance
Marci
2016-11-20T00:00:00Z
Adam was great and so was his place. He was very kind and flexible with meeting up for a key exchange. He even left us water bottles! The place itself is about a mile and a half away from Pike Place, which was perfect walking distance for us. Definitely recommend.
Molly
2016-11-12T00:00:00Z
I went with two other friends to Seattle for the first time, and we really did not know what to expect. We arrived at Adam's place, and it was so cute and cozy and warm!! The bed was SO comfortable, and the townhouse was just really nice in general. We were thinking about renting a car, but this location is prime and is so close to everything!! It is right in Capitol Hill - far enough from the bars so that it is quiet at night but close enough to walk home. It is also close to public transportation. Adam was very helpful and gave us great advice. Overall, this was an awesome stay, and my friends and I cannot wait to come back!! I would definitely recommend this place.
Justine
2017-03-05T00:00:00Z
Art der Unterkunft
Privatzimmer
---
Objekttyp
Reihenhaus
---
Unterkunft für
6
---
Schlafzimmer
Seattle, Washington, Vereinigte Staaten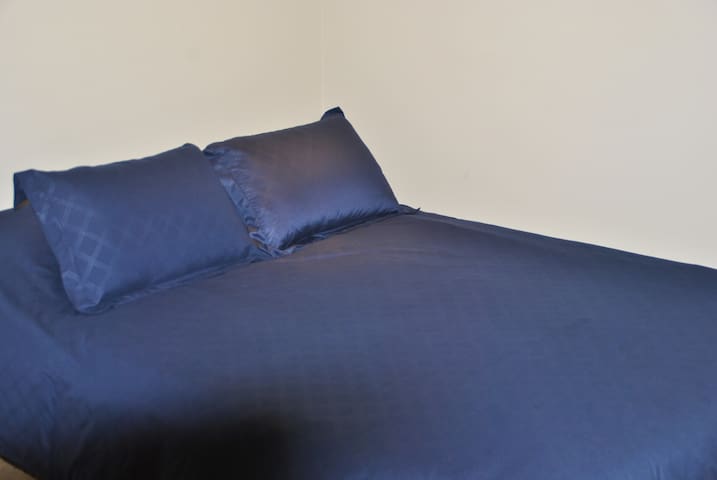 Cozy & quiet place in U District/ Ravenna area. 10 mins drive / 15 mins bus toUniversity of Washington / University Village / Green Lake. Easy access to Downtown or Sound Transit Light Rail. Great selection for a cozy vacation or run-away weekend.
The neighbourhood is very safe, and is about 20-30 minutes' walk to UW. Shen and his girlfriend are very reponsive and warm. They picked me from the train station. And the checkout is quite flexible. Their cat is really sweet. The house seems to be a little old, but overall it is a pleasant trip.
Xiaoye
2016-08-23T00:00:00Z
After requesting to book on very short notice on account of some negative circumstances, Luo was so helpful, kind, and responsive to us. Although he was out of town on work, his son Shen and his friends were so polite and accommodating. The room was very simple, but perfect for what we needed, and included lots of space to store things. The cats were so cute as well! As a fair warning- Ask about how the shower works before using! The water pressure was very high and the curtain was small, so we accidentally spilled some water. However, we were happy with our stay and glad that we got to meet such nice hosts.
Justin
2016-08-02T00:00:00Z
Bare bones room, comfy bed. Bathroom right across the hall. Hosts were very friendly.
Vicki
2016-08-21T00:00:00Z
The host was great - suggested some great restaurants and things to do when I arrived, and was always available if I needed anything. The room was spacious and quiet with a lot of light during the day. I would /highly/ recommend staying here to anyone visiting Seattle.
Alex
2016-08-20T00:00:00Z
Their place is very clean and very secure. They were also very flexible on the time check-in and check-out and they gave us great suggestions for places to visit.
Jane
2016-08-08T00:00:00Z
Art der Unterkunft
Privatzimmer
---
Objekttyp
Haus
---
Unterkunft für
2
---
Schlafzimmer
Seattle, Washington, Vereinigte Staaten
Just 1.5 miles to downtown Bellevue. This spacious 2 bedroom, 2 Bathroom condo has all of the essentials needed to enjoy your stay.
Matthew's place was great! Everything was exactly as advertised and comfortably slept 5 adults. We accidentally overslept and missed our checkout time, but Matthew was easily reachable by text and was completely understanding. He even offered us more time to get our things together and checkout. Would definitely stay here again!
Megan
2017-03-26T00:00:00Z
Great quiet space. Excellent internet service. Quick replies to any questions.
Andre
2017-03-30T00:00:00Z
Great condo! Sparkling clean and lots of room. The condo was easy to fine and central to everything east side .. Very quiet; had a good sleep even While traveling! I would highly recommend it.
(EMAIL HIDDEN)
2017-04-05T00:00:00Z
Amazing, comfortable place to stay. Matthew prepared every thing you need, you just walk in, and feel like home.
Justin
2017-03-28T00:00:00Z
Clean place and quiet neighborhood. Quick access to the 502 into Seattle
Brent
2017-03-31T00:00:00Z
Close to downtown Bellevue and easy access to 520 on,y if and when they open.
Sirima
2017-04-03T00:00:00Z
Great location and very clean!
Nasim
2017-04-01T00:00:00Z
This place is ok; needs some attention to details, which I am sure Matthew will consider from my private review.
Nic
2017-03-23T00:00:00Z
Art der Unterkunft
Ganze Unterkunft
---
Objekttyp
Wohnung
---
Unterkunft für
4
---
Schlafzimmer
Bellevue, Washington, Vereinigte Staaten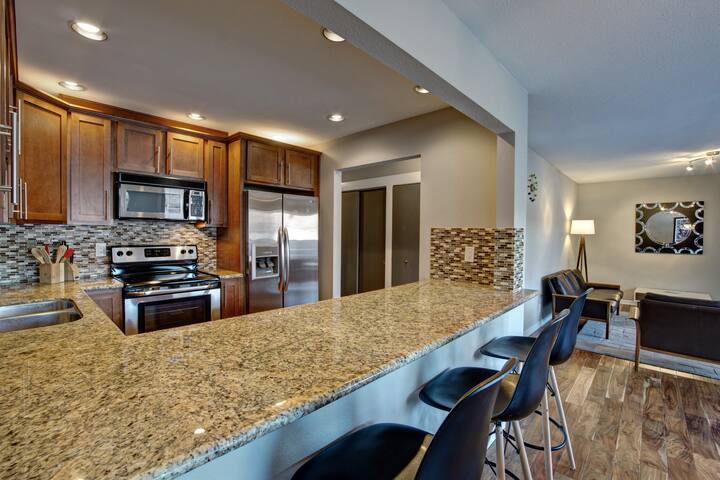 Set over a detached garage on a private estate on Yarrow Point in Bellevue, our 700 square foot carriage house has a private entrance and parking with peak-a-boo views of Lake Washington and a beautiful garden. Perfect for the travelling executive or couple, the carriage house is newly remodeled and offers the same little details you would want in your own home: Wi-Fi, 50" TV, SONOS Friendly, Keurig coffee maker, fully equipped kitchen, heated bathroom floors, comfortable queen size bed, 800 count bedding, washer/dryer, luggage stands, hair dryer, iron and ironing board. The carriage house is perfectly situated in a charming, quiet neighborhood setting just 5 minutes from downtown Bellevue and Kirkland and 10 minutes from downtown Seattle (close to 520 bridge). This is a perfect get-away where you can relax and explore all the wonders of the beautiful Pacific Northwest — an ideal place to call home while you experience the culture and activities of Seattle. Less than 2 miles from Bellevue Square and Lincoln Square shopping centers, you are minutes from world class dining, shopping, entertainment, boating, hiking, skiing, and golfing. The carriage house is dedicated to hospitality: it is clean, spacious, and filled with the essentials. The kitchen is ready for the gourmet chef to cook and if cooking is not your passion there are many amazing restaurants that are just a couple of miles away. We live in the main house and will be happy to answer questions and to help make your visit perfect. Check in is after 4:00 PM and check out is 11:00 AM unless otherwise agreed upon. We love animals, but we are an allergy-free listing and cannot host pets. Finally, please respect that we are a smoke-free listing.
My parents loved staying in Joy's beautiful carriage house. It is obvious she takes meticulous care of every detail and she absolutely wants the best experience for her guests. She even provided goodies, wine, groceries and fresh flowers to make them feel welcome. Thank you, Joy, for being so kind and accommodating. My parents would love to stay there again!
Hanah
2015-08-07T00:00:00Z
The Carriage house was a wonderful home for us for four nights. The apartment is wonderfully appointed. A lovely space. Joy made us feel right at home. We were very impressed by the small touches as well- a bottle of wine and a thoughtful selection of craft beers, yogurt and fresh fruit in the fridge, and fresh flowers on the table. Even a parting thank you gift! This is a great place. We were fortunate to have found such special accommodations.
Elizabeth
2014-07-20T00:00:00Z
Joy is the perfect hostess with an amazing property. The carriage home is spotlessly clean, fully renovated, very comfortable and amazingly quiet. Kitchen, bathroom, furniture, bedding and appliances are all modern. I appreciated Joy's special touches of offering fresh fruit, specials treats, beverages and wine which made me feel so welcome at home. I enjoyed meeting Joy in person and discovering we shared a mutual former employer. I will look forward to future stays at Joy and Jamer's very special home.
Sean
2014-08-02T00:00:00Z
Great location; quiet area close to attractions in Seattle and near Woodinville Wine Country. Fantastic accommodations; exceeded my expectations. Wonderful host; Joy made us feel very welcome. Highly recommended!
Donna
2014-09-02T00:00:00Z
We have been so lucky to find this wonderful wonderful Apartment. Joy is a Host, who took really heartful and generous care of us as guests. We felt like beeing at home and treated as friends. Thank you so much. It has been a great stay. We had a car and could really enjoy greater Seattle area. We would like to come back and could meet the wondeful hosts again. Best wishes to you both and greetings from Germany Bernadette & Gereon
Gereon
2015-06-28T00:00:00Z
The accommodations are superb, with all the conveniences of a full home, and in a quiet neighborhood. Joy has done an excellent job of anticipating the needs of her guests.
Kelly
2014-03-24T00:00:00Z
Our experience at the Carriage House was outstanding. We stayed the month of December and were thrilled to have a cozy, upscale place to call our home in Bellevue. Joy welcomed us with lots of goodies and extra special touches throughout the Carriage House. Joy and her husband were so thoughtful and made sure that we had everything we needed. The location of the Carriage House was perfect for all of our daily trips to Bellevue, Redmond, Kirkland and Seattle.
Dale Ann
2015-12-29T00:00:00Z
We had a wonderful 3 night stay at the Carriage House. Joy was very responsive and easy to communicate with. She met us upon arrival, and she was so kind and welcoming and had the apartment stocked with all sorts of goodies. The apartment was great - beautifully decorated, spotlessly clean, and stocked with everything we could have needed. It is located in a quiet, peaceful neighborhood, and it is very relaxing. The owners live in the main house nearby, but the apartment is very private and we really felt at-home and comfortable in it. Joy's attention to detail shows in all the small touches throughout the apartment. Everything was as it was represented in the photos and reviews. We truly enjoyed our stay and wished we could have stayed longer!
Cathy
2016-07-24T00:00:00Z
Art der Unterkunft
Ganze Unterkunft
---
Objekttyp
Wohnung
---
Unterkunft für
2
---
Schlafzimmer
Bellevue, Washington, Vereinigte Staaten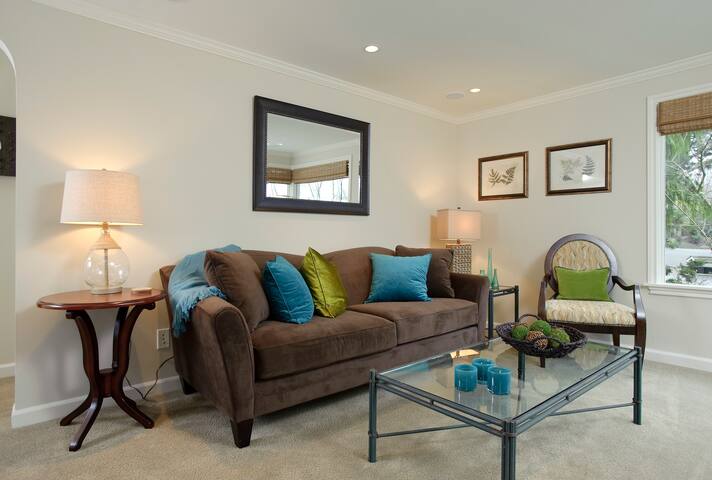 My place is close to restaurants and dining, great views, the beach, family-friendly activities, and nightlife. You'll love my place because of the location, the people, and the views. My place is good for couples, solo adventurers, and business travelers. Private entrance. A quiet upscale residential neighborhood. Convenient location. On street parking. 5-10 minute walk to downtown Bellevue/transit center Refrigerator on patio for guests. This room is smaller than my others. Cozy,quaint.
Lower level of home - private entrance - shared bath - refrigerator/freezer on patio for guests- large backyard & patio - upper deck with city views
Upscale homes On street parking Walking distance to downtown shopping, food, transit... Safe
Vickie was the best! I really liked the location of this house. Managing my way through Bellevue was very simple and easy. Vickie is a great house with a well put together house. I stayed downstairs and was able to sleep comfortably with my room and separate bathroom. The entrance was made easy and the whole trip was relaxing. My stay was lovely and I wish I could of spent more time kicking my feet up on the porch drinking wine. I highly recommend this place for single travellers, couples, and families. If you want a easy going place to stay in Bellevue then you should consider staying here.
Joseph
2016-09-08T00:00:00Z
Vickie and her husband are very nice, and they can provide quick help when we asked for. Her house is not only very clean but also decorated naturally and beautifully, I like the style. Her beds are very comfortable. She has 2 cats and my son like them very much. Due to cats' quiet walk they scared me one day, but most of time they're very cute. The location is very good, quiet and safe. We could take 10-15 minutes to walk to QFC,Starbucks and Bellevue downtown. I stayed for 14 nights. Due to my misunderstanding I booked the full size room which was too small for us because we were 2 people and also had 2 big suitcases. Vickie helped me to communicated with the other single guest to exchange the room with me. I appreciated her to try to make me live more comfortable. Her kitchen is on the upstair floor, and I don't think it's convenient for guest to use, especially for the long-stay guest. I'm always afraid to bother her privacy. To be honest it's a good experience in Vickie's house, feel more like at home.
Wei
2016-09-05T00:00:00Z
Vickie and Kyle were great hosts. I was very comfortable during my stay, and there were lots of little touches that were above and beyond. The neighborhood was very pleasant and a short walk to downtown Bellevue. They have created a nice balance of privacy and comfort, alongside very good access and communication. I would stay with them again any time I am visiting Bellevue.
Christiana
2016-10-22T00:00:00Z
Great location and Vicke is awesome! I would definitely consider staying here again.
Patrick
2016-11-13T00:00:00Z
Great location. Beautiful home. Warm and friendly hosts.
Scott
2016-09-09T00:00:00Z
I was able to have experience that it should have been first Airbnb. The environment that was quiet with a kind host was very good. By the way Please give me permission to use the photograph which I photographed for in my column. Personal information and the address do not list it.
Yoichi
2016-07-20T00:00:00Z
Vickie's place was great. Very laid back family and comfortable and the neighborhood is quiet and scenic in a suburban kind of way. I got a chance to meet Vickie's husband and some of the kids, who were all very nice and hospitable. Recommend!
John
2016-08-22T00:00:00Z
Had a great stay. Nice and private room. All went well. Vickie was a great host and very personable. Will certainly consider Vickie's place again next time.
Jesse
2016-11-16T00:00:00Z
Art der Unterkunft
Privatzimmer
---
Objekttyp
Haus
---
Unterkunft für
2
---
Schlafzimmer
Bellevue, Washington, Vereinigte Staaten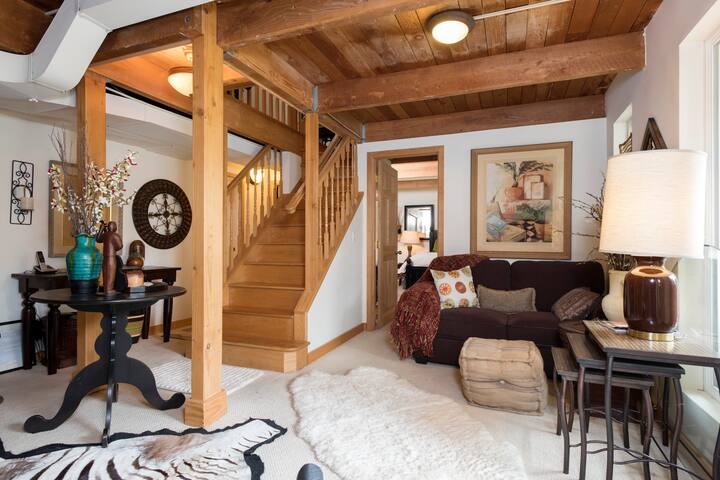 该房源地处Bellevue,是cherry crest 的学区,周围环境优美,交通便利,离Bellevue square开车10分钟。5分钟就可以上520或405。房间位于1层,有独立卫生间,淋浴。房间安静,环境优美,大门直通草坪,有很好的view,因为只有一个床,所以最多接受2个大人,一个孩子。住不下三个成人,希望您能理解。
Near 405 and 520 freeway, drive 10minutes to Bellevue square. there is a small park named cherry crest park. This room only has one king size bed. it can accept 2 adaults and one child.
Thanks
Indika
2017-03-10T00:00:00Z
Very friendly and accommodating.
Alex
2017-03-25T00:00:00Z
No
YA LUCY
2017-04-06T00:00:00Z
The family is very hostiable.
Sophia
2017-03-26T00:00:00Z
Thank you so much for the lovely stay! Beautiful home!
Isabel
2017-04-02T00:00:00Z
Yanping was a great host! We arrived very late on our check-in day, and she turned on a space heater for us which made the room very cozy. Also, the sheets and blankets provided were very comfortable and warm. She communicated with us very promptly before/during the stay also. It was also a great value as the location was very close to the highway-- perfect for those who have a car. I would recommend Yanping's listing to others looking for a place to stay when in Seattle but outside of the hustle and bustle of downtown traffic.
Lynden
2017-03-24T00:00:00Z
Art der Unterkunft
Privatzimmer
---
Objekttyp
Villa
---
Unterkunft für
2
---
Schlafzimmer
Bellevue, Washington, Vereinigte Staaten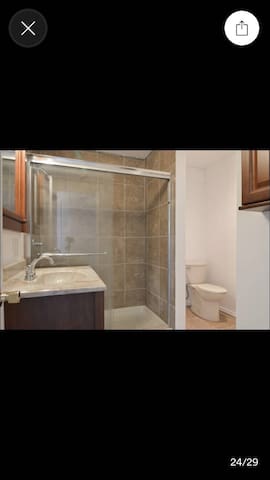 One private bedroom + your own bathroom. Luxury suite with a balcony.great for a single person, couple, or family. My place is close to Microsoft, malls, restaurants, parks. You'll love my place because of the location, the outdoors space, and the ambiance. My place is good for couples, solo adventurers, business travelers, families. Enjoy the wine room, fitness room, indoor hottub, outdoor space. Please clean up after yourself in the kitchen. We are a family of 2 adults, 2 kids, and 2 dogs.
Mein Aufenthalt bei Christine und Ihrem Mann war sehr angenehm. Die zwei waren jederzeit bei Fragen verfügbar, hatten Tipps und haben mich sogar mit in die Stadt genommen um dort einzukaufen. Das Zimmer war super, das Bad war ein Traum und ich habe mich in der Unterkunft sehr wohl gefühlt. Das einzige, dass ich bemägeln könnte, war die Reichweite des WiFi. Im Zimmer war so gut wie kein WiFi-Empfang gegeben. Ich bin für das Surfen dann in die Küche ausgewichen. Idealerweise sollte man ein Auto mieten, denn öffentliche Verkehrsmittel sind dort schwer zu nutzen und man muss von der Unterkunft schon ein Stück weit in die Stadt um einzukaufen oder zu essen. Christine und Art haben mich sogar dreimal mit in die Stadt genommen. Die Zwei sind einfach sehr zuvorkommende Gastgeber.
Raphael
2016-12-01T00:00:00Z
Excellent stay. Very accommodating,clean and comfortable.
Lesley
2016-09-22T00:00:00Z
Christine was very friendly and her place was very cool and the hot tob was amazing.
Jay
2016-07-24T00:00:00Z
Christine and Art were welcoming and gracious hosts. The residence was as advertised: luxurious and spacious. I was not able to enjoy the many amenities the property offers due to work schedule though they are all that is advertised and more. A hot tub, a gym, spacious living spaces. Highly recommended. Thanks C and A!
Mike
2017-03-03T00:00:00Z
Art and Christine have a beautiful home. The room is beautiful, spacious and has a giant ensuite bathroom! The room is almost in its own wing of the house, so, you don't feel like you're intruding on the family. Very private. Great location (easy access to highway), quiet, and excellent value for money!
Ashley
2017-04-06T00:00:00Z
Christine's place was great! Her home is gorgeous. It was much nicer than any hotel I could have booked. I would stay here again in a heartbeat.
Kelcie
2017-03-30T00:00:00Z
Christine's place is every bit as nice as it looks in the pictures. She and her husband are awesome hosts. I stayed during a business trip but I hope to come back for pleasure because it was so pleasurable staying at Christine's house!
Jeremy
2017-03-28T00:00:00Z
This place was awesome. We're really happy we decided to go here instead of staying downtown Seattle. The area itself was great, had beaches close by, and was a quick drive to downtown. Christine was an awesome host. She welcomed us to everything in their home, including their huge backyard with a grill, which we cooked steaks on and let our dog run around the huge fenced backyard. She even hooked me and my wife up with some free glasses of wine. The hot tub was super relaxing. Overall this was well worth the cost. Very cool experience.
Joe
2016-09-10T00:00:00Z
Art der Unterkunft
Privatzimmer
---
Objekttyp
Haus
---
Unterkunft für
2
---
Schlafzimmer
Bellevue, Washington, Vereinigte Staaten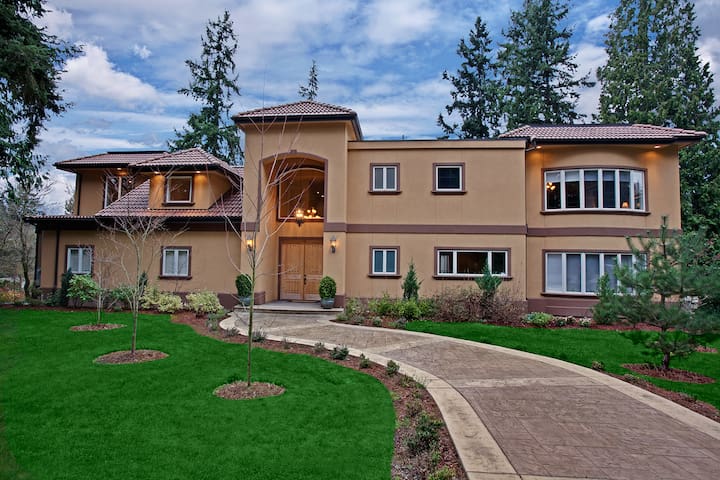 这是一个温馨干净的单间,包含一张单人床,一张桌子、椅子和衣橱。每间房可容纳1人居住。您将与另外房间的住客共用一个带浴室的卫生间。客人可以使用客厅和餐厅,并可以使用厨房灶具进行简单的烹饪。我的房源靠近Bellevue downtown, Bellevue library, Bellevue transit center,交通十分方便。附近有wholefoods,trader joe等超市,您一定会爱上我的房源。
Lovely place to stay. Great for people who love quiet places like me. You'll need Uber or buses to visit places around, but walking is totally fine if you've got some time. Irina is very communicative and helpful,and that really makes the stay so much nicer.
Hao
2017-03-30T00:00:00Z
Check in was super easy, the room was perfect, they left me some fruit on my first day, and have a live blooming flower on the night stand, very nice touch. It was super easy to get to Redmond MSFT campus and would be easy to get to the Bellevue office as well. Great place to stay.
Frank
2017-03-15T00:00:00Z
Quick stay but perfect location close to areas with plenty of options on a nice quiet street
Jeff
2017-03-25T00:00:00Z
This place is very convenient for Seattle if you would like to take public transportation or Uber. And of course, this house is well placed for easy access to downtown Bellevue. Also, Irina is a very friendly lady, and her house is very clean and organized. I would reserve her house for my next trip to Seattle. Thank you Irina :)
Qianwen Margaret
2017-03-20T00:00:00Z
Art der Unterkunft
Privatzimmer
---
Objekttyp
Haus
---
Unterkunft für
1
---
Schlafzimmer
Bellevue, Washington, Vereinigte Staaten
My place is in a peaceful, quiet community that is walking distance to some of Bellevue's best amenities: Bellevue Square Mall, Lincoln Square Cinemas, Bellevue Downtown Park, QFC, and popular food/restaurants such as The Cheesecake Factory, Din Tai Fung, P.F Chang's, Red Robin, Ruth's Chris, Sushi Maru, Yogurtland... and many more are within your grasp! You'll love my place because of the coziness and convenience. My place is good for couples, solo adventurers, and business travelers.
Esther is great!
moxin
2016-11-22T00:00:00Z
Good location, only a couple blocks from the heart of downtown Bellevue. Tucked away in a woodsy area making it feel like you're far from the city, but you're not- great contrast. Loved the privacy.
Jennifer
2017-01-26T00:00:00Z
Very clean, nice place and highly recommend.
Stephen
2017-03-31T00:00:00Z
Esther's apartment is located at a convenient location, wakable distance to downtown Bellevue, easy access to everywhere.
Lisa
2017-01-16T00:00:00Z
Esther's place is very clean and comfortable to stay in. The location is very close to the transit center and there is a bus stop right outside. Esther was very accommodating and responsive from when we booked to our checkout.
Sophie
2017-02-27T00:00:00Z
Esther's place is in a great location in Bellevue and she was easy to communicate with. Had a great stay!
Jing
2017-01-04T00:00:00Z
I highly recommend this listing... a quick walk from the best shops and restaurants that Bellevue offers. The house was super clean and well equipped for a stay. No TV but lots of books, magazines and fast internet if needed. Check in/ out was easy and Esther was a great host.
WIlma
2017-04-07T00:00:00Z
Everything is good, I enjoyed my stay here very much.
Simon
2016-11-29T00:00:00Z
Art der Unterkunft
Ganze Unterkunft
---
Objekttyp
Wohnung
---
Unterkunft für
2
---
Schlafzimmer
Bellevue, Washington, Vereinigte Staaten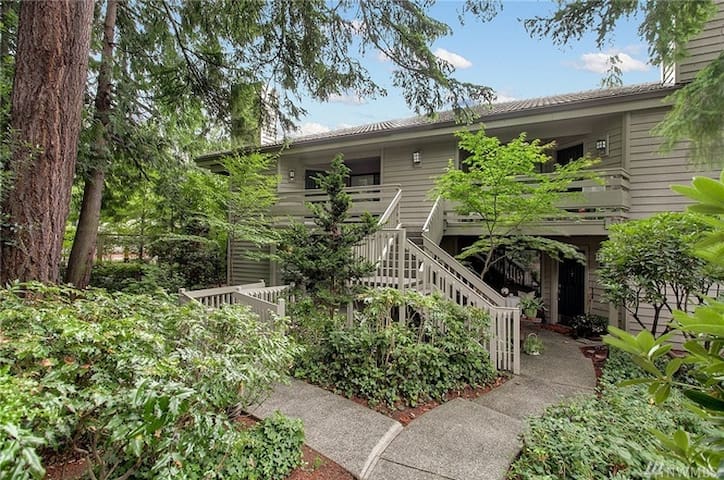 Nature surrounds you, yet the city bustles three minutes away. A calming, light-filled oasis. The best of modern and timeless. Fully-outfitted with new, high-end finishes.
Completely unique. People take vacations to scene like this, yet Microsoft & Kirkland & Downtown Bellevue are minutes away. Even Downtown Seattle is quick.
Despite being virtually in the center of everything, the neighborhood properties are all set on 1 to 3 acre sites. Incredibly quiet and peaceful. Crime is so uncommon it is nearly unheard of.
Beautiful woodsy location yet close to major attractions. Clean, with all new stuff.
Steven
2017-03-12T00:00:00Z
Art der Unterkunft
Ganze Unterkunft
---
Objekttyp
Gästehaus
---
Unterkunft für
2
---
Schlafzimmer
Bellevue, Washington, Vereinigte Staaten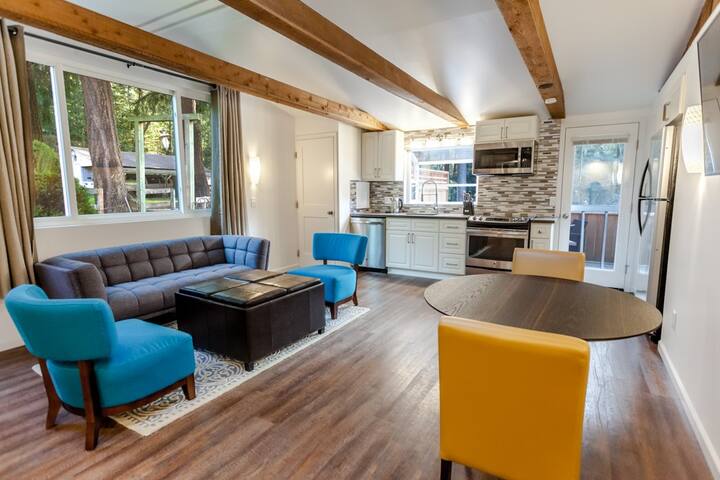 Keyless bedroom lock. Queen size 14 inch Memory Foam bed. House is located in a quiet neighborhood alcove, short drive from downtown Bellevue. Busline one block away. Whole foods, Uwajimaya (Asian Market), restaurant, shops are few blocks away.
House is located in a quiet neighborhood alcove, short drive from downtown Bellevue. Busline one block away. Queen Size Memory Foam Bed, Desk, Wooden Floor, Space heater. Full bathroom in hallway will be share with another one bedroom. Whole foods, Uwajimaya (Asian Super Market), restaurants, shops are few blocks away.
David is a really nice guy. The room I stayed in was very clean. He provided fresh towels, bedding, drinks and duck eggs!
Andrew
2016-01-14T00:00:00Z
David's was one of the most amazingly optimized Airbnbs we've ever stayed at - he's very organized and the place was great. The foam mattress was perfect for us, everything was clean and set up nicely. The animals in the backyard were charming (warning: they definitely make goat and goose noises, but we weren't disturbed by this). Would stay here again anytime. Thanks!
Caitlin
2016-10-04T00:00:00Z
We had a great stay! The room is comfortable, clean, with a big bed, and with thoughtful details from the host, such as qtips, first aid kit, hair dryer, iron, coffee, and refreshments in the fridge for guests. My friend and I were traveling from Los Angeles and needed a place to stay after our initial plans had fallen through we we're able to book with David right away with no issues. Safe place for two single women traveling on their own. 25 min from downtown Seattle in the car. Would recommend to a friend and would stay here again if ever back in Seattle.
Janeth
2016-01-03T00:00:00Z
David was quick in response. It was nice and smooth time at his house. Interesting Duck egg was free for us. Any time check in system was very much helpful as I checked in at middle of the night. Thanks for being so nice and friendly host.
Md Jahidul
2015-12-08T00:00:00Z
Nice quiet beautiful neighborhood, convenient location to supermarkets, coffee, etc. Very clean room, convenient keypad locks. I had a great stay, I definitely recommend
Matt
2016-11-05T00:00:00Z
This was actually my second stay. David's place is actually on my primary list. As always, the standards have been maintained not to mention the great location.
Martin
2016-09-23T00:00:00Z
Great spot; super clean and nice. It was exactly what I was looking for in terms of a well made place to crash at night after attending a conference in Bellevue. Also, if you're in town for something like that note that it is super close to down town, the bus line is a two minute walk and if you don't have too much to cart around it's walk-able. David was quite nice, but me being busy we didn't get to chat much. Also, the dog was adorable as were the geese.
Brian
2016-03-25T00:00:00Z
David's place was perfect for my week long stay in Bellevue. The house was well maintained and had all the amenities. There was everything in the room that you would possibility need for your visit. The umbrellas came in handy twice :) I would highly recommend his place!
Jagdeep 'JD'
2016-10-28T00:00:00Z
Art der Unterkunft
Privatzimmer
---
Objekttyp
Haus
---
Unterkunft für
2
---
Schlafzimmer
Bellevue, Washington, Vereinigte Staaten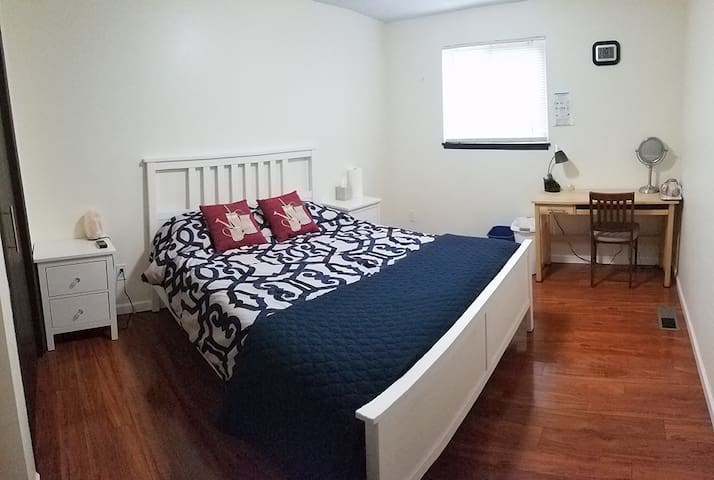 Yarrow Point - Airbnb
:
Durchschnittlich

4.97

von

5

Sternen aus

1976

Gäste-Bewertungen
1

–

18

von

+ 300 Unterkünfte
Gib deine Reisedaten ein, um den aktuellen Preis zu sehen. Es können zusätzliche Gebühren und Steuern anfallen.