Unterkünfte in Canberra bei Airbnb finden
Entdecke ganze Unterkünfte und Privatzimmer, die sich perfekt für jede Art von Reise eignen.
Ferienwohnungen in Canberra
Die beliebtesten Ferienwohnungen in Canberra
Weitere Ferienwohnungen in Canberra
€184
Metro 41 - Now with free Wifi
---
Ferienunterkunft

· Canberra
An executive split-level 2 bedroom / 2 bathroom top-floor apartment (113.5 sqm) with north facing living and balcony, this apartment is conveniently located within the New Acton precinct within walking distance of city, ANU and major tourist attractions. Located on the top floor, this is a large (113.5 sq. m), luxurious two bedroom / two bathroom apartment with plenty of space and all the comforts of home. A full kitchen is provided for your convenience complete with cooktop, oven, microwave, dishwasher and a coffee machine. Crockery, cutlery, cooking implements, and basic ingredients are provided for your convenience. Also included is a 'Welcome Pantry Pack' with muesli, weetbix, milk, a variety of coffees, teas and hot chocolate, sugar and a sweet treat. The living area has large north-facing windows to allow the beautiful winter sun to stream in and features beautiful leather lounges, 102 cm flat screen TV with DVD player, and an 8 seater table. A study nook is complete with desk and comfortable chair. Free Wifi is provided for your convenience and enjoyment. Enjoy a cool drink, a good book, or just enjoy the watching the world go by on our well appointed north-facing 11.5 sq m balcony. The main bedroom includes a comfortable queen bed with a variety of pillows and clean fresh linen, bedside tables and lamps, a flat screen TV and video player, plenty of space and storage, and access to the well appointed ensuite with double basin, toilet and shower. The second bedroom also features a comfortable queen bed with a variety of pillows and clean fresh linen, bedside tables and lamps, plenty of storage. The main bathroom includes a shower, toilet and hand basin. A European-style laundry complete with washing machine and dryer, clothes airer, and ironing facilities is opposite the bathroom. If you are booking for 5 guests the fifth guest will be accommodated on a roll-away bed. Guests will have access to an allocated car space. Please note, there are 8 steps into the apartment and another 8 steps from the bedroom level to the kitchen / living room. The complex provides a range of secure recreational spaces and facilities including: * 25 m indoor lap pool (Closed for maintenance from 14/11/16 - 9/12/16). * gym with rowing machines, treadmills, cross trainers, exercise bikes, etc.; * weights room; * change rooms; * sauna; * two landscaped BBQ areas. Please contact us 30 minutes prior to arrival and we will meet you at the apartment to provide you with keys and access to parking. I am available at all times during your stay to assist with any issues. A simple phone call or text is all that is required. This apartment is conveniently located within walking distance of city offices, ANU, Lake Burley Griffin, Commonwealth Park, National Museum, Canberra Centre, New Acton, and the Palace Electric cinemas. Other major tourist attractions including Questacon, the Australian War Memorial, the National Gallery, the National Portrait Gallery, Old Parliament House and New Parliament House are are only a short distance away and easily accessible by car, bicycle or public transport. Nearby restaurants we recommend include A Baker (Edinburgh Ave), Bicicletta (Edinburgh Ave), Cafe Twenty One (New Acton), Xchange on London (London Circuit), and The Cupping Room (London Circuit). Public transport is available on London Circuit, just outside the front door. Bicycle hire is also available close by. Check in after 3pm and check-out at 11am. If you require a earlier check in or later check out, let us know. Depending on availability we can be flexible.

Mehr lesen
Victoria
Brilliant- easy- so central Better than a hotel or motel
Nathan
The place was really nice in a good location with plenty of space and a well thought out decor. Peter was very pleasant to deal with, leaving fruit and various other food for us which was a nice touch. Highly recommend
Andrew
Excellent apartment in a great location. Large spacious place with all the mod con. Well laid out and Peter was very easy to communicate with. Met we at the front door and was very helpful.
Rosie
Perfect Airbnb host! Peter's place is fantastic, such a comfortable night stay in Canberra. Peter has thought of everything as well and the entire process was so smooth! Would love to stay again :) Thank you!
Deledem
Great Location / Great place
Benjamin
Peter was great. The apartment was perfect. He gave smooth communication and was a nice guy.
Lisa
Peter was a perfect host. He was flexible with our check-in time and arrived right on time. Super easy check-in process. Apartment was beautiful and spotlessly clean. Couldn't ask for a better place to stay. Thanks Peter! We hope to stay again sometime!
Peter
Apartment is an excellent base for work in Civic or ANU both of which are only minutes walk as well as plenty of restaurants and coffee shops
€79
Freshly renovated 2 bedroom unit
---
Ferienunterkunft

· Canberra
I can't hide from the fact that the outside of my building is ugly! But you won't be disappointed once you walk across the front door. Conveniently located and completely renovated. Enjoy our comfortable 2 bedroom apartment for 2 nights or 2 months! With comfortable leather lounges, flat screen TV and DVD player and yummy soft throw blanket, you may never leave to explore Canberra. My unit has all the things you need to feel right at home including free WIFI. It offers 2 large bedrooms both with wardrobes for your clothes. The main bedroom has a Oh-so-comfortable queen size bed and the 2nd bedroom is furnished with 2 single beds. If you really need too; another person could sleep on the lounge using the extra blankets provided. My kitchen has all new appliances with stove, oven, microwave and fridge/freezer. A large breakfast bench with cool stools to seat you for casual meals and a compact dining setting for 4. The bathroom has also been given a complete facelift and is clean and I provide a washing machine & clothes dryer, for your use as well. With plenty of storage and an allocated undercover car space for your car (could actually fit 2 cars if squashed in close) I am sure you will love my unit as much as I do. I don't smoke but I don't mind if you do so on the lovely little balcony with it's own little outdoor setting. Please enjoy my home and my town. You can use anything within the unit and the allocated undercover car space for your vehicle. I'm overseas so you'll always will have the whole place to yourselves. Any interaction would be with my mum and dad (who have kindly offered to oversee this for me) . They are very cool and helpful so you can call them if you have any problems or questions. Hawker is a suburb of Belconnen with the local shops are just a very short walk from the apartment. Woolworths, bakeries, butcher, chemist and some good restaurants all at your fingertips. A licenced bowling club and soccer club also within walking distance with great bistros to choose from. It is located just 15 minutes drive to the city centre, all most major tourist attractions in the Capital. I supply all linen and towels you may need during your stay. Please use any of the small things I have left behind and if you finish something just leave a note for my parents so we can refill it.

Mehr lesen
Amy
We had such a great time in Canberra. Kim's 2 bedroom unit was fantastic for our little family! It was warm, central to tourist attractions and very clean. We were made to feel very welcome. We would return if ever in Canberra again.
Nicole
Nicely presented appartment. Clean and spacious. Toys and dvd's for the children. Close proximity to getting into Canberra. Breakfast cereal in the cupboard and milk and butter and water in the fridge. Will definitely stay stay there again in the future. Information booklet about the area was very helpful. Excellent communication beforehand
Melissa
Excellent accommodation, owner regularly kept me in the loop, very clean, great location, went to the GIO Stadium & was just 10mins away. The unit has a ton of information on Canberra & eateries near by. Would definitely stay there again.
Jonathan
The accommodation was exactly as it was described and as expected - from the outside it's fairly ordinary but inside it is really nicely renovated throughout and well-equipped. For a two bedroom flat it was perfectly adequate in terms of size and we had no problems at all. I had the master bedroom and it was super comfortable! Kim was attentive in her communication and made the whole process a breeze. I thought the price was very good value - yes, Hawker is a little ways out of the city centre, but with a car hire from the airport it was so quick and easy to get in that that became a non-issue. It will be my regular accommodation if ever I head back to our nation's capital - thanks Kim!
Serena Eul Kun
Kim was extremely welcoming and friendly. We couldnt ask for a better host. The accomodation was comfortable and very clean and had everything we needed.
Taisha
Was a wonderful apartment to stay in. Everything was exactly like the photos. Kim was wonderful, a storm had passed through canberra and parts of the city had a blackout and Kim had called me to advise she was sorting the issue for us. We will definitely be back there again!
Ash
Kim was very welcoming and ensured I had all the information and instructions I needed prior to my stay which made it extremely effortless! Her flat was perfect for our weekend away and had everything we needed, plus the sheets were super soft! We were close by to local shops as well as a westfield for any bigger purchases. I would recommend Kim's place to anyone who is looking for a quiet weekend away in Canberra, especially if they need to be close to Canberra Uni (as it's a 9 min drive/20mins bus away). Thanks Kim!
Jolanda
The unit was well presented with homely touches like heaters, tea, coffee, milk, movies, books, even a hairdryer, not to mention free wi-fi, so we felt at ease right from the beginning. The unit was nicely located close to the local shops, so buying meals, food, etc was very easy. The under cover parking was also much appreciated.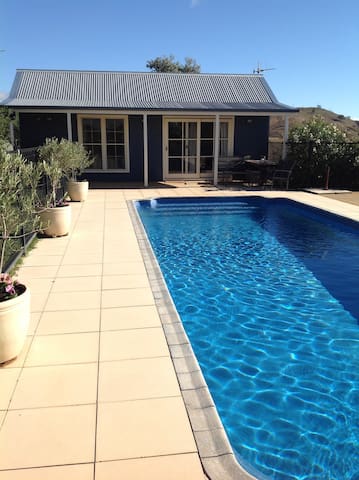 €97
Amazing Views Pet Friendly Bnb
---
Ferienunterkunft

· Canberra
Modern, self-contained, pool house, and working sheep/cattle property in a peaceful country setting, 20 minutes from Yass. Great water views overlooking Murrumbidgee River and exclusive use of swimming pool. Break your trip with your four legged friend/s.. or stay awhile. See the stars, and hear the silence. The space consists of a queen size bed with a modern ensuite bathroom, and a sitting area with a sink, refrigerator, microwave and stove. The cooking space is quite small and best for fairly basic food preparation. Also included is a TV. (32" flat screen) and a DVD player. There are ceiling fans if required and gas heating, and an oil heat bank heater for the cooler weather. A 'Tastic' heater is in the bathroom for extra comfort. Enjoy exclusive use of our 10m pool, BBQ and deck. We will take children, over 5 yrs old, who are able to swim, but would insist that parents supervise at all times. A futon or fold up bed is available as an extra bed, and the charge for extras per night is $30.00. You will find some up to date magazines to relax with while here, DVDs and complimentary chocolate. Our guests are welcome to use the swimming pool and deck with elevated views of the surrounding spectacular scenery. We endeavour to keep the pool sparkling, but cannot always guarantee perfection. No diving please, for your own safety. A BBQ is available for use on the deck. We provide old fashion country hospitality, and will be on site if anything is required, otherwise we will respect your privacy. We are always contactable. We're willing to help with advise and information on the local area for sight seeing or where to eat etc. A two course home cooked meal is available here for $35/person on request. It is served in your accommodation for you to relax and enjoy in peace. This is a peaceful rural working property, 20 minutes drive from the town of Yass, with great views of Burrinjuck Dam. It is within easy reach of Canberra for sight seeing. Ie The National Gallery of Australia, Australia Museum, The Arboretum, High Court of Australia, The National War Memorial, National Capital Zoo and Aquarium, Floriade to name a few. A good place to stay to break a long journey and see more than just a motel room. There is no public transport from Yass to our B&B . Continental breakfast is included, and if you require an evening meal, I can provide a two course dinner for $35/person.. Please give advance notice if this is required, preferably when booking. We are a pet friendly B&B, but expect your dog to be clean and obedient. We charge $10 extra for one dog/night, and $15/night for two dogs/night. We ask that you provide your pets bedding as they are not allowed on the bed or sofa under any circumstances. Please note that we do not have credit card facilities.

Mehr lesen
Kerry
This is my favourite airbnb property!! Most of all the views are breathtaking!! It was a lovely country drive from the motorway and we were warmly welcomed on arrival by Jacquie and Tom who proceeded to show us around. This is such a beautiful and peaceful spot. The property is well equipped and we were very comfortable for our overnight stay - we both slept like logs!! The pool is an extra bonus, although we didn't get to try it out, and is a lovely spot for an early evening drink. I would love to stay here for a longer stay.
Jeremy
Perfect in every way! Beautiful scenery. Amazing view. Awesome drive up! Jacquie made me an amazing roast lamb dinner followed by flour less chocolate cake - very reasonably priced. Bed was very comfortable - the place was in great condition and very well furnished. I could not ask for more on a long road trip - always try airbnb vs motel! AAA+++++
Emily
Really amazing views that made us regret city life. It was easy and enjoyable to get there and the comfort level was amazing with a very clean and functional living space that felt like a warm winter cottage. We talked to Jacquie on departure and she's a lovely host. Highly recommended!
Margaret
Jacquie was extremely welcoming. The accommodation was even better than described with views to die for! The area is a superb example of our beautiful country and warm hospitality. Highly recommended. We will be back for sure.
Mary
Staying with Jacquie was a real treat! Her place is on top of a hill overlooking the lake, so the view is amazing and so peaceful. We had a separate area from the main house, so had plenty of privacy. The space was warm, homely and super clean. To top it all off, Jacquie cooked us a scrumptious bacon and eggs breakfast and we had a great time playing with the resident dog, Tom. Thanks Jacquie and Tom!
Joo
What an amazing view and location! We only stayed for 2 days, but it was the most relaxing, comfortable and peaceful 2 days of our trip. Thank you Jacquie for being so hospitable and making us feel welcome (including the dogs who welcomed us at the gate!) The space is clean, comfortable and private. There were breakfast supplies in the fridge, the bed was comfortable and we had everything we needed. We highly recommend staying here and would come back again.
Tamara
Thank you Jacquie for sharing your beautiful property with us. It was so relaxing, the views are amazing and it is just the perfect place to unwind. We would love to visit again sometime. Nothing but praise- Thank you!
Wabei
If you are not afraid to go off the beaten track, if you like day and night critters to greet you morning and night, if you like a big dog called Tom and a view unlike no other stay with Jacquie and Michael. They took the Airbnb experience to another level for me in the small details. Fridge was stocked with breakfast essentials cozy bedroom with pool outside and a stunning view. I would recommend this little oasis with its gentle hosts over any place in the area. Well worth a visit.
Entdecke weitere Reiseziele