Gib deine Reisedaten ein, um den aktuellen Preis zu sehen. Es können zusätzliche Gebühren und Steuern anfallen.
2 Unterkünfte
· Vatikanstadt
2 Unterkünfte
· Vatikanstadt
Notre famille a passé un excellent séjour chez Vera "I colori di Borgo Pio". L'appartement est accueillant, confortable et calme. Vera a été très à l'écoute
Emmanuelle
April 2016
Our host was great, met us at the apartment and showed us where everything was. The apartment met all of our needs. The location was perfect for what we wanted to see while on the 1st leg of our journey. Sights were a very short walk away, and shops and restaurants were on the same street. Some great pastries and gelato!
Leslie
March 2016
Great place to stay at the same time great location to be in.
Nestor
November 2016
The apartment is the same as you see in the pictures, very cozy, nice neighborhood, just around the corner Saint peter, close to restaurants and shops, the public transportation is also close, the street of the apartment is really nice. We were in January right into the cold wave and the heather was perfect.
Magaly
January 2017
Vera was a wonderful host and Iryna was extremely helpful. The room was comfortable and the location was perfect for our visit to the Vatican. There were plenty of places nearby for shopping and eating. I would definitely stay there again.
Michael
May 2016
We enjoyed the location of this apartment! It is situated in an old street that is pedestrian-only, I felt as though I was in a Sofia Loren or 007 movie! The apartment was clean and the beds were very comfortable
jacki
March 2016
L'accoglienza è stata buona, quartiere molto frequentato ma tranquillo; vicinissimo al vaticano, castel Sant'Angelo e alla fermata dei bus.
Simone
April 2016
Logement géré par agence, vous ne rencontrerez pas le propriétaire. Il n'y a pas de climatisation contrairement à ce qui est écrit dans l'annonce. L'agence nous a prévenu 15 jours avant que la climatisation était "cassée". Nous avons insisté pour qu'elle soit réparée (Il fait très chaud à Rome l'été, et nous avons deux enfants), l'agence nous a répondu que c'était impossible et qu'il mettait à disposition deux ventilateurs (??). En insistant encore, l'agence nous avoue que le syndic a demandé que la climatisation soit enlevée de la façade qui est classée. Donc le descriptif est faux (la climatisation était un critère important dans le choix de l'appartement et donc du prix) et je le fait remarqué à l'agence, qui se vexe au passage, et qui me suggère d'annuler la réservation... Ben voyons. Arrivés sur les lieux, la climatisation n'a JAMAIS existé: aucune trace d'installation. Et la personne qui nous a accueilli (au demeurant très sympathique) me dit un peu gêné que la climatisation est cassée... Ah bon? Je croyais que le syndic avait demandé à l'enlever ?? L'appartement est très bien agencé, parfaitement situé (en sortant de l'immeuble vous pouvez entrevoir les gardes suisses du Vatican, vous êtes à 200m de la place Saint Pierre!) et dans une rue pietonne. Donc si vous dormez les fenetres ouvertes (en été) et avec les ventilateurs, prenez des boules quiès, la rue est un peu bruyante à cause des restaurants. Attention aussi aux "superettes" des rues pietonnes: elles sont très chères et il y a peu de choix. Préférez le carrefour market (cher lui aussi mais plus de choix) en descendant Borgo Pio et en prenant à gauche. Nous avons passé un très bon séjour (3 nuits) dans cet appartement malgré la chaleur de la nuit. Rome, ville éternelle !
Cirque Académie
September 2016
Art des Zimmers
Ganze Unterkunft
---
Objekttyp
---
Unterkunft für
4
---
Schlafzimmer
1
Borgo, Vaticano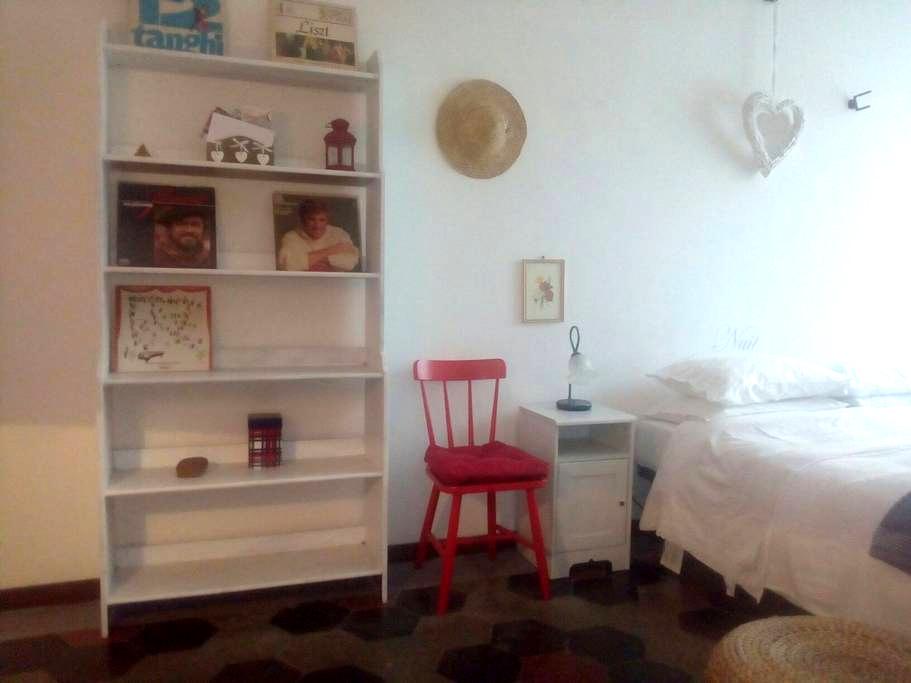 The apartment was larger than expected and centrally located. The Vatican and other attractions are within walking distance. Public transportation is a block away. There is a bakery, grocery store, restaurants on the street and also near by. The apartment was clean, well furnished, comfortable and we enjoyed our stay. Alessia arranged airport pick up and drop off service for us. This was a nice touch especially after a long flight. There was a slight miscommunication about the meeting point for our driver. I texted about the problem and immediately received a reply and phone call! I'd book this location again. Thank you for hosting us.
Aurora
October 2016
si era medianamente correcta, cerca del subte, barrio tranquilo, todo bien, la LIMPIEZA al llegar arruinó todo
Alejandro
August 2016
Muy buena ubicación, muy espacioso para varias personas
Diego
August 2016
It was a great experience actually living in a Roman apt! We loved the apt and all the amenities, we felt very safe, the apt is great and in a great location! Can wait to book again next time we visit Rome!!!
Antonio (Tony)
September 2016
All was excellent. Salvatore is a great host and the apartment is like the photos, very luminous and close to the Vatican.
Pau
June 2016
Все было хорошо Заселили вовремя Приятные люди Жилье именно такое как мы и ожидали All was fine settled in time Nice people Housing is such as we expected
Wladimir
October 2016
Can't get much closer to the Vatican and lots of room to spread out for our family of five. Great communication before and during the stay and really enjoyed our visit. Easy to get on metro but everything is walkable and no shortage of things to see in Rome. Hope to stay here next time!
Ty
December 2016
This location was absolutely perfect for a visit to Vatican city. Everything including St Peter's Square and Basilica and the Vatican Museum were all within a short walk. The apartment had close access to groceries, restaurants and the Metro. We were however disappointed with some elements of cleanliness and ran into issues with a clogged shower drain and overloading the power system causing the breaker to blow.
Colin
August 2016
Art des Zimmers
Ganze Unterkunft
---
Objekttyp
---
Unterkunft für
7
---
Schlafzimmer
2
Prati, Roma vaticano