Garage apartment. Includes refrigerator and microwave
This place was a home away from home. Marcia's apartment was warm and cozy. Her hospitality welcomes you in like a friend. I would stay again and rent a month at a time.
Virgil
2017-03-18T00:00:00Z
I highly recommend this location. A great value for my money. A wonderful hostess. Lots of privacy. A beautiful location. If I come back to this area I will stay at this location again.
Jean
2017-03-26T00:00:00Z
Marcia is extremely kind. The pictures are accurate. Very clean. I would recommend this to anyone.
Courtney
2017-04-02T00:00:00Z
Art der Unterkunft
Ganze Unterkunft
---
Objekttyp
Wohnung
---
Unterkunft für
2
---
Schlafzimmer
Tyrone, Georgia, Vereinigte Staaten
My place is 868 sq ft. One bedroom nice view of airplanes coming into Atl airport which is less than 5 mins away. Gated private balcony, laundry room sleeps 2 in bedroom and maybe one on the couch. I provide complimentary wine for your stay and a list of things to do in Atlanta!!! I also share a free lyft code .
Third floor with stairs but no one noise above your head, the view is calming and the place is relaxing!
Pool bar b Q grills at the pool, the walking/ bike lane indoor and out door gym, playground, easy access to city bus and restaurants and gas station in walking distance!
Art der Unterkunft
Ganze Unterkunft
---
Objekttyp
Wohnung
---
Unterkunft für
3
---
Schlafzimmer
Atlanta, Georgia, Vereinigte Staaten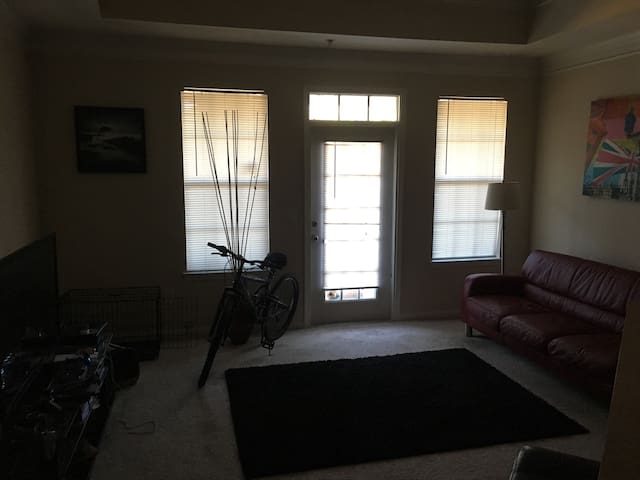 It's suitable for single person or couple ,it's a studio,I keep it clean always,nice environment and safe Near hartsfield Jackson airport You have access to internet There are nearby bars and restaurants You will surely enjoy your stay
It's more like an hotel,very cozy
Art der Unterkunft
Ganze Unterkunft
---
Objekttyp
Wohnung
---
Unterkunft für
2
---
Schlafzimmer
Atlanta, Georgia, Vereinigte Staaten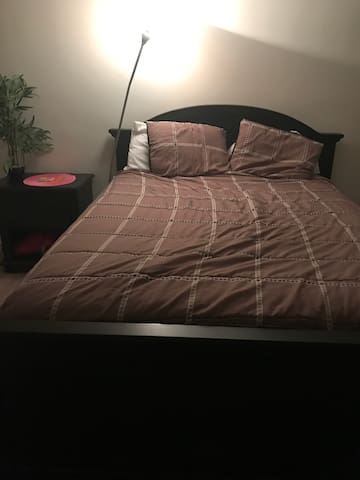 I'm listing a one bedroom. You will have access to the bathroom and the kitchen if needed. I'm very flexible with my check in times. My place is seconds away from Old National, 10 minutes away from Hartsfield Jackson Airport and Campcreek Parkway. If you need a ride to the room just let me know, however I do charge for gas. We can discuss everything before booking. It's a pleasant and cheap stay to take advantage of. Feel free to book for a night or 2 or 3. See you soon thanks for viewing.
Very friendly, and flexible with the check-in time
Gabby
2017-03-12T00:00:00Z
Great hosts! Area is not to good, but can be close to the city!
Jatore
2017-03-18T00:00:00Z
Art der Unterkunft
Privatzimmer
---
Objekttyp
Wohnung
---
Unterkunft für
2
---
Schlafzimmer
Atlanta, Georgia, Vereinigte Staaten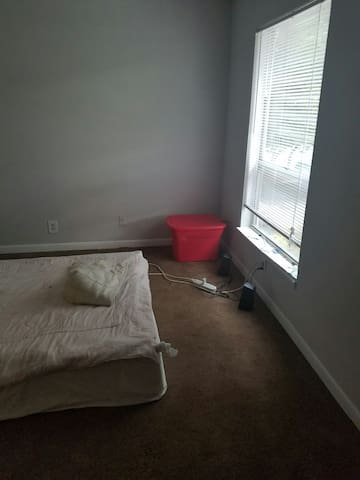 This private 2 bedroom apt. is quiet, clean & spacious, features; 2 bedrooms, bathroom, living room, dining room & wetbar, located in a walkable neighborhood,very close to I-85 & 285, quick access to airport, downtown Atlanta and local attractions.
Modern decor, private and spacious, this apartment is nestled on the lower level of our Multi-level home. All the facilities in this apartment are available for your use and enjoyment throughout the duration of your stay with us.Our home is conveniently situated for quick access to restaurants, retail stores and business centers. Minutes away from Pinewoods Studios, Atlanta Metro Studios, Georgia Renaissance Festival, The Walking Dead Tour, Georgia Aquarium, CNN Center, World of Coca Cola, Georgia International Convention Center and Georgia World Congress Center. Privacy is taken into account and as such none of the facilities are shared. Keypad access a feature. For your relaxation and comfort, a 55" smart tv is provided. Watch Netflix, Youtube and more. Wifi access is available. The bathroom is modern and features two separate shower heads for the spa experience. The bedrooms are spacious but yet cozy. The kitchenette is equipped with refrigerator, microwave, coffeemaker, electric tea kettle, toaster, a wide variety of complimentary teas, coffee and eating utensils. On the outside, a grill is available should you decide to indulge your appetite. Additionally the space is suitable to facilitate, paint parties, small company social night and product training sessions. Send a message to discuss further.
Home is located in a quiet, residential, walkable neighborhood 10 minutes south of the Hartsfield Jackson International Airport and 5 minutes away from Atlanta Metro Studios in downtown Union City.
Great host, was very hospitable, place was big and spacious. She checked up but didn't hover over us to let us enjoy our stay and that was very cool. Would def stay here again.
javon
2016-10-10T00:00:00Z
My host made my group feel like we were family. Bethon provided great customer service during the stay of her private home. She toured us upon arrival and accommodated my stay in a short period of time. I am gracious that Bethon opened her home to us and for a reasonable price as well. The listing was very accurate from the description. I loved it so much I will try to use her home every time I visit Atlanta. The home is not far from downtown or other amenities and the neighborhood was great. My stay was magnificent thank you so much Bethon.
catiria
2016-05-02T00:00:00Z
Bethon was very understanding and accommodating in regards to me checking in later than I anticipated. Any questions or concerns I had she made sure to fix. I didn't realize it was the basement of the house until I got there though. Nevertheless, it was absolutely beautiful and I enjoyed my stay.
Jess
2016-06-10T00:00:00Z
This is a very quiet, private space. Bethune is an awesome host! Very understanding and open to last minute changes. If you are in need of a space to host a small intimate event like Avon party or just traveling thru Atlanta with the family, this is the place to be!!!! Thank you Bethune for having us!
Terry
2016-09-18T00:00:00Z
Our stay at Bethon's private apartment was beyond our expectations. We felt at home and Welcomed, the space was very clean and well decorated. Bethon was a great host with fantastic communication skills. We look forward to staying again.
Shanna
2017-02-26T00:00:00Z
I'd give this stay/ apartment 4.5 stars! Bethon was a great host with excellent communication before and during our stay. The apartment is immaculate and a perfect space for a family or couples visiting the Atlanta area. It was an easy 20 minute drive to downtown Atlanta, and was within 30 minutes of most "The Walking Dead" filming locations (which was the focal point of our trip). We enjoyed having our own space to crash - for about the price of a hotel. I cannot stress how clean this place was, and how nice & responsive Bethon was. The shower was also amazing! Thanks for being part of an amazing trip, Bethon! We hope to be back again some day!
Mindy
2016-05-26T00:00:00Z
Excellent
Mark
2017-04-02T00:00:00Z
Bethon place was everything we wanted and more. It was so spacious and clean. Felt like a home away from home. I highly recommend staying here. Lovely neighbour and very quiet. Close by to everything. Thank you so much. Can't wait to stay again. Will miss waking up in your beautiful home
Neisha
2017-03-29T00:00:00Z
Art der Unterkunft
Ganze Unterkunft
---
Objekttyp
Wohnung
---
Unterkunft für
5
---
Schlafzimmer
Union City, Georgia, Vereinigte Staaten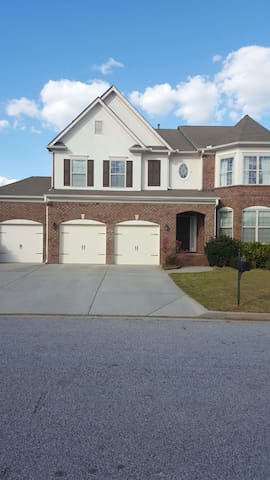 Private entrance, beautiful wooded vista, walks down to lake. A huge deck, gazebo, outdoor dining. 1700 square foot appt. One bedroom, with king sized bed. Large eat in kitchen with full appliances, and full Laundry room. 60" TV with premium package included in spacious living room, and library/office . Wifi and all utilities included. We are located 15 minutes south of Atlanta airport, in the peaceful golf cart community of Peachtree city with 182 miles of lovely hiking paths. Convenient access to shopping, restaurants, and entertainment; Pinewood studios, and Raleigh studios and 30 minutes to downtown Atlanta.
1700 square feet of luxurious comfort. Private entrance. Magnificent deck with walk down through woods to large lake. All newly created space , all new appliances, professionally decorated with warm inviting ambience. Wifi, full executive premium TV xfinity package, parking space. Hiking paths and wild life, as well as upscale shopping, restaurants and entertainment. Peace and beauty!
It is life in a private paradise...the best of healthy lifestyle, outdoor living in an extremely safe, friendly, high income, multicultural community, with easy access to the city of Atlanta....we call it "the bubble" because it's a uniquely beautiful surprise in the South, unlike any other in the USA. Farmers markets and Aldi, Fresh market etc.
The place was deffinitely more than a place to crash, great space for the price and we had a full kitchen for us! Beautiful neighborhood and very nice people. Extremely quiet to enjoy quality rest. Next time we will deffinitely try the hiking trail! We were able to spot some deers super close to the back of the house.
Linnette
2016-12-28T00:00:00Z
Art der Unterkunft
Ganze Unterkunft
---
Objekttyp
Wohnung
---
Unterkunft für
2
---
Schlafzimmer
Peachtree City, Georgia, Vereinigte Staaten
Quaint and nestled in the prime location, this spacious apartment is sure to meet your travel/vacations needs for any family when visiting Atlanta!! - 10 minutes from Hartsfield airport -20 minutes from downtown Atlanta -3 minutes from Wal-mart, McDonalds, IHOP -12 minutes from a major shopping plaza. -In walking distance of Marta Transportation -Less than 2 miles from Hwy. 85
Upon entering the apartment, you will be welcomed by a spacious living/dining/kitchen area to include a love seat and sofa. The sofa can be used as a sleeping haven. The blow up bed in the guest bed accommodates two additional guest. The master bedroom houses a queen size bed allowing 5 people to reside here for as long as you travels require you to. . You'll love my place because of Seemingly the pent house suite - my apartment is within the first building, up two flights of stairs and includes scenic balcony views of the lush trees below. Located in a quiet neighborhood, you will be left alone to enjoy your vacation without interruption.
Quiet, quaint and family oriented.
Everything was as described...actually much better. K'Asha has a beautiful house, very comfortable beds, a really clean bathroom and everything one could ask for. My family and I had a wonderful stay here and would love to come back again if possible. Thanks K'Asha !
Isha
2016-06-30T00:00:00Z
The place was good. It was a little out of the way for us but it was quiet and worth the money. The only thing that I did not like was that the building's hallway lights did not come on in the early morning when it was still dark so it was very hard to see when taking the dog out for morning breaks and when we checkout early in the morning. I really like the fact that there was a washer and dryer to use. Close to the airport
Mila
2016-12-30T00:00:00Z
Great place to stay if you have an early flight!
Claudia
2016-12-24T00:00:00Z
K'Asha-Amour was a great host. She provided detailed instructions for access into the apartment since she was still at work when I arrived. She also promptly responded to any questions that I had. The house was clean and tidy and had everything that I needed. Also if you're looking for a place to eat in the area, I highly recommend Jerk Palace. The food is AMAZING!
Brittany
2016-09-17T00:00:00Z
We came down for Music Midtown in Piedmont park and this place was great! Plenty of space for us, plenty of amenities which saved us money. Very clean, and our hostess was easy to reach at a moments notice and provided us with all the information we needed! Uber rides were not terribly expensive either: if you aren't staying in the city, this was the place to be!
Garryn
2016-09-20T00:00:00Z
This was a quiet and quaint place to stay. Very convenient to be right outside of Atlanta with any amenity you need close by. The apartment was as advertised and comfortable. The communication with K'Asha was amazing. She made sure every need I had was met. A must stay!!!
Brandon
2017-01-15T00:00:00Z
Perfect
Jordan
2016-07-31T00:00:00Z
K was a fantastic host. She had the air matress blown up out of consideration for our long trip. She left us a sweet welcome note and drinks. She communicated with us plenty before the trip and when my GPS let me down on day of arrival she, without me asking, tried to drive 30 minutes to where we were to help. I had her wait with hopes we would figure it out, which we did with her guidance over the phone. We had a great stay!
Jamie
2016-06-13T00:00:00Z
Art der Unterkunft
Ganze Unterkunft
---
Objekttyp
Wohnung
---
Unterkunft für
5
---
Schlafzimmer
Union City, Georgia, Vereinigte Staaten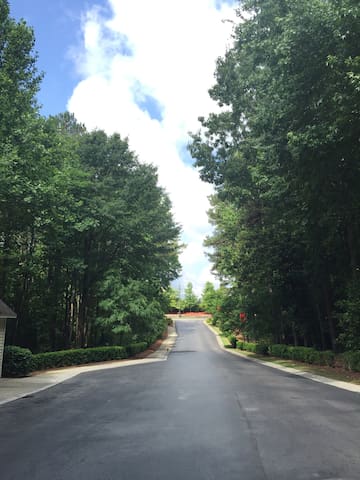 This is a Unique opportunity to rent on a 15 acre ranch. Perfect roommate Layout, Huge, Laundry, Pool, peaceful retreat after a Long day. Plenty of land to explore, Great Neighbors, No traffic, Fresh free range farm eggs every day. Modern but Comfortable decor, Strong wifi, Everything you need. Minutes by car or bike to Pinewood and 15 min to the Airport. 30 Min from Midtown. 15 min to Peachtree city. Must be OK with animals though no animals will access to your apt.
The property is a very private Gated 15 acres. Safe and quiet with wonderful neighbors. It is at the end of a dirt road. The house is a beautiful home with divided living space. We live downstairs with the animals. The upstairs apt has a private entrance through the garage. The apartment is 2000 sq ft, modern and overlooks one of the horse pastures. Its peaceful and gorgeous. Both rooms have King size beds and their own attached bathrooms and massive closets. You have access to the Gym in the garage as well as the pool. You must love animals as this property has 3 friendly dogs, 2 loving cats, chickens for Fresh farm eggs every morning and 2 friendly horses. There is plenty of reading material and even a fooseball table. There are walking trails on the property and lots of open space. People come and go to care for the horses, landscaping and pool.
We are at the end of a dirt road and all of our neighbors have 5 or more acres.
We loved staying it Monique's place in Fayetteville. Monique is an excellent host. We had fresh eggs in our kitchen when we arrived. The pool was relaxing and clean. The house is on a beautiful part of Fayetteville. It had a very country feel. We made friends with the horses and the other animals and spent some time each day walking on the property. It was a wonderful stay. We hope to come back next time we are near Atlanta.
Ian
2016-09-19T00:00:00Z
Art der Unterkunft
Ganze Unterkunft
---
Objekttyp
Wohnung
---
Unterkunft für
2
---
Schlafzimmer
Fayetteville, Georgia, Vereinigte Staaten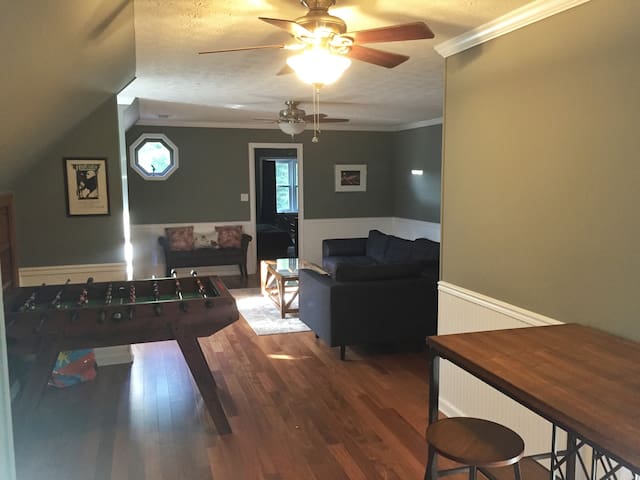 Room for rent with shared bath. Close to the highway Atlanta in30min Airport in 15min. . You'll love the location and its a reasonable price. This place good for solo adventurers and business professionals. If there is more then 1 person I may be able to work something out.
Very quiet home no kids or pets. Free parking and WiFi is included. Also the home can come furnished or unfurnished.
The neighborhood is nice and quiet. Is less then 5 min from the police station. So it is very safe.
The host canceled this reservation 77 days before arrival. This is an automated posting.
Katie
2017-03-25T00:00:00Z
Art der Unterkunft
Privatzimmer
---
Objekttyp
Wohnung
---
Unterkunft für
1
---
Schlafzimmer
Fairburn, Georgia, Vereinigte Staaten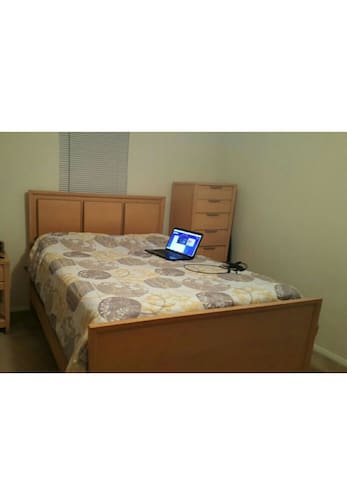 The apartment at Betty's Cozy Inn is clean, warm and cozy. This is a great place for someone who wants to catch up on their rest or work from a peaceful environment. Perfect for those on business trips. There is plenty of lighting and a comfortable desk to work from. This cozy Inn is conveniently located in a quiet and pretty sub-division in Union City. It is 12 minutes from Hartsfield Jackson airport and 20 minutes from downtown Atlanta. Jonesboro road, five minutes away has Walmart, banki
This is a very spacious apartment approximately 1200 square feet, a great place to rest or work from. A parking space on the left side of the garage is designated for my Airbnb guest.
Great place to walk or fish at one of 3 natural lakes.
This was such a vast different experience than my previous visit. The noise upstairs was unbearable! I spoke with Ms. Betty and she stated her daughter & grandson had moved in and she was going to send them to her sisters house because she understood. That never happened. Then the arguing between adults. I've never heard anyone cuss their mother like this daughter. Totally disrespectful! I got no rest. No work done. No relaxation. A total waste of money! The furniture is different than the pictures. There is a long piece of plastic that stretches from one end of the room to the next and about 3 feet up from the floor. It rained and slightly flooded that corner of the room. I'd get that fixed before charging someone for the space! The sad part is I had recommended my sister to stay there when she came to town for our work and her experience was way worse than mine and she had paid for 3 weeks in advance!! Gosh I hate that I ever did that because we wasted a lot of time being aggravated & frustrated! I'm sorry Ms. Betty but I must take u off my stay list!!
Dr. Tina
2017-02-27T00:00:00Z
Ms. Betty was warm and inviting during check in. This basement has a private entrance and is beautifully finished with all of the amenities one could want with the exception of a laundry facility. The current photos don't even begin to show how beautiful the place really is. However, during my month long stay, rates fluctuated and new fees were assessed without prior notification. The family in the unit above the basement are early risers, so be prepared for the sound of foot traffic before dawn and daily visits with the pet cat. Other than that, the place was great for a generally secluded getaway only a few miles drive from shopping and dining on a main thoroughfare leading to one of the main highways in Atlanta.
Kinetic
2017-03-11T00:00:00Z
I love Ms. Betty's Cozy Inn!! It is truely home away from home! It's not only beautiful in decor but the spirit of the house is incredibly soothing, comforting & inviting! I'm looking forward to my upcoming 2 wks stay again! Ms. Betty has become apart of the family & she treats u just like it!!
Dr. Tina
2017-02-15T00:00:00Z
Betty was a great host. Her accommodations met all my needs. Great place to stay.
Harry
2017-02-13T00:00:00Z
Quiet, spacious, beautifully decorated space for a extremely affordable price. Highly recommended.
Ann
2017-02-16T00:00:00Z
Art der Unterkunft
Ganze Unterkunft
---
Objekttyp
Wohnung
---
Unterkunft für
4
---
Schlafzimmer
Union City, Georgia, Vereinigte Staaten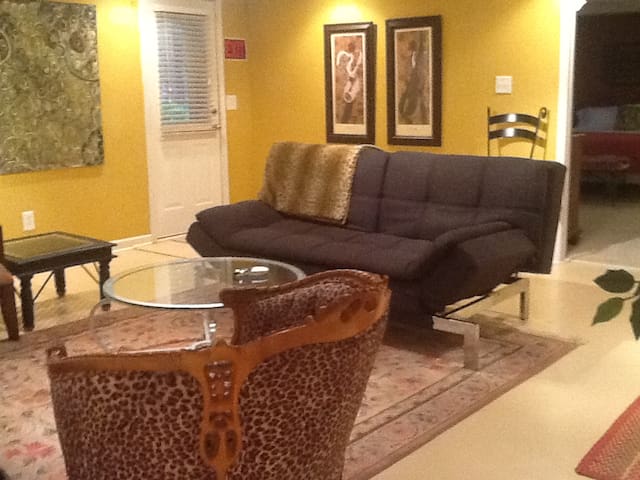 Imagine living within minutes of nine world-class golf courses, countless upscale restaurants, premier shopping and unlimited forms of entertainment that are all accessible by 100 miles of golf cart paths right outside your front door. This good life can be yours at Camden Peachtree City. You'll love my place because of the location (30 min. max from Airport), the coziness, and privacy.. My place is good for couples, solo adventurers, and business travelers. Gym access included with stay!
Art der Unterkunft
Privatzimmer
---
Objekttyp
Wohnung
---
Unterkunft für
2
---
Schlafzimmer
Peachtree City, Georgia, Vereinigte Staaten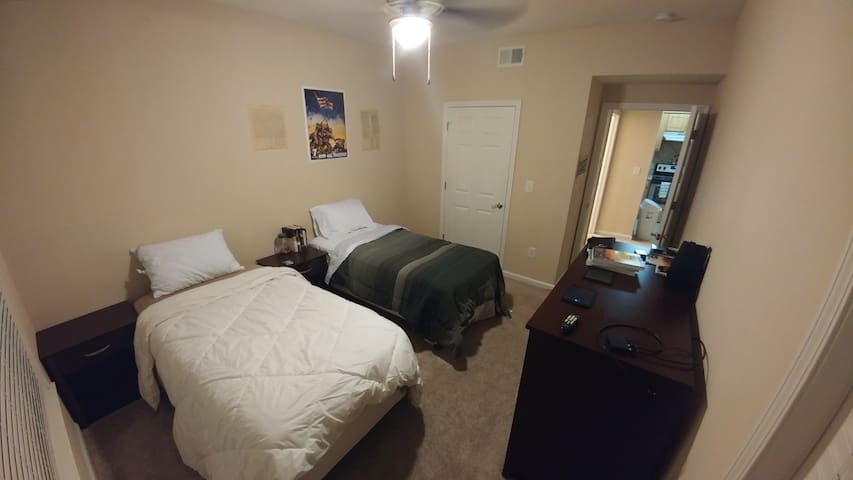 Spacious golf and lake view Terrace level apt. with two sitting areas, complete kitchen, eating area, 2bed/2bath plus office which could be space for additional bed subject to owner approval. Private laundry facility, and parking for two vehicles. Close to Cancer Center of America - Newnan, GA location. Possible transportation to/from Center for treatments if required and for small additional fee.
Private, separate entrance - golf course and lake views from all windows, kayaking and fishing marina for lake activities nearby and can be within walking distance. Bicycles and kayaks available for guest use.
Safe and secure neighborhood; walking trails, etc.
Excellent people, place and amenities it is more than just a place to stya!!!
Luis
2017-01-02T00:00:00Z
Our host Lynda was fabulous. She was such a sweet woman with great hospitality. The apartment suite was beautiful and relaxing. Her neighborhood was very safe and quiet. Anything we needed, she was happy to oblige. She left us with plenty of water for our stay and not to mention all the snacks, fresh vegetables and fruit. I'm looking forward to coming back to Newnan, just to stay here again.
evanee
2016-10-16T00:00:00Z
We moved from overseas to Newnan GA and Lynda made us feel like home since the very first day! Beautiful place with awesome view to golf course and lake. Lynda was very attentive and provided us with everything we needed without having to go to the grocery store for a few days. The place is in mint condition and in a very convenient area. It was a pleasure staying here at Linda's place. I highly recommend this beautiful apartment.
Juan
2016-09-28T00:00:00Z
Lynda's place was beautiful and very clean. I loved the decor. The best part was sitting outside looking at the lake and watching the hummingbirds flit around. Breakfast was delicious and a nice touch. I would certainly go back if I am in the area again.
Kristin
2016-08-21T00:00:00Z
Very nice space.
Miles
2016-09-10T00:00:00Z
Lynda and her place is above and beyond! She is a wonderful host, easy to communicate with, very flexible and accommodating. Her house and the apartment itself is beautiful and meets all needs. Simply put: perfect! I definitely would stay here again and recommend for everyone who is looking for an awesome place at a safe neighborhood.
Henrietta
2016-10-11T00:00:00Z
First and foremost, Lynda is the best host I've met through airbnb. She is so friendly, generous and welcoming that you will be sad that there are not more people in the world like her. I stayed at her executive suite during a 2-day business trip and found that she had stocked the kitchen with all sorts of great food: fresh fruit (bananas, apples, oranges, strawberries, and blackberries), yogurt, eggs, cheese, sliced ham, sliced turkey, muffins, english muffins, bagels, granola bars, crackers, hummus, tortillas, tortilla chips, various salsas and dips, oatmeal, coffee (starbucks), various teas, cereals, milk, orange juice, bottled water, etc. Yes - it was crazy. Obviously, it was too much stuff to be able to consume in the course of two days. The house is beautiful. It is actually the lower ground floor of Lynda's beautiful house. It has its own parking area and a private entrance on the side of the house. Lynda was very respectful of our privacy and after a brief welcome tour, we didn't actually see her until we were checking out. The rental part of the house is very spacious. There is a very large living room that runs into the dining room and kitchen in an open plan arrangement. There are many windows throughout the house to take advantage of the gorgeous views of the lake. The house is tastefully decorated with items from around the world. The beds were comfortable and had nearby outlets for convenient charging of phones on the nightstands. The bathrooms were very clean and with modern fixtures that worked nicely. The shower had bottles of Tresemme (sp?) shampoo and condition as well as a body wash (I don't remember the brand. Towels were very nice and fluffy. There is central air and I didn't have to touch the climate control once during the stay. Temperature was very comfortable. There were ceiling fans throughout the house (2 in the living room alone) that could provide good air movement whenever desired. The kitchen was not only stocked with food but also had all the appliances that I could ask for in a rental property. The fridge was brand new and very clean. There was a nice drip coffee maker, a toaster oven, a 4-slot toaster, a dishwasher, and an electric range. Plates, bowls, cups, mugs, flatware, pots, pans, utensils, etc. The countertop was a Corian (or Corian-like countertop) without any grout so cleanup was very easy. The entire house was also furnished very nicely. Plenty of seating throughout the house - leather sofa, comfy couch, arm chairs, bar stools, etc. and a dining table and chairs for 6. Everything to meet your various seating needs. I would highly recommend this house to anybody traveling to the Newnan area. Oh and did I mention how awesome the host was???
Mike
2017-01-20T00:00:00Z
Words can't describe how pleased we were with our stay here. Lynda was the perfect hostess! We have stayed at several Airbnb's but are completely spoiled now. Lynda not only thought of everything we could imagine, but so much more! The neighborhood is beautiful, safe, and close to everything we needed. The space is beautifully decorated with lovely views of lake and golf course. There are so many inviting areas to sit for conversation inside and out, and lots of possibilities for outdoor activities as well. Lynda was available to meet any needs we might have (although she anticipated and met them all before we arrived!). She provided a hot breakfast the first morning; had snacks, coffee and various items we forgot to pack. We definitely would stay there again. Just wish Lynda could be in every city we visit! I give her 5 stars! Elizabethann Sent from my iPhone On Nov 27, 2016, at 7:51 AM, Airbnb wrote: Airbnb Profile Picture How was your stay at Lynda D.'s place? Write a review to tell Lynda D. what you loved and what they could have done better. Your feedback will help them improve and tells future guests what to expect. Lynda D. won't be able to see your responses until after they submit a review about you. Rate your stay at Lynda D.'s place (SENSITIVE CONTENTS HIDDEN)s (SENSITIVE CONTENTS HIDDEN)s Instagrams Pinterest Sent with from Airbnb Email preferences (PHONE NUMBER HIDDEN) ### Airbnb ###
Elizabethann
2016-11-27T00:00:00Z
Art der Unterkunft
Ganze Unterkunft
---
Objekttyp
Wohnung
---
Unterkunft für
4
---
Schlafzimmer
Newnan, Georgia, Vereinigte Staaten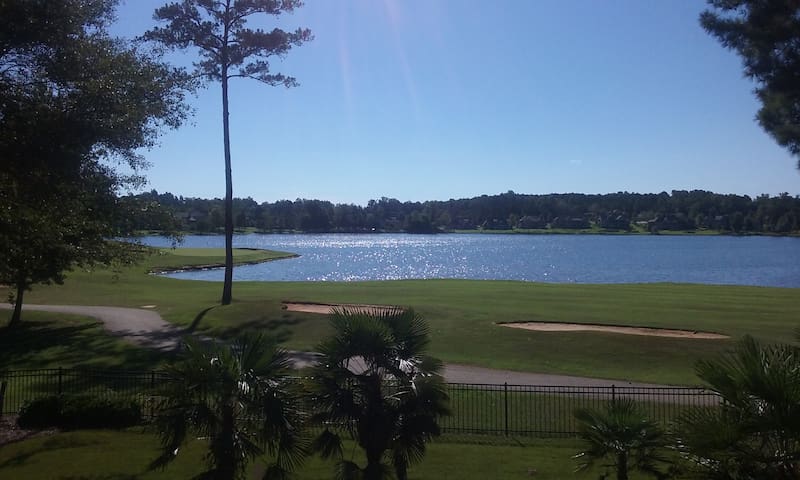 The Bayview at Clearwater is close to Newnan, Senoia, Peachtree City, Atlanta, Callaway Gardens, Reets Drying Academy, and Cancer Treatment Centers of America You'll love Bayview at Clearwater because of its serene lake views, quiet atmosphere, and even a bit of fishing or swimming in the pool (May to September). Bayview at Clearwater is good for couples, solo adventurers, and business travelers.
Please note that Bayview is a private upstairs apartment and that there is a flight of stairs to access your own private entrance.
Located on quiet tiny dead-end street. The only noise might the the ducks!
Art der Unterkunft
Ganze Unterkunft
---
Objekttyp
Wohnung
---
Unterkunft für
2
---
Schlafzimmer
Sharpsburg, Georgia, Vereinigte Staaten
Beautiful private basement apartment in home with character. Located at the quiet end of culdesac, nestled in the woods! Peace and serenity can be found here. 10 min from Pine Wood Studios, 20 min from Walking Dead, min from town sq, 20 miles to airport.
750 sq ft beautifully remodeled and fully furnished. Comfortable queen size bed two; however, it can accommodate 3 on a temporary basis by using the couch. Separate private entrance. Apartment includes parking area, totally remodeled and upgraded: Full kitchen, bathroom, living room, bedroom and laundry facilities. It backs up to the woods so serenity is the key! The apartment has access to WiFi and it features a 47 in Smart TV. Dish Network provides cable with 190 cable channels including HBO and many other great channels. The Smart TV accesses the Internet, Pandora, Net Flix, etc.
This is a very established and quiet neighborhood where owners are very friendly. If you love to walk, this neighborhood will give you that peace and quiet you deserve.
The host canceled this reservation 5 days before arrival. This is an automated posting.
Kaur
2016-10-12T00:00:00Z
Great place, clean and with everything needed to feel like at home( Full kitchen with pots and pans, TV with lots of channels, washer and dryer, private entrance). Quiet neighborhood. The best hostess. One week like at home!!!!
John
2016-10-24T00:00:00Z
Definitely felt like home, fits the description. It was like borrowing a friend's place yet totally professional. Particularly we loved the modern look of the bathroom, kitchen and the TV unit with the channels, and landscape outside the glassdoor. You got every food place and market all around you, and if you have occasional visits to downtown Atlanta ride is not so bad.
Fahri
2016-03-03T00:00:00Z
Everything was fantastic and TI offered to make our stay even better, had we needed anything. We had a nice stay, and there was unexpected, but very welcomed breakfast items on hand, since we arriving extremely late. Also, we appreciated the washer dryer, and private entrance, along with the nicer quality pots and pans, and cooking utensils. Thanks again - we will mostly likely return when we are in the area.
Rosalyn
2016-10-11T00:00:00Z
Tamara is the ultimate hospitality Queen! Upon arrival, she greeted us and gave us a welcome tour of where we would be staying. She even had complimentary breakfast foods available to us in the fridge. The unit is very spacious, and comfortable. We like to cook a lot of our own meals, so having a complete kitchen was essential and a great added bonus. Her property is absolutely beautiful. It's at the end of a cul de sac, nestled quietly up against a forest of trees and nature. Walking out of the door each morning looking out into the forest was such a joy! She also has a screened in porch available to guests for use. I took advantage of this and it was one of my favorite parts about our stay. Getting to work on my computer with a forest view watching and hearing all the birds flying around was truly special. The neighborhood is also very quaint and safe. We went on several walks at all times of the day in the neighborhood. Whenever Tamara was around, she was friendly, accommodating - making sure we had everything we needed, and helpful. We would love to stay with her anytime, and would absolutely return to her retreat in the woods!
Andre & Sierra
2016-05-04T00:00:00Z
Beginning to end, Pamela made this an amazing and comfortable stay! Her place has it all, privacy, views, parking, cleanliness and plenty of space. The location is perfect and close to the markets and local eateries. Ive had my fair share of Airbnb stays, and I have to say this was the best experience by far. I will definitely be staying her when visiting Georgia again. Do not hesitate and book NOW!
Branden
2016-10-01T00:00:00Z
TI's place is exactly what the description says, cozy, quiet, and peaceful. I was only staying for one night, but the place seems to be equipped with everything you need for a comfortable long-term stay. It's super clean and everything looks newly updated (Especially the bathroom!!) Would definitely recommend it!
Julia
2016-03-19T00:00:00Z
Art der Unterkunft
Ganze Unterkunft
---
Objekttyp
Wohnung
---
Unterkunft für
3
---
Schlafzimmer
Fayetteville, Georgia, Vereinigte Staaten
Inspiring Natural Environment on 5 Acres. Quiet and Private. A view from every room. Every room has queen size bed. An atmosphere of meditation, reflection and creativity combined with fun and plenty of nearby activities for both individuals and family. Now a filmmaking capital. See detail section for Hollywood Bungalow
Hollywood Bungalow: Independent Garden Level living. Over 1000 sq feet with full bath, cooking area, and washer and dryer. Out door patio, BBQ and 5 acres with running creek. Separate entrance with storage and parking. Completely private and quiet. Cable TV, wifi and fully furnished. Queen size bed with cleaning service available. Currently offering discount to Pinewood Studio film crew with 6 month stay. Welcome Avengers!
See Hollywood South 1 for info
Art der Unterkunft
Ganze Unterkunft
---
Objekttyp
Wohnung
---
Unterkunft für
2
---
Schlafzimmer
Fayetteville, Georgia, Vereinigte Staaten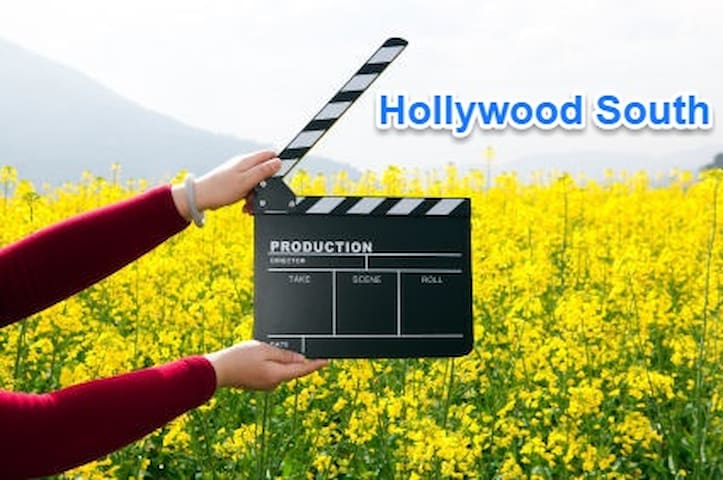 QUIET, KID FRIENDLY, GATED COMMUNITY NEAR ATLANTA AIRPORT- EAST POINT COLLEGE PARK. CLOSEST TO CAMP CREEK MARKETPLACE... I-285, I-85, 166, AND I-75. ON MARTA BUS LINE COLLEGE PARK STATION. IN WALKING DISTANCE TO 24/7 CONVIENT STORE, AND SEVERAL RESTAURANTS! SUITE IS FURNISHED WITH FULL SIZE BED, LOVE SEAT RECLINER, TV AND TV STAND, MINI FRIDGE, AND SMALL DESK AND STOOL. THIS IS A PRIVATE SUITE ROOM WITH WALL TO WALL CLOSET.
Art der Unterkunft
Privatzimmer
---
Objekttyp
Wohnung
---
Unterkunft für
3
---
Schlafzimmer
East Point, Georgia, Vereinigte Staaten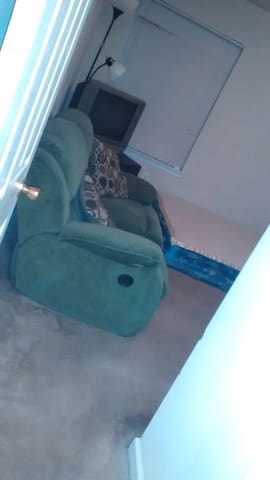 A brand new loft suite with cozy king bed and a private screen porch with barn wood bed swing overlooking Serenbe Farm and forest. The rustic chic unit features a kitchenette, beautiful bathroom with heated floors, and yummy decor. Need more space or is Farmloft booked? CHECK OUT OUR NEWEST PROPERTIES - BROWNSTONE I AND II - BRAND NEW, CREAMY WHITE, FULL RENOVATIONS IN THE HEART OF DOWNTOWN SERENBE
This brand new property is the newest available in the Serenbe community. Perched on a hilltop overlooking Serenbe Farm, Grange Lake and the hardwood forest, this luxury suite with soaring ceilings, reclaimed beams, and abundant cozy space enjoys total privacy. Expertly maintained and well appointed, it has private parking and entry, separate HVAC, high speed wi-fi, cable, wood-planked screen porch, kitchenette with refrigerator/freezer, microwave, coffee maker, and sumptuous new king bed. Light pours in from every direction, including the cupola above the screen porch, and all your water in the suite is purified. PLEASE NOTE THAT THERE IS A TWO NIGHT MINIMUM ON WEEKENDS OR $400 FEE FOR A SINGLE NIGHT.
Within 30 minutes of the Atlanta airport and downtown Atlanta, Serenbe is a resort community offering an eco-friendly, urban chic farm atmosphere. Award-winning restaurants, trail riding, gorgeous hiking to a waterfall, ropes course, cooking classes, weekly farmers market, great shopping, and all kinds of events and more can all be found just outside our door. PLEASE NOTE THAT THERE IS A TWO NIGHT MINIMUM ON WEEKENDS OR $400 FEE FOR A SINGLE NIGHT.
The farm loft at Serenbe is absolutely awesome. We thoroughly enjoyed our stay and Dana gave us great recommendations to experience Serenbe. We will definitely be back. It was perfect.
jim
2016-01-17T00:00:00Z
Great place for a getaway!! Super comfortable bed, well decorated, great bathroom with heated floors, and generally clean and cozy.
Matt
2016-03-16T00:00:00Z
The farm loft is dreamy! It is clean, fresh and well appointed...and the bed is extremely comfortable. Serenbe is a little slice of heaven on Earth, and the perfect place to unwind and get away from any sort of stress in your life. We will definitely be back to the Farm Loft!
ashley
2015-08-02T00:00:00Z
Charming and serene!! Indoor / outdoor living worked out beautifully + great coffee in kitchenette for early morning risers!! Ask about the trails for fastest route back to town. Makes the trip a total ACE w/ ease and privacy of farmhouse + easy walkability to town (and everywhere in between). Highly recommended. Hosts are fantastic and space is total 10!!
Drew
2017-02-20T00:00:00Z
Dana is a wonderful host and her place is immaculate!
Ayana
2016-10-02T00:00:00Z
My husband and I had the best time in Serenbe and the Farmloft couldn't have been more perfect! The decor, wood beams, bed swing on the porch and the view of farms right out the large porch screen windows were all amazing. We walked to the shops and to breakfast and enjoyed walking the trails. Perfect location and Dana was so accommodating and helpful. Can't wait to come back again!
Sarah
2016-11-07T00:00:00Z
The Farm Loft is a little slice of heaven! My husband and I loved the screen room for the fresh contry air to come in, the bed was very comfortable and we had plenty of space. The kitchenette was well stocked and entire space was just dreamy. Will definitely stay here again!
Erikka
2015-08-30T00:00:00Z
We absolutely loved our stay at the Farm Loft! Very clean and beautifully decorated! Loved the swing bed on the enclosed porch, it was perfect to lay at night and look at the stars! Dana was a very nice host. Can't go wrong with the Farm Loft at Serenbe!
Chasidy
2016-07-30T00:00:00Z
Art der Unterkunft
Ganze Unterkunft
---
Objekttyp
Wohnung
---
Unterkunft für
2
---
Schlafzimmer
Chattahoochee Hills, Georgia, Vereinigte Staaten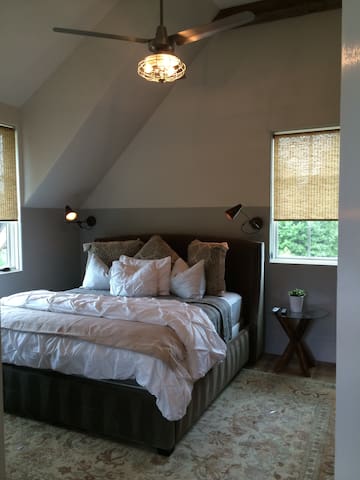 My place is close to Down town Atlanta, the city center, parks, great views, restaurants and dining. You'll love my place because of the outdoors space, the neighborhood, the ambiance, and the light. My place is good for solo adventurers.
Art der Unterkunft
Privatzimmer
---
Objekttyp
Wohnung
---
Unterkunft für
1
---
Schlafzimmer
Union City, Georgia, Vereinigte Staaten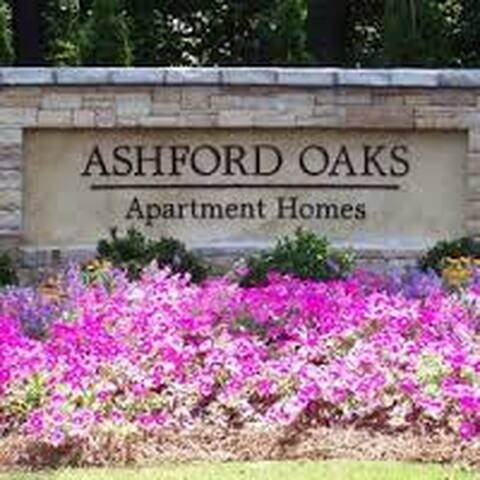 Tyrone - Airbnb
:
Durchschnittlich

4.66

von

5

Sternen aus

93

Gäste-Bewertungen
Gib deine Reisedaten ein, um den aktuellen Preis zu sehen. Es können zusätzliche Gebühren und Steuern anfallen.