Schöne Ferienwohnung in der Llanberis Pass einen atemberaubenden Fleck auf Snowdon besetzen selbst. Umrahmt von einem Bach und Fluss; Zugang über eine private Holzbrücke. Hundefreundlich. Unglaubliche Aussicht und gerade nach oben auf den Berg für Wanderer und Bergsteiger.
Herrliche Berghütte mit direkten Routen bis zu Spitze von Snowdon, Krippe Goch, die Glyders und Tryfan. Beginnen Sie jeden Tag, um die faszinierende und abwechslungsreiche Landschaft genießen, genießen, den ersten Kaffee / Tee einen Gebirgsbach mit Blick auf. Wir halten freien Bereich Rettungs Hühner, so gibt es eine stetige Versorgung mit Eiern für Sie zu niedrigen Kosten zu kaufen, wenn Sie zum Frühstück frische Eier möchten.
Ihre örtlichen Pub ist die Vaynol Arme in Nant Peris und dient Real Ale; eine freundliche Bergsteiger / Wanderer Pub. Es ist etwa 15 Minuten zu Fuß entfernt und die Bahnen können pechschwarz in der Nacht sein, so eine Taschenlampe mitbringen :) Eine kurze Fahrt weiter den Llanberis Pass ist der Pen y Gwryd Hotel, wo Hillary und Tenzing für die erste erfolgreiche Besteigung des Mount Everest im Jahr 1953 geschult Die Bar für alle offen ist, und ist berühmt für seine Fotos von Bergsteiger, die trainiert haben Snowdon für Everest. Zip Welt ist nicht weit entfernt (12 Meilen bis ZW Geschwindigkeit in Bethesda und 23 Meilen bis ZW Titan in Blaenau Ffestiniog) Plas y Brenin Nationale Mountain Centre liegt der Pass, 7 Meilen von der Hütte. Ebenfalls in der Nähe sind Greenwood Forest Park (Alton Towers für kleine Leute!) Die Llanberis Bahn bringt Sie zum Berggipfel, der Bahnhof nur 2 Meilen die Straße hinunter. Und auch auf der Grundlage bei Llanberis ist Electric Mountain, das Wasserkraftwerk und Besucherzentrum.
What a great place! We received a very warm welcome , we were given a lot of information on how to find the place. It is situated perfectly for walking holidays, the views are incredible, I will definitely rent the cottage again. A must see if your going to Snowden
Greg
2016-02-28T00:00:00Z
Fantastic cottage in an exceptional location. Lovely and quiet with everything required for a weekend away. Great communication with Lisa and excellent recommendations and local knowledge. It was definitely a pity to leave but we will be back next year.
DAVE
2016-10-16T00:00:00Z
Ty Maen is an absolute gem of a find with incredible views and access to hiking and any other outdoor activities one could possibly dream of! The cottage was so graciously stocked with enough necessities to get us started and the fresh free range eggs were delightful! Lisa and Chris gave excellent suggestions for hiking and sightseeing in the region, but even just hiking in the area right around the cottage would have sufficed, especially since coming back to the cottage and the boulder perch right outside my bedroom window were my favorite times! An experience not to be missed for sure!!
Molly
2016-03-29T00:00:00Z
So many things to do and see, all very close by.
Peter
2016-10-19T00:00:00Z
We had an amazing time here, Lisa is a wonderful host - very helpful. On arrival we were treated with fresh home baked Bara Brith cake by Lisa and she also provided useful information on what to explore in nearby areas. The cottage is beautiful and has everything to make you feel comfortable. There are plenty of walks around the cottage including Snowdon (Pen y pass is 5min drive), Y Garn.
Ankur
2016-11-12T00:00:00Z
We had a the most memorable stay in this lovely cottage at the end of May 2016, with gorgeous sunshine - just perfect to climb Mount Snowdon. The cottage had everything we needed, close to nature and awesome scenery. Lisa was an excellent host, helping and recommending when needed - thanks for the lovely Welsh Cakes - yummy! I would recommend anyone to go there, to get away from a busy everyday life, to recharge your batteries and experience Welsh hospitality. And climb Snowdon - it is SO worth it.
Riana
2016-06-02T00:00:00Z
This was the absolute perfect location to stay at for walking Snowdon; positioned with amazing views literally at the foot of Snowdon mountain range - you can even see the train go across the top of the range. The cottage is quaint with all the amenities you need, fresh bedding and towels provided. Lovely morning greetings from the locals - sheep - which pass by the kitchen window and stop to look in! Really friendly helpful owners who live on site, who were very informative with communication leading up to the visit and made sure we were happy with everything during our stay. Would definitely book again and recommend this cottage.
Lisa
2016-08-01T00:00:00Z
Such a wonderful warm welcome from Lisa and Chris made our stay all the more enjoyable. The setting of the cottage is perfect and you really get the ultimate Snowdonia National Park experience just by stepping out of the door and looking up. Free range eggs and super friendly chickens added to a stay that was charming, peaceful thoroughly enjoyable.
David
2016-06-13T00:00:00Z
Art der Unterkunft
Ganze Unterkunft
---
Objekttyp
Haus
---
Unterkunft für
4
---
Schlafzimmer
Nant Peris, Vereinigtes Königreich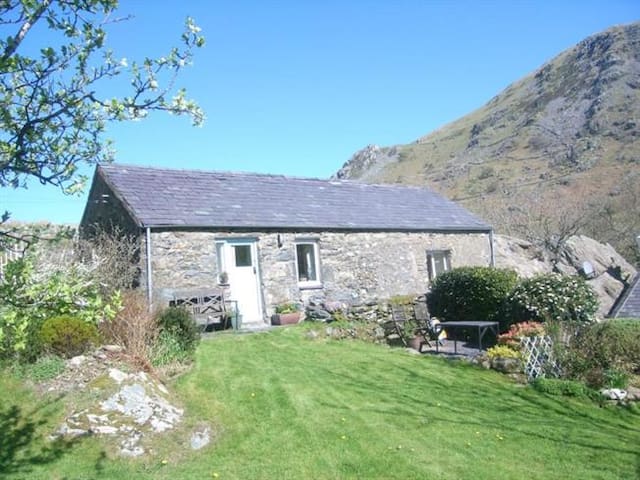 Cwm y Wrach ist unsere magische, aufgelistet 19. Jahrhundert Hütte 5 Minuten zu Fuß vom Parkplatz in Nant Peris, Snowdonia-Nationalpark. Vor kurzem renoviert. Perfekt zum Wandern, Klettern, Schreiben, Malen, und / oder einfach die ausgetretenen Pfade zu sein aus. Anmelden / rauchlose Öfen in zwei Wohnzimmern. Nicht neugierig, aber Ich mag wissen, wer Sie sind, Ihre Pläne & c. Wenn aus dem Ausland über London kommt, kann ich manchmal mit Unterkunft helfen (über Airbnb).
Cwm y Wrach, unser schönes Ferienhaus ist 5 Minuten zu Fuß vom Parkplatz in der Nähe des Vaynol Arms der Nant Peris gesehen - Sie müssen Ihr Kit und das Einkaufen tragen, aber einmal dort, werden Sie einen herrlichen und abgeschiedenen Basis haben zum Wandern und Klettern in Snowdonia, Schreiben, malen oder einfach zum entspannen vom Alltag .... Sobald eine Hütte 'Kletterer, dann eine Hütte Zugehörigkeit zu Ian & Loreto McNaught-Davis, Cwm Y Wrach ist nun unser Rückzug im Snowdonia-Nationalpark. Wir lieben es, .... und sind erst am Anfang, es zu lassen, wenn wir nicht da sind. Eine gemütliche Küche / Esszimmer, Elektroherd und Backofen, und zwei Zimmer im Erdgeschoss mit Holz / Öfen für feste Brennstoffe sitzen. Elektrische Dusche und Badewanne im Erdgeschoss Bad / Toilette, im Obergeschoss Klo und Waschbecken. Drei Speicherheizungen und Heizlüfter. Ein Hauptschlafzimmer (Doppelbett) und zwei Zimmer mit zwei Einzelbetten. Angrenzendem Hauswirtschaftsraum mit Waschmaschine und Trockner, unsere Gartengeräte usw. Der Brennstoff wird zur Verfügung gestellt (rauchlos, Feueranzünder, Anzünden).
Snowdonia - muss ich noch mehr sagen .... Sie können Snowdon klettern und zum Ogwen Tal zu Fuß über. Anglesey, Menaistraße, Caernarfon, Lleyn Halbinsel, Port Madog, Portmeirion und Harlech sind leicht zu erreichen mit dem Auto.
The cottage is fantastic, really remote in a good way, and close to the start of several Snowdon walking routes (5 min drive), so it was perfect for us doing the hike. It is surrounded by mountains and is ideal for a getaway to the country to escape hectic life! The cottage is nice and cosy when you get the 2 fire places up and running after a day out. We cooked in each night as there is nothing around nearby without driving somewhere, but there is a local pub 5/10 mins walk away. Bring supplies! Internet was good, for somewhere so remote! Beds were comfortable, key collection was easy and directions/list was nice and clear. Highly recommended, and I bet would be even better in the summer. Go stay!
Tom
2016-11-28T00:00:00Z
Lovely cottage, perfect for what we wanted !! Will definitely be going back.
Jamie
2016-12-12T00:00:00Z
We booked the cottage with only 2/3 days notice. Charlie was very helpful in meeting me in London to give me the keys to the cottage and some instructions about things. The cottage is in a beautiful location surrounded by the countryside hence the slightly precarious access, no path. The cottage itself was inviting with not one but 2 fires. It is heated with storage heaters so the fires are a very welcome boost to the heating. We thoroughly enjoyed our stay and would love to come back with friends.
Rebecca
2016-10-04T00:00:00Z
A real gem. Traditional cottage in a secluded spot accessed by walking up a short steep muddy path. An adventure to find in the dark! Perfect if you want to get away from it all. A great pub within walking distance if you're too tired to cook after your time in the mountains but all the equipment necessary in the cottage if you prefer to stay in and cook, chill in front of a fire and hide from the elements. Communication with Charlie was easy, helpful and hassle free. We appreciated he was upfront with the quirks of the place. We loved it and would definitely recommend this place.
Jo
2017-04-09T00:00:00Z
If you are after a real getaway in a spectacular location, then look no further. This remote cottage needs some stamina to access as there is a short but steep muddy path to negotiate with your luggage and supplies (rucksacks probaly better suited than suitcases which we had). Having said that, it's well worth the effort because once you are through the door, you can forget the rest of the world exists as you take in the views and encounter the visiting wildlife on your doorstep. The cottage has everything you possibly need for your stay and has been tastefully rennovated to a good standard and sensibly equipped. Our family of 3 adults and 3 children (8,10,12) found enough space to share comfortably, especially enjoying the much needed smokeless fuel burning stoves to keep us warm and help us dry out from the deluge of rain we were blessed with on our visit. The washing machine and tumble drier were also a godsend in this respect. During a brief dry spell we explored the steep hills behind the cottage and were rewarded with the views across Llanberis towards the coast. The kitchen is on the small side, but has just about every utensil known to man. We didn't want for anything whilst cooking apart from maybe a microwave, but that just required some slower cooking, which is what holidays are all about! It was a hard place to leave and we hope to return when the sun is shining one day!
Matt
2017-02-24T00:00:00Z
Great communication with owner. Quiet, scenic location. Cozy rooms, comfortable beds. Loved our stay!
Valerie
2017-02-13T00:00:00Z
Charlie's place was really fab, was the prefect place for a weekend getaway with friends. The location is great and very close to walks around Snowdonia. Charlie is really helpful and easy to communicate with.
Hannah
2017-02-19T00:00:00Z
Amazing place especially for people loving the mountains, it is a very good starting point for mountain hikes. The best place to stay in the heart of Snowdonia. Soon we'll come back there!
Tomas
2017-01-01T00:00:00Z
Art der Unterkunft
Ganze Unterkunft
---
Objekttyp
Haus
---
Unterkunft für
6
---
Schlafzimmer
Nant Peris, Vereinigtes Königreich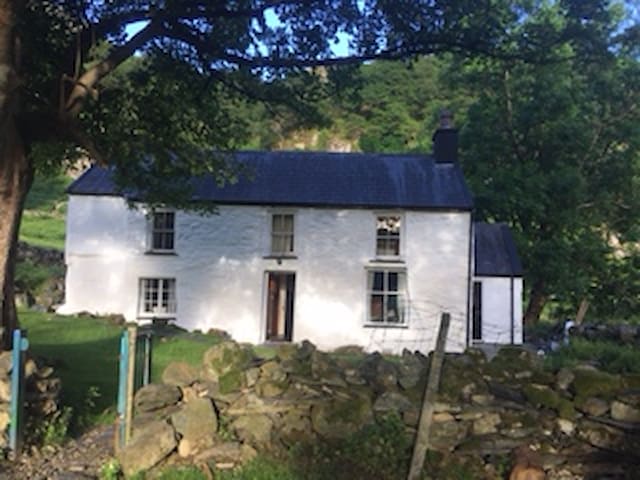 Schöner Bijou Schlafzimmer in einem umgebauten Dachzimmer in einer traditionellen walisischen Hütte. Das Hotel liegt zwischen zwei Seen, im Herzen von Eryri (Snowdonia), leicht zu Fuß erreichbar des Watkin Weg bis Snowdon. Viel Platz für aktive Abenteurer!
Bryn Aber am Rande eines Waldes gelegen, mit einem preisgekrönten Tierwelt Garten in einer kleinen Weiler drei Meilen von allen Annehmlichkeiten in Beddgelert. Moderne Zimmer mit frischen Shabby Chic Dekor und luftig Velux Fenster auf der Suche Wald und die Berge, um zu reifen. Ausschließliche Verwendung von kürzlich modernisiert wetroom ausgestattet.
Es gibt einen einfachen Zugang zu einer Reihe von Bergen, einschließlich Snowdon über den Watkin Pfad oder Südkamm. Viele herrliche Tal Wanderungen sind direkt von unserer Haustür zu erkunden. Zugang zu den Seen (Llyn Gwynant und Llyn Dinas) und der Fluss Afon Glaslyn ist einfach von jedem Fuß, Kanu oder Kajak. Nantgwynant beherbergt auch eine herrliche Gemeinde Café (Caffi Gwynant) die ganze Woche 9,00-5,00 Uhr (außer dienstags).
Despite adverse weather, we had a wonderful stay with Liam and Debs. They are welcoming, friendly, open, highly knowledgeable, with a fantastic house in a beautiful setting. Not just that but willing to entertain with stories of their many adventures local and further afield. Highlights: One of those places is Nepal - all income from this listing is going to earthquake relief there - the Trek Nepal Foundation a charity they are setting up with a proactive Nepali friend. Breakfast - peanut butter and honey porridge (very good) beside a picture window with a close up view of a very active bird feeder. Mesmerising, the comings and goings of tits, finches, even shrews and woodmice! The room and facilities are just as described. The attic room is warm, cosy and very comfortable (yes, with amazing views of Snowdonia through the velux windows). We slept very well to the patter (pounding) of rain on the roof. One thing to note - as shown in the picture the ceiling is low in the eaves and the stairs up to the room are steep attic steps coming up under the wooden joist. No problem ascending, but doing down requires a little bending and stooping. The wet room is new, in great condition with heated towel rail, great shower, new fittings etc. Overall a wonderfully restful and restorative stay.
Matthew
2015-07-28T00:00:00Z
Friendly welcome from Liam and Debs, lovely room and definitely would like to revisit.
Michael
2015-08-02T00:00:00Z
We absolutely loved our stay in Liam and Debs' beautiful cottage. The room is homely and comfortable - although the steep steps up to the room felt a bit cruel after our adventure up Snowdon! The wet room was great, and both the bedroom and wet room were in a private space. Everything had been thought of - including towels and tea-making facilities in the room. The breakfast was amazing! We obviously didn't read enough reviews to realise that the offer of porridge is one that you don't turn down (we did, and we're a bit sad about that), but there was fresh bread, loads of choices for spreads (including home made lemon curd), fruit and yoghurt. Liam and Debs were great hosts and made us feel at home and at ease immediately. It was great to hear the stories of all their outdoor adventures. Again, not enough homework on our part meant that we weren't aware that Liam and Debs are running this venture for charity. Yet another plus point for these two! Along with a lovely room and great breakfast, Liam was on hand to offer advice on what routes to have a go at - we were really lucky with the weather and had an amazing walk up the Watkin path and down the south ridge. We were reluctant to leave from our brief weekend stay, but we'd recommend this great place and these wonderful people to stay with.
Ruth
2015-09-06T00:00:00Z
Liam and Debs were wonderful hosts to us. They had plenty of good advice and were incredibly helpful, even taking us to wherever we needed to go and packing us lunch for our Snowdon ascent, which was truly epic. They are true nature lovers, the kind of people I look up to. Hope to see you again someday!
Charles
2016-07-18T00:00:00Z
Excellent accommodations!! Liam and Debs are wonderful hosts. Extremely knowledgeable about the area and local ales.
Deborah
2015-10-10T00:00:00Z
The cottage is just as described in perfect location with plenty of walks right on the doorstep. No need to drive anywhere for day trips or daytime meals which is exactly what we wanted for our 3 days in Snowdonia. We loved the cozy room with a very comfy bed. There is a kettle and tea or coffee provided too. However, be warned that the ceiling is quite low if you are rather tall! :) The bathroom is new and very clean. Liam and his wife Debs are such a lovely, genuine, friendly couple! They provided us with lots of advice on where to go for walks, they had a map that we could borrow - we didn't need to make any plans prior to our arrival which was really helpful, given our hectic lifestyles. They know the area really well so, all you need to do is just let them know what kind of walk/hike you would like to go on and they will come up with plenty of suggestions for you. They even recommended a great local cafe for our lunches and restaurants for dinners. Breakfast was great! Liam is more than happy to cook his 'famous' porridge with peanut butter and honey for you - make sure to try it! But if you're not a porridge person, he prepares a lovely spread with bread, croissants, cereals, fruit, jams and marmite for you :) All in all, a great Airbnb experience. Highly recommended! Worth noting that all the money Liam gets from Airbnb goes towards a Nepal post-earthquake charity!
Michaela
2015-08-28T00:00:00Z
For a hygge hideaway in the misty mountains look no further than this snuggly spot. The room was wonderfully homely, spotlessly clean and very quiet. The location is perfect for exploring Snowdonia and is a lovely place to come back to after a wet and windy hike in the mountains. Liam and Debs were full of wonderful ideas for our stay and gave us lots of insider tips and tricks which made our trip really special and truly memorable. They are very knowledgeable and we loved chatting to them over breakfast. Liam's famous porridge was just as delicious as previous reviews have suggested and will become a firm favourite! We had a fantastic time getting a taste of what it's like to live in this beautiful National Park and very much hope to return!
James
2016-11-05T00:00:00Z
We have been very pleased to meet Liam and Debs. Liam has been very responsive and we had a chat before coming so that he could give us all the details to get to their place. The place is very well located for snowdon climbers. The room is cosy and has a view on the mountain. We can tell that Liam and Debs are nature lovers just like us. We had a good breakfast and good chat in the morning about our adventures. We have been given some good advice about the region and how to get around to finish our little road trip.
Charles-Edmond
2015-06-29T00:00:00Z
Art der Unterkunft
Privatzimmer
---
Objekttyp
Haus
---
Unterkunft für
2
---
Schlafzimmer
Nant Gwynant, Gwynedd, Vereinigtes Königreich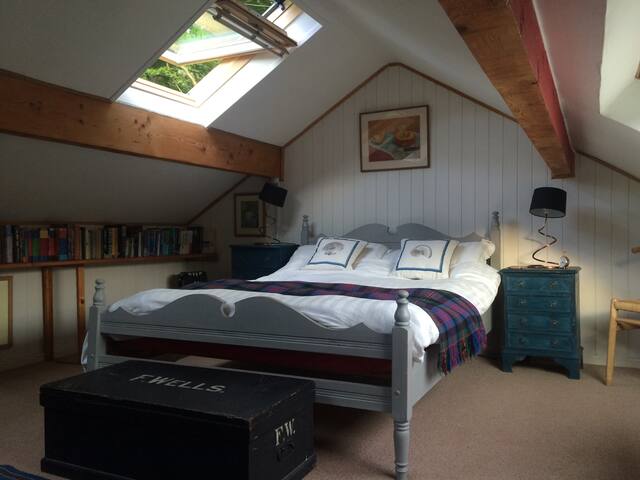 Ty Gwair is a recently converted hay barn, and offers a comfortable stay in a stunning location. The ground floor is tiled, ready for those muddy boots, and includes spacious kitchen, a large living room with a woodburner, and a wet-room with a shower. Upstairs you will find a large master bedroom, with a kingsize bed and an extra day bed. In addition there are two twin bedrooms. Outside, it's just a few steps to your own private hot-tub, which will come in handy after those long walks.
You'll find peace and quiet, whilst being surrounded by possibilities. There is something for everyone with footpaths that go from your doorstep to the top of Mount Snowdon, miles of excellent cycle routes in neighbouring Beddgelert Forest, and a huge variety of local attractions such as the Welsh Highland narrow gauge railway, which passes through the farm.
Art der Unterkunft
Ganze Unterkunft
---
Objekttyp
Haus
---
Unterkunft für
6
---
Schlafzimmer
Ffridd Uchaf, Wales, Vereinigtes Königreich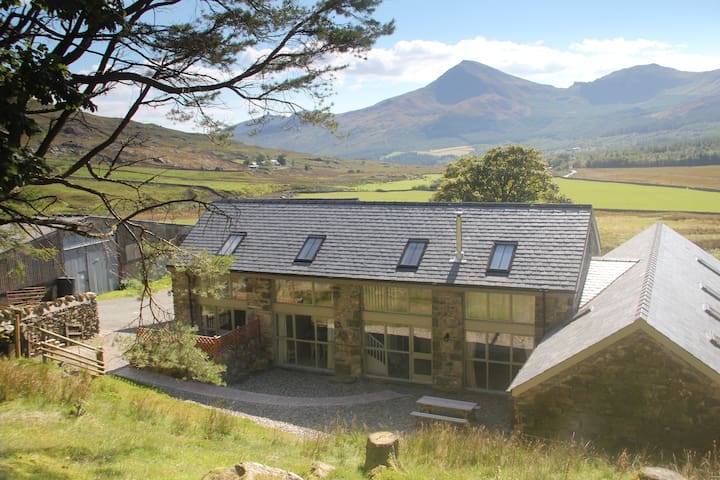 Snowdon - Airbnb
:
Durchschnittlich

5

von

5

Sternen aus

97

Gäste-Bewertungen
1

–

4

von

4 Ferienhausvermietungen
Gib deine Reisedaten ein, um den aktuellen Preis zu sehen. Es können zusätzliche Gebühren und Steuern anfallen.