Enjoy this 1750 sq ft home, located between Glenwood Springs, voted 2 years in a row the "most fun" town in America, and Rifle, known for it's wildlife, hunting, and is a gateway to hundreds of hiking, biking, and 4 wheeling trails. This vast area offers the outdoor enthusiast endless days of fun. Want to ski? Perfect, I'm nestled between two destination mountains, Powderhorn and Sunlight Ski area. The Colorado River is only minutes away for a fly fishing or exciting rafting experience.
We believe in clean, healthy living. Therefore my home is throughly cleaned with natural products and 100% pure essential oils, leaving a naturally clean, fresh, smell. I am providing essential oils and natural products to use during your stay. This is a courtesy to you. Please be conscientious of its use. I have instructions on how to use, should you want to try it out. Want to watch the sunset? A cozy front porch with a glass of wine is the perfect way to wind down the day. We have beautiful flower gardens, and an organic vegetable garden to enjoy in the summertime...help yourself. Also, a great patio area to enjoy lunch or dinner outdoors. The master bedroom has a king size bed, large closet, dresser, and master bathroom, for your comfort. Two extra bedrooms house queen beds, closets and dressers and a bathroom just outside the doors. If you still need one extra sleeping area, there is one air mattress to set up if needed.
The neighborhood located up on a hill in town. It is quiet, safe, and slow, perfect for an evening walk with family or friends. There are two parks close by. The other has summer music on certain days with food and drinks. You can sit on the porch and enjoy the music as it carries up the valley.
Cool private, spacious home for spending vacation
Ankam
2017-01-01T00:00:00Z
Our family of 6 fully enjoyed our stay at this wonderful home. The property met and exceeded our expectations and comfort. The host even went out of her way to decorate her home for our visit during the holidays. The home is very well cared for, very clean and spacious. The neighborhood is very quite and safe for evening walks. Would definitely keep this in our favorite places to stay when we visit Colorado again.
Jason
2016-12-27T00:00:00Z
Clean, spacious and comfortable. Happy to recommend this to other visitors.
Richard
2017-01-28T00:00:00Z
Chereyl was amazing with her timely communication responses. The house was perfect for what we needed, large and spacious and everything you need in the kitchen. A very clean house, which is important to us. We had a wonderful stay and we will return to stay again, thanks Chereyl.
Dean
2017-01-30T00:00:00Z
A great location to take day trips in the area. Hiking, skiing, hot springs, rifle falls, etc. Comfortable, cozy house.
Karen
2017-03-24T00:00:00Z
We had a great vacation in a very cozy, spacious place. Located in a quiet suburb, close to Rifle and Glenwood Springs. Ideal for a family with kids, good kitchen, lots of privacy, great host who is very helpfull and kind. We loved staying there, it was our home base for a week. We did a lot of hiking in the area. For European guests, car is indispensable , distances here a longer than we are used to.
Cervino
2017-04-02T00:00:00Z
Adored this quaint home. Instructions where well expressed and navigating around the home was a breeze. Having the essential oils readily available made the stay more of an experience. Comfy beds and a true homey feel.
Laura
2017-02-17T00:00:00Z
My friends and I stayed at Chereyls house for spring break, and had an amazing time. Everything in the house was as expected! Our communication throughout the trip was wonderful and chereyl did everything to make us feel comfortable and welcome during our stay. If we are ever in the area again, we would love to stay here again!
Lindsay
2017-03-15T00:00:00Z
Art der Unterkunft
Ganze Unterkunft
---
Objekttyp
Haus
---
Unterkunft für
7
---
Schlafzimmer
Silt, Colorado, Vereinigte Staaten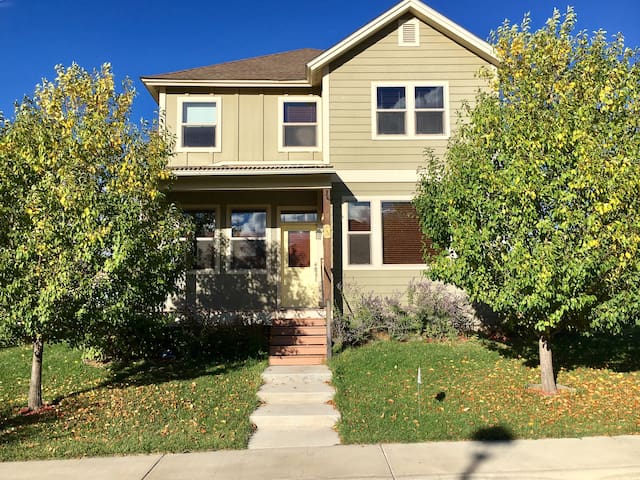 I live on a 10 acre Ranch home with 3 horses, chickens and a cat. It's a beautiful , quiet and peaceful setting. Lots of outside areas for relaxing ,hammock to lye on, rocking chairs on porch to enjoy the views , pergola for sitting and dining and just walking about.
If you have never experienced country living you will fall in love with the beauty and serenity staying here.
My neighborhood is spectacular! Surrounded by mountains, animals, views and peacefulness .
On our cross country road trip, we stayed with Annie for a few nights. She was super amazing accommodating our late arrival, and we enjoyed her ranch, fresh eggs, and animals. Our room was comfortable and cozy :)
Andrea
2015-04-14T00:00:00Z
Amazing!!! The place is more beautiful than in pictures... we stayed two nights and would have loved to stay even longer, if our schedule would allow... Horses, chickens and cutest cat (Manuel) give additional charm to the comfy and relaxing ranch ... We could chose between a room and cabin and (off course) went for the second, which was amazing experience on its own... Annie is an excellent host :) we felt truly welcomed :)
Kristiana
2016-07-21T00:00:00Z
This was a terrific experience. Annie couldn't have been more gracious. Her place is so cute - a lovely country setting. It was just as advertised. I would highly recommend it. I even got to have the farm fresh eggs before my departure. Another happy Airbnb experience for me.
Gloria
2015-04-23T00:00:00Z
Annie let us check in "whenever we got there" which was great, very flexible! Left a note on the table with some specifics to help us get acclimated-Manuel our kitty host, was great as well, lol...very beautiful area, adorable house, it was just great. The description here doesn't do it justice-it's nestled in farmland and is only an easy hour drive to Aspen...here just from Denver for the X Games so very convenient!
Maureen
2016-01-31T00:00:00Z
Annie's place is really great and she was really friendly! Everything was in good order when we arrived and the ranch is beautiful. We especially enjoyed taking in the mountain view during breakfast in the garden. The hammock is great to lounge in on a lazy morning too. Staying with Annie really made our experience in Glenwood Springs and I'd recommend it!
Will And Brittany
2015-06-07T00:00:00Z
Staying at Annie's lovely ranch was one of the best airbnb experiences I've had! The house and room were adorable and well decorated, and we really enjoyed the outdoor space, hammock especially -- the mountain views were amazing and there were so many stars to be seen at night, something an urban dweller can really appreciate. Annie was super warm and generous and we were so excited for our delicious, freshly-laid eggs courtesy of the chickens...the dog, cat and horses were all fun as well. I hope to get back there soon! :)
Tricia
2015-07-26T00:00:00Z
Annie's place is rustic, warm and welcoming. We felt like we were visiting with an old friend. She opened her home not only to us, but also to our rambunctious two year old dog.
Mary
2015-11-28T00:00:00Z
Staying at Annie's ranch was the highlight of my Carbondale trip! It was quiet, quaint, comfortable, and on an amazing piece of land. Breakfast was farm fresh eggs! Annie was very sweet and accommodating. I would stay there again in a heartbeat.
Rebecca
2015-03-27T00:00:00Z
Art der Unterkunft
Privatzimmer
---
Objekttyp
Haus
---
Unterkunft für
2
---
Schlafzimmer
Silt, Colorado, Vereinigte Staaten
Located on our 13 acre ranch in beautiful Peach Valley, just 20 miles west of Glenwood Springs. Relax in your private guest area or watch the sunset on our beach by the pond, complete with fire pit. Full gourmet breakfast served in your room. Small dogs welcomed. Room for horses (near public land and trails) Near many attractions including: Glenwood Hot Springs - 25 min. Rifle Gap Reservoir - 15 min. Hanging Lake - 30 min. Rifle Falls State Park - 20 min. Sunlight Mountain Ski Resort - 40 min.
F
Art der Unterkunft
Privatzimmer
---
Objekttyp
Bed & Breakfast
---
Unterkunft für
4
---
Schlafzimmer
Silt, Colorado, Vereinigte Staaten
We live 20 miles West of Glenwood Springs, voted the funnest town in America! Come enjoy our beautiful 6 acre Alpaca ranch. Enjoy all the activities our valley has to offer. The largest hot springs pool, hiking, skiing, fishing, 50 miles to Aspen. Or come and just relax! If you are traveling with family or friends, we also have another room with a king bed and private bath available. This space is listed under "A piece of paradise!"
We live out of town in a quiet area. Very beautiful surroundings. 10 minutes from beautiful Harvey Gap and 20 minutes to Rifle Falls. An absolutely wonderful place to have a picnic and fish! Enjoy your wonderful bedroom with attached bathroom or enjoy the outdoors on our hammock!
We live on 6 acres, so our neighbors are spread out. We love living in the country!
Unsere Nacht auf der Alpaka Farm hätte nicht schöner sein können! Wir sind erst nachts angekommen, aber haben direkt hin gefunden, weil Kim uns das Licht angelassen hat und gesagt hat, wo unser Zimmer ist. Am nächsten Morgen konnten wir sie dann kennen lernen und sie ist eine unglaublich nette, herzliche Frau. Ihre Alpakas sind so neugierige, lustige Tiere, dass man kaum aufhören kann zu lachen. Außerdem ist das Zimmer wirklich groß und das Haus wunderschön.
Susanna
2016-09-20T00:00:00Z
Kim and all of her Alpaca's were amazing! She was super nice and recommended a great restaurant. My girlfriend and I loved the home decor and how homey her house felt! Hanging Lake is only a 30 minute drive and if I'm ever in the area again I would gladly return!
Vincent
2016-09-05T00:00:00Z
This truly is paradise on an Alpaca farm. The location is beautiful and offers a "small town America" feel. The accommodations were much better than I ever expected, although this was my first real experience with Airbnb and I didn't really know what to expect. The bed was just the right balance of firm and fluff, with more pillows than one could ever need. The bathroom was conveniently privately attached to the bedroom, which was an extra blessing when I became ill during my travels. Kim was so gracious and provided Sprite and soup when I was feeling up to food again. Her husband was so willing to take the time to introduce me to most of the alpaca herd. They made it feel like a weekend away visiting family. They even invited me to join their family dinner after her niece arrived for a visit. I was very impressed with their hospitality and wouldn't hesitate to stay with them again.
Amy
2017-03-14T00:00:00Z
Staying with Kim and Cory is certainly the best of both worlds, meaning a private and very nice home or stay in and their alpacas are absolutely amazing. Very clean and spacious, private bathroom, and really great people. We will be back!
John & Jean
2016-10-08T00:00:00Z
1st Airbnb experience and I am sold. Kim and her husband were great hosts - everything was as promised (and more). They have a beautiful home in a beautiful state. They are very accommodating and it is easy to feel comfortable. Don't see how it could get better. Thank you to my great hosts!!
Cris
2016-07-02T00:00:00Z
A lovely home in a beautiful setting. I took nice photos of my daughter with the alpacas and mountains in the background. The host is gracious, easy to work with and responded right away with any communications when setting up the booking. I highly recommend this room!
Christy
2014-07-20T00:00:00Z
A private enterance would be nice. But other than that it was a great place to stay for a couple of days.
Michael
2016-12-29T00:00:00Z
My friend Jade and I loved staying here for the x games! Kim and Cory were so welcoming and accommodating. We had our own bathroom which was really nice. They showed us around their alpaca farm and it was so awesome! Would definitely come back. Highly recommended.
Ellen
2017-01-28T00:00:00Z
Art der Unterkunft
Privatzimmer
---
Objekttyp
Haus
---
Unterkunft für
2
---
Schlafzimmer
Silt, Colorado, Vereinigte Staaten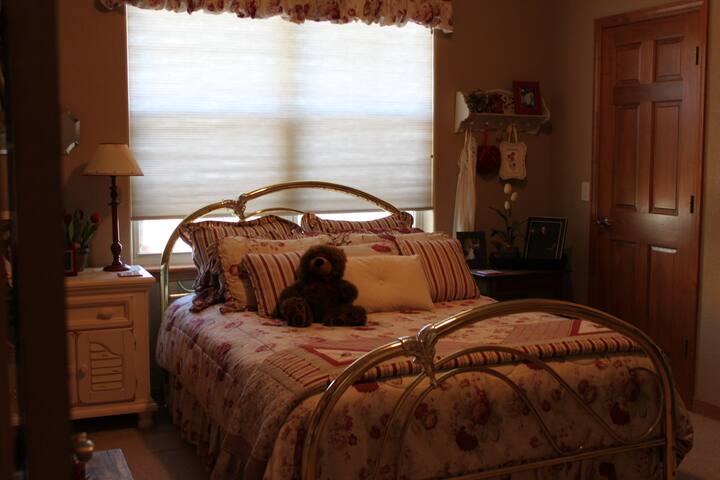 We live 20 miles West of Glenwood Springs, voted the funnest town in America! Come enjoy our beautiful 6 acre Alpaca ranch. Enjoy all the activities our valley has to offer. The largest hot springs pool, hiking, skiing, fishing, 50 miles to Aspen. Or come and just relax! We also have another room with a full bed and private bathroom. So we can accommodate families and friends traveling together! Our other space is "Paradise on the Alpaca farm!"
We loved staying with Kim! She greeted us at 9:30pm with the best peach cobbler we'd ever had! The house was lovely, and she made us feel like we were staying with family. The highlight was getting to pet the alpacas before we left. Truly a wonderful experience all around!
Courtney
2016-09-05T00:00:00Z
Our stay was great! The room was clean and comfortable. We absolutely loved meeting the alpacas :) I would highly reccomend staying here!
Natalie
2016-07-24T00:00:00Z
The host canceled this reservation the day before arrival. This is an automated posting.
Chaker
2016-07-01T00:00:00Z
The Watson's were very welcoming and gracious :) Sadly I wasn't there for long but they were very friendly and my lab got to go nose to nose with an alpaca! Great people and a beautiful home! I will definitely stay again if I'm in the area!
Heather
2016-09-25T00:00:00Z
This was my first time using air B&B and I couldn't have asked for a better host. Kim and her husband were so inviting and friendly. I was lucky enough to come during the season I did so I got to see the baby alpacas. She made breakfast for me which came almost entirely from her own garden and let me pick some of their peaches from their little orchard. I would highly recommend staying here and would love to come back (:
Sage
2016-09-02T00:00:00Z
Cannot say enough positive things about our stay. Definitely our favorite airbnb experience to date!Cory was so kind, warm, and welcoming. The room was spotless, large, and very comfortable. We left with huge smiles after our mini tour of their alpaca farm and hope to be back in the future!
Brittney
2016-09-17T00:00:00Z
We really loved our stay here! Kim was wonderfully sweet and accommodating. The highlights were definitely hanging out with the alpacas and getting to see the babies, as well as picking some fresh peaches from their front yard orchard :) we also took some time to drive around the hills of Silt, which were absolutely stunning. Kim shared with us that they eventually dream of living off the land and we can only hope their dreams come true with more people staying at this wonderful place!
Lauren
2016-09-05T00:00:00Z
My wife and I were visiting some old friends in Rifle for hiking and biking and we stayed at Kim's place for the evening. Kim was very accommodating with our schedule (or lack of schedule!). When we arrived Kim and her husband were there to greet us and introduce us to a few of their adorable Alpacas! After asking questions and petting a couple Alpacas we were shown our room and left. We didn't return until later that evening but were relieved to have our own full bathroom and a small bottle of wine waiting for us. After showers we climbed into a cozy bed for a restful nights sleep (I hope you have as much fun as we did trying to figure out how to turn the shower on, I would say how but the mystery hasn't been publicized in any other reviews). In the morning we chatted a bit about our stay and vacation activities before departing. Normally, we associate with the hosts a little more but because we were visiting friends we didn't have much of an opportunity to. In the brief and limited time we did engage with Kim she and her husband were both incredibly warm and gracious.
Graham
2017-02-19T00:00:00Z
Art der Unterkunft
Privatzimmer
---
Objekttyp
Haus
---
Unterkunft für
2
---
Schlafzimmer
Silt, Colorado, Vereinigte Staaten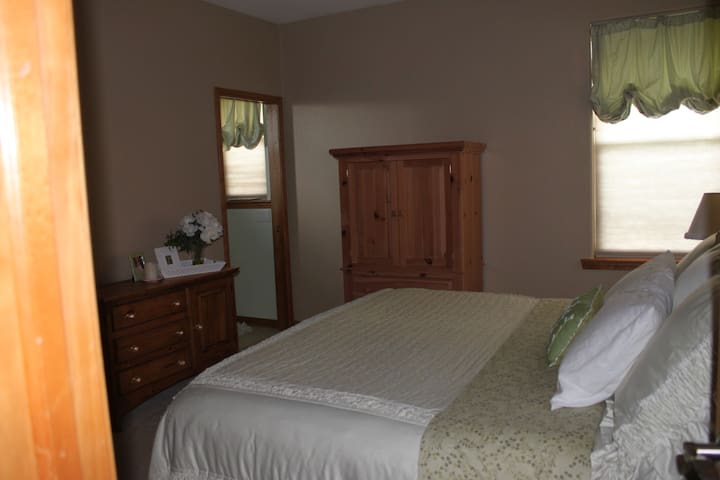 Gib deine Reisedaten ein, um den aktuellen Preis zu sehen. Es können zusätzliche Gebühren und Steuern anfallen.