My place is close to the beach, restaurants and dining, family-friendly activities, great views, and nightlife. You'll love my place because of the location, the ambiance, and the neighborhood. My place is good for solo adventurers.
Art der Unterkunft
Privatzimmer
---
Objekttyp
---
Unterkunft für
2
---
Schlafzimmer
Sidi Slimane, Gharb-Chrarda-Beni Hssen, Marokko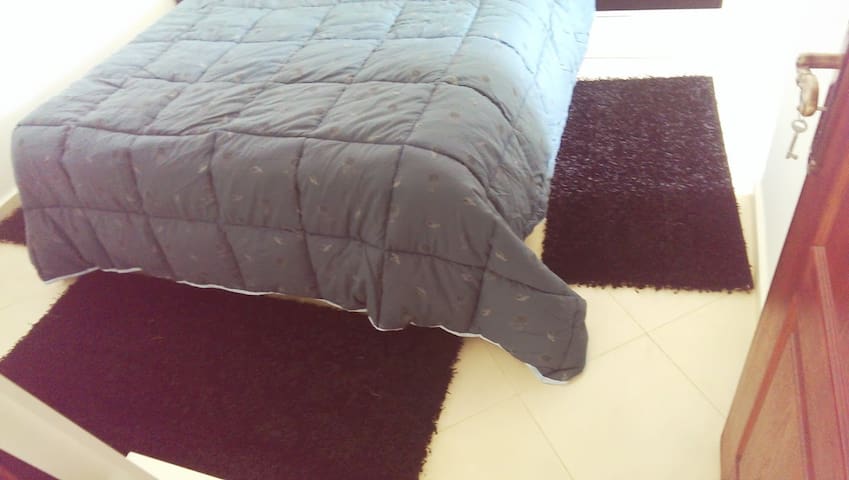 Appartement de 2 pieces avec terrase donnant sur la montagne de l atlas dans site sécurisé avec 2 piscine Golf à 500 m . Place Jemai el Fna 7 km Aéroport à 10 km Oukaimeden 47 km station de ski Casino 7 Centre ville à 7 km
Calme .sécurité absolu .golf à 500 mètres .verdure flamboyante . 2 piscines surveillés Aire de jeux pour enfants Parking gratuit Cuisine équipée 2 télévisions avec satellite Salle de bain avec serviette et beignoire.
Calme .verdure .piscine. golf à 500 mètres. Grande surface à 1 km
Art der Unterkunft
Ganze Unterkunft
---
Objekttyp
---
Unterkunft für
4
---
Schlafzimmer
km 5.400 route de fez, Marrakech-Tensift-Al Haouz 40000, Marokko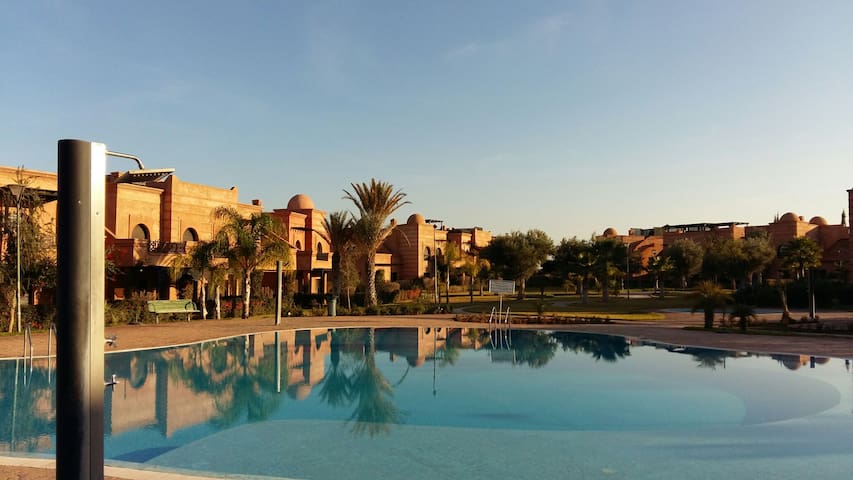 Appartement meublé de 172 m² disposant de 2 chambres , une salle à manger et 2 grands salons d'une surface de 50 m², une grande cuisine. Grand Balcon pour profiter du Soleil marocain. N'hésitez pas à me contacter pour plus d'informations
Art der Unterkunft
Ganze Unterkunft
---
Objekttyp
---
Unterkunft für
6
---
Schlafzimmer
Sidi Yahya du Rharb, Gharb-Chrarda-Beni Hssen 14250, Marokko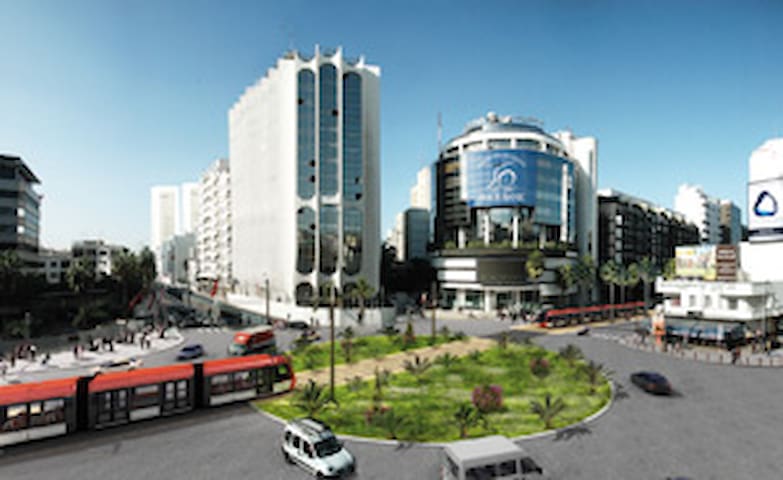 Es una casa tradicional.cerca a la runa bolibiles ciutad romana antigua.puedes ver montañas.visita souk (mercado arabe).tenemos wifi.vista a montaña.12 habitaciones.hay donles.climatizador.
Muy buena, la habitación muy bien, el lugar muy agradable y la atención muy buena, siempre dispuestos a apoyar, mil gracias
Rita Lucía
2016-05-08T00:00:00Z
Nice place, thank you!
Alex
2016-10-30T00:00:00Z
Great deal!
Erik
2017-02-26T00:00:00Z
Heel vriendelijke gastheer en ook lieve gastvrouw. De gastheer sprak goed Frans, met de gastvrouw werd het gebarentaal :) De gastvrouw entertainde ons dochtertje terwijl wij aten. De weg om naar Volubilis te wandelen werd ook goed uitgelegd, dus ons dagje Moulay Idriss en Volubilis was erg fijn!
charlotte
2016-04-12T00:00:00Z
Our staying was really nice in general. The place is easy to find, located in the centre of the village. The main host was super nice and provided at every needs that we had. Breakfast included. Peaceful and fresh place far from the chaotic medina. Recommend.
Monica
2016-08-21T00:00:00Z
Moulay Idriss is a beautiful little settlement well worth visiting. We only spent one night there, which was a peaceful experience with gorgeous scenary. La Maison D'Houte El Casabah Riyad was a perfect place to stay. tucked away down a quiet little street with a cool roof terrace looking out across the hills. We went for a walk up the hill at dusk where we discovered a stunning view across the Moulay Idriss and the distant hills. We sat in a quiet meadow scattered with wild flowers and watched the sun set over the town. It was unforgettable. Our hosts were so kind and friendly, serving us a delicious breakfast in the morning and traditional tagine in the evening, which was exceptional. The room was very quiet and clean with traditional interiors and beautiful berber rugs. All in all a wonderful, welcoming experience.
Mari
2016-05-30T00:00:00Z
Les hôtes sont des personnes très sympathiques, ils m'ont très bien accueillit. Il s'agit d'une famille, et leurs enfants sont adorables ! Je n'y ai passé qu'une nuit mais Moulay Idriss vaut largement le détour et cette maison d'hôte est idéalement située, à même pas 1mn chrono du centre de la ville (taxi - bus - restaurants...). Les chambres sont propres et confortables. On s'y sent comme chez soi, à la maison, en famille. Petit bémol, le petit déjeuner n'était pas inclus et le repas est un peu cher (mais délicieux). En tout cas, la ville est superbe, les gens sont d'une gentillesse sans pareil au Maroc, les petits plats de 'chez l'arbi" sont INCONTOURNABLES, vraiment délicieux pour même pas 3 euros. Bref, faut y passer une nuit, on peut pas y aller en un coup de vent !!
Warda
2016-03-15T00:00:00Z
My stay here was good.nicely decorated hotel ,friendly staff lots of outdoor sitting and Windows in allthe rooms right near the grand taxi stand In an alley behind the bank populaire value even if the bed was a touch lumpy
white
2016-01-30T00:00:00Z
Art der Unterkunft
Privatzimmer
---
Objekttyp
---
Unterkunft für
16
---
Schlafzimmer
Moulay Idriss Zerhoun, Meknes-Tafilalet, Marokko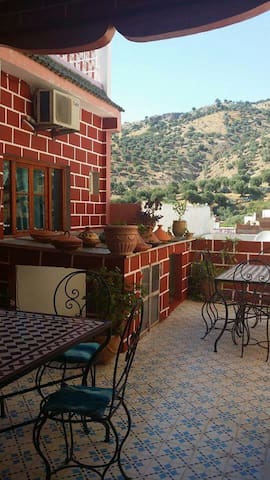 nice area to send good time
Art der Unterkunft
Privatzimmer
---
Objekttyp
---
Unterkunft für
2
---
Schlafzimmer
Sidi Slimane, Gharb-Chrarda-Beni Hssen, Marokko
That you would like to see the real Morocco then you should see villages Because those are the Moroccan life I have hosted people from all over the world And any person who came to my village does not want to go I'm not exaggerating that you'll see:)
Art der Unterkunft
Privatzimmer
---
Objekttyp
---
Unterkunft für
4
---
Schlafzimmer
Sidi Kacem, Meknès-Tafilalet, Marokko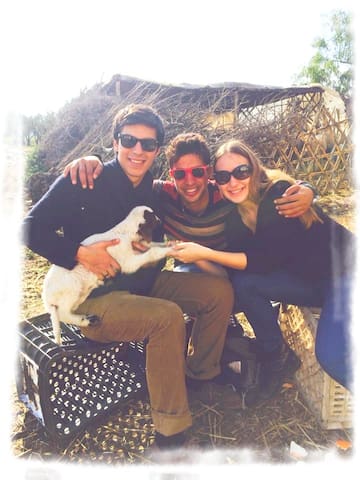 My place is close to restaurants and dining, the beach, and public transport. My place is good for couples, solo adventurers, business travelers, families (with kids), and big groups.
Art der Unterkunft
Ganze Unterkunft
---
Objekttyp
---
Unterkunft für
5
---
Schlafzimmer
, Gharb-Chrarda-Beni Hssen, Marokko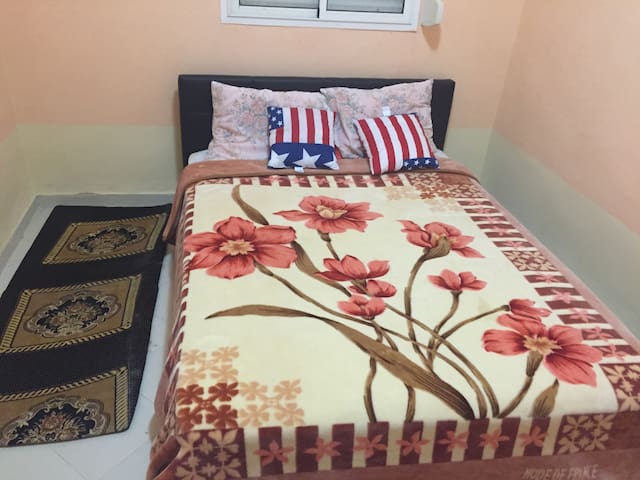 Bienvenue à DAR INES, une maison d'hôtes traditionnelle de plus de 150 ans au cœur de la médina, restaurée dans le respect du patrimoine local. A travers la qualité de son accueil, ses produits d'écotourisme, ses activités innovantes (randonnées, immersion dans la ruralité locale, découverte des patrimoines archéologique et culturel des environs de Meknès et de Volubilis, détente...), Dar Inès vous offre une belle évasion dans les montagnes du Zerhoun. Site Web: (URL HIDDEN)
Une belle terrasse-jardin avec une vue panoramique sur Volubilis et les oliviers centenaire de la montagne du Zerhoun . La structure labyrinthique de la maison lui donne un aspect original dans l'art architectural marocain. Une cuisine gastronomique et savoureuse sur commande (12 euros menu/personne) avec des produits de terroir et un petit déjeuner riche et diversifié.
Dar Inès est au cœur de la Médina, un lieu d'histoire, de patrimoine. Elle donne sur la place centrale de Moulay Idriss.
Dar Ines was a beautiful riad for our first visit to Moulay Idriss! Would one hundred percent recommend staying here. We especially enjoyed the breakfast and beautiful terrace views!
Kelsey
2016-11-20T00:00:00Z
Art der Unterkunft
Ganze Unterkunft
---
Objekttyp
---
Unterkunft für
4
---
Schlafzimmer
Moulay Idriss Zerhoun, Meknes-Tafilalet, Marokko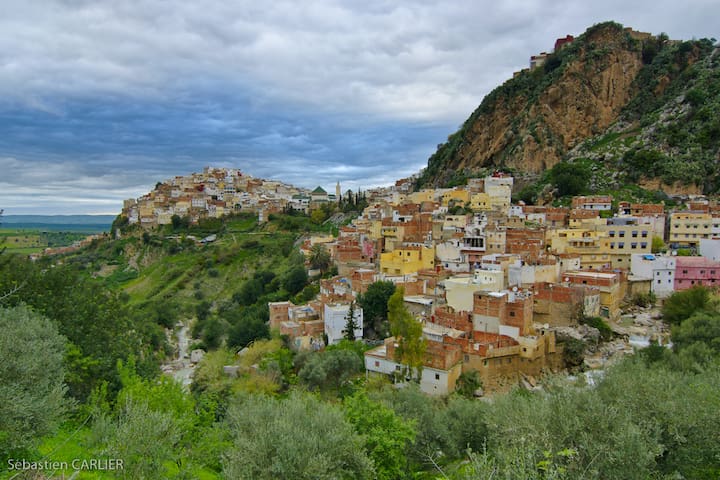 une chambre à louer dans un bel appartement tout confort au centre ville à 5mn de la gare ; ; une cuisine bien équipée et un joli salon meublé en style riad .
Art der Unterkunft
Privatzimmer
---
Objekttyp
---
Unterkunft für
2
---
Schlafzimmer
Meknes, Meknes-Tafilalet, Marokko
Enjoy Volubilis, Moulay Idriss and mountains from my sunny terrace, in the heart of Moulay Idriss Zerhoune. 20mins from Meknes and a lovely 1 hour walk to Volubilis. An authentic, local moroccan welcome, in a traditional home restored by a kiwi engineer so you can enjoy your western comforts.
Dar Zerhoune is fabulous! A traditionally restored moroccan home, with an authentic, local moroccan welcome and western comforts. Your home away from home. From our two terraces you can enjoy views of Moulay Idriss, the mountains and the roman ruins of Volubilis. Perfect for relaxing, enjoying your dinner and watching the sunset. Just one hour walk to Volubilis from here (or ride a donkey!). Dar Zerhoune is in the Holy City of Moulay Idriss Zerhoune, which boasts Moussems, local markets, roman ruins (including an aqueduct, roman baths with hot spring water), a main square where you can watch the world go by at the cafe's. Moulay Idriss is not full of tourists so you get to enjoy 'real morocco'. You will be greeted with mint tea or coffee, breakfast is included as well as free WIFI internet. We have loads of local knowledge and travel experience as I am the first non muslim, western woman to open a guesthouse in Moulay Idriss. We offer traditional moroccan meals, and you can learn to cook in the community oven's, cook traditional breakfast breads or enjoy couscous with a local family. Each ensuite room can sleep up to 3 and I have 6 rooms. From Dar Zerhoune you can walk to the roman ruins of Volubilis, relax in the main square watching locals go about their day, shop in the souqs and experience Morocco without hustle bustle and tourists. A double is 54 euros, single 34 euros. Children under 9 stay for free.
I love Moulay Idriss as it is peaceful, hassle free and a traditional and simple life. I hike up the hills, shop for fresh produce at the local market, chat to my neighbours, I laugh with the donkey owners and love having a mint tea in the main square watching the world go by.
Im Vergleich zu anderen Unterkünften, wird bei Rose mit mehreren Mitteln dafür gesorgt, dass man im Winter im Zimmer nicht friert. Das Highlight war die beheizbare Decke auf der Matratze im Bett. Anders als sonst hatten wir diesmal das Abendessen in der Unterkunft genommen. Rose saß dabei, was wahrscheinlich zu dieser lockeren und gesprächigen Runde mit den anderen Gästen führte. Das war toll. Und wenn man Weihnachten dort verbringt und Glück hat, bekommt man auch wie wir ein kleines Weihnachtsgeschenk überreicht. :)
Ana
2015-01-01T00:00:00Z
Rose heeft hartelijk ontvangen in haar mooie huis. We hebben heerlijk gegeten en genoten van het comfort. Het plaatsje zelf en Volubilis zijn meer dan de moeite waard.
Marin
2014-10-16T00:00:00Z
Nos encantó la casa de Rose. No solo las vistas son espectaculares, también lo fue la atención. Tomamos una cenita estupenda, así como el desayuno; Rose estuvo disponible para nosotros todo el tiempo. Lo recomendamos totalmente si se tiene la intención de visitar Volubilis o simplemente, de pasar un tiempo de tranquilidad en Moulay Driss.
Ángeles
2015-03-27T00:00:00Z
L'hébergement correspondait à la description et à notre attente. Rose était absente nous n'avons donc pas pu faire connaissance.
Christian
2012-05-21T00:00:00Z
Very easy to find and super convenient. Rose speaks English and can help give directions and recommendations on grand taxi, bus, or train. We had dinner up on the terrace and it was incredible! Great wifi, bathroom, and room. Absolutely recommend to future travelers.
Jennifer
2015-10-14T00:00:00Z
Dar Zerhoune was even better than we could have imagined! The room was cool and quiet and clean, the breakfast was amazing, our arrival and departure were easily managed by Rose and her staff, and the atmosphere was wonderful. I only wish we had planned to stay longer to enjoy the wonderful space.
Lara
2014-06-23T00:00:00Z
Miglior riad della vacanza! Ci hanno aspettato in piazza principale ed accompagnato a piedi fino al riad in una viuzza. Possono anche preparare dei piatti tipici per cena, gustosi ed abbondanti, lo stesso vale per la colazione. Dalla terrazza si gode di una bellissima vista sulla città fino a Volubilis. In inverno è freddo, ma c'è un calorifero portatile a scaldare la stanza e la coperta elettrica nei letti. L'unico difetto è che quando piove ci sono un po' di infiltrazioni d'acqua che bagnano le scale verso la terrazza rendendole scivolose.
Matteo
2014-12-18T00:00:00Z
Un des meilleur endroit que je connais au Maroc ! Le Riad de Rose est vraiment très confortable et les filles au service parfaites. La vue depuis la terrasse est magnifique, le thé et les dates pour l'accueil, les petits déjeuner, tout très sympa. Moulay Idriss est un village très accueillant, c'est la "campagne", les gens sont avenants, gentils, l'architecture du village sur son éperon rocheux est vraiment joli. On s'y sent bien et on peut passer des heures à la terrasse des cafés sur la place du Mausolée. Pour quelques dirhams d'achats les vendeurs sont super généreux en cadeaux. Les vestiges de Volubilis, la ville romaine, sont exceptionnels, on se promène dans les villas, les patios, les salles à manger, les bains, les moulins à huile, le système d'adduction d'eau, les égouts, les monuments officiels, le forum, tout est là, sur un panorama de campagne très soignée. Les chevaux qui tirent les charges et travaillent dans les oliveraies... Un beau contraste après les grandes médinas de Fes et Meknes.
Jeanmarc
2016-03-01T00:00:00Z
Art der Unterkunft
Privatzimmer
---
Objekttyp
---
Unterkunft für
12
---
Schlafzimmer
Moulay Idriss, Meknès-Tafilalet, Marokko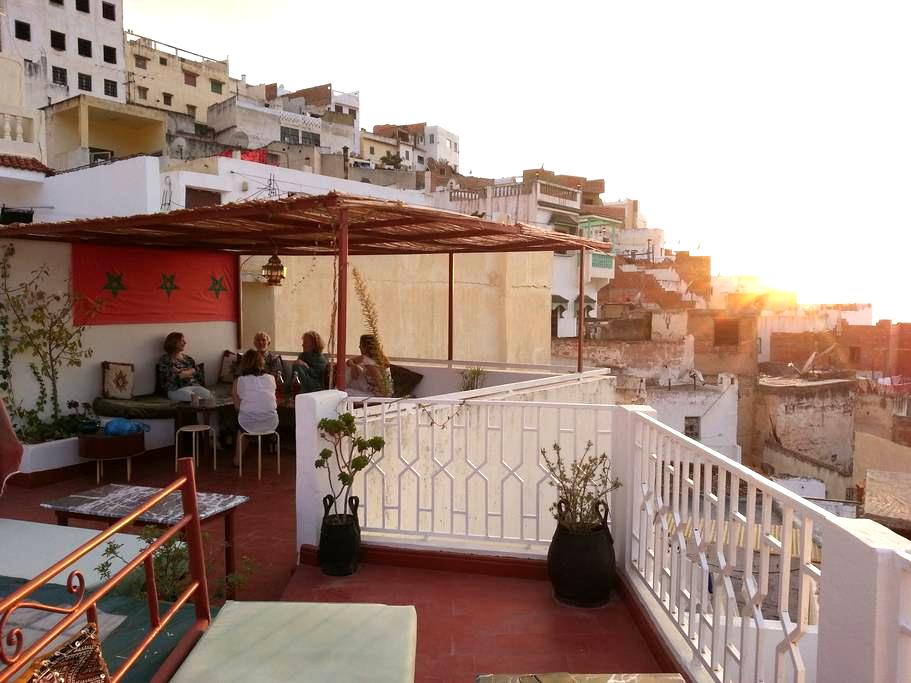 Sonia et Daniel vous accueilleront ,dans leur villa , située entre Meknès et Volubilis , aux trois chambres tout confort donnant sur un patio , au cœur d'une oliveraie aux arbres centenaires.
Daniel and his wife were excellent hosts. We arrived later than planned but they welcomed us graciously and we enjoyed an excellent dinner with them as we worked to communicate in our limited French. Would recommend to anyone passing through the area
Lori
2015-09-13T00:00:00Z
Art der Unterkunft
Privatzimmer
---
Objekttyp
---
Unterkunft für
3
---
Schlafzimmer
Sidi Ali Ben Hamdouch, Meknès-Tafilalet 50376, Marokko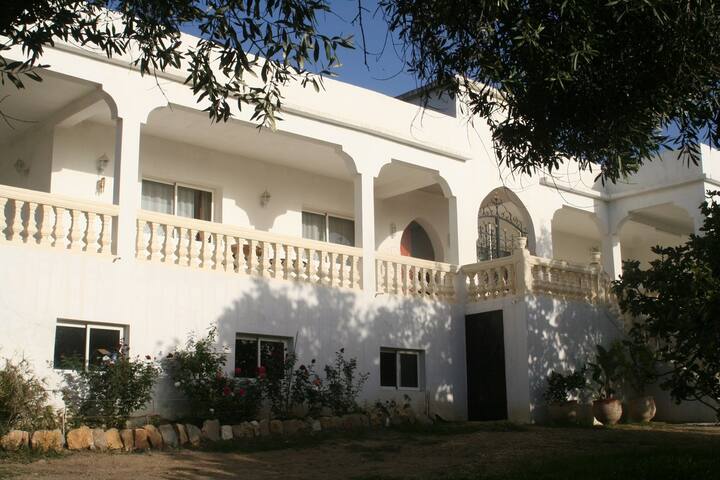 Maison immense à Moulay Idriss de 3 étages, avec une double terrasse, dont une partie couverte. Exposée sud.
Notre logement est très grand permettant l'intimité de chacun. Situé à 3km des ruines de Volubilis
La proximité de Moulay Idriss, la terrasse avec une vue panoramique.
Art der Unterkunft
Privatzimmer
---
Objekttyp
---
Unterkunft für
10
---
Schlafzimmer
Moulay Idriss, Maroc 99999, Marokko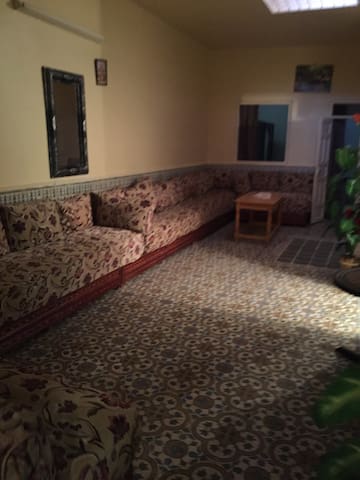 une maison qui a un balcon d'une vue panoramique
Art der Unterkunft
Gemeinsames Zimmer
---
Objekttyp
---
Unterkunft für
5
---
Schlafzimmer
Meknes, Meknes-Tafilalet 50350, Marokko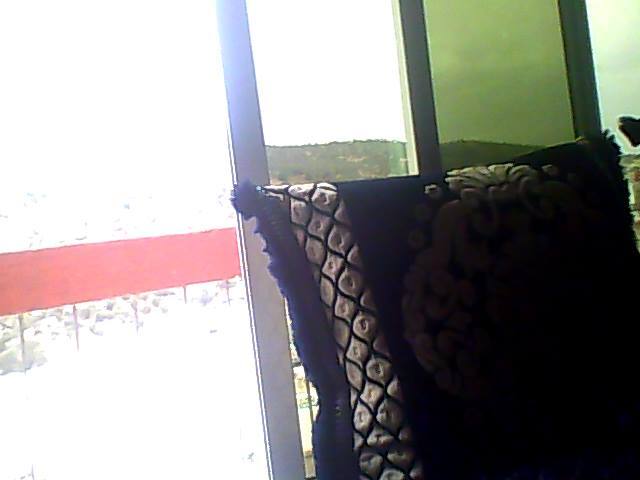 VILLA A LA COMPAGNE CALME A 20KM DE MEKNES VUE EXTRA ORDINAIRE
Art der Unterkunft
Ganze Unterkunft
---
Objekttyp
---
Unterkunft für
6
---
Schlafzimmer
Sfassif, Rabat-Sale-Zemmour-Zaer, Marokko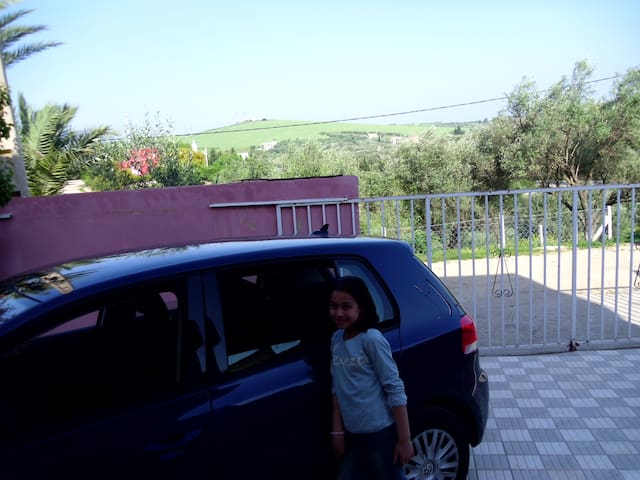 1

–

14

von

14 Unterkünfte
Gib deine Reisedaten ein, um den aktuellen Preis zu sehen. Es können zusätzliche Gebühren und Steuern anfallen.