Casa do Galo fünf Minuten zu Fuß entfernt von dem "grünen See" ist, und nur drei aus dem "blauen See", gibt Ihnen die Möglichkeit, bequem, den Frieden und die Ruhe des Sete Cidades Vulkankraters, in der eingetaucht genießen verschiedene Schattierungen von grün. Es gibt mehrere empfohlene Routen in der Umgebung, die Gäste lassen die Schönheit des nahe gelegenen See erkunden und die lokalen Restaurants geben Ihnen die Möglichkeit, die köstliche azoreanischen Küche zu kosten.
Das Haus verfügt über ein unabhängiges Doppelzimmer mit Bad, Küchenzeile und ein kleinen Wohnzimmer mit TV im ersten Stock. Im Erdgeschoss befinden sich zwei Doppelzimmer (eines mit eigenem Bad), eine geräumige mit einem Holzofen und Kabel-TV, einen komfortablen Essbereich, eine moderne Küche mit Geschirrspüler und Mikrowelle zur Verfügung gestellt ausgestattet Wohnzimmer finden und ein Bad für ein entspannendes Bad. Die angenehme Veranda lädt Mahlzeiten im Freien, die in dem basaltischen Steingrill zur Verfügung im Garten gekocht werden können. Kostenloser WLAN-Zugang und Parkplätze stehen zur Verfügung.
Art der Unterkunft
Ganze Unterkunft
---
Objekttyp
Haus
---
Unterkunft für
6
---
Schlafzimmer
Sete Cidades, Azoren, Portugal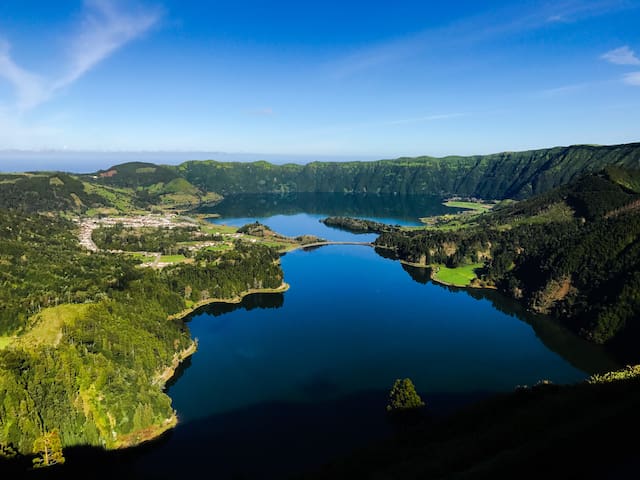 Das Chestnut House ist in der Lagune der Städte Seven liegt 25 Minuten von Ponta Delgada. Ein paradiesischer Ort, eines der sieben Wunder von Portugal.
Idylle im Herzen der Lagune von Seven-Stadt
Ricardo hat uns bereits vor der Anreise sehr viele tolle Vorschläge gemacht, was wir alles während unseres Aufenthalts in seinem Haus Unternehmen können. Obwohl wir früher ankamen als erwartet, konnte er uns sofort empfangen und hat uns auf dem Weg zum Haus noch einige wichtige Orte der kleinen Stadt gezeigt, wie z. B. einer Bäckerei, Restaurants und der Touristeninformation. Sein Haus selbst war sehr schön und es gab alles, was wir irgendwie brauchen könnten, sogar einen Kamin. Ricardo hat uns sogar einige Spezialitäten der Region bereitgestellt und auch die Lage war sehr gut, denn wir hatten einen tollen Ausblick auf den See. In den folgenden Tagen hat er sich immer wieder erkundigt, ob alles in Ordnung sei und als einer von uns kurz vor der Abfahrt seinen Personalausweis verloren hatte, war Ricardo sehr, sehr hilfsbereit und ist sogar mit nach Ponta Delgada gefahren um uns zu helfen (wir haben zum Glück noch vor dem Abflug den Ausweis wiedergefunden). Es war also eine sehr schöne Reise, die durch Ricardos Gastfreundschaft noch besser wurde, vielen Dank dafür! :)
Thomas
2016-05-21T00:00:00Z
Das Haus und die Lage haben unsere Erwartungen noch übertroffen! Es ist der perfekte Ort zum Entspannen und den Urlaub zu geniessen. Im riesigen Garten findet man immer ein Plätzchen wo die Sonne hin scheint, oder bei Bedarf, Schatten herrscht. Sollte es am Abend kühl werden,sorgt ein offener Kamin für angenehme Wärme, und Ricardo sorgt immer für genügend Nachschub an Holz. Ricardo ist überhaupt der Beste Vermieter den man sich wünschen kann! Er kennt die Insel wie seine Westentasche und konnte uns viele Tipp geben die in keinem Reiseführer zu finden sind! Ausserdem verwöhnte er uns mit einheimischen Spezialitäten und er wusste in jedem Ort ein gutes Restaurant. Er ist in diesen 3 Wochen zum Freund geworden und wir waren traurig als wir uns verabschieden mussten!
Gabriele
2016-05-07T00:00:00Z
Ricardo is very friendly and kind, always trying to take care of all your necessities. He has a super plus in (URL HIDDEN) doubt he is going to be one of your best host in your Airbnb history . Ok .Here comes!!! The best part of our summer trip; After some days in Punta Delgada, Furnas and Capelas, comes the time to go and stayed 4 days at "Sete cidades ". Everybody who is planning the trip know is one of the highlight of the Island, you can find thousands of images on (SENSITIVE CONTENTS HIDDEN), guides ,blogs etc .But .What happen when you arrive to Casa do Castanheiro in Sete Cidades ? You can't believe your eyes, it's a paradise on earth, if you never been in paradise it is because you haven't been in Casa do Castanheiro. It is just so peaceful ,fun and with nature everywhere. It is impossible to describe with words or even with pictures how the landscape looks like, also all around is full of activities ,you can do trekking ,kayaking, swim,.all around you can see cows ,ducks ,birds ,flowers and wonderful colors in the sky, is impossible stop taking pictures. The feeling in the house is like is your own, really ,have everything you need ,you can take a couple of te ,drink wine in nice cups or make a tasty diner with amazing crockery ,eat outside washing the lake or go for lemons in the garden . Definitely one of the best and beautiful places where I ever been. I just regret , no booking more days in Casa do Castaneiro is the place to be in San Miguel .
iciar
2015-09-01T00:00:00Z
super séjour de deux semaines à la Casa do castanheiro merci à Ricardo (ainsi qu' à sa maman et sa soeur) pour l'accueil qu'ils nous ont réservé. De plus le site de sete cedades est magnifique et la vue du logement est vraiment "TOP". Le logement est conforme à la description.Nous vous conseillons de prendre contact avec Ricardo pour votre séjour aux açores
Mickael
2015-11-01T00:00:00Z
Casa do Castanheiro is a charming house lost in time, somewhere in Wonderland! It's really the perfect place to spend a amazing time in paradise. The view from the porch is indescribable... And we feel so comfortable in the house. You feel like it's your own. And then there is Ricardo, the host. Kind, friendly, polite, you feel like he's a old friend. The only thing I regret is not having stayed longer. But I will come back! A Casa do Castanheiro é uma casa charmosa perdida no tempo, algures no País da Maravilhas. É o sítio perfeito para passar uns dias magníficos no Paraíso! A vista do alpendre é indescritível... e sentimo-nos super confortáveis na casa, como se fosse nossa. E depois há o Ricardo, o anfitrião. Simpático, amigável, educado, sentimos que é um velho amigo. A única coisa de que me arrependo foi de não ter ficado mais tempo. Mas vou voltar!
Joaquim
2015-09-14T00:00:00Z
Amazing host, amazing house Thanks a lot Ricardo!
victoria
2016-09-02T00:00:00Z
Nous avons passé un super séjour : la maison est idéalement située, tout près du lac qui est de toute beauté ! Ricardo est incroyablement accueillant, il a été aux petits soins avec nous pendant tout notre séjour, il nous a envoyé plein d'infos sur les choses à voir sur l'île et était toujours très disponible pour répondre à nos questions. Il nous a mis à dispo du matériel de puériculture pour notre bébé (lit, chaise haute, baignoire...) et il a même imprimé nos boarding pass pour le retour, comme nous n'avions pas d'imprimante...
Nathalie
2016-08-23T00:00:00Z
Our stay in Ricardo's house was great! Ricardo is really welcoming and communicable host. He gave us plenty of useful information about São Miguel Island including best restaurants, viewpoints, must see places and anything we asked about. The house is located on the shores of a lake and has wonderful outlook over the lake and mountains. The house is full of utilities, especially in the kitchen, Wi-Fi is fast and rooms are clean. I definitely recommend staying in Ricardo's house!
Ivan
2016-06-11T00:00:00Z
Art der Unterkunft
Ganze Unterkunft
---
Objekttyp
Haus
---
Unterkunft für
5
---
Schlafzimmer
Sete Cidades, Azoren, Portugal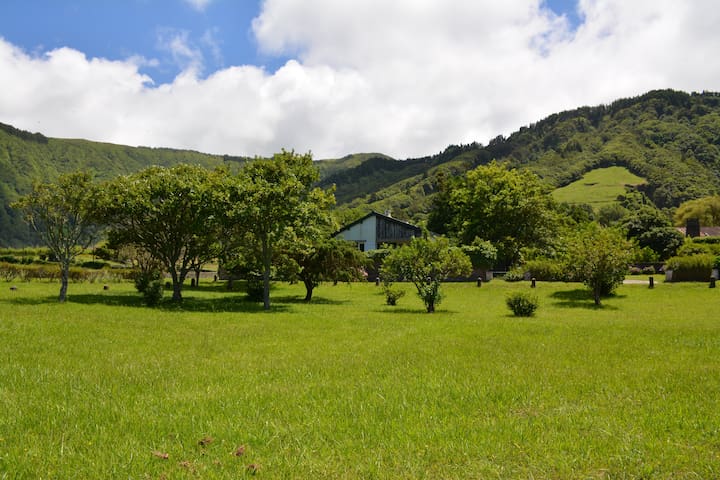 Tolles Haus mit Nature`s gemischt Beste aus Azoren Seen. Traditionelle Werte und modernen Lebensstil. Einzigartiges Erlebnis !!!
Casa dos Barcos, kann bis zu 2 Personen (siehe Grundrisse von Casa dos Barcos) aufzunehmen. Fragen Sie auch nach dem "Sofa-Bett" für 2 Kinder bis 12 Jahre alt ist (auf dem Wohnzimmer) oder "Baby-Kinderbett" bis zu 5 Jahren.
Sete Cidades, ist einer der wenigen Orte in Azoren, die noch seiner rohen Eigenschaften beibehalten ... jeder sollte mindestens eine Erfahrung in diesem einzigartigen Ort haben.
The place is great! We were able to catch Lagoa Azul on a sunny day while staying in the house and the view was amazing. The second day, the clouds rolled in and it was still amazing! Tomaz and Alexandra were both great. The second day there was a minor problem with the plumbing and Tomaz offered to refund us the second day and he paid out-of-pocket to put us up in nearby lodging. He made this decision quickly and Alexandra quickly came over and helped us get situated in the temporary place. While we were awaiting her arrival we decided to take some final pictures around outside when all of a sudden we were greeted by what felt like a mystical wonderland of trails that we walked through. This place is amazing and a real gem for travelers and a great way to enjoy Lagoa Azul!
Melissa
2016-06-23T00:00:00Z
If you are looking for a little paradise, look no further! Thank you Alexandra and Tomaz for a wonderful stay in Sete Cidades!
Judith
2016-09-13T00:00:00Z
Staying at Casa dos Barcos is like living in paradise... The lake by your door step, a beautiful garden with several walking trails. House was comfortable and has all the necessary amenities. Words and photos cannot express the beauty of this area. Thanks Alexandra for accommodating our check in.
Jean
2016-07-17T00:00:00Z
This is such an incredible place to stay! The accommodation is lovely - clean and modern. But the location is just unbeatable! The view out onto Lagoa Azul is breathtaking and the gardens are just magical. Communication with the host was very prompt and clear. We were welcomed on arrival and given lovely cheese and bread plus the tastiest pineapple we've ever had. We can't recommend this place enough. Absolutely enchanted!
Joshua and Samantha
2016-10-14T00:00:00Z
A Casa dos Barcos é um lugar mágico! Foi uma experiência fantástica, poder contemplar a lagoa, num silêncio absoluto, numa casa onde a simplicidade foi minuciosamente pensada para que o lugar tivesse todo o protagonismo. Sem descuidar os pormenores que caracterizam a casa original, garantindo mesmo assim todo o conforto necessário, a Casa dos Barcos, proporcionou-nos um contacto com a natureza ainda dentro da casa, sempre que abrimos a janela. A descrição da casa é bastante precisa e as fotografias, não conseguem retratar totalmente a beleza e a tranquilidade daquele lugar. É sem dúvida um alojamento que deixamos com muita saudade e vontade de voltar, brevemente. Obrigado Tomaz e Alexandra, pela simpatia com que nos receberam. Até breve...
Joana
2016-09-11T00:00:00Z
We LOVED Casa dos Barcos. This place is stunning. It's a beautiful house set in an idyllic location; the lake is on your doorstep and the woodlands surrounding the house have walking trails lined with hortensia (hydrangeas) in full bloom, the pictures don't do this property justice. You have to see it to believe it. We would have a coffee in the morning and watch the low clouds roll over the lake, then roll away to reveal a beautiful day. It's quite easy to sit in and watch the views but I highly recommend the hiking trails around the lake, and kayak across it. The house itself is lovely with everything you need. Alexandra is on hand and very helpful if you need anything else. Sete Cidades is a great base to access the rest of Sao Miguel. We highly recommend the natural pools in Mosteiros and check out the Abandoned Hotel with views over Sete Cidades. Best of all, try the local cheese and Azorean steak. It has been an amazing stay at Casa dos Barcos. We are already planning to come back.
Mary
2016-07-14T00:00:00Z
This property is so gorgeous and very private. The view of the lake and accessibility to the water is fantastic, and the private trails on the land makes for a romantic stay! I would definitely come back!
Cynthia
2016-07-08T00:00:00Z
Superbe petite maison sur les bords du lac où autrefois on rangeait les bateaux et qui a été completement rénovée dans un style épuré pour le plus grand plaisir des voyageurs de passage comme nous. On se reveille avec une vue superbe, perdu au milieu d'un jardin immense dont les sentiers sont parfaitement entretenus. Ruben nous a accueilli chalheureusement et s'est montré tres disponible. Je recommande fortement. Certainement le meilleur Airbnb de São Miguel en terme de localisation et de depaysement.
LUCIEN
2016-11-01T00:00:00Z
Art der Unterkunft
Ganze Unterkunft
---
Objekttyp
Haus
---
Unterkunft für
2
---
Schlafzimmer
Sete Cidades, Azoren, Portugal
La maison dite "Casa do Vale" a été récemment rénové. De plus, il est situé dans un endroit calme et pittoresque. il maison est à seulement 400 mètres de la lagune bleue de Sete Cidades, il est donc possible de profiter de la belle.
Rez de chaussée: cuisinière et four, four à bois, chauffe-eau, micro-ondes, déshumidificateur, réfrigérateur, lave-linge rempli d'huile et sèche-linge, télévision avec antenne satellite, salon, cuisine, chambre double et WC. 1er étage: espace ouvert avec 2 lits simples, un lit superposé et un matelas double.
Sete Cidades est une paroisse portugaise appartenant à la municipalité de Ponta Delgada, dans la région autonome des Açores. Elle abrite 858 habitants (données de 2001), se trouvant sur une superficie de 19,22 km², sa densité étant 44,6 hab / km².
Nous remercions M. Viveiros pour son acceuil, sa gentillesse et son logement sobre et adapté. Cete Sitaddes est un bourg charmant, dans un endroit magique. J'ai eu plaisir à faire du parapente et des randonnées en famille. C'était agréable également d'avoir une liaison internet dans le logement.
samuel
2015-08-22T00:00:00Z
The house was charming, lives up to its name. Set in a beautiful, peaceful and tranquil location. Use of the bikes was an added bonus as was the garden at the end of a day of trekking. Joao met us at the airport to give us the keys and information on the house and area. He was delightful, friendly and very helpful.
Lou
2015-09-16T00:00:00Z
The host canceled this reservation 50 days before arrival. This is an automated posting.
freek
2015-06-09T00:00:00Z
The host canceled this reservation 29 days before arrival. This is an automated posting.
Vítor
2016-05-04T00:00:00Z
We found a house in a very good position, just near the Lake of Sete Cidades. It was perfect to relax and to have a trip in the West part of this beautiful island
Stefania
2015-06-29T00:00:00Z
Primeira casa que me acolheu e à minha namorada nesta maravilhosa Ilha. Uma casa rústica, espaçosa, bem equipada para todas as necessidades, um pouco fria devido à localização e à sua estrutura mas que se consegue dar a volta com um aquecedor fornecido pelo Sr. João. O Sr. João é muito simpático, prestável e sempre com boas indicaçoes do que visitar. Casa recomendada para pernoitar quando quiser visitar a Ilha.
João
2015-04-21T00:00:00Z
La casa de joao está situadas al lado de los lagos de sete. Joao ha estado muy disponible y dispuesto a ayudarnos todo el tiempo. La experiencia en su casa ha sido muy buena. Nos ha encantado un libro que nos hizo con recomendaciones de la zona. Totalmente recomendable. Gracias!
Paula
2017-04-11T00:00:00Z
This was a great little place for us to stay as we were hiking around the area and used Sete Cidades as a starting point. The house has everything you need and Joao is a helpful and friendly host - brought us a bottle of wine and passion fruit from his garden when he picked us up from the airport. As the building is old the tiles are realy cold, so be sure to bring slippers or shoes to wear inside the house.
Anne
2017-02-21T00:00:00Z
Art der Unterkunft
Ganze Unterkunft
---
Objekttyp
Haus
---
Unterkunft für
6
---
Schlafzimmer
Sete Cidades, Azoren, Portugal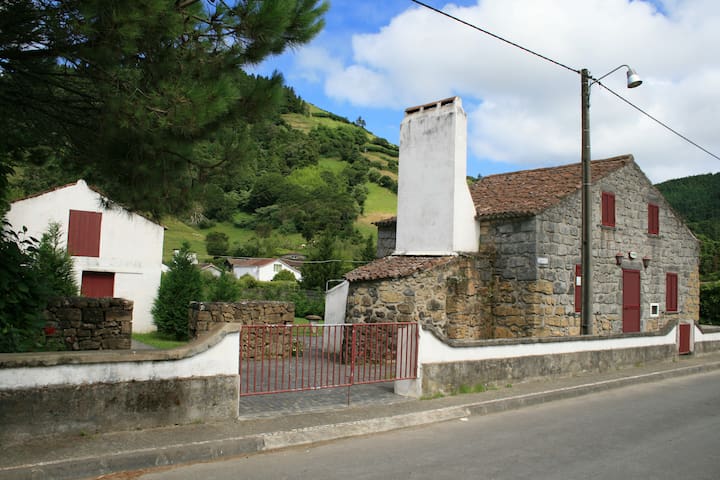 Diese Villa ist der perfekte Ort für diejenigen, die gerne von seiner besten Seite zu gehen / Wanderung und die Natur genießen. Das Haus verfügt über rustikalen Charme und besteht aus zwei Doppelzimmer, ein Badezimmer (mit Badewanne), Wohnzimmer und Küche mit Holzofen.
Das Haus verfügt über rustikalen Charme und besteht aus zwei Doppelzimmer, ein Badezimmer (mit Badewanne), Wohnzimmer und Küche mit Holzofen, der auf der Insel sehr typisch ist. Die Rückseite des Hauses hat Zugang zu einem kleinen Garten und eine Terrasse nach einem langen Tag zu Fuß zu entspannen.
Die perfekte Villa für diejenigen, die Natur zu gehen und zu genießen. Befindet sich im Zentrum der Referenz Dörfer von San Miguel, 3 Minuten zu Fuß von der Stadttore. Es ist ideal für diejenigen, die zu verfolgen möchten, entdecken Seen, betrachten die Rippen und lange Spaziergänge. Es gibt einen Auswurfkanal des Teiches, die in das Dorf Mosteiros gereist werden kann.
Wonderful place to stay. Lovely traditional house right in the Sete Cidades village. Everything was really great! Thankyou Mariana.
Paul
2016-11-01T00:00:00Z
Pues como en casa no nos sentimos. El pueblo es muy tranquilo
Laura
2016-08-03T00:00:00Z
The house is really rustic and typical of those found in the area. The beds were firm but comfortable and the house had most of the things required to make our stay a good one. A good place to rest for a night or two when enjoying the amazing surroundings!!
Rebecca
2016-08-19T00:00:00Z
We had a wonderful time at Casa Rustica. Mariana was always quick to reply to questions and has tonnes of local knowledge. The house has everything you could possibly need and is in a great spot to set up base for your travels around the island. We'll definitely be back. Thanks Mariana!
Frances
2017-01-03T00:00:00Z
the apartment is very nice, good location, well equipted house. Place is silent. House owner reacted to all questions very quick.
Arturas
2016-08-28T00:00:00Z
Great, pretty little house in Sete Cidades. Relaxing place to stay close to all the village and caldeira have to offer. Very clean and comfortable amenities. Lovely!
Luka
2016-08-13T00:00:00Z
Amazing surroundings and very spacious comfortable house. We didn't get to know Mariana, but she was very caring and responsive.
Gabrielle
2016-10-01T00:00:00Z
Being able to stay right in Sete Cidades is a wonderful treat, allowing explorations of the village, the lakes and the surrounding hills and trails. It was also a good base for exploring the Western part of Sao Miguel - and easy to find from various directions since Sete Cidades is rightly famous for its scenic beauty. The house is quite comfortable and well located. The village has a couple of places to eat and drink, as well as an adventure tour group that also rents kayaks and bikes. Highly recommended
Tyler
2016-11-16T00:00:00Z
Art der Unterkunft
Ganze Unterkunft
---
Objekttyp
Haus
---
Unterkunft für
4
---
Schlafzimmer
Sete Cidades, Azoren, Portugal
Modernes Familienhaus mit Blick auf die emblematische Sete Cidades Lagune - Insel São Miguel. Komfort, Privatsphäre, Familienküche, großer Garten rundum, einen privaten Parkplatz auf dem Grundstück. Lokale Abenteuer und Lagune Retreats.
Modernes Haus sehr komfortabel mit Belegung bis zu 6 Personen, 3 Schlafzimmer und praktische Einrichtungen. Es liegt im Herzen der Pfarrei Sieben Städte, direkt neben der berühmten Blauen Lagune von sieben Städte und privilegierte Aussicht. Voll ausgestattete Küche, 2 Bäder, Wohnzimmer mit TV und WLAN-Internet. Garten, umgeben von großen Wiese mit Blick auf die Lagune. Parkplatz auf dem Grundstück.
Das Haus befindet sich in der Gemeinde von sieben Städte, neben der berühmten Blauen Lagune. Es ist ein sehr ruhiger Ort, voller Natur und wo man verschiedene Abenteuer erleben können um: Wandern, Reiten, Radfahren, Kanufahren, Surfen padle in der Lagune, Windsurfen etc ... 10 Minuten Fahrt von Mosteiros Strand und 15 Minuten von Ferraria .
We had a great time. The house is huge with a wonderful garden. There was even a bottle of wine and a few other things to eat in the kitchen.
Stefanie
2017-02-16T00:00:00Z
Great place. There is everything you need to stay for a few days or a few weeks, for a couple or a large family with kids.
Natalia
2017-04-04T00:00:00Z
We had a great time in Sete Cidades snd were lucky to have sunny weather except for 1 rainy day. The house was furnished to a high standard with everything we needed. There were lovely views from the kitchen and upstairs bedroom overlooking the lake. It was within walking distance from the local restaurants (one of which served buffet every night of the week) and it was easy to hire kayaks and bikes and go for walks. The setting was magical.
Yvette
2016-08-27T00:00:00Z
Casa fantástica, num local absolutamente (URL HIDDEN) todas as comodidades necessárias, inclusive para quem tem bebés ou filhos pequenos. A Beatriz foi sempre muito simpática e prestável. Sem dúvida um local a regressar!
Rita
2016-09-09T00:00:00Z
The house was immaculate - nicely appointed with great views and easy access to all the sights of Sete Cidades. We enjoyed the welcome basket and everything was easy to use. Finding the house was a little tricky at first and we lost power the first night - but it was restored the next day and we were able to communicate fairly quickly with the host afterwards if we needed any help to reset it. The house had everything we needed for our stay in Sete Cidades. Would recommend this location if you enjoy peace and quiet!
Hana
2016-10-25T00:00:00Z
We stayed in Camelia's House in June 2016. Check-in went smoothly despite the person who met us didn't speak english well. All questions we have were answered by Beatriz through (SENSITIVE CONTENTS HIDDEN). The house is big, very light and cosy, exactly what we expected. There was everything in place as advertised on Airbnb. Sete Cidades is a small but very cute village. Neighbours live like one family here, they are very hospitable and ready to help if required. In next house we every day bought natural cow milk, very tasty! There is a small grocery, 3 cafes, places for renting boats and bikes, kids playground. But of course, the main sight is local nature!!! It is awesome here. If you want to enjoy a peace and calm atmosphere where nobody disturb you definitely come here. This is the place where you want to come back and we hope we will.
Alex&Natalia
2016-06-30T00:00:00Z
Art der Unterkunft
Ganze Unterkunft
---
Objekttyp
Haus
---
Unterkunft für
6
---
Schlafzimmer
Sete Cidades, Azoren, Portugal
Genießen Sie Ihren Urlaub in einem gemütlichen Landhaus bis zu 6 Personen im Herzen von Sete Cidades Dorf, in 1 "zu Fuß von der schönen blauen Lagune von Sete Cidades. Mit all den Waren enthalten, schöner Garten mit Liegeraum und einen Swimmingpool.
Das Haus befindet sich in der genuin Pfarrei São Miguel Insel und in der Nähe der Lagune von Sete Cidades - 1 Minuten zu Fuß - das kommt in allen Postkarten! Das Haus verfügt über 2 Etagen. In der ersten Etage gibt es offenen Raum mit Ess- und Wohnzimmer, voll ausgestattete Küche und ein Badezimmer. Im zweiten Stock gibt es drei Schlafzimmer, eines mit Doppelbett und die anderen 2 Zimmer mit je 2 Einzelbetten. Es gibt ein großes Bad mit Fenster. Draußen haben Sie einen großen Liguster Garten mit Liegefläche, Mahlzeiten Bereich, Schwimmbad und Parkplatz.
Sete Cidades ist eines der authentischsten und unerforscht Gemeinde der Azoren-Inseln, es ist die Landschaft von allen Postkarten wegen der schönen Lagune von Sete Cidades. Dort haben Sie viel zu tun und zu sehen, mehrere Wander- und Radwege, canoeonyng, Windsurfen und padle surfen in der Lagune. Wir bieten einen Fahrradverleih an: Fahrrad zu mieten azoren
The house lies in a beautiful setting in the midst of a vulcanic crater and it is only a minute to the waterfront of lagoa azul. It has a really wonderful garden - a good and quiet place to relax, meditate or reading a book. Ana and her husband are very kind people and the house was in very good and clean condition. We felt very comfortable at this summerhouse. The crater itsself is a wonderful and extraordinary place to explore, the lakes, the crater rim and also the sea is very close. We went several times to nearby Mosteires for swimming in the Naturais Piscinas- this is also a perfect place for a sunset cerveja - looking onto the sea. In Mosteires you can find a very good italian pizzaria (dont forget to make a reservation), while in Siete Cidades the cafe at the waterfront is a good place for lunch or coffee.
Ingrid
2014-08-20T00:00:00Z
We loved staying in Ana's charming cottage in Sete Cidades. Cozy house with everything you need to make you feel at home - we especially loved the fireplace! You are just a short walk to anything in the village as well as practically right on the lake. The perfect place to unplug and relax. Ana was very helpful with anything we may need during our stay. Highly recommend!
April
2016-03-03T00:00:00Z
Très bon accueil, et bons conseils à notre arrivée ! La maison typique est très agréable, surtout avec les équipements extérieurs. Le lieu (Sete Cidades) est magnifique, même s'il faut un peu s'habituer à la météo changeante de la région !
Davy
2014-08-31T00:00:00Z
We had a superb time staying at Ana's house. It is in a fantastic location, with the lake only metres away, a bakery just around the corner and walks around the incredible town of Cete Cidades within easy walking reach. The house itself is great - really nicely decorated with a wood burning stove, large garden and three bedrooms, and Ana has left a helpful folder of ideas for things to see and do. Ana couldn't have been more helpful or responsive. A definite five stars.
Jamie
2015-04-26T00:00:00Z
We had a lovely time in Ana's beautiful house that is full of character and curiosities. Whilst very rustic, the house had pretty much everything we needed and the setting is absolutely stunning. The town is quite noisy in the mornings with dogs barking, beeping and church bells so not ideal if you're keen on having a lie in! But overall a great experience and we loved dining outside on the terrace. Thanks very much Ana!
Owen
2016-09-17T00:00:00Z
We loved the setting and character of this cottage. Ana very kindly met us at the airport to give us keys and information when we arrived. The house was very well equipped and comfortable. Would definitely recommend!
Lliam
2016-06-17T00:00:00Z
After a transatlantic flight and an exciting drive through foggy mountain roads we were met by Bilo who kindly introduced us to the very cozy house. A fire was going in the stove, and she told us everything we needed to know. It was a wonderful experience as the house had everything we needed. The kitchen was well equipped with cooking utensils ( and food for our arrival), as well as basic supplies. There was comfortable seating in the living room and a large dining room table where we ate our meals. The blue lake was minutes away, as was the bakery where we bought hot bread every morning. We did some hikes in the area of Sete Cidades and especially liked the circular route across from Lagoa Canario. Any questions or concerns we had were promptly answered by Bilo. We would definitely recommend this house.
Aubrey
2014-11-21T00:00:00Z
We had a brilliant holiday in 'Casa dos Platanos'. The house is magnificent and especially the garden with a nice small pool charmed us, a nice place for a cooling down at the end of a warm and sunny day. The bedrooms are spacious but not all mattresses are eqally comfortable, but that is a matter of taste. In Sete Cidades are only few facilities but that also makes it a charming village. The availability of a car is essential, but when available Casa dos Platanos is an ideal base for a beautiful holiday on São Miguel. About the hostess (Ana) and het brother (André). nothing but good, minor inconveniences were quickly solved and the communication is perfect. For us, a real winner!
Chris
2015-07-14T00:00:00Z
Art der Unterkunft
Ganze Unterkunft
---
Objekttyp
Haus
---
Unterkunft für
6
---
Schlafzimmer
Sete Cidades, Azoren, Portugal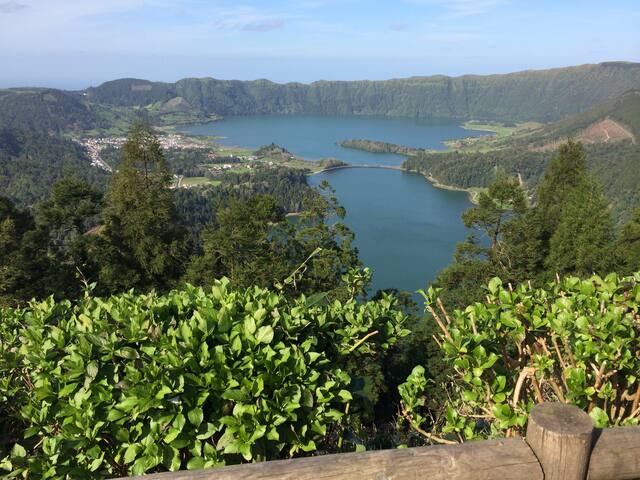 Neue Villa in einer ruhigen und malerischen azoreanischen Straße. Es verfügt über 2 Schlafzimmer, 1 WC, Wohnzimmer mit Kamin, ausgestattete Küche mit Speiseraum. Schöne Größe Garten mit herrlichem Blick auf die Berge und Waldpark. Schöne Lagunen sind nur vor unserer Tür. Der Strand, die natürliche Schwimmbecken (mosteiros Dorf) und heißen Quellen auf dem Meer von Ferraria (Ginetes Dorf) sind nur nur 10 Minuten mit dem Auto (alle freien Eintritt). Seien Sie abenteuerlich und entdecken Sie dieses Juwel!
Seien Sie bereit, einen sehr schönen und ruhigen Ort in einem Dorf zu erleben das die "Postkarte" der Insel San Miguel benannt. Erwarten Sie nichts weniger als Komfort, Ruhe, die Geräusche der Natur, den Duft von Blumen in der Nacht, das intensive Licht der Sterne, die romantische Spaziergänge ... kann man sich im Paradies vorstellen? Holen Sie sich für einen Urlaub bereit, ein ganz besonderer Ort. Erwarten Sie Komfort, Ruhe, die Geräusche der Natur schläft ihn fällt und ihn aufwecken, der Geruch von conteiras blühen, Sternenlicht, romantische Spaziergänge, die Worte müssen Sie nicht sagen, warum ich das Herz, sagte ...
(URL HIDDEN) (URL HIDDEN) (URL HIDDEN) (URL HIDDEN) (URL HIDDEN) (URL HIDDEN) (URL HIDDEN) Video: vulcanic Mystiker auf den Azoren Video: 10 Gründe, die Azoren zu besuchen
This was a perfect cottage for my husband and I, with plenty of space for the two of us. Maria was very friendly and provided us with everything we needed. Sete Cidades is a beautiful place with lots of outdoor things to do, but if you want nightlife then this is not the place for you! Very handy for the airport and all of the major sights on the island.
Katy
2016-10-06T00:00:00Z
Excellent accueil par Maria et son mari. Ils nous ont donné des conseils, des adresses. Le gîte est conforme à la description. Nous l'avons trouvé parfait excepté le manque d'eau chaude. (Nous avons fait bouillir de l'eau pour finir de se rincer). Le gîte est très bien placé. Le cadre est fantastique pour les randonnées.
Isabelle
2016-07-30T00:00:00Z
We loved the little stone cottage and Maria and her husband were lovely hosts. They were easy to communicate with and made sure everything was just right! We especially loved the fireplace and the BBQ out back. Sete Cidadas is a lovely little town and a nice home base to explore the west side of the island from. We highly recommend Sete Cidadas and that you stay at Maria's sweet cottage. Also the pictures don't do the cottage justice! It's really quite lovely!
Sarah
2016-09-22T00:00:00Z
Everything went well, the cottage was clean and well located in Sete Cidades (close to the lake and restaurants) Maria and her husband came to welcome us and were kind to us. They provided us with useful information, and made their best to answer to our questions.
Dominique
2016-08-29T00:00:00Z
Nous avons été très bien accueillis par notre hôte. Le gîte est simple et confortable, il correspond bien à l'annonce. Nous avons découvert à quelques minutes à pied des paysages paradisiaques et inoubliables! Deux petites épiceries et deux restaurants sont à 3 min à pied du gîte. Les randos sont très bien balisées, bref un gîte super bien placé et des propriétaires très sympathiques.
Eric
2016-07-16T00:00:00Z
Petite maison pleine de charme, équipement pas de toute jeunesse ... Maison placée dans la cour d'une autre location. Pas de vue. Bien pour une voir deux nuits maximum.
inge
2016-07-10T00:00:00Z
Art der Unterkunft
Ganze Unterkunft
---
Objekttyp
Haus
---
Unterkunft für
4
---
Schlafzimmer
Sete Cidades, Açores, Portugal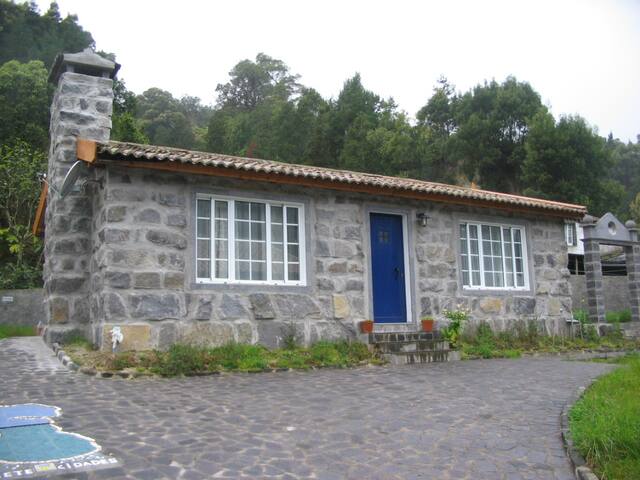 Amazing talo sekoitettu nature`s parhaiten Azorien järvien. Perinteiset arvot ja nykyaikainen elämäntapa. Ainutlaatuinen kokemus !!!
Casa Grande, mahtuu 10 vierasta (katso jäljempänä pohjapiirroksia Casa Grande). Pyydä myös "kerrossänky" lapsille (2-8 vuodetta) enintään 12 vuotias suurella kaunis puu ullakko ;-)
Sete Cidades, on yksi harvoista paikoista Azoreilla että edelleen säilyttää raaka ominaisuudet ... jokaisella on oltava ainakin yksi kokemus tässä ainutlaatuisessa paikassa.
"Casa Grande" is a beautiful piece of outstanding architecture surrounded by a massive and manicured garden settled in an area of superlative beauty. All the bedrooms in the house are spacious, light and airy, both kitchen and bathrooms are very well equiped and are comfortable. Our experience there was 10 out of 10 and we can't stress enough how beautiful the whole property is.
Xavier
2015-10-24T00:00:00Z
Maison absolument incroyable tant par la localisation que par la maison (URL HIDDEN) un accueil parfait ! Superbe séjour !
Hélène
2014-11-02T00:00:00Z
Fomos muito bem recebidos pelo o HOST, Alexandra Martins, que para além de nos mostrar a casa ofereceu-nos uns fantásticos queijos frescos e ananás da região. A Casa é fantástica, cheia de história, com uma sala de estar e de jantar agradáveis e ajustadas a um grupo grande, os quartos e casas de banho também são óptimos e tem uma cozinha muito gira misturando os elementos do Séc. XIX com os contemporâneos.
João
2016-07-05T00:00:00Z
Our stay at the Casa Grande in Sete Cidades was the most wonderful vacation we've ever taken. The house is even more beautiful than the pictures show and it is impossible to describe how relaxing our stay was. We were warmly welcomed by Alexandra with local bread, cheese and Azorean pineapple. She opened the house and took care of everything we needed. The gardens were so well cared for and the view over the two lakes (Lagoa Azul/Verde) was breathtaking. What a way to wake up every morning. We didn't want to leave! The house has 5 large bedrooms 2 bathrooms with showers and 1 smaller bathroom. The style of decorating is gorgeous, a blend of modern/historical. Everything was absolutely perfect. Sete Cidades is about 25 min drive from Ponta Delgada but we thoroughly enjoyed the drive and the scenic town. We'd stay here again in a second! The house is quite a landmark in Sete Cidades and many tourist companies drove their visitors by the house to take pictures and we felt lucky to be staying there. Tomaz was so friendly and easy to deal with, and answered all emails. We will be recommended the Azores and this house to many of our friends. Thank you for the wonderful experience. We can't wait to visit again!
Rachel
2014-04-27T00:00:00Z
La Casa Grande is a very special house with wonderful natural light streaming into windows and doors and playing off the spacious white walls and high ceilings. The house has been updated in a simple but ample way which compliments the surroundings very nicely. The gardens are an added pleasure. We loved our stay.
Genevieve
2017-03-13T00:00:00Z
Nous avons passé un superbe séjour dans cette superbe maison digne d'un catalogue de décoration durant 8 jours (à 9 personnes). La maison est très spacieuse, décorée avec beaucoup de goût, les chambres et le salon sont superbes et le jardin arboré est magnifique. C'est la plus belle maison du village, les gens s'y attardent pour la prendre en photo! On l'aperçoit à des kilomètres en arrivant sur le lagon. On ne se lasse pas des vues resplendissantes de chacune de ses fenêtres. La maison est très bien équipée si l'on veut se faire son repas et tout est fait pour que le séjour se déroule de façon la plus agréable possible. Située dans le cœur de l'ancien volcan avec 2 lacs à proximités où l'on peut faire du canoé, un petit restaurant-snack au village une épicerie et une boulangerie. Plusieurs plages à 15 minutes de la maison, de même pour plusieurs promenades en montagne. La ville de Punta Delgada est à 30 minutes. Difficile de lui trouver un défaut. Le seul détail négatif étant peut être l'occupation durant les heures de bureau d'une salle du rez de chaussé qui n'était pas annoncée au départ, (à l'écart des pièces de vie de la maison cependant) mais Alexandra est très polie, discrète, agréable, serviable et elle a su immédiatement nous résoudre plusieurs petits soucis. Maison hautement recommandée! Séjour fantastique.
Emmanuel
2014-08-06T00:00:00Z
This place is absolutely spectacular, the house is gorgeous and it is decorated in a simple, stylish and cozy way to make you feel at home. It is equipped with just about everything you need, one of the best (if not THE best) house I've stayed in. The location could not be better, right inside a huge crater, sourounded by an amazing volcano and 2 minutes walk from the two lakes where you can swim, sail or just go for a walk. Tomaz was the perfect host; before the trip he was really helpful in arranging everything for a big group with small children and it was all perfect. During our stay, his hospitality was just great and he made us feel at home. I would recommend this house to everyone and I do hope we can go back to Açores soon, obviously to this house!!
Ana
2014-08-16T00:00:00Z
Tomaz was quick to respond to our questions before we booked, and remained responsive throughout via email. Alexandra helped us out while at the house and was very friendly and useful. The stove top stopped working on our 2nd day and it was replaced within hours - and worked just fine afterwards. We had no other issues. The house itself is stellar! It is just as it looks on the site - beautifully decorated and more than enough room for a family of 8. Sete Cidades is a lovely quiet town. We loved our holiday here.
kate
2015-07-15T00:00:00Z
Art der Unterkunft
Ganze Unterkunft
---
Objekttyp
Haus
---
Unterkunft für
10
---
Schlafzimmer
Sete Cidades, Azoren, Portugal
Bella vila situada en un carrer tranquil i pintoresc de les Açores. Disposa de 2 habitacions dobles i una individual, 2 WC, saló amb llar de foc, cuina equipada amb espai de menjador. jardí de bona mida amb vistes al parc de muntanya i bosc al front. Belles llacunes són només en la nostra porta. La platja, basses naturals i aigües termals al mar només són a 10 minuts amb cotxe (entrada lliure). Sigui aventurer i descobrir un dels llocs més romàntics d'haver estat mai!
Estigui preparat per experimentar un lloc molt bonic i tranquil en un poble anomenat el de la "postal" de l'illa de Sant Miquel. Després d'esperar ni més ni menys confort, tranquil·litat, els sons de la natura, l'olor de les flors a la nit, la intensa llum de les estrelles, les passejades romàntics ... Pot vostè imaginar-se a si mateix en el paradís? Prepareu-vos per a unes vacances en un lloc molt especial. Esperar que el confort, la tranquil·litat, els sons de la naturalesa queda adormit i el desperten, l'olor de conteiras flor, llum de les estrelles, passejos romàntics, les paraules no han de dir per què vaig dir al cor ...
(URL HIDDEN) (URL HIDDEN) (URL HIDDEN) (URL HIDDEN) (URL HIDDEN) (URL HIDDEN) (URL HIDDEN) VIDEO: Els mística volcànica a les Açores Vídeo: 10 raons per visitar les Açores
logement conforme à la description dans un environnement singulier sans grosse infrastrutcure touristique et à 5 minute à pied de la base de loisir du lac. Très bon accueil de Maria et de son mari.
Eric
2016-08-04T00:00:00Z
Maria's house is a large property with real character and traditional furniture in most of the rooms. It has a small, sunny garden and use of a BBQ too. Sete Cidades is a quiet town in a stunning location with 2 restaurants, a bar, 2 shops and a bakers where you can buy hot, wood fired bread every morning! The blue lagoon is lovely for sunbathing and kayaking plus the hiking is good too. It's good to have a car and we enjoyed several trips to Ponta Delgada (whale watching), Ribeira Grande (surfing) plus Fereria and Caldeira Velha (hot springs). We really enjoyed our stay.
Clare
2016-08-28T00:00:00Z
Una casa agradable para permanecer en Siete Ciudades. Muchas gracias María por tu atención.
Marta
2016-07-12T00:00:00Z
Art der Unterkunft
Ganze Unterkunft
---
Objekttyp
Haus
---
Unterkunft für
6
---
Schlafzimmer
Sete Cidades, Açores, Portugal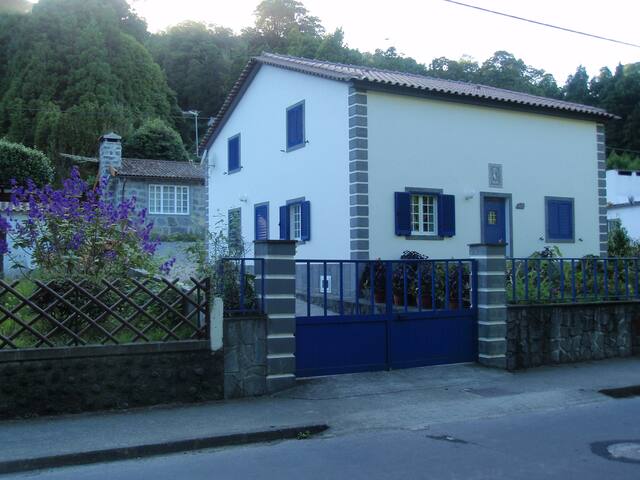 ¿Alguna vez has dormido en un volcán? Esta es su oportunidad. Sete cidades es uno de los lugares más singulares de la tierra. Parece fácil de decir pero una laguna de color 2 rodeada por un volcán es un espectáculo que no va a ver muchas veces. Este es un lugar para construir recuerdos.
La casa està situada al cor de la localitat de Sete Cidades. Té un gran jardí per a tu mateix. Aquest és la llar, per tornar a mentre explora les infinites meravelles que la naturalesa construïda a l'interior del volcà Sete Cidades. Ah, i visitar la resta de l'illa per.
Sete Cidades són probablement el o un dels llocs més emblemàtics de l'illa de Sant Miquel. La seva meitat verd, meitat llacuna blau és un ex-libris que ha recorregut el món. A l'estar a la cresta de la muntanya és conèixer la immensitat del volcà i que ens van a visitar la seva profunditat. Creuant les llacunes és entrar en una dimensió de les coses noves: Olors, colors, sons, sentiments. Sembla que el món parla amb vostè en formes que no podem realment entendre. No va ser per res a aquest lloc era una de les 7 meravelles de Portugal, perquè no és una qüestió de caràcter únic, sinó una transmissió d'energia que la majoria dels llocs, com a úniques com són, no tenen. Podem lloc al costat del volcà i contemplar la immensitat del mar, al mateix temps que, amb un gir dels seus ulls, pot ser sorprès per l'ombra dels verds que s'esfondren en la seva visió. És aquest contrast que viu a la llacuna blau i verd, en perfecta harmonia. La bellesa de la natura és tan perfecte que vostè se sent com rodant pels cotonós turons. Envegem les vaques, que es mou lentament, en la seva tasca sense fi per menjar tota l'herba que existeix. Vam visitar les altres llacunes properes, cap d'ells, menys bonic que el principal. Prenem camina entre els arbustos de la azalea i ens aventura a través del túnel que va a Mosteiros. Mengem fresca feta de formatge i pa. I no volem deixar.
Filipe was a very attentive host (we received basic information about what to do & see where on the island, and he also did a little tour with us in the immediate neighbourhood immediately after we arrived). No issues at all regarding arrival and departure (key handover etc.). A one-off issue in the appartment was promptly fixed. The property itself is in impeccable shape and we also profited a lot from the rather huge garden. Sete Cidades is a vey quiet and uncommercialized place (which we liked).
Robert
2014-08-24T00:00:00Z
Caterina es un encanto. La casa es tal cual aparece en las fotos, se está muuy bien, y Sete Cidades es un mini paraíso!
Silvia
2015-09-07T00:00:00Z
Art der Unterkunft
Ganze Unterkunft
---
Objekttyp
Haus
---
Unterkunft für
2
---
Schlafzimmer
Sete Cidades, Azoren, Portugal
Das Haus in einem einfachen, stilvoll und gemütlich dekoriert wird Ihnen wie zu Hause fühlen. Es ist ausgestattet mit fast alles, was Sie brauchen. Das Haus befindet sich am Rande der Blue Lagoon befindet sich in einem riesigen Krater von einem erstaunlichen Vulkan umgeben.
In einem riesigen Krater, von einer erstaunlichen Vulkan, am Rande des Blauen Lagune umgeben, wo Sie schwimmen, Fahrrad, Segel fahren oder einfach nur für einen Spaziergang.
Radfahren, cannoing, im See schwimmen, Angeln
Wir haben uns in der Unterkunft sehr wohl gefühlt. Das Haupthaus hat einen tollen Blick auf den "blauen" Kratersee. Die 3 Holz-Bungalows, die man bei AirB&nB sieht sind in einem Garten hinter dem Haus. Der Kamin, die Heizung im Schlafzimmer und der heizbare Handtuchhalter im Bad sind bei kaltem Wetter sehr erfreulich. Das Wlan ist gerade schnell genug um sich z.b. live-Fernsehen zu streamen. Im Ort gibt es eine kleine Bäckerei, einen Minimarkt, Cafés, Restaurants und ein Taxi. In der Touristinfo kann man wohl Farräder leihen, am See gibt es einen Verleih für diverse Wassersportarten.
Barbi
2017-04-09T00:00:00Z
Die Unterkunft hat eine fantastische Lage und ist sehr gemütlich. Die Abstimmungen waren jederzeit sehr angenehm. Vielen Dank für das herzliche Willkommen und die vielen Köstlichkeiten!
Janina
2016-06-15T00:00:00Z
Wir haben 4 Nächte in dieser sehr schönen Unterkunft verbracht. Die Lodges sind liebevoll, modern und sehr stylisch eingerichtet. Besonders nett war auch der Willkommensgruss bestehend aus Frühstücks Utensilien sowie einer Flasche Wein. Auch bei schlechtem Wetter ist diese Unterkunft ein Genuss und lädt zum Verweilen ein. André ist ein sehr netter Host und ich würde diese Unterkunft ohne wenn und aber weiterempfehlen!
Stephanie
2016-09-23T00:00:00Z
Andres place is really special and located in a little forrest in the back yard of his families vacation house. It is a few steps from the lake shore (of Lagoa Azul) and was very quiet. What really catched us was the beautiful architecture of the building and when living there for 4 days the friendly atmosphere it created. You have a sleeping room that can be closed with a sliding door (great for families with small kids that sleep early) and a very very comfortable couch in the living / kitchen space that also had a nice fireplace (wood was provided by Andre). Location wise it is great to explore the Sete Cidades region and maybe also the West Coast of the island. As it is 30-40 to Ponta Delgada (or even more, when wanting to go more east to Furnas or even Nordeste) with some windy roads I would not take it as a base to explore the island but it was fantastic if you want to stay in that area (for some days). Andre himself was very flexible and helpful and communication was really enjoyable. Andre gave great instructions to make the most of the area (We would have never found the "bakery" in house number 32 or enjoyed the Lagoa Azul Buffet on the weekends without him). If you can find a spot, I can only encourage you to go to this wonderful place.
Bernd
2017-01-11T00:00:00Z
We felt welcomed right from the start. Communication with André was easy. He gave us lots of tips what to do and where to buy. We even knew the best time to buy bread at the local bakery (9:20 am) and he was right. The house is wonderful, cosy and perfectly situated for hiking and to explore the west of the island. Wifi worked well. Highly recommended!
Monika
2017-02-25T00:00:00Z
We stayed here for a few days of our honeymoon as we were traveling all over the Azores. This home is absolutely beautiful, as is its location! Andre is also a wonderful host! He gave us wonderful recommendations for food, helped us to plan all of our days on Sao Miguel, and welcomed us some wonderful Azorean foods. This place is worth every penny! Relaxing, beautiful, and secluded getaway. Thank you, Andre!
Cassie
2016-08-04T00:00:00Z
We had a great time at the 7 Cidades Lake lounge. The area was absolutely gorgeous. The lodge was clean comfortable and very well-kept. André was an excellent host that provided lots of tips for things to do around the island. I would definitely consider staying here again.
Jeffrey
2015-05-24T00:00:00Z
The 7 Cidades Lake Lodge was one of our very favorite places we stayed in the Azores, and a wonderful way to wrap up our 2 week trip. The space was unique to any we saw, and it was clear that Andre put so much thought into the beautiful design and function of this project. The town of Sete Cidades is a quiet and charming place to stay. It has a few restaurants but the nearest full grocery store is about 20 minutes drive, however, Andre made sure we were well stocked with breakfast supplies and a lovely bottle of wine, and told us where we could find local bread, and produce from the trucks that drive through town. Andre also shared all sorts of helpful materials for hikes and sight seeing. When we had a rainy day, we didn't feel like it was lost time because we got to stay in our beautiful space and relax, with a fire place, reliable internet, well stocked kitchen and very comfortable couch. Highly recommend this cozy gem, and we will definitely stay here on our next trip to the Azores!
Sasha
2015-10-09T00:00:00Z
Art der Unterkunft
Ganze Unterkunft
---
Objekttyp
Haus
---
Unterkunft für
3
---
Schlafzimmer
Ponta Delgada, Azoren, Portugal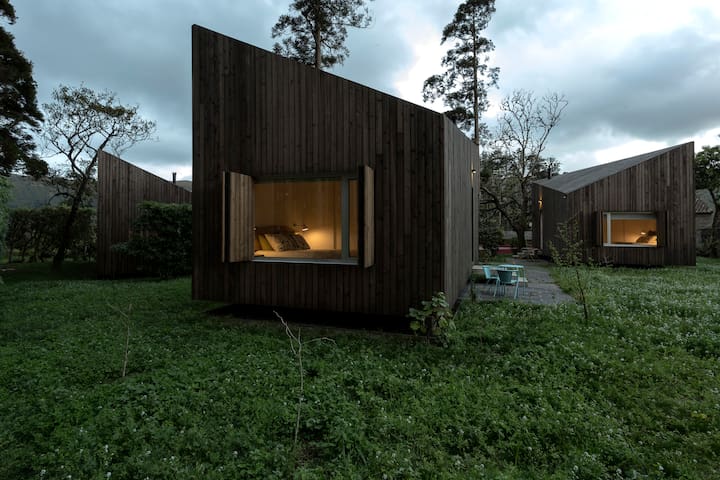 Casa Banana is a colorful, cozy cabin with sea view.It is special, because of its individually artistic touch. Even plates and cups blend into the yellow, green and pink of the furniture. The Cabin is transmitting happiness. It is surrounded by a romantic garden in the middle of hilly landscape facing south. You can sit on its terrace on the swing and gaze on the Ocean. Casa Banana captures the atmosphere of this subtropical island in the Atlantic. It is part of the Casa Magica terrain. Casa Banana has a seperate entrance and parking and you will enjoy your Privacy Casa Banana includes a bathroom (towels inclusive), kitchenette (fridge/stove/toaster/ coffeemachine etc.), double bed (linen inclusive) and free internet. Thanks central heating there is always a cozy room temperature in the colder season. We are close to the famous Sete Cidades Calderas and Ferraria Hot spring. We are situated between Ginetes and Candelaria where you can find shops, cafes, restaurants, pharmacy etc. Our place in (SENSITIVE CONTENTS HIDDEN) earth: Canada dos Picos, Ponta Delgada, Portugal and click for pictures Casa Magica.
Meiner Freundin und mir fällt nur ein Wort für diese Unterkunft ein. WOW Alles ist mit sehr viel Liebe gestaltet und entspricht genau den Bildern. Ich glaube eine bessere Unterkunft findet man nicht auf den Azoren. Auch hat uns Natascha bei unserem Mietwagen geholfen. Die komplette Kommunikation mit Natascha war hervorragend. Leider war sie bei unserem Aufenthalt nicht da aber ihre Freunde und Familie sind genau so herzlich. Wir kommen auf jeden Fall wieder.
Moritz
2016-03-24T00:00:00Z
Wir hatten leider wenig Glück mit dem Wetter… Doch trotz der vielen Regentage haben Natascha, ihre Familie und die Casa Banana die Sonne für uns zurück geholt!! Wir wurden herzlich aufgenommen und haben uns von Anfang an heimisch gefühlt. Das Häuschen ist für zwei Personen perfekt geeignet & suuupergemütlich– der Ausblick aufs Meer ist der Wahnsinn (Sonnenuntergang) und in dem Garten fühlt man sich wie in einem kleinen Tropenparadies. Auch wenn die Unterkunft für uns ein Highlight auf unserer Reise war, war es doch die Gastfreundschaft von Natascha, Anouschka und Homajun die unseren Urlaub unvergesslich gemacht haben. Lieben Dank euch :-*
Sabine
2015-05-03T00:00:00Z
sehr originelles Häuschen (eigentlich ein Gesamtkunstwerk), super eingerichtet mit Liebe zum Detail. Blick aufs Meer, tolle Terrasse, wunderschöner Garten mit Froschteich (Gequake kann stören), etwas abseits gelegen, Auto erforderlich. Gastgeberin sehr freundlich und hilfsbereit.
Ambrosia
2016-04-08T00:00:00Z
Wunderschönes lebensfrohes Häuschen mitten im Grünen. Uns hat das Künstlerische und der Blick aufs Meer von der Terrasse aus besonders gut gefallen. Natascha ist sehr hilfsbereit, immer ansprechbar und ein gut gelauntes Energiebündel. Vielen Dank für alles!!!
René
2016-09-03T00:00:00Z
Wir haben 2 wunderbare Wochen bei Natascha verbracht! Casa Banana ist liebevoll ausgestattet und es ist wirklich alles vorhanden, was man braucht; die Terrasse ist super-groß -- groß genug um Yoga zu machen, zu essen, auf der Liege zu lesen... etc.; man überblickt einen großen, bunten Garten (mit Biotop), und dahinter sieht man das Meer. Und wenn man abends draußen sitzt, kann man die Sonne im Meer untergehen sehen :). Natascha war unglaublich herzlich, war immer da, wenn wir was brauchten oder wissen wollten und hat uns sogar unsere Wäsche mitgewaschen..! Danke noch einmal für alles!
Birgit
2014-08-30T00:00:00Z
Super schöne Anlage mit viel Liebe zum Detail. Sehr sauber und es fehlt wirklich an nichts. Natascha ist sehr sehr nett und wirklich immer hilfsbereit. Wir empfehlen die Hütte auf alle Fälle weiter. Fazit: Hammer Ambiente, genau richtig zum abschalten!
Bettina
2015-06-20T00:00:00Z
Wir hatten tolle 7 Tage in dem Casa. Es ist total gemütlich, alles vorhanden was man braucht und Natascha super nett. Die Kommunikation war prima und das Casa hat auch den Sturm ohne Probleme überstanden :-)
Tim
2016-10-26T00:00:00Z
Es ist ein kleines Paradies und Natascha eine super Gastgeberin. Die Bilder haben nicht zuviel versprochen. Wir haben uns sehr wohl gefühlt und können es nur weiter empfehlen.
Joe
2017-01-05T00:00:00Z
Art der Unterkunft
Ganze Unterkunft
---
Objekttyp
Blockhütte
---
Unterkunft für
2
---
Schlafzimmer
Ponta Delgada, Ilha de São Miguel, Portugal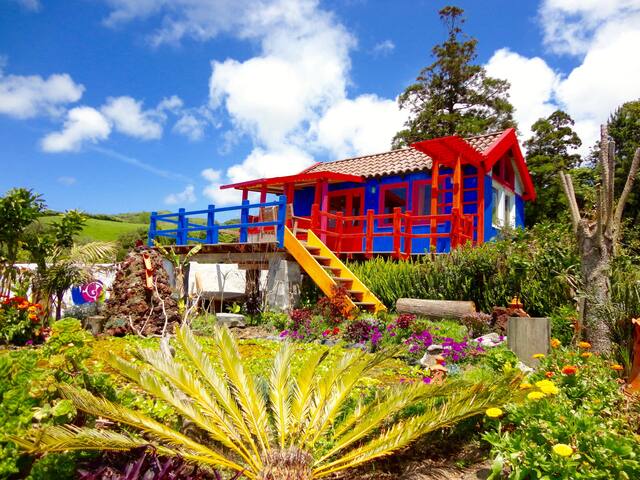 The Beach House, befindet sich in Klöster, besteht aus 2 Schlafzimmern, Wohnzimmer, Küche, Bad und einen großen Außenbereich mit Grill und einen herrlichen Ausblick auf das Meer und die Inseln. Es hat Internet. Das Dorf verfügt über 3 Restaurants und eine italienische Pizzeria.
Super Beach House mit tollem Ausblick, traumhafter Platz, entspricht der Beschreibung und den Erwartungen!
Claudia
2016-07-16T00:00:00Z
It was wonderful! Beautiful view on the sea! Unfortunately I could't stay longer.
Maxmilián
2016-01-30T00:00:00Z
It's really a house with a great view!!!
Alex
2016-09-16T00:00:00Z
Sofia was super helpful. The house is right on the water and has everything you need. A small grocery store is a short walk along with a couple of restaurants. Enjoy.
John
2017-04-03T00:00:00Z
Sofia's mother met us at the house, very close to the beach. It was a large space for just the two of us, but a nice outdoor patio and grill and rooftop terrace made for wonderful breakfasts on the roof in the sunshine. Mosteiros is about a 40 min drive from the airport, but once we arrived we settled in quickly. There is no wifi in the house, but we found a little cafe down the street so we could plan our activities. Thanks for your hospitality Sofia.
David
2015-09-09T00:00:00Z
Wonderful house by the sea, in a lovely village. It's so nice to fall asleep to the sound of waves. Communicating was very easy with Sofia!
Guillaume
2017-03-16T00:00:00Z
Thank you for this amazing stay! It was a pleasure to live in this wonderful and charming flat in Mosteiros, the place to stay during a trip! The house was perfect for 5 persons, well equipped and clean! I can just recommend it to (URL HIDDEN) least also because of the wonderful location directly at the beach. I wish you all the best, thank you for everything! We will come back for sure! :)
Elina
2015-06-02T00:00:00Z
We just loved the house and the surroundings. We have spent a week there with one and four years old kids who just adored the house. The terrace and grass on top were excellent for running around when we weren't at the beach and the beach was so close you could afford to forget just everything :) And luckily for us parents we could do a lot of sightseeing as well since nothing is really far on the island. Thank you Sofia and to your mother as well who warmly received us at the house. We highly recommend the place. And the views at night were just... waw. It is a shame though that there is a light just in front of the house which made the nights a little too bright for watching the stars.
Jasmina
2016-08-01T00:00:00Z
Art der Unterkunft
Ganze Unterkunft
---
Objekttyp
Haus
---
Unterkunft für
5
---
Schlafzimmer
Ponta Delgada, Açores, Portugal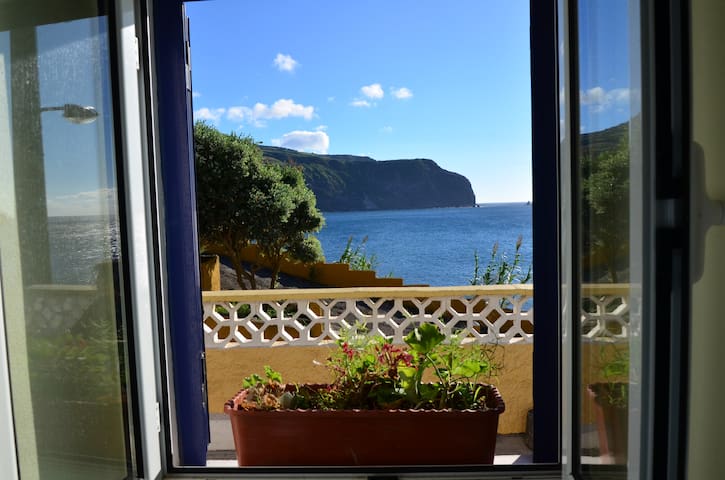 Leça Haus ist ein typisches Haus mit allem Komfort erholt für 6 Personen. Große Flächen, offener Raum mit Wohnzimmer und Küche. Es ist in einem "Shabby Chic" -Stil eingerichtet, sehr breit, umgeben von frischer Luft, mitten in der Natur und in der malerischen Gemeinde der Ginetes entfernt. Die perfekte Wahl für Familien (Kinder oder Jugendliche) und Freunde. Sie verfügen über 3 Schlafzimmer, 2 Badezimmer (Badewanne und Dusche), Wohnzimmer, Küche und viele Annehmlichkeiten für Ihren Komfort.
Die perfekte Wahl für Familien (mit Kindern oder Jugendlichen) und Freunde. Sie haben 3 Schlafzimmer haben, 2 Badezimmer (Badewanne und Dusche), Wohnzimmer, Küche und viele Annehmlichkeiten für Ihren Komfort: + 3 Zimmer (3 Doppelbetten) + 2 Badezimmer (Badewanne und Dusche) + Kinderbett auf Anfrage (kostenlos) + Private Parkplätze für 3 Autos + Barbecue Küche: + Backofen, Elektroherd + Mikrowelle + Kettle + Toaster + Kaffeemaschine Wohnzimmer: + Kabel-TV + Free Internet Wäsche: + Waschmaschine + Eisen + Fahrradverleih
Die Gemeinde der Ginetes ist viel von Touristen und Reisende aufgrund seiner Nähe zu den wichtigsten Sehenswürdigkeiten der Insel gesucht. Um dies ist eine sehr malerische und sehr ruhige Gemeinde. In unmittelbarer Nähe befinden sich Restaurants, Supermarkt und eine Tankstelle. + 25 Minuten von Ponta Delgada + 5 Minuten von Ferraria Thermen + 10 Minuten vom Badebereich des Mosteiros + 15 Minuten von der berühmten Lagune der Sete Cidades
We had a wonderful time in this beautiful house! Its very well equipped and lovely decorated. The area is peaceful and quite. There is so much space for more than just us two, it is perfect for families. The hosts are really nice and they welcomed us so friendly! Highly recommended! :)
Ninon
2017-03-20T00:00:00Z
Leç'a's place was wonderful. Cozy and colorful and close to the sea and all of the wonderful things that the Azores have to offer! I would recommend staying here for some quite nights off the beaten path.
Danielle
2017-03-31T00:00:00Z
Art der Unterkunft
Ganze Unterkunft
---
Objekttyp
Haus
---
Unterkunft für
6
---
Schlafzimmer
Ponta Delgada, Açores, Portugal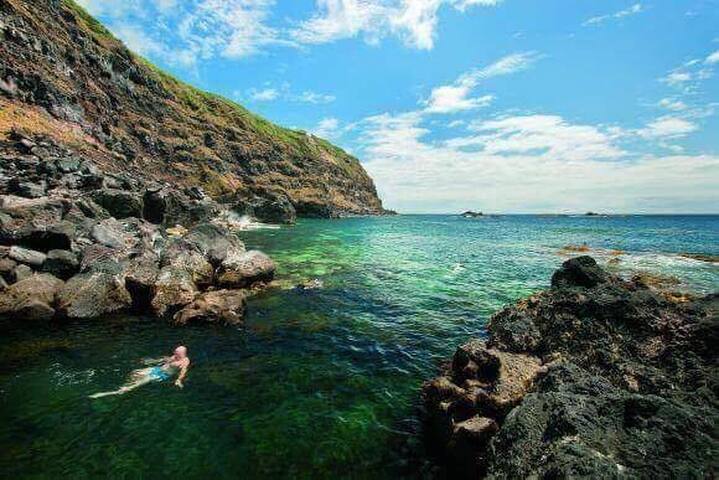 Hus utrustad för kortare vistelser. Omgiven av en gemensam trädgård med grill. landskapet i Ponta Delgada där kontakt med naturen är oundvikligt. Nära en gård med djur.
Nous avions réservé ce logement en novembre pour 8 nuits et nous ne sommes restés que 2 nuits! A notre arrivée, Dino nous a dit qu'il fallait laisser couler l'eau du robinet pour que l'eau chaude arrive. Quelques minutes après le départ de Dino, il n'y avait pas d'eau chaude. Nous l'avons donc appelé. Il nous a dit l'endroit où il fallait aller pour "réparer" l'eau chaude mais ça n'a pas fonctionné. Nous avons attendu le lendemain matin que Dino vienne changer la batterie de la chaufferie pour avoir de l'eau chaude. Le logement est humide et très froid. Il n'y a aucun chauffage d'appoint. Le bac à douche est fendu. Nous avons dû remettre la tête de lit qui est tombée notre sommeil. Un matin en allumant la lumière de la salle-de-bains (qui allume en même temps la ventilation située juste au-dessus de la douche), la grille de la ventilation a émis de grosses étincelles. Nous avons eu peur et avons vite éteint la lumière. Une forte odeur de brûlé s'est échappée de cette grille et il n'y avait plus de courant dans la maison. Nous avons tenté de remettre le compteur électrique en route mais rien ne s'est passé. La machine à laver et le sèche linge sont situés dans un local commun aux 3 logements. Le bac de la machine à laver pour la lessive est moisi, le sèche linge ne sèche pas (il faut relancer 4-5 fois le séchage à 120 minutes) pour espérer que votre linge soit à peu près sec. Voici les désordres que nous avons constaté en arrivant le lundi 31 /10 et en partant le mercredi 02/11. Nous avons prévenu Dino que nous quittions le logement. Il a expliqué que le problème électrique était lié à la pluie tombée... Chose aberrante et qui se révéler dangereuse car pas de détecteur de fumée dans le logement. Beaucoup d'améliorations à apporter à ce logement qui nous a semblé bien vétuste et surtout notre hôte aurait dû s'assurer avant notre arrivée que tout fonctionnait (eau chaude notamment). Malgré les demandes répétées de Dino, nous sommes donc désolés de laisser ce commentaire sur sa page mais, il est selon nous nécessaire que les futurs locataires soient pleinement informés. Des photos peuvent appuyer nos dires.
Aurelie
2016-11-03T00:00:00Z
Host was very nice and helpful. He even brought some food for us when we arrived. House was very good and clean. Location is far away from everything but if you have a car there should be no problem.
jussi
2016-10-26T00:00:00Z
Dino nous a gentillement accompagné jusqu'au logement et présenté les lieux. L'appartement est situé dans un grand jardin aménagé avec BBQ. Trois logements sont accolés les uns aux autres, ce qui fait un peu résidentiel. On est vraiment dans la campagne açorienne avec les chats du voisin qui viennent nous rendre visite et les veaux qui nous réveillent le matin. Très agréable! Petite vue sur la mer du jardin. C'est situé à quinze minutes de Mosteiros et ses rochers ( le coucher de soleil peut être magnifique, nous avons eu trop de nuages pour le voir...) et une vingtaine de Sete Cidades. L'endroit est plutôt sympa et calme.
Mari
2016-10-30T00:00:00Z
Excelente ilha a estadia foi maravilhosa e o Dino uma pessoa espetacular.
Mário
2016-07-12T00:00:00Z
Un petit havre de paix en pleine nature, à deux pas de Sete Cidades, environné de sentiers de marche. Dino est aussi sympathique que disponible, et il a arrangé avec goût ces "casas" qui disposent chacune d'une terrasse à l'ombre d'un bougainvillier. De plus, un barbecue est à votre disposition (un poissonnier passe le matin dans le village). Le logement est agréable et fonctionnel, le lieu enchanteur, et Dino répondra à toutes vos questions. Venir avec de quoi remplir le frigo car il n'y a pas de commerce à proximité.
Karine
2016-09-17T00:00:00Z
Dino was very helpful and recognised me when I was in his shop as we had arrived early. He drove nice and slowly so that I could easily follow him while driving a newly picked up hire car. he answered our questions and showed us around and made it very clear that we could contact him any time if we needed to know anything. Casa Magnolia is in a small complex of several little 'cottages' and it was nice to meet other travellers from different countries during our stay. We thoroughly enjoyed our stay there.
Carolyn
2016-08-10T00:00:00Z
We had a great stay at Dino's accommodation! Dino is friendly and helpful. The accommodation is in a nice surrounding and you can reach everything fast by car. Thank you Dino :)
Aleeddine
2016-07-20T00:00:00Z
Dino is a really supportive and nice person. My perception was about him that he is interested in people and he likes to provide with the highest possible standards. Pilar is a very quiet village, so great for a big escape of the world of consumerism. There is footpaths to Sietes Cidades from the village, also hiking opportunities to Mosteiros, the ocean side. Neighbours are kind too, I wished to buy some fresh milk from the the farm opposite the house and they insisted on me not paying for the bottle. If I go back again I will be the stronger 'insister' :). All in all nice and quiet experience on the northern side of the Azorean (Sao Miguel) paradise! Thanks so much Dino!!!
Sophie
2016-12-06T00:00:00Z
Art der Unterkunft
Ganze Unterkunft
---
Objekttyp
Haus
---
Unterkunft für
3
---
Schlafzimmer
Ponta Delgada , Azoren, Portugal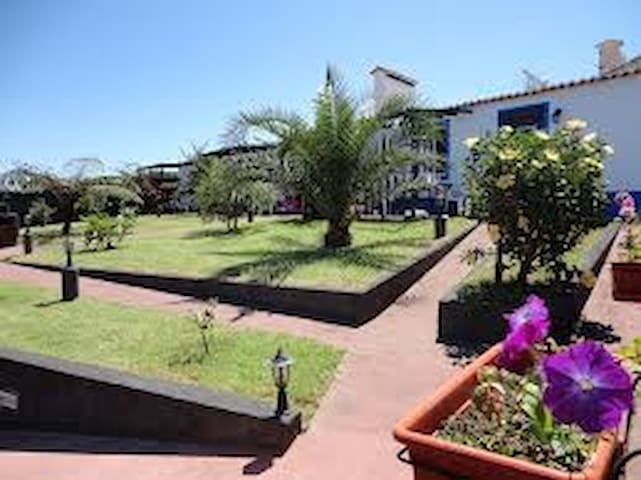 Die Wohnung verfügt über ein Doppelbett und ein Wohnzimmer mit Schlafsofa für 2 Personen. Ist in einem Bauernhaus am Meer gelegen, mit großen Freiflächen, Veranda mit Gartenmöbeln mit Garten auf das Meer und Grillplätze mit Blick auf. Elemente und hochwertige Einrichtungen, Klimaanlage und Handtücher.
Die Wohnung ist neu und befindet sich in einem Raum untergebracht / Bauernhof verfügt über einzigartige Eigenschaften Mittelmeer und moderne und qualitativ hochwertige Elemente. Eine Wohnung (C) T1, mit einem Schlafzimmer mit Doppelbett und ein Wohnzimmer mit Schlafsofa für zwei Personen. Erstreckt sich über zwei Etagen in rch hat das Bad und eine große Küche, mit einem kleinen Sofa und der 1. Etage verfügt über ein Zimmer mit Doppelbett mit direktem Zugang zu einem kleinen Raum mit Schlafsofa. Das Bauernhaus verfügt über drei unabhängige Wohnungen und alle mit Zugang und Außenräume zur Veranda. C Die Wohnung verfügt über eine privilegierte Aussicht, da sie den Garten und das Meer gegenüberstellt. Wir haben Handtücher und Bettwäsche, die Küche ist komplett ausgestattet.
Das Haus befindet sich in einer ruhigen und freundlichen Stadt, Candelária, 12 Minuten von der Stadt Ponta Delgada, aber auf regionaler Autobahn, immer einfachen Zugang zu anderen Teilen der Insel, vor allem Sete Cidades, Mosteiros und Ponta da Ferraria. Hat zwei Supermärkte in der Nähe des Hauses (500 m).
English follows. La casa és realment meravellosa i el lloc, just davant de la costa, acompanya la sensació de calma. La Maria és encantadora, ens va ajudar molt amb tots els dubtes i necessitats. Una molt bona elecció. The house is really wonderful and the place, right in front of the coast, completes the overall sensation of calm. Maria is lovely, she helped us a lot with our doubts and needs. Definitely a perfect choice.
Andreu
2016-08-23T00:00:00Z
Very nice place place. Would definitely recommend it to others people. Two things that need improvement : - Nets on the windows so flies will not get in - wifi was only in the second floor There is also some construction near by now. But it's a really cool place.
Ken
2016-10-11T00:00:00Z
Maria was a fantastic host with lots of great tips to visit S Miguel. The place was amazing with a great ocean view - totally recommended.
Miguel
2016-08-25T00:00:00Z
Our flat was the perfect size for two adults and we missed nothing for our daily life. Everything was clean and comfortable and the view from bedroom window and terrace was amazing. Joseph waited for us at the house, explained everything and gave us very valuable tips for our stay on the island. We followed most of them and every place was great and worth the travel! We would definitely stay again at Maria and Josephs place!
Philipp
2016-09-19T00:00:00Z
We stayed here two weeks and we really liked to be here. The apartment was clean and brand new! The apartment was well located, close to Sete Cidades and Ponta da Ferraria. And not too far from the centre Ponta Delgada. A very big plus was also the own garden with fresh vegetables! Maria and Jose were a great hosts! They were very friendly, welcoming, and helpful. Maria picked us from the airport when we first came here, and she and Jose also gave us a ride to the centre when we needed to go to the supermarket or/and rent a car. Very nice and kind, definitely recommended! If I ever go back to Azores, I would definitely come here again!
Annika
2015-07-13T00:00:00Z
Maria and José were the all-time perfect hosts. Present when needed, but very discrete, they were kind, helpful, wonderful people. Upon learning about my birthday, Maria even insisted that the cleaner come that day, we decided on a time, and when I returned 'home' in the evening, there was an enormous (and delicious) cake waiting for us in the fridge! Whatever we needed was supplied, but the house was so well-furnished and furbished that we needed nothing else! The garden was lovely to relax in both for breakfast and in the afternoon, or in the evening. We too were allowed to help ourselves to salad, tomatoes, strawberries, pimentos, all growing right there! A really fabulous stay. I very very highly recommend coming here! Un séjour fabuleux grâce à la gentillesse de Maria et de José. Tout ce dont on avait besoin était là, le jardin super sympa - petit déj le matin sur la terrasse, thé l'après-midi, diner le soir - tout face à la mer. De plus, on avait le droit de se servir dans le potager - salades, tomates, piments, même quelque fraises (au mois d'août!) Je recommande chaleureusement cet endroit, pratique pour naviguer partout sur l'île et ô combien agréable...
Elizabeth
2015-08-26T00:00:00Z
Fantastic experience. Maria and Jose where great and gave us all the advice we needed. They could have not been better. The accommodation was great as well. Everything you could ever need and want.
Joshua
2015-09-09T00:00:00Z
We had a very nice stay at Maria's and Xavier's place. The apartment is as described and shown on the photos, a very nice garden and close to Sete Cidades and Vista do Rei. Maria and Xavier are very friendly, helpful and responsive. We recommend this place if you want to experience the countryside of Ponta Delgada in a quiet area. Best, Sini and Tonico
Sinikka
2017-02-16T00:00:00Z
Art der Unterkunft
Ganze Unterkunft
---
Objekttyp
Villa
---
Unterkunft für
4
---
Schlafzimmer
Ponta Delgada, Azoren, Portugal
Aquesta casa de vacances de 80m² compta amb un dormitori amb 1 llit matrimonial (bany privat) i una sala d'estar amb 1 sofà-llit. Vista al mar, balcó i un gran jardí. Kitchnette completament equipat, barbacoa. Wi-Fi gratuït, aire condicionat, TV LED, DVD.
Tudo absolutamente impecável !
Bruno
2015-10-19T00:00:00Z
Art der Unterkunft
Ganze Unterkunft
---
Objekttyp
Haus
---
Unterkunft für
3
---
Schlafzimmer
Ponta Delgada, Azoren, Portugal
1

–

18

von

127 Unterkünfte
Gib deine Reisedaten ein, um den aktuellen Preis zu sehen. Es können zusätzliche Gebühren und Steuern anfallen.