Gib deine Reisedaten ein, um den aktuellen Preis zu sehen. Es können zusätzliche Gebühren und Steuern anfallen.
6 Unterkünfte
· San Fidel
6 Unterkünfte
· San Fidel
My place is close to Sky City, Acoma Pueblo, Mount Taylor National Forest, Zuni Mountains, Albuquerque, EL Malpais National Monument, El Morro National Monument, Continental Divide, Direct on the Historic Route 66.
Pablo's place in San Fidel is a slice of heaven in the making. He is a fantastic host who will make you feel at home from the minute you arrive. The setting is tranquil yet full of life , and truly old New Mexico.
Barbara
June 2016
Everything was perfect.
Dana
October 2016
The property is in a very scenic area of New Mexico and Pablo is an excellent host.
Daniel
September 2016
Pablo was very friendly and hospitality. It was a refreshing change of pace from the hotels and motels I was staying at while crossing the country. The room was as advertised. I would definitely recommend staying at Pablo's retreat.
Tim
November 2016
Pablo is super friendly and his house is great and totally unique. The scenery all around is beautiful. I definitely recommend staying here!
Meghan
January 2017
Places like Pablo's are the reason why I choose to AirBnB over hoteling, if possible. The location is right next to I-40 and was a perfect place to stop on my cross country trip. The rural location offered some of the best views of the landscape, and the secluded area was my first opportunity to stargaze in almost a decade. Pablo was very friendly and helpful, and is a well-traveled and entertaining storyteller. I would not hesitate to stay here again.
Geoffrey
September 2016
Pablo is a really kind person with a lot of amazing stories, and his place is a great work space and home!
Jake
October 2016
Art des Zimmers
Privatzimmer
---
Objekttyp
Haus
---
Unterkunft für
1
---
Schlafzimmer
1
San Fidel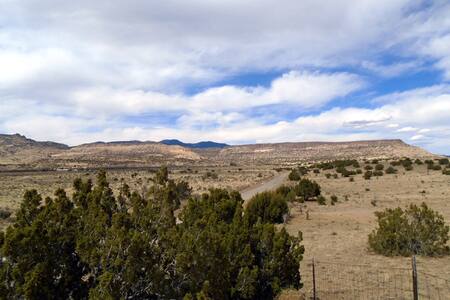 My place is good for couples and solo adventurers.
I was delighted to stay the night in Pablo's room while transiting New Mexico. He gave me great directions and made me feel welcome. He even offered to include me at dinner time when he was serving two others staying with him. We had good conversation and I fell nicely to sleep listening to the chirp of crickets outside my window. I awoke at dawn to drive to nearby Sky City, the location of the Acoma Pueblo. Very nice
Tim
October 2016
Pablo is a very talented intellectual person. I enjoyed to get to know him very much. His house is cozy and charming. If I had a chance to go back to the region I would stay at his place again.
emiko
August 2016
Had a great time staying at Pablo's place. The room was just as described, and he provided great information about the area. Pablo was also great to have a conversation with and the artist retreat he has built, and is continuing to build, is really wonderful.
grant
October 2016
Art des Zimmers
Privatzimmer
---
Objekttyp
Haus
---
Unterkunft für
2
---
Schlafzimmer
1
San Fidel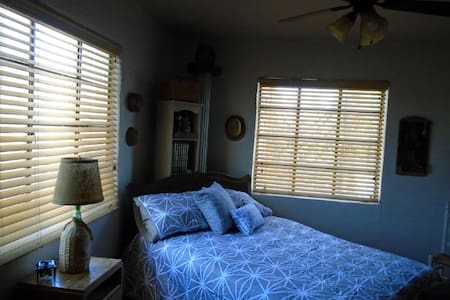 La Hacienda de Los Migueles combines the magic of a remote getaway with the convenience of a nearby highway. Come stay with us and you will understand why La Hacienda de Los Migueles is considered one of New Mexico's best-kept secrets!
Art des Zimmers
Ganze Unterkunft
---
Objekttyp
Haus
---
Unterkunft für
6
---
Schlafzimmer
3
Paguate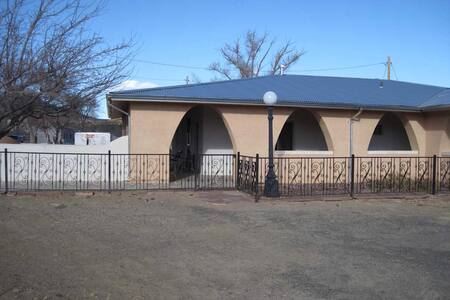 This APT/House is accommodated with full cleaning service daily if requested. It is located right off the I 40. Equipped with hotel standard furniture. This can easily accommodate a very large family comfortably.
Check in just as if you are checking into a normal motel right at our front desk. You will have full access to the entire building. Kitchen under construction We have a full staff of employees that can help accommodate your stay and make it a great one.
great site seeing near by
My stay at Akash's was wonderful. It is located right off the freeway with easy access to travel. The amenities are great and the space has plenty of room for multiple guests. Akash was very cordial and friendly when handling checking in/checking out as well as any questions I had. I would definitely stay here again if I had business or was traveling through NM.
Sailendra
December 2016
Art des Zimmers
Ganze Unterkunft
---
Objekttyp
Wohnung
---
Unterkunft für
8
---
Schlafzimmer
4
Grants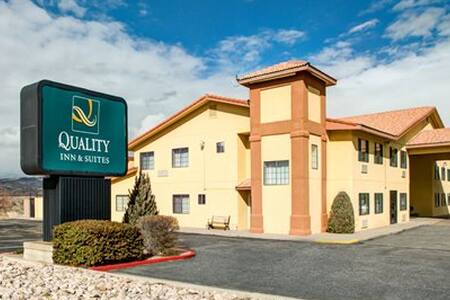 The "casita" is normally used as part of our artist-in-residency program. However, in off-season and during periods in which it is not be used for such purposes guests are welcome to book it for a minimum of one week stays. It should be noted that these accommodations are quasi-off-grid, which means that the bathroom and shower facilities are not directly in the building itself. Visitors should also be aware that as such, the toilet is a composting toilet and that the shower is a solar heated
Art des Zimmers
Ganze Unterkunft
---
Objekttyp
Gästehaus
---
Unterkunft für
2
---
Schlafzimmer
0
San Fidel
A luxurious suite with a King Size bed in the Apache Canyon Ranch Bed & Breakfast in To'hajiilee, NM. Experience the peaceful serenity of our uniquely secluded getaway. Ava will prepare a wonderful dinner and breakfast, included in the price.
The Sky City Suite is a southwest dream. Enjoy panoramic mountain views and soft sunsets from your luxurious suite. The king size bed sleeps 2 and connects to a private bathroom with a whirlpool bath. Wrap yourself in a cozy, soft robe as you retire to the warmth of your fireplace. Guests have access to a guest refrigerator and microwave in the shared dining area. Homemade dinner and breakfast are included in the price. As the innkeeper, I enjoy greeting my guests and letting them know about the local culture and places to visit. Dinner when you arrive and Breakfast the next morning are included in the price. I can provide gluten free and/or vegan meals.
Apache Canyon Ranch Bed & Breakfast stands in a corner of a lonesome landscape where the Laguna Pueblo and To'hajiilee Navajo reservations meet. For sight-seeing, the B&B is close to Laguna Pueblo and Acoma's Sky City. For passers through and city dwellers, you are only 30 miles west of Albuquerque off I-40. The Route 66 Casino is about 10 minutes east of the B&B on I-40. You may have heard of To'hajiilee from the popular series "Breaking Bad". To'hajiilee was a recurring location in the series. Our area has been the location for numerous movie shoots. From the Albuquerque International Sunport (Airport) to Apache Canyon Ranch B&B it is approximately 40 minutes drive. From the Albuquerque Sunport take I-25 North and then I-40 West. Exit 131 to To'hajiilee. Right (north) 3 miles to Canyon Drive. Please note that your phone GPS may not send you to the correct location. Therefore, please use the directions above. Apache Canyon Ranch is a Bed & Breakfast and has additional rooms available, please inquire.
Art des Zimmers
Privatzimmer
---
Objekttyp
Bed & Breakfast
---
Unterkunft für
2
---
Schlafzimmer
1
Laguna