Gib deine Reisedaten ein, um den aktuellen Preis zu sehen. Es können zusätzliche Gebühren und Steuern anfallen.
This B&B with 4 rustic open air cabins gives you a view you can only dream of; Pacific Ocean, Caño Island, Central America's largest mangrove forest & lush tropical forest. It features a restaurant, pool, trails and on-site waterfalls. Come Explore!
This B&B is owned by a tico family with grown kids and is called 'la Puesta del Sol' or 'Where the sun sets'. The property breaths a serenity with majestic views. You will want to spend time simply pondering the horizon as the sun sets over the Pacific ocean with Central America's largest mangrove forest with winding rivers and Caño island at your feet. Perfectly positioned at 5km from Sierpe and the Sierpe river and 25km from Drake Bay, it provides you with an off the beaten track quietness, yet offering you the widest variety of activities. The cabins are rustic and simple and the little swimming pool and restaurant Simone, lives nearby, is on call for you 24hrs and will gladly help you with all your adventures, connections and questions.  On site you can go horseback riding and hike the trails of this 50acre property. There is a stunning set of waterfalls to cool down in. Without mentioning the abundant wildlife that inhabits the surrounding rainforest. Birdwatching from your balcony And as experts of the Osa Peninsula it's our pleasure to offer you an amazing variety of adventures. Either in groups or private tours.
Corcovado national park *  Sirena station *  San Pedrillo station Caño Island snorkeling and diving Off shore or river fishing Dolphin & Whale watching Mangrove tours Violin Island, river & beach tour Archeological site tour Horseback riding Waterfall hike Birdwatching Night hikes Of course we will set you up with a delicious 'a la carte' menu Picnic with fresh fruit and baked goodies We will provide you with transport between the river and your home away from home How to get here? By Plane  * Fly straight from the capital San Jose to Palmar Sur from where we can arrange a taxi pick up to take you to the property * Fly to Drake Bay from where we can arrange a taxi pick up to take you to the property By (rental) Car (**recommended) Drive down to Sierpe and cross the Sierpe river by ferry Or coming from Puerto Jimenez or Drake drive along the secondary roads. We can provide you with the exact driving instructions By Taxi We are happy to set you up with a private shuttle from anywhere in the country. By Public Transport (check the exact schedules with us) *  Shuttle services are available from various destinations *  Bus company Tracopa has a once a day direct connection to and from the capital San Jose *  Numerous bus companies have a connection to Palmar Norte, from here there is a bus between Palmar Norte and the small town of Sierpe. The river crossing is at walking distance. Here you can cross with the ferry or by boat (80m wide) We will provide you with transport between the river and your home away from home
Art des Zimmers
Ganze Unterkunft
---
Objekttyp
Bed & Breakfast
---
Unterkunft für
10
---
Schlafzimmer
4
Miramar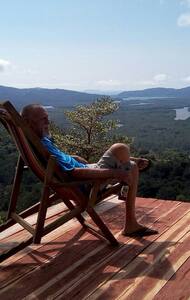 This 65 acre Finca is best for adventurous spirit travelers, that are willing to explore what Costa Rica has to offer. This is an off the grid farm, for those who really want to get away and intake real nature with many amazing local tours.
This property is an open two floor house, where air can conveniently travel due to the high temperatures and topical weather in the area. There is a solar generator for your light at night and charging electronics. The guest(s) have access to the entire 65 acre property, One family or group at a time. It has a fresh water river that is connected to Costa Rican famous manglar and a 30 minute boat ride to the mouth of the Pacific Ocean, where there is access to Caño Island, Corcovado National Park and many beautiful beaches. Tour Activities: -Horseback riding with local guide -Mangove tour in our boat with local guide -Secluded water fall tour with local guide: -Kayak in the Sierpe River -Fishing in the Siepre River in the motor boat: -Secluded Jungle hiking tour with local guide: -Playa Blanca beach day in the motor boat: -Toobing -Tours range from $12-$70pp -Children under 5 are free, 6-10 are half price and over 11 full price Recommended Separate Tours: -Caño Island and snorkeling or diving adventure- Jorge from La Perla del Sur and Melvin from Sabalo Lodge -Corcodabo National Park Tour - Jorge from La Perla del Sur and Melvin from Sabalo Lodge -Drake Bay: Dolphin and Whale watching -Sierra from Divine Dolphin -Deep Sea fishing Pablo from Sierpe fishing Guest have the opportunity explore the farm and close areas on the 3 horses that are available on the farm for a small fee. There is also a sub boat and 3-inflatable paddle canoes for guest to ride in the manglar. The river, manglar and ocean can be enjoyed and reach on an engine boat that is provided for guest and driven by the local tour guide Luis for a small fee. The waterfall is amazing. We have a small kitchen if you want to cook and coolers for ice. (please don't forget the ice) You have the options of purchasing meals at Sabalo Lodge they are one mile from the finca. They also have wifi and a very nice swimming natural river. I just need to know ahead of time to let them know you are coming.
Finca Manglar is a private farm located in the middle of Osa, Peninsula that covers 65 acres of Costa Rica's rainforest. Perfectly suited for those who seek a peaceful vacation to connect with nature will be able to do so surrounded in one of the largest and preserved mangroves in the Americas. One of the main characteristic that attract people is the farm's total remoteness. Off the gris is quintessential to experiencing the adventure in horseback-riding, private beaches, canoeing and paddling in mangroves, hiking, animal sightseeing, waterfalls hiking, fishing, star and bird watching, and much more. Automobile: From San José to Sierpe it is about a 5 hour ride. Once you arrive at Sierpe, you must board the ferry that cost $12, which will land on a narrow unpaved road. It is a direct 35 minute ride to the farm. ***Strongly suggest a 4x4 for the unpaved road. We don't recommend you drive from Sierpe to the farm at nighttime. Flight: Sansa Air and Nature Air are the only airlines that offer flights to the Osa Peninsula. These airlines operate small airplanes with a capacity of 12 passengers, therefore there are some baggage restrictions. - Sansa Air airport is located next to the San Jose (SJO) International Airport. - Nature Air airport is about a 20 minutes drive from the SJO. ***When you arrive to Palmar Norte, you can take a 15 minute taxi ride to Sierpe and from there we can pick and drop you off, to and from the farm, in our boat for a $20pp fee each way up to 5 people. Bus: There are several departure times at the Central Bus Terminal of San José or other bus terminals in Costa Rica, which will take you through Palmar Norte to Sierpe. Depending upon your departure time, the trip to Sierpe will take approximately 5-6 hours. - Even though there is no wi-fi available on the property, One mile away the property Sábalo Lodge does offer wi-fi and they have a small restaurant and cold drinks. He also offers tours to Caño Island Packing List -Insect repellant (if you are prone to insect bites, Deeet/Off is highly recommended -Hiking/walking shoes -sunscreeen -Sun Hat -Books, music, craft art projects or any other item that you love to fill your days with (during rainy season) -Cash for all the local tours (U.S dollars are accepted all over Costa Rica)
Une très belle aventure, de supers souvenirs, un accueil en or. Un logement très original où on se sent vraiment chez soi, où l'on peut profiter de la nature à 100% tout en profitant d'un bon confort. Luis et Evelio ont su nous faire partager leur amour de leur région, merci pour tout!!
amelie
November 2015
People makes the experience and nothing short of that here. Evilio and Luis, were amazing locals that took the time to show us their land, country and lives. It was very special to be able to have this exchange of culture and we thoroughly enjoyed it. The accommodation is basic and no electricity is very resourcing as we adapted to Nature's will. Thank you Lea for an amazing experience and will recommend this for people looking to switch off from contemporary world while wishing to embrace Back to Basic lifestyle.
Cyril
June 2015
Everything about this experience was so wonderful. We were greeted by the house workers and they showed us all around. We quickly discovered that little English is spoken there but it was fun thing to break the barrier. Each day we had a different tour with Luis who was an expert in the life in Costa Rica. Avilio and Dali live in a house connected to the rental (completely separate). They maintain the grounds, the house and Dali cooks at the Sabalo lodge down the road. Avilio is the nicest guy you will ever meet. He offered us a lot of food and cut down fresh coconuts each morning for us to eat and drink from. For food, the sabalo lodge has breakfast, lunch and dinner. You just let them know the day before what you will show up for. Jacques, who runs the sabalo lodge is very nice and a great host. There is a swimming hole and hammocks on his property to use. It's is a mile walk down the road. To get groceries you must go to sierpe which is about an hour boat ride. Get ice there to keep your stuff cold in the coolers provided. The fresh fruit was my favorite part and the freshness of everything. This is definitely a return visit not just that it was a great place, but that everyone went above and beyond to make this a wonderful and comfortable trip.
Tyler
March 2017
Welcome to Paradise. Yes it's in the middle of nowhere, but it is the most magic place we have seen in Costa Rica. Yes it's adventuruous, but Luiz and Evilio are there to make you feel comfortable. Yes it's outdoor, but it's clean and there are enough things to make your stay easy. The house is beautiful and large! If you like the pictures, reality is even more suprising! There are so many beautiful sites to explore that we advise you to stay more then 3 nights. Thanks Lia for a perfect stay! We loved Finca Manglar.
Florianne
August 2016
Dear Lia and Gershon, thank you for letting us experience Finca Manglar and all the precious info and arrangements. Dear Evelio, Dolly and Luis, thank you for creating such a loving and welcoming atmosphere! We stayed only three days and next time it will be a week minimum! Finca Manglar is a paradise, which connects you with nature, the present moment and yourself. Big thank you from the depths of our hearts!!! Jana and Jarek 3
Jana
December 2016
the finca manglar is a truely beautiful place and a great representation for what the wild places of costa rica has to offer. evelio is a swetheart and a blessing to have on the property. words cant describe how happy i was to travel and spend 6 days at finca manglar. i already know that i will be back some day when i can speak better spanish. luis is also an amazing guide and took us on a freshwater shrimp fishing tour on his own time just because he liked us. we saw sooooo many amazing species of wildlife and drank the best coconut water i've had in my life. i could write for days on how amazing this place is. this is an amazing experiece for the adventurous type
Cadin
March 2016
We have stayed 3 nights at Finca Manglar. It was an adventure from the start. Booking and contact with Lia went smoothly, we got information on how to get there and also about the tours to get an impression of what awaited. We came from Manuel Antonio, driving to a small village of Sierpe for the small ferry. The road from the ferry to Finca Manglar is best to drive daytime - that means 06.00-18.00. Roads are not good and it is easier to navigate with daylight. Fantastic views of the surroundings just 5 minutes before taking the right turn. Shopping was done best at Palmar Norte, just 15 minutes before arriving to Sierpe. The only thing we did not get was the ice for the cooler boxes. It would have been easier for us if we had our own cooler box. Anyway we managed stock up enough supplies to last three days, counting on some fresh fish and the restaurant of the neighbour Sabalo Lodge. The restaurant is mainly for the guests of the lodge, so it is good to visit them directly and agree on something in advance. It helps that they know about your needs and plans, as it is not an ordinary restaurant. Of the tours we tried the mangrove boat tour, horse riding tour to the waterfalls(with a short hike the last bit) and the beach tour. All tours were fantastic. Luis showed us many animals, birds and crabs. We wished that we could understand more, but even with limited ability in Spanish language we could learn a lot about the nature of Costa Rica. Sleeping was an adventure, first making sure no bugs were inside the net. The bedroom is protected by nets as well, but it is not fully closed up, so it is advisable to keep lights low. We had some trouble from black beetles attracted to light, then the only way was to turn off the lights and go to bed early. Both Evelio and Luis are the most kind and humble people easy to love from the start. We hope to come back some day.
Roman
April 2016
We had an awesome time. Very remote but plenty to do. The house was beautiful and rustic. The beds were very comfortable. We took a boat beach tour and a hike to the waterfall with Louis. The caretaker, Evelio,was very friendly and accommodating. Our host Lia responded to our questions in a timely manner. Highly recommend this property to those who want to get away from it all!
Shannon
February 2016
Art des Zimmers
Ganze Unterkunft
---
Objekttyp
Haus
---
Unterkunft für
7
---
Schlafzimmer
1
Sábalo
***Please visit our website & our Face/Book page "Casa Rio Sierpe" for additional information including videos and pictures*** Casa Rio Sierpe is a bucket list destination, a vacation destination all to its self! In your visit we will offer you a luxury, waterfront home set in pristine rain forest, amazing postcard views, direct beach access with the provided boat & inclusive resort amenities such as; vacation concierge service, daily housekeeping, FREE Guided tours & BOAT/Capt. to drive it!
Included with your standard rental, we provide our guest with the privacy of a luxury home but with resort amenities; highly personalized service by our on site staff, customized activities and many free included tours including the use of a boat & Captain that are structured around our guest schedule and not a group schedule found in a typical lodge. In planning your vacation please keep this in mind; we are not just a luxury vacation home but an inclusive vacation destination all to itself, so no need to look any further for your vacation needs! Value added Service, Amenities and FREE Tours included in your visit. • Daily house keeping including doing the dishes • Full Concierge service with our English speaking manager • 20' boat with Capt, unlimited river use (guest is responsible for fuel for all boat related tours) • Round trip boat transportation from Sierpe •WiFi SMALL SAMPLE OF SOME OF THE FREE INCLUDED TOURS • Boat mangrove tour • Guided nature hikes • Guided wildlife night Walk • Guided Water fall tour • Guided kayak tour • Full day river fishing on boat • Sierpe bocca beach tour • Guided Isla Violin, fruit farm/botanical garden. TOTAL RETAIL SAVINGS FOR THE ABOVE TOURS BASED ON TWO GUEST = $950.00 Why stay at Casa Rio Sierpe and the Osa Peninsula? Casa Rio Sierpe is located on the northern edge of the Osa Peninsula along the banks of the Sierpe River, approximately 35 minutes by boat from the quaint town of Sierpe, which is considered the gate way to Osa. This area is one of the most remote, most spectacular and wildest regions in the country dubbed by National Geographic as "the most biologically intense place on earth". The house is located in the heart of true primary and secondary rain forest, a plethora of wild life is to be found many of which are endangered or threatened. There are breathtaking post card views from the house and direct ocean access where you will find extremely private, pristine beaches all only 10 min away by boat, we truly have it all! Are you looking to discover the magic of Costa Rica's rain forests, wildlife and pristine beaches? Are you planning your honey moon or looking to rekindle your romance? Are you an avid fisherman? With over 98 line and tackle world records recorded in both fresh and salt water in the immediate area you are sure to have that once in a lifetime fishing trip. Perhaps you're an active adventure seeker looking for a nonstop, adrenaline filled vacation or you just want to relax on our back deck in the double hammock with a glass of wine or cold cerveza and watch the monotonous grind and stress of modern day life melt away before you. Are you having a hard time satisfying everyone's needs in a vacation? Perhaps you are looking for a romantic getaway but others want to go fishing, you want to go to the beach, others want to experience the rain forest, why choose only one when you can have it all! A stay at casa Rio Sierpe guarantees to fulfill your wildest vacation dreams and it will rejuvenate your mind, body and soul providing you with a virtual backstage pass to one of the world's most fascinating and diverse destinations. At Casa Rio Sierpe you'll find ultra-private luxury accommodations and full service amenities typically only found in resorts but in the comfort and privacy of a private home. Our newly built, 1,800 ft2 home is the perfect combination of modern and rustic styles blending Pacific Rim architecture. This gives the home an elegant sophistication that is very unique and certainly very Costarican. Carefully nestled in the rain forest atop a high ridge line at 300 feet above sea level gives an almost 360 degree view of the surrounding rain forest, the Diquis river valley and three distinct mountain ranges in the distance. The climate is fresh with a mix of cool Pacific mountain and ocean air that circulates throughout the house and grounds. The yearly daily average temperature at the house is 85 degrees and the evenings are normally a pleasant 70-72 making it perfect for sleeping! Given the remote location of the home, we are 100% off the gird solely relying on solar energy as the sole provider of our power. Having said that, we have made every effort to assure that our guest will be as comfortable as possible making sure that you never feel as though you are roughing it! We rely on 9 large ceiling fans and the design and the location of the house to keep our guest cool. All rooms in this luxury home are fully screened allowing sun light and cool breezes to fill the interior but keeping the unwanted guest out. Directly behind the house you will find a well-manicured trail that leads you to a small, private, waterfall and swimming hole only a 10 min walk away. The amenities of the home include two bedrooms with two attached full bathrooms, a fully equipped kitchen, inside dining room, bar, living room with queen size futon and 800 ft2 of covered deck. The bedroom features a queen size bed, large armoire and a...
THE OSA PENINSULA Located in the south west of Costa Rica, the Osa Peninsula is one of the most remote, most spectacular and wildest regions in the country. It is one of the last places in Costa Rica to be settled - it is only within the last 10 years that it has had road access - and consequently much of the Peninsula is still covered in majestic, pristine rain forest. At least half of the Osa's extensive tracts of rain forest and swamps are protected by Corcovado National Park, and Private Reserves. Its forests are home to endangered species such as Baird's tapir, the white-lipped peccary, the jaguars the America crocodiles, and the harpy eagle (only recently been re-sighted). It boasts the largest population of the endangered scarlet macaws in the country, and is the center of the very restricted distribution of the endangered Central American squirrel monkey. This small peninsula is host to almost half of Costa Rica's 860 species of birds (that is almost 5% of the world's species!), 140 species of mammals, and 117 species of reptiles and amphibians. Almost 750 species of trees have been cataloged in the area, more trees than in all of the North temperate regions of the world combined. Impressive credentials indeed! Per unit area, the Osa Peninsula holds possibly the highest natural diversity on earth. The National Geographic magazine described the Osa Peninsula as 'the most biologically intense place on earth'. This description is a reference to the incredible abundance of wildlife on the Osa Peninsula -not only in it's rain forests, but in it's surrounding marine environment as well. Botanically, the Osa Peninsula has strong affinities with that of the Amazon and Orinoco basins, and its unique forests contain more endemic plants and animals than in any other area of Central America. Climatically, the Osa is the wettest place on the Pacific coast of Costa Rica, receiving up to 7 meters of rain annually. Some of the Osa Peninsula's landmarks are described below. RIO SIERPE and the Terraba River valley The Rio Sierpe and its watershed, the Dequis Valley, isolate the Osa Peninsula from the mainland. This substantial river is unusual in that it is tidal almost up to its source, the Sierpe Lagoon. The Rio Sierpe is roughly divisible into two wetland areas: the flooded forests of the upper Rio Sierpe basin, and the extensive mangrove swamps of its delta. There are many ways that you can get from the international airport in San Jose. Daily regional flights on Sansa Airline fly into Palmar Norte which is 10 min away from Sierpe. You can drive directly into Sierpe, about a 5 hr drive by several means; rental car, private taxi (240.00 one way)public bus (15.00pp) Shared taxi or shuttle bus (60.00 pp). Once you find your way into Sierpe we will drop you off and pick you up by our private boat. While there's no doubt that Casa Rio Sierpe is in an awe inspiring location that would give anyone memories of a lifetime, we realize that because of the remote geographic location, rain forest and boat only access that it is not suitable for everyone. The house is located on a high ridge line giving it amazing views and cool breezes but it also means that you have the equivalent of a few blocks walk from the dock to the house and involves a decent sized hill at the end. Don't worry we will transport your luggage and supplies up the hill for you. Travelers considering Casa Rio Sierpe should be physically fit and better geared towards those who are adventurous & enjoy hiking and don't mind getting a little dirty from time to time ( we have hot water showers and a washing machine and dryer as as well). • Please ask about suitability for the infirm, elderly and young children. • As of now we are only accessible by boat. The initial pickup and drop off in Sierpe is included with the rental. ***Guest will be responsible for purchasing the fuel on all boat related tours (the pick up and drop off by boat is included in rental). In order to enjoy the use of the boat, after booking the guest will need to provide separate boat fuel deposit directly to Casa Rio Sierpe in the amount of $250.00. We will sell you fuel at a cost of $42 per tank. These fees will be deducted from the $250.00 boat fuel deposit, unused deposit will be refunded to guest within 7 days of checkout. No partial tanks will be sold or refunds given for unused fuel. The full guest agreement is available upon request at any time. Once you have booked the rental this constitutes acceptance of the terms and conditions of the agreement so please request a copy before booking.
The stay was awesome. The information Mark provides is really helpful and accurate description. The wildlife was wonderful.
Robert
April 2015
Art des Zimmers
Ganze Unterkunft
---
Objekttyp
Haus
---
Unterkunft für
8
---
Schlafzimmer
2
Osa Peninsula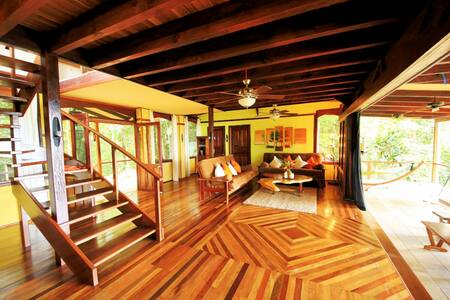 <p> Veragua River House is a private, spacious construzion partly wooden realizatda very fina.Se just a few km from the Pacific Ocean, serca Corcovado Park and Caño Island where is possible to spot the whales megatteras.La home is completely isolated surrounded by a large tropical garden. Museum near the front there is a navegabile esferas.Al river, a private dock allows the use of boats to fish or one of the mangroves percurir more centroamerica.La grandies the villa is estructuradea three pizos, the first with a large room with table football is, dining room, kitchen and a storage performance, plus access to a large suite with private bathroom and patio.La second floor contains a living library, one study, two large and very fresh, bright rooms and a bathroom agradable.la highest part is occupied by a fourth tower, overlooking 360 grados.No use air conditioning, but each room has avanicos .Fuera of the house is an area with barbecue and oven legna also a wine cellar with tank and supply pump water if necesidad.los guests may enjoy a small swimmingpool also with river view </p> <p> The house will be fully at the disposal of the guests, we ourselves ocuperemos cooking with a particularly nice guy di Italian cuisine and above. </p> <p> Always be at the disposal of guests to order to meet any of them desiderio </p> <p> The village near Veragua River House calling Sierpe.Éstamos located 40 minutes from the Pacific Ocean down the river in die Osa Peninsula, one of the contaminated sites worldwide phenomenon and all the richer for biodiversidad.La area around is part of the history of the United Fruit & Company retains the typical .The beaches are immensas costrucciones foce and solitarias.En the village there are few restaurants but sympathetic and Creole cuisine as well with good fish dishes always fresh, supermarket, clinic first aid, dentist, bars and souvenir shop. </p> <p> From the village of Sierpe by bus service you can travel through the territory easily, taxi service and the possibility of organizing different tours on the river, at sea or in the foresta.Veragua River House has available for guests parking in case guests have veiculo own and a covered garage for boats. </p> <p> Keep in mind che The place is located in an area with the most biodiversity in the world ricca and normal Presenca of different animals, most enjoyable part of the night may have observar.En mosquitoes </p>
Art des Zimmers
Ganze Unterkunft
---
Objekttyp
Bed & Breakfast
---
Unterkunft für
7
---
Schlafzimmer
4
Sierpe