If you are looking for the ultimate relaxing and peaceful holiday location, then look no further than Bacva Bay and this superb water-front holiday house. The bay is situated along a narrow road 3.7kms from the main island road. Parking is available.
The house has a terrace with sea views, a grill and just a few metres down is a pubbles beach. The bay is situated along a narrow road 3.7kms from the main island road. After parking the car, there is a 50m path through trees to the house. Tue to it's remote location the property has no mainline supply of electricity or water. Electricity is supplied by solar panels and water is collected and stored in the underground cistern . So it is back to nature and basics, you will not find any flat screen plasma TVs here! This house is truly unique and will provide the base for a magical and unforgettable holiday to Croatia. A car would be required if staying at this property.
Bačva bay offers a nice pebble beach surrounded by steep valley with pine, olive and almond trees and vineyards, creating an unreproducible atmosphere. You are not completely alone there during the day - there are a few similar houses and a tiny tavern nearby. The house itself is located about 50m from the beach; we enjoyed the privacy of the garden with shade of olive trees just a few steps from the sea. The landlord Jerko and other local people are very friendly and communicative. Highly recommended for all who prefer nature and relax to the sterile comfort of an x-stars hotel.
Zdena
2015-08-24T00:00:00Z
The house is great located, its only a few steps away from the Beach. The Beach is beatiful. We spend one week in August there. Our two kids, 2 and 5 years, loved the yard and the beach. Jerko and his sister are very Kind, the Communication was perfect. We thank them for everything!
Minja
2016-08-17T00:00:00Z
We spent a wonderful week at Bacva bay in September. Jerko was a great host and made everytnig very easy for us. The bay itself is beautiful and great for swimming. We planned to drive around Korcula island but ended up just staying there on most days. While there are some daytrippers on the beach, it's never crowded. And when the night comes, you really are alone in the middle of nowhere. Even the stars looked more beautiful there!
Riku
2015-09-13T00:00:00Z
The house is most beautifully located in a bay big enough to really swim and dive, but small enough not to tear much crowd. 100 metres to the water. Nice beach bar nearby. Very quiet in the evenings. We really enjoyed the silence and hab a very relaxed time.
Sybille
2016-08-26T00:00:00Z
Jerko was a nice and friendly host. Bacva Bay is really amazing and a wonderfull place to be. The house is good situated between aproximately 5 other houses in the bay. Next to the house is the lovely small restaurant of Mile, a very nice guy and friend of Jerko, who was there for us whenever we needed anything. During the daytime the beach is quite busy because of Daytrippers. In the morning and evening it's really quiet and relaxing.
Sebastian
2015-07-21T00:00:00Z
Art der Unterkunft
Ganze Unterkunft
---
Objekttyp
Haus
---
Unterkunft für
5
---
Schlafzimmer
Pupnat, Gespanschaft Dubrovnik-Neretva, Kroatien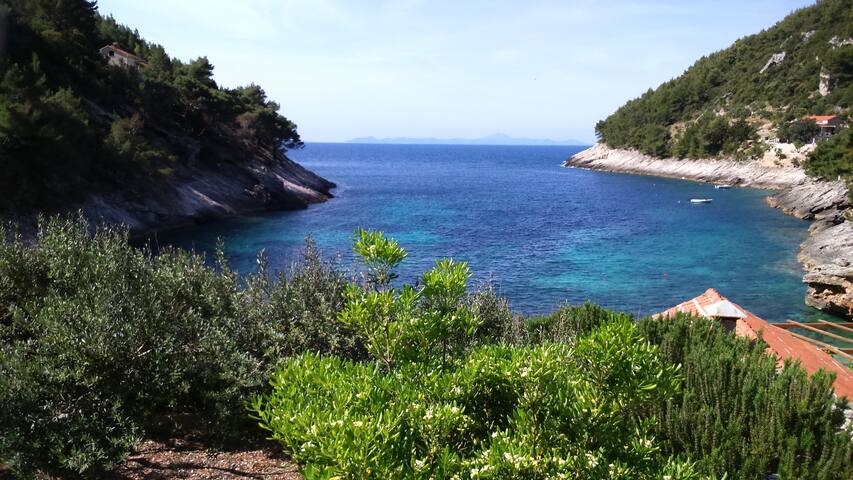 If you are looking for the ultimate relaxing and peaceful holiday location, then look no further than Bacva Bay and this superb water-front holiday house. The house is in complete seclusion surrounded by luscious woodland.
Robinson's House on the island of Korčula, Croatia A house for a maximum of 10 people (The small bay of Bačvice on the island of Korčula) We are pleased to offer you Robinson's House. The name gives a clue to the kind of holiday you will enjoy here: Robinson Crusoe himself would feel at home in these surroundings. Situated in an isolated location the house overlooks a small idyllic bay boasting crystal clear waters with views out to the island of Lastovo and beyond towards Italy. This simple retreat from the stresses of modern life is particularly suited to nature lovers who will appreciate the " Robinson " way of life and take delight in being woken by bird song every morning. Accommodation and Surrounding Area Robinson's House is a detached property accommodating 8 to 10 people in two separate apartments with four bedrooms in total. It is supplied with water and electricity ( 12V) and has an outside barbecue area. The house is situated in a small bay on the island of Korčula in Southern Dalmatia and is only 15 km from the old historic town of Korčula. A narrow road leads to the bay from the main island road. Description of House There is a living room, two well equipped kitchens, four bedrooms, three bathrooms, a number of terraces and an outside barbecue. The surrounding lanscape is hilly with areas of dense vegetation. At the head of the bay there is an attractive pebble beach and on the opposite side of the bay there are a few small houses so you will not be totally alone… Access to the house is via a narrow road 3.7 km in length, leading from the main Korcula to Vela Luka road. Cars can be parked at the end of the access road and the house is then reached by a narrow, steep footpath travelling through dense vegetation ( ca. 30 m). At the end of the short path you will be greeted by a wonderful view and a very well organized and equipped house ( but still in keeping with the Castaway lifestyle ) We want to assure you that this accommodation is unique and very special. If you are well organised and not too dependent on modern technology you can spend an unforgettable holiday here enjoying experiences you will not normally encounter in your everyday life. I prefer that arrivals and departures in July and August be on Saturdays. However, if you require other days, please contact me.
The house is perfectly suited to the category. It is an ideal place to relax who do not expect to serve them. The road to the house is very exciting... We want to come back next year.
Géza
2016-08-21T00:00:00Z
Izabel's Robinson house was perfect. This was a real Robinson house. The place was beatiful and solitary, the most beutiful bay in the surroundings. The road to the house was exciting. The sea was very clear. We enjoyed our stay here very much and I was very sad to say goodby to the bay. I hope to return one day. .
Krisztina
2016-08-14T00:00:00Z
Art der Unterkunft
Ganze Unterkunft
---
Objekttyp
Haus
---
Unterkunft für
10
---
Schlafzimmer
Korčula, Kroatien
My place is close to the city center, parks, and art and culture. My place is good for couples, solo adventurers, and families (with kids).
Art der Unterkunft
Ganze Unterkunft
---
Objekttyp
Haus
---
Unterkunft für
3
---
Schlafzimmer
Račišće, Dubrovačko-neretvanska županija, Kroatien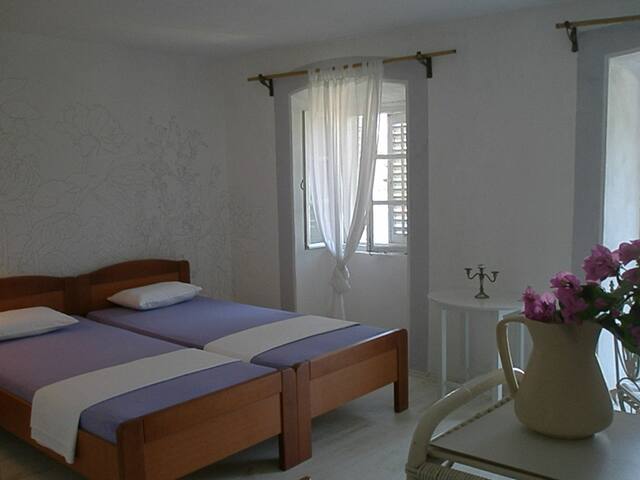 Renovated old stone fisherman's house with 2 rooms for 2-4 persons,1 double bedroom, 1 living room with dining area and fireplace, 1 separate kitchen, 1 shower / WC, 50 m2 terraces with beautiful panoramic sea view, large garden, garden grill Situated on south side of island in very quite place
House at Robinson-style: simple equipment, power supply with solar power (220 V), stove with propane gas.
Very quite and nature place
Josip was quite helpful and had some advice. The little holiday house not far from the sea was well prepared, yet it was have a construction site, that will hopefully be finished soon. That should have been mentioned before.
Emmanuel
2014-09-04T00:00:00Z
We had a wonderful holiday here! Ruza and Robert are great hosts who were very attentive and helpful. They frequently brought us fruit, fresh tomatoes, sweets and even helped carry all of our luggage to the house. We also used their boat for a small fee and my boyfriend went night fishing with Robert, by far his favorite experience. We felt well taken care of! The contact agent, Josip, also answered all of our questions before arriving. He was helpful and punctual in his responses. If you are looking for some place unique and somewhat off the grid, this is it. The house is well-constructed and very clean. There is a short walk from the road where you can park down to the house itself. We were a little worried about this at first, but it's quite manageable even with carrying luggage and even though we arrived at night. The view of the sea from the house is gorgeous, and it's an easy 5 minute walk down to a beautiful beach with blue, clear water. The terrace is inviting, breezy and probably the best part of the whole house. The town of Korcula is about a 25 minute drive away where there is also a couple of nice supermarkets. We found it very convenient to spend an afternoon wandering around the beautiful town before we stocked up on groceries. I definitely recommend staying here!!
Hope
2015-08-13T00:00:00Z
Découvrir le paradis demande quelques sacrifices. En premier la route et quelle route. Un peu longue ( pour si peu de kilomètres), escarpėe et peu carrossėe, et l'arrivée féerique. Puis, le chemin à pied, aussi impressionnant à descendre qu' à monter. La maison de Robinson, grande terrasse ombragée et la possibilité, rassurent. On y est! Tu descends 20 mètres, feu d artifice. Tu as déjà tout oublié. Que du bonheur... Les petits à côtes, tu les laisses... (Pas Josip), mais la gentillesse et la disponibilité de Rouja et robert sont inégalables. Poissons, légumes, petits plats... Merci pour tout.
Gael
2016-08-18T00:00:00Z
Les commentaires précédents sont pertinents. La maison est située dans un magnifique écrin de nature qui invite au repos et à la détente. Josip, puis Ruja et Robert, les propriétaires, furent extrêmement serviables. Il est nécessaire de savoir que la maison se situe à 8km (30 min) de la route principale (Zrnovo), au bout d'un chemin difficilement carrossable, qui n'est pas approprié pour tous les véhicules.
Judicaël
2015-08-07T00:00:00Z
Was very beautiful, had a wonderful time
Adam
2016-07-09T00:00:00Z
We had a lovely stay at this place, and Josip was a very helpful host! The home is in a beautiful location, great if you're looking for something very much off the beaten path and disconnected from the outside world - exactly what we wanted. It's a short walk down to a bay that's great for swimming, which we often had all to ourselves. Josip was very responsive to questions before our arrival, and then drove us to and from the house on either end of our stay. The home's owner even dropped off some fish he had freshly caught for us to cook in the outdoor grill one of the nights, a special treat. Do note that it is really not possible to walk to anything other than the immediate beach - there are no restaurants (possibly one a bit of a walk up a windy dirt road, but it was not yet open for the season) or shops in walking distance. For us, this was not a problem as we knew and wanted this kind of setting - Josip had explained this and given us information about where to get groceries beforehand in Korcula town so we could load up on everything we would need before he drove us to the house. But if you want to be able to come and go or access anywhere else, a car or scooter would be necessary. If you like being outside and off the grid, this is a great place to spend a few days!
Jamie
2014-06-15T00:00:00Z
The robinson house and the view will be nicer when the neighbour will have finish his building... It needs also some improvment regarding the water. Nice welcome from Josip and the owners. Clean house.
Christophe
2015-08-17T00:00:00Z
Art der Unterkunft
Ganze Unterkunft
---
Objekttyp
Haus
---
Unterkunft für
4
---
Schlafzimmer
Žrnovo, Gespanschaft Dubrovnik-Neretva, Kroatien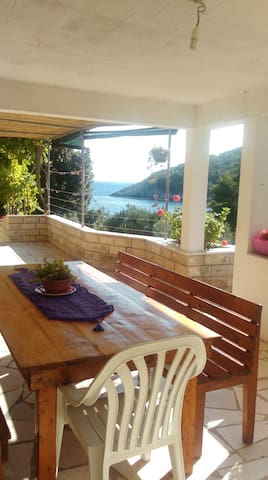 Beatifull Robinson Haus in den meisten beatifull Bucht auf der Insel Korcula - "Pupnatska luka". Nur 50 m vom Strand entfernt, auf Bucht. Das Haus hat 3 Zimmer, Küche mit Kamin, Sitzecke, Bad und eine große Terrasse. Perfekt für wegzukommen.
Unser Haus befindet sich auf der einzigartigen Lage, nur wenige Fußschritte von den meisten beatifull Bucht und den Strand auf der Insel Korcula.
Un séjour magique a Pupnatska Luka La maison est parfaite pour des vacances nature et baignade La baie est a nous pour les baignades du petit matin et de la fin d après-midi. Nous avons passe 5 jours merveilleux.
Aline
2015-08-17T00:00:00Z
L'accoglienza di Boris è stata premurosa e gentile. MI ha dato tutte le informazioni necessarie con rapidità ed efficienza.
Daniela
2014-08-24T00:00:00Z
Our week in Robinson Crusoe House was an excellent experience. Booking, arrival and instructions were all faultless, and Boris was very helpful. The house is on a superb location - Putnatska Luka is deservedly very popular and we were the envy of the beach to be able to retire to our own private shaded terrace with a view over the beautiful bay, and it was a real treat to basically have the beach to ourselves early morning and evening. This is not a house for those who need their mod cons but perfect for those who enjoy camping and the outdoor life. The house is basic but has everything one needs and we did not miss electricity at all. Once we had settled in, we found it hard to leave. The outdoor shower and barbecue were a particular hit, and the gas fridge kept us supplied with enough cold drinks to cope with the heat of the day. The bedrooms are sparse but perfectly comfortable and relatively cool, with good insect proofing. The house has obviously been well loved by its owners and for very good reason. We would certainly recommend it.
Hermione
2015-07-29T00:00:00Z
Super place, Super host ! Just had a great Time. Thanks to Boris.
John
2015-07-22T00:00:00Z
We really had a great time int this Robinson House, on the beautiful beach of Pupnatska luka. The place is not easy to access, of course, and with the limited number of ferries coming in Korcula island, we arrived late at night, which was not the easiest way to enter the place. Boris was available, and we did not have to wait for long to see him arrive and show us around. The location and the setting are incredible, and you feel really privilege to have access to it, enjoying the rooms, the outside shower, the sea terrace, the grill, and everything else. The bedrooms are actually very nice with large beds, and stay relatively cool during the hot days. The pebble beach itself is great, with clear waters, and actually not so crowded at day, compared to what we have seen elsewhere.. All in all, this is a very unique place that only AirBnB can give you access to.
david
2015-08-02T00:00:00Z
The overall experience was very good. The location is amazing. One of the best places in Croatia (I have seen a lot there). There is a spacious terrace with a great bay view so the space and the view are the best things to enjoy. Concerning the house, of course, the comfort is not to be expected as a 5* hotel. It is rather spartan and "retro" but there is everything you really need to sleep well, cook, have a fresh water garden shower and very romantic nights on the terrace with kandles and Croatian wine. And I bet even two families can´t get claustrophobic. The beach is really one of the best in Croatia with small stones and even some parts with sand. Ideal for little kids. The beach is so attractive that it is popular with many people coming from outside. There are only about 10 houses in the bay with just a few holiday makers but between 10 am to 5 pm the beach turns to be quite busy (but not really crowded). So you may feel like Robinson 12 hours a day, the sunshine hours are busy at the beach. So my thumbs are up, I would recommend the place to my friends and if going to the Korcula island again, this would be naturally the place to return.
Petr
2014-07-27T00:00:00Z
Boris was a great host and the house was a perfect true Robinson experience. We had a great time there even though the weather was not perfect - the house compensated for that with its big terrace with a roof over it. Being in such a location off season is an additional bonus since you get the feeling you have a private bay all to yourself.
Dejan
2014-05-02T00:00:00Z
Communication was good and the host turned up to meet us when we arrived. The house is quirky and the bbq outstanding, as is the terrace over looking the bay....beyond anything I have had exclusively available for our enjoyment on a holiday. This is an ideal spot for artists and writers, but also my young adult children loved it too. It should be said that this is not for the feint hearted or people who don't enjoy the outdoor life. Late September was still hot, but a couple of storms and shorter days. Very quiet and not too many on the beach. There is an old boy who sells his own wine in Pupnat, that doesn't make you feel too rough the next day and is very drinkable. We had lunch at the restaurant on the last day, but honestly we enjoyed cooking for ourselves in this stunning spot that we didn't really need to.
Rosalynde
2016-09-26T00:00:00Z
Art der Unterkunft
Ganze Unterkunft
---
Objekttyp
Haus
---
Unterkunft für
6
---
Schlafzimmer
Pupnatska Luka, Gespanschaft Dubrovnik-Neretva, Kroatien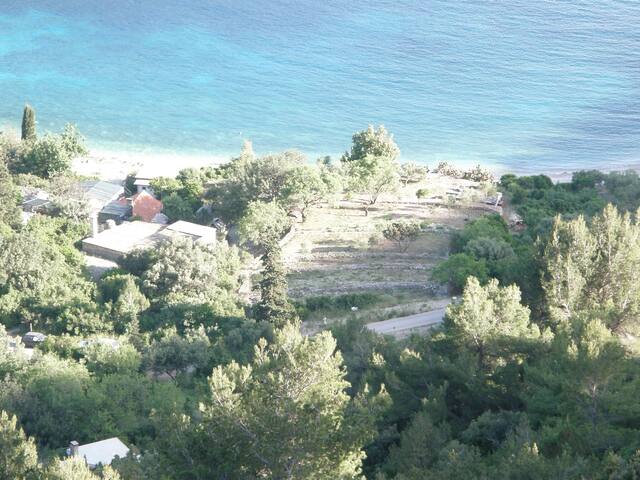 House Zrno is located in Račišće. Mobile WiFi access router can travel with you in every part of the country and it's free. The accommodation will provide you with air conditioning, balcony outside shower, solei and deck chairs.
House Zrno is located in Račišće. WiFi access is available in this holiday home. The accommodation will provide you with air conditioning and a balcony. There is a full kitchen with an oven and a refrigerator. Featuring a shower, private bathrooms also come with a bath or shower and a hairdryer. You can enjoy sea view and city view from all the (URL HIDDEN) Matic House Zrno is located in the beautiful bay of Racišce, 12 km away from the town of Korcula. All the customer needs (supermarket, beach, post office, restaurants, bus station) is within 100m. House Zrno is a traditional, comfortable, Dalmatian stone house. There is also a fully equipped (air conditioning, dishwasher, hair dryer, bed linen and fully equipped kitchen). There is also a large spacious terrace with stunning views of the sea and surrounding islands. Surrounded by a garden and fruit trees, a terrace on the sofa, chairs, umbrellas, and the possibility of using the grill. In agreement with the owner, you can use the boat for a ride and a tour of the island, the beach and chasing fish. If you want to spend your holiday in peace and quiet in an oasis of flowers, fruit trees and chirping birds and the murmur of the sea and the Mediterranean, then the house Zrno is the right choice for your vacation. WELCOME!
Bird song in the morning
Our stay was cut short for family health reasons but I want to say that the 4 days we spent in this paradise were wonderful. Marsel has us very welcome and were very well settled in this lovely cottage overlooking the sea. What a pity to have come home early! I really recommend this resort to anyone wanting a quiet holiday with all amenities nearby. I hope to return one day. thank you much much Marsel. (Sorry traduction (SENSITIVE CONTENTS HIDDEN))
catherine
2016-07-20T00:00:00Z
Art der Unterkunft
Ganze Unterkunft
---
Objekttyp
Haus
---
Unterkunft für
4
---
Schlafzimmer
Račišće, Gespanschaft Dubrovnik-Neretva, Kroatien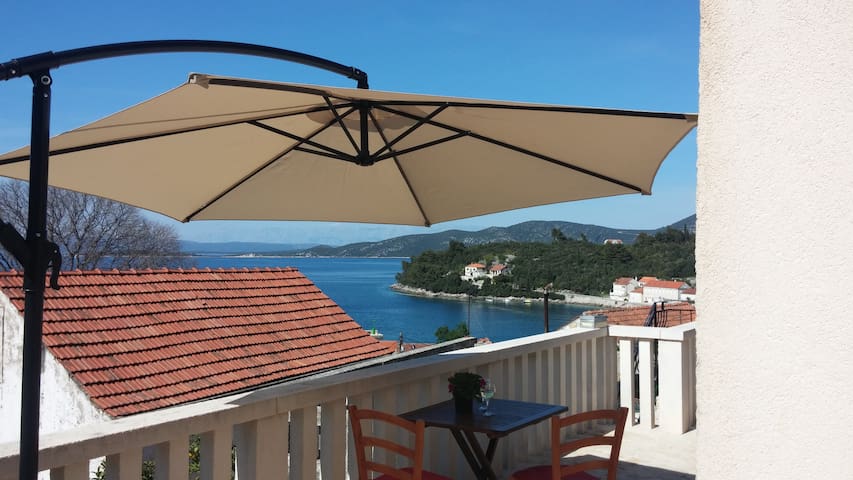 1

–

6

von

6 Ferienhausvermietungen
Gib deine Reisedaten ein, um den aktuellen Preis zu sehen. Es können zusätzliche Gebühren und Steuern anfallen.