Die Suite ist eine voll ausgestattete Küche, Bad, zwei Schlafzimmer und ein Wohnzimmer. In den Schlafzimmern, ein Bett König in einem, und ein französisches Bett in der anderen - das Wohnzimmer verfügt über einen Gas-Kamin und zwei Schlafsofas. Ausserhalb eines Gas-Feuerstelle und Sitzgelegenheiten.
Jim was very friendly. He gave us directions ahead of time. After we arrived he greeted us and make sure we know where everything is. He had everything we needed for our stay. He checked on us again the next day to see if we needed anything. Very hospitality!! We felt very much like home. Thanks Jim
Irene
2016-03-13T00:00:00Z
Had a very pleasant stay, just a 15 mins drive to manning park which was very beneficial to us since we spent our whole weekend over at the park. The suite was very clean and spacious. There were heaters in every room and a fire place in the living room which kept things warm. The kitchen was well equipped and the bath room was well provided with supplies. Jim was a very pleasant guy and came to greet us and check on if we were satisfied. Overall highly recommend this place and will be sure to visit again!
Majid
2016-01-25T00:00:00Z
Jim was so friendly and helpful. The suite was perfect for a winter get away.
Christine
2017-01-08T00:00:00Z
We had a beautiful visit and Jim made us feel so welcome and comfortable. The skiing, skating, sledding & snow shoeing were all superb and the conditions were out of this world. Jim's cabin was perfect for me & my family.
Richard
2017-01-22T00:00:00Z
Had a very enjoyable stay at the apartment, which started by being greeted by Jim and his wife as we arrived. He gave us a quick tour and made sure we were all set for our weekend stay. The apartment is very spacious and well equipped with all you would need for your time there. We were all very comfortable and had lots of room for our family of four. The location is excellent if your planning on going to Manning park. It took only 10 minutes from the front door to get to the parks resort and then another 10 to the ski hill. Perfect after a long day playing on the slopes. I would stay again and have no problem recommending it to others. Thanks again Jim.
Charles
2016-02-29T00:00:00Z
Jim was very friendly, accommodating and a good communicator. His suite was bigger than expected and comfortably slept 6 adults. We had an awesome time staying at Jim's place and enjoyed the board games he provided (maybe too much so, Pictionnary may have gotten a little out of hand, sorry Jim!). Jim also had a bunch of dvds which were great for relaxing after playing in the snow. The suite was well located about 10-15 mins from Manning park, we will most definitely be back.
charlotte
2016-02-15T00:00:00Z
This unit is located in Eastgate, about 10mins east of Manning Park Resort, and about a minute from the highway. We are a family with two little kids, ages 1 and 4. Jim, the owner, was helpful and prompt replying to emails prior to booking and greeted us when we arrived. The unit is a basement suite of a large log house. It is spacious and clean, with two large bedrooms and even a small outdoor patio area with a gas heater. Everything worked fine and we found this to be a good alternative to staying at the resort, especially on a busy long weekend. The only issue we had was a bit of noise from upstairs. Jim explained that his grandkids were visiting for the weekend. Other that that, we enjoyed the stay and hope to return.
Darryl
2016-02-09T00:00:00Z
The accommodation was clean, warm, cozy and peaceful. It is a beautiful setting and Jim was very attentive to our needs. Would recommend his place if you are holidaying in Manning Park.
Gary
2017-02-19T00:00:00Z
Art der Unterkunft
Ganze Unterkunft
---
Objekttyp
Wohnung
---
Unterkunft für
6
---
Schlafzimmer
Eastgate, Manning Park, British Columbia, Kanada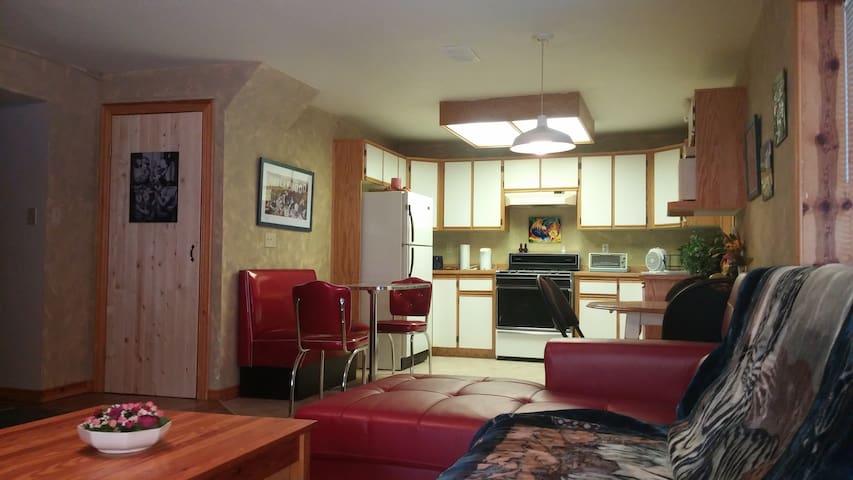 Meu lugar é bom para casais, aventureiros de solo - inclui banheira de hidromassagem! 3ª 2016-2017 Temporada-dezembro 2016 a 02 de abril de 2017
Bem-vindo ao Apex Mountain Resort Localizado a uma curta de 30 minutos de carro do Penticton, BC, Apex é um destino resort serviço completo conhecido para o mais leve neve champagne em pó, terreno incrível, e as pessoas amigas. Apex estar localizado no coração do Vale do Okanagan, apresenta a combinação perfeita entre grandes quantidades de precipitação e baixa umidade que faz para o mais leve neve em pó champagne imaginável. Apex Mountain Resort é conhecido como uma montanha familiar que tem uma grande variedade de terreno para todos. De rampas íngremes para tigelas abertos e esqui clareira para alguns dos groomers mais suaves ao redor do terreno é uma das razões que as pessoas gostam (URL HIDDEN) 2.000 pés na vertical e uma das cadeiras sendo um quad destacável alta velocidade que faz com que você ao topo em 6 minutos a quantidade de vertical, você pode esquiar em um dia vai sair durar as pernas. Mais de 75 corridas que estão marcados e outros 40 corridas que estão sem marcação permite buscar as jóias escondidas que fazem Apex famoso. Apex Mountain Resort é a única montanha no Okanagan, que enfrenta Norte e Leste o que significa que esses belos cristais de neve em pó não são afetados pelo sol e nosso famoso neve leve de pó seco podem ser encontrados dias depois de uma queda de neve. Além do terreno natural incrível Apex tem 4 parques de terreno, uma Copa do Mundo magnata claro, um site aérea e local de treinamento de classe mundial para Slalom e GS corrida. Há mais a fazer do que de esqui ou snowboard. O mundialmente famoso Gunbarrel Saloon e restaurante é a cena mais apres acontecendo ao seu redor. The Edge Bistro tem o melhor café ao redor, pegar um para ir e tê-lo na cadeira! Você também vai querer verificar a sua casa feita wraps, sopas e sanduíches e pizzas para mantê-lo alimentado durante todo o dia. A Trading Post é um serviço completo Liquor Store e tem todas as necessidades que você precisa para que você não tem que voltar no seu carro até sair. Apex tem um tubo Park, com duas pistas acessados por um tapete mágico de 500 pés por muito tempo para ter você de volta para a diversão. Esqui à noite está disponível 16:00-21:00 nas noites de sexta e sábado e durante os feriados. Novas trilhas com raquetes de neve e aluguel estão agora disponíveis para explorar a bela paisagem em torno do resort. Ski-in ski-out Estabelecimento: Há uma grande variedade de ski in ski out alojamento disponível para atender todos os bolsos. Ir tot ele acomodações link no topo da página para mais informações sobre como manter-se bem na montanha. A previsão para esta estação é um inverno La Nina. Um inverno La Nina significa um inverno mais frio e mais úmido do que a média e que equivale a um ano de neve impressionante! Não perca uma temporada incrível. A última temporada foi épica e a previsão é ainda melhor para esta temporada! Convidamos você a entrar e experimentar Apex Mountain Resort, você será feliz que você fez. 3ª 2016-2017 Temporada-dezembro 2016 a 02 de abril de 2017
Great spot for a romantic getaway.
Jim
2017-02-10T00:00:00Z
A beautiful location. It had everything we needed. The hot tub was an added bonus after a day of skiing. Thanks Raymond and Andrea.
Shareen
2017-02-23T00:00:00Z
very awesome place, perfect for a weekend getaway. Hot tub is amazing!
Minxing
2017-04-02T00:00:00Z
The host canceled this reservation 5 days before arrival. This is an automated posting.
Allison
2017-01-26T00:00:00Z
Great location! The place was well kept, clean, and had an excellent view of the mountain. Would definitely come back, if not for the place then for Apex itself.
J
2017-03-25T00:00:00Z
Thank you so much for letting our family to stay at your condo .We had a great mini vacation .Your place has everything what needed for our stay .Its small and cozy , nicely located right in the skiing village .Has a nice view of the mountain.Hot tub was really a bonus after all day of skiing . Also thank you for quick respond on our texts and phone calls .You are very good host :)
Victoria
2017-02-13T00:00:00Z
Great location right by the hill, clean and had all the essentials you could want. The hot tub was the perfect place to unwind post ski as well. Would definitely recommend!
Graeme
2017-02-19T00:00:00Z
Nice and quaint place to stay. Has everything you need and is a close walk to the ski hill and shops. Has all the furnishings needed and the kitchen is well equipped. The place can sleep four but was quite nice for two people although four would also be comfortable. I would stay again and would recommend to others.
Sue
2017-01-29T00:00:00Z
Art der Unterkunft
Ganze Unterkunft
---
Objekttyp
Wohnung
---
Unterkunft für
4
---
Schlafzimmer
Hedley, British Columbia, Kanada
In der Nähe des Dorfes 2 Minuten zu Fuß den Hügel 3 Schlafzimmer, 3 Badezimmer Whirlpool und Kamin
房东非常热情,人很好。
媛媛
2016-08-08T00:00:00Z
Nice place to stay, well-equipped, roomy enough for our 3 kids. Good location, although not exactly easy to walk to ski slopes, and no wifi.
Jennifer
2017-03-29T00:00:00Z
Neighborhood is great, up in the mountain resort, very quite
Paul
2016-07-24T00:00:00Z
Great place to rent. Quiet location, short walk to the town centre, everything we needed for a great family ski vacay! Would rent again for sure.
Lori
2017-02-13T00:00:00Z
We were 3 couples meeting for a working retreat. Perfect setup. We spent most of the time indoors and had an excellent time. (1 couple had to sleep in the bunk beds :-( ) Directions says it is in "clear view", and it is but you won't know which of green buildings it is. Clearview is not on Clearview Rd., you have to take a private driveway up to a higher level to find it. My suggestion: Go up the mountain on Apex Mountain Rd. When you reach the residential area, turn left on Strayhorse Rd (the first street). When getting down to the parking area of the village, the first street left is Clearview Rd. Just a 100m down that road you'll see Clearview Crescent connecting from the right and just behind that is a "Private Driveway" which goes up towards Clearview building. (There is a sign that says "225 Clearview Rd" but it is hidden behind trees and you won't see it if you don't know where to look for it.) Park on ground level at # 907.
FerdiMarina
2017-01-31T00:00:00Z
Good place for a ski stay, only 5 min walk to the lift. Nice Hot Tub and Fireplace, but no internet/wi-fi
Heiko
2017-02-22T00:00:00Z
Great place, lots of room, nice view of the ski hill. Clean and comfortable. Enjoyed our stay.
Dean
2017-03-24T00:00:00Z
Brandon's place is very comfortable and feels like a home. It was a great place to kick back and relax after a day of skiing with the kids. Loved the hot tub!
kat
2017-03-13T00:00:00Z
Art der Unterkunft
Ganze Unterkunft
---
Objekttyp
Wohnung
---
Unterkunft für
6
---
Schlafzimmer
Penticton , Bc, Kanada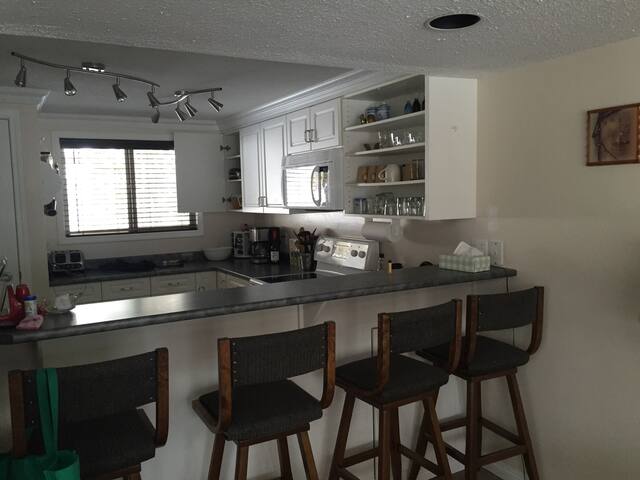 Great place to stay at Apex. Easy walk to the main lodge and lifts. Very clean unit and easy to communicate with Jodie.
James
2016-12-17T00:00:00Z
Jodie was very friendly, helpful, and easy to reach. Place is spacious, well furnished, and extremely close (5 min ski/walk) to Apex Mtn lifts. Would definitely stay again.
Braeden
2017-03-26T00:00:00Z
Art der Unterkunft
Ganze Unterkunft
---
Objekttyp
Wohnung
---
Unterkunft für
4
---
Schlafzimmer
Hedley, British Columbia, Kanada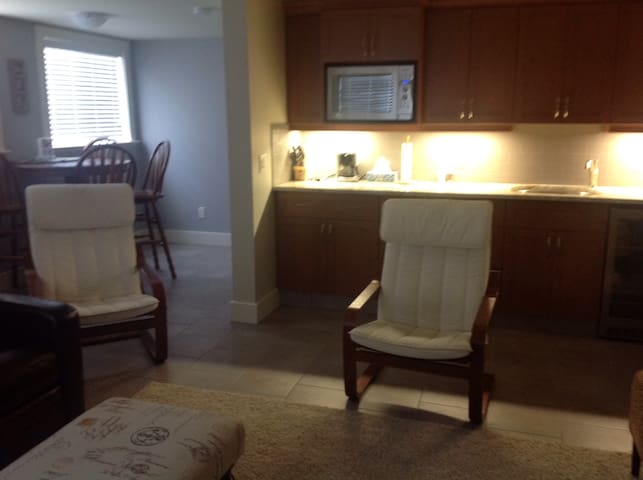 Washer & dryer provided in the unit as well. Electric fireplace, DVD player, satellite TV and wireless internet. There are 4 beds (1 double futon in the living room, 1 double lower bunk with single upper bunk and 1 queen bed). The base rate= 6 adults
This 2 bedroom, 1 bath unit at Apex Ski Resort, just outside of Penticton, has everything you need for a relaxing holiday - in snow or sun. Ski in/ski out or a quick drive to hidden lakes up above for some fishing. Deck with hot tub and outdoor speakers; listen and watch the hockey game from the hot tub after a day of skiing in powder, nothing beats it! Try snowshoeing, skating on the outdoor loop, playing hockey on the outdoor rink, tubing at the Tube Park, cross country skiing or hiking, mountain biking, dirt biking and quading in the summer. Washer & dryer provided in the unit as well. Electric fireplace, DVD player, satellite TV and wireless internet. Perfect for families......Board games, booster seat, stool and kid's table. Very clean!
Friendly, central location without the noise of night life in when in the Village.
We really enjoyed our stay at this home in Apex. It was clean, cozy, well-supplied and very conveniently situated. We would definitely stay there again if we go to Apex again!
Cheeying
2015-01-18T00:00:00Z
Art der Unterkunft
Ganze Unterkunft
---
Objekttyp
Wohnung
---
Unterkunft für
6
---
Schlafzimmer
Keremeos, British Columbia, Kanada
Princeton - Airbnb
:
Durchschnittlich

4.55

von

5

Sternen aus

51

Gäste-Bewertungen
Gib deine Reisedaten ein, um den aktuellen Preis zu sehen. Es können zusätzliche Gebühren und Steuern anfallen.