+ 300 Wohnungen zur Miete
My flat is located in the center of the port area of Pozzuoli. It is a nice and small charming town with a lot of good restaurants and bars. It is quite authentic because there are not that much tourists in this area.
An exceptional flat in the heart of the port area is waiting for you:) You have a TV with Apple Mac or HDMI connectors in your room. Plugs for European Standard to Italian and a Playstation 3. I don`t have Italian Television Channels, you need to take your Laptop with you to connect it to the TV.
I live in a typical southern Italy "Vicolo" (small street), it is a lively area with good Bars and Restaurants. In my vicolo you will find two traditional restaurant whit good fish dishes and a nice cocktail bar directly under my house. The area where i live in is very lively with a lot of Bars and Restaurants. Nearby attractions: Beach at Arco Felice (8min by train) Amphitheater (10min walk) Rione Terra (5min walk) Vulcan Solfatara (10min with the Car, 40min walk) Baia Terme (15min with the car) Castle of Baia (20min with the car) Sybilla Boat Tour to the sunken town under water (20min with the car) Procida (45min with the ferry) Ischia (1 hour with the Ferry) Naples Historical Center (25min with the Cumana)
Wir wurden von Christian herzlich empfangen und fühlten uns in seinem Reich sehr wohl. Die Umgebung hat uns sehr gut gefallen, viele Restaurant, Hafen und Bahnstation waren in der Nähe. Christian gab uns einige gute Ausflugstips.
Brigitte
2016-10-11T00:00:00Z
Christian ist einfach der ideale Gastgeber, freundlich, zuvorkommend, aufmerksam, feinfühlig und vor allem auch hilfsbereit. Ich habe mich sehr wohl gefühlt bei ihm und wir haben uns sehr gut zusammen unterhalten. Wir sind auch an einem Abend zusammen mit seiner Freundin feiern gegangen. Unglaublich nette Menschen. Ich habe eine unvergessliche Zeit in Pozzuoli/Neapel verbracht :) Die Wohnung ist sehr schön und bestens gelegen im Zentrum vom historischen Hafen von Pozzuoli, ein paar Schritte vom Meer entfernt. Sehr viel einheimische Leben abends, nicht touristisch, und sehr gute Verbindung nach Neapel (der Zug nach Zentrum von Neapel ist auch nur ein paar Schritte weiter weg). Ich kann Christian wärmstens weiter empfehlen. Ich glaube, ich komme auch irgendwann mal wieder :)
Fernando
2015-11-22T00:00:00Z
Christian ist ein super Gastgeber. Er hat mir wirklich sehr viel geholfen mir den Weg bis zu sich zuhause detailliert beschrieben. Leider gab es mit dem Zug Komplikationen da es wegen Bauarbeiten gesperrt war. Christian war den ganzen Weg am Telefon und hat für mich übersetz. Ich wurde herzlich empfangen. Sehr locker und offen habe mich wie zuhause Gefühlt. Sogar einen Hafen Rundgang gab es. Zu dem hat Christian mir die wichtigsten Sachen gesagt und gezeigt mir Ausflug Möglichkeiten vorgeschlagen und dazu noch Wegbeschreibung genauestens beschrieben immer vorsorglich nachgefragt ob alles ok ist. Ich kann mich nicht oft genug bedanken. Grazie Christian :)
Meh
2016-09-13T00:00:00Z
Christians Wohnung ist perfekt und Christian ein hervorragender Gastgeber. Wir haben Pozzuoli geliebt. Den Gemüsehändler, den Supermarkt, die Pizzeria, den Hafen. Wunderbar. Christian war so nett und hat uns, obwohl er selber noch vor seiner Abreise viel zu tun hatte, eine kleine Führung durch die Nachbarschaft gegeben, tolle Tips für unsere Reisen auf die Inseln sowie für Restaurants gegeben. Wir waren über eine Woche in Italien, Pozzuoli ist uns mit am schönsten in Erinnerung geblieben. Christians Wohnung hat dazu maßgeblich beigetragen. Die Wohnung ist nur wenige Minuten vom Hafen und vom Bahnhof entfernt. Top!
Fatma&Max
2016-09-18T00:00:00Z
Christian ist ein sehr netter Gastgeber-er hat uns vom Flughafen abgolt (und dabei noch ewig auf uns warten müssen weil der Flug verspätet war) & uns zur Abreise auch wieder hingebracht. Die Wohnung war sehr gemütlich, sauber und toll eingerichtet. Von der Lage auch ideal- man ist in 2 Minuten am Hafen - es sind Einkaufsmöglichkeiten und Restaurants gleich da und mit dem Zug kommt man für 2 Euro in 15 Minuten direkt ins Zentrum von Neapel. Alles in allem haben wir uns sehr wohlgefühlt und würden gerne wieder kommen. Danke nochmal für alles.
Julia
2016-05-17T00:00:00Z
Christian, der selber während meines Aufenthaltes nicht da war, hat mir alles genau beschrieben, sowohl den Weg zu der Wohnung alsauch alles in der Wohnung. Er hat mir seine Tel Nr gegeben wie er zu erreichen war und mich überzeugend aufgefordert mich zuhause zu fühlen. Ich habe alles bestens vorgefunden und mich sehr wohl gefühlt!
Allmuth
2015-09-21T00:00:00Z
Christian hat uns mit Infos versorgt, zu Attraktionen gefahren, war mit uns essen - ein rundum toller und aufmerksamer Host also. Die Unterkunft ist klasse und sehr sauber, lediglich der Lärm von der Bar unten konnte manchmal etwas nerven (aber auch nur, weil wir ein kleines Baby haben und jede Minute Schlaf zählt).
fuelbasti
2015-10-18T00:00:00Z
Christian ist absolut freundlich und hilfsbereit. Er hat uns bei vielen Dingen (Moped besorgen, Tipps für gutes Essen, Einkauf und Ausflugsziele ohne Touristengedränge und und und) geholfen. Seine Wohnung ist charmant und die Mitnutzung von Küche usw. Ist problemlos möglich. Alles da für kleine Kochmanöver. Wir würden jederzeit wiederkommen.
Peter
2017-02-04T00:00:00Z
Art der Unterkunft
Privatzimmer
---
Objekttyp
Wohnung
---
Unterkunft für
2
---
Schlafzimmer
Pozzuoli, Kampanien, Italien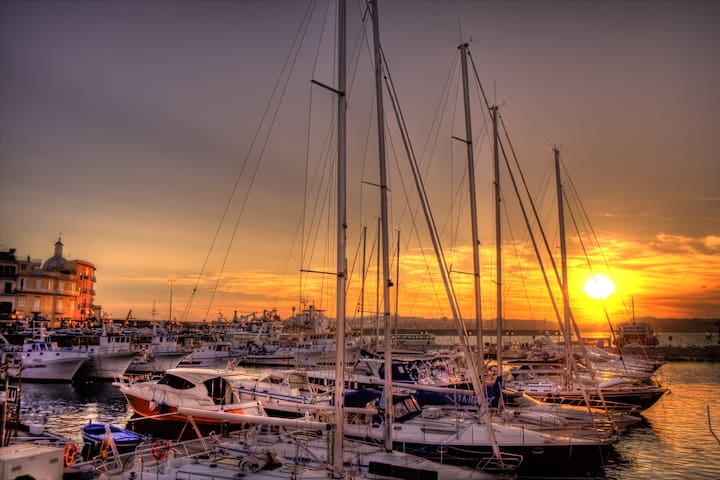 Beautifully renovated studio located a short walk from the picturesque harbor of Pozzuoli which faces the three islands of Procida, Ischia and Capri. You'll find a pizzeria, cafe, market and Cumana (train) all within walking distance of our apartment.
Since waving goodbye to the Mediterranean in 2009 (and eventually landing in the hustle and bustle of New York City), my husband and I have dreamt of having a small place in which to relax and call home when we visit our friends and family in Bella Napoli. In 2015 we were able to plant roots in Pozzuoli (my husband's hometown) by purchasing this studio apartment. When we're not enjoying the magic of Southern Italy, we'd love to share it with you. A few highlights of the neighborhood: -The port of Pozzuoli will give you quick access to the islands (and spas!) of Ischia and Procida. (10 minute walk from the apartment) -The Cumana--a train line that will take you into the heart of Naples and beyond. Zoom down to Amalfi Coast from Naples! (Cumana, 7 minute walk) -A coffee shop, because breakfast in Italy isn't complete without un caffe' e cornetto. (2 minute walk) -One of Pozzuoli's best pizzerias, Ammacca'mm. A new addition to the neighborhood, Ammacca'mm is bustling until the last customer is served! We've been known to stop in here for a quick (jet-lagged) bite after midnight. (2 minute walk) -A grocery store. Stock the fridge with inexpensive but delicious cheese and wine from the Deco' in the square. (4 minute walk) -Anfiteatro Flavio--save yourself from the crowds in Rome and see Italy's 3rd largest Colosseum just around the corner from the apartment. (10 minute walk) -Downtown Pozzuoli hosts countless restaurants, shops and the beautiful ruins of Tempio di Serapide. (12 minute walk)
Once you book we'll give you access to a website of things to do in the area and directions to nearby attractions - along with everything you need to know about public transportation!
Wir haben eine schöne Woche in Pozzuoli verbracht. Diese kleine schöne Ferienwohnung ist mit allem ausgestattet, was man für einen Urlaub braucht. Die Bahnanbindung nach Neapel ist sehr gut. Sarahs Schwiegereltern haben sich um alles gekümmert und Sie selbst war immer für Fragen erreichbar. Vielen Dank!
Jonathan
2017-03-04T00:00:00Z
Sarah and her husband were incredibly generous hosts. Prior to our arrival Sarah provided us with a list of popular places and activities in the area and her husband set up a boat cruise for us through a friends local tour agency. She even offered to have her in laws pick us up from the train station when we arrived. The apartment is beautiful and I highly recommend staying there to anybody traveling in the area.
sarah
2016-06-20T00:00:00Z
A solo 20 minutos de Nápoles en tren es un lugar muy tranquilo y perfecto para ir a descansar con la opción de visitar Nápoles todos los días!
Grego
2016-05-08T00:00:00Z
appartamento delizioso,posizione perfetta e disponibilità unica!complimenti!
valeria
2016-05-18T00:00:00Z
Appartamento incantevole con una splendida vista su Pozzuoli, a due passi dal centro. Si trova anche abbastanza facilmente parcheggio proprio di fronte. Locale comodissimo con tutti i comfort (TV, Chromecast e Wifi) e bagno eccezionale. I genitori di Sarah che ci hanno accolto sono stati simpatici e gentilissimi e ci hanno fornito tutte le informazioni necessarie per trascorrere al meglio il nostro weekend.
Simone
2016-05-03T00:00:00Z
This modern apartment was perfect for our stay. It is in a central location, and has everything you need. It was helpful being located closeby to the harbour and train station. Sarah stayed in touch to make sure everything was okay and she recommended places to park our hire car when we were unsure. Would stay here again!
Vishal
2016-06-06T00:00:00Z
Sarah and her husband Geatano were amazing hosts. I stayed here for 48 nights for work. Geatano's parents are right around the corner and stopped by to see me multiple times to make sure things were going well. Geatano was constantly available, responsive and was willing to offer suggestions for local foods and shops (and make restaurant reservations since Geatano is from Pozzuoli). The apartment is very nice with the bed on a loft making the place more spacious. I spent one month alone and one with a classmate, and we were both very happy with the accommodations. Pozzuoli has plenty to explore, with a great waterfront, as well as a port you can use to access to the local islands as well as subway access into Napoli. Personally I loved Ammaccamm, a local pizzeria that is very close to the apartment. I can't express enough how great of an experience I had in Italy, and I would definitely recommend this AirBNB.
Martin
2016-04-24T00:00:00Z
We loved Sarah's apartment! It is so clean and cozy. It is also very convenient to get to the pier from the apartment. We took the ferry to Ischia for a day and enjoyed some thermal baths. Make sure you try the pizzeria that she recommended! The staff are so friendly and the pizzas were so delicious! Sarah was also kind enough to let us check in early. She kept in touch with us and responded immediately.
Lisa
2016-09-21T00:00:00Z
Art der Unterkunft
Ganze Unterkunft
---
Objekttyp
Wohnung
---
Unterkunft für
3
---
Schlafzimmer
Pozzuoli, Kampanien, Italien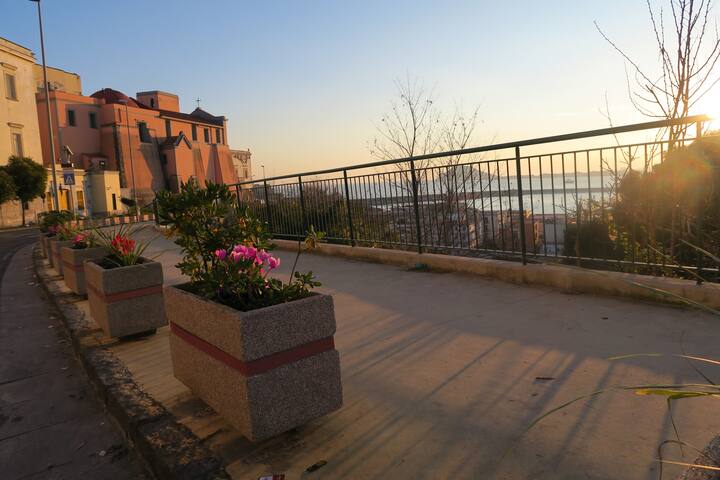 An apartment overlooking the gulf of Pozzuoli: the perfect place to spend a pleasant holiday in and around Naples! Special offers for longer stays.
An apartment overlooking the gulf of Pozzuoli: the perfect place to spend a pleasant holiday in and around Naples! The apartment is situated on the third floor of a late nineteenth century building built on a foundation of ancient roman walls. The building, which was completely renovated about 10 years ago without changing all ancient finds, is situated in the old town of Pozzuoli, near the ruins of the Temple of Neptune. The apartment consists of: a) a large, panoramic living room with a kitchenette corner, b) a double bedroom, c) a bedroom with bunk beds, d) two bathrooms, e) a panoramic terrace overlooking the Gulf of Pozzuoli. All rooms are equipped with air conditioners and the apartement is served by a wifi internet connection. I can accommodate up to 4 people.
From the house you can walk to places of great historical interest such as the Roman ruins of the Flavian Amphitheatre, the second largest in Italy after the Colosseum, the ruins of the Roman temple of Serapis, the so called "Terra" district, an old fishing village, where buildings and artifacts dating back to Greek and Roman ancient times have been recently discovered. At about 1 km away there is the crater of the Solfatara volcano, famous for its geysers and boiling mud pools. At about 2 km away there are the Lucrino lake and the Averno lake, of volcanic origin, in antiquity considered the entrance to the realm of the dead, and the Monte Nuovo, born during a volcanic eruption in XVI century. At about 4 km there is the greek & roman acropolis of Cuma with the amazing cave of the Sibyl. In addition to this, in just 20 minutes you can reach by train the historic center of Naples.
Gennaro war ein aufmerksamer und jederzeit für Informationen vorab erreichbarer Gastgeber. Er hat uns unterstützt, einige Details unserer Reise nach Neapel zu planen. Bei der Ankunft in der Wohnung war er anwesend, hat uns begrüßt und alles Wichtige erklärt.
Judith
2016-07-03T00:00:00Z
Wir, eine Familie mit zwei Kindern 10 und 16 Jahre alt, verbrachten eine wunderschöne Woche in Gennaro´s Wohnung. Wurden von Ihm persönlich empfangen um alle wichtigen Details zu klären. Der Kühlschrank wurde bereits mit einem kleinen Frühstück von Gastgeber bestückt. Die Lage der Wohnung ist einfach spitze. Der Blick auf den Hafen und Golf von Pozzuoli unvergesslich schön. Neapel ist mit der Cumana in ca. 25 min erreichbar. Der Strand von Lucrino ist nur zwei Haltestellen von Pozzuoli entfernt. Ein Sonnenschirm gehört zur Ausstattung der Wohnung. Eine Liege kann man für 5€ am Strand mieten. Zum Hafen, z.B. zur Fähre nach Ischia und Procida, sind es ca. 10 min zu Fuß. Der Gastgeber ist sehr nett und hilfsbereit und immer erreichbar. In der Umgebung befinden sich sehr viele Restaurants. Wir haben bei Boccuccia Di Rosa und Il Rudere gespeist beide sind zu empflehen (keine überhöhten Preise, viele Einheimische als Gäste) . Die Ausstattung, Handtücher, Hygieneartikel, Geschirr alles wie in der Anzeige angegeben ist auch vorhanden. Waren sehr Happy über die Klimaanlage die bei den Sommertemperaturen von über 30 Grad natürlich im Gebrauch war. Für alle Neapelfans ist diese Wohnung auf jeden Fall weiter zu empfehlen! Danke an Gennaro, wir kommen wieder! Caro Gennaro, grazie per tutto.
Rossana
2015-08-15T00:00:00Z
Ich bin leider nicht selbst gereist, sondern mein Sohn. Die Wohnung war genau so schön, wie auf den Fotos . Die Kommunikation mit Gennaro war sehr gut. Ich glaube, dass er ein wunderbarer umsichtiger Gastgeber ist und hoffe es einmal auch selbst zu erfahren. Caro Gennaro, grazie per tutto,
Anna
2014-07-26T00:00:00Z
Bell'appartamento ideale per famiglie. Gennaro è una persona gentile e disponibile.
adriana
2016-11-14T00:00:00Z
Increible apartamento, terraza con vista al mar y de toda pozzuoli. Muy grande y comodo. Con todos los servicios cerca, sea para tomar el tren a Napoli, como para salir a caminar al centro de pozzuoli. Muy amable el propietario y siempre a disposicion.
franco
2014-06-21T00:00:00Z
Ragazzi,abbiamo soggiornato dal 01.06.15 al 07.06.15 la casa e ottima con tutti i confort,panorama spettacolare ,dal balcone si vede tutto il golfo di Pozzuoli il Signor Gennaro si e `dimostrato molto affidabile. grazie ancora di tutto alla prox. Tarantino.S
Tarantino
2015-06-07T00:00:00Z
Gennaro nous a très bien accueilli, en nous donnant tous les renseignements utiles. L'appartement, très spacieux, avait tout le nécessaire pour le séjour, sans compter la vue directe sur la mer et des ruines. Nous avons aimé nous promener sur le port et la marina de Pozzuolli proche de Naples, de ses sites historiques et touristiques. Merci à Gennaro, nous reviendrons !
Maude
2013-07-25T00:00:00Z
Appartement bien situé à 5 mn à pied de la gare de Pozzoli qui permet d'aller en 40 mn en plein centre de Naples. Appartement très spacieux bien équipé propre et assez calme malgré qu'il soit en centre ville. Commerces et supermarché tout proches. A ne pas manquer la vue magnifique de la terrasse. Voiture à garer par contre dans le parking de la gare pour plus de sécurité. Notre hôte Gennaro a été vraiment disponible et l' accueil était très chaleureux.
Nicolas
2015-05-02T00:00:00Z
Art der Unterkunft
Ganze Unterkunft
---
Objekttyp
Wohnung
---
Unterkunft für
4
---
Schlafzimmer
Pozzuoli, Kampanien, Italien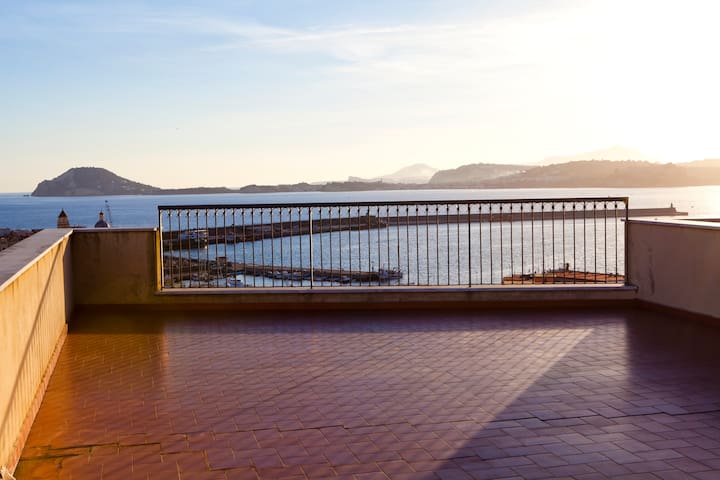 This is the beginning of grape harvest. You could enjoy a glass of famous wine that these vineyards produces. My house is a nice apartment with garden terrace and amazing panorama of the bay of Napoli, surrounded by historical and archeological sites, vineyards and sea. Just 9 km. from the important city of Naples, 3 km. from the highways to get to Pompei, Sorrento, Positano and Amalfi. View of the port of Pozzuoli with ferries connecting the islands of Ischia and Procida. A
Naples and Pozzuoli are favourites destinations by many tourists from all over the world, many important monuments and archeological sites, many events, art show, concerts . My is a nice apartment with garden terrace with amazin panorama of the bay of Pozzuoli Napoli, surrounded by historical and archeological sites, wineyards and sea. Just 9 km. from the city of Napoli, 3 km. from the tangenziale and highways. View of the port of Pozzuoli with ferries connecting the islands Ischia and Procida.
The quiet, the clean air, the silence. The house is on the hill, it's necessary to have a car.
Rossella is a very nice person, she made us feel so welcome. The accommodation is very high end, beautiful and well equipped. The views of the bay of Naples is awesome. We thoroughly enjoyed our stay and would highly recommend Rossella's place. As for the town of Pozzuoli, it us a paradise amongst the busy over crowded large cities in Italy, the people are so very nice and the scenery is breath taking.
Adeline
2017-02-22T00:00:00Z
Appartamento incantevole per la tranquillità che riesce a trasmettere. Arredamento nuovissimo e di stile moderno, abbonda di tutti gli accessori e utensili necessari. La signora Rossella è una persona molto disponibile e gentilissima. Tre giorni volati. Sicuramente ci ritorneremo. Consigliatissimo!
Roberto
2016-10-27T00:00:00Z
Une vue magnifique pour un tres bel appartement spacieux bien équipé et très confortable . Rossella et son mari sont des hôtes charmants et attentionnés. Le parking pour la voiture est très appréciable Pouzzole est une ville très agréable reliée à naples par le métro .
Pascale
2017-01-01T00:00:00Z
Ospitalità e cortesia contraddistinguono la figura della proprietaria di casa. Casa accogliente, comoda e finemente arredata. Soggiorno molto piacevole ed altamente consigliato. Contiamo di tornarci presto
Gianluca
2016-11-01T00:00:00Z
Vorremmo ringraziare Rossella e suo marito per l'accoglienza e la loro gentilezza e disponibilità durante il nostro soggiorno. La casa è ancora più bella nella realtà, con tutti conforts. Noi di sicuro ritorneremo qui per i nostri viaggi a Napoli. Chi sta cercando un posto per riposarsi vicino à Napoli e la costa Amalfitana non deve cercare più in là! Ancora grazie Rossella!
Jennifer Kim
2017-02-13T00:00:00Z
Art der Unterkunft
Ganze Unterkunft
---
Objekttyp
Wohnung
---
Unterkunft für
6
---
Schlafzimmer
Pozzuoli, Kampanien, Italien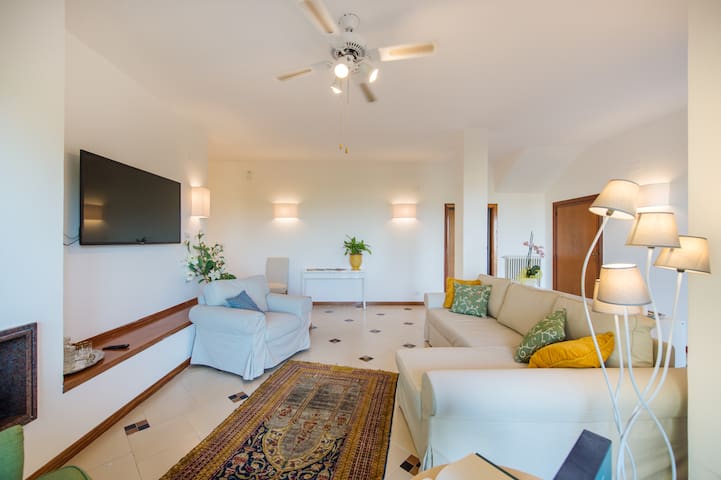 Appartamentino di charme per 2 con vista mare nel centro storico di Pozzuoli. Vicino a spiagge, ai siti archeologici dei Campi Flegrei e all'imbarco per le isole di Ischia e Procida. Splendida vista panoramica e grande offerta a pochi passi di ristorantini con specialità di mare ed etniche, pub con musica dal vivo, ottime pizzerie, gelaterie e pasticcerie. Ti piacerà il mio alloggio per questi motivi: la luce: vista mare e luce strepitosa. Il centro storico di Pozzuoli è ridente e pieno di vita.
Possibilità di trasporto in auto tra Aereoporto di Napoli Capodichino e Pozzuoli.
L'appartamento di Maria Clelia è accogliente, ben organizzato e posizionato in pieno centro. Si gode una vista spettacolare sulla darsena e su parte del golfo di Pozzuoli. Centralissimo, è perfetto per vivere il centro della città sia di giorno che di notte. Ci sono ristorantini e locali e bar/pasticcerie nelle immediate vicinanze. In tre minuti si arriva alla piazza centrale e in altrettanti si accede al magnifico Rione Terra, dove il fine settimana è possibile visitare lo stupefacente percorso archeologico dell'antica Puteoli romana, ormai sotterranea, e l'incredibile cattedrale di San Procolo. Dopo una giornata trascorsa a visitare la città e i meravigliosi dintorni, o dopo una giornata di lavoro, ritorare nell'appartamento è davvero piacevole. Troverete libri e cataloghi molto belli sia riguardanti la meravigliosa zona dei Campi Flegrei, sia di arte Contemporanea. Inoltre Maria Clelia è stata molto disponibile, permettendoci di fare il check out nel pomeriggio. Non ho dubbi, tornerò in questo appartamento. Consigliatissimo
Valentina
2017-01-26T00:00:00Z
Appartamento molto carino ed accogliente, situato a 100 mt dal mare, luminosissimo e molto ben arieggiato La pulizia davvero impeccabile, massima flessibilità sugli orari di check-in e check-out, le comunicazioni con la signora Maria Clelia sempre puntali e precise, posizione ottima per la vicinanza al centro storico ed a negozi vari, tutto molto bello!
Emanuele
2017-03-08T00:00:00Z
We were very disappointed with our stay. The listing does not say anything about the location just above beer garden and on the street laid by pubs. It was impossible to enjoy the evening with open windows as the noise, loud music and drunken voices were heard last until 2 - 4 am. It was impossible to sleep either. I would not recommend it to anyone who is looking for a quiet and relaxing week/ weekend. It is also impossible to park the car close to the flat, so you must be prepared to park very far away and pay hefty parking charges. Siamo rimasti molto delusi con il nostro soggiorno. L'elenco non dice nulla circa la posizione appena sopra giardino della birra e sulla strada di cui da pub. Era impossibile per godersi la serata con le finestre aperte, come il rumore, musica ad alto volume e le voci ubriachi sono stati ascoltati scorso fino 2-4 del mattino. Era impossibile dormire neanche. Non lo consiglio a tutti coloro che cercano un posto tranquillo e rilassante settimana / week-end. E 'anche impossibile parcheggiare l'auto vicino al appartamento, così si deve essere disposti a parcheggiare molto lontano e pagare spese di parcheggio pesanti.
M
2017-02-26T00:00:00Z
Art der Unterkunft
Ganze Unterkunft
---
Objekttyp
Wohnung
---
Unterkunft für
2
---
Schlafzimmer
Pozzuoli, Kampanien, Italien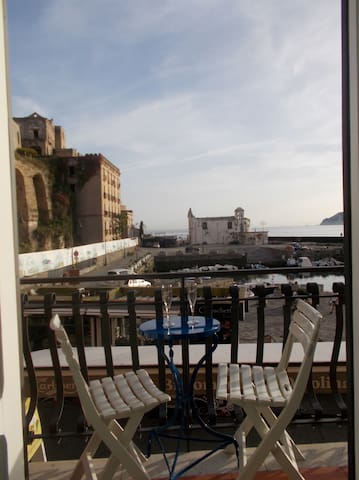 Per un soggiorno indimenticabile questa caratteristica casetta in legno e tufo è ideale per trascorrere una piacevole vacanza in una zona antica e affascinante come "Pozzuoli". Può ospitare due persone, è centrale, molto tranquilla e ben collegata! UN DELIZIOSO E ACCOGLIENTE APPARTAMENTO VI ASPETTA PER TRASCORRERE UNA VACANZA SPECIALE!!! AN CHARACTERISTIC AND TIPICAL APARTAMENT FOR A SPECIAL HOLIDAY FOR YOU!!!
L'appartamento, e' vicinissimo alla fermata della cumana 'Gerolomini' (2 minuti a piedi), (affaccia proprio sulla fermata della stazione), che collega il centro storico di Napoli con la bellissima zona archeologica e balneare flegrea. E' situato tra il vulcano Solfatara ed il mare (5minuti a piedi), molto ben collegato con Napoli e con le sue isole (Ischia, Procida e Capri). La casa è ospitale, accogliente e tranquilla, ma vicina ad una delle zone piu' frequentate e piena di ristoranti e pizzerie tipiche napoletane,bar, pub e vinerie. Nella stanza privata a disposizione degli ospiti e' disponibile un televisore con canali italiani, un guardaroba a due ante con cassettiera e specchiera interna .Non disponiamo di impianto di riscaldamento e di aria condizionata ma sono presenti una stufa a gas per il periodo invernale e un ventilatore da appoggio per il periodo estivo. Offriamo un set di asciugamani completo e garantiamo che il cambio delle lenzuola avvenga ad ogni nuovo arrivo. La cucina e' dotata di forno a microonde, bollitore, macchina automatica per caffè lungo e moka express. La colazione all'italiana , compresa nel prezzo, è self service, metteremo a vostra disposizione sul tavolo del soggiorno-cucina o del terrazzino (a vostra scelta e ovviamente secondo le condizioni meteorologiche) caffe', thè, zucchero, biscotti, cereali, frutta e miele e nel frigo troverete latte e succhi di frutta. Il bagno è completo di lavandino e bidet ed è provvisto di una confortevole vasca, di un phon, di bagnoschiuma e shampo. Vi aspettiamo e vi garantiamo che al vostro arrivo troverete un appartamento rigorosamente pulito e profumato, accogliente ed ospitale. Our flat is very close (2min a piedi) from the train Cumana "Gerolomini" station that connects the historic center of Naples with the beautiful archeological and bathing area Flegrea. Our apartment is located between the vulcan Solfatara and the sea (5min walk), very well connected with Naples and its islands (Ischia, Procida, Capri). The apartment is nice , welcoming and quiet, but close to one of the areas most popular and full of restaurants and typical neapolitan pizzerias, pubs and wine bars.
La casa e' situata a poche decine di metri dal lungomare Pertini e da via Napoli ricca di ristoranti, pizzerie,bar,pub e vinerie e soprattutto la sua posizione e' molto comoda per chi vuole visitare tutta l'area flegrea ,ricca di storia e di siti archeologici e paesaggistici o per raggiungere centri benessere con saune naturali. La nostra casa è situata proprio accanto alla stazione della cumana (simile alla metropolitana) stazione Gerolomini che porta in 25/30 minuti a Napoli Montesanto, mentre per andare sul Lungomare di Pozzuoli dal nostro appartamento bisogna percorrere un piccolo sottopassaggio pedonale e in cinque minuti a piedi siete arrivati..
Bei Ornella ist es einfach super. Ornella und Franco sind mega sympatisch und herzliche Gastgeber. Die Wohnung ist extrem sauber, was nicht leicht ist bei all den Sachen....Wir hatten eine tolle Zeit und kommen sehr gerne wieder.
Karin
2016-10-16T00:00:00Z
I had an amazing stay! They were wonderful they treated me like family. Super quiet neighborhood. Really beautiful home. Really comfortable. And they made me feel right at home.
Joey
2016-07-28T00:00:00Z
Ornella and Franco are wonderful and caring hosts. I arrived at their place a day after suffering a nasty bout of food poisioning. I was very weak and tired and they immediately gave me probiotics and Ornella offered to cook me some white rice as I hadn't eaten in 24 hrs. The following 3 days They were very attentive and caring and generous. Aside from that, they are very nice company! If you are a traveller who likes to get involved and get to know the local people then I strongly recommend staying here. They bend over backwards for their guests. The room, bathroom and house are all very clean and spacious. Ornella takes a lot of care to keep everything clean and tidy for her guests.
lorenza
2016-08-20T00:00:00Z
I liked staying at Ornella's so much I decided to stay here my last day! I just can't get enough of them and will miss them SO much.
Evie
2016-08-31T00:00:00Z
Tutto al massimo livello
ALESSANDRO
2016-09-18T00:00:00Z
Ornella e il marito sono persone di straordinario valore umano e raro senso dell'ospitalità. Il soggiorno ha superato ogni aspettativa ed è trascorso come a casa di amici di vecchia data. La casa è pulitissima e ordinata, a due passi dal lungomare, ma in un'area tranquilla, collegata perfettamente con i mezzi pubblici e vicinissima al centro di Pozzuoli. È stata un'esperienza magnifica, sia sotto il profilo umano che turistico.
Riccardo
2017-01-02T00:00:00Z
Yesss!!!!!! If you want real rest, grate people, charming, warm persons, enjoy of everything-you must go here!!!! It was lovely days I really enjoy) Thanks, grazia And warmest wishes To Ornella and Franko! CIAO!
Анна
2016-07-26T00:00:00Z
Ottimo! Ornella e Franco sono due persone rare: sono stati gentilissimi, attenti, premurosi e rispettosi. Si sono preoccupati di farmi sentire a mio agio sin da subito. L'accoglienza è stata fantastica, con un benvenuto culinario eccellente e con la loro compagnia che è stata gradevolissima. Sono stati costantemente accorti che non mancasse nulla e che il soggiorno fosse il più gradevole possibile. Sono stato molto contento di conoscerli e mi dispiace di non aver potuto trascorrere pù tempo con loro.
Giovanni
2016-07-31T00:00:00Z
Art der Unterkunft
Privatzimmer
---
Objekttyp
Wohnung
---
Unterkunft für
2
---
Schlafzimmer
Pozzuoli, Napoli, Italien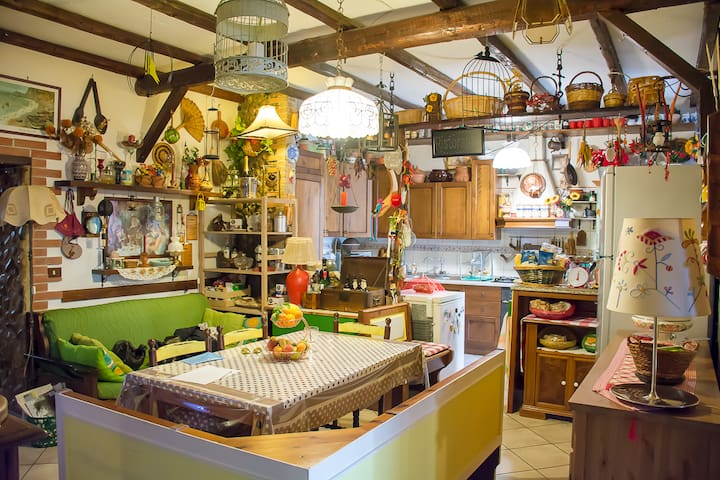 Appartamento sito nel centro storico di Pozzuoli, ai piedi del Rione Terra e a un passo dal porto, in prossimità delle maggiori attrattive culturali e ricreative.
Interno 4 è molto accogliente e appena ristrutturato. Comprende camera da letto, bagno e soggiorno cucina. L'appartamento è dotato di tutti i servizi e comfort. A vostra disposizione connessione Wifi gratuita e presa Ethernet, aria condizionata, TV Led 32", frigobar, cucina attrezzata, bagno con box doccia in cristallo, phon, prodotti da bagno, asciugamani, lenzuola.
Appartamento situato nel pieno centro storico, culturale e ricreativo, di Pozzuoli. Nelle prossimità dei comuni mezzi di collegamento e delle più importanti attrattive del luogo
Art der Unterkunft
Ganze Unterkunft
---
Objekttyp
Wohnung
---
Unterkunft für
2
---
Schlafzimmer
Pozzuoli, Kampanien, Italien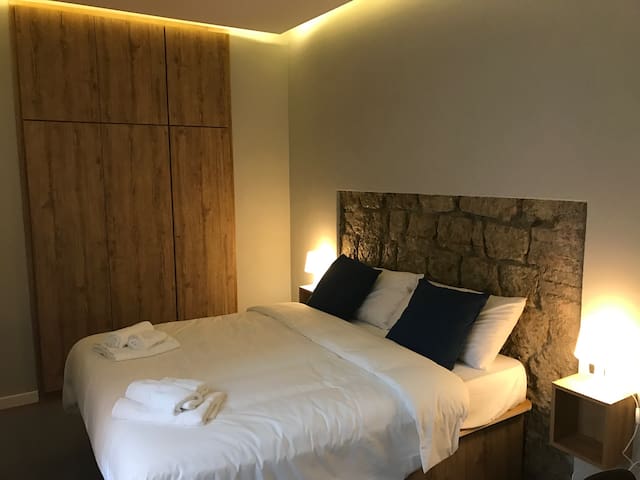 Il mio alloggio e' centralissimo, e a due passi dalla metro per Napoli. Puoi facilmente raggiungibile a piedi sia il centro storico di Pozzuoli con le sue viuzze, i negozietti, i tanti ristorantini di pesce fresco ed i lounge bar sia il porto per imbarcarsi per le isole di Ischia e Procida. Il rione terra, l'anfiteatro flavio, il tempio di serapide e la Solfatara sono tutti a pochi minuti di cammino. Lago d'averno, L'altro della Sibilla, Baia,Bacoli e Monte di Procida e spiaggie sono molto vicini. Stile moderno, giardino attrezzato e palestra indipendente
The host canceled this reservation 21 days before arrival. This is an automated posting.
Filippo
2017-03-23T00:00:00Z
Art der Unterkunft
Ganze Unterkunft
---
Objekttyp
Wohnung
---
Unterkunft für
5
---
Schlafzimmer
Pozzuoli, Kampanien, Italien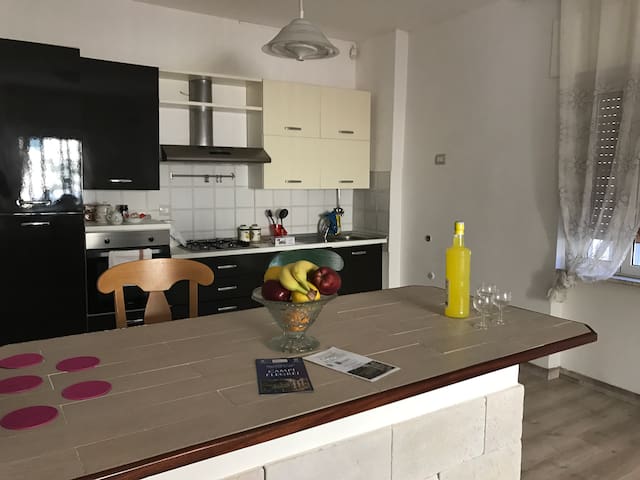 The apartment is located in the center of Pozzuoli 100mt from circumflegrea station connecting neighboring cities, 500m from the port that connects the islands of Ischia and Procida, and to 700mt from the metro leading to Naples. It is very elegant and design with wood floors and stone cladding; There is 1 bathroom, 1 bedroom, a living room with sofa bed and a fully equipped kitchen. There is free WiFi and Aryan conditioning in all rooms.
It has a modern and design furniture, parquet and stone floor coverings; the accommodation includes 1 bathroom with glass showers, 1 bedrooms with satellite TV 50 "relaxation area and cosmetic corner, a living room with sofa bed and satellite TV 32" and a fully equipped kitchen with refrigerator and dining table. There is free WiFi and Aryan conditioning in all rooms. Super equipped. Breakfast is included in the living room and is available at the bar located just 20 meters from the house, also it is possible by booking the room service
The apartment is located in the center of Pozzuoli and therefore close to all the attractions of the city
Art der Unterkunft
Ganze Unterkunft
---
Objekttyp
Wohnung
---
Unterkunft für
4
---
Schlafzimmer
Pozzuoli, Kampanien, Italien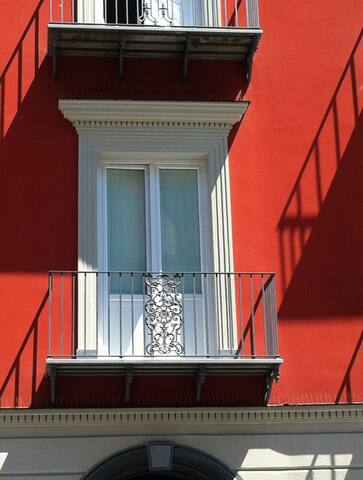 This fantastic home, surrounded by nature, can comfortably accommodate 4 persons (2 in the bedroom and two on a sofa bed). Guests have free access to outside areas, parking, private patio. Perfect starting point for visiting Campi Flegrei, Ischia ecc...
Surrounded by a wonderful vineyard of Piedirosso (an ancient grape variety that has always been cultivated in the area) the 2 level apartment has an independent access and private parking. On the ground floor there is a wide living with a comfortable double sofa bed, a fully furnished kitchen and a small bathroom. On the second floor there is a well refined bathroom (with double bed and desktop) and a bathroom with shower. The amazing terrace has a nice patio and is furnished with table, kitchen area and barbecue. There is also a sunny terrace (with ping pong table) overlooking the bay of Pozzuoli and the islands of Procida and Ischia. The apartment offers a perfect base to enjoy the beauty of the area and to visit Solfatara and the archaeological sites of Baia, Bacoli, Cuma etc.
The Solfatara of Pozzuoli is without doubt the most interesting volcano of Campi Flegrei, an area north of Naples made up of about 40 ancient volcanoes. In its surroundings there are historical places of special interest such as the Flavian Amphitheatre, the Acropolis of Cuma, the Baths of Baia, the Temple of Serapis. With an area of about 33 hectares, it is a natural oasis that offers the starting point for an interesting walk offering not only the renown volcanic phenomena such as fumaroles, mofettes and mud small volcanoes, but also wooded and Mediterranean vegetation, not to mention some natural, geological, botanical and wildlife wonders. The Solfatara in Pozzuoli offers the opportunity for a quiet walk in an area rich in natural green, far from the usual noise of the city. A wide parking lot is provided for private vehicles and tourist buses, just in the vicinity of the entrance, the path is only for pedestrians.
Everything was very clean and the host is very friendly and helpful!
Blake
2017-03-30T00:00:00Z
De plek is erg bijzonder, veel ruimte en inderdaad een fantastisch uitzicht. Het is een fijne plek om lekker uit te rusten, te lezen, en uitstapjes te maken. Ligt vrij centraal, dus ook zonder auto kun je genoeg zien van de omgeving.
Elsbeth
2016-08-11T00:00:00Z
Ottima accoglienza per una mini-vacanza stupenda! La casa è dotata di tutti i comfort, molto vicina al centro ma gode della pace e della tranquillità dei vigneti. Molto sicura con il doppio cancello per l'accesso al quartiere e alla casa. Vista stupenda e il calore dei proprietari davvero impagabile!!! Consigliatissima!!
ivano
2016-07-19T00:00:00Z
Art der Unterkunft
Ganze Unterkunft
---
Objekttyp
Wohnung
---
Unterkunft für
4
---
Schlafzimmer
Pozzuoli, Kampanien, Italien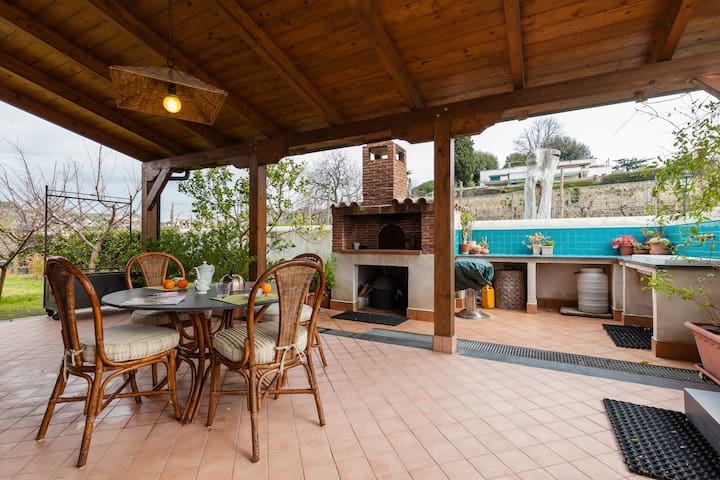 Piccolo appartamento nel cuore del centro storico di Pozzuoli. a pochi passi dal caratteristico porto di Pozzuoli, di fronte alle tre isole di Procida, Ischia e Capri. A pochi metri dalla Solfatara ed il tempio di Serapide. Circondato da spiaggie.
Anche essendo situato nel centro storico l'appartamentino è molto confortevole e intimo per persone che vogliono abbinare una vacanza che alterna shopping, movida e visite culturali alla tranquillità della location.
L'appartamento si trova in un vicoletto caratteristico del centro storico adiacente alle strade principali dello shopping flegreo.
Miriam è una ragazza carissima. La abbiamo disturbato tanto volte per l'orario di checkout, stava sempre gentilissima! L'appartamento sta nella zona marina, bellissima, anche molto tranquilla alla notte. Lo consiglio a tutti!
Xiaomin
2016-07-10T00:00:00Z
Great little apartment in a great location
Matthew
2017-02-07T00:00:00Z
Miriam è molto gentile e disponibile. L'appartamento è in una zona perfetta per vedere Pozzuoli.
Monica
2015-11-03T00:00:00Z
Un appartement bien placé en plein centre ville de Puzzuoli, jolie petite ville agréable en pleine transformation (beaucoup de travaux d'embellissement de la ville sont en cours), située à proximité de la mer, des plages et de la célèbre Sulfatara, à ne pas manquer. l'appartement est conforme à sa description, un epu sombre mais confortable. L'accueil de Miriam et sa famille a été agréable et attentif. A noter , Myriam parle parfaitement le français.
Aurelie
2015-08-07T00:00:00Z
Myriam et sa mère sont très accueillantes et aidantes. La literie était confortable mais la douche n'était pas optimale.
Pauline
2015-10-07T00:00:00Z
La casa sibtorva in una zona incantevole della bella Pozzuoli, l'host è stato molto gentile e disponibile se avremo l'occasione torneremo!
Andrea
2016-04-26T00:00:00Z
Great location, great neighborhood close to everything good host and very helpful. Parking a little problematic but able work around it, 10 euro a day, Worth paying for considering the location. €10 a day for air condition, was a surprise. Do not recommend for people with allergies as the apartment has a musty smell being on the ground floor.
Salvatore
2016-09-11T00:00:00Z
I can recommend this place for turists who would like to stay overnight while visiting islands: Ischia, Procida. Place is really close to the port from where direct ferry goes. Its fair price/to standard of the appartment offer. I am ERASMUS student who wanted to stay whole month, and mainly because of no internet (which is mentioned in the offer) plus no cell phone signal I was not able to stay there longer than one night. I have to mention that Miriam kindly agreed for leaving my suitcase while searching for new appartment plus to get all my money back. Overall I can recomend this place for tourists visiting bay of Naples who are searching for convenient economical accommodation.
Wioleta
2015-10-28T00:00:00Z
Art der Unterkunft
Ganze Unterkunft
---
Objekttyp
Wohnung
---
Unterkunft für
4
---
Schlafzimmer
Pozzuoli, Kampanien, Italien
Ia mini suite e' dotata di tutti i confort e' situata a picco sul mare nella baia di Pozzuoli. E' ideale per chi desidera rilassarsi in totale silenzio, interrotto solo dal suono delle onde.
Ia mini suite e' composto da una piccola cabina armadio all'ingresso,da un divano letto francese ,un angolo cottura in muratura con maioliche vietresi, un soppalco con letto francese, bagno vietrese ed una finestra panoramiche a picco sul mare.E' dotato di aria condizionata e riscaldamento. Puo' ospitare due persone fino ad un massimo di quattro persone.
Dalla mini suite e' possibile raggiungere a piedi luoghi di notevole interesse storico come le rovine Romane dell' Anfiteatro Flavio il secondo in grandezza dopo il Colosseo, le rovine del Tempio Romano di Serapide, il Rione Terra, vecchio Borgo Marinaro. In macchina o autobus e' possibile raggiungere la Necropoli Greco-Romana di Cuma dove sorge la grotta della Sibilla Cumana. A circa 10 min. si trova il cratere del Vulcano Solfatara.
Art der Unterkunft
Ganze Unterkunft
---
Objekttyp
Wohnung
---
Unterkunft für
4
---
Schlafzimmer
Pozzuoli, NA, Italien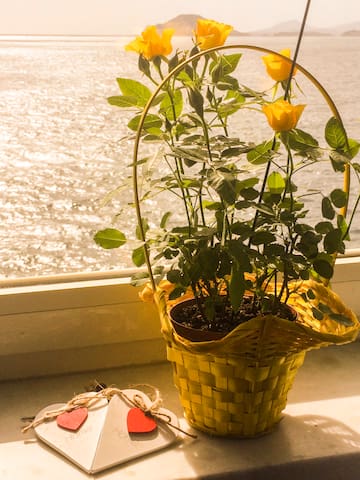 Casa Mare & Relax è ubicata nel centro di Pozzuoli (Na) con affaccio diretto sul Tempio Di Serapide. L'appartamento è situato in un contesto accogliente e di elevato confort con interni nuovi. Wi-fi, aria condizionata, riscaldamento, cassetta di sicurezza, TV. E' curato nei minimi dettagli. Location che può ospitare fino ad un massimo di 6 persone. La Casa Mare & Relax è la casa vacanza ideale per trascorrere piacevoli momenti di relax e comodità nella splendida citta di Pozzuoli.
La dimora è si trova sulla spendida costa flegrea: a 50 mt dal porto per gli imbarchi verso le isole di Ischia e Procida, a 100 mt dalla fermata della stazione ferroviaria cumana di Pozzuoli, a 600 mt dalla metro di Pozzuoli a 200 mt dal rione terra (è l'unico luogo che è stato protagonista di tutte le evoluzioni storiche fin dai primi anni della colonizzazione greca e romana fino all'epoca moderna), a 1 km dalla notissimo vucano Solfatara a pochi km dall'imbarco per Capri al centro dai siti archeologici ( Anfiteatro Flavio, Scavi di Cuma,ecc.) Per gli amanti dello shopping la citta' offre innumerevoli negozi di ogni genere aeroporto di Capodichino 16 km.
Brand-new, completely renovated, very practical apartment that comfortably hosted us (3 adults & 2 children). Angelo was fantastic both in terms of welcoming us and providing suggestions for things to do and places to eat. The view from the window directly onto the Tempio di Serapide is great! Definitely a very nice experience in Pozzuoli.
Adriana
2017-04-02T00:00:00Z
Art der Unterkunft
Ganze Unterkunft
---
Objekttyp
Wohnung
---
Unterkunft für
6
---
Schlafzimmer
Pozzuoli, Kampanien, Italien
ITA Posto ideale per godersi a pieno un soggiorno a Pozzuoli, perla dei Campi Flegrei. L'appartamento si trova in una zona centrale e molto strategica dalla quale è possibile raggiungere facilmente e a PIEDI i principali luoghi di interesse turistico culturale. E' stato ristrutturato recentemente quindi si presenta in uno stato pari a nuovo. --------------------- ENG Ideal place to enjoy a full stay in Pozzuoli, pearl of the Campi Flegrei. The apartment is located in the center of high Pozzuoli.
ITA L'appartamento è situato al terzo piano di una palazzina di sole 3 unità abitative, quindi molto tranquillo, luminoso e completamente indipendente. E' composto da una stanza con letto matrimoniale, angolo cottura, balcone con ottima esposizione e bagno finestrato con cabina doccia. A richiesta possibilità di un lettino aggiunto o culla. ---------------------------------------------------------------------------------------------- ENG The flat is located on third floor in a building of only 3 units, so very quiet, bright and completely independent. It consists of one room with double bed, kitchenette, balcony with excellent exposure and a bathroom with shower. On request possibility of a cot or cot.
ITA L'appartamento è situato in un quartiere molto centrale della città. Nelle vicinanze è possibile accedere a tutti i servizi necessari (supermercati, lavanderia, pub, ristoranti, banca). ---------------------------------------------------------------------------------------------- ENG The flat is located in a very central district of the city. Nearby you can access at all the necessary services (supermarkets, laundry, pubs, restaurants, bank).
Il posto è molto accogliente , luminoso e la pulizia eccellente. Il Sig. Michele e la Sig. Anna Maria sono persone molto educate e simpatiche. L'appartamento è ampio provvisto di aria condizionata , il letto molto comodo , le lenzuola pulite e profumate . Inoltre vi è un frigorifero ed un angolo cottura il tutto molto pulito . Davvero un posto confortevole nel cuore di POZZUOLI.
Anna
2017-02-19T00:00:00Z
Fantastic hosts - highly recommend !
Martha
2017-03-30T00:00:00Z
Michele molto cordiale e disponibile. Casa molto pulita in una zona tranquilla di pozzuoli, ma comunque a due passi dal centro. Consigliato
giuseppe
2017-02-06T00:00:00Z
Sempre tutto perfetto! Consigliatissimo
giuseppe
2017-02-12T00:00:00Z
Nice, clean and spacious place. This apartment has everything you might find necessary while visiting Campania region. Big and comfy bed, little balcony, AC, very nice bathroom and kitchen. Basically – if you're looking for a conveniently located cozy apartment, close to Pozzuoli city center with superb hosts – this offer is what you are looking for. Highly recommended!
Bartłomiej
2017-03-24T00:00:00Z
Art der Unterkunft
Ganze Unterkunft
---
Objekttyp
Wohnung
---
Unterkunft für
3
---
Schlafzimmer
Pozzuoli, Kampanien, Italien
Nel mitico territorio dei Campi Flegrei, ricco di meraviglie, ai piedi dell'oasi del WWF, sorge il mio grazioso appartamento di 55 mq; arredato con cura, composto da cucina soggiorno con divano letto, ampio bagno, finestrato, in contesto tranquillo.
L'unicità del mio appartamento è il contesto e tutto ciò che c'è da visitare a pochi minuti, a piedi, in bicicletta e con comodi mezzi pubblici.
Il quartiere offre tante comodità commerciali.
Until now, every Airbnb review I have written has been positive - 4 or 5 stars. I was not going to review Francesco's apartment, but thought I should be honest for other guests. Francesco manages a large block of units (this is one of the units). He is not a usual Airbnb host, and I don't think realises what is expected. For example, in the kitchen there was no: detergent, dish clothes or brushes, teatowel, plug for the sink, the only saucepan did not have a handle, the only pot had a broken handle, there was only one teacup, there was no salt, pepper, sugar, vinegar, oil etc. In the bathroo m there was no: hand wash liquid, shampoo etc and the only way we could easily flush the toilet was by removing the cistern lid and doing it manually. The unit was not at all clean, particlarly the shower. There were no maps, brochures or books about the area. The only information we were given was when we were asked a specific question, for example "where is the supermarket?" I would not recommend this accomodation until it is brought up to the standard of other Airbnb apartments.
Margaret
2016-04-20T00:00:00Z
Art der Unterkunft
Ganze Unterkunft
---
Objekttyp
Wohnung
---
Unterkunft für
2
---
Schlafzimmer
Pozzuoli, Kampanien, Italien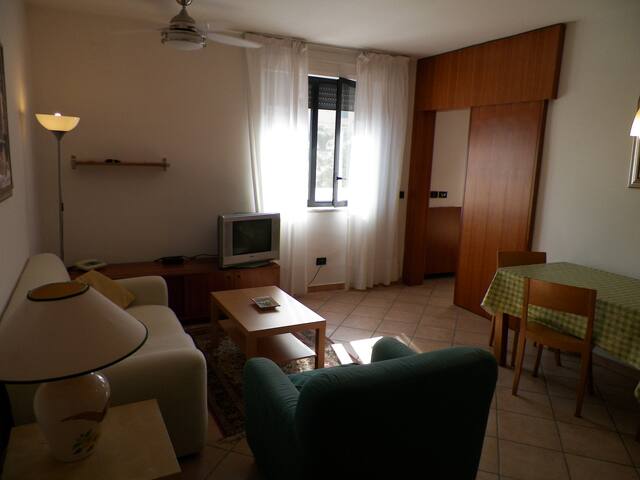 Questa casa è un'occasione per scoprire i contrasti e le fusioni di un territorio complesso come quello della provincia di Napoli. Come quando capita di affacciarsi all'alba e vedere i pescatori sistemare le reti e prendere il largo mentre i nottambuli del fine-settimana fanno colazione prima di ritirarsi.
L'alloggio è un monolocale soppalcato con un ampio bagno dotato di vasca. E' presente l'aria condizionata se necessaria, e la cucina è attrezzata e funzionante. Il letto, sito sul soppalco, è di tipo matrimoniale alla francese. L'appartamento affaccia direttamente sul mare.
Il quartiere si alza all'alba con i pescatori che escono con le lampare ancora accese e il cielo appena rosa. Resta estremamente tranquillo per tutto il giorno, fino al tramonto. Dopo il tramonto comincia a popolarsi di giovani e di luci, la musica è nei vicoli e dura fino a mezzanotte.
Complimenti ad Eleonora per come gestisce il suo monolocale. L'accoglienza è stata ottima e l'appartamento è dotato di tutti i comfort! Il quartiere è fantastico proprio sopra il Gozzetto. Non solo lo consiglio ma credo che ci tornerò!!
Andrea
2016-09-05T00:00:00Z
Eleonora è stata molto gentile e disponibile, la casa piccola ma molto accogliente con una vista strepitosa sul mare. Mi sono sentita a casa e sicuramente tornerò di nuovo.
Civita
2016-08-30T00:00:00Z
Eleonora and Mustafa made us very welcome. We loved the flat and the location - very comfortable and amazing views. There is so much to see in and around Pozzuoli. Good restaurants in the town. We loved going to one of the local islands - Procida. Much more to do and explore there.
Simon
2016-09-23T00:00:00Z
We are choosed Eleonora's apartment for our honeymoon. It was awesome time. The place is wonderful: sea view, roof. The apartment was clean and super cozy! Eleonora made a cake for us (for our honeymoon, thank you!) and left some food and jams for breakfast. Unfortunately we did not meet with Eleanora, her boyfriend showed us apartments but conversation before with Eleanor's was great, she promptly answered our questions and got some recommendations. In the evening can be a bit noisy because of the bars at the windows, but we are absolutely not an inconvenience. Station about 10 minutes walk. There are many cozy restaurants with good wine and pizza and tasty gelatto. We are so happy and highly recommend this apartment!
Dima
2016-09-30T00:00:00Z
Lieu idéal pour passer un séjour en amoureux au cœur de Pozzuoli. La vue sur le petit port, son église, le vieux quartier Rione Terra, vous plongent dans une atmosphère idyllique. La terrasse du toit est tous simplement magique pour contempler le coucher du soleil.
Sonia
2016-10-25T00:00:00Z
La casa è in una posizione ottima e consente di vivere appieno Pozzuoli e tutto ciò che offre. L'appartamento è pulito e funzionale. Un'ottima scelta per passare qualche giorno alla scoperta dei campi Flegrei. Eleonora ed il suo fidanzato sono host simpatici e precisi.
Riccardo
2016-08-15T00:00:00Z
Great little spot with a beautiful view! Close to everything we needed, including the metro. Everything within walking distance including markets, shopping, and great places to eat. Highly suggest the restaurant right below the bnb!
Erika
2017-02-21T00:00:00Z
Eleonora oli erittäin ystävällinen. Asunto vastasi kuvausta ja sijaitsi hyvällä paikalla keskustassa.
Jouni
2016-10-29T00:00:00Z
Art der Unterkunft
Ganze Unterkunft
---
Objekttyp
Wohnung
---
Unterkunft für
2
---
Schlafzimmer
Pozzuoli, Kampanien, Italien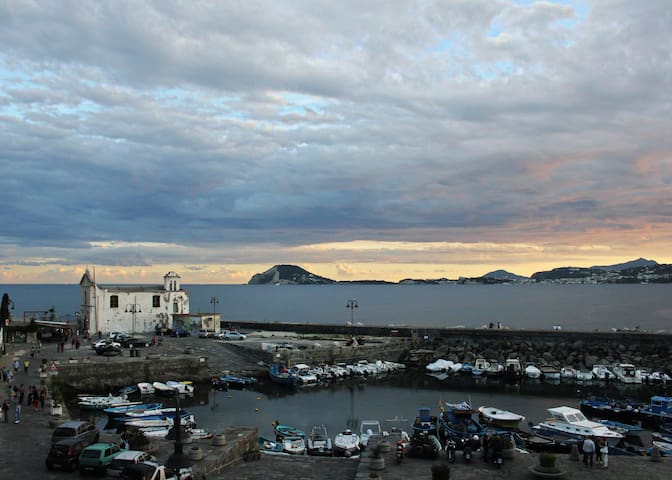 POZZUOLI - Casa vacanza a 50 metri dal mare e dal centro storico. Grazioso appartamento 4 posti letto, 1 bagno, arredato e completo di confort (TV, aria climatizzata). Posizione strategica. Servizio navetta per Napoli Centro anche per portatori di handicap. Imbarco a 100 metri per isole (Procida, Ischia e Capri). Tariffa base 50€ al giorno. Tariffa Alta Stagione 65€ al giorno. Prenotazioni minimo 3 giorni. Parcheggi con tariffe comunali.
Art der Unterkunft
Ganze Unterkunft
---
Objekttyp
Wohnung
---
Unterkunft für
4
---
Schlafzimmer
Pozzuoli, Kampanien, Italien
It is a lovely place Very welcoming host showing you the beautiful City
If you are looking for the perfect holidays in Italy - you are on the right way! The Valerio's house is clean, warm and very welcoming with everything you need. It is the perfect place for the artists and for the sport and nature lovers: you have the opportunity to draw, to discover wonderful routs by run, make yoga on the sunrise etc. And you will have the best location for your inspiration - the house located by the sea with the breathtaking view. Valerio is an amazing host which always kind and ready to help with everything to make your staying in Italy unforgettable. Highly recommend!
Nataliya
2017-03-07T00:00:00Z
Valerio was an amazing host. We communicated before I arrived so he would be home when I came to check in. He waited outside to greet me. After getting settled in, Valerio gave me a quick tour of the city and some recommendations on what to eat. He is a very trustworthy and friendly person. He is willing to show you around the city or leave you alone depending on your preference. The room was simple but very comfortable. Valerio is in the process if remodeling his home so it will only improve. The room was furnished with a bed, desk, and a balcony. The bedroom and bathroom was very clean. Wifi was convenient for checking emails. Valerio told me beforehand that there was no kitchen as he was fixing it. This was not a problem for my stay. The view around the apartment is beautiful as it right in front of the beach. There are shops lining the first floor of every building. The location is very central. I was able to walk to Lake Averno, the train stations, and the Sulfatara from his apartment. At night it can get noisy due to the liveliness but the city is quiet at midnight.
Joey
2017-04-01T00:00:00Z
Perfect place, incredible localization and Valerio is such a helpful and kind host. I'm sure I will go back there and I recommend this place to everyone :)
Kasia
2017-03-21T00:00:00Z
Art der Unterkunft
Privatzimmer
---
Objekttyp
Wohnung
---
Unterkunft für
4
---
Schlafzimmer
Pozzuoli, Kampanien, Italien
Pozzuoli - Airbnb
:
Durchschnittlich

4.65

von

5

Sternen aus

239

Gäste-Bewertungen