Dieses schöne und gemütliche Wohnung im 1. Stock, befindet sich in der schönen, ruhigen und komfortablen Umgebung von Peraia entfernt. Es ist nur von SKG Flughafen zum Strand und 10 Minuten Fahrt zu Fuß 5min.
Dies ist ein 50sq / m Appartement, 1 Schlafzimmer im ersten Stock. Seine modern eingerichtet und verfügt über fast jedes elektrische und elektronische Ausrüstung für Sie während Ihres kurzen Aufenthalt benötigen. Hat eine große und geräumige balacony auf der Vorderseite und einem privaten Parkplatz abgedeckt. Fenster haben Rollläden und Moskitonetze für ruhige und komfortable Nächte. Wohnzimmer hat ein brandneues Ledersofa und einen 37 "Flachbildschirm-TV mit 2.1-Lautsprechersystem. Schlafzimmer verfügt über ein großes Doppelbett und einem großen Doppel-Kleiderschrank mit Spiegeltüren und einen Ventilator.
Die Nachbarschaft ist sehr ruhig und sicher, ich seine schönsten Viertel in Peraia glauben.
This place is just spectacular, you really can't beat it! Perfect location for exploring, really comfortable, quiet, the house has everything you need and it's really close to the sea! Although only a short stay, i had a wonderful time. Odysseas was very welcoming and friendly! Totally recommended! STOP LOOKING AROUND! THIS IS THE PLACE TO BE!!!
George
2017-04-05T00:00:00Z
Το κατάλυμα είναι ένας ωραίος μοντέρνος χώρος σε μια ήσυχη περιοχή. Πολύ καθαρό σε προσιτή τιμή. Συνίσταται για καλοκαιρινές διακοπές .Επίσης έχει ιδιωτικο χώρο στάθμευσης για το όχημα και πολύ ωραίο και μεγάλο ηλιόλουστο μπαλκόνι .
Valadis
2017-04-09T00:00:00Z
Art der Unterkunft
Ganze Unterkunft
---
Objekttyp
Wohnung
---
Unterkunft für
2
---
Schlafzimmer
Perea, Griechenland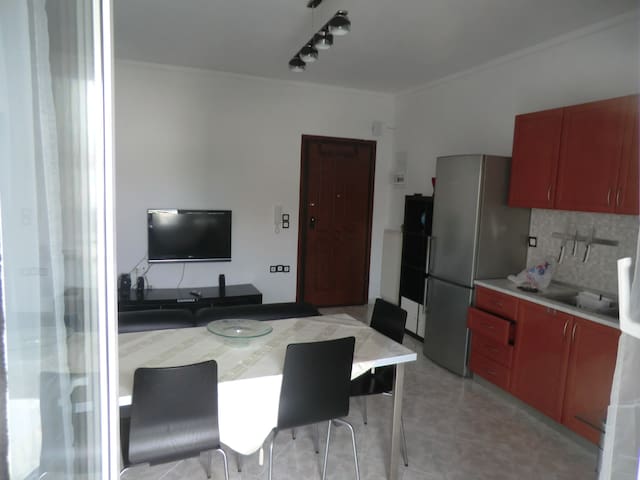 Unsere Wohnung ist ca. 300 m. weit von der sea.It ist in einer ruhigen (URL HIDDEN) der Nähe des Flughafens und der 'Mediteranean Cosmos'.There gibt viele traditionelle Tavernen und Cafés in der Nähe des Sea.We können Sie alle Informationen finden Sie über die place.The Raum brauchen wir bieten für Unterkunft ein Bett für zwei, Wi-Fi und einen Balkon, wenn Sie etwas privacy.Otherwise benötigen, gibt es einen großen Balkon mit Pflanzen und Blumen, wo man sitzen und genießen Sie Ihren meals.We Hosting Menschen aus verschiedenen Teilen der Welt genießen.
Super liebe Ankunft - ich wurde sogar von den zweien vom Flughafen abgeholt, da die Busse gestreikt haben. ausserdem gab es direkt Tee, leckeres Frühstück mit selbstgebackenem Brot und selbstgemachte pflaumenmarmelade. Wirklich eine sehr sehr schöne Unterkunft mit super lieben Menschen, bei denen man sich wirklich zuhause fühlen kann!
Jenny
2016-09-19T00:00:00Z
Лемония и Григорий очень милые и гостеприимные люди, жаль, что мы останавливались у них всего одну ночь. Комната полностью соответствует описанию.
Viktoriya
2016-10-07T00:00:00Z
Very nice an warm welcome from Limona and his husband. Everything was perfect
piotr
2016-10-23T00:00:00Z
Un accueil très sympathique dans un très bel appartement
nicolas
2016-10-25T00:00:00Z
Всем добрый день! Наш отдых у Лемонии и Григория был неподражаем: великолепно все, от интерьера до расположения квартиры, от моря до доступности магазинов и транспорта, близость к аэропорту, вкуснейшие блюда которыми нас угощали, познавательные душевные беседы на любые темы. Коротко: условия для беззаботного отдыха более чем идеальные, Лемония и Григорий гостеприимны на на 1000%! Друзьям и знакомым мы с уверенностью рекомендуем остановиться здесь для спокойного семейного отдыха и погружения в культурную среду местных жителей. Hello everybody! Our stay at Lemonia and Gregory were amazing: great for everything from interior design to location, from sea to availability of shops and transport, proximity to airport, delicious food which we were treated, cognitive mental conversation on any topic, and so on. In short: the conditions for a carefree holiday is more than perfect, Lemonia and Gregory hospitable to 1000%! For friends and acquaintances we strongly recommend to stay here for a relaxing family holiday and immersion in the cultural environment of local residents. Good luck!
Антон
2016-07-15T00:00:00Z
So welcoming and friendly with everything thought of! It was so nice to meet the hosts who went above and beyond to make our stay so nice and easy! Thank you very much, this is a gem!
Woosh
2016-09-20T00:00:00Z
l'appartement était très spacieux, tres calme, décoré à mon goût et j'avais même un balcon personnel! mais surtout et avant tout, mes hôtes ont été si acceuillants! nous nous sommes bien entendus et les discussions étaient interessantes et riches. j'ai même eu droit à une précision quant à mon anglais quelque peu aléatoire: merci à mon prof d'anglais à domicile! leur finesse et délicatesse m'ont beaucoup touchées aussi.vraiment. merci beaucoup à vous deux!
Veronique
2016-08-28T00:00:00Z
Lemonia and Gregory were great! We arrived late but they waited for us and offered us some food and drinks. We spent a nice evening chatting to them on their beautiful terrace. The place is incredibly clean and very beautiful. the neighbourhood is quiet and safe. We'd definitely recommend it to anyone!
Emilija
2016-08-25T00:00:00Z
Art der Unterkunft
Privatzimmer
---
Objekttyp
Wohnung
---
Unterkunft für
2
---
Schlafzimmer
Perea, Griechenland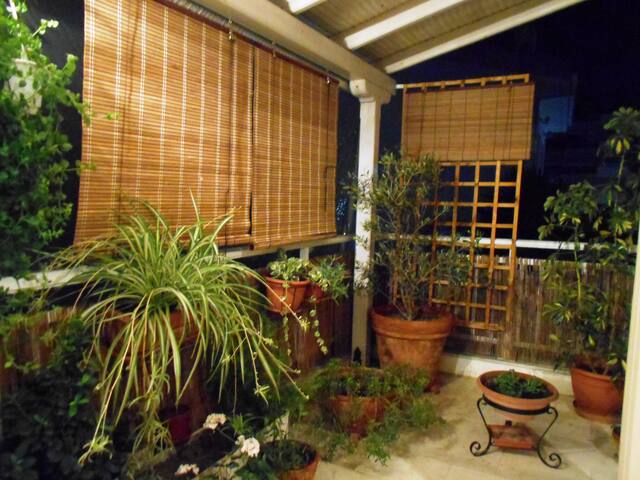 Stilvolle und komfortable 70m2-Wohnung, voll ausgestattet und nah an allen Annehmlichkeiten. Ideal für jeden, der die Wärme des Holzes, das Meer Vorderansicht und Schwimmen genießt !!! Es ist 10' vom Flughafen Thessaloniki und 20 Minuten vom Stadtzentrum entfernt. Die Wohnung kombiniert seine perfekte on-the-Strandlage und Innenarchitektur mit einem einfachen Zugang zum Stadtzentrum. Cafés, Strandbars und viele andere Dinge zu tun, während Ihres Besuchs - in der Nachbarschaft können Sie Strandbars, Supermärkte, Fitnessstudios, Tavernen, Bar.
Seafront apartment with luxurious furniture, located in the center of Perea area, on the beach. The flat is on the 3rd floor and the view is breathtaking! Relax and enjoy the sunset and the sea, while being in bed, office chair, or any other spot of the flat. It is perfect for couples, families with a kid, single travelers, executives, or friends exploring the city. The flat has a large double-bed, a large sofa that can be used as a single bed and a smaller coach that a kid can sleep in. If you love swimming, than this is it for you! In less than 1min you are swimming in the sea or laying in a deck-chair by the water, enjoying your cold drink! This designer flat offers ample natural lighting, air conditioning (for cooling and heating), security doors and windows (double glass windows, for better sound and temperature insulation), roll-down blinds for total darkness, super comfy double-bed, dinner table, couches, a large office, several storage places, a stereo and a cable TV and lastly the kitchen and bathroom that are fully equipped. Moreover, you can find pillows, sheets, towels and all the amenities you will need for a comfortable, relaxing stay. Our visitors can use anything they need from the house equipment.
You will find yourself within walking distance of all major spots of interest. The flat is situated in a neighborhood where you can find supermarkets, gyms, taverns, bar – cafés, beach bars and many more! Just ask me:) The neighborhood is quite calm and very safe, great for leisurely strolls on the beach, especially during the spring and summer months, when the warm weather allows you to enjoy the crystal clear water in front of the flat. About Perea: It is a combination of relaxation, fun, nature and history. Perea is located within 20 minutes from the center of Thessaloniki and only 10 minutes away from Macedonia airport. During the whole year, it is considered as one of the best starting points, for excursions to Halkidiki, Mount Athos, Kerkini lake and other regions, such as Vergina, Pella and Mount Olympus.
Elena is friendly and always helpful to help. The apartment itself is just heaven right next to the beach. it was still off-season but all the locals were still very friendly and nice. Can only recommend. Hope to be back in the main season.
Kristina
2017-03-25T00:00:00Z
Είναι κάποιες φόρες που στέκεσαι τυχερός και όλες οι παράμετροι του ταξιδιού σου ξεπερνούν και τις πιο τρελές σου προσδοκίες! Έτσι και στην επίσκεψη μας στο σπίτι της Έλενας: Φανταστικό σπίτι, υπέροχη θέα κι η πιο ευγενική κι εξυπηρετική οικοδέσποινα που μπορεί να σου τύχει! Η περιοχή είναι πολύ ήσυχη και ταυτόχρονα διαθέτει ότι μπορείς να χρειαστείς. Το σπίτι έχει τη δική του ξεχωριστή ενέργεια και ψυχή, διαθέτει όλες τις ανέσεις τόσο για βραχυχρόνια όσο και μακροχρόνια παραμονή, ενώ η Έλενα θα φροντίσει οτιδήποτε χρειαστείτε με απίστευτη προθυμία. Προσφέρεται τόσο για καλοκαιρινή εξόρμηση καθότι πάνω στη θάλασσα, όσο και για το χειμώνα αφού διαθέτει τρεις ξεχωριστές πηγές θέρμανσης για όλα τα γούστα. Σίγουρα είναι το απόλυτο value for money και η καλύτερη επιλογή για όποιον επιθυμεί μια ήσυχη περιοχή και δεν θέλει να μείνει στο κέντρο της Θεσσαλονίκης. Θα το ξαναδιάλεγα με κλειστά μάτια χωρίς να ψάξω κάτι άλλο. Τέλος για όποιον δίνει σημασία στην προσωπικότητα του ιδιοκτήτη, η Έλενα θα τον κερδίσει από την πρώτη επαφή, πριν καν βρεθεί στο σπίτι! Ευχαριστούμε για όλα!
Panagiotis
2017-02-20T00:00:00Z
We had a lovely stay at Elena's place! The location is fantastic; right on the water, but also close to the bus stop to get into the city. The apartment is comfortable and stylish. Elena was a great host, she helped us with any questions we had, and gave us so many useful tips. Would recommend a stay here :)
Gabi
2017-03-20T00:00:00Z
We have only good tings to say: the very friendly Elena and her mom welcomed us personally at the apartment and even showed us around town a bit. Elena had prepared a handy booklet with infos on Perea which was helpful during our stay (also, do follow Elena' advice on where to eat, you won't be disappointed!). This spotlessly clean and well-designed flat surely must have played a central role in some 70's Bond movie, it was that cool, stylish and classy! Everything you need is there, and we felt like true 'Jet Set' for four days :) And let's not get started about the beautiful view of the calming sea... Definitely a recommendable (and apparently new) stay if you have a car and want to be close to, but not necessarily in buzzing Thessaloniki. Thanks for the stay, ladies!
Samira
2017-03-07T00:00:00Z
L'appartamento è pulito e molto bello. È arredato con stile e ha una vista sula mare incredibile. Ha tutti i comfort ed Elena è una host gentile,premurosa e attenta.
roberto
2017-03-13T00:00:00Z
Art der Unterkunft
Ganze Unterkunft
---
Objekttyp
Wohnung
---
Unterkunft für
4
---
Schlafzimmer
Perea, Griechenland
Our cosy and elegant apartment with balcony and access to the private rooftop terrace with sunbeds, beachtawels, umbrella is located just in 3'-4' walking distance from the lovely sandy beach that is tacked between pine trees and clear, warm water. Switch off and relax, enjoy fresh fish restaurants, taverns with greek food and café-bars with free sunbeds. Grocery, pharmacy, supermarket are literally round the corner. Extremely convenient location to explore both Thessaloniki and Halkidiki .
Our bright with modern amenities apartment is located on the top of the two floor building therefore you can even sunbathing on the roof terrace if you decide (unlikely :)) to stay in. You will certainly enjoy golden sand beach that is tacked between pine trees and clear, warm water of the Thermaic Gulf, the blue sky, the picturesque sunset just a short walk distance from your door. You will have opportunity for swimming, walking, jogging, shopping and more. Highlights: The apartment is situated in Neoi Epivates which is great location for exploring not only Thessaloniki but whole Halkidiki area. It is just 19 km far from Thessaloniki's center and 11 km far from Makedonia airport (SKG). It consists of 2 bedrooms each with new comfortable king-size bed, 1 small room with sofa bed, 1 open plan living room with kitchen and 1 bathroom, new closets, air conditioning and TV. Bedrooms are facing the street with a park full of trees and beautiful large palm trees in the entrance of building. There is plenty space for free parking. enjoy fresh fish restaurants, taverns with delicious greek food and bars that are open till early morning. In cafe-bars on the beach you will get free sunbed with a bottle of cold water ordering your favorite coffee, fizzy drink or refreshing cocktail.
The neighborhood is scenic, quite and safe. Local food taverns, supermarkets, grocery stores, cafes, pharmacy within short walk distance. You will find services such as health center, police, taxi, public transport. The bus stop is 2' walk. Market once a week in the area.
The apartment was as in the photos provided. Clean and comfortable. Bedrooms were the best part. Living room need a new flatscreen tv. Kitchen - well equipped. Bathroom- spacious. Alex was a great host. He showed us around the place and we had a great communication. Neoi Epivates is a good place to stay since it is close to Thessaloniki and Chalkidiki. This is important since the water in Epivates( my opinion) is not that good so if you want to swim go to Halkidiki. All in all, we had a good time. Thank you so much.
Darko
2016-07-20T00:00:00Z
The apartment was like described and we had a great stay in Peraia! It`s just a five-minutes-walk to the beach and supermarkets are close! Elisavets son Alex was totally kind and we were so glad that he found some time to show us around. Elisavet and Alex were approchable and it was easy to communicate! Guests who wanna go to Thessaloniki later than August i wanna give the advice that it can be rainy, what could leads to interrupted power and water supply. All in all, we had an amazing time and would stay there again, because the price is totally fair and the hosts nice!
Dis
2016-09-10T00:00:00Z
Приятные хозяева, удобное, чистое жильё. Всегда будем рады вернуться.
Panayotis & Olga
2016-10-30T00:00:00Z
Very hospitable and nice location walking distance from the beach and shops.
cathy
2017-03-23T00:00:00Z
The apartment was exactly as described in the listing. We arrived (late) on Christmas night and Alex was there to greet us. We left (early) the next morning for our flight to Crete and had a lovely time.
LaShea
2016-12-26T00:00:00Z
The welcome was great The apartment is as described on thé ad We spent a very good week We liked the place and enjoyed our vacation. A great thank to Elisavet and Alex for their welcome and kindness
Dragana
2016-08-17T00:00:00Z
The location is convenient, conform to description, close to beach and restaurant. The terrasse is big with sunchair and table for dinner. The son of Elisanet was ponctual at 7h in the morning for leaving and the husband was waiting us for arrival. In bonus we have many fruits at the arrival So everything what fine and I think I will return here next yea(URL HIDDEN)
Jean Pierre
2016-09-18T00:00:00Z
Abbiamo alloggiato per lavoro Appartamento comodo e molto confortevole in posizione centrale e ben servita dai mezzi pubblici I proprietari sempre disponibili e molto cortesi Pulito e accessoriato di tutto We stayed for work convenient and very comfortable apartment in a central position and well served by public transport The owners are always available and very courteous Clean and equipped of all
CARLA
2017-03-10T00:00:00Z
Art der Unterkunft
Ganze Unterkunft
---
Objekttyp
Wohnung
---
Unterkunft für
5
---
Schlafzimmer
Peraia, Thessalonika, Griechenland
Die Wohnung ist ca. 110 qm, total hell, kühl und ruhig mit Blick auf das Meer und die Berge. Es ist nur 100 Meter vom Strand entfernt und 100 Meter von der Bushaltestelle, wo Sie mit dem Bus ins Zentrum von Thessaloniki stattfinden kann. Während der Sommersaison gibt es auch ein kleines Boot, das Sie zum Zentrum von Thessaloniki und zurück bringt! Seine in der Nähe der berühmten "Santa Hotel" und der Nachbar bietet gutes Essen und Unterhaltung. Der größte Teil des Cafes in der Nähe des Strandes bietet kostenlose Liegestuhl und Sonnenschirm durch nur einen Kaffee oder etwas zu essen zu kaufen. Das Haus verfügt über 3 Schlafzimmer. 2 von ihnen verfügen über Doppelbetten und das dritte hat ein Einzelbett. Im Wohnzimmer gibt es auch eine große und eine kleine Couch. Neue Küche mit allem, was Sie brauchen, 1 Badezimmer und 1 WC. WiFi-Internetverbindung zur Verfügung steht. Die Wohnung ist auch ideal für Ihren Winterurlaub nach Thessaloniki. Es verfügt über autonome Heizung und Kamin! Sie erreichen den zentralen Platz von Nei Epivates durch an der Küstenstraße zu Fuß (10-14 '). Dort können Sie Supermarkt, Bäckerei, Fischerei, Metzgerei, Restaurants, Cafés und alles, was man brauchen. Neben dem Platz ist ein kleiner Hafen, von dem Sie das Boot zum Zentrum von Thessaloniki während der Sommersaison stattfinden kann.
We had a wonderful time here. Anastasia was lovely, welcoming and very helpful. The apartement is huge, tidy and well equipped, with many balconies, and view to the sea and Thessaloniki. It is in a nice, quiet area, just about 2 minutes walk from the beach and 5-10 minutes from seaside restaurants and cafes. Good public transport connection to the center of Thessaloniki and other places of interest nearby. (Bus stop is just round the corner) Highly recommended for those who want to have a stressless vacation in a spacious, comfy place.
Eszter
2013-09-21T00:00:00Z
Everything was perfect. The apartment is really nice, with everything you need for great holidays. Anastasia and her family were very nice and always helpful when needed. I can totally recommend this apartment to you.
Konstantin
2014-05-11T00:00:00Z
We just finished our 4 night stay and found that it was perfect for what we needed. We would recommend to our friends and would book again. Wifi was so fast! Better than what we have at home.
Vana
2013-11-04T00:00:00Z
I traveled along with other friends to this place, and it was the first time for us using Airbnb. In a short explanation: we loved it. It was a pleasure and veery easy since the moment I made the request to Anastasia. She is very friendly and replied promptly. Then, upon arrival, her brother Nikos was able to pick us up and had the apartment totally ready for our stay, plus even some Greek sweets and fruit. The place is big, clean, pretty and has all the comfort you can wish for. The beach is less than 5 minutes away walking and so is a bus stop with which you are able to reach the downtown of Thessaloniki quite easily. As with the rest of the country in general (everyone seems to be friendly and happy in Greece!) , you can really feel the Greek hospitality with Anastasia and Nikos. I would totally recommend this apartment and to treat with its hosts.
Michelle
2013-05-21T00:00:00Z
Everything was beautiful. The apartament is perfect for a summer holiday at the seaside and we enjoyed this very much. I recommend coming here and enjoy your holiday
Ovidiu
2013-08-11T00:00:00Z
We stayed in Perea 27 oct-3 nov. We have four kids and needed a big apartment and the apartment was really bright and spacious! We were welcomed by anastasias mother and brother, Both of them really friendly! Anastasias mother had bought some greek pies for us, really thoughtful! The communication with Anastasia was good and she provided us with useful information. Arriving in Perea we felt inmediately that we needed to rent a car to get around with our four kids. Especially to get to a bigger supermarket. Also for us us It was a little too complicated to go by bus to thessaloniki. There was some trash in the beach so we went to Halkidiki, sithonia for a day on the beach and we could actually take a swim! Thessaloniki was a really nice town, we walked by the seaside and found lots to do with kids. Recommendable!
Elin
2016-11-04T00:00:00Z
We stayed 5 days in this wonderful apartment with a family of 5. Everything was good, well prepared and hospitable, no complaints. We felt warmly welcomed by the hosts and enjoyed the location; near the beaches and short drive to Thessaloniki. Thank you Anastasia!
Marko
2013-07-20T00:00:00Z
Anastasia's place was just perfect for us; we stayed for one month over the Christmas period and really enjoyed the apartment, it's surroundings and it's closeness to Thessaloniki (via the frequent bus service). The airport is also only 15mins away. Arrival was by her lovely mother (little to no English spoken) who welcomed us with a tasty casserole, Christmas Tree and Festive Biscuits. Parking was on the premises.
Peter
2017-01-21T00:00:00Z
Art der Unterkunft
Ganze Unterkunft
---
Objekttyp
Wohnung
---
Unterkunft für
6
---
Schlafzimmer
Perea, Ostmakedonien und Thrakien, Griechenland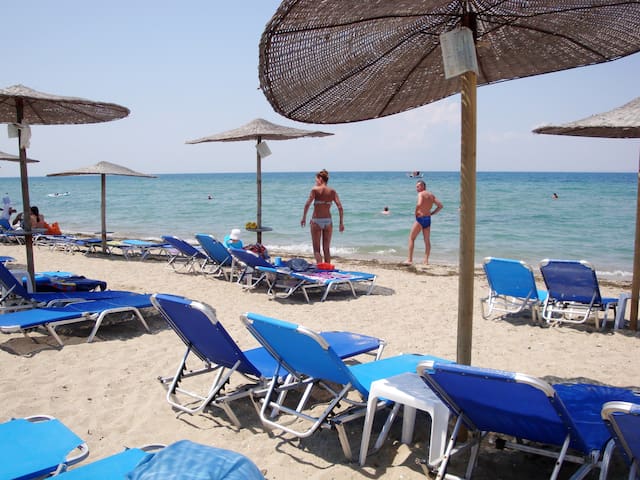 A warm and cozy studio in an -all year round- lively village near the city of Thessaloniki; perfect for summer holidays. Relax and unwind by the sea side. Beautiful sea front view from the balcony. All amenities close by.
An open plan airy and bright studio with a veranda overlooking the sea. Kitchen and bathroom are equipped with all the essentials to help you enjoy your stay (fridge-freezer, cooker and hob, cutlery, pans, sheets, pillows, duvets, towels etc)
Every evening the seaside is transformed into an outdoor entertainment space. Cafes, bars and tavernas place tables and chairs for their customers on the beach! You can enjoy a drink or a meal with the sand under your feet in a picturesque setting. There is a frequent ferry boat low cost service to and from other small villages in the area and the city of Thessaloniki during the summer months; ideal for spending the day crusing around the Thermaikos gulf, meeting other people and visiting other places, including the big city of Thessaloniki for shopping and sight-seeing. Super markets, bakeries, butchers, convenience stores within walking distance. Two open-markets with organic fruit and veg available weekly.
Super nett, sauber, gut aufgeteilt, Küche komplett vorhanden, sehr freundlich, hilfsbereit, zentral.
Feride
2016-05-27T00:00:00Z
Nettes und einfaches Apartment direkt am Meer mit Balkon direkt zum Strand hin.
Joachim
2016-09-13T00:00:00Z
Mein Freund und ich verbrachten insgesamt eine ganze Woche bei Eleni und wir waren beide super zufrieden. Die Ankunft und die Adressfindung hat sich bisschen schwieriger gestaltet als gedacht, da die Straßen in Perea ganz komisch benannt sind, aber nach einem Telefonat haben wir es dann doch gefunden. Wir wurden super lieb von Eleni empfangen und sie hat uns viele Gastgeschenke da gelassen, worüber wir uns wirklich gefreut haben. Handtücher, Bettwäsche - alles war vorhanden und sauber. Die Gegend war super, sehr viele gute Restaurants und Cafes in direkter Nähe und der Weg zur Fähre war auch nicht weit. Wir haben den Aufenthalt sehr genossen und könnten uns gut vorstellen nochmal bei Eleni zu übernachten. Nur zum Empfehlen :)
wiktoria
2016-09-19T00:00:00Z
It was fantastic! The view from the balcony is amazing,like a dream! The apartman is simple but correct and comfortable. Eleni is a very nice person. She bring us to the apartman from the airport and she give us wine,olives,jam and grape in sirup what she made. Unfortunateli the ship doesn't go to Thessaloniki in october. This is a perfect place to have a good time and relax, especially for this price. We want to come back. :)
Mónika
2016-10-05T00:00:00Z
We enjoyed our stay at Eleni's apartment. It's easily accessible by public transport and close to the airport and Thessaloniki. The view on the sea is really amazing! The studio is clean and comfortable and has everything you need for short stay. There is no air conditioning but we didn't need it (maybe it's because of the sea air) and it was cool inside. Eleni is very friendly, she came to pick us from the airport and she left some greek food in the fridge. She even gave us a piece of homemade cake. One weak point: there is a lot of restaurants, pubs and tavernas in a neighborhood and window and balcony are just above the main walkway/footpath of Perea so in the evening it's very loudly because of the noisy music and people's voices. It was difficult for us to sleep even if the window was closed. If you expect quite and calm evenings/nights it's not a place for you. But if you like nightlife and you go to bed late maybe it won't be a problem for you.
Tomek & Kaja
2016-09-07T00:00:00Z
The apartment has a great location and Eleni is very helpful.
Anna
2016-11-07T00:00:00Z
Eleni was soo nice! She came for us to the airport, and it wasnt a problem for her, that we arrived very late evening.The studio is across the beach with everything you need.We even get some presents, like greek liquer, olives! :)
Orsi
2016-06-16T00:00:00Z
Nous avons passés un agréable séjour chez Eleni. C'est une hôtesse agréable et prévenante, qui nous a accueillis avec des petites douceurs grecques. Eleni est disponible pour ses hôtes pendant leur séjour. L appartement est situé en front de mer, sur la digue, on peux y accéder facilement, il est lumineux et agréable, simple, bien équipé, petits snacks ,restos, et magasins alentours. Nous y avons séjourné fin octobre... période assez calme. La digue est propice aux ballades, l appartement est proche des grands axes, parfait pour un petit séjour. Juste un petit bémol, pour les rideaux pas occultants, et l insonorisation...le samedi, les chants grecs du resto à côté nous ont bercés quelques heures....
Stella
2016-10-30T00:00:00Z
Art der Unterkunft
Ganze Unterkunft
---
Objekttyp
Wohnung
---
Unterkunft für
3
---
Schlafzimmer
Peraia, Ostmakedonien und Thrakien, Griechenland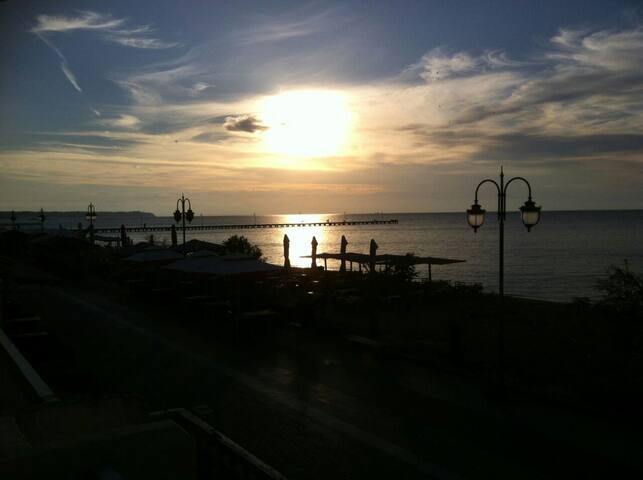 CoZy place for 4 people .Only 50 m from the beach and 12 km away from the airport. Full equipped kitchen and bath with personal care , hair dryer , iron. Near to the house there are supermarkets , pharmacy and public transport.
Very modern studio for special guests!
The beach is only 2 minutes away.
Helena is a very kind and polite young woman. Her Cozy place is more than perfect. The house has everything that you need for making your stay amazing.The furniture are very new and minimal and the kitchen is full equipped. The double bed is very comfortable. The decorate is very cozy. The beach is only 50 metres away with many restaurants and cafes.The house and the area around takes A++++++.
kate
2017-03-20T00:00:00Z
.
Joe
2017-03-12T00:00:00Z
Ενας ωραιος κ μοντερνος χωρος για ενα γρηγορο περασμα απο θεσ/νικη και ιδικα στην γυρω περιοχη,τιμη παρα πολυ καλη και η οικοδεσποτης καταπληκτικη και ευγενικοτατη το προτινω ανεπιφυλακτα!!!!
Odysseas
2016-11-20T00:00:00Z
Άψογη οικοδέσποινα. Γλυκιά και πάντα πρόθυμη για οτιδήποτε χρειαστήκαμε. Το σπίτι είναι πολύ κοντά στην θάλασσα και στην κεντρική πλατεία. Ιδανικό για βόλτα σε ένα πανέμορφο μέρος και πολύ κοντά στην πόλη της Θεσσαλονίκης. Το συνιστώ ανεπιφύλακτα και σίγουρα θα το προτιμήσω και πάλι.
Pavlos
2017-03-21T00:00:00Z
Το σπίτι υπέροχο! Ανταποκρινεται ακριβώς στις φωτογραφίες. Καθαρό και προσεγμένο μέχρι τη πιο μικρή λεπτομέρεια! Η περιοχή κεντρική κοντά στα μέσα και η οικοδέσποινα ευγενική άψογη και η επικοινωνία μαζί της άριστη! Σίγουρα θα το προτιμήσω ξανά!
Αλεξάνδρα
2017-04-02T00:00:00Z
Η ιδιοκτήτρια, πολύ ευγενική και ανταποκρίθηκε πολύ άμεσα στο αίτημά μας, παρ'ότι θέλαμε να μείνουμε αυθημερόν. Το σπίτι καθαρό και cozy, αρκετά μακρυά από το κέντρο της Θεσσαλονίκης, αξίζοντας όμως τα λεφτά του!
Nikol
2017-04-01T00:00:00Z
Cozy place is amazing. It is exactly like pictures with everything you need for making your stay as comfortable as possible. Very close to public transport and one breath away from the beach in a very quiet neighbourhood. The house is full equipped and very modern. I recommend it to everyone. Helena is the best host ever.
Nikos
2017-03-22T00:00:00Z
The apartment is newly furnished and feels like home. It is close to the airport and most of all very close to the beach where we had an amazing sunset and dinner. Communication with Helena was very easy and convenient. We used the place for a its closeness to the airport, but if we knew it's so close to the beach with nice restaurants and bars we would have stayed longer.
David
2017-03-24T00:00:00Z
Art der Unterkunft
Ganze Unterkunft
---
Objekttyp
Wohnung
---
Unterkunft für
4
---
Schlafzimmer
Νέοι Επιβάτες, Θεσσαλονίκη, Griechenland
IDEAL FÜR PAARE
Art der Unterkunft
Privatzimmer
---
Objekttyp
Haus
---
Unterkunft für
2
---
Schlafzimmer
Perea, Griechenland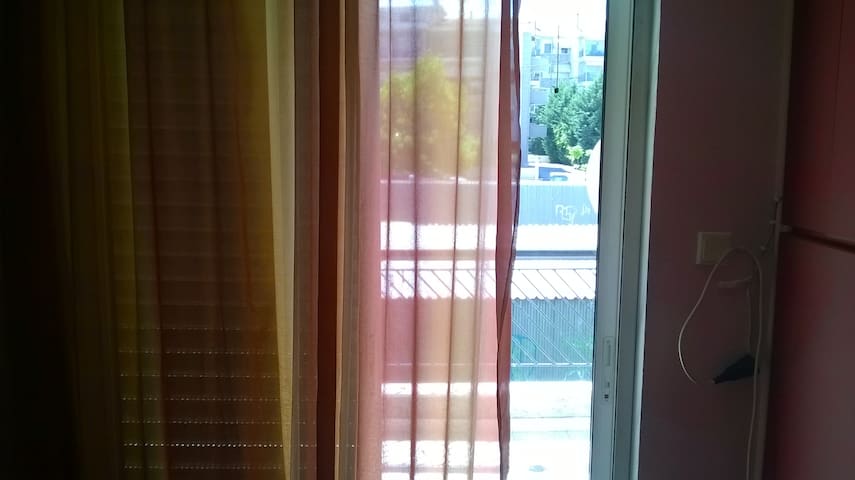 Eine ruhige Lage, nur ein paar Blocks vom Strand entfernt, außerhalb Griechenlands zweitgrößte Stadt Thessaloniki. Eine zentrale Lage für die schönen Strände von Chalkidiki zu erkunden, die mazedonische Weinstraße oder die alte Geschichte von Mazedonien. (URL HIDDEN)
Jetzt mit Wi-Fi! Gemütlich, geräumig und komfortabel griechischen Stil Wohnung. Volle Ausstattung, darunter Klimaanlage für die heißen Sommermonate. Drei Balkone: eine in der Vorderseite der Wohnung, ideal zum Abendessen oder ein Sonnenbad Frühstück und einem privaten Balkon für jedes Zimmer. Balkon des Haupt-Schlafzimmer hat einen Blick auf die schöne Stadt von Thessaloniki. Kommt auch mit griechischen Siesta Fensterläden, die alles Licht tags abdichten kann. Ein Bad mit Dusche und Badewanne, mit viel Bettwäsche und Handtücher. Wir haben eine voll ausgestattete Küche, wo Sie Ihre Mahlzeiten oder aufwärmen Reste zubereiten können, einschließlich einer vollständigen (European-Größe) Kühlschrank. Lebensmittelmarkt und Bäckerei in unmittelbarer Nähe. TV-Monitor für Internet oder Filmwiedergabe von Ihrem Laptop mit Standardanschluss (bringen Sie Ihre eigenen HDMI-Kabel). Zusätzliche Stuhl Futon für Einzelbett ab sofort verfügbar.
Viele Restaurants, Bars, Strandbars, Cafés, säumen die Promenade am Strand entlang, ein paar Blocks entfernt. Es gibt einen wöchentlichen Bauernmarkt (Montag), Supermärkte, Einkaufsmöglichkeiten, Banken und Tavernen zu Fuß erreichbar. Viele der Cafés und Bars bieten kostenlose Wi-Fi. Wenn Sie die Arbeit verpflichtet sind, bringen Sie Ihren Laptop an den Strand! Wir sind 20 Minuten vom Flughafen und den örtlichen Nachtclubs. Über 40 Minuten Fahrt zum Stadtzentrum von Thessaloniki mit seinen Restaurants und Bars auf dem Wasser, antiken römischen Ruinen, Museen und einige der ersten Kirchen des antiken Christentums (offen für Touren). Auch nur eine Stunde und die Hälfte oder so auf Chalkidiki, dem Ort, wo Griechen Urlaub machen! Die Wohnung befindet sich entlang der mazedonischen Weinstraße mit Zugang zu vielen der besten Weingüter Griechenlands. Es ist auch nur ein wenig mehr als eine Stunde nach Vergina, wo Sie das Grab von Philip von Macedon sehen können, und Meteora mit seinem Weltkulturerbe Kloster ist eine faszinierende Tagesausflug. Die Fahrt von Athen ist nur über 5 Stunden, vorbei an der Evian Golf, Mt. Umgehung Olympos und Dion und entlang der Ägäis Vergangenheit Thessalien Mazedonien Cruisen.
Es war eine sehr ruhige Gegend. Wir haben uns wie zu Hause gefühlt und kommen gerne wieder hierher. Das Apartment ist eine Empfehlung wert.
Eva-Kostas
2016-10-03T00:00:00Z
Vielen Dank für den angenehmen Aufenthalt in der Wohnung. Gerne wieder. Eine sehr schöne Wohnung.
Reik
2016-03-30T00:00:00Z
Ο John είναι ένας πάρα πολύ καλός οικοδεσπότης, και το σπίτι είναι σε πολύ καλή κατάσταση όπως φαίνεται και από τις φωτογραφίες του χώρου οι οποίες είναι 100% αληθινές, επίσης το internet/wi-fi στο σπίτι λειτουργεί απροβλημάτιστα και με πολύ καλή ταχύτητα. Η τοποθεσία του σπιτιού είναι όντως 15 λεπτά περπάτημα μέχρι την παραλία και γύρο από το σπίτι υπάρχουν φαρμακείο, φούρνος, mini market και super market σε απόσταση 5 λεπτών. Προτείνεται ανεπιφύλακτα!!!
Panagiotis
2016-11-01T00:00:00Z
Een prima en ruim appartement met een prachtig balkon.
margreet
2015-10-18T00:00:00Z
We had a nice stay at John's place. The flat is gorgeous and the terraces amazing. We had most of our breakfasts and dinners there (especially after we found out all restaurants in Greece are smoking only!). The area is quiet, residential and close to the beach with many bars and restaurants. We went off season, so the beach was quite dirty, unfortunately. The place is close to the airport and there's a supermarket and a bus stop around the corner (even though there are no timetables at the bus stop so taking bus was always a bit of an adventure). The easiest option is to rent a car. There's a boat that takes you to Thessaloniki in an hour or so for only 2.70 and is definitely worth a try. John's neighbour Maria who gave us the keys is very friendly and helpful.
Katarina
2015-09-30T00:00:00Z
We had wonderful time in John's (URL HIDDEN) a well equipped place in a good location near the city and the beach.Thank you to host us!
Edina
2015-09-11T00:00:00Z
A wonderful place in walking distance to the sea, surrounded by 'real' greek life and not touristy. Many good restaurants to choose from on the seafront, a warm and (mostly) clean sea and a bargain-filled market on Mondays. Enjoyed our stay very much. Thanks, John
Abigail
2016-07-26T00:00:00Z
Good.
Enachi
2016-09-24T00:00:00Z
Art der Unterkunft
Ganze Unterkunft
---
Objekttyp
Wohnung
---
Unterkunft für
4
---
Schlafzimmer
Perea, Griechenland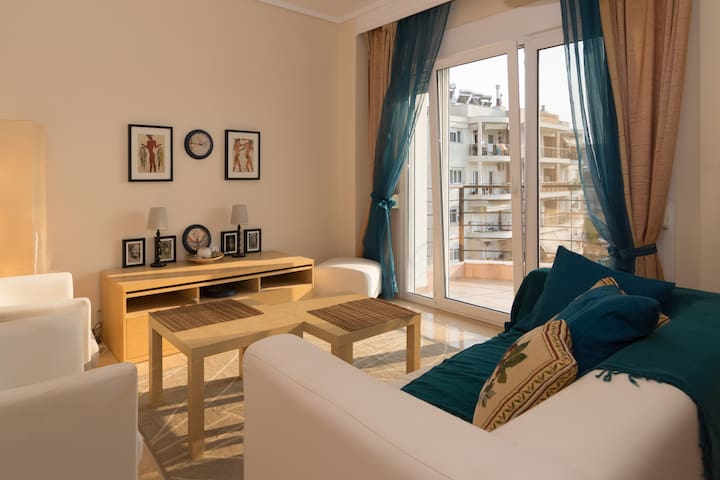 Das Haus ist eine Maisonette von zwei Etagen. Der zweite Stock besteht aus zwei (URL HIDDEN) ist auch ein großes Bad und einen Balkon. Der erste Stock besteht aus einer Küche, zwei große Wohnzimmer, ein kleines Bad und einen großen Balkon. Es ist ein ruhiger Ort, umgeben von einem Garten, in unmittelbarer Nähe zum Strand und es liegt im Zentrum von Perea Stadt gelegt. Es Restaurants, Geschäfte, Banken und Supermärkte in der Nähe für alle Ihre Bedürfnisse. Es ist ideal für eine Familie und Haustiere sind erlaubt.
Es ist ein freistehendes Haus, das gibt Ihnen den Eindruck, dass Sie allein leben, aber zur gleichen Zeit ist es in der Mitte der Stadt gelegt. Es hat einen schönen Garten, und es ist eine ruhige und beruhigende Atmosphäre.
die Nachbarschaft ist die beste in Perea Stadt. Das Haus befindet sich im Zentrum von allem, was Sie need.there sind Banken, Supermärkte, Café-Bars und es ist direkt am Strand.
I spend a great weekend in this house.Its a huge house with big bedrooms and 2 big bathrooms .The living is bigger l than you can expect. Modern house with white marble floor ,very big sunny terrace and quite back garden where kids can play. The location is great close to shops and the beach but still in a very quite private neighborhood. Stavrula is one of the kindest hosts I had during my airbb stays in Europe. She is so friendly and warm person providing you with all informations about the city and around .She gave us coffee on her sunny terrace ,send us back home with her big friendly smile and hug . I will be back with my family in May at Roulas house again .We will call Stavroula her short name Roula from now on and keep in touch with her
Lana
2017-04-02T00:00:00Z
Très bon séjour dans cette belle et grande maison fonctionnelle. L'hôte est très gentille et généreuse ! La mer , les magasins sont a côté ! Nous recommandons ce logement !
Pii
2017-03-07T00:00:00Z
Art der Unterkunft
Ganze Unterkunft
---
Objekttyp
Haus
---
Unterkunft für
4
---
Schlafzimmer
Perea, Griechenland
Comfortable 2 bedroom apartment located in the east side of Thessaloniki's suburb Nei Epivates. The apartment is located 400m away from the Beach,10' driving from the airport, 30' driving to the city center and 100m from bus station
Comfortable 2 bedroom apartment. The house is 82 square meter and I offer the whole house for rent. There are two double beds and a sofa that fits another person. There is also a camp bed. It is also ideal for 2 couples or for a big family. There is spacious balkon overlooking the beach. There are plenty of open cafes and restaurants. Beside the house there is a supermarket and resteurants where you can eat.If you have any questions do not hesitate to contact me!
Neighbors are quiet and respectful too
Casa bellissima, pulita , niente da dire prima colazione di tutto è di piu
Nunzio
2016-09-10T00:00:00Z
Upon our (late) arrival at the apartment, the hosts were waiting for us with a warm welcome. The hosts were incredibly warm and friendly and helped us settle right in. They had kindly prepared a lovely dinner for us and filled the kitchen with groceries which was really nice as we had a lovely breakfast in the morning. The property was exactly as it was described; if not, better. The rooms were all very spacious and really clean and had all been decorated really nicely. The balcony was large and great to sit and enjoy the evening air with some tea. The beach was only about a 6 minute walk from home and the supermarket is right in front of the house. The hosts were really helpful and gave us loads of advice and info on how and where to travel and get around and even offered to take us themselves which was very sweet. Overall, we really enjoyed our stay and would definitely recommend singles and families to stay here.
Kombez
2016-08-29T00:00:00Z
The host family was very welcoming and friendly (and waited for us for quite a while since we said the wrong arrival time due to the time zone difference). They left us groceries for breakfast in the apartment, which was a really nice surprise. The place is a short walk from the beach, and the supermarket and other basic stores, like pharmacy, are very close. The apartment is spacious and in a quiet neighbourhood. The only remark that we could possibly give is that beds are hard, so someone who is sensitive might find it a trouble (however, people in our group that don't have this problem had a really good sleep). We went to Greece to explore the area with a car, so the place offered great value for money for us and we would definitely recommend it to someone interested in staying near Thessaloniki.
Andjela
2016-08-02T00:00:00Z
it was great experience. The hosts were very hospitable. They prepared everything for our comfort and pleasure. The flat was very cosy and clean. Very calm area and easy to get to the city centre. I highly recommend to stay at that place. Thanks to our hosts. We will come back definitely.
Davit
2016-11-01T00:00:00Z
Art der Unterkunft
Ganze Unterkunft
---
Objekttyp
Wohnung
---
Unterkunft für
5
---
Schlafzimmer
Nei Epivates, Griechenland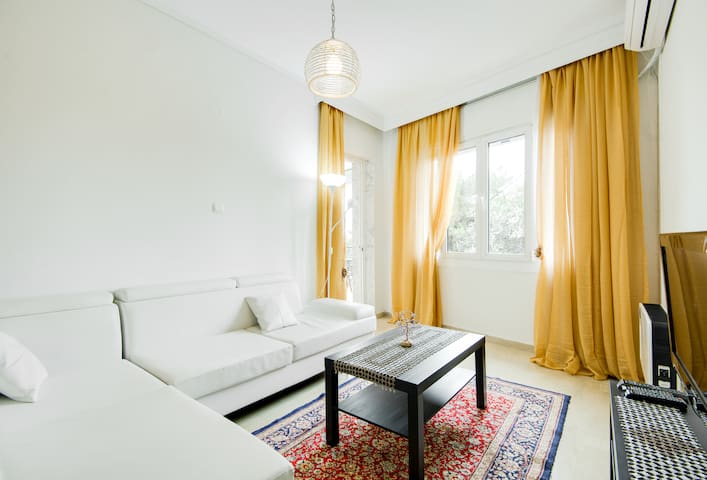 "Nei Epivates" ist schön Vorort am Meer, im Osten von Thessaloniki, in der Nähe des internasional Flughafen "MAKEDONIA"
Der schöne Strand mit atemberaubenden Sonnenuntergänge Thermaikos liegt nur 100 Meter vom Studio entfernt. Das Studio befindet sich im Erdgeschoss mit einem schönen Garten, ideal für Menschen mit Mobilitätsproblemen und für Kinder haben. Es verfügt über ein Einzelbett und eine Doppelschlafcouch und kann bequem Platz für 3 Personen werden schlafen. Küche, Bad, in einer schönen Gegend, nur 100 Meter vom Meer entfernt, mit schönen Stränden zum Schwimmen, Cafés, Restaurants und Tavernen mit Fisch.
H N. Epivates ist ein touristischer Ort mit schönen Cafés, Bars und Restaurants am Wasser mit ausgezeichneten lokalen Speisen und frischen Fisch. Genießen Sie ausgezeichnete Küche mit erlesenen Weinen und Ouzo oder Raki. Die Leute sind sehr freundlich. Das Studio ist ausgestattet, verfügt über alles, was für die Gäste, die gerne kochen möchten, waschen Kleidung, etc. auch Bootszubehör und Fahrrad zum Einkaufen und für Wanderungen in der großen Fußgänger bieten - Radweg am Strand. der näheren Umgebung sind auch schön, und Sie können eine der besten Weinmuseen in Europa besuchen. In dem, was können wir Sie ohne Kosten.
Eleni was the best host ever. In studio was everything that was mentioned in description and more - all for beach (umbrella, towels, covers, thermo bags, toys for children ... ), all in the kitchen (coffe, tee, toster, biskuits, dishes ...). Eleni picked us from and to airport in the middle of the night, and left us fresh milk, fruits and biskuits for breakfast in first morning). Next morning took us to the supermarket to buy food for all week. We were able to use bicycle to view nearest villages. :) The studio was very comfortable and nice! :)
Santa
2016-07-31T00:00:00Z
The place is great for couple, who want to spend their vacation on the beach. Small comfortable appartment with all necessaties and even more, cause Eleni is very hospitable and helpful. The main advantage is that it's 3 mins walk from the beach. It's also 10 mins from the pier, where you can buy the freshest fish just from the fishermans boat - it's very cheap. And then you can cook everything at home. There are all necessary appliances on the kitchen. It's also easy to get to Thessaloniki - 3 mins to bus station and hour+ travel to the city center (better to buy tickets for 2 buses in the kiosk). So if you're bored lying on the beach, go ahead, there are enough sights to see (White Tower, Byzantine churches, Ano Poli, museums etc.) and thousands of cafes to taste greek cuisine. Oh, and may be Eleni will offer you to visit local winery. It's great. And Eleni is very hospitable and helpful. Her English is far from perfect, but she totally compensates it with readiness to help and pure greek hospitality. So don't worry about the host - she is great! Thanks for the vacation, Eleni!
Pavel & Elena
2014-10-08T00:00:00Z
The place is exactly as described and offered everything we needed. We cooked for ourselves and the kitchen was very well equipped (water boiler, coffee machine, oven, fridge, sandwich maker, enough pots, pants, plates and tableware). There was nothing we missed. Eleni already provided some basics for the kitchen for free (coffee, tea, sugar, oil, cookies...) which was very nice. The check-in was a bit difficult at first, since Eleni only replies to airbnb messages (no phone call or sms), which we didn't know and so we had to wait a while at the meeting point. So make sure you have a working internet connection at your arrival in Greece. At the check-in Eleni was very friendly and helpful. She explained everything and helped with the local bus system and had some recommendations for restaurants etc. Eleni speaks very basic English so it might take a while if you have some questions, but in the end we were always able to get our questions across to her. The appartment itself was very clean and in a good state. Since we stayed there at the end of march, it was still pretty cold inside, but as soon as we figured out how the heating with the air conditioner worked, it was ok. Still, we would recommend to bring some slippers for warm feet ;-) The WiFi worked fine most of the time. Eleni also offers two bikes for free, which we used to explore the area around the apartment. The village Neo Epivates itself was pretty run-down and empty (at least in the off-season). The beach is nice, but there was unfortunately a lot of waste lying around and lots of stray dogs (mostly completely harmless). Still the place was very suitable for us and pefect as a starting point to reach other places in the area by car. By the way: Do not drive to the centre of Thessaloniki with your car. We highly recommend to use the local bus system (very cheap and highly frequented). If you have a car, it's the best to drive to IKEA (free parking) and take the bus from there. All in all we can totally recommend this place and would come back again. It offers a very good value for money. Thank you Eleni!
Linda
2017-03-29T00:00:00Z
Gospodyni była bardzo miła. Odebrała nas z lotniska i potem odwiozła. Dbała o to, abyśmy zobaczyli wszystkie ciekawe miejsca i mimo strajku kierowców autobusów dowoziła nas wszędzie swoim samochodem. Zawoziła nas też na czyściejszą według niej plażę, choć dla nas i ta bliższa była OK. Na koniec naszego pobytu zaprosiła nas do swojego domu na kawę i poczęstowała kolacją. Było bardzo sympatycznie. Pobyt nasz uważamy za bardzo udany.
Jola
2016-09-22T00:00:00Z
Eleni is a trustworthy host, she is very friendly and helpful person. Eleni help us by taking away from the airport and she providing useful information on the city and surrounding area, also propose what more we can do there. Along with my travel companions we seen clean and nicely furnished apartment very close to the sea, in a very nice neighborhood. The apartment is equipped with stove, dishes, towels, washing machine, dryer. We found a small shower gel, toilet paper and a soap, too. The whole stay was trouble-free and incredibly nice. I highly recommend this host! Regards!
Joanna
2014-09-14T00:00:00Z
Местом оказались очень довольны! Хозяйка нас встретила в аэропорту и довезла до места, это было очень удобно (кстати обратно в аэропорт она нас тоже отвезла). После этого она предложила отвезти нас в местный супермаркет и помочь с покупками. Нам показали где что лежит в доме и как чем пользоваться. Само место полностью соответствует описанию, есть все необходимое: два спальных места, кондиционер, холодильник, посуда и т.д. Особенно порадовали приятные мелочи вроде: чая, кофе, печений, наличие пляжных зонтиков и прочего полезного на пляже инвентаря. А ещё имеются два велосипеда, на которых очень удобно передвигаться на короткие расстояния. Кстати, до моря всего пару минут пешком - это просто супер!!! Хозяйка рассказала нам как добраться до города, какие автобусы куда ходят, где ближайший банкомат, какие места лучше посетить в городе. Резюмирую: впечатления крайне положительные!
Artem
2016-08-08T00:00:00Z
Nous avons été bien accueillis par Eleni . Le logement correspondait à la description sur le site, ainsi que la situation, le petit plus c'est d'avoir mis à disposition des vélos, c'est trés appréciable pour se promener dans les alentours.
Dominique
2015-08-09T00:00:00Z
Просто потрясающе! Что еще нужно для хорошего отдыха? Небольшая квартирка, но с абсолютно всем необходимым! На кухне и кофе, и сахар, и печенье, вода в холодильнике. Фен, шампунь, пляжные полотенца. Складной зонтик от солнца в шкафу, циновки для пляжа и даже набор детских игрушек. 2 велосипеда, столик и 2 кресла на террасе, где так хорошо по вечерам пить чай. Радушная невероятно хозяйка, встречает и провожает на собственной машине в аэропорту. Скидочная карта в супермаркет на все время вашего прибывания. Я не описал еще многих мелочей, из которых и состоит ощущения заботы и замечательного отдыха. Да, наверное не сказа главного, море в двух шагах. Грибки и шезлонги предоставляются всем желающим, несмотря на то, что пляж принадлежит отелю Санта, стоит только приобрести что-нибудь у официанта, хотя бы стаканчик кофе Фраппе за 3 евро. И вы весь день наслаждаетесь солнцем. Кстати, тут же на пляже пара кафешек, где можно пообедать. Спасибо Eleni!
Alexander
2016-09-15T00:00:00Z
Art der Unterkunft
Ganze Unterkunft
---
Objekttyp
Andere
---
Unterkunft für
3
---
Schlafzimmer
Δήμος Θερμαϊκού Νέοι Επιβάτες , Θεσσαλονίκη Μακεδονία, Griechenland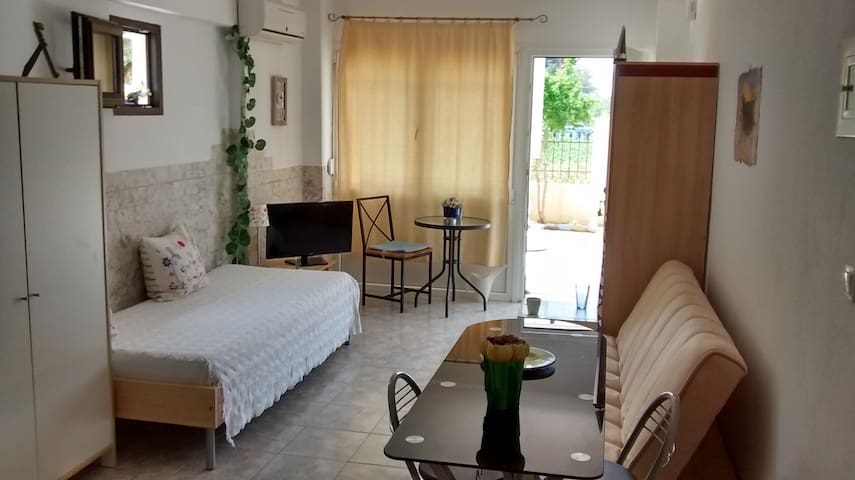 The apartment is new and 50m from the beach. It is placed in the area Nei Epivates of Thessaloniki and it is friendly to "everyone". In the area you can find Beach bars, supermarket, bakery, many taverns and bars. It is 10 mins driving from the airport and 30 mins driving to Thessaloniki center. The bus stop is in 200m and the buses can bring you everywhere. In 15 mins driving you can visit Cosmos Shopping Mall. The area gives you easy access to Halkidiki.
Very nice place, clean, modern with everything that you need in an apartment, 2 min from the beach and close to shops. No hidden costs and it looks just like the pictures. Christos was great, helpful with information and nice enough to get the apartment ready for us even though we arrived before the check in time. A great experience, one that I highly recommend. Thanks Christos... Everything was just perfect
Georgeta
2016-08-26T00:00:00Z
Excellent location, the apartament is clean and newly refurbished. Smooth and fast communication with the host.
Ani
2016-09-06T00:00:00Z
Christos is very nice host, he is attentive and polite. The apartment is clean and comfortable. Good working air conditioner, not bad wifi, nice bathroom, simple but equipped enough kitchen. There is no dish washer or washer mashine, but for that price this minimalistic flat is very good.
Demis
2016-09-19T00:00:00Z
It was very nice
Evgeny
2016-08-29T00:00:00Z
We arrived to the flat after midnight, and Christos welcomed us very kindly. The flat has a freshest repair, is spotless, and very nicely designed. It's in 2 minutes from the beautiful long beach, has no problems with parking, close to supermarkets. We recommend it very highly.
Alina
2016-07-29T00:00:00Z
Art der Unterkunft
Ganze Unterkunft
---
Objekttyp
Wohnung
---
Unterkunft für
4
---
Schlafzimmer
Nei Epivates, Griechenland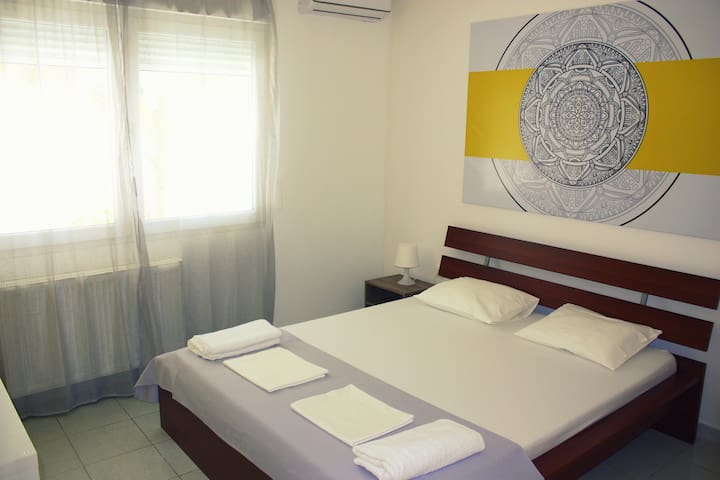 Spektakuläre Aussicht auf Thessaloniki, komfortabel, sonnig, in der Fußgängerzone von Perea. Voll ausgestattet mit allen Extras ausgestattet renoviert. Nur einen Schritt vom Sandstrand und erstaunliche Meer von Perea. 5 Minuten Fahrt vom Flughafen Thessaloniki, 20 Minuten vom Zentrum von Thessaloniki. Parkplatz in der Nähe, Supermärkte in wenigen Minuten zu Fuß.
Nutzen Sie die Gelegenheit beaudiful Thessaloniki Region zu besuchen. Besichtigung nach Thessaloniki, Schwimmen in Perea. Confortable für 4 Personen, mit hochwertigen Produkten renoviert.
Das Haus befindet sich in der einzigen Gehweg von Perea entfernt. Fahren Sie einfach 5 Minuten vom Flughafen von Thessaloniki, 20 Minuten vom Stadtzentrum von Thessaloniki. Ruhige Lage (keine Autos), sonnige Lage, in der Nähe Perea Zentrum. Beaudiful Strand vor dem Haus. Sehr Guter Ort mediteranean Essen und frischen Fisch zu probieren. Viele Tavernen am Strand, Bars und gemütliche Cafés der Nähe des Hauses. Nähe Supermarkt und Lebensmittelgeschäfte.
Lena war eine gut organisierte Gastgeberin, die schnell und kooperativ kommuniziert hat. Das Apartment entspricht den Fotos, es ist sehr gut ausgestattet, die Aussicht ist spektakulär, die Terrasse ist sehr geräumig und windgeschützt, es hat uns an nichts gefehlt!
Sibylle
2016-10-02T00:00:00Z
We had a very pleasant summer vacation.Nice place to stay (excellent terrace),nice weather,warm sea .Very good location for the appartment,right next to the beach on the walking area.Very peaceful environment excellent for the vacation. We are very pleased with our host Lena, because she allowed us to feel like we were at home. Recommendations for a peaceful summer vacation.
Darinka
2016-09-07T00:00:00Z
Art der Unterkunft
Ganze Unterkunft
---
Objekttyp
Wohnung
---
Unterkunft für
4
---
Schlafzimmer
Thessaloniki, Griechenland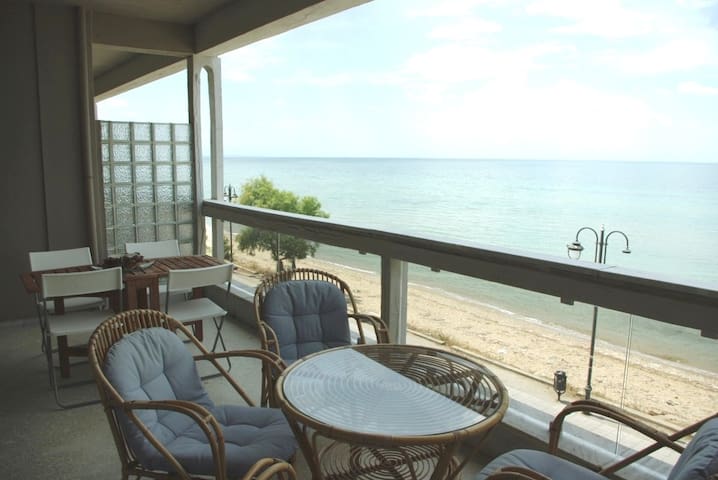 Dies ist ein klassisches Strandwohnung in einer ruhigen Gegend, nur wenige Schritte vom schönen Sandstrand von Agia Triada, mit zwei Balkone mit Meerblick. Es bietet die volle Ausstattung, kostenloser Parkplatz, Sonnenliegen, Stühle und Sonnenschirme für den Strand, und viele Spielsachen für unsere kleinen Gäste. In wenigen Minuten zu Fuß gibt es viele Strandbars, frischen Fisch-Restaurants, Lebensmittelgeschäfte und eine Apotheke. Und all dies nur außerhalb von Thessaloniki und nur wenige Minuten vom Flughafen entfernt. Willkommen in meinem Zuhause!
Das Haus verfügt über 2 Schlafzimmer, beide mit Doppelbetten. Im Wohnzimmer gibt es auch eine große Couch, die ein Doppelbett werden kann. Wir haben eine voll Ausrüstung Küche, wo Sie alle Ihre Mahlzeiten zubereiten können. Drei Balkone: eine in der Front, perfekt zum Abendessen (mit Zugang von der Küche). Der Balkon auf der Rückseite hat eine schöne Aussicht auf das Meer und die Stadt von Thessaloniki, mit Zugang von beiden Schlafzimmern. Es ist der perfekte Ort für das Frühstück Kaffee. Kommt auch mit griechischen Siesta Fensterläden, die alle das Licht während des Tages abdichten kann. Wir bieten auch Spielzeug für die Kinder und einige klassische Tischspiele für die Erwachsenen. Eine gute Zeit haben!
Viele Restaurants, Bars, Strandbars, Cafés säumen die Promenade am Strand entlang, ein paar Blocks entfernt. Es gibt zwei wöchentliche Bauernmärkte (eine in Neoi Epivates freitags, und ein in Perea montags), Supermärkte, Einkaufsläden, Banken und Tavernen nur in 5 Minuten entfernt. Wir sind 15 Minuten vom Flughafen entfernt und die örtlichen Nachtclubs. Die Wohnung befindet sich in einem Familien neighborhoud, wo die Menschen oft in Wechselwirkung treten.
hat mit uns sofort Kontakt aufgenommen, hat uns alle wichtige Informationen Problemlos weitergegeben, sehr freundlich und hilfsbereit.
alexander
2016-07-11T00:00:00Z
Nona war eine sehr nette Gastgeberin und versorgte uns mit allen Informationen, die wir benötigten. Das Appartment ist sehr gemütlich eingerichtet und man findet wirklich alles, was man für einen entspannten Urlaub braucht. Wir können die Unterkunft absolut weiter empfehlen und kommen auch gerne einmal wieder. Liebe Grüße, Sandra+Denis
Sandra
2016-10-03T00:00:00Z
Das Appartement ist genau so, wie es beschrieben wird. Die Einrichtung ist sehr vollständig. Die Unterkunft eignet sich geradezu hervorragend für kleine Familien. Die Nähe zum Strand und die Nähe zu Restaurants bei gleichzeitiger Ruhe ist unschlagbar. Simona ist eine sehr engagierte Gastgeberin, die für Fragen jederzeit zur Verfügung stand und immer innerhalb von Minuten geantwortet hat. Perfekt!
Marius
2016-05-22T00:00:00Z
Die Unterkunft war genauso wie beschrieben. Nona ist die ganze zeit erreichbar und hilfsbereit gewesen wenn wir mal fragen hatten. ich kann sie zu 100% weiter empfehlen:)
maike
2016-10-24T00:00:00Z
Es war alles perfekt.Die Gastgeberin hat sich vor ,während und sogar nach dem Aufenthalt voller Fürsorge um uns gekümmert.Man konnte sie Tag und Nacht erreichen und es wurde stets eine perfekte Lösung oder Hilfe oder Rat gegeben oder angeboten. Könnte man statt der 5 Sterne noch mehr geben , würde ich Ihr 100 geben. Die Unterkunft hatte alles wie beschrieben.Man musste sich um nichts (URL HIDDEN) war so,als würde man in seine eigene Zweitwohnung ziehen. Keinem hat etwas gefehlt. Die schöne ruhige Wohnung mit Blick aufs mehr war perfekt zum relaxen. Wollte man etwas erleben , war der kleine Spaziergang am Strand ideal um zu den kleinen Fischerdörfchen zu gelangen wo man verwchiedene Restaurants,Cafes,Bars und Shops finden konnte. Immer wieder gerne und jedem zu empfehlen.
Szymon
2016-09-25T00:00:00Z
The apartment is very cozy and spacious! It is exactly as beautiful as on the pictures and the seaview out of the bedrooms also as out of the two balconies is great! Waking up in the morning and hearing the sea, gives this apartment a special atmosphere :). Nona has been a great host! We haven't met hear personally but we were in contact via airbnb and her neighbours Natalia and Alekos welcomed us warmly and offfered us their help in case we should need anything. The area around the apartment is very calm and for supermarkets or restaurants you need to go by bus or car (the bus station is very close to the apartment and supermarkets are round about 2 min. Away from it by bus or car). Thank you Nona for giving us the opportunity staying in your beautiful apartment.
Apostolia
2017-04-08T00:00:00Z
Apartment is very close to the sea, cosy, comfort and clean. Everything was great! Highly recommended. Many thanks.
Predrag
2017-03-14T00:00:00Z
Muy lindo departamento, a pasos de la playa y una anfitriona muy amable y servicial. Totalmente recomendado para unas tranquilas vacaciones
Cristofer
2017-02-22T00:00:00Z
Art der Unterkunft
Ganze Unterkunft
---
Objekttyp
Wohnung
---
Unterkunft für
6
---
Schlafzimmer
Thessaloniki, Griechenland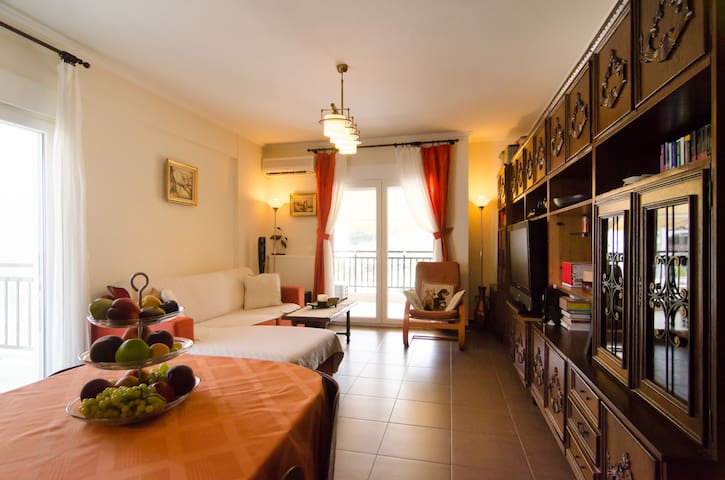 Erstaunlich direkt am Meer Wohnung mit 3 Schlafzimmern und 2 Balkonen mit Meeresbrise. Es ist 10 Sekunden vom Strand mit sehr sauberen Meer. Unsere Appartements beträgt 120 m² und es gibt einen großen Studioraum für Entspannung. Wir sind in der zentralen von Perea, 15 Minuten vom Flughafen und 25 Minuten von Thessaloniki. Wir können in Serbisch, Russisch, Bulgarisch, Griechisch Sprachen sprechen!
An diesem magischen ruhigen Ort zum Entspannen Sie eine romantische Zeit in wunderbaren Tavernen mit Meeresfrüchten verbringen können, die nur 5 Minuten vom Haus entfernt sind. Auch können Sie gemütliche Café, Bars, Restaurants, Pizzerien und sogar ein Fitness-Studio oder Kirche in der Nähe unseres Hauses finden. Meine Familie lebt in deiner Nähe (ca. 15 min) und wir stehen Ihnen Informationen über in der Nähe von Destinationen, unvergessliche Sehenswürdigkeiten zu geben, lohnt Orte in der Umgebung, Orte für Lebensmittel zu besuchen oder zu trinken oder etwas anderes wird der Besucher benötigen. Wir werden Ihnen ein kleines Geheimnis sagen, wo Sie eine frische und billige Meeresfrüchte aus den Fischerbooten kaufen kann! Wir können in Serbisch, Russisch, Bulgarisch, Griechisch Sprachen sprechen! By the way, es während der Sommermonate ist eine Fee Boot, das Meer zum Zentrum von Thessaloniki reist von Perea macht und das Gegenteil. Es ist eine günstige Kosten.
Расположение квартиры идеальное, из окон вид на море. Квартира большая, есть все необходимое. Вокруг тихо и очень близко к морю. При этом в двух-трёх минутах ходьбы - множество ресторанов и кафе с прекрасной кухней. Недалёко есть большой супермаркет, фруктовые лавки и аптека. Хозяин был очень любезен и помог нам со всем, с чем мы к нему обращались. Обязательно вернёмся туда снова!
Наталья
2016-09-07T00:00:00Z
Place much more better then on the pics, Dimitris is very kind, polite and thoughtful host makes you feel like home from first second. Amassing view, sea almost at your doorstep. Will be happy to stay again anytime. Очень очень чистый и красивый дом, намного лучше, чем на фото. Собственный паркинг. Море в двух шагах, неимоверный вид. Димитрис как хозяин просто чудо. Будем всегда рады вернуться сюда снова.
Panayotis & Olga
2016-09-23T00:00:00Z
Dimitri nous a accueilli à l'aéroport, guidé jusqu'à l'appartement et fourni toutes les explications nécessaires. l'appartement est bien équipé et sa localisation est intéressante pour explorer la région de Thessalonique.
Caroline
2016-10-09T00:00:00Z
We loved our stay at this apartment! It was perfect for our family, right on the beach with great restaurants a short walk away. Dimitris is a very hospitable and accommodating host. Anytime we needed anything, he was immediately available. I highly recommend staying here!
Josh
2016-08-16T00:00:00Z
Art der Unterkunft
Ganze Unterkunft
---
Objekttyp
Wohnung
---
Unterkunft für
6
---
Schlafzimmer
Perea, Griechenland
Our sweet home has 1 bedroom with double bed and wardrobe.Bath has personal care.Fully equipped kitchen and a living room with double sofa bed.Also has Iron,hairdryer,waching machine,hand power lifter.Balkony view street.
Our sweet home has 1 bedroom with doublebed and wardrobe.Bath has personal care.Fully equipped kitchen and a living room with double sofa bed.Also available baby cot.Available Iron,hairdryer,waching machine.Balkony view street.Just a 10-minute walk from the beach.
A quiet neighborhood with families and good people.
Η οικοδεσπότης από την πρώτη στιγμή με την απλότητα και φιλικότητά της σε κάνει να νοιώθεις αμέσως συμπαθητικότητα απέναντί της. Νομίζεις ότι τη γνωρίζεις πολλά χρόνια. Το σπίτι ήταν πράγματι όπως εμφανίζεται στο διαδίκτυο και αμέσως σε κάνει να αισθάνεσαι οικεία όπως στο δικό σου σπίτι. Η γειτονιά ήσυχη χωρίς κανένα πρόβλημα. Η τοποθεσία ευνοεί μετακινήσεις προς τις παραλίες αλλά και προς τη Θεσσαλονίκη. Γενικά η διαμονή μας ήταν πάρα μα πάρα πολύ ευχάριστη και αναχωρήσαμε κατενθουσιασμένοι. Θα την προτείνουμε ανεπιφύλακτα σε γνωστούς και φίλους και σε μελλοντική επίσκεψή μας στη Θεσσαλονίκη θα ήταν μεγάλη η ευχαρίστησή μας να ξαναμείνουμε πάλι στο ίδιο διαμέρισμα.
ΚΩΝΣΤΑΝΤΙΝΟΣ
2016-04-23T00:00:00Z
Σαν στο σπίτι μας!
Spartakos
2017-02-19T00:00:00Z
Me & my wife stayed for 4 nights & I'm glad we stayed at Helena's Apartment. Please see below:- - Helena as a Host Excellent communication, genuine and honest person. Meeting Helena is like I met a friend who is genuine, eager to help you, provided us with everything to make our stay and experience wonderful & pleasant. Absolute pleasure. - The Apartment Beautiful 1 bed Apartment with Helena's personal touch that makes it outstanding. Perfect for a couple or even up to 3 people. Peaceful society, safe & secure, comfortable are few of the features. I can go on & on. Overall, I'm definitely coming again and would only stay at Helena's xxx
Kunal
2016-09-21T00:00:00Z
Απλα υπεροχη!!Απλη,ευγενικη και ευδιαθετη η helena!Το μερος πολυ καθαρο σε ωραια περιοχη και με καθαρο αερα!Και πανω απο ολα ησυχη περιοχη.
Γαβριηλ
2017-02-27T00:00:00Z
Хелена очень приятная и гостеприимная хозяйка. Квартира выглядит так же. как на фотографиях. Очень чистая, симпатичная. Мебель и белье новые. В квартире все есть, вплоть до средства от комаров. Район тихий, но в плане передвижений удобный. Недалеко автобусная остановка, можно отправиться в Салоники, супермаркет. До моря правда пешком минут 20, домой - в гору, зато не поправитесь. Отдохнули замечательно. Спасибо Хелене с мужем!
Татьяна
2016-07-25T00:00:00Z
Very nice host who is always here to help you if you need it. I enjoyed the stay in Helena's house.
Andreas
2015-12-29T00:00:00Z
Helena was very helpful. The house was well arranged and good. Bus stop is 5 mins walk. Everything was very nice and I will recommend to stay here
Avik
2015-12-01T00:00:00Z
It was a wonderfull experience. Helena has in her appartment all you need. The appartment was very clean.We enjoyed staying there and we will come back each time we have the chance. The location is near the sea and you can find there a lot of kind people!
Cosmin
2016-08-18T00:00:00Z
Art der Unterkunft
Ganze Unterkunft
---
Objekttyp
Wohnung
---
Unterkunft für
4
---
Schlafzimmer
Nei Epivates, Griechenland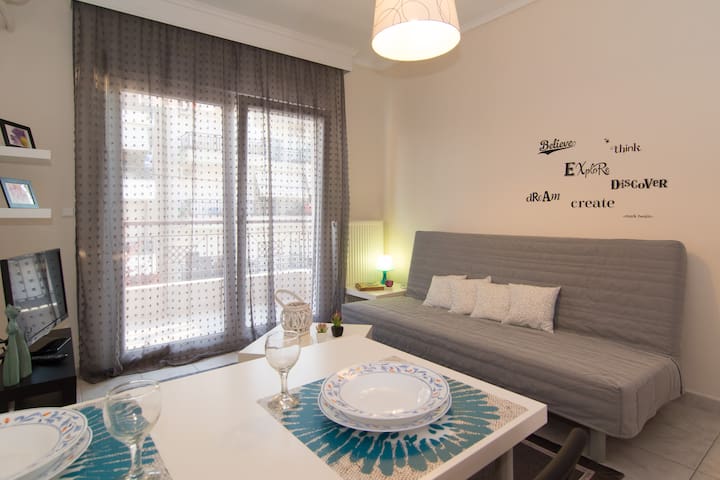 1

–

18

von

173 Unterkünfte
Gib deine Reisedaten ein, um den aktuellen Preis zu sehen. Es können zusätzliche Gebühren und Steuern anfallen.