Amazing Views von Mt Whitney und die Sierra! Sehr schöner Ort. überall aufgewertet. Ruhig komfortablen Umgebung. Awesome Location! Ansicht Terrasse mit Grill.
in ruhiger Lage mit herrlichem Blick Schön aufgewertet.
Das Hotel liegt am Westrand der Stadt Lone Pine mit Blick auf Mt Whitney und die Sierra. Es gibt zwei Wohnungen auf diesem Grundstück und dieses ist im Süden in einem komplett eingezäunten privaten Bereich. Sehr ruhige Lage mit herrlicher Aussicht!
This was a great place to stay! Jenifer thought of everything in providing for and furnishing this home. Additionally, she is super responsive to any questions you may have about the property or the surrounding location. Would definitely recommend to others and would also definitely stay here again for future visits.
Jerry
2016-11-17T00:00:00Z
If you are doing Mt Whitney, Jenifer's place is perfect. It's super close to the Portal road, you'll have a nice bed to rest and a kitchen to prep all your hike snacks. Plus, you'll have a view of what's waiting for you! The place is clean and quiet, and Jenifer was super responsive and friendly. I wish we could have stayed longer! I highly recommend it.
Karine
2016-09-22T00:00:00Z
Jennifer was great, warm, supportive and good communicator and went out of her way to make sure we were comfortable and had all our needs met.
Mel
2016-09-19T00:00:00Z
Jenifer went out of her way to accommodate us on our visit. The house description is accurate if you look at all the photos. The view of the mountains is fantastic in the morning. The house has everything that we needed.
Arthur
2016-10-09T00:00:00Z
My family stayed at the Mt. Whitney view home for 50 days and Jenifer accommodated all of our needs. The view is amazing and it is in the perfect location if you plan on hiking Mt. Whitney. The portal is within walking distance. Our stay was peaceful and cozy.
Steph
2017-01-16T00:00:00Z
I was in town for a week of work and really felt at home here. The accommodations exceeded expectations and it was very clean inside and out. Plus it's in a quiet, relaxing location. 5/5!
Samuel
2016-09-30T00:00:00Z
The location is secluded and affords a great view of the Eastern Sierras. Jenifer thought of everything with her attention to detail. Very clean and nicely decorated; great bedding as well. A pleasure stay...
Victor
2016-11-25T00:00:00Z
Jenifer made us feel incredibly welcome in this no hassle easy access to mt. whitney airbnb. She is the kind of host that goes out of her way to ensure your stay is incredible. Great spot for a weekend landing pad as you hike the eastern sierras. Thanks again Jenifer!
Greg
2016-10-30T00:00:00Z
Art der Unterkunft
Ganze Unterkunft
---
Objekttyp
Andere
---
Unterkunft für
5
---
Schlafzimmer
Lone Pine, Kalifornien, Vereinigte Staaten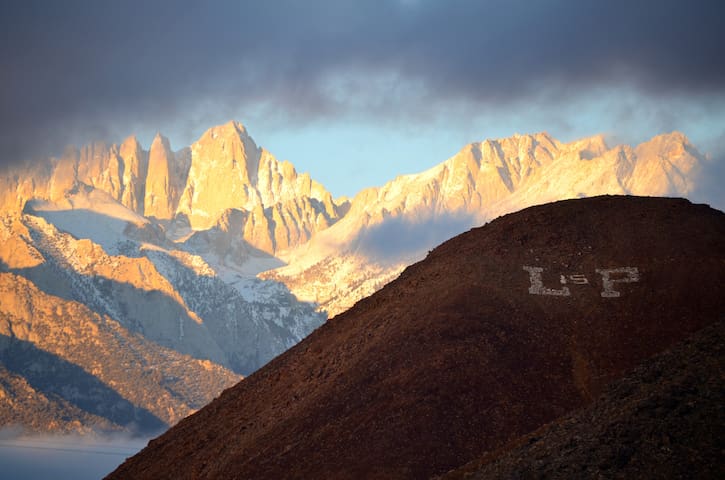 An entire home recessed on a quiet block in Lone Pine, CA! Within walking distance of the Lone Pine's Main Street, this quite cottage is the perfect outpost to begin your Mt. Whitney Hike, Death Valley Adventure, Fishing Trip, Ski Trip and more! Now with 25 Mbps WiFi, TV, Netflix, Hulu, with Amazon Fire Stick! Weekends (Fri/Sat) require a 2 night stay minimum (Adding a Thursday or an adjacent Sunday will qualify). If you must book a single night on a Friday or Saturday, please contact me. :)
You will have access to an entire house including front yard and back yard. The cottage is 515 square feet with 3/4 bathroom (Sink, Shower, Toilet), kitchen (Stove, Microwave, Sink, Pots/Pans, Utensils, standard Coffee Maker, Keurig machine - BYOP [Bring your own pod], Granite Counter), living room (POÄNG Chair for relaxing, table for eating with two chairs, evaporative-cooler aka swamp-cooler, couch that converts to a full sized bed, a chair that converts to a small twin bed, and bedroom (Queen bed pillow top mattress, ceiling fan, closet space, and crib for use). The front yard features a beautiful Ash tree which changes colors with the season. Note: Lone Pine is currently under water restrictions. While our grass may have suffered, we want you to enjoy yourselves while remaining water wise and responsible.
Nice little place for an overnight stop over. Loved the board games!
Dan
2016-08-25T00:00:00Z
We received a very warm welcome, with heating on, music playing, table laid and plenty to eat and drink. Even the dog got treats! Everything in the cottage worked as it should, and was very clean. Robert was a perfect host too, keeping in touch via text, in case we needed anything. The cottage was perfect as a base for hiking, but it was also nice to leave the car at the cottage and get to know Lone Pine. We had a super long weekend, and hope to return before too long.
Sarah
2016-11-27T00:00:00Z
A great place, set back from the street, cozy and quiet.
Leif
2017-03-21T00:00:00Z
Thank you so much for everything! I traveled to Lone Pine with my friends and stayed at Robert's place for one night. The house is very clean and comfortable. We enjoyed our stay there!
Jenny
2017-01-11T00:00:00Z
amazing place! very nice location in Lone Pine
Kevin
2016-12-30T00:00:00Z
Had a wonderful weekend stay at the Muir Cottage! It was a great location for our trips to Manzanar, Mammoth, the Bristlecone Pine Forest and Death Valley; not to mention, Lone Pine is a cute small town. We enjoyed the diner where we had breakfast, Mt Whitney Restaurant, but the cottage was well equipped if we had chosen to cook. It was cozy and included everything we needed and more — the radio program was a nice touch. Thanks to Robert for his hospitality!
Sam
2017-02-26T00:00:00Z
The Cozy Muir Cottage is an exceptional value. Robert is a wonderful host making every aspect of our stay an A+++ experience. He went out of his way to provide every creature comfort in this backpacker's town of Lone Pine, CA. We will certainly be frequent flyers at the Cozy Muir Cottage. Top notch accommodations with an top notch host. Thank you so much Robert!!!!
Lisa
2016-08-19T00:00:00Z
Robert's place was clean, cozy and easy to find. It has a great rustic feel which we really enjoyed. We'll definitely be back on our next trip through Lone Pine.
Matt
2016-08-30T00:00:00Z
Art der Unterkunft
Ganze Unterkunft
---
Objekttyp
Haus
---
Unterkunft für
4
---
Schlafzimmer
Lone Pine, Kalifornien, Vereinigte Staaten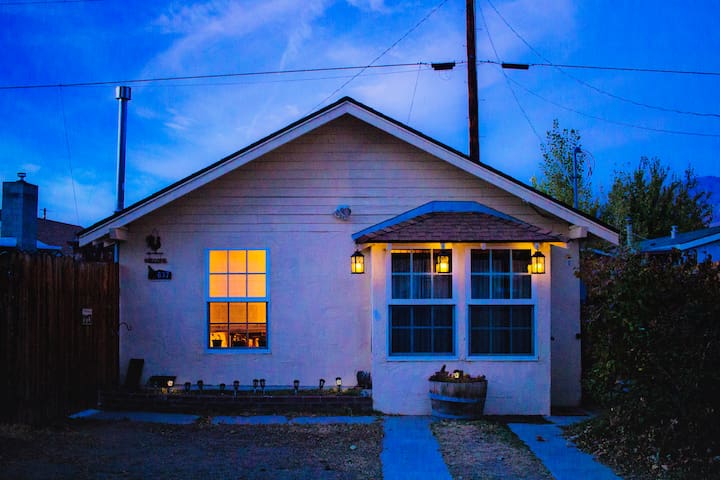 Herrliche Rückzug auf drei Morgen Türme, Geröll und einen atemberaubenden Blick. Es ist ein magischer Ort mit künstlerischen Aufflackern und völliger Ruhe, in der Nähe Mt. Whitney. Das Haus verfügt über weitläufige Terrassen, Wi-Fi und Kabel-TV, Wolf-Bereich, Gasgrill und Gasfeuerstelle.
Jurassic House ist ein Fertighaus modernes Haus auf 3 qm großen Gelände inmitten von Felsspitzen und riesige Felsbrocken aus dem Jura, zwischen (PHONE NUMBER HIDDEN) Jahren. Das Haus befindet sich auf 4.600 'Höhe gelegen, wo spektakuläre Wüsten die östlichen Ausläufer der Sierra Nevada erfüllt. Die Eleganz und Komfort des Hauses ist ein willkommener Kontrast zu den schroffen Umgebung. Es hat eine neue Heizung und A / C-System und elektrischer Kamin. Alle Glas ist doppelt verglaste. Das Haus ist von einem weitläufigen Deck gewickelt - jedes Zimmer hat eine Schiebetür außen führt, so Innen- und Außenwohnzusammenfließen. Die Fußböden sind mit Parkettböden mit Ausnahme der Schlafzimmer, und das Deck wird aus einem weichen Kunststoff, die Sie barfuß laufen auf kann. Im Inneren verfügt über drei Schlafzimmer - ein König und zwei Königinnen - zusammen mit zwei Bäder, Wohnzimmer und Essbereich mit stilvollen Möbeln, Die Küche hat einen Wolf-Bereich, Geschirrspüler, Mikrowelle und Kaffeemaschine einen separaten Waschraum mit Waschmaschine und Trockner gibt. Außerhalb verfügt über eine Gas-Feuerstelle und Einbau-Gasgrill. Das Haus verfügt über kostenlose Wi-Fi und einen Großbild-TV / Bose-Sound-System mit Kabelanschluss. Wie man es von jedem Zimmer den Blick blicken wird von herrlichen Felsen und hoch aufragenden Berge faszinieren - die Inyos im Osten und Sierra im Westen. Auf der anderen Straßenparklandschaft. Es gibt Angeln eine 5-minütige Fahrt withing. Whitney Portal ist nur 15 Minuten entfernt. Einige der schönsten Felsformationen sind diejenigen, auf und rund um die Immobilie. Von dem Vorderdeck sehen Sie Whale Rock, ein Turm, der wie ein Wal breaching aussieht. Am Rand des hinteren Deck stehst du unter massiven Felsen, ein 80-Fuß-Monolith. Schlendern Sie den Hügel hinauf und Sie können auf einem Felsen sitzen und schauen auf dem Berg Whitney, dem höchsten Punkt in den 48 Staaten.
Tolle Lage in den Alabama Hills über Lone Pine. Über die Straße von einem Park. Große Forellen angeln innerhalb von fünf Minuten. Nur 15 Minuten von Whitney Portal - perfekte Basislager für eine Bergtour. Nahe Movie-Flat, wo Hunderte von Filmen gemacht wurden.
Nach dem Trubel in Las Vegas sind wir in dem Haus von Doug angekommen und empfanden dies als ein Paradies! Das Haus und die Umgebung ist einfach atemberaubend. Das Haus ist sehr gut ausgestattet (wir vermissten nichts) und vor der Tür befindet sich die absolute Ruhe. Und genug Raum für Aktivitäten wie wandern, klettern oder einfach bei Sonnenauf- und Untergang oder dem klaren Sternenhimmel die Seele baumeln lassen. Doug ist ein herzlicher, sehr zuvorkommender Gastgeber. Seine Informationen führten zu einer reibungslosen Anreise. Wir fühlten uns wie zuhause :-) und würden, sobald es die Zeit zulässt, gerne wieder kommen.
Miriam
2016-09-30T00:00:00Z
This house is in an incredible location, with grand views of the Alabama Hills and Owens Valley, and the eastern Sierra towering to the west. The house is exactly as described: elegant, modern, clean and includes all the conveniences of home. Doug was available to help at any time, but we didn't need to bother him much because the house was in great shape! Looking forward to returning to this wonderful spot in the future!
Tina
2016-05-13T00:00:00Z
Wow !! We highly recommend Doug's place, although we where only there a short few days we where so impressed with our stay and left us wishing we had booked longer thank you for making our stay all we hoped it would be...
Mark
2016-09-19T00:00:00Z
Amazing house in an amazing site. Very clean , very Nice, the standing of this house is perfect & Doug is available for all questions ! I recommend this location for a step before the death valley ! Again thank a lot Doug !
elodie
2016-03-25T00:00:00Z
This place was amazing! Doug's home is a warm and inviting place with stunning views that are breathtaking! (The pictures in the listing can't do it justice. ) The mountains, boulders, and stars come together to make this an almost magical space! We didn't want to leave. :)
Brian
2016-08-25T00:00:00Z
Doug was extremely welcoming. His place is amazing, would definitely stay there again! Neighborhood is incomparable. Very upscale house in an unbeatable setting.
Hawk
2016-10-16T00:00:00Z
We had a really great time staying at this beautiful home. We had everything we needed, were totally comfortable, and the location was really picturesque. Doug went the extra mile for us when my daughter forgot her school work in the closet - so check the closets before leaving! - he went above and beyond for us and I greatly appreciate it. We would love to come for a longer stay another time.
Carole
2016-10-23T00:00:00Z
What a tremendous location and comfortable home! Our family of four had a great time, and the house was perfect for our family. Check-in and check-out were very easy. Doug's directions were perfect and he was very responsive whenever I wrote. The views from the house are tremendous and plentiful. Luckily there are big windows or sliding glass doors in every room! We loved grilling dinner on the back deck and gazing at the Milky Way. I even saw some shooting stars. Our dog was very happy to join us on this vacation, and we found a wonderful trail just across the street where he could run off-leash that led through the rocks of the Alabama Hills, with views of the rugged Sierras as a backdrop. A perfect spot for a family get away.
Laura
2016-12-22T00:00:00Z
Art der Unterkunft
Ganze Unterkunft
---
Objekttyp
Haus
---
Unterkunft für
6
---
Schlafzimmer
Lone Pine, Kalifornien, Vereinigte Staaten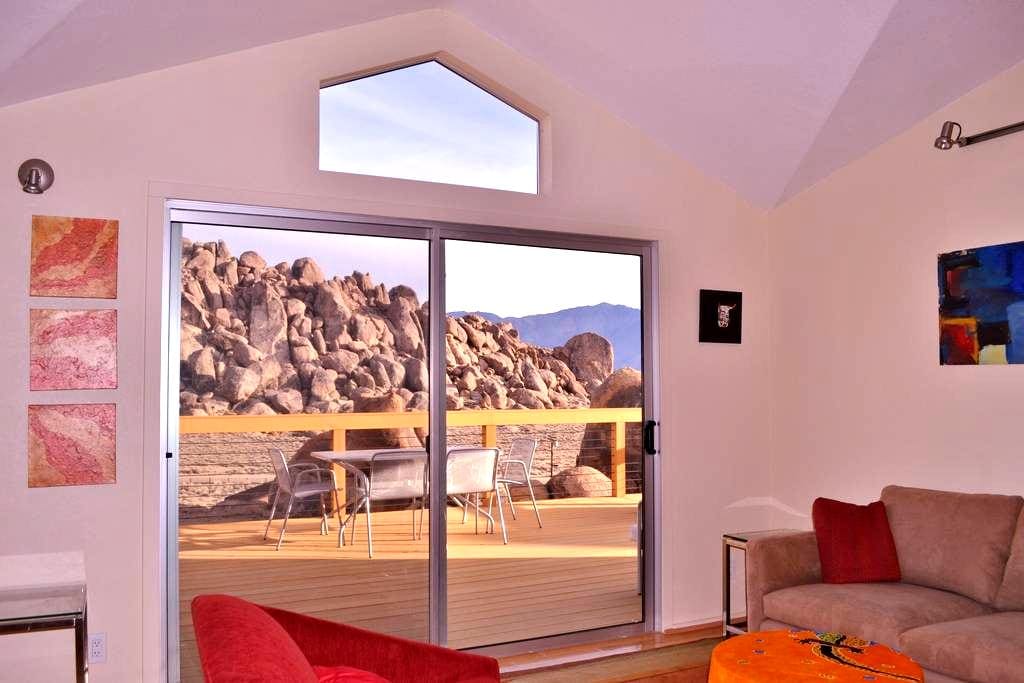 This is located at 6000' and 10 miles from town on 400 acres. The views are amazing and the Sierra are in the "back yard." It is nature at its best and visitors leave feeling refreshed and nurtured. Off the grid. Map available.
This house is located on 400 acres in the Eastern Sierra foothills outside of Lone Pine. It is close to Mt. Whitney, the tallest mountain in the contiguous 48 states and a destination for climbers. Other local attractions include Horseshoe Meadows, Cottonwood Lakes, Lake Diaz, Death Valley, and Onion Valley. There is access to the Pacific Crest Trail at several points in the Owens Valley. The house is large and comfortable. This is the perfect place to make a base camp for exploring the area, or to have a quiet retreat. The views are beyond compare.
The house is at the end of a mile long road. There other full-time residents on the acreage but no neighborhood to speak of.
Doroethy welcomed us to stay at her beautiful house built at the foothill of eastern sierra. The house was maintained very well, super clean and very cozy. Both Doroethy and Ron welcomed us and gave us a tour of the house and they were extremely pleasant. The house had everything we needed and more. I would recommend the house for my friends and will also prefer to stay there whenever I travel to lone pine area. In summary its a beautiful house from even more beautiful people and will be a pleasure for anyone to stay there.
Karuna
2016-06-28T00:00:00Z
Doroethy drove out and met us at the gate, to lead us to the house. She is very nice. Showed us around, the property is as described. There were 5 of us and we had plenty of room. We did MT. Whitney in a day as a group, we really appreciated how comfortable the are. I have recommended this place to other friends who will be in the area.
Victor
2016-07-16T00:00:00Z
What a great experience. Doroethy was an excellent host. The location was amazing. Located a few miles from town, the home was secluded with a magnificent view of the mountains. Such a gem. You won't be disappointed.
Aaron
2016-10-10T00:00:00Z
Wonderfull place, beautifull house, great reception. An experience to repeat.
Discovery
2016-07-23T00:00:00Z
The experience was amazing and beyond what we expected just from seeing the pictures and reading the listing's description. I had expected a quiet, secluded space, but was so surprised by the history and richness of the surrounding area. The town of Lone Pine has great food and great character, and just behind the rental property is some very cool hiking. The property itself was incredibly dynamic and stimulating. Packed with books and movies. A lot of attention is being paid here towards fostering the best possible experience for any visitors.
Thomas
2016-07-04T00:00:00Z
Ewwww!! There were mouse droppings in my bed - which I found after I slept on it. The "A-frame" part of the house had rodent feces in both the bathroom and on the bed we slept in. My parents came night 1 of 2 nights total to pick up my husband and I at Whitney Portal after 8 days on the High Sierra Trail. They stayed in a different part of the house, and didn't have any complaints. The house is cozy and secluded, but really in need of a cleaning (dust on table, old food in pantry and refrigerator) and rodent abatement. Doroethy declined compensating us in any way.
Sylvia
2016-08-19T00:00:00Z
Art der Unterkunft
Ganze Unterkunft
---
Objekttyp
Haus
---
Unterkunft für
6
---
Schlafzimmer
Lone Pine, Kalifornien, Vereinigte Staaten
Olancha - Airbnb
:
Durchschnittlich

4.98

von

5

Sternen aus

139

Gäste-Bewertungen
Gib deine Reisedaten ein, um den aktuellen Preis zu sehen. Es können zusätzliche Gebühren und Steuern anfallen.