273 Ferienhausvermietungen
Genießen Sie unser Studio eingebettet innerhalb weniger Minuten von einer Fülle an Wassersportaktivitäten, Bars, Märkten und einige der besten Fisch die Florida Keys zu bieten hat. Nur eine Meile von John Pennekamp Coral Reef State Park.
Unser Studio ist ein großer Raum mit Queen-Size-Bett, ein Bad und ein Essbereich für 2. Das Studio mit einem kleinen Kühlschrank / Gefrierschrank kommt und eine Mikrowelle. Hier finden Sie auch einen großen Außenbereich mit Hängematten, die verwendet werden können. Handtücher, Bettwäsche und Kaffee sind vorhanden. :)
Unterkunft war sehr gut und sauber. Kostenloses Wasser und Wein. Informationen über die Keys standen in der Unterkunft zur Verfügung.
Daniel
2017-02-23T00:00:00Z
1+ mit *
Markus
2017-03-21T00:00:00Z
Angenehmer Aufenthalt
Martin
2017-02-09T00:00:00Z
Très agréable studio hyper propre et très bien décoré. Le jardin est adorable surtout la nuit avec de petites lumières qui rendent l'endroit magique. Seul bémol, et de taille, les petits chiens qui sont enfermés dans une pièce adjacente au studio et qui ont aboyé toute la nuit.
Estelle
2016-06-21T00:00:00Z
This was an AMAZING place to stay!!!! It was a wonderful size space and the room was absolutely the cleanest it could possibly be! We loved the hammocks and chairs outside and the comfy couch inside! They have created such a homey feel to the house that we often just wanted to stay and relax.
Diana
2016-07-20T00:00:00Z
My boyfriend and I were traveling through Key Largo and got in later in the evening. We were able to book last minute and the place was ready for us even with the short notice. The space was clean and smelled fresh when we walked in. The decor was fun and "beachy." The bed was very comfortable (especially after spending the previous couple night camping on the ground!). They had everything we needed, including extra little toiletry items, and they even offered a complementary bottle of wine! I wish we could have stayed longer to utilize the hammocks and tiki torches. We were able to talk to Mauro in the morning and he offered suggestions on restaurants and things to do, and even gave us a bit of history. The pastry place he suggested was outstanding, we almost stopped again on our way back through! I will say with the room being attached to the rest of the house, we could hear people/noises through the walls, which was not a problem for us but might bother some people. We would definitely stay here again!
Adrianne
2016-12-16T00:00:00Z
Great cute place to stay! Wonderful location. The wine and coffee were a nice touch. The only downside was the dogs barking sometimes during the night. Even with that I would stay here again!
Kristen
2016-07-11T00:00:00Z
Quiet, cute and very clean apartment in a residential neighbourhood. We enjoyed a lovely picnic in the garden. Mauro and Syndia were great hosts.
Christian
2017-02-13T00:00:00Z
Art der Unterkunft
Privatzimmer
---
Objekttyp
Haus
---
Unterkunft für
2
---
Schlafzimmer
Key Largo, Florida, Vereinigte Staaten
Ruhiger Bungalow im Herzen von Key Largo versteckt. Dieser Gast zu Hause mit einer gemeinsamen Terrasse bietet Platz für 2 Personen und verfügt über alles, was man für einen angenehmen Aufenthalt im Paradies haben müssen. Dieses Haus hat auch eine voll ausgestattete Küche mit Waschmaschine und Trockner.
Das Guest House ist sehr gut ausgestattet und hatte alles, was wir für unseren Aufenthalt benötigten. Alles Prima. Wir kommen gerne wieder
Tim
2017-03-17T00:00:00Z
Die Unterkunft war sauber und schön. Scheint neu renoviert zu sein. Hat alles super geklappt. Wir würden wiederkommen :)
Taty
2017-04-07T00:00:00Z
Great quiet place to stay on Key Largo
Amy
2017-03-27T00:00:00Z
The location was great! Everything was as advertised. Mike was very accommodating. If we are vacationing in the area I would book it again.
Andres
2017-03-19T00:00:00Z
Mike is nice and all facilities are good! We cooked dinner by ourselves. Neighbors are really quiet. I recommend his house!
Kentaro
2017-03-13T00:00:00Z
This great little private place only 4 miles from Pennekamp State Park was perfect for our trip. Clean, well-laid out, great communication from Mike. Shower big enough for two, a nice outdoor seating area, easy to find, washer/dryer, nice little kitchen. Only slight negative was that you can hear the highway with windows open (it's a skinny island, what can you expect?). We will absolutely come back to this place if we manage to make it to the keys again - which we plan to since Pennekamp was great (learning to snorkel at Cannon Beach, then going out on the boat) and Dagny Johnson State Park was a beautiful place to stretch the legs.
Andy
2017-02-23T00:00:00Z
Great pit stop for a drive down to Key West!
David
2017-03-06T00:00:00Z
Absolutely no flexibility with checkout time. Not even an extra 15 minutes. Not very good customer service. The place was good but his lack of flexibility ruined the experience for us.
Andres
2017-03-05T00:00:00Z
Art der Unterkunft
Ganze Unterkunft
---
Objekttyp
Haus
---
Unterkunft für
2
---
Schlafzimmer
Key Largo, Florida, Vereinigte Staaten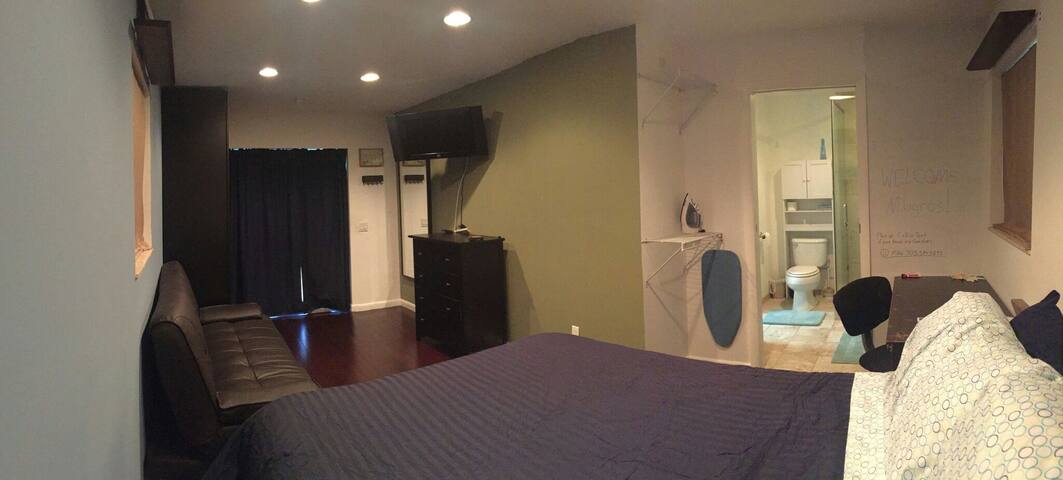 This was my first time using airbnb, and my stay at Salt Life was awesome!!! Todd is an excellent host and amazing person! He made me feel at home and treated me like family. His organic smoothies and juices are the best I've ever had. The private beach is very beautiful. I highly recommend staying here.  Thank you Todd for showing me what a true salt of the earth man looks like.
Jenifer
2017-04-09T00:00:00Z
Todd's place was excellent. It had everything we could want. Todd was an excellent host as well. He had great advice on places to check out while we were visiting the Keys. And his smoothies were excellent! We hope to be back sometime!
Tim
2017-03-16T00:00:00Z
Straight up & right on! Todd a "hostess with the mostest"! Greets you with a cold one & a smile. Beach day with provided quality beach chairs, beach hat, cooler for the cervezas. Excellent source for local hangouts, diving expertise, and can share how you can get certified for Lionfish Muerte Squads to save the reefs! Good man...Great stay! Thanks Todd!
John
2017-03-26T00:00:00Z
Todd was a welcoming host, very knowledgable about the area and full of helpful pointers. Loved the juice! The private beach was much more magical than expected. During our stay we were able to see a lot of wildlife including manatees, (that swam right past us) iguanas, sea anemone, starfish, and various types of birds and fish.
Shelby
2017-03-10T00:00:00Z
my husband and I are from Canada.We enjoyed Tood so much he was a very insparational person.He gave us good advice on what to see and visit in the area,His morning juices are awesome.The first night we were there he offered to cook supper for us,so we all went out and picked up shrimp and fish,he cooked it for us and it was absolutely (URL HIDDEN) that point and time he made us feel so confertable in his home,If he ever comes to Canada he is always welcome in our home.We certainly keep in contact with Todd.
Laurette ,Yvon
2017-03-28T00:00:00Z
The salt life is just as described- easily accessible off Route 1 also convenient to both Miami and Key West. Todd's place is comfortable and welcoming. His dog is the cutest, his juices the freshest! The 2 twin beds were perfect for my friend and me and the private beach just a short walk.
Jen
2017-02-22T00:00:00Z
This was our first AirBnB experience, and Todd made it good. He's a down-to-earth guy, that made us feel at home. He'd put down work to answer our questions and to give us advice on things to do and places to eat. His advice, especially related to restaurants, was spot on! He even walked us to the private beach for our first Keys sunset in 25 years. His place is simple and clean, in a mostly quiet neighborhood (some dog barking in the neighborhood at times during the night), and close to most things to do in Key Largo. The bathroom is shared with the host, if that matters to you. It really didn't matter to us. Thanks Todd!
Brian
2017-02-15T00:00:00Z
Thank you so very much, was really great to stay at your place!
Nat
2017-03-23T00:00:00Z
Art der Unterkunft
Privatzimmer
---
Objekttyp
Haus
---
Unterkunft für
3
---
Schlafzimmer
Key Largo, Florida, Vereinigte Staaten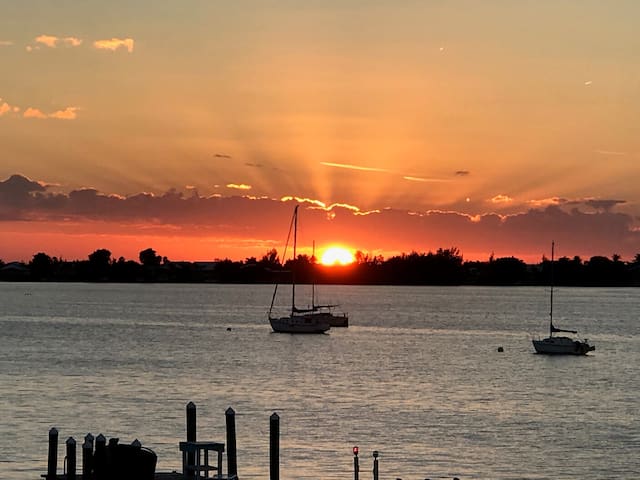 NO SMOKERS.Romantic kleine Suite w / Pvt. Ltd. Bad & Französisch Türen öffnen sich zum Strand. Kingsize-Bett für 2 Personen Mini-Kühlschrank, Keurig & Grill Erfolg. Diese Suite verfügt über keine Kochgelegenheit. FREIE NUTZUNG KAYAK nach 1 Paar 1,5 Stunden pro Tag der ur Aufenthalt. Siehe Zustellb. Inserate klicken Sie auf unsere Profilfoto, Drop-Down-Menü erscheint ... klicken Sie auf meine Einträge oder mehr Einträge. Genießen.
* Lassen Sie mich einen Moment Zeit nehmen, zu erklären, dass alle unsere Unterkünfte auf unserer schönen 2-Morgen-gated Anwesen befinden. Wo ich bin jederzeit für Ihre Bedürfnisse zur Verfügung. Meine Inserate sind in verschiedenen Ausführungen unserer Unterkunft bieten können Ihre Dies ist eine sehr private und schönen Raum. Golf von Mexiko, wir sind auf einem 2-Morgen privaten Gated Anwesen direkt am gelegen. Ihre Türen öffnen, die einen atemberaubenden Blick auf Wasser und Strand. Wir sind nicht eine Wohnung, wir sind nicht ein Wohnmobil auf einem Kanal. Sie sind wirklich ein Teil des Haupthauses auf dem Wasser im Südwesten des Hauses ab. Wir leben im Obergeschoss aber nicht direkt über Ihrer Suite. Wir sind unterwegs auf der Ostseite des Hauses und zurück. So erleben Sie Ruhe und ruhig. Stornogebühren gilt, wenn Daten geändert werden.
Wir leben nicht in einer Umgebung, wo man mit Parkplatz besorgt sein müssen. Wir bieten ausreichend Parkplätze und Raum zum Entspannen.
Die Begrüßung durch Leslie war sehr nett wir fühlten uns willkommen. Die Bewertung fällt leider differenziert aus. Die Lage ist echt fantastisch in Key Largo und der Zugang zum Wasser sowie die Kayaks und das Schnorchelequipment. Wir sind auch nicht penibel oder sonst was, dass ist die erste Bewertung die kritisch ausfällt (nach 10x AirBnB). Leider sind uns einige Sachen aufgefallen, die uns nicht gefallen haben. 1. Das Klima in dem Raum war sehr feucht und stickig, die Klimaanlage war dazu teilweise so laut, sodass wir sehr schlecht schlafen konnten. 2. Bildbeschreibung "This is the view from your french doors." passt auch nicht ganz, der ist nämlich vom Raum daneben aus gemacht. Es sind zwar nur 2 Meter aber die reichen, sodass man eher auf ein Busch schaut anstatt auf das Meer. Ich weiß nicht warum hier nicht der "wahre" Blick dargestellt wird. 3. WiFi im Zimmer kaum zu gebrauchen, Verbindet bricht oft ab (auf 3 Endgeräten probiert) 4. Sauberkeit/Zustand: Der Boden und das Bett sowie die Schränke waren sauber im Badezimmer gab es viele Spinnweben. An den Holztüren konnte man Schimmelbesatz erkennen (warscheinlich durch die Feuchtigkeit). Offene Kabel im Badezimmer und die Farbe löst sich.
daniel
2016-05-24T00:00:00Z
Nett angelegt, jedoch ist das Apartment aufgrund von extrem starkem Schimmelgeruch absolut nicht bewohnbar. Zudem sind keine Lüftungsmöglichkeiten vorhanden. Um unsere Gesundheit nicht zu gefährden, mussten wir sofort wieder abreisen! Leider gab es kein Entgegenkommen seitens der Vermieter. Nice surrounding, but the apartment is due to an extreme mouldy smell absolutely unhabitable. Furthermore there is no possibility airing the room. We did not want risk our health, so we had to cancel our stay there. The renter fails to offer us a gesture.
Bima
2015-12-23T00:00:00Z
Wie schon beim letzten Mal war die Begrüßung sehr herzlich und diese Herzlichkeit blieb auch während unseres gesamten Aufenthalts ( 2 Übernachtungen). Wir hatten diesmal die Sunset Suite gebucht - ein schickes, nett eingerichtetes Schlafzimmer mit King Size Bett und ein ebenso lievevoll eingerichtetes Badezimmer mit Dusche nebenan. Diese Zimmer befinden sich im Haus am Wasser, in dem auch Joyce und ihr Mann leben. Das Zimmer liegt etwas versteckt seitlich vom Haus, so dass man sich sehr privat fühlt. Und es hat den großen Vorteil, dass man direkt am Wasser ist. Dafür muss man etwas weiter zur Küche im Haupthaus laufen... Aber es war wie immer sehr ruhig, obwohl diesmal mehr Gäste anwesend waren. Wir bekamen davon aber nur beim Sonnenuntergang etwas mit, wenn sich die Mehrzahl am Wasser versammelte um gemeinsam diesen anzusehen. Am letzten Abend bekamen wir sogar ein Glas Wein angeboten - dafür nochmals ganz herzlichen Dank! Überhaupt war die Gastfreundschaft wie unter Freunden - es war einfach wundervoll, nur schade, dass wir nicht länger bleiben konnten!
Magdalene
2014-12-22T00:00:00Z
Leslie was a great host and welcomed us to the property as we had arranged beforehand. The location is great and the views are even better. The room was as promised and clean. It seems there can only be a few guests on the property at any one time so privacy would likely never be an issue. I highly recommend.
andre
2016-08-29T00:00:00Z
Everything was great. The property is very beautiful. The bay was lovely to wake up to in the morning. Unfortunately we didn't get to kayak the bay because we were very busy. I would recommend and stay again if I'm ever back.
Elsa
2015-07-17T00:00:00Z
This is a great spot, not too far down into the keys after a long day. It's secluded and on the water which is nice for a quiet getaway. Comfortable accommodations - no frills. Joyce is very pleasant and you will enjoy a stay. The water and view are worth the visit.
Philip
2017-02-20T00:00:00Z
Amazing! Breath taking views, wonderful host family everyone was so kind and had the best suggestions for grabbing local fare! Cafe moka was simply amazing!! Thank you Bennett family!
Ruben
2016-08-20T00:00:00Z
The listing description was very accurate, and the room and grounds were quite nice. Leslie responded very quickly to emails and texts, and she made us feel welcome by meeting us outside the house as we drove in.
Dean
2015-08-05T00:00:00Z
Art der Unterkunft
Privatzimmer
---
Objekttyp
Haus
---
Unterkunft für
2
---
Schlafzimmer
Key Largo, Florida, Vereinigte Staaten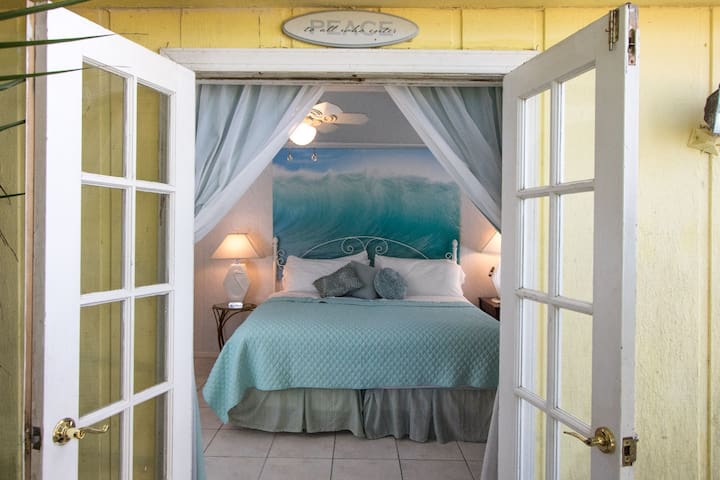 *** Sie sind die Reparatur der Straßen und die Gegend ist staubig, bald getan werden sollte .. Es ist nun ****** Haus verfügbar ist abgeschlossen. Dies ist ein 2 Schlafzimmer 1 mit Memory-Schaum-Voll Matratze und 1 mit Memory-Foam-Queen-Matratze, 2 Badezimmer Haus mit einem Ikea-Memory-Foam-ausziehbares Bett. Hat alles, was man braucht in der Küche, um alle Mahlzeiten zu machen. Wir erlauben nicht das Haus als Partyhaus genutzt werden. Dieses Haus befindet sich in einem typischen Key Largo Nachbarschaft, nicht in einem touristischen Gebiet. Leben Sie wie ein Islander !!!!!!
Eine unglaubliche Modul zu Hause weg von der Strecke bei Meile Marker 106 einen Block von einem Kanal in die Bucht, ist es in der Nähe all der großen Nachtleben in Key Largo. Die Tasten sind nicht förderlich für die South Beach fühlen. Wir haben die beste Tauchen und Schnorcheln. Kommen Sie und genießen Key Largos unglaubliche Fisch und Oceanic Leben. Wir sind zu Fuß zum Einkaufen. Wenn Sie zum ersten Mal Benutzer klicken Sie auf den Link für eine einfache Erklärung sind .... https://www.airbnb.com/c/nanderson3 Wir wollen, dass jeder möglich, den besten Urlaub zu haben. Die Schlüssel sind ein Paradies für uns. Bitte beachten Sie dies ist eine gelebte im Haus. Dies ist kein steriles Hotel. Wir kombinierten zwei Familie, und wir haben jetzt zwei Häuser. Wir versuchen, sehr schwer, das Haus super sauber zu halten. Dies ist in den Tropen und das ist ein sehr anspruchsvolles Unterfangen. Sie haben die volle Nutzung der Küche und alles darin. So können Sie in den Supermarkt zu gehen und kochen für euch. Wenn es etwas in den Kühlschrank oder Schränke verwenden. Manchmal bekommt man echte Glück und der Gast, bevor Sie wirklich über gekauft. Über Key Largo Key Largo ist eine Insel in der oberen Florida Keys Archipel und mit 33 Meilen (53 km) lang, die größte der Keys. Es ist auch die nördlichste der Florida Keys in Monroe County, und die nördlichste der Keys verbunden durch US Highway 1 (Overseas Highway). Seine frühere spanische Name war Cayo Largo, was bedeutet, Long Key. Key Largo ist ein beliebtes Touristenziel und nennt sich "Tauchen-Hauptstadt der Welt", weil die lebenden Korallen ein paar Meilen vor der Küste Riff tausende Taucher und Sportfischer-Enthusiasten anzieht. Key Largo liegt zwischen Everglades Nationalpark im Nordwesten und John Pennekamp Coral Reef State Park im Osten, der erste Unterwasserpark in den Vereinigten Staaten und der Ort der einzige Korallenriff in den kontinentalen Vereinigten Staaten leben.
Nette, überraschend große "Cottage" mit kompletter Ausstattung und zwei Badezimmern. Gut gefüllter Kühlschrank und voll ausgestattete Küche. Idealer Platz, um den John Pennekamp Nationalpark zu erkunden. Viele Souvenirs, toll dekoriert. Schön für Kinder. Ruhige Nachbarschaft.
Ute
2015-03-06T00:00:00Z
Okay aber nicht mehr. Sauberkeit im Bad ließ absolut zu wünschen übrig. Haare im Waschbecken. Fußabdrücke und Hasre auf dem Boden. Toilette verschmutzt. Beim Aufräumen noch den Müll vom Vormieter unter der neuennMülktpte gefunden
Angelika
2017-03-28T00:00:00Z
Natalies Haus bietet viel Platz und viel zum Gucken. Man fühlt sich ein wenig wie in einem Antiquitätenladen, was aber unglaublich sympatisch ist. Die Gegend ist ruhig und man wohnt etwas abseits vom Trubel, der ansonsten auf den Keys herrscht. Wenn man spät abends ankommt, sollte man bedenken, dass die Supermärkte hier nicht wie üblich durchgängig geöffnet haben, sondern gegen zehn schließen. Leider haben wir unsere Gastgeberin nicht persönlich getroffen aber der Ablauf war absolut unkompliziert und der Kontakt immer freundlich. Eine schöne Möglichkeit auf den Keys abseits der großen Hotels zu übernachten - sehr empfehlenswert. Vielen Dank und hoffentlich bis bald.
Nora
2014-10-28T00:00:00Z
Bei unserer Ankunft kam eine Frau vom Haus nebenan welche scheinbar Ein paar Gläser zu viel getrunken hat gab mir den Schlüssel und verschwand wieder mein kleiner Sohn 5 und ich haben uns hier überhaupt nicht Wohlgefühlt in Der Nacht war dann noch 2 mal die Polizei zwei Häuser weiter oben. Konnte kaum schlafen. Die Unterkunft gleicht mehr einem Museum als einem gemütlichen Ort um sich wohl zu fühlen. Das war meine erste Erfahrung mit Air b&b war nicht der Hit hoffe meine nächste Erfahrung wie besser
Michèle
2014-05-11T00:00:00Z
My friend Sarah and I had the pleasure of staying at Natalie's place during our February break from teaching. After a bunch of nightmarish flights, we ended up having to drive to Key Largo at 3 am in the morning from Miami. By the time we got to Natalie's we were exhausted and worried about everything. That all changed the moment we pulled into the driveway. Natalie is super quick to respond to an email or text so we located the key right where she said it would be. The little home is clean and eclectic. We each had our own bedrooms and bathrooms with showers and clean sheets and towels waiting for us. The best part of the place for me was all the cookware available. We went grocery shopping (right down the street) and saved money by packing lunch ( she even had a cooler waiting) and taking it on our various roadtrips to the different Keys. At night sometimes we would eat dinner out on her little porch, or drink coffee there in the sun in the morning. We realized that we probably could have comfortably stayed there with three people as there was another bed that we didn't use at all. I would recommend renting a car to someone traveling to the Keys so you get to check out all of them. We found the entire vacation just so easy and relaxing and Natalie's place was the perfect home base for our adventures. I texted Natalie asking her what we should do/ clean before we left and she said "Don't touch a thing you are on vacation!" This was one of my first airbnb experiences and it couldn't have been better.
Miriam
2014-02-23T00:00:00Z
Great location for scuba diving Key Largo with large bath / shower for rinsing gear. Quiet neighborhood but still walking distance from two local bar & grills! Comfortably sleeps five people and enough fans and a/c to keep cool.
Julian
2015-04-25T00:00:00Z
Natalie's home was exactly what we expected, and much more to our surprise. We really enjoyed staying in her Key Largo cottage. Her home is fantastic and with such great character. We had everything we needed and much more. The location is great and you can easily access anything you need anywhere in the area. She was a great host and was available in case anything came up but also left to our vacation without any hassles from a meddlesome host. I have to say, my favorite though had to be the double shower. That caught us by surprise and was totally awesome!!!! Thanks for letting us share your home with you, Natalie!!!
Mel
2014-05-27T00:00:00Z
We did not get to meet Natalie but we really enjoyed staying at her place in Key Largo. The house was very interesting and we really got a kick out of all the awesome antiques she used to decorate. The beds were also very comfy. Thanks Natalie!
Jenna
2014-08-10T00:00:00Z
Art der Unterkunft
Ganze Unterkunft
---
Objekttyp
Haus
---
Unterkunft für
6
---
Schlafzimmer
Key Largo, Florida, Vereinigte Staaten
Erstaunlich 2 Schlafzimmer, 1 Badezimmer schön renoviert, modernes Ferienhaus in Key Largo. Master-Schlafzimmer verfügt über ein bequemes Kingsize-Bett. Das zweite Schlafzimmer hat ein Twin-Size-Bett, das in einem Kingsize-Bett umgewandelt werden kann. Alle Möbel und Einrichtung sind neu. Raum Ihr Auto und Bootsanhänger zu parken. 1 Stunde entfernt vom Miami International Airport. Nah an alles, was Key Largo zu bieten hat.
Schöne, komplett umgebaut Ferienhaus im Zentrum von Key Largo. Geschmackvoll mit neuen Möbeln und Möbeln eingerichtet. Master-Schlafzimmer verfügt über ein bequemes Kingsize-Bett und einen großen Schrank (Bügeleisen und Bügelbrett im Schrank). Das zweite Schlafzimmer hat ein Bett, das für 1 Person als Einzelbett verwendet werden kann, oder es kann leicht zu einem Kingsize-Bett umgewandelt werden. Alle Bettwäsche sind vorhanden. Große Küche mit großen Kühlschrank, Backofen / Mikrowelle und. Komplett ausgestattet mit Besteck, Geschirr, Tassen, Weingläser, Töpfe und Pfannen, Kochutensilien etc. Für Ihr Vergnügen bieten wir auch einen Vitamix Mixer Smoothies am Morgen, einen Toaster und eine Kaffeemaschine zu machen. Das Bad ist komplett ausgestattet mit Shampoo, Conditioner, Seife und Handtüchern ausgestattet. Es gibt auch einen Haartrockner. Schöne Terrasse mit einem großen Tisch und einem Grill für Ihren Genuss. Patio Lichter und Fackeln bieten große Ambiente. Waschmaschine und Trockner befindet sich auf dem Schuppen neben dem Haus. Kabel-TV und High-Speed WiFi Internet. Kostenlose Parkplätze vor dem Haus sowohl für ein Auto und ein Bootsanhänger. Sie sind willkommen, unsere Paddle Board kostenlos nutzen. Sie werden es hinter dem Schuppen finden, und es gibt Schultergurt für sie in dem kleinen Schlafzimmerschrank.
Das Haus befindet sich in einer Wohnanlage entfernt. Die Bewohner sind entweder ihren ständigen Wohnsitz oder benutzen ihre Häuser am Wochenende die Ruhe und Stille der Schlüssel zu genießen. Es ist eine sehr sichere Nachbarschaft mit freundlichen Menschen.
Host communicated everything very well and the place was so clean. Bed was really comfortable and had plenty of room.
Andrew
2016-11-11T00:00:00Z
We found this to be in a convenient location but we were kept up late with loud neighbors both nights we were there. It kept us awake because you can hear everything in the home. Then woken up early with the neighbor yelling on the telephone. Ultimately, it just doesn't seem to be have the greatest surroundings. The home was clean, and worked for what were there for but I wouldn't pick this location as a place to stay for vacation just based on noise and experience there.
Bill
2016-11-13T00:00:00Z
Very clean modern home. Huge bathroom and very comfortable beds.
Charlotte
2017-01-06T00:00:00Z
We had a really nice stay at Catalinas apartment. Quiet neighbourhood and it's close to John Pennekamp and some really good restaurants. We especially liked Hobo's Cafe and Mrs. Mac's Kitchen. The apartment itself is super clean, beautifully furnished and comfy. Besides it was enough space to stay there easily with three people. I can wholeheartedly recommend it and would stay there again.
Margit
2016-08-05T00:00:00Z
Great place to stay. Would totally stay there again. The host Catalina was quick to respond to any questions. The house was comfortable with good AC and simple nice decor. We used the kitchen for many meals and found it has everything we needed. There even is a vitamix for smoothies!
Caleb
2017-02-10T00:00:00Z
Catalina was a great host! The home was beautiful and she accommodated me in getting some belongings back that we left.
Cassie
2016-08-01T00:00:00Z
Although we did not get to meet Catalina, we had a great time during our stay in Key Largo. The cottage was so clean, warm, and was the perfect place to stay for 4 people. I'd definitely stay here again if I come back to the keys!
Melina
2016-08-12T00:00:00Z
Our stay in Catalinas place was comfortable, enjoyable just like home ! Paddle board was something new I probably would not try if it would not be provider by host .
Lavrentiy
2016-07-29T00:00:00Z
Art der Unterkunft
Ganze Unterkunft
---
Objekttyp
Haus
---
Unterkunft für
4
---
Schlafzimmer
Key Largo, Florida, Vereinigte Staaten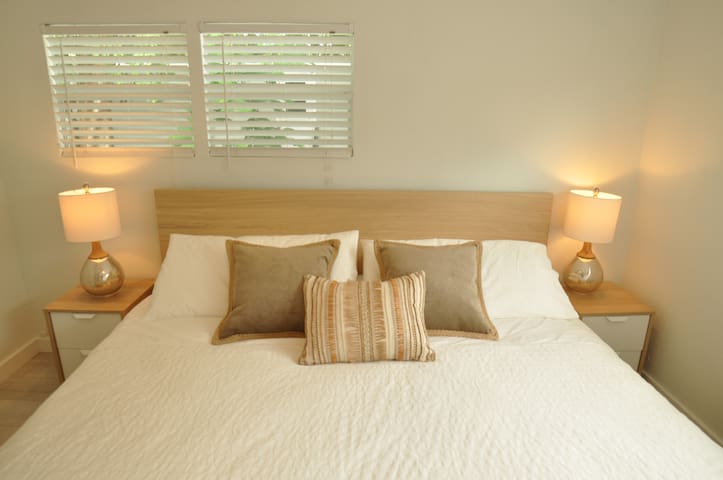 Im Obergeschoss schöne geräumige Haus mit Blick auf den Golf und Blick auf den Kanal. PRIVATE BEACH PASS. Kayak available.Very familienfreundlich großes Zimmer mit einem Etagenbett und zwei Einzelbetten. Auch eine Couch ein Futon mit einem Wohnbereich. Das Bad ist sehr groß und umfasst eine Badewanne mit Massagedüsen.
Claude was very hospitable. He not only provided an awesome place, but some really good information about different reefs for fishing and snorkeling. My friends who spear fish definitely appreciated the proximity to reefs and Claude.
PJ
2017-04-02T00:00:00Z
Clean private bedroom and bath. Great place and close to highway 1, perfect place for going to the Keys.
minzhong
2016-12-28T00:00:00Z
Claude was an excellent host, room is close to the beach with great views. However, the spiral staircase inside may not be for everyone.
Kaye
2017-03-22T00:00:00Z
very cool place and really nice host!
Giselle
2017-02-05T00:00:00Z
It was the best stay I have ever experienced, he completely left the entire home to us. Complete privacy with very good hospitality, cleanliness and very humble.
Rakesh
2016-12-31T00:00:00Z
Claude and his kids were all so nice! I love his very nicely decorated and cozy home. Would love to stay there again.
May
2017-03-14T00:00:00Z
Really nice place to stay, my friends and I enjoyed the time. Especially the access to the private beach is awesome! There were less people and we even did a barbecue at sunset, which was amazing. Host is a really cool guy and he gave us his whole upper floor of his beautiful house, where we had enough space, beds and an own bathroom. To conclude, it is an affordable stay and definitely fun!
Burak
2017-02-12T00:00:00Z
The location was perfect for us! Claude was very easy going and available for us and made us feel very comfortable. It was the perfect place for us to stay for the night.
Hannah
2017-01-29T00:00:00Z
Art der Unterkunft
Privatzimmer
---
Objekttyp
Haus
---
Unterkunft für
5
---
Schlafzimmer
Key Largo, Florida, Vereinigte Staaten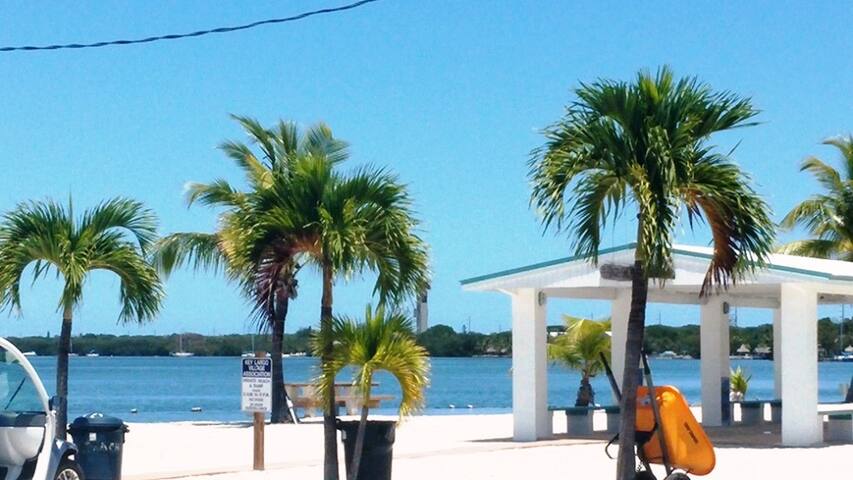 Without a doubt the best b&b I've stayed in! So welcoming and kind, considering I didn't have a car, Joe went out of his way to make sure I was able to get around the island & I had everything I needed. The house was immaculate, the room was spacious & comfortable. I would definitely recommend this air b&b - just like staying with good friends. Thanks again guys :)
Hannah
2016-07-30T00:00:00Z
Joe is a really friendly and welcoming host, his home is lovely, great shower and a comfy bed, what more could you want! His cat Boo Boo is also adorable!
Pete
2016-07-16T00:00:00Z
Joe's house was beautiful and well kept. We only stayed for a night but loved it.
Victoria
2016-07-20T00:00:00Z
The house was a great place to stay. I felt nothing but welcome and comfortable being there. The room, bed, and bathroom were clean and the people and pets were friendly. Getting to the house was easy and the main drag of Key Largo was very convenient.
Haley
2016-07-12T00:00:00Z
Great place to stay. Perfect location. Very accommodating towards our needs and VERY hospitable!
Ryan
2016-07-26T00:00:00Z
It was great living in Joe's place. The room was clean and comfortable, especially their lovely cat and dog always welcome us when coming back from outside. The location is also good, not too far from most of the diving place (about 5 to 10 mins). Overall, it was a great experience.
Hsiung
2016-07-10T00:00:00Z
Art der Unterkunft
Privatzimmer
---
Objekttyp
Haus
---
Unterkunft für
2
---
Schlafzimmer
Key Largo, Florida, Vereinigte Staaten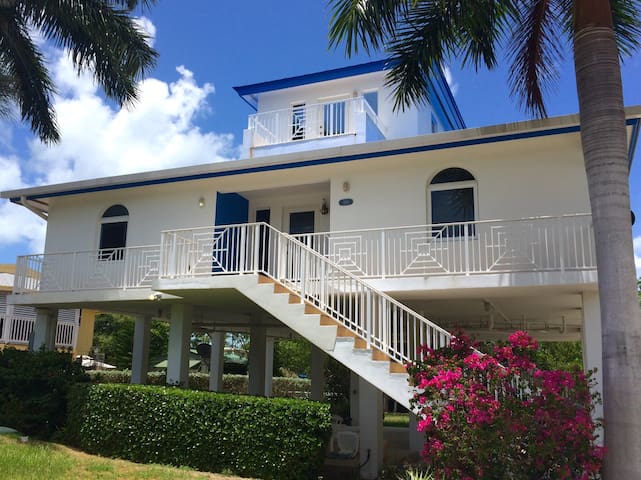 Notre propriété est proche de John Pennekamp, Jimmy Johnson Big Chill et la station Mariott Bay Side. Ma place est à proximité des restaurants, des restaurants et des activités de la famille. Il dispose d'un quai privé de 90 pieds sur la propriété, et la station de nettoyage du poisson. Vous allez adorer ma place à cause de l'emplacement, la vue et le confort. Ma place est bonne pour les couples, les aventuriers en solo, et les familles (avec enfants).
I had a great day, everything was as stated on the website. They were a wonderful host , I will stay there again if I'm in Key Largo for Thanksgiving next year
Linda
2016-12-01T00:00:00Z
Everything was great ! Thank you
Elvira
2016-12-27T00:00:00Z
This place was an awesome get away! Unfortunately the weather did not cooperate during our stay but I would definitely recommend this place to anyone looking for a quiet get away.
Ryan
2016-10-30T00:00:00Z
Great place! One thing that was not advertised, but we were very grateful for. This place has a great water-filtration system for drinking water.
Kawal
2017-04-07T00:00:00Z
Art der Unterkunft
Ganze Unterkunft
---
Objekttyp
Haus
---
Unterkunft für
6
---
Schlafzimmer
Key Largo, Florida, Vereinigte Staaten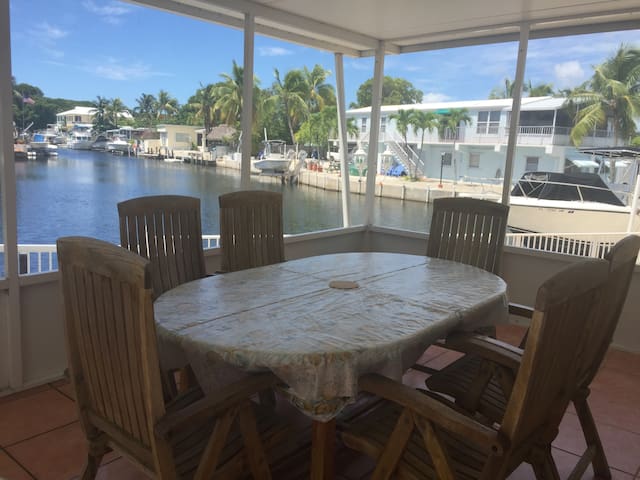 Tropical, cómoda y espaciosa. Locacion central. dormitorio principal con baño privado.
Esta es una hermosa casa, podrá disfrutar de cada minuto de su estancia aquí! No hay muchas casas construidas como este en los Cayos. El dormitorio principal tiene 14 pies techos abovedados y una cómoda cama extra grande. También cuenta con un baño privado con bañera. El dormitorio de invitados también tiene 14 pies techos abovedados, una cómoda cama de matrimonio y una escalera que conduce a una cama doble en el espacio de rastreo anteriormente (véase el cuadro). Si usted tiene huéspedes adicionales, también puede adaptarse a ellos, ya sea con un colchón futón o un colchón de aire. A cabo cada una de las ventanas de estas habitaciones se tiene una vista de la exuberante vegetación y árboles. Privacidad excelente, incluso con todas las ventanas abiertas. La cocina es grande y espacioso, y la sala de estar y comedor tienen puertas francesas que se abren a un gran balcón lleno de exuberantes plantas en macetas y las hierbas culinarias ocasionales. Recomiendo disfrutar de las comidas a preparar lo que sea aquí en el balcón, donde se puede disfrutar de las frescas brisas del mar. Hay una gran sensación de privacidad en relación con esta casa. tienda de comestibles, cine, farmacia, bar, banco, estudio de yoga, y restaurantes a poca distancia a pie. También hay un par de gimnasios cercanos. Cafe Moka es en mi opinión fácilmente el mejor café en los Cayos superiores, y es sólo un par de minutos también. Tan cerca de todos estos lugares parece tonto para conducir, sin embargo, la casa es lo suficientemente lejos de la carretera para alejarse del ruido del tráfico. Fácil acceso al océano o la bahía. A pocos minutos de Parque de los Fundadores y Harry Harris Park, así como un pequeño parque de los propietarios de viviendas. Cerca de la melaza de Coral y la concha de coral. Me bucear y pescar mucho, y estoy convencido de que esta es la zona más céntrica de las claves para la mejor pesca, el buceo y los Cayos de langostas tiene que ofrecer. He vivido aquí durante años, y estoy feliz de ayudarle con conseguir orientado. Voy a ofrecer sábanas recién lavadas y fundas de almohada para que, así como jabón, champú y acondicionador. conexión inalámbrica a Internet (código de acceso se encuentra en el escritorio en el dormitorio principal y en la pared de la habitación de invitados), cocina completa, lavadora y secadora, y un montón de aparcamiento calzada. Bono: hay una silla de masaje fabuloso en la sala de estar!
Hay un ambiente encantador y acogedor para mi barrio. Gran sentido de la seguridad, facilidad de aparcamiento, exuberante vegetación, y la privacidad relativa.
Adam was very communicative throughout our stay! Heads up there's only two physical bedrooms, the third bed is in the second bedroom and its pretty small. Great location in the northern part of the keys. Most things up there are very close together so it's easy to drive around. At night the house can seem dull because of poor lighting so be sure to arrive in the day time!
Mitchell
2016-12-11T00:00:00Z
Great place, very spacious and exactly as described. Suitable for 5 guests or more easily. We found Adams' place very nice and enjoyed staying there. Definitely recommend this place to anyone wanting to avoid the crowds on the keys. Yes you have to do some driving to a beach or a marina. But that's ok. Would go again next time!
Michel
2016-10-30T00:00:00Z
I highly recommend this listing if your staying in the keys. Adam was an excellent host, he answered our questions right away. He has a beautiful home that has everything we could want and need. The massage chair was a great bonus! The house is right down the street from a supermarket and restaurants. Thank you Adam for a lovely stay!
Todd
2017-01-08T00:00:00Z
Solid location - quiet yet right off the main drag. House had a great porch, ample room, and old Florida feel with modern updates. Adam was great, very responsive throughout our stay. Two separate rooms and baths are great for a pair of friends or couples.
Samuel
2017-04-02T00:00:00Z
I did not meet the host, but he set myself and my family up for success. The home was located in a perfect spot in the Keys, very clean, extremely comfortable and relaxing. It's just a great place to kick back, relax and enjoy quality time after a long day of fishing, exploring and taking in the beautiful Keys weather. The home has everything you need in the kitchen and has a very spacious living room (the pictures don't do it justice). Both rooms are big enough and if needed, a blow up mattress is ready with linen in one of the rooms. We took complete advantage of everything the house had and definitely look forward to coming back again.
Evelio
2016-06-06T00:00:00Z
Adam was very communicative and made us feel quite welcome.
Andrew
2016-09-26T00:00:00Z
Evan was great very understanding and very supportive of my needs.
John
2016-11-06T00:00:00Z
This is a lovely place for five or less people to sleep comfortably. Although the ad says six, it means there is a twin futon mattress in a loft (ps: loft area is a very hot temperature) and a futon in the living room. The two main beds (king & queen) were just fine. The bathrooms were lovely! Very convenient to the Key Largo/Tavernier area and it's a great quiet neighborhood. We saw lots of sugar ants in the kitchen and the oven had burnt food stuck to the bottom that we didn't see until we started cooking and smoke come from the oven. Pots and pans were old and there was no usable dishwasher. Great place for a short stay!!
Tracy
2016-05-22T00:00:00Z
Art der Unterkunft
Ganze Unterkunft
---
Objekttyp
Haus
---
Unterkunft für
10
---
Schlafzimmer
Key Largo, Florida, Vereinigte Staaten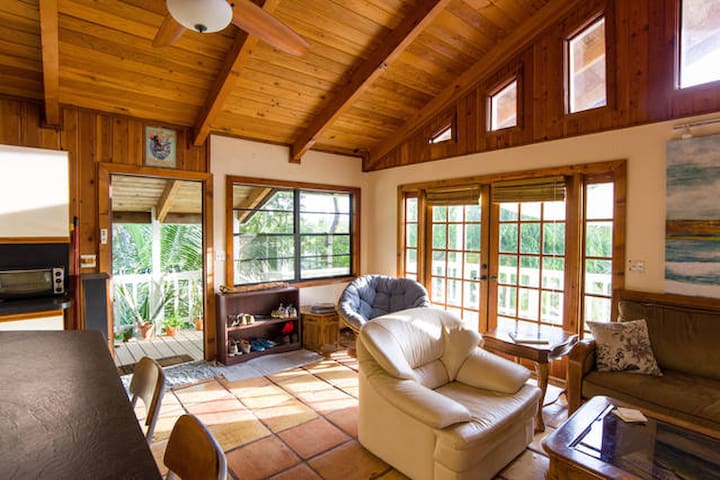 Mein Platz ist in der Nähe zu allen Einrichtungen, Hauptgeschäfte und Restaurants, John Pennekamp Coral Reef State Park, Tauch- & Schnorchelplätze, Bootstouren. Sie werden meinen Platz lieben, weil es ein schönes zwei Geschichten Haus mit Kanal im Hinterhof, die zum Meer öffnet ist. Sehr gesicherten Umgebung, Kabel, Internet und Bootsrampe. Sehr charmant titki Hütte. Intercom in allen Ebenen mit Anschluss an Ihr Mobiltelefon. Mein Platz ist gut für Paare, Solo-Abenteurer, Geschäftsreisende, Familien mit Kindern usw.
Exactly as advertised. Lovely
Ken
2017-01-10T00:00:00Z
Taymi's house does provide the correct number of beds/rooms. We enjoyed our stay- the house is nice, but it has its "quirks." We did not have hot water on the bottom floor, nor did we have the time to fix it (Taymi was VERY responsive to all our emails, so this is not her fault.) We were there for a wedding and didn't have the time to fix it. There are 4 keys for the home, and it would help if they were labeled, because it was tricky figuring out which ones worked which doors, and you have to be careful! You can't lock the deadbolt on the bottom floor, and go out the back door, as you will not be able to get back in! One of the kitchen cabinets were falloing off the hinges, so that concerned me that it would break further while we were there. Pillows/beds were not the most comfortable, but the view from the top deck is beautiful. The house was decorated for Christmas- complete with a tree, and a picture of Santa Claus on the wall (in March!) Bring your own shampoo/conditioner/soaps. It is located in a nice quiet neighborhood, very close to all main attractions.
Erica
2017-03-13T00:00:00Z
Exactly as advertised. Great house, clean, beautiful and quiet. We really enjoyed our stay.
Birgithe
2017-01-19T00:00:00Z
taymi was extremely helpful, responded to every single question, gave local advise, was on top of everything needed for all of the time we were there. ten thumbs up!!!
Michel
2016-09-02T00:00:00Z
Great house. Very spacious ,clean and and completely updated, very nice back yard where you can BBQ and relax after a long day in the boat. We have a 24 ft boat that was comftably parked in their dock, taymi was a great boast and communication was very easy, The house is close to shopping centers. i will definitely come back here on my next stay
Gian
2017-03-27T00:00:00Z
The house was lovely. It had a very comforting atmosphere. The backyard veiw was great and the decor of the house was fabulous. We really enjoyed our stay.
Debra
2016-09-12T00:00:00Z
Amazing location, and great host !
Courtney
2017-03-05T00:00:00Z
Nice house in a quiet location. Lots of space
carol
2017-02-07T00:00:00Z
Art der Unterkunft
Ganze Unterkunft
---
Objekttyp
Haus
---
Unterkunft für
8
---
Schlafzimmer
Key Largo, Florida, Vereinigte Staaten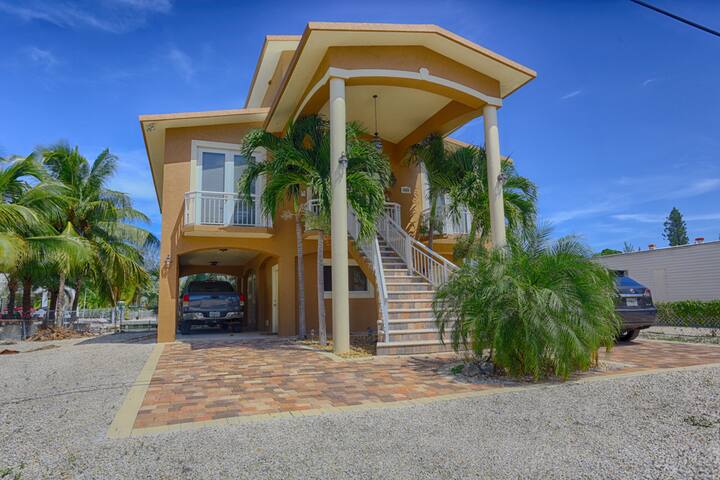 Brandneues Haus im Herzen von Key Largo. Ideale Lage für Gäste, die die Inseln zu erkunden. Zentral 1/2 Weg zwischen Miami und Key West. Dieses Haus bietet eine luxuriöse Unterkunft für bis zu 8 Gäste.
Schöne 1800 Quadratmeter große Haus im Herzen von Key Largo. Ideal für Gäste, die die Inseln zu erkunden. Zu Fuß zu den Kanälen, Bucht, Lebensmittelgeschäfte und Restaurants.
Freundliche entspannte Umgebung ideal für diejenigen, die wollen die Insel Atmosphäre zu entspannen und zu genießen.
Es war alles wie beschrieben, der Aufenthalt in dem gemütlich gestaltetem Domizil war sehr schön.
Anne
2016-07-26T00:00:00Z
What a lovely well decorated and thought out house. We felt very relaxed. Great place to start the keys journey. We really enjoyed our stay here. We recommend to eat : Sundowners to watch the sunset. Boat trips and breakfast: Robbies on mile 78 marker Key West is a couple hours drive from here but we discussed it in a day and had a lovely time. Would recommend this house to friends.
Josie
2016-04-22T00:00:00Z
The place was neat & Tidy and very well decorated. We enjoyed our stay and will not hesitate to come back. The place is well located if you want to visit Miami, Key West etc.... and want to stay in 1 accommodation. Thanks for having us
Erik
2016-06-15T00:00:00Z
New built house at the beginning of the keys. Well-appointed furnishing and equipment, clean and well maintained. For 5 persons absolutely recommendable. Location is optimal for trips to the Keys and the Everglades. Grocery Stores in the neighborhood.
Wolfgang
2015-10-19T00:00:00Z
Everything was wonderful outside of the roaches
Shaun
2017-03-31T00:00:00Z
Vi trivdes bra i huset och skulle gärna ha stannat några dagar till för att utforska Key Largo.
Anna-Maria
2017-01-02T00:00:00Z
Newly remodeled. 3 bedrooms and 2 baths for a great family getaway. We loved the front porch. Decorated very tastefully with a beach house theme. Space for 2 cars to park too. It's in a quiet residential neighborhood, a short distance from groceries for breakfast. Most of the time, we found ourselves driving south on 1 to get to the attractions, but that didn't end up being an issue. Marketa was very responsive, was always reachable by text.
Shriram
2017-02-07T00:00:00Z
Everything about the home is great. I went with a group of friends over winter break, and the home was spacious. It looks smaller from the outside than it really is. It's a perfect location if you want to explore the Keys and Miami, which we did. Also it's in walking distance of a grocery store and a few other shops.
Michael
2017-01-06T00:00:00Z
Art der Unterkunft
Ganze Unterkunft
---
Objekttyp
Haus
---
Unterkunft für
8
---
Schlafzimmer
Key Largo, Florida, Vereinigte Staaten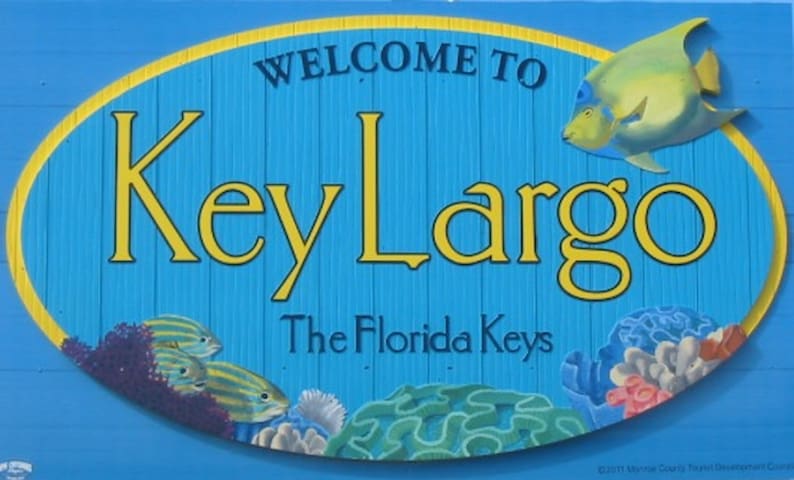 Frisch 1 Bett renoviert, 1 Bad in Calusa Campingplatz. Gegenüber vom Einkaufszentrum mit Publix Supermarkt, Kmart, Bealls Outlet, Restaurants, Liquor Store und vieles mehr. Für 4 Personen Kabel-TV, Wireless-LAN, voll ausgestattete Küche, Grill, Golfwagen enthalten. Bettwäsche inklusive. Schlafsofa im Wohnzimmer kann ein zweites Schlafzimmer umgewandelt werden. Calusa Campingplatz Annehmlichkeiten gehören: Basketballplatz, Tennisplatz, Clubhaus, Kinderspielplatz, Schwimmbad, Sundeck, öffentliche Duschen, Wäscheraum, Bootsrampe und öffentliche Boot Parkplatz
Calusa Campingplatz ist eine entspannte, familienfreundlicher Campingplatz mit atemberaubender Aussicht auf den Sonnenuntergang. Eine Wohnanlage mit 24/7 Sicherheit Patrouille. Calusa Camping Resort und Marina befindet sich in der Nähe von John Pennekamp Coral Reef State Park. Das Resort verfügt über einen eigenen Kanal und hat Zugang zu Florida Bay und den Atlantischen Ozean. Das Resort verfügt über ein Schwimmbad, Spielplatz, Basketball und Tennisplätze. Zu weiteren Annehmlichkeiten gehören ein Aufenthaltsraum, Gemeinschaftsräume, Bootsrampe, Toiletten und Waschmöglichkeiten.
We had a great time on our vacation. This place was conveniently located to the dive shop we used. Our host was great - communicated all the information we needed. The place was very nice - very clean and decorated nicely. The kitchen was well stocked with everything I needed. The wi-fi worked great. We enjoyed sitting out on the covered deck area in the late afternoon. There is a golf cart that can be used but we didn't take advantage of it; we enjoyed walking down to the waters edge to watch the sunset. We will rent from them again on future trips.
Kathy
2017-04-01T00:00:00Z
Me and my partner stayed in Manny condo for a week mid March. His place was great fully equipped with all and more emenites. Very clean and tidy. The condo is not a bad size well big enough for 4 people. One reasonably size bedroom and and a sofa bed in the lounge. Great WiFi good selection of tv channels. Nice large comfy bed large closet for your clothes. What more can I say really great. The site has 24 he secruity everything is safe. There is a golf buggy to get around the site which my partner loved. Pool great. Laundry $2 dollars to wash $2 dollars to dry cheap as chips. The site is well maintained and clean. My only issue is its 2 miles to any bars. But we're English we love walking and it was a straight road and a nice walk. I would recommend mannys condo to anyone. Great place Diane & Robin .
Diane
2017-03-20T00:00:00Z
Art der Unterkunft
Ganze Unterkunft
---
Objekttyp
Haus
---
Unterkunft für
4
---
Schlafzimmer
Key Largo, Florida, Vereinigte Staaten
WELL behagliches Zuhause einen Block entfernt von MARINA HAUSBESITZER PARK schönen und erholsamen Blick auf die Bucht SPACED. BOAT RAMP bis zu 28-Fuß-Boot Ann zusätzliche Zimmer und das Bad ist für $ 45,00 pro Nacht zur Verfügung. Es würde zwei weitere Personen hinzuzufügen. Insgesamt 6 Personen.
Familien ruhigen Nachbarschaft
Great house at a great price! We stayed for four nights, and walked to see the sunset at the private park each night, which was beautiful. The place is just as pictured, and very clean. Mary was very helpful with all of our questions. I would highly recommend this home.
Hannah
2017-03-16T00:00:00Z
Nice location, nice neighborhood, nice host, recommend to anyone
Steve
2016-03-23T00:00:00Z
Mary's house is very clean and had everything you would need. It is located in a residential setting and can be a nice place to land while visiting the Keys. The neighborhood beach is not good for swimming but is a nice place to picnic or watch the sunset.
Sonja
2017-02-11T00:00:00Z
It was a really nice house! It was beautiful and cosy and so family friendly. We had the best time in Key Largo and will definetly come back! Great hosts.
Sara
2016-07-29T00:00:00Z
The description is accurate and the cost is perfect for someone needing a budget friendly accomodations or like us just a place to crash. The beach/boat ramp access was great. The neighborhood is very quite and secure.
Madalayna
2016-06-28T00:00:00Z
Clean and not a far drive from various parks and beaches.
William
2017-03-27T00:00:00Z
Home is just as pictured on line. Quiet street. Sunsets in the private park were a treat. Close to all types of shopping and restaurants.
Barbara
2017-02-17T00:00:00Z
This is a very clean, well-equipped home. It is a close drive to many restaurants and activities in Key Largo.
Alisa
2017-02-02T00:00:00Z
Art der Unterkunft
Ganze Unterkunft
---
Objekttyp
Haus
---
Unterkunft für
6
---
Schlafzimmer
Key Largo, Florida, Vereinigte Staaten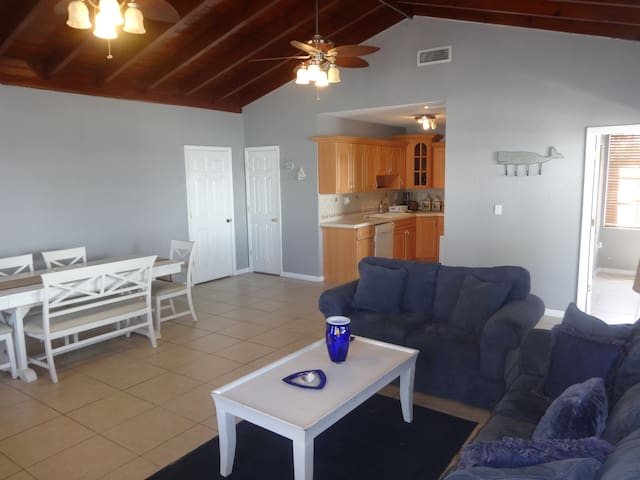 Der Nähe von Restaurants und Restaurants, Parks und eine tolle Aussicht. Du wirst mein Haus lieben wegen der ruhigen Atmosphäre auf Ihrem eigenen Dock sitzen gelegentliche Boote, während im Pool von oder eine freundliche Seekuh schwimmen passieren zu beobachten oder einfach nur mit einem Drink in der Hand auf der Terrasse entspannen. Dieses Haus ist in einem privaten, Gated Community und etwa 10 Häuser aus der Bucht. Ein Ponton-Boot ist zu mieten (fragen Sie nach Details) Ideal für Paare, Allein Abenteurer, Familien (mit Kindern) zur Verfügung, und die meisten vierbeinigen Freunde.
Dies ist eine absolut herrliche 3 Schlafzimmer, 3 Badezimmer Haus, das ist sehr schön eingerichtet. Dies ist keine Wohnung, aber ein sehr großes Haus in einem gesicherten, private, Gated Community. Das Hotel liegt etwa 10 Häuser aus der Bay Area, die Sie auf die ruhigen Sonnenuntergänge von Ihrem eigenen Balkon zu genießen. Das neu renovierte Deck bietet die perfekte Umgebung für Unterhaltung und Entspannung. Genießen Sie die häufigsten besuchten Seekühe, die direkt an der Anlegestelle zu spielen, während die Tarpon Rolle zu beobachten. Sie sind weniger als 1 Meile von der Nationalparkgrenzen Sumpfgebiete, die eine Vielzahl von Aktivitäten wie Vogelbeobachtung, Angeln und Entspannen bieten. So können Sie das Hinterland erkunden und alle Schlüssel zu bieten haben, haben wir ein Ponton-Boot zu einem stark reduzierten Preis für die Vermietung zur Verfügung. Sie sind nur 3 Meilen von Adams Cut, das zum Hochseeangeln, Tauchen und Schnorcheln in den schönsten Riffe der Welt zum Meer direkten Zugang ermöglicht.
Dies ist eine Gated Community ohne Durchgangsverkehr. Sehr ruhig und friedlich.
The host canceled this reservation 10 days before arrival. This is an automated posting.
Natalie
2017-01-05T00:00:00Z
Stu was VERY accommodating! The place was great -- we didn't think we'd use the pool, but we used it every day. Everything you need to cook on your own -- inside and grilling outside. Driveable to John Pennekamp State Park as well as numerous restaurants. Stu was available to answer questions. Lots of shaded area, toys for my 6mo old & space to relax.
erin
2017-04-07T00:00:00Z
Art der Unterkunft
Ganze Unterkunft
---
Objekttyp
Haus
---
Unterkunft für
6
---
Schlafzimmer
Key Largo, Florida, Vereinigte Staaten
Schöne zwei Schlafzimmer Keys Home interior komplett renoviert. Große Brise Veranda für Open-Air-Mahlzeiten und Entspannung. Eingezäunt, großer Garten für Grill und Bombe Feuer. Zu Fuß zu den privaten Hausbesitzer Park mit Zugang zur Bucht, Dock und Bootsrampe. Nähe von Restaurants, Einkaufszentrum, großen Krankenhaus, Strände, Parks und Wassersportaktivitäten. Sobald Sie auch hier waren, werden Sie zurück zu kommen.
Unser Haus ist ein Stelzenhaus mit vielen Parkplätzen im Erdgeschoss und alle Wohnbereiche auf der zweiten Etage. Komplett eingezäunt, sparen für Kinder zu spielen. Es ist günstig in der Nähe zu vielen Sehenswürdigkeiten, Restaurants und Aktivitäten, aber privat genug wie ein Einheimischer zu fühlen.
Dies ist eine ruhige Wohngegend in zentraler Lage in Key Largo. In der Nähe Publix, Winn-Dixie, Kmart, Starbucks, McDonalds, Burger King, Wendy sowie viele Restaurants in der Umgebung. Einige unserer beliebtesten Restaurants zählen The Fish House, Snapper ist, Snook Bayside. Orte zu besuchen sind John Pennekamp Coral Reef State Park mit Glasbodenboot, Schnorcheln, cayak Verleih, Harry Harris Park und Theater of the Sea. Sehen Sie bitte mein Führer für weitere Informationen.
We had a great time. Definitely make time to have a beer at snappers.
kirk
2017-01-06T00:00:00Z
C est une maison typique, au calme et proche de pleins de choses à découvrir. Le couché de soleil sur le panton est exceptionnel ! Ana vous reservera un très bon accueil.
dov et virginie
2017-02-09T00:00:00Z
If you are looking for a place to stay that is impeccably clean and convenient to all the outdoor amenities the keys offer look no further. The home is completely updated and very tastefully decorated. Ana was an awesome host and the communication was outstanding!
Kevin
2016-12-29T00:00:00Z
Ana's place is very nice. Very cozy feel, isolated from the main road but definitely not far at all from it. It's well kept, cozy, and relaxing. It was nice a couple evenings just sitting out on the porch enjoying the evening breeze. If we were ever needing to stay in Key Largo again we would definitely stay again.
Frank
2017-01-17T00:00:00Z
Great spot central to key largo and very close to islamorada. Loved our stay. Recommend people go on a paddle board tour with aqualholics:).
Frank
2017-01-29T00:00:00Z
Ana's place was wonderful! Great location close to Islamorada and not a terrible drive to Key West. Ana was very easy to communicate with before and during our stay. I look forward to our next trip and will definitely stay here again!!
Stephanie
2017-02-14T00:00:00Z
Ana was a terrific host! We arrived much later than expected and she was very responsive and caring all throughout our stay. The house itself is an oasis, beautifully decorated and comfortable, with all the conveniences you could need. The small beach, and gazebo with built in seats at the end of the pier were both so nice to relax at and enjoy the sunset. We loved it so much and were able to stay an extra day! I highly recommend this listing. You will feel like a native Floridian in no time.
Kathy
2017-01-03T00:00:00Z
Super nice house in a great neighborhood. Private dock was great. Would definitely stay here again.
Mike
2017-02-23T00:00:00Z
Art der Unterkunft
Ganze Unterkunft
---
Objekttyp
Haus
---
Unterkunft für
4
---
Schlafzimmer
Key Largo, Florida, Vereinigte Staaten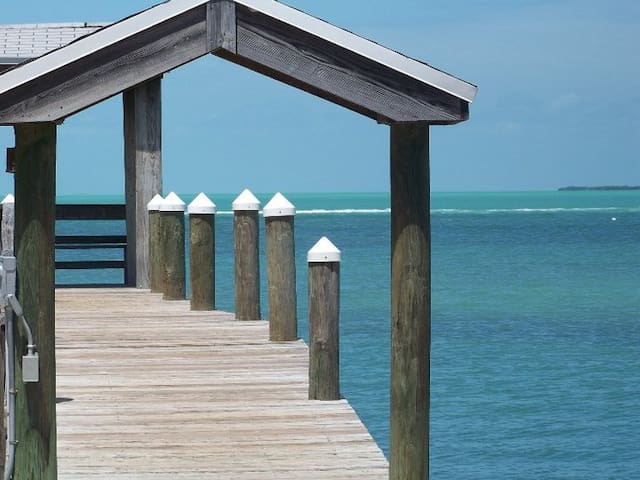 Niedlich, tropisch eingerichtete Ferienhaus mit einem schönen Blick auf das Wasser. Sitzt etwa 120' vom Sandstrand entfernt. Zwei gleich große Schlafzimmer, jeweils mit Doppelbetten sowie ein ausziehbares Sofa im Wohnzimmer, machen dieses Haus praktikabel und sehr erschwinglich.
Dieses Ferienhaus, Banana Cabana, ist in Key Largo, FL, an einem idyllischen 3 acre Anwesen am Wasser gelegen, den Golf von Mexiko. Es verfügt über zwei gleich große Schlafzimmer, jeweils mit Doppelbetten und 1 Bad mit Wanne / Dusche. Ein ausziehbares Sofa im Wohnzimmer erlaubt 6 Gäste hier bequem zu schlafen. Es gibt einen schönen Blick auf das Wasser von der Hütte und Außenterrasse. Die Küche ist gut ausgestattet mit allen Utensilien, Töpfen und Pfannen. Bettwäsche sind inklusive. Es gibt insgesamt 4 separate Vermietung auf dem Land auf dem Grundstück, zusammen mit einem kleinen Yachthafen, mit ein paar anderen Gästen und Mietern, die Annehmlichkeiten zu teilen. Es ist ein ruhiges, gated Eigentum, mit Angelpier, Hängematten, tikis, Palmen und Sandstrand. Dockage ist für diejenigen enthalten, die ein Boot mitbringen möchten. Das Haus hat seinen eigenen Grill, und es gibt Grill auch am Strand. Haustiere sind willkommen.
Unser Eigentum ist im Handel in Zonen aufgeteilt und in Privatbesitz, so dass es nicht in einer Nachbarschaft. Das Haus befindet sich im Dream Bay Resort, MM 99 2 auf der Gulfside von Key Largo, in der Nähe mehrere schöne Restaurants / Bars und Key Largo den wichtigsten Sehenswürdigkeiten entfernt.
We enjoyed our stay at Tanya's place (two couples each with two little ones). There was minimal space in each bedroom although it was enough and the house was very clean which we appreciated. The main living space is basically the kitchen (there is a couch in the third room with a pullout and a tv). In the evenings when the kids were asleep we mainly congregated on the patio and just relaxed outside under the beautiful tree. The home is basically situated at the marina so boats are docked, there is a small private entrance to the water and a little beach with lawn chairs and shade--open/free use of paddle boards and kayaks. Fun! The only thing I'd recommend to be aware of is the room with the couch--because of the ac unit/fan attached at the window, sound and smell (if guests at other property are smoking) easily travels in from the neighbors. If this is the case, don't turn the unit on. Otherwise we thoroughly enjoyed our stay! Thank you
Stephanie
2017-01-14T00:00:00Z
Tanya's place is a private, very short walk to the beachfront (Florida Bay side) home with a good layout. Not flashy but very comfortable. It was clean and all our needs were met. We would gladly stay again.
Sarah
2017-03-24T00:00:00Z
We had a great time at our Key Largo stay . It was a dive trip and we spend very little time in our vacation home. We had everything we needed and would rent it again. Our host was friendly and helpful. We had no problem contacting her. All in all it was a good experience .
Juanita
2016-07-25T00:00:00Z
Great location and facilities. Tanya was responsive even being away for family reasons. Liked ability to swim, kayak and paddle boat from in front of the place. Would stay here again.
Jean-Michel
2016-07-07T00:00:00Z
The Banana Cabana was wonderful! The house and the property were well-maintained and clean. The access to water toys (paddle boards, kayaks and noodles) plus the lounge chairs and hammock made this the perfect island paradise. Plus: we got to see manatees!
Alexis
2016-05-02T00:00:00Z
Art der Unterkunft
Ganze Unterkunft
---
Objekttyp
Haus
---
Unterkunft für
6
---
Schlafzimmer
Key Largo, Florida, Vereinigte Staaten
Min plads er vand foran, beliggende nær John Pennekamp State Park, der tilbyder båd, snorkling og scuba ture. Du vil elske mit sted på grund af de synspunkter og dejlig beliggenhed, Dette hus er perfekt for par, forretningsrejsende og familier (med børn). Hvis du vælger at medbringe din egen båd, jet ski eller andre vand udstyr, du er tilladt at parkere i huset dock plads. En kajak er inkluderet. Vi har også en jetski og båd du kan leje for dit ophold! Kontakt mig for mere information via e-mail
Place was as described! Check in/out was really easy.
Payton
2017-03-19T00:00:00Z
Perfect for our diving getaway.
Chip
2017-03-12T00:00:00Z
We rented this place for a group of missionary family's we had coming in for the weekend and they all really enjoyed their stay and the house is really cute.
Janeen
2017-02-06T00:00:00Z
The house was great for what we needed. I didnt use any of the "amenities" at the house because they didn't look too appealing as far as cleanliness goes. The pool wasnt clean and the hottub cover didnt even fit, so not sure about what couldve been inside. The view on the water is nice, but not ideal for swimming. The house was perfect for what we needed. There was a bit of linens lacking. Only one towel per person and wash cloths but no hand towels to speak of. The linens were very clean and smelled fresh. The items in the kitchen were basic but nice for what we needed. It was really clean and we had a great time, just basic in a sense but it was great for what we needed. Thanks Luisva! We had a great time!
tarasa
2017-04-10T00:00:00Z
Nice house. We liked so much the hot tube. We saw manatees in the back of the house in the canal. Great.
Carlos
2017-01-01T00:00:00Z
Clean and tidy. Steps to upstairs bedrooms are a bit steep. Nice hot tub, quiet location.
Scott
2017-02-13T00:00:00Z
We had a great stay at this beautiful house. It is big and by a lovely channel. We loved the fact that it had 3 bathrooms, and the children loved the pool. We did not use the hot tub. The house is only a short ride away from several nice restaurants, and it is walkable distance to a Family dollar for groceries. The little paddle boat was great for exploring the channel. We missed only a few minor things that would have made the already great stay, even more great! A house manual would have been nice, more beddings (only 3 sets) and more towels, too. A couple of more chairs on the verandah outside the kitchen for breakfast (had only 2) and English speaking TV channels (we found only Spanish) would have made this house top notch. BUT we had an excellent stay, and want to come back next year!!
Anne-Louise
2017-03-02T00:00:00Z
This house is perfectly situated at the end of a canal that leads to a gorgeous cove. Make sure you take the kayak out to explore, watch sunset, and maybe even frolic with some dolphins like we did. The canal also offered manatees and a baby crocodile! The decks and open living room/kitchen gave us (5 scuba divers) plenty of space to hang out as well as spread our gear out to dry. This house will remain on our list when we visit Key Largo again!
Cynthia
2017-01-17T00:00:00Z
Art der Unterkunft
Ganze Unterkunft
---
Objekttyp
Haus
---
Unterkunft für
10
---
Schlafzimmer
Key Largo, Florida, Vereinigte Staaten
North Key Largo - Airbnb
:
Durchschnittlich

4.64

von

5

Sternen aus

836

Gäste-Bewertungen
1

–

18

von

273 Ferienhausvermietungen
Gib deine Reisedaten ein, um den aktuellen Preis zu sehen. Es können zusätzliche Gebühren und Steuern anfallen.