Ich bin in der Mitte von Kalifornien direkt auf der st. Ich bin nächste Redinger See, 45 Meilen von Mammoth Pool von der berühmten Buckhorn Bar & Grill Welt, 60 Meilen von Yosemite. Ich bin mitten in der Stadt. Es ist eine schöne Stadt Manzanita See und Bass Lake hier Dank
Ich werde diesen Raum haben bereit, die von den 15 Mai Ich werde mehr Bilder senden, bevor dann Dank Alan
Es ist eine schöne gemütliche Stadt
We had a good time in Alans house. Alan was very welcoming and explained everything we needed. The room was very nice and clean
Dominic
2015-07-17T00:00:00Z
I had such a lovely time staying at Alan's place. The directions to find it need his attention to provide more clarity and detail, however. Once I finally found the place, Alan was ready and waiting to assist me in every way possible. He is such a kind soul, and his new wife and toddler son were delightful to meet the following morning, before my departure. I slept like a baby in the comfy bed, and all the amenities were just as described in the listing. The neighborhood is peaceful, and the restaurant within easy walking distance served a good meal, served by a friendly and interesting waitress. The little town of North Fork is interesting to walk around in, and I so enjoyed chatting with numerous local folks in the gas station/store. I'll return to North Fork again someday, and look forward to it.
Catherine
2016-02-17T00:00:00Z
The room was nice and big. We had a great stay for 2 nights. TV has a lot of channels. To have a private Bathroom was nice. We arrived when it was dark and it was kinda hart to find the right door. Unfortunately The bed sheets weren't very clean. All in all it is a good place for a good price
Jochen
2016-01-06T00:00:00Z
Allan was a great and generous host. The room was better than we expected, tidy, clean, with a soft brand new bed and everything we needed. It's located in a tiny and cozy village.
Robson
2015-09-21T00:00:00Z
Alan nous a très bien accueilli. Le studio est très sympa, propre et fonctionnel, parfait avant d'aller à Yosémite. Le bar qu'Alan nous a conseillé (en face de la maison) est très typique américain, nous avons adoré ! Cependant, je vis conseille de ne pas arriver trop tard et de bien noter les instructions d'Alan pour trouver le studio car la ville se couche assez rapidement... ;)
Aurore
2015-09-18T00:00:00Z
Alan was so great! He accommodated us last minute, was incredibly responsive, and gave great tips on where to patron during our stay. If you ever need a place to see if you're going to Bandit Town, or on your way to Yosemite, this is the place!
Will
2015-10-19T00:00:00Z
The stay represented good value for a place that was about 1.5 hours drive from the Yosemite Valley. The room had a TV, reclining chair, coffee machine and fridge. Alan and his wife were helpful. Their house has a coffee/breakfast shop a couple of mins walk away; a petrol station close by; as well as a supermarket, Pizza Facfory, Mexican restaurant and bar.
Dominic
2016-07-26T00:00:00Z
Our stay at Alan and Trang's was very good. The studio is very clean and spacious. Alan and Trang were very sweet and made sure we had everything we needed. We would come back if given the opportunity.
Emma Elisabeth
2015-07-09T00:00:00Z
Art der Unterkunft
Privatzimmer
---
Objekttyp
Wohnung
---
Unterkunft für
3
---
Schlafzimmer
North Fork, Kalifornien, Vereinigte Staaten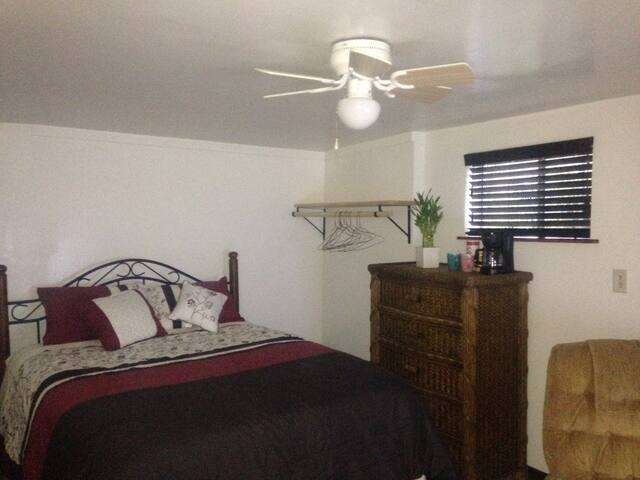 ont deux chambres avec des serrures sur les portes privées roi espace de vie lit 2 mutualisé DBL. paresseux canapés garçon, table basse, deux porte du réfrigérateur, micro-ondes, cafetière, couverts, casseroles, four et cuisinière, plats, sel et poivre, crème en poudre et le sucre, savon savon à vaisselle savon à lessive, table, Il est un bel appartement
We stayed for three nights at Alan's place. We were the only guests in the house, so we had the entire apartment to ourselves, which was great. The communication was ok. Only the first evening, things were a bit more complicated since the stove was not working and we had to talk to Alan's wife who did not speak much English. But we got a portable stove for the evening and the next day Alan fixed the stove. The room was spacious and the bed was comfortable. We did not talk much to Alan and were pretty much by ourselves, but he seemed nice and was helpful. With a car, it takes about 90 minutes to get to Yosemite.
Sara
2016-09-07T00:00:00Z
Alan was a great host. He made sure we found the place and accommodated our late arrival. His apt was awesome! Best bed ever! We had a wonderful time during our stay and would highly recommend it to any one. Also, there is a fun lake only 5 min away - Manzanita Lake. I highly recommend.
Arturo
2016-08-09T00:00:00Z
The house wad nice and clean, kitchen was very useful and wireless was working fine. The only negative point was a poor communication, which ended up leaving us waiting for the keys, for about one hour at night after a long travel.
Ricardo
2016-03-21T00:00:00Z
Alan, Was really nice & extremely helpful in allowing 2 arrive late. He set his portable heaters so the place was very warm when I arrived. He shared some suggestions of places 2 eat & they worked out great. His place is plenty big & comfortable. Price is affordable & would stay again.
julian
2015-12-14T00:00:00Z
The quite economical stay is ok as Basis to visit and reach the yosemite from south.
Salvatore
2016-10-06T00:00:00Z
We stopped at Alan's on our way to Yosemite. It was perfect, everything was so clean and we even had the entire apartment for us. Alan was waiting for us in front of the house and you have a typical bar/restaurant across the road which is very convenient. I would recommend Alan and his place. It was ideal. Merci Alan.
Pierre Eliott
2015-09-26T00:00:00Z
My boyfriend and I stayed at Alan's place for a weekend while touring Yosemite. It was just what we wanted, the price was great and I enjoyed being able to have a kitchen to store and prepare food.
Dana
2016-08-21T00:00:00Z
I had a great time in this spacious apartment. I felt very comfortable in the space and the local bar is right across the street.
Derrick
2016-06-06T00:00:00Z
Art der Unterkunft
Privatzimmer
---
Objekttyp
Wohnung
---
Unterkunft für
2
---
Schlafzimmer
North Fork, Kalifornien, Vereinigte Staaten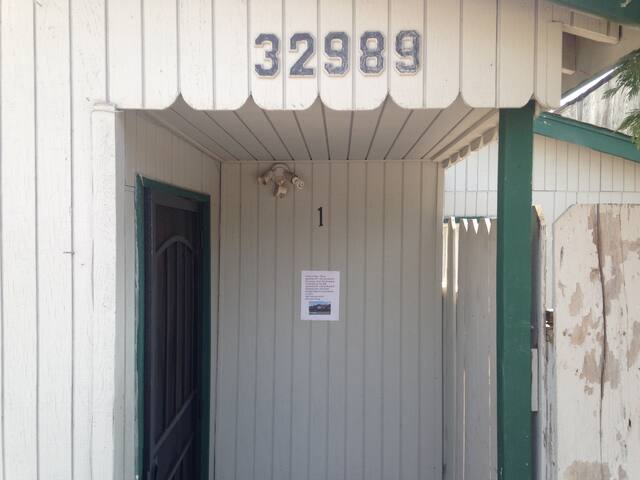 Plně zařízený byt s hrnce sporák troubou a pánve, nádobí, příbory, mikrovlnnou troubou, rychlovarnou konvicí, filtry a práškové krémem a cukr, sůl a pepř, mísa tělesných a ruční mýdla, 2 dvoulůžkové líný chlapec, single líný chlapec, křeslo, stolky , konferenční stolek, ručníky
Quaint little place perfect for a family to rest after a long day at Yosemite. Located 26 mi from the gate, with a gas station 200' away, restaurant and coffee shop across the street, grocery and pizza just down the street as well.
Jenelle
2016-06-29T00:00:00Z
Alan was readily available for our arrival, which was about an hour early. We had a couple of tired kids and Alan had no problem welcoming us into the home while his wife finished up the beds. The place is very spacious and felt very easygoing. It is not fancy, which is best for those of us with kids. The bedrooms are also big and both beds very comfortable and clean. The kitchen came in very handy for meals and was well stocked. We did a lot of venturing out for meals, so we missed the Buckhorn entirely...more reason to stop in again! Alan's place and North Fork were definitely a find.
Ana
2016-07-07T00:00:00Z
This place is great! Alan is easy to communicate. The house is big & have a lot of amenities.
Nana
2016-10-16T00:00:00Z
Needed a place to stay for the night between days snowboarding up at China Peak. This was the closest Air BnB location available and, while it was a bit of a drive from the slopes, it had everything we needed to rest and recharge for the next day. The apartment was clean, spacious, and quiet. Alan was a great host.
Cameron
2016-12-30T00:00:00Z
Alan was very kind in showing us the house. It was a great place to rest after road tripping. Good beds and town is really quiet after 9PM.
Danny
2016-08-01T00:00:00Z
Very convenient for a quick trip to Yosemite, with two restaurants, a grocery store, and a gas station within easy walking distance. The apartment is very spacious and would be good for a big group or people with a lot of gear.
Emma
2017-01-01T00:00:00Z
Myself and my partner stayed here on the last leg of our 2 week trip to California Alan's property was the perfect thing for us after a busy time in cities, being both quiet and spacious in a relaxed area of the country. Alan was incredibly helpful throughout, the space was much larger than expected and clean throughout. Very close to Yosemite national park with easy access route there. Overall I would highly recommend.
Ben
2016-05-31T00:00:00Z
Alan's place is in a very beautiful and small forest town with a plenty of amenities to have a relaxed getaway trip. He's very responsive to any questions you have and waited for us during our late arrival as well. I would definitely recommend his place.
Yesha
2016-09-11T00:00:00Z
Art der Unterkunft
Ganze Unterkunft
---
Objekttyp
Wohnung
---
Unterkunft für
4
---
Schlafzimmer
North Fork, Kalifornien, Vereinigte Staaten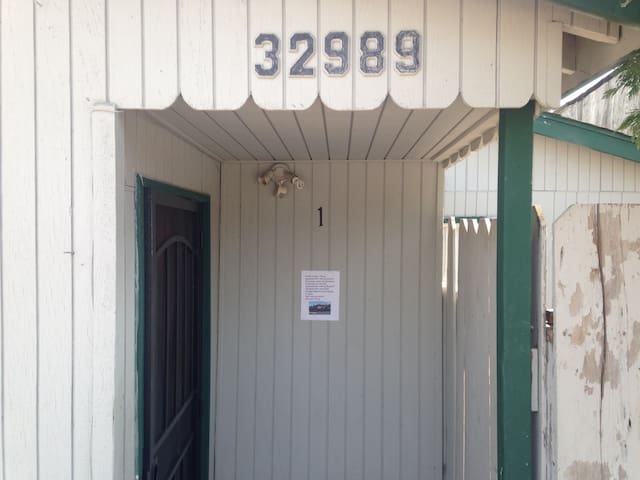 sehr schön, nach Hause !!! Sie haben ein eigenes Zimmer, aber gemeinsam genutzten Bereich mit Lazy Boy, 2 dbl Lazy Boy, 1 Sofa, Mikrowelle, Kaffeemaschine, Backofen, Herd, Topf und Pfannen, Geschirr, Pulver Sahne, Zucker, Salz und Pfeffer, Besteck, Seife, Spülmittel , Handtücher, Komet, Couchtisch, 2 Beistelltische, Küchentisch
Airbnb: Blanca, 'Natürlich! Vielen Meer you very much! "Ctyrgd. Airbnb: Blanca, 'Natürlich! Vielen Dank! ': Blanca,' Natürlich! Vielen Dank!' Scherz
Preiswerte Unterkunft in der nähe zum Yosemite NP. Alan war überaus freundlich und hat uns noch spät Abends empfangen sowie die Wohnung gezeigt. Alles Notwendige in der Küche war vorhanden und konnte genutzt werden.
Sina & Daniel
2015-09-20T00:00:00Z
Alan made me and family feel very welcome. He waited for us outside and was patient with us when we got lost. The place was clean and comfortable and close to Yosemite.
Lislie
2015-10-11T00:00:00Z
Alan knew that we had three people, and prepared a folded bed for us beforehand. Upon arrival, we realized the oven didn't work for our frozen pizza, but Alan offered to bake the pizza for us at his place, which was really nice of him. We found out later that the oven just needed a longer time to heat up. The place is overall clean and the bed is really comfortable. My friends and I really enjoyed the stay.
Lydia
2016-08-18T00:00:00Z
Alan was very nice, he take care of us ! And the place is really close to the Yosemite park and the basse lake if u want chill !
Escequiel Leonardo
2016-11-15T00:00:00Z
Located by a perfect little coffee shop and a cozy restaurant with bar and pool tables. Alan was very professional and friendly. The place was very worthwhile and a real bargain. Thank you Alan!
Eduardo
2016-12-05T00:00:00Z
The location of the one bedroom apartment is located outside Yosemite National Park. Took my mother to see Yosemite for the first time and was looking for a place. Luckily, I found this listing and Alan responded expediantly to my messages and communicated clearly with me. Thank You Alan for making this trip possible.
Cristian
2016-07-28T00:00:00Z
Even though the staffs in the house are a little bit old, host Alan is very nice and the room is clean.
Minqi
2016-09-21T00:00:00Z
Alan is a friendly and polite host, who goes to great lenghts to help his guests have the best stay possible. The listed room is excellent value for the money, especially considering the location (about 1,5h drive to Yosemite valley). The room has a super-comfortable bed, and is connected to a large living room with a kitchen, tv, dining table and several sofas (they're recliners!!!). All the silverware, plates, pots and pans are new, many of them unused. I even got to borrow a pass to Yosemite that a previous guest had laft to Alan, special thanks for that! It's a good idea for everyone staying in the area to do it made me really happy :) I was surprised to find that I was one of the first people who had stayed in Queen or King Size rooms. This is real bang for your buck. The town is a quiet little town with all the basic things you might need. Highly recommended!
Lauri
2015-09-22T00:00:00Z
Art der Unterkunft
Privatzimmer
---
Objekttyp
Wohnung
---
Unterkunft für
2
---
Schlafzimmer
North Fork, Kalifornien, Vereinigte Staaten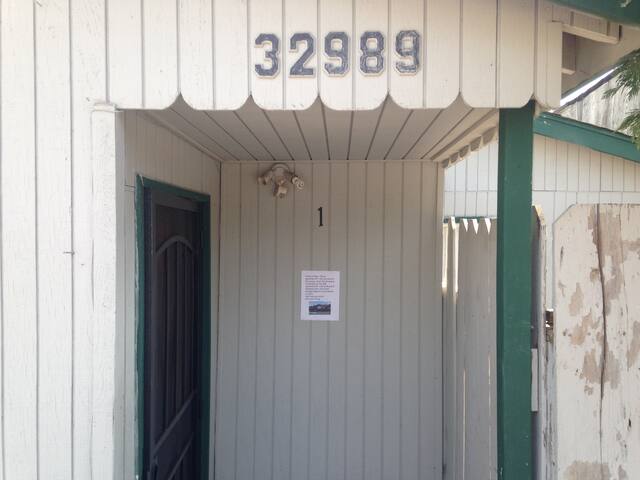 Gib deine Reisedaten ein, um den aktuellen Preis zu sehen. Es können zusätzliche Gebühren und Steuern anfallen.