Gatherings, parties, events, reunions, etc with 8 or more total sleepers /non sleepers MUST be discussed before booking. 5 minutes from rte.495, secluded, 1200 sq.ft. apt. In-ground pool, horseshoe pits, tennis/basketball court. Fully lit for night use. Central air, full bath, eat in kitchen, balcony, private drive & entrances, 2 HD flat screen TV"s, Netflix, On Demand WIFI. Very comfortable for two or a couple with children.
Minutes from the Cape and Plymouth. Visit Boston, ( Red Sox, Patriots, Bruins, Celtics, Aquarium, museums, historical sites and trails, shopping, etc. etc. etc.) Ptown, Newport, Plymouth, (Plymouth Rock, The Mayflower, Plymouth Plantation) from your secluded country setting on 4 acres. Large pool deck with in-ground pool, firepit, pool house with bathroom and shower. Outdoor music system. Fenced areas for pets if needed. Very large yard to exercise your dog. The sleeping arrangements are as such (see pictures), The blue room has a queen size pullout with an airdream combination air/spring mattress. It is by far the most comfortable pullout mattress we could find. It is also very user friendly to go back and forth between bed or sofa. The yellow room has a twin size bed with an additional twin size trundle that pulls out from underneath. Both of these use conventional mattresses.
Secluded side street but only 5 minutes from rte. 495. Half hour to cape or waterfront in Plymouth.
Die Unterkunft war wie beschrieben. Alles war sauber und die Küche mit allem drum und dran versehen. Paul war ein toller Gastgeber, ist auf alle Wünsche eingegangen und wir durften unsere Wäsche sogar waschen lassen. Wir haben auch den Riesenpool benutzt! Die Unterkunft liegt sehr gut um von Boston bis Cape Cod und Providence alles zu erkunden. Wir können Paul nur weiterempfehlen! Paul thank you very much for everything, it was a pleasure to stay at your place!
Ragna
2015-06-01T00:00:00Z
Sehr freundliches und grosszügiges Gastgeberehepaar. Die Wohnung war sauber, gut eingerichtet und ruhig gelegen. Wir würden jederzeit wieder gerne dort hin gehen.
Stefan
2015-07-18T00:00:00Z
Paul and his wife were amazing! They babysat our pup for us when we needed it and had everything we wanted and needed in one place! Their beautiful loft extension to their home was perfect for our stay over the course of week! We thank you both, again, and hope to see you in the future! -Sharen and Matt
Matt
2016-02-28T00:00:00Z
Our stay was great! We really enjoyed Paul's hospilatality. Thanks for the bottle of wine and the muffins! Everything you might need is in the appartement! As the weather was hot we also used the pool! Not to complain about anything ! Even the cat George was really cute.
Christophe
2016-08-20T00:00:00Z
Superbe séjour chez Paul, dans ce magnifique coin du Massachussets ! Merci, j'espère que nos pas nous conduirons à nouveau dans ces contrées !!
Florence
2016-07-08T00:00:00Z
After frantically looking around for a place to stay near Providence/Plymouth, my girlfriend and I luckily came across Paul's beautiful house. He was incredibly flexible and understanding, even when we nearly cancelled 15 minutes after booking the room, and once we arrived, Paul's friendly nature assured us we would be well taken care of. The room is more like a wing of the house with its own well-stocked kitchen and bathroom and 2 tvs, and it could not have been better kept or more inviting. Would have loved to have been able to stay longer, and will definitely be checking in with Paul again should we return to the area!
Ethan
2013-10-14T00:00:00Z
Paul & Cheryl were absolutely fantastic. Their place was outstanding, as was their hospitality. The apartment was beautiful & had everything we needed. The frig was stocked with water, juice, etc.. There was coffee or tea bags of your choice. More than enough room & clean as could be. The location was perfect. Not directly in the city of Boston, yet not far at all. The peace & quiet was heavenly!! Paul offered his pit near his beautiful pool if we wanted to grill anything. I would highly recommend their place to anyone visiting Boston, or the Cape. Thanks again Paul & Cheryl for making us feel so comfortable & welcomed!! CiCi, Brittany, & Grant..... Louisiana
cici
2014-05-31T00:00:00Z
Paul est vraiment une personne tres attachante et gentille. Il est a l'ecoute de vos besoins. La maison est tres agreable. Les equipements exterieurs sont geniaux (piscine, tennis, badminton...) Nous avons passes un super sejour chez Paul. Vous aurez peut etre la chance de rencontrer la famille raton laveur que Paul nourrit chaque soir et peut etre le renard aussi.
SOPHIE
2014-08-17T00:00:00Z
Art der Unterkunft
Ganze Unterkunft
---
Objekttyp
Haus
---
Unterkunft für
4
---
Schlafzimmer
Middleborough, Massachusetts, Vereinigte Staaten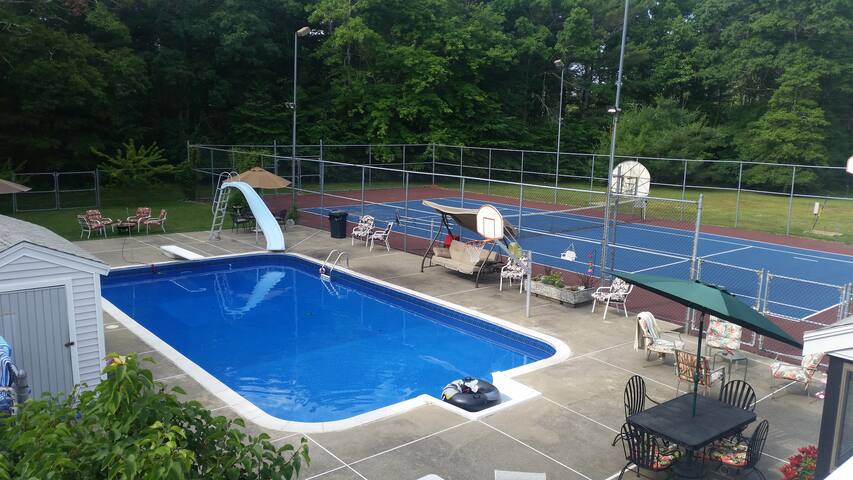 This home is a 300 year old antique located in historic neighborhood. Walking distance to bakery, banks, cafes and walking parks... 1/2 hour drive to Cape Cod Canal, 50 minutes to Boston, 1 mile to commuter rail.******* My place is also a home for four very social cats.
The scale of this house is so warm and historic! in decorating it I've worked to keep the historic quality as well as adding what I call bohemian chic elements.... red walls, modern paintings, bright materials, comfortable furniture. In the winter I have fires in the original beehive fireplaces and in the summer the shady backyard has a chiminea and retro butterfly chairs... so comfortable I sometimes fall asleep until the early morning hours.
Middleboro used to be a small rural farm town with lots of cranberry bogs.... the small farmers are mostly gone now and the town is more suburban. My home is in a historically registered neighborhood, immedialely off 495 which is the highway to the Cape and north to Boston. My home is the oldest being the original farm cape built by Silas Wood in 1711... most of the surrounding homes are turn of the century Edwardians & Victorians.
Merrie's place was charming! The bedroom was larger than photos depicted and private. The upstairs bath is generally shared, however, Merrie graciously allowed me private use for my overnight stay. Although she is located on a main road close to a major intersection, her landscaping makes you feel as if you are tucked away. Merrie was a delightful host and I appreciate her accommodating my last minute booking. It was the relaxing space I needed! Her four-legged residents made me feel right at home too!
Emily
2016-08-28T00:00:00Z
Art der Unterkunft
Privatzimmer
---
Objekttyp
Haus
---
Unterkunft für
1
---
Schlafzimmer
Middleborough, Massachusetts, Vereinigte Staaten
The space is available for one to four guests in the same party. Accommodations are in a separate wing of the house. There are two bedrooms, one with a double bed and one with twin beds. There is a private bath as well as a sitting room and screen porch for the exclusive use of the guest. The house is within walking distance to a private ocean beach and within a mile of the Shinning Sea Bike Path (bike rentals are available nearby). Numerous restaurants serving traditional Cape fare are within a two mile radius, with many more in nearby Falmouth and Woods Hole.
Charlie hat auch uns herzlich empfangen. Wir haben uns direkt willkommen gefühlt. Ich empfand unser Zimmer etwas zu rustikal (durch viel dunkles Holz etwas bedrückend) aber das ist geschmackssache...
Martina
2014-09-11T00:00:00Z
Charles Haus in North Falmouth, Cape Cod liegt in einer sehr ruhigen und naturnahen Gegend. Wir waren für 3 Nächte dort und er war einer der besten Airbnb-Gastgeber, die wir je hatten! Die Kommunikation und der Check In verliefen problemlos. Charles Haus ist riesig und wir hatten praktisch einen ganzen Flügel für uns. Es gibt 2 Schlafzimmer und ein privates Badezimmer, außerdem eine Terrasse und einen sehr schönen Garten. Charles ist ein sehr warmherziger und gebildeter Mensch. Jeden Abend haben wir uns lange mit ihm unterhalten und er hat uns viele Tipps gegeben, wie wir unsere Zeit auf Cape Cod gestalten könnten. Außerdem macht er ein ausgezeichnetes Frühstück. Er selbst spricht kein deutsch, hat uns aber gebeten den Review auf deutsch zu schreiben, da er sehr gerne auch Gäste aus Deutschland empfängt. Wir können diese Unterkunft nur wärmstens empfehlen.
Thorsten
2014-06-27T00:00:00Z
Das cottage von charles liegt wunderbar in einer ruhigen und entspannten umgebung, in gehweite (15 minuten fussweg) eines kleinen strands. Das haus selbst ist wunderschön eingerichtet und hat einen herrlichen Garten. Der wohnbereich für die gäste ist so wie beschrieben ubd wir haben dort entspannte stunden auf der terrasse verbracht. Wir haben die zeit und die gspräche mit charles sehr genossen, sein frühstück war ein highlight des tages! Ein wundervoller ort um einen amerikanischen strandurlaub zu geniessen - danke charles noch für das rezept der blueberry pancakes!
Matthias
2015-07-23T00:00:00Z
Charles war ein sehr netter Gastgeber. Cape Cod ist ein sehr schönes Reiseziel, besonders im Sommer. Wir waren für 3 Nächte dort und haben uns sehr wohl gefühlt. Das Haus ist nur wenige Minuten vom New Silver Beach enfernt. Wir hatten uns für einen Tag Fahrräder geliehen, was ich nur empfehlen kann. Der Shining Sea Bikeway beginnt unweit von Charles Haus. Auf dem kann man sehr gut nach Falmouth und Woods Hole fahren und von dort z.B. eine Fähre nach Martha's Vineyard nehmen. Man sollte vielleicht noch wissen, dass man durch Charles Flur bzw. Küche muss, um in den Gästebereich zu kommen. Man hat keinen eigenen seperaten Eingang. Nur als Info. Den Gästebereich kann man dann mit zwei (Glas-)-Türen von der Küche abtrennen.
Svenja
2014-08-18T00:00:00Z
Cape Cod Cottage ist eine wunderbare Unterkunft in einem großzügigen und sehr geschmackvollem eingerichtetem Haus, Mr. McCaffrey ist ein herzlicher und aufmerksamer Gastgeber, alles war aufs beste für unsere Ankunft vorbereitet und Charles hat uns in die großzügigen Räumlichkeiten eingewiesen. Die Empfehlungen für die Umgebung, Restaurants und Unternehmungen waren zuverlässig und präzise und am Morgen wartete der Hausherr mit einem herrlichen Blaubeer-Pancake und sehr wohlschmeckenden Kaffee auf, Gelegenheit für ein sehr anregendes und informatives Gespräch miteinander. Herzlichen Dank unserem Gastgeber Charles!
Martin
2015-09-16T00:00:00Z
Charles war ein sehr offener, freundlicher und zuvorkommender Gastgeber! Die Unterkunft war genauso, wie es im Inserat beschrieben war. Sehr geräumig, sauber und durch die hölzerne Wandvertäfelung äußerst gemütlich. Der Garten ist wunderschön und auf unserer Terrasse wehte sogar die deutsche Flagge als Willkommensgruß. Charles war unkompliziert und hat uns nachdem wir lange im Stau standen auch abends um 10 noch herzlich empfangen. Die Lage der Cottage ist sehr zentral und dank Charle's Tipps konnten wir die Highlights der Umgebung voll und ganz auskosten. Nicht weit von der Unterkunft gibt es zum Beispiel einen Fahrradweg nach Falmouth, einem lebhaften Städtchen mit Cafes, Bäckereien und Restaurants. Auf dem Rückweg waren wir -wieder dank Empfehlung- in einer urigen Kneipe und haben phänomenalen Clam Chowder gegessen. Alles in allem kann ich Charles und seine Cottage nur empfehlen und das nicht nur wegen der Blueberry Pancakes, die ja schon in den anderen Bewertungen in höchsten Tönen gelobt werden ;-)
Rebecca
2015-09-28T00:00:00Z
Charlie made us feel very welcome and provided us with very helpful information about the area before and during our stay! He is a very engaging conversationalist with a wide variety of experiences to draw from in connecting with his guests. For those looking for a quiet and affordable place to stay with an enjoyable host, this is the place for you.
Andrew
2016-09-25T00:00:00Z
Charles was the perfect host - our stay could not have been better. He was at the house to meet us when we arrived and provided some great suggestions for exploring the local area - the 20 mile ride along the bikeway is a must! He also provided breakfast the following morning - the BEST blueberry pancakes we have ever eaten!! The rooms are cozy and comfortable and there's a great reading room with an amazing collection of books and magazines to explore! It was a pleasure to stay with Charles and we hope to be able to return one day.
Sarah
2013-10-02T00:00:00Z
Art der Unterkunft
Privatzimmer
---
Objekttyp
Haus
---
Unterkunft für
4
---
Schlafzimmer
North Falmouth Cape Cod, Massachusetts, Vereinigte Staaten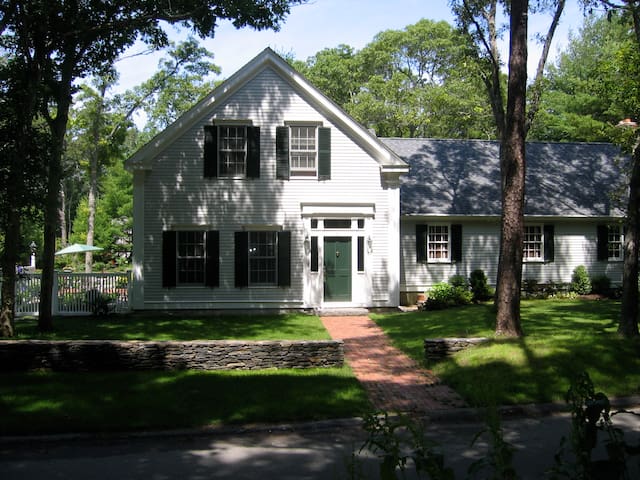 This custom home is located in a small private gated community and offers three bedrooms, 2.5 baths, enormous fireplaced vaulted family room, and office that can also be used as a bedroom with pull out couch, large eat in kitchen, three car garage and impeccable grounds just a few minutes from two major highways; centered conveniently to Cape Cod, Boston and Providence RI
The host canceled this reservation 135 days before arrival. This is an automated posting.
Jennifer
2017-04-06T00:00:00Z
Art der Unterkunft
Ganze Unterkunft
---
Objekttyp
Haus
---
Unterkunft für
8
---
Schlafzimmer
Berkley, Massachusetts, Vereinigte Staaten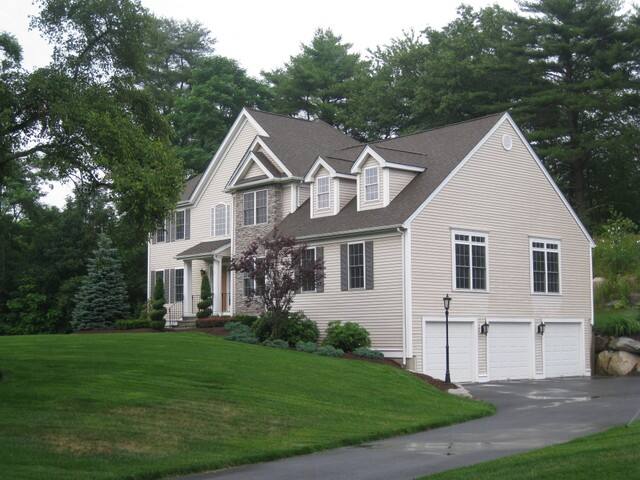 Located in a private and sunny cul-de-sac neighborhood, 10 minutes to the beach, and situated between Boston and Cape Cod. 3 Bedrooms, 2.5 bathroom, with deck and manicured yard.
Spacious, immaculate and well maintained
Quiet neighborhood of 13 homes, family-friendly, yet peaceful, private and quiet. Shopping within 5 minutes, beaches 4 miles away, ice cream shop close by.
Art der Unterkunft
Ganze Unterkunft
---
Objekttyp
Haus
---
Unterkunft für
4
---
Schlafzimmer
Pembroke, Massachusetts, Vereinigte Staaten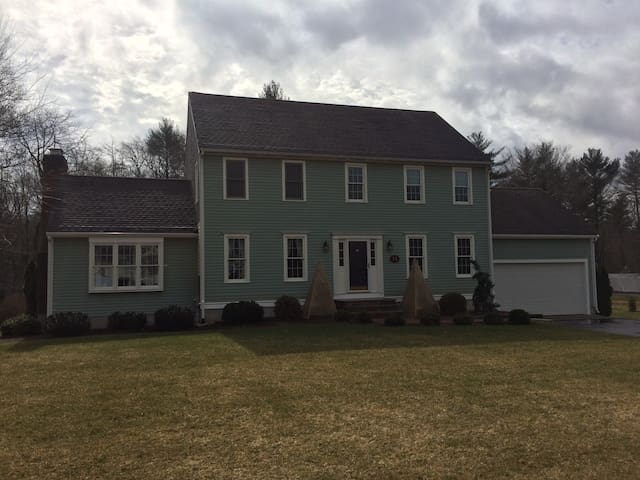 Our 2 bedroom home is not only lakefront, but just 25 minutes from the Duxbury and Marshfield beaches! Entertain indoors - cooking from a gourmet chef's kitchen. Or, take it outdoors for a pizza cook-off in the stone pizza oven! Just the two of you? The warm, eclectic interior invites you to relax, whether it's in the tranquil bedroom loft with French doors that open to the rooftop deck and boasts sunset lake views, or, on cooler nights, by the vintage pellet stove. Enjoy quiet mornings sipping coffee and listening to the birds from the worldly enclosed front porch.
72" TV, master loft with king size bed, living room with pullout couch, guest room with futon, pellet stove, outdoor pizza oven, lakefront, gourmet chef's kitchen, 1000 sq ft
Walking/biking trails, private, and safe
Beautiful views. Charming, clean and comfortable home.
Kathleen
2017-03-27T00:00:00Z
Rachael was a great host. The house was clean and in order. Very nice stay.
Lee
2016-10-23T00:00:00Z
Rachael's place was wonderful and the views of the lake were beautiful. The area was very quaint and served as a great getaway. The kitchen and living area were well equipped. The house was very clean and organized with helpful tips. Highly recommend!
Julia
2017-01-01T00:00:00Z
Rachel's home is very cozy and warm! There is a lot of charm with plenty of character. Everything was very clean and organized. The home and outdoor area is even nicer than in the pictures. This truly is a lakefront escape.
Rogelio
2016-11-20T00:00:00Z
Art der Unterkunft
Ganze Unterkunft
---
Objekttyp
Haus
---
Unterkunft für
6
---
Schlafzimmer
Pembroke, Massachusetts, Vereinigte Staaten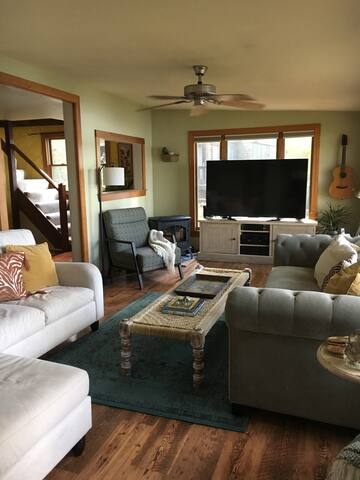 My place is close to family-friendly activities, public transportation, nightlife, lots of restaurants, 25 min to the airport, and the city center.
spacious, very quiet neiborhood, peaceful environment.
Art der Unterkunft
Ganze Unterkunft
---
Objekttyp
Haus
---
Unterkunft für
8
---
Schlafzimmer
Abington, Massachusetts, Vereinigte Staaten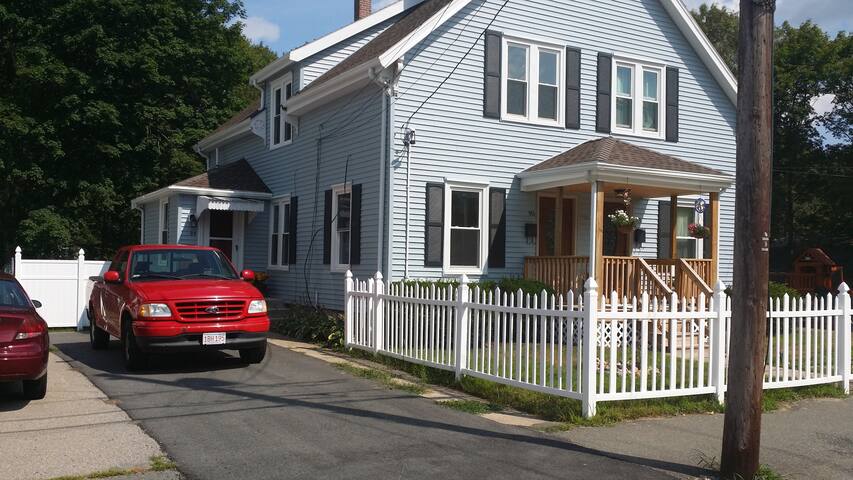 Our home is an 1870 farmhouse, newly refurbished with all the modern day conveniences and well-decorated. The house could comfortably accommodate 2 families and sleeps six to eight people. We are centrally located in an ideal location in MA, approximately 35 minute drive to many historic and well-known places including Boston, Plymouth, Cape Cod, Newport, RI, Providence, RI, The house has central AC, an acre of land, parks, shopping, restaurants, grocery shops within a mile or two. Interested in bowling, miniature golf, flea markets, movie theater, mall, playgrounds, horseback riding and other local attractions. They are within minutes of our house. There is also a premeire outlet shopping mall only 15 minutes away. Popular hotspots and musts: Red Sox game, whale watching, visiting Plimouth Plantation, Old Sturbridge Village, walking the Freedom Trail, shopping on Newbury Street, Patriot's Place, touring the Newport mansions, vineyards or just relaxing on a sandy beach on Duxbury, Plymouth, or Cape Cod.....you can drive to any of these places in less than 45 minutes. We have two adult bicycles for use and three children's bikes (young boys). Bed linen, bath and beach towels will be left for your use. The kitchen is fully equipped with a gas stove, grille, oven, microwave, pots, pans, utensils, dishes, glasses, coffee maker and dishwasher. The house has 3 bedrooms, a large family room with a queen sized futon and flat screen TV, living room with additional tv, piano/study room, 2 and a half baths, and very large 25' x 30' gourmet kitchen perfect for cooking in. The yard has a fenced in area, deck, fire pit, and large yard. There is park and ride bus service available into Boston or a train into Boston from Bridgewater. We are more than happy to suggest great local restaurants, places to visit and shop, or fantastic ideas for places you MUST see in the area.
My house, although on a main road, is fairly quiet and our backyard setting makes one feel like they're in the country. You can walk to the library. Most shopping centers are stores are within a 2 mile radius. Therefore, you can visit a Super Walmart, grocery stores, a mall, TJ Maxx, Marshalls, Bed, Bath & Beyond, Bennys, manicure shops, tire stores, Pier 1 Imports and every other store imaginable with the excepetion of Whole Foods or Traders Joes. :(
Very spacious, well-equipped and comfy family house. A home away from home ideally located for visiting Cape Cod, Boston, Newport, Providence, Plymouth.
Margaux
2014-08-13T00:00:00Z
My family (my husband, our children at the age of 13, 16 and 18 and I) stayed at Susan's house in Raynham, Massachusetts for a couple of days at the beginning of July. We were their first guests and we really do hope that they will get lots of other guests in future! We liked their big and cozy house very much which is furnished with a lot of taste. In particular we liked the great kitchen. The house is very well equipped and is situated in a quite good starting position for excursions to Cape Cod, New Haven, Provincetown, Plymouth and other interesting spots in Massachusetts. The communication with Susan was very cordially and informative and Susan's friend Kathy was very helpful on site. She gave us the keys and showed us round. There's only one thing that didn't work: wifi – I don't know whose fault it was... but even this doesn't really matter – so we spent more time together!
Katharina
2013-07-06T00:00:00Z
I cannot say enough nice things about our stay at Susan's beautiful home. It was like we were at a best friend's beautiful home. The kitchen was great, fully equipped, the deck awesome, and the yard and playgym beautiful. The gardens and landscaping and stonework gave us beautiful views from the windows, especially in that gorgeous kitchen. My family which included my husband, daugher, her husband and two little boys were so "at-home" during our week. I even was able to take the little boys to the local library down the street. Susan was so gracious and helpful during our entire visit. I thoroughly enjoyed meeting Susan and her husband and family. If we have to return to the area in the future, we would most certainly look to stay here again. The house was clean and comfortable and supplied with everything we could possibly need. Thank you Susan!
Winifred
2013-08-29T00:00:00Z
We spent a wonderful two weeks at this beautiful house and enjoyed every minute. As other reviewers have said, the house is even more spacious and well-maintained than it appears in the pictures. Although it is located on a quiet street in a rural setting, it is only minutes away from shops and services, and perfectly positioned for trips to Boston, Newport and the Cape.
Chuck
2015-08-17T00:00:00Z
Our stay in Raynham, MA was the best experience we have had since we started using Airbnb 2 years ago. The house of Susan and Nuno Sousa was more then we could ask for . The pictures on the Airbinb site really do not justice to the actual house and surroundings. We stayed in Raynham due to the fact that our daughter was staying at a summercamp only 10 min away. We loved the huge garden and the kids adored the three house and the TV gaming room . Also the house interior with its professional kitchen and the oustise BBQ pit made this the perfect location for our family while staying the US Susan and Nuno were there to welcome us and showed us around , everything we could wish for was available . In terms of location we were only 5 min away from the farmers market and we had easy access to all the places to visit such as New port , Cape Cod and boston. We would love to come back to Raynham next year if our daughters chose to continue with their Wheaton colleage summercaps
Frank
2015-07-19T00:00:00Z
Thank you Nuno and Susan for our fabulous vacation. We roasted marshmallows in the fire pit, cooked a pancake breakfast in the kitchen, and had a family movie night in the game room. Loved your house . It was so comfortable for the six of us, lots of room, beautiful yard, sitting outside in the evening was a joy. Location, Location, Location!!!!! Six of us in our group all wanting to see everything in the area. Easy access to highways, 45 minute drive to downtown Boston, Cape, and Beaches, day trips to Conn and RI. Our trip to Boston started off with no show Limo from the airport to Raynham. Nuno gave us alternatives and we finally arrived three hours later than planned. Nuno took 3 of us to the grocery store waited while we shopped for dinner and breakfast and took us back home. Susan had a book for us of all the places to visit in the area, and a couple special notes just for us. Big thanks to the neighbors who kept us supplied with cucumbers and zucchini.
Nancy
2014-07-26T00:00:00Z
We had a wonderful time in Raynham for Christmas! This home was just what we needed for our dispersed family to come together for the holiday. The home had a Christmas tree and some decorations which made it feel that much more like home. It is in a very convenient location close to highways yet on a relatively quiet street. The kitchen/dining area was such a great place for us to gather and cook our meals. There were tournaments held at the pool table, and we watched the Patriots on the big screen TV. The owners were very responsive to any questions we had. We would highly recommend this home to any one looking for a home away from home! Thank you Susan and Nuno!
Marlene
2015-12-29T00:00:00Z
A beautiful home, with a GREAT back yard. The tree house was awesome!! Susan was wonderful. She was easy to contact, and extremely accommodating, leaving us a list of many fun things to do in the area, and the times they are open. Very convenient for a family! I have nothing but great things to say about this house, and of Susan!
Ann
2013-08-05T00:00:00Z
Art der Unterkunft
Ganze Unterkunft
---
Objekttyp
Haus
---
Unterkunft für
6
---
Schlafzimmer
Raynham, Massachusetts, Vereinigte Staaten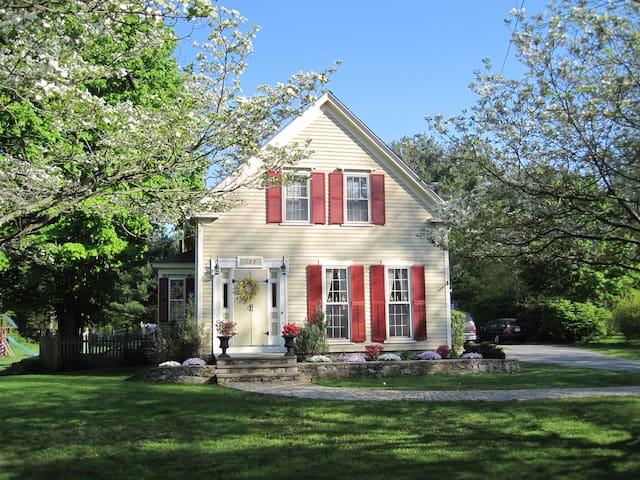 Beautiful home with water views from every room! Very private deck on Aucoot Cove with great wildlife and birdwatching. Bike to town, Beach, the harbor and tennis courts. Thirty five minutes to Providence RI, 55 minutes to Newport RI, 50 minutes to Boston, and 20 minutes to Cape Cod. Ferries to Martha's Vineyard and Nantucket 15 minutes away. Many great golf courses.
Very private. Nature lovers paradise! Great layout. Master bedroom with full Bath on the first floor. Large sunroom, living room, dinning room, kitchen and half bath on first floor. Two other large bedrooms on the second floor with full bath and separate living room area. Laundry room on second floor. Very large deck with hot tub facing the water!
The home is on a finger of land that reaches into Buzzards Bay. There are wonderful bike rides and walks down around the point with water views on both sides. Silvershell beach is a 5 minute drive and 10 minute bike ride. It is very quiet with beauty everywhere you look.
Art der Unterkunft
Ganze Unterkunft
---
Objekttyp
Haus
---
Unterkunft für
6
---
Schlafzimmer
Marion, Massachusetts, Vereinigte Staaten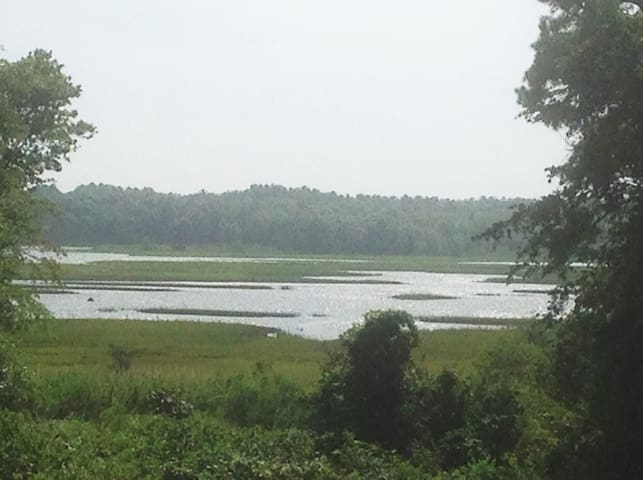 Lovely spacious waterview home in the seashore town of Marion. Water views from living room, and two bedrooms. Master bedroom has small private bath. Additional full bathroom with washer/dryer. Private road, deeded beach rights, boat launch, etc. Great for kayaking, paddle boarding, boating, and just relaxing at the beach. Large private deck and large yard for entertaining. A perfect spot to get away from it all. Enjoy Silvershell Beach in town, beach sticker provided.
3 bedroom, 2 full baths, finished basement, 2 car garage, large deck, laundry with washer/dryer.
Home is located on a private, dead end street that leads to the ocean.
The host canceled this reservation 31 days before arrival. This is an automated posting.
Aditya
2016-06-10T00:00:00Z
This was a wonderful stay for all the family.
Denis
2016-08-10T00:00:00Z
Fantastic house! We stayed a long weekend with my teenagers, and everyone had a great time. Big bay windows in the family room make for beautiful view of the water. The two full baths make the house extremely comfortable for a big family. The house is just as advertised, PLUS very well furnished (kitchen, towels, etc). Also, kayaks & paddle boards really give the big kids great options. Water access for kayaks is only 50 yards away from the front door. They even have a floating swim dock for use - about 1 block walk. If elderly can handle 15 steps, they would love the family room & view. Getting out to the water would not be a good plan for elderly. Finally, Diane is the best airbnb host I've ever had. She's great!
Tom
2016-08-17T00:00:00Z
This is a lovely home with great amenities. Perfect for a family. The view from the home is so beautiful, and the area is wonderful. Diane, the host, was extremely attentive to make sure we had everything we needed. We will stay there again for sure.
Amy
2016-06-28T00:00:00Z
We stayed in this house for 3 nights. The house is very clean and well appointed and Diane was easy to communicate with. The house is on a very private road so it is very quiet. Marion is convenient to the lower cape and southern Mass or RI. While there were some minor problems because, I believe, we were her first rental, I would definitely recommend this place especially for a larger group.
George
2016-06-15T00:00:00Z
Diane was a fabulous host - so welcoming and accommodating. She checked in during our arrival and made sure we had everything we needed for a comfortable weekend stay! Went out of her way to show us around the neighborhood, the private beach areas, and gave tips on where to dine, watch the sunset, etc. Thanks Diane! Photos do not do the view from the bay window justice - perfect private road with water access only across the road. We had a lovely girls weekend getaway with room for 7 guests to sleep comfortably - everyone had their own bed. The house was perfect and very clean when we arrived. Definitely hope to return in the future - it was a great place to get away for a few days!
Allison
2016-08-01T00:00:00Z
Art der Unterkunft
Ganze Unterkunft
---
Objekttyp
Haus
---
Unterkunft für
6
---
Schlafzimmer
Marion, Massachusetts, Vereinigte Staaten
This is my private home, a short walk on a private path to our local public beach. There are 3 bedrooms, 2 1/2 baths, & a big kitchen including a large deck with gas Weber grill. This is a quiet neighborhood in a great little town.
We are a quiet neighborhood with a lovely path to Silvershell Beach. The house is wide open, great for a family with lots of light.
It is a friendly but quiet spot.
Susannah's home was even better than pictured! Susannah made every effort to make our stay as relaxing as possible by answering questions and providing recommendations before and throughout the stay. The location is great - walking distance to the beach and very accessible to Martha's Vineyard and Cape Cod. We had a wonderful long weekend and hope to come back soon. Thanks Susannah!
Emily
2016-07-26T00:00:00Z
Charming and cozy home impeccably decorated, both inside and out. Short walk to the beach. Lavish master suite accompanied by two smaller "kids" bedrooms. Spacious living areas and decks for gathering. This was my maiden voyage on Air bnb and Susannah was an ideal blend of attentive but invisible. My only caveat was/is the confusion over pricing which was nearly $200 above the advertised rate (25% higher for 2 (URL HIDDEN) be nice to have an "all in" price on the listing page. 5 stars. Thanks, Susannah!!
Scott
2016-08-01T00:00:00Z
This house is beautiful! Susannah was a phenomenal host and foresaw all of our needs. Whether it was dinner on the deck or a quick dip in the ocean, this house helped everyone in my party relax and recharge. 5 Stars!
Jesse
2016-08-29T00:00:00Z
Great house and Susannah was wonderful and very responsive.
Denise
2016-08-15T00:00:00Z
Art der Unterkunft
Ganze Unterkunft
---
Objekttyp
Haus
---
Unterkunft für
6
---
Schlafzimmer
Marion, Massachusetts, Vereinigte Staaten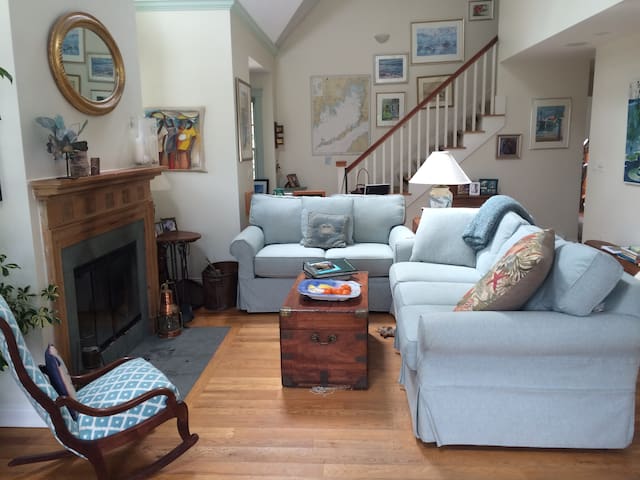 My place is good for families but no pets are allowed on the property. All new hardwood floors just installed.
Art der Unterkunft
Ganze Unterkunft
---
Objekttyp
Haus
---
Unterkunft für
6
---
Schlafzimmer
Sandwich, Massachusetts, Vereinigte Staaten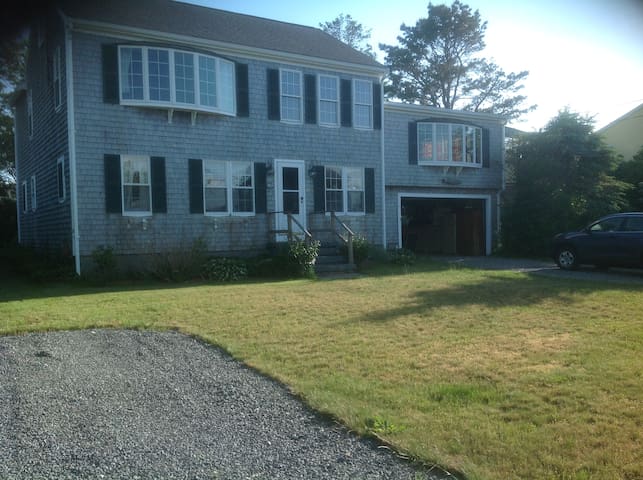 Beautiful bedroom with a Queen-sized bed. Ideal for 2 guests, FREE Off-Street PARKING is also INCLUDED. Our home is a quite area in the suburb in the southern part of Boston with access to public transportation (Subway and Ferry) Accessible via public transportation and is 10 miles to Harvard, MIT, Northeastern, Boston University, UMASS Boston, Tufts, Suffolk Close to Quincy College & Eastern Nazarene College
Beautiful room with a full-sized bed. Ideal for 2 guests
My place is family friendly neighborhood close to the harbor. My place is good for couples, solo adventurers, and business travelers.
Good communication. Accurate description. Good overall experience. Thank you Akin!
Bobby
2017-02-13T00:00:00Z
We enjoyed our stay ! Akin is very Nice And helpful ! The area is safe :)
Margaux
2016-06-01T00:00:00Z
Don't do it. Mouse droppings on the stairs going up to apartment. Odor throughout house. Host is on the noisy side and the second night I was there he insisted on coming into my room after waking me up. Just to take a measurement on a window when he had all day to do it. If his toddler didn't walk in I would have chewed his head off. The bathroom is disgusting to top it all off. Save your 30$ and look elsewhere. This place should be condemned, cheers.
Scott
2017-03-10T00:00:00Z
Akin is a very friendly and attentive host and he makes guests feel at home. The house is nothing fancy but is clean and comfortable. Akin is very responsive to his guests' needs as well. If given the chance, he likes to get to know his guests and he genuinely cares.
Tom
2016-12-23T00:00:00Z
Great location, Akin is a great host and very accomodating. Always making sure your stay is comfortable!
Lenny
2017-01-05T00:00:00Z
Very close to bus stop.
婉瑚
2016-05-09T00:00:00Z
Its always a good place to stay. It's clean and Akin is always helpful.
Michael
2016-05-16T00:00:00Z
Comfortable and quiet! Akin is great!
Michael
2016-05-07T00:00:00Z
Art der Unterkunft
Privatzimmer
---
Objekttyp
Haus
---
Unterkunft für
2
---
Schlafzimmer
Weymouth, Massachusetts, Vereinigte Staaten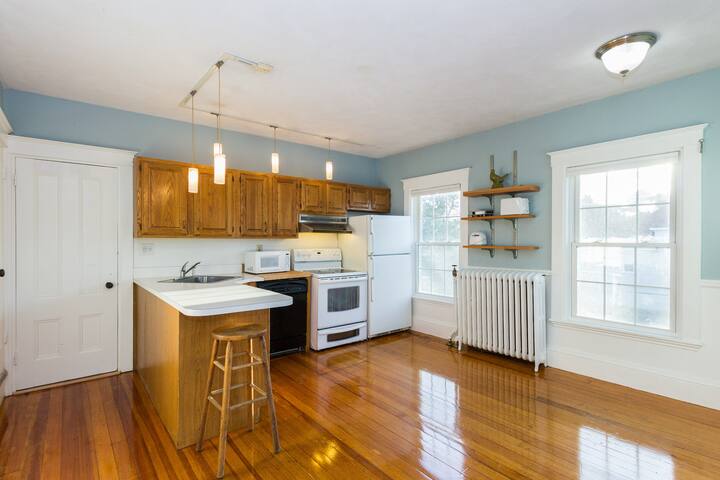 My place is close to Tabor Academy, Sippican Harbor, Marion Village and Town playground, Beverly Yacht Club, the beach, parks, art and culture, restaurants and dining. Pedestrian friendly sidewalks! You'll love my place because it is a quaint New England seaside cottage with nooks and gardens, super cozy and known locally as the Thimble Cottage. My place is good for couples, solo adventurers, business travelers, and families (with kids) and Tabor Academy visitors.
Our cottage is cozy, beachy and very comfortable. The main living area is open and sunny, with room for everyone to lounge, eat, play games or enjoy the mounted TV. The new kitchen is efficient and sure to please the casual or accomplished cook. The warm wood floors feel lovely underfoot, and wall to wall carpet upstairs softens the overhead sounds.
Very cute cottage in a great town. Bernadette was a gracious host and responded to my questions quickly. Book here if you're looking to relax, I would book again!
Jillian
2016-12-14T00:00:00Z
My family of four stayed in the adorable cottage for a couple days during Christmas visiting family in town. The house was neat and clean and perfect for our needs.
Eileen
2016-12-27T00:00:00Z
独力小院,独栋房子,房主不住在这里,楼上楼下共三间卧室,其中一个是只有一个单人床的阁楼,一个卫生间在一楼,离tabor步行不到五分钟,孩子一天三顿可以回来吃饭,房主热情周到,房间洁净温馨,厨具齐全,tabor家长理想的选择,我们在这里和tabor的孩子们度过了愉快的一周 Alone courtyard, houses, homeowners do not livehere, upstairs downstairs three bedroom, one ofwhich is only a single bed loft, a bathroom on thefirst floor, walk from Tabor in less than five minutes, the children come home to eat three meals a day, the owner warm and thoughtful, clean warm room, kitchen utensils complete Tabor parents idealchoice, we are here and Tabor children spent ahappy week
申秋
2017-03-03T00:00:00Z
Nous avons logé à cet endroit 2 nuits. C'était très bien. Bernadette répond à nos questions et demandes rapidement. Elle nous a fait quelques suggestions et recommandations afin qu'on puisse prévoir notre séjour car nous sommes arrivés le 1er janvier. La ville est superbe et ça semble être un secteur assez tranquille. Ce doit être magnifique l'été avec les plaisanciers et leurs bateaux... je recommande !
Josée
2017-01-03T00:00:00Z
离Tabor最近的好房子,没有之一。房子干净、整洁、温馨、有品味! 房东夫妻俩非常非常友好和热情,他们并不住在这个房子里,可是他们专门过来接待我们,给我们介绍各种信息和资源,还非常乐意帮助我们。她们对附近无所不知,无所不晓,住她们的房子比住自己家还舒服。 要说唯一的遗憾,就是不能在这里多住几天……下次再来这个地方,一定还是选择Bernadette 的一级棒的房子!
tio
2017-01-23T00:00:00Z
Perfect place for a quite holiday. The house is very pretty and comfortable! I loved how clean and spacious it was.
navisha
2016-11-27T00:00:00Z
Art der Unterkunft
Ganze Unterkunft
---
Objekttyp
Haus
---
Unterkunft für
5
---
Schlafzimmer
Marion, Massachusetts, Vereinigte Staaten
Welcome to Airbnb!! A single /unique house located in South Shore of Boston. Unit has private livingroom, bathroom, updated kitchen and 2 small room. It is a singl house yet my family is living downstairs (basement) and have separate entrance.
For first time Airbnb Please sign up using my referal link so you can get $20.00 Airbnb credit . ( Note this is applicable to all any Airbnb place you decide to choose.) copy and paste : www.airbnb.com/c/mbamba2?s=8 Amenities: *free wifi *32" flatscreen tv with basic cable /netflix free access in the room. *have your own 2 microwave *stainless steal double door fridge with ice maker and filtered safe water. *Coffee maker (k cups and regular one) * Electric flat stove glass top *double oven *free parking spot (driveway or street parking) *dining ware provided as well as disposables * Clean linen and toiletries provided. * Room 1- bed,* have 32' flat screen TV , small closet , portable heater/fan . *Room 2* - ...small room with futon , no closet . Note: its a DIY home works so dont expect any luxury in the house. I can accomodate up to 4 persons FYI... House is currently on the market thats why weekends are blocked for open (URL HIDDEN) ussually 1 to 3 pm every sunday, I will deduct 30%off if u dont mind to steal 3 hours if u book sunday. email me if interested!
Were located in a quite and safe family community- 5 mins walks -Weymouth-Hingham line. 30-40 mins drive to Boston (depends on the traffic) To commute to Boston from home : 8 mins walk to the bus station runs every 5-10 mins, the bus will brings you to Quincy Center. At Quincy Center you can take the commuter rails that's goes to JFK, downtown Boston, Harvard ,MIT etc . (approximately 40-50 minutes travel) please see MBTA website for fares and other direction. Thank you!
Nach unserer Ankunft kam Henry und hiess uns herzlich willkommen. Er erzählte uns einiges übers App. und gab uns noch so manchen Tipp über die Sehenswürdigkeiten. App. ist unweit von Boston. Einmal gingen wir mit dem Zug von Quincy aus, einmal mit dem Schiff (Super skyline) nach Boston. Sehr sehr schön. App. - ist empfehlenswert und es fehlte an nichts. Da wir in ganz Boston und Umgebung in keinem Shop eine Strassenkarte zu kaufen fanden gab uns Henry und Mary für die restlichen 10 Tage - ganz unkompliziert - ein Navi-Gerät mit. Wir waren echt froh darüber. Beide sind sehr nett, freundlich und hilfsbereit. Gerne wieder.
Maya
2016-09-23T00:00:00Z
Die Wohnung ist schön eingerichtet. Boston erreicht man von hier aus in kurzer Zeit. Ein kleinerer Strand kann zu Fuß erreicht werden, ein größerer ist mit dem Auto auch schnell erreicht. Die Gastgeber waren freundlich und standen immer zur Verfügung.
Sybille
2015-09-06T00:00:00Z
It was a great trip. The beach beside the house is really beautiful.
Yanbing
2015-05-23T00:00:00Z
We loved it. It was all precise as described. Henry and Mary were very helpful. They always were on top whatever we asked. We would love to be here again.
yogi
2015-11-14T00:00:00Z
Henry and Mary were excellent hosts, and they gave us our privacy and were responsive to requests and questions during our stay. The house was comfortable and well stocked for, as we had most of what we needed when cooking for family that visited us for a holiday lunch. Their wonderful daughters were even kind enough to share some toys with our kids during our visit. :-)
Nick
2016-04-01T00:00:00Z
The bedrooms were a bit DIY (as stated in the description) but the place had everything we needed and was a fun location. Steps from the shore for morning runs, couple miles from the original Wahlburgers and other shop/restaurants at the marina. We took the redline into Boston - getting around was super easy. Hosts were great and made sure we knew the area and had everything we needed.
Shane
2016-09-17T00:00:00Z
Great Place to call home for a couple of days. Really clean and all as promised. Henry met us on arrival and showed us the home plus helped tell us how to get around Boston and things to do. Upon arrival there was milk and eggs also some water bottles in the fridge. This home is a 5 minute drive to the ferry into Boston and then a 35 minute ride in, well worth the money not to drive. I would stay here again and recommend to anyone needing a home for a while in the Boston area.
Bill
2015-10-17T00:00:00Z
Great place to stay. I appreciated Henry's hospitality.
kurt
2015-12-02T00:00:00Z
Art der Unterkunft
Ganze Unterkunft
---
Objekttyp
Haus
---
Unterkunft für
4
---
Schlafzimmer
Weymouth, Massachusetts, Vereinigte Staaten
Custom home overlooking in-ground pool in private backyard. One mile walk to beach. Marion is the best kept secret for summer getaways in Massachusetts...Enjoy access to Silvershell Beach, Sippican Harbor and Buzzards Bay without the Cape traffic! Central air, Large gourmet kitchen, 4 bedrooms, 2.5 baths, accommodates up to 8 people.
Art der Unterkunft
Ganze Unterkunft
---
Objekttyp
Haus
---
Unterkunft für
8
---
Schlafzimmer
Marion, Massachusetts, Vereinigte Staaten
Stay in a beautiful house "museum" - Not only are you within walking distance of tourist attractions and minutes from Providence, all proceeds benefit the Preservation Society of Pawtucket! Yay!
*** There is now a new mattress and created a 'sitting room' to respond to feedback. *** This is a hidden gem of Pawtucket. An 1828 federal style house, it was lucky to have an owner who ardently pursued preserving the history of the city. As a result, the house is a beautiful collection of the past, from the wallpaper to the furniture. It hosts a large yard to relax in, a unique kitchen and that warm comfy feeling you get when surrounded by history.
Pawtucket is rich in history! -Walking distance to Slater Mill (the birthplace of the American Industrial Revolution!) -Insanely unique architecture! Walk around the neighborhood. Nestled in with the contemporary are beautiful historic mansions. The street itself on the Historic Register as a complete surviving nineteenth century residential neighborhood - Walking distance to McCoy stadium, one of the oldest AAA stadiums in operation and also home to the famous 33 inning game -The Blackstone Bike Path is easily accessible. -Blackstone River Explorer runs on the weekends
When we arrived we were shocked to find that the whole house is a museum and we were staying in it! However little by little we got used to the idea and were comfortable with the old family portraits staring down at us. The library is a delightful room full of old books and sunlight streaming through the windows. My wife at first refused to go down into the basement until I told her that there were the largest washing machine and dryer I have ever seen. Despite its age everything worked well including the heating which was good for us as we both live in the tropics. I would strongly recommend anyone with an adventurous spirit to stay here. We travel extensively and it was one of the most interesting places in the world we have stayed.
JOHN
2015-10-16T00:00:00Z
The most unique place we've stayed at any airbnb, and a great cause to support!
Jeff
2016-11-18T00:00:00Z
This home is beautiful and it is a privilege to stay in such a historic place. The location is terrific!
Elizabeth
2016-08-28T00:00:00Z
This is a lovely old house. you truly fee like you've stepped back in time - it appears to be exactly the way the owner left it when it was donated to the historical society. Blankets in drawers; china and chochkies from an earlier time filling the cabinets. My parents didn't spend much time at all in the house since we were busy having adventures all around the state - but it was a comfortable place for them to land at the end of the day, and it was conveniently located to my house in Lincoln and to all the places we wanted to see. Make sure you try out the Modern Diner for breakfast - nearby and amazing food. :-)
Lisa
2015-09-17T00:00:00Z
Jocelyn met us promptly, gave us a tour of the house, made us feel most welcome. The location was close to the historic downtown and the Pawtucket Red Sox field. The description is exactly as described.
Richard
2016-06-09T00:00:00Z
We loved our stay in this adorable historic home! It was only one night which is a bit too short, but a lovely stay!
Shideh
2017-02-15T00:00:00Z
Authentic Historic Home! Nicely situated for access to Providence and route 95. The Historic Soceity was very nice to deal with and if we needed anything, they were very responsive. A great weekend get-away!
Leslie
2015-08-01T00:00:00Z
The hosts were fantastic! Very welcoming and accommodating!
Carolyn
2016-06-30T00:00:00Z
Art der Unterkunft
Ganze Unterkunft
---
Objekttyp
Haus
---
Unterkunft für
3
---
Schlafzimmer
Pawtucket, Rhode Island, Vereinigte Staaten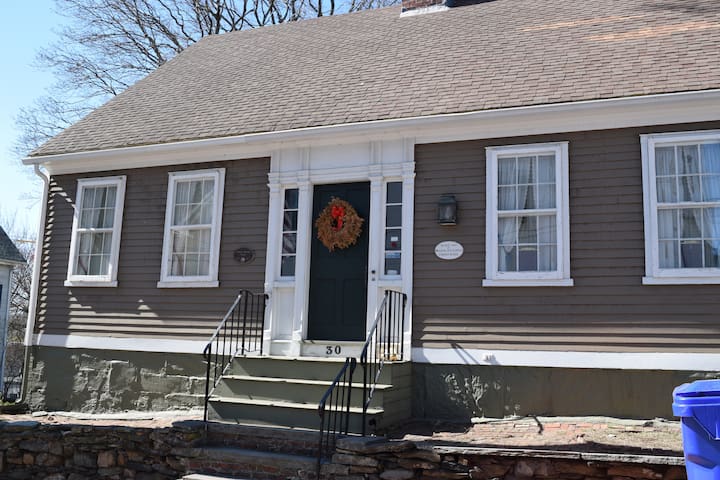 Four bedroom, 3 bath home available for the month of July. Neat and clean yet also family friendly. 8 minutes to Brown U., the Convention Center, Dunkin Donuts Center, 30 minutes to beaches, 60 min from Boston, 4 hours from NYC. Strictly NON-SMOKING property.
This home is sunny and bright with a ton of first floor space including a family room, den, sun room, dining room, kitchen, first floor bed and first floor full bath. Upstairs are 2 more full baths, master bed, two more bedrooms, both twin. (Photo of crib is now a twin!)
Our street was actually named one of RI's top 10 neighborhoods just recently! Our home is walking distance to Blackstone Blvd., the park and some of Providence's best eats for those foodies out there! Yet it is located in a spacious, close knit, neighborhood. The best of both worlds!
Meg left a note for us and told us to help ourselves to any condiments that we needed for our stay!!! She sent lots of emails too!
Carole
2015-07-14T00:00:00Z
Cozy home in a lovely neighborhood! Meg was super easy to get in touch with and offered lots of wonderful local recommendations that were spot on! Had one of THE most amazing meals ever at one of the restaurants she recommended right in Pawtucket. Meg left detailed information that was helpful and her home was well appointed and comfortable. Had a quick blip with the a/c unit and she had a repairman at the house super fast (and on a Sunday!)! We did lots of cooking - the kitchen is well stocked. The neighborhood was very conducive to walking/running.Would return again in a heartbeat.
Ginger
2015-07-21T00:00:00Z
The home was exactly as I described, and more. Meg and family had worked hard to see that everything we were looking for in a vacation residence was available to us. We thoroughly enjoyed the home, and it was a very family friendly location with a great playroom, lots of books and toys, and comfortable living spaces for us. She checked in with us a few times to make sure we settled in OK and did not have any unanswered questions. It was also great to see an older home which had received so many great renovations to make it very comfortable. The home is near to a number of great attractions such as a farmers market, playgrounds and and other attractions in Pawtucket and Providence. We had a great time there!
James
2016-07-20T00:00:00Z
We had a terrific stay at Meg's house this past weekend. My family, including two young children and grandparents, was in town for a wedding weekend. The house had plenty of room for all and, to my delight, some really handy kid-friendly features like blackout shades/curtains in the bedrooms, gated stairs, a great playroom, and a large playground just a few blocks away. Meg was a very thoughtful host and was quick to answer our questions both before and during our stay.
Maggie
2016-07-11T00:00:00Z
Meg our host was super quick to respond to our questions and very helpful. We were there with our family to attend our daughter's graduation from Brown and the home was great! It was close to the University as advertised, yet in a nice, quiet family neighborhood, within walking distance of some good restaurants. The house is very comfortable, a home away from home, especially if you have young kid or two in your family - it reduces stress to stay in a safe place where they can play and be entertained. The home is nicely decorated and well appointed with everything you'd need to be comfortable - we really enjoyed our stay there and would recommend it to anyone looking for a pleasant family home in the Providence area!
Ramesh
2015-05-26T00:00:00Z
Meg's house provides a personal feel to your stay like a bed and breakfast but a luxury feel with the decor.. It was absolutely charming... Every time I looked, I saw some sort of cute knock knack, we could not have asked for a better stay or a better host! Meg accommodated us at the last minute and even though we had a party of 6 people and I was stressing about finding a place for all of us.. It was the perfect atmosphere for our reunion. This is a prime location, the neighborhood is extremely quiet, great for afternoon strolls along the street. The master bed room is extremely spacious and features its own shower. The beds were comfortable, especially after of 5 hours of driving into the city. The next time I am in Rhode Island I will be sure to book with Meg.
Rakhi
2016-07-27T00:00:00Z
Wow, this place is so wonderful! Every room is big, yet comfy, and loaded with character. Meg is so amazing with her detailed and customized tips on places to see and things to do. This is by far our favorite Airbnb experience to date. Thank you so much!
Scooter
2015-07-27T00:00:00Z
This was our first ever AirBnB rental, and it was excellent. The home was plenty spacious, but had lots of cozy spots for reading, relaxing, or whatever. An 80 year old house with a modern feel. The location was great for our purposes. We used it as a home base for trips to Boston, Plymouth, and other spots. It had all of the amenities you could ask for, on a very quiet street, and right next to a big park. Meg went out of her way to make sure we were comfortable, with plenty of informative texts and immediate answers to any questions that we had. As good a stay as we could have hoped for!
Ryan
2015-07-06T00:00:00Z
Art der Unterkunft
Ganze Unterkunft
---
Objekttyp
Haus
---
Unterkunft für
6
---
Schlafzimmer
Pawtucket, Rhode Island, Vereinigte Staaten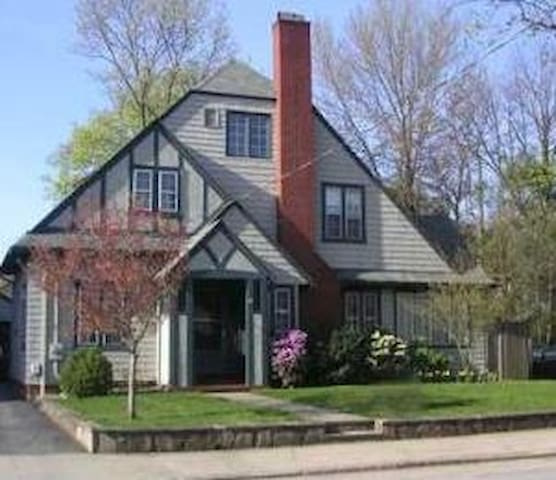 1

–

18

von

+ 300 Häuser zur Miete
Gib deine Reisedaten ein, um den aktuellen Preis zu sehen. Es können zusätzliche Gebühren und Steuern anfallen.