Dies ist vor allem gute Lage 13min zu Fuß Matsue Station 13min Matsue shinjikoonsen Station zu Fuß Sie können von Ichihara Zug nach Izumo taisya gehen Es gibt eine Menge in der Nähe des Lebensmittelgeschäft und Bar
Von JR Matsue-Station in 200m westlich liegt auch ist Matsue-Station auch zu Fuß erreichbar Matsue Shinji See Onsen entfernt. Da der Bar Bezirk gibt es viele Restaurants. In etwa 20 Minuten bis Matsue Tourismus Matsue Castle gehen, Samurai Residenzen, Boot Horikawa Vergnügen, können Sie auch See Shinji besuchen. Vogel Park und den Englischen Garten, geht es in Ichibata Zug nach Izumo Taisha. Es ist sehr bequem zu den touristischen Zentrum der Sanin.
Chinese Ryoriya auf der ersten Etage der Wohnung, es gibt viele Restaurants, die nur zu Fuß erreichbar. Es kann im Jahr 2015 gehen auf Matsue einen nationalen Schatz Mai ca. 1,5 km entfernt bezeichnet. Gehen, ist von 3 Minuten zu Fuß Matsue-Station auch mit dem Bus kommen.
Nette Unterkunft. Sachi war sehr nett um uns beim Ausleihen der Rennräder zu helfen. Nette Gastgeberin.
(EMAIL HIDDEN)
2016-05-28T00:00:00Z
Er hat zuwenig dafür gesorgt, weil er gar nicht anwesend war
Robert + Daniela
2016-08-02T00:00:00Z
I like Matsue.
Emi
2016-08-12T00:00:00Z
Sachie was very nice and helpful! The house was huge and clean. Would recommend it to anyone!
Winnie
2015-12-03T00:00:00Z
Very nice stay. You have all essentials and close to station only down side is that there is trains close by which makes noise in the morning.
Nikolaj
2016-09-22T00:00:00Z
Good location, all facilities there, good arranged by Sachie!
Hans
2015-10-12T00:00:00Z
Very clean, very close to the train station, and a very well kept apartment. Sachie was attentive to all our needs and everything was prepared for us ahead of time.
Nathan
2016-05-30T00:00:00Z
It is a convincient place from Matsue station. The hostel is well located with lots of restaurants and shops around. However, it is abut small for 7 people, I think it would fit 4 to 5 for max. And the hostel is a bit untidy with spider web and insects. It would be great if Sachie San can provide a cleaner environment for us. It us so nice for Sachie San that she reply inbox quickly to help us solve our problem, thx for the helpfulness!!
thianika
2016-07-11T00:00:00Z
Art der Unterkunft
Ganze Unterkunft
---
Objekttyp
Wohnung
---
Unterkunft für
5
---
Schlafzimmer
松江市, 島根県, Japan
Der nächste Spot Restaurant speisen. Start der stolzen Atmosphäre. Die Auflistung ist ideal für allein reisende.
Art der Unterkunft
Ganze Unterkunft
---
Objekttyp
Wohnung
---
Unterkunft für
1
---
Schlafzimmer
Yonago-shi, Tottori-ken, Japan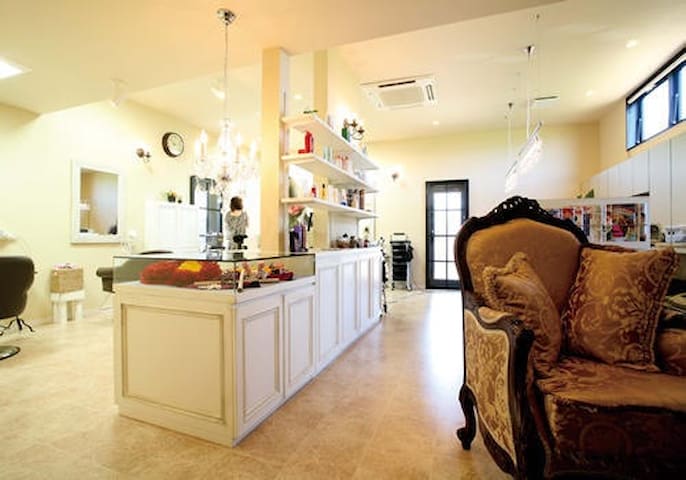 We also offer as. Guest house that has been renewed dormitory inn Kiku乃家 in Yuhara hot spring.
Bathing is I want an open-air bath there outside
The host canceled this reservation the day before arrival. This is an automated posting.
Dome
2017-04-03T00:00:00Z
Art der Unterkunft
Privatzimmer
---
Objekttyp
Wohnung
---
Unterkunft für
5
---
Schlafzimmer
真庭市, 岡山県, Japan
Japanese‐style hotel "Toenkan" just renewal opened in 2016 Toenkan means peach garden house. We can pick you up at the "Kurayoshi" station. This listing has breakfast with buffet, hot spring, toilet with hot water cleaning ,free internet, TV, electric kettle, refrigerator, dryer, tooth brash, pot, towel, and Yukata etc. Also you can cook by yourself at 1st floor kitchen, and BBQ in the summer. You can relax and feel Japanese for sure.
房东人超好,可以顺畅的交流,从车站开车来接我们,第二天还送我们走,而且住宿环境超级棒,尤其是酒店里的温泉,女汤特别特别特别棒,真的,有一个大的,还有一个小的。男汤有室外的,女汤没有。住宿也超棒,床垫软软的,然后设备齐全,真的,是我见过最齐全的地方了,大到空调wifi,小到牙刷棉签,超级棒!!!!!!
静雅
2016-07-17T00:00:00Z
よかったですよ
ケイ
2017-03-20T00:00:00Z
位置在溫泉街附近, 很好找. 前台工作人員很友善, 唯一缺點是暖氣不足, 是一所值得推介的溫泉旅旅館.
Winnie
2016-12-26T00:00:00Z
本当になんでも揃っていて、人も温かく、居心地の良い空間でした。わたしたちが快適に過ごせるように対応して下さり、本当に満足しました! 感謝でいっぱいです。ありがとうございました
Risa
2016-11-27T00:00:00Z
場所が少し分かり辛いけれど素敵でした!接遇も良かったです!次回鳥取に行ったら桃園館に戻りたいです!いろいろに感謝してます!
Emilio
2016-07-18T00:00:00Z
All in all satisfying stay even though the phrase "tonenkan hotel just opened this spring" is misleading: it's an old ryokan with a new front wooden wall. But the price is much cheaper than the surrounding bigger ryokans. The surroundings are beautiful: Misasa seems to be an old onsen town with many ryokans and at night people walk around in ryokan-yukatas and enjoy a small but nice old style shopping street with restaurants and shops. The owner told me it would be 1000 yen for renting a BBQ and that I didn't have to reserve it in advance but when we arrived at 5pm the first day the front desk said that there were no available BBQ's left and about the price: when I checked out I had to pay 2100 yen (apparently 1000 yen was per person and I got a reduced price 700 yen for 3 people? We are a family of 5: 2 adults, 3 kids (8, 4 and 2 years old) I think this happened because the owner lives in Tokyo and is not present in the tottori ryokan, so misunderstandings can occur.
martina
2016-08-13T00:00:00Z
Art der Unterkunft
Privatzimmer
---
Objekttyp
Wohnung
---
Unterkunft für
5
---
Schlafzimmer
Misasa, Präfektur Tottori, Japan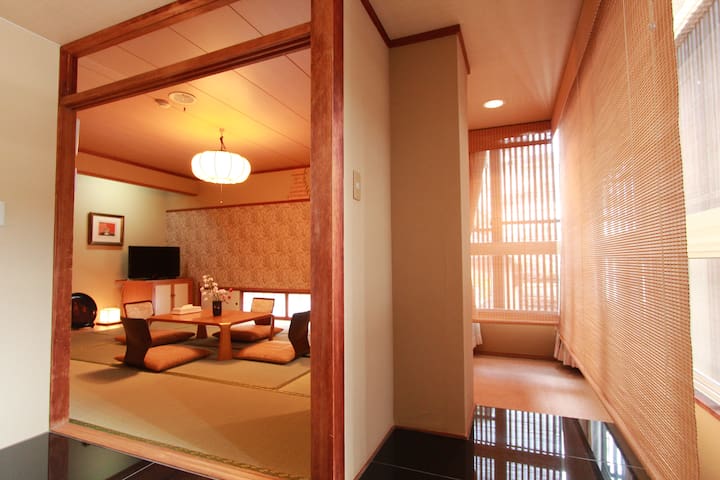 Präfektur Shimane - Airbnb
:
Durchschnittlich

4.47

von

5

Sternen aus

111

Gäste-Bewertungen
Gib deine Reisedaten ein, um den aktuellen Preis zu sehen. Es können zusätzliche Gebühren und Steuern anfallen.