Our home and attached apartment was built in 1881. Lots of families have called it home over the past 136 years! We live in the middle of Macon's historic district. From here you can walk to downtown for great food, theater and music. The historic Hay House, Woodruff House and Sidney Lanier Home are all walking distance away. 1/2 block down the street is Coleman Hill park, a favorite with families who enjoy the 50 ft slide and live music. Another nearby park has fountains and streams.
Our guest apartment is under the main house. It has it's own private entrance. Kid friendly items include- cabinet locks, outlet covers & soft corners. There are stairs outside going down to the lower deck. Each room has windows to let in light. Our guests have access to 2 decks and fenced in yard. Off street parking available. We have tried to make the apartment comfortable and homey so you can relax after a busy day of sight seeing or work. * Your space is very private, but you will be able to hear us walking around upstairs *. The kitchen is stocked with basic utensils. The full size fridge is yours to fill as you please. For longer visits, a washer and dryer are available as well.
Historic Macon is an eclectic neighborhood where you will find find folks out walking dogs or sitting on their porches during the cool of the day.
Art der Unterkunft
Ganze Unterkunft
---
Objekttyp
Wohnung
---
Unterkunft für
4
---
Schlafzimmer
Macon, Georgia, Vereinigte Staaten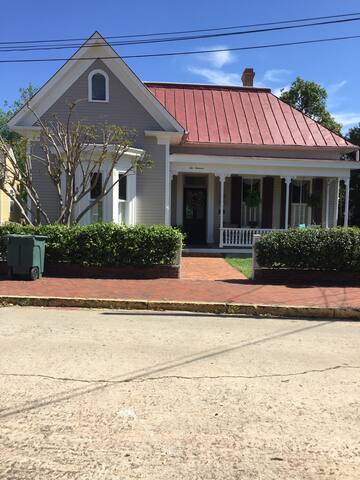 My place is close to the interstate, dining, and shopping. It is good for couples, solo adventurers, and business travelers.
The neighborhood is quiet. While it is so close to the interstate, it still has that secluded feel. Never any problems, it is always safe here!
Jason was awesome and accommodating. The place was so cozy and he communicated to us very well. Made us feel very welcomed and at home. 5 stars.
Taylor
2016-12-04T00:00:00Z
Jason was very nice and the accommodations were exactly what I was looking for. It's very close to anything you would want, and I would definitely stay again!
Chadwick
2016-12-24T00:00:00Z
Safe neighborhood, great home. Very friendly host, cute cat, definitely recommended!
Utku
2017-03-16T00:00:00Z
Jason is very friendly with great hospitality, the apartment is clean and neat in a gated secure environment, when we arrive and need his guidance to access the gate, he patiently explained the details and made sure we had no problem.
Peter
2017-03-26T00:00:00Z
Check in was easy as Jason left key for me to check in. Immaculate and clean Apt. Bedroom and Bathroom hotel like as Jason provided laminated Info, snacks, and travel size soap, shampoo towels etc... Great and speedy Wi-Fi which made accessing my Directv Now on iPad easy and lag free. Jason was easy to communicate with and gave me space to veg out.
Michael
2017-03-21T00:00:00Z
Jason is an amazing host! He was helpful with all the silly suggestions we asked. His home is very welcoming and the room is comfortable and cozy. Everything you need in a room you will find it in that room. Lovely quite neighbourhood! And eating place are 5mins away. All n all a wonderful homely place to stay at!
Priyanka
2017-04-02T00:00:00Z
Great place to stay--Jason is very friendly and an awesome host!
Madeleine
2017-03-22T00:00:00Z
Jason was a very courteous host. However there was a lot of background noise and being a light sleeper, that was a huge issue. However, Jason was very accompanying and flexible to my schedule
Demetra
2017-01-17T00:00:00Z
Art der Unterkunft
Privatzimmer
---
Objekttyp
Wohnung
---
Unterkunft für
2
---
Schlafzimmer
Macon, Georgia, Vereinigte Staaten
Newly renovated, private 850 sq ft one bed/one bath apartment in historic Woolworth building. The full kitchen has granite countertops and a washer and dryer. Lush linens and comfortable furnishings will make you feel at home.
The 1 bedroom apartment is located in the historic Woolworth's building above travis jean on Cherry Street within walking distance of restaurants, coffee shops, museums, shopping, and nightlife. The apartment has an open floor plan with kitchen, dining area, and living room. There are original hardwood floors throughout the unit. The private bedroom includes a queen bed, seating area perfect for reading, and plenty of closet space. The bathroom has a shower/tub combination with gorgeous tile walls. Trivago has rated Macon as the second highest "best value city" in the United States.
Take a morning jog at the scenic Ocmulgee RiverWalk or a leisurely stroll among the cherry trees in 3rd Street Park. Visit the Hay House, Cannonball House, Tubman Museum, Allman Brother's Band Big House Museum and Ocmulgee Indian Mounds. Slide down the Coleman Hill Slide and don't miss Second Sundays in the park. Catch a concert at The Cox Capitol or a show at The Grand Opera House, Theater Macon, or Macon Little Theater. The Macon Pops is a high-energy, world-class orchestra with concerts throughout the year. Take a musical journey through Macon with Rock Candy Tours. Amerson Water Park is an outdoor enthusiast's dream with biking and hiking trails, kayaking, and more. Don't forget to check out travis jean on Cherry Street for antiques, art, and Georgia Made products.
Scott-- It was a completely satisfying experience to stay at your place . . . for the second time in a week! Glad I got to visit your store also. Looking forward to more things going on in Macon so we can stay with you again.
steve
2016-01-18T00:00:00Z
Scott is an outstanding host. All is in excellent order and exactly as described. The location is premium and the space is ideal for the guests it is advertised to accommodate. Communication with Scott is a breeze and without delay. I will stay if again when in Macon if it is available. Thank you Scott for your hospitality and a great stay.
Ashley
2016-09-24T00:00:00Z
Scott was great! Our first time using AirBnB and he made it so easy! The place was really cool and in a perfect location in downtown Macon. Will use again when we come back.
Ryan
2016-10-13T00:00:00Z
It's always a great place to stay
Tie
2016-12-03T00:00:00Z
I had such a great stay at Scott's place! The apartment was incredible and extremely comfortable and the location was fantastic!!! Scott was incredibly accommodating and I will definitely be staying here again!
Molly
2016-09-11T00:00:00Z
Scott's place was great. Right downtown, next to restaurants,etc. Scott was easy to communicate with, and the apartment was exactly as described. Thanks again!
Jessica
2017-04-02T00:00:00Z
Love love love my place and Scott is absolutely amazing ♡ perfect in every way
Candice
2016-04-30T00:00:00Z
The property was amazing! The apartment was very clean and the detail to the apartment was beautiful. The location is very close to restaurants and shopping. Scott was very quick to email about any questions and was very helpful. I would highly recommend this location and hope to return in the future. Thanks again. Sheila
Sheila
2015-11-09T00:00:00Z
Art der Unterkunft
Ganze Unterkunft
---
Objekttyp
Wohnung
---
Unterkunft für
2
---
Schlafzimmer
Macon, Georgia, Vereinigte Staaten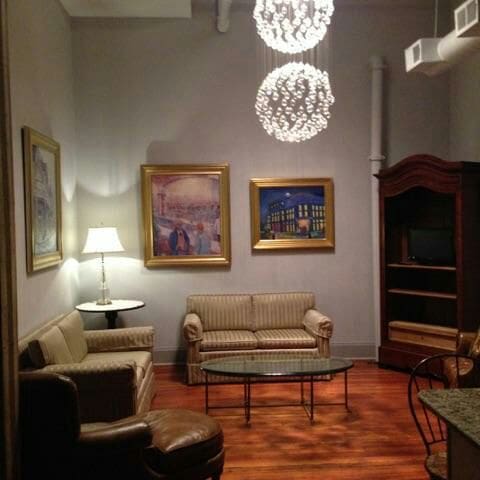 Stay at this clean, comfortable, and affordable apartment in the historic InTown Macon neighborhood. Within 1 mile to downtown restaurants. Walk to Mercer for football and basketball. Convenient to The Medical Center, Robins Air Base, Grand Opera House, Cox Capitol Theatre, Macon City Auditorium, the Ocmulgee river, and more! Great place to stay to experience local music history, the Cherry Blossom festival, Bragg Jam, or the Magnolia Soap Box Derby. Come visit a City in a park and do cool sh*t.
Don't just stay in a bedroom in a home shared with your hosts, get this entire apartment convenient to downtown including a full kitchen and your privacy for a great price! This apartment is close to all of the great things happening downtown. Sleeping accommodations include a queen bed in the bedroom and a pull out full sized sofa bed and queen sized air mattress with electric pump in the living room. Please note that this is an upstairs apartment so there are two short but narrow flights of stairs to the main living area.
The house is conveniently located near Mercer University and Tattnall Square Park (0.7 miles), Macon Dog Park (0.8 miles) and The Medical Center of Central Georgia (0.2 miles). Attractions close by include the restaurants and bars downtown like H&H Restaurant (0.5 miles) and the Rookery (0.9 miles), Washington Park (0.6 miles), Coleman Hill (featuring the adult sized in-ground concrete slide), Cox Capitol Theatre (0.9 miles), the Grand Opera House (1 mile), historic Rose Hill Cemetery (1.5 miles). Museums nearby include the Georgia Sports Hall of Fame and Tubman African American Museum (1.2 miles) and house museums like The Hay House and Cannonball Museum. The Ocmulgee Heritage Trail (2.5 miles to Spring St trail head), Ocmulgee Indian Mounds with free museum (3 miles), and Amerson Water Park (4 miles) offer nearby outdoor adventure with trails, river access, and more. Robins Air Force is a quick drive down HWY 247 (19 miles). Grocery stores nearby include Kroger (2.0 miles) and others. If you are coming to Macon to live, work, or play with events like Bragg Jam, The Macon Film Festival, Cherry Blossom Festival, and Magnolia Soap Box Derby, Pan African Festival, and Ocmulgee Indian Celebration, weddings in town, business at Mercer, The Medical Center, or short duty at Robins AFB this is a nice place to stay. Check out Ovations 365 online for more information about events nearby.
Everything was set up for me to check-in at my leisure. The apartment was very clean and comfortable. This was a wonderful stay.
Craig
2016-11-09T00:00:00Z
Nathan and Koryn went above and beyond in making as feel welcome and a part of the real "intown" Macon experience! The apartment is in a fantastic location surrounded by historic homes, like itself. And it was incredibly spacious, with high celling and big rooms! I highly recommend staying here!
Ryan & Shannon
2016-07-25T00:00:00Z
Everything we needed, right when we needed it!
Tiffani
2016-10-11T00:00:00Z
Great location! Short walk to downtown and beautiful park. Super quiet for a great night of sleep. Highly recommended!
Paula
2017-03-27T00:00:00Z
Comfortable, spotless and affordable place, Nathan is a friendly host in a friendly town with an outsize rock and soul history.
Harry
2017-02-10T00:00:00Z
Great place! I'd book again for a business trip.
Jane & Ray
2017-02-07T00:00:00Z
Fantastic place. Great and easy communication with the hosts. Had a super comfortable night!
Jing
2016-10-23T00:00:00Z
It is always nice stay at this apartment, I'll keep coming back to it
Tie
2016-08-02T00:00:00Z
Art der Unterkunft
Ganze Unterkunft
---
Objekttyp
Wohnung
---
Unterkunft für
4
---
Schlafzimmer
Macon, Georgia, Vereinigte Staaten
Our Tudor Revival style apartment is nestled conveniently between Mercer University and Navicent Health. It's also an easy stroll to Downtown Macon, which boasts bars, eateries, and music venues. The space underwent a complete rehabilitation so you'll enjoy all the old house charm with new finishes. A private porch is the perfect spot for an evening cocktail or morning coffee.
The location is an easy walk to most attractions in Downtown Macon, including Mercer University, Navicent Health, Washington Public Library, the Post Office, and local shops and restaurants. The apartment has a private entrance and it's own covered porch, which overlooks the gorgeous Mount de Sales campus. Appleton Avenue is a quiet enclave just one block from College Street, a main thoroughfare running from Mercer University to Riverside Drive. The 1000 sf apartment is spacious and was renovated early 2017. The kitchen and bathrooms have new fixtures and appliances. There is also a laundry room with an older washer and dryer (but fully operational).
Accessibility! We love being able to walk to our favorite restaurants downtown and over in Mercer Village. The InTown Macon neighborhood is filled with gorgeous historic homes and friendly faces. We stroll the neighborhood daily and always see something new while we're out.
Art der Unterkunft
Ganze Unterkunft
---
Objekttyp
Wohnung
---
Unterkunft für
3
---
Schlafzimmer
Macon, Georgia, Vereinigte Staaten
Situated in a natural setting, sits 7 Springs Hideaway. The Vera is a rustic, private, one bedroom/one bath, ground level, fully furnished apartment/condo. This unit features a deck as part of it's private entrance. This suite is dedicated to local artist and philanthropist, Vera Heck. It's eclectic decor was inspired by Vera's unique style and taste. It features many of her original works as well as other artists who were inspired by Vera's zest for life.
Private, one bedroom apartment/condo with full kitchen, tub/shower bathroom, living room, dining room, in suite laundry room and large deck.
Situated on the edge of ~100 acres of rolling woods.
We have our host very kind and welcoming. The apartment was unique, and we enjoyed our stay.
Marcie
2016-09-18T00:00:00Z
Overall a great place for the cost!
Brennen
2017-02-26T00:00:00Z
My husband and I enjoyed our stay at this comfortable abode. Andy and his assistants (including Jackie, who lives in the unit adjacent to the Vera) were friendly and helpful in meeting us when we arrived and responding to a minor issue promptly and unobtrusively. The decor was cheerfully quirky and eclectic, and the appliances (including the always-necessary coffee maker) served our needs well. Time did not allow us to explore the area immediately surrounding the property, but we enjoyed the combination of secluded wooded location and convenient access to the rest of the city. We would stay at this location again should we return to Macon.
Cynthia
2016-12-11T00:00:00Z
房屋布置非常有特点,古典家具,让你耳目一新!房东很有品味,房屋设施齐全,干净整洁!适合一家人度假!房东是一位非常热情的人!谢谢给我们带来的快乐
立秋
2017-03-25T00:00:00Z
This apartment is very secluded, nestled back away from the highway in the woods with a generous parking area but with close access to restaurants and shopping. It had a fully stocked kitchen, the bath had large generous bath towels and the bedroom had a large walk-in closet. The living room was glassed in and the view was beautiful. Andy was very helpful in communicating and getting us checked in. It was an exceptional place and experience and I would recommend it to anyone in a heartbeat!!!
Geneva
2017-03-12T00:00:00Z
Cute driftwood theme, plenty of space inside and out :)
Allyson
2017-03-31T00:00:00Z
Andy's communication is second to NONE. Perfect little tucked away quaint apartment. The picture of the views in the living room doesn't do the real thing justice! For the price, this place is a GEM!
Brandon
2016-12-05T00:00:00Z
The apt is great with windows all around in the living room with views to the back yard with lots of trees. the property is quiet and the kitchen is well-equiped. The bed is luxurious. Enjoyed eating at the Pig & Fish, overlooking the local lake and literally 5 minutes away. It is a ten-fifteen minute drive to downtown Macon, but it is a straight forward to get there. Andy was extremely friendly and communicates quickly. I spent an hour talking with him when we arrived and he was very informative about the area & gave us tips on how we might find some good music to experience while visiting.
David
2017-03-21T00:00:00Z
Art der Unterkunft
Ganze Unterkunft
---
Objekttyp
Wohnung
---
Unterkunft für
4
---
Schlafzimmer
Macon, Georgia, Vereinigte Staaten
Secluded apartment with very large enclosed patio, gourmet kitchen, and covered parking. No parties, no pets and no smoking.
Amazing stay... Very comfortable and convenient apartment and very very well equipped... Joy was very helpful and made sure everything was perfect for us.. My wife and I are literally planning around staying in Macon again only because we would be able to stay here.
Matthew
2016-07-04T00:00:00Z
Joy was very fast to respond to my request. She is very friendly and hospitable. I was impressed with the size of the apartment and felt right at home. I'd stay again and recommend to anyone staying in Macon.
Rob
2017-02-24T00:00:00Z
Joy's house is very comfortable, just like stay at home. It is quite and neat. And joy is very lovely.
Zhang
2016-08-20T00:00:00Z
Very nice!!!!! Joy was an excellent hostess. She was very communicative and was flexible with arrival time. Her place was meticulously detailed, spacious, and welcoming. A+++
Raymond
2016-04-17T00:00:00Z
Wonderful host. This was a great experience; beautiful, clean, quiet home in a wonderful neighborhood. I would definitely stay here again!
Nicole
2016-07-02T00:00:00Z
Joy's downstairs apartment was absolutely impeccable. You could feel the care and meticulous detail that was put into the function of the apartment. The apartment itself was great! We were there for a wedding weekend so we didn't stay in the house too much. And when a couple of friends couldn't find a place to stay for the wedding, Joy denied our request to have an additional two people stay in the pull out couch at the apartment. Ultimately, that's her decision but I wished that the apartment wasn't listed for four people, if it can only accommodate two. It was great for a quick trip! There was a problem with the shower handle that was leaking water, which Joy mentioned could not be fixed over a holiday weekend. So we just finagled and showered with the little water that we could get. But since our stay was short, nothing too bad. Overall, the apartment was clean and comfortable but felt that it lacked a little hosting warmth. That's not a criticism, only a preference. I would definitely recommend that anyone stay here for a short visit!
Maria
2016-09-05T00:00:00Z
Joy was a pleasure to work with. Quick responses paired with great hospitality and an amazing place to stay!
Zoe
2016-08-04T00:00:00Z
This is a very good experience, Joy is very nice. I will come back again.
Zhang
2016-08-13T00:00:00Z
Art der Unterkunft
Ganze Unterkunft
---
Objekttyp
Wohnung
---
Unterkunft für
4
---
Schlafzimmer
Macon, Georgia, Vereinigte Staaten
Located on the third floor of Macon's first public library, the 1000sqft suite includes a full kitchen, living and dining area, 50" plasma with Apple TV, king sized bed, private bath with Jacuzzi tub and beautiful views overlooking Mulberry Street in Downtown!
The suite is located on the 3rd floor of the Old Macon Library above Macon's Library Ballroom. We are also an events venue. Mulberry United Methodist hosts weekly services on Sunday mornings between 8:30-11AM in our ballroom on the 2nd floor of the building. There could be some noise effecting the suite during the hours. That being said, it's a wonderful time to step out and enjoy some of Macon's wonderful Breakfast/Brunch options!
This was the PERFECT location in the historic district of Macon. Walking distance to old antebellum homes & many historic sites. The location itself was gorgeous and upgraded with a nicely functional kitchen space and shared living/dining area. SUPER CUTE!! Hoping to stay here again in the future. Would certainly recommend to others. Kaylee the host was also very communicative and very flexible on check-in/check-out times. Great host!!
Alli
2016-03-28T00:00:00Z
What an amazing place to visit. This building is a jewel that you don't see everyday much less get to rent out for the night! My wife and I loved this place and will be back next time we are in town for business. Kaylee was doll to deal with and was exceptionally accommodating. Not going to give up any spoilers about this space but get ready to feel like you are starring in a romantic comedy.
Brad
2016-02-10T00:00:00Z
We stayed in the "old library" in Macon Ga. and were well recieved by our host Kaylee. Everything was just as described, wonderful accommodation, and a great central downtown location from which to enjoy Macon's Cherry Blossom Festival on foot. Thanks for making our stay in Macon a pleasant one! Colleen & James from Ottawa, Canada
Colleen
2015-03-28T00:00:00Z
Kaylee's communication prior to and during the stay was superb. She was very prompt at check-in time and even let us check-in slightly early. The location is great and walkable in the downtown area. The suite itself is outstanding. I stayed in three traditional hotel rooms the next three nights after my stay here and the bed was more comfortable than any of those. As my first Airbnb experience, I hope it serves as a model for any future trips I plan with the site.
Justin
2016-07-22T00:00:00Z
A comfortable apartment (you need to be able to climb many steps) in an historic building across the street from the Old Opera House, close to downtown and homes and churches from the 1800's.
Nina
2017-03-27T00:00:00Z
Incredible space and great way to be local in Macon. The apartment was finished well and was very comfortable. Even better than advertised!
Brett
2017-02-17T00:00:00Z
This place was my favorite on a long road trip. Unique and perfect location. Felt like I was care taking my own little building. Bed was super comfortable and place was dialed in. Easy walk to anywhere downtown. I'd recommend Dovetail for good wine and food.
Ben
2016-11-04T00:00:00Z
Absolutely beautiful place. It was so homey and comfy, we really had a hard time leaving! It is only a block away from the main road where all the restaurants and bars, but it is such a beautiful walk I wouldn't want it any closer. It's also very close to some historic museums. Kaylee is an absolute delight, and was so sweet to us. We definitely will be back!!
Alexandra
2016-02-15T00:00:00Z
Art der Unterkunft
Ganze Unterkunft
---
Objekttyp
Wohnung
---
Unterkunft für
2
---
Schlafzimmer
Macon, Georgia, Vereinigte Staaten
Situated in a natural setting, sits 7 Springs Hideaway. The Susannah is a unique, private, one bedroom/one bath, upper level, fully furnished apartment/condo. Features a solid oak kitchen with tile countertops, refrigerator with icemaker, stove, dishwasher, and microwave. Living/dining room has vaulted ceiling and track lighting. Bedroom has vaulted ceiling with ceiling fan. Back deck overlooks treetops. Heat and air with energy star heat pump. Washer and dryer. No pets.
Private driveway and on the edge of the woods. It's like living in a tree house. Beautiful natural setting, yet convenient and safe. The house is a quadplex with four other rental units. This unit it located upstairs and has steps. The unit is about 550 sq. Ft.
Situated on the edge of ~100 acres of rolling woods. Proudly only few miles from first women's only college in the history of humanity, Wesleyan College. Lake Tobesofkee recreation area, mountain biking trails, water park, water skiing, woods, hiking trails, churches, farms, Fish & Pig restaurant and Mercer University all within a few miles.
Our host was welcoming, the apartment is very convenient and clean. We are working in the area for a bit longer a decided to rebook! Great place to stay
Del Cid
2016-10-22T00:00:00Z
Andys a great host! The apartment was great, we will rebook in the future when we are working in the area again!
Del Cid
2016-10-26T00:00:00Z
We rented Andy's place to attend a retreat up the road. It was very convenient for us and quiet. The apartment was very comfortable and worked perfectly for us. We will be back again!
Michael & Kelly
2017-01-29T00:00:00Z
I had difficulty finding the place and Andy waited at the side of the road with his flashers on to guide me in and even took my luggage in. He responded to my calls when I had questions. I left my dress and he was prompt in emailing me and is returning it to me this week. He is friendly and pleasant and easy to work with. I loved the setting of my own small apartment back in the woods but wishing a fifteen minute drive to Mercer University . The only drawback is that it is an upstairs apartment with high steps and it's not suitable for anyone who has difficulty with stairs. I will go back there the next time I visit Mercer.
Julie
2016-11-06T00:00:00Z
Andy's communication, from the very beginning, was second to none. Very responsive and seemed excited to meet us. Since the apartment is rather secluded, GPS won't get you here but he gives very good, specific directions to guide you right to it. He was kind enough to meet us there, gave us suggestions on some sites to see and even gave us a quick and interesting history lesson of Macon! The apartment is exactly as pictured with many extras you don't often see in AirBnBs. It was the perfect size for the two of us and a great base to see and do what we wanted. Also very clean and well taken care of. We would definitely recommend this special place to anyone planning to visit Macon. Thanks again, Andy!
Phyllis
2016-11-12T00:00:00Z
Andy was very welcoming and the space was great. This was a work related trip and I very much enjoyed having the balcony and looking at the trees to take a break from the day. It is quite and peaceful. Perfect.
Devan
2016-10-30T00:00:00Z
This place is comfortable and met our needs to cook and relax. It was not far from the things we wanted to do, but it is secluded with a nice deck overlooking woods. The furnishings are dated and eclectic, but comfortable. The turn off is challenging to find and navigate, but ample parking. We were upstairs. The owner and the property manager were very helpful and very nice! Thank you for a nice stay!
Judy
2017-01-20T00:00:00Z
Andy was a great host! Our gps was not able to pull up the address but he was quick and messaged us directions! The house was relaxing for the three of us. Will stop by again we have the chance to.
An / Minhyen
2017-02-19T00:00:00Z
Art der Unterkunft
Ganze Unterkunft
---
Objekttyp
Wohnung
---
Unterkunft für
4
---
Schlafzimmer
Macon, Georgia, Vereinigte Staaten
"Basement" apartment in signature historic home with amazing views, deck, kitchen, wall of windows. Next to Coleman Hill park, near Hay House & 1842 Inn. Walk downtown or to Mercer University (and football games!). Private entrance, driveway use. Newly renovated 1880 house (featured in Wise Blood).
Spacious with great views (from apartment, not just the main house). One bedroom, but 50 people could fit into living room for an event. If you want to house more people overnight, we can accommodate more with air mattresses or sleeping bags. Extra charges apply. Ask if you need details. The house is next to Coleman Hill park, across the street from the Woodruff House and near the Hay House and Mercer Law School. Walk to heart of Cherry Street in 10 minutes (a little over 1/2 mile) and to Mercer University in 20 minutes (a little over a mile, pretty much straight down College Street). Safe neighborhood. Great lodging for Mercer football games! We'd like guests to stay two nights those weekends, and we may raise the price. But for now, it's a regular rental. We have a newborn in the main house; the partying needs to be at reasonable noise levels. This space has been a standard apartment and we will be converting it into a furnished unit (with washer and dryer, etc.) The space is relatively spartan right now -- queen bed plus a daybed that lays out into a queen (comfortable but quite near the floor). If particular amenities not listed are important, let us know. That may speed up the furnishing process.
The apartment here is beautiful. There is a room in the front that is perfect for doing yoga or just hanging out. Tim went out of his way to make sure I was comfortable.
Macala
2014-04-24T00:00:00Z
This is a beautiful house and the apartment is very spacious. The hosts are very nice and responsive and gave great recommendations.
Hannah
2014-06-09T00:00:00Z
Having never been to Macon before, I picked the right spot to stay! This is literally an award winning home in one of the coolest towns I've been to in Georgia. Tim has a beautiful historic home in downtown Macon - which is also beautiful. I stayed in the downstairs 'apartment' but it was really more like my own 1 BR house with a full kitchen, bath, dining room, living room, and bedroom with a very comfortable queen bed. Tim is very involved with the community in Macon and has a pretty cool background in music, technology, and journalism. Definitely ask him about it!
Nate
2014-05-09T00:00:00Z
Amazing host. Easy to find and lots of parking available. Close walk to downtown, and really lovely accommodations. A wonderful large room with lots of windows and an amazing view really sealed the deal.
Erin
2014-07-28T00:00:00Z
Staying at Tim's place was a real pleasure! The view of the city is just as spectacular as he describes in his listing. Just outside the windows, giant magnolia blossoms were unfolding. The home has been beautifully renovated, but original woodwork showcases the era. Our host was helpful and communicative regarding our stay, including information about the city. We will likely return to the area and would highly recommend Tim's very spacious apartment to Macon visitors.
Becky
2014-05-17T00:00:00Z
The apartment was excellent - clean and very spacious, and in a great location. Tim was very flexible and kind, which made for an easy and comfortable stay. He offered great recommendations for dining and attractions in the area. Two thumbs up!
Sarah
2014-06-24T00:00:00Z
Tim was great to let me bring my dog over. The apartment is very spacious, and Tim was an up front and honest host. No question that I support this listing.
Michael
2014-03-01T00:00:00Z
Art der Unterkunft
Ganze Unterkunft
---
Objekttyp
Wohnung
---
Unterkunft für
4
---
Schlafzimmer
Macon, Georgia, Vereinigte Staaten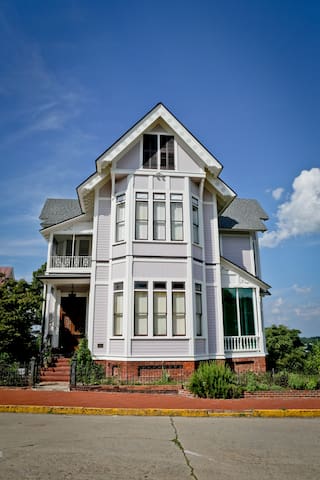 SWIMMING POOL , passes to TO HEALTH CLUB, LOTS OF SHOPPING IN WALKING DISTANCE OF COMPLEX CLOSE TO MUSEUMS,PARKS,COLLEGES, AND MUCH MORE, PRIVATE BALCONY TO ENJOY THE WEATHER.
WALKING DISTANCE TO SHOPPING AND RESTAURANTS AND MUCH MORE.
NORTH MACON IS ONE OF THE MOST DESIRED COMMUNITIES IN MACON
Art der Unterkunft
Privatzimmer
---
Objekttyp
Wohnung
---
Unterkunft für
2
---
Schlafzimmer
Macon, Georgia, Vereinigte Staaten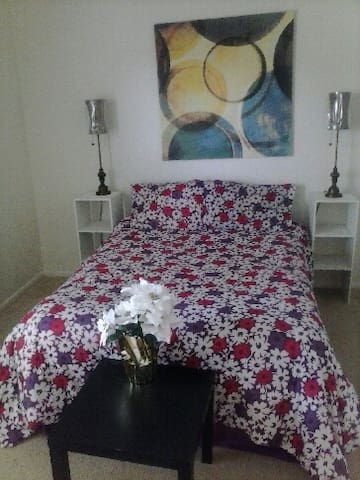 This is a two bed apartment, very relaxing neighborhood, safe and cozy private bedroom and private bath, high speed WiFi internet connection, bathroom all ready to go, if you are looking for a unique experience, this is one you will always remember,
Super host, comfy bed. Glad to have found a home away from home in a city I go to a few times a year.
Linda
2017-03-06T00:00:00Z
Friendly and respectful host, safe neighborhood, very comfy accommodations.
Linda
2017-03-30T00:00:00Z
Great stay
Sam
2017-03-28T00:00:00Z
Emmanuel's place was just the drive we wanted to achieve after coming from a full day trip from Savanah. His place was what is represented in the website. The place was very clean ... had luxuriously soft towels and toiletries. There was an abundance of night light and a romantically electrical lighted fireplace in the front room. It was a warm night but we enjoyed the use of the ceiling fans. Parking space was abundant and whole establishment was well maintained. We had to stay only for a night but we had a chance to interact with Emmanuel. We chose his place since it would' give us a short drive back to Alabama when we were fresher the next day. If we had more time we could have stayed longer at his place and see more sites around his place and along the way Thank you for hosting us !
DOLORES
2017-03-24T00:00:00Z
Chambre très cosy avec un hôte très attentionné, nous recommandons!
Jessica
2017-01-23T00:00:00Z
Great host, super-comfy bed.
Linda
2017-03-25T00:00:00Z
Emmanuel was a terrific host. Very friendly and easy to reach. His place was very clean and he provided water, little soaps, towels and more.
Jana
2017-01-19T00:00:00Z
Art der Unterkunft
Privatzimmer
---
Objekttyp
Wohnung
---
Unterkunft für
2
---
Schlafzimmer
Warner Robins, Georgia, Vereinigte Staaten
My place is close to the Black Sea Beach (2-minute walk) and Batumi Boulevard. Just 600 m from Aquapark Batumi and 1.4 km from Dolphinarium. The nearest airport is Batumi (Chorokh) Airport, 3.1 km from the property. Enjoy your travel in the pet friendly apartment on Orbi Plaza. You'll love my place because of the coziness and location. My place is good for couples, solo adventurers, business travelers, and families (with kids).
Art der Unterkunft
Ganze Unterkunft
---
Objekttyp
Wohnung
---
Unterkunft für
4
---
Schlafzimmer
GA, Georgia, Vereinigte Staaten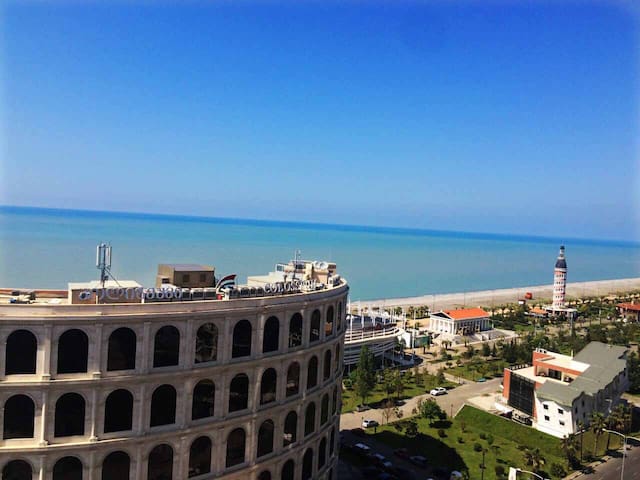 Our cottage is located on our 10-acre alpaca farm approximately 4 miles from historic Madison, Georgia. We're one hour from Atlanta, 90 minutes from Augusta, and 40 minutes from UGA in Athens.
The one bedroom cottage contains one bathroom, kitchen area with full size range and refrigerator, and a living area.
Madison has so much to offer visitors. From hiking trails at Hard Labor Creek State Park to the many historic homes and museums, it is no wonder why Budget Travel designated Madison as one of the "world's top 16 most picturesque villages." Here you will find first class dining and shopping.
It's impossible to say enough good things about the visit. Karen and Stan are delightful, kind, and extremely thoughtful people. The guest house is beautiful, well appointed, has an excellent bed and was ideal for our weekend. The alpacas and the 12 acre premises with a great farm dog and two cool cats makes for a great escape from city life. This location, hosts, and property are simply wonderful. It's one of the best locations I've stayed in with Airbnb.
Martin
2016-11-14T00:00:00Z
A great way to end a road trip! The 'cottage,' alpaca farm, town, and hosts were all charming! Especially loved the banana bread and having conversations with Karen, her husband and their precious dog, Cooper. Getting to meet the alpacas was also quite an experience. My friend and I are already making plans to take another trip to Madison for a weekend getaway in this adorable cottage.
Abbie
2016-08-10T00:00:00Z
This cottage is nestled is in a quite area on an Alpaca farm. The cottage was clean and perfect for a quiet weekend.
Angela
2016-04-25T00:00:00Z
Stan greeted us and spent time with us reviewing the cottage and the property. The cottage was clean and fully equipped. We had a wonderful time.
Richard
2016-07-17T00:00:00Z
The best. I have stayed at Airbnb's all over the U.S. and Karen's cottage was by far the nicest, cleanest, most comfortable of them all! The bed was super comfy and the entire cottage nicely furnished. It was spotless. Karen had banana bread waiting and made us feel most welcome. Unfortunately, we didn't have time to visit with the alpacas but the views were beautiful. Thanks Karen for providing such a lovely, comfortable place to stay.
Karen
2016-08-24T00:00:00Z
Beautiful, clean, well-appointed cottage with a view of the unique alpaca farm through the back windows. Very comfortable bed. Accommodating and gracious hosts (with late arrival following a concert in Atlanta) and yummy banana bread waiting), and then interesting overview and tour of the alpaca farm the next morning.
Dianne
2016-10-29T00:00:00Z
We were in Madison overnight to see the historic homes and our stay at Karen and Stan's was wonderful! Their property is beautiful and the unit was beautifully decorated and very comfortable. The homemade banana bread and tour of their alpacas were lovely extra touches. If we're in the area again we'd stay in a heartbeat! Thanks again to you both!
Beck
2016-12-04T00:00:00Z
Karen and Stan were incredibly warm and welcoming hosts! The cottage was perfectly located for those that want a quick weekend trip outside the city and enjoy all the town of Madison has to offer. Downtown Madison with several restaurants and shops was just a quick 5 minute drive and well worth it because you get to stay on their beautiful quiet and serene alpaca farm. The alpacas were beautiful and situated on a gorgeous farm with black rail fencing that rolled across the green pastures. Stan provided a thorough Alpaca 101 course for us. As for the cottage, it was immaculately clean with picturesque views of the farm with huge comfy king bed and super comfy pull out couch. Full kitchen with everything you need from plates and utensils, glasses, napkins, coffee, creamers, water and juice. Great shower with plenty of extra towels and toiletries. Nice outdoor bench to sit and listen to the morning birds and view the beautiful open fields. Can't recommend highly enough! Definitely want to head back in the future!
David
2017-03-05T00:00:00Z
Art der Unterkunft
Ganze Unterkunft
---
Objekttyp
Wohnung
---
Unterkunft für
4
---
Schlafzimmer
Madison, Georgia, Vereinigte Staaten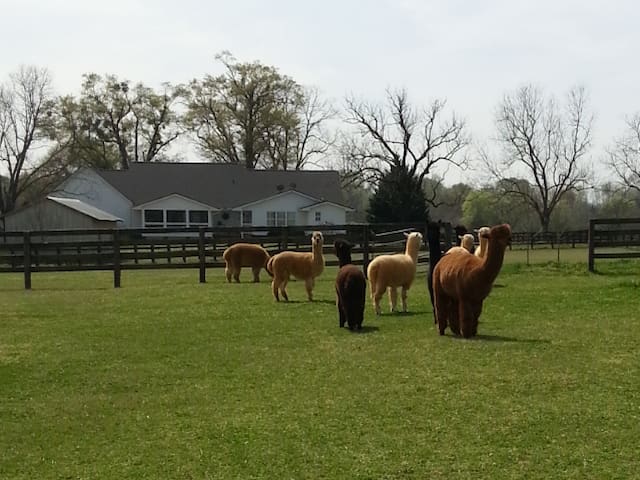 Unser komfortables Apartment mit einem Schlafzimmer in unserem Einfamilienhaus angebracht befindet sich am Ufer des Sees (URL HIDDEN) Wohnung hat einen separaten Eingang. Genießen Sie die Veranda inmitten von Kamelien und Azaleen Blick auf den See.
Unsere Wohnung wurde im Jahr 1995 dienen als Wohnraum für Elizabeths Mutter gebaut. Sie wollte einen Bildschirm Veranda auf den See und das "Treehouse" Veranda fängt die Winde zu übersehen, und es ist ein großartiger Ort, um sich zu entspannen, die Vögel zu beobachten. Die Wohnung kann drei Personen bequem passen. Das Wohnzimmer verfügt über einen Flachbild-TV mit einer XBox 360 und einem (SENSITIVE CONTENTS HIDDEN)-TV-Box angeschlossen. WLAN ist in der gesamten Wohnung zur Verfügung und ein Telefon zur Verfügung. Die Couch im Wohnzimmer zieht in ein Doppelbett aus. Das Innere der Wohnung wurde für eine ältere Person so konzipiert, alle Türen sind breit mit Hebelgriffe. Die Dusche im Bad ist ein Walk-in-Typ mit Haltegriffen auf beiden Seiten. Die Oberseite der Matratze des Doppelbett im Schlafzimmer ist 32 "aus dem Boden. Die Küche und das Wohnzimmer wurden im Sommer 2013 Die Küche verfügt über einen Kühlschrank, Mikrowelle, Spüle und ein Zwei-Flammen-Glas gekrönt Herd (kein Backofen) renoviert.
Unser Hotel befindet sich am Ufer des Sees Sinclair befindet und Zugang so zum See ist einfach. Wir sind an einem Punkt, damit das Wasser des Damms aus ist relativ flach und eine gute Schwimmbereich. Wir haben ein Dock mit tie-ups rund um die edges.We haben einen 16 'Seekajak, die für Gäste zur Verfügung steht. Bootsanleger Bereich und Yachthafen sind innerhalb 3/4 Meile von Wasser und etwa 3,5 Meilen auf der Straße. Die Gegend ist reich an Geschichte seit Milledgeville (ca. 5 Meilen von der Wohnung) der Hauptstadt von Georgia während des Bürgerkrieges ((PHONE NUMBER HIDDEN)) war. Wir haben eine gute Sammlung von Ressourcen für die Interessenten in der Geschichte Georgiens. Augusta, Ort der Meister, ist 2 Stunden entfernt.
A peaceful apt in a beautiful setting on lake Sinclair!
Cricket
2014-10-07T00:00:00Z
David was a fantastic host, and this house is amazing. Such a peaceful an beautiful location.
Casey
2016-04-06T00:00:00Z
David and Elizabeth are wonderful hosts. And very accommodating. The apartment is lovely and the views spectacular. We enjoyed our short stay very much and highly recommend the apartment on the lake!
Julie
2015-02-16T00:00:00Z
We had a wonderful stay at Elizabeths and Davids house. A peaceful and quiet spot right at the Lake Sinclair. The appartment was very well equipped and beautifully decorated. Elizabeth and David were great hosts and we really enjoyed having a sundowner, interesting converstions and a phantastic boat ride with them. Every moment there was perfect and we will definitively return when back in the region.
Stephan
2014-06-16T00:00:00Z
Great getaway, great apartment & great host.
Richard
2016-08-09T00:00:00Z
One bedroom apartment is comfy and private. Its small kitchen will do in a pinch.The library is quite interesting, filled with too many good books about the area and its history. The view of the lovely green waters of the lake is soul-lifting, and access to said lake is easy. Our host Dave was personable and quite helpful with all that we asked. You couldn't ask for a more pleasant place to stay--quiet and isolated yet just a ten-minute drive from downtown Milledgeville. Once you get here you might not want to leave!
Michael
2015-02-24T00:00:00Z
Warm and cozy apartment. Lake is wonderful and David and Elizabeth are great hosts. I would definitely recommend staying here if you're going to be in milledgville.
Robert
2017-02-01T00:00:00Z
David and Elizabeth were super easy to work with and communication was fantastic! Their spot is so beautiful. Really enjoyed the peace and quiet of the lake:) We will definitely stay here again in the future!
Mairi
2016-05-18T00:00:00Z
Art der Unterkunft
Ganze Unterkunft
---
Objekttyp
Wohnung
---
Unterkunft für
3
---
Schlafzimmer
Milledgeville, Georgia, Vereinigte Staaten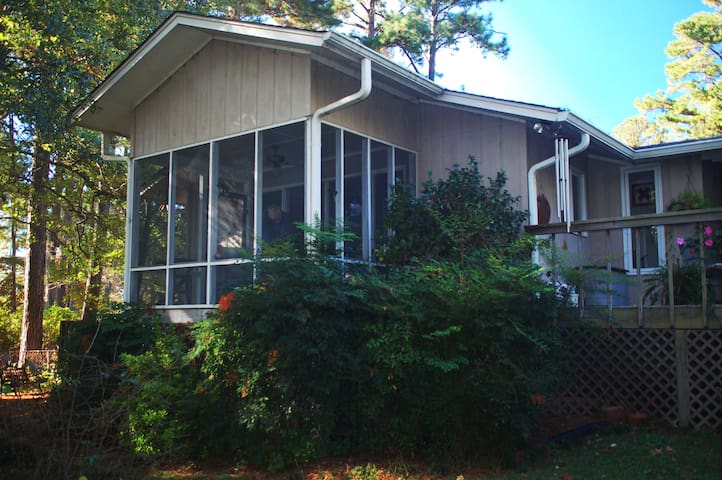 Mockingbird Hill Farm affords visitors a quiet and natural setting. Star gazing, wildlife viewing, farm animals. This is a converted bus, simple, clean, roomy, and incredibly light filled. Tons of windows! Use of farm kitchen.
The bus is 9 feet wide and is the standard school bus size. One small pet or one small child is the maximum recommendation in addition to two adults.
Lake area, we have kayaks to loan. Trails. Historical Mill site, not open to public, but overview from bridge. Movie house and Publix 15 min away.
Art der Unterkunft
Ganze Unterkunft
---
Objekttyp
Wohnung
---
Unterkunft für
2
---
Schlafzimmer
Sparta, Georgia, Vereinigte Staaten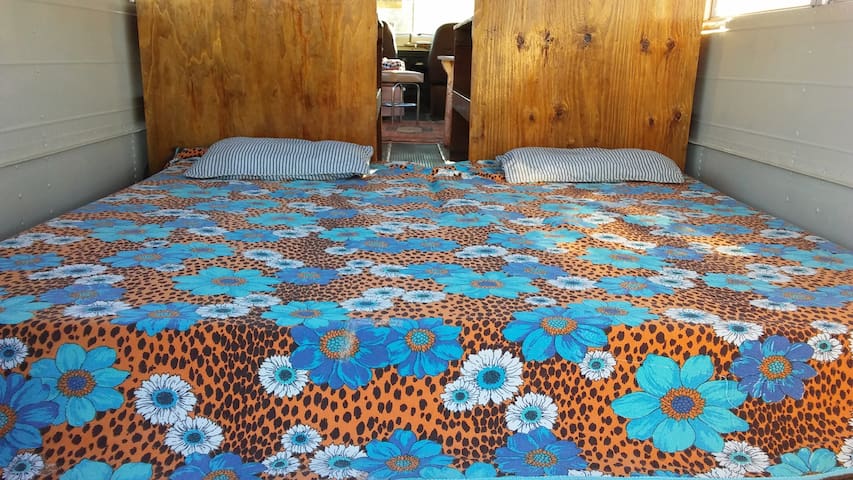 Indulge in a much needed retreat with this newly-built charming 1-bedroom, 1-bathroom plus loft Dry Branch vacation rental apartment! With accommodations for 12, gorgeous amenities and a desirable private location, this Georgia abode leaves little to the imagination! Additionally, this property is located 12 miles from I-75 with easy access from Atlanta, Savannah or Florida.
Settled on 488 acres of pristine pine tree forest and rolling hills 12 miles east of Macon, this prestigious Dry Branch vacation rental apartment can comfortably accommodate 12 guests throughout 1,244 square feet of beautifully appointed living space! Inside, this new construction on the expansive property boasts a rustic interior complete with breathtaking hardwood floors and unique accents all throughout, creating a cozy feel you're sure to love. The living area is an ideal place to kick back with your companions after an eventful day, while the brand new kitchen comes fully equipped with all of the necessary cooking appliances you need to create favorite recipes. Sit down with your group at the lovely dining table to enjoy your delicious culinary creation while sharing stories on the day's activities, ranging from fun on the tennis courts to friendly competition at the basketball courts or batting cage. Air conditioning, dishware and wireless internet access are also just a handful of the conveniences provided here! Jumpstart your day with a fresh cup of joe before exploring the property's outstanding amenities. Take a refreshing swim in the 30x50 pool with 30-foot slide, or test your luck fishing for bass, catfish or bream on either of the 3 fully stocked gorgeous lakes. After a day full of guided trail horseback riding, swimming, fishing, and simple relaxation, look forward to unwinding inside this cozy barn-style apartment. End your night by gathering loved ones to stargaze from the hot tub or spacious deck before retreating to the comfortable bedroom for a peaceful night's sleep!
Although you may consider spending the duration of your stay lounging inside this comfortable home, you won't have to travel far to experience the area's best attractions! Check out downtown Macon, where you'll find notable restaurants, craft beer, local boutiques major department, grocery and specialty stores. If you're feeling adventurous, take the day trip to Savannah or Atlanta to go sightseeing, or hike through the property's immense forest and bring your ATV for numerous 4-wheeling trails. No matter how you choose to spend your stay, this wonderful Dry Branch vacation rental apartment is a place you'll want to return to year after year!
The apartment was clean, and perfect for our group of 10. The grounds are amazing and perfect to either go out and explore the area or simply explore the farm. We would definitely stay again!
Jacquelyn
2017-02-20T00:00:00Z
Art der Unterkunft
Ganze Unterkunft
---
Objekttyp
Wohnung
---
Unterkunft für
12
---
Schlafzimmer
Dry Branch, Georgia, Vereinigte Staaten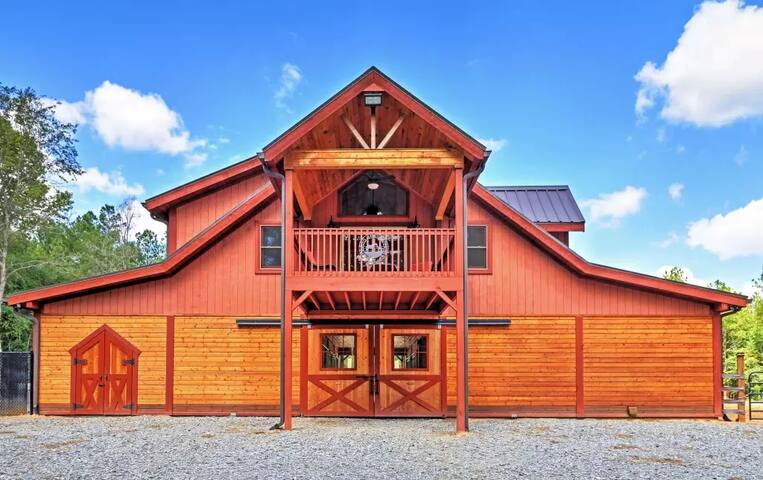 Take the ultimate vacation to Dry Branch when you book this newly constructed barn-style 2-bedroom, 1-bathroom vacation rental apartment which comfortably sleeps 4. Expanding across a sweeping 488 acres of rolling hills, this property features a pool, hot tub and many more amazing amenities on the premises, guaranteeing an unforgettable getaway!
Situated on 488 acres of rolling hills and pine trees in middle Georgia, with easy access to I-75 from Atlanta, Savannah or Florida, this beautiful barn sits on an expansive property that includes a tennis court, half-court basketball, batting cage, and 30-foot by 50-foot swimming pool with a waterslide and hot tub overlooking the largest of the 3 lakes on the property. Driving half a mile off the main road and up to the secluded barn, you'll immediately fall in love with the surrounding scenery, from the tall pine trees and green grass to the free range chickens frolicking around the property. The moment you arrive, you'll feel welcomed by the vibrant red coloring of the barn, inviting you to come explore the apartment's 1,244 square feet of wonderfully appointed living space. Inside, the apartment opens up into a cozy living room with wood floors and high wood ceilings. From the charming dining room table, to the brand new fully equipped kitchen featuring granite countertops, this apartment will be easy to call your temporary home. After relaxing on the comfy couches in the living room, you'll be able to stroll on over just a few steps to the beautiful wooden sliding doors of each charmingly-decorated bedroom to cuddle up for a good night's rest. Whether you wake up to test your luck at fishing in one of the 3 fully stocked with Bass, Catfish and Bream lakes, or to sip a freshly-brewed cup of coffee on the deck overlooking the 7 horses in the field, you'll love every morning at this wonderful barn-style apartment. Once you've enjoyed a delicious home-cooked breakfast in the brand new fully equipped kitchen, head outside to take your pick of the numerous activities waiting right outside the barn door. After a full day of guided trail horseback riding, swimming, fishing and simple adventure, you'll be happy to retreat back inside this darling abode for a scrumptious meal around the spacious dining table. At the end of long day, gather your loves ones to stargaze from the hot tub or pool deck before retiring to any of the bedrooms for a peaceful night's rest!
After you've taken advantage of all the amazing amenities the property has to offer, from the sport courts, to the pool and hiking trails, you'll definitely want to check out the surrounding areas for new adventures! Just 12 miles from the property is downtown Macon, where you can dine out at notable restaurants, explore craft beer, and shop around at local boutiques, major department, grocery and specialty stores. Also, for a great day trip, you can travel 153 miles to historic Savannah or 80 miles to Atlanta, complete with wonderful dining options and fun events. However you choose to spend your time around the property and in the surrounding areas of Dry Branch, you're sure to make lasting memories during your stay at this wonderful vacation rental apartment!
Art der Unterkunft
Ganze Unterkunft
---
Objekttyp
Wohnung
---
Unterkunft für
6
---
Schlafzimmer
Dry Branch, Georgia, Vereinigte Staaten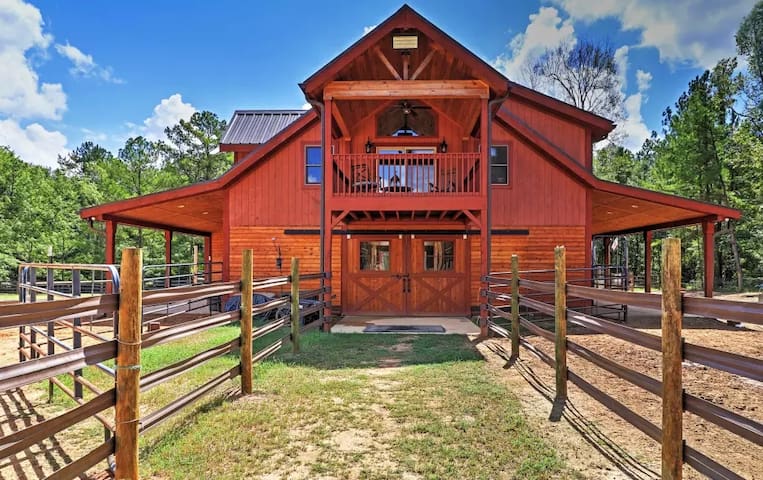 Gib deine Reisedaten ein, um den aktuellen Preis zu sehen. Es können zusätzliche Gebühren und Steuern anfallen.