Dom w starej zabudowie przeznaczony na którki odpoczynek.
Art der Unterkunft
Privatzimmer
---
Objekttyp
Haus
---
Unterkunft für
2
---
Schlafzimmer
Kwielice, Woiwodschaft Niederschlesien, Polen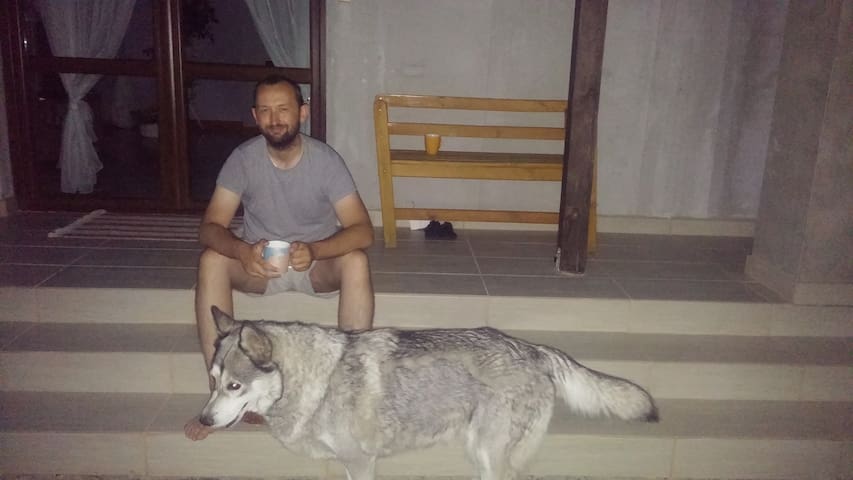 Apartament jest przestronny. Jasny. Za oknem park. W pobliżu plac zabaw. 20 min spacerem do Starego Miasta. Najbliższy sklep spożywczy 5 min. Obok apteka, poczta. Super spokojna lokalizacja. Miejsce parkingowe pod domem. Dla kochającego swoje auto mogę udostępnić garaż.
Jesteśmy rodziną z 2 dzieci. Mamy 2 koty. Lubimy porządek, ale nie jesteśmy pedantami. Uwielbiamy wspólne gotowanie, grillowanie. Bardzo dobrze znamy okolicę pod kątem pieszych i rowerowych wycieczek z dziećmi.
W okolicy park, kościół, apteka, sklep spożywczy, ośrodek zdrowia, poczta, bank.
Art der Unterkunft
Privatzimmer
---
Objekttyp
Haus
---
Unterkunft für
4
---
Schlafzimmer
Głogów, Województwo dolnośląskie, Polen
Ciepły, przytulny domek, położony na trasie szlaku cysterskiego, wyjątkowy widok na jezioro. Otwarta wyposażona kuchnia, łazienka z kabiną prysznicową, umywalką i toaletą, 2 niezależne sypialnie. Salon z rozkładaną sofą. Wieś położona w pięknej i zacisznej okolicy, jednocześnie w pobliżu najpiękniejszych miast dolnego Sląska. Najbliższe lotnisko Wrocław jest w zasięgu 60 km. 300 m od domu, znajduje się mały sklep, gdzie można kupić artykuły pierwszej potrzeby oraz świeże wędliny i chleb.
Art der Unterkunft
Ganze Unterkunft
---
Objekttyp
Haus
---
Unterkunft für
4
---
Schlafzimmer
Słup, Województwo dolnośląskie, Polen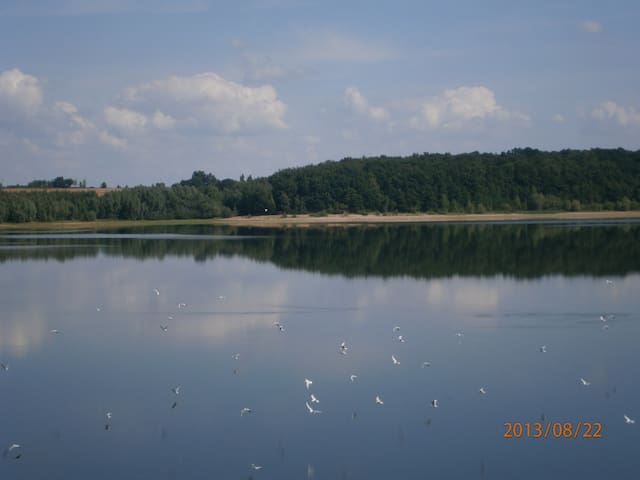 Our family project, very old rustic grandparents house which we rebuilt to modern standards and it still has some original futures. With vineyard at the back, great area for outdoor activities.There are two bedrooms for 4 persons plus two guests.
Domek udalo nam sie zarezerwowac z dnia na dzień, dla grupy piecioosobowej na szybki relaksujący wypad za miasto. Od samego początku właściciele byli z nami w stałym kontakcie upewniając się, ze nie zabladzimy w okolicy. Gdy dotarliśmy na miejsce dom był już dla nas ogrzany i przygotowany, właściciele okazali się przemiła rodzina z wieloma pasjami a dom był ich żywym odzwierciedleniem, jedna z nich jest meblarstwo a wszystkie "produkty" można nie tylko podziwiać ale również przetestować, gdyż są one częścią umeblowania. Sam dom jest urządzony na bardzo wysokim standardzie, gustownie i elegancko a przy tym ciepło i przytulnie. Absolutnie niczego nam nie brakowało, mogliśmy swobodnie cieszyć się pobytem i relaksować się wieczorami przy kominku. Zdecydowanie polecamy! my sami napewno wrócimy tam jeszcze raz!
Jakub
2016-02-22T00:00:00Z
Dom jest naprawdę piękny i świetnie urządzony. Idealny nawet na dłuższy pobyt - jest w nim wszystko czego potrzeba. Zdjęcia - mimo, że dobre i zachęcające - nawet nie w pełni oddają wielkość domu. Jest bardzo przestronny i jasny. Mimo, że dom znajduje się w środku miejscowości, dosłownie kilkadziesiąt metrów dzieli go od wspaniałych tras spacerowych. Kontakt z gospodarzami też bardzo dobry - opowiedzieli nam o okolicy i zaopatrzyli nas w domowe produkty żywieniowe z okolicznych gospodarstw. Dom jest idealny dla dwóch par z dziećmi. Bez dzieci spokojnie pomieści 6 osób, w komfortowych warunkach.
Łukasz
2016-01-05T00:00:00Z
Niezwykłe, bardzo klimatyczne miejsce. Dom urządzony bardzo oryginalnie, ze smakiem. Niezwykłe połączenie nowoczesności i historii - tak jak lubimy. Świetnie wyposażony (m.in. zmywarka, pralka, ekspres do kawy, prysznic, wanna wielkości małego basenu ;) kominek, szybkie WiFi, itd. Przemiły właściciel i jego niesamowite opowieści o historii domu i okolicy stanowią dopełnienie wyjątkowego pobytu w tym miejscu. Bardzo dobra lokalizacja - baza wypadowa do licznych atrakcji w okolicy. Miejsce ciche, spokojne, oddalone od głównej drogi. Polecamy.
Szymon
2016-08-05T00:00:00Z
Art der Unterkunft
Ganze Unterkunft
---
Objekttyp
Haus
---
Unterkunft für
6
---
Schlafzimmer
Jerzmanice-Zdrój, Województwo dolnośląskie, Polen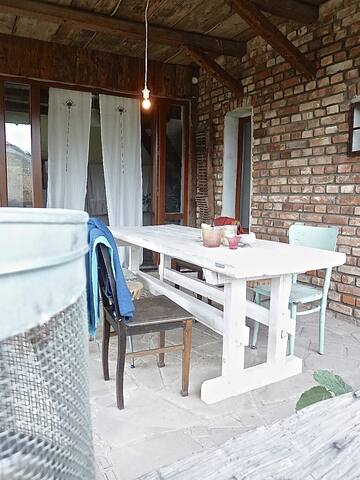 Rustic rooms, completely refurbished, in a 19th century farmhouse located in the countryside of the Sudeten Mountains. - calm, clean air, forests, nature, beautiful views, homemade food ...
The house is original brick and sandstone. The original flooring has become stunning ceiling beams and the new hard wood floor are pristine. No details has been ignored. The bathrooms, heating and windows are all modern. The decor has been stylishly selected to match beauty of the region. The house can accomodate 20 guest in its comfortable rooms with private bathrooms. Between 2-5 guest fit comfortably in each room. Room No. 1 - Familly-room: two bedrooms (32 sqm) and a private bathroom, up to 4 people Room No. 2 - Brick-room: large room (36 sqm) with a private bathroom, up to 5 people Room No. 3 - Oak-room: for two or three people (22 sqm) with a private bathroom Room No. 4 - Cherry-room: for two or three people (21 sqm) with a private bathroom Room No. 5 - Family-room 2: (38 sqm) two separate bedrooms, a private bathroom and a small hall
Landscape Park "Chełmy" and Kaczawskie Mountains are the perfect place for hiking, biking and horse riding.
Wir waren als Familie hier (2 E 2 K) und haben uns sehr wohl gefühlt! Kris ist ein toller Gastgeber mit hervorragenden Tipps für Audflüge in die Umgebung (Seifen machen, Mineralien sammeln, Goldmine, Schlösser, Burgen etc.). In der Nähe (4 KM) gibt es ein öffentlichen Freibad, das uns bei der Hitze gute Dienste geleistet hat. Das Essen von Kris Frau Ascha ist eine Liebeserklärung an die Gäste. Für uns hat sie sich jeden Abend extra Köstlichkeiten der polnisch vegetarischen Küche ausgedacht (Höhepunkt: die vegetarischen kohlrouladen!). Beim Haus ist ein Teich, in dem wir immer geangelt haben (u.a. zahlreiche Karpfen, vielleicht war es auch immer derselbe?!) Abends, wenn die Hitze des Tages abgenommen hatte, gabs Reitstunden für die Kinder (4 und 6 jahre) mit dem deutsch sprechenden Bogdan. Deutsche Genauigkeit bei den Anfangszeiten gabs nicht, man war irgendwann im Laufe des Abends dran. Die Zeit bis dahin vertreibt man sich mit Angeln, Spielen, Lesen Tiere streicheln. Dafür wurden aus 30 Minuten Unterricht meist 40 oder 50 (man musste allerdings nur 30 bezahlen). Frühstück war auch super. Alle sitzen zusammen an dem großen Tisch und man kommt schnell ins Gespräch. Fazit: Eine herrlichen Woche bei tollen Gastgebern. Wir kommen wieder
Gesine
2015-08-10T00:00:00Z
Wir hatten eine fantastische Woche bei Kris in Niederschlesien. Angereist mit zehn Personen fühlten wir uns jederzeit willkommen, wurden mit Informationen versorgt und hatten eine große Auswahl an Aktivitäten in der Natur oder zur Kultur. Zum Beispiel Mineralien suchen (und finden), Vulkane besteigen, die Friedenskirche in Jawor besuchen und natürlich ein Abstecher nach Breslau. Auch Bunzlau mit der berühmten Keramik ist einen Besuch wert. Kris' Haus ist sehr schön und geschmackvoll restauriert und bietet große Gästezimmer und eine Gemeinschaftsecke. Die Bäder sind auch neu gemacht, sehr hübsch und sauber. Der Hof ist ebenfalls sehr schön gestaltet, die umliegenden Pferdekoppeln geben ein tolles Flair, auch wenn man selbst nicht reiten möchte. Highlight ist die Küche von Kris' Frau: Das Frühstück war jeden Tag abwechslungsreich und üppig - das Abendessen haben wir viermal bestellt und jedesmal original polnische Küche auf Wunsch frisch und handgemacht zubereitet bekommen, z.B. Wildschweingulasch, Piroggen oder Schnitzel. Dazu als Vorpseise einmalige Suppen. Das findet man in keinem Restaurant. Spezielle Wünsche nach Gemüse oder vegetarischem Essen wurden berücksichtigt. Rundherum eine absolut empfehlenswerte Adresse - wir haben uns noch mehr Urlaubstage gewünscht, z. B. für einen Abstecher ins Riesengebirge, eine Höhlenbesichtigung oder eine Burgbesteigung. Kris ist ein sehr zuvorkommender, freundlicher Gastgeber, jederzeit für Auskünfte oder Anregungen erreichbar. Danke, Kris!
Susanne
2014-10-25T00:00:00Z
AWESOME! We went to Poland to go pottery shopping and found this amazingly restored farmhouse. Chris and his wife were wonderful hosts. They paid attention to every detail and offered help at every turn. They even accomodated our vegan diet and made us wonderful dinner and breakfast meals. Our young children loved the horses and are older children loved the reliable Internet! Our only regret was that we could not stay longer to see more of the beautiful countryside! Awesome, awesome, awesome!
Michelle
2014-04-12T00:00:00Z
這是我們 (我與我先生還有從台灣來的玩的妹妹,妹夫,姪子) 第一次停留波蘭,我們很幸運的來到這個世外桃源.房間很舒適,乾淨的環境,現代設計的浴室,農場風格的臥室,室外有草原圍繞 . 早餐是新鮮自製,有果醬,炒蛋,沙拉,麵包,茶與咖啡..(5 EUR) 優質健康早餐. 民宿主人有十來匹馬,可以騎馬 (7 EUR,細節須詢問民宿主人) , 釣魚,健行. 這次我們只是經過停留一晚,但是我還要再回去停留久一點,享受那裏的寧靜,並且去探索附近的火山.非常謝謝 Kris – 克里斯! We had a wonderful night at this beautifully restored farmhouse. It retains the old charm with modern amenities. (Great bathroom/shower, flat tv screen tv etc.) The free wifi is slow but good enough for surfing and email and better to than expected for such a quiet spot in the country. Kris and his wife were gracious and friendly hosts and the 5 euro breakfast is a definite must! (Eggs cooked with fresh green onion, homemade jams and fruits, vegetables, meats and bread with bottomless fresh ground coffee to wash it down with.) It is nestled in a quaint village in a beautiful valley. You can take horse lessons for as little as 7 euro on one of their 17 horses and fish in the pond right on the premises. We were just passing through between Prague and Berlin but look forward to going back there to explore the unique geology of the region. Despite being smokers themselves all rooms are non-smoking, and smell only of fresh sheets, wood floors and good country air. Smokers however, can puff away at covered area out back with a nice view of the horses, pond and surrounding valley. Kris speaks good English and is happy to help with information about hiking, local museums and geo tourism hotspots. It's what you see in the pictures… Only better.
kate
2014-08-19T00:00:00Z
We had a wonderful time at Kris' place. The atmosphere and amenities were exactly as we'd expected. Kris as a host was warm and welcoming, always willing to accommodate our requests. The room was spacious, bright and warm, and the food was delicious and lovingly prepared. We spent long hours wandering around Kondratów and the surrounding woodlands, accompanied on our way by a few canine friends. I'm already looking forward to a return visit in the summer!
Daniel
2015-03-02T00:00:00Z
The whole stay at Agrohippika was wonderful. It was so relaxing there. The rooms and facilities themselves were very comfortable and immaculately clean. We were there with a group of friends and it was just perfect. Kris was kind and communicative. I would recommend this place to anyone without exception.
Jeremy
2016-11-27T00:00:00Z
We had a wonderful family weekend here in the Fall. The house is beautiful and cozy. We had a peaceful and comfortable night sleep. The rooms are clean and large, the beds are just right. You can really relax and enjoy the time with your family. The children enjoyed the fire pit and having room to run and play with the dogs and cats. Close enough for a day trip to Wroclaw. Really enjoyed the Mineral hunting which Kris arranged for us as well. Breakfast was sehr lecker with plenty of choices and variety each day. Would come again another time. Thank you for a very nice stay Kris!
Andrea
2015-10-14T00:00:00Z
Really beautiful house in a scenic part of poland. The room was very comfortable and cosy and the dinners were very nice. the host Kris was very helpful with suggestions on what to visit in the area. i would very much like to come back during the summer months to explore the area further.
Simon
2015-02-09T00:00:00Z
Art der Unterkunft
Ganze Unterkunft
---
Objekttyp
Haus
---
Unterkunft für
16
---
Schlafzimmer
Kondratów, Woiwodschaft Niederschlesien, Polen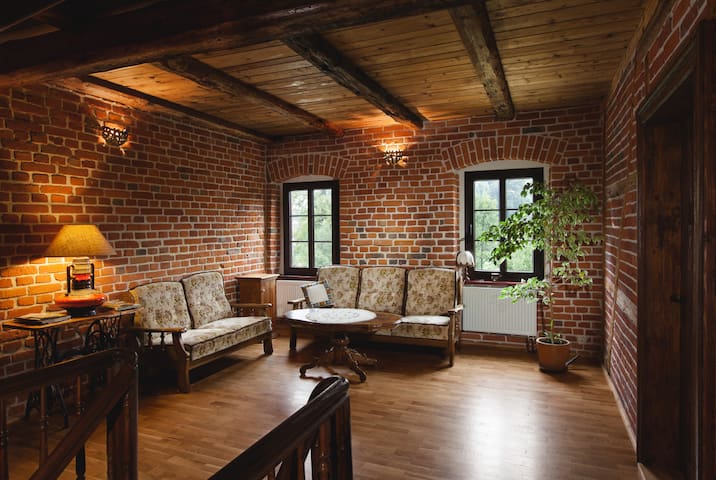 1

–

5

von

5 Ferienhausvermietungen
Gib deine Reisedaten ein, um den aktuellen Preis zu sehen. Es können zusätzliche Gebühren und Steuern anfallen.