My place is close to Lake Wisconsin, Wollersheim Winery, Crystal and Fish Lakes, Ice Age Trail, driving distance to Camp Randall, Madison,Wisconsin Dells, Cascade Mntn skiing, Devils Head Lake, skiing, golf, snowmobiling, family-friendly activities. You'll love my place because of the coziness, the views, the location. Will cook for you, if prearranged. Ask about special pricing for stays of a week or longer. Wireless internet for business travelers.
Come watch Eagles soar, while sitting by the fire pit, or on the deck! Take a chair and a book to the perennial garden or by the fireplace. Enjoy a private suite or single room. Refrigerator, microwave, sink and coffee pot available.
Awesome. Very spacious and comfortable. Beautiful view and nice dogs. Very peaceful.
Bryan
2016-07-04T00:00:00Z
Paula offers a very nicely furnished and comfortable walk-out lower level with a beautiful view.
Susan
2016-11-25T00:00:00Z
First time user of Airbnb and I couldn't have picked a better place or host. We felt welcome at every step of the way. Very helpful. The directions were great. We are already planning on coming back. This is the place if you want relaxing and peaceful. Easy access to multiple places.
Cindy
2016-11-06T00:00:00Z
She was very flexible with us coming there. It was a beautiful location and very big beds!
Ben
2016-10-15T00:00:00Z
Paula and her husband were absolutely incredible hosts. Their property and home were absolutely breathtaking, with a view that will leave you speechless. We were greeted with a warm welcome and a lot of help finding local restaurants and shops. I'd highly recommend anyone thinking about visiting the Lodi area to give Paula's home a try, we will definitely be visiting again!
Mitchell
2016-06-27T00:00:00Z
Paula and Kurt were wonderful! We felt so welcome. Their home was beautiful and just what we needed for our getaway! Wonderful overall experience!
Christine
2016-06-26T00:00:00Z
Make SURE you follow the directions - GOS wanted to take us someplace else. This is literally at the end of a steep but very well maintained road. Forever views, so unexpected in central WI. Hosts very nice but two things that renters should know: the main living space of the apt (which is the entire lower level of their home) is open via staircase to the hosts main living area and second, there is no real kitchen , although there is a full size fridge, microwave,, coffee maker and wet bar. Perfectly fine for us but I wouldn't plan on real cooking. Really secluded - stars beautiful at night. Space is huge- each bedroom is over 400sf and living area is gigantic with two very comfy couches. Nice fire pit which we didn't use and just five min from prairie du sac which has a nice grocery and several cute restaurants and a small theatre. Also very close to tubing, kayaking, wollersheim winery etc. Hosts have a fabulous balcony upstairs which they encouraged us to use and which has an entrance from the side so you don't need to go through their space. Also should mention that we had fun using the facilities at the Crystal Lake RV park across the street - clean lake, dog beach and great burger and old fashioned at the grill. $8 day use fee. Take bug spray in summer for the whole area!
Jackie
2016-08-08T00:00:00Z
We really enjoyed our stay at Paula & Kurt's. We had the whole lower level to ourselves and it felt very private and cozy...even though the space is large. It's tastefully decorated and clean, has lovely views and landscaping that includes a small pond/waterfall and a large fire pit...and the stars are amazing. We felt very comfortable and welcome, and communication was excellent. Paula and Kurt are engaging yet unobtrusive--the perfect blend. This will be our "go-to" spot when we return to the area for our next kayak trip on the Wisconsin River!
Emily
2016-07-30T00:00:00Z
Art der Unterkunft
Ganze Unterkunft
---
Objekttyp
Haus
---
Unterkunft für
6
---
Schlafzimmer
Lodi, Wisconsin, Vereinigte Staaten
30 minutes from UW Madison, Five minutes from Lake Wisconsin, Gibraltar Rock, several Ice age Trails for biking and hiking. Devils Lake, Wisconsin Dells, Ski Resorts and Golf Courses close by. Non smokers, must like animals.
Very quite small town, with a lot of nature close by.
Quite
Denise's place was great! She was quick with responding before the trip, and overall the process was very smooth. Denise's place was very clean and cute, and the room and bathroom are in its own private part of the house. We had the opportunity to sit and chat with Denise and beyond being a great host she's a phenomenal person! Would definitely recommend her place!
Chelsea
2017-01-08T00:00:00Z
Denise was welcoming, attended to making sure needs were met, and provided a welcoming environment.
Lisa
2016-07-23T00:00:00Z
The posting was accurate. The room was clean, and beautiful. There was a nice television with cable internet, two windows, a large closet, microwave (which I used for tea each night), and mini fridge. The bathroom was great, really a private bath...the neighborhood was wonderful. Quiet, safe, and idyllic small town feel. Denise provided me with some local honey for my evening tea, and was very welcoming. She even made me some delicious soup before I headed out. I will definitely be back. This is the perfect place to retreat and rest. I left feeling very refreshed!
Sarah
2017-01-02T00:00:00Z
I Loved my stay! The accommodations were clean, well decorated, and comfy. The house felt and smelled new and the neighborhood was quiet and safe/secure. Denise was kind and friendly. Hans, her dog, was adorable and very sweet. This was my first air bnb stay so I was a little nervous but I'd definitely stay here again and recommend this space. A few details to help you plan your stay... the space is very private, there's a door separating it from the rest of the house (which is locked). It includes a private bathroom with shower and bath tub, a bedroom with a mini fridge/microwave/flatscreen tv with cable, and a laundry area. The entrance is through the garage, which has an automatic/code opener. There are locks on the bedroom door, bathroom door, and garage door, so I felt very secure. There's a ceiling fan in the bedroom and a ventilation fan in the bathroom. The space is air conditioned. Towels are provided in the bathroom along with a new mini bar soap. There's free wifi. The pillows and comforter were new, stylish, and cozy. It felt like a really nice hotel. There's also a chair in the bedroom and a nice sized closet with hangers, a fluffy blanket, and extra linens. There's a ceiling light (with the ceiling fan) and a side table lamp with 3 different light intensities (perfect for reading or a night light). I spent the weekend at Devil's Lake and other natural areas. It was about 30 minutes away and a perfect retreat after spending the day outside. I stored food from my cooler in the fridge and refroze my ice packs overnight so I was ready to go again the next day. I really wouldn't change a thing about it. Relaxing and restful place to stay!
Tiffany
2016-07-31T00:00:00Z
Denise was a great host! I was the first guest at her place and loved how tidy she kept it. The room was big and comfortable with my own private bathroom just outside the door. The town is quiet and Denise has a lovely home and property. This was just right for what I needed.
Eric
2016-06-12T00:00:00Z
Staying at Denise's was such a pleasure! Me and my boyfriend stayed for one night and it was just perfect. Easy directions to enter her home and had the perfect lay out for us. It was a fairly large room with a very comfortable bed and a very large private bathroom. Denise was very accommodating with all the requests I had like turning on the air for my "walking furnace" of a boyfriend! Luckily I got to meet Denise before we left and her amazing dog Hans! We are definitely staying again when we are back in the area!
Kelly
2016-07-09T00:00:00Z
My second stay at this place. Denise is great. The home is quiet and peaceful. A great place for R and R. I snowshoed, went hiking on some beautiful trails, and enjoyed some local shopping. Very low key.
Sarah
2017-03-15T00:00:00Z
The room was nice , wifi note , mint
Mike
2016-07-06T00:00:00Z
Art der Unterkunft
Privatzimmer
---
Objekttyp
Haus
---
Unterkunft für
1
---
Schlafzimmer
Lodi, Wisconsin, Vereinigte Staaten
"I've never been so relaxed!", said a recent guest who spent two nights here for a needed getaway. This part of Lake Wisconsin is quiet, yet offers easy access to fun and entertainment. Walk or boat to local restaurants. Listen to live music. Play at the nearby beach and park. Lake Wisconsin, with unimpeded sunset views, is at your toes. Three ski resorts, two wineries, Devil's Lake State Park, Wisconsin Dells, the Merrimac Ferry, the Ice Age Trail and Gibraltar Rock are all a short drive away.
The cottage is set up for groups, couples or families. Lots of off-street parking, a boat dock and lift for your own use, large-capacity washer and dryer, two grills and two TVs are included (although we don't have cable and the over-the-air signals are weak). We do supply hardware that enables you to use your Netlix, Amazon Prime, etc., accounts on the TVs. Come and relax!
This part of the lake is quiet, with a mixture of year-around homes and summer cottages. The other owners in the condo association are older couples. Their children and grandchildren do come to visit. Everyone loves the area and neighbors are respectful.
We were volunteering in the morning at Cascade Mountain, and on top of being an amazing view on a beautiful lake, it was really close to our destination and we got a great nights sleep. The house was super clean and organized, Kirsten gave us extremely well detailed instructions to keep it that way which took the stress off in the morning because we knew exactly what to do. Perfect place for a getaway in the winter and in the summer!
Zachary
2017-01-07T00:00:00Z
With a last minute snowstorm coming in, some friends and I wanted a place near Cascade Mountain to enjoy snowboarding without driving 3 hours from Chicago. Kirsten's place was wonderful and gave that "getaway cottage" feeling. It was perfect for the 5 of us, with 4 beds and two extra fold down futons. The upstairs living area was great, and with her access to Netflix, Amazon, and a wide selection of movies made for some great downtime after snowboarding all day. The only thing people should be aware of is that in the winter it's a bit off the beaten path to get to, so make sure you plan ahead if you are driving in the snow! The other thing I will say is that this cottage is great in the winter, but in the summer with it being right on the lake would be wonderful as well!
Susheel
2016-12-11T00:00:00Z
Nice place to gather with a small group. Kirsten was a good communicator and welcoming host!
Barbara
2016-11-25T00:00:00Z
Great place to weekend getaway. Quiet neighborhood, nice view on the lake. Devil's lake state park 20 min away, there is ferry running 24 hr when it's not frozen. Kirsten is a great communicator, very helpful with everything from firewood for fire pit to advises about boating, fishing etc. Cottage is equipped with everything needed and beyond. Big living/dining room upstairs, huge windows, tons of light. Two small and very clean bedrooms on the first floor. Will be back soon again! Thanks again, Kirsten!
Dmitry
2016-11-27T00:00:00Z
Our group of 5 really had a great time. The pictures did no justice to the second floor of this house. It was spacious and cozy and had a beautiful view. It is only 20 mins from cascade mountain. The host also allowed us to check in early. I would totally recommend it to my friends.
Nelson
2017-01-02T00:00:00Z
Very clean house. Right next to the lake. Large living room, perfect for groups. Definitely recommend.
Yutian
2016-12-21T00:00:00Z
Art der Unterkunft
Ganze Unterkunft
---
Objekttyp
Haus
---
Unterkunft für
7
---
Schlafzimmer
Lodi, Wisconsin, Vereinigte Staaten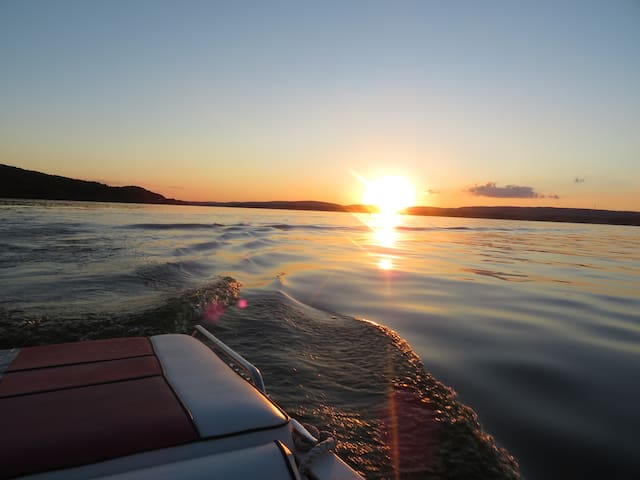 Apartment in country duplex. One bedroom with second loft bedroom. Fully equipped kitchen, bathroom with tub, and laundry on premises if needed. Open floor plan with lots of windows looking out onto the beautiful surroundings. Short hiking trail, horses, and friendly cats.
We LOVED staying here!! Great house in a beautiful area - the place felt huge and walks down the lane with our dogs were serene. Hildegard is very sweet, patient, and flexible. We truly felt at home. Highly recommend a stay here!
Jen
2017-04-02T00:00:00Z
Art der Unterkunft
Ganze Unterkunft
---
Objekttyp
Wohnung
---
Unterkunft für
4
---
Schlafzimmer
Waunakee, Wisconsin, Vereinigte Staaten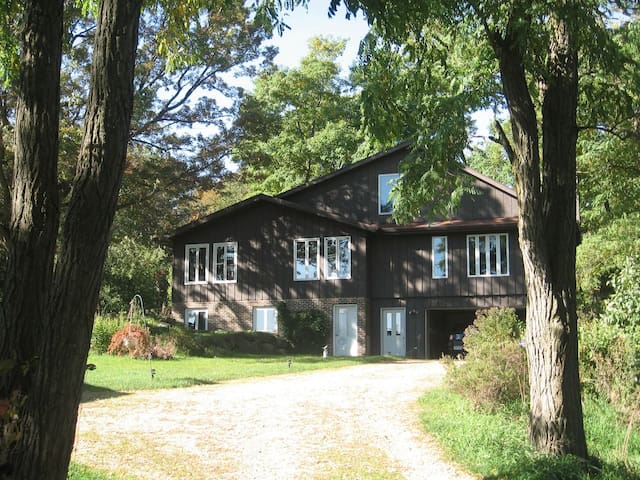 A cozy country house on a working organic farm. Nestled in the hills 25 minutes from Madison, its far enough away and still close enough. Animals and gardeners populate the space. Come as you are for a quiet, beautiful and fun summer in the Driftless. We have space for camping and have hosted weddings, so if you're interested in something different let me know over at common gardens via the introns. Drive safe!
You would be renting the whole farmhouse, and have it to yourself, there are other folks working and animals on the property. Its a two bedroom (one has one full and a bunk bed, the other a king), 1.5 baths, kitchen, laundry, wifi and phone, House grounds include; An oven, fire pit, grill, and yard. When you arrive the house will be open and the keys on the table, I leave the washed bedding on top of the beds for you to make, sometimes I make them, after checking out, throw your sheets in the hamper.
The pastoral scenery of the Driftless and access to near by parks. If you are looking for a cool day trip, I like spring green, but most of the time its just nice to relax away from the city. Here are some usual spots people visit; Indian Lake state park and the Ice trail are within a short drive (2 min). Wollersheim Winery and boat rentals on the Wisconsin river in Sauk City, Devil's lake, lake Wisconsin, Mazomanie Beach (An iconic nude beach). We sit on the gateway to Wisconsin's 'Driftless' region, amazingly beautiful and unexpected, within easy driving distance (30 min) is Spring Green and Mt. Horeb; House on the Rock, Taliesin, Cave of the Mounds and Tyrol Basin. About 45 minutes to Wisconsin Dells, Devil's lake, and Baraboo, great looking hills that way, great camping and nature over there. 25 minutes to downtown Madison by car, or 90+ minutes by bike along HWY 12 bike path, enjoy the vibrancy of Wisconsin's capitol, like the Saturday farmer's market on the capitol square (allegedly biggest in the country) is a must see, arrive early because it gets crowded. Check the Guide book for my favorite restaurants, bars, sights and services in the area.
This place is absolutely perfect for a cozy night, or nights in! The scenic views of the farm are beautiful and the house has so many cute knick-knacks, and games galore! I loved sitting by the fire stove and exploring the house. I definitely recommend this place to anyone!
Janna
2017-01-14T00:00:00Z
This was my first experience using Airbnb and it could not have been better. I felt truly at home and had the exact amount of privacy, as well as connection, that I needed. The farmhouse could not have been more cozy and welcoming. Quite honestly, I never wanted to leave. Michael was an incredibly mellow and engaging host and could not have been easier to get along with. The land and the vibe were very special. Everything about this experience was forever memorable.
Frederick
2016-11-30T00:00:00Z
We had such a great time staying at The Napping Farm. The kids are still talking about all the chickens. Thanks guys!
Paul
2016-08-12T00:00:00Z
My son and I had a wonderful time at the Napping Farm. A great get away spot. The house is a wonderful old farmhouse and Mike had everything in working order for us when we arrived (including new sheets!). I would highly recommend this place as a funky spot to get away from it all.
Lynn
2015-07-23T00:00:00Z
We had a lovely time at Michael's quirky farmhouse. Unfortunately we didn't get to meet him in person but everything was set up when we arrived. If you like animals and farm life then this is the perfect place for you!
Viola
2012-08-10T00:00:00Z
Michael is a wonderful host, and his home is relaxing, inviting, and clean. We loved his farm and the whole ambiance of this place. Michael is fantastic, and we look forward to returning to the Napping Farm! ~ Amy & Laura
Amy
2014-06-23T00:00:00Z
I rented the farmhouse for my family for a week and they loved the peace and quiet of the farm. The house was very cosy and they appreciated having the full kitchen to have some homemade meals. My dad especially loved the location and idea of living on a farm. Although we didn't see people around we knew there was always someone around to assist us if we needed anything. Oh and excellent collection of books, loved going through the titles. Too bad I didn't have enough time to go through them all!
Kshipra
2014-06-30T00:00:00Z
We had a great visit with our grandsons. Conner said, "I don't ever want to go home". Alex said, "I wish we could stay here forever". Collecting eggs in the morning was a big hit with the boys!
Jean
2016-08-15T00:00:00Z
Art der Unterkunft
Ganze Unterkunft
---
Objekttyp
Haus
---
Unterkunft für
6
---
Schlafzimmer
Dane, Wisconsin, Vereinigte Staaten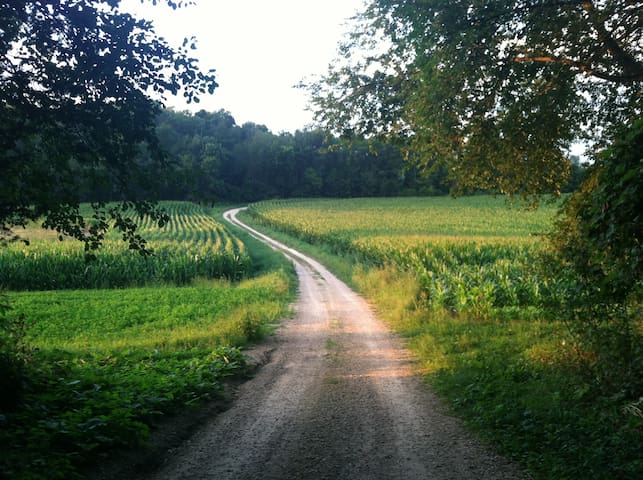 Incomparable 3600 sqft A-frame perched about the Wisconsin River with spectacular views & sunsets-peaceful&private. Features: upper & lower decks,fishing pier, 23' fieldstone fireplace, great kitchen,washer/dryer, linens/towels. Firepit&picnic table.Beautifully furnished in rustic lodge comfort. 25 min drive to Cascade Mtn for skiing,30 min to Devils Head &Dells waterparks just a 25 min drive. Indoor/outdoor music system-bring your iphone 5 or adapter Min age 25 for booking guest 2 pet max
The sleeping areas are as follows: in the large loft area there is a bunk bed with full on the bottom, twin on top. There is a 1/2 bath on the loft level. On the main level there is the master suite w/queen bed with a full private bathroom. On the lower level there is the guest suite with bunk beds full on the bottom, twin on top and a full size futon. In the rec room area there is a queen hide-a-bed. There is a full bathroom on this level also. There is no internet, only the access from your own smart phone and the use of your own phone as a hot spot. The flat screen gets local channels and there is a dvd player with many dvd's to choose from, upstairs and downstairs. But who needs TV when you're so close to the Dells, skiing, golfing and biking, boating, fishing and tubing.
An up north feel, private, quiet on almost 5 wooded acres but so close to activities and restaurants. See our Guidebook. Perfect location for peace and quiet away from your hectic lives but close enough to local attractions. Swimming, fishing, tubing and solitude if needed.
Julie and Dan were wonderful. Very prompt answering questions. There place had plenty of spots to sleep and fit all of us comfortably.
Tiffany
2016-06-27T00:00:00Z
Julie and Dan were very accessible, even taking my call late in the evening on the night we checked in. It was very dark and we had difficulty finding the lock box. The location is very secluded which is what we were looking for. The facilities were in excellent condition and very, very clean.
R.D.
2016-06-30T00:00:00Z
The listing description was very accurate. Julie and Dan made also made a late arrival easy for our group. Upon walking in, our whole group immediately loved the place! The inside is very well decorated for anybody that loves the outdoors. At night, we were able to comfortably fit our whole group of 10. We also enjoyed coming back to a fireplace after snowboarding, as well as going into the basement to play pool. The high view of the river from the back is amazing! We also awoke in the morning to watching some hawks and possibly eagles flying overhead. As we were leaving, we all decided that we couldn't wait to come back again.
Douglas
2016-03-06T00:00:00Z
Excellent experience again staying here. Great communication and beautiful house. Very relaxing getaway. Love the indoor grill and fireplaces.
EJ
2017-03-12T00:00:00Z
This house was perfect for our group NYE trip. The house is incredible and Julie and Dan were great and very communicative. The house had everything that we needed for a large group for three days, and I would definitely recommend it.
Madeleine
2017-01-03T00:00:00Z
The house was so perfect for our ski trip! Wasn't too far away from the resort, and it was such a cozy cabin that fit our whole crew of 10 people comfortably. Julie and Dan were extremely helpful and easy to communicate with throughout our stay. We hope to book with them again in the future!
Alyssa
2017-01-08T00:00:00Z
The high ratings for this property are well deserved! Gorgeous, spacious home with plenty of amenities in a secluded, private, peaceful location with an incredible view of and access to the river! Communication with the owners is prompt and friendly. We thoroughly enjoyed our time here and would definitely rent again should the occasion arise. Would highly recommend to friends. We were busy with Dells activities during the days we stayed, but I think the six of us (two adults and four older teens) would have been perfectly content to just hang out in the home if we had no activities planned at all. And that's saying a lot considering 2/3 of our group consisted of teenagers and there is no internet access or cable TV! Thank you, Julie & Dan, for a lovely, lovely stay.
Angelique
2016-07-22T00:00:00Z
Julie and Dan were great to work with. They made our family vacation effortless and were available when issues came up. Great stay!
Julia
2016-08-29T00:00:00Z
Art der Unterkunft
Ganze Unterkunft
---
Objekttyp
Haus
---
Unterkunft für
14
---
Schlafzimmer
Poynette, Wisconsin, Vereinigte Staaten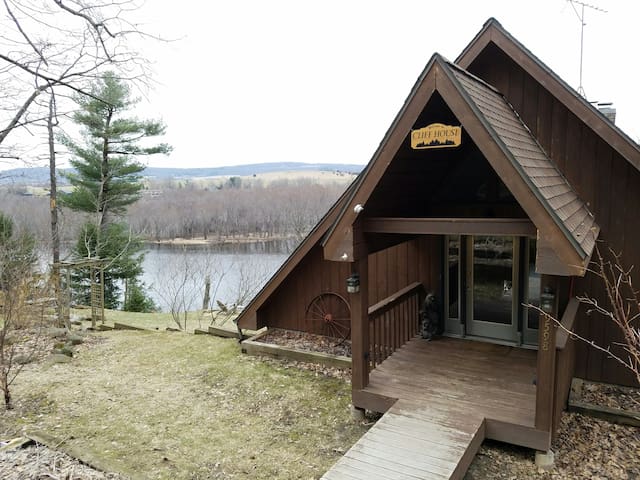 Peaceful with GREAT VIEWS ACROSS THE WATER! Enjoy the beauty of nature on the Wisconsin River and Lake Wisconsin in this rustic, yet cozy river/lake cottage. Relax with friends or family in the hot tub after a day canoeing or kayaking or skiing. We are pet friendly for well behaved dogs with a $20/night pet fee per dog.
Quietwater Cottage is conveniently located on the Lake Wisconsin waterfront midway between Madison and the Wisconsin Dells, just 1.5 hours from Milwaukee, 3 hours from downtown Chicago, and 2 hrs from Dubuque. This cottage is located next door to the Island View Hideaway and is operated by the same owners.
Beautiful views out the large living room windows and across the 16'x25' deck look onto green, sandy islands and the undeveloped distant shores of the Wisconsin River as it opens up into Lake Wisconsin. Though the cottage has a green lawn for yard games or for kids to run around in, just a block away is a park with playground equipment and wading beach, perfect for small children and dogs. Tennis and basketball courts are just a mile up the road. Bike riding opportunities on winding country roads in the area are fantastic. Up for a challenge? Circle Lake Wisconsin on your bike, it's about a 50 mile trip with a free ferryboat crossing as a highlight!
Great little cottage on the Wisconsin River with a ton of things to do around the area! David is a very accommodating host. Would definitely recommend his place. Hot tub is a huge bonus.
Richard
2017-02-20T00:00:00Z
The pictures do not do this place justice. It was such a hidden treasure. Communication was incredible and their neighbors even brought over dinner one night. Anytime I'm up here this will be my first choice!!!
Allen
2017-02-10T00:00:00Z
This cottage is perfect for a getaway on the river. The cottage was cozy and was stocked well just in case we had forgotten anything. David was very communicative and a wonderful host. We would definitely stay here again!
Lauren
2017-03-13T00:00:00Z
A great visit! Our family cooked a Thanksgiving meal in the small kitchenette -- no easy feat, but still fun. Nice to be able to go outside to relax in the hot tub and sauna. David was easy to reach and super helpful. Visit the gorge in Baraboo -- beautiful short hike!
Aaron
2016-11-26T00:00:00Z
Another great stay at the Quietwater Cottage! We love the serenity of this home and the close access to recreation that it affords. Our kids were able to sled down the small slope next to the house, and the river was beautiful to walk on in it's frozen state. The hot tub and sauna were refreshing after playing in the snow. The fireplace was wonderful when relaxing at night, as well. Dave and Cheryl really go all out for their guests, with a bottle of wine awaiting us at check-in and the home fully stocked for a very comfortable stay. I would recommend this home to anyone looking for a peaceful getaway.
Steffanie
2017-01-16T00:00:00Z
This place is FANTASTIC!! Simple yet so wonderful with everything you need to unwind and relax! Canoe, Hot Tub, comfortable beds, a stocked kitchen, grill -- It was wonderful! Plenty of incredible hiking and outdoor activities locally and don't miss the Merrimac ferry a real treat!
Mark
2016-10-25T00:00:00Z
Very warm and welcoming home. The radio was on and they were kind enough to leave us a bottle of wine. The hot tub was even larger than I anticipated. We hope to return and would highly recommend it to others.
Benji
2016-05-20T00:00:00Z
The host got my first request for this property when he was traveling in China and could not process the reservation. But a couple weeks later he contacted me and ask to submit request again and he was able to process it. I was really pleased that he didn't forget and didn't process by mistake some other request. So I was saved from searching again and I got the place that I wanted!
Liana
2016-06-01T00:00:00Z
Art der Unterkunft
Ganze Unterkunft
---
Objekttyp
Haus
---
Unterkunft für
4
---
Schlafzimmer
Poynette, Wisconsin, Vereinigte Staaten
Modern & Minimalist on Lake Wisconsin. Beautiful private drive leads to this one of a kind lakefront getaway. Enjoy the awesome views and surrounding nature from this perfectly designed home. Located just 30min from Madison.. You'll love this house because of the architecture, the ambiance, the outdoors space, the water sports, and the fishing! A perfect holiday for couples, solo adventurers, families (with kids), and big groups.
Here is a short video of the exterior of the property. (URL HIDDEN)
This house will not disappoint. Set back at the end of a meandering drive, this modern masterpiece is somewhat of an anomaly for the area, but that makes it all the more special. The back side of the home is floor to ceiling windows, looking out over the river with absolute privacy. The kitchen is fully stocked with cookware and spices, and there were plenty of water bottles in the fridge to keep us hydrated for a couple of days. The bedrooms each have a private bathroom with rain shower heads and plenty of towels. The beds were amazingly comfortable and stylish platform beds. Although it was pretty rainy during our stay, we did get one sunny day, and our kids loved running all over the yard and playing with sticks on the sandy bank of the river. The sauna, located at the back side of the house was an added bonus that we enjoyed a couple of times during our week long stay. We are in the process of building our own home right now, and being able to enjoy a home that has such an amazing attention to detail was very inspiring. From the 8ft doors, to the automated blinds, the kitchen cabinets, to the sinks and toilets, everything in this home was very well thought out. It was an absolute pleasure to stay here. This home is located about 20 min to the Dells, which we visited almost daily, and about 40 min to Madison.
Tim
2017-03-31T00:00:00Z
The host canceled this reservation 64 days before arrival. This is an automated posting.
Elliot
2017-04-05T00:00:00Z
Art der Unterkunft
Ganze Unterkunft
---
Objekttyp
Haus
---
Unterkunft für
6
---
Schlafzimmer
Portage, Wisconsin, Vereinigte Staaten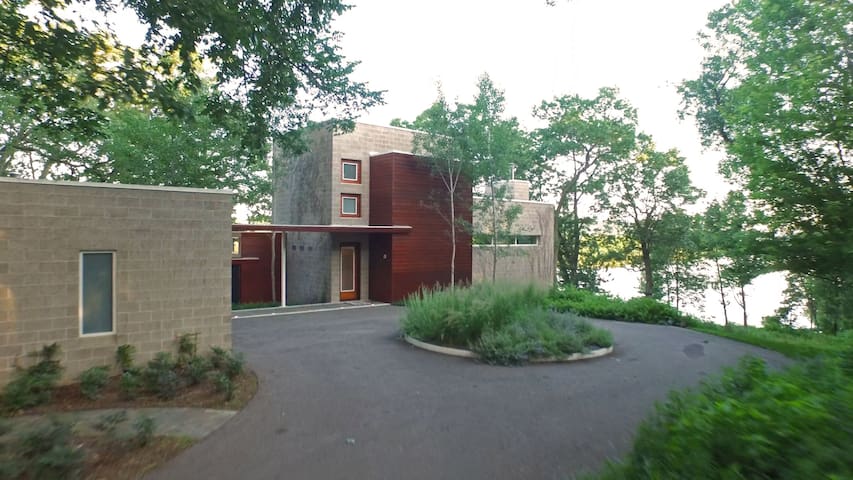 Located in a peaceful neighborhood on Lake WI Summer: Lake WI & WI River - pier to fish or swim from and space to dock your boat! 3 hours from Chicago Fall: Beautiful colors, hike, fish, nature, relax Winter: Cascade Mountain (ski, tubing), Devil's Head Ski Slopes, Ice Skate, Ice Fish Spring: Nature, fish, relax, hike, migrating birds 22' of windows, open concept, large deck, BBQ Grill, Hot Tub, modern furnished kitchen, vented gas fireplace, 55" TV, games, puzzles
Private home situated in a peaceful neighborhood, the updated kitchen and great room have cathedral ceilings, vented stone (gas) fireplace and 22' of windows for a breathtaking view of Lake WI. The Master Bedroom has a King bed and sliding doors that open to the deck with a Lake View. The 2nd Bedroom has a Queen Bed, the 3rd Bedroom has 2 Twin Beds. All bedrooms have new quality mattress sets! One bathroom with walk-in shower. Seasonal outdoor hot water shower. Feel like lounging inside? Enjoy a 55" HD Plasma flat screen w/DVD/Surround Sound while relaxing in recliners, or have fun with the puzzles & games. Year round hot tub is located on the deck overlooking the lake. Bring your hot tub towels, sandals and robe for getting to and from the tub. Seasonal Hot Water outdoor shower for rinsing off before/after the hot tub and playing in the lake. Pier is in the water mid-May through September, weather permitting. Beautiful sunsets await you!
Peaceful neighborhood, seasonal boat launch just 1/2 mile from the house. If you're looking for a place to party hard, this is not it! We're located midway between Madison and the Dells. Baraboo and Devil's Lake State Park are in the surrounding area. Winter - Devil's Head Ski Hill is just a 30 minute drive and Cascade Mountain is 15-20 minutes for skiing and tubing.
My family and I enjoyed this lovely cottage. Very welcoming and gorgeous view of lake Wisconsin. With its open living space and user friendly tech and WiFi access along with the multiple windows to enjoy the view of lake. The outdoor space was quite pleasant. Our family relaxed, played games, did some fishing and relished in the hot tub. The cottage is located 20min south of the dells, so we were able to visit! We were very pleased with how attentive Mary was with our needs and can't wait to come back.
Isabel
2016-04-03T00:00:00Z
The view is gorgeous, the house is wonderful, and Mary is a great host that is always available! We even extended our stay because it was that amazing of a place. Thank you Mary!
Hanna
2017-04-01T00:00:00Z
It is a very quiet comfortable house. The kitchen and restroom are very clean. My friends and I enjoyed our stay and had a really relaxing time at this lovely house.
Yan
2016-12-26T00:00:00Z
Amazing place for an amazing time! Great view, clean house, peaceful, very comfortable with everything you need, beautiful outdoor and patio with an amazing hot tub facing the lake, so relaxing. The directions and the instructions with all details were really useful. Thank you Mary for everything, we really enjoyed our stay!
Claire
2016-11-26T00:00:00Z
This home on Lake Wisconsin was even more beautiful than the pictures. It was a cool and sometimes rainy weekend but that didn't stop us from getting in the hot tub or exploring the area. Mary's home is CLEAN and COZY! It was perfect and I will be referring this place to my family and friends.
Gayle
2016-05-16T00:00:00Z
Everything was amazing! The best part was the hot tub and the fireplace. Extremely clean, spacious and had everything we needed. Mary texted back within minutes. Only a 20 minute drive to Cascade Mountains. 5/5! Thank you so much Mary!
Natalia
2016-12-11T00:00:00Z
Mary house is very beautiful and location is really awesome. The house was very clean and well equipped. we were group of 8 people and we had blast on the weekend. Thank you Mary!!
Chetan
2016-04-17T00:00:00Z
The house was amazing. Great view from the picture windows and backyard deck. I bet its fantastic when not covered in snow. Every light switch, outlet, cabinet, ect was labeled clearly so we knew where everything went and what it did. Made us feel at home. Great house for 8 friends. The welcome bottle of wine was the sweetest as was the binder full of restaurants and things to do in the area.
Erin
2017-03-05T00:00:00Z
Art der Unterkunft
Ganze Unterkunft
---
Objekttyp
Haus
---
Unterkunft für
8
---
Schlafzimmer
Poynette, Wisconsin, Vereinigte Staaten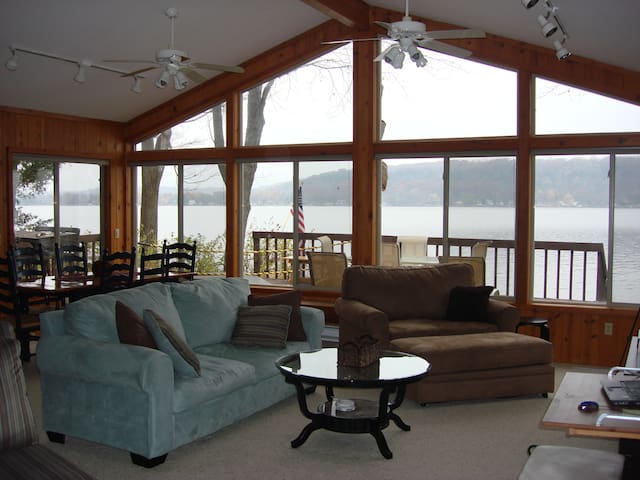 Enjoy a quite, relaxing vacation right on the water in the bay on Lake Wisconsin known for unbelievable sunsets! Minutes away from the Merrimac Ferry and conveniently located near other fantastic Southern Wisconsin attractions like Wollersheim Winery, Devils Lake and to Wisconsin Dells - You are sure to enjoy your stay in this up to date 3 bedroom 2 bath modern home. With Roku / Chromecast and Smart TV's and brand new 50' Flat Screens, you will enjoy relaxing at night watching movies.
***WINTER SPECIALS!!! ASK ME FOR MID-WEEK SPECIALS TOO!!!! - ONLY 5 MILES FROM DEVILS HEAD SKI RESORT AND 30 MINUTES TO THE DELLS AND CASCADE MOUNTAIN***** Enjoy a quite, relaxing vacation right on the water in the bay on Lake Wisconsin known for unbelievable sunsets! Minutes away from the Merrimac Ferry and conveniently located near other fantastic Southern Wisconsin attractions like Wollersheim Winery, Devils Lake and to Wisconsin Dells - You are sure to enjoy your stay in this up to date 3 bedroom 2 bath modern home. (3rd Bedroom is downstairs with Privacy Shades - Acts as a Den and Hangout area during the day.) With a brand new 50' Flat Screen in the Living Room, you will enjoy relaxing at night watching movies with your family and friends. The downstairs accommodations feature a 40' Smart TV - So bring your Netflix account information and watch anything you want! The upstairs features a tempurpedic motorized, adjustable bed with a 50' Flat Screen. (You can bring ROKU or your Apple TV) The kitchen has all brand new appliances including a Samsung Stainless Convection oven, side by side Samsung Stainless refrigerator and full size Stainless Dishwasher. This property features a 50 foot pier where you can enjoy some great fishing anytime you feel like it. There's nothing like taking a nap on a warm summer afternoon with your favorite beverage in the 2 person brand new hammock. Enjoy hikes only minutes away on the historic Glacial Drumlin trails! You won't be disappointed! This home has full WIFI and Internet Service.
Excellent Location Lake Front Property! 5 Miles from Devils Head Resort - Home of great skiing, snowboarding, mountain biking and golf! Walking distance to great Restaurant and Local Wisconsin Bar! Beautiful all year around - Summer, Fall, Winter and Spring!
A good place to spend quality time with family or friends. It's located right on the lake which provides good scenery. There's only 2 bedrooms upstairs with sleepers/sofas downstairs. So it can be a tight fit if more then 5 people. The spiral stairs are tight for bringing things upstairs. When flushing the upstairs toilet, beware of the downstairs toilet. Roku didn't want to connect to the right wifi so we had trouble working it. Overall we'd go back again.
Paula
2017-02-26T00:00:00Z
This home had everything we needed and at a very affordable rate. Thanks, Jeff!
Lucas
2017-01-22T00:00:00Z
Place was very clean, nice location on lake. Wish the fishing was better but nothing He can do about that.
Michelle
2016-08-24T00:00:00Z
This was a great place for a family outing. It was a convenient drive to Cascade Mountain for skiing, provided great space for some family fun, comfortable beds, and a beautiful view.
Douglas
2017-02-20T00:00:00Z
Jeff did a great job leaving an open line of communication throughout my stay and was quick to answer any questions that I had. The place was just like he described it and it was clean with all major household appliances. It was a nice getaway for me and completely peaceful, during my stay there were houses on both sides but didn't have anyone bother me on either side and had a chance to enjoy the peace and quite on the lake.
Michael
2016-11-06T00:00:00Z
This house is in a great spot, right on the lake with a couple of restaurants nearby. We rented a pontoon from Burhop's, a boat rental place on the lake. We also went to a nearby whiskey distillery. This was a really nice spot for a fall weekend in Wisconsin. The house is very clean and communication with Jeff was good. On the negative side, this is not a three bedroom house. Looking at the pictures again, I think I could have seen that, but the airbnb listing says there are 3 bedrooms. There are actually 2 bedrooms and an area off the kitchen with a couple of pull out sofas. We had three couples, and the space was a little awkward--for example, there's no way to go downstairs and make coffee without waking up the people sleeping on the pull outs. My other criticism is that the house didn't contain things like spare toilet paper, paper towels, or soap. That's unusual for an airbnb, in my experience. Anyway, all in all we were pleased with this rental--I would happily rent it again, but only for a maximum of four adults.
Dana
2016-10-16T00:00:00Z
Beautiful home and lake. Jeff made everything so easy. Only two things; 1) The thermostat at night would keep dropping to a low temp of 50 degrees and 2) the wifi access should be available until the guest leaves. We will certainly be back!
Maureen
2016-11-13T00:00:00Z
Art der Unterkunft
Ganze Unterkunft
---
Objekttyp
Haus
---
Unterkunft für
8
---
Schlafzimmer
West Point, Wisconsin, Vereinigte Staaten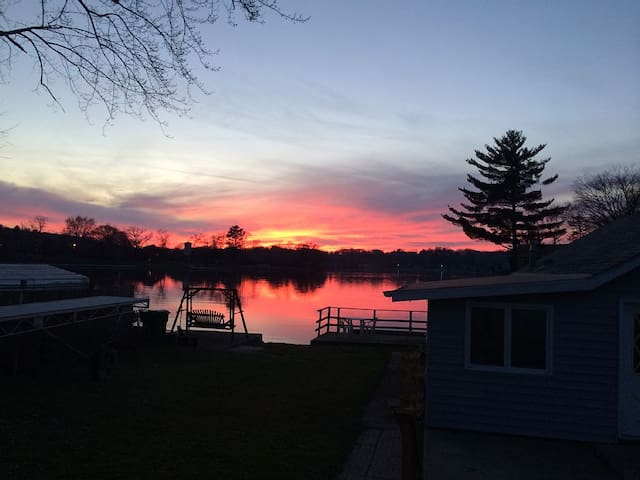 Beautiful log home set in the woods just 10 minutes from the west side of Madison. Cozy bedroom with a view of the wooded backyard. Sole use of main level bath and access to main floor shared living areas.
Outside parking available for one car. Lots of birds and (occasionally) other wildlife in our backyard. The bed is a full size futon with an added mattress topper - very comfy.
We live in a beautiful rural sub-division with lots of wooded acreage. There is a nearby bike trail.
Art der Unterkunft
Privatzimmer
---
Objekttyp
Haus
---
Unterkunft für
2
---
Schlafzimmer
Waunakee, Wisconsin, Vereinigte Staaten
A country home with great views, close to the family-friendly activities, restaurants, parks, hiking, and history of Baraboo (Circus World!), Devils Lake, Cascade and Devils Head ski areas, and the Wisconsin Dells (Water Parks)! You'll love our place because of the comfy queen bed in the private loft w/deck, the high ceilings, the views, and the cabin-in-the-woods feel. A pull-out sofa bed will sleep extra guests. Our place is good for couples, adventurers, and business travelers.
No cable or satellite tv. There is a TV with a DVD player in your room with a selection of family-friendly movies. There is also a small frig in the room.
Circus World Museum, Devils Lake, Oschner Park and Zoo, Wisconsin Dells, Cascade Mountain, Devils Head.
I love staying at Christine's, it's quiet, easy to get to the Devil's Lake State Park and Devil's Head Ski Resort. Always clean and cozy! The last time I stayed at Christine's place she made us breakfast which was very nice!
Eugene
2017-01-29T00:00:00Z
Due to the weather I did not stay. Christine was great to communicate with.
Chad
2017-01-17T00:00:00Z
Really nice location, beautiful place, wonderful hosts. Definitely recommended!
Alize
2017-01-05T00:00:00Z
A house in the woods with a beautiful view, a cute little doggie named Comet, a gracious couple with a wonderful room to rent. You'll feel right at home. We loved our stay with Ed and Chris as their first house guests. The room was bright and clean with a bathroom attached. It's close enough to the Dells if you are visiting the area. We hiked at Devil's lake and they were able to give helpful info on the area. Chris provided a nice continental breakfast. A very affordable and relaxing stay! I can't say enough about how much we loved it. Thanks very much!
Beth
2016-10-09T00:00:00Z
Very neat house and lots of room in the cozy loft, we had a wonderful stay!
Becca
2017-02-20T00:00:00Z
The room was just like a hotel, we had privacy but still felt welcome in the home. Staying here made our one night trip to go up to Devil's Lake so smooth! They live about ten minutes away from the park so we spent the day climbing and then had a cozy home to retreat back too. Chris also gave us great restaurant recommendations for downtown Baraboo.
Renée
2016-10-11T00:00:00Z
We enjoyed all the things baraboo had to offer down town. We ran out of time with all the shops and local restaurant's to visit. The space was vary large and private. The host were enjoyable and accommodating. We will be visiting again. We found our get away.
Ann-Marie
2017-01-21T00:00:00Z
This was my first time using AirBnB and i really enjoyed it. This location was very spacious! and the room was nice and cozy. Id recommend it.
Jennifer
2017-03-21T00:00:00Z
Art der Unterkunft
Privatzimmer
---
Objekttyp
Loft
---
Unterkunft für
4
---
Schlafzimmer
Baraboo, Wisconsin, Vereinigte Staaten
Beautiful new modern contemporary in one of the best new subdivisions just 10 minutes from Madison. Features gray hardwood floors, modern farmhouse designer light fixtures, huge sunny kitchen with stainless steel appliances, separate mudroom and laundry room 1st floor. 2 car garage and plenty of parking. 3 bedrooms upstairs including large master bedroom with master bath and there is an additional office/bedroom on the 1st floor. Screened in porch, grilling deck, gas fireplace in living room.
Art der Unterkunft
Ganze Unterkunft
---
Objekttyp
Haus
---
Unterkunft für
5
---
Schlafzimmer
Waunakee, Wisconsin, Vereinigte Staaten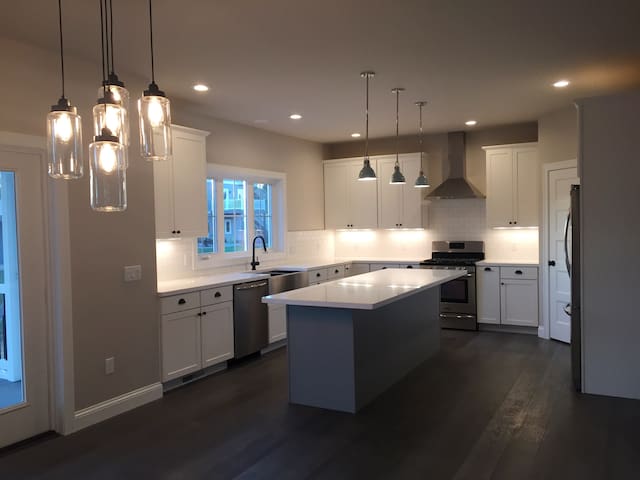 Rent this furnished cottage to enjoy the beauty of nature on the Wisconsin River and Lake Wisconsin. Conveniently located on the Lake Wisconsin waterfront between Madison and the Wisconsin Dells, just 1.5 hours from Milw and 3 hours from Chicago. We are pet friendly for well behaved dogs with a $20/night pet fee per dog. Beautiful views out the large living room windows look onto green, sandy islands and the undeveloped distant shores of the Wisconsin River as it opens up into Lake WI.
Explore the many channels, sandbars, and islands of the WI River and Lake WI with the canoe and row-boat provided. Two-person sauna on deck with great view of river and hills. SPRING, SUMMER, and FALL Adventures! Green trees, sunny sand-bars, and a lazy river await you. Tucked off the main channel the cottage has the best of both worlds…easy assess to the big water, a great view of the water and sunsets, but little boat traffic. Because of our shallow waterfront location, the choice is yours, launch your boat at one of 3 nearby boat launchs and head left for Lake Wisconsin or go right for the Wisconsin River. You've got it all right here! You can launch your boat daily and spend an exciting day on the open water of the lake (too shallow to get a boat of any size into our channel but you can park your trailer in front at the end of the day) or a quiet day exploring the Dells-like bluffs and the nearby islands, coves, and backwaters in your canoe or kayak. The shallow water in front is perfect for kayaks and canoes. Enjoy shallow water fishing from the pier or while wading or head out in a boat to hit several of the best local fishing spots all within 5 minutes of the cottage: The Narrows, Fockes Bluffs, and Camp Rest Park. Good fishing for Walleye, Smallmouth Bass, White Bass, Catfish, Largemouth, Crappie and more. The cottage has a green lawn for yard games or for kids to run around in, plus just a block away is a park with playground equipment and wading beach, perfect for small children and dogs. Tennis and basketball courts are just a mile up the road. Bike riding opportunities on winding country roads in the area are fantastic. Up for a challenge? Circle Lake Wisconsin on your bike, it's about a 50-60 mile trip with a free ferryboat crossing as a highlight! This two bedroom, two bathroom house has a full kitchen and an open layout. The kitchen is equipped with all you'll need to prepare any meal you like…or grill out on waterside deck on the gas grill! Feeling lazy? Kick back and enjoy the 42" flat screen LCD HDTV or enjoy the hot tub which seats up to six people, so...relax, sip a drink, even surf the web, and watch the river go by! Beautiful views out the large living room windows and across the 16'x25' deck look onto green, sandy islands and the undeveloped distant shores of the Wisconsin River as it opens up into Lake Wisconsin. FALL & WINTER FUN! After the summer crowds leave you'll find unique beauty and tranquility on the river. Tucked in among the surrounding bluffs and hillsides you'll find gorgeous fall colors and dazzling winter scenery. Hundreds of wooded acres across the street are home to the Red Bellied Woodpecker, Wild Turkey, and White Tailed Deer, while the ever-changing river offers views of Sandhill Cranes, Bald Eagles, Beaver, and Muskrat. Scenic drives in all directions make interesting day trips more fun! Many nearby day-trip possibilities including the Wollensheim Winery, Wisconsin Dells, Devil's Lake State Park, Baraboo Circus World Museum, and so much more. Nearby ski hills include Cascade Mountain (15 min) and Devilshead Lodge (30 min). So much to see and so much to do! Relaxing! Fish for Walleye, Smallmouth Bass, White Bass, Catfish, Largemouth, Crappie, and more. Many nearby day-trip possibilities including the WI Dells, Devil's Lake State Park, Baraboo Circus World Museum, and more! Great bird-watching!
My family had an amazing experience at the Island View. The beds are comfy and the jacuzzi is great especially in cold-ish weather. I would definitely recommend to anyone who is looking to stay near Wisconsin Dells.
Anabel
2016-04-30T00:00:00Z
Beautiful riverfront cottage with awesome views! House is very comfortable, clean, well kept and well furnished. Hot tub is great especially on a cold winter day and we also enjoyed exploring the frozen river right in front of the cottage. David was friendly, responsive and makes check in and out process super easy. Overall, a perfect place for a relaxing holiday!
Jasmine
2016-12-29T00:00:00Z
Thank for the great stay, we thoroughly enjoyed it. You have a cute house. Loved entering into a warm house with music playing and wine waiting for us, very unexpected but greatly appreciated. Dog friendly, close to beautiful hiking and exploring, great restaurants close by, and right on the water.
Jennifer
2017-03-27T00:00:00Z
Another relaxing weekend in Poynette! Thank you letting us renjoy your lovely home on the water. We had a great weekend!
Benji
2016-12-11T00:00:00Z
Dave's place was absolutely perfect! The house is stocked with everything you need and Dave is incredibly accommodating. The house is extremely clean and very roomy. The view of Lake Wisconsin is nice and the hot tub is a major perk! My friends and I will be back and we will be recommending it to all of our friends.
Katie
2016-11-13T00:00:00Z
We rented this place for two nights in mid-April 2016. We really enjoyed the place and the amenities - our kids were delighted to try out the jacuzzi, to walk to the nearby park, to investigate the beaches, and so forth. It also helped that our trip coincided with the first few days of good weather this year, and so we could enjoy the neighborhood and the nature. Wisconsin Dells is close enough (about 30 mins) and so it was convenient for us to combine renting this place with a day trip to the Dells.
Juhani
2016-04-18T00:00:00Z
This location and cabin were so peaceful and ideal. The home had a great space to relax inside and out. Having a canoe was a bonus and going up and down the Wisconsin River was an enjoyable challenge! The view is unmatched for fall colors. Birds and cranes surround the area, making for easy entertainment.
Kate
2016-10-26T00:00:00Z
Honestly was amazing. Incredible views, so relaxing. Photos don't do the energy of the place justice! It's perfect for some time away. Can't recommend enough. Thanks, David and Cheryl!
Emily
2016-11-07T00:00:00Z
Art der Unterkunft
Ganze Unterkunft
---
Objekttyp
Haus
---
Unterkunft für
6
---
Schlafzimmer
Poynette, Wisconsin, Vereinigte Staaten
Awesome 2,400 SF two level home that is the Best Location, both the Wisconsin River and Lake Wisconsin. Quiet flow in the front for fishing, swimming, kayaking, canoeing and relaxing. Take a boat in either direction for sand bars, restaurants, bars and great fishing. Home offers lots of space to enjoy your stay with family and friends! Guests under the age of 25 must be accompanied by a parent or legal guardian.
Fishing, swimming, boating, kayaking, snowmobiling, snowshoeing, skiing
Boat launch nearby, great park with sandy beach 1/4 mile north, island and sandbars close by. Neighbors are full-time residents and very friendly!
Art der Unterkunft
Ganze Unterkunft
---
Objekttyp
Haus
---
Unterkunft für
8
---
Schlafzimmer
Poynette, Wisconsin, Vereinigte Staaten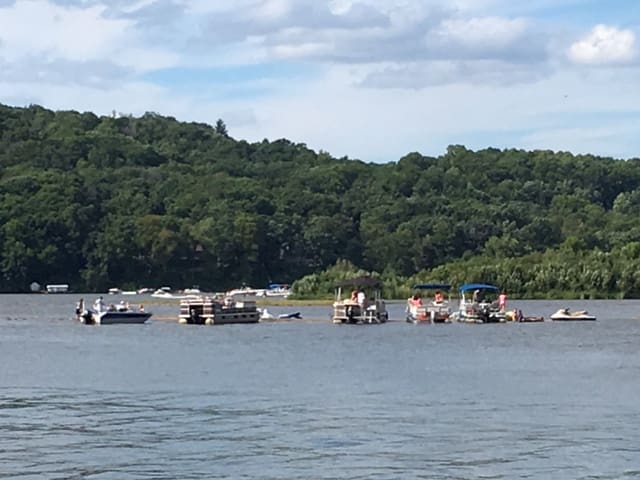 Crow Moon Healing bed and breakfast is located on 40 acres in south central Wisconsin. It's 15 miles from Madison and 40 minutes from the Dells. It's 3 miles from hiking trails of Indian Lake State Park and the country roads in the area are used by serious bicyclers. We're 4 miles from the nearest bike trail.
Check out Crow Moon Healing's (EMAIL HIDDEN)
In the country, next neighbor is 1/4 mile away.
Art der Unterkunft
Privatzimmer
---
Objekttyp
Bed & Breakfast
---
Unterkunft für
7
---
Schlafzimmer
Mazomanie, Wisconsin, Vereinigte Staaten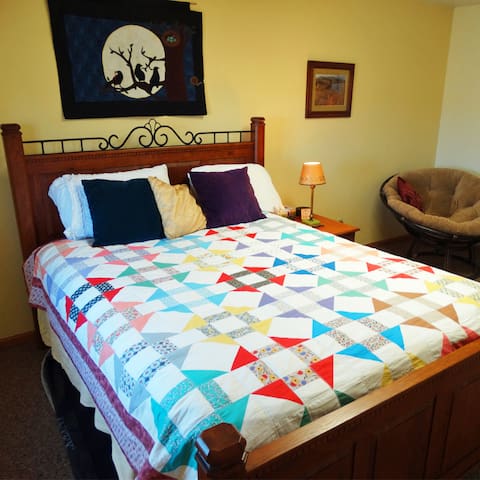 Bleiben Sie mit uns auf unserer ruhigen, abgeschiedenen Bio-Bauernhof Minuten von der Innenstadt Madison. Das neu erbaute Haus liegt auf einem bewirtschafteten Bio-Gemüsefarm gelegen und umgeben von alten Bäumen. Ein perfekter Platz für eine ruhige Flucht aus der Stadt, während immer noch weniger als 20 Minuten von der Innenstadt entfernt. Ihr warm beleuchteten Schlafzimmer grenzt an ein meist-eigenes Bad.
Das Schlafzimmer enthält ein Doppelbett und grenzt an das Bad. Dies ist zwar technisch ein gemeinsames Bad möchten Sie im Wesentlichen es euch haben, wie wir in der Regel das Master-Bad verwenden.
Unsere sichtbarste Nachbarn sind ~ 30 pastured Rindfleisch Kühe. Abgesehen von diesen unseren nächsten Nachbarn sind mehrere hundert Meter entfernt ein von Bäumen versteckt, einen ruhigen Aufenthalt zu gewährleisten.
The bedroom is clean and modern. Quiet and peaceful area. Hosts are very kind and friendly.
Brigid
2017-02-19T00:00:00Z
Art der Unterkunft
Privatzimmer
---
Objekttyp
Haus
---
Unterkunft für
2
---
Schlafzimmer
Waunakee, Wisconsin, Vereinigte Staaten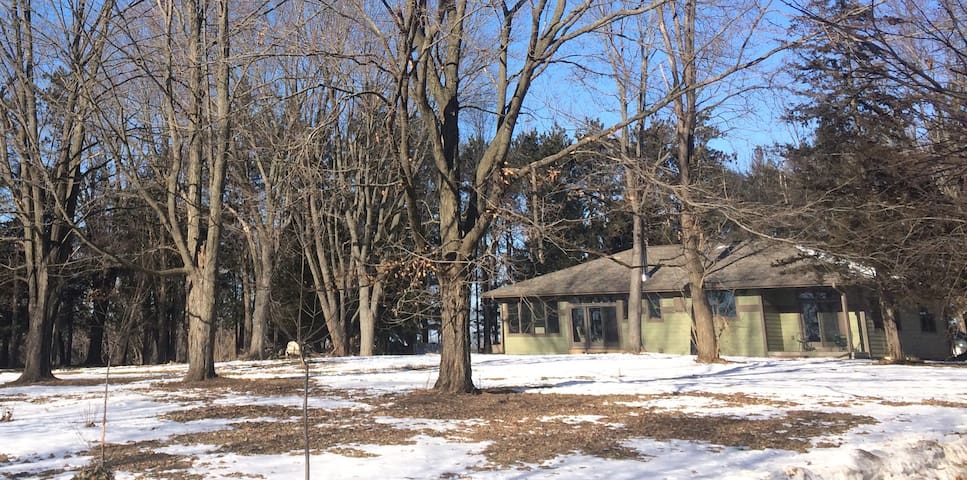 A beautiful rustic setting up in the Baraboo bluffs. Our private home is situated on 20 acres of woods,trails and a lovely meadow,where wild life abounds. Relax and enjoy all the amenities our house has to offer!
Our home is 1500 square feet,ranch style home, with a fully equipped kitchen, brand new stainless steel appliances to include dishwasher,microwave,trash compactor,gas stove,refrigerator, and washer & dryer. We are certain you will be quite comfortable in our bedrooms that feature a king size bed, and queen bed, as well as two pull out sofas. Central air and heat. The living room features a flat screen tv with electric fireplace, and a den with additional flat screen tv and fireplace.Both with Direct tv programming.Plenty of space for large families. Coming this spring, an outdoor fire pit,gas grill, and outdoor seating on the large porch in the front of the house. We also offer accommodations for your very important canine member, with an indoor/outdoor kennel, and fenced in yard.
Art der Unterkunft
Ganze Unterkunft
---
Objekttyp
Haus
---
Unterkunft für
8
---
Schlafzimmer
Merrimac, Wisconsin, Vereinigte Staaten
1

–

18

von

24 Unterkünfte
Gib deine Reisedaten ein, um den aktuellen Preis zu sehen. Es können zusätzliche Gebühren und Steuern anfallen.