238 Ferienhausvermietungen
Welcome to the house of happiness. Arriving there qques months in this beautiful area, we want to share our new home. Eccentric downtown, you can enjoy your stay to stroll along the Dordogne, visit the abbey or the PLC museum or just stroll in our park that invites you to relax in front of the almost centennial trees. Your stay will be for us a time to meet, exchange. See you soon. Krystell
Our house is a favorite that we have chosen for this new life. outlying district of downtown. On arrival, you can park easily in front of the house, on the sidewalk between the trees (If necessary, access to the garden is possible). We love animals, you will have the opportunity to cross Ipso, our labrador; He's adorable and very sociable or Cato, our cat and a little homebody who lets pampered when he feels like it.
Former bourgeois area of Souillac, you will see elegant old houses all along the avenue (former RN20) connecting Brive Cahors. Axe used by those wishing to explore the area or avoid the highway.
Accueil très chaleureux avec une hôtesse aux petits soins et très disponible, petit déjeuner copieux avec des produits de qualité;
Isabelle
2016-07-18T00:00:00Z
Krystell is an excellent hostess and was most accommodating about my terrible French. The house is lovely and your room en suite includes extra space to unpack and hang a few things. The shower was divine! This rental includes kitchen privileges and I recommend eating on the back balcony overlooking the house's beautiful gardens. The best part of this Airbnb has to be Krystell 's breakfasts. They are magnificent and will carry you long into the day. We would stay here again without a second thought.
Kate
2016-09-18T00:00:00Z
Accueil très chaleureux de Krystell et (sa famille). La chambre et l'espace SDB privatif pas très fonctionnelle. La maison est superbe avec un très beau parc mais rue un peu trop passante. Petit déjeuner compris très correct. Nous avons partagé un dîner au restaurant très sympathique et nous avons remémorer nos vieux souvenirs de série des années 80. 10/10 à Marc pour son générique de Santa Barbara.
Rocco
2016-07-31T00:00:00Z
krystell is a perfect host and her house, garden and family are all wonderful. they .ade me very welcome and were happy to help with any questions. the room is fine with an ensuite but spend time in the garden or lounge instead. great breakfast! krystell was very patient with my bad French and the family all helped me out - excellent French teachers!
Matthew
2016-07-12T00:00:00Z
La chambre et le logement sont fidèles aux photos. Le logement est un vrai havre de paix avec ce beau parc arboré. Nous avons partagé un bon moment sur la terrasse avec Krystelle qui est une personne généreuse, attentionnée et qui a le sens de l'accueil. Merci encore pour ce petit déjeuner qui était parfait pour reprendre la route.Nous avons passé une nuit formidable !
Juliette
2016-07-25T00:00:00Z
Excellent accueil dès l'arrivée, soignés aux petits oignons par Christelle et sa famille (confitures maison et pâte à crêpes par les enfants au petit déj!). Magnifique jardin donnant sur la Dordogne, et bonnes conversations assurées. A conseiller à tout voyageur qui aime le contact avec l'habitant !
Meli
2016-07-11T00:00:00Z
Superbe séjour chez Krystell, accueille très agréable et la chambre est de qualité
Brun
2016-10-13T00:00:00Z
Une très jolie maison au bord de la Dordogne, un accueil parfait, une hôtesse très agréable. La chambre est très cosy avec une salle de bain privative. Je conseille vivement.
Caroline
2016-09-02T00:00:00Z
Art der Unterkunft
Privatzimmer
---
Objekttyp
Haus
---
Unterkunft für
2
---
Schlafzimmer
Souillac, Languedoc-Roussillon Midi-Pyrénées, Frankreich
Schönes Haus in einer wunderschönen Umgebung auf 2000m² mit 5 Schlafzimmer, 1 Erdgeschoss, Zimmer Wohn-Esszimmer Blick auf die Dordogne für ein Paar mit Blick auf, wo mehrere Familien, Ausfahrt Souillac in der Nähe privater Pool Geschäfte beheizt mit Solarpanel von Juni bis September Vorhang elektrisch
Haus mit einer Wohnfläche von 170 m2 mit großer Garage für 2 Autos, verschiedene Nebengebäude: Wäsche mit LL 7kg, Pool-Abdeckung mit privatem Pool 4.5 X9 eine Tiefe 1,1 bis 1,7 elektrische Jalousien Markise Ein Schlafzimmer im Erdgeschoss mit eigenem Bad, WC, Wohnzimmer, Esszimmer, Wintergarten, Küche offene Veranda Öffnung auf Fluss, Büro, Bibliothek, WC Kinderbett, Hochstuhl, Gas plancha. Im Obergeschoss 2 Schlafzimmer mit Bad, WC, 2. Stock 2 chmbres. Immobilien 1930 m2 mit Rasen und Obstbäumen. Das Hotel liegt 800 m von einem Supermarkt und gegenüber kleinen Markt offen Abdeckung eines lokalen Produzenten den ganzen Tag. 3 Fahrräder zur Verfügung WICHTIG: Der Eigentümer bietet keine Bettwäsche oder Handtücher und Badetücher.
ruhig gelegen, direkt vor dem Haus ist ein Strand, wo die Menschen in die Gegend kommen, den Tag zu verbringen Picknicken und Schwimmen in 1 km Markt der lokalen Produzenten abgedeckt. Restaurant 2 Stufen des Hauses.
Accueil sympathique des propriétaires. La maison est très spacieuse, agréable et bien équipée (grande plancha, lave-vaisselle, lave-linge etc..) Jardin et piscine bien entretenus. La maison est au bout d'un petit chemin très calme et dispose d'un accès direct à la Dordogne.
elodie
2016-07-10T00:00:00Z
Thanks to Claudette and George, who made us very welcome and we chatted as much as possible. They even came to see us off on the last day. The house is as wonderful as it looks, and there is a little private beach about 50 yards downriver. I would highly recommend.
Luke
2015-07-05T00:00:00Z
Excellent location in a beautiful area. A pleasure eating meals al fresco overlooking the river. Spacious accommodation with all facilities needed for our stay. Our hosts were very welcoming, in spite of having to wait 2 hours for our arrival. Slight downside - low water pressure at times, making showers tricky. Would recommend to others without hesitation and we shall go back there in the future.
Chris
2016-08-21T00:00:00Z
Maison bien équipée et soignée, directement au bord de l'eau, avec belle vue directe sur le fleuve, petite plage chouette juste en face, grande piscine et jardin très bien entretenus, possibilité de pêcher quasiment depuis la terrasse. L'endroit est calme, les voisins sont discrets, on se sent chez soi. Accueil personnel et sympathique par les propriétaires.
Bertrand
2016-09-04T00:00:00Z
Claudette et son mari sont très gentils et accueillants. LES + de la maison : - l emplacement pour visiter et les commodités pratiques - l environnement agréable et calme - grand jardin Les - : - des moustiquaires auraient été appréciable - 2 chambres dans les combles et donc très chaudes - des sanitaires trop vétustes (difficultés d avoir de l eau chaude et débit trop lent) Malgré ces quelques détails, nous avons passé un très bon séjour. Maison agreable a vivre. Adresse à recommander.
Céline
2016-07-31T00:00:00Z
Art der Unterkunft
Ganze Unterkunft
---
Objekttyp
Haus
---
Unterkunft für
8
---
Schlafzimmer
Souillac, Midi-Pyrénées, Frankreich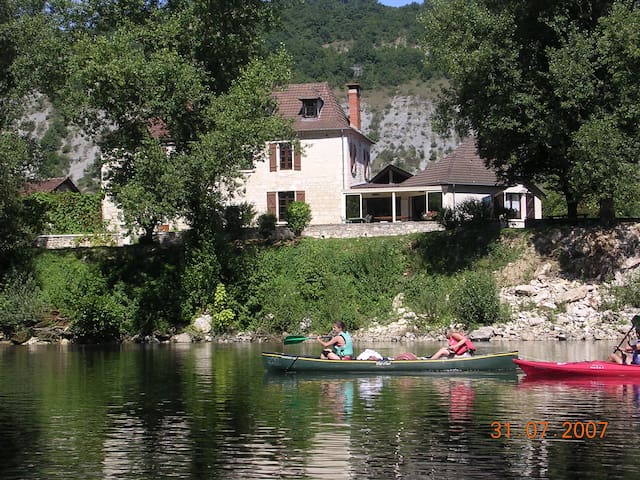 Chambre très sympa, avec une belle salle de bain, et un espace petit déjeuner moderne, entièrement rénovés. Vous aurez à votre disposition un réfrigérateur et un micro onde pour vous permettre de vous restaurer. La chambre est située au rez de chaussée d'une maison disposant d'une jolie vue surplombant Souillac et ses environs. Idéale pour couple. Région très prisée pour le tourisme (proche de Rocamadour, Padirac, Saint Cyrq Lapopie...) et la gastronomie.
Le logement possède une entrée indépendante et un parking pour un véhicule. Il se situe à 5 mm de l'entrée de l'autoroute A20. Il existe de nombreuses activités et lieux de visites à proximité (5mm): - Le Musée des automates (plus grand musée d'automates et de jouets anciens d'Europe), - L'abbaye Sainte-Marie de Souillac (12ème sc), - La possibilité de partir de Souillac pour faire du canoé sur la Dordogne. - le parc de loisirs aquatique (Quercyland), , et également à proximité, la possibilité de faire du golf au country club, le circuit de moto cross... - Un peu plus loin, des visites qui valent vraiment le détour : Rocamadour (35mm), le Gouffre de Padirac (40mm), Sarlat (35mm), Martel, Les grottes de Lacave (20mm), Lascaux (40mm), Saint Cirq Lapopie (1h)... Les draps et linge de toilette sont fournis. Café, thé et viennoiseries seront à votre disposition dans l'espace petit déjeuner avec un réfrigérateur et un micro onde à votre disposition. Possibilité éventuellement de dîner à un prix très modique en nous prévenant un peu à l'avance. Vous aurez également accès au jardin et à la terrasse ombragée.
La maison se situe en hauteur avec une très jolie vue, elle fait partie d'un lotissement très sympa où la convivialité existe. L'endroit est très calme. Je compte sur vous pour respecter les règles de bon voisinage.
Fue mi primera experiencia de AirBnB y fue excelente. Fue muy agradable y flexible.
Derick
2016-08-25T00:00:00Z
Danièle è una signora molto gentile e disponibile. La camera è rispondente alle fotografie pubblicate. Pulizia ottima, bagno spazioso ed entrata indipendente.
Gianmauro
2016-07-19T00:00:00Z
Danièle est une hôte très accueillante et fort sympathique. J'ai été logée dans une charmante chambre très bien aménagée et joliment décorée. Si l'occasion se représente, je reviendrai sans souci chez Danièle. Un grand merci à elle.
Séverine
2016-07-16T00:00:00Z
L'accueil a été parfait. Danièle et Thierry sont des personnes adorables aimant la rencontre humaine et ça se sent. Un petit pincement de partir. L'appartement est très propre et confortable. Rien à redire. Vous pouvez y aller les yeux fermés. Et merci encore Danièle et Thierry.
Margot
2016-08-13T00:00:00Z
Excellent accueil et grande disponibilité Calme et repos Un point de départ pour toutes les sites de cette belle Region Endroit idéal
Jose
2016-07-29T00:00:00Z
Bon accueil de Danièle et Thierry. Ce fut bref car nous avons passés qu'une nuit dans cette agréable chambre. Nous étions fatigués. Danièle est attentive et serviable. Merci.
Coralie
2016-08-20T00:00:00Z
Host was very welcoming and we were able to store our bikes in her garage. Area is quiet but only 10 mins walk to town down a steep hill.
Clive
2016-09-16T00:00:00Z
Magnifique accueil, on est reçu comme chez des amis! Belle chambre tout confort et un très bel échange avec mes hôtes, Danièle et Thierry.
Theodor
2016-08-14T00:00:00Z
Art der Unterkunft
Privatzimmer
---
Objekttyp
Haus
---
Unterkunft für
2
---
Schlafzimmer
Lachapelle-Auzac, Midi-Pyrénées, Frankreich
House quiet to relax between visits or during a business or family trip. spacious terrace, walk in the garden (1ha3) and in the vicinity (35 'of Rocamadour, Sarlat, Eyzies, St Cirq, the caves of Lacave 20') open fire in winter and swimming in summer !!! that's it, it's open !!!! ... a break in a cocoon of serenity.
Very good geographical location to discover the region ... Lot jusquen Dordogne ... A calm and independent room. New: available with baby: crib, high chair and baby walker ... Youpiii!
House with very few neighbors, no noise.
Très sympathique accueil de Marie dans cette belle maison idéalement placée pour visiter la région.
Raphaël
2016-12-18T00:00:00Z
La résidence de Marie, ou, comment avoir un chez-soi loin de chez soi... Accueil chaleureux par Marie, joviale, avenante, disponible mais pas envahissante...parfaite en somme ..!! La maison n'est pas en reste, idéalement placée au calme pour les balades bucoliques et à deux pas de lieux touristiques... le choix est offert... L'agencement est pratique, chambre isolée donnant sur un parc arboré...accès aux parties communes aisé... Nous conseillons cette adresse sans réserves, d'ailleurs, nous comptons bien y retourner Sylvie et Pascal
Pascal
2016-10-16T00:00:00Z
Une petite parenthèse de convivialité, de repos et de détente dans l'agitation estivale! Quel plaisir de petit-déjeuner dans le magnifique jardin devant la dépendance et de plonger dans la piscine après une longue journée de visites. Maison idéalement placée pour découvrir aussi bien le Lot (Martel, grottes de Lacave, Rocamadour...) que la Dordogne (Sarlat, Beynac, La Roque Gageac...). Tout est parfaitement organisé pour que l'on se sente à l'aise dans la maison, tout en gardant notre indépendance. L'accueil chaleureux de Marie-Magdeleine et sa réactivité pour améliorer votre séjour donnent presque l'impression de faire partie de cette grande famille. Merci!
Adeline
2016-07-23T00:00:00Z
Nous avons été accueilli chaleureusement par Marie-Magdeleine et sa famille. Le cadre est très verdoyant et sympathique avec une grande piscine. Merci pour ce court instant ! Nous recommandons.
Kévin
2016-07-19T00:00:00Z
Le lieux est idéale pour un moment de détente et repos. L'accueil est chaleureux. C'est comme à la maison. Nous avons visiter la ville de Rocamadour qui est à 30min. Nous reviendrons avec plaisir chez Marie.
LAILA
2016-08-20T00:00:00Z
Un accueil plus que parfait, nous nous sommes sentis comme chez nous avant même d'arriver dans ce cadre bucolique, l'intérieur de la maison m'a fait pensé aux décors des films d'Almodovar : des couleurs vives et de la chaleur humaine! Le jardin est parfait, la maison aussi, bref, une seule envie : y retourner!
claire
2016-07-13T00:00:00Z
Acceuil chaleureux chez l'habitant, à recommander pour l'esprit rencontre en toute simplicité.
gérard
2016-02-13T00:00:00Z
Séjour très agréable !!! Une hote très gentille et serviable avec de très bon conseil !! Nous recommandons vivement !!!
Anais
2016-07-11T00:00:00Z
Art der Unterkunft
Privatzimmer
---
Objekttyp
Haus
---
Unterkunft für
3
---
Schlafzimmer
Loupiac, Midi-Pyrénées, Frankreich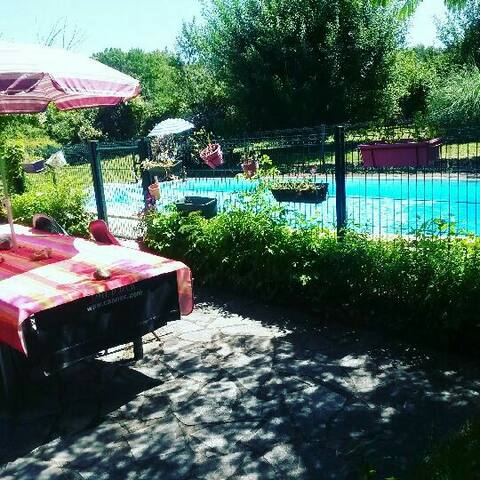 Little house set in an old wine cellar in the center of Souillac in a pedestrian street. Thought, tastefully decorated this little jewel will welcome you with all the comfort you need: kitchen with dining area (high table / stools), small lounge area with TV / stereo, upstairs bedroom with 140, shower room and toilet. Possibility of coming with a child, and provision for age of a cot or a folding bed of 90 cms.
Ideally located between Sarlat-la-Caneda (28 km) and Rocamadour (28 km) Souillac is a city lot, bordering the Dordogne. You will discover two beautiful regions. In the lot, you can visit the caves of Lacave (11 kms), Padirac (34 km). If you like the hilltop villages, do not forget to go to St Cirq (80 km), beautiful village. To get there, you will cross the authentic villages and along a beautiful valley, "Cele Valley". In Black Périgord, you will also be bewitched by the beauty of this region. Sarlat course, Domme (30 km) and its panorama, Roque Gageac and his village in the rock, Castelnaud and its castle, the gardens of Marqueyssac and many other beautiful places that we will not fail to inform you with great pleasure . You can also make a canoe descent of the ropes for most sports, via ferrata for those who do not have vertigo finally a bunch of activities await you in this earthly paradise. In the rental price, linens are included (bed linen, towels and kitchen towels). Possibility to rent per night, minimum stay 2 nights at 45 euros a night. We remain at your disposal for any additional information. Hope to meet you Peter and Mary (PHONE NUMBER HIDDEN) or 06 27 16 22 17)
Housing is in a quiet area. The street is pedestrian. We installed a little bench against the house that allows you to take your coffee or drink outside.
Das Appartement befindet sich in einer sehr ruhigen Gegend in einer kleinen Straße des historischen Kerns von Souillac. Alles ist sehr gepflegt und mit viel Liebe zum Detail ausgestattet. Natalie und Pierre haben uns sehr freundlich empfangen und uns viele Tipps für Besuche in der näheren Umgebung gegeben. Sie waren sehr herzlich und immer darum bemüht, dass wir uns wohl fühlen.
Ralph
2016-05-22T00:00:00Z
Petit studio décoré avec beaucoup de gout. Pierre est un vrai bricoleur. Il est déalement situé dans le coeur de Souillac. Tout l'équipement nécessaire est présent, il ne manque rien. Nathalie et Pierre sont des gens charmants avec beaucoup d'attention pour leurs hôtes. Merci encore
Marlene
2016-08-20T00:00:00Z
Nous avons été accueillis très chaleureusement par Nathalie, à la gare et elle nous a fait faire un petit tour le la ville pour nous familiariser avec Souillac. L'appartement fut au dessus de nos attentes. Nous avons apprécié le modernisme des lieux, la belle vaisselle, la chambre spacieuse. La tranquillité et la situation des lieux. Les objets d'artisanat nous ont ravis. Nous avons profité pleinement de notre séjour.
Dianne
2016-03-11T00:00:00Z
Pierre et Nathalie sont vraiment accueillant et le studio est formidable. Il y a rien en manque avec beaucoup des petits détails pour remarquer. La localisation est aussi, magnifique. La region est pleine des choses remarquable pour découvrir. Trois jours n'etaient pas assez - nous devons revenir!
Denis
2016-07-22T00:00:00Z
Hôtes très agréables et de bons conseils. Très jolie région et charme particulier de Souillac
Julie
2016-08-08T00:00:00Z
Logement atypique, propre et rénové avec goût, est idéalement situé pour découvrir cette magnifique région. Ideal pour couple. Encore merci pour votre accueil et votre attention.
Delphine
2016-11-01T00:00:00Z
Super accueil. Studio bien équipé et très calme tout en étant en centre ville. Très bien en amoureux.
Jean-Luc
2016-08-05T00:00:00Z
Le logement était très chaleureux, et plein de petits détails de décoration très appréciable.
Vincent
2015-11-15T00:00:00Z
Art der Unterkunft
Ganze Unterkunft
---
Objekttyp
Haus
---
Unterkunft für
2
---
Schlafzimmer
Souillac, Midi-Pyrénées, Frankreich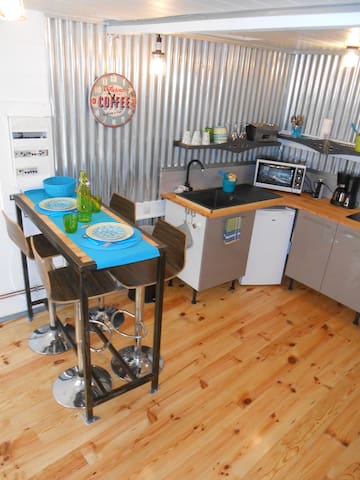 This spacious home will delight you with its charm and authenticity, without neglecting your comfort! It is close to major tourist sites and bathing places (- 10 minutes). With 4 bedrooms, it perfectly host families for QLQ-day scenery ... The layout of the house is such that you can stay many preserving your independence because you have 2 kitchens and 2 bathrooms for everyone to go to his pace and enjoy your holiday.
Art der Unterkunft
Ganze Unterkunft
---
Objekttyp
Haus
---
Unterkunft für
10
---
Schlafzimmer
Masclat, Occitanie, Frankreich
Old LIMESTONE town house, 380 years old in old town center of Souillac. Situated 2 kms from A 20 highway and SNCF railway station. Within 40 kms lots of caves, some with 20000 years original paintings, stalactites, canoing, hiking, bicycling( 4 bicycles available) municipal swimming pool and waterland. 12 kms to golfcourse, Castels and scenic parcs. Available parking for 2 motorcycles in privat garage. free WI-FI, small gardenyard.
The house is non smoking and no pets. Within walking distance 300 meters restaurants, bars, marketplace ( friday morning) Automate-museum ( only of it' s kind in Europe, laundry,
several restaurants in walking distance. Weekly market 50 mts. every friday morning all year round.
Art der Unterkunft
Ganze Unterkunft
---
Objekttyp
Haus
---
Unterkunft für
4
---
Schlafzimmer
Souillac, Occitanie, Frankreich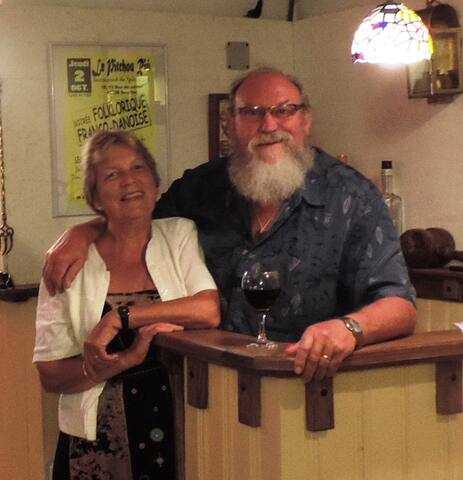 Our beautiful stone cottage will be your home from home. Our home has a scenic view over the Chateau of Nadaillac de Rouge and a wide outlook across the Dordogne Valley. We are in a very convenient distance to explore Souillac, Dordogne canoeing, Gourdon, (15 mins away), Sarlat, Rocamadour , St Cirq Lapopie, Domme, Padirac, all easy day trips,
One private bedroom available in our home, access to pool, small sitting room, private bathroom (although not an en suite). Due to 2 unfenced water hazards on our property, the swimming pool and a large fish pond, we cannot accommodate little children, however we can welcome little babies who are not at the walking stage of development, as long as the guests have their own portable cot.
Nadaillac is quite simply a beautiful little village, people are very friendly, but it must be remembered that the village only comprises of a few houses...and a beautiful Chateau.
We had the most amazing experience wth Caroline & Ray, they epitomise the word "super host"Their beautiful home is in the midst of picturesque countryside & we immediately were made to feel part of the family,they couldn't have done enough for us. I highly recommend this B&B
Pat
2016-10-21T00:00:00Z
Très bon séjour passé chez Caroline et son mari Ray. Ce sont des hôtes très accueillants et à l'écoute. Le cottage est pittoresque et vraiment agréable. Je recommande vivement cet endroit pour une pause à la campagne et au calme.
Delphine
2016-11-01T00:00:00Z
L'accueil de nos hôtes fut exceptionnellement chaleureux dès notre arrivée et tout au long de notre (trop court) séjour. Invités à "faire comme chez nous" et à disposer également des pièces de la maison qui ne relevait pas de la location, nous avons en fait eu l'impression d'être accueillis chez des amis. Le cottage est ravissant, au calme, idéalement situé pour des excursions en Dordogne ou dans le Lot, et bénéficie d'un panorama époustouflant. Un magnifique souvenir... et l'envie d'y revenir !
Philippe
2016-07-27T00:00:00Z
Caroline et Ray sont des personnes adorables, et des hôtes très accueillants ! Ils ont vraiment contribué à rendre notre week end en Dordogne fantastique, en nous conseillant sur les sorties et les restaurants à faire. Leurs maison est superbe, et la chambre très confortable. Nadaillac de Rouge est vraiment bien situé, et vous y trouverez le calme et le charme de la campagne. Je conseil vivement à tout les voyageurs :-)
Estelle
2016-09-04T00:00:00Z
Naidallac de rouge est un très jolie village au calme. Attention de bien saisir toute l adresse sur le gps "naidaillac de rouge." au risque de vous retrouvez dans un autre village tout aussi charmant mais à 40 mn de naidaillac de rouge. Le cottage de Caroline et son mari est superbe. Nos hôtes nous ont mis très à l aise. La piscine est un plus pour se détendre en fin de journée.
Laurence
2016-07-31T00:00:00Z
Nous avons passé un excellent séjour à nadaillac. l'hébergement , la piscine et le jardin sont vraiment très agréable. Caroline , Ray et bronte sont des hôtes très accueillants et très sympathiques. nous recommandons à 300% !
Olivier
2016-08-20T00:00:00Z
We search calm, quiet and serenity... We founded a little peace of paradise at Nadaillac de rouge. Tank you to Caroline and Ray for they charming welcoming. Their house with the garden is so cute and very nice to live. Nous recherchions le calme et la sérénité ... Nous avons découvert un petit coin de paradis à Nadaillac de Rouge. Caroline et Ray sont très accueillant et aiment partager leurs expériences. Leur maison avec le jardin est très agréable.
Raphaelle
2016-08-16T00:00:00Z
Séjour vraiment tres agréable chez Caroline & Ray, qui sont très accueillants et sympathiques, et une maison magnifique !
Gilles
2016-08-23T00:00:00Z
Art der Unterkunft
Privatzimmer
---
Objekttyp
Haus
---
Unterkunft für
2
---
Schlafzimmer
Nadaillac de Rouge , Nr Payrac, Midi Pyrenees, The Lot, Frankreich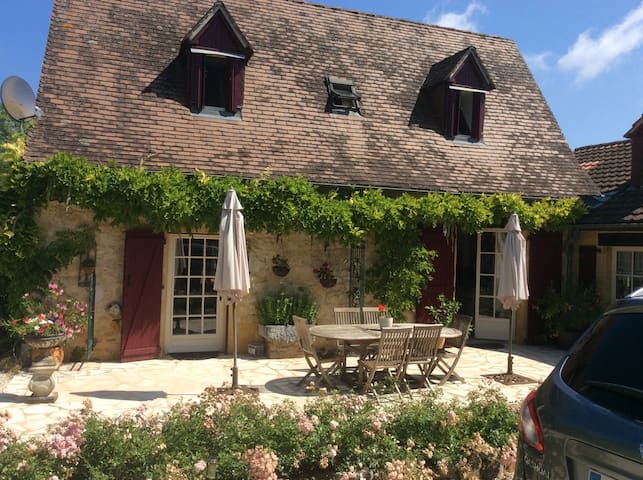 Mon logement est proche de Souillac Centre Ville 2 Km, la Dordogne, , l'aéroport 20 m', les lieux touristique Gouffre de Padirac, Rocamadour, Grotte de Cougnac, Sarlat, Collonge La Rouge . Vous apprécierez mon logement pour les espaces extérieurs et le Calme. Mon logement est parfait pour les couples et les familles (avec enfants). Supplément draps et serviettes 150 eur LES RESERVATIONS SONT DU SAMEDI AU SAMEDI
couleurs du sud et esprit de vacance qui plane sur cette maison 160 M2 de bien être...
Quartier calme pour se reposer au bord de la piscine et proche de la Dordogne pour farnienter sur les plages lundi et jeudi soir vente de pain fait au four à bois sur la place du village (500 mètres) mardi soir pizza Nono sur la place (500 mètres)
Art der Unterkunft
Ganze Unterkunft
---
Objekttyp
Haus
---
Unterkunft für
6
---
Schlafzimmer
Lanzac, Occitanie, Frankreich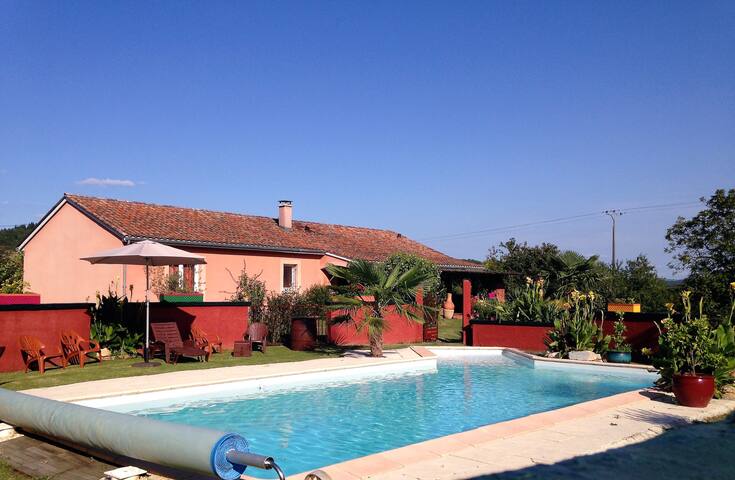 Mon logement est au coeur du village de Souillac, situation idéale entre Sarlat et Rocamadour. Proche de toutes facilités (restaurants, magasins, gare), la maison offre des équipements modernes ainsi qu'une cour calme et ensoleillée. Mon logement est parfait pour les couples, les familles avec enfants et bébé ainsi que les groupes.
La maison comporte un rez-de-chaussée avec cuisine américaine et grand salon qui donne sur une cour. La cuisine est entièrement équipée (four électrique, plaques à induction, frigo, etc.). A l'étage, il y a deux chambres et une salle de bain avec douche à l'italienne.
Très bon accueil de Solène , logement spacieux et très agréable. La cour extérieure est très sympa pour se poser un peu . Prospectus touristiques à disposition et situation idéale pour visiter la région . Je recommande vivement .
Murielle
2016-07-18T00:00:00Z
Hôte très agréable, nous avons été accueillis chaleureusement. La maison est très agréable à vivre, en particulier avec sa cour sans vis à vis. L'intérieur reste frais lors des fortes chaleurs. Nous avons voyagé avec notre enfant en bas âge et le logement était adapté. Le quartier est très calme et Souillac a une position centrale pour les personnes souhaitant découvrir la région.
Gabrielle
2016-08-28T00:00:00Z
Art der Unterkunft
Ganze Unterkunft
---
Objekttyp
Haus
---
Unterkunft für
5
---
Schlafzimmer
Souillac, Languedoc-Roussillon Midi-Pyrénées, Frankreich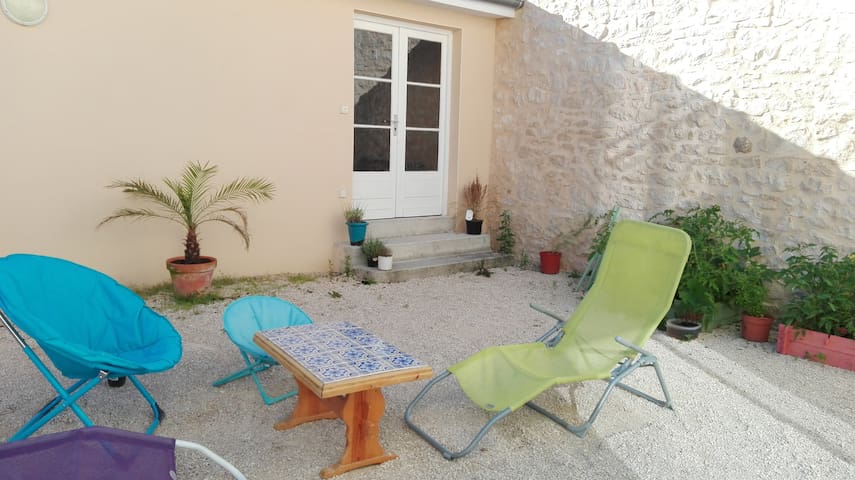 Fabulous newly renovated stone village house with sweeping views over Dordogne valley, spectacular beffroi and abbey of Souillac. Large living area, own private yard and fully equipped kitchen. Markets, cafes, bakery and butcher right at your door.
Our House in Quercy is a beautifully renovated village house right in the middle of Souillac. It enjoys sweeping views over the Dordogne valley, the village, the beffroi and the Abbey. The house is set out over four floors with a large, fully equipped kitchen and dining room, large comfortable sitting room with an additional eating area and enough lounges and chairs for everyone , two bathrooms (one shower, one bath) and two WCs, three bedrooms plus large attic sleeping 10 people in new super comfortable beds and all cotton bedding (one bedroom with queen bed; one bedroom with double bed; one bedroom with 3 single beds, attic with 3 single beds and own sitting area), laundry with washer and dryer. You can sit out on the second floor patio with a glass of wine and watch the ancient village change colour as the sun goes down. The house has been tastefully furnished with a selection of French antiques, French design classics and modern furniture, and everything else you might need to make your holiday comfortable and enjoyable. The house has fast free wi-fi, Orange TV and movies, free telephone to Australian, US, NZ and UK landlines, CDs, DVDs, books and games. The kitchen is fully equipped with a dishwasher, induction stove, oven and microwave and plenty of quality utensils so you can cook up a feast with the wonderful local ingredients. This holiday house was originally set up as a home, and has been finished, furnished and styled a cut above your average holiday house. It has a large, private yard.
Souillac is a beautiful medieval village set on the banks of the Dordogne river. Located between Sarlet and Rocamadour, Souillac makes the perfect base for exploring all that this special region has to offer. Originally a walled village, Souillac itself has an ancient core, with some of the original city gates still visible today. Souillac is built around the domed 12th century Abbey Sainte-Marie, widely recognised as one of the finest remaining examples of Byzantine architecture. The village has two museums - Musee de l'Automate, housing the largest collection of automatons in Europe; and Musée de la Vieille Prune, show casing the potent locally made prune liquor - taste with care! The village has four major supermarkets, numerous boulangeries and boucheries, and a good selection of cafes, bars and restaurants. Within a 2 min walk from the house are a cafe, newsagent, tabac, boulangerie and boucherie as well as the local weekly market (Fridays). During summer, there is an additional market on Wednesday evening. The village also boasts a charming farmers' market, stocked and staffed by local farmers with nothing but the freshest of local produce. In summer you can hire a bike and ride on established bike paths throughout the region – all the way to Sarlat if you are keen. There is also a children's fun park (Quercyland), canoeing in summer and horse riding all year round. The area has a number of well known attractions, including Rocamadour (the second most visited site in France), Sarlat, incredible caves at Gouffre de Padirac, Domme, Lalbenque (where the famous truffle markets take place each winter), Cahors, Beynac-et-Cazenac (where "Chocolat' was filmed), and the chic shopping town of Brive. To really see the area, it is best if you bring or hire a car.
Nous avons passé notre séjour à Souillac à deux familles avec 4 enfants en tout. Souillac est pratique comme camp de base pour visiter la région. La maison est très bien située. Elle est à deux pas du centre ville et de la Dordogne. La maison est bien equipée et possède une grande cuisine/séjour pratique et agréable. Une chambre adulte a une litterie plus confortable que la seconde. Nous avons bien aimé notre séjour. Merci.
Tatiana
2016-08-16T00:00:00Z
Art der Unterkunft
Ganze Unterkunft
---
Objekttyp
Haus
---
Unterkunft für
10
---
Schlafzimmer
Souillac, Midi-Pyrénées, Frankreich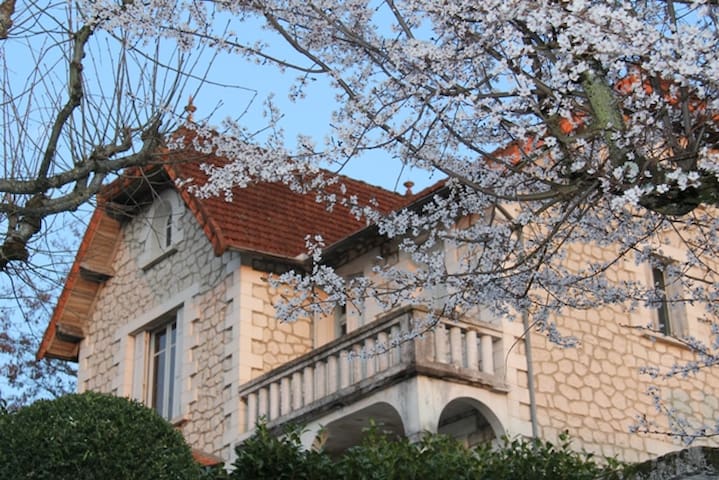 Comfortable large house great for 2 or 6 pers. Own garden, terraces near the water, parking, forest and fields. 2 bedrooms, toilet, bathroom, kitchen en living room, 2 terraces, private valley with 4 natural wells. Swimming pool, play field, freedom, stars, silence.
We live in a private, protected valley with natural wells 3km from Souillac. We offer a comfortable house where you feel home. We offer space, privacy, freedom, comfort. You can relax, enjoy the countryside, walk with our donkeys, sit in the garden, swim, visit markets etc. Well situated between Rocamadour, Domme, Sarlat.
We are in the 20 minutes zone. Rocamadour, Domme, Sarlat, Brive, Collogne la Rouge etc.
Le logement correspondait bien à la description.
liliane
2015-05-23T00:00:00Z
We had a great stay in Annemiekes house. We loved the animals, especially the tame chicken that my daughter put on her shoulder while strolling around the beautiful garden. And the kids loved the pool very much! Thank you!
Friederike
2016-07-31T00:00:00Z
Le séjour a été très agréable, au calme. Annemieke est très plaisante et très accommodante. Le gîte est impeccable et très bien équipé. A recommander sans problème.
Baron
2015-05-26T00:00:00Z
Le cadre est très agréable, proche de toutes commodités et de la Dordogne mais dans une petite vallée très calme et bien verdoyante. Nous avons particulièrement apprécié la piscine et les jeux extérieurs (trampolines, balançoires...) parfaits pour les enfants.
Aude
2015-08-28T00:00:00Z
Annemieke is heel gastvrij. We hebben genoten van ons verblijf in de prachtige en rustige omgeving. Een aanrader voor wie wil onthaasten.
Hannelore
2015-08-02T00:00:00Z
Our stay at Annemieke's Blagour was absolutely wonderful. First off, its location is perfect - in a private valley surrounded by green hills, sky full of stars at night. The property is just beautiful. We were three with our 6 year old daughter, and the gite was quite large with everything we needed. All the local sights - Sarlat, bastildes, caves, are near by. But the best part was Annemieke herself who made us feel so welcome - our daughter was thrilled to play with the cats dogs, but walking the two donkeys with Annemieke, and getting to ride one, might have been the icing on the cherry. Not only would we go back, we will!
Bodie
2015-09-11T00:00:00Z
We spend 5 beautiful days at "Blagor" with Annameike and Ludo. The apartment is large, featuring a large living room (with a sofa bed our children slept on), discrete kitchen and large bedroom. The style is rustic but we found it extremely comfortable that every need had been anticipated. The surroundings are beautiful - lush fields surrounded by lightly wooded hills. The donkey's were full of personality, the chickens roamed and the dogs loved any affections they could get their hands on. Our two children names this their favourite location in France. Situated about 5 minutes drive down a narrow lane from Soulliac (which has a small supermarket and basic services) it's also a fantastic location from which to explore the attractions of The Lot and Dordogne Valley - many are just 20 minutes away. Our hosts were excellent. Always easy to get in contact with, full of advice and friendly. That said they are situated so that we could always have as much privacy as we wanted. It's worth noting that there are a few different accommodation options on the property (something we hadn't realised until in-situ) so Annameike can accommodate multiple families or groups of friends if that's of interest - check her profile page or message her for options. Recommended, we hope to return!
Jeff
2016-07-06T00:00:00Z
super séjour dans ce lieu atypique !
Golf Es
2017-03-08T00:00:00Z
Art der Unterkunft
Ganze Unterkunft
---
Objekttyp
Haus
---
Unterkunft für
6
---
Schlafzimmer
Lachapelle-Auzac, Midi-Pyrénées, Frankreich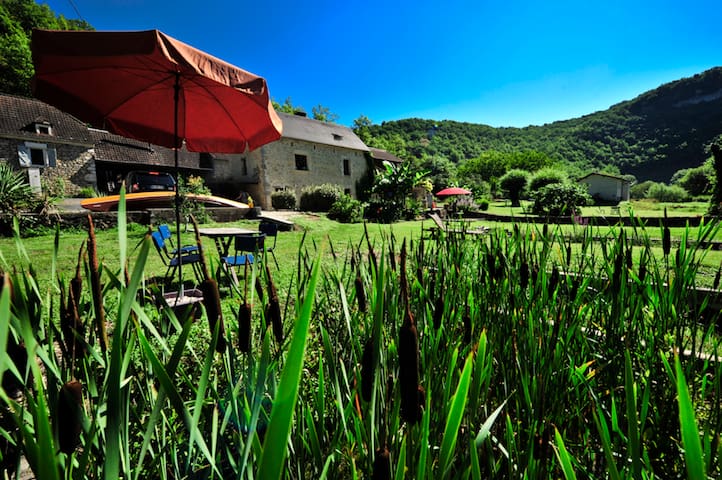 Maison typique chaleureuse située dans un corps de ferme, idéalement située entre Sarlat (25 km) et Rocamadour (15 km), à 300 m de la rivière Dordogne (pêche, canoë, baignade), au pied des sentiers de randonnées. proche des sites Périgord et Quercy.
Maison typique quercynoise avec un grand cantou (cheminée ancienne). Intérieur chaleureux et confortable. capacité maximum 12 personnes. (+ 1 lit bb) Une grande terrasse ensoleillée et tout le confort d'une maison d'habitation (lave linge, lave vaisselle, barbecue, table de ping pong...), le tout dans un corps de ferme donc sans danger pour les enfants / route. La rivière Dordogne à 300 m et un parc aquatique à 5 km, mais surtout les plus beaux sites du Périgord et du Quercy.
le quartier est très calme : très rare passage de voitures à proximité du gîte. C'est un lieu très sûr pour les enfants. Le lieu-dit "Terregaie" est un très joli petit hameau constitué de maisons en pierre typiques du Lot. La baignade est à proximité dans un cadre naturel superbe : la Dordogne, l'une des rivière les plus propre de France.
Nos hôtes nous attendaient,et l'hôtesse avait été chercher un de nos enfants à la gare car nous arrivions de directions opposées.Accueil très (URL HIDDEN) maison se situe dans un hameau très calme ,maison entièrement rénovée avec beaucoup de gout , grand confort ,tout est impeccable.
françoise
2014-08-10T00:00:00Z
Une maison très chouette, un accueil sympathique dans un joli hameau. La baignade à 300 mètres idéale pour les enfants. Une région superbe.Des bonnes vacances.
Liberté
2015-08-23T00:00:00Z
Très jolie maison, confortable et très bien équipée. Accueil très sympathique de nos hôtes. Adresse à recommander chaudemant
Sophie
2015-01-03T00:00:00Z
Le gite est très sympa. Décoré avec goût. Style ancien bois et pierre. Le gite est grand et parfait pour un sejour en famille. Les propriétaires sont accueillant et discret.
Cécile
2015-07-26T00:00:00Z
Art der Unterkunft
Ganze Unterkunft
---
Objekttyp
Haus
---
Unterkunft für
12
---
Schlafzimmer
Pinsac, Midi-Pyrénées, Frankreich
Belle maison typique du Périgord, environnement très calme au milieu des champs, elle fait partie d'un ensemble plus vaste mais vous serez seuls sur la propriété. Piscine privée de 10 X 5 mètres, filtration au sel, et volant électrique. Mon logement est parfait pour les couples et les familles (avec enfants).
Une belle piscine, des transats et parasols, Une grande pièce à vivre, avec cheminée et cuisine ouverte. Four, micro ondes, frigo à l'américaine, machine nespresso, rien ne manque. une pièce salle à manger, deux chambres, à l'étage, une chambre double, la chambre rouge et une chambre avec deux lits simples, ces deux chambres partagent une salle de bains. dans la salle de bains , douche à l'italienne et toilettes. les lits sont préparés et nous fournissons des serviettes de toilettes, 1 grande et une petite par personne
campagne, village le plus proche Payrac à 5 minutes en voiture, pharmacie, station essence, supérette, boucher, boulanger..
Art der Unterkunft
Ganze Unterkunft
---
Objekttyp
Haus
---
Unterkunft für
4
---
Schlafzimmer
Payrac, Languedoc-Roussillon-Midi-Pyrénées, Frankreich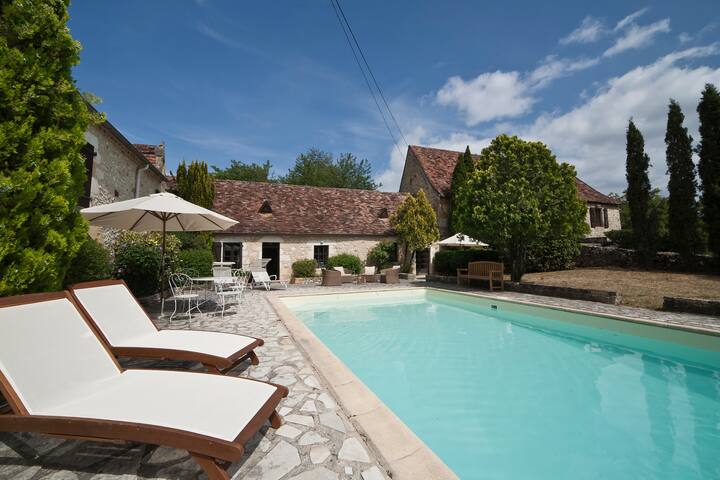 It is with pleasure that I welcome you in my holiday house located in Souillac, in the Lot. The sweetness and sunshine of its climate generate a natural quality of life. The house is fully equipped and is located on the ground floor. Moreover, it is classified 3 *** by the Prefecture. The house sleeps 6 people. You will be 1.5 km from the city center of Souillac and 500 m from a supermarket. Rocamadour at 22km, Sarlat at 18 km.
The house includes: - Kitchen - dining room: kitchen with oven, microwave, dishwasher, refrigerator, dishes; - Lounge with TV, DVD player and DVD rental, and sofa; - 3 bedrooms composed of a double bed 140, large wardrobe, two bedside tables. Possibility of adding a cot (available); - A bathroom with tub and toilet, hair dryer and washing machine. We provide you with baby equipment: cot, high chair, pot, recliner, microwave and sterilization equipment for baby bottle. The house has WIFI You can enjoy the large balcony of 40 m² has a beautiful view of the valley. You can use the barbecue and bicycles.
Art der Unterkunft
Ganze Unterkunft
---
Objekttyp
Haus
---
Unterkunft für
6
---
Schlafzimmer
Souillac, Occitanie, Frankreich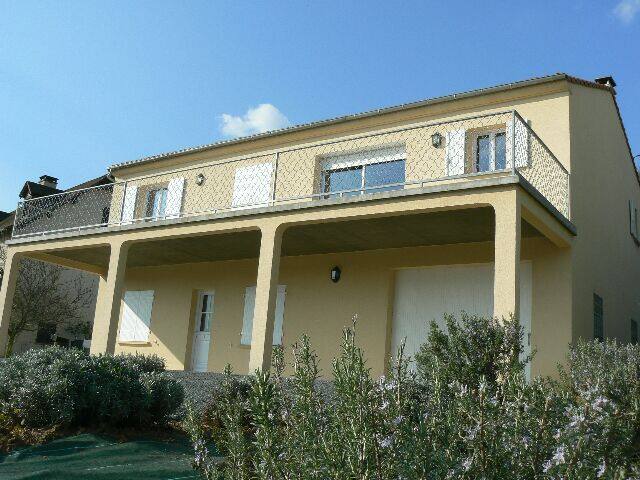 Set in 2.5 acres, high above the Dordogne river, our beautiful stone cottage is arranged over 3 floors, on the edge of a pretty village,offers the best of both worlds. The tranquility of the French countryside but just five minutes from amenities and a few miles from the main attractions of the Dordogne valley with prehistoric caves,bastide towns, chateaux of the Hundred Years War, Rocamadour and Sarlat.The property is one of 5 houses on site
The cottage is arranged over three floors.The ground floor houses a smaller but very well equipped galley style kitchen with cooker, fridge/freezer, microwave, dish washer,coffee maker and kettle leading directly out onto the terrace. Also on the ground floor is a double room with ensuite shower/ toilet and a separate shower/ toilet room off the kitchen area. The first floor is given over to a living and dining space with oak table chairs and two sofas. There is a tv ( english / french)cd player and a dvd player offering the ideal opportunity to relax from the summer heat.The room has a beautiful stone fire place with wood burner and stone sink The third floor has a twin room, two of the beds can equally form another double,along with an additional small single room. Outside there is a beautiful sunny terrace with patio furniture and parasol,charcoal bbq, perfect for alfresco eating The cottage is ideal for families/ couples/ couples sharing especially with the double rooms being a floor apart
Art der Unterkunft
Ganze Unterkunft
---
Objekttyp
Haus
---
Unterkunft für
5
---
Schlafzimmer
Nadaillac-de-Rouge, Occitanie, Frankreich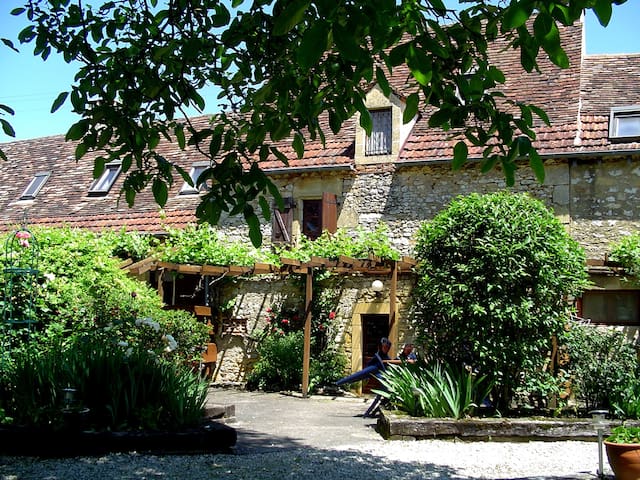 Cottage with one bedroom, 2 places bed, shower, sink and toilet upstairs. Small living room with sofa bed 2p, separate toilet and fully equipped kitchen on the ground floor. terrace, patio. Private parking. children's games. Home rider.
Authenticity, well-being, attention to detail and hospitality, in a warm and relaxing environment where arrival and departure are not taxed! House colored stone of the country.
Village with 3 castles, Cazoules offers hiking trails along the Dordogne, views to discover its free pool for tourists, its restaurants and its ideal location to explain the wonders of the Lot Dordogne and Vézère.
Nous avons passé un très agréable séjour chez Christiane. Le lieu, au calme, est parfait pour un séjour proche des lieux touristiques (lot et Dordogne) sans être incommodé par la foule. Le gîte est parfaitement équipé et vous pouvez bénéficier gratuitement de la piscine du camping en saison. Christiane est une hôtesse charmante, très disponible, accommodante et surtout très professionnelle : elle saura très bien vous conseiller sur les lieux à visiter et les bonnes adresses à fréquenter. Merci beaucoup Christiane pour votre gentillesse et nous gardons votre adresse dans nos tablettes !
lucette
2016-08-08T00:00:00Z
Nous avons été accueilli très chaleureusement. Le gîte était bien équipé et confortable, notre hôte toujours disponible pour nous renseigner et nous aider. Merci encore pour ce superbe séjour !
Céline
2016-08-14T00:00:00Z
Très bon séjour dans le gîte. Christiane nous a très bien accueilli , très agréable et de très bon conseil:-) c'est une très belle région. Merci encore pour cette semaine
Sarah
2016-08-24T00:00:00Z
Art der Unterkunft
Ganze Unterkunft
---
Objekttyp
Haus
---
Unterkunft für
4
---
Schlafzimmer
Cazoulès, Aquitaine Limousin Poitou-Charentes, Frankreich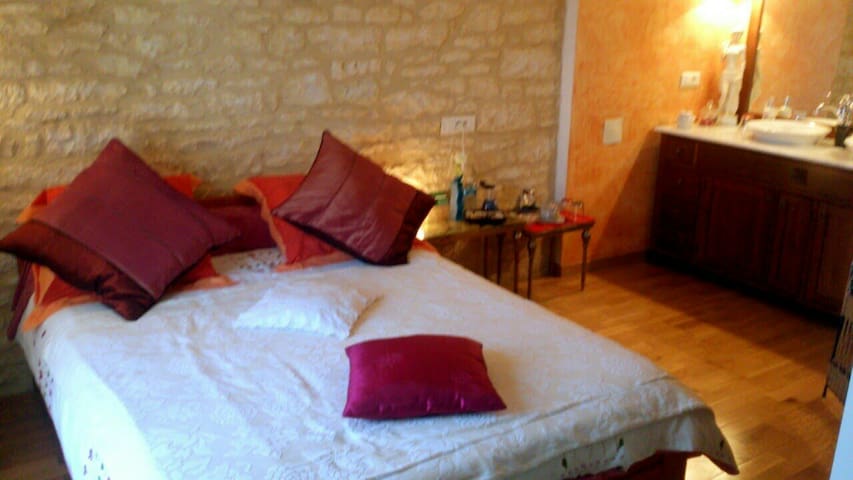 Großes Haus in der Nähe von Carlux im Herzen der Dordogne, 5 Minuten Fahrrad (4 zur Verfügung gestellt) Strände, Kanu fahren, Wandern, in der Nähe der mittelalterlichen Burgen, Höhlen und schönsten Dörfer in Frankreich. Großer Hof für 3 Autos. Voll ausgestattete Küche (Mikrowelle, Geschirrspüler) mit großem Kamin ausgestattet. Wohn-Esszimmer mit HD-TV, Spiele, Klavier. 3 renovierte Zimmer, 7 Betten, 2 Bäder, 2 WC, Kinderbett, Terrasse und Garten mit Gartenmöbeln und Grill, reifen Garten (Schaukel) geschlossen.
Art der Unterkunft
Ganze Unterkunft
---
Objekttyp
Haus
---
Unterkunft für
7
---
Schlafzimmer
Cazoulès, Nouvelle-Aquitaine, Frankreich
1

–

18

von

238 Ferienhausvermietungen
Gib deine Reisedaten ein, um den aktuellen Preis zu sehen. Es können zusätzliche Gebühren und Steuern anfallen.