The Beach Bungalow is a Bali/Moroccan inspired holiday getaway. Clean, spacious, one bedroom, self catering accommodation that is positioned in a relaxing tropical, palm tree landscaped setting. Created exclusively for couples who want to just hang out and unwind in their own space and privacy or want to enjoy the convenience of being centrally located to the beach and town for swimming, walking, Cinema, shopping or dining out. Everything is within easy reach..South Coast the best of all worlds.
The Beach Bungalow comfortably sleeps 2 on a restful queen bed and has been tastefully and creatively decorated with a Balinese Moroccan flavour in mind. The accommodation is clean, private, relaxing, functional and spacious. Consisting of a lounge/dining area, kitchen, bedroom and en suite. There is also an alfresco area in a palm tree setting with a bubbling water feature for relaxing and BBQing. We have a large variety of birds that visit the garden daily and this adds to the ambience. A variety of DVD's, books and games are supplied and available for those wet days or days of rest and a large choice of complimentary tea's and coffee's are supplied. We hold our guests privacy highly and leave you alone to enjoy your break but are happily available whenever required to assist with any questions. Ulladdulla is 3.5 hours south of Sydney and 2.5 hours east of Canberra. Ulladulla is well known for it's water-sports of surfing, swimming, fishing, diving, snorkelling, whale watching, deep sea fishing charters, etc. Bushwalking is also very popular with visitors in the area and a favourite to climb is Pigeon House Mountain. It is located in a National Park to the west of Ulladulla on a well laid out track to the top. Horse riding, heritage old townships, cinemas, art galleries, wineries, etc, are also available just to name a few. A huge variety of things to do and to see.
Located in a community and family minded, safe neighbourhood where guests feel safe to walk the streets and enjoy the beach.
Great location! Right on the beach. Really nice granny flat, plenty of space for 2. Everything was super clean and new. Mark and Barb were very welcoming and accommodating. Highly recommend.
Tim
2016-09-29T00:00:00Z
Our hosts were very friendly and helpful. The property is just a block from the beach and the landscaping is exquisite. Overall, it's located in a nice, quiet, middle-class neighborhood where owners take pride in the appearance of their properties. The homes are like typical beach bungalows one block off the beach on the outskirts of town.
Steven
2016-11-09T00:00:00Z
This place was a little Gem. Very easy going host. Highly recommend.
Grant
2016-02-21T00:00:00Z
The images don't do this place justice. It is simply amazing. A really nice apartment with an amazing little private courtyard. It's also directly opposite a beach. Definitely recommend.
Casey
2016-02-28T00:00:00Z
Went down for the long weekend by myself as my missus had to go overseas. Barb & Mark were very welcoming, as were their friendly neighbours. The bungalow was very comfortable and roomy and 2 minutes walk to the beach. Very relaxing weekend, thanks again!
Henry
2016-01-26T00:00:00Z
Lovely little space. Barb and Mark have put a lot of thought into the design and decoration. It was a nice little weekend getaway.
Zara
2016-11-06T00:00:00Z
it was great to get a call to check our arrival time and to be met on arrival. lovely place, great location; would go back again.
Robert
2016-10-17T00:00:00Z
Welcoming and lovely hosts. Great spot a minute's walk from Racecourse beach. Clean accommodation, comfy bed, great high-pressure shower.
Jaime
2016-04-27T00:00:00Z
Art der Unterkunft
Ganze Unterkunft
---
Objekttyp
Wohnung
---
Unterkunft für
2
---
Schlafzimmer
Ulladulla, New South Wales, Australien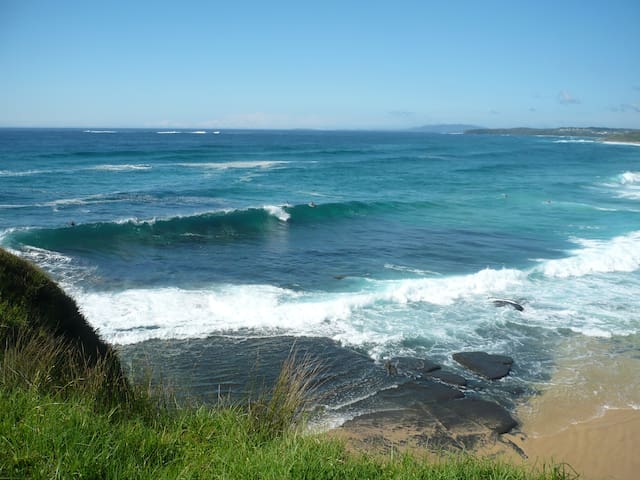 A stylish, recently renovated large home with gorgeous views of the lake and distant ocean through floor to ceiling glass. 5 minute walk to the beach and headland. Note airbnb app is having some glitches. Email charmsbaltis at gee mail if you are unable to book or if no response.
Renovated mid century home with stunning features including a large kitchen with a 4 metre ceasar stone bench top and 900 gas oven, open plan living area with separate seating zones, wall of glass with bifold doors opening onto back deck, timber floors. Perfect for families, as there is pleny of room for kids to play away from adults. Kids room has a loft bed plus single that pulls out to king. Beautiful mid century designer furniture mixed with modern pieces. Three bathrooms: 1 main and 2 ensuites. Amazing outdoor entertaining and courtyard. Please note if 11 guests are staying 2 x beds are tucked in under the stairway (used as a daybed during the day) in an open area. 2 x tv areas 2 drawer dishwasher Washing machine and dryer Netflix in main living area BBQ on front deck. All linen is provided. 10 minute drive (depending on traffic) to Mollymook, Rick Steins restaurant, Bannisters Pavillion and great cafes and restaurants.
Quiet neighborhood, lovely sea breezes, 5 minute walk to beach, lake, park and shops.
Charms was a beautiful host and made us feel very welcome. And the house is stunning! It's a great location, so much to do within a short distance. Charms was easy to communicate with and gave helpful tips on things to do. We traveled with friends (four adults and three kids in total) and the house had plenty of space for us. We had a really enjoyable holiday and it was sad to leave!
Carla
2017-01-01T00:00:00Z
Great place, clean, modern, wonderful... well recommended.
Som
2017-01-07T00:00:00Z
Art der Unterkunft
Ganze Unterkunft
---
Objekttyp
Haus
---
Unterkunft für
11
---
Schlafzimmer
Burrill Lake, New South Wales, Australien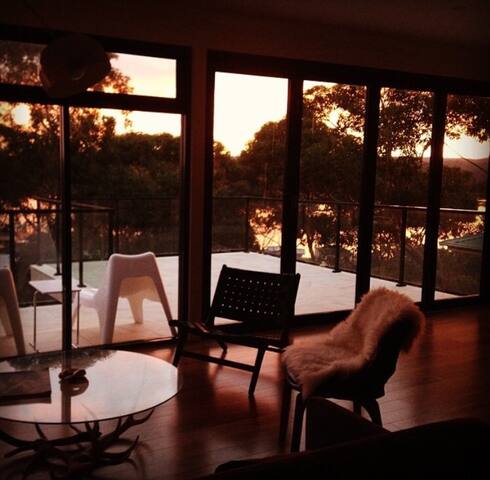 PET FRIENDLY and overlooking Burrill Lake with magnificent sunsets and a short walk to the beach (end of the street). If you want privacy and don't want to stay in noisy apartments/flats/motels or overcrowded caravan parks, then Serenity by the Sea is for you. Special outdoor lighting at night makes your alfresco entertaining area romantic and secluded. Special discount for those who bring their own sheets & towels. $20 discount off your total bill if you bring your own sheets and towels.
30 Sq Feet (9 metres) of an open-plan large room with Queen bed, ensuite, lounge/dining/kitchen facilities and large under cover patio with electric BBQ with modern outdoor lounge and dining setting overlooking lake. You drive into your garage straight off the street and your flat is down a short flight of stairs, all under cover. You have your own private entrance to your flat. This is a FLAT under my home (separate entrance) and totally private. My home has 3 levels. I live on the top level, and your flat is the 3rd level with plenty of room. Outside your flat is a large under cover alfresco dining/entertaining area with night lights highlighting the landscaped gardens and fountain. Patio is filled with tropical plants and electric bbq for outdoor living. My home is set high on a hill overlooking Burrill Lake - you are not looking at another back fence but water. At night, you can watch the lights from across the lake and cars driving over Burrill Lake bridge. It's like fairy-land at night. I much prefer lake views to ocean views because the night lights reflect in the lake and make it more interesting. You can sit up in bed and watch the night lights through your bedroom window.
PET FRIENDLY - Serenity by the Sea overlooks Burrill Lake with the ocean on the left and mountains on the right and the lake in the middle. What more could you ask for. The neighbourhood consists of private homes - no high-rise buildings or ugly shop fronts. Canberra Crescent is a dead-end street - no through traffic. Walk to the end of the road and you're at the beach. 5 minutes drive and you are in the middle of Ulladulla shopping centre. Up to 25 restaurants and cafes. Two golf courses to choose from, 18 hole championship course and a 9 hole beach side course both at Mollymook. Leisure centre with gym and pools. Twin cinema and lots of boutique shops for the ladies.
Wendy was welcoming and very helpful to make our stay comfortable. We enjoy staying Wendy's place and it was pleasant time. Especially the out door deck space was absolutly our favourite. We spent time @there with wine and beautiful sunset of Burrill lake view. What a gorgeous time! Everything was as described and more than enough space for two to stay.
Yukie
2016-12-25T00:00:00Z
Beautiful outdoor deck for a sunset over the lake and cosy, well appointed studio. Wendy was an exceptionally hospitable host and made sure we were comfortable. It was a great start to our roadtrip south. Thankyou!
Thomas
2016-12-21T00:00:00Z
Wendy is s great host and was quite happy to help in our moment of need on the first morning when the car battery died! Thankfully all resolved and an enjoyable stay in this lovely part of the world. It's a lovely place with a great view, very spacious, excellent outdoor area, well provisioned and clean. It's a bit of a walk to the beach and you have to cross the Princess Hwy, but suitable enough for the hardy!
john
2017-01-01T00:00:00Z
Wendy's place is well maintained, clean and spacious! Wendy is lovely and was happy to help with anything.
Jessica
2017-01-21T00:00:00Z
Wendy is a lovely host and her space was perfect! A gorgeous view of the lake and a great location close to Ulladulla and Milton, and all the beautiful beaches of the south coast. Our dog was so knackered after so much walking and swimming (we were too), and Wendy's place was perfect for relaxing after long active days!
Shayna
2017-01-28T00:00:00Z
Upon arriving at Wendy's Airbnb to departing, we were blown away firstly by her friendliness and her very homely environment she welcomed us into. The space was very private, comfortable & well equipped and would not hesitate at all in recommending her place for either a short or long stay in such a beautiful location.
Heather
2016-12-07T00:00:00Z
Wendy was fantastic! Gave us a very quick (and entertaining!) tour of the studio apartment and gave us some tips on the local area then left us to it. A hoot! The apartment is very large, extremely clean and has all amenities you could need. The view from the beautifully appointed terrace is exquisite and the space is all very private. We played cards, drank too much wine and watched the amazing sunset over Burrill Lake and beyond. Trying not to exaggerate but we must have seen 50 rosellas, cockatoos and parrots - the birdlife is fantastic! For our night on the scenic way between Sydney and Melbourne is was absolutely ideal and for the money we paid it was extraordinarily good value. Would stay here again without hesitation. Thanks Wendy!
Mike
2017-01-04T00:00:00Z
This place is magic. We approached it having looked at all the places for miles around, unexcited by other places looking, well, dull. Wendy's ad looked intriguing but surely there must be a catch if it was so much less expensive than the... dull ones! We found it wonderful. Wendy welcomed us warmly and did a too-modest briefing and was there to say hello several times at the weekend as we came and went, unobtrusively but checking on comfort. The living space is very interesting. Almost nine metres (30ft) square, an underground cave, so warmly and comfortably set up and so practical at the same time, improvements to kitchen continue, it works well. A grown-ups' cave, a cubby house, a tree house for total relax—and waking in the morning to the landscape hills and the lake below filtered through a lush kind of rainforest Wendy has planted outside. If you are coming from far away, be assured this is an excellent base to explore half a hundred interesting places along the coast. Or just rest your bones from time on the road.
Helen and Dennis
2016-05-02T00:00:00Z
Art der Unterkunft
Ganze Unterkunft
---
Objekttyp
Wohnung
---
Unterkunft für
2
---
Schlafzimmer
Burrill Lake, New South Wales, Australien
Modern Homestead set on 5 acres with views of Pigeon house and the Budawang Ranges. Only a short drive to the historic Milton village and some of the best surf beaches on the south coast.
The bedroom 1 offers a comfortable queen bed with rural views across to pigeon house mountain. Continental breakfast, tea and coffee facilities provided.
A short drive to Milton, Mollymook, Ulludulla town and local beaches. If you like to indulge and wine and dine there is lots of choice to make it a foodie weekend. Award winning Cupitt's Winery & Restaurant is only a 15 min drive. If we are home we are happy to provide a shuttle service for you. There are plenty of activities to choose from, surfing, paddle boarding, horse riding, bush walking, golf, fishing, paint balling, ........
Tanya and Russell were 5 star hosts. Their house is immaculate, cosy and modern. We woke up each day to an incredible and yummy homemade breakfast. They went out of their way to help us throughout our stay and we can't wait to stay again soon. Thanks again, Laura and Scott
Laura
2016-09-25T00:00:00Z
Very friendly and accommodating couple. We were offered comforting drinks and made too feel at home. Modern and clean facilities, great breakfasts, a wrap around deck with views of kangaroos and wallabies, and Russell even took us out at night to see a wombat.
Bill
2016-11-20T00:00:00Z
We felt very welcome in their home, and were provided with plenty of information on directions and details about the surrounding areas. Breakfast was amazing, and the house was spotless, this far exceeded most hotels I've stayed at!
Aaron
2016-02-21T00:00:00Z
We had a wonderful weekend away. Tanja and Russell were lovely hosts. We loved paying with the dogs and sitting on the veranda admiring the spectacular views! Thank you so much!
Dale
2017-03-25T00:00:00Z
It was a pleasure staying in such a homely, welcoming place. The setting of the property is very peaceful and relaxing. Tanja and Russell are very friendly, and lovely to talk to. If you wish to have your own privacy, they will respect that too!!!! I would definitely recommend this spot, especially if driving from Sydney to Melbourne, its a welcome escape from the driving!!!
Christina
2016-03-17T00:00:00Z
This honestly was truly the best airbnb stay ever. The photos do not do this beautiful home justice. We came to what felt like home and so much more. Tanja and Russell were not only welcoming (we felt like family) but will go the extra mile to make your stay exquisite. Breakfast was put out every morning (I dare say with homemade jam) and we were even lucky enough to taste Tanja's home made spelt loaf. Their home is the perfect distance from Milton town centre to ensure a peaceful, cosy getaway. The dogs made our stay even better and Tanja was really flexible with our needy little dog Obi. He got along wonderfully with their dog Magic! Gus (the horse) was also a pleasure to wake up to every morning. The scenery is like a postcard and the air is like a breath of fresh, pure country air. We are afraid to go and stay again because it's so possible we will never leave. Thanks so much guys and see you very soon!
Lucille
2016-05-23T00:00:00Z
We had lovely night stay in Woodstock. Tanja and Russell were very welcoming and have a beautiful home which is immaculately kept. The wrap around verandah was a great place to soak up the afternoon sun and take in the view.
Johanna
2016-01-08T00:00:00Z
We can't recommend a stay with Tanja and Russell highly enough. They were super friendly and helpful and easy going Their house was immaculate and comfortable and situated in a magical part of the world, only a short drive back to Milton and the coast. Breakfast was perfect too, especially the muffins. Would absolutely stay again for a weekend escape.
Damien
2017-03-12T00:00:00Z
Art der Unterkunft
Privatzimmer
---
Objekttyp
Haus
---
Unterkunft für
2
---
Schlafzimmer
Milton/Woodstock, New South Wales, Australien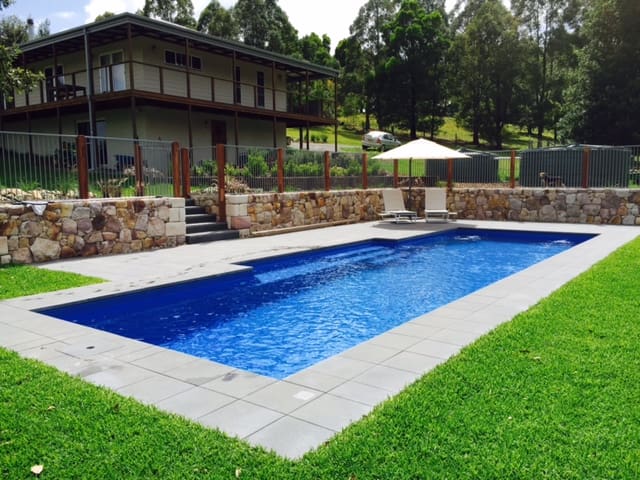 The ocean is right here - with the stairs to the beach 10m away. Great swimming, fishing, walks. Many nature reserves. Enjoy your private apartment directly opposite the beach on a 'no-thru' road. Close to restaurants, cinema, clubs, shops. Featuring large main bedroom with second room for children or guests. New Kitchen, Italian oven, silent washing machine. New Bathroom. Two TVs. WiFi. Outdoor shower with room to store boards. Family & Friends are welcome.
We are nestled on the ocean nature reserve, but close enough to walk into town for a great coffee. I'd recommend Mavericks - which is just next to McDonalds. Mavericks roast their own selected beans - tell Andrew I sent you - and take home some wonderful coffee with you. There are many craft shops and the old town of Milton is close by. Pop into 'Revival' furniture and see Juno and Jenny - their hand picked retro furniture is superb, and they deliver all over Australia. You may find the perfect item found on their annual trip to Europe. Original Eames and Hermin Miller collections (1950s) may be found there, as well as beautiful cedar bookcases from the 1850s Visit the Star Hotel for some Friday night dancing. Or take the children to Timezone for some action (1km) or for a day trip to the Mogo Zoo (60km).
Art der Unterkunft
Ganze Unterkunft
---
Objekttyp
Bungalow
---
Unterkunft für
5
---
Schlafzimmer
Ulladulla, New South Wales, Australien

"Burrabil" is the Aboriginal word for light. The cottage is like a relaxing massage, when you look across the uninterrupted views of Pigeon House Mountain & the Budawangs. The cottage absolute lake frontage, of beautiful Burrill Lake. Through the gate and you are on to the lake. It is the perfect place to base for fishing, or a morning surf, Isis Spa or Cafe Brill. Burrill Lake has a beautiful inlet, accessing the ocean and Burrill Beach. Close to Ulladulla, Milton and Mollymook. A paradise!
"Burrabil" is the Aboriginal word for light and the retreat is light for the soul. It is like a relaxing massage, when you look across the uninterrupted views of Pigeon House Mountain and the budawangs. It is the perfect place to base for a morning surf at 'point nor east' or the Ulladulla bommie. If its fishing, stand up paddle (SUP), coffee, great fish and chips or the best South Coast Spa then its ISIS just around the corner. Perfect for a girls get away. Or a 'learn to surf' surfing safari with our local world champion at 'Pam Burridge Surf schools'. Burrabil comfortably sleeps 8 people with 2 queen bedrooms (One 1 with extra single bed) & 3 bedroom (3 singles) - King Single and Trundle and single bed. Has 1 bathroom, extra toilet, well equipped Laundry. A Very Special part of our Retreat is that Linen is provided & the beds are made for you so you can enjoy your holiday the minute you arrive. Doonas & quality pillows are also provided, all you need to bring are your towels. A reverse cycle AIR CONDITIONER has been installed for your comfort. Cooler in Summer and warmer in Winter. The laundry is conveniently equipped with washing machine & dryer. Hot outdoor shower! Stereo Wifi connection & TV system. We welcome families & couples to enjoy our very special coastal retreat. The owners are a local family and look forward to you enjoying the paradise of 'Burrabil'. A Very Special part of our Retreat is that Linen is provided & the beds are made for you so you can enjoy your holiday the minute you arrive.
Burrill is a beautiful lake village. Superb fishing, surfing and waters sports. Stand up paddle board at your doorstep. the small village has coffee shop, small supermarket, fish and chips. There is a cycleway to Ulladulla and the beaches. Large sports field nearby to complement the beautiful lake edge lifestyle.
Beautiful layout with everything you need. The weather may have been damp but we had a wonderful stay. Just hanging out on the back deck reading the paper and watching the birds on the lake so relaxing
Dan
2017-02-26T00:00:00Z
Denise was a superb host and great communicator. You can expect a well stocked house that's spacious and perfectly located on the water's edge. We had an amazing family break and will definitely return in future!
Louis
2017-01-20T00:00:00Z
Location was fantastic, right on the shores of Burrell Lake, with a lovely deck overlooking the water. Very comfortable set up, well equipped kitchen, and very good communication with the host. Neighbours were a delightful bonus! Only issue was the sofa bed was uncomfortable.
Sarah
2017-02-04T00:00:00Z
Lovely place, great host, and relaxing location.
Jackson
2017-01-06T00:00:00Z
This place is right on the lakefront and is a great coastal getaway for family and friends. Fishing in the lake was a lot of fun with a fishing shop down the road to get gear and bait. House is well equipped.
Shahzad
2017-01-28T00:00:00Z
It is a nice house with a beautiful view. We stayed during Christmas with some friends and it was a nice stay, the house has everything that we needed and it was not far from the beach. It has an entrance to the lake, where we could swim all the way to the sea.
Cristina
2016-12-25T00:00:00Z
Fantastic location!
Yanosh
2017-03-12T00:00:00Z
The Burril Lake house presents as near new. A beautiful house in a beautiful spot overlooking the lake with mountains in the distance. Only five mins from Ulladulla and in a quiet and secluded spot. Everything is taken care of and in good working order and the communication with Denise was really great. Plenty of info but non intrusive. We recommend staying here!
Jared
2017-03-04T00:00:00Z
Art der Unterkunft
Ganze Unterkunft
---
Objekttyp
Haus
---
Unterkunft für
8
---
Schlafzimmer
Burrill Lake, New South Wales, Australien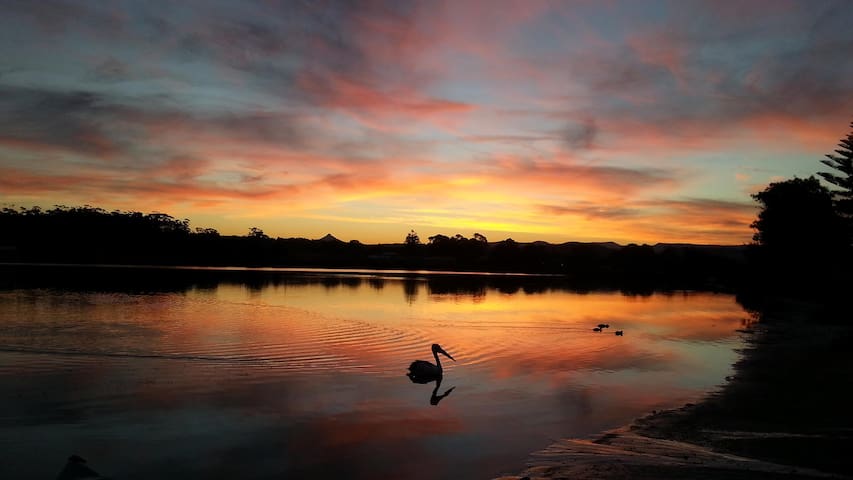 The QuarterDeck is the perfect destination for a family beach, boating and fishing holiday. It's set on 1,300 square metres at beautiful Burrill Lake. The water laps under the large covered verandah, which is fantastic for relaxing and entertaining. There's a private jetty and a huge level front yard. The separate loft accommodation is ideal for teenage kids or another family to have their own space. The beach, park, shops and boat ramp are all just a short stroll away.
The QuarterDeck is a restored cottage, boatshed and loft right on the shores of beautiful Burrill Lake. There's plenty of off-street parking. Bring your boat and your kayaks! The main cottage has three bedrooms, living and dining areas, kitchen, bathroom, laundry and toilet. The living room opens onto a huge covered deck, which overlooks the lake, that is perfect for entertaining, meals, or just sitting and relaxing. Enjoy the views while you cook a BBQ! We have a great selection of games and DVDs for rainy days and books galore. We plan to install broadband Internet and WiFi in July/August 2017, as soon as the NBN is available. Please check with us when you inquire if this is up and running, as we can't put the order in ahead of the NBN roll-out and so don't have a definite date. The new Burrill Lake bridge is scheduled to be completed in early 2018, which will really open up the lake entrance and inlet, which will be fantastic! The QuarterDeck is about 100m from the old bridge. The noisy part of the work is behind us. The old boatshed is now a rustic games room, with a table tennis table, extra TV and modern bathroom with shower and toilet. The large level front yard is great for a game of cricket, football or croquet. The loft, up a flight of stairs from the boatshed, is a fantastic additional self-contained space, with a simple kitchen, eating area, lounge/TV area, queen bed, tri-bunk (double bed with a single bed on top) and sofa bed. All this opens onto a verandah with panoramic views of the lake. Perfect for a second family or teenagers! The gas heater in the main living space keeps you warm on those cold winter nights. The private jetty is great for fishing or boating.
Burrill lake is a beautiful little community. The local shops which are a very short walk from the QuarterDeck, comprise of an IGA, newsagent, coffee shop and hairdresser. The Burrill Lake Fish Shop, with the best fish and chips on the south coast, is a five minute walk away, just across the bridge. The beautiful Burrill Lake inlet with its crystal clear water and child-friendly lagoon is within a short walk.
Art der Unterkunft
Ganze Unterkunft
---
Objekttyp
Ferienunterkunft
---
Unterkunft für
12
---
Schlafzimmer
Burrill Lake, New South Wales, Australien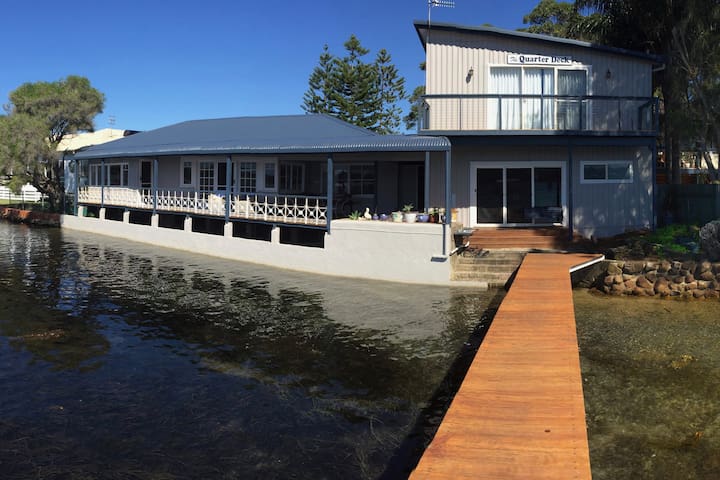 We are a 10 minutes walk to the ocean and no more than 15 minutes walk to the lake. There are 3 kilometers of natural reserve with bush walks backing onto our property. Your accommodation is completely private, with your own separate entrance and off street parking on site. We will endeavour to ensure you enjoy your stay with us, regardless of your ethnic or religious background. Everyone is welcome, we look forward to meeting you.
Our place is great to do as little or as much as you desire, great for recharging your batteries. You can experience some magical sunrises and sunsets from our property.
Very quiet neighbourhood, we are in a cul de sac.
Carol and Telly were super hospitable and Kind to us after a long days travel. They provided great conversation and were extremely friendly and warm. The accommodation was clean and had all the necessities provided! Great Air BNB would stay again for sure!
Josef
2017-01-26T00:00:00Z
Self contained room was lovely, very clean, with much more charm than the pictures show. Little touches we apprecied, chocolates, snacks and cold water in fridge on arrival. Lovely little private outdoor area with views, this was the perfect little place for a weekend away. Carol was welcoming, friendly and has set up the room with everything you need for a hassle free trip. Thanks again for having us! Jen & Cas
Jen
2017-01-15T00:00:00Z
This place was great. It was a beautiful room and if you walk out the front there are lovely lake views. Carol was a wonderful host and I would stay again!
Anna
2017-02-11T00:00:00Z
Art der Unterkunft
Privatzimmer
---
Objekttyp
Haus
---
Unterkunft für
2
---
Schlafzimmer
Burrill Lake, New South Wales, Australien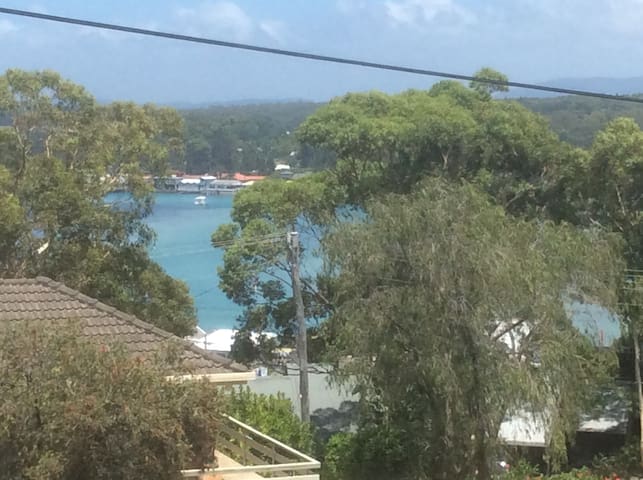 This space is close to award winning restaurants, clubs, cafes and the beach, nightlife, and public transport. You'll love the; fresh, clean, peaceful ambiance, comfortable four poster bed, the luxurious full bathroom, with your own Private entrance. Sorry No Pets
PRIVATE ENTRANCE into this is a great clean space, skylight above the bed, look at the stars. This room gets the afternoon sun, sit out on the deck and watch the sun go down.
Where the bush meets the sea. A beautiful working harbour - great for fish & chips!. We have award winning restaurants such as Cupitts Winery and St Isidors has a hat award, there is also Tallwoods, Rick Stein at Bannisters, Milton Ulladulla Ex-Servos and Ulladulla Bowling club. The Treehouse Cafe in Boree St Ulladulla has great healthy eats, Pilgrims in Milton is a restaurant for vegetarians. The choice is endless.
Lovely bedroom and bathroom, quiet location.
Barbara
2016-11-18T00:00:00Z
Great location. Lovely room and amenities. Luxurious bathroom and private entrance. Perfect for business travel. Thanks Anna - see you next trip.
Fiona
2016-11-22T00:00:00Z
The place is beautiful, short walk to main strip, shops and harbour and beaches. Room is fantastic, bathroom is extremely clean luxury on a budget is an apt description. Private entrance to the room is a nice touch and mean you can be as private as you want. Room was decked out with everything you need. Would recommend the room and Anna to anyone looking for a place to stay in Ulladulla. Absolutely beautiful
Josh
2016-11-16T00:00:00Z
Beautiful place to stay. Very close to everything. Great for a weekend away. Comfy bed and massive bathroom.
Sam
2016-11-26T00:00:00Z
Pleasantly surprising.
laurence
2017-02-14T00:00:00Z
My partner and I had a lovely stay at Anna's place. It was a very welcoming place with beautiful touches of personalised hospitality. The homemade muffins and granola as well as provided toiletries made for a very comfortable stay. The place was immaculate with a beautiful modern bathroom. We would visit Anna's place again!
Andrea
2017-01-03T00:00:00Z
We really enjoyed the stay in Annas home! It was a Great Time in ulladulla :)
Antonia
2017-02-04T00:00:00Z
Great! Best place in town for a short stay
Nick
2017-02-02T00:00:00Z
Art der Unterkunft
Ganze Unterkunft
---
Objekttyp
Haus
---
Unterkunft für
2
---
Schlafzimmer
Ulladulla, New South Wales, Australien
This is a brand new studio/granny flat with kitchenette,that backs onto National Park. If you love mountain biking, running and bushwalking this is a perfect location for you. A small drive (5-10mins) away are many surf beaches or if you prefer flat water there is Burrill Lake.
The host canceled this reservation 41 days before arrival. This is an automated posting.
Sarah
2016-11-19T00:00:00Z
Such a pleasant place to stay.
Kristie
2017-02-12T00:00:00Z
Kim and Dion were really accomodating and we had all that we needed for a lovely weekend away.
Brigitte
2017-01-27T00:00:00Z
Kim and Dion are great hosts and very helpful. The granny flat has everything you need for a comfortable stay. It has a little kitchenette, washing machine, and small bathroom. Linen and towels were provided. It also had a ceiling fan which was useful in the heat. We had access to a BBQ and pergola area with outdoor setting. Nothing was too much trouble and they gave us good advice on things to do in the local area. The milk Haus for breakfast and lunch and Talwood restaurant were great places to eat. There is also access to the national park and Burill Lake at walking distance where you can also go for a mountain bike ride. We will definitely stay again and recommend it to others. Thank you Kim and Dion for a lovely stay. Eileen and Domenic.
Eileen
2016-01-07T00:00:00Z
Kim and Dion couldn't have been more willing to accommodate me and helpful in every way. The cabin was peaceful and quite adequate for a short term stay. The bed was very good. It is located only 5 mins from a good swimming spot and pleasant walks are nearby.
Clare
2016-09-25T00:00:00Z
Kim was a lovely host, she gave great recommendations of things to do in the area. The bungalow was very comfortable and clean. My boyfriend and I really enjoyed our stay.
Hannah
2016-10-02T00:00:00Z
Excellent accommodation and lovely hosts. Very helpful and friendly. The cabin was very comfortable and clean and perfect for us. Really great location, close to some very nice beaches.
Stephen
2016-10-22T00:00:00Z
My boyfriend and I experienced a lovely time away. The house was in top condition their was nothing to complain about. Kim was a lovely host.
Katarina
2016-01-02T00:00:00Z
Art der Unterkunft
Ganze Unterkunft
---
Objekttyp
Bungalow
---
Unterkunft für
2
---
Schlafzimmer
Burrill Lake, New South Wales, Australien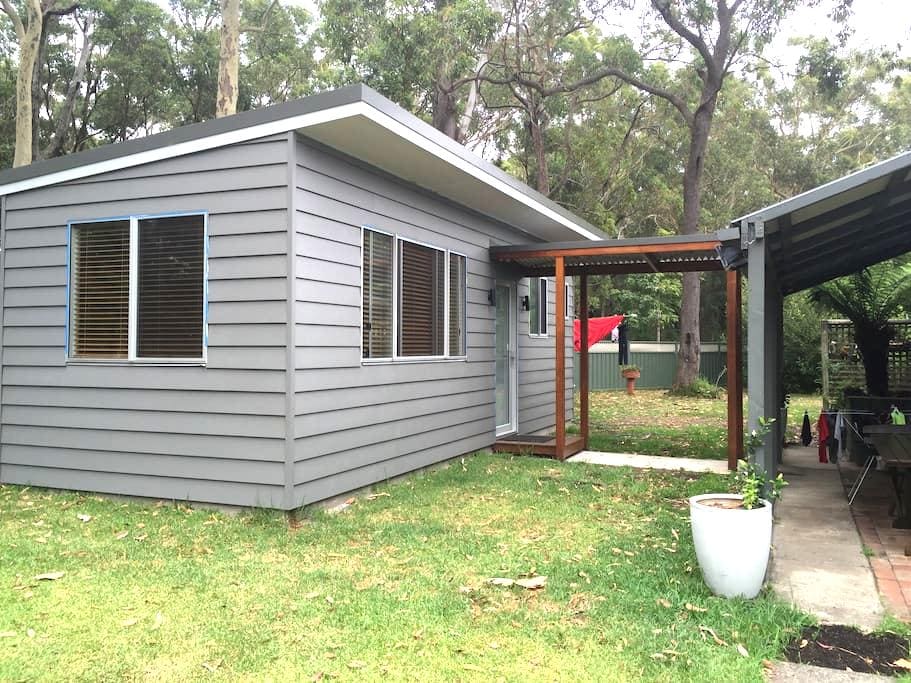 Our cool and comfortable oceanfront one bedroom downstairs/self-contained studio apartment with ultra plush bathroom will delight any guest. Large open-plan living/kitchenette can be closed off (via a large sliding door) to the spacious bedroom with king size bedroom. Plantation shutters separate the bathroom from the bedroom and open to take in ocean views while bathing. Enjoy a hot outdoor shower after a day at the beach, BBQ ...- enjoy views from everywhere! Spacious, cosy,modern, and clean.
OCEANFRONT! See dolphins surfing with the surfers below and migrating whales breeching. Great fishing and beautiful beaches to explore and play.
We live in a quiet neighbourhood/community with fabulous restaurants and cafes nearby- a foodies delight. There are also great shops/delis to purchase gourmet take home meals to enjoy without leaving your gorgeous views and the casual comforts of home.
What a view! Thanks Danielle. The apartment was quiet, very clean and had everything we needed. It was in a great spot for exploring the south coast! We loved the private path down to the water.
Mark
2017-03-25T00:00:00Z
Danielle's beachfront studio is clean, comfortable, quiet and tastefully furnished with everything we needed to make ourselves at home. The view of the ocean, lounging in the living room with a glass of wine, is so relaxing and hypnotic. There are lots of great restaurants a short drive away in Ulladulla and also in Milton. We highly recommend this retreat for its location, style and comfort.
Trevor
2017-03-18T00:00:00Z
Stunning location - from the glass doors through the back of the studio apartment we had sweeping ocean views and the soothing sound of the ocean as we slept. The place was really well equipped for a few peaceful days away - all the comforts we needed with a bonus of a beautiful big bath! Danielle was a wonderful host and always very obliging and helpful. Highly recommended!
Rebecca
2017-03-15T00:00:00Z
Art der Unterkunft
Ganze Unterkunft
---
Objekttyp
Haus
---
Unterkunft für
2
---
Schlafzimmer
Ulladulla, New South Wales, Australien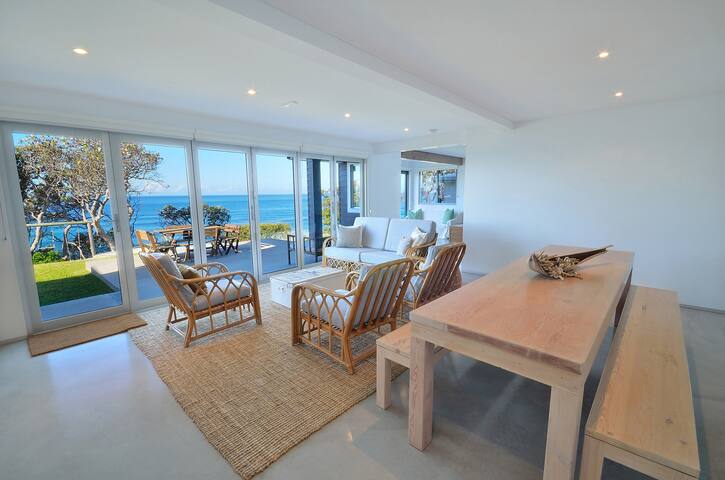 Situated minutes to Mollymook Beach, the Historical town of Milton and Ulladulla Harbour this property is centrally located close to the bustling cafes and restaurants that the area has to offer. This magnificent home ouzes luxury with its three large bedrooms, Master bedroom with walk in a balianese style ensuite with sunken in bath amongst a topical paradise. The second bedroom also offers an ensuite. The property offers open plan living with a sunny and light aspect.
The host canceled this reservation 21 days before arrival. This is an automated posting.
Sunny
2017-03-24T00:00:00Z
Art der Unterkunft
Ganze Unterkunft
---
Objekttyp
Haus
---
Unterkunft für
6
---
Schlafzimmer
Ulladulla, New South Wales, Australien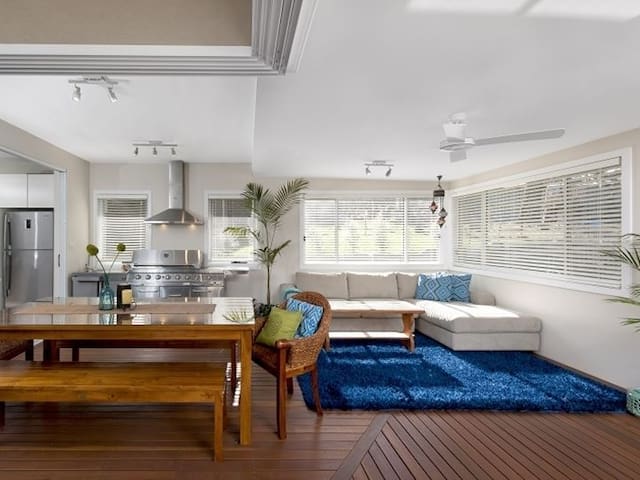 Quiet, sunny, private garden studio. 5 mins walk to Rennies Beach, 10 mins to harbour, and selection of cafes and restaurants. Outdoor private garden shower with hot/cold water and own toilet. Microwave, fridge, toaster, tea/coffee and use of BBQ.
Large studio detached from main house, private garden setting, toilet and sink in laundry attached to back of house, outdoor hot/cold shower.
Our host was ready for us on arrival - very warm and friendly. The location was excellent and the accommodation lovely and neat and cosy for our stay.
Warwick
2016-01-25T00:00:00Z
Rebecca is a wonderful hostess. Lots of thought & care has gone into the preparation of her little cottage. We loved the outdoor shower & the garden & the choice of tea. I would recommend to anyone.
Maria
2016-02-04T00:00:00Z
Rebecca's studio was a brilliant set up. We loved our stay and Rebecca was a great host. Definitely recommend!
Tim
2016-01-07T00:00:00Z
Rebecca was a great host - Gd communicaton and v welcoming. The studio is in a great location for getting to Mollymook, nearby beaches etc - only a short drive away, and set in a quiet suburb. Clean and well equipped.
rory
2016-01-10T00:00:00Z
We stayed here for 2 nights and it was beautiful.
Kerri
2016-03-25T00:00:00Z
The host canceled this reservation 72 days before arrival. This is an automated posting.
Natalie
2016-10-17T00:00:00Z
While traveling between Sydney and Melbourne we opted to stop by in Ulladulla and found the calm and separated house of Rebecca
Federico
2016-01-04T00:00:00Z
Great host when we requested to stay at such short notice. Lovely private accommodation. Highly recommend staying.
Nick
2016-02-29T00:00:00Z
Art der Unterkunft
Privatzimmer
---
Objekttyp
Haus
---
Unterkunft für
2
---
Schlafzimmer
Ulladulla, New South Wales, Australien
Absolute Beachfront, no Roads to cross. It is set in a private landscaped setting with an ever changing water vista of dolphins, surfers, anglers, seabirds and migrating seasonal whales. There is a covered alfresco dining area for enjoying wine, nibbles and BBQing the catch of the day, whilst relaxing and enjoying the cooling sea breezes. A walk after dinner on the beach can be accessed by our own private walkway that takes you on to the sands of Racecourse Beach. Dolphin View is an easy ten minute walk to the newly built Ex Servicemans Club, that offers fabulous affordable meals, entertainment and a courtesy bus. The fully self contained apartment has just recently been renovated with a fresh new look. Up to 25 restaurants and cafes. Two golf courses to choose from, 18 hole championship course and a 9 hole beach side course both at Mollymook. Leisure centre with gym and pools. Twin cinema and Fun Land for the kids. Also great local walks.
We had a wonderful stay at helmet and Iris's. A beautiful location, everything we needed for a relaxing weekend away. We will definitely be back!
James & Alexis
2016-12-11T00:00:00Z
Helmut was a wonderful host he was very welcoming, showed us around the perfect sized flat for 2 adults and 1 child. The space could easily accommodate 2 adult and 2-3 children. There were frshed baked muffins waiting for us. The bathroom had clean towels and comfortable beds. We will definitely be back! Thanks for a great stay.
Skye
2016-03-16T00:00:00Z
Great place. Helmut and Iris are super lovely. Really easy to find. Right on the beach, beautiful. All the facilities you need, and a comfy bed. Close enough to restaurants and town etc. No hassles, all great. We only stayed the one night unfortunately but we'll definitely be back for a longer stay. Fantastic. Thank you.
Garth
2014-09-22T00:00:00Z
Private with great undercover outdoor entertainment area and beautiful outlook with direct access to the beach. Child friendly. Hosts were very welcoming and friendly. We had a wonderful time.
Deborah
2015-12-22T00:00:00Z
Helmut and Iris were really welcoming and even baked some muffins for us! We loved the house - it was comfortable, well stocked and well furnished - and the beachfront location was a dream.
Zainab
2016-09-23T00:00:00Z
Iris and Helmut were lovely hosts - very warm and welcoming. The apartment was very accurately described with beautiful views and the sound of the ocean on the door step -I'm going to miss hearing the waves crashing before going to sleep - I have never slept better!
Lisbeth
2017-03-26T00:00:00Z
Very warm welcome by Helmut (and the famous muffins mentioned by so many others). He gave us a full tour of the place, including the birds in the neighbourhood. He was also very helpful when he learnt we were ordering food in and offered us recommendations and bargains. The place was tastefully furnished and the private garden facing the sea was fantastic. Location is great, just next to the beach. We were lucky and managed to see a school of dolphins during our morning swim. Only pity is we were only there for 1 night.
Chee-Chuan
2016-12-13T00:00:00Z
Great location with easy access to the lovely beach. Helmut provided everything you need in the unit for a weekend stay or longer and was a welcoming and helpful host. Louise
Louise
2017-02-12T00:00:00Z
Art der Unterkunft
Ganze Unterkunft
---
Objekttyp
Wohnung
---
Unterkunft für
5
---
Schlafzimmer
Ulladulla, New South Wales, Australien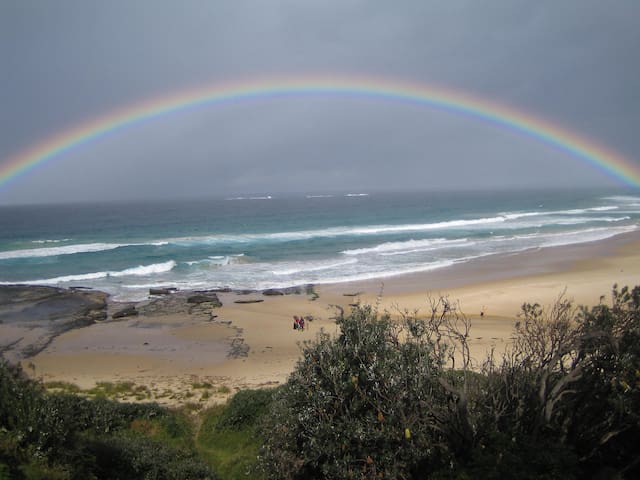 This magnificent five bedroom home in Dolphin Point offers a sunny aspect and commanding views of Burrill Lake, beach and ocean. Sleeping 10 people, this truly is a great location for a family holiday with something for everyone in the family to do.
Relax and enjoy lake and ocean views in this wheelchair friendly property. The downstairs bedroom and bathroom have been renovated to accommodate a wheelchair. Upstairs - the main bedroom which is ensuited has great views of the beach & lake, with the second double bed room also boasting the same views of the beach & lake. The third bedroom is also located upstairs with two single beds & 4th bedroom with Queen bed. The main bathroom (separate WC) is located between the second and third bedrooms. This magnificent five bedroom home in Dolphin Point offers a sunny aspect and commanding views of Burrill Lake, beach and ocean. The location offers less than one minute walks to lake and beach, swimming, fishing and lovely scenic strolls. If you choose to enjoy dinner out with the family the EX Servo's & Mollymook clubs both have Bus pick up & drop back services to Dolphin Point. Sleeping 10 people, this truly is a great location for a family holiday with something for everyone in the family to do. If you just want to soak up the sun while taking in the views, this can be done on either of the two front decks. Table tennis is provided as is a large covered BBQ area with gas BBQ and seating. The house is airconditioned, has ceiling fans and will provide a delightful break.
Great week away! Beach views from a quality property!
Stevie
2017-01-28T00:00:00Z
Dolphin Views is a fabulous place to stay. It's directly across the road from the beach so no shoes needed! We didn't see any dolphins but we did see many whales each day from our deck at the front of the house. The kitchen is well appointed with lots of equipment. If the breeze off the sea is too strong there is a lovely area out the back of the house. Table tennis in the garage was a big hit with our family.
Jennifer
2016-11-12T00:00:00Z
The host canceled this reservation 8 days before arrival. This is an automated posting.
Traci
2015-09-17T00:00:00Z
A welcoming bottle of wine and goodies on arrival, the property was immaculate and clean, the location was brilliant and we had stunning weather too!
Adrian
2016-07-18T00:00:00Z
The location of this house is perfect. Burrill lake is just across the road and you can see (and hear) the ocean from the house. The house had everything you could need - including a bbq and fully stocked kitchen. Definitely recommend!
Monica
2017-03-12T00:00:00Z
Such a beautiful and comfortable house. The view was great and the atmosphere was comforting. House is very well equipped and the kitchen was great! Had a great time and would come back.
Danny
2015-01-26T00:00:00Z
Steve and his team at Ticker R/E were great to deal with. The welcome hamper was a great surprise ! Thanks. Property had everything our 2 family and 5 kids wanted. We would recommend Dolphin Views & Steve's team to others
Jo
2016-10-02T00:00:00Z
The house was excellent; very clean, tidy, spacious, and the quality of the furnishings was next level. The kitchen was really well equip for our birthday dinner party and there was plenty of room of rate whole family.
Olivia
2016-03-06T00:00:00Z
Art der Unterkunft
Ganze Unterkunft
---
Objekttyp
Haus
---
Unterkunft für
10
---
Schlafzimmer
Dolphin Point, New South Wales, Australien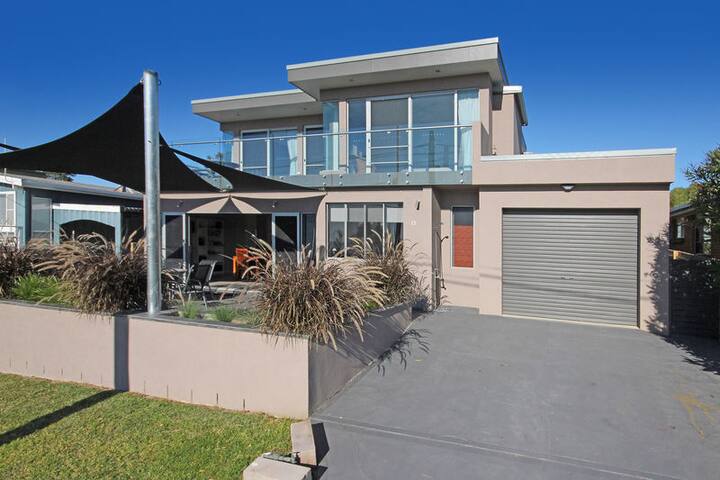 The Retreat By The Sea Gives you a taste of luxury brand new linen, bed, mattress and furnishings. While you stay why not add a Remedial Massage, Beauty or Naturopathy treatment in your very own private space while you stay. Your be a street across from the sea and short 2min drive to the famous Mollymook beach. With a deluxe oversized bed room for the ultimate in relaxation. Why stay in a hotel and pay more for only a fraction of the comfort.
At 'The Retreat By the Sea' you have stunning walks and scenery within walking distance from the house. The "Retreat" is decorated with a Beachy Theme so you feel like your really on holiday and the smell of sea air when you step outside. Clare is of service when you call to provide you a massage, body spa or deluxe facial of your choice in your own private space. With over 100 movies to choose from and unlimited Wifi, brand new mattress, sheets, blankets and choice of wine, escape the madness and experience the ultimate in relaxation with a touch of luxury!
Right next to the house we have a well know wall called 'Walk For All' which gives stunning ocean views and historic carved wood art all along the walk, right out to the coast line. We are 2minute drive to Mollymook Beach and 6 minutes to Milton.
Clare was lovely, so hospitable and had a real passion for the area
Matt
2016-11-12T00:00:00Z
Awesome!
Jessica
2016-10-29T00:00:00Z
My partner and I had a very relaxing time at Retreat by the Sea. Clare was a fantastic host. Whilst she resides upstairs and you down, you easily forget that you're in someone else's home. She was very respectful of your privacy. She is extremely easy going and has great communication skills! The space is immaculate and has everything you'd need for an easy stay. For an additional charge she will make you the most delicious healthy breakfast. Quiet street, quiet baby, beautiful dog! Highly recommended to everyone and anyone looking to recharge their batteries!
Aaron
2016-10-23T00:00:00Z
It was a beautifully set up place close to some great walks and the beach.
Melanie
2016-11-26T00:00:00Z
My partner and I traveled to Mollymook for a wedding. The listing exceeded our expectations. It was clean, comfortable and very homely. Clare was a magnificent host - any questions that I had she answered promptly and informatively. I have no doubt that my partner and I will return for another weekend getaway!
Murphy
2016-11-06T00:00:00Z
We had a great stay at Clare's beach house! Fabulous location for a relaxing few days. Unfortunately we didn't get to meet Clare but all communication prior and throughout our stay was perfect. We loved Milly the dog!! Thanks for having us!
Teneille
2016-11-24T00:00:00Z
Clare was very friendly and keen to make our stay as enjoyable as possible
Laura
2017-01-29T00:00:00Z
Thank you for being such a great host and working with our schedule! We had a lovely time and loved the location!
Jamie
2017-02-21T00:00:00Z
Art der Unterkunft
Ganze Unterkunft
---
Objekttyp
Andere
---
Unterkunft für
3
---
Schlafzimmer
Ulladulla, New South Wales, Australien
Large beach house with fabulous ocean and bush views. Put away the car keys, you can walk everywhere! Beach, town, cafes, shops - all within a 5-15 minute walk. Rennie's Beach and Rennie's Bombie, plus bush walks, are at the end of the street.
The house is large, light, airy with modern appliances. 2 bedrooms (both queen beds) and a bathroom upstairs and 2 bedrooms (1 queen bed and 2 king singles) and a bathroom downstairs. The lounge and dining area are only separated by the kitchen so it's a very social living area. There is a rumpus room downstairs with TV/DVD/ping pong table. Fully equipped kitchen and laundry. SORRY - NO PETS SORRY - NO SCHOOLIES BOOKINGS
SURF. Rennie's Bombie and Rennie's Beach offer great surf at your doorstep. And only a quick drive to many other surf spots on the south coast! WALK/RUN/CYCLE There are many tracks through the bush reserve, along the beach and through town to Mollymook. Many of these tracks are dedicated pedestrian + cycle ways. Of course if you are feeling very fit with energy to burst you can always climb Pigeon House Mountain! GOLF Mollymook Golf Course is a lovely casual course beside the sea. Have a drink/meal at Mollymook Golf Club after and enjoy the view along Mollymook Beach. The Hilltop is a top quality golf course at Milton which will offer you a good challenge! WATERSKI There is a waterskiing club at Kings Point, just off the highway, heading south of Ulladulla. HORSE RIDING Enjoy a horse ride in Milton.
The host canceled this reservation 85 days before arrival. This is an automated posting.
Yu
2016-01-21T00:00:00Z
Perfect location with an open and practical layout that is great for families or friends.
Michael
2016-04-26T00:00:00Z
Rennie's beach escape is fantastic. The house has everything you need and is in a great location with beautiful views! Communication with Laurie was a breeze. We had a wonderful stay and would definitely recommend.
Michelle
2016-06-14T00:00:00Z
communication was great and the overall stay was a wonderful bonding for family Fantasic weekend
debbie
2016-10-05T00:00:00Z
Beautiful place to stay and the house had everything we needed. A great place to stay with friends and family. Laurie had great communication and was very friendly. I would definitely come back here again!
Carla
2017-02-18T00:00:00Z
We had a wonderful time! The house has everything you need for a family holiday, so much space, beautiful views, a kids playroom downstairs (complete with TV/DVD player for when you need them to calm down for a while) and a child-friendly backyard. Beautiful views and lots of fresh air, and a few minutes walk to amazing beaches... We didn't want to leave!! And Laurie was a fantastic host, very friendly and happy to answer any questions. I definitely recommend it to anyone.
Jessie
2017-01-09T00:00:00Z
Beautiful home with everything you need! Perfect location, close to the beach and town centre. Amazing ocean views with plenty of entertainment available. Would highly recommend!
Ashlee
2017-01-28T00:00:00Z
Art der Unterkunft
Ganze Unterkunft
---
Objekttyp
Haus
---
Unterkunft für
8
---
Schlafzimmer
Ulladulla, New South Wales, Australien
PACIFIC SUNRISE: From the moment you arrive, immerse yourself in the serenity and privacy of this special place. We've thought of everything to make your stay as comfortable as possible. Central location, free WIFI, saltwater pool and great views.Day long winter/spring sun, summer ocean breezes. Whale spotting Perfect spaces for relaxation with a great location perfect for all ages.
A perfect space to warm the cockles of your heart and nourish the soul. Warm sunny interior with every comfort catered for. Books, cards, games, Bluetooth compatible surround sound, smart 55" HD TV, blue ray player, comfortable swallow you up sofas. Come, enjoy and rejuvenate. The combined Living and Dining area is adorned with daylong winter sun and summer ocean breezes. Sitting high above the town centre with soothing Pacific Ocean views, the dining table seats up to 8 people and a 3 seater, 2 seater and occasional chairs provide for seating options. Slide open the double doors from the Living Room that lead out to the balcony overlooking the crystal clear pool and ocean views. Kitchen The full size stone kitchen is fitted out with the latest European appliances to assist you prepare that gourmet meal at home. Enjoy a freshly brewed coffee from the integrated Miele coffee machine to get your motor running. If coffee isn't your thing, there's also filtered water available. Cooking options include wok burner, induction cooktop, full oven and steam oven. Some pantry items are provided and we ask you to "use what you need, and leave what you don't". Pool Area Our pool carries a certificate of compliance with requirements of Section 22D of the Swimming Pools Act 1992 and AS(PHONE NUMBER HIDDEN). Perched up high, north facing, and overlooking the town with total privacy, the 11m x 4m pool comes into it's own as the temperature rises. Lounge around in the white sunbeds while you warm up before another swim. And if you're lucky enough, you'll stay here over Easter or New Years Eve and view the fireworks from the front deck whilst sipping on a crisp Sauvignon Blanc. Heating and Cooling Reverse-cycle aircon will keep you warm in winter and cool in summer, with units in The Living/Dining area and in each of the 3 bedrooms. There are also ceiling fans in each bedroom, snug and living room. 3 bedrooms all with queen beds. The snug has a double sofa bed. Porta cot (with linens on request), highchair and baby bath provided.
Our property is in a wonderful location, being so central to all amenities and completely within walking distance. Great for adults and kids of all ages to be independent of each other. Fabulous headland walks and wild flower reserves within close proximity. Tennis, fishing, markets, harbour, clubs, shopping, oyster bar, cinema and funland within a couple of minutes walk. 5 minute walk for the kids to the skate park. Cupitts winery, Rick Steins "Bannisters", St Isidore slow food restaurant among many of the wonderful fresh, local produce restaurants within a 5 minute drive.
a beautiful house with a great location right in the centre of Ulladulla. Everything we could possibly have needed (and much more) was provided. We highly recommend and are already thinking about when we can return. Perfect for a relaxed, luxurious holiday.
Sarah
2016-12-02T00:00:00Z
Wonderful house for a group of friends or family. It has everything you need and the style is great! John and Ria are extremely nice and thought of everything, they made our stay really easy. The welcome pack was really appreciated as well. Thank you!
Fanny
2016-11-10T00:00:00Z
Ria's place was spectacular! Convenient location right next to all the major supermarkets. The place was very clean and has lots of amenities. Suitable for large groups as the house is spacious. Only minor issue is the pool is not heated so it can be too cold if the sun isn't out but could still be refreshing! Would love to stay at ria's place again in the future :)
Vanessa
2017-02-05T00:00:00Z
Great hosts with great communication. The house is located in a very central and convenient location. The house is equipped with all the mod cons. The welcome hamper was very much appreciated on arrival !
Jamie
2017-01-05T00:00:00Z
The house is great! Right next to supermarkets, cafes and the centre of town. View to the water and beautiful sunrises and sunsets on the deck. The furnishings and style of the house is spot on for what you want at the beach. Modern kitchen with all the mod cons. Small touches like, music, candles and groceries on arrival were welcomed. Offered an extra night for a plumbing issue. We had a great stay at Ria's, would recommend.
Colette
2017-04-01T00:00:00Z
Modernized house. Great furniture. Perfect kitchen, beautiful swimming pool and great view
xihai
2017-02-01T00:00:00Z
Awesome location, clean, tidy, family-friendly, and well organised hosts. Highly recommended.
Sashi
2017-01-02T00:00:00Z
Comfortable, modern, clean, well equipped and children friendly home. Ria checked that we had arrived safely after a stormy afternoon. Entered the house to relaxful music playing really got the mood going. High recommended.
Janet Lee Quan
2017-02-18T00:00:00Z
Art der Unterkunft
Ganze Unterkunft
---
Objekttyp
Haus
---
Unterkunft für
8
---
Schlafzimmer
Ulladulla, New South Wales, Australien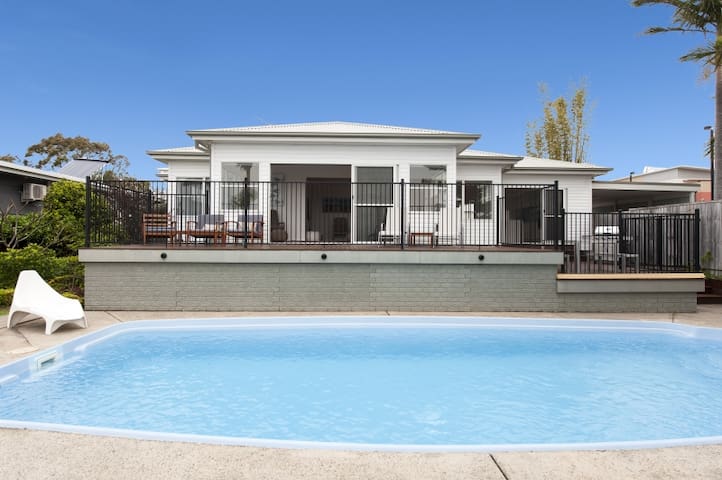 1

–

18

von

+ 300 Unterkünfte
Gib deine Reisedaten ein, um den aktuellen Preis zu sehen. Es können zusätzliche Gebühren und Steuern anfallen.