271 Ferienhausvermietungen
My house is in "heart" of nature although 20 min from Riga centre (by car) or 30 minutes with public transport (then we will meet You (for free) at the bus stop). Especially good for Vilnius-Tallin travelers. Perfect for families - a room for 2 grown ups, 2 single rooms, private bathroom, playground outside. You can use kitchen, ride bikes (2) and child' quad bike. Close there are a sauna, mini zoo (URL HIDDEN) and a stable (12 euro per hour horse ride).
The house is in the small village close to Riga, quiet and calm neighborhood.
Анастасия и Сергей! Спасибо Вам за гостеприимство. Нам все очень понравилось, и мы просто в восторге от Риги! Всем будущим гостям крайне рекомендую, а тем кто путешествует по Латвии на машине советую сразу приступать к бронированию).
Aleksey
2017-01-03T00:00:00Z
We stayed for two days in this beautiful house. The house is clean and comfortable. Owner is very hospitable, open and sociable. Everything as described. I recommend.
Vital
2016-10-07T00:00:00Z
Very friendly english, russian speaking host. We enjoyed meeting them.
Darius
2017-02-12T00:00:00Z
We had a really good stay. The house was in a beautiful spot. We had a late night arrival and they made sure everything went nicely. Would recommend in a heartbeat.
Mikko
2016-08-29T00:00:00Z
pobyt bol fain , je to tichá ,ale prašná lokalita všetko bolo podľa ponuky fotky su aktuálne
Terézia
2016-09-17T00:00:00Z
Received a very warm welcome and full service! Everything as described and even better - highly recommended.
Rytis
2016-08-25T00:00:00Z
Спасибо огромное этому дому! Останавливались семьей: 2 взрослых и 2 детей (4 и 10 лет) на 1 ночь. Остались очень довольны. Дом находится в котеджной постройке, поэтому тихо, спокойно, чистый воздух. До Риги 15 минут на машине, что для нас было очень удобно. Детей порадовало ОГРОМНОЕ количество игрушек. Сергей очень приятный, общительный, улыбчивый человек. Дом большой, все чисто. Мы обязательно приедем летом!
Alexei&Natalia
2016-12-24T00:00:00Z
Небольшая отдаленность от города компенсируется прекрасной природой вокруг, єто и лес и озера. Дом очень свежий, в комнатах, санузлах все новое, всюду чисто. Поразил Сергей своей комуникабельностью, общительностью и добродушием) Сожалею только о том, что не пришлось встретиться с Анастасией. Хозяевам только хороших гостей, а гостям- приятного отдьіха!
Andrej
2016-12-31T00:00:00Z
Art der Unterkunft
Privatzimmer
---
Objekttyp
Haus
---
Unterkunft für
4
---
Schlafzimmer
Jaunsils, Ķekava Municipality, Lettland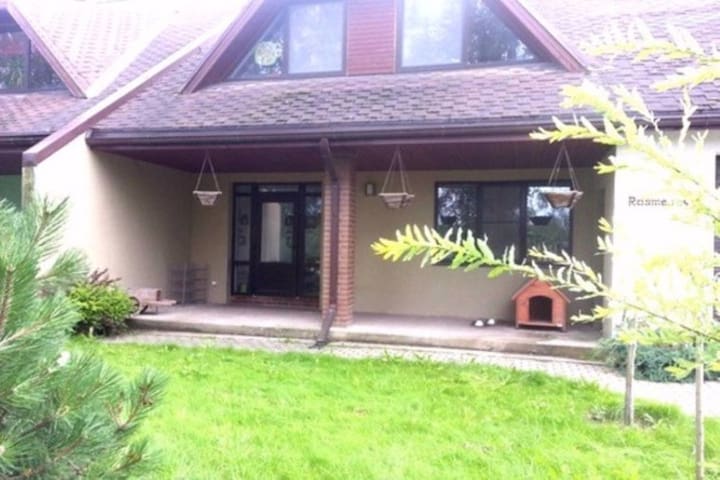 Das Haus ist 75 m2 voll meblirovan.Vsya Geräte, konditsioner.Zakrytaya Grünfläche 900m2, vom Meer nur 5 min. zu Fuß, Parkplatz für 2 a / m, im Landkreis gute Infrastruktur Transport. Fuß-sea 600m Ort Wellness (300 m), w / d Station 150 m Das Haus ist voll möbliert, Klima conditioning.Closed Grünfläche von 900 m2, zum Meer nur 5 Minuten zu Fuß, eine gute Infrastruktur und Verkehrsanbindung der Region. Fuß, das Meer von 600 m.
Home Restaurant & Bakary ,, prospekts 55 ,, - 250m c gutes Zuhause kuhney.Basseyn mit Mineralwasser Behandlungen, Massagen, Sauna, Spielplatz, 350m .3anyatiya Sportpferd ezdoy- Unterricht in der Arena; Klassen auf dem Boden; -400m
Art der Unterkunft
Ganze Unterkunft
---
Objekttyp
Haus
---
Unterkunft für
6
---
Schlafzimmer
Jūrmala, Lettland
LAKE FRONT 2 bedrooms & private bath with private terrace. Spacious living area with sofas in truly exceptional location short drive from Riga old town & Jurmala beaches!Remote lake-front spot with endless walking/biking trails, spactacular views & relax. Free WIFI 4G and parking. Pick up/drop-off upon request.
In our 4 bedroom house, we are giving out 2 separate bedrooms in 2nd floor (stair access).Master bedroom with 1 double bed 160x200 and standard bedroom with 2 single beds 80x200) and 1 Private bath (with full bath, toilet, hairdryer included). Guest rooms, library corner and very spacious private lake front terrace/sun deck for Your own use all on the 2nd floor.
Very fresh air surrounds us :) Feel free to go fishing, swimming, use of catamaran or sunbathing on terrace. Nearby forest is just perfect for walking and regaining energy. 15min by car is gym, spa, good restaurant, stores & market. We provide tours in region for small money. Ask for offer! For Holiday planning, we suggest looking into Latvia event calendar 2017 - (URL HIDDEN)
RIVER LODGE ist genau so, wie im Profil beschrieben: mitten in der Natur an einem schönen privaten See. Wir konnten in aller Ruhe und Stille entspannen, haben uns aber auch an der frischen Luft sportlich betätigt. Außerdem lädt die Umgebung geradezu zum entspannten spazieren ein. Das Zimmer ist recht groß mit einem bequemen Bett und schöner Aussicht. Die Gastgeber sind sehr herzlich und freundlich. Die beiden haben uns auch auf eine unvergessliche Tour durch die Umgebung mitgenommen. Sehr zu empfehlen und wir werden auf jeden Fall wiederkommen.
René
2015-06-20T00:00:00Z
Inga und Martins sind sehr liebenswerte,freundliche, offene, interessierte Menschen . Ihre Riverlodge ist die schönste von mir bisher besuchte Airbnb - Unterkunft in den letzen 3 Jahren. Es ist eine richtige Wohlfühloase in einer einmalig schönen Natur mit eigenem, kleinen See und nur 30 Auto-Minuten von Riga entfernt.
Erich
2016-07-20T00:00:00Z
Я отдыхал в этом доме вместе с женой и ребенком. Это красивое и спокойное место для души. Хозяева Мартинс и Инга самые добрые и отзывчивые, очень симпатичные и дружелюбные люди. Отличная семья, которые живут в полной гармонии. Мы себя чувствовали как у себя дома. Моя дочь в восторге от питомцев этого дома. Трое красивых и воспитанных четвероногих друзей, с которыми она проводила большинство времени. Рыбалка, прогулка по озеру на катамаране - незабываемые впечатления. Огромное спасибо! Рекомендуем всем, кто хочет спокойного отдыха.
Валентин
2015-07-10T00:00:00Z
We had a great stay with Martins and Inga. They are very friendly and welcoming hosts and go out of their way to make your visit an awesome experience. Our trip was to meet family that I have recently found, explore my father's homeland and learn more about being Latvijan. I had no expectation that my hosts would play such a big role and become like another set of cousins. Over our time there they made us an excellent meal, and were eager to give us little tastes of Latvija. The accommodations are first rate and clean. The house is large and set in the country. We had a car rental, but the offer was always there to take us to the train and pick up again. The train station is not too far away and an excellent choice to get to Riga and avoid finding scarce parking. We certainly hope to stay there again when visiting. River Lodge, Martins and Inga are truly gems of Latvija. Paldies and uz redzēšanos Martins and Inga.
Martin
2015-10-28T00:00:00Z
Our stay was not just great it was marvelous! Inga and Martins are the most caring, generous and sociable hosts. The property was breathtaking. Located at a remote enchanted forrest lake it is the perfect get away. For the busy city hustle. They took extra care of us, showed us around Riga and went out of their way to fulfill any extra desire or need we had. They are exactly as one imagines the kindness and hospitality of the tight nit community of Airbnb, should be like. Thank you for a great time!!!
Fanni
2016-07-04T00:00:00Z
Very friendly and interesting hosts. Excellent house and beautiful place. We really enjoyed to stay there and will be happy to visit Inga and Martins again.
Sergey
2015-08-19T00:00:00Z
My second time this year and still two lovely people comforting me with the things i needed when i am on holiday.
Harry
2015-10-13T00:00:00Z
Best "Hotel Room" near Riga, travelig with car. 5 Stars Rating ! Unique ecology nature aroud luxury villa-house. Owners very friendly young inteligent couple. Flowers makes feels like in Paradise ! Even Cats and Dogs there are friendly all together, like not from this World ! We'll return to this villa again and again when back to Riga. Feelings better than in Radisson Hotel in Riga ! Thanks for Inga & Martins for great hospitality ! Kind Regards, Rob:) Kaunas-Geneva-Paris
Robertas
2015-08-29T00:00:00Z
Art der Unterkunft
Privatzimmer
---
Objekttyp
Haus
---
Unterkunft für
4
---
Schlafzimmer
Ozolnieki, Ozolnieki Municipality, Lettland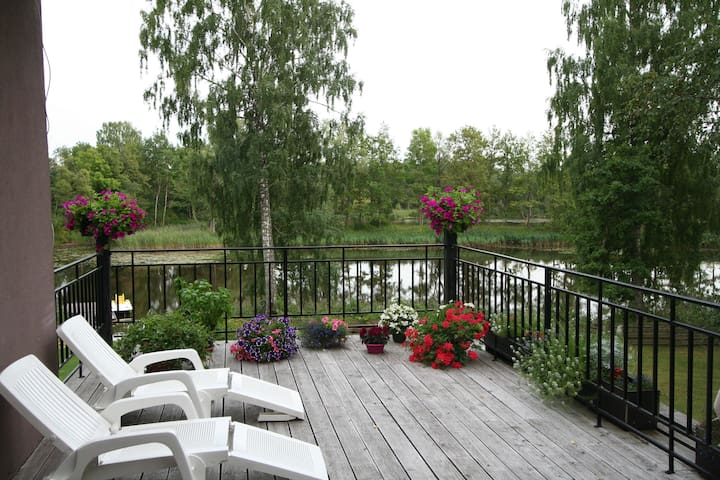 Проведите свой отпуск в летнем домике на природе, не уезжая от городских удобств и развлечений! Домик из бруса расположен в 5 км от центра города Елгава и 45 км от столицы Латвии - Риги. Здесь Вы сможете провести летний отпуск или приехать на несколько дней, попариться в бане, поплавать в пруду, позагорать на берегу. Вам будут доступны мангал, садовая мебель для обедов на открытом воздухе, а также все необходимые коммуникации: городской водопровод, электричество, интернет, телевидение.
Летний домик из бруса расположен в черте города Елгава, в 5 км от центра города и 45 км от столицы Латвии - Риги. На участке в 2 га, на котором располагается домик, Вы сможете провести летний отпуск или приехать на несколько дней, погрузиться в общение с природой, попариться в баньке, поплавать в пруду (25*35м), позагорать на берегу, послушать пение птиц, а в июне и соловьев, и даже увидеть косулей, не уезжая далеко от городских удобств и развлечений. Тишина, спокойствие и умиротворение гарантированы, а если Вы приедете с детьми, то и они останутся довольны плесканием в чистой прудовой воде, питаемой подземными ключами, играми на свежем воздухе на прилежащей территории и в песочнице. Вам также будут доступны мангал, чтобы приготовить ароматный шашлык, садовая мебель в виде качелей, которые можно перемещать в зависимости от того, каким видом Вы хотите наслаждаться (поверхностью воды в пруду, лесом или полем) и скамейками со столом для обедов на открытом воздухе. В домике есть все необходимые для Вашего комфорта коммуникации: городской водопровод, электричество, интернет, телевидение. Посудомоечная машина избавит от хлопот, а полы с подогревом согреют в случае прохладной погоды.
В центре города Елгава находится Елгавский замок - крупнейший по размерам барочный дворец Прибалтики, построенный в XVIII веке по проекту Бартоломео Растрелли как парадная городская резиденция герцогов Курляндии и Семигалии в их столице — Митаве (ныне Елгава). В восстановленной башне елгавской церкви Святой Троицы можно осмотреть захватывающие интерактивные исторические экспозиции, полюбоваться панорамой Елгавы, получить туристическую информацию, а также отведать вкусные блюда во французском ресторане "La Tour de Marie". В центре Елгавы и в 5 км от объекта - находится собор Симеона и Анны — собор Латвийской православной церкви в городе Елгава. В 1711 году Петр I при заключении брака своей племянницы Анны Иоанновны с курляндским герцогом Фридрихом Вильгельмом потребовал от него обещания построить в столичном городе Митаве православный храм, что и было выполнено. Сейчас здание имеет особый статус — флаг Европейского культурного наследия. В 30 км от объекта Вы сможете насладиться красотами Терветского природного парка. Это прекрасное место отдыха для семей с детьми и всех, кто смотрит на мир глазами ребенка и радуется созвучию природы и сказки.
Art der Unterkunft
Ganze Unterkunft
---
Objekttyp
Haus
---
Unterkunft für
6
---
Schlafzimmer
Jelgava, Lettland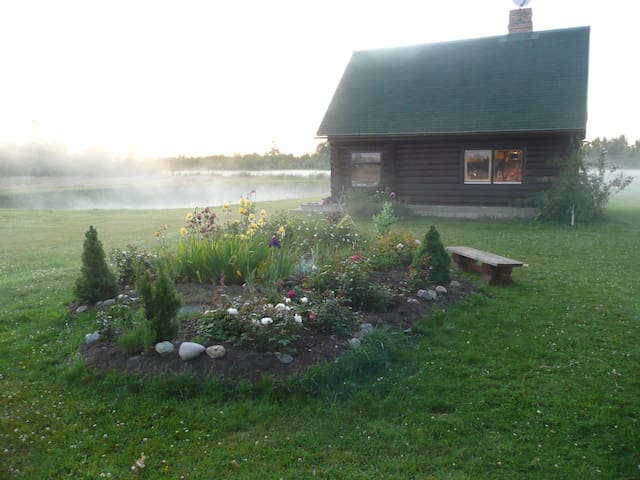 Eine Wohnung befindet sich in einer ruhigen Wohngegend, nur 300 m vom schönen Sandstrand.
Separates Ferienhaus geeignet für maximal 4 (2 + 2 zusätzliche Gäste) Personen ist auf dem Hof mit automatischem Tor entfernt. Es gibt einen Parkplatz, ein Ort zum Entspannen und Grill. Das Haus verfügt über ein Wohnzimmer und ein Schlafzimmer, eine Küche, WC mit Dusche, Diele, mager zu. Alle Zimmer eingerichtet, mit allen notwendigen Haushalts ausgestattet. Bettwäsche und Handtücher werden gestellt. Es gibt auch ein Kinderbett in der Hütte. Wi-Fi-Zugang.
Sehr gut und sauber; wenn schönes Wetter ist, dann ist es wunderbar auf der Terrasse zu sitzen, nette Vermieter, gute Kommunikation! Empfehlenswert.
Boris
2015-05-29T00:00:00Z
Liga ist eine wunderbare Gastgeberin!!! Das angenehm klimatisierte Holzhaus ist perfekt eingerichtet. Es ist wirklich alles da, was man brauchen könnte, vom Schuhanzieher bis zum Kinderstühlchen, sogar Sonne zum Frühstück auf der Terrasse oder den ganzen Tag über auf dem gepflegten Rasen davor. Wenn es abends kühl wird, sorgt die Heizung für eine angenehme Temperatur. Ideal für mich, dass ich mir bei Liga ein bequemes, leichtgängiges Fahrrad ausleihen konnte. Praktisch, um die schöne Umgebung zu erkunden, am endlosen Strand entlang zu fahren, aber auch zum Einkaufen. Eine Einkaufsmöglichkeit ist auch zu Fuß zu erreichen, ein größerer Supermarkt per Bus (Haltestelle direkt vor dem Haus! Übrigens ist dank der Holzarchitektur nahezu NICHTS vom Straßenlärm zu hören!) Zum Strand sind es auch zu Fuß nur ein paar Minuten. Unvergesslich die späten Sonnenuntergänge im Mai! Sehenswert - und mit dem Zug in gut 40 Minuten zu erreichen - natürlich auch Riga mit der großenteils liebevoll restaurierten Jugendstilarchitektur, der neuen Nationalbibliothek, vielen Kirchen, Museen, Theater und Oper und dem Dom mit der einzigartigen Orgel. Viel mehr Zeit als vorgesehen habe ich auf dem großen Markt hinter dem Bahnhof verbracht - und nicht nur ganz frisches Obst, Gemüse, Quark und Käse gekauft ... Ich wäre gern viel länger geblieben und hoffe sehr, dass ich wiederkommen kann. Und ich weiß, dass ich dann Ligas "seperate Cottage" beizeiten reservieren muss, weil es zu Recht sehr begehrt ist! Vielen herzlichen Dank an Liga und ihre Familie!!! Uta
uta
2015-05-25T00:00:00Z
Liga hat uns sehr freundlich empfangen und gab uns auch viele Tips, wie wir unseren Aufenthalt gestalten könnten. Die Wohnung entsprach der Beschreibung und war gemütlich und sauber. Zum Strand, zum Bahnhof und zu Einkaufsmöglichkeiten waren es höchstens 5-10 min zu laufen. Wir haben uns dort sehr wohl gefühlt.
Sybille
2016-08-01T00:00:00Z
Liga hat uns sehr freundlich empfangen und die Unterkunft war auch sehr schön und gemütlich. Alles in allem können wir das Häuschen nur weiterempfehlen!
Lizaveta
2016-03-23T00:00:00Z
Liga hat per Mail und Mobiltelefon Kontakt zu mir aufgenommen und die wichtigen Punkte wie Ankunftszeit geklärt.
Irmgard
2014-08-31T00:00:00Z
Ein sehr gemütliches Blitz sauberes schönes Häuschen im Garten absolut ausreichend für zwei Personen schöne komplett eingerichtete Küche
Ulrich
2016-10-02T00:00:00Z
Das Bungalow ist sehr geschmackvoll eingerichtet und sehr sauber. Die Küche und Bad bieten alles was man braucht in guter Qualität. Jurmala ist ein wunderbarer Ort mit herrlichen Kiefernwäldern, einem traumhaften Strand. Die Vermieter sind sehr angenehm und hilfsbereit. Der Strand ist in unmittelbarer Nähe. Einkaufsmöglichkeiten sind sehr gut.
Cornelia
2014-07-20T00:00:00Z
Ruhige Lage. Nah am Meer. Sehr sauber. Die Gastgeberin ist sehr freundlich und hilfsbereit: Sie hat uns gegen einen kleinen Betrag sogar zum Flughafen gefahren. 400m zum nächsten Supermarkt. Gute Anbindung an das öffentliche Verkehrsnetz. Sehr zu empfehlen!
Rolf
2015-07-12T00:00:00Z
Art der Unterkunft
Ganze Unterkunft
---
Objekttyp
Haus
---
Unterkunft für
4
---
Schlafzimmer
Jūrmala, Jūrmalas pilsēta, Lettland
Schönes und komfortables Haus. Voll möbliert. Es befindet sich in Jurmala Stadt in einer ruhigen und grünen Umgebung. Nur zehn Minuten zu Fuß vom Meer. Es ist Ort, wo man sich ausruhen und neu zu beleben.
Liebe Gäste, das Haus kann ganz gemietet werden oder in separaten Räumen, je nach Ihren Wünschen und der Anzahl der Gäste. Für eine schnelle Lösung für die Frage der Unterkunft, stellen Sie Ihre Fragen, werde ich schnell beantworten und gemeinsam werden wir irgendeine Frage für Ihren perfekten Urlaub zu lösen. Willkommen in Jurmala.
Wir haben uns rundum wohlgefühlt. Die Unterkunft war tiptop ausgerüstet und sauber. Die Fotos waren authentisch, ein echt tolles Haus. Unserer Kinder haben die Eiswürfelmaschine in der Küche und den Whirlpool geliebt. Vladimir hat sich als hervorragender Gastgeber gezeigt. Jederzeit war er für uns erreichbar und hat uns seine Ratschläge gegeben. Standort der Unterkunkft war ideal für uns: 15 min Autofahrt zum Flughafen Riga, Einkaufszentrum 5 min per Auto, Zugbahnhof in 3 Min zu Fuss, (--> Ideal um nach Riga zu fahren), Strand in 5 bis 10 Min zu Fuss, ein grosser Park mit Spielplatz ist in 5 Min zu Fuss erreichbar. Wir können die Unterunft empfehlen.
Pascale
2015-10-11T00:00:00Z
Отличное, ухоженное место. Дом и территория. Полностью соответствует описанию и фотографиям. Видно - сделано с душой, для себя. Владелец сам проживает в этом доме. Дом большой и это нисколько не было обременительно для нас - гостей. Владимир очень гостеприимный и толерантный человек. Всегда улыбчив, доброжелателен. Поддерживал беседу, и шел навстречу любым пожеланиям. Уверен, что наши пожелания были разумны )). Каждый раз, когда возникали сложности или вопросы, связанные с проживанием в чужой стране (поиск информации, желание купить экскурсию и что-то подобное) - с видимым удовольствием помогал решить. При случае и возможности обязательно приеду к нему повторно. Рекомендую!
Andrey
2016-08-30T00:00:00Z
Nice welcoming of Vladimir, and availibility. The House is very comfortable and very clean, perfect for nice holidays in Yurmala, 10 min walk from the beach & not far from Jomas St.
Alex
2016-08-10T00:00:00Z
Very nice apartment ! All pictures it is how it is in real. Very welcome and understanding host ! Good place if you have the car .
Juris
2015-05-05T00:00:00Z
The reservation was canceled 81 days before arrival. This is an automated posting.
Ilia
2015-04-22T00:00:00Z
Замечательный дом!! Чистый, светлый, уютный, оснащённый всем самым необходимым для комфортной жизни. Владимир очень гостеприимный, внимательный и радушный хозяин обеспечил нам домашнее пребывание в своём доме. При нашей возможности остановиться в собственной квартире в Юрмале, мы все равно сделали выбор в пользу дома Владимира и ничуть об этом не пожалели.
Kokhova
2016-11-05T00:00:00Z
The owner Vladimirs made everything to feel us like at home. He is an intelligent man pleasant to socialize with. He even made barbecue one evening for us and our friend, as we were late after the fair, but wanted to had dinner yet. Thank you, Vladimirs ;) Good luck!
Valdas
2015-09-06T00:00:00Z
Спасибо Владимиру за гостеприимство. Встретил, все рассказал, все показал, на все вопросы ответил. Был 24 часа на связи. Все фотографии соответствуют действительности. Были в январе, поэтому всей красоты природы не оценили. До моря 600 метров через сосновый лес. Вернемся ещё раз, теперь летом!
Ksenia
2017-01-06T00:00:00Z
Art der Unterkunft
Ganze Unterkunft
---
Objekttyp
Haus
---
Unterkunft für
5
---
Schlafzimmer
Jūrmala, Jūrmalas pilsēta, Lettland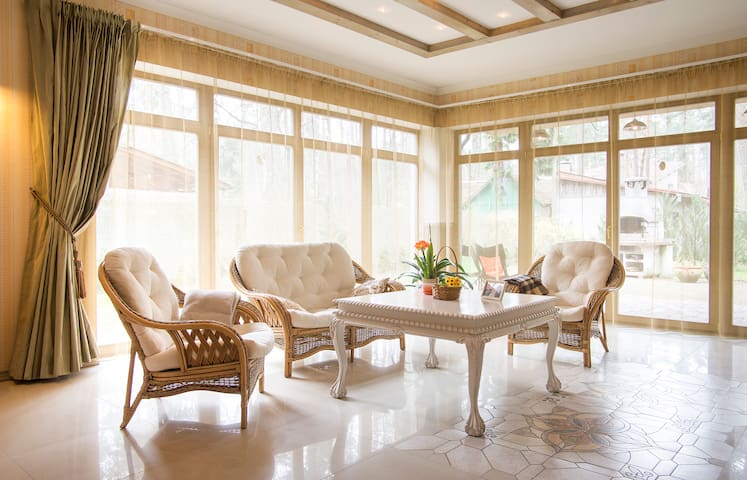 Our brand new super-cozy guest house in a beautiful spacious garden. It's only a 40km drive from Riga to arrive in this getaway either for a romantic evening or a fun weekend. There are also 2 lakes only 2km away. Also you can book the ride with the quadracycle
Sintija with husband was there on our arrival, they showed everything in and around house. House is new built so everything was new and clean. Place is very quiet, but in walking distance from city Vecumnieki, where you can see two lakes, church, shop for necessary food or eat dinner, small but really nice city. Everything was great.
Toms
2016-10-02T00:00:00Z
What an unforgettable time we had, spent soaking in this charming cottage. I cannot begin to say how thankful we are to Sintija and her warm and welcoming family. They went above and beyond to insure our time was comfortable and made themselves available whenever we needed. The cottage is finished immaculately and spending just a moment in the peace and tranquility that surrounds is sure to put your mind at ease. I strongly recommend Sintija's beautiful home to anybody that is looking! Thank you once again.
Sintija
2016-08-24T00:00:00Z
Me and my girlfriend really enjoyed the stay. It was perfect for us two and definitely room for more. It's a very modern house and it was very clean. The host was very quick to respond to our questions and was very friendly. The house was equipped with a TV and an HDMI cable so we were able to enjoy a movie during the evening. Towels and everything we needed for our stay was provided
Edvin
2016-11-20T00:00:00Z
Tiešām fantastiska vieta. Miers un klusums. Mājiņā viss, kas nepieciešams. Visas iespējas pašiem gatavot. Romantiska atmosfēra
Maira
2016-07-23T00:00:00Z
Fantastic place for relaxing, very peaceful and cosily. Thank you!
Kristers
2016-09-11T00:00:00Z
Our stay in this cottage was very pleasant, it's a perfect place for getaway from the city. Well equipped, simple, but nice Scandinavian designed holiday house. Good as for sunny days to sit on terrace, have a picnic, as on rainy days too - inside, sitting at the fireplace (just need to know basics how to keep the fire on). bonus - to see wild life living just by the house (we saw a lot of birds and even squirrel!)! we very enjoyed our stay and would be happy to return again for slow and relaxing holidays!
Lauris
2016-10-09T00:00:00Z
Всё супер!
Anzhelika
2017-01-03T00:00:00Z
Sintija was helpfull with information of how to get there and everything went smoothly. Cottage was in perfect location, close to Riga. Our stay was very peacefull. There was everything we needed. Kitchen was well equipped and there was even coffee,salt, sugar :) Everything was clean and very cozy. Bed was comfortable.
Zane
2016-09-05T00:00:00Z
Art der Unterkunft
Ganze Unterkunft
---
Objekttyp
Haus
---
Unterkunft für
8
---
Schlafzimmer
Vecumnieki, Vecumnieki Municipality, Lettland
The house is located in the center of Jurmala, near the river and the sea. To Riga 15-20 minutes. The house is equipped with everything necessary. 3 bedrooms, a small yard, parking place and barbecue.
Дом расположен чуть дальше от центра , но достаточно близко до моря (минут 20 спокойным шагом), до пешеходной улицы, до кафе и магазинов. Удобно добраться от остановки электропоезда. Очень комфортное жилье, удобная мебель, отличная ванная комната, много личного пространства. И особенное спасибо хозяйке, Алле, за очень дружелюбное отношение и гостеприимство. У меня было чувство, как будто я приехала в гости к своей любимой родственнице. Рекомендую!!!!
Natalya
2017-03-29T00:00:00Z
The stay completely reflected our expectations to live a couple of days in Jurmala.
Evita
2017-03-17T00:00:00Z
Мы отдыхали семьёй, мы с супругой, её мама и дочь 16 лет.Мы были на машине, по этому не были связаны с общественным транспортом.До центральной пешеходной улицы Юрмалы, минут 7-8 пешком.Рядом есть маленькие продуктовые магазины, ближайшие Рими или Максима около аквапарка, пешком далеко, на машине 5-7 минут, на общественном транспорте не ездили, по этому не знаем.Место тихое, парковка во дворе бесплатная.Соседи тихие.Две спальни на втором этаже, очень удобно для семьи.На первом этаже гостиная совмещённая с кухней.В гостиной большой телевизор, есть все российские каналы.Интернет хороший, сбоев не было.На кухне есть всё необходимое для приготовления еды.Плита газовая с электрической духовкой.Большой двухкамерный холодильник с отдельной морозилкой.Есть вся посуда для сервировки стола.На первом этаже есть ещё комната с раскладным диваном.Два санузла, на первом этаже совмещён с душевой, на втором с ванной.Есть стиральная машина.Постельное бельё и полотенца есть, всё чистое.В доме тепло.Проблем с горячей водой не было.На первом этаже есть ещё веранда, но было холодно и мы ей не пользовались.Алла очень приветливая хозяйка, всегда была на связи.Остались только положительные впечатления.Собираемся приехать в Юрмалу и снова остановиться у Аллы.
NIKOLAI
2017-01-02T00:00:00Z
Comfortable stay. Alla was very accommodating and was always making sure I had what I needed. I will definitely stay again
Greg
2017-02-12T00:00:00Z
Безумно милая и общительная хозяйка! Комната и сам дом в целом очень уютные, атмосфера умиротворенная. Буду долго вспоминать то невероятное чувство покоя и солнце на закате дня. Из удобств есть все необходимое, а если вдруг чего -то и нет, Alla с радостью поможет)
Vitaliy
2017-03-31T00:00:00Z
Art der Unterkunft
Privatzimmer
---
Objekttyp
Haus
---
Unterkunft für
4
---
Schlafzimmer
Jūrmala, Lettland
Gemütliche Wohnung in Eigentümern Haus - perfekte Lage im Kurort Jurmala das ganze Jahr über. Dzintari Konzertsaal nur 1 km entfernt. Gratis Parkplätze.
Es gibt Schlafzimmer mit Doppelbett und Tisch, Küchenecke mit Küchenzubehör. Sie können eigene Dusche und Toilette benutzen. Sauna auf Anfrage gegen Aufpreis möglich. WLAN und TV auf Ihrer Verfügung. Wohnung befindet sich in Eigentümer Haus auf der zweiten Etage, mit separatem Eingang. Die Möglichkeit, ein Auto zu parken, der Garten zum Grillen zu nutzen oder ein Fahrrad zu mieten. Toller Ort für das ganze Jahr.
Komfortable ruhige Lage in einem Wohngebiet im Pinienwald, 15 min bis zum Strand, Dzintari Park, Konzerthalle, Erlebnisbad und Supermarkt (zu Fuß). 10 Minuten bis zum Bahnhof Dzintari nach Riga
Everything was just great! Clean and cozy apartment, marvelous location in the pine forest. Calmness and silence of nature. One thing I should mention is a sufficient distance from the sea. It's about 20 minutes walk including crossing Railway lines and going under huge Highway. And about 30 min walking to nearest supermarket through the forest. But for us this wasn't a huge problem and for that price it's more then acceptable! Anita is a kind and lovely women who will help you with any question and guide through your stay. P.S. Dog is soo cute and friendly! =)
Antony
2016-07-31T00:00:00Z
Nice house in an area of Jurmala with beautiful nature. Anita was very friendly and helpful. Had a great time here.
Fernand
2013-08-15T00:00:00Z
Отдыхали в начале мая в Юрмале! Очень живописное место, дом находится прямо в сосновом бору! Есть место для шашлыка и костра! Огромная добрая собака:) До пляжа 15-20 минут пешком, 10 на велосипеде, настоятельно советую на них покататься! Есть клевый парк с вышкой и дощатыми тропинками! Комната как на фото, большая ванная, есть чайник и столовые приборы. Единственное, довольно плохая звукоизоляция. Отличное место для викенда на природе у моря!
Oleg
2014-05-04T00:00:00Z
Anita was very friendly, answered all our questions and was very helpful. The apartment was great for two persons. We had a great stay in Jurmala and I would recommend this accomodation to anyone.
Jorrit
2014-06-25T00:00:00Z
The trip to Latvia was planned as "very last minute". I contacted Anita just few hours before my flight and the communication was perfect and clear – no misunderstandings. Anita was very helpful; she couldn't be at home at the time when I arrived but her friend was waiting for us with the keys to the room. The room itself was clean and very nice – exactly as described. The location was also a positive surprise for me, away from the crowded main streets of Jurmala but still very close to the beach and bars. Very good and cheap connection to Riga! Moreover, Anita supported my further plans to travel through Latvia by organizing accommodation in other places. This was very effective and helped us to enjoy Jurmala in 100% without worrying too much about further steps. I am unable to find any negative sides of my stay there. Podróż zaplanowana była na ostatnią chwilę ale wszystko poszło pomyślnie. Od Anity otrzymałem dużo pomocy logistycznej i rad dzięki czemu mogłem zaoszczędzić czas i parę łatów. Pokój bardzo przytulny i wygodny, przestronna łazienka z sauną. Miejsce nieco oddalone od zgiełku i centrum ale wszędzie jest bardzo blisko. Dobre połączenie kolejowe z Rygą. Anita pomogła zaplanować dalszą podróż w nieco mniej zaludnione miejsca Łotwy i zabookowała tam dla mnie zakwaterowanie szybko i sprawnie. Było miło i przyjemnie, jestem bardzo zadowolony. Die Reise wurde in letzten Stunden vor dem Ausflug geplannt. Kontakt und Kommumikation war sehr gut und alles war super-klar. Anita hat mir sehr viel geholfen: mit Abholung des Schlüssels (sie war derzeit nicht zu Hause) und mit weiteren Resizezielen (Empfehlung und Buchung der Unterkunft). Der Raum war sauber und gemütlich. Da gibt es ein grosses Bad und sehr schöne Umgebung. Lage ist etwa 10 Minuten von Zentrum und Strand entfernt aber alles war zu Fuss sehr gut und schnell erreichbar. Gute Zugeverbindung nach Riga; ich freue mich, dass ich Jurmala anstatt Riga gewählt habe.
Piotr
2013-07-31T00:00:00Z
We enjoyed our stay in Anita's apartment in Jurmala. It was located in a nice, quiet neighbourhood, only 15-minutes walk from the beach and the centre. The room was very comfortable with a private entrance and a big bathroom. Anita could not be there to welcome us, but we knew this in advance and she had made sure her son was there to give us the key and show us around. We spoke to her the next day and had an interesting talk about Latvia.
Johannetta
2015-07-29T00:00:00Z
Anita a great host, everything was in good order and I would surely be happy to stay there again.
Tanja
2016-08-02T00:00:00Z
Проживали с 02.01.16 по 04.01.16. Апартаменты оказались даже лучше чем в описании )) Все необходимое было. Тепло и уютно. Хозяйка очень доброжелательная и приятная. До транспорта (маршрутка и электричка ст. Дзинтари) ходьбы минут 15. Минус в отсутствие поблизости магазинов и русских каналов.
Эдуард
2016-01-06T00:00:00Z
Art der Unterkunft
Privatzimmer
---
Objekttyp
Haus
---
Unterkunft für
2
---
Schlafzimmer
Jūrmala, Lettland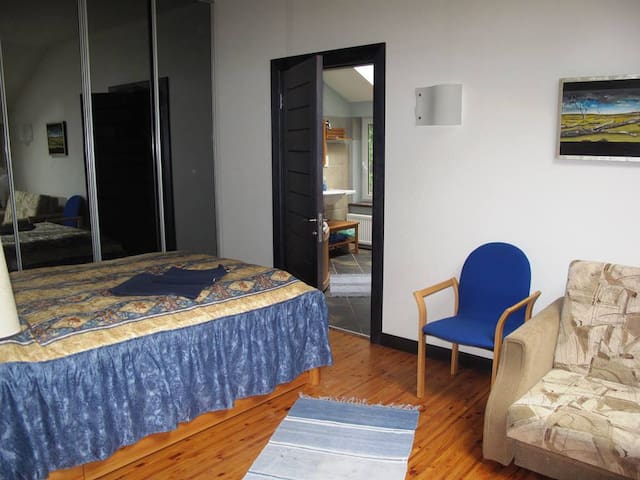 Our home is located just by the border from Riga,that means it is 10min by car from the center (15min with bus) .Area is great if you want to come back from the loudly Riga and relax in a quiet place.There is a separated enterence and own bathroom.
Die Unterkunft bei Janis übertraf unsere Erwartungen. Die Gatgeber waren sehr bemüht und waren sehr Gastfreundlich. Das Zimmer ist super schön, sauber und liebevoll gerichtet gewesen. Der Ausblick in den wunderschönen Garten hat uns jeden Morgen Freude bereitet. Die Gastgeber waren immer erreichbar und sorgten sich darum uns einen schönen Urlaub zu ermöglichen. Sie standen uns immer mit Tips und Vorschlägen für einen unvergesslichen Riga- Urlaub zur Seite. Wir bedanken uns herzlich bei der ganzen Familie und bei Janis.
Anne-Katrin
2016-05-25T00:00:00Z
Все было супер! Территория вне всяких похвал! Очень приветливые хозяева. Однозначно рекомендую!!!
Denis
2016-09-01T00:00:00Z
Отличное место, прекрасные хозяева, комната с выходом на природу - отличный вариант. Нашел дорогу без проблем. Очень удивлен красотой и чистотой. Тихое и спокойное место т.к. находится на небольшом удалении от трассы. Отсутствует кухня и холодильник, но это было не критично для меня. В номере присутствует чайник, чай, кофе и небольшой охладитель. Если же вы хотите приготовить ужин - могут возникнуть вопросы. Нет проблем с парковкой, WiFi работал хорошо, рядом остановка общественного транспорта.
Anton
2016-09-11T00:00:00Z
This place could easily be listed as Entire apartment not just Private room because you get private entrance, private bathroom and a very nice garden outside. We never met Janis, but Inga made us feel very welcome. We also had a nice chat about our experience in hosting guests. Highly recommended place and we would love to come back again.
Filips and Lilita
2016-08-05T00:00:00Z
Very nice place and good people. We will come back here, definitely! Iki pasimatymo :)
Rasa
2015-08-09T00:00:00Z
The whole family was very kind and sympathetic, they have a sweet dog. The accomodation was very nice with a beautiful view of the garden, we would recommed the place for sure.
Hana
2016-08-24T00:00:00Z
Очень позитивное впечатление от прибывания в этом доме. Нам рассказали, как добраться, встретили и все подробно рассказали о прибывании. Гостиприимные и отзывчивые хозяева. Замечательный сон и свежий воздух. Есть место для шашлыка. Чистая и опрятная комната. Хозяйка приготовила утром вкусный завтрак за 5 евро с персоны. Рекомендую это место.
Julian
2015-08-21T00:00:00Z
Very good nice clean room with own bathroom. Well maintained house and garden. Short notice wasn't problem and Janis was very hospitable and helpful person. Thank you!
Jarno
2016-06-23T00:00:00Z
Art der Unterkunft
Privatzimmer
---
Objekttyp
Haus
---
Unterkunft für
2
---
Schlafzimmer
Valdlauči, Ķekava Municipality, Lettland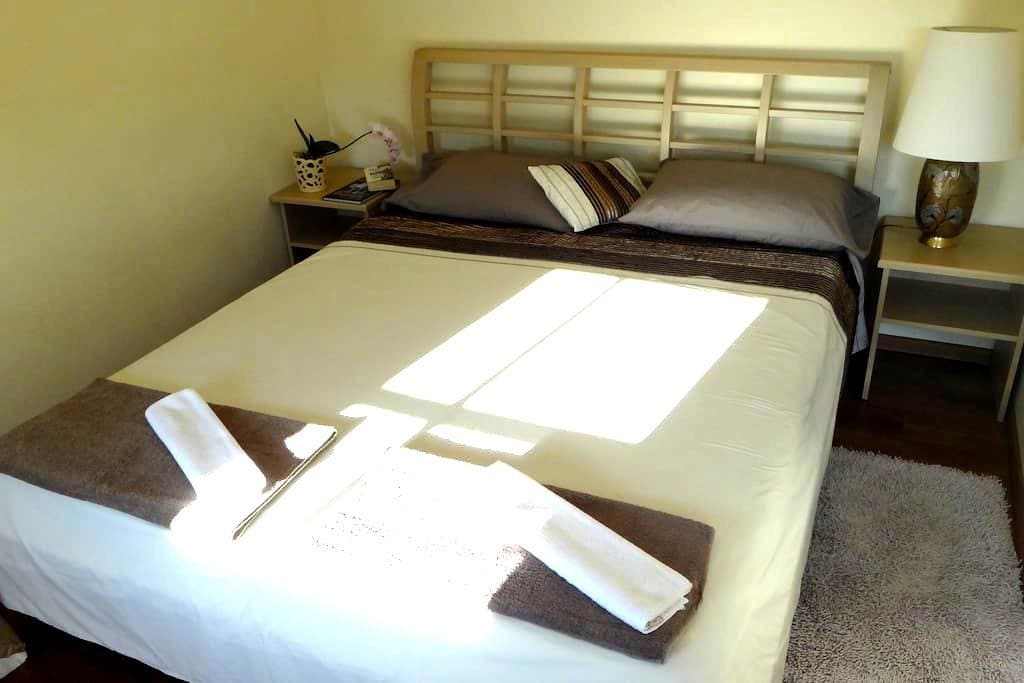 Passionierten Holzarchitektur dieses Haus wurde mein Zuhause. Haus verfügt über 5 Schlafzimmer, Fahrräder für alle, große Richtlinien und kostenlose Führungen in beiden Flussseiten. Genießen Sie viel Grün und Ambiente. Herzlich willkommen
Art der Unterkunft
Privatzimmer
---
Objekttyp
Haus
---
Unterkunft für
2
---
Schlafzimmer
Riga, Centrs, Lettland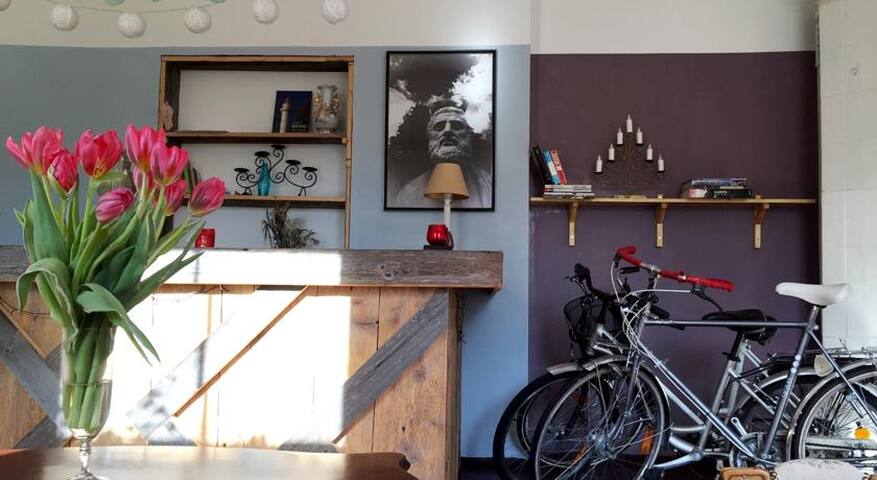 Sie suchen einen Ort in Riga zu bleiben? Herzlich willkommen! Ein sehr schönes, gemütliches und gerade renoviertes Haus in, großer Garten bleiben zu genießen und zu entspannen, ganz und sichere Umgebung, die beide in der Nähe ist - Flughafen und Stadtzentrum. Wenn Sie irgendwelche Fragen haben, lassen Sie mich einfach eine Notiz. Sehen Sie in Riga!
Ich vermiete mein schönes und gemütliches Privathaus aus. Es ist ein einstöckiges Haus mit einer großen Gartenterrasse und einen Picknickplatz mit Grill. Das Haus verfügt über ein Wohnzimmer mit Sofa - Bett, komfortable Küche und Esszimmer und ein Badezimmer. Es gibt einen kostenlosen WLAN. Das ganze Haus und Garten wird zu Ihrer Verfügung stehen. Es gibt einen kostenlosen Parkplatz im Garten. Das Haus befindet sich nahe dem Stadtzentrum und dem Flughafen entfernt. Zur nächsten Bushaltestelle ist es nur noch 2 Minuten zu Fuß und es ist in 10 Minuten in das Zentrum der Altstadt nehmen. Meine 2 Fahrräder stehen jederzeit zur Verfügung, wenn Sie sie mieten wollen. Es ist leicht, mit ihnen die Gegend zu erkunden. Mein Platz ist gut für Paare, Geschäftsreisende, Familien (mit Kindern) und pelzigen Freunde (Haustiere).
Das Haus liegt in der ruhigen Gegend von Agenskalns gelegen, die zwischen dem Flughafen und dem Stadtzentrum entfernt. Die Lage bietet eine gute öffentliche Verkehrsanbindung in alle Richtungen. Lebensmittelgeschäft und eine Apotheke sind in 3min zu Fuß.
This house has a very good value for money. It's position is convenient because close to the bus 22 stop (that links the airport to the city center). Was easy to communicate with the host and she promptly satisfied my requests. Flexible check-in and also checkout time if no other guest are expected. It's just missing a little oven/microwave in the kitchen and sometimes in the bathroom the water doesn't come out with enough pressure. Overall I would recommend this location.
Giuseppe
2017-01-16T00:00:00Z
A very nice place. Very helpful host. I recommend you use this place. Everything is clean and confortable. The transport is very close.
Agita
2017-03-04T00:00:00Z
Очень уютный домик с камином и садом, недалеко от центра города. Все выглядит так как на картинке. Очень радушные и приветливые хозяева тепло нас приняли. Все чистенько и очень уютно. Отличное место для отдыха в Риге. Большое спасибо хозяевам!!!
Katharina
2017-01-03T00:00:00Z
Our staying was generously prolonged for the New Year night and that solved lot of our problems and decisions! Great hosts, thank you!
Anna
2017-01-01T00:00:00Z
Благодарю Еву за то, что придоставила своё уютное жильё. И за очень бережное отношение к постояльцам! Это тот редкий случай, когда реальное место лучше чем его фотографии!
Dmitrij
2017-01-08T00:00:00Z
That was great New Year holidays in Riga! Very nice house, good fusion of old doors with modern interior and equipment! There is everything you need in bathroom or kitchen! And even an oven and hdmi-cable :) Interesting neighbourhood and good location if you are on car — straight way to the center. And big yard with car-place. Communication was easy and helpful, no problems with check-in or check-out. Thank you very much! I hope we'll come again!
Anna
2016-12-31T00:00:00Z
Потрясающий дом! Удобное расположение, рядом остановка и магазин. До центра 3-4 остановки. Возле остановки почта, где можно купить проездные билеты. В доме очень чисто и уютно :) Ева и ее сын Марис очень доброжелательные. Спасибо им за гостеприимство, особенно Марису. При следующем приезде обязательно снова выберем этот дом.
Elza
2017-01-06T00:00:00Z
Art der Unterkunft
Ganze Unterkunft
---
Objekttyp
Haus
---
Unterkunft für
2
---
Schlafzimmer
Riga, Lettland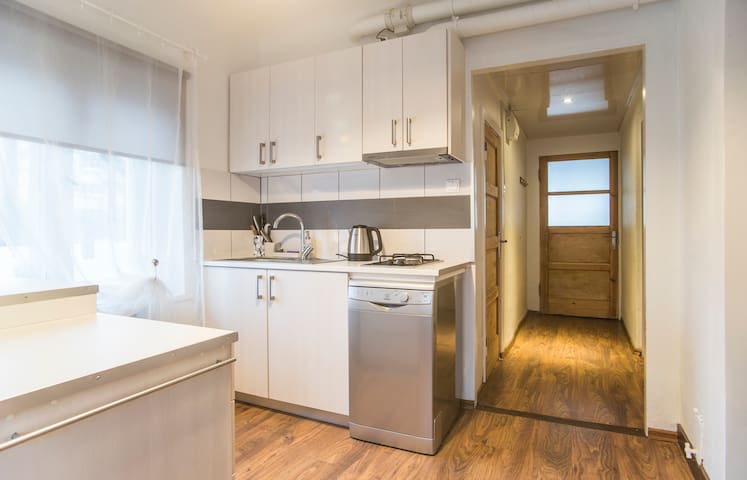 2-Zimmer-Wohnung (2. Stock) in einem schönen Haus in Lielupe, Jurmala. Lielupe ist ein Gebiet am Anfang Jurmala Stadt (20 km von Riga). Die Wohnung besteht aus einem Schlafzimmer und einem separaten Wohnzimmer, das auch als zweites Schlafzimmer genutzt werden kann
The host canceled this reservation 18 days before arrival. This is an automated posting.
andrzej
2016-06-06T00:00:00Z
Property description was correct. Nice place.
Igor
2015-08-22T00:00:00Z
Нам все очень понравилось. Замечательные хозяева и замечательная мансарда.Вход у нас был отдельный, две спальни.Много цветов и вообще зелени.Первый день у нас было много вопросов и просьб и Мудите с Эвой нам очень доброжелательно во всем помогали. Прекрасное расположение:рядом магазины Максима и Рими, аквапарк, Хесбургер, жд станция и море 15мин пешком. Спасибо за гостеприимство.
Юлия
2015-09-12T00:00:00Z
Прием меня вполне устроил. Мансарда просторная, удобная. Расположение - близко станция электрички и супермаркет. Море далековато, но мы были на машине. Wi-fi хорошо работает, чего не скажешь о ТV - кроме снега, ничего не показывает. C трудом пользовались душем- то кипяток, то холодная вода. Все остальное соответствует описанию. Порадовало гибкое время приезда/отъезда. Спасибо.
Юлия
2016-08-21T00:00:00Z
Art der Unterkunft
Ganze Unterkunft
---
Objekttyp
Haus
---
Unterkunft für
6
---
Schlafzimmer
Jūrmala, Jūrmalas pilsēta, Lettland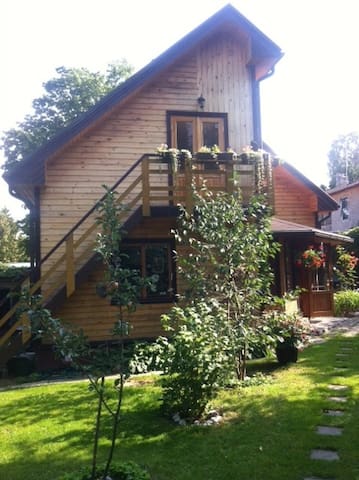 Gesamte Etage des Hauses mit Garten, im Herzen des ehemaligen Zentrum von Riga, 10 Minuten entfernt von der Innenstadt. 3 Minuten von den öffentlichen Verkehrsmitteln, lokalen Markt zu Fuß, Supermarkt, Parks. Exklusive Bezirk. Es können bis zu 10 Gäste bewirten
Geräumig, warm, gemütlich, ruhig. Chance nutzen, um die Garten, Grill, Parkplätze. KÜCHE Owen, Gasherd, Kühlschrank mit Gefrierfach, alle Arten von Geschirr, Töpfe, Pfannen, grundlegende Gewürze, Wasserfilter, Espressomaschine. TERRASSE Tisch mit 8 Stühlen, grasigen Feld, Grill, Kohle (zusätzliche Kosten für Grill Verwendung - 5 EUR). SCHLAFZIMMER Betten, Schrank, Schreibtisch, Stuhl. BAD (nur in der Gruppe geteilt, die die Reservierung macht - keine anderen Gäste wird es benutzen) Ein Bad, WC-Schüssel, Waschmaschine (+ Waschflüssigkeit), Wäscheaufhänger, Waschbecken, Handtücher, grundlegende Kosmetik, Personenwaagen. TOILETTE Toilettenschüssel, Spüle. ABSTELLRAUM Staubsauger, Besen, Bügeleisen + Bügelbrett, clouts, Reinigungsmittel.
Eines der exklusivsten Viertel von Riga - Agenskalns - steht für alle Stilrichtungen - klassisches Thema, Eklektizismus, Jugendstil, sowie der 20. bis 30. Jahr Rationalismus. Umliegende Gebäude sind ein Juwel der Holzarchitektur. Man kann alles in Agenskalns finden - Markt, Schulen, Krankenhaus, staatlichen Behörden, wie einst das Zentrum der Stadt. Zur gleichen Zeit kann man wie in einem Dorf das Gefühl, als von Parks und Teichen umgeben, ist nur 10 Minuten entfernt von der Innenstadt. Agenskalns ist das Montmartre von Riga.
Fantastische Gastgeber, sehr sympathisch! Wir wurden herzlich willkommen geheißen und können dieses Quartier weiterempfehlen. Sehr gute Lage, man ist weit genug vom Zentrum weg um etwas Ruhe zu haben, aber mit dem Bus sehr schnell dort. Lies Palais! Recommendable!
Laura
2016-09-01T00:00:00Z
Gut gelegen in einem schönen Holzhaus. Sehr geräumig und alles war da was wir gebraucht haben.
Andrea
2016-08-17T00:00:00Z
What a great place to stay! Lots of room, clean, warm and nice house, great yard for our dogs to run and play safely. I warmly recommend. Because of my sellphone-problems I could not get messages and dogshow tumetable, and I did not have chanse to meet Ieva, and am so sorry for that. Still everything went fine and smootly.
Erja
2017-03-19T00:00:00Z
Lovely spot in Agenskalns that you should take advantage of if it is available. The hosts were more than inviting and accommodating. Ieva went out of her way to help us with suggestions for activities, traveling, and purchases. Her neighborly touch made us feel at home. From this apartment, you have access to all you might need from markets, restaurants, public translation, shopping malls, and a quick trip to the airport. A tram will take you over the river to old Riga in 7 minutes. If you are traveling with family, you will enjoy the freedom and safety of a fenced yard, and access to nearby parks. All in all, we endorse Ieva and her apartment. Whether for a short or extended stay, we believe you will be happy here.
Garrett
2016-10-09T00:00:00Z
Leva's place was great for our group to stay at, and in a convenient place with parking for our two cars. Very easy for us to explore Riga's old town from their place. Communications with our hosts were very easy, no problems with English.
Elizabeth
2016-08-29T00:00:00Z
Meravigliosa ospitalità, casa perfetta, attrezzata, pulita. La posizione è in un quartiere suggestivo, con tipiche case di legno. In 5 minuti con bus e 20 a piedi si arriva in centro.
Riccardo
2016-07-07T00:00:00Z
Ieva was a very kind host with a lot of tips for getting around in Riga. The apartment was perfect and the garden is nice for having breakfast or sitting in the green with family and friends. Thanks for this nice time at your lovely place!
Johannes
2016-07-26T00:00:00Z
Lovely hosts and house. Would definitely recommend!
Charlotte
2016-07-20T00:00:00Z
Art der Unterkunft
Ganze Unterkunft
---
Objekttyp
Haus
---
Unterkunft für
8
---
Schlafzimmer
Riga, Riga, Lettland
Apartments in 1et.dome in einer ruhigen, privaten sektore.Tsentr Yurmaly.Mayori.Solnechnaya terrasa.Barbekyu.5minut zu Lielupe, Fluss-Dock, kann das Schiff segeln in die Altstadt und Yurmalu.Poblizosti Dzintari Forest Park, die mit speziellen Schienen ausgestattet sind für Rollick, skateboards und velosipedov.Udobnoe Transport soobschenie.15minut zum Meer gehen, zentrale Jomas Straße und Konzertsaal (URL HIDDEN) lokalen ländlichen Markt 10minut frische rustikale produkty.Supermarket kaufen kann. .
Art der Unterkunft
Ganze Unterkunft
---
Objekttyp
Haus
---
Unterkunft für
6
---
Schlafzimmer
Jūrmala, Lettland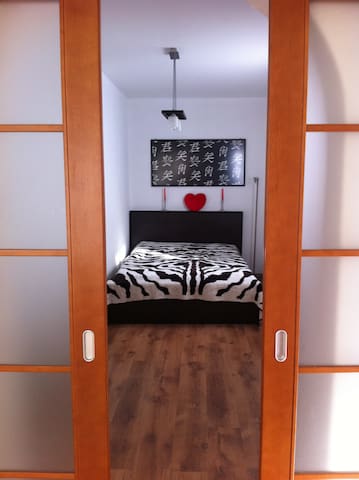 1. Stock des kleinen, aber sehr nette Sommerhaus mit Kamin. Wir haben Parkplätze auch auf dem Territorium und außen, Picknick-Platz. Sehr ruhig und grünen Umgebung von Jurmala
Geschlossener Bereich, ideal für Familien mit Kindern.
Art der Unterkunft
Privatzimmer
---
Objekttyp
Haus
---
Unterkunft für
4
---
Schlafzimmer
Jūrmala, Lettland
Ein kleines, romantisches Haus in einer ruhigen Gegend von Jurmala zwischen einem Pinienwald und dem Strand. Ideal für Paare und Familien mit Kindern das ganze Jahr hindurch. Alle modernen Einrichtungen, 40 Minuten Fahrt von Riga, in der Nähe des Bahnhofs. Ein Grill für Grill und Kinderspielplatz zur Verfügung.
Der ideale Ort für eine Familie oder kleine Unternehmen. Geeignet für Kinder. Alle Einrichtungen zur Verfügung.
Eine ruhige, romantische Ort in der Nähe der Natur - frische Luft, Wald, Strand, Meer (Golf von Riga, der Ostsee). Schöne auch im Winter, wenn alles mit Schnee bedeckt. Freundlich für Kinder - es gibt einen gesperrten Zaun um das Gebiet / Garten.
Very nice house in a great place. Next to the sea. We also loved sauna.
Rasa
2017-04-02T00:00:00Z
Для тех ,кто любит тишину и покои -самое лутшее место!!!
Nikolai
2017-03-17T00:00:00Z
We enjoyed our enjoyed our short but relaxed stay. It is peaceful and calm location, Wonderful nature and all modern conveniences. Neighbourhood is secure, local store 10 min minutes walk. Seashore is 10-15 min walk. Railway station 10 min walk. Gunta is very helpful !!!
Roman
2016-10-29T00:00:00Z
Thank you for the night, the sauna house is charming !
Sam
2016-10-17T00:00:00Z
Gunta was very welcoming and left us some berries, offered us coffee and advice where to go.. communication was good. The house is great and in a lovely place and the highlight was the sauna! We had a lovely relaxing stay. Visiting the sea and town. Would recommend Guntas place :)
Kirsty
2016-10-02T00:00:00Z
Everything was good. Gunta and her husband were very welcoming and helpfull.
Rushan
2017-01-06T00:00:00Z
Art der Unterkunft
Ganze Unterkunft
---
Objekttyp
Haus
---
Unterkunft für
6
---
Schlafzimmer
Jūrmala, Jūrmala, Lettland
Neu renovierte Teil des Hauses, Master-Schlafzimmer mit begehbarer Dusche und Sauna, See Terrasse vor dem Haus einen atemberaubenden Blick und separatem Eingang. Wirklich außergewöhnliche Lage kurze Fahrt von der Altstadt von Riga und Jurmala Strand! Endlose Walking / Biken trails.Free WIFI 4G.
Cozy studio is part of our nice house, however made with separate entrance for Your privacy. Walk in shower, sauna, comfy bed and breathtaking view is all You need for perfect holidays. Room is equiped with blackout rollos for better sleep. Kitchenette has basic utensils - coffee, tea making facilities and fridge. Plates, cups etc also available. On terrace there are lounge chairs for relax and sunbathing as well dining table and chairs. Please note, that there can be additional fee for Sauna, to cover heating up cost.
Very fresh air surrounds us :) Fell free to go fishing, swimming, use of catamaran or sunbathing on terrace. Nearby forest is just perfect for walking and regaining energy. 15min by car is gym, spa, good restaurant, stores & market. We provide tours in region for small money. Ask for offer! For Holiday planning, we suggest looking into Latvia travel info, especially event calendar 2017 (URL HIDDEN)
We were planning on having a relaxing Get-Away-Trip from living in a big city and got EXACTLY what we were wishing for :) The apartment was very clean and comfortable, the bed super cozy and the view from the terrace will have you have a deep breathe-in. The three dogs are probably the friendliest dogs we have ever met, who are always grateful for some cuddling-time. River Lodge is a bit remote from town or a village, so going there by your own or a rental car is recommended. Yet even if you do not travel by your own ride, both Inga and Martins do their very best to get you wherever and whenever you want to go and renting one of their cars is always a possibility. Furthermore, Inga and Martins provide you with the best advice for every region and best routes to different regions via (SENSITIVE CONTENTS HIDDEN) maps. Especially the very own sauna in the apartment is offering you an extraordinary experience and having a bath in the lake - only 30 steps away from the terrace - gives you the perfect refreshment. Just staying at RiverLodge and relaxing by the lake, having breakfast on the pedal boat and enjoying the nature has been the best day during our vacation. We had a wonderful time at RiverLodge, mostly because of the amazing hosts Inga and Martins, our fun conversations and the wonderful nature surrounding River Lodge. Thank you both very much!
Antje
2016-08-16T00:00:00Z
Прекрасный дом и прекрасные люди! Инга и Мартин, спасибо за Латвию!
Надежда
2017-01-06T00:00:00Z
This was a most wonderful and relaxing experience. Everything in the place is thought through with details, love and care. A heaven for dog people and entertaining for children. Warmest impression of welcoming hosts and a beautiful house. Martins and Inga have truly embraced the spirit of AirBNB. Wonderful stay. Thanks so much. Wouldn't stay anywhere else when visiting Latvia.
Christopher
2016-07-29T00:00:00Z
Inga and Martins were fantastic hosts. They've done everything for an unforgettable stay in Riga. Text messages were promptly answered. They gave us good advice with regards to restaurants and excursions. And not to forget the wonderful place they live in (getting to downtown Riga is very easy. Just jump on a train and get off Riga station). It's in the middle of a beautiful nature. We really enjoyed our stay (tried even out the Sauna) and felt like home and hope to see Inga and Martins again. For everybody who plans to travel to Riga...don't miss that place! Gabriele and Uwe
Gabriele
2016-08-04T00:00:00Z
I stayed at RIVER LODGE for 2nights and had a wonderful time there. the house had everything you need, much more than I expected, and I felt so luxury staying there. The sauna is always ready so I enjoyed it many times while I was staying there. The host, Inga & Martins are so nice and cared about me anytime. They took me to the Ice sculpture festival in Jelgava and also they let me join ice skating on the frozen lake with their friends. It was only 2 days but they left me so many sweet memories in my heart. :)))) I'll definitely visit there again if I have a chance that I go to Latvia next time!
Ikumi
2017-02-13T00:00:00Z
Todo como me (URL HIDDEN) podía pretender nada mas
Loris
2016-09-01T00:00:00Z
If you still have any doubts whether this place is the perfect vacation spot, just read this recommendation. Staying with awesome Inga and Martins and their three lovely, super friendly and cute dogs is soooo much fun and like coming home. So if you are looking not only for a roof over your head, just come, see and enjoy this paradise! We could not decide between the River Lodge and the Cottage, so we tried both! The River Lodge has a great view and a nice Sauna that we used (and jumped in the lake, afterwards). Everything is arranged with lots of love and attention to detail, so you will have a great time. The Cottage is also amazing, but we will write another review for that :) We even rented a car from Inga and Martins to explore the surroundings and liked it a lot. Thanks for everything and for having us. We will definetely come back!
Hauke
2016-07-19T00:00:00Z
it was a great experience to meet these two wonderful people. everything was exactly as described and even better. very clean and modern house. the view on the garden and lake was amazing. even though our Appartement was next to their owb home we had more than enough privacy. inga and martins are two interesting and entertaining people and we spent a lovely evening with them. the sauna inside our Appartement was exactly like we imagined it and their dogs are beautiful kind and calm animals. i already miss all of them. i advice anyone to take a rest at this hidden jewel in the woods.
Johannes
2016-10-11T00:00:00Z
Art der Unterkunft
Ganze Unterkunft
---
Objekttyp
Haus
---
Unterkunft für
2
---
Schlafzimmer
Riga, OZOLNIEKI, Lettland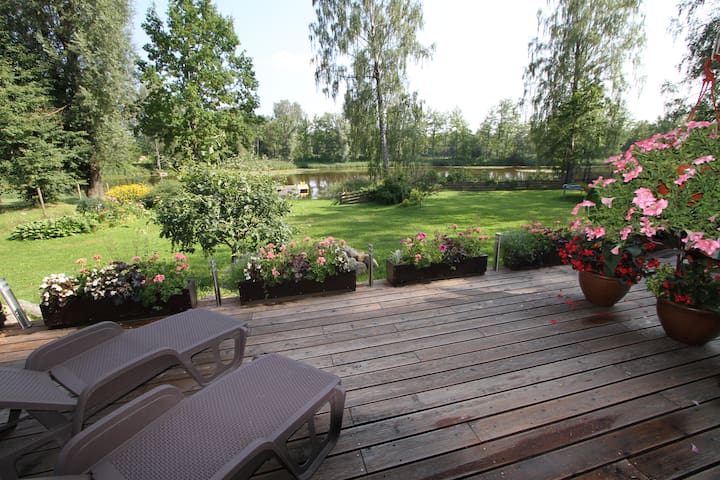 Jelgava Municipality - Airbnb
:
Durchschnittlich

4.93

von

5

Sternen aus

244

Gäste-Bewertungen
1

–

18

von

271 Ferienhausvermietungen
Gib deine Reisedaten ein, um den aktuellen Preis zu sehen. Es können zusätzliche Gebühren und Steuern anfallen.