Gib deine Reisedaten ein, um den aktuellen Preis zu sehen. Es können zusätzliche Gebühren und Steuern anfallen.
Nice little guest house for rent. Quiet area with a view over the fjord. The place is close to the beach (10 mins walk), nice forests for hiking and the pittoresque little village Holmsbu is located about 10 mins drive away. Getting here is easiest with a car as public transportation is difficult in this area. But if you travel without a car, the nearest train station is Røyken. From there it is 20 km to travel by bus. For a fee (NOK 100,-/ day) you can rent bicycles at our place.
Die Unterkunft befindet sich in einem schönen Gebiet mit toller Landschaft. Katrine war wirklich sehr zuvorkommend und nett. Sie hat uns viel geholfen, um unsere Reise zu gestalten. Z. B. hat sie uns Kayaks geliehen und zum Hafen gefahren und wieder abgeholt. Auch Tipps für Wanderungen wurden uns erklärt, sodass wir einen tollen Urlaub verbringen konnten.
Max
October 2016
We had a wonderful stay in Katrine's cabin. The views across the Fjord are beautiful and the beach and swimming a short walk away was bliss. As an area, Hurum provided great opportunities to swim, hike and generally get in touch with nature! Hope to be back soon.
Andy
August 2016
Cosy small place for 2-3 persons. Nice view over the fjord, with a lovely sunset the time I stayed there. 10 min walking to grocery shop. We had a nice walk in the forrest and along beaches. A good place for relaxation.
Hanne
January 2017
Katrine was always available for help and communicated everything (directions) clearly. It was a perfect place to relax and enjoy the quite views of the region.
Leonardo
August 2016
Art des Zimmers
Ganze Unterkunft
---
Objekttyp
---
Unterkunft für
3
---
Schlafzimmer
0
Hurum
Amazing apartment, the views of the sea are incredible and there lots of cool walks along the sea front. We stayed for NYE and overlooking the ridiculous amount of fireworks up and down the valley was truly memorable. Thanks Anett for a special stay, we really recommend coming here.
Jordan
January 2017
Very beautiful surroundings, with great possibilities for hiking. Very nice and comfortable host, who is easy to get in contact with. You feel at home in the modern house where there is a lot to do, if it's not attractive to go outside. Only 50 minutes to Oslo in car
Nicolai
December 2016
Art des Zimmers
Ganze Unterkunft
---
Objekttyp
---
Unterkunft für
4
---
Schlafzimmer
3
Hurum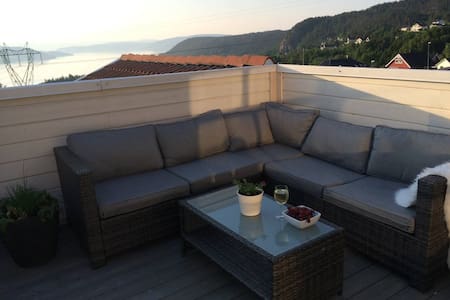 På stranden, vestvent og solrikt. 13 fot Pioneer robåt følger med. Stedet for drømmesommer for store og små. Kort vei til Holmsbu - idyllisk sommerby.
Nærhet til sjø med bading og fiske Vestvendt og solrikt Båt - 13 fot Volleyballbane Badestrand Fiskemuligheter Flotte turmuligheter
OM HOLMSBU Holmsbu, ved Drammensfjorden, er en liten bygd med 800 faste innbyggere. Bygda hadde status som ladested fra 1847, men er idag mer kjent som Hurums kunstsentrum, mye grunnet sin pittoreske bebyggelse. Rødtangen Fra Holmsbu går veien videre ut til Rødtangen ytterst på Hurumlandet. Rødtangen er særlig kjent som et feriested med mange sommerhus, hytter og et yrende badeliv. Her finnes også Rødtangen fyr som en gang i tiden geleidet sjøfolk inn fjorden. Området har en særdeles spennende historie å vise til med flere gravrøyser og dyssegrav. Ta gjerne en titt på Holmsbuopplevelser for mer informasjon om hva som skjer, severdigheter og attraksjoner. Mange kunstnere har blitt tiltrukket av Holmsbu og hatt oppholdssted her. Et direkte resultat av dette er Holmsbu billedgalleri i Støa hvor flere Holmsbumalere er representert, og særlig Henrik Sørensen, som bodde her store deler av sitt liv. Ved sjøen i Støa har Hurum kommune en eiendom hvor det om sommeren er ulike kunstutstillinger. Holmsbu kirke fra 1887 er utsmykket av de mange kunstnerne som har gjestet Holmsbu-området. Holmsbustuene Denne idylliske andre-etasjen med sine 3 stuer, «Galleri Tofteloftet» og «galleri kjeldaas», er et helårsåpent galleri med utsikt mot Holmsbu Havn. Kunstnere av nasjonal betydning innenfor bilder og skulptur i kombinasjon med håndplukkede utstillere fra fjern og nær stiller ut en måned av gangen. Alle selger rett fra sokkel og vegg, så her kan du risikere å snuble over både en 50-årsgave og noe hyggelig å ha med som vertinnegave neste gang du skal bort. De tre staselige stuene ligger tett i tett og har en fin atmosfære fra 1860-tallet. «galleri kjeldaas» er Norges eneste reine skulpturgalleri. Galleri Tofteloftet – sannsynligvis de eneste i verden som foredler celluloseark fra Tofte til industriell prisbelønt fotokunst. Inngang Fri inngang for deg som bare vil gå innom og se og hilse på. Kulturelle småretter Holmsbustuene har på repertoaret sine «kulturelle småretter» – alt fra «gjett på en kunstner» til «bygg et bilde», aktiviteter som på kort eller litt lengre tid kan bygge god stemning i både små og store team. Aktivitetene kan ta fra 15 min og koster kr. 1.000,- pr. påbegynt kvarter. Spør oss om forslag. Du finner alt sammen i etasjen rett over Brdr. Jensen, Storgata 17 i Holmsbu
Otto is very friendly host and his cottage is charming.
Janek
April 2016
Art des Zimmers
Ganze Unterkunft
---
Objekttyp
---
Unterkunft für
6
---
Schlafzimmer
4
Hurum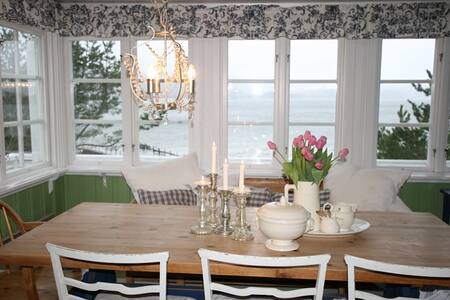 With a magnificent view over the Drammensfjord, this is norwegian luxury at it's best. Only 200 meters away is a beach available, with a small rowing boat. The house is newly refurbished and partly refurnished, with wooden floors, tiles, new bathroom/WC, shower and bathtub, two bedrooms in the upper floor and from February 2017 also an extra double sofabed in the living room, a third bedroom downstairs with four possible bed spaces, with it's own shower and WC. Telenor broadband with WiFi.
First house to the left ca 800 meters after the closed gate. 65-inch Panasonic 4K UHD TV, 4K UHD Blu-ray-player, Blu-ray-player, vinyl record player, LaserDisc-player, Bose iPod/iPhone with iPod loaded with music. Free Wi-Fi. Parking on site. The house is fully winterisolated and can be used at all times during the year. Guest have full access to the upper floor: entrance, bath/WC, shower/bathtub, two bedrooms, kitchen, living room, terrace, outdoor-living room. I live only 45 minutes away, and normally will greet and meet you. I am available through phone or e-mail. Normally I will meet all guests and show them around the house.
There is a football field and beach volleyball field. 30 mins from Drammen, 45 mins from Oslo. The property also have small playground for children. I have a dingy to use for bathing fun in the summertime.
Ausgesprochen schöne Lage ,ruhig, wunderschöner Blick. Tolle Terasse und Wintergarten. Ein schöner Sandstrand in der Nähe bietet gute Schwimmmöglichkeiten ,außerdem hatten wir viel Spaß mit John's Ruderboot. Großartiges Entertainment Angebot mit großem TV und schnellem Internet . Haus nicht allzu sauber und für mehr als 4 Personen etwas eng ,denn das dritte Schlafzimmer ist separat im Keller . Vermieter sehr nett und hilfsbereit, wir hatten eine super Kommunikation. Wir würden jederzeit wiederkommen :)
Michaela
August 2016
Accueil chaleureux dans un endroit magique ! :)
Clara
September 2016
Lovely Cabin next to a huge fjord, quiet relaxing atmosphere great entertainment system (huge TV with satellite,blu ray, Apple TV,Netflix, ipod station, etc.), beautiful view from the terrace :) there's enough space for four people, but anything more would be pushing it (1 small bathroom, 1 double bed, 1 bunk bed). The only improvement we recommend would be the cleanliness (floor, kitchen, pans, bed cover) - which wasn't that bad for us, but might be an issue for people expecting hotel standards.
Verena
August 2016
Ett bekvämt hus på en fantastiskt vacker och avskild plats. Behagliga sovrum. Något mycket saker i vardagsrummet, så det blir trångt, men väldigt bra ljudsystem.
Eugenia
January 2017
John welcomed us in his house and gave us a very detailed instruction of the house and all electronic things. It is a beautiful white house near the beach in a very quiet place where you can seat in the balcony and watch the sunset. There are two bed rooms in second floor, which is perfect for 3-5 person. However we are a group of 9, so John opened another room in the first floor for us specially. We slept well there. I think if John can reorganize or redecorate the first floor, he can rent it to even larger group!
Hong
October 2016
Vi hadde en god kommuniksjon med utleier før oppholdet. Verten møtte oss presis og vi fikk en god gjennomgang av huset. Huset og belligenheten var flott og verten var fleksibel og opptatt av at vi fikk en god opplevelse. Kan anbefale et opphold her. Kommer gjerne tilbake
Jørgen
August 2016
Art des Zimmers
Ganze Unterkunft
---
Objekttyp
---
Unterkunft für
9
---
Schlafzimmer
3
Hurum