Eine schöne und geräumige Studio für Selbstversorger in der beeindruckenden andalusischen Dorf Iznate, welcher für seine Moscatel Wein berühmt bekannt ist. Sie haben die lokalen Restaurants, Supermärkte, Tabacos und Bars innerhalb von 5 Minuten zu Fuß. Dies ist ein unvergesslicher Lage mit atemberaubender Aussicht auf die andalusische Gebirge, ein perfekter Ort, wenn Sie weg von der Hektik zu bekommen suchen. Das Studio würde für Paare, Reisende und Solo-Abenteurer ideal. Es ist ein kleines Juwel!
El estudio es un espacio grande y cómoda con diferentes zonas de estar. Hay una gran cama de matrimonio, pero si hay más de dos de usted mantenerse tenemos un sofá cama y una cama individual para elegir. Tiene una zona de cocina equipada con placas de nevera y gas. Hay un patio exterior linda con una mesa, sillas, sombrilla y un sitio para bronceado! Hay una unidad de aire acondicionado para el calor / frío. Hay Wi-Fi, no sólo directamente en la propiedad. Tienes que caminar unos 4 o 5 metros fuera de su puerta.
Iznate es un pueblo andaluz impresionante en las montañas de Andalucía. El barrio tiene un ambiente agradable donde todos se conocen :-) En el verano hay un montón de fiestas que son muy divertidos y gratis! Es una auténtica experiencia española en Iznate ...
The host was very forthcoming and helpful, even lended me some money to get by (in the small grocery shop) until the next day! The studio is very nice - stylish and comfy - although the road that leads to it is not for the faint-hearted, although it is possible to park a bit further down and walk the last 50 mtrs. The view from the patio is stunning although it was in shadow for most of the day. Ideal in the summer I suppose, but a bit cool in november, when I was there. All in all I had a great stay, highly recommended!
Per
2016-11-19T00:00:00Z
Danielle and Nkima are fantastic hosts, kind, empathetic, helpful, caring etc. E. g.: We got stuck in some narrow streets of Iznate and Nkima came all the way down to find us and fetch us. The last day they came around to ask if everything was alright and to say goodbye! Wonderful! The serenity studio is exactly as described in the announcement on Airbnb. Good equipped with everything you need for a stay, clean and full of lovely details you find bit by bit. The view from the terrace is stunning and the silence and peace at the place is deeply relaxing. You can also stay here, if you wanna have some beachdays. Beaches are just some minutes away by car and even Nerja and Malaga are reachable in around 25-30 minutes drives each. We would definitely love to come back one day and would recommend this place to everybody.
Reinhard 성민
2016-08-21T00:00:00Z
The serenity studio located in the stunning and charming little town Iznate is a gorgeous and fully equipped apartment with a breathtaking view. Besides this it is located in the middle between Malaga, Granada, Nerja and Cordoba, also only ten minutes away from a beautiful beach side an to top it all situated hillside with an unforgettable view. Both holidays, Nkima and Danielle just are perfect guys who even welcomed us in the middle of the night, always asked if everything is all right and looked after us all the time. The gas cooker also was really wonderful. We fully recommend this awesome place to everyone. Thanks so much.
Timo
2016-08-20T00:00:00Z
Tanto el lugar como el apartamento eran perfectos. Todo estaba limpísimo y el anfitrión estuvo siempre disponible en cuanto teníamos algún problema o duda. El pueblo está a apenas 2 o 3 minutos, así que no hay problema para comprar o comer. Altamente recomendado para relajarse
María
2016-06-24T00:00:00Z
Nkima was a friendly and helpful host. He kindly bought us a few bottles of water when I asked him if he could do it so we could head to the mountains early in the morning without having to look for a 24/7 store. He also guided us to the house from the center of the town as we would definitely have a hard time finding it ourselves. The house was clean and had a beautiful view. It's located a little farther away from the rest of the town which means it's a good choice if you're looking for more privacy and a quiet place. The small kitchen was well equipped, more than sufficient for a short stay. Both beds were comfortable. Bathroom was very clean. Complimentary tea and coffee was a nice touch. While there was Wi-Fi signal a few meters outside of the house, we found it too inconvenient to leave the house to access the Internet and bought a local SIM card. Humidity inside was very high. Everything was wet and/or cold to the touch all the time even with AC on. Perhaps that's only the case during the colder part of the year. Maybe an electric heater could help reduce humidity, or maybe the location of the house makes it impossible to deal with it. That's not necessarily Nkima's fault, it's just something to be aware of if you hate high humidity. Last but not least, if you're not used to driving on narrow dirt roads with a steep drop (and making a U-turn on such roads), you'll find access to the house challenging. All in all, Nkima's place is a good budget-friendly choice for a stay in the Malaga province. It's located in a lovely small town and offers easy access to the mountains, beach, and Málaga.
Marcin
2016-12-17T00:00:00Z
The house is lovely and has a lot of romantic details. It's placed in the middle of the mountain but at the same time it's only 5 minutes from the village and 10 minutes to the beach. The environment is beautiful and perfect to relax. El estudio es muy bonito y tiene muchos detalles románticos. Esta ubicado en la montaña pero a 5 minutos del pueblo y a 10 de playa. El entorno es bonito y perfecto para relajarse. Thanks you Nkima and Danielle!
Dimy
2016-07-17T00:00:00Z
What a beautiful place! We had a great time at Nkimas Serenity Studio. We loved the view, the calmness, the thousand stars, you could see in the night. Also Iznate is such an beautiful village, with three bars/restaurants. (the ones we found) The beach is only 20 minutes drive away and we had breakfast in the sun on the beautiful terrace. Its may a little hard to find but Nkima and his father were so kind to pick us up on a meeting point in the village. Thanks Nkima, I already dream now of coming back to your beautiful place. Anja and Zoltan
Anja
2016-10-01T00:00:00Z
We had a good time at the peaceful well equipped studio. The view is great from the terrace. Nkima and Danielle are very friendly and helpful! We loved the small heart-formed notes in the studio that show the rules in a very friendly way.
Wiebrig
2016-09-20T00:00:00Z
Art der Unterkunft
Ganze Unterkunft
---
Objekttyp
Wohnung
---
Unterkunft für
4
---
Schlafzimmer
Iznate, Andalusien, Spanien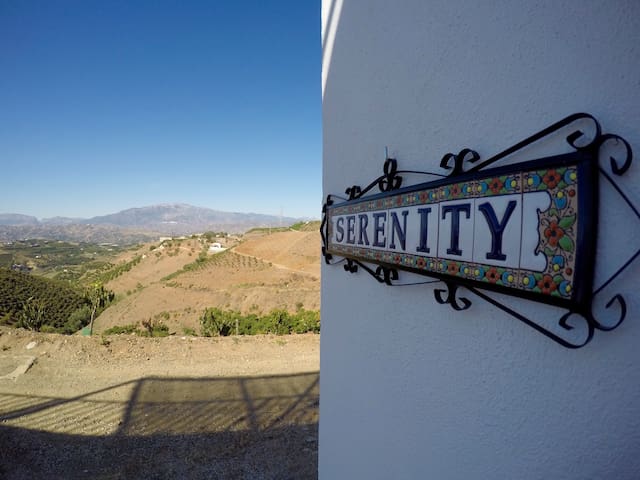 Macharaviaya is a small village, quiet and charming in the Axarquía region, famous for its raisin, grapes and wine production. We are near the sea and a golf course. Classes: spanish language, pottery or painting 10 € h. . Free Parking. Fitness cent
Apartment. in Macharaviya ( Málaga, Spain). The place is surrounded by countryside and near the sea . The kitchen and heater are electric. The area is very quiet and you can park your car free very close . Macharaviaya is a Historical villa, very quiet and small . There is no public bus , that make necessary to rent a car if you want to move aut . Of course there are taxis. People fron the village are very welcoming and are always ready to help visitors.
Muy recomendable, pueblo muy tranquilo y cercano a Málaga y Nerja.
David
2016-08-24T00:00:00Z
Sonia is a very friendly person who is always willing to help! The apartment was very clean and modern, fitted with everything you need. It is located in a small and quiet village in the mountains. By car it is easy to find beautiful beaches and nice bars and Restaurants nearby. We would defintely recommend to rent the Apartment and we will surely be back :-)
Luca
2015-08-20T00:00:00Z
Nos ha gustado mucho la estancia en casa de sonia en macharaviaya, a escasos 10 minutos de la playa y accesible a puntos de interes turistico: malaga, marbella, ronda,motril.... sonia ha estado pendiente de cualquier cosa que pudieramos necesitar. Muy recomendable.
belen
2016-08-18T00:00:00Z
Art der Unterkunft
Ganze Unterkunft
---
Objekttyp
Wohnung
---
Unterkunft für
2
---
Schlafzimmer
Macharaviaya, Málaga, Spanien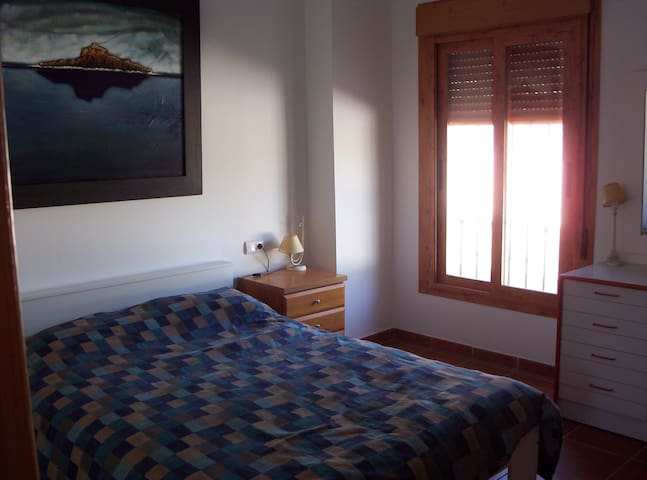 The Piriposa is a lovely apartment in villa with private pool -shared with owner- everything you need for a great vacation in Chilches. This unique name comes from the way I had our son when he was 3 years old, call the Butterflies. Ideally located between the beach and countryside. Very quiet, in the heart of the Axarquia, near Malaga, Vélez, Nerja and Torrox .. Not suitable for disabled people.
"La Piriposa" is a beautiful apartment in Villa with private pool - shared with the owners-everything you need for a great holiday in Chilches. Ideally situated between the beach and the countryside. Very quiet, in full heart of the Axarquía, Málaga, Vélez, Nerja and Torrox. Not recommended for people with mobility problems. The apartment has been recently renovated and has four rooms two of which are bedroom bathroom equipped with shower and kitchen. It is suggested that the traveller has own car. Towels and bed linen included. The Costa del Sol is located in the South of Spain and benefits from one of the best climates of the Mediterranean region. It is one of the most popular destinations among tourists, with clean beaches and a wonderful Sun. One of the attractions is that it is full of quiet fishing villages, with its typical white houses, as well as narrow and windy streets, and are a great escape from the hustle and bustle of the beach and the city. The locals are proud of locally produced wine and cuisine and enjoy the night dancing and singing, you will be transported by the spirit of the Spanish lifestyle and want to return to Costa del Sol and again. Benajarafe / Chilches is located in the eastern part of the coast of the Spain Sun. Its location, about 14 kilometers from the capital of the region, Málaga, lies within the area known as Axarquía. It is located on the coast, between Rincon de la Victoria and Torre del Mar, enjoy one of the best climates in Europe. The unique combination of Sun and sea, makes it almost tropical. Chilches is 25 minutes from Nerja and has 16 kilometers of beaches of fine sand and clean water. All major water sports are available here, including water skiing, diving and sailing. The beaches of Benajarafe and Rincón de la Victoria are traditional holiday destination.
Chilches, is a small town in the heart of the Axarquía located in the west end of the town of Velez-Malaga, Malaga Province, Andalusia, Spain. Only 20 kilometers from Malaga, its international airport, its transatlantic station, 5 kilometers of Rincon de la Victoria and close proximity to shopping and entertainment centers, Chilches becomes a very attractive destination for those who wish to make a break from their everyday and feast on a holiday in our apartments or individual houses tasks. Climate Chilches climate-and the La Axarquía Costa del Sol is basically Mediterranean with mild winters and warm summers. The specialty of the climate of this region east of the province of Malaga is its geographical location, north is protected from cold winds by the Sierras Tejeda, Almijara and Alhama. The influence of the Mediterranean Sea makes these temperatures do not vary much, much environmental as seawater are welcome throughout the year. There are three types of climate, but not many variations between them. The coastal area between Malaga and Nerja have an exceptional climate with an average temperature of 10 ° C in January and 25 ° C in August. In the valleys of the interior climate it is slightly different, the winters are warmer summers and cold. People that are over 900 meters have colder winters and summers are less warm than on the coast. What we offer
Nous avons passé une superbe semaine de vacances chez Carmen et José, dépaysement total, nous nous sommes sentis chez nous mais avec la mer, la piscine et la chaleur en plus! Leur gîte sous leur maison est très adapté pour une famille de 4 comme nous, ils étaient à notre écoute de nos besoins tout en étant d'une discrétion naturelle. Tout les rangements sont très pratiques, le petit patio devant la piscine pour y prendre tous les repas, et le Wifi a fait le bonheur de tous.
Rémi
2016-10-30T00:00:00Z
Location en tout point parfaite. Localisation située en hauteur avec vue mer à proximité de la mer et de commerce. Accès au voies rapides en quelques minutes permettant de visiter la région. Bon conseils de Carmen sur les lieux à visiter et pour manger. Et tout ca dans un très bon français. Une location conforme aux photos avec tout ce qui faut pour passer un bon séjour (jeux pour enfant, machine à lavée, serviettes m, produits d entretien...)
Jean-François
2016-05-07T00:00:00Z
Hotes tres disponibles qui nous ont acceuillis aussitot dans l appartement.Ils nous ont communiques plusieurs adresses de restaurants a proximites ainsi que des indications concernant les plages. Appartement tres agreable et pratique plus piscine tres propre. Carmen,Jose luis et leur fils Enrique ont ete disponibles durant toute la duree de notre sejour. Tres bonne experience!
christophe
2015-07-11T00:00:00Z
Séjour exceptionnel en Andalousie chez Carmen et José Luis on s'est senti très vite chez nous avec l' accueil de José Luis qui est venu nous chercher et qui nous a installé la télé pour que nous puissions suivre la demi finale de l'euro. Très belle région , nous avons visité l' Alhambra à 1h20 de route et le désert de Tabernas à 2h05 ( pour amoureux de western ) et Malaga 20 min location conforme aux photos merci pour tout famille LE BRIS
jacques
2016-07-17T00:00:00Z
Carmen et José Luis sont des personnes très agréable, avenantes et souriante. Ce sont des hôtes à l écoute, disponible et de très bons conseils pour les endroits à visiter. Grâce à leurs conseils nous avons pu mangé une très bonne paella! Ils parlent très bien le français ce qui est fort agréable. Enfin en ce qui concerne l appartement il est nickel! On se sent comme à la maison! Comme dit dans l annonce la voiture est indispensable que ce soit pour aller faire des courses, boire un verre ou encore aller à la plage. Le gros + de cette location: la piscine! En tout cas merci à tous les deux pour cette semaine!
marion
2016-09-10T00:00:00Z
Art der Unterkunft
Ganze Unterkunft
---
Objekttyp
Wohnung
---
Unterkunft für
4
---
Schlafzimmer
Vélez-Málaga, Andalusien, Spanien
Located in a Rural Complex of 3 apartments, on the ground floor, and 4 others, on the first floor, where you can enjoy a perfect environment to spend some peaceful days with your family or friends.
Apartment of 35 m2, on the ground floor, with a living room- dining room with a sofa-bed, 1 extra bed. An open kitchen (2 hobs). 1 bedroom with a double bed. Bathroom/bidet/WC. A color TV set, a washing machine, a toaster, a coffee machine, a microwave, a blender, a grill and a whole set of kitchen utensils. Bed clothing and towels. Barbacue. An electric radiator. A fan. A lawned garden with an exterior table and 4 chairs and sun loungers and 2 sun loungers. Located in a Rural Complex of 3 apartments, on the ground floor, and 4 others, on the first floor, where you can enjoy a perfect environment to spend some peaceful days with your family or friends. You can also enjoy the good weather we have in autumn and excellent beaches not further than 3km from Benajarafe, in Costa del Sol - Axarquia. Ideal to visit the main towns of Andalusia, which are located at the following distances: Malaga 25 Km. Granada 135 Km. Cordoba 182 Km. Almeria 188 Km. Jaen 227 Km. Seville 229 Km. Cadiz 284 Km. Huelva 328 Km.
Très bon accueil. Logement agréable et tranquille.
Pierre
2014-09-09T00:00:00Z
Art der Unterkunft
Ganze Unterkunft
---
Objekttyp
Wohnung
---
Unterkunft für
2
---
Schlafzimmer
Los Puertas, Andalusien, Spanien
Cosy new appartment. 5 min walking distance to the beach and restaurants, cafés, etc. Very relaxing area and quite surrounding.
Brand new 75 m2 family appartament, 5 min. on foot from the beach. Big upper terrace and sea views. Equipment: Three bedrooms for four persons (cradle on request), equipped kitchen, completely furnished living-dining room, two bathrooms with bath and shower and a balcony with views to the community swimming pool. The equipment provides everything needed for a comfortable stay, with bedding, wash machine, clothes horse, TV, chairs and tables for the terrace, portable barbecue and air conditioned/heating. Environment: Placed in a very quite area, at 37 km from the Airport, and close to the towns Rincón de la Victoria, Torre del Mar and Vélez Málaga, with a full range of shops and lively entertainment. Next to the promenade there are markets, Pharmacies, restaurants, kiosks and all the necessary services. Ideal for family holydays, enjoying the sun and the beach, in a quite and pleasant corner of the Costa del Sol.
Art der Unterkunft
Ganze Unterkunft
---
Objekttyp
Wohnung
---
Unterkunft für
4
---
Schlafzimmer
Benajarafe, Andalusien, Spanien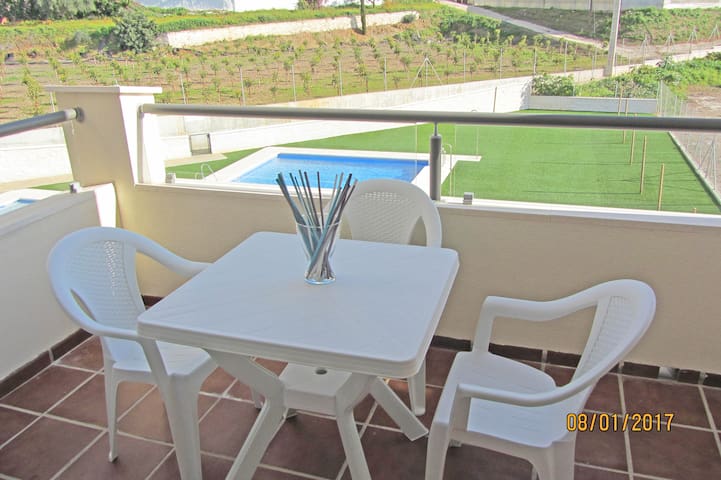 En la última planta del edificio, en una zona tranquila. Cerca de la playa.
Dormitorio con cama de 150 cm. Dormitorio con dos camas de 90 cm.
A las afueras de Benajarafe, zona muy tranquila.
Nous avons été très bien reçu par Aniano et son épouse. L'appartement est encore plus joli et cosy que sur les photos. Nous avons pu profiter de cette belle terrasse avec une vue imprenable sur la mer et sur la végétation. Un endroit calme (mi-mai)... Parfait pour se reposer. Un endroit que je recommanderai avec des hôtes parfaits. Encore merci Hemos sido acogidos muy bien El departamiento es todavía más hermoso en verdad que sobre las fotos La terraza ofrece una vista espléndida sobre el mar y la vegetación. Un lugar muy tranquilito en mayo Lo recomendaré :) Muchisimas gracias
sabina
2015-05-22T00:00:00Z
Coin très agréable et calme. Les photos et la description sont fidèles à la réalité. La vue est magnifique et on est bercé par les vagues le soir. La plage à proximité est calme et pour ceux qui veulent de l'animation, 10mn de marche en plus ou en prenant la voiture, 10mn pour arriver à Torre Del Mar. Seul regret, pas de Wifi en cette période de JO. Merci Mr Aniano pour cette très belle semaine de vacances.
insaf
2016-08-17T00:00:00Z
Hemos estado una semana, y podemos decir que nos hemos encontrado como en casa. El apartamento estaba impoluto y con todas las comodidades que puedes necesitar para pasar las vacaciones. Los anfitriones son una pareja encantadora. Te proporcionan toda la información que precises previo a tu llegada, y además, tuvieron detalles de bienvenida que nos vinieron estupendamente. La urbanización es muy tranquila y con una amplia piscina y zona verde, así como unas vistas desde la terraza estupendas. Y con plaza de parking exterior, próxima a la puerta de acceso al ascensor al apartamento.
Oscar Manuel
2016-07-24T00:00:00Z
Estuvimos muy a gusto en casa de Aniano. La casa es muy agradable y tiene unas vistas preciosas.
Natividad
2016-08-20T00:00:00Z
Aniano es un anfitrión excelente, nos hizo sentir como en casa, en todo momento se preocupó por nosotros y nos facilitó la llegada al apartamento.. Muy dedicado y muy amable con sus huéspedes. Antes de llegar me facillitó un mapa hecho por él, de los restaurantes y puntos de interés de la zona. En cuanto al apartamento, es mucho mejor que en las fotos. Muy bonito, cómodo y espacioso. De verdad, no creo que nadie pudiera tener problemas con este anfitrión, de hecho ya estoy recomendando esta casa a amigos y familiares.
David
2015-04-05T00:00:00Z
El piso de Aniano es fenomenal. Desde el balcon se tiene una vista preciosa. La vivienda es muy tranquila, es decir los vecinos no se oyen. Esta perfectamente equipada para pasar unas buenas vacaciones La playa esta a pocos pasos y los supermecados y la panaderia a pocos minutos en coche. Aniano, el dueño del piso, es una persona muy agradable. Muy preocupado que uno se encuentre comodo. El contacto que tuvimos fue fenomenal, sin ningun problema. Si volvemos a Malaga....seguro que repetimos. Muchas Gracias por todo
Anne
2015-09-05T00:00:00Z
Art der Unterkunft
Ganze Unterkunft
---
Objekttyp
Wohnung
---
Unterkunft für
4
---
Schlafzimmer
Vélez-Málaga, Andalusien, Spanien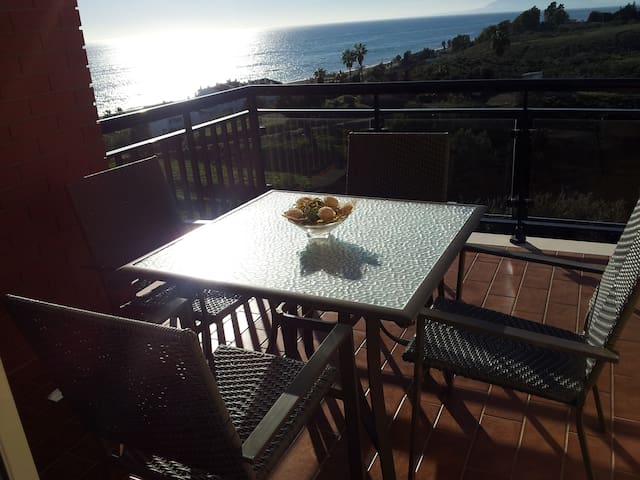 Gemütliche Wohnung in zwei Minuten zu Fuß vom Strand entfernt. Perfekt für ein Paar oder eine Familie mit einem oder zwei Kindern. Dieser Bereich der Küste ist immer noch nicht überfüllt: Wenn Sie ein paar Tage der Entspannung wünschen, vom Strand zum Pool und eine tägliche Siesta auf dem Sofa, das Ihr Platz ist. Die Wohnung ist nicht sehr groß, aber es hat alle grundlegenden Einrichtungen. Es ist gut kommuniziert: Es gibt eine Bushaltestelle ganz in der Nähe, nach Málaga und anderen Städten. Sie können auch Ihr eigenes Auto, und es gibt keinen Mangel an Parklücke fahren
Vous pouvez utiliser un parasol et serviettes de plage. Il y a un berceau pliable, de sorte que les membres les plus petits de la famille bénéficient également d'une journée par le soleil et la plage.
Questa zona della Costa del Sol non è ancora sovraffollato. Si può godere la spiaggia, pur avendo tutti i servizi e le comodità. Ci sono diversi ristoranti e Bares della zona, e un campo da golf a 7 min. guidare.
Miguel was a great host, very helpful and friendly. The apartment was also really nice with perfect location, with a gorgeous beach across the street and busstop a few meters away.
Hanna
2017-01-28T00:00:00Z
Good apartment with sea view in a quiet place.
Natasja
2017-01-01T00:00:00Z
Miguel es muy simpatico y ha estado pendiente en todo momento de nosotros. El apartamento estaba limpio y acogedor. Y para nosotros la ubicación estaba perfecta.
Lucia
2017-04-09T00:00:00Z
tres satisfait, hote serviable comprehensif
Abdou
2016-08-31T00:00:00Z
Miguel nous a très bien accueilli et aidé, son appartement est assez petit mais très fonctionnel et à 300 mètres de la plage. Nous sommes très contentes de notre séjour !!
Anais
2016-08-18T00:00:00Z
Art der Unterkunft
Ganze Unterkunft
---
Objekttyp
Wohnung
---
Unterkunft für
4
---
Schlafzimmer
Benajarafe, Andalusien, Spanien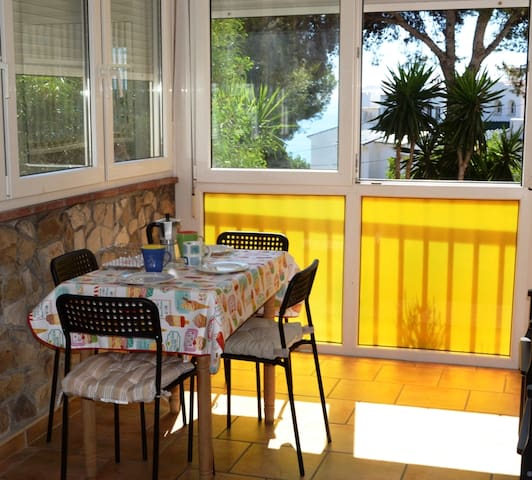 Bel appartement dans l'urbanisation sur la plage, avec un accès direct au sable d'une plage familiale tranquille. Il dispose également d'une piscine commune. Idéal pour les familles avec enfants.
Idéal pour profiter d'un moment calme de la plage est à dix minutes de Torre del Mar où vous pouvez trouver toutes sortes de magasins, bars, restaurants et lieux de divertissement. Málaga est à 25 minutes et si vous préférez visiter les villages de la Axarquia est à distance de marche de toutes ses belles villes
Art der Unterkunft
Ganze Unterkunft
---
Objekttyp
Wohnung
---
Unterkunft für
4
---
Schlafzimmer
Benajarafe, Andalusien, Spanien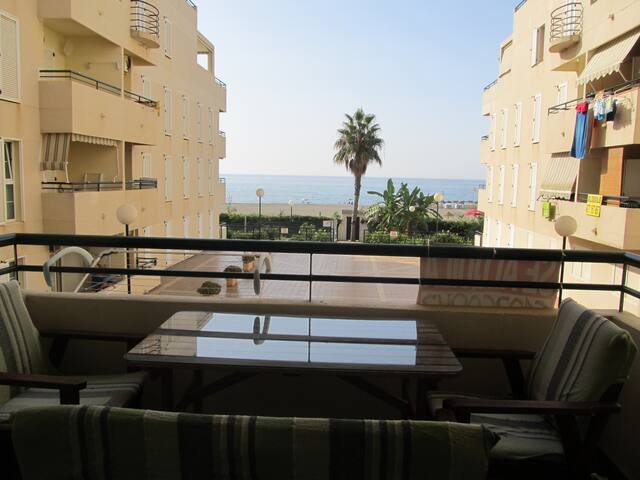 Penthouse frontline beach Benajarafe, great views and fully furnished. Three air-conditioned bedrooms, two bathrooms, fully equipped kitchen, living room, terrace and solarium. At 200 meters from restaurants, shops, pharmacy, bank, etc..
The property location is excellent with a fantastic sea view. Large interior comfort. The property is prepared to accommodate 8 people comfortably, but can reach 10.
The setting of the house is perfect for a few days off, because without being inside the city, with all amenities at 100-200 m. away.
Erste Klasse Eigentum bzw. Eigentümer! Nah am Meer und viel Ruhe. Immer gerne wieder!
Catalin
2014-11-09T00:00:00Z
Todo han sido facilidades por parte del propietario, incluso ha tenido el gesto de dejar un detalle de bienvenida (fruta, Málaga Virgen, refrescos...). La casa es amplia y muy bien equipada (bbq, garaje, cocina completa...). Estaba todo en perfecto estado y justo enfrente de la playa. Las vistas desde las terrazas de la casa son espectaculares.
Estefania
2016-08-14T00:00:00Z
Joaquin nous attendait avec en cadeau le vin de sa région et une belle corbeille de fruits. location conforme aux photos, avec une magnifique terrasse face à la mer. Super séjour proche de malaga
valerie
2016-11-02T00:00:00Z
Perfect place, perfect view, perfect atmosphere. Joaquins apartment is very well located, exactly on the beach. Facilities are extensive and ready to use. If you are looking for place to relax, I recommend it!
Piotr
2016-06-23T00:00:00Z
The host had a soccer game to get to so our dinner in a restaurant was interrupted and the meeting was brief. The home/condo was as described. The view was wonderful and the location was perfection. I would definitely stay there again.
Donna
2015-01-15T00:00:00Z
Nous avons très bien accueillis par Joaquin qui a fait preuve d'une grande flexibilité point de vue horaires, notre avion étant en retard . Dans l'appartement une corbeille de fruits, une bouteille de Malaga ainsi que des canettes de bière et de coca nous attendaient. J'ai dû le contacter par SMS suite à un petit problème avec la porte du frigo. Il m'a répondu immédiatement et a réglé le problème rapidement . L'appartement est très bien situé,confortable et conforme à la description et aux photos publiées sur le site . L'immeuble est bien entretenu et très calme .Seul petit bémol, le trafic (et encore nous étions en basse saison)sur la route en face de l'immeuble .
Bernard
2016-04-07T00:00:00Z
The host canceled this reservation 18 days before arrival. This is an automated posting.
Ju
2016-09-28T00:00:00Z
Art der Unterkunft
Ganze Unterkunft
---
Objekttyp
Wohnung
---
Unterkunft für
8
---
Schlafzimmer
Vélez-Málaga, Andalusien, Spanien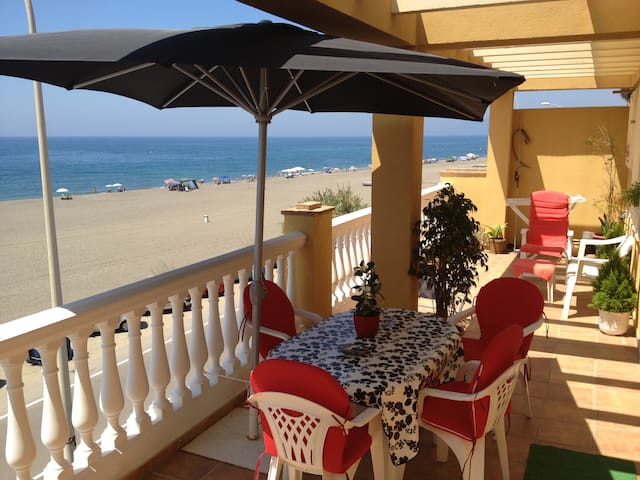 Ein-Zimmer-Wohnung, indetendiente Küche, Bad, ein geräumiges Wohnzimmer mit Schlafcouch, kalte Luft und Wärme 16 m Terrasse. mit Meer und Golf. Private Parkplätze, Paddle-Pools und Gärten. Nagelneu, in der Nähe von Rincon de la Victoria, Málaga und den Stränden. Das beste Klima in Malaga
Herrliche Aussicht am Meer in der Nähe des Dorfes und neben dem Golf Añoreta. Sehr sonnigen Süden. sehr geräumiges Wohnzimmer mit Schlafsofa.
Ich empfehle Strände von Chilches und Benajarafe. Restaurants benagalbon Strand und in der Stadt zu einem günstigen Preis und authentisch. 15 Minuten von Malaga mit dem Auto auf der Autobahn das Mittelmeer. 5 min von der Ecke des Sieges. spektakuläre Promenade. 20 min Nerja Burriana Strand und maro.
Muy amable el anfitrión, y el piso precioso. Ideal para escaparse a relajarse...
María
2016-11-06T00:00:00Z
Super séjour chez Daniel qui nous a très bien accueilli et qui a été de très bon conseils pour les visites. L'appartement est très bien situé, la piscine est agréable et calme. On reviendra !
(EMAIL HIDDEN)
2016-08-21T00:00:00Z
Daniel was there to greet us when we arrived, he is a very friendly and helpful host supplying us with information on local restaurants etc. He was very easy to contact if needed the apartment with sea views is excellent. We would stay here again.
Raymond
2016-10-23T00:00:00Z
It was a pleasure staying at Daniel's place. The apartment was very clean and comfortable, and we had everything we needed. We really enjoyed the location, though we recommend having a car to be able to travel around. Daniel was very welcoming and helpful. Thank you very much.
Uriah
2015-07-29T00:00:00Z
This was everything we could have wished for in a short stay - in fact, we were disappointed that we couldn't stay for longer! Daniel was a really great host - and nothing was too much trouble for him - from driving out to guide us in late at night when we arrived, to sending us loads of top tips on where to visit and eat, Daniel really made the stay extra special. The flat was also superb. Very modern and clean, with underground parking, a large covered terrace (that kept the rain off us!) with a great view down to the sea. Everything was just as in the description/photos - except that Daniel forgot to mention that there was also a lovely pool and lawn area to chill out on - right next door! The flat is also located in a great location about 10 mins drive from the sea on the Rincon coast. Mostly residential (as far as I could tell) with a superb late night general store, Coviran and fresh Baker by day. So you could just chill at the flat and environs all day if you wanted - no need to travel too far. However, if you are into traveling, the nearest beach/prom is at Rincon - with great bars and restaurants - there is even a 100 Montaditos! :-) Beaches further east, are the typically Spanish Torre del Mar, El Morche, Torrox and even Nerja/Maro is only 30 mins away. Don't forget to head up into the mountains for Frigliana and Competa (where La Taberna de Oscar is well worth a visit for evening dinner). Also, don't don't dismiss Malaga - which is only 30 mins east - and there is also Marbella if you like that sort of thing ... Finally, my top tip for those flying into Malaga airport and hiring a car: Helle Hollis - they may at first glance, not appear to be the cheapest, but once you have taken a Petrol FULL car back and had your petrol cost refunded, you'll thank me!
Paul
2015-10-17T00:00:00Z
Hemos pasado 5 dias mi mujer y mis 2 hijas. Lo hemos pasado genial. Baños en la piscina, las niñas se han divertido en el parque con el tobogan y los columpios. Playa de Añoreta a 4 km muy tranquila; Rincón de la Victoria a 7 km con muchos restaurantes para comer pescaito frito, espetos y marisco a buen precio; Benagalbon cerca para comer en la Candelaria comida casera y pescaito..... Daniel es un chico muy atento y cordial. Te aconsejara sobre donde moverse para hacer la compra asi como para comer o cenar por los alrededores. Sin duda pensamos volver si es posible. Un saludo
Nicolas
2015-08-21T00:00:00Z
Nos ha encantado el apartamento, el propietario muy atento para cualquier necesidad, te aconseja sobre la zona y lugares para conocer, urbanización muy tranquila con piscina, piso amplio y buen equipado, un placer podernos alojar en su casa, esperamos poder volver muy pronto.
Juan
2015-07-15T00:00:00Z
Hôte bien sympathique, à votre disposition pour répondre à vos demandes et de surcroît parlant le Français ! Le logement est agréable, de bon standing, avec belle vue de la terrasse. On a particulièrement apprécié la grande piscine (réservé aux résidents) avec un espace pelouse, le tout bien entretenu ! Situation idéale à proximité de l'autoroute pour visiter les villes principales (Séville, Grenade, Ronda ... ) et proche de Malaga !
FRANCOISE
2016-06-22T00:00:00Z
Art der Unterkunft
Ganze Unterkunft
---
Objekttyp
Wohnung
---
Unterkunft für
4
---
Schlafzimmer
Rincón de la Victoria, Andalusien, Spanien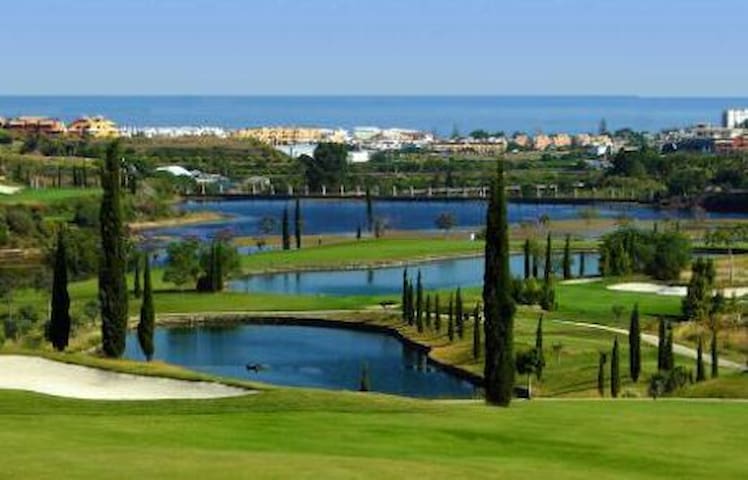 Located in a Rural Complex of 3 apartments, on the ground floor, and 4 others, on the first floor, where you can enjoy a perfect environment to spend some peaceful days with your family or friends.
Apartment of 38 m2, with 1 bedroom with a double bed, a balcony with a table and chairs. Living room with a sofa, a colour Tv set, a table and chairs, an open kitchen with electric hobs, a fridge, a washing machine, a toaster, a coffee machine, a microwave, a blender, a grill and kitchen utensils. Shower/WC. Bed clothing and towels. Air conditioning. A spacious private terrace of 25 m2 with a table, chairs, sun loungers and a barbecue.
Located in a Rural Complex of 3 apartments, on the ground floor, and 4 others, on the first floor, where you can enjoy a perfect environment to spend some peaceful days with your family or friends. You can also enjoy the good weather we have in autumn and excellent beaches not further than 3km from Benajarafe, in Costa del Sol - Axarquia. Ideal to visit the main towns of Andalusia, which are located at the following distances: Malaga 25 Km. Granada 135 Km. Cordoba 182 Km. Almeria 188 Km. Jaen 227 Km. Seville 229 Km. Cadiz 284 Km. Huelva 328 Km.
Belle endroit reposant au calme , plage à proximité meme à pied si on aime la marche
nathalie
2016-08-18T00:00:00Z
Un endroit très agréable et calme à l'écart des buildings et du bruit ! Idéal pour se reposer et apprécier un petit village :). A 10 mn d'une petite (URL HIDDEN) d'une grande promenade au bord de la mer, Torre del Mar ; rien de tel pour profiter de l'essentiel. Super accueil de Miguel et Maria toujours au petit soin si besoin ! Merci :)
Christine
2017-04-08T00:00:00Z
Art der Unterkunft
Ganze Unterkunft
---
Objekttyp
Wohnung
---
Unterkunft für
2
---
Schlafzimmer
Málaga, 29, Spanien
Casa Andalucia is a private holidayvilla with 3 luxury apartements on a prime location in Benajarafe, Costa del Sol. El Sol is completely equipped for 2 persons. Free WIFI. Ideal for combi sun, beach & citytrip to Malaga. Garden, pool, sea 500m
The top location is a luxury villa in Benajarafe, 25 kilometer east of Malaga, Costa del Sol. The villa is reachable by bus or rental car from the airport. Or we pick you up. The villa has 3 apartments with possibilities for 2, 4 or 4 persons. Maximum number of guests is 10. Your privacy and personal attention is guaranteed. Appartement El Sol for 2 persons has a living/sleepingroom, private kitchen, a luxury bathroom and private terrace. Sun, shadow, privacy & peaceful, swimmingpool, 600 meter from the mediterrean sea and the best climate in Europe with 300 sunny days per year. Breakfast cann be booked at site
The climate with over 300 sunny days per year, cultural cities as Malaga, Granada, Ronda, Nerja, Frigilana in the neighborhood. 600 meter from the sea.
The host canceled this reservation 55 days before arrival. This is an automated posting.
Sonia
2016-05-27T00:00:00Z
Roland en jet, Thanks for your hospitality! Great room, very clean and spacious:) very nice conversations and perfect breakfast. The location is quiet and near to the beach. Recommend it to everyone!! All the best , Jeroen en Martine
Jeroen
2015-07-17T00:00:00Z
Art der Unterkunft
Ganze Unterkunft
---
Objekttyp
Wohnung
---
Unterkunft für
2
---
Schlafzimmer
Vélez-Málaga, Andalusien, Spanien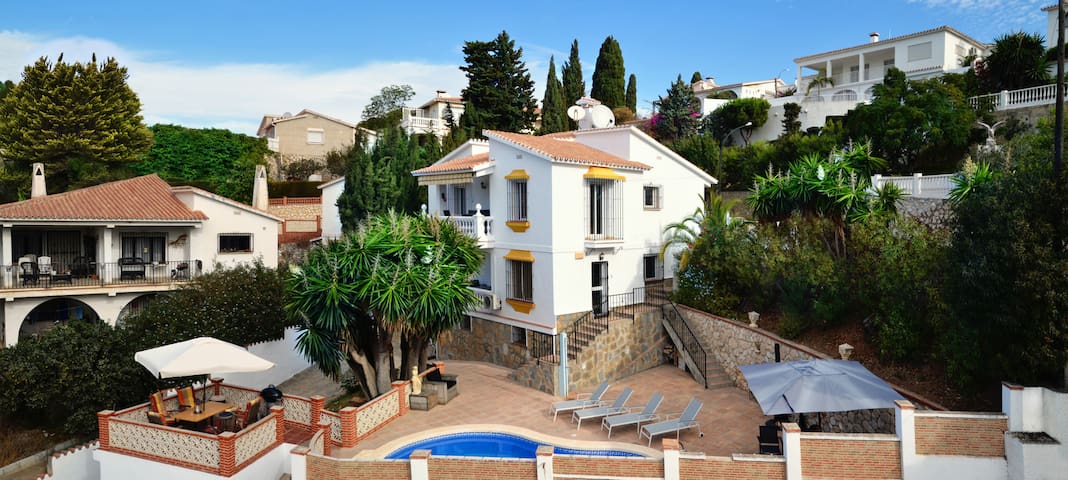 Incredible front-beach apartment in Benajarafe. Costa del Sol. Perfect if you want to jump from the bed to the sea! It is right next to a spanish "Tabern" where you will enjoy breakfast and mediterranean food. Up to 6 persons can stay and enjoy the views of the beach from the bed and the living-room. It is very well located, near restaurants, bar, Super-Market, Beach-club, and in 5 min with car you reach the highway. Málaga, Nerja, Velez...etc very fast!
Art der Unterkunft
Ganze Unterkunft
---
Objekttyp
Wohnung
---
Unterkunft für
6
---
Schlafzimmer
Vélez-Málaga, Andalusien, Spanien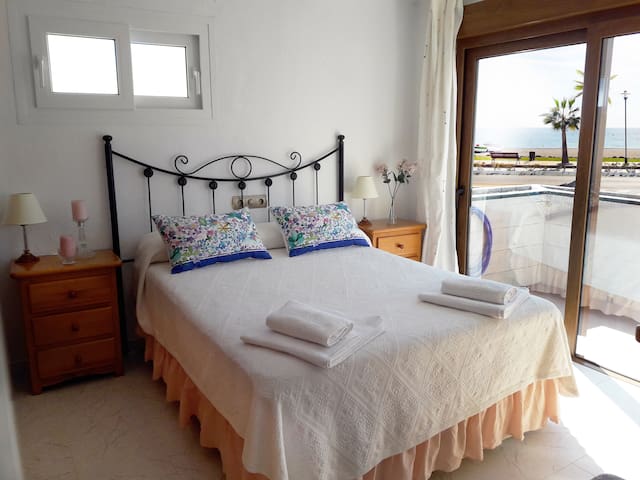 Wohnung direkt am Strand befindet sich an der Costa del Sol (Malaga), 20 km vom Zentrum von Málaga und dem Flughafen. In der Nähe von Torre del Mar und Nerja. sehr ruhig gelegen. Kleine Küstenstadt. Große Terrasse. Ein 10 Meter vom Strand entfernt
Dienstleistungen: Medical, Supermärkte, Post, Bars, Strandbars, blaue Flagge Strand, Promenade, und alles, was Sie brauchen, um einen spektakulären Urlaub, der Familie oder Freunden zu genießen. ausgezeichnetes Klima und Gehäuse komplett ausgestattet
In der Nähe Küstengebiet. Kleinstadt.
Oscar haben wir persönlich nicht getroffen, aber Nadja hat uns vorort sehr nett empfangen und sich gekümmert. Die Fotos geben einen realistischen Eindruck der Wohnung. Die Ausstattung ist einfach, aber insgesamt in Ordnung. Insbesondere die Terasse und die Strandlage waren sehr schön und der Parkplatz im Hof nützlich. Benajarafe ist ein ganz netter Ort, im Oktober ist es dort sehr ruhig.
kerstin
2016-10-26T00:00:00Z
Art der Unterkunft
Ganze Unterkunft
---
Objekttyp
Wohnung
---
Unterkunft für
5
---
Schlafzimmer
Benajarafe, Andalusien, Spanien
Normale Einrichtung.
Die Wohnung ist direkt am Strand gelegen
Die Wohnung ist in Richtung Garten gelegen und somit ruhig. Die Nachbarn sind alle freundlich. Die meisten kommen nur im Sommer. Im Frühjahr/Herbst/Winter ist der Wohnblock sehr ruhig
Art der Unterkunft
Ganze Unterkunft
---
Objekttyp
Wohnung
---
Unterkunft für
5
---
Schlafzimmer
Vélez-Málaga, Andalusien, Spanien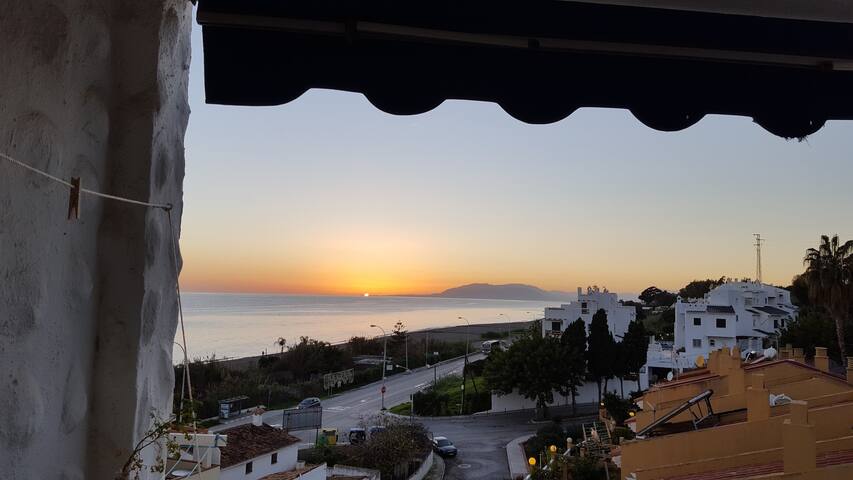 Apartamento muy luminoso en urbanización privada, con plaza de parking y piscina comunitaria. Zona muy tranquila. Bien amueblado, casi todo nuevo y muy cómodo. Lo mejor es la terraza, donde podéis disfrutar a diario gracias a las agradables temperaturas de la costa del sol oriental, ya sea de desayuno, almuerzo o cena, con unas increíbles puestas de sol, y vistas a la montaña y un pedacito de mar. A siete minutos de la playa en coche y con salida directa a la autovía. A 15 m de Málaga.
El apartamento se encuentra en la zona de Añoreta, junto al campo de golf, es una zona muy tranquilita.
El apartamento es simplemente perfecto, está nuevo y completamente equipado, no nos faltó de nada. Repetiremos
Alberto
2017-04-10T00:00:00Z
Nuestra estancia en Málaga ha sido maravillosa gracias a Araceli y a su maravilloso piso, todo perfecto. Sin duda queremos repetir!
Carlota
2017-01-05T00:00:00Z
Todo habido genial. La dueña encantadora. El piso genial!!! Muchas gracias
Jorge
2017-04-02T00:00:00Z
Está todo como en las fotos, limpio y bien equipado. La terraza mucho mas grande y agradable de lo que se aprecia en las fotos. Todo perfecto
Ignacio
2017-03-20T00:00:00Z
Mejor imposible, Araceli muy atenta y amable.El apartamento precioso decorado con mucho gusto además estaba muy limpio,estuvimos muy cómodos porque no faltaba ni un detalle era como si estuviésemos en nuestra propia casa.muchas gracias por todo araceli
María
2017-03-26T00:00:00Z
El trato con Araceli PERFECTO, puso muy fácil tanto la llegada, como la salida. La casa es exactamente como se describe, apartamento perfecto para una pareja con hijos, alojamiento muy cómodo, todo muy nuevo con los utensilios necesarios para facilitar la estancia, así como ventiladores en todas las estancias y aire acondicionado (frío/calor) en el salón, las camas nos resultaron cómodas. El aparcamiento es amplio exactamente debajo del alojamiento. Está ubicado en una buena zona residencial turística, para desplazarte hace falta coche, tanto para acercarte a la zona de costa como a la de los comercios o restauración. Próximo a la autovía, por lo que la llegada y salida al alojamiento se hace fácilmente.
Dany
2017-01-15T00:00:00Z
Art der Unterkunft
Ganze Unterkunft
---
Objekttyp
Wohnung
---
Unterkunft für
4
---
Schlafzimmer
Torre de Benagalbón, Andalusien, Spanien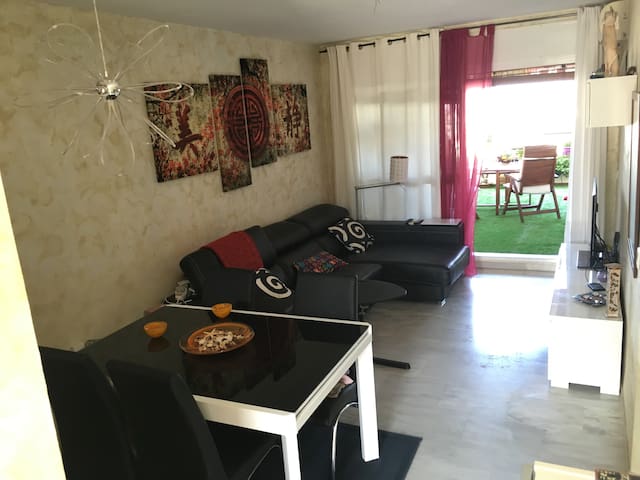 Meine Unterkunft ist gut für Familien Whit Kinder, weil ich alle, die Sie benötigen. Attraktion: Strand, Familienaktivitäten und Nachtleben. Sie werden mein Platz, weil der Außenbereiche, das Licht, die Küche, das Wohnzimmer, das Komfort des Bettes und die Nachbarschaft lieben. Das Haus ist 200 Meter vom Strand entfernt, die Restaurants, Cafés und der famus Bäckerei.
Große Familien-Wohnung von 105 m2 in Dachboden, hat eine große Terrasse von 90m2, mit unvergleichlichem Blick auf das Mittelmeer, nur 150 m vom Strand entfernt in einer privaten Wohnanlage. Platz: Völlig neue Wohnung, geräumig und hell (Süd-Ost). Es verfügt über 3 Schlafzimmer, 2 Bäder, voll ausgestattete Küche, ein Wohnzimmer, modern und komfortabel, ist die Wohnung ausgestattet und für Familien mit Kindern konzipiert. Dienstleistungen und öffentlichen Bereichen: Das Hotel liegt in einer kleinen Urbanisation von großer Ruhe, hat es Swimmingpool für Erwachsene und einen für Kinder, beide mit Blick auf das Mittelmeer. Beschreibung der Gegend: Die Wohnung befindet sich nur 150 m vom Strand in Benajarafe hoch vor der Kirche, im Büro und lokalen Schule gelegen, nur wenige Gehminuten finden Sie Restaurants, Geschäfte, Apotheken und alles, was Sie für einen Familienurlaub zu verbringen finden, mit Spielen für Kinder, dass Ihr Kinder werden es lieben. Ebenfalls in der Nähe der Golfplätze: Añoreta Golf und Bayern Golf. Highlights: Die Wohnung ist nur 35 km vom internationalen Flughafen Málaga, 7 km von Rincon de la Victoria und 10 km von Torre del Mar. Wo Sie große Einkaufszentren zu finden. Eine große Terrasse von 90m2 ist der perfekte Ort, um Familie Nachmittage zu verbringen, in der Gesellschaft von den Sonnenuntergang im Mittelmeer.
Very modern appartement just steps from the beautiful Mediterreanen sea. Near to the sea, near to restaurants and cafés and there is also a grocery down the street. The people are very nice and friendly. The appartement was very modern and tip top. Well suited for four people. Beautiful privat terass att the roof where you have perfect view to the sea. Every thing is in perfect conditions and the aerea is very quiet but still very central. Highly recommend.
Paulo
2017-01-12T00:00:00Z
Art der Unterkunft
Ganze Unterkunft
---
Objekttyp
Wohnung
---
Unterkunft für
5
---
Schlafzimmer
Benajarafe, AL, Spanien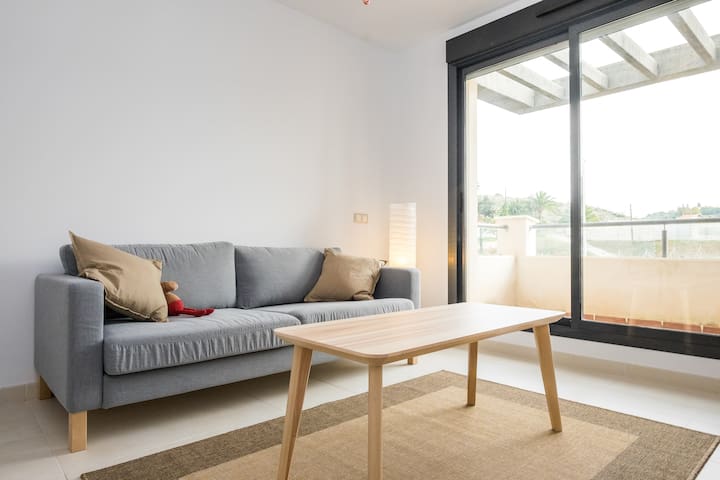 Kleine Wohnung, ideal für ein Paar oder für eine kleine Familie mit zwei Kindern. Die Wohnung ist mit Klimaanlage, voll ausgestattete Küche, Bad, Schlafzimmer und ein Schlafsofa für 2 zusätzliche Plätze ausgestattet, Kinderbecken ... AIRCON, WIFI, Balkon, etc ...
Schöne Wohnung für eine kleine Familie, die ein wunderbarer Sommer oder im Winter in einer der ruhigsten Gegenden der Costa del Sol zu verbringen möchte. Voll ausgestattet mit Küche, Bad, Wohnzimmer mit TV und einer Südterrasse der ausgestattet, der die Sonne das ganze Jahr über bekommt. Entdecken Sie das Geheimnis der ewigen Jugend: Die spanische Sonne Die Unterkunft am Rande eines Gebäudes gelegen, verfügt über Tageslicht das ganze Jahr über und eine schöne Terrasse den Sonnenuntergang über dem Meer mit einem Glas Wein oder Kaffee zu genießen. Die Wohnung befindet sich im dritten Stock, mit Aufzug, mit dem Sie die Sonne und einen atemberaubenden Blick von der Terrasse oder entspannen im Pool für Erwachsene und Kinder gleichermaßen zu genießen. Rund um die Pools sind gepflegten Rasen und haben Ihren Aufenthalt das ganze Jahr über zu genießen. Die Pools sind ganzjährig geöffnet. Es liegt weniger als 50 Meter vom Strand entfernt, Bushaltestelle, hat auch eine geschlossene Garage für Ihr Auto zu parken (nur 1 Auto) mit Restaurants in der Nähe, Supermärkte, Tankstellen. Kommen Sie und genießen Sie eines der besten Urlaub, den Sie jemals davon geträumt. Wir laden Sie die Bewertungen unserer Kunden zu überprüfen und so haben Sie die Gewissheit, dass ihr Aufenthalt sehr angenehm sein wird. Wir sind Profis mit mehr als 9 Jahre Erfahrung in der Beherbergungsbetriebe.
Sehr ruhig und multikulturell
Unser Urlaub im Apartment war super. Die An- und Abreise hat wunderbar funktioniert, dank den Instruktionen von Carmen und José Luis. Das Apartment ist so wie man es von den Fotos erwartet. Das tollste ist der Blick vom Balkon. Wir haben jeden Tag auf dem Balkon gegessen und den Ausblick genossen. Erwähnenswert ist außerdem der kurze Weg zum Strand (3 Min zu Fuß), der zum Apartment-Komplex zugehörige Pool und die Tiefgarage. Außerdem bietet der Ort eine sehr gute Ausgangslage (mit Auto), um weitere sehenswerte Orte Andalusiens zu besuchen. Alles in allem war es ein sehr gelungener Urlaub und wir können die Unterkunft nur weiterempfehlen. Allerdings sollte man besser einen Wagen mieten, denn der Supermarkt ist dann doch zu Fuß etwas zu weit entfernt und am Abend ist in Benajarafe nicht allzu viel los.
Tanja
2016-09-04T00:00:00Z
We had a great time at Casas de Benajarafe! The house is perfect for a restful and relaxing time at the beach. We enjoyed our coffee on the patio each morning looking at the ocean. The best part of our stay was being able to walk calmly to the beach each day and swim in the ocean. Also, the cozy apartment to return to at the end of the day was very nice! Carmen and José Luis are the best hosts. Carmen met us to let us into the space and show us around and was very helpful. Upon checkout they both came and were lovely to chat with. I wish had more time to talk with them because they were very friendly and kind.
Brittney &
2016-06-28T00:00:00Z
Très bon séjour de 3 jours à benajarafe, petite ville calme, agréable face à la mer loin des touristes et juste à quelques minutes de Malaga. En ce qui concerne les hôtes qui parlent le français vous êtes au top, agréables, souriant et surtout ils sont là en cas de besoin ou d'urgence merci !!!
mouna
2016-09-15T00:00:00Z
Jose Luis was very welcoming upon arrival and easy to communicate with. We were slightly unsure about having to leave a security deposit and copies of our passport but this was no trouble in the end. The apartment was very clean and tidy and had an amazing view over the Costa del Sol. The pool is also perfect for relaxing and cooling off in the heat of the day. We really enjoyed our stay and would recommend to anyone.
David
2016-10-04T00:00:00Z
Really enjoyed staying at this apartment. Every thing I needed was provided including the extra towels that i asked for. I hope to return soon and have the beautiful sunsets again.
Steve
2017-02-11T00:00:00Z
We had a great stay at Benajarafe. Apartment was nice and clean with an amazing view of the ocean. There was everything we needed and even more. (beach chairs and a yellow umbrella) :) Jose was a great host, funny and very helpful, he recommended us few very nice places i.e. beach - playa de Cantarrijan or horse show in Jerez. Thanks so much!
Tomas
2016-07-05T00:00:00Z
Todo fue genial, desde luego da gusto compartir experiencias con gentes tan agradables y dispuestas a ayudar siempre.
Antonio
2016-08-28T00:00:00Z
C'est un logement assez bien placé, mais 100% pure location , pur business , le stricte minimum , sans âme, sans charme , sans l'esprit initial AirBNB , comment être à 50 mètres de la mer, avec une piscine dans la résidence et ne pas avoir au moins 2 transats , il y a des assiettes type arcopal , des verres tous dépareillés , un seul verre a vin des serviettes blanches minimales, pas de savon , pas de gel douche, un demi rouleau papier toilette ,un peu de sel et de vinaigre... rien!!! le stricte minimum. Propre mais vieux !les photos sont très très bien faites !!et vous vendent du rêve, la réalité l'est bien moins ..... les lits ne sont pas confortables les ressorts sont bien ressentis ... José Luis et Carmen ne sont, soit disant, pas les proprios mais gèrent une flotte de logements et vous demandent une caution de 150 € en liquide dès l'arrivée ??pourquoi ne pas utiliser le système de caution via Airbnb ? ils sont néanmoins disponibles et très sympathiques mais ne sont là QUE pour gagner de l'argent . Ou est l'esprit Airbnb ? pour ce type de location ils devraient utiliser d'autres sites de location de vacances.
Sylvie Et Jerôme
2016-10-27T00:00:00Z
Art der Unterkunft
Ganze Unterkunft
---
Objekttyp
Wohnung
---
Unterkunft für
4
---
Schlafzimmer
Benajarafe, Málaga, Spanien
Gib deine Reisedaten ein, um den aktuellen Preis zu sehen. Es können zusätzliche Gebühren und Steuern anfallen.