65 Ferienhausvermietungen
Gorgeous waterfront. Room for 10 yet cozy and romantic for two. Canal leads directly to the Gulf of Mexico. Private dock for swimming or boating. Backyard deck, heated pool, and huge screened-in back porch overlook the water and colorful landscape with tropical fruit. Billiards table. Paddle boards provided. Fully stocked, recently upgraded, always very clean, comfortable. Great attention to detail. Parking for up to 6 vehicles and boat trailers. Pets welcome, with fenced-in back yard.
Great views, host was easy to reach and the home was comfortable and clean.
Stephanie
2017-03-08T00:00:00Z
A hidden gem, deceptively large and close to a lot of fun things to do. The pool and pool table were awesome, highly recommended
Jason
2017-02-26T00:00:00Z
My husband I and stayed at Nick's place for a birthday weekend getaway, and brought our two small dogs. The house was spacious with lots of different areas to hang out in, but didn't feel too big for just the two of us. The backyard is fenced in so we could let our dogs rome safely, and I loved sitting by the pool while my husband fished off the private dock. The screened-in back porch was great for eating dinner, then hanging out in the evening and watching the boats go by. Beautiful landscaping job in the backyard, too! A great place to stay for a relaxing weekend out of town.
Joanna
2017-01-15T00:00:00Z
Cute and Cozy home. Had everything you could need. Loved watching boats go past. Quiet neighbors.
Deborah
2017-01-29T00:00:00Z
Art der Unterkunft
Ganze Unterkunft
---
Objekttyp
Haus
---
Unterkunft für
10
---
Schlafzimmer
Hernando Beach, Florida, Vereinigte Staaten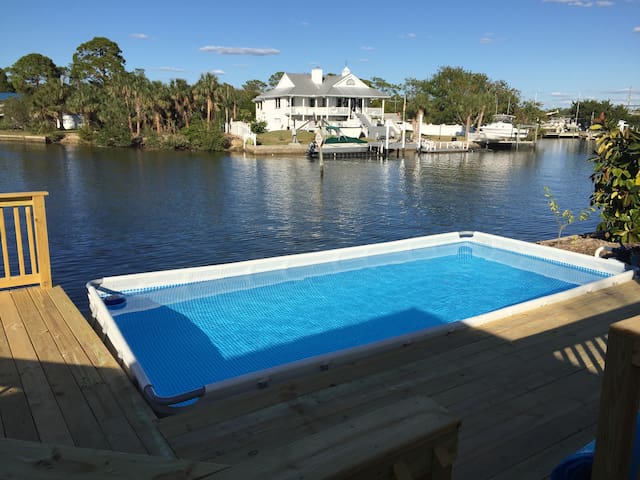 Our beautiful 2/2 home is located on a wide deep water canal with direct access to Gulf of Mexico. Watch the sunset over the Gulf from the panoramic view on our rooftop deck. Private beach for swimming or you can fish from our large floating dock.
Our home has a beautiful corner lot and is only one canal from the open Gulf of Mexico. The home is also surrounded by mature trees and foliage making this a great relaxing vacation retreat.
It is quite and peaceful neighborhood, with limited traffic and friendly people.
David's Hernando beach house was perfect! The kitchen had everything we needed, the beds were comfortable, the bathrooms were spotless and the backyard/rooftop deck were wonderful. The location was close to a few decent bars and restaurants and the marinas. We rented a pontoon from Blue Pelican Marina and we were able to drive it to the house easily to load the boat. It was a great weekend away. One inconvenience was that the grill was out of propane. But the gas station to replace the tank was super close so it wasn't too much of a hassle. Would definitely recommend this house to friends and families.
Traci
2016-07-31T00:00:00Z
Our stay in David and Shay's home was absolutely wonderful. They have a gift of hospitality and it manifested in ways that made us feel so comfortable. Cheryl greeted my husband and children upon arrival (I was still at the grocery store.) She was welcoming, friendly, and helpful and made my family feel completely at ease. The home is fully stocked with everything we could have possibly wanted or needed. The kitchen and everything in it exceeded what we would have expected to find. I was able to prepare any meal without concern of having the right kitchenware. That's a gift to me! But there's so much more to their home than the comfort of the kitchen. David and Shay have appointed their home in such a way that there are many gathering spaces ~ all of them warm and welcoming. From the living room and Orbit Room to the beautiful enclosed Florida Room, the awesome deck on the roof to the dock on the canal (my favorite,) the covered back porch to the private little beach area, there are so many places to enjoy time with one another, or a little solitude. We thoroughly enjoyed our time there and felt completely at ease. We loved kayaking in the canals, the gulf, and Rocky Creek right across the street. We enjoyed fishing off the private dock and dining on the Mangrove Snapper we caught one beautiful starry night there. The sunsets are amazing, the neighborhood is comfortable and perfectly safe. When we felt like staying "home," we also enjoyed walks with our dog down the neighboring streets and along Rocky Creek. The people in the neighborhood were warm and friendly. We also enjoyed meeting and loving on David and Shay's two outdoor cats. There are so many things to do just minutes from David and Shay's home. As nature and outdoor lovers, we made great memories at Bayport Park, Alfred McKethan Pine Island Beach Park, Jenkins Creek, and Linda Pedersen Park. Weeki Wachee River is just minutes away, too. There is beach gear, fishing gear, a host of board games and more provided at the home and at the ready for your use. Seriously, David and Shay haven't missed one thing any of us could have possibly wanted or needed during our stay! The property is accurately described; the beds are quite comfortable. David responded quickly to any questions we had. If your looking for a quiet, lovely spot in Hernando, my family and I highly recommend this home. ~ Thank you so much for your hospitality, David and Shay! We would be delighted to have the opportunity to stay in your home again one day.
Kristen
2017-01-28T00:00:00Z
Loved the place... Sunsets from the rooftop deck, card games at night in the screened in patio, tiny private beach and dock on the canal. Great little "beach" house. Would come back anytime. Thanks guys!
Gabriel
2016-04-14T00:00:00Z
A very nice spot in a very nice, quiet upscale neighborhood. It was our first airbnb experience and it was wonderful. My expectations were somewhat high yet they were more than fulfilled by how well the house and property accommodated our mini-vacation of boating and scalloping as well as watching Mermaids and swimming at Weeki Wachee Springs. Great restaurants nearby as well. We can only hope for another opportunity to book with David at his Waterfront Hernando Beach home!
J.R.
2016-07-10T00:00:00Z
This house was a very pleasant place to stay. Roomy, very clean, and with a beautiful view. The photos don't really do it justice. The rooftop patio was awesome, and the location was near a great seafood market and several local (not chain) restaurants that are very good. Off the beaten path, but well worth the trip! We would stay here again in a heartbeat.
Claire
2016-10-16T00:00:00Z
Our January 29 thru Feb 4 vacation at Hernando Beach house was fantastic. All three adults who were there for the week agreed that this was one of the best vacations ever. Decor was relaxing, furniture was comfortable, all appliances were up-to-date and everything was exceptionally clean. Any item that we could possibly need was there. David was always available to answer questions about the area. Our hope is to return in June to attend our granddaughter's Spring Hill high school graduation.
lucille
2016-02-04T00:00:00Z
This was our first air bnb trip, and it definitely won't be the last. We loved the house and the listing was extremely accurate the neighborhood was friendly and the Backyard Beach area was awesome as well. David, we loved your place and thanks for answering all my questions in a timely fashion, you rock!!
Lauren
2016-07-14T00:00:00Z
We had a wonderful weekend scalloping in Hernando Beach with David's house as our home base. The location couldn't have been better for us since we brought our boat. The house has easy access to the Gulf of Mexico and launching at the nearby public boat ramp was easy. We also really enjoyed having our own dock to come back to each day instead of having to deal with boat ramp traffic! The house was very clean and comfortable with everything we needed to enjoy our long weekend. The quiet location, patio areas, and private beach also helped us relax when not on the water. Our dogs also enjoyed the beach area and fenced in yard. Overall, we had a great weekend and would love to come back again!
Andrea
2016-08-15T00:00:00Z
Art der Unterkunft
Ganze Unterkunft
---
Objekttyp
Haus
---
Unterkunft für
6
---
Schlafzimmer
Hernando Beach, Florida, Vereinigte Staaten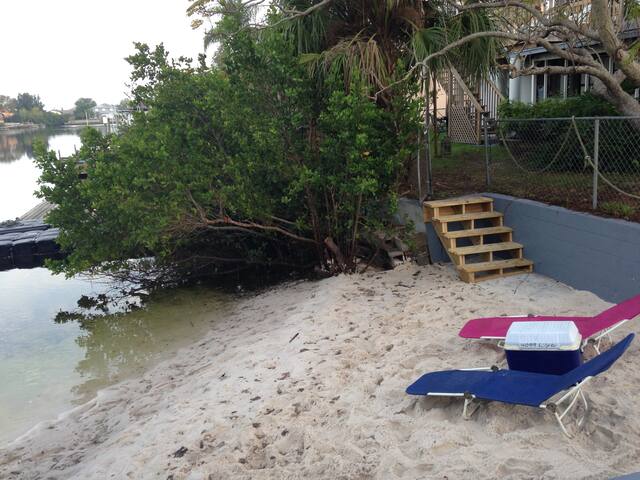 New to the airbnb site..Waterfront beach bungalow stilt home (700 sq ft) on salt water canal with direct access to the Gulf of Mexico. Large seawall with floating dock, bring your boat. 1 hour to Tampa/Busch Gardens or Crystal River. 2 hours to Disney World/ Universal Studios/Orlando. Located in The Nature Coast of Florida. Weeki Wachee Springs just minutes away. Kayakers paradise! Lots of things to do on the water. Scalloping during in season. Smoking ok outdoors. Small pets ok.
I just bought this waterfront home in August 2015 and have done some minor improvements. My goal is to make improvements as I can for the enjoyment of myself and my guests. My plans for my next improvements are to paint the place and to add a deck on the upper level. The house is in a nature friendly area but close to Tampa, Clearwater, Crystal River, Orlando and more. Perfect if you would like a combination of nature and amusement. Check the web for scalloping season. It starts sometime in July and ends the beginning of September. This area is very popular for scalloping. Just go out to the Gulf of Mexico and go a little ways north once you are on the open water. You will know where to stop because that's where all of the other boats will be. As far as fishing, the nature coast only gets one foot deeper for every mile you go out. Real fishing has to be done over 15 miles out. Not a problem if you've got a large hp motor.
Hernando Beach is a waterfront community. There is no beach in Hernando Beach. There is a small county beach called Pine Island about 10 miles away. It has shallow water and is perfect for small children or a romantic visit to watch the sun set. There is a beach on the Weeki Wachee River called Rogers Park. It is just a couple of miles away. There are several local restaurants within minutes. There is a bait shop just about a mile down the road with a convenience store next door. Shopping is just about 10 minutes away. I will try to add maps to the photos section showing local interests in the future.
Art der Unterkunft
Ganze Unterkunft
---
Objekttyp
Haus
---
Unterkunft für
4
---
Schlafzimmer
Hernando Beach, Florida, Vereinigte Staaten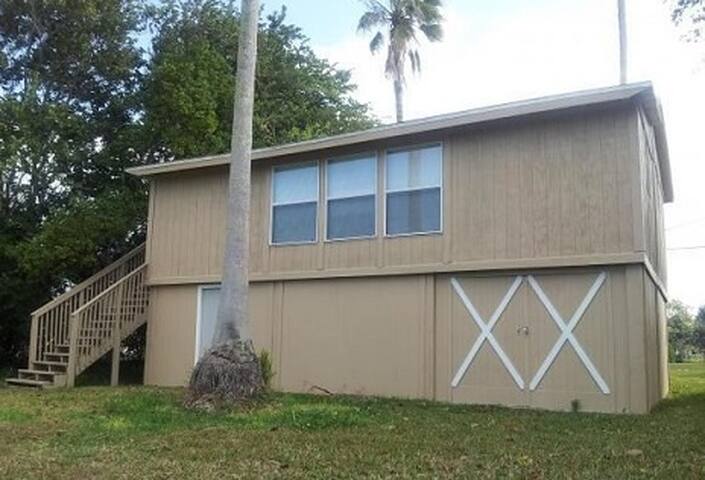 Pacify yourself in ultimate luxury on the Nature Coast of Florida in a deluxe water front property with your family or friends. Relax on your own private gulf access with the splendor of nature and get lost in effervescent waters of the Gulf of Mexico.
Stilt home with panoramic view of the Gulf of Mexico. Wake up to spectacular sunrises and romantic sunsets. Perfect for couples, families or friends seeking the ultimate getaway!
Friendly, quiet, peaceful and safe!
We loved our stay at Shelly's! Not only was the home clean and with so many bonus anenities it was the location that was also perfect! Shelly was so friendly and accomodating. The home was so nice that we could have spent our whole vacation there but the area around it is so great to explore! We look forward to our next trip and would certianly look to book with Shelly again!
Richard
2015-03-10T00:00:00Z
We had a wonderful weekend getaway and packed our days with kayaking, biking, and exploring the nature coast. Dropping the kayaks in the beautifully landscaped backyard was great. We loved it! We saw an amazing array of wildlife and incredible sunsets each night we were there - gorgeous. The house was wonderful. We truly felt at home and we were very impressed with Shelly's lovely kitchen and the stunning views of wildlife from the balcony. There was a massive heron joining us every night on the inlet landing behind the house. We could see his/her silhouette beautifully due to the super-cool submerged light. Great idea! Shelly was awesome. She was very personable, cool, and thoroughly available for questions about the area and was more than willing to provide any direction we needed. Thank you Shelly!
Shad
2015-05-03T00:00:00Z
Shelly's home was phenomenal! Beautifully decorated,clean. It is so well stocked that I was able to make a dinner for 8. We all slept comfortably and honestly didn't even want to leave the house to venture out...but, we did some biking,kayaking and took a nice walk. The neighborhood is tranquil and everyone we encountered was extremely friendly. Linda "D" whom lives across the street stopped by when my niece asked if she could pet one of her dogs,we chatted for a while. She was quick to make suggestions and offer any help/ideas to us. I strongly recommend this listing to everyone. Shelly made sure everything ran smoothly and to be honest her listing does no lt do the home/property justice. I will gladly be looking to book again next time I'm in Florida.
Hector
2016-04-06T00:00:00Z
The house was clean and comfortable but quite a ways from any major beach. My family and I were in the area for spring break and were hoping the house was closer to some larger beaches. The area was very quiet and relaxing.
Kelly
2017-03-20T00:00:00Z
The location, home and host were perfect. Tons of space and just about everything you would want in a vacation property. We only wish we could have stayed longer. Kayaking was fantastic, wonderful suggestions on local restaurants, parks and shopping. Very secure and safe neighborhood with enough parking for my 14' trailer. Our outing to the Gulf of Mexico was one of the best kayak trips we have ever had. Turtles, Osprey, Sharks, Crabs and other marine life were just part of the adventure. The Weeki Wachee Preserve is just minute away and provides miles of mountain biking trails and exploration opportunities. Roger's Park is close by and is an excellent place to end or begin your kayaking trip. I'd recommend Paddling Adventures to take advantage of the Weeki Wachee River and springs. Our host made sure everything was ready for us and we felt completely at home.
Sean
2015-05-26T00:00:00Z
Shelly was extremely responsive. She responded to my inquiry very quickly. The house was absolutely perfect, overlooking the water and very close to Weeki Wachee. We had the best time at her house, it was perfect for 6 people. I would 100% recommend this place and I would stay there again.
Jenna
2015-06-14T00:00:00Z
The house was just as advertised and a good value. Will definitely consider this home if we get back to the Tampa area again.
Dave
2015-02-18T00:00:00Z
A great weekend spent relaxing, kayaking and enjoying the beautiful sunsets. The house had everything we needed for a great weekend! We really enjoyed being able to kayak right brim the back yard! Unfortunately, we were only able to use the downstairs area during the evenings. It is much to hot and humid to spend any time there during the day, or for anyone to be able to sleep.
Nancie
2015-07-05T00:00:00Z
Art der Unterkunft
Ganze Unterkunft
---
Objekttyp
Haus
---
Unterkunft für
8
---
Schlafzimmer
Hernando Beach, Florida, Vereinigte Staaten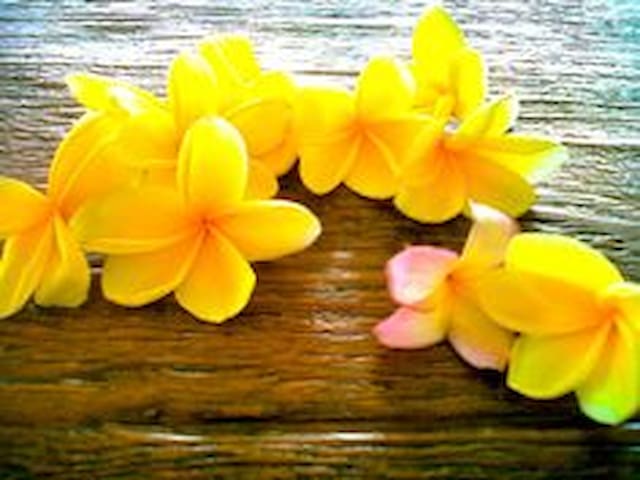 My place is directly on the Gulf of Mexico! You will enjoy beautiful views and sunsets, visits from dolphins, sting rays, and the occasional manatee. The area is perfect for kayaking (provided at no extra charge), scalloping, fishing (fish poles and tackle box ready to use), and sitting by the pool, soaking up the Florida sunshine!
Five women, five bikes, four day trip cycled to this place. You can imagine our delight in the pool and the hot tub and the spaciousness! We were delighted and we enjoyed our stay.
Yvonne
2016-11-14T00:00:00Z
Art der Unterkunft
Ganze Unterkunft
---
Objekttyp
Haus
---
Unterkunft für
10
---
Schlafzimmer
Hernando Beach, Florida, Vereinigte Staaten
Our Home offers a remodeled deck with a screen-surrounded porch with a lovely view of the horizon with a Tiki bar. We specialize in offshore fishing of Grouper and King fish. We are a licensed US Coast Guard Captain with extensive knowledge of fishing local waters since 1980. Come visit old Hernando Beach, and take a step back in time to experienced Old time Florida. if your heart beats for outdoor adventure in a natural environment, you're enjoy the heart of Florida's Nature Coast.
Art der Unterkunft
Ganze Unterkunft
---
Objekttyp
Haus
---
Unterkunft für
6
---
Schlafzimmer
Hernando Beach, Florida, Vereinigte Staaten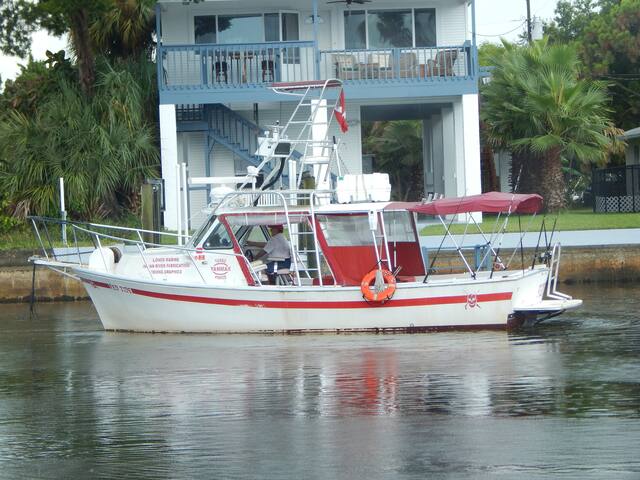 After a long day of sightseeing or fishing, cool off in this luxurious home's swimming pool before getting ready for a night out in Hernando Beach's nightlife scene!
Why not have it all by staying in this luxurious (and affordable!) house in the heart of Hernando Beach? With 4 bedrooms and enough sleeping accommodations for up to 11 guests, there's plenty of room for the entire family to come along! The rooms are spacious and you'll immediately feel relaxed from the moment you first walk in the front door. You'll also love the home's numerous outdoor decks where you can gaze out at the breathtaking views and tropical landscaping! This house is located in a boating and water community so you have direct access to the Gulf of Mexico with your own private dock. If you have your own boat, jet ski, or other watercraft, feel free to bring it along! If not, there are plenty of places nearby that you can rent water equipment. Test your culinary skills in the home's fully-equipped kitchen, even though the community is said to have some of the best dining establishments around (not bad for a place that doesn't even have one stoplight!).
After a long day of sightseeing or fishing, cool off in the home's large private swimming pool before getting ready for a night out in Hernando Beach's nightlife scene. You'll be pleased to know that the beach is right nearby, as well as numerous nature parks and great places for walking, jogging and biking. There is even a brand new white sandy beach less than two miles from the property! Want to venture outside of Hernando Beach? Attractions such as Disney World, Busch Gardens, Lego Land, the Tampa Aquarium, and more are an easy drive away! The community of Hernando Beach itself also typically has various cultural events going on, so make sure you see what's happening during your visit!
A beautiful home! Lots of good seafood nearby, and the best beach in the world!
Faye
2016-08-14T00:00:00Z
Art der Unterkunft
Ganze Unterkunft
---
Objekttyp
Haus
---
Unterkunft für
11
---
Schlafzimmer
Hernando Beach, Florida, Vereinigte Staaten
From your deck and heated pool, watch the boats go by and take in the nice ocean breeze. Dolphins and manatees are often seen. The neighborhood is laid back and very safe, with a nice mellow vibe. Close to amenities and sunsets over the gulf.
The home is newly remodeled with comfortable furniture and fully appointed with plenty of towels, linens, fully stocked kitchen, grill, and more. The back deck and heated pool overlook the water and provide a very nice space to enjoy the spectacular views and mild Florida coastal climate. Boat traffic in the canal varies throughout the day, with periods of little more activity than the wildlife, and other times when the shrimp and crab boats are heading out for a night of fishing. Wildlife includes dolphins, manatees, bald eagles and many other beautiful and rarely seen birds. Beautiful sailboats and pleasure boats cruise by from time to time. Everyone you meet is happy to be there. It's a very pleasant experience.
It's a nice quiet neighborhood. There's not much traffic because all the roads dead-end at the edge of the Gulf of Mexico. So, it's great for walking or riding bikes. You can watch the sun set over the Gulf of Mexico just a short walk from the house. There are also restaurants, bars, marinas and more within walking distance.
The house was very well maintained and the large deck out back added a lot of living space. The landscaping was very nice and tidy. The kids loved playing in the pool and my son enjoyed fishing off the dock. I enjoyed drinking my morning coffee on the dock and watching the fisherman go by. We even saw a dolphin in the canal. The neighborhood was very quiet and low key.
Lori
2016-06-06T00:00:00Z
We loved our place in Hernando Beach! The description for nicks place was accurate. So warm and welcoming for our group. Definitely would recommend
Dawn
2016-02-07T00:00:00Z
Lovely neighborhood, beautiful yachts and fishing boats going by daily in the waterway at the rear of the house. Loved to sit on the deck and watch the watercraft in and out. The house met every expectation and surpassed some from what the info we had when we rented it, just a great experience all 'round.
Jeanette
2016-06-16T00:00:00Z
We had a wonderful 6 nights at Nick's place. It's a beautiful sleepy fishing town with old Florida charm. We had come from busier places along the gulf, so this was a refreshing change for us. It's a bit of a drive each day if you want to see certain things, but we enjoyed exploring Tarpon Springs, Hudson, New Port Richey, Weeki Wachee etc. It might be important for people to know that this is not a beach area as the name suggests, but we did find a county park/beach called Sun West only 30 minutes away which was fun. Nick has a slice of paradise there, with an adorable, cozy, comfortable home. It was a treat to have cruiser bikes to use through out the neighborhood, and the canoe was awesome too. We saw a dolphin one night at the end of Flamingo St, and we watched a big Manatee one day while canoeing. It was incredibly neat. Be sure to visit the wildlife park in Homosassa and the mermaid show at Weeki Wachee Springs. Both were pretty fun for us. Having movies was a plus in the evenings after watching pretty sunsets. Thank you Nick, for a memorable stay!
Mya
2017-03-10T00:00:00Z
The house is lovely ! Very clean and the owner really made the most of every inch of the property. The kids enjoyed fishing from dock and watching the boats go by in the canal was very relaxing.Lots of birds too. Our one and only dissapointment was that we could not use the pool. We thought despite the cool weather the pool would be heated. We did not have experience with solar power heated pools. If the weather has been cold the solar powered heated pool system CAN NOT heat the pool. Thankfully there were other activities. I highly reccomend eatting at Brian's place that iis about 5 minutes from the house.
Rosalie
2017-03-19T00:00:00Z
We had a fantastic time at Nick's place! Prior to the visit Nick answered all the questions we had. The directions to the house were clear and the GPS brought us right there. One inside, the place was even better than what we expected. The house was charming, clean, simple, well-appointed, and comfortable. A true home away from home. The pool off the deck was the crowning touch. We could float in its heated waters while watching the shrimpers and other boat traffic motor by. Because it is a no-wake zone, the water traffic was quiet. The location felt very private, even though it is set within a quiet residential area with restaurants and stores nearby. There are fun things to explore within an hour from the house -- we went swimming with the manatees in Crystal River, visited a nature preserve, bought fresh seafood at a market within minutes from the house, watched the mermaid show at nearby Weeki Wachee, and had a delicious seafood meal at a restaurant around the corner. I highly recommend Nick's place for anyone wanting to unwind, kick back, and sample a slice of Old Florida!
Marti
2016-05-23T00:00:00Z
Art der Unterkunft
Ganze Unterkunft
---
Objekttyp
Haus
---
Unterkunft für
6
---
Schlafzimmer
Hernando Beach, Florida, Vereinigte Staaten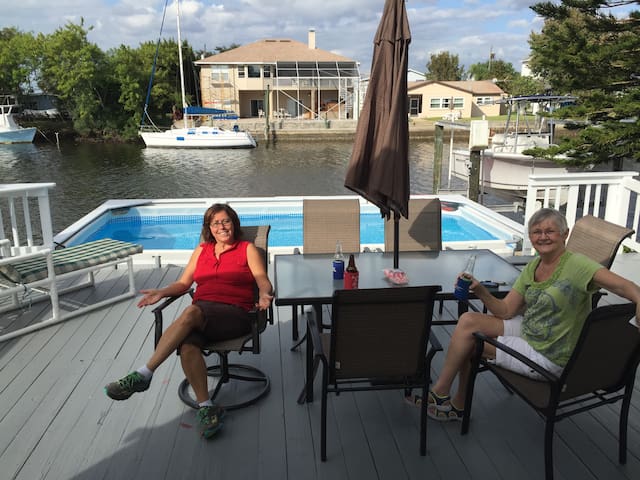 Hernando Beach is an eclectic, Gulf Coast town with world class fishing. The area is fishing destination for Tarpon, Grouper, Snapper, Snook & Redfish. Nature & wildlife preserves surround us. Come see our Dolphins & Manatee that swim past our home!
PLEASE TAKE THE TIME TO READ THE BELOW AND CONFIRM YOU HAVE IN YOUR FIRST MESSAGE TO US YOU HAVE THIS INFORMATION SO WE DO NOT HAVE ANY MISUNDERSTANDINGS. Our normal change over day is Saturday, not Friday to Friday. On occasion we can accommodate rentals that begin or end on days of the week other than Saturday. Please contact us with your request. During the fall months this is possible and the rental rates are discounted. In the summer months we rent by the week (7-nights) with the exception of what we term "last minute specials". These are 3-4 night stays and must be booked within 7-days of the first nights stay. Holiday weekend 3-4 night stays are $100.00 extra. The cleaning fee & pet fee (if you bring a pet) are additional. The prices listed for this home DO NOT include the following: Pet fees: Shedding $150 and non-shedding $100.00. Pets are limited to dogs and cats under 30-pounds. Service animals are not restricted but must be certified and the certification must be provided prior to occupancy. Cleaning fee is $150.00. Sales tax of 11% IS INCLUDED in the rental cost. If you wish to inquire about the "winter season" for 2016 please be aware that our minimum rental is from January 2, 2016 to March (PHONE NUMBER HIDDEN) nights). We are happy to rent for a longer term, but this will be our minimum rental for January - March of 2016. WE ARE THE BEST VALUE IN HERNANDO BEACH OR THE AREA!!! Add to that we have a well kept vacant lot next to our home for you to park your boat or PWC trailer if you are bringing one! A perfect place to get away for a week, a month, or several months. All you need to pack are your clothes and personal items (fishing tackle and your boat if you have one). Hernando Beach is a rural, residential Gulf Coast town with world class fishing. The area is famous as Tarpon Country-but there's grouper, snapper, Snook, and Redfish, too). Nature and wildlife preserves surround Hernando Beach. The beautiful sunsets, white sand beach of Pine Island, numerous fishing parks and the nearby Weeki Wachee Springs Water Park make it an ideal vacation or winter retreat. Enjoy fine dining in the town's local establishments (seafood like you have only dreamed about!) or in the national restaurant chains nearby on US 19. Convenient shopping also abounds on US 19. A new Super Walmart is 10-minutes from your front door. The home is located 60+ minutes from Tampa International Airport, and 90+ minutes from Orlando, Disney World, Universal Studios, Wet & Wild, Sea World and Busch Gardens. So you can still "do it all" and have a quiet, clean, comfortable home when it is time to unwind. After all what is a vacation if you don't relax some? The kitchen, master bedroom, Dining Area, Screened Lanai & Pool, outdoor entertaining areas, sea wall and dock all offer views of the main channel that leads directly into the Gulf of Mexico. You can enjoy your favorite water sport from your own dock. In the evening and early morning can watch the shrimp boats come and go. Or you can stand in the heated pool enjoying your favorite beverage watching the boats leaving for the flats or gulf. Bring your boat and follow them out as you go out to see the beautiful sunset on the Gulf of Mexico. You can charter a fishing boat for guided inshore and offshore adventures from the nearby marina, venture offshore for grouper fishing on a party boat, rent a boat, pontoon boat, jet ski, or kayak locally. You will have a 20 foot floating dock right outside the back door. You can also fish off the dock (all kinds of fish come through the channel with the change of tides), or just relax on the back deck and enjoy the slow pace of Florida living. This place is perfect for the naturalist, birdwatcher, and photographer. If you enjoy people watching you will enjoy sitting on the outside deck at one of the local restaurants watching the boats, kayaks, canoes, boats, fish and in the winter Manatees going past on the crystal clear Weeki Wachee River while you enjoy lunch, dinner or your favorite beverage. All of this is 10 minutes from your front door. For a change of pace, there are numerous golf courses nearby, including some championship courses. Two of our local public courses are rated 9th & 48th in the country. With over 20 to choose from you will be busy if you're a golfer. If you want to visit Florida, especially if you want to escape the long, cold Northern winter - and stay in a countryside, waterfront, but convenient location...this is the place to be. The home has a premium king size bed in the master bedroom. Each of the two other bedrooms have two twin beds. The master bath has both a walk in shower and a oversize soaking tub. The hall bath (between the two smaller bedrooms) has a tub shower. The large laundry room has a washer and dryer. There are two TV's each with a DVD player & VCR. The family room also has a complete stereo with Bose speakers and there is an additional stereo on the lanai for your enjoyment while relaxing in the pool, rear deck or on the covered & screened lanai.
Hernando Beach is a boating community on the Gulf of Mexico. We have a fleet of commercial boats (Stone Crab, Shrimp, net boats, etc.) Most go past our home on the way to work. Combine that with the recreational traffic and you have something to watch all the time from the porch or pool! Great restaurants are a short drive away in Hernando Beach! We are a VERY safe, out of the way area surrounded by 16,000 acres if nature preserve, yet shopping is 10-minutes away!
Art der Unterkunft
Ganze Unterkunft
---
Objekttyp
Haus
---
Unterkunft für
6
---
Schlafzimmer
Hernando Beach, Florida, Vereinigte Staaten
Our hideaway on the Gulf is as serene & relaxing as it gets! Gorgeous room with private bath across hall, private dock for your boat (launch 5min away!), this is a water enthusiasts dream come true! Perched between the Gulf and a Nat. Wildlife Refuge, wildlife is everywhere! Find adventure or just sip some coffee, pet the kitty & watch the shrimpboats drift out for their evening catch. A handful of delightful, locally owned restaurants will keep you well fed & entertained. Welcome to the Gulf!
Both David and Suzanne were extremely accommodating. We arrived late, but that was not an Issue! The house is beautiful and located right on the water! I would recommend this room to someone looking to stay in the Hernando Beach area!
Logan
2016-09-06T00:00:00Z
Art der Unterkunft
Privatzimmer
---
Objekttyp
Haus
---
Unterkunft für
2
---
Schlafzimmer
Hernando Beach, Florida, Vereinigte Staaten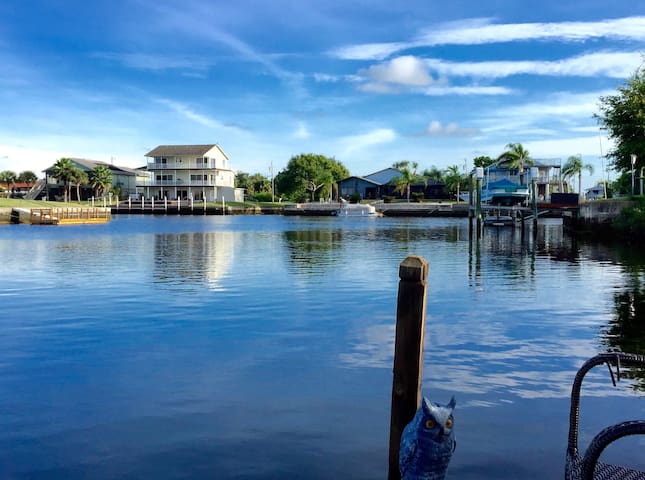 The perfect mix of relaxation & adventure await you at this charming Old Florida river retreat! Explore the natural beauty of the crystal clear Weeki Wachee River by kayaks or canoe from your backyard and enjoy the breeze from the dock. During your visit you will have use of 2 kayaks, a small canoe suitable for one adult or two children and a paddleboard, all included with your stay!
Located just 10 houses from the Weeki Wachee River on a beautiful canal, you will enjoy the sights, the sounds and the perfect mix of relaxation and adventure! Mermaid Landing at Pirate's Cove is a story house with 2 separate units. Upstairs is Captain's Quarters which is a 2/1 and can sleep up to 8 people. Downstairs is Mermaid Landing a 1/1 that can sleep up to 5. You have the entire bottom floor, a 1 bedroom 1 bath all to yourself with your own private entrance, use of your own grill and kayaks, canoe and paddleboard. There is a pull out sofa and a futon in the living area for extra sleeping space for the ability to sleep 5 people.
A waterfront community with an Old Florida feel! The home is located on a dead end street across the street from an undeveloped wildlife sanctuary where it is common to see deer and other wildlife!
Great location on an absolutely beautiful river!!
Mackenzie
2016-11-06T00:00:00Z
Andrea was very accommodating to my family and I especially since we had to switch from vacation mode to evacuation mode. She quickly responded to my requests to extend our stay and allowed us to check in early due to the timing of the hurricane. Once the storm was over, my daughter and I were able to relax on the river and the kayaks were a plus. The home was clean and overall, we were very pleased.
Mary Beth
2016-10-09T00:00:00Z
This space is perfect for a weekend of relaxing! The unit is well kept, clean, and everything we were looking for. There is a bait shop and an Italian place right up the road. About 10 minute drive away from shops and restaurants! Andrea was quick to respond and was clear in her instructions for check in and out. Would definitely stay again.
Kyla
2016-12-11T00:00:00Z
Amazing spot right on the river. Very relaxing. Kitchen fully stocked. Fast communication, hosts are very helpful and quick to respond! Wish I could stayed another day... Thank you Andrea and Jason!
Scott & Kadi
2016-12-19T00:00:00Z
A beautiful place in a relaxing setting! We couldn't have asked for more! Thank you!
Jeremy
2017-01-14T00:00:00Z
This place was everything shown in the pictures. It is on a very quite street on the river. The inside was very clean and definitely a great value. I would recommend this place highly!
Justin
2017-01-10T00:00:00Z
Amazing location! Watched manatees feed right off the dock. Very peaceful, river was incredible and locals were friendly. Don't miss Trader Bays for super cheap, fresh local seafood.
Trisha
2017-03-25T00:00:00Z
Perfect spot to stay if you are visiting the local State Parks like Weeki Wachee or Homosassa Springs Wildlife State Park! Close to everything and right on the water. Kayaks and conoes provided!
Rebecca
2017-01-23T00:00:00Z
Art der Unterkunft
Ganze Unterkunft
---
Objekttyp
Haus
---
Unterkunft für
4
---
Schlafzimmer
Weeki Wachee, Florida, Vereinigte Staaten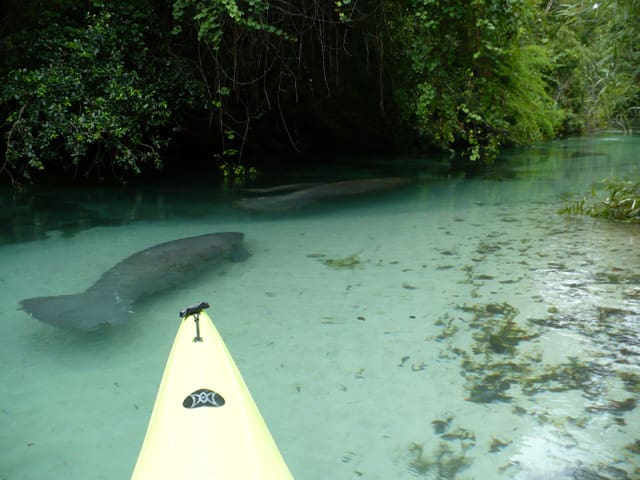 2 bedrooms 2 bath house on deep water canal. Discover your own bit of paradise, where the beautiful river flows. The Weeki Wachee with its unspoiled views, timeless backdrop for a one of a kind vacation. Stress free travel experience, inviting water, and relaxation in our comfortable home. Close enough to enjoy all of Weeki Wachee with an affordable getaway. Laid back life style with the beauty of nature that surrounds you. So much to see and do.
Master bedroom with master bath, second bedroom has trundle bed sleeps two. Air mattress in guest closet. Full bath in common area. Seating for six at dinner table. Screened in room over looking the water with more seating.
Nice safe and quiet neighborhood on dead end canal. Restaurant, convenience store and gas in walking distance. Boat Rentals near by.
The Sugar Shack lived up to previous reviews. Great location on the canal. We took the kayaks down to the river and were able to see manatees. Marty and Natalie did a great job of making it feel like home. We had everything we needed for our stay. The house was very clean and welcoming. The only disappointing thing was having to leave. Thank you for a great experience.
James
2016-11-27T00:00:00Z
Wonderful place with everything you need for a relaxing stay on the Weeki Wachee river! Natalie and Marty are wonderful as hosts- we'll definitely be back!
Trena
2016-08-15T00:00:00Z
This was a wonderful place to stay. Comfortably furnished. We enjoyed kayaking, sitting outside and watching the fish jump. Thank you!
Michele
2016-07-27T00:00:00Z
My family and I had such a wonderful stay at the sugar shack! Upon arrival we noticed not only how clean and cute it is, but how comfortable and welcoming it is! Natalie was easy to communicate with and we had no issues during or stay. The beds are comfortable and the home had everything we could have needed/wanted and more. We enjoyed the springs and stopped by the upper deck for drinks and appetizers. I would recommend the sugar shack to family/friends and can't wait to plan another vaca here!
Kristen
2016-10-16T00:00:00Z
We had a really a great time!!! Your home is beautiful, welcoming and very comfortable. The river is excellent and we enjoyed cruising from the head spring to the gulf. We definitely can't wait to visit again.
Stephen
2016-07-24T00:00:00Z
The house was very clean comfortable and organized. Hosts provided us with some breakfast basics, coffee, eggs etc. Quiet area with some good restaurants nearby. Thanks!
Dudley
2016-10-28T00:00:00Z
The Sugar Shack is a very cute and nice place to stay. Very clean, and very nice decorated with everything that you need. My parentes were visiting from Brazil, and I decided to take them to a different place for a nice and relaxing weekend. It was the perfect palce to stay. My husband, parents and I took one day to go visit the Rainbow Springs and rent a canoe for the day, it was absolutely amazing beautiful...and it is only 1 hour away from the Sugar Shack. On Sunday we just relaxed and used the kayks on the river, sat down to watch the fishes jumping and watch the sunset. Natalie is very responsive, and only one time we need to call her during our stay she pick up the phone right away. I would recommend this place to my friends.
Paula
2016-09-19T00:00:00Z
We loved the sugar shack. It had everything we needed/wanted. The place was incredibly clean. I was super happy about that! The paddle boards are better for kids or smaller people lol. The kayaks were great! We definitely wish we could have stayed longer. The Italian restaurant in walking distance is pricey but delicious! We loved being on the canal and found the flowing river easily.
Whitney
2016-08-19T00:00:00Z
Art der Unterkunft
Ganze Unterkunft
---
Objekttyp
Haus
---
Unterkunft für
4
---
Schlafzimmer
Weeki Wachee, Florida, Vereinigte Staaten
Amenities include a canoe, two kayaks, stand up paddleboard, dart board, corn hole game, outdoor jenga, ping pong table, ring toss, fishing poles, and an outdoor TV. This place is for everyong: Pets, kids, adults and retirees.Bring your boat and dock it at our dock, or rent a boat from the local marina. Swim in the fresh spring water, fish, scallop, kayak, relax in front of our large TV or indoor and outdoor fireplaces.
This little slice of heaven is on a double corner lot bordering two quiet canals on the Weeki Wachee River. Large outdoor covered patio with table to seat 12 or more. The entire double lot is fenced (open to the waterways).
This cute little house right on the river was well appointed and very clean. It was comfortable, with plenty of space for a family with children. We had a blast making use of the kayaks, the canoe, the standup paddleboard, the corn hole and board games, and other great amenities such as the indoor and outdoor fireplaces, beautiful porch overlooking the river, etc. During our stay we saw a mama and baby manatee right from the back door, and saw an eagle drop from the sky and pluck a fish right out of the river, it was amazing! We would highly recommend this clean and well appointed home to anyone looking for a great place to stay on the Weeki Wachee river.
Dawn
2017-03-24T00:00:00Z
Love this place. All the amenities were great. Love being close to the river. Kayaks, SUP, darts, fire pit, dock, etc. relaxing place. I would come back!!!
Debbie
2017-04-01T00:00:00Z
This place is just great! So practical, beautiful, very clean and the amenities with kayaks, BBQ, canoa are the best. Angi was so good with us, responding very quickly to all our answers. I highly recommend this place, it has an unique location and the area is so beautiful! A place to comeback for sure!
Merri
2017-03-26T00:00:00Z
Art der Unterkunft
Ganze Unterkunft
---
Objekttyp
Haus
---
Unterkunft für
8
---
Schlafzimmer
Weeki Wachee, Florida, Vereinigte Staaten
2 bedroom, 2 bath home. Living room includes 54 inch flat screen TV, comfortable futon that sleeps 2. Two bedrooms with a flat screen TV, 1 king bed other 2 twin beds. kayaks &adult bikes free, WIFi & basic cable w/sports channel, DVD. Three Kayaks, three adult bikes included. If interested in renting additional kayaks or bikes, please inquire Lead guest must be 25 years of age or older.
The Mermaid Bungalow is unique and fun with tropical colors that give you the feeling of being away. Mermaid theme throughout the house, VERY CLEAN and newly renovated, you will enjoy yourself. The backyard is full of nature with ducks, turtles, jumping fish and manatees to watch. Have fun in the evenings sitting around the fire pit.
This neighborhood is friendly where many live year round and this is the reason for the no noise level after 10pm. You can ride the bikes provided throughout the neighborhood and feel safe and comfortable.
Einfach traumhaft, liebt ihr die Natur , dann findet ihr hier alles . Das liebvoll eingerichtete Haus am Fluss ist sehr sauber und hat alles was es braucht. Wir fühlten uns wie zu hause. Wir würden sofort wieder kommem
Liselotte
2016-05-01T00:00:00Z
Everything was amazing. We're ready to buy the place for sale next door and move in!
Lorna
2016-06-20T00:00:00Z
Charming clean little cottage with a Florida theme just minutes kayak to seeing Manatee, turtles, and bird life. Comfortable fit for a family. We kayaked right out the back yard and enjoyed nightly fires on the deck.
Cassandra
2016-11-27T00:00:00Z
Great place for some relaxation. The kayaks are tons of fun!
Jason
2016-10-08T00:00:00Z
Alice was the definition of a super host! not only was the place more than the pictures do justice but it was clean and well stocked with amenities that many of us had forgotten! My girlfriends and I had a blast and will definitely be back soon.
Chloe
2016-09-12T00:00:00Z
Meemaid bungalow is a place with a carachter! No better name could have been given to it! The atmosphere is magical. The house was perfect and we found everything we saw in thendescription...and more. We were there with a child of 3 and a toddler of 8 months and could not have chosen a better place to spend our holidays with them. We loved everything about it. And Beth was a perfect host. Helpful with even the most little detail!
Paola
2016-05-28T00:00:00Z
We thoroughly enjoyed our weekend. The Bungalow was exactly as shown in the pictures! Very clean and well appointed. The amenities that were provided (kayaks, bikes and BBQ grill) were all in excellent condition. The area was very quiet and peaceful. Alice was an excellent Host. We can highly recommend this place for anyone looking for accommodations in the Weeki Wachee area.
Joel
2016-04-11T00:00:00Z
The bungalow was clean and well organized. We liked the floor layout which worked well for us. From the dining room and kitchen we were able to enjoy a lovely view of the water. It was quiet and very peaceful and the whole family loved the location. Our host was amazing. We were provided true and accurate descriptions of the space and felt that we were treated as valued guests. I will definitely rent the bungalow again.
Carla
2017-01-01T00:00:00Z
Art der Unterkunft
Ganze Unterkunft
---
Objekttyp
Haus
---
Unterkunft für
6
---
Schlafzimmer
Weeki Wachee, Florida, Vereinigte Staaten
The perfect mix of relaxation & adventure await you at this charming Old Florida river retreat! Explore the natural beauty of the crystal clear Weeki Wachee River by kayaks or canoes from your backyard and enjoy the breeze from the dock.
Waterfront 2 bedroom 1 bath home with a queen bed in the master bedroom, twin over full bunk bed in the second bedroom and a queen sofa bed in the living room.
Old Florida charm abounds in this waterfront community! Surrounded by a nature preserve and within a short drive to everything you need!
Wow what a cool place. Great mix of relaxing by the water atmosphere with no where near as much dueling-banjo's as we city folk thought. Andrea was awesome and house was exactly as explained, great price for the location, me and my family had a wonderful time. Close to Weeki Wachie springs and beautiful surroundings. Can't wait to go back :).
Jason
2015-08-31T00:00:00Z
The host had great communication. Clean place in a relaxed neighborhood. We would go back!
Elizabeth
2016-06-06T00:00:00Z
We loved everything. It was a great location and The amenities provided made for an easy stay.
Anthony
2015-09-07T00:00:00Z
The host canceled this reservation 114 days before arrival. This is an automated posting.
Samantha
2016-05-11T00:00:00Z
The place was great. It had everything you could ever want in it. Canoes, kayaks, crab traps, 3 fishing poles. It had firewood for the little firepit. It had a swinging rope to swim off the dock (too cold when we were there) the neighborhood is super quiet. We maybe saw 2 people. The view from canal was beautiful to sit in the screened porch and drink coffee from. The house is super clean and had plenty of linens for your stay. If you wanted to relax inside there was roku and Hulu and Netflix inside and a case full of DVDs. 5 minutes from the bait shop and 5 minutes to really good fishing off Jenkins creek. I would highly recommend this place especially for the price. My family loved this mermaid cove! Thanks for everything
Lori
2016-01-10T00:00:00Z
My family and I had a beautiful time and our stay was very comfortable. A very charming place right there on the canal. In the morning we enjoyed watching the Manatees that were right in front of the dock. The kayaks and canoe were great bonus which allowed us to paddle just a short distance to the river. Absolutely breathtaking the crystal clear water of the Weeki Wachee. Thank you for allowing us to stay.
Donna
2016-03-24T00:00:00Z
Everything was as described and very clean. House was in a nice and quiet location with all needed amenities. Water was beautiful and relaxing.
Christopher
2015-09-24T00:00:00Z
Great getaway
Anthony
2016-11-03T00:00:00Z
Art der Unterkunft
Ganze Unterkunft
---
Objekttyp
Haus
---
Unterkunft für
7
---
Schlafzimmer
Weeki Wachee, Florida, Vereinigte Staaten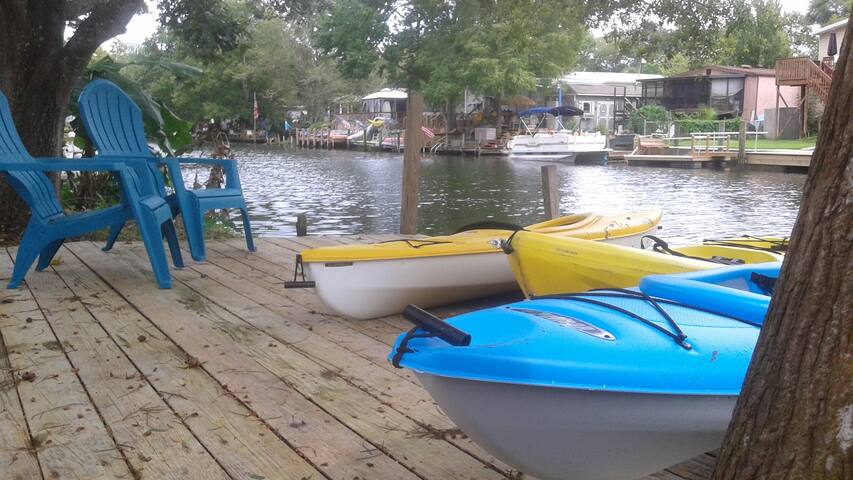 The house is on the main river close to Weeki Wachee springs and has great access to the Gulf of Mexico. You can dock up to a 24' boat. It is only minutes from Pine Island Beach Park, Hernando Beach and Sun West Park. It is also about an hour and half from world renowned Clearwater beach. Get the best experience Florida can offer. You'll love Weeki Wachee and the freshwater spring that feeds seventy two degree water year round. This house has 3 bedrooms and sleeps 12!
On the main river.
Great location, right on water, super clean and tidy. We will come back. We loved it
Matthieu
2016-10-30T00:00:00Z
This was a wonderful place to vacation. The hosts a thought of everything that we may need to make it a good stay. It was our family and one other family using home and it was perfect. We are hoping to stay here again next year.
Jennifer
2016-08-08T00:00:00Z
Lovely house, big, clean and comfortable. The kajaks in front of the house are so much fun! And the manatees just swam by every day. On day 2 of our visit we snorkeled with two manatees that swam by the house. Unforgettable! And the next day we saw dolphins really closeby at the Pine Island Beach, beautiful beach. We recommend this place to anyone!
Manon
2017-01-04T00:00:00Z
The house is great, right on the river with manatees constantly swimming by. The neighbors are all very friendly and the neighborhood had a very relaxed feel to it. The river with the back porch was amazing. Being able to kayak, canoe, and stand-up paddle board offered a unique and enjoyable experience. We would definitely recommend this place to anyway wanting a unique and relaxing get away that still offers a family oriented environment. The house is very spacious and comes with many need amenities. Greg and Tamiko were wonderful hosts looking to make the stay as easy as possible. Great place, great experience. 10/10
Brad
2017-03-09T00:00:00Z
It was awesome!
Lisa
2016-11-13T00:00:00Z
Everything was very ease and very professionally done. The amenities were perfect for a holiday weekend house. As an example there was games in the living room and we ended up playing a family game of Jenga in the evening, a really nice touch made possible only because the house was so thoughtfully set up
Peter
2016-08-28T00:00:00Z
Sea Cow House is the perfect place to stay for a wonderful and relaxing weekend! The house is simply charming, the beds comfortable, and the kitchen has everything you could possibly need. There are also enough kayaks/canoe for 5 people to explore the river, which we did everyday of our stay. We watched dolphins swim and hunt fish along the coast and floated beside families of manatees in the clear spring waters. The porch and dock on this house are amazing. Definitely stay here if you're traveling in the Crystal River/Homosassa/Weeki Wachee area.
Katie
2017-01-16T00:00:00Z
This weekend was an absolutely 5 star experience. Clean, practically set up and welcoming environment. Kitchen, bathroom and bedrooms have everything you need and more and we could just sit back and enjoy our family time together. Spacious enough for 9 people but still able to eat together and play together. We used the kayaks and brought our own fishing poles and had a blast Thank you!
Amelie
2016-11-27T00:00:00Z
Art der Unterkunft
Ganze Unterkunft
---
Objekttyp
Haus
---
Unterkunft für
12
---
Schlafzimmer
Weeki Wachee, Florida, Vereinigte Staaten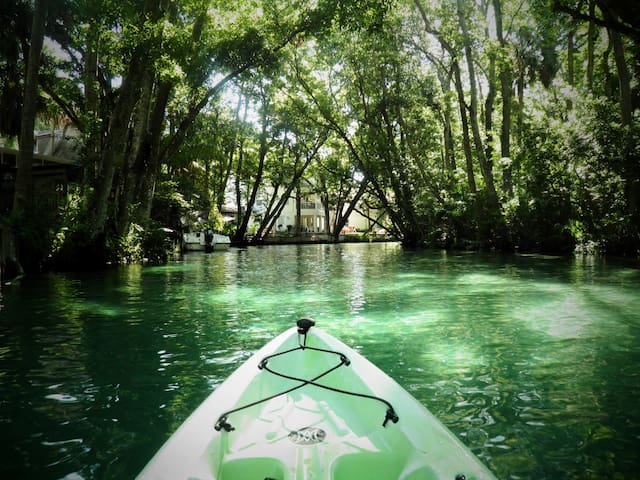 A beautiful, Fully Furnished, All-Inclusive 2 BR/2 BA Rental in Weeki Wachee, FL, sleeps 6. Handicap Accessible."The Last Resort" is located within a minutes paddle ride to the most beautiful section of the Weeki Wachee River. Includes 2 Kayaks. WIFI. Paddleboard rentals available. There is a 3 night minimum stay. Shopping very close by as well. An extra $25 fee is charged for each person over 6 people.
Last's Resort is at the end of a quiet, wooded street. Very pleasant to take walks and enjoy the nature that surrounds it.
great location, great Hosts, highly recommened
Rob
2017-03-31T00:00:00Z
The host canceled this reservation 63 days before arrival. This is an automated posting.
Sonja
2016-10-25T00:00:00Z
Everything was perfect! And Jerry, our host, was very flexible and helpful. The location is also perfect. We will definitely be back with our family.
Summerna
2016-09-13T00:00:00Z
Great location for fresh water activities. The house is wonderful with great attention to details. The kitchen is well stocked. Kids had a great time. I felt my kids were safer on the water because Pam was always out there in the river. Pam and Jerry were friendly and helpful hosts.
Marc
2016-08-07T00:00:00Z
Arrival and checking in was seamless. Our host gave a tour and pointed out features and and area attractions. Everything was clean, pet dander free, no smells, bed was comfortable. Furnishings were a bit dated but well kept. The rental is very private and very quiet / peaceful. I would recommend this to a friend and I would rent this again myself. Thanks to jerry and Pam for a well needed relaxing stay.
Dr. Rick
2016-12-09T00:00:00Z
This is a beautiful location. We saw manatees every time we went kayaking and paddle boarding. The kids spent hours fishing from the dock. We truly enjoyed our week at The Last Resort.
Susan
2016-07-11T00:00:00Z
Location location location-just 200 meters to Weeki Wachee river. About 2 min paddle. Pam and Jerry were incredible host. They also supplied kayaks. The house is spotless and they have thought of everything to make it feel like home. It was comfy cozy and romantic setting. The water is just incredible. Folks this is the genuine Florida. So beautiful only God could create such majesty! We will return.
Wendi
2016-05-02T00:00:00Z
What a hidden gem... The house is an oasis of calm tucked away in this quieter corner of Florida. The interior is pristine, rooms generously proportioned, and the kitchen / dining living area connects to the veranda - all overlooking the river/canal. The house is equipped with everything a family would need and supermarket etc. are just a few minutes drive away. The river is what it is all about - we spent most of our time in or on the water. The two kayaks allowed us to make various 'excursions' - most memorable the paddle upriver to the spring - a great experience (best to start early and avoid the weekends so one can enjoy the rivers alone). We came here to enjoy nature and may be see some manatees. Although this was the 'off' season (the sea is warm) we saw manatees every day (the first one with in minutes of arriving and meeting Jerry. Jerry and Pam are very helpful but unobtrusive hosts - perfect. We did not take advantage of the SUP lessons although standing on the boards would be a perfect way to see more of what is in the water. Another highlight was watching the sunsets (and dolphins) from the small nearby Pine Island beach. We would definitely stay here again and recommend to friends who visit this corner of Florida.
Andreas
2016-08-22T00:00:00Z
Art der Unterkunft
Ganze Unterkunft
---
Objekttyp
Haus
---
Unterkunft für
6
---
Schlafzimmer
Weeki Wachee, Florida, Vereinigte Staaten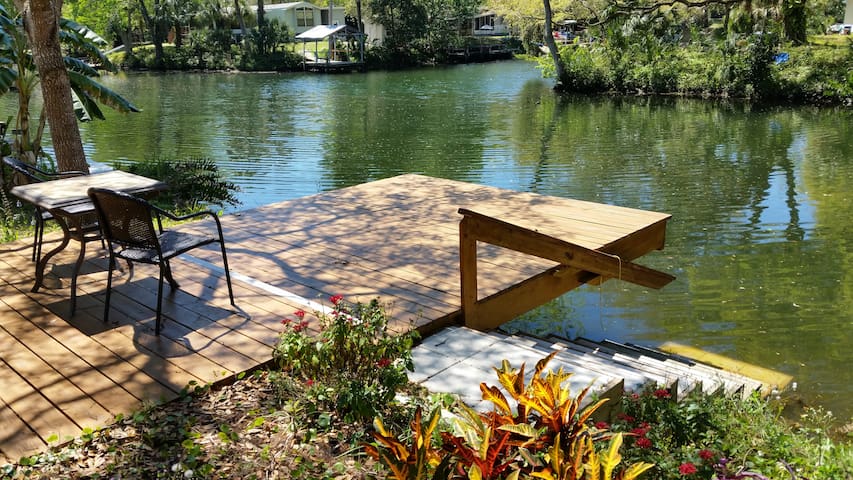 Located just 10 houses from the Weeki Wachee River on a beautiful canal, you will enjoy the sights, the sounds and the perfect mix of relaxation and adventure! Pirate's Cove consists of two units on one property. Mermaid Landing is a 1/1 downstairs with the capacity to sleep 4. Captain's Quarters is upstairs and is a 2/1 with a screened in porch and open balcony. They are completely separate and private but could be opened up for a larger gathering if both were rented together.
What a great location and fun place to be for experiencing the Weeki Wachee river and nature area!
Andrew
2017-01-06T00:00:00Z
The home, while located to everything we needed, was secluded and quiet. The home was well furnished and right on the waters edge which was very relaxing.
Matthew
2017-01-19T00:00:00Z
The captain's quarter is really convenient, the location is amazing, the canoes and Kayak are really useful to enjoy the Weeki watchee river. It was a nice stay.
Marie
2017-01-01T00:00:00Z
This is a beautiful way to enjoy the real Florida! Great place for the family to get out on the river and have space to relax at the end of the day.
Cindy
2016-08-01T00:00:00Z
Great location on the river. We will deffinatly stay here again
DAVID
2016-10-30T00:00:00Z
The location to the river is super awesome so having access to the kayaks,paddleboard and canoe was awesome. Got to see plenty of sea life and manatees. The decor was great. The spring was super close. We would stay there again.
Jennifer
2016-11-04T00:00:00Z
We had a lovely time at the Captains Quarters this weekend. The house was adorable, clean, and we especially loved all the small touches of decor that made us feel at home. The house is fully stocked with utensils, plates, cups, towls etc so it is perfect for an extended stay and has plenty of kayaks/canoes for the river. We loved how roomy the house felt and had a great time grilling out, relaxing by the fire pit and sitting on the deck overlooking the water. The canal has direct access to the springs and is the perfect location to see manatees during the season. It was literally the PERFECT mini vacation. We definitely will be recommending this place to our family and friends. 5 stars!!!
Joshua
2016-10-17T00:00:00Z
Great place, great comunication, we had a awesome stay!
Max
2017-01-11T00:00:00Z
Art der Unterkunft
Ganze Unterkunft
---
Objekttyp
Haus
---
Unterkunft für
7
---
Schlafzimmer
Weeki Wachee, Florida, Vereinigte Staaten
1

–

18

von

65 Ferienhausvermietungen
Gib deine Reisedaten ein, um den aktuellen Preis zu sehen. Es können zusätzliche Gebühren und Steuern anfallen.