If anyone, from a single traveler to a family of four, needs a place to stay near Haslemere, I highly recommend Marianne's Coach House. Clean, quiet, beautifully designed and equipped accommodation with a thoughtful and considerate host. I thoroughly enjoyed my ten day stay at this lovely location.
Cy
2017-04-10T00:00:00Z
Art der Unterkunft
Ganze Unterkunft
---
Objekttyp
Gästehaus
---
Unterkunft für
4
---
Schlafzimmer
Haslemere, England, Vereinigtes Königreich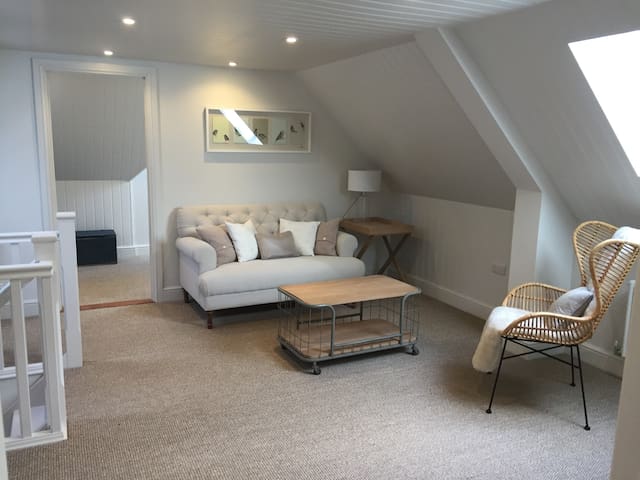 Up a long private track, in a gorgeous setting, yet only a couple of miles from Haslemere. Whether you are looking for great walks, are visiting friends or relatives, for work, or just want to escape it all, we really hope you will love this place as much as we do. We provide continental breakfast (orange juice, yogurt, a choice of cereals and croissants). There are also tea-making facilities and a Nespresso coffee machine. Also, complementary Molton Brown toiletries.
The Barn is about 20 metres from the Main House accessible via a gravel path which winds gently round the side of the house. There is a Sitting Room for your sole use with 2 comfortable cream leather sofas, a television and a dining table with 4 chairs. Bedroom 1 (for bookings of up to 2 paying guests) has a double bed and an en-suite. A second bedroom, Bedroom 2, has a king-size bed and is available for bookings of more than 2 paying guests BUT you will need to access the en-suite as a bathroom. We are also happy to provide a single "chair-bed" for a 5th person. PLEASE NOTE, we are putting in a simple kitchen (at the beginning of May) so after that there will be a simple kitchen for guests to use. We will put photographs up as soon as it is completed but it will consist of a fan oven, a ceramic hob, a sink, a fridge (with small freezer compartment) and a microwave. In the meantime there is a mini fridge, a microwave, a Nespresso machine for coffee and a kettle. We are happy to provide an iron and ironing board on request. There is no washing machine and tumble dryer in the Barn but guests can use the one attached to the Main House by arrangement. Please do ask if you think you are going to need it. They are busy machines!
The Barn has direct access to a bridleway which leads in one direction to Blackdown and the many walks and trails of the South Downs National Park. In the other direction it leads directly to Haslemere. A brisk walking pace will take you into Haslemere High Street with its wide range of cafés, shops and pubs in about 25 minutes. We provide an OS Map for you to use during your stay and we are very happy to recommend our favourite walks as well as local pubs and restaurants. Although we are within walking distance of Haslemere, this is most definitely the countryside and it gets very muddy in the winter. If you have welly or walking boots, please bring them! Finally, we are also a 10 minute walk on a public footpath from a local Hotel Restaurant and Bar.
Such an amazing stay for a few nights. The location is so tranquill and peaceful. Lovely walks around and you have the choice of just laying in for the evening with some board games and glass of wine! An amazingly helpful host who makes the stay stress free. If pressed to do a 'pro and cons' list - the list of pro's certainly out ways the cons! Only thing I would mention is if you are someone who wants a strong shower to wake you up; you might be disappointed. But it certainly didn't damper our visit. We will return when the sun is shining and the temperature rises!!!
Simon
2017-01-29T00:00:00Z
Beautifully located and converted barn. Very homely and comfortable with priceless calmness and quietness. Perfect scape location. Close drive to Haslemere, Petworth House, Cumberland also offering great walks from the door step. The barn is furnished with style and host is most caring.
Bani
2017-02-10T00:00:00Z
Great place to stay if you want peace and quiet. Lovely accommodation and really peaceful. Lots of lovely walks nearby and places to eat. Popped in to Haslemere as well which has a really nice village feel to it.
Brian
2017-03-12T00:00:00Z
Spacious and tranquil location. Very pleasant. Melanie is a lovely host.
San
2017-01-05T00:00:00Z
Lovely place and fantastic hostess, perfect for anyone looking to get away from the city and do some walking!
Rebecca
2017-03-05T00:00:00Z
Beautiful barn in the most stunning location! Melanie is an amazing host! Thank you again Melanie for your warm hospitality!
Anita-Mai
2016-12-22T00:00:00Z
Beautiful accommodation in lovely surroundings. Waking on a crisp morning to frost coated scenery was very Christmassy!
Emma
2016-12-29T00:00:00Z
Beautiful barn conversion in a stunning location. Melanie was hugely accommodating and helpful in taking our booking at short notice and nothing was too much trouble. Warm and friendly, she gave great advice on where to eat and what there was to do in the area. Pity we couldn't stay for longer...we'll be back!
Glen
2017-01-25T00:00:00Z
Art der Unterkunft
Ganze Unterkunft
---
Objekttyp
Andere
---
Unterkunft für
5
---
Schlafzimmer
Haslemere , England, Vereinigtes Königreich
Dies ist Teil einer Umwandlung von Nebengebäuden und einer kleinen offenen Scheune. Wir ließen so viele originale Details wie möglich war und hinzugefügt gemütliche Fußbodenheizung unter massivem Eichenböden. Das Schlafzimmer ist nicht groß, aber es ist schön und ist mit Antiquitäten eingerichtet. Die Dusche ist modern und die Dusche funktioniert wirklich gut! Ein Parkplatz ist auf unserem privaten Laufwerk zur Verfügung. Tee- und Kaffeezubereiter sind vorhanden, aber das Frühstück ist in der Regel nicht.
Die Haustür öffnet sich in den Eingangsbereich mit Garderobe und einem Tisch mit Tee-Tablett. Es gibt ein Schlafzimmer mit einem Kingsize-Bett mit White Company Bettwäsche gekleidet, Daunenkissen und Bettdecke. Es gibt einen Smart-TV und einen bequemen Sessel. Die Dusche hat eine gute Dusche mit Waschbecken, WC und White Company Badetücher. Die Scheune hat WiFi.
Wir befinden uns auf einer B Straße, die sehr beschäftigt ist, zu Zeiten, mit dem Verkehr im Laufe des Tages, aber nicht so in der Nacht. Es ist nur einen kurzen Spaziergang zu den Geschäften und Restaurants und nur einen kurzen Fußweg zu einem besonders schönen Pub! Wir sind nur 15 Minuten zu Fuß entfernt von Haslemere Fernbahnhof auf dem Waterloo (55min) und Portsmouth (30 Minuten) Linie. Wir haben die schöne Marley und Lynchmere Commons in einem kurzen Spaziergang (National Trust) und etwas weiter entfernt sind des Teufels Punchbowl, Blackdown und viele mehr Morgen wunderschöne Landschaft!
Art der Unterkunft
Privatzimmer
---
Objekttyp
Haus
---
Unterkunft für
2
---
Schlafzimmer
Haslemere, England, Vereinigtes Königreich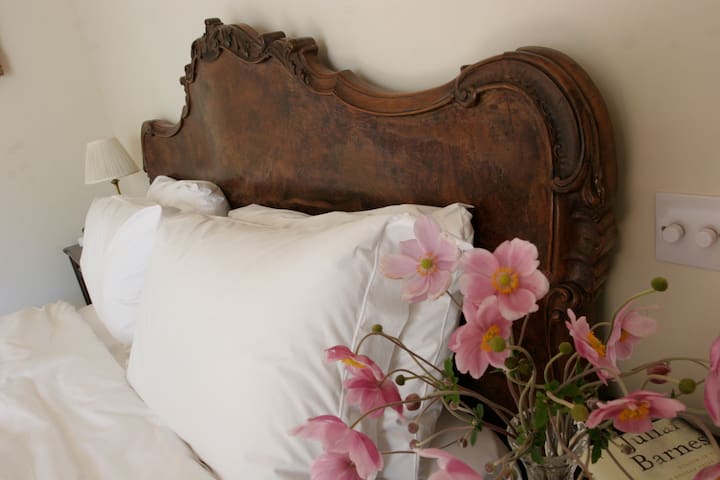 Wir haben ein schönes Doppelzimmer für Sie in einem ruhigen Landhaus, nur eine halbe Meile südlich vom Stadtzentrum Haslemere.
Ihr Zimmer verfügt über ein Doppel-Futon Schlafsofa im Erdgeschoss. Sie haben Zugang zu einem Badezimmer mit Bad / Dusche haben nur die Treppe hinauf. Während Ihres Aufenthaltes haben Sie Zugang zu der Familie Wohnzimmer. Ein einfaches Frühstück bereitgestellt werden kann; Müsli, Kaffee, Tee etc. Sie werden Nutzung unserer schönen Garten haben, die so ziemlich abgelegen und ideal für entspannende und die Sonne genießen! Wir befinden uns nur eine halbe Meile von Haslemere. In Haslemere finden Sie alle Annehmlichkeiten, die für einen angenehmen Aufenthalt finden. Es gibt Geschäfte, Supermärkte, Cafés, Restaurants und Bars. Hier können Sie auch die sehr regelmäßige Zugverbindung zu fangen, die nach Central London läuft, und dauert etwa eine Stunde. Brighton kann auch in weniger als zwei Stunden erreichbar. Andere lokale Attraktionen sind Blackdown, eine lokale Schönheit vor Ort, und die höchsten Hügel in Surrey, bei 280m stehen, oder 919 Meter und bietet einen atemberaubenden Blick über die umliegende Landschaft. Blackdown hat auch starke literarische Assoziationen mit dem Dichter Alfred Lord Tennyson. Wir sind auch nur 40 Minuten Fahrt zu Jane Austen Haus, wo sie die letzten Jahre ihres Lebens verbracht und eine Menge ihres Schreibens tat. Ort: Haslemere Station ca.. 1 Meile Lythe Hill Hotel ca.. 1 Meile Goodwood ca.. 20 Meilen (40 Minuten mit dem Auto)
Wir sind in einer ruhigen Gegend, eine halbe Meile vom Zentrum von Haslemere.
Leonie and Andy were very welcoming. I was booked on a weekend course at a country hall 15 minutes drive away and they went to the trouble of arranging their weekend around me so they could drop me off and pick me up from there each day! Amazing. They also collected me and dropped me off at the train station.
sarah
2015-09-28T00:00:00Z
Leonie and her son were very nice and friendly. We were visiting family in Haslemere so we were just looking for a quiet place to rest at night and shower in the morning and Leonie's suited us very well. We found the location to be great as it was a short walk to the Haslemere center and Blackdown. Overall, we were happy with our stay.
Kyle
2013-08-15T00:00:00Z
We had a very large room with a comfy sofa bed. Very welcoming family. Beautiful area! Thanks x
Rachel
2013-12-16T00:00:00Z
Lovely room with a great family in a beautiful location. I will definitely be returning when I'm back in the area..!
Scot
2016-09-23T00:00:00Z
Leonie made me very welcome in her home. The room was nice and large with table to work at. Good kitchen facilities and good shower. Very quiet and peaceful location.
Justin
2016-07-28T00:00:00Z
Stayed here this weekend. Haslemere is a lovely village in the middle of nowhere. We had a wedding to attend and enjoyed the peace and quiet during our stay. House was quite hard to find and taxi prices around the area were quite steep. Sofa bed was comfy and room was large. We would of liked access to the kitchen but this wasn't offered to us but overall we were happy with our stay. Leonie was friendly and helpful.
Louise
2014-06-23T00:00:00Z
Leonie and Andy were very welcoming and helpful. The room is comfortable and the home sits in a beautiful garden and is very quiet. WIFI is good to have. Town of Haslemere an easy walk.
Dan
2015-08-27T00:00:00Z
The place was easy enough to find and Leonie left the keys for us so we had no pressure to arrive at a certain time. The sleeper couch was very comfortable and perfect for us just needing a place to rest our head after a wedding in the area. The bathroom and kitchen were not the cleanest but for what you pay it is ideal.
Dominique
2014-08-10T00:00:00Z
Art der Unterkunft
Privatzimmer
---
Objekttyp
Haus
---
Unterkunft für
1
---
Schlafzimmer
Haslemere, Vereinigtes Königreich
Es gibt ein Gefühl von Sicherheit und auch in diesem freundlichen Umgebung zu sein. Geschäfte sind in 10 Minuten zu Fuß entfernt. Es ist ein idealer Ort für die Erkundung Surrey, Sussex und Hampshire, mit Goodwood, die Downs und der Südküste in einer Richtung und London (55 Minuten entfernt, 3 Züge pro Stunde) in der anderen.
This place is a beautiful suburban home which gives you a true sense of being in the English country-side. Lorna was extremely gracious and hospitable. My family and I came for a convention and we felt at home. We would definitely visit again!! Thank you Lorna :)
Ayma
2016-08-14T00:00:00Z
Lorna made us feel very welcome and was very helpful. The rooms were nice and comfortable, the breakfast was great and the location was ideal. Everything was as described in the listing. Thanks, we had a really nice stay here.
Christopher
2016-05-29T00:00:00Z
We had the most wonderful stay with Lorna in her beautiful house. We arrived from Australia and we're immediately made welcome - being able to relax with the children was just wonderful. The house was perfect, as was our stay. Thank you Lorna.
Beth
2015-07-12T00:00:00Z
Lorna is a wonder, never before have I met so hearty and intellectual pearson! She is unspeakably kind and attentive, and her house is literally a piece of art with it's eclectic furniture, well-groomed garden and vast library. Beds are comfortable, welcom is warm, and you can find whatever you need in the ketchen. There are two foodshops nearby: one is reasonable, the other is eco. And it's not far from railway station. Haslemere is quiet and nothing disturbes you neither at home, nor outside. I strongly recommend you this beautiful accomodation, it worths renting.
Tatjana
2014-09-14T00:00:00Z
We had an excellent stay with Lorna, she was incredibly welcoming, the room was comfortable and clean. We were attending a wedding in the area and Lorna was very relaxed about us coming in (and waking up) late. Breakfast was excellent, the garden is beautiful and she even gave us a lift back to the train station when we were stuggling to get a taxi. We would highly recommend a stay with Lorna
Geraldine
2015-07-13T00:00:00Z
Lorna made us feel truly welcome and her home gave us somewhere we could genuinely relax and recuperate during a very stressful and difficult time. We can't imagine a more gracious host or more comfortable accommodation and we are truly grateful.
Dawn
2017-02-08T00:00:00Z
Lorna is a wonderful person. Lively. With full of attention to her guests. Her rooms are clean, quiet, pleasant, and ideally located to visit London.
S.
2014-07-27T00:00:00Z
We had such a lovely week here. Totally spoilt by the breakfasts each morning, from the conservatory, overlooking a stunning back garden. Lorna the perfect host, it felt like home very quickly. Hazelmere countryside is stunning. Strongly recommend to anyone.
Jane
2016-09-13T00:00:00Z
Art der Unterkunft
Privatzimmer
---
Objekttyp
Haus
---
Unterkunft für
6
---
Schlafzimmer
Haslemere, Vereinigtes Königreich
Camera doppia / matrimoniale con bagno privato in un'ala di una casa vittoriana con vista sul giardino in strada tranquilla a breve distanza dal centro della città e dalla stazione. In realtà sulla Via Verde Sands e nel giro di pochi minuti a piedi del Diavolo Punchbowl.
La casa è molto confortevole casa di famiglia situata in un paese tranquilla strada su una collina dalla Haslemere. La casa è l'ala di una casa vittoriana quindi le camere hanno soffitti alti e una vista sul prato e giardini. La camera degli ospiti e annesso bagno privato si trovano al primo piano. Tè e caffè sono in camera. Il latte fresco fornito.
La casa si trova a poca distanza da Haslemere ed è anche 2 minuti dall'ingresso di Hindhead comune che è National Trust Land. Il Diavolo Punch Bowl è a pochi passi dalla casa e la Sands Via Verde passa la porta. La Scuola Reale si trova a due passi. Haslemere ha treni frequenti per Londra (55 minuti) ed è un disco facile da Goodwood sia per la corse di cavalli o Motor Sports.
There is nothing to dislike, and everything to enjoy, about Frances and Richard's hospitality in their late 19th century home, up a lane 'miles from nowhere' just outside Haslemere. We may just have been lucky on the day we stayed, but a large homemade sponge cake greeted our arrival at tea-time, and the culinary brilliance continued the following morning with an extensive breakfast. The cotton bed linen was exemplary, the water pressure in the shower invigoratingly powerful, the bathroom huge and newly installed.
Nigel
2016-06-13T00:00:00Z
Frances communicated with us before the visit so she was able to be there in person when we arrived. We were shown the room and invited for a lovely afternoon tea with scones, jam and cream. We had enjoyable chats while there and rpthe atmosphere was very friendly.
Ruth
2016-06-30T00:00:00Z
Frances looked after us extremely well, she is very friendly and helpful. Our room and bathroom were immaculate and Frances had thought of everything. We had a lovely stay and will be back!
Liz
2016-11-13T00:00:00Z
This was just a wonderful place to stay. Everything was tip top and the hosts couldn't of been nicer. The rooms were spotless the bedlinen was wonderful the bathroom couldn't have been nicer and the shower was wonderful. I would've been delighted to have called this place my own home. Well worth going out of your way to stay at.
Charles
2016-12-18T00:00:00Z
What a lovely stay we had with Frances and her charming family. Our bedroom and bathroom were spotless and extremely comfortable. Frances was very helpful, giving us a list of good local pubs & in the morning she left us fresh milk in a cool bag for our tea. Breakfast was delicious and plentiful . I would highly recommend her room. Thank you Frances
Eva
2016-05-16T00:00:00Z
Frances was a perfect hostess. Really welcoming and helpful. Her house is beautiful, and incredibly peaceful. We had a fantastic sleep and a great breakfast. It was exactly what we needed. What a gem.
sarah
2016-10-02T00:00:00Z
Frances was the perfect hostess and her attention to every detail was so appreciated. The room is exactly as pictured and the windows look out over her gorgeous garden. The bath is large and spacious and impeccably clean. Frances served a full English breakfast in her conservatory, a small room just off her garden. Just up the road is an entrance to National Trust land - miles of walking paths through the spectacular countryside. I can't recommend this room or Frances enough!
Mary Stuart
2016-09-06T00:00:00Z
Frances' house is in a beautiful leafy setting on the edge of a National Trust parkland. The room is more spacious than the main photo shows and extremely comfortable with good quality beds and bed linen. We had a delicious breakfast in the morning with fresh strawberries, homemade granola and a tasty full English breakfast. Frances herself was extremely helpful and chatty and made us feel really welcome during our stay.
Sue
2016-07-11T00:00:00Z
Art der Unterkunft
Privatzimmer
---
Objekttyp
Haus
---
Unterkunft für
2
---
Schlafzimmer
Haslemere, Vereinigtes Königreich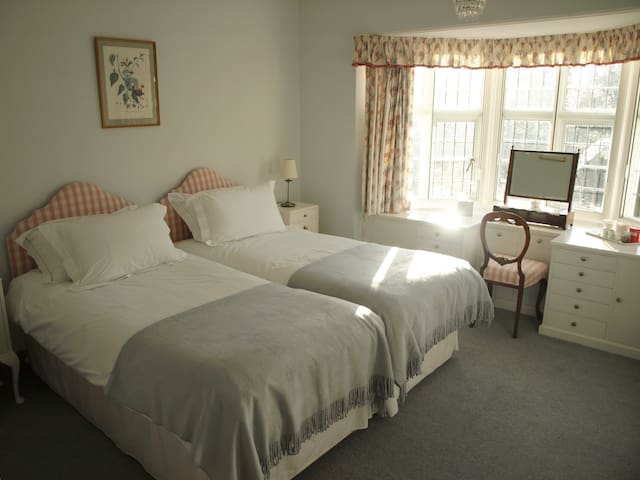 The host canceled this reservation 6 days before arrival. This is an automated posting.
ROBERT
2016-07-10T00:00:00Z
Art der Unterkunft
Privatzimmer
---
Objekttyp
Haus
---
Unterkunft für
1
---
Schlafzimmer
Haslemere, England, Vereinigtes Königreich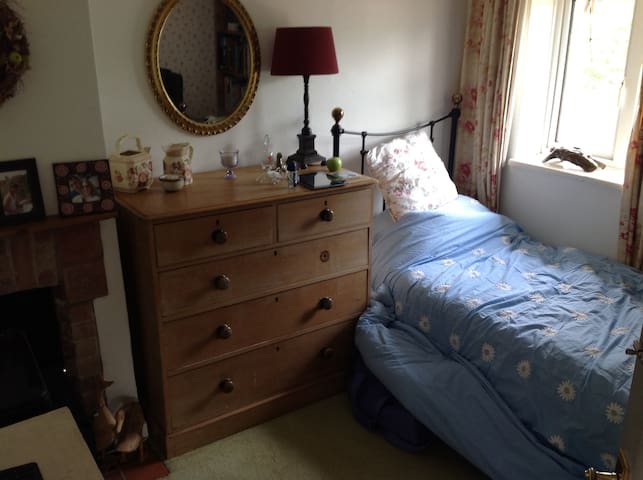 美丽明亮的双人间了门厅的家。步行到车站不到10分钟。方便许多餐馆,外卖店和商店。新近与浴室的淋浴间带强力淋浴装饰。
礼貌托盘与茶,咖啡和饼干的房间。
Wir waren auf der Durchreise nach St. Ives und daher nur für eine Nacht bei Denise. Denise war für uns erreichbar, als wir den Zug (Eurotunnel) nur mit Verspätung erreichten. Haslemere ist ein kleiner Ort und liegt recht günstig für einen Zwischenstopp. Das Haus von Denise und ihrer Familie ist sehr ansprechend und liegt sehr schön. Wir konnten problemlos vor dem Haus parken. Das Zimmer entsprach den Angaben, war sehr gepflegt und schön eingerichtet, ebenso das Bad. Die Begrüßung durch Denise war sehr freundlich. Wir haben uns sehr wohl gefühlt. Markus & Petra
Markus
2016-09-03T00:00:00Z
I really enjoyed my stay at Denise and her husband's home. She was in contact with me several hours before my arrival, so that was nice as travel can be hectic in the moment. I came and went as I pleased. The room was very comfortable, with a toilet and shower room attached, easy access and practical. The operable skylights were a plus for fresh air. The neighborhood is very safe, delightful actually, with a park and upscale food store within a 5 minute walk. I would stay at her home again, thumbs up!
John
2016-08-30T00:00:00Z
I had a lovely stay here - Denise and Andy were very warm and welcoming and the room was perfect. The en suite was great and modern with a great shower, the bed was amazing and restaurants/supermarkets within 10 minutes walk was an added bonus :) Highly reccomended and I will be booking another night should I need it... thank you Denise!!
Alex
2016-03-03T00:00:00Z
Thank you for my second visit - slept well, thanks again, Sally x
Sally
2016-08-12T00:00:00Z
I came back for a second week as the first was so pleasant. The contract I'm working on is ongoing so I'm sure I'll go back again if its free. Even heard the first cuckoo of the year......
amrit
2016-05-12T00:00:00Z
Great host, lovely room. The place was very clean. They accommodated a late check in with no problems and allowed booking on short notice. Would recommend
Corie
2016-10-05T00:00:00Z
Great stay comphy fresh kingside bed and a very nice ensuite. Having the TV was great if you are on your own. Thanks denise
Creina
2016-08-05T00:00:00Z
Lovely quiet neighbourhood. Very well organised and welcoming.if anything room is more spacious and comfortable than photo. Thanks and very friendly dog as well.
Tim
2016-11-08T00:00:00Z
Art der Unterkunft
Privatzimmer
---
Objekttyp
Bed & Breakfast
---
Unterkunft für
2
---
Schlafzimmer
Haslemere, Vereinigtes Königreich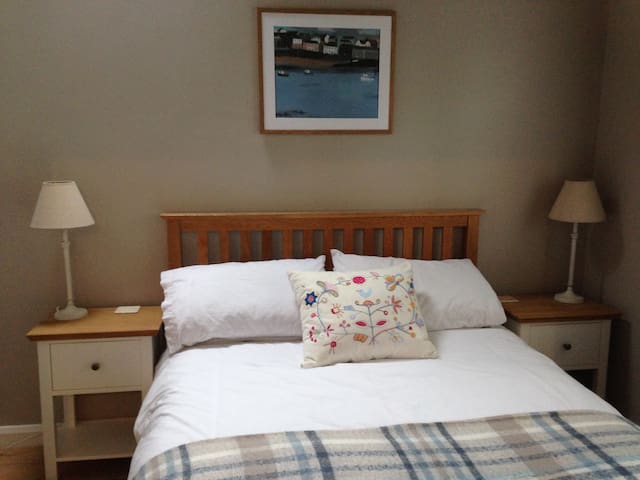 Diese Zwei-Zimmer-Häuschen (für bis zu 6) auf dem Gelände des Reynards Holz eingebettet. Separate dem Haupthaus und vollständig in sich geschlossenes es der ideale Ort ist Surrey, Sussex und Hampshire zu erkunden. 30 Minuten von Goodwood, 1 Std von London und 45 Minuten an der Südküste. WiFi im gesamten Gebäude. Großes Badezimmer mit Badewanne, Dusche, Waschbecken und Toilette. Terrasse mit Gartenmöbeln und Grill zusammen mit einem großen Allwetter-Tennisplatz für Sie zu genießen. Das Hotel liegt etwas außerhalb von Haslemere, in der Nähe Hindhead.
Ein fantastisch gelegene 2-Zimmer-Haus in der Nähe Haslemere Stadt. Perfekt für einen ruhigen Landschaft Rückzug, während in der Lage, den Rest der Südküste, sowie einfachen Zugang zu London zu erkunden! Viel Platz im Freien, einschließlich des Zugangs zu einer Allwetter-Tennisplatz im Freien, Terrasse und Grill. Sie betreten das Anwesen über eine geschwungene Auffahrt durch den Wald. Es gibt genügend Parkplätze für mehrere Autos. Das Haus befindet sich neben dem Haupthaus von Reynards Wood. Die Eingangstür führt auf einen geräumigen und hellen Flur. Der Flur führt auf die Schlafzimmer, Bad und Küche. Wohnen und Essen Die Küche ist mit allem Komfort ausgestattet benötigt, um ein Fest, inklusive Wasserkocher, Toaster, Backofen, Herd, Kühlschrank und Mikrowelle zu kochen. Es gibt auch eine Waschmaschine für Ihre Nutzung zur Verfügung. Das Wohnzimmer verfügt über zahlreiche komfortable Sofas, darunter ein Schlafsofa und Raum eine Mahlzeit zu genießen. Es gibt Platz für bis zu sechs Personen. Ein DVB-T-Fernseher ist mit vielen Kanälen zusammen mit einem DVD-Player zur Verfügung. Eine leichte und gemütliche Zimmer mit einem fantastischen Blick über den Garten! Schlafzimmer und Badezimmer Die Schlafzimmer und das Bad führen den Hauptgang ab. Ein Schlafzimmer verfügt über zwei komfortable Einzelbetten mit einem dritten ausziehbaren Bett unter einer von ihnen versteckt. Es gibt viel Stauraum und eine fantastische Aussicht auf den Garten mit einem großen Fenster, viel natürliches Licht. Das Hauptschlafzimmer verfügt über ein großes und bequemes Doppelbett mit viel Stauraum und einem großen Fenster viel natürliches Licht erlaubt in. Das Badezimmer ist mit einem Waschbecken, Toilette, Badewanne und über Badewanne mit Dusche ausgestattet. Es ist geräumig und hell, mit allen Annehmlichkeiten benötigt! Der Außenbereich verfügt über eine fantastische Terrasse mit Grill und bequemen Sitzgelegenheiten zusammen mit einem harten Tennisplatz nur einen kurzen Spaziergang von der Hütte und auf dem Gelände. WiFi im gesamten Gratis Parkplätze Einfacher Zugang zu und von London
Warm, generous welcome. Very helpful and hospitable.
Brian
2016-11-13T00:00:00Z
We've spent two days in this lovely Cottage. Everything was perfect and made us feel home. The cottage sits near the main house of a very well kept land. Sue and Simon who are the owner were super nice and delivered an attentive service. (They even saved us from a british rainy day with their umbrellas :) ). So I would recommand this place to anyone who wants to enjoy this beautiful british countryside.
Adrien
2016-09-11T00:00:00Z
Met by an exceptional hostess and made to feel relaxed and comfortable within the grounds of their stunting family home! A**
Patrick
2016-09-23T00:00:00Z
Great stay at this accomadation! Cottage was really lovely, homely and clean. We would have loved to stay longer and enjoy it a bit more but sadly were only staying one night. The surroundings were really nice and we were just down the road from a pub that served us an amazing dinner. Would definitely recomend! Thanks!
Olivia
2016-09-13T00:00:00Z
They were great. They made my Grooms really welcome. Brought down an extra air dryer for them as they had to wash their kit for the next day. They spent a great weekend away from home and we would love to come back next year.
Graham
2016-08-29T00:00:00Z
Simon and Sue both made us feel very welcome - bread, milk, butter, biscuits and jams left for us too. They were friendly and seemed not to mind when the curry turned up in the evening and the groom and best man in the morning, having to disturb them by ringing the buzzer! It made our family stay for the wedding into a very special weekend building special memories and shared times
Danny
2016-10-03T00:00:00Z
Had a fabulous weekend in this gorgeous cottage. Loads of lovely details, and stunning setting. A perfect place to hang out with friends.
Sarah
2017-02-12T00:00:00Z
Lovely little barn to stay in. The host was great, very welcoming and all the basics were included. Lots of cute little shampoos etc which was a nice touch!
Emma
2017-04-02T00:00:00Z
Art der Unterkunft
Ganze Unterkunft
---
Objekttyp
Haus
---
Unterkunft für
6
---
Schlafzimmer
Haslemere, England, Vereinigtes Königreich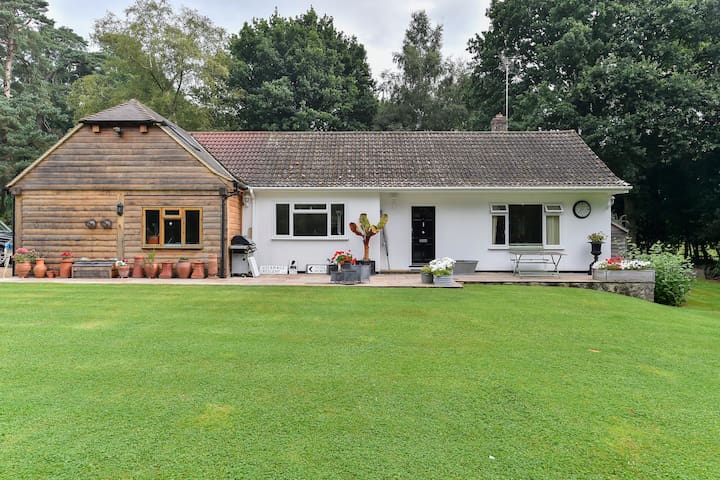 Highly recommend Cherrimans fantastic hosts and a great room. The breakfast is a real winner!
Peter
2017-04-09T00:00:00Z
Lindsey & Mark were fantastic hosts. The accommodation is a tastefully converted centuries old barn with the under-floor heating a nice touch. We thoroughly enjoyed our stay and the breakfast was as good as you will find anywhere. Highly recommended
Peter
2017-02-06T00:00:00Z
Lindsey and family offer a beautiful room with ensuite, very clean and immaculate with attention to detail. They were very welcoming and accommodating as well as super friendly. Breakfast was brilliant and I would definitely recommend friends to stay here. Thank you very much.
Helen
2015-10-24T00:00:00Z
A listed, this is a beautiful little barn conversion, with easy access to idyllic South Downs. Lindsey and Mark were perfect hosts - thank you!
Peter
2015-03-29T00:00:00Z
Very warm welcome from the hosts, superb accommodation and great breakfast.
Nigel
2016-06-06T00:00:00Z
Perfect host, beautiful room and shower. Couldn't have asked for more!
matt
2015-11-27T00:00:00Z
Really nice place Lindsey and her husband were great hosts (and Oscar - the cat) was lovely too :) It's located in a nice town and near a railway which you can hear when trains pass from the barn but these services tend to stop in the late evening/early morn. If you want total silence it's not a silent barn there is occasional traffic / trains but not too loud. Lindsey and her husband were wonderful hosts and charged my car battery after I'd left the car lights on which meant we were able to get home. They also sorted a small problem with the hot water for the shower and took personal responsibility to sort it out quickly. I believe the problem with the shower is rare or not happened before so wouldn't let that worry you. They are both lovely hosts and breakfast was great by a log fire.
Laurence
2015-05-04T00:00:00Z
The most wonderful place! One of the best Air BnB's we have stayed in throughout the world. Such kind and generous hosts who were very welcoming into their home. Incredible breakfast! Stunning bedroom and bathroom! We would love to stay again!
jonty
2015-07-19T00:00:00Z
Art der Unterkunft
Privatzimmer
---
Objekttyp
Bed & Breakfast
---
Unterkunft für
2
---
Schlafzimmer
Haslemere, Vereinigtes Königreich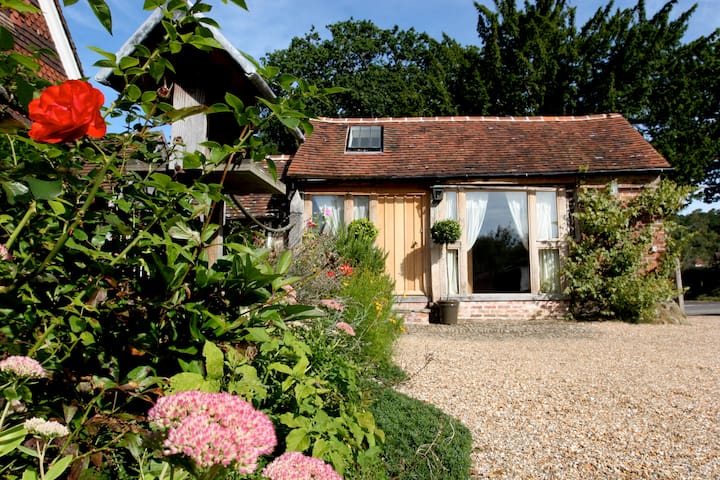 Very accommodating and understanding host.
Milo
2016-09-30T00:00:00Z
Simon was incredibly helpful and the house feels very welcoming and cosy. The location was perfect with the train station only 7 min walk and a supermarket right across the street.
Mariana
2016-11-15T00:00:00Z
Great host, very friendly and polite. Fantastic house, very clean, lots of space. Good area. 5* recommended!
John
2015-08-05T00:00:00Z
I had a lovely stay with Simon in his welcoming home. I was on a business trip working in nearby Liphook. All wenr very well for me staying here. Perfect for commuting that short distance, or longer if needed. The station is less than 10 minute easy stroll. The tea and organic veggie box selection was certainly a treat. Thank you for having me to stay Simon.
Emma
2016-01-30T00:00:00Z
Art der Unterkunft
Privatzimmer
---
Objekttyp
Bed & Breakfast
---
Unterkunft für
1
---
Schlafzimmer
Haslemere, Vereinigtes Königreich
Unser Bauernhaus befindet sich in 6 Morgen Land, 3 Paddocks, Schwimmbad und Ställe. Es befindet sich in idyllischer Lage in der Surrey Hills, umgeben von National Trust Land, Wäldern und schöne Wanderungen sowie Kulturerbe.
Das Kernstück unseres Hauses stammt aus dem Jahr the16th Jahrhundert zurück mit original Holzbalken und Kamine. Erweiterungen wurden während der viktorianischen Zeit sowie im 20. Jahrhundert Schaffung einer offeneren und das Gefühl von Weite zu dem Haus gegeben. Eine voll ausgestattete Anlage Atelierhaus bis 1870 mit einem charakter Mezzanine-Schlafbereich schafft für die Gäste zusätzlich Platz aus dem Jahr.
Die Lage ist einzigartig, das Gefühl haben, in der Mitte von einem wunderschönen Wald mit Meilen von schönen Wanderungen sind, doch nur 1 Stunde entfernt von London entfernt. Ein Auto wäre ratsam, um dieses Gebiet zu erkunden. Wir sind sehr nah an der West Sussex Grenze und der wunderschönen South Downs, einem Gebiet von natürlicher Schönheit. Die nächstgelegenen Städte und Dörfer zu Grayswood sind: Haslemere, 5 Minuten mit dem Auto; Chiddingfold, 5 Minuten mit dem Auto; Petworth (historische und schöne Marktgemeinde), 15 Minuten mit dem Auto; Godalming, 20 Minuten mit dem Auto. Bitte beachten Sie, dass die Straße auf unser Haus führt ein Reitweg ist. Es gibt viele Dips und Beulen, nicht geeignet für einen niedrigen Sportwagen, es sei denn mit Vorsicht zu fahren. Auch in Bezug würden die Nachbarn auf dem Reitweg eine 5 Stundenmeilen Geschwindigkeitsbegrenzung zu respektieren geschätzt.
This is a superb country house where our family has recently spent a glorious 5 day Christmas break. The kitchen specifically is spectacular, complete with island, Aga oven and underfloor heating. We loved the open fires and the beautiful nearby walks. We felt remote but yet were only 5 minutes drive from the pretty town of Haslemere. Naz was an excellent host and incredibly welcoming. We would love to come here again every Christmas! Thanks Naz for letting us stay in your beautiful home!
Abby
2016-12-27T00:00:00Z
Naz has a lovely house with extensive outdoor space, she was very helpful at all times and we truly enjoyed our stay. Thank you!
Martina
2016-07-29T00:00:00Z
An amazing house and grounds. My family had a fantastic time. Naz was really helpful and even organised horse riding for the children.
Andy
2016-07-31T00:00:00Z
Naz's farmhouse is beautiful. We have spent the most relaxing long weekend. Thank you Naz.
Adriana
2016-08-15T00:00:00Z
Spent a long weekend in this absolutely beautiful house. The outdoor surroundings are stunning, the house interior is stylishly finished, retaining old world charm whilst somehow feeling like a top boutique hotel. As luck would have it we got a sun drenched weekend for our stay, so got full use of the outdoor pool and also enjoyed a barbecue in the big garden. We had 8 adults and 2 kids and the place felt huge, you'd comfortably get another 3 adults on top of that. Big, user friendly kitchen really helped us. Recommend the dog and pheasant down the road (5 min drive) for a pub garden lunch and great beer options. Naz even spent time answering quizzical emails about the fascinating paintings in the house. Top marks for making us feel welcome. A 40th birthday weekend I will never forget!
Ilga
2016-08-09T00:00:00Z
Had the best time ever in such a gorgeous house. The place was beautiful and so comfortable to stay in. The house was spacious and each room was well decorated. We made good use of the swimming pool which was well kept. The town is only a few minutes drive and has some lovely places to eat. The stay was very easy as Naz was quick to respond to all questions. The only thing I would say is that the annex was so not the most comfortable place to stay in the heat. Overall I would definitely recommend this place. All of the guests were very impressed!
Anuksha
2016-08-30T00:00:00Z
Art der Unterkunft
Ganze Unterkunft
---
Objekttyp
Haus
---
Unterkunft für
12
---
Schlafzimmer
Haslemere, Surrey, Vereinigtes Königreich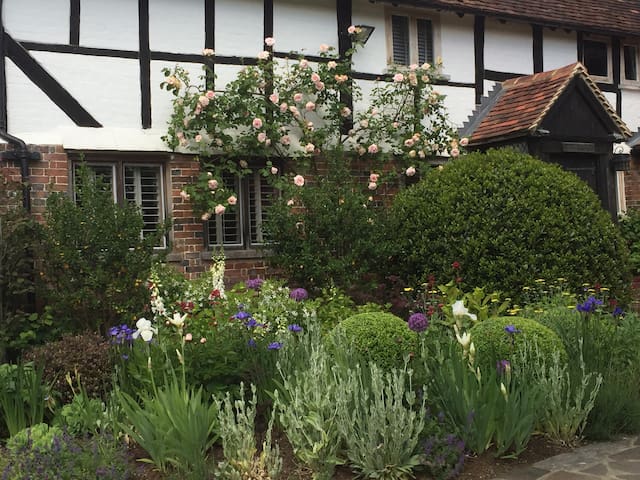 House in Haslemere, Surrey/West Sussex border, England - Ideal for Goodwood and Cowdray events and set in the South Downs National Park The Garden Backs Onto National Trust Land. Outdoor heated swimming pool with safety cover and tennis court. Paddock with lake. 6 beds and sleeps 12. 5 minutes from A3 Hindhead tunnel. Weekend bookings accepted subject to availability.
Art der Unterkunft
Ganze Unterkunft
---
Objekttyp
Haus
---
Unterkunft für
12
---
Schlafzimmer
Haslemere , Surrey, Vereinigtes Königreich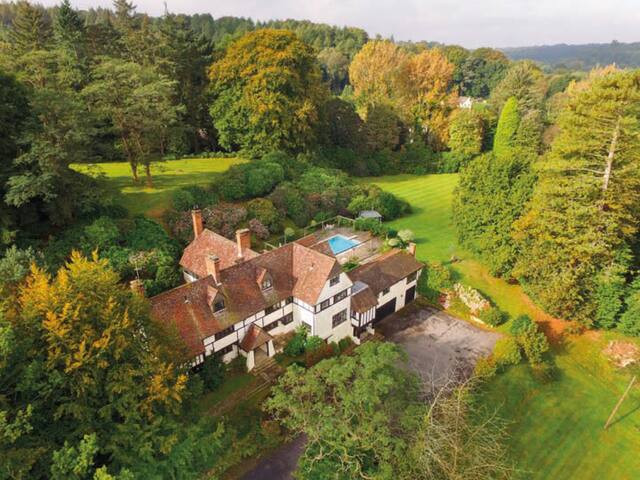 It was really lovely to stay at Lindsey's house. The room is exactly how it looked in the picture, or even better! super comfy bed and amazing private toilet. Lindsey and her husband were excellent hosts and made us such beautiful breakfast... We were only there for one night but really enjoyed chatting with them both in the morning. We left thinking that we should have stayed longer!
Pepa
2015-05-03T00:00:00Z
Was absolutely fantastic venue. They were most accomodating, extremely pleasant to talk with. Had a fabtastic time. Breakfast was great. They even were up at 5:45 when we wanted to leave early. They went beyond what we would have expected.
Trevor
2015-01-26T00:00:00Z
Lindsey and Marc are such nice people, the house is as beautiful as in the photos, everything was clean, the breakfast was good. When we got all wet in the rain they dried our clothes for us above the fireplace, they made us feel at home. We enjoyed our stay. Highly recommended!
Benedikt
2015-10-25T00:00:00Z
We had a very comfortable stay in Lindsey and Mark's beautiful home. The bed was incredibly comfortable and the atmosphere of the whole house is very restful with views into the garden, lovely old furniture and fresh flowers. Lindsey and Mark were very welcoming and breakfast was delicious - great coffee! Many thanks.
Liz
2016-09-04T00:00:00Z
Fabulous place to stay! The room was perfect; bright, warm and very clean. Lindsey and her husband were great hosts and we certainly hope to return.
Shelley
2016-03-19T00:00:00Z
My husband, toddler daughter, and I all loved our stay at this B&B. Our space was clean, stylish, and peaceful, and the breakfast was very tasty. Due to some unforeseen setbacks, we arrived late in the evening. Our hosts were very understanding. My daughter had her own toddler cot, highchair, and dishes, which pleased her greatly. Though just one night, it was my family's favorite B&B.
Elizabeth
2016-07-11T00:00:00Z
We had a great stay with Lindsey and Mark. The room is lovely and spacious and the bed really comfortable. The bathroom is amazing - it is on two floors with a shower room above and a huge bath below. Lindsey and Mark were really kind and we had a delicious breakfast.
Edwina
2015-05-04T00:00:00Z
We had a really lovely stay at Cherrimans! Lindsey and Mark were extremely welcoming and friendly and did everything they could to make us feel at home. Gorgeous room and ensuite in a beautiful house - and very picturesque location. Would definitely stay again.
Derek
2016-07-17T00:00:00Z
Art der Unterkunft
Privatzimmer
---
Objekttyp
Bed & Breakfast
---
Unterkunft für
2
---
Schlafzimmer
Haslemere, Surrey, Vereinigtes Königreich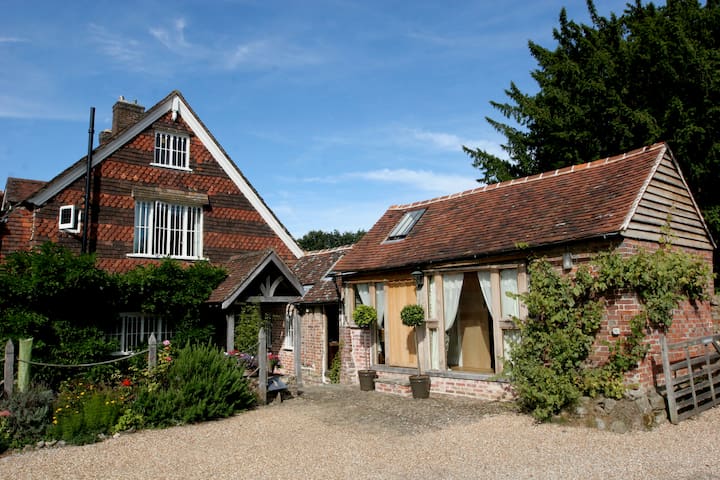 En un antiguo dormitorio criadas de la leche en la parte superior de la casa con cuarto de baño propio en un elegante recientemente renovado y restaurado Grado II casa de pueblo enumeran. vigas de madera, chimeneas, amplios jardines. Muchas de las atracciones locales.
Esta habitación está llena de historia en la planta superior de esta hermosa casa, con sus vigas de madera, y campana de la chimenea. Hay una cama doble, escritorio, tocador, televisión, cuarto de baño propio. El desayuno se sirve en el comedor de 400 años, con su chimenea rinconera, horno de pan viejo y vigas a la vista; pan casero y mermelada, cereales y frutas, desayuno continental o Inglés abundante; la decisión es tuya. Compramos orgánicos y locales en lo que podamos. Con todo, una, amable, el hogar familiar y relajado, situado en el magnífico entorno natural del Parque Nacional de South Downs. Hay un dormitorio en la misma planta, también sala de un ex criadas, con dos camas individuales que pueden estar disponibles. Esta habitación también comparte el cuarto de baño. Un impresionante gran sala de más doble / familia también está disponible dentro de la casa. Por favor, vea 'Escape para el país I' lista por separado. Hay una sala de arranque para los caminantes! Y con alta velocidad Wi-Fi y tranquilidad, es un lugar ideal para alojarse por negocios también. Tenga en cuenta en las horas punta del año, por ejemplo Cowdray Polo, eventos de Goodwood, el precio por noche se incrementará.
Justo en nuestra puerta, tenemos fabulosos paseos y paseos en bicicleta a través de campos y bosques. Nuestro bar del pueblo es un par de cientos de yardas de nuestra casa, así también un pequeño parque infantil. En un sábado por la tarde en el verano puede sentarse mirando el grillo a través de The Green; la quintaesencia de Inglés. Grandes gastro pubs de la zona; El duque de Cumberland, Henley, un favorito local con sus increíbles vistas desde su posición en la ladera, o relajarse en la amenidad del sol naciente, Milland, o, alternativamente, en el bar del pueblo, The Red Lion, disfrutar de un curry de la increíble en el restaurante Banyan, auténtico cocina india, preparada por chefs profesionales indios. El Leconfield, elegante restaurante a la carta en alrededores Petworth, a 15/20 minutos en coche. En Haslemere cerca (4 millas), un antiguo mercado, varias pizzerías y cafeterías se pueden encontrar; también con una serie de tiendas de ropa y tiendas independientes; así también el Museo Haslemere de seguir investigando en la zona. Ruinas de Cowdray, Granja tienda y cafetería están a diez minutos en coche. Y con Cowdray viene la temporada de polo, por supuesto! Menos de la mitad de una hora de distancia, no es impresionante Goodwood famosa por su Festival de la Velocidad, Festival de renacimiento y carreras de caballos. Así también el histórico y gloriosamente Weald y Downland Museo fascinante, de la confianza nacional Uppark House y Petworth House. Y así también, la histórica ciudad de Chichester, la abundancia de tiendas de antigüedades de Petworth. La lista es interminable, así que muchos lugares de interés, incluyendo las preciosas dunas de la playa de West Wittering, todos de fácil acceso para un día.
Emma and Simon own a beautiful house near Haslemere. We arrived to tea and a wonderful homemade Victoria sponge which we had in the garden whilst chatting away and meeting their two charming daughters and dog! It was exactly what we were looking for. A break from the kids and some time together. We stayed in a room at the top of the house which had its own bathroom and was extremely comfortable. We slept brilliantly. The whole house is decorated with style and is homely and welcoming. The breakfast was fantastic. Emma and Simon are very interesting, warm and entertaining. We could've chatted for hours.. I highly recommend staying here. We'd love to go back for a longer stay sometime.
John
2014-09-15T00:00:00Z
Home Sweet Home! Emma, Simon, Isabel and Flo- the bunnies & puppy greeted us like family! Our visit was a stop over on our way to The Goodwood Revival Weekend- where rooms are like hens teeth. We found this listing last minute on airbnb- due to a last minute cancellation at another location ( which was not an airbnb listing I'd like to add) We slept in the most wonderful sleeping nook- in the farm's former milkmaids loft- with a modern bathroom and comfy bed. The home is charming- straight out of a fairytale- circa 1564- as is the village Haselmere-where it is located- Red Lion Pub across the Green- a lovely little village in a great location! Emma and the girls prepared an incredibly delicious full English breakfast ala French music being sung from the kitchen- the sun shining, birds chirping! And quite early for a Saturday morning I must add- thank you again girls for rising so early for us!!! It was a truly magical breakfast, with little Flo serving in her apron and wide smile- Happy Birthday Flo! Their hospitality was like none other I've ever experienced-we loved the family style rooming- a new concept here in the US- we can all learn a bit from our English cousins! Well done Emma! We look forward to staying with you- our dear new extended family- again and again! And girls- thank you for sharing the bunnies with us, they are so cute and so well trained! xoxo With Love and hugs to you from America! Missing you, Susie and Gary Daniels Center Valley, Pennsylvania
susan
2014-09-14T00:00:00Z
This is a beautiful house in a perfect country setting - the thwack of ball against bat from the adjoining cricket pitch as we left in the morning, Sunday bells - glorious. My daughter described the family as 10, 10 10 - all very welcoming, interested and interesting. A lovely room - excellent night's sleep. A double with single. Gorgeous bathroom. The whole house looked very recently finished and was in great taste. we loved it!
Dina
2014-06-30T00:00:00Z
We´ve been there for the 2nd year, because of the warm welcome, the wonderfull accomodation, the great breakfeast and the perfect hospitality.
Lars
2016-09-12T00:00:00Z
We stayed for three nights at Emma's and we enjoyed her enthousiasme. Breakfast was perfect and the bathroom & room very comfortable and quiet.
Petra and Ronald
2014-07-23T00:00:00Z
Please see previous Feedback !
Lars
2015-09-14T00:00:00Z
Art der Unterkunft
Privatzimmer
---
Objekttyp
Bed & Breakfast
---
Unterkunft für
2
---
Schlafzimmer
Haslemere, West Sussex, Vereinigtes Königreich
Amerete il mio posto a causa del letto confortevole, la cucina e il giardino .. Il mio posto è buono per le coppie, avventurieri solista, e viaggiatori d'affari. E 'anche molto utile per tutti coloro che visitano amici o parenti a Godalming.
Tranquillo e accogliente. La maggior parte dei vicini di casa, come noi, hanno vissuto qui per anni.
Maria and his family are very welcoming, friendly and helpful. The room is quiet and the bed is very comfortable. I recommend you this beautiful place.
Aude
2017-01-11T00:00:00Z
Excellent place to stay, lovely family, great room, very comfy bed. Excellent quiet residential location. Very welcoming hosts.
Martin
2017-03-31T00:00:00Z
Execellent, warm & welcoming family. Highly recommended ideal location. Quiet yet close to amenities
Ariana
2017-04-10T00:00:00Z
Sweet couple , with exquisite service and delightful rustic traditional house to warm up to
Omar
2016-11-19T00:00:00Z
Very good accommodation, quiet, very peaceful and great value for money, Maria & Martin are charming, welcoming hosts. Room is lovely as is the whole accommodation. Well worth a stay.
Martin
2017-03-23T00:00:00Z
It's a very nice experience. The room is perfect for 2 people, I stay for 5 days and every day the breakfast it's very good. Maria is a very good women. I advice everyone to sleep here.
Alessia
2016-11-30T00:00:00Z
A lovely place to stay with amazing people This was my first air B&B stay so was a little apprehensive but couldn't have been made to feel more welcome Hope to go back soon Carol
Carol
2017-03-20T00:00:00Z
Lovely family, very comfortable room and Maria and Martin are charming people, very friendly and warm. Very well worth staying with them.
Martin
2017-03-17T00:00:00Z
Art der Unterkunft
Privatzimmer
---
Objekttyp
Haus
---
Unterkunft für
2
---
Schlafzimmer
Godalming, England, Vereinigtes Königreich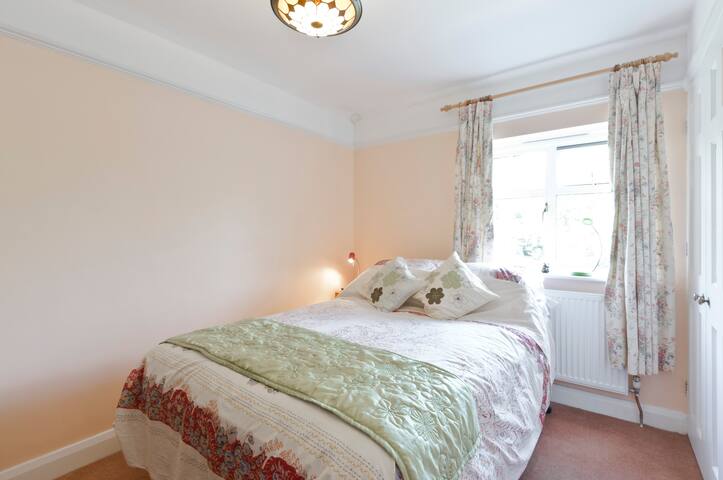 House in a great location, just a walk away from the station. Room was really spacious and homely with a very comfortable bed. Lucy and her family were great hosts and really welcoming. Would absolutely recommend
Harry
2016-09-30T00:00:00Z
Pleasant stay and a nice comfortable bed. Good sized house with plenty room for Lucy's family and friendly dogs. The cat also introduced itself to me! Easy walk to well presented town centre with a good choice of bars and restaurants.
Alisdair
2016-07-08T00:00:00Z
Always willing to help
Ashley
2016-10-28T00:00:00Z
Welcoming and easy going hosts, the room was tidy and in a great spot for us as we were attending a wedding nearby.
Silvia
2016-06-27T00:00:00Z
Very welcoming feel, was in a great location for working in Godalming and lots of nice places to eat and have a beer close by. Nice friendly host and dogs! Great room, Comfy bed, great shower, everything I needed.
Dave
2016-11-12T00:00:00Z
I had a lovely stay with Lucy and her family. They were so welcoming and made me feel completely at home. She was very interested in my day and she also helped me out with whatever I needed whether boardI had a lovely stay with Lucy and her family. They were so welcoming and made me feel completely at home. She was very interested in my day and she also helped me out with whatever I needed whether boarding passes or anything else. I was also stuck for a spin home from work one evening when I couldn't get a taxi and Lucy was kind enough to collect me. It really was the perfect airbnb.
Donal
2016-12-18T00:00:00Z
I was welcomed by Michael and two friendly dogs on arrival and was shown around their beautiful home. The room was bright and clean with a very comfortable bed. I didn't see my host after that due to my early departures in the morning and late returns in the evening. Over all I had a quiet and restful stay. The town is worth a visit, especially the Inn on the Lake. Many thanks Steve
Stephen
2016-07-30T00:00:00Z
Very welcoming family. Comfortable room, in a quiet location.
Charlie
2016-11-05T00:00:00Z
Art der Unterkunft
Privatzimmer
---
Objekttyp
Haus
---
Unterkunft für
2
---
Schlafzimmer
Godalming, England, Vereinigtes Königreich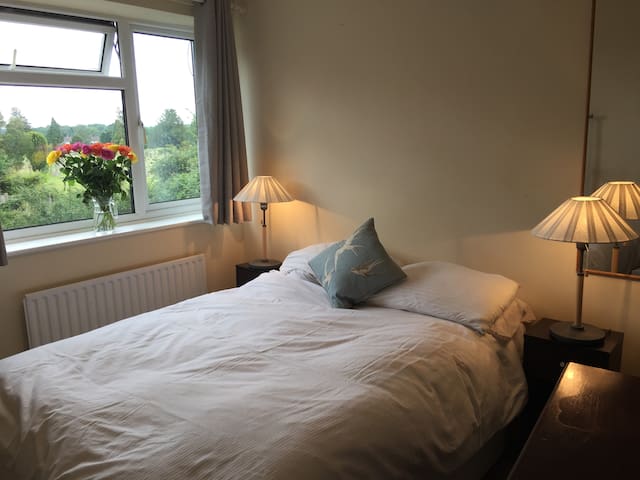 Wir sind 7 Meilen von Godalming, Surrey in einem Gebiet von außergewöhnlicher Schönheit. Die Aussicht ist über Felder und Wälder zu den South Downs. Unser Garten ist offen für Getreidefelder. Das Studio ist in sich abgeschlossen: Sofa, Schreibtisch, Bijou Küche & komplett geflieste Dusche / WC.
Wir sind zwischen Dunsfold und Hascombe Dörfer, in einer sehr ruhigen Gegend. Wir sind auf dem höchsten Punkt auf der Südseite der Dunsfold Road. Auf der gegenüberliegenden Seite der Straße ist der Park "White Deer"
Wir sind gegenüber der "weißen Hirsch 'Park. Weiße Hirsche gezüchtet und zu anderen Teilen Europas geschickt White Deer Kolonien wieder aufzufüllen. Es gibt einen schönen einfachen Rundweg entlang einer ruhigen verkehrsfreien Landstraße in der Nähe. Unsere lokalen Kirche ist einzigartig in Großbritannien und hat einen wunderbaren 19C 'hohe Kirche' Wandmalereien. Der massive alten englischen Eiche in meinem Garten ist angeblich 400 Jahre alt.
Der Aufenthalt im ruhigen Loxhill war entspannend. Cecily hat uns mit einem wundervollen Frühstück verwöhnt. Ausserdem hat sie eine eigene Liste angefertigt, welche die Sehenswürdigkeiten und interessanten Orte in der näheren Umgebung enthält, sehr entgegenkommend für Touristen.
Noemi
2016-08-30T00:00:00Z
Stayed for one night, accommodation was big enough for three adults and a baby. Lovely location and area. Cecily was very welcoming, with a lovely breakfast in the morning.
amelia
2016-09-19T00:00:00Z
Very scenic, cosy and comfortable location on the road to Godalming and very easy to access
Jonathon
2017-01-10T00:00:00Z
Hi Cecily, We are back in Barcelona. My email is (EMAIL HIDDEN) As soon as the apartament is ready to be let I will let you know. Thanks for everything you have done for us these days that have been really nice. Stay in contact.
Jorge Antonio
2016-08-15T00:00:00Z
Cecily went out of her way to make us comfortable, even laying out a delicious breakfast of cereals, warm bread and tea and coffee for breakfast. The room itself was nice & clean, with a well sized bathroom and kitchen area. Overall a lovely stay for the night and couldn't revomend more!
Olivia
2016-06-20T00:00:00Z
Cecily, your place was just perfect for us and we hope we can come back and stay again soon. thanks again for everything!
Spencer
2016-07-06T00:00:00Z
The host canceled this reservation the day before arrival. This is an automated posting.
Mahesh
2015-09-18T00:00:00Z
Lovely place... House was in a beautiful countryside setting and convenient for the friends I was visiting. I was greeted warmly with tea, cake and a chat. Room was comfortable, self contained, not luxurious, but had everything I needed for a great nights sleep. Easy parking, amazing host, a little out the way but recommend!
kate
2016-02-22T00:00:00Z
Art der Unterkunft
Privatzimmer
---
Objekttyp
Haus
---
Unterkunft für
4
---
Schlafzimmer
Godalming, Vereinigtes Königreich
Haslemere - Airbnb
:
Durchschnittlich

4.85

von

5

Sternen aus

297

Gäste-Bewertungen
1

–

18

von

206 Unterkünfte
Gib deine Reisedaten ein, um den aktuellen Preis zu sehen. Es können zusätzliche Gebühren und Steuern anfallen.