+ 300 Wohnungen zur Miete
A spacious private room in a big apartment in Beirut. It is located in a nice neighborhood across the street from Badaro.
Just 2 minutes away from Badaro street, the apartment is located in a nice neighborhood with easy access to public transportation. It is comprised of 4 bedrooms with access to a large balcony, a living room, 2 bathrooms and a kitchen. I have recently moved there with my 2 other friends, and we have a private room available for rent.
Located a 2-minute walk away from Badaro street, the neighborhood is rather nice, with very friendly neighbors. Usually calm, but with some occasional noises coming from cars whose drivers think they're in a car race...
Hospitalité, convivialité, générosité. Les trois mousquetaires - Naim, Fouad et Joseph - qui vous accueillent sont adorables (mahdoumin en arabe). Toujours prêts à vous rendre service, à répondre à vos questions, à combler le vide de vos soirées. Trois artistes (acteur, peintre, photographe), ils font partie de cette nouvelle génération de libanais épris de créativité, qui sauront vous guider dans les arcanes de cette ville magnétique qu'est Beyrouth.
Katia
2016-07-04T00:00:00Z
It was a great stay in naims appartment. Nice and clean kitchen, a big living room for some chats and an IC against the heat. A good location in Beirut; near to the central city and surrounded by a mall and a bakery.
Kureisch
2016-07-25T00:00:00Z
I stayed with Naim for a month. He and his roommates are super nice and made me feel welcome. I was out and about for work most of the time, but always enjoyed seeing them. The room is very cute (and has a nice balcony), and overall my stay was comfortable. Thanks for hosting me, Naim!
Cheyenne
2017-04-01T00:00:00Z
Staying at Naim's place was a great experience!! It was my first time with Airbnb and it was awesome! The place is so much better than I expected, great location, close to restaurants, cafes, nice neighborhood and really close to other Beirut areas. It is super clean, nice, has a balcony, ac, much more than what I would asked for. And the best part: the guys!!! Naim and company are great!!! Super sweet, helpful, amaizing people! We became friends instantly. They made me feel at home. I highly recommend this place :)
andrea
2016-09-03T00:00:00Z
Très bon accueil, en toute simplicité et très convivial. Appartement sympa à vivre, situation proche de Badaro, rue aux cafés sympas, et accès direct vers le centre. La gentillesse et la chaleur des hôtes, Naïm bien sûr, mais aussi Fouad et Joseph, ses co-locataires, ont contribué à un séjour très agréable. Je recommande évidemment!!
Claude
2016-11-18T00:00:00Z
J'ai passé deux semaines chez Naim, Fouad et Joseph (première étape d'un séjour de 6 mois à Beyrouth) et je n'ai qu'un conseil : réservez sans hésiter ! Naim et Fouad ont été d'une grande aide au début quand je ne comprenais pas grand chose à la vie libanaise. Ils m'ont donné de nombreux conseils (ex: les taxis-services), et pris du temps pour m'expliquer comment me rendre à tel endroit en marchant, etc. etc. Ils m'ont emmené dans des bars et cafés (dont Roy's qui est clairement devenu mon café préféré) et fait découvrir un peu le quartier de Badaro (le plus joli de ce que j'ai pu voir de Beyrouth jusque-là). L'appartement est bien situé, propre, et lumineux. La connexion WIFI fonctionne très bien. La chambre est telle que sur la photo. Aucun souci d'électricité vu que l'immeuble est équipé d'un générateur. Les commerces autour (à 5min à pied max) permettent de trouver des produits de première nécessité (Tanti), de quoi acheter à manger (Sandwich Inc, Adam...) et d'aller boire un verre. Les conversations autour d'un verre jusqu'au petit matin avec Naim (notamment) étaient au top! See you around, guys ! Je vous attends pour un café at Roy's :)
Caroline
2017-02-12T00:00:00Z
I had a great stay at Naim's place. Don't worry if - on the map - you find the house a little bit far from the centre, because there are lots of line 4 buses passing by the house and will take you to Gemmayza or even directly to Hamra. And the room; it is big and very nice. The same applies to the entire flat. The best thing about this flat, is the people who live there. Don't miss any chance of having a conversation with Naim or his (SENSITIVE CONTENTS HIDDEN), you will enjoy it to hear their viewpoints on art, politics, and travel.
changiz
2016-06-14T00:00:00Z
I stayed at Naim's place for three nights -- it was a great stay. Naim was fairly easy to get ahold of before I arrived; and when he was unavailable, his roommate Fouad answered any questions I had. The information provided on AirBnB helped me find the location of the apartment fairly easily, and when I was nearby I was able to call Naim and get him to explain exactly where to go to my driver. Check-in was easy. When I got there, Naim showed me around the apartment, and we chatted for a couple hours. He gave me suggestions on how to get around Beirut and to sites outside the city, good neighborhoods for food, etc. During my trip, I didn't have too many questions of Naim of Fouad, but any time I needed something I was able to send one of them a text and they answered pretty quick. The apartment was great -- simple, but comfortable. Nice neighborhood, easy to get to other places, restaurants, taxis, and the mini-bus station. And it was only about 15-20 minutes from the airport. Mostly I was out touring the country, so I didn't see much of Naim or his roommates. The last day, they invited me to watch a performance which was put on in the building by a friend of theirs. Check-out was equally easy. Great host, comfortable apartment, good location. Highly recommended if you're staying in Beirut.
Mark
2016-11-26T00:00:00Z
Art der Unterkunft
Privatzimmer
---
Objekttyp
Wohnung
---
Unterkunft für
1
---
Schlafzimmer
Beirut, Beirut, Libanon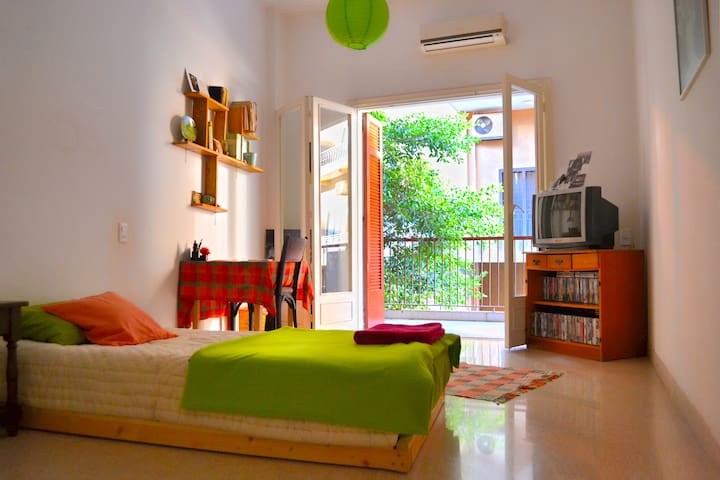 ***HOMEMADE BREAKFAST INCLUDED*** Hello to all :) We are renting this lovely room with a nice and comfortable sofa bed. It's an old traditional Syrian style wooden bed. It's ideal for travellers coming to Beirut for a short visit
Spacious room - It gets a lot of sun in the afternoon and has a nice cute little terrace with lots of plants. Other than the table in front of the sofa bed, there is a nice big table in case you want to do work / study. The sofa bed is also great to sit down, relax, read, watch TV, take a nap It comes with clean new sheets, pillows, bed cover, etc We have a laundry machine you can use anytime.
Beirut's biggest park flooding with pine trees is 1 minute walk away Beirut national museum and historical hippodrome are less that 10 min walk away Badaro's hip and trendy café's, restaurants, bars, local shops No electricity cuts ! We are on the same network as the military hospital Very safe area
For six weeks I stayed in Beirut and enjoyed Sana s great hospitality. The flat is just next to the big park Horsh Beirut which is wonderful for running or just having a short break before diving into Beiruts vitality. Badaro is a nice quarter to stay as well with a lots of bars and cafés. Bus 4 brings you to the coast in less then 20min (greetings to the traffic). Sanas Appartement is highly to recommend. You have 24h electricity and clean water, as well as drinking water through out the time (which often is in Beirut, especially in terms of electricity not the case). I appreciated Sana as an outstanding host, always available either in person or through (SENSITIVE CONTENTS HIDDEN) with a lot of supporting information when ever it was needed. I enjoyed staying at her apartment a lot and I am sure will as well.
Jonas
2016-11-30T00:00:00Z
L'habitació es àmplia i comoda, El llit potser una mica petit però comode. La cuina àmplia i ben assortida. L'únic problema és el petit cabdal d'aigua, justet per dutxarse, pero cal tenir en compte que estem a Beirut, El millor però, és l'amfitriona, la Sana: amabilissima, disposada sempre a ajudar, aconsellar, resoldre problemes i, també, a fer un bon esmorzar. Realment és l'anima de la casa, i ajuda als seus hostes segons les seves necessitats.
Ramon
2017-01-05T00:00:00Z
Excellent place, very clean and comfortable! The room also was comfortable as was the bed. There was even heating, which was sometimes welcome due to low temperatures. Internet was working well as well as electricity (no power cut due to nearby hospital). Sana and her husband are extremly friendly and welcoming and ready to help with aynthing! Breakfast is also served daily. The apartement is located next to minibus number 4, which brings you downtown in around 5 to 10 minutes. Cola Junction (from where collective taxis and minibuses to the south leave from) is around a 20 minute long walk away. The area (Badaro) has plenty of restaurants and there is also a supermarket nearby. I can warmly reccomend this place! Thanks a lot!
Olivier
2017-02-24T00:00:00Z
I spent two weeks at Sana´s place. The first week in her room with two beds and the next weeka slightly bigger room. I needed a place close to the French Embassy because of studies, while I was simultanously looking for a permanent apartment in Badaro. Sana and her husbond are great host. You will probably not find more helpful people. Sana provided me with breakfast every day. Good coffee was available and I used the kitcen to make food in the evenings. It has also been very interesting to talk with Sana about Beirut and Lebanon. The rooms are good and spacious. You can do your laundry too. Regarding the area I liked it a lot. The last years several cafes and restaurants have opened in Badaro which is a nice residential area close to the National Museum and also the only larger park in Beirut (Horsh Beirut), not more than 200 meters from the door. I am happy that I in the end found an aparment in the same neigbourhood. Shukran!
Robert
2017-01-21T00:00:00Z
The stay was amazing! such a welcoming and cozy place! Sana is a great host, friend and mother.. And makes deliciousss crepe! She made sure everything was set. I even arrived late midnight to my check-in and found all the details prepared by her (Including Wifi password ;D thanks!). 24/7 Electricity & Hot water (which is almost impossible in Lebanon). Transportation was veryyy easy. I couldn't ask for more.. Highly recommend the place! Thanks to Sana & her lovely family!
Francois
2016-12-30T00:00:00Z
Une fois trouvée la résidence, tout est parfait. Vous allez être très bien accueillis par Sana, dans son appartement très confortable, fonctionnel et très propre. Sana est très attentionnée et tient à ce que ses invités ne manquent à rien. J'ai passé un agréable séjour chez elle. J'ai bien prendre le petit déjeuné en discutant avec les invités de Sana dans l'ambiance conviviale de l'appartement.
Ahmed
2016-10-11T00:00:00Z
Sana'place is very good. Nice location, very quiet environment and a huge park nearby. And because its near to military hospital so the electric and Internet are very stable. Sana is a nice host, always checks on her guest to make sure they are comfortable. She gave me many information about Lebanon. Thanks to her I had a very good time there. If I come back to Lebanon again will definitely book her room again.
Wanni
2017-02-01T00:00:00Z
Sana is an amazing host full of warmth and kindness. The room was as advertised, comfortable and private. One never had to worry about access to hot ater, electricy and wifi. The best thing about my stay was the interaction with Sana. Despite having a full house with many guests, she took the trouble to ensure that she spent time engaging and conversing with each and every guest. I particularly enjoyed my chats with Sana as she made me feel so welcome. If you'd like to experience and learn about Lebanese hospitality, I'd strongly recommend staying at Sana's. You won't have any regrets!
Thency
2017-02-05T00:00:00Z
Art der Unterkunft
Privatzimmer
---
Objekttyp
Wohnung
---
Unterkunft für
1
---
Schlafzimmer
Beirut , Beirut Governate, Libanon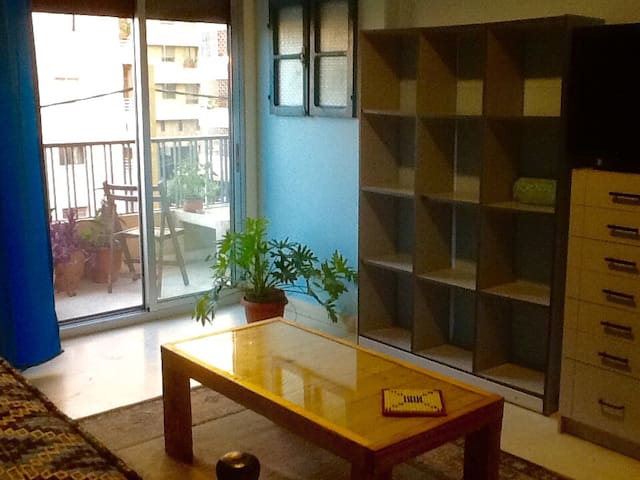 My place is close to restaurants and dining, family-friendly activities, and public transport. You'll love my place because of the light, the outdoors space, and the comfy bed. My place is good for couples and families (with kids).
C'est un grand appartement de 160 mètres carrés clair et très ensoleillé Cette surface ne comprend pas les. Balcons En effet chaque pièce dispose d'un balcon qui donne sur un jardin !
I had a very nice time in Ghada's place. The house looks smaller in the pictures, and it's very well equipped, Ghada was away but her sister Anitta had been the sweetest host! Perfect place to work since it's by car 10 min away from the night life. Thank you Anitta and Ghada for having me. If you'r looking for a quite place in the middle of Beirut this is it!
Eliane
2017-03-14T00:00:00Z
Art der Unterkunft
Ganze Unterkunft
---
Objekttyp
Wohnung
---
Unterkunft für
4
---
Schlafzimmer
Hadeth, Jabal Lubnan, Libanon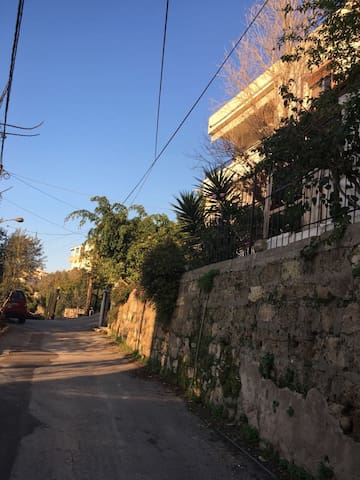 Thinking of spending some family quality time in an area far from Beirut yet close to its center? Here's then a 187 square meters, 3 bedrooms apartment, that comfortably fits a family of 5 (2 adults and 3 kids). Check the pictures below, and get an idea of the house itself, and feel free to drop me a message for any inquiry
A 187 square meters 3 bedrooms apartment, fully furnished, located in a quiet city at the outskirts of Beirut. It can accommodate 5 people. Perfect for families, or students.
Bonjour , Nous avons loué l'appartement pour Noel et nous avons été agréablement surpris par la touche d'accueil de Dolly ( gâteau, bouteille de vin, petite déco de Noel .....) . L'appartement était propre , spacieux ( convient bien à une famille de 5 personnes ). Nous le conseillons vivement .
zeina
2016-12-28T00:00:00Z
The apartment is spacious and nicely located and can be easily found once Edmond sent us the pin for the location. There is a couple of small shops and supermarkets near by which makes it easy to buy groceries. We enjoyed the balconies most of all the neighborhood is very calm and people are very friendly here. Dolly the lady who handed us the keys showed a lot of support if we needed anything and explained all the different things we need to understand regarding water and electricity and that was very appreciated. It only took us 20 minutes of drive to reach Beirut which facilitated our trips to different destinations. We enjoyed our stay here and we highly recommend it if you appreciate living by the mountains and still have a semi-urban lifestyle.
Mo'ath
2016-09-20T00:00:00Z
Art der Unterkunft
Ganze Unterkunft
---
Objekttyp
Wohnung
---
Unterkunft für
5
---
Schlafzimmer
Baabda, Mount Lebanon, Libanon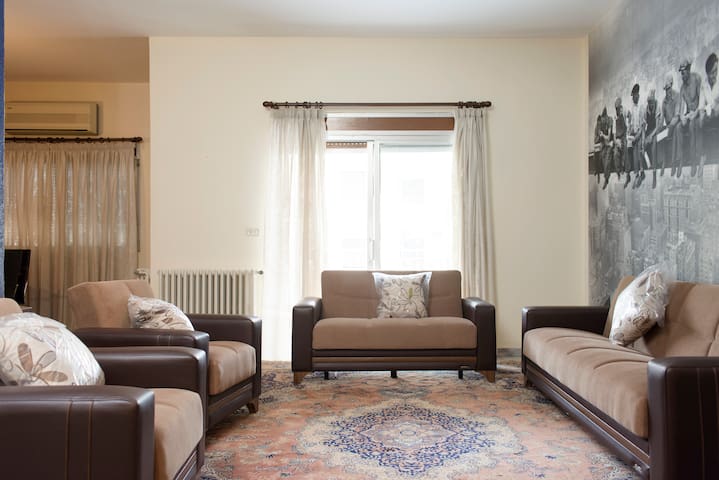 Art der Unterkunft
Ganze Unterkunft
---
Objekttyp
Wohnung
---
Unterkunft für
4
---
Schlafzimmer
Hazmiyeh, Mount Lebanon Governorate, Libanon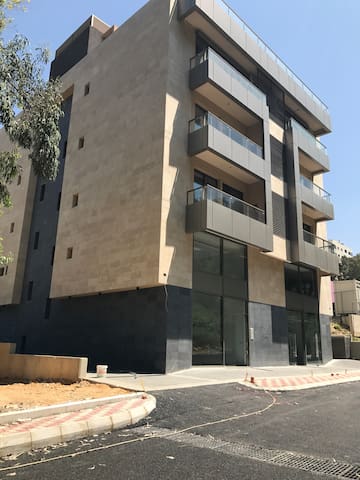 My place is close to public transport, the city center, shops, malls. You'll love my place because of the comfort, the kitchen, the coziness.
Art der Unterkunft
Privatzimmer
---
Objekttyp
Wohnung
---
Unterkunft für
2
---
Schlafzimmer
Beirut Governorate, Beirut Governorate, Libanon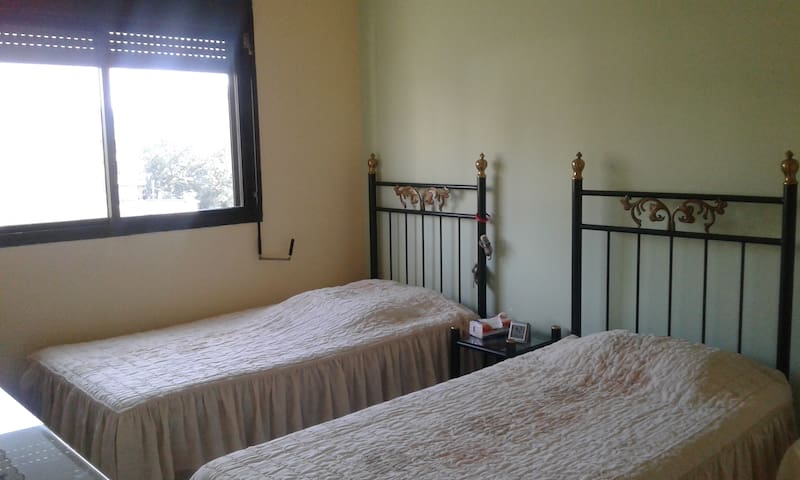 Brand new modern loft style apartment in beirut perfect for families & group of friends
Fully equiped Security 24/7 2 underground parking spots Brand new building
Easy and fast access to all major highways for quick transportation.
Art der Unterkunft
Ganze Unterkunft
---
Objekttyp
Wohnung
---
Unterkunft für
6
---
Schlafzimmer
Beirut, Beirut Governorate, Libanon
A private room in a big, sunny and calm house with a beautiful wide view of Beirut and suburbs. 24/7 electricity, warm water & weekly cleaning. A walking distance to the vivid street of Badaro.
Art der Unterkunft
Privatzimmer
---
Objekttyp
Wohnung
---
Unterkunft für
1
---
Schlafzimmer
Beirut, Beirut Governorate, Libanon
V bytě je velmi dobře umístěn v klidné vilové čtvrti. Je to 10 minut chůze od Habtour centra, 15 minut jízdy od Achrafieh, 20 minut jízdy od Broumana. Povrchová plocha je 220 čtverečních meters.The apartmán má výhled na rozlehlou zahradou.
Art der Unterkunft
Ganze Unterkunft
---
Objekttyp
Wohnung
---
Unterkunft für
6
---
Schlafzimmer
Matn, Jabal Lubnan, Libanon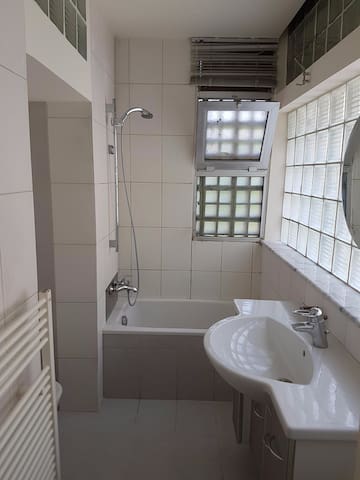 Nice renovated spacious apartment in one of the most pleasant parts of Beirut.
The ground floor apartment has everything you may need for a stay in Beirut. You have full, private access to the whole apartment, which is fully equipped with a large bedroom, living room, bathroom and kitchen. The flat is ideal for people on a short holiday, or those who need a longer term space to call their own. Bedroom The bedroom is very big and has a king size bed with a new, comfortable mattress along with fresh bed linens and pillows. There is a large wardrobe and chest of drawers for you to store your clothes and belongings. There is also a comfy sofa bed which can be turned into a single bed. If another person will be using the sofa bed, linens will be provided. The room has an A/C unit which is great during summer and can also be used as a heater during the winter. There is a top of the range sound system which you can link up to via bluetooth, so listening to your music is super easy. Kitchen The apartment has a small kitchen which is equipped with all the basics. There is a stove, a fridge and pots, pans, kitchen utensils and crockery. There is also a washing machine and a drying rack. Help yourself to the selection of tea and coffee! Bathrooms The bathroom includes a shower with great water pressure and ample shelving for storing toiletries. Living Room The living room is really comfy. It has two large sofas and a coffee table, perfect for relaxing with a good book and a cup of coffee.
The apartment is situated in a quiet street in Hazmiyeh, close to many popular restaurants, bars, grocery stores, bakeries and cafès. Just 3 minutes walking will take you to some of the best restaurants in Beirut! It's a really nice neighbourhood which is a lot greener than most of the city, so it's perfect to relax in after a busy day. Best of all, it's a short ten minute drive to central Beirut.
The host canceled this reservation 2 days before arrival. This is an automated posting.
Joe
2017-03-04T00:00:00Z
Suomalaisten tapa hoitaa asioita. Rehellinen, täsmällinen ja ennen kaikki sopivasti ystävällinen. Saatiin juuri mitä on luvattu.
Mohamad
2017-03-29T00:00:00Z
Staying in Jad's house mean living a real life in Lebanon, you will meet great neighbors, beautiful nature. Even our dogs were so happy, there is everything They need. we will stay there again for sure..
Fatima
2017-03-22T00:00:00Z
Art der Unterkunft
Ganze Unterkunft
---
Objekttyp
Wohnung
---
Unterkunft für
4
---
Schlafzimmer
Beirut Governorate, Beirut Governorate, Libanon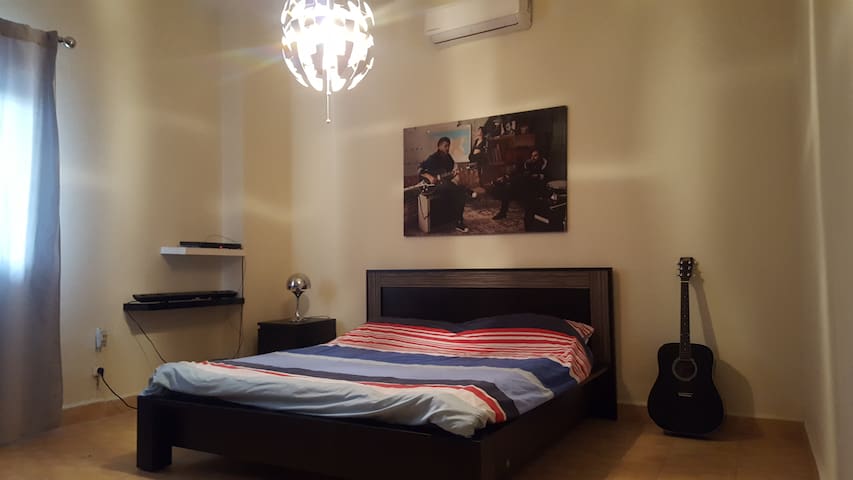 Newly renovated & fully furnished 2-bedroom apartment is the best you can find around Beirut! It comfortably fits 5 and is located on a quiet and safe street,10min away from Beirut with a parking next door. Excellent for young couples & families.
Enitrely Renovated (end of 2013) in a young and fresh spirit Fully furnished (new kitchen appliances, flat screen TV) 5 people can fit comfortably (1 double bed, 2 single beds and 1 couch-bed) State-of the art bathrooms Calm and Safe location Large parking just next to the house
This apartment is exactly as it looks -- newly renovated, clean, and comfortable. The apartment is also fully stocked with essentials like towels, sheets, blankets, utensils, cutlery, and so on. The hosts were quite thoughtful and very responsive to our questions throughout our stay. This is a great option for people who are visiting family or friends in the Ba'abda or surrounding areas. The apartment is conveniently located not far from a supermarket and yummy breakfast treats -- "ovens" making mana'ish zaatar. The price, especially for a longer stay, compares favorably with hotels, of which there are not many near Ba'abda anyway. However, staying in a private apartment instead of a hotel means one has to deal with all the unfortunate inconveniences of Lebanese life -- summer-time water shortages (meaning one has to get water delivered) and electricity outages (the hosts did provide a generator, but a generator will not cover all of one's needs.) Overall, though, the apartment is a good deal and should be a great fit for many people.
Reed
2015-07-23T00:00:00Z
A beautiful spacious apartment in a an extremely safe area, 1 minute walking from the Old Serail in Baabda. There is abundant greenery surrounding the apartment- a rarity in Beirut and its surrounding areas. Rosy and Robert, Cedric's parents, were fantastic hosts and always available via phone or wattsapp. I would highly recommend this apartment.
NETT
2015-09-07T00:00:00Z
Art der Unterkunft
Ganze Unterkunft
---
Objekttyp
Wohnung
---
Unterkunft für
5
---
Schlafzimmer
Baabda, Mount Lebanon, Libanon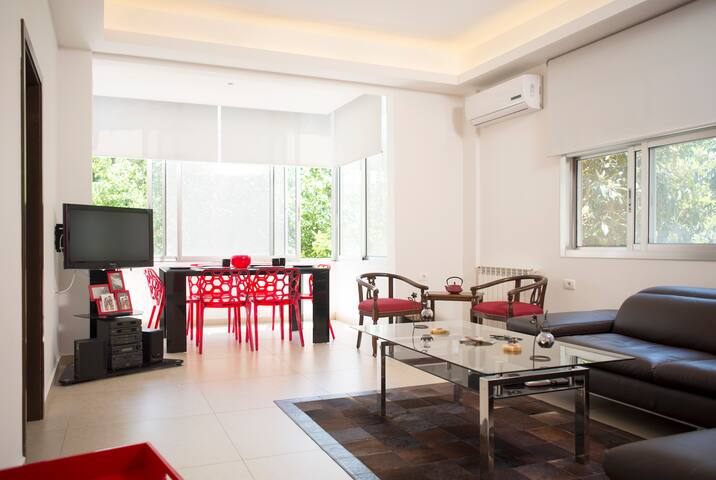 Very luminous & tasteful rooftop studio (45sqm) with a sea view.This studio has a cool city vibe!Enjoy incredible sunsets over the Beirut skyline from every corner,and relax while soaking up the Beirut lifestyle! The property should be handed back at the same condition as found!and the electricity cuts for 3 hours during the day it's easy to plan around with 10A generator(it's a problem we have in all over the country)
The neighborhood is friendly and safe! walking distance from Université Saint-Joseph. There's a Starbucks in the same building & a nice bakery at walking distance (maison du pain) and the little shop up the street delivers everything from water to soap or chocolate in no time.
Amanda nagyon kedves volt. A lakás napfényes és gyönyörű a kilátás a balkonon ülve lehet élvezni a kilátást. Az elhelyzkedés sajnos nem a jó mert nincs sem egy supermarket sem egy bevásárló központ a környéken. Aktiv város rész ahol találsz éttermeket , supermarketet, és shop centert az 35 perc séta ami nem egyszerű hiszen egy hegyvidékes részen van a város. Vagy sportnak fogod fel a gyaloglást minden nap vagy taxit fogsz mert a nélkül nem megy:), Libanonban az áramszolgáltatás sem egyszerű, igy sokszor nem volt áram ami azt jelenti hogy nem működött a fűtés és e miatt sokszor fáztunk. A hajszáritót is nehezen tudtam használni mert a generátorral nem sikerült, ezekre fel kell készülnie egy látogatónak. És ha mind ezt elfogadod akkor jól fogod érezni magad:)
Gabriella
2016-03-22T00:00:00Z
The apartment is lovely and the view is definitely spectacular! We enjoyed our time. The building is in a good area and we could walk to grocery stores, the cafe across the street, and nearby pharmacy. As in most of Beirut there were some power issues at times but the building manager was one (SENSITIVE CONTENTS HIDDEN) away and quick to respond. We would definitely stay again and recommend our friends to stay here as well. Amanda was great at being flexible with us and was prompt to communicate.
Michelle
2016-03-09T00:00:00Z
Amanda and her brother were great Host. Location is central and offered easy access. Very secure. I would definitely repeat even for extended stay...Thank you Amanda....
richard
2016-04-24T00:00:00Z
The apartment is located near a good area. You can find a pharmacy, a kiosk and a diner on a walking distance. Is also near Le mall Habtoor. It is not far from Beirut and has a nice view. The Janitor of the building is very good and helpful. Amanda was always replying to my calls when i needed something.
Michael
2016-01-02T00:00:00Z
For those who are knowledgable about life in Lebanon, this is a wonderful place to stay in Beirut. Very comfortable, astonishing views and Amanda is a great host, very responsive and wanting you to be happy. I really enjoyed my monthlong stay and highly recommend.
Sarah
2017-03-04T00:00:00Z
we loved our stay at Killer Beirut View, the place is brand new, super clean and very convenient. the host was always only a phone call away and very accommodating. will stay there again for sure, thank you Amanda for the beautiful place :) Elsi and Waldo
Elcy
2015-09-14T00:00:00Z
Amanda was a great host, always ready to reply to any questions I had. She was always making sure that everything's good and I have access to the provided services. The apartment has a great view, you will never feel claustrophobic. great
guiro
2015-12-07T00:00:00Z
Art der Unterkunft
Ganze Unterkunft
---
Objekttyp
Wohnung
---
Unterkunft für
2
---
Schlafzimmer
Mansouriyeh, Mount Lebanon, Libanon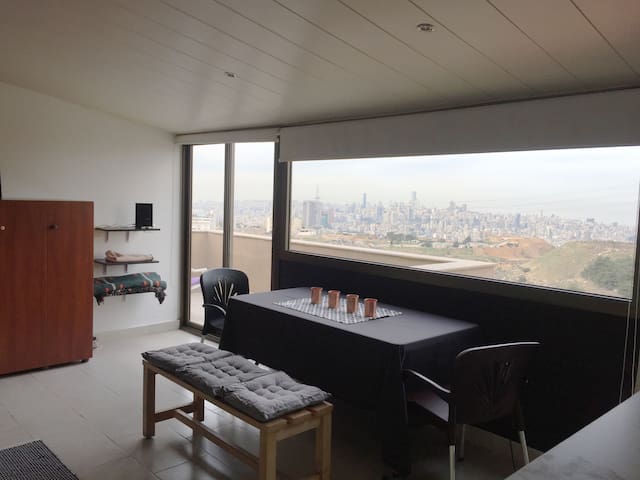 It's a new apartment, furnished, with one bedroom. It has TV, DVD, electricity with a building generator, one parking spot, inside Beirut
There is a vacant big room where you can have your morning coffee if you smoke.
Enjoyed our stay at Sarah's place during our visit to Beirut. Her place is wonderful and as described. More importantly though, she's an incredible host who was always available to answer any questions/requests. Thanks so much!
Ali
2017-04-09T00:00:00Z
Art der Unterkunft
Ganze Unterkunft
---
Objekttyp
Wohnung
---
Unterkunft für
2
---
Schlafzimmer
Beirut, Beirut, Libanon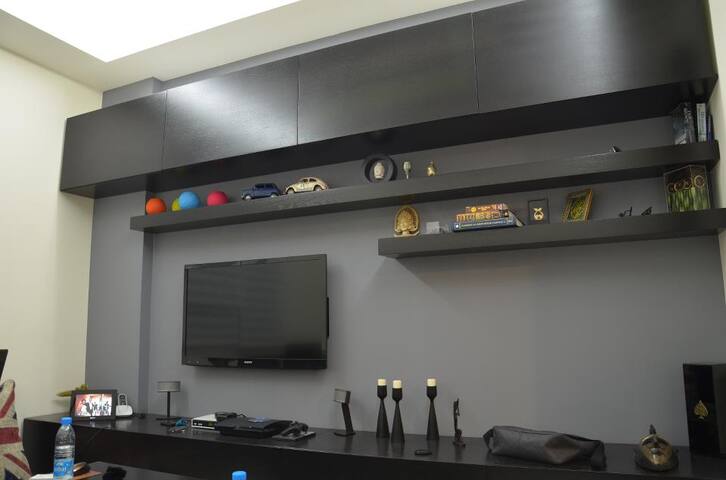 Big Sunny Apartment with wide terrace at the 6th floor , Newly renovated and furnished , with big windows and curtains added recently , air condition, hot water, free Wifi, wooden bed room set, black leather setting room, mountain views, big Terrace can be used for party or BBQ, close to Restaurants, and opposite to one of the Oldest Church in Lebanon, Public Parking available very close to the building, the place is good for couples, business travelers, and families.
The big sunny sitting room with big windows makes my Appartement different , I could make it easily two bed rooms but I preferred to keep it spacious for those who don't like studios or small apartments . There is a complete bed room for two person + 1 leather sitting room with long Sofa that can be used for extra person to sleep, + Terrace sitting set can accommodate 4 seats + Extra sofa in the entrance. - Equipped kitchen with electric cooking plate, kitchen hood and staff, fridge, washing machine, ironing board -Interphone -you will can see a nice view of the mountain from the terrace .
This apartment is located in Sin El-Fil area, East of Beirut , just beside the famous Sayedi Church in Sinelfil. in a quit neighbourhood with1 minutes walking to Sin-Elfil municipality so you can benefit from the public garden there , also walking distance to the famous Joseph restaurant (Rewarded as the most delicious Shawarma in the world in 2015 ) it's 5 minutes driving to Achrafieh and 10 min. driving to Down town. in the street you have bank, grocery, Library and many other shops that you may need .
Hassan was a great host indeed,he is always reachable to answer my concerns and to help. Tereze is a nice lady as well and could answer anything you need if Hassan is not there . The apartment is better than the photos provided in a quiet neighborhood, easy to take the public transportation from and everything you need in the flat is available . I definitely recommend it to anyone seeking for a very clean place , privacy and cosines. when I go to Beirut again will for sure stay there . Thanks Hassan!
Nancy
2016-12-30T00:00:00Z
Appartement was exactly same as on the photos, Hassan was very flexible and online to respond any time, Appartement was on level 6 top floor with a beautiful balcony and sitting area, eveything you need you have it in plus 24 hours electricity, quite residental building with security door at the entry, i will definitly come back here for my next trip
hamze
2016-08-18T00:00:00Z
Hassan was a great host! He was fast to answer any questions I had and made sure I had everything I needed. The apartment is exactly as shown in the pictures and the view from the living room at night is breath taking ! The location is perfect, close to everything you need and it's a very safe neighbourhood . I definitely recommend this apartment to anyone looking for a clean and nice place to stay in Beirut!
Stephanie
2016-10-07T00:00:00Z
L'appartement est conforme aux photos et confortable, il manque cependant l'internet wifi et la climatisation dans le salon. Il est proche de Beirut centre et bien situé. Hassan a été très réactif et très attentionné. Il a répondu à toutes nos demandes. Je recommande !
Bilal
2016-07-14T00:00:00Z
Appartement confortable et bien équipé.électricité 24h internet wifi fonctionne pas mal.Bonne rapport qualité prix.Seul problème quand il fait froid l'air conditionné qui est installé dans la chambre n'est pas suffisant pour réchauffer le salon aussi.Le salon et la cuisine reste trop froid .
Mayis
2017-02-14T00:00:00Z
The stay was convenient in terms of location and practicality of the amenities.
Samer
2017-02-25T00:00:00Z
Hassan is a great host - very helpful and effectively responding on emergencies. Flat is nice - clean, with new renovation, big terrace, nice beds, comfortable dining room. Although as we preferred cooking rather than eating out (Beirut is terribly expensive for that), the kitchen lacks some basic stuff like good knives, plates, pots etc. Also it is only electrical cookers and electricity is not working well in Beirut - frequent power cut offs. There is an independent power generator in the flat, however, it is not always effective. Also it was pretty cold to stay in the flat in January - heating is only in one room and it's an air-conditioner (bear in mind problems with electricity). But in general, it was a great stay. With the flat we were able to explore not only the center parts of Beirut but neighborhoods away from the center. And great price too compared to other apartments available.
Tatiana
2017-01-17T00:00:00Z
We had a great stay at Hassan's place. Very clean and spacious with a great view. Hassan was available for any questions we had. Would definitely stay again!
Ayane
2017-03-21T00:00:00Z
Art der Unterkunft
Ganze Unterkunft
---
Objekttyp
Wohnung
---
Unterkunft für
4
---
Schlafzimmer
Beirut, Beirut, Libanon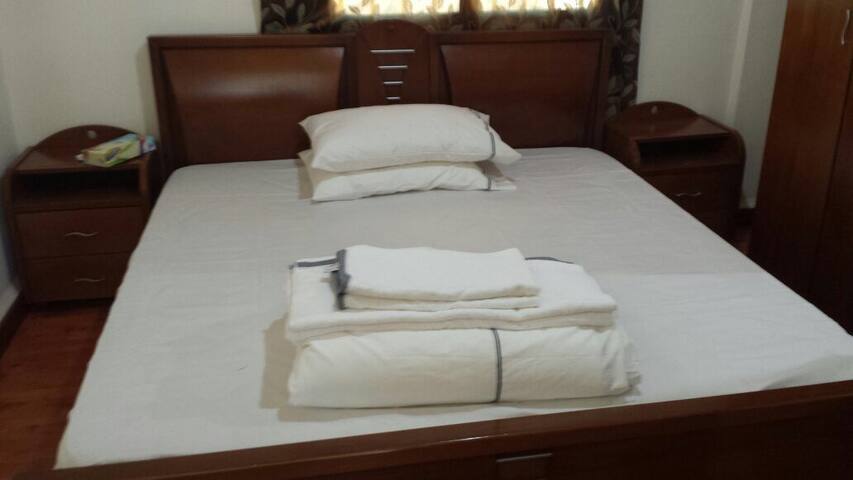 All of our air- conditioned rooms, are fully furnished with chesterfield leather- sofas , Iranian rugs ,fully equipped kitchens, stainless steel units, cutlery utensils, and granite counter tops,thus creating a close to home atmosphere ! Private chauffeur is available,gym ,free wi-fi, flat Tv screens with satellite, and concierge service 24/24. Our guests can access our roof top terrace (day and night ) and enjoy Beirut's view and skyline.
Each of our One-Bedroom apartment offers , a living space with a flat tv screen ,it includes a fully equipped kitchenette and a dining area . Interconnecting rooms are available.
New apartement very clean, quiet and safe neighbourhood Extremely helpful and friendly staff. Would definitely stay here again the next time i visit beirut! Thanks for everything!
sarah
2016-07-14T00:00:00Z
Comfortable one bedroom apartment located next to a major shopping centre and with easy access to the main main highways of beirut. Secure internal parking space available and great customer service. Would recommend for people who know their way around beirut and for those who rent cars while visiting.
Marius
2017-01-03T00:00:00Z
Carine was very helpful and very welcoming The apartement is new in a quiet neighbourhood Would definetly stay here if i visit Beirut again.
sarah
2016-07-11T00:00:00Z
Art der Unterkunft
Ganze Unterkunft
---
Objekttyp
Wohnung
---
Unterkunft für
1
---
Schlafzimmer
Sin El Fil, Mount Lebanon, Libanon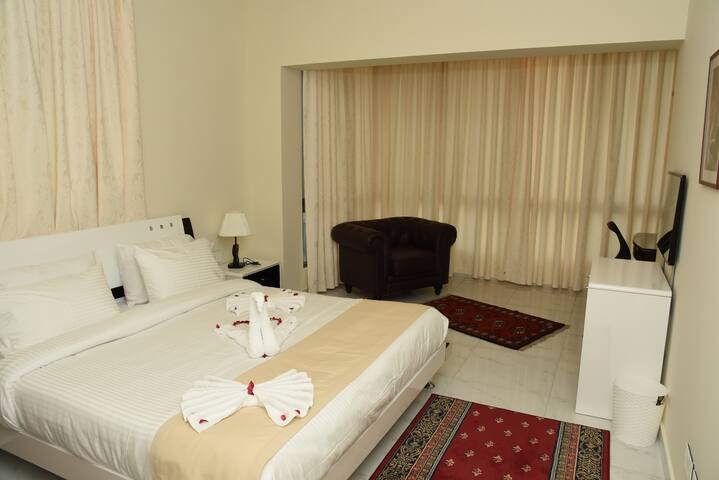 My place is in the heart of the city close to Everything. family-friendly activities, public transport, the airport, nightlife, and the beach. You'll love my place because of the light, the comfy bed, and the coziness. My place is good for couples, solo adventurers, business travelers, and families (with kids). You will have 2 taxis company that will be happy to take you around. You can walk to the museum and to ABC Mall.
It is a Sunny nice apartment with a balcony where you can get a Shisha for 3$ delivered to your place. My apartment is in a very secure area next to everything.
Just next to Hotel Dieu Hospital minutes away from Sassine Square it boasts a favorable setting that allows you to get anywhere by car, or by walking and admiring the charming streets of Ashrafieh.
Très bien pour des baroudeurs
louis
2017-02-19T00:00:00Z
Thanks for you re hospitality
David
2017-01-10T00:00:00Z
This please is cheep to stay its value for money in very quiet and secure place its next to mine market and taxi company and the owner Marwan was so helpful he is there when we needed him he is lovely person , free wifi .
Nada
2017-02-12T00:00:00Z
A great value apartment for 2-3 people in an interesting part of town. If you don't mind hills, it's a walk into the centre. Marwan is an exemplary host and always on hand. Recommended!
Charles
2016-10-19T00:00:00Z
Marwan's flat is situated 10 minutes from Sassin square in a quiet neighbourhood so that it is, as lebanesse do, easy to catch a service for 2000 LBP instead of Trust taxi that is more expensive although around the corner. As shown in the pictures, the flat has one bedroom with 2 single beds as well as a comfortable sofa in the living room so that 3 persons can easily share the flat as my two friends and I did during 4 days. As most places in Beirut, the building and the flat are rather old so if you're aiming at a 4 stars hotel like place this not for you. However if you're looking for an authentic and typical "Beiruti" experience definitely go for it :) You will particularly enjoy the authentic atmosphere of the area where, when walking home at night, you will say hello to men sitting around a table and playing cards whiled drinking tea. Marwan is also a very flexible host who will do everything he can to accommodate you timetable. I for instance mixed up the dates when booking and Marwan very kindly agreed to rearrange the booking dates so that it would suit us. If you have any questions or need any help, Marwan is very easily reachable on his phone and will definitely be there for you.
Camille
2016-09-21T00:00:00Z
The place is clean and in an upscale area close to the most important tourist sites and was very comfortable for our stay, Mr. Marwan very cooperative and gentle person
بلال
2016-11-19T00:00:00Z
The location of the House is not accurate on Airbnb. It's in Achrafieh-- 5-7 minutes away from Hotel Dieu Hospital-- not in Al Hussein street which is in Hamra. The appartment is okay for not more than 2 people, except if you're all REALLY going to squeeze in one bedroom. There is no AC. The bathroom is IN the kitchen. The appartment is not clean. The toilet doesn't flush. I was promised to have it fixed but it didn't. There are ants and cockroaches that can actually be coming in through the big whole (arround 20cm) that is in the wall. I actually had to spend the last two nights in a hotel and gave them back the key one day before the scheduled check out date as I had my stuff in there till that day. The fridge was full of rotten food. In order to get anywhere, you need a cab/service; if you want to walk, it's going to take you at least 25minutes to get anywhere (to ABC mall for example.) Don't use trust taxi--the company near the appartment-- because they're going to rip you off; walk to the main street and take a cab or a service from there! It was Eid so most hotels were fully booked and we couldn't book anywhere else earlier; thus, we had to stay there. Although it's a quiet area, I don't advise anyone to go stay there by him/herself.
massa
2016-09-16T00:00:00Z
Only suitable for 2 if they don't mind suers smell and roaches. No wifi
Mona
2017-04-05T00:00:00Z
Art der Unterkunft
Ganze Unterkunft
---
Objekttyp
Wohnung
---
Unterkunft für
4
---
Schlafzimmer
Beirut, Beirut Governorate, Libanon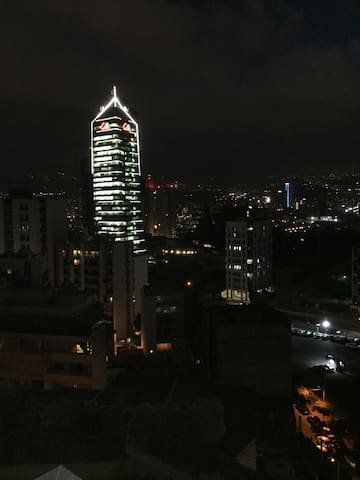 This is a beautiful independent roof apartment in a quiet and new area of Wadi Chahrour. 90 square meters in chalet style. 20-25 mins to airport, museum, downtown, bars and clubs, monot, gemmayze, etc.. Parquet with bed and two sofa-cum-beds and two bunk beds. Beautiful view outside with new terrace and cozy inside with a fireplace. Full kitchen with small fridge. Independent toilet and shower. King size bed. Cupboards and everything else is included too. Electricity, water and hot water 24x7.
Staying at Elie and Alain's place was a pleasure. Communication was prompt and super helpful from the beginning till the end of the process. They were friendly and welcoming hosts and quick to answer any query. The place itself was just as described, a nice, relaxing space with a great view, perfect for a retreat away from the hussle and bustle of the city. The balcony is spacious and comfortable and the studio flat inside was spotless, tastefully decorated, and well equipped. There were clean towels and even snacks provided! Getting there is a little tricky as it is in a secluded area in the mountains of Baabda, but Lebanese taxis drivers are used to finding obscure addresses and Elie supplied the GPS coordinates, which made things much easier. I highly recommend staying here and wouldn't hesitate to come back. Thank you, Elie and Alain, for a great weekend!
Lina
2016-10-24T00:00:00Z
Elie a été tres disponible et attentionné malgré la distance. Son frere nous a très bien accueilli et etait disponible pour nous présenter les lieux et Meme apres pour chacune de nos demandes. L'emplacement est magnifique tres belle vue mais quartier pas très accessible lorsque l'on ne connaît pas.
brunella
2016-09-12T00:00:00Z
I could not have asked for a more caring host (and his brother). The place is secluded and taxis can find it a challenge to find it but it is in a beautiful location, it is a restful place, a place I enjoyed coming back to.
Simon
2016-08-04T00:00:00Z
Our stay was wonderful, the apartment had everything we needed and was perfect. It has a beautiful outdoor terrace where one can relax and sleep on the comfortable long chairs and swing, have a barbecue, and listen to the soothing sound of the river; it also has a beautiful scenery overlooking mountains and hills. The apartment is super clean, it is equipped with everything one might need, a comfortable and cozy bed for couples, sofas which can be turned into beds, TV, fireplace, air conditioning, warm water, internet connection, a small fridge, a microwave, an oven and stoves, a dishwasher, and even guitars, and more... Elie and his brother Alain are super friendly, they were very welcoming and always responded to all our inquiries right away. The neighborhood is super safe, quiet, and secluded from city traffic, and the location is a 15-20 minutes' drive to Beirut (depending on the traffic). This apartment is absolutely amazing and is ideal for a couple or a bunch of friends enjoying their stay in a beautiful area in Lebanon.
Paul
2017-01-11T00:00:00Z
It felt like home since i walked into the door...Elie and his brother made sure i have everything i need, the house was fully equipped and everything in place. Beautiful view day and night, the flat is very cosy, great privacy, and located in a very calm area. I definitely would take it again. Beautiful flat, wonderful host.
Elie
2016-09-17T00:00:00Z
Elie's brother, Alain, took SUCH good care of us. Our flight was delayed 4 hours, so we did not reach the apartment until about 2:30 am. He made sure we made it safely to the apartment and was flexible with our super-late arrival. He was available by (SENSITIVE CONTENTS HIDDEN) during our entire stay and went so far as to help us find a restaurant that would deliver manoushe to the apartment on a day when we were feeling lazy and not wanting to go out. He was there whenever we needed him! Amazing host. Then the apartment has such a gorgeous view. We didn't want to leave! Finally, the host has placed everything one could need in the apartment such as snacks, toiletries, bottles of water, and kitchen utensils. This was one of the best Airbnb stays I have had. Elie and his brother really take care of those who stay here. Thank you to you both!
Tricia
2017-04-02T00:00:00Z
Elie was not there during my whole stay, however his brother there and very very helpful and welcoming. Provided all information and assistance during my stay,
Chatru
2016-08-22T00:00:00Z
Thank you Elie and Alain for hosting us! it was an amazing weekend getaway. I really loved the decoration of the house, very cozy! I would definitely recommend this place!
Mia
2017-01-15T00:00:00Z
Art der Unterkunft
Ganze Unterkunft
---
Objekttyp
Wohnung
---
Unterkunft für
4
---
Schlafzimmer
Baabda, Jabal Lubnan, Libanon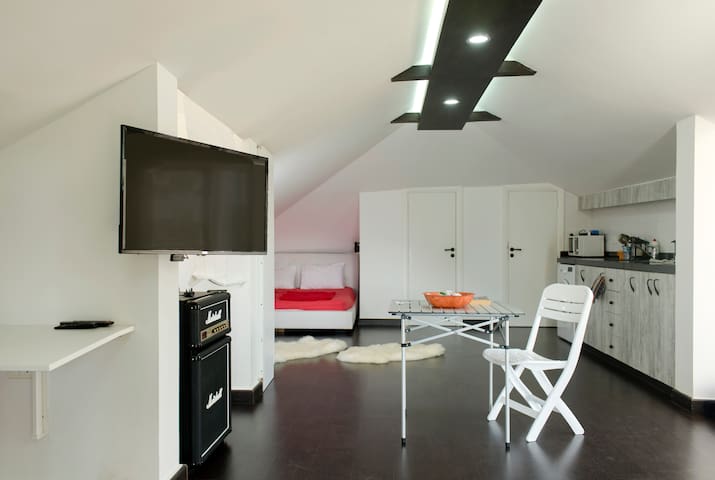 Our 3 bedroom apartment (+maid room with bathroom) is ideal for families (short or long term stay)! Panoramic view (sea & mountain) Fully equipped (brand new furniture & appliances) 24h security 2 underground parking 2 pools Gym Connected to all the main access roads in Beirut
Art der Unterkunft
Ganze Unterkunft
---
Objekttyp
Wohnung
---
Unterkunft für
7
---
Schlafzimmer
Beirut, Beirut Governorate, Libanon
1

–

18

von

+ 300 Wohnungen zur Miete
Gib deine Reisedaten ein, um den aktuellen Preis zu sehen. Es können zusätzliche Gebühren und Steuern anfallen.