Willkommen in unserer Ferienwohnung! :-) Ihr wollt eure Ruhe aber dennoch nicht zu weit abseits sein? Dann seit ihr hier richtig! Erdgeschosswohnung. Eigener Eingang. Keine Nachbarn weder über,noch direkt neben einem. Parkplatz direkt vor der Türe.
Luftline alles ca. Angaben Heinsberg 6km Lago laprello Burgberg Gangelt und Umgebung 7 km Gangelt Wildpark Gangelt Minigolf kahnweiher Bauernmuseum tüddern Selfkantbahn Geilenkirchen und Umgebung 6 km Freizeit Anlage Müllendorf Teverne Heide Hückelhoven, wegberg und Wassenberg 10-20km Flachsmuseum wegberg beek Mineralien und Bergbau Museum Hückelhoven Effelder Waldsee - Amici beach -
Sehr nette Unterkunft, sauber, alles wie beschrieben. Kann man nur wärmstens weiter empfehlen.
Roman
2017-03-23T00:00:00Z
Art der Unterkunft
Ganze Unterkunft
---
Objekttyp
Wohnung
---
Unterkunft für
3
---
Schlafzimmer
Heinsberg, Nordrhein-Westfalen, Deutschland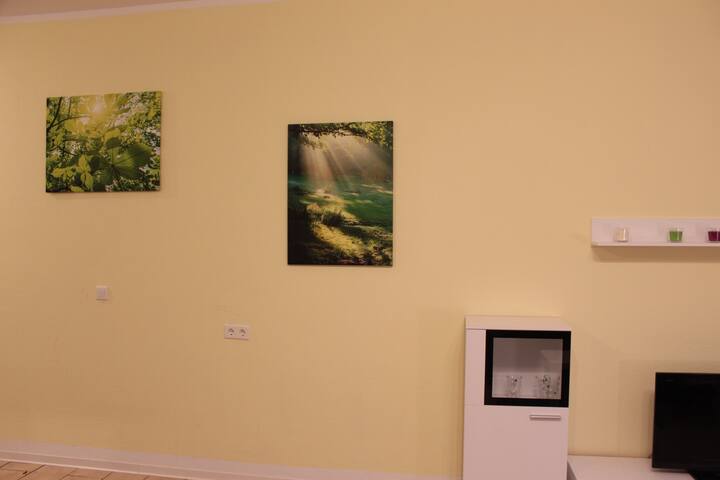 The appartment is located nearby NATO Airbase Geilenkirchen and short distance to country romantic or shopping mall. You can find the calm area near the woods with wide gras fields and open water, same as super market, gas station or restaurants only few minutes away.
In the basement of our house the open rooms are for rent. From the main entrance the stairs lead you to the hall down, where you can store your luggage or warderobe. When you enter the big room with kitchen and living room, your view goes out to the garden on the backside of the house. All other rooms are separated from here.
Many atractions in 20 minutes distance arround this place. 40 Minutes to the bigger cities of Aachen, Maastricht, Cologne or Düsseldorf.
Prima di tutto voglio dire che Ralf e sua moglie Christina sono due persone fantastiche. Sempre amichevoli e discrete ci hanno accolto con classe e semplicità. Mi sono sentito come a casa. La location rispecchia assolutamente la presentazione, forse è pure meglio dal vivo. È veramente difficile trovare le parole giuste per manifestare il mio entusiasmo per questa mia permanenza qui. Io consiglio questa location a tutti quelli che verranno in futuro a Gk, specialmente agli italiani. Grazie Ralf and Christina
Pasquale
2016-09-01T00:00:00Z
This place is a great place to stay. Ralf and his wife are awesome people who are available for your every need. The place is VERY clean and in a great location. I would stay here again and recommend it to everyone.
Ida
2017-03-28T00:00:00Z
Ralf and his wife were great hosts. I strongly recommend this place for your stay.
Ediz
2017-02-01T00:00:00Z
Art der Unterkunft
Privatzimmer
---
Objekttyp
Wohnung
---
Unterkunft für
2
---
Schlafzimmer
Geilenkirchen, Nordrhein-Westfalen, Deutschland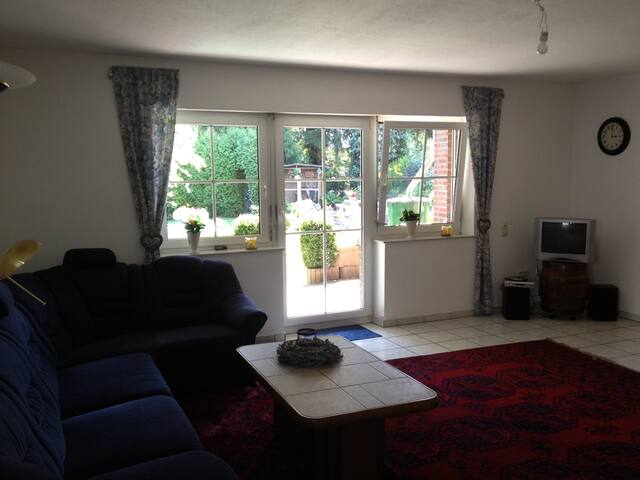 Ganz und ruhigen Viertel im Süden der Niederlande. 20 km vom Stadtzentrum von Maastricht
Eigener Eingang. Es gibt ein geräumiges Wohnzimmer, Schlafzimmer mit großem Doppelbett, separater Dusche und WC und eine Mikrowelle mit Tee- und Kaffeekocher (Nespresso) und einen Zugang zum Garten mit eigenem Parkplatz.
Nizza ruhigen Nachbarschaft mit nicht viel Verkehr oder noices. Rathaus ist in unserer Straße hinunter entfernt.
Het verblijf in het appartement in Brunssum was erg prettig. Mooie lokatie, een prettige ontvangst, goede bedden en verder van alle gemakken voorzien. Ook de ligstoelen in de tuin waren erg fijn in het zonnetje! Een aanrader!
Saskia
2016-08-08T00:00:00Z
We had a great stay in Brunssum. The hosts were very kind and welcoming, they provided us with everything we needed. The apt was cosy, clean and big enough for three of us (although we didn't spend that much time there). We needed a last-minute accomodation for the Amstel Gold Race cyclo, if which the start was about a half hour bike ride away. Lastly, the town of Brunssum is home to enough nice restaurants, a pick-and-mix with something for everyone. Can't really say a bad thing about anything regarding our stay, really.
Dirk
2016-04-18T00:00:00Z
We had a wonderful stay at Maud's place. The owners made us feel so welcome and like we were staying in our own home. Great location to make you feel like you are actually living like the Dutch. Short drive to many different attractions and things to see. We had a great time and would highly recommend this stay!!!
Emily
2016-09-02T00:00:00Z
Voor ons een ideale locatie om een familie bezoek af te leggen. Het appartement was schoon, netjes en van alle gemakken voorzien. Voor ons zeker een adres om te onthouden voor toekomstige familie bezoeken.
Ron
2017-04-09T00:00:00Z
Art der Unterkunft
Ganze Unterkunft
---
Objekttyp
Wohnung
---
Unterkunft für
4
---
Schlafzimmer
Brunssum, Limburg, Niederlande
Mijn ruimte is vlakbij echt,sittard roermond. 30 km van maastricht, parken. Je zult genieten van mijn plek vanwege het comfortabele bed, de gezelligheid en de keuken. Mijn ruimte is geschikt voor stellen, solo-avonturiers en zakelijke reizigers.
Art der Unterkunft
Privatzimmer
---
Objekttyp
Wohnung
---
Unterkunft für
2
---
Schlafzimmer
Koningsbosch, Limburg, Niederlande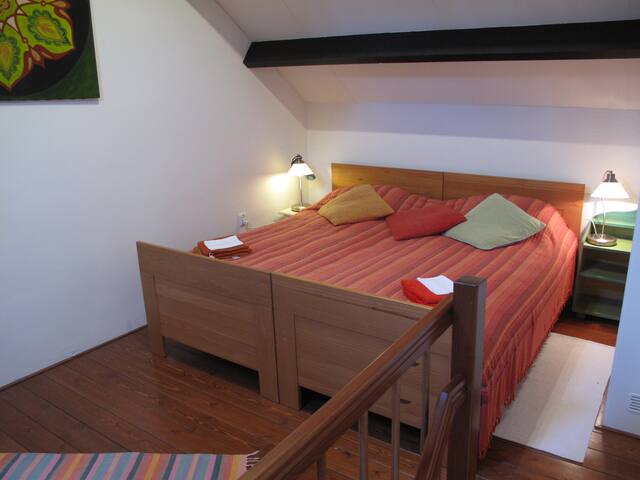 Nice place located at natural park Brunsummerheide (park on walking distance from the apartment. Very near to nice cities as Maastricht ,Valkenburg Aken(Germany) Luik(Belgium) Maasmechelen Belgium. Nearby to Zoo and Snowworld (indoor ski)
Very private and cozy in natural surounding. warm in winter and cool in summer. all necesseties are availabel in the apartement. Free wifi and touristic information of the area availabel. Nice area to ride a bike or hiking in area. The place is always hygenic and clean when guest(s) arrive. very comfortable for 2 persons. Also invalid/disabled friendly no stairs.
Its very calm and safe to live here. Friendly people in neighbourhood. Most off them are individuals that don`t bother others.
Vitria ist eine flexible, zuverlässige, sympathische Gastgeberin und die Unterkunft ist zweckmäßig und enthält alles was man braucht. Wir kommen gern wieder.
Astrid
2016-07-18T00:00:00Z
We had a wonderful stay in Heerlen at Vitria's. We were welcomed by her and her husband, given the tour and also provided a book to help us with our stay at the home. Thet even have a significant amount of guides and literature about the area and attractions, with an offer to help us if we had any questions for our stay. The home is as described and photos are an accurate representation. The covered patio and yard are especially appealing unfortunately the weather did not cooperate. We were on town for he annual rock festival Pinkpop and it was an easy commute by one bus to it, and a quick taxi back. Whenever I have a need for a stay in Heerlen, I will be checking to see if Vitria"a place is available. Thank you again for a great time!
Rob
2016-06-14T00:00:00Z
Perfect location for out itinerary - they were more than helpful during our stay!
Joseph
2015-08-03T00:00:00Z
Siamo stati accolti con gentilezza e calore da Vitria e suo marito, che ci hanno fornito utili consigli per visitare la zona. La casa è comoda, pulita e curata, dotata di tutto il necessario. Abbiamo apprezzato molto il giardino per la colazione e la cena. Il quartiere è tranquillo e silenzioso. C'è un grande supermercato a meno di 1 km dalla casa. Appartamento ideale per chi vuole restare vicino alla città e allo stesso modo non molto distante dalla bella campagna circostante.
RENATA ROSARIA
2016-08-28T00:00:00Z
We loved staying at this cosy studio apartment. It has everything we needed and was great value. The hosts were very friendly and the apartment actually had more than we expected (an exercise machine!) and felt very homey (they put a little Xmas tree in the apartment as we were there leading up to Xmas Day). We'll be back next time we're in Limburg!
Cindy
2014-12-25T00:00:00Z
Vitria and her husband welcomed us. They were so kind and Show us all the amenities. It has only one Room with bathroom and small kitchen. A Little bit small for family with children but good for two person. And also a garden is (URL HIDDEN) was a lowely stay for us.
mustafa
2016-03-10T00:00:00Z
It was my second time to Vitria's place and the 3rd time (or 4 i don't remember) for my mother. We always have a very nice time to her place. We got a present because of our "fidelity" to her place and we still had a perfect stay. Everything is very clean, we feel like at home. The bed is really comfortable and very big, the bathroom perfect and the small kitchen is very useful ! We didn't use the terrace because it's the winter, but it's really nice !! We will go back in any case.
Sarah
2016-02-03T00:00:00Z
Nice place, clean and according to description. Nice host, very customer friendly.
Menno
2016-08-06T00:00:00Z
Art der Unterkunft
Ganze Unterkunft
---
Objekttyp
Wohnung
---
Unterkunft für
3
---
Schlafzimmer
Heerlen, Limburg, Niederlande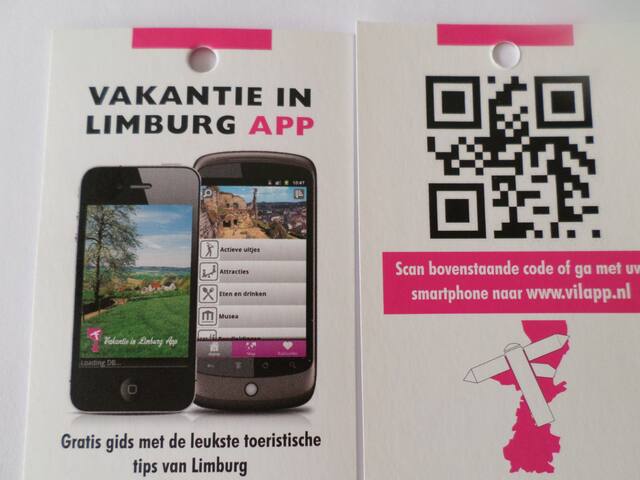 Das Zimmer hat ein Hochbett und einen Schreibtisch.Küche,Bad,WC und große Diele mit TV zur gemeinsamen Nutzung.
Die Umgebung ist ruhig,aber man kann in 13 Minuten zu Fuß den Bahnhof und alle notwendigen Geschäfte und Restaurants erreichen. Eine Imbißstube ist nur wenige Meter entfernt.
Hallo zuerst vielen Dank für Frau Antonie ,Sie waren ganz nett, ganz angenehm Zimmer ,4 Nächte waren so wie ein Traum ,gerne wieder. Mit freundlichen Grüßen
mohamed
2015-12-03T00:00:00Z
Obwohl ich meine Ankunftszeit geändert habe, gab es eine einfache Lösung. Wie es besprochen war, habe ich alles vorgefunden. Für den Preis eine super Unterkunft-gerne wieder
Heike
2016-07-11T00:00:00Z
Alles bestens. Gute und ruhige Atmosphäre. Schöne Wohnung und das Zimmer war sehr sauber. Antonie war sehr nette Gastgeberin!
Ruslanas
2015-05-30T00:00:00Z
Ich war einen ganzen Monat bei Antonia. War alles super! Habe mich wie zuhause gefühlt. Sehr nette Gastgeberin, hat auch immer gute Tipps gegeben. Und die Lage der Wohnung ist optimal. Alles gut zu Fuß erreichbar aber trotzdem ruhig! Hatte eine schöne Zeit hier!
Ti
2015-06-30T00:00:00Z
Ich habe meinen sechstägigen Aufenthaltin Geilenkirchen als äußerst angenehm empfunden. Antonia war eine hilfsbereite und unkomplizierte Gastgeberin, und die Unterkunft war sehr komfortabel. Danke!
Georg
2015-09-01T00:00:00Z
Das Zimmer war sauber und aufgeräumt - wie beschrieben. Das Haus liegt in einer ruhigen Seitenstr. und die Anbindung an die Autobahn ist ebenfalls gut. Die Gastgeberin ist nett und zuvorkommend.
Frank
2016-01-15T00:00:00Z
Antonie ist sehr nett, ich konnte mein eigenes Ding machen, kommen und gehen, wie ich wollte und auch sonst war es wie in einem personalisierten Hotel. Das Zimmer war sauber und ordentlich. Gut fand ich das von ihr zur verfügung gestellte w-lan, ich konnte mich regelmäßig über geschäftliche Dinge informieren. Ich empfehle jedem die Übernachtung, der mit Hochbetten kein Problem hat :)
Maria-Elena
2016-07-21T00:00:00Z
Die Wohnung war sauber, gut eingerichtet und gut zu erreichen. Gastgeberin war sehr freundlich und zuvorkommend. Die Küche und das Bad stehen zur Benutzung und sind schön und modern. Einziges Manko ist das Bett.. Es ist ein halbes Hochbett in das man kompliziert reinklettern muss.
Anni
2016-08-20T00:00:00Z
Art der Unterkunft
Privatzimmer
---
Objekttyp
Wohnung
---
Unterkunft für
1
---
Schlafzimmer
Geilenkirchen, Nordrhein-Westfalen, Deutschland
Onze studio, 25m2 , geschikt voor twee personen, is van alle gemakken voorzien. Landelijk gelegen, op een steenworp afstand van diverse fiets- en wandel-routes, en met Sittard, Aken en Maastricht op nog geen half uur rijden met de auto, een ideale plek om er eens lekker tussenuit te gaan.
De studio met eigen ingang, eigen terras en eigen parkeerplek. Keuken en badkamer in de studio, gehele zelf verzorging mogelijk. Eigen ontbijtplekje
Ons huis ligt in een klein grensdorp (1000 inw). Op kleine afstand (20m) vanaf het appartement bevinden zich de start van diverse fiets en wandelroutes.
Wir haben das erste mal bei airbnb gebucht. Uns wurde gleich angeboten das wir vom Bahnhof abgeholt werden und am nächsten Tag auch wieder weggebracht werden ;-) Es hat alles super geklappt- DANKE - Margo und Hein warteten schon am Bahnhof auf uns und haben uns in die tolle Unterkunft gefahren. Auf uns wartete schon ein Willkommensgruß, frische Hand/Duschtücher... und das in einem richtig sauber und liebevoll eingerichtetem 1ZimmerAppartement. Das Frühstück war sehr abwechslungsreich und reichlich. Margo und Hein sind sehr freundliche und aufmerksame Gastgeber. Jederzeit wieder!
Ute
2016-11-09T00:00:00Z
Bij aankomst werd ons direct een zelfgebakken taart met thee aangeboden en hadden we een leuk gesprek over de omgeving en wat er allemaal te doen was. De uren voor het ontbijt mochten we elke dag aanpassen, en of het ontbijt lekker was. Ze was zeer behulpzaam, zeer vriendelijk en respecteerde onze privacy. Top!
Seppe
2016-11-01T00:00:00Z
Margo was a great host. I didn't have much time to socialize as I was sleeping and showering there while I was moving out of my home, but she had the perfect spot to rest and relax after my long days. She was very accommodating for my odd schedule. Couldn't ask for more.
Vickie
2015-08-20T00:00:00Z
Lovely host, very friendly and helpful. Great little apartment with all amenities you can think of, in a quiet village with great bioshop!! Perfect arrival with a bottle of wine available, greatly appreciated.
Andrea Louise
2015-09-07T00:00:00Z
Eşim ve ben 10 gün, ayrıca oğlumuzun da bu süre içerisinde 3 gün bize katılarak kaldığımız bu şirin sınır kasabasında Margo ve Hein tarafından son derece güler yüzle ve misafirperver bir şekilde ağırlandık.Yatak takımları, banyo ve mutfak malzemeleri son derece temiz ve kullanışlıydı.Kendimize ait araç park yeri ve internet kullanımı olması da çok önemliydi.Tekrar buralara gelirsek kalmayı tercih edeceğimiz bir yer.Misafirperverliğiniz için çok teşekkürler Margo ve Hein.
Caycay
2015-06-22T00:00:00Z
Margo en Hein heel lieve mensen, waren direct in de weer om te helpen waar ze konden. Fantastisch lekker ontbijt!
Ann
2015-07-25T00:00:00Z
Onze ervaring is zeer positief. Een warm welkom met kopje thee en Limburgse vlaai, drankjes die klaar stonden en een perfect appartement. Ontbijt was fantastisch. Ondanks het feit dat Margot nog andere zaken aan haar hoofd had heeft het ons aan helemaal niets ontbroken. Zeer dank !
Bart
2016-08-10T00:00:00Z
Erg vriendelijk onthaal
Ingeborg
2016-07-17T00:00:00Z
Art der Unterkunft
Ganze Unterkunft
---
Objekttyp
Wohnung
---
Unterkunft für
2
---
Schlafzimmer
Selfkant, Nordrhein-Westfalen, Deutschland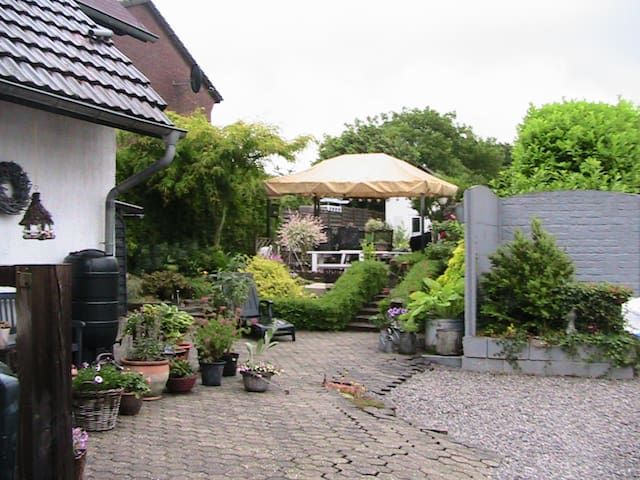 Mediterran eingerichtete Wohnung mit großen Bad, Küche, Wohnzimmer und Schlafzimmer mit begehbarem Kleiderschrank. Zu Fuß: 2 min. Zentrum mit Geschäften, Supermärkten, Restaurants, Cafés und großen Parks. Bus - 15 Minuten mit dem Bus zum Bahnhof. Im Umkreis von 15 km: Heerlen Valkenburg GaiaZOO snow World Mondo Verde Roda JC Ring Woonboulevard Heerlen Amusement Falconer Im Umkreis von 30 km: Maastricht Aachen Outlet Roermond Outlet Maasmechelen Mosaqua Dreiländereck
Sehr geräumige Wohnung mit eigenem Eingang. Es gibt ein geräumiges Badezimmer mit Waschmaschine und Trockner, WC, Dusche
Zu Fuß: 2 min. Center mit Geschäften, Supermärkten, Restaurants, Cafés und einem großen Park. Mit dem Auto / öffentlichen Verkehrsmitteln: Maastricht Outlet Roermond Outlet Maasmechelen Mosaqua Dreiländereck Bushaltestelle 2 Min. Zu Fuß und 15 Minuten über Station Heerlen zu tun
Art der Unterkunft
Ganze Unterkunft
---
Objekttyp
Wohnung
---
Unterkunft für
2
---
Schlafzimmer
Brunssum, Limburg, Niederlande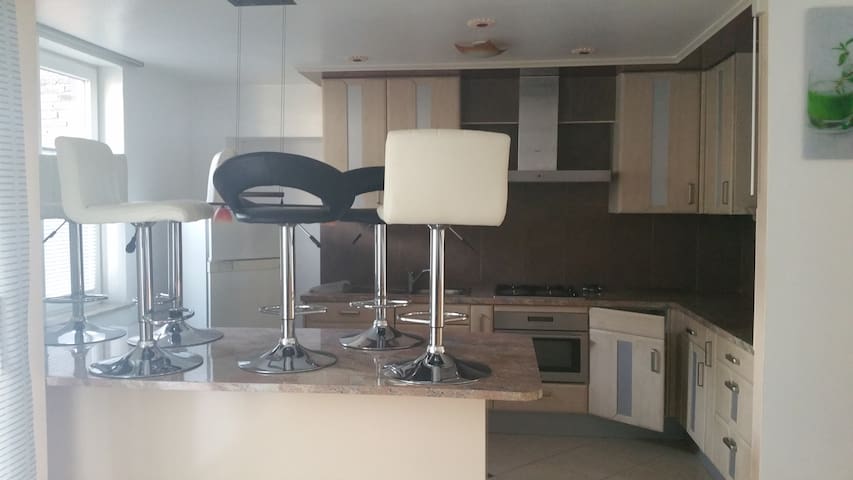 Possibly the most beautiful place right next to a nature reserve, but also close to the city hustle of Maastricht and Sittard (Holland), Aachen and Dusseldorf (Germany) and Maaseik (Belgium) The famous Pieter Pad trail goes right through our village
Our guests can use the entire 60 m2 appartment including a complete kitchen and bathroom, a very large 5m x 5m bedroom and a cosy livingroom with direct access to the beautiful garden.
Step outside and you're at the start of the nature reserve. Enjoy the space and relax or go on a nice hike or even mountainbike tour! If you're looking for more city life, with a car you're in Sittard centre within 10 minutes.
Sehr ruhige angenehme Unterkunft. Auch gut geeignet für Familien.
Ottmar
2017-03-30T00:00:00Z
Wat was het goed! Netjes, verzorgd, niet stoffig (vaak bij andere b&b's wel ;)) leuke spullen, goede ruimte. Ontbijt was compleet, extra bed was opgemaakt. Alles was fris en prettig! Pluspunt: de aardige en snelle communicatie! AANRADER!
Mirthe
2016-06-12T00:00:00Z
The night in Selfkant was a great experience! We wanted to have a day of relax during our trip around Netherland, and Anja's place is right on the way to Maastricht. Best welcome ever!, the whole family friendly and easy-going, they made everything to let us feel at home. Special mention to the smallest one of the family, simply adorable! Everything was simply perfect, highly recommended! :)
Dino
2016-07-11T00:00:00Z
Een heerlijke rustige plek om te overnachten. Uitzicht over de landerijen met als je geluk hebt een voorbij wandelend reetje. Je kunt lekker in de tuin zitten, Anja en Frank zijn heel vriendelijk en gastvrij!
Nienke
2016-03-30T00:00:00Z
What a wonderful stay at this beautiful apartment. Everything you could need and the most accommodating host! Especially the garden candles to light the way! Thank you Anja, looking forward to staying again very soon!
MalcolmL84
2016-08-21T00:00:00Z
Het was precies wat we hoopten. Even helemaal weg en uitzicht op groen. We hebben direct in de tuin gezeten en ons zoontje ging meteen spelen. Anja heette ons welkom en kwam ook af en toe een praatje maken. Met vragen konden we terecht. We hebben ook heerlijk gewandeld, zo de straat uit het wandelpad op. En met de auto zijn de winkels makkelijk bereikbaar. Deze b&b vinden wij een aanrader!
Ineke
2016-10-07T00:00:00Z
100% recommended!!! We arrived in the evening (as agreed before), Anja was prepared in front in the house, very pleasant, friendly and communicative. She immediatelly showed us the accomodation, everthing nice and clean. As a bonus she gave us breakfast. If you want to stay in this area, do not hesitate to contact her.... BR, Tomas
Tomáš
2016-03-27T00:00:00Z
Anja and her family delivered an excellent stay. They were flexible with our arrival and checked several times to see if we had any other needs. She did a great job of replying to all my inquiries. Breakfast (for a small extra fee) was great and helped us start off on the continuation of our adventures in the area. We were visiting Aachen Germany and Maastricht Netherlands. Quiet, bucolic and well priced is how I would sum things up. She did a great job and we would recommend her home to anyone who has scheduled visits in the area - You probably need a car to get the best benefit out of her location.
David
2016-10-09T00:00:00Z
Art der Unterkunft
Ganze Unterkunft
---
Objekttyp
Wohnung
---
Unterkunft für
6
---
Schlafzimmer
Selfkant, Nordrhein-Westfalen, Deutschland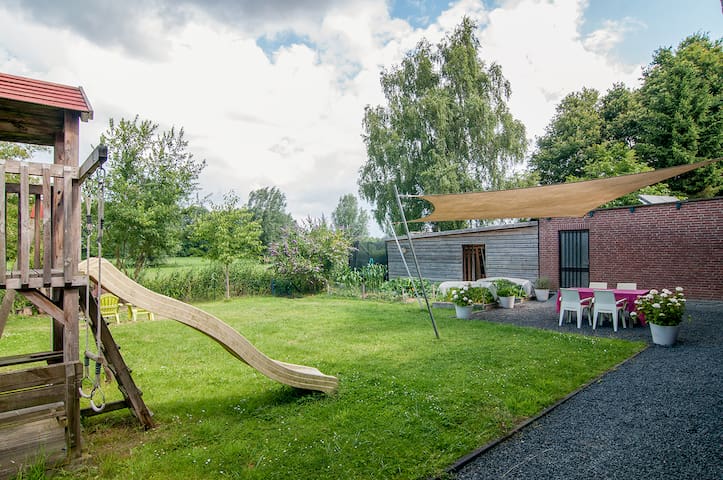 Die Wohnung befindet sich im Zentrum von Sittard. Es gibt viele Cafés, Restaurants, Geschäfte. Sie können ein Auto kostenlos auf der Straße parken, die nicht weit von der Wohnung entfernt werden
Die Wohnung befindet sich genau im Zentrum von Sittard. Es gibt kostenlose Wi-Fi. Gratis Parkplätze. Viele Geschäfte und Cafés in der Nähe der Wohnung. In der Küche können Sie alle notwendigen Geräte, Olivenöl, Salz, Pfeffer, Kaffee, etc. Bettwäsche, Handtücher, Shampoo, Seife enthalten sind finden.
Viele Geschäfte, Cafés, Restaurant. Gratis Parkplätze.
Super Preis-Leistungs-Verhältnis! Der Vermiter ist freundlich und sehr flexibel. Die Unterkunft ist mit allen wichtigen Dingen ausgestattet. Wir würden jederzeit wieder buchen!
Katja
2016-02-25T00:00:00Z
Position: Central position in Sittard, parking place not far, House : Clean, comfortable, wifi good, well heated, Guido: prompt communication, flexible, understanding, Stay again: I would stay again for sure(URL HIDDEN)
shaqir
2016-02-17T00:00:00Z
Wij hebben drie nachten in het appartement overnacht tijdens de vastelaovend in Sittard. Het appartement ligt op de eerste verdieping. Het contact met Guido verliep prima. Het appartement is eenvoudig, maar alles is aanwezig. Shampoo, doucheschuim, handdoeken, senseo koffiepads ect. Welkom met een flesje wijn en het bed is prima. De locatie is heel centraal, 5 minuten lopen van de markt en parkeren is geen probleem. Luchtbed bijplaatsen voor een derde persoon was geen probleem. Kortom een prima en voordelige plek voor een bezoekje aan Sittard
olof
2016-02-09T00:00:00Z
Gewoon een prima plek om te overnachten op loopafstand van het centrum, precies wat we zochten
Rene
2017-01-28T00:00:00Z
Sleutel bij bovenbuurman; verhuurder in het geheel niet gezien. Prima appartement op loopafstand van het centrum.
Marinus
2016-05-13T00:00:00Z
Nice and centrally located. Clean and comfortable.
Nicholas
2016-08-25T00:00:00Z
You get what you pay (URL HIDDEN) is in a great location close to plenty of shopping and restaurants within walking distance. We didn't meet Guido but his neighbor Dave set us up with the apartment. It's down a kind of shady alley and looks pretty run down from the outside. You have to walk up about two flights of steep narrow stairs so it's best if you don't have a lot of luggage. The apartment was small and old, but it was clean. If all you plan to do is sleep there it isn't bad, but for an extended stay I would look elsewhere.
Shawna
2016-09-22T00:00:00Z
Locatie prima mooie ruimtelijke ruimtes veel licht midden in de stad
Caroline
2016-12-12T00:00:00Z
Art der Unterkunft
Ganze Unterkunft
---
Objekttyp
Wohnung
---
Unterkunft für
4
---
Schlafzimmer
Sittard, Limburg, Niederlande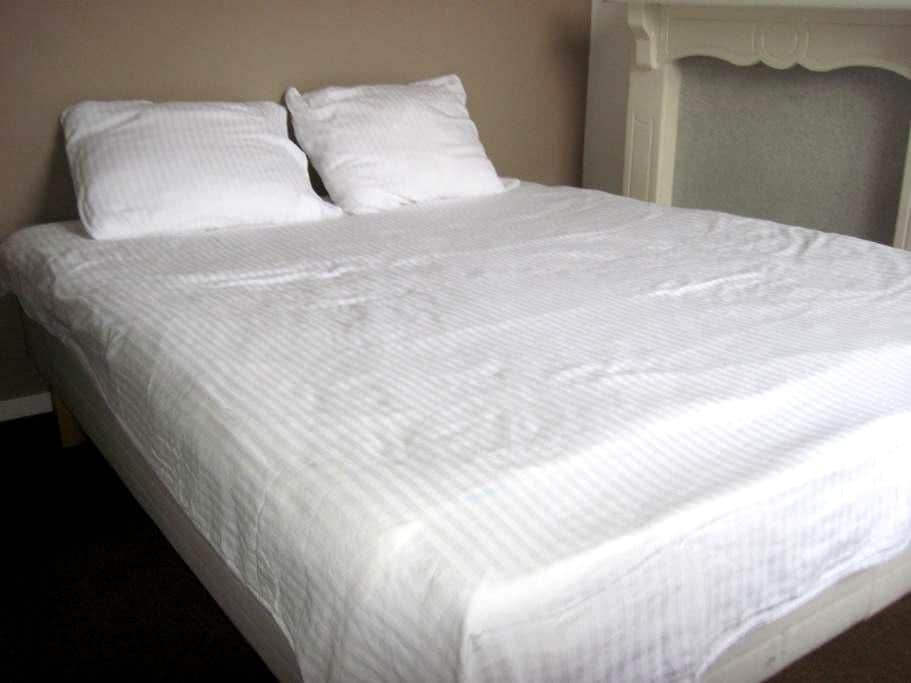 Brand new Haus auf einer Ranch auf einer strategisch günstigen Lage. Alle ursprünglichen Elemente wurden in dieser kompakten renovierte Wohnung erhalten. (40m2) Garniert mit Luxus, wirklich gut ausgestattet. Willkommen in Sittard!
Luxus-Wohnung in einem renovierten Bauernhaus, Beibehaltung ursprünglichen Eigenschaften!
Nahe dem Zentrum, Bahnhof und der Autobahn! Maastricht, Heerlen und Roermond 20 km
Das Apartment war genau wie beschrieben. Sehr gemütlich. Uns hat es sehr gut gefallen :)
Karsten
2016-08-21T00:00:00Z
Der Gastgeber war sehr zuvorkommend und die Unterkunft haben wir in einem sehr sauberen Zustand angetroffen. Es war alles vorhanden, sogar eine Waschmaschine und eine Kaffeemaschine. Sogar der Ofen war eingeheizt!
Thomas
2016-12-18T00:00:00Z
Tweede keer geboekt, wederom bijzonder tevreden. Een echte aanrader!
Sanne
2016-11-19T00:00:00Z
Heel mooi en schattig huisje waar mijn vriend en ik heerlijk hebben geslapen. Auto gratis voor de deur. Heel vriendelijk ontvangen door Danny's vriendin. Via de TV met internet kun je netflix series kijken of EK voetbalwedstrijden, top! Alles wat je nodig hebt en ook dichtbij het station van Sittard, zodat je binnen 20min in Maastricht bent en dan geen gezeur hebt met betaald parkeren. Dank Danny!
Ivy
2016-06-20T00:00:00Z
Super appartement nabij alle voorzieningen! Danny weet zijn gasten goed te verwennen!
Joost
2015-12-18T00:00:00Z
Danny heeft ons warm ontvangen met een knisperend haardvuurtje en een korte rondleiding gegeven van het huisje! We sliepen er met zijn vieren en het is goed bevallen. Het huisje is compact maar is toch van alle gemakken voorzien. Sittard is leuk in de decembermaand en het is makkelijk vanaf hier af te reizen naar Maastricht.
Jinwen
2015-12-20T00:00:00Z
We had a lovely overnight stay in Sittard. Danny arranged a time to meet us and had lit the wood-burning fire before we arrived. The apartment is a design gem, mixing rustic architecture with sleek and modern fixtures. It was very comfortable, fully stocked, and super clean. We felt very welcome and at ease. Sittard is bustling and has enough to do for a day or so. We visited the contemporary art gallery in a new multi-purpose building as well as the historical museum. The town square is beautiful and filled with bars, cafes and restaurants. There are many shops and boutiques and at night a walk around the old walls is a definite plus. All in all, we had a very easy and relaxing visit. We can recommend Danny as a friendly and accessible host and the apartment is perfect. Thank you.
Stuart
2016-11-27T00:00:00Z
We had a great time in Sittard. Danny greeted us in front of the door and showed us around, he was very forthcoming and considerate. The flat was very cute, stylish and clean. We were very happy and strongly recommend visiting!
Judith
2016-05-09T00:00:00Z
Art der Unterkunft
Ganze Unterkunft
---
Objekttyp
Wohnung
---
Unterkunft für
4
---
Schlafzimmer
Sittard, Limburg, Niederlande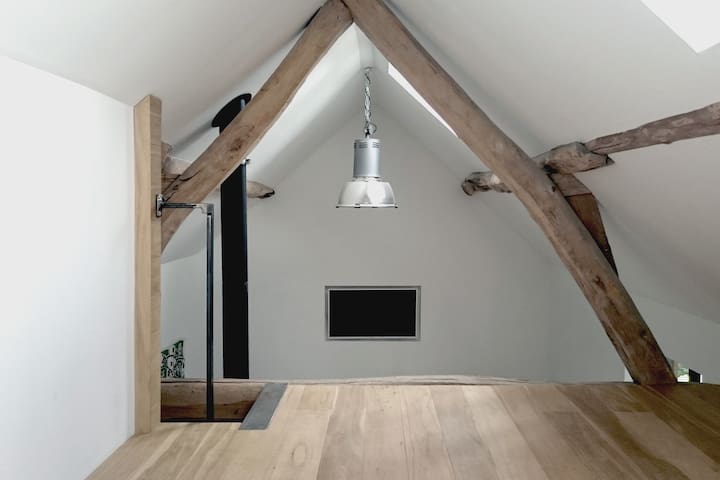 Sauber, ruhig, privat und in der Innenstadt! Alles, was Sie brauchen, ist hier. Also machen Sie sich wie zu Hause!
Ich würde es begrüßen Sie in meiner Wohnung in sittard bleiben über. Es ist in der Nähe der Centralstation und in der Mitte der Stadt Zentrum entfernt. Sie können ganz einfach in nur 15 Minuten von Maastricht mit dem Zug besuchen. Für Abenteuer mit dem Fahrrad oder in der Natur gibt es viele große Chancen in der Nähe ... Die Wohnung verfügt über eine voll ausgestattete Küche, ein Badezimmer mit Dusche und ein Schlafzimmer mit Doppelbett. Außerdem gibt es im Wohnzimmer Schlafcouch. es hat auch den freien Zugang von Internet und Digital-TV. Sie sind berechtigt, alles zu verwenden, die Sie benötigen und natürlich, ich respektiere Ihre Privatsphäre. Wenn Sie Fragen haben, zögern Sie nicht, sie zu fragen .. ich werde glücklich sein, Ihnen zu helfen, wo ich kann. Wenn Sie für eine sichere und gute Adresse im Süden von Holland suchen, sind Sie an der richtigen Adresse! Fühlen Sie sich wie zu Hause! Hinweis: Ich will hier nicht während Ihres Aufenthaltes schlafen, aber Sie können mich immer anrufen!
Maud ist eine sehr gute und freundliche Gastgeberin. Ihr Appartement ist geschmackvoll und praktisch eingerichtet. Die Lage ruhig und zentral. Sehr zu empfehlen.
Marc
2016-05-07T00:00:00Z
Studio is top! Erg netjes, van alle gemakken voorzien en top qua locatie.
Yolanda
2017-03-31T00:00:00Z
Goede en fijne ontvangst. Maud is erg behulpzaam en reageert direct.
Marcel
2016-08-05T00:00:00Z
Veel contact, goede informatie, zeer goede ligging.
paul
2016-07-18T00:00:00Z
Prima plek om te verblijven. centraal gelegen in de winkelstraat en toch rustig. mooi verzorgd appartement en Maud is een hartelijke gastvrouw. Ik voelde me meteen thuis.
Benny
2016-04-07T00:00:00Z
Heel fijn dat we last minute nog bij Maud konden komen! Alles was netjes, het was knus gemaakt, super! Aanrader voor iedereen!
Inger
2017-01-21T00:00:00Z
We have spend one night at Maud's place and it was lovely! Maud is a great host who is extremely thoughtful and wants to make your stay perfect in every aspect. I would definitely recommend her place.
Ayse
2017-02-12T00:00:00Z
The host canceled this reservation 13 days before arrival. This is an automated posting.
Cami
2017-02-02T00:00:00Z
Art der Unterkunft
Ganze Unterkunft
---
Objekttyp
Wohnung
---
Unterkunft für
4
---
Schlafzimmer
Sittard, Limburg, Niederlande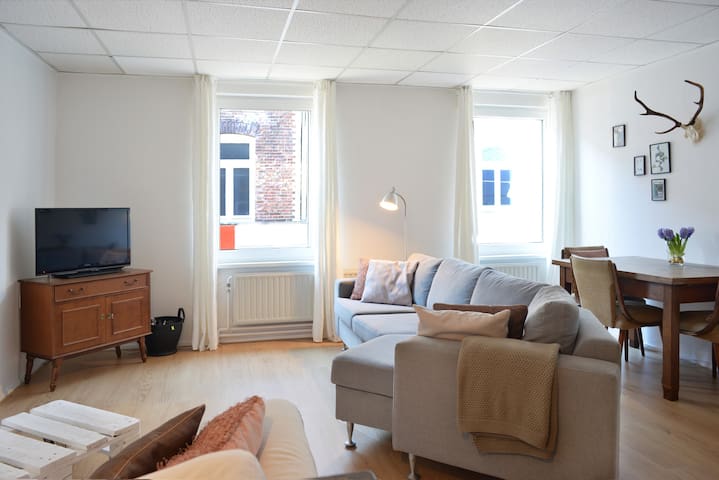 Beautifully located and quiet ownthoyse. Lots of light and large living room with open kitchen. Two bedrooms with double beds. Bathrooms with bath, shower and sink. Room with washer and wasdroger.een parking garage. Good position to visit Maastricht, Sittard, Aachen, Liege, Etc.
Art der Unterkunft
Ganze Unterkunft
---
Objekttyp
Wohnung
---
Unterkunft für
4
---
Schlafzimmer
Hoensbroek, Limburg, Niederlande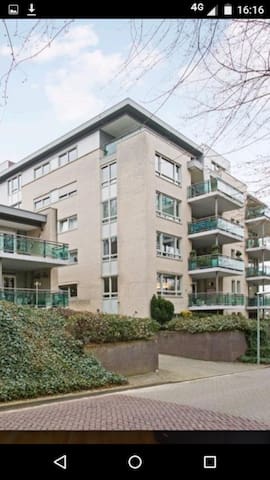 Wohnung Wohnheims im Erdgeschoss, Wohnzimmer, Küche und Bad im ersten Stock und 3 Schlafzimmer im 2. Stock. Balkon an der Rückseite des Hauses (1 bis 3 Meter). Parkplatz kostenlos auf der Straße.
Ruhige Straße, wenige Minuten zu Fuß zum Zentrum von Sittard und Bahnhof.
Everything is so close, shopping, restaurants etc...was perfect and Thankyou Paul.
Vladimir
2016-10-19T00:00:00Z
Paul was a very welcoming host and gave us a detailed tour of the apartment, which was clean and matched the description perfectly. The neighbourhood was nice and a supermarket was just a short walk away.
Tom
2016-09-26T00:00:00Z
Nice place to stay!
Praveen
2016-12-01T00:00:00Z
Very welcoming host. Smooth checkin. Comfortable stay.
Lars
2017-04-07T00:00:00Z
i was one week in paul place, is a private house close to city center. is very easy to move there if you come by car and want to visit more places in belgium or germany. the place is like pictures very quiet. and the comunication with paul was very easy.
Daniel
2017-01-22T00:00:00Z
Paul welcomed us very well and was attentive to our needs. We could reach him very easily and Paul always answered quickly. We really had a nice time over there!
Thomas
2016-09-04T00:00:00Z
Prima verblijf
Bertb
2017-03-01T00:00:00Z
Paul se o nás staral s velkou péčí a snažil se zabezpečit vše tak, aby nám maximálně zpříjemnil náš pobyt. Připravil pro nás dokonce i dětskou postýlku, židličku a hračky. Kdykoliv byl dostupný on-line a ochoten pomoci. Dům je sice starší, s příkrými schody, ale ergonomicky uspořádán a poskytuje útulné a přitom prostorné zázemí.
Lenka
2016-10-26T00:00:00Z
Art der Unterkunft
Ganze Unterkunft
---
Objekttyp
Wohnung
---
Unterkunft für
3
---
Schlafzimmer
Sittard, Limburg, Niederlande
Pas gerenoveerd appartement op loop afstand van centrum Heerlen. Bus en trein op 3 minuten lopen.slaapkamer met dubbel bed. Eigen badkamer. Eigen Keuken met woonkamer. Gemeubileerd en instapklaar. Eigen buitenhof met tuinset voor 2 personen.
Het appartement van 40 m2 is aangrenzend aan de tuin van de buren. Het heeft een eigen buitenhof van 14 m2. Het appartement is geschikt voor 2 personen doordat er maar 1 slaapkamer is. Door de ruimte opzet van het appartement, is het goed "vertoeven". :)
Centrum Heerlen op loopafstand. met Restaurants en bezienswaardigheden. Regio heeft veel recreatiemogelijkheden. Zoals Snowworld, Gaya park, Mondoverde. Parkstad Limburg is bekend om zijn bosrijke omgeving.
Het appartement is netjes. Heerlijk geslapen op het bed. Voordeel van het appartement is dat het centrum op loopafstand is en de supermarkt is om de hoek. Hans was er om mij welkom te heten en toen de cv het niet deed was hij er direct om die te maken.
Rina
2017-01-09T00:00:00Z
Keurig appartement. Gemeubileerd en heel geschikt voor een langer verblijf. Centrum, supermarkt en treinstation zijn op loopafstand.
Judith
2016-10-01T00:00:00Z
The host canceled this reservation 338 days before arrival. This is an automated posting.
Mario
2016-06-29T00:00:00Z
The apartment was so lovely and the host are one of the nicest people I have ever met in my life. Thank you so much for your hospitality and the beautiful stay.
Veronica
2016-06-11T00:00:00Z
Prettige, kleine, simpele woning. Verwacht geen luxe of uitgebreide voorzieningen. Maar alles wat er is, is meer dan prima. Aardige mensen.
Mieke
2017-03-11T00:00:00Z
The host canceled this reservation 35 days before arrival. This is an automated posting.
Tine
2016-09-01T00:00:00Z
We vonden het super goed
R
2016-06-15T00:00:00Z
Prima locatie dicht bij het centrum Alles was goed verzorgd !
Miriam
2017-03-02T00:00:00Z
Art der Unterkunft
Ganze Unterkunft
---
Objekttyp
Wohnung
---
Unterkunft für
2
---
Schlafzimmer
Heerlen, Limburg, Niederlande
Prive kamer met eigen badkamer en balkon in rustige omgeving dichtbij het centrum van Heerlen en andere uitvalswegen zoals Maastricht, Valkenburg en Aken. In de kamer is o.a. een groot bureau met stoel aanwezig om rustig te kunnen werken of te ontspannen. Water, thee en koffie altijd aanwezig! Snowworld, gaiazoo, mondoverde en nog veel meer bezienswaardigheden dichtbij. Parkeren gratis.
Very close to trainstation Heerlen de kissel which directly connects to Maastricht, Valkenburg and Aachen within 20 minutes. Free car parking.
Great!
Yannick
2015-11-09T00:00:00Z
I had a very nice stay at Mahir's place! It was very convenient and comfortable, close to the centre, good and quiet neighbourhood, good internet connection. Mahir is a great guy, very helpful and thoughtful of his guests' needs. He was also so kind to extend my stay as long as I needed.
Florin
2016-01-22T00:00:00Z
Basic, maar voor 1 nacht voldoende.
Edwin
2016-07-10T00:00:00Z
Rustige, stille, donkere kamer. Zeer vriendelijke gastheer. Snelle internet. Prive badkamer. Bus halte dichtbij.
Yannick
2015-11-02T00:00:00Z
Zeer goed internet. Prive badkamer. Zeer vriendelijke en gehulpzame gastheer.
Yannick
2015-11-16T00:00:00Z
Minden rendben volt, Mahir nagyon baratsagos, kedves, erdeklodo, segitokesz. Szoba is a megbeszeltek szerint volt. Mi a Pinkpop miatt voltunk, de batran ajanlom mas idoszakban is. Kornyek nagyon csendes es a lakas is felszerelt mindennel. Jar az 5 csillag :)
Tamas
2016-06-14T00:00:00Z
Mahir is een vriendelijke en goeie gastheer! Goed bed en eigen goeie warme douche!
Bas
2017-03-03T00:00:00Z
Prima verblijf om de nacht door te brengen. Goed bed, prima WiFi, eigen douche en wastafel en ook een goed gastheer!
Frits-Jan
2016-07-10T00:00:00Z
Art der Unterkunft
Privatzimmer
---
Objekttyp
Wohnung
---
Unterkunft für
1
---
Schlafzimmer
Heerlen, Limburg, Niederlande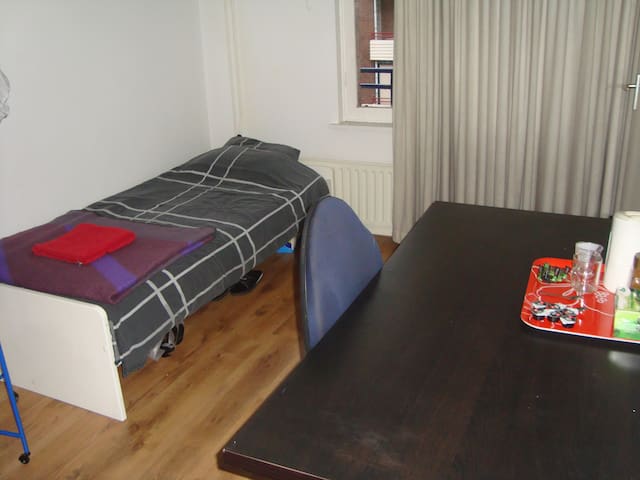 Penthouse in 52525 Heinsberg mit 250 qm Wohnfläche, Whirlpool Outdoor, 100 qm Dachterrasse, Bulthaup Küche, Baxter, Eames und USM Einrichtung, Büro, 2 Schlafzimmern, etc.
Art der Unterkunft
Ganze Unterkunft
---
Objekttyp
Wohnung
---
Unterkunft für
4
---
Schlafzimmer
Heinsberg, Nordrhein-Westfalen, Deutschland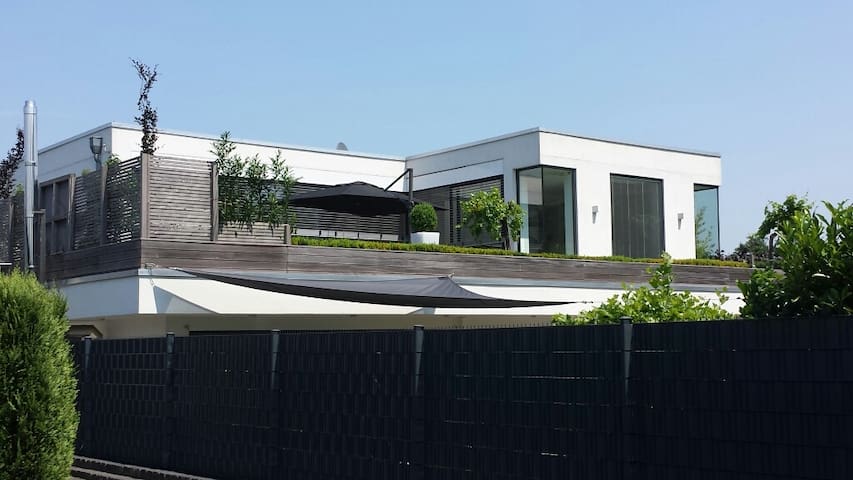 Spacious apartment located within walking distance of the shopping center, but also near the Brunssummerheide, a beautiful hiking area. Also bicycles for many routes and mountain biking in the area. more on (URL HIDDEN)
Spacious apartment located within walking distance of the shopping center, but also near the Brunssummerheide, a beautiful hiking area. Also bicycles for many routes and mountain biking in the area. more info at (website hidden)
Giel was amazing. He was in communication with us from the beginning and checked in on us to ensure we had not questions. The apartment in fantastic and shopping is a short walk away. This is a perfect place to stay when you PCS to Brunssum, close to base and very comfortable.
Michelle Loveshel
2014-10-13T00:00:00Z
We hebben dit huis van 27 t/m 30 december gehuurd omdat onze dochters een badmintontoernooi hadden in Hoensbroek. Het was een lekkere rustige buurt en je kreeg echt het gevoel dat je thuis kwam. We gingen er met 6 personen naartoe en werden door de huiseigenaar opgewacht met wat te drinken en lekkere vlaai. Het was een fijn onderkomen.
Barbera
2014-12-31T00:00:00Z
Art der Unterkunft
Ganze Unterkunft
---
Objekttyp
Wohnung
---
Unterkunft für
6
---
Schlafzimmer
Brunssum, Limburg, Niederlande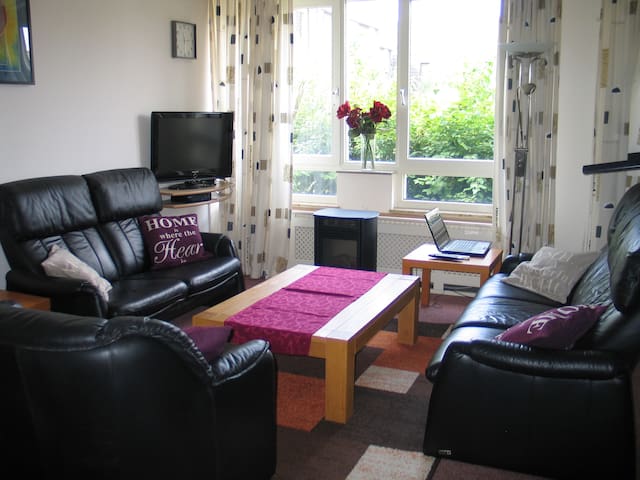 Gib deine Reisedaten ein, um den aktuellen Preis zu sehen. Es können zusätzliche Gebühren und Steuern anfallen.