Tranquil rural location with stunning views of Ruby Mountains and South Fork Reservoir. House is straw bale, ecologically friendly, open, and efficient. Hiking, mountain biking, and lake activities in summer; snowshoeing, skiing, etc. in winter. Bumpy dirt and gravel road to house. Small cars okay IF you drive slowly and carefully, OR phone us at bottom of hill and we can shuttle you. Higher clearance cars are better. Small cars not advised in winter under snow packed conditions.
We have an elegant, guest room available in our home, -12' ceilings and open space. Horse trough bath tub, two person shower, lots of room! Outdoor showers are an option in good weather. NOTE BELOW INFO: When you receive confirmation for booking, please follow the "Host Directions" as a GPS or Map program alone will either have you lost or take you over an EXTREMELY rough Jeep road. Our "main" road is dirt/gravel, but passable in a passenger car if taken slowly, not at drive-it-like-you-stole it speeds. Beautiful high desert straw bale home located at 5,800' with expansive views of the Ruby Mountains and South Fork Lake. Private and serene. There is hiking and mt. biking right from our door, or you can drive to Lamoille Canyon, 25 minutes away, for high alpine hikes in the scenic Ruby Mountains. The guest room has a large bath with tub and walk-in shower, both big enough for two. Wi-fi is available - free, plenty of parking, and a nearby lake if you bring your own kayak or boat. Views from our place are peaceful and grand. Expect to relax and get out of the fast paced world while you're here. Our nearest neighbors are about a mile away. Restaurants and town - 30 minutes to Elko. There is no public transportation in this area or in Elko. Most roads outside of town, including ours, are dirt so drive carefully. Breakfast included in nightly and weekly rates. Please, do not expect dinner should you arrive at dinner time. We don't want to have to raise rates to cover this. You are free to bring your own dinner foods and use the kitchen. Birding is good here most of the year. Ruby National Wildlife Refuge/Marshes which is famous for nesting habitats for hundreds of species is an easy 40 minutes away. (website hidden) We've been fortunate several years to have nesting Northern Goshawks on our hill with fledglings often drinking from our dog's water. We also have Red Tail Hawks, Cooper's Hawks, Golden Eagles, Mountain Bluebirds, and in the Ruby Mountains if you get up early and hike to Island lake you will likely be lucky enough to see the Himalayan Snow Cock found only here and in the Himalayas. Fall activities include: hiking, mt. biking, hunting, and some fishing depending upon water levels. We would be happy to host hunters and can give tips, help cut up game, or establish a home base camp here at the house for you. At the end of January and first week of February each year Elko hosts the National Cowboy Poetry Gathering, so it's a great time to visit, and we are more than happy to give tips on restaurants and performances. Bring your parkas as February is often cold. Our place is a respite from the workday world and contemporary society. Our home is green with low and zero VOC finishes - American Clay covered walls, and Saltillo Mexican tile floors. We built this house ourselves, with no hired help, over a 3 year period. It is stout, complements the environment, and super healthy. HAPPY TO SERVE AS HIKING GUIDE FOR DAY HIKES IN RUBY MTS Also happy to shuttle backpackers and/or hikers to trail heads at Lamoille or Harrison Pass. $225 day fee for hiking guide - includes lunch for two on the trail and shuttle from straw bale home. Length of hike is up to you and abilities. Simple shuttle to drop off and pick up at either trail head $175.
The privacy and views are paramount. We love the peace and quiet here where on most days the sounds we hear outdoors are the flapping wings of low flying large birds.
Der Aufenthalt bei Shannon und Rob war wunderbar! Sie waren sehr freundlich und gaben mir noch nützliche Reisetipps. Und erst ihr eigengebautes Haus mit einer schönen Aussicht auf das Tal...!
Fabian
2015-09-20T00:00:00Z
Schönes Zimmer, beeindruckendes Haus mit einer großartigen Aussicht, durchaus mit einem "normalen" PKW mit etwas Zeit gut zu erreichen. Den Wohnbereich inklusive Küche haben wir bis auf das Frühstück nicht genutzt, da es uns nicht angeboten wurde.
Kathrin
2015-09-09T00:00:00Z
Wir haben Shannon nie persönlich getroffen, aber Rob (ich vermute mal ihr Mann) war sehr zuvorkommend. Er hat uns morgens sogar extra auf Wunsch Waffeln gemacht. Da dieses Airbnb für meinen Freund und mich nur ein Zwischenstop auf der Strecke vom Yellowstone Nationalpark nach San Francisco war, war uns nur ein Bett zum schlafen und das Frühstück wichtig. Das dass Airbnb mitten auf dem Land liegt und der nächste Nachbar zwei Kuhgatter entfernt ist war uns egal, auch wenn wir unseren Toyota Prius immer noch nicht komplett vom Schlamm (es hatte an dem Tag geregnet) sauber bekommen haben. Es ist wirklich ein mehrere Kilometer langer Weg über unzementierte Straßen, was einem bewusst sein muss (also ist es eventuell klüger bei Tageslicht anzureisen). Wer in der Gegend ausgehen möchte, sollte besser etwas näheres zur Stadt suchen. Das Zimmer und das Badezimmer liegen direkt nebeneinander, so dass man nicht weit gehen muss. Zwischen den beiden Zimmertüren hat man allerdings super Sicht auf die riesengroße Küche; umgekehrt sehen einen auch die Personen, die in der Küche sind. Also ein kleiner Einschnitt in die Privatsphäre. Ansonsten ist das Zimmer von der Größe ausreichend und gemütlich. Das Badezimmer ist riesengroß und hat eine außergewöhnliche Badewanne und eine wirklich große Dusche. Ein Minuspunkt (abgesehen von dem matschigen Weg dorthin): Die Toilettenspühlung funktionierte leider nicht, wenn man den Hebel betätigt hat. Wir wussten uns zu helfen und haben den Deckel vom Spühlkasten angehoben und das Ding drinnen manuel hochgezogen. Da wir erst um 22 Uhr dort ankamen, hat sich Rob erst morgens darum gekümmert (nach dem wir wach waren, um uns nicht zu wecken!). Da ich den unzementierten Anreiseweg doch unterschätzt hatte, würde ich wahrscheinlich beim nächsten Mal auf ein anderes Airbnb ausweichen, aber wer ein größeres Auto hat sollte dieses Airbnb definitiv in betracht ziehen.
Alexandra
2016-05-21T00:00:00Z
It seemed that it was somewhat an adventure for us to arrive there after dark. Robert left a light for us and welcomed us warmly. The next morning, the place turned out to be a dreamland. The house is very spacious and the flowers were blossom in the garden. Robert is really warm and nice. Thanks again for hosting us in Elko.
Yanling
2016-05-22T00:00:00Z
The place is very nice and clean, however, make sure you have a 4WD vehicle to get up there, as it is 2 miles of intense off road travel once you turn off the main road. Glad I had a 4WD vehicle, otherwise I may have gotten stuck out there at night with no cell service!
Chad
2015-06-23T00:00:00Z
Very interesting place to stay. Shannon was very nice and our dogs loved the place. The 4 mile dirt road may be hard on a car with low bottom.
Peter
2014-07-23T00:00:00Z
This is one of the more unique houses I've stayed at and it was a lovely experience! I didn't meet Shannon as I was only there for one night, but her husband was sweet, welcoming and made a delicious breakfast. The drive up to the house was an adventure in itself in a sub-compact car, but Shannon's directions were spot on. I wouldn't recommend doing the drive in the dark for the first time.
Natalie
2016-09-17T00:00:00Z
We had a lovely stay for the night. The room is super comfy and they were great hosts. If you can be up early enough enjoy the incredible sunrise over the mountains. The house has the most incredible views!
Andy
2015-03-29T00:00:00Z
Art der Unterkunft
Privatzimmer
---
Objekttyp
---
Unterkunft für
4
---
Schlafzimmer
Spring Creek, Nevada 89815, Vereinigte Staaten
Brand new 3 bedroom cottage with beautiful furnishings! Fully outfitted kitchen and laundry room. Two bedrooms have queen beds. Third bedroom has very comfortable futon that makes into small full-size bed & equipped with desk for office space.
Brand new 3 bedroom cottage with beautiful furnishings! Fully outfitted kitchen and laundry room. Two bedrooms have queen beds. Third bedroom has very comfortable futon that makes into small full-size bed & equipped with desk for office space. The living room, kitchen and dining area are open concept and great for family connection. This is also a great area to entertain in or host a business meeting. The French doors open onto a patio on which to barbeque and relax in warmer weather months. The entire home is available for guest access. Owners reside in an adjacent property. We are available to welcome you and assist as needed. At your request we are available to help with ideas for exploring Elko and nearby Lamoille Canyon as well as many other areas in Northeastern Nevada, Basque and other restaurants. We can assist with hiking or hunting inquiries. Additional items for entertaining or business meetings available upon request. Residential diverse neighborhood near downtown area of quaint shops and restaurants. Quiet and safe area in the rustic cowboy, ranching, mining community of Elko, NV. Walmart, grocery stores, department stores within one to two miles away. Convention Center, City Park & Pool, Museum approximately one mile away. Local taxi and bus service available. Located in the popular "tree street" area of central Elko, NV, within walking distance to downtown shops, coffee shops with character, courthouse, Western Folklife Center, library, Great Basin College, Fairgrounds, School District Offices, and much more
Residential diverse neighborhood near downtown area of quaint shops and restaurants. Quiet and safe area in the rustic cowboy, ranching, mining community of Elko, NV. Walmart, grocery stores, department stores within one to two miles away. Convention Center, City Park & Pool, Museum approximately one mile away.
This house was adorable. It was very clean, comfortable, and updated. Kathy was great to work with from the beginning, answering questions I had about my parents getting off at the train station and suggesting things we could do. She kept in communication with me until our stay. Everything went as planned at the house. It was nice for my family to be in a nice house together rather than separate hotel rooms that would have ended up costing us more. We ran into Will, Kathy's husband, who told us we could make s'mores in the fire table and actually delivered some matches later that evening. They went above and beyond to make our stay comfortable.
Tara
2016-08-15T00:00:00Z
What a wonderful retreat! Our host was very helpful, accommodating and gracious. Nice selection of breakfast food. The house was spotlessly clean. No problems at all. Thank you Kathy (and Will)! Can't wait to come back on another trip to Elko!
Ruth
2016-07-17T00:00:00Z
The host canceled this reservation 39 days before arrival. This is an automated posting.
Bekah
Kathy place was perfect, clean and very close to town it was exactly what we needed a great place to stay. comfortable beds, warm and cozy, a great barbecue and great communication. Great parking for our big 4 place snowmobile trailer and Ford Excursion . She left us lots of maps and information about the area . I highly recommend Kathys place. Thank you for a great time and we hope to come back again!
Sherry
2016-03-02T00:00:00Z
This is the best BNB experience that I have ever had! Kathy and will prepared the house with everything, there is nothing that you need is not available. The couple is so nice and considerate! I feel regret that we couldn't stay there for more nights! The best of best recommendation in Elko!
Wang
2016-06-04T00:00:00Z
This was my first time using Airbnb and I couldn't have had a better experience. Kathy was a perfect host and the house was perfect for all 6 of us. I will definitely stay here in the future. Thanks Kathy!
Matt
2016-05-06T00:00:00Z
This is one of the nicest AirBnB rentals I've ever stayed in, and it is in Elko of all places! The photos on the listing almost don't do it justice, as we were surprised at how nice the place really was when we arrived. It is an incredibly spacious, clean, and comfortable home with just about everything you might need for an extended stay in town. My five-year-old daughter loved it so much that she was in tears when we told her it was time to go back to our own house. Lots of space if you're traveling with children (or a group). The extra bedrooms are furnished just as nicely and comfortably as the master bedroom. Kathy was also kind enough to leave out some children's books, toys, and games for us which was greatly appreciated. It's also walkable to most of the decent bars and restaurants in town (in the warmer months at least - Elko gets really cold in the winter!). Definitely go to the Star if it is your first time in Elko and try out the Basque cuisine! The hosts were fast and responsive to any questions we had, made us feel very welcome, and obviously care that their guests are comfortable and enjoy their stay. I highly recommend this rental over almost any other option you might have when traveling to Elko! ----- Internet service was provided, but very limited. I wouldn't really hold this against the host/listing as it is more of an Elko problem but I mention it here for anyone traveling to Elko that might need consistent / reliable service for business purposes. The same could be said for any hotel in Elko. I recommend adding some data to your cell phone plan and then using it to tether. Even while visiting relatives houses that had wifi in town, I still had better service through my phone than theirs.
Andrew
2016-03-14T00:00:00Z
Kathy was amazing! The home was clean and welcoming. Everything we could have possibly needed was provided. The home was within walking distance to the historic downtown which made it easy for us to get around without a car after our long drive. Kathy provided breakfast snacks for our first morning which was an added plus. We will definitely be staying again if a group of us journey back to Elko.
Katy
2016-08-25T00:00:00Z
Art der Unterkunft
Ganze Unterkunft
---
Objekttyp
---
Unterkunft für
7
---
Schlafzimmer
Elko, Nevada 89801, Vereinigte Staaten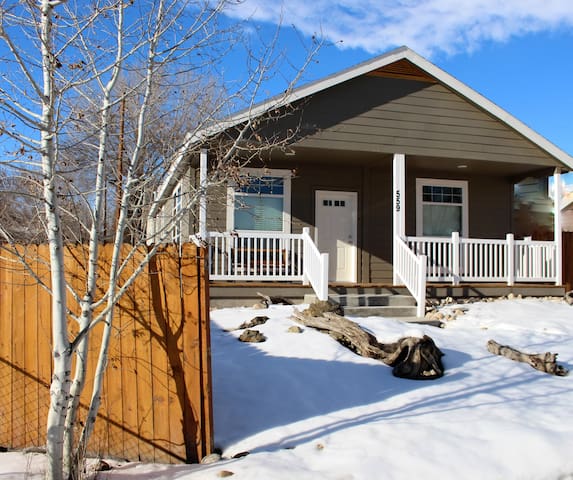 Gateway to the Ruby Mountains Ruby Crest Trail Shuttle Ruby Mountain Heli-Ski Spacious, eclectic decor, beds for 6. Two single beds, one bedroom, King bed in the other, Hide-a-Bed in living area, Desk with WiFi. "Thing-charger" on island for laptop/iPad/phone. Oven, microwave, dishwasher, cooking/eating utensils, coffee, tea, homemade scones. Twenty min. from Ruby Mountain hiking, 1 mile from Khoury's grocery, 15 min. from Elko and Western Folklife Cntr, & California Trail Cntr.
John and I run a tour business, "Cowboy John Tours, LLC," and Cowboy John is available to recommend places for you to see and things for you to do! Calendar of current events in the area. He can be hired to tour you, or we'll tell you what there is to see in this area. The Western Folklife Center, northeastern Nevada Museum, and the California Trail Interpretive Center are highlights of Elko. Gaming casinos are 15 minutes from the BNB in Elko. Sightseeing and hiking in the Ruby Mountains is 20 minutes away.
Elko was settled over a hundred years ago by the railroads, and ranchers, cattle/sheep. In those years Basque herders spent their time with the sheep in hills around Elko. Basque boarding houses and restaurants today testify to their early presence. Gaming is legal in Nevada so gaming also played a part in Nevada's settlement, and, after the early 70's, gold mining became important to our economy.
What a wonderful gem of place to stay! John and Janice are a wonderful couple who took extra time to make us feel welcome and tell us about lots of cool things about the area. In particular, John recommended us taking a quick drive up to Lamoille Canyon in the Ruby Mountains, about 20 minutes away. It was one of the coolest and most beautiful canyons I have seen. We would have never known about it if it wasn't for them. Their place is spacious and has all the things we needed to be comfortable. Icing on the cake was the scones, and gave me a few fresh eggs from their chickens. The price is right too, so it is a real bargain. If you need somewhere to stay near Elko, whether you are on your way to another place, or just want to hike the Ruby Mts, I would highly recommend staying here!
Larry
2016-09-17T00:00:00Z
John and Janice made us feel so welcome. They are the nicest people ever. Even on our second day John went with us on a trip to Lamoille Canyon, a must see for anyone who visit this Airbnd. We were provided delicious scones for our breakfast. The house is in a rustic area kind of by itself, but the view of the Ruby Mountains and the landscape is awesome. What was described was the way the apartment was--very clean and orderly. Lots of room and the most wonderful king size bed. It is really a bargain.
Richard
2016-10-19T00:00:00Z
It was truly a delight to have the opportunity to meet John and Janice and stay at their lovely home. Their hospitality was incredible and the proximity to Elko was great.
Hajime
2016-08-23T00:00:00Z
John and Janice were very welcoming and helpful. The space is rustic and peaceful. This is the perfect place to stay in the Spring Creek/Elko area. We felt very relaxed after leaving our stay here.
Lindsay
2016-07-31T00:00:00Z
Staying with John and Janice was a pleasant experience. The place was far larger than I initially expected which was nice. The apartment was kept cool and the full kitchen was great benefit. I can't imagine you could get closer to the Ruby Mountains than this. Check in and out times were flexible which was also an added bonus. Good place to stay if you're traveling the country or looking to stay in the area for hiking/something else.
Kenton
2016-08-19T00:00:00Z
The host canceled this reservation 23 days before arrival. This is an automated posting.
ivy
We felt very welcome and the hostess provided us with delicious homemade scones on two different days. When a minor repair was needed the host was right on it. This stay was a great experience: affordable, spacious and very quiet. The king bed in the main bedroom was very very comfortable and we slept like babies.
Doug
2016-09-13T00:00:00Z
房东很热情,体验超棒!!!
kun
2016-10-06T00:00:00Z
Art der Unterkunft
Ganze Unterkunft
---
Objekttyp
---
Unterkunft für
6
---
Schlafzimmer
Spring Creek, Nevada 89815, Vereinigte Staaten
Guest Room available with a full size bed. I also have futon in the basement with the pool table. Brand new, hardly used, very comfortable. Clean house with 2 dogs.
Quiet neighborhood, secluded home with a great view.
The place suited our needs
curtis
2017-03-03T00:00:00Z
We had a really great time at Damon's place. He was a super generous host: he cooked for us and we spent the evening playing games with him and his cousin. It was really fun! The room itself was clean and comfortable but nothing particularly special, but it suited our needs just fine. Everything we needed was in the house, and we could also do some laundry which was really nice. The house also has some cute and friendly dogs. So thanks Damon for the hospitality! If we ever come back, we would definitely stay here again.
Cassandra
2017-03-08T00:00:00Z
we love Damon and TJ . Damon is such a wonderful host . the view around the community bis breathtaking. highly recommended
郭丛
2017-02-07T00:00:00Z
I was a little nervous about an Airbnb in the middle of nowhere. However, as soon as I met Damon, I knew I was in good hands. He was very friendly and courteous. The place was clean and comfortable. His place was a wonderful lily pad for my trip to California. Highly recommend guests to stand outside to enjoy the mountains in his backyard if you have time. Even more so if its sunny and you can stand barefoot on the ground. Uplifting!
Katie
2017-03-09T00:00:00Z
Dogs are very friendly, the location is beautiful set on a hill surrounded by low scrub brush with mountains in the distance. Great place for a travel selfi, especially, I imagine, in the summer. Snow clearing on the streets to get there is a bit weak though.
John
2017-01-26T00:00:00Z
I had the pleasure of being Damon's first guest. He has a really nice house in a quiet, beautiful area. It was nice and clean, comfortable and quiet, and a great price. He was very fast responding, and a great polite host. It was a pleasure.
Devin
2016-12-30T00:00:00Z
Great place!
Rebecca
2017-01-08T00:00:00Z
Great place to stay for the night while driving thru NV.
Steven
2017-02-11T00:00:00Z
Art der Unterkunft
Privatzimmer
---
Objekttyp
---
Unterkunft für
4
---
Schlafzimmer
Spring Creek, Nevada 89815, Vereinigte Staaten
Large 1 bedroom home with beautiful views and natural light out of every window at the base of Ruby Dome 11,375 ft. large spa shower and deck direct access to Ruby Mountain Heli Ski, cross country skiing, hiking ,mountain biking, perfect adventure getaway or just chill out and unwind perfect for a writer.
A large 1 Bedroom with large in suite spa shower large living & dinning room complete kitchen with deck off the back garage parking for one vehicle inside 1200SqFt
Ruby Dome Ranch elevation 6750 sits on 1800 acres at the base of Ruby Dome we back into forest service land we are a working cattle ranch
Art der Unterkunft
Ganze Unterkunft
---
Objekttyp
---
Unterkunft für
2
---
Schlafzimmer
Lamoille , Nevada 89828, Vereinigte Staaten
Newly remodeled 2 bedroom, 1 bath cabin with full kitchen, large living room, fireplace, sunroom on 15 acres with year round creek, aspen grove, campsites, picnic tables, fire rings and exclusive private access to the East Humboldt Ruby Mountains.
Great for a weekend retreat or family reunion. Horses or 4 wheelers may be rented at additional charge.
This is a spacious, rustic house/cabin set in a beautiful valley nearby a sparkling bubbling creek. It is off of the main roads and provides quiet and peacefulness unparalleled. I hope to stay again!
Timothy
2017-02-05T00:00:00Z
Absolutely amazing cabin in the mountains! Great communication and directions from the host! We would recommend this spot to anyone!
Keeta
2017-03-10T00:00:00Z
This property is truly an Airbnb gem! Pictures don't do it justice. This cute little cabin is nestled in the most picturesque outdoor wonderland. My entire family of 5 wanted to stay and explore longer. The aspen grove has a great firepit and picnic tables but if you look deeper there are so many surprises to find including babbling creeks, little bridges, and forts/teepee made of branches for the kids to explore. The private road that gives you access to the mountain is a beautiful drive or mountain bike. We had the amazing experience of sharing the property with Travis' three beautiful and friendly horses who provided lots of entertainment and loved apples. We had the priveledge of meeting Travis and his daughter. He is an extremely hospitable and gracious host. The cabin has a big book shelf of interesting old books. If you are looking for a place to get outdoors and engulf yourself in the beauty of nature, this place is a find.
Megan
2016-07-11T00:00:00Z
Travis is incredibly gracious and accommodating. I had to change our itinerary countless times; he took care of us completely. I am sorry I forgot my medications. I would have loved to been able to take the time to explore the mountain trails and the immediate surroundings. For the person wanting solitude, quiet, and the beauty of nature this is where you want to be.
robin
2016-08-29T00:00:00Z
There aren't enough words to describe the beauty and peacefulness of this place! You feel completely secluded and the views are priceless! Travis is a very friendly host who made himself available should we need anything. The cabin itself was very cozy and a great place to relax after exploring the grounds. Our kids loved playing in the creek and doing everything from roasting marshmallows, having nerf wars and playing a family game of hide and seek in the trees. The view of the stars at night is unreal too! We spent three nights with our three young children and none of us wanted to leave! We left feeling completely relaxed and can't wait to go back. Thank you Travis and your family for opening up this treasure to others!
Carol
2016-07-27T00:00:00Z
This cabin experience was incredible! A best-kept secret in my opinion. My husband and I were looking for a "winter wonderland" getaway this Christmas and this place accommodated that and more! The property is remote, secluded, spacious and beautiful. Humboldt National Forest is the backyard. Travis has done a great job keeping up the place and having all the basic needs available (kitchen appliances, kitchenware, utensils, linens, towels, space heaters, etc. Our favorite amenity was the fireplace! Travis kept the wood pile well-stocked for us. We were also so pleased to be able to bring our beloved pup. He loved being able to run and roam endlessly off-leash for once. The nearby cabin dogs would pay us a visit on occasion and teach him a thing or two about dog-life in the great outdoors, but it was all in good fun. We currently live in the city, but grew up rooted in the great outdoors for the most part, so it was a much-needed reprieve from the hustle and bustle of things. This cabin definitely has a very warm, welcoming, family feel to it. If you visit, I encourage you to please do your part to keep it that way. This place is a treasure, we would definitely return!
Marianna
2016-12-28T00:00:00Z
We stayed at the Hole in the Mountain Cabin over Father's day of 2016. We had a wonderful time. The cabin is very nice with plenty of room for our family of six. There were plenty of kitchen supplies for our use. The four-wheelers were a definite plus for the weekend. The view from the cabin is awesome! There is a cool, shaded area right next to the river that was very nice. But make sure you put on bug spray first! That was one thing about the area, is the flies and bees that are around. But they did not bother us much. However, the mosquitoes were another story! Especially down by the river and the fire pit. All in all a great trip. We would love to stay here again and even bring more family.
Brad and Pauline
2016-06-21T00:00:00Z
We had an excellent stay after hiking the Ruby Crest trail. Travis was very accommodating. The campfire area is really nice and private. I would definitely stay there again.
Joel
2016-09-08T00:00:00Z
Art der Unterkunft
Ganze Unterkunft
---
Objekttyp
---
Unterkunft für
9
---
Schlafzimmer
Elko County, Nevada 89823, Vereinigte Staaten
my place located in Carlin state Nevada , its near to some public places like shop , restaurants , parks and museums . Free parking and wifi.
Art der Unterkunft
Ganze Unterkunft
---
Objekttyp
---
Unterkunft für
4
---
Schlafzimmer
Carlin, Nevada 89822, Vereinigte Staaten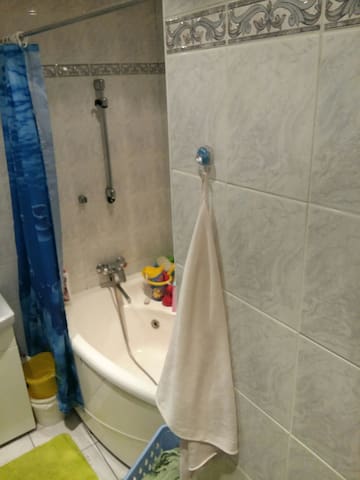 This is a stripped down basic camp trailer. No carpeting, plain, but clean and tidy and will accommodate a couple + 1. There are double camp mats on the double bed area in back, and single mat on single bed/seating area. Outdoor shower, and bathroom in house for your use. We live on a bumpy dirt road. SUV or truck is recommended but not essential if you drive slowly and follow directions.
Great views and quiet. Great cheap place to stay while traveling or exploring the Ruby Mountains, Ruby Wildlife Refuge, and more.
Rural location with great views, 30 minutes from I-80.
Shannon and Rob were great hosts! I had everything I needed waiting for me when I got there. The trailer was perfect for what I need as a single traveler and the outdoor shower was pretty cool. The drive up is a bit of a jaunt but is so worth it for the view and that night sky. Was so nice to have conversation and stay here. Would highly recommend if you're looking for something off the beaten path.
Malorie
2016-08-27T00:00:00Z
Very nice host but make sure to get into the area before dark!
Kenneth
2016-08-27T00:00:00Z
This stay is definitely for the adventurous traveler who's looking for a stay off the 'beaten path'. Shannon's description of the trailer & road conditions to their home were accurate. You definitely need a 4x4 vehicle to traverse the dirt roads. I own an SUV, and don't get to off-road much. So, I enjoyed it! It will get dirty. Also, if you enjoy stargazing, this place is for you. To see the stars away from the city lights(and to go off-road) were the main reasons I chose this place. Shannon emailed me the directions which were very accurate. I use (SENSITIVE CONTENTS HIDDEN) Maps, and found it to work very. Shannon noted some folks have issues, but if you turn it on when in the town of Elko, it should work. So don't be hesitant to try this place just because you think you'll get lost on the dirt roads. They actually have street signs for most of them. I'd recommend first timers to this location to arrive before dark. Finally, I was greeted by Shannon & her husband when I arrived. We talked about their place, and my journey there. They showed me around, and all the amenities. I was only there one night, but I would love to come back to allow more time for hiking, and do more stargazing.
Mark
2016-07-25T00:00:00Z
The camper was old, but clean, it was as expected and as I was told. The place is quite far out on the countryside, but worth the trip. Beautifull nature. Access to beautifull bathroom and very nice and clean. I would stay ther Again, if passing by. Shannon was very nice and friendly. I had a nice stay.
jytte
2016-09-16T00:00:00Z
Shannon was very accommodating. Her home is lovely and it is a treat to use their large bathroom for the shower! Shannon and Robert were friendly and were able to reassure me that the thunder storm wouldn't kill us! There was a snafu with the reservation just before I arrived (it was my fault), and Shannon was quick to fix it. The ride up the driveway is loooong, and your car will get very dusty, but it's a lovely ride!
Emily
2016-09-04T00:00:00Z
L'hôtesse était absente; ce fut son mari qui m'accueilli, unhomme un peu timide. Nous avons eu de bonnes conversations. La route pour se rendre sur le terrain est incroyablement mauvaise mais la maison était une belle récompense. Vue superbe sur la chaîne de montagnes.
Michel
2016-09-13T00:00:00Z
Shannon did a great job at giving directions and accommodating our very late arrival. The terrain to get to the location, however, is very, very rough to drive through and I would NOT recommend it for sedans like mine. This place is in the back country and is pretty far from the freeway, but it does have amazing views.
Brandon
2016-08-16T00:00:00Z
I didn't get the chance to stay at her place, but Sharron has been all the way responsive through my: booking, rescheduling, and till I decide to pass and go directly to the next city. Wish I will have chance to be back and meet this welcoming and warm hostess in person.
Jeannette
2016-07-20T00:00:00Z
Art der Unterkunft
Privatzimmer
---
Objekttyp
---
Unterkunft für
3
---
Schlafzimmer
Spring Creek, Nevada 89815, Vereinigte Staaten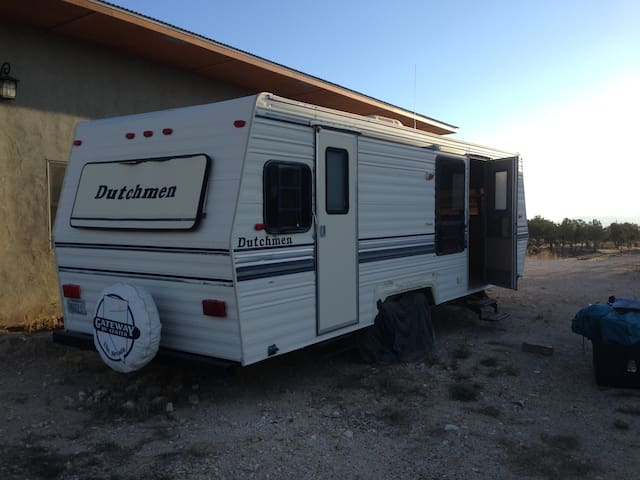 You'll love my place because of terraced cottage set in rural countryside with lovely views,plenty of lovely walks. My place is good for couples, solo adventurers, and business travellers. There is a double bedroom with ensuite.
Art der Unterkunft
Ganze Unterkunft
---
Objekttyp
---
Unterkunft für
4
---
Schlafzimmer
Carlin, Nevada 89822, Vereinigte Staaten
Fabulous open-loft home, located in the heart of Lamoille. Seasonal creek. Great outside and inside space for small-group entertaining. Easy walking distance to Pine Lodge and O'Carroll's. Park your car and bar-hop! Kitchen is fully equipped.
Welcome to Little Creek Crossing, a single-family vacation home located in the historic and beautiful town of Lamoille, Nevada. Lamoille is in northeastern Nevada, at the base of the Ruby Mountain range, and just a short 20 minute drive from Elko, Nevada. If you're looking for peace, beauty, comfort, and serenity, look no further—you've found it here! Little Creek Crossing is a 2700 square foot custom cedar home with BIG windows to take in the BIG views! The home comfortably sleeps ten (2 Kings, 1 Queen, 2 Twin bunk beds, and a Queen sofa sleeper) and is the perfect place to meet and reconnect with family and friends. Whether you're entertaining guests on the stone patio, relaxing with a book or movie in the media room, or sipping a glass of wine in front of the Great Room gas fireplace, you'll enjoy all the comforts and extra amenities the home provides. Guests come first here! And from the moment you enter the doors, you'll appreciate the special attention to details that make this home so comfortable and unique. This property is privately owned & personally managed--our primary focus is to make your stay so outstanding that you'll tell all your friends and say, 'WE'VE GOT TO COME BACK!' Our kitchen is LOADED with everything you need to cook that romantic gourmet dinner for two or a feast for yourself and friends. Kitchen Aid appliances, a professional Viking Stove, lots of cowboy cookbooks—these are the things that might make you want to cook but, if not—never fear, you're just a short two-minute walk from our two local restaurants! You'll love all the extra touches. The tasteful western décor, the luxury bedding, the plush towels… everything designed with your comfort in mind. The dining room features a BIG western table that comfortably seats ten. You're sure to enjoy hanging out in the media room watching satellite TV or movies on the 50" plasma screen. And for those of you who mix business with pleasure, our high speed wireless internet will make sure you stay connected with home. Little Creek Crossing is family friendly! Lots of books, movies, and games for adults and kids of all ages. Our Buckaroo Loft even features a PS2 gaming system, complete with games! Lamoille is a truly spectacular setting and a favorite spot for weddings, family reunions, and all kinds of gatherings. While we don't allow large events at Little Creek Crossing, please contact us and we'll be glad to help you find the perfect venue for your special event. Special rates and last minute discounts may be available. Please call or email us today!
Art der Unterkunft
Ganze Unterkunft
---
Objekttyp
---
Unterkunft für
10
---
Schlafzimmer
Lamoille, Nevada 89828, Vereinigte Staaten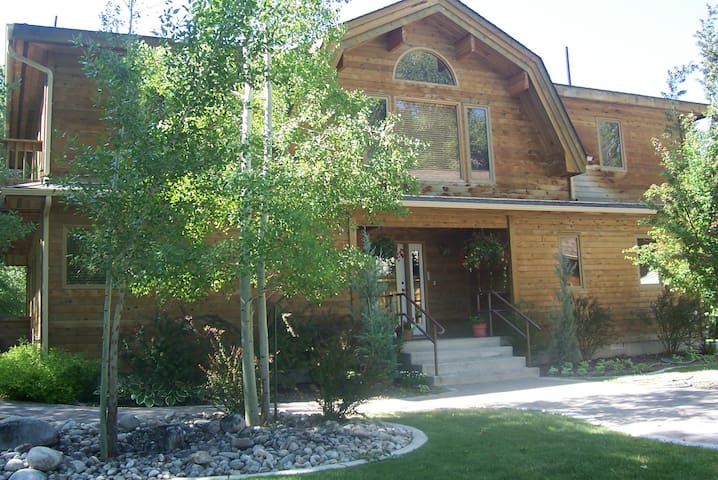 My place is a large comfortable family home, in a leafy and private surround. Comfortable beds, with a fully equipped Kitchen, bathrooms and laundry facilities will make your stay homely and pleasant. No Smoking inside.
Art der Unterkunft
Ganze Unterkunft
---
Objekttyp
---
Unterkunft für
4
---
Schlafzimmer
Carlin, Nevada 89822, Vereinigte Staaten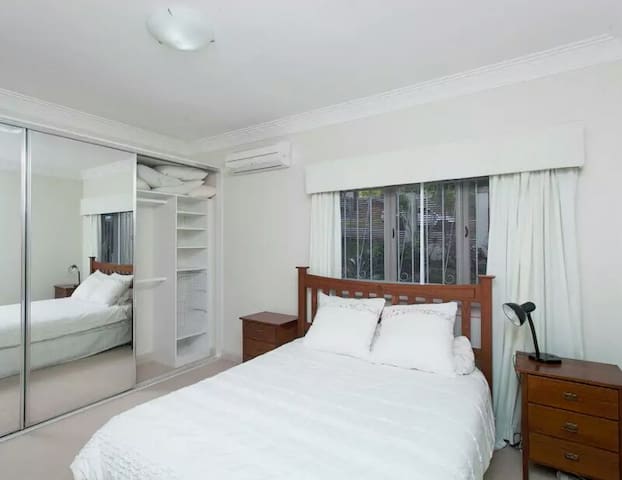 1

–

11

von

11 Unterkünfte
Gib deine Reisedaten ein, um den aktuellen Preis zu sehen. Es können zusätzliche Gebühren und Steuern anfallen.