Das Studio 45m ist und es verfügt über ein Schlafzimmer mit zwei Betten (ein Doppelzimmer und ein Einzelzimmer), einen Kleiderschrank und eine Kommode, hat es auch einen offenen Raum für eine Küche voll ausgestattet mit einem Kühlschrank, Herd mit Gas und Esszimmer und einem einzigen ausgestattet Bett, dass Sie es als Sofa zu können, schließlich hat es ein Badezimmer.
Das Haus befindet sich neben dem Krios Strand und nur wenige Schritte von Anfang an E4 Weg. Das Haus befindet sich in einem großen Bauernhof von 10 Morgen Olivenbäumen, die den Besuchern ermöglicht, die Schönheit der Natur zu entdecken.
Das Haus ist einzigartig, weil es neben einem der schönsten und saubersten Strände ist. Zugleich hat der Besucher die Möglichkeit, der Natur nahe zu kommen, mit nur einem Spaziergang auf dem Bauernhof und unsere Hühner und unsere Mäntel zu sehen.
Wir haben uns sehr wohl gefühlt bei Niki und ihrem Vater. Trotz unserer späten Ankunft in Paleochora hat Niki dort auf uns gewartet und hat uns abgeholt und zu unserer Unterkunft (ca. 10 km westlich gelegen) geleitet. Die Wohnung ist ausreichend groß für zwei Personen und optional könnte eine weitere Person auf dem Bett/der Schlafcouch in der Wohnküche nächtigen. Die Ausstattung ist funktional und bietet alles Notwendige für einen entspannten Urlaub, Kühlschrank, 2 Kochplatten (Camping/Gas), ein bequemes breites Doppelbett und einiges an praktischem Mobiliar. Sauber ist es auch, allerdings sollte man keinen Luxus erwarten, wir jedenfalls waren sehr zufrieden. Niki und ihr Vater waren sehr herzliche und gastfreundliche Vermieter. Oliven aus dem eigenen Olivenhain, Olivenöl und andere frische Produkte der Farm sowie weitere Leckereien und Einladungen zum Essen wurden uns angeboten und wir genossen es, so verwöhnt zu werden. Die Farm liegt weit weg vom Touristenstrom und auch vom städtischen Trubel (allerdings ist man mit dem Auto in 20 Min in Paleochora, wo es viele Kneipen und Restaurants gibt und in 10 min im größeren Nachbarort Kountoura, wo es Supermarkt und Bäcker gibt). Die Wohnung ist daher besonders empfehlenswert für Leute, die Ruhe und Abgeschiedenheit genießen wollen und eine familiäre Atmosphäre genießen wollen. Der Strand ist in der Nachsaison wenig besucht und traumhaft schön, man erreicht ihn in 5 Minuten. Der Wanderweg E4 geht direkt am Haus vorbei und ermöglicht wunderbare Ausflüge in die Berge und an weitere Strände. Vielen Dank nochmal an Niki und Mikaelis: Es war toll und wir werden sicher wiederkommen.
Stephan
2016-10-31T00:00:00Z
Mein Freund und ich haben ein paar tolle Tage bei Niki verbracht! Das Apartment ist sehr groß und sauber und wirklich nahe am Strand gelegen. Nicht weit von der Unterkunft entfernt findet man einen traumhaften, sehr ruhigen Strand. Niki und ihre Familie waren die ganzen Tage über äußerst nett und hilfreich und haben uns immer wieder mit Köstlichkeiten verwöhnt. Ich kann einen Aufenthalt bei Niki wirklich nur empfehlen.
Madeleine
2016-09-04T00:00:00Z
Very good, the location is excellent, We have great time there. Niki was very nice to us
Jan
2016-09-19T00:00:00Z
Five stars are not enough for Niki's hosting :( Her place is like paradise, slightly away from the town but if you like me enjoy being in the silence of nature, this is the spot that you have to choose in southern Crete. The apartment is inside a farm, big, with good furniture and inside a wonderful farm just on the beach. Niki went out of her way and picked me up with her car, gave me their amazing local products and always checked if everything was ok. If it was not already clear, really recommended!
Stefano
2016-07-19T00:00:00Z
L'appartamento è dotato di ogni confort, molto pulito e di fronte alla splendida spiaggia di Krios, ad una decina di km dal paese di Paleochora. Ma la cosa piú spettacolare di tutta l'esperienza è stata l'accoglienza di Niki e della sua famiglia: ci siamo sentiti come a casa, coccolati e assistiti in ogni nostra esigenza! La mamma di Niki ci ha anche preparato dei deliziosi sformati di formaggio, oltre al fatto che in casa abbiamo trovato olio e miele prodotti da loro! Il giorno prima della nostra partenza, Niki ci ha regalato un pò dei loro prodotti e due saponette locali per portarci a casa un dolce ricordo di Creta! Altamente consigliato, anche perchè Niki è davvero simpatica!!! Torneremo sicuramente...
Cristina
2016-08-27T00:00:00Z
Un de nos meilleurs séjours (30 sept-10 oct). Une mer chaude, le ciel toujours bleu et le soleil qui chauffe juste ce qu'il faut (30°c) en milieu de journée, des nuits douces et merveilleusement étoilées et à peine une dizaine de touristes par jour venus de Paléochora pour ce petit bout du monde où Niki et sa famille nous ont très bien accueillis. L'appartement permet d'être très indépendants et tranquilles. Nous n'avions que l'obligation de nous-même et quand l'envie nous prenait d'un petit resto, nous étions à Paléochora en 25'. Le retour à vélo, tranquilles, le nez dans le vent chaud et face au soleil couchant furent parmi nos meilleurs souvenirs. Aucun moustique, une autre belle plage derrière la montagne à 20' de marche mais quelques aboiements de chiens la nuit
Patrick
2016-10-10T00:00:00Z
Niki was a really great host! We were treated almost too good as she drove us back and forth to Paleochora, invited us to dinner with her dad, had drinks with us in town and showed us around - she was quickly considered as a friend :) we hope to come back another time to enjoy the company with her and her family, the farm and the raw nature from Krios to Elafonissi. Paleochora was a cosy town as well.
Leif Even
2016-09-22T00:00:00Z
I spent some very special days in Niki's house: it's simple and allows you to live like Greeks. It's a walking distance to an amazing beach
Simone
2016-08-17T00:00:00Z
Art der Unterkunft
Ganze Unterkunft
---
Objekttyp
Haus
---
Unterkunft für
4
---
Schlafzimmer
Chania, Kreta, Griechenland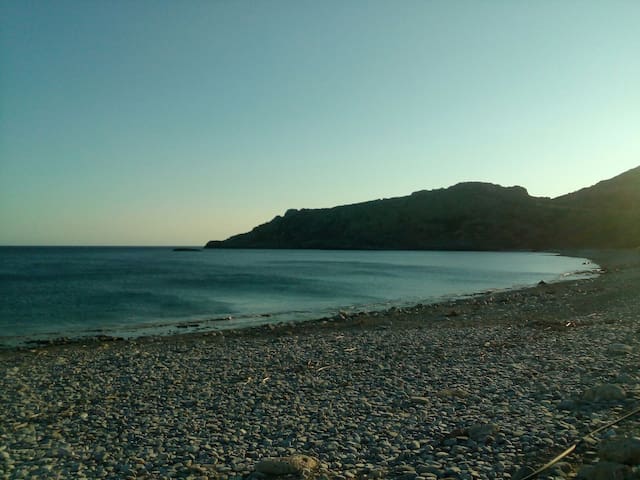 Im kretischen INLAND, 15 Minuten von den schönsten Stränden der Insel, wartet auf Sie, ein alter traditionellen kretischen Haus mit großem Garten. Ein Ort, den Sie in der Zeit zurück REIST und werden Sie in Kontakt mit dem wahren Natur Kretas BRINGEN.
Das Haus hat fünf Haupträume, zwei Küchen, drei enge Badezimmer und ein offenes Bad (IN RUINEN Türkischem Bad). ES GIBT BBQ AT HOF B & traditionelle Holz OFEN BEI HOF A. Ihr Aufenthalt ist nicht der übliche Weg des Ausscheidens in einem Heim. Sie werden die SΕNSE VON "STAY AN DER LANDSCHAFT" HABEN. DAS HAUS (TATSÄCHLICH BLOCK- HAUS) ist ein alten traditionellen Haus (NO Reconstruction). SIE FREUNDLICH MIT, DASS SEIN; Andernfalls werden Sie dieses Haus nicht für Ihren Urlaub WÄHLEN. Ihre tägliche Zeit, die Sie meistens außerhalb AT Hof, Garten SITZ SPEND ODER AUF "POOL" ... DIE "Pool" ist ein altes Steinwassertank mit Wasser aus lokalen Quelle. Auf den riesigen Garten gibt es zwei Baumhäuser und ein kleines "UNDERGROUND" HOUSE. AUSSERHALB DER EINTRITT Es gibt viel Platz für mehr als 10 Autos!
Lage ist super, so dass Sie die Möglichkeit haben, dieses Gefühl der LIVING IN DER NATUR GOT und genießen Sie die ganze Schönheit dieser Insel Creta dir geben kann, BERG UND STRÄNDE DIE GLEICHZEITIG .. Im Dorf Voutas, gibt es einen Markt mit die lokalen Produkte, mit frischen Eiern, ein Café und TAVERNA .. STADT PALEOCHORA IS 15MIN. FÜR ALLES WEG, was Sie brauchen könnten .. ES HAT EINEN zahlreiche Restaurants und Tavernen, COFFEE Place, Sommerkino, AND NICE NIGHT LIFE WELL AS .. Es gibt viele große Flecken UM ZU BESUCHEN, und wir werden Ihnen gerne vorschlagen und HELFEN IHNEN BEI DER PLANUNG, wenn Sie es wünschen ..
It was a fantastic house with all what we need! Thank you Myriam and Spiros for all! You have a little paradise and we would like to return one day ;) Thanks to Aladin and Suzanna, the housekeepers near the house, very kind people, and really helping! We are very happy to spend time in Voutas and in the magic house ;) Vénussia & Basile (and co!)
Vénus
2016-07-23T00:00:00Z
Nous sommes revenu depuis très peu de temps de notre voyage et nous sommes revenu enchantés. La maison est fabuleuse avec son bassin ,ou coule une source ,et ses cabanes dans les oliviers ,elle est même protégée du vent. elle est très confortable mais reste authentique avec tous ses recoins plus charmants les uns que les autres. on à adoré touts les meubles fabriqués à la main et tous les petits objets charmants disposés ici et là. tout ça nous à plongé dans une ambiance très poétique . pour tout ça encore un grand merci à Spyros et Miriam pour votre acceuil. Merci aussi à Aladin (le gardien qui habite dans un village à côté) et sa famille qui ont vraiment veillé à ce qu'on ne manque de rien et avec qui on à passé de très beaux moments. Le village de Voutas est génial et il est à côté (on y allait à (URL HIDDEN) y à une rue principale avec un restaurant à chaque bout (qui font une cuisine tout à fait fabuleuse et pour un prix très très raisonnable). il y à aussi une épicerie/bar bien achalandé qui à une très bonne connexion internet. les gens du village ont aussi été très accueillants. la région est fabuleuse , il y à tellement de choses à voir ! et en plus pas trop touristique. à très bientôt et encore merci pour ce séjour fabuleux! Manu,Gizoo et Louise We are back since very little of our trip and we are delighted income. The house is fabulous with its basin, sink or source, and huts in the trees, it is even protected from the wind. it is very comfortable but still authentic with its most charming corners as each other. we loved to touts furniture handcrafted and all the little charming objects placed here and there. all this to us immersed in a very poetic atmosphere. for all this still a big thank you to Spyros and Miriam for your Home. also thank you for Aladin (the caretaker who lives in a village nearby) and his family who really made sure that we lack nothing and with whom we spent in beautiful moments. Voutas village is awesome and it is next (we walked in) .there to a main street with a restaurant at each end (that make a kitchen just fabulous and for a very reasonable price). there also at a grocery store / bar well stocked with a good internet connection. the villagers were also very welcoming. the region is fabulous, there so much to see! and in addition not too touristy. see you soon and thank you again for this fabulous stay! Manu Gizoo and Louise
Gisoo Et Manu
2016-06-19T00:00:00Z
Art der Unterkunft
Ganze Unterkunft
---
Objekttyp
Haus
---
Unterkunft für
16
---
Schlafzimmer
Chania, Griechenland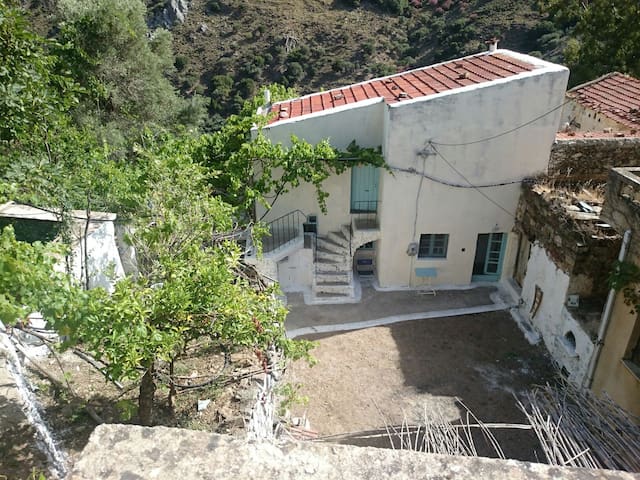 Unsere kürzlich renovierten, alten Haus in einem "geheimen" Dorf bietet 100% Entspannung. Es ist ideal für Naturliebhaber und da eigentlich niemand dort wohnt, können Sie die Privatsphäre, die Natur genießen und sich an den schönen Stränden von Süd-Kreta in nur 15-20 '.
Faleriana ist ein altes Dorf, in der Nähe Paleohora (ca. 15 km entfernt), ohne ständigen Wohnsitz. Daher ist Ruhe dort garantiert. Das Haus ist vor kurzem renoviert, mit allen Annehmlichkeiten und einem Doppelbett auf dem Dachboden. Es ist mit, was aus Omas alten Haus eingerichtet.
Der Ort ist für Trekking-Liebhaber ideal, da es viele schöne Wanderwege, wo man Pflanzen von vielen Arten sowie viele Kräuter sehen, dass sie in eine völlig natürliche Weise wachsen. Sie können auch viele Arten von Früchten, Orangen, Äpfel, Birnen und andere Früchte der Saison und natürlich viele viele Olivenbäume genießen! Es ist eine Quelle des natürlichen Wasser dort und Kastanien um ihn herum. In Faleriana, können Sie sich ganz durch das Hören entspannen nur zu den Klängen der Natur.
The house in that small village is beautiful and awesome at the same time. We had the calm and peace we wanted! People around are really kind and you have to do a little hiking in the mountains to see this great view. It has everyting there you need to spend a nice RELAXING time. Just rent a 4x4 for the 2 km in the dirt/rocks road, so you don't have to walk 20 minutes to the house. Otherwise, the walk in that dirt/rocks road is totally beautiful as well, it gives time to enjoy the place. Thanks again, we loved it!!!
Marc-Antoine
2014-06-25T00:00:00Z
Το σπίτι ήταν πλήρως εξοπλισμένο, καθαρό και παράλληλα παραδοσιακό. Ο Οδυσσέας πολύ φιλόξενος και διακριτικός. Είναι το κατάλληλο μέρος για να ηρεμήσεις καθώς βρίσκεται σε έναν λόφο κοντά στο χωριό Αρχοντικό γύρω στα 40' από Παλαιόχωρα, 80' από Σούγια και 1 ώρα από Ελαφονήσι. Κατάλληλη ευκαιρία για μια διαφορετική εμπειρία. Προτιμάται το τζιπ.
Panagiota
2016-07-16T00:00:00Z
We had a spectacular and restorative time at Oddysseus' mountain sanctuary. The cabin is surprisingly modern with all the amenities you could need. It gets hot at night (in the summer months I assume) and the fan is a great addition for that reason. The views are amazing and you are very much away from it all, the location feels like miles and miles from anywhere - but Paleohora is not too far away (40 mins approx) and there are many great tavernas there plus a good supermarket so you can head down there if you need supplies or for a swim. A beautiful outdoor courtyard means you can eat outside looking at the mountains and there are goats ambling not far away. Odysseus was an excellent host providing us with Cretan treats upon arrival including fresh eggs from his hens, olive oil from his olives and home grown grapes. He also gave us some raki later on. He is very helpful - thank you Odysseus! Sarah & Adrian
Sarah
2016-09-11T00:00:00Z
Notre séjour de 5 jours dans la maison d'Odysseas fut une merveille. A notre arrivée nous avons trouvé des cadeaux de bienvenue (vin blanc Crétois, des oranges et citrons du jardin, de l'huile d'olive et bien sûr une bouteille de raki...) Odysseas est très accueillant. Sa maison est perchée dans les montagnes. Les moutons, les chèvres, les bergers et les oiseaux sont nos agréables voisins. Les repas pris sur la terrasse sont un enchantement et la maison a tout le confort nécessaire. Bref nous sommes ravis et nous conseillons fortement ce lieu de séjour. D'autant que l'accès à la mer n'est pas très loin (20 minutes). De magnifiques randonnées sont accessibles dans le secteur. Encore une fois merci à Odysseas
Dominique
2016-04-26T00:00:00Z
Ce petit passage sur les terres d'Odysseas fut un vrai bonheur. Simplicité, authenticité, belle hospitalité et grande discrétion. Une petite immersion dans l'univers agricole et montagneux d'une Crète essentielle, hors des sentiers courus et très paisible. Merci Odysseas.
sophie
2015-10-18T00:00:00Z
Odysseas was already waiting for us at the arranged time in the nearby village. Afterwards he led us to his charming stone house. The road was not as bad as we had expected before. Raki, Ouzo and a bottle of Cretan wine etc. were as a present on the table. Soon after our arrival we were enjoying the beautiful terrace. Really a calm place, only the birds were singing. We will keep Odysseas as a very friendly man in our mind. Many thanks for his heartiness!
Cristina
2015-04-24T00:00:00Z
It is a great spot to relax and to watch the stars in the night from the lovely porch of the house. The house is fully equipped with the things you need during a holiday. The way from the " main road" towards the house is quiet adventurous, but if you get used to it it is normal in the end of your holiday! I recommend a jeep for those roads, which also can be found in a lot of other places on Crete. The only thing which you can hear up there are the sheep, the goats and the wind. The perfect place for to read a book. The way down to Paleochora takes you around 30 Minutes. In Voutas is a small supermarket and 3 taverns where you can have some simple meals. In Paleochora you can find good restaurants and a lot of nice beaches.
Susanne
2016-08-07T00:00:00Z
For those who love nature and want to hear the sounds of birds and enjoy the beautiful landscape of traditional Crete it's a must to stay at this place. Our host was very helpfull to make us feel at home in his cosy&nice cottage in the mountains. The place is tucked away in the surroundings of Voutas near Paleochora where there are several nice walks and all kind of interesting historical places to visit. It takes about 30 minutes to reach Paleochora for shopping, swimming and to go out visiting one of the many restaurants. But eating at home on your own terras while having a bbq and looking at the stars is something you 'll never forget...
Greetje
2017-04-07T00:00:00Z
Art der Unterkunft
Ganze Unterkunft
---
Objekttyp
Haus
---
Unterkunft für
2
---
Schlafzimmer
Palaiochora, Kreta, Griechenland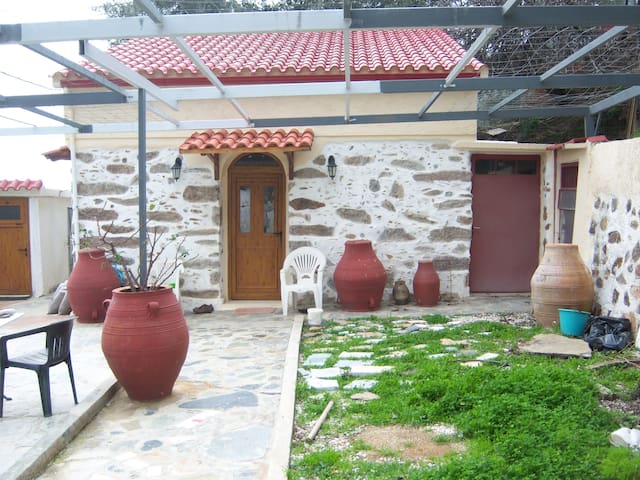 A large family home, fully equipped with gorgeous view of the sea and minutes away from beaches of Paliochora, able to accommodate 6 people in beds and 2 extra on couches. Fully airconditioned with fast wi-fi, fully equipped kitchen, large gardens and open spaces, barbecue facilities and 2 bathrooms
Our large home is perfect for families or large groups of friends who want to spend their summer vacations in beautiful Palaiochora. This is a 200 sq. m. 2storey house with a large private garden plot, beautiful views, verandas and barbecue facilities located at a few minutes of driving distance to Paliochora village and the numerous famous beaches of the region. Our home is fully equipped offering all needed modern amenities for spending some days of quality vacations under the hot Cretan summer sun and the beautiful beaches of South of Crete. • Kitchen A fully equipped kitchen with a fridge/freezer, cooker/oven, dishwasher for preparing your own meals. Full sets of pans and pots, glasses, plates, cutlery and various essentials. • Bedrooms There are four bedrooms in the house. On the ground floor, there is a bedroom with a double bed, equipped with its own closet and window views. On the upper floor, three more bedrooms can be found. A large bedroom with a single bed, a master large bedroom with a king sized bed and private veranda with beautiful views to Grammeno beach and another bedroom with a single bed and a sofa bed that can sleep one or two more people. • Bathrooms There are two Bathrooms in the house. The ground floor has a large bathroom/WC and upper floor a smaller shower/WC space. • Outdoors Large open lawn paved spaces and fields of olive groves surround the property. Barbecue facilities are present for you to use. List of amenities and equipment present in the house • Aircondition in all rooms • Wifi free and fast • TV, Sattelite channels • Fully equipped kitchen: fridge/freezer, pans/pots, glasses, plates etc • Kettle, Espresso coffee maker, Toaster, Dishwasher, Outdoor barbecue facilities • Linens and Towels provided, Washing Machine • Iron & Hair Dryer
Paleochora is a big village in south-west Crete. Located on a small peninsula it has been a popular place for many years because of its good beaches and pleasant surroundings.
Nikos war sehr freundlich und hilfsbereit, sogar alle extrawünsche wurden umgehend (!) aufgegriffen und erfüllt. Wir hatten eine herrliche Zeit in einem freundlichen haus mit unbezahlberer Aussicht. Vielen dank.
Alexandra
2016-10-21T00:00:00Z
We stayed here in September for a week and had such an enjoyable time. We were four females age 80, 53, and 2 x 19 year olds. The home is very spacious (which is what I was looking for given the age range), exceptionally clean, bright, airy, peaceful and safe. The photos are a true reflection of the property. There are beautiful unspoilt beaches within walking distance and several amazing Tavernas with delicious food. We hired a car which I believe is a good idea as it makes exploring and trips to Paleochora (about 7 minutes easy drive) much easier. For us we loved the fact of being slightly out of a town and in a small community where you could take a walk round small agricultural roads, experience a different side of life and become a local. Communication with Nikos was very easy and Antonis the local man was incredibly helpful. Our stay was thoroughly enjoyable for all, young and old, and highly recommended and I hope to return in the not too distant future as I really love this area of Crete and the Cretan food.
Louise
2016-09-19T00:00:00Z
Art der Unterkunft
Ganze Unterkunft
---
Objekttyp
Haus
---
Unterkunft für
8
---
Schlafzimmer
Paleochora, Griechenland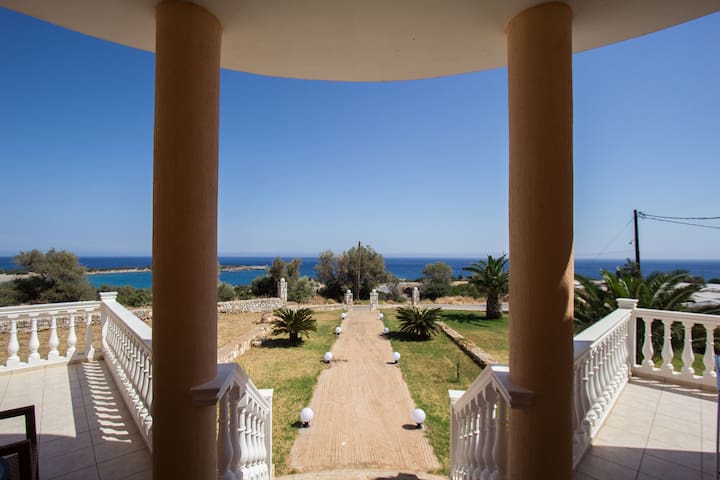 Das Haus liegt in der Nähe der wunderschönen Meer, mit spektakulärer Aussicht, Ruhe, Grün. Dies ist ein Haus, das einen endlosen Blick auf das Libysche Meer, ganz in der Nähe zu den schönen Stränden in Elafonisos, im Dorf Paleochora hat. Es ist ein Steinhaus, 200 Jahre der türkischen Besatzung, wurde im Jahr 1985 komplett renoviert und bis heute das Haus ständig aktualisiert. Es ist 160 Quadratmeter, mit 5 Schlafzimmer, 1 großes Bad, 2 Küchen, mit Obergeschoss und Keller, Kamin, Kaminofen, Parkplatz.
Art der Unterkunft
Ganze Unterkunft
---
Objekttyp
Haus
---
Unterkunft für
6
---
Schlafzimmer
Σκλαβοπούλα, Νομός Χανίων, Griechenland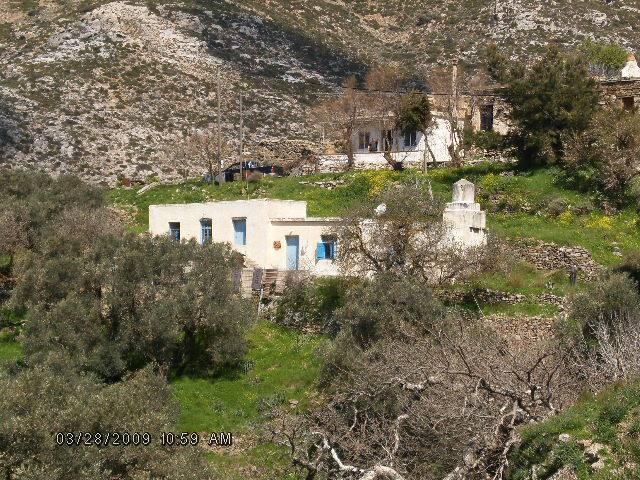 Small house located just 5 klm from the famous beach of elafonisi. With nice views over the village of chrysoskalitissa and the amazing sunset at the Libyan sea.
Nikos was absolutely fantastic. My friend and I had been driving around the island for five days and were looking forward to some restful time on the beach and great food. Nikos' flat was spotless, and when we mentioned a little technical issue, he fixed it within the hour. We ate every meal at his restaurant (make sure to visit!) and followed his instructions to a more secluded beach... It was paradise! Five stars experience Nikos, many thanks!
Susana
2016-07-10T00:00:00Z
Art der Unterkunft
Ganze Unterkunft
---
Objekttyp
Haus
---
Unterkunft für
3
---
Schlafzimmer
Moni Chrisoskalitissis, Griechenland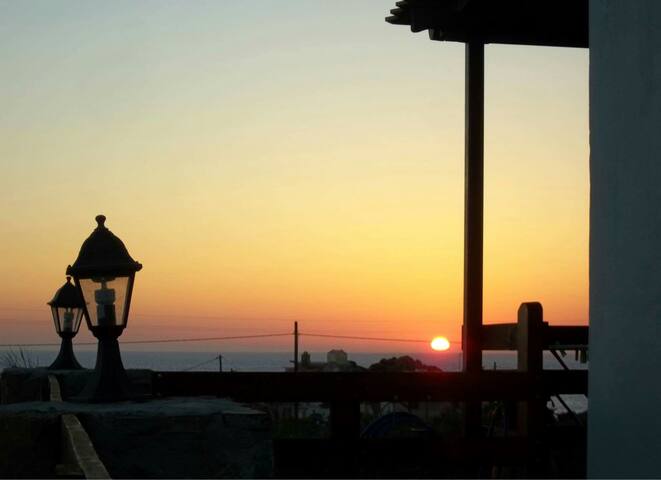 1

–

6

von

6 Ferienhausvermietungen
Gib deine Reisedaten ein, um den aktuellen Preis zu sehen. Es können zusätzliche Gebühren und Steuern anfallen.