Beautiful House with garden close to Cammeray and Crows Nest restaurants, cafes and bars. Short bus ride to North Sydney or city. Cammeray is a very safe part of Sydney.
I live in the studio at the back of the house. My access is through the house. Please do not enquire if this is a problem. PARKING There is free untimed parking directly outside the house. The other side is timed, but also free. There is a gas heater that is available for use in winter. As the heater is not flued it can not be left on over night. One bedroom has a queens size bed and the other has a double bed. Both bedrooms have ceiling fans. Please do not sleep in the Lounge Room.
Cammeray is a beautiful leafy part of Sydney and is quite a safe area. It's very convenient to shops, bars, cafes and restaurants.
Wir haben bei Leonie 2 Nächte verbracht und waren rundum zufrieden. Sie hat für alles gesorgt, um uns den Urlaub so angenehm und stresslos zu gestalten. Für Essen war gesorgt, sowie für alles andere was man im Alltag benötigt (Shampoo, etc.). Das kleine Häuschen war sauber und sehr einladend eingerichtet. Auch der kleine Garten mit angrenzender Terrasse lud sehr zum entspannen ein. Leonie ist eine sehr aufmerksame, liebe und zuvorkommende Gastgeberin. Wir würden jederzeit wieder kommen. Preis und Leistung waren perfekt und angemessen. Vielen Dank!!
Lory
2016-01-02T00:00:00Z
Leonie is very accommodating, friendly and welcoming. The bed was very soft and comfortable. The place itself is very homely. A great place to rent for your stay in Sydney!
Tim
2017-02-23T00:00:00Z
房间优雅 别致而美丽,房东是最体贴周到 热情待客的典范,给我们的澳新之行填加最后一笔难忘的色彩。都说国外酒店标准低于国内,此行让我的印象完全翻转
全
2017-01-03T00:00:00Z
beautifully restored little house with lots of charm. Everything one needs is provided for. Great location, close to beautiful Balmoral Esplanade, to CBD and to the zoo. Leonie gave us lots of helpful information and was lovely to talk to. The house was very clean too. Leonie responded promptly and communication was very good. We had a great stay. Thank you Leonie
Darshana
2017-01-16T00:00:00Z
这是一处非常不错的住所!设施完善!位置比较方便,尤其是对于自驾的人来说,门口可以免费停车。虽说房东进出时需要穿越房子的客厅,但是不会打扰到我们。
peng
2017-02-07T00:00:00Z
It was a great stay in a very nice house. Leonie was an amazing host, providing e.g. with maps, Snacks. All you need is there. Enjoying Sydney in an easy way!
Cora
2017-01-02T00:00:00Z
Leonie's Airb&b was our first experience and what a wonderful way to start off a new way of being accommodated! Her charming home was perfect for the four of us: clean, well-appointed and truly above our expectations with everything to make us comfortable: a home away from home! I really can't think of a negative. Location was great, the home was comfortable and cosy with the added bonus of being able to enjoy some food items that guests had left (with the use-by-date unexpired). Definitely would stay there again! Thanks, Leonie, for being welcoming and helpful!
Madeline
2016-12-17T00:00:00Z
Clean and accommodating. Very happy with everything. Thank you
Zhao
2017-02-11T00:00:00Z
Art der Unterkunft
Ganze Unterkunft
---
Objekttyp
Haus
---
Unterkunft für
5
---
Schlafzimmer
Cammeray, New South Wales, Australien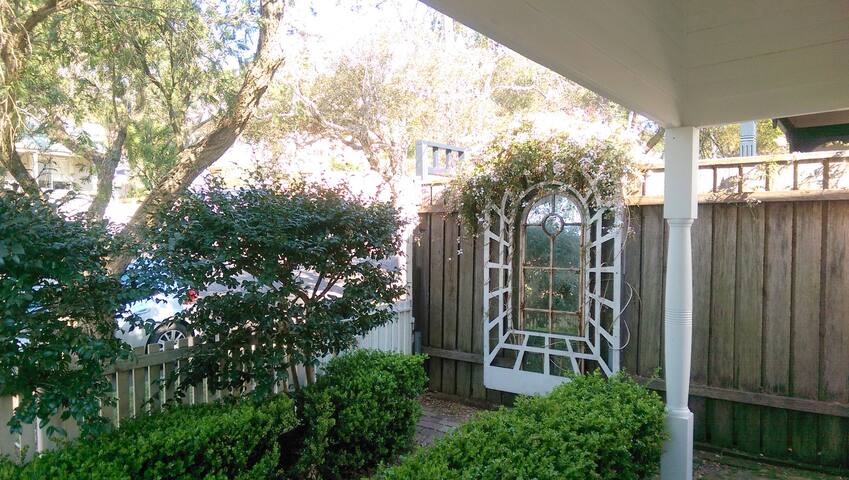 Es liegt am Lane Cove Golf Course Dieses geräumige Schlafzimmer ist privat, abschließbar und hat ein eigenes Bad, Klimaanlage und die Nutzung von Außenterrasse und Garten. Es ist ein paar Minuten zu Fuß zu den Geschäften, Restaurants und Bushaltestelle (10min bis CBD).
Lane Cove ist eine ruhige, sichere und noble Vorort gelegen in North Shore, Sydney Kommen Sie eine ruhige und entspannte Atmosphäre lokale Stadt mit einer starken europäischen Stil One-Stop-Bus zum CBD über die Autobahn zu genießen dauert nur 10-15 Minuten; .. erkunden sydney in Ihrer Freizeit! Das Blue Bay liegt in einer ruhigen Gegend von North Shore Sydney edel, Ruhe lokalen Stadt gelegen, ist selten in Sydney mit reichen europäischen Stil Stück reines Land. Aus zahlreichen touristischen Attraktionen sind sehr bequem, ist die Autobahn der CBD, solange ein Bus beide kommen zu stoppen. Das Anwesen ist sehr neu, gebaut nur vor ein paar Jahren auf den Garten grenzt an den Golfplatz -. Am Abend nehmen Sie einen Spaziergang direkt mit einem Putting Green durch unseren Hinterhof Schlendern Sie durch die Höhen und Tiefen des Landes Gold-Kurs und. in einer großen Grünfläche mit herrlichem Blick auf den Sonnenuntergang. Das Haus wurde vor ein paar Jahren, bevor die neue gebaut, neben dem Golfplatz, am Abend können Sie in den Hinterhof von den Höhen und Tiefen des Berges natürlich gehen kann, in einen grünen Sonnenuntergang.
Lane Cove ist ruhigen und grünen. Die Straßen sind sauber, ruhig und die Leute sind sehr zivilisiert und freundlich. Lane Cove Nachbarschaft, üppigem Grün, die Straßen sind sauber Ruhe, zivilisierten und freundlichen Nachbarn in Australien vor allem Einheimische.
Great accommodation and thoroughly enjoyed the stay. Easy walking distances to plaza and many facilities.
Chris
2017-01-12T00:00:00Z
Ping was very warm & welcoming to us (a couple). We got to Ping's after a hectic couple of days. Very quiet, harmonious environment and a well appointed large room with own bathroom. Left feeling restored and rested! Even though very green environment, it was a very easy and quick trip into the city of Sydney for our engagements.
Shane
2017-01-17T00:00:00Z
The room is exactly same as the picture. Spacious, clean and comfortable. But aircon is central controlling system, so we could not adjust the temperature in our (URL HIDDEN) that, everything is fine with us. There is only 5min walk to the Lane Cove town. There is 2 big Supermarket there (Woolworth & Coles). 10min walk to bus stop and only 1 bus stop to City Wynard train station (around 20 min). The bus will go though Sydney Harbour Bridge. Ping and her husband is very friendly and they even give us a ride to the train station on our departure day. We really appreciate it!
Ying
2017-02-11T00:00:00Z
我一般很少写reviews,但是平姐的家是个例外,这里是我在airbnb上住过的综合条件最好的住所。第一、交通方便,lane cove离city很近,公交车一站就可以直达city。附近的lane cove village吃饭、购物非常方便。第二、住宿条件及环境都超赞。平姐家的house在lancove地区也算得上最漂亮的,客人住在一层,窗外就是一片高尔夫球场满眼绿色。我们住的房间里内置洗手间和储藏间,很方便。院子、客房及公共区域都非常整洁,功能齐全,平姐管理得很有序,客人用的洗衣机会定期得到清洁。第三、平姐和大哥对客人非常友好,细心。我给老公买的点心做早点老公不爱吃,平姐第二天就给烤了一盒面包,比在专业面包店买的还好吃,听说我对牛奶过敏立刻给我榨了一杯豆浆。整个住宿期间的感受都非常舒适温暖,感谢平姐提供了这么好的住所,我相信这不是用钱可以买到的,这里将是我每次来悉尼的不二选择!
jia
2017-01-22T00:00:00Z
Maison magnifique. Les hôtes absolument charmants, disponibles, chaleureux, raffinés. Lane Cove est très bien desservi par les bus. (20 minutes du CBD). L'appartement WAKE UP IN NATURE est absolument exquis à l'image de Madame PING : tout est impeccable ! Je suis ravie d'y avoir séjourné !
Josiane
2016-08-31T00:00:00Z
Very nice place, clean and comfortable. Great interior, beautiful garden. Easy access to public transport.
Pavel&Zoe
2017-03-11T00:00:00Z
It's an amazing room with very comfortable environment. Ping is a nice host and provided us much help. The location of her house is at a quiet, beautiful suburb and the sight from the window is what you can imagine in a fairy tale.
Renpeng
2016-08-29T00:00:00Z
My mother and my step father had I really nice time! The house is amazing! Exactly the same as advertised. Every thing was clean and great!! The host ( Ping and her husband) we're very friendly and helpful! Soon my parents in law gonna to stay on the same room!! Xxx
Sabrina
2016-03-18T00:00:00Z
Art der Unterkunft
Privatzimmer
---
Objekttyp
Haus
---
Unterkunft für
2
---
Schlafzimmer
Lane Cove, New South Wales, Australien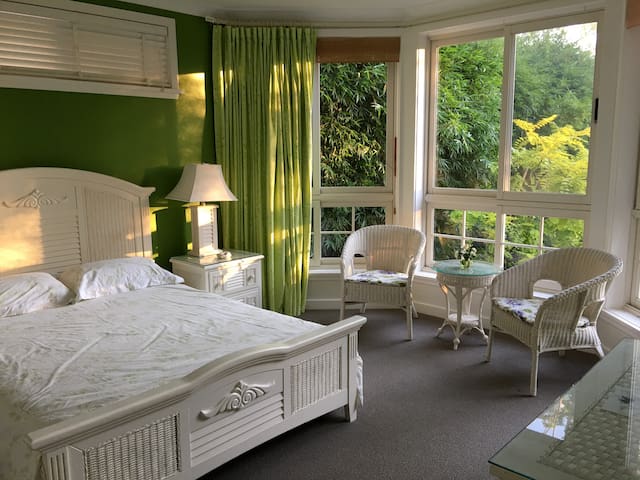 Enjoy the tranquility of this beautiful retreat set in a rare area of urban rainforest above a park on the shores of Sydney Harbour. Secluded and private yet, incredibly, only 6.6km from the Sydney CBD (closer than Bondi beach) with a bus to the city only metres away. With three big bedrooms, each with ensuite bathroom, and a solar-heated salt water pool, the place is brilliantly equipped for the business or leisure traveller. And yes, of course there's WiFi, cable TV, parking etc etc
IN A HURRY? Just read the summary and view the floor plan in the photos. SUMMARY What's so special about it? The view, proximity to city (6.6km or 15 mins by car), the tranquility, the pool and rainforest gardens, the outdoor 'rooms', the eclectic, luxe interior and the fact that it has three big bedrooms and each room has its own bathroom. The floorplan included in the photos is accurate and to scale, so you can rely on these to make your decision. I will add that the kitchen, whilst small, is perfectly formed. We're a family of keen cooks (one of my sons is a chef at one of Sydney's top restaurants) so you'll find everything you need - from a balloon whisk to measuring cups, rice cooker, woks, oils, vinegars, cooking sauces. Need anything else? Just ask. WIFI Yes, of course we have it, and it's free and unlimited for guests. PARKING One spot is available on site . There is unrestricted free street parking. BEDROOMS AND EN SUITE BATHROOMS o Bedroom doors are lockable o Each bedroom is > 25 square metres o Queen size beds with mattress toppers and (of course) protectors. o Bedside tables with storage and lamps o Reading lamps o Daybed, sofa, rocking or arm chair in each for relaxing or working on your laptop o Desk with task lighting o Large wardrobe with drawers and plenty of hanging space o Dimmable ceiling lights o Heating o High quality bedlinen and towels o Pool towels o Instantaneous high pressure hot water that never runs out o Shampoo, body wash, conditioner, soap, tissues etc provided o Hairdryer o Emergency supplies of toothbrushes, razors, toothpaste etc in case you've forgotten something. SITTING ROOM o Bifold doors open onto poolside dining area o Foxtel IQ Platinum cable TV (hundreds of channels) o Library of carefully curated books and games o Gas heating o Foldout 6 person dining table o Large sofa o Rocking chair and footstool o Dimmable lights and reading lamp o USB charging port o Multi-country electric plug converter KITCHEN o Well-equipped with stove, microwave, fridge, toaster oven, rice cooker, coffee grinder, tea pot, toaster, kettle, stove top espresso maker, coffee plunger, bullet mixer etc o Breakfast is included. o Stocked with breakfast items - cereals, butter, fruit, juice, breads, a range of teas (bags and loose leaf), real coffee (as well as that disgusting instant stuff) free-range eggs, bacon, yoghurts, instant noodles, rice, miso paste, fresh milk. o Snacks - biscuits, chocolate, muesli bars, crackers, chips, nuts etc MISCELLANEOUS o Iron and ironing board o Laundry liquid and drying rack for handwashing o Use of laundry upstairs (Mielé washer and dryer) o Pets on site - but they don't usually go near the guests. Denny and George (cats), Warren (our Brushtail Possum who thinks he's a cat and so cute he should probably have his own Instagram page) o Smoking is allowed outside in designated areas. OUTSIDE o Stunning views over treetops to harbour foreshore park. o Large solar-heated, salt-chlorinated, fenced pool o Two outdoor dining areas - one undercover, one next to BBQ o Indoor/outdoor room has electric heating and curtains for winter nights. o Large Weber gas BBQ - free for guests o Hammock o Old school canvas 2 person tent o Outdoor 'lounge room' undercover o Huge rainforest garden, steep hillside, lots of stairs and decks and private spaces o Direct (but steep) access to waterfront park from backyard PLEASE NOTE: The apartment is linked to the house via an internal stairwell. This stairwell is not used when guests are in residence and it is enclosed by acoustic curtains to minimise sound transmission. There is no visual contact between the upper level (where we live) and the lower level. Each room in standard configuration accommodates two people in a queen bed. If you'd prefer not to share a bed, an additional bed can be added to either room if needed. When you book for 8 guests, the sofa bed will be set up in the Poolside Room and a single bed can be set up in either of the other two rooms. --------------------------------------------------------------------------------------- IN MORE DETAIL THE POOLSIDE ROOM - Big bright and airy, this room is perfect for guests with a small child and friends travelling together. The toilet is behind a separate door in the bathroom, so it's very private. The best thing about this room is that there is a door (compliant 'child safe', self-closing and lockable) from the bathroom that exits directly onto the pool area. So if you like an early morning dip, it's ideal. THE RETRO ROOM - Perfect for night owls, late sleepers and children who wake easily. The Retro Room has an eclectic, romantic, moody, 'steam punk' vibe. This room also has its own separate entrance, so you can come and go without disturbing anyone else. Guests who like to sleep late and parents of jet-lagged children just LOVE the Retro Room. It's "like being in a luxurious cave" and "a great place to lock yourself away for a month and write a novel". Its built into the hillside, which makes it warm in winter and wonderfully cool in summer. Warning, if you're sleeping in this room and you have to be up at a certain time, set an alarm on your phone - because it's so quiet you'd sleep through Armageddon. THE WINE CELLAR ROOM - Perfect for bookworms and kids who want extra space to spread their Lego all over the floor. The Wine Cellar Room has a lovely reading nook with a daybed next to a window that looks out over the pool courtyard. If you're travelling with children, it's perfect. Parents can enjoy a 'grown up' meal by the pool and easily keep an eye on the kids. Kids feel safe and secure knowing their parents are within earshot. All bedrooms have a well lit desk and plenty of storage and hanging space.
Greenwich is a hidden gem of Sydney. It's a harbourside suburb on the lower north shore of Sydney, renowned for its natural beauty but only minutes from the city centre. It really is the best of both worlds - close to city but clean, safe and spectacularly beautiful. One of the great attractions of Greenwich, and my house especially, is its proximity to beautiful parks and walking tracks that will take you all around the harbour foreshore. It's a great place for hiking and there's a public golf course just up the road. There are many local parks with children's play equipment and outdoor training facilities (the best is at the bottom of my garden) and tennis courts for hire. Nearby Lane Cove is a major bus transport hub and has supermarkets, shops, restaurants, bars and a pub. We live in a rare patch of littoral rainforest and a fluke of topography means we enjoy our own micro-climate. It can be 40C in Sydney and it'll feel cool and fresh down in the garden. We are surrounded by wildlife. In the day time you might encounter beautiful big lizards - water dragons, goannas, blue tongues and frill necks - but only if it's a sunny day and they don't scamper off at your approach. At night, you'll be visited by our family of Brushtail Possums, watch members of the Flying Fox colony from nearby Waverton feast on our giant Strelitzia and hear the calls of Powerful Owls as they hunt for food, and a mate. In the daytime you'll get to meet, and perhaps feed, our big fat Kookaburras, brightly coloured Lorikeets and, if you're super lucky, a Lyrebird. The shops and restaurants of Crows Nest and Lane Cove are nearby and can be reached in minutes by car or bus or, for the more active, on foot. The local Greenwich village shops have cafés, a grocery store which would satisfy the most discerning foodie, a pharmacy which delivers, a bottle shop and a post office.
Our kids like This house, There is a little wooden House in the path to the children garden, and the road is an exploration for them. IT takes 15 minutes to Sydney Opera House, 20 minutes to the China town. The kitchen is small, but anyway it's a good place.
强
2016-10-06T00:00:00Z
Louise was a wonderful host for our stay in Greenwich on the northern side of Sydney Harbour. Our group of four felt like she went out of her way each day to make sure we were comfortable and had everything we needed. Without a car, public transportation is the way to get around (bus, train, ferry, taxi). It's a bit complicated to connect all of these transportation dots but Louise was there to assist when we needed it including the OPAL cards which are absolutely necessary for any of these modes. She was kind enough to set up a "maxie taxi" for us on the last day to make a crack of dawn flight to Cairns. Her abode met all of our needs. The lower part of the home is quite private with a separate entrance and opens to the patio pool and steps that lead down through the rain forest. Although we didn't use the pool, everything needed was there. The dining table, sitting area and hammock were perfect for eating and lounging. Our only regret is that the infamous "Warren", the bushtail opposum, chose to get the banana pieces we left out for him in the evening but did not choose to give us a formal welcome and hello. He was probably in the bush looking for lady bushtails and we were definitely second priority. Next time we will bring the motion-activated camera. Each bedroom is large with plenty of storage and a separate bathroom. Wifi worked well while we were there which proved quite helpful in many of our tourist destination searches. The kitchen is small but quite adequate for our group of four. We were able to make several meals there. Take out is available from many restaurants in the area which we also used. Louise will see to it that you have pretty much anything you need for breakfast and snacks. The neighborhood has its own charming character and begs for long walks. Lane Cove is a 20-min walk and has all of the shops for most needs. Local buses can make a walk/bus ride combo work out very well. We thoroughly enjoyed our stay with Louise; she was a very attentive host. She had a deep sensitivity to nature, protective feeling for the environment and caring attitude for all earthlings, including her fellow homo sapiens; i.e., someone you would want as a good friend. It's too bad we live so far away that we could not have lunch with her now and then to stay more connected. Hopefully she will come to the US to visit with us someday in Tucson, Denver or Minneapolis and allow us to repay the hospitality.
Richard
2016-07-16T00:00:00Z
Fantastic house! Louise is a fantastic host and makes your stay very comfortable. The complimentary food and toiletries was a lovely, refined touch. The pool area is clean and loads of fun - loved hanging out in the hammock to the sounds of nature! Rooms are very clean and well furnished with luxurious linen. The three bathrooms are well appointed and clean with nice cleaning products. Beautiful house in beautiful surrounds (spiders adorn areas of the outside of the house which isn't an issue internally or if you're not a wuss like me!). A 15 minute drive into the heart of the city across the harbour bridge. Nice restaurants nearby!
Tejas
2017-02-19T00:00:00Z
Whilst all effort was providing accomodation for 9 people, this listing is probably most comfortable for 4 to 6 people. Car parking was a problem and whilst listing suggests you can access the Harbour down the stairs through the garden, this is not achieved easily. you need to negotiate steep rocks and inclines. Listing suggests pool is heated, this was not the case.
Debbie
2016-08-08T00:00:00Z
Louise was an excellent host very attentive and provided us with lots of great recommendations of things to do in the area as well as places to eat. The house was absolutely beautiful, perfect little retreat away but still close enough to visit the city. We will definitely be coming back again :)
Tori
2016-11-18T00:00:00Z
Was a great escape not far from home! Will be staying again.
Jade
2016-12-04T00:00:00Z
The Urban Rainforest House was an absolute pleasure. The kitchen was well stocked, the house was spacious, with bedrooms of comfortable size. The pool and surrounding area was very pleasant and the gardens were lovely and green and really felt like we were in a rainforest just as advertised. Louise herself was very helpful and accommodating to all our needs. Highly recommended!
Max
2016-08-15T00:00:00Z
House is very accurate to the listing a very cost home. Louise made us feel very welcome. Would recommend it to anyone! :)
Hien
2016-07-18T00:00:00Z
Art der Unterkunft
Ganze Unterkunft
---
Objekttyp
Haus
---
Unterkunft für
8
---
Schlafzimmer
Greenwich, New South Wales, Australien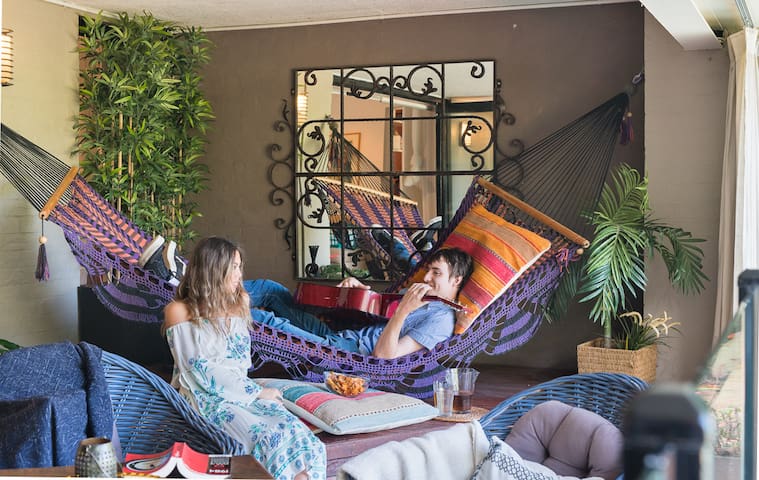 Charming one bedroom apartment with comfortable queen bed. Includes separate lounge and kitchenette/dining (with extra single bed). Fast wifi, ceiling fans, cooking facilities, clean and well cared for. Quiet street with parking. Walk to bus (5 mins) and Lane Cove Village shops & cafes. Enjoy sunny verandah and leafy outlook.
"Yeubla" is the name of our house, built in the 1920's with plenty of old world charm. The apartment is at the front of the property. It has its own entrance and is separate and self contained. It is spacious with modern features including a bedroom with queen bed, kitchenette/dining with single bed, bathroom, separate lounge and sunny verandah. The apartment is a separate private area at the front of our house. We are available on the premises to assist guests with any information however our house is separate and guests are completely private with their own entrance. Lane Cove is very easy area to drive to with great access to the city. We have parking in the street and are happy to help with finding your way around. It is a quiet neighbourhood with great bushland and tree lined streets. It is only fifteen minutes from the city and has a buzzing Village centre with wonderful shops and a variety of resturants. We are a two minute walk to Pacific Highway which has buses every fifteen minutes to the City. There are also buses to Chatswood and Manly. The kitchen includes electric hot plates, microwave, sink and fridge. We provide cooking utensils, crockery, and breakfast food. The kitchen does not have an oven.
Lane Cove is beautiful suburb, quiet with great bushland and tree lined streets. It is only fifteen minutes from the city and easily accessible by car especially from north of Sydney. It has a vibrant Village centre with wonderful shops and a variety of resturants, swimming pool and gyms.
Sehr schönes Haus mit einer abgetrennten und geschmackvoll eingerichteten großen Wohnung. Absolut perfekt sauber und hervorragend ausgestattet. Nette Gegend mit sehr schönen Kneipen und Restaurants in Laufentfernung. Auch Sydney Downtown ist per Bus oder Fähre gut zu erreichen. Parkplatz kostenlos direkt vor der Haustür. Für alle, die ruhig und schön wohnen wollen mit trotzdem sehr guter Verkehrsanbindung. Sehr nette, freundliche und hilfsbereite Gastgeber.
Hermann
2015-03-01T00:00:00Z
Margaret had made the arrangements for a comfortable stay at the house.
Seshasai
2016-07-07T00:00:00Z
Very Comfortable and well appointed. While it is walking distance to public transport the location is very quiet, a 5 minute drive to Lane Cove shops and restaurants.
kerry
2015-10-13T00:00:00Z
Margaret was warm and welcoming. Her home was clean, comfortable, spacious and met all our requirements. It was lovely to be in a leafy suburban location yet still have good access to buses and nearby shops. We hope to be able to stay here again. Jennie and Don
Jennie
2016-03-24T00:00:00Z
I travel for work so I use air b and b a lot. There is nothing nicer than finding a comfy and cosy place like Margarets. A home away from home. A lovely veranda to enjoy the evening sky, a cosy bed, good shower all spotlessly clean. On top of that the little touches like fresh milk and bread are divine after a long day at work. Nice coffee and a plunger…Yes!! This place comes highly recommended from me!
Julie
2016-10-26T00:00:00Z
We had a wonderful stay at Margaret's place. The beds were comfortable, the rooms were beautifully furnished and Margaret was so friendly when we arrived. The residence was ideally located as we could easily get the bus to and from the city. We especially appreciated having fresh milk and breakfast supplies provided. We would love to stay at Margaret's place again when next we visit Sydney.
Julie
2015-10-25T00:00:00Z
We highly recommend this place - very well set up, spacious and clean. Great location (15-20 minute walk to Royal North Shore Hospital and 20 minutes to Wynyard by bus) and good breakfast provided. Thank you Margaret and Paul for all the info and for the Opal card. Everything went smoothly and we enjoyed our stay
Milagros (Mili)
2016-06-27T00:00:00Z
The "Yeubla" is a fantastic property that offers a uniquely vintage beautiful cosy space. The highlight is the history of the home which is rich in its details. Whilst maintaining it's history there are great modern perks with the self contained kitchenette and facilities. The bathroom is generous with a standout from the blissful water pressure and temperature of the shower and heated towel rack! The hosts are generous and kind in their offerings with all the basic necessities taken care of; bread, milk, tea, coffee, even right down to shampoo and conditioner and homely comforts! It was a wonderful experience and a truly lovely stay, will do so again when the opportunity presents itself. Cheers!!
Christine
2016-10-17T00:00:00Z
Art der Unterkunft
Ganze Unterkunft
---
Objekttyp
Haus
---
Unterkunft für
3
---
Schlafzimmer
Lane Cove, New South Wales, Australien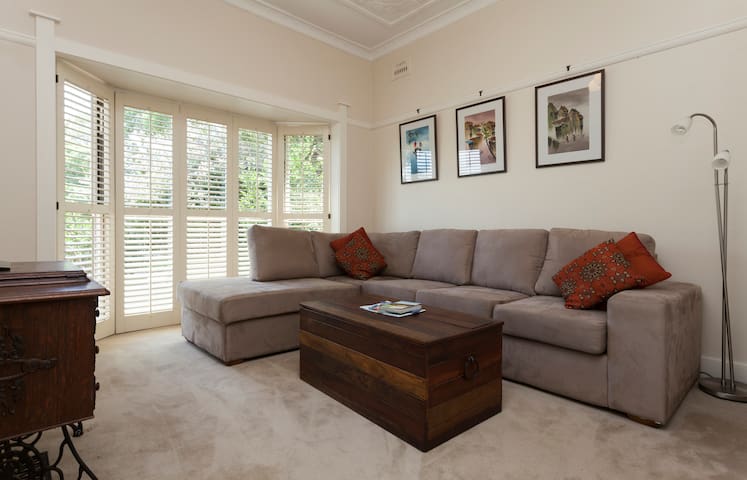 Bush Ruhe, nur 30 Minuten von der Stadt. Wir haben ein privates Schlafzimmer Selbst Raum enthalten leben, mit einem separaten Eingang. Die Wohnung blickt auf den Busch Reserve aus. Stilvolle en-suite und eine Küchenzeile. Große Wochenende oder für einen längeren Aufenthalt.
Wir verfügen über einen separaten Wohnraum perfekt für zwei Personen. Das Zimmer verfügt über ein Queen-Size-Bett und stilvolle en-suite. Das Beste von allem kann man sitzen und über die Terrasse schauen und in den Busch, Glückseligkeit.
Riverview ist eine kleine Enklave in Lane Cove. Wir sind gesegnet, in der Ruhe der australischen Busch zu leben in der Nähe der Stadt. Das Zimmer blickt über Warraroon Reserve aus, die zum Hafen von Sydney nach unten führt. Vom Zimmer aus kann man durch Warrarroon Schutzgebiet und zu Fuß entlang des Baches zu Tambourine Bay.
Great place to stay!!! Lovely hosts and great location!
Luke
2016-01-10T00:00:00Z
This stay was amazing and special! Kath and Grant are perfect hosts! They took very good care of us by picking us up from the station, showing us the area, making sure that we had everything we needed in the apartment and giving us very valueable insider tipps. They even offered us to take their kayak for a tour on Lane Cove River which gave us the possibility to see Sydney from the water. The apartment itself was very clean, had an extremely comfy bed and a small kitchen unit with everything we needed for our stay. Our favorites were to wake up every morning with the view into the bush and the possibility to do a little nature walk. This place is perfect for both, a short get away or a longer stay in Sydney!
Sabrina
2015-07-12T00:00:00Z
We had a wonderful visit staying at the forest escape. We were met by Cath who helped us down with our suitcases. Was very impressed with the space. Look exactly like the photos. Was very happy! Grant drove us into town and offered to wait for us until we were ready to head back. Lovely host who could not have made us feel more welcomed. Wish we could have stayed longer. Looking forward to another visit!
Brittany
2016-08-23T00:00:00Z
I was happy in this place. I had a great relaxing time. and I will stay again if I visit Sydney again. Lovely guests!
Hong
2016-02-11T00:00:00Z
My boyfriend and I are spending one month in Australia and we spent almost a week at Kath and Grant's place whilst we explored Sydney. It was absolutely perfect for what we were looking for, we wanted to stay somewhere that was peaceful, quiet but also close enough to Sydney city centre so we could travel there daily. The apartment was clean, had everything we needed and also in a really lovely area that made it feel very homely. Grant and Kath were very responsive throughout and are so friendly in person. They gave us some great tips on what to do in Sydney and kindly provided travel cards you can use on the buses and trains which were extremely useful. We would recommend Grant and Kath's to anyone who doesn't want to stay in Sydney centre and would rather somewhere more tranquil. Thanks again Kath and Grant, we had a really great time! X
Harriet
2016-10-03T00:00:00Z
Kath and Grant made us very welcome and the accommodation was lovely, private and quiet in a beautiful leafy setting.
Jane
2016-07-10T00:00:00Z
Kath and Grant were kind and friendly hosts – from greeting us with home made muesli to giving us a lift to the station with our suitcases at the end of our stay. Kath also saw us walking down the road one day and stopped to pick us up to drive us to the local shops. The accommodation was clean, well furnished and private – just what we were expecting from the photos on the website. We were able to make breakfast and with a microwave and small hotplate we were also able to make the occasional evening meal. The bed was very comfortable. We did not want to hire a car so getting into Sydney CBD by public transport was important. The bus stopped just an easy five minute walk from the property and took around 35 minutes into the city centre. We packed our week site seeing but on our final day took Kath and Grant's suggestion of walking down their garden – straight into a bushland reserve. It was a wonderful walk which lead down to beautiful secluded Tambourine Bay - well worth the trouble. We would certainly stay again.
Alastair
2016-05-03T00:00:00Z
This place is wonderful. Kath and Grant were so warm and welcoming when I arrived and the apartment was just what I needed for a bit of quiet time.
Jessie
2016-01-14T00:00:00Z
Art der Unterkunft
Ganze Unterkunft
---
Objekttyp
Haus
---
Unterkunft für
2
---
Schlafzimmer
Riverview, New South Wales, Australien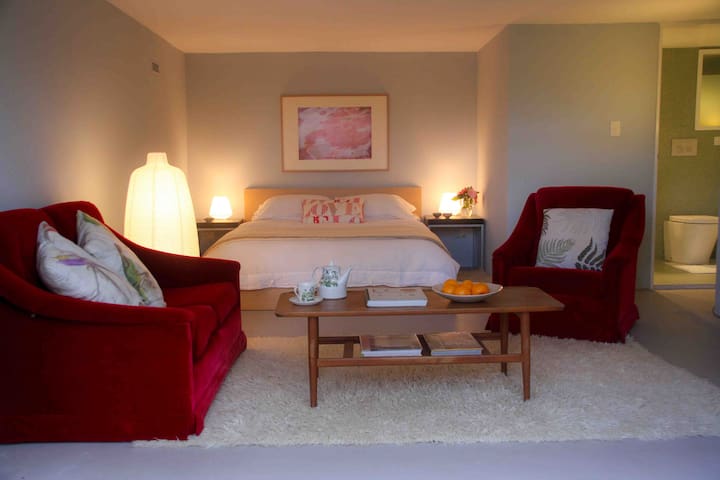 Ihr eigenes Studio an der Rückseite des Gartens. Nahe genug, um zu sagen hallo, und genug Abstand zu Hause zu fühlen. Ein schöner Raum mit Balken und Leadlights. privaten Garten. Nähe Stadt, Verkehr, Parkplätze, Restaurants, Unterhaltung.
Loft-Stil, ästhetisch ansprechenden Raum mit Küche, Bettwäsche, Handtücher, Bad, Waschküche (die ich manchmal zu teilen und bewegt wurde, ist nun verfügbar für uns beide), Frühstück zur Verfügung gestellt. Im Bereich mit schönen natürlichen Umgebung. Ein Queen-Size-Bett und ein Doppel ausziehbares Bett für die zweite Paar. Kinderbett zu Verfügung.
große Restaurants und Cafés 5 Minuten zu Fuß, Buschwanderungen und Vogelwelt, die Nähe zur Stadt und Unterhaltung.
Ich habe mich vom ersten Moment sehr freundlich und zuvorkommend aufgenommen gefühlt. Donna achtet sehr auf die Privatsphäre des Gastes. Die Unterkunft hat alles für einen angenehmen Aufenthalt. Komme gerne beim nächsten Mal mit meiner Frau wieder. Danke Donna für die schöne Woche!
Andreas
2014-11-11T00:00:00Z
Donna was very friendly host & we asked her about some local parks & etc. The garden studio was comfortable & had the lovely stained glass windows & also had the great garden for the dogs. Beau was a cute, quiet & very shy dog. The kitchen had everything you needed. Also found a very trendy cafe nearby(back & forth in Castlecrag)& a lovely Italian restaurant (Rubino's in Willoughby) (both walking distance & dog friendly) Also catching the bus from her place was very easy(so close to city) & enjoyed it as I don't like driving in Sydney. Thanks for having us all Donna. Hope to stay at your place again.
Michael
2016-10-29T00:00:00Z
Donna made us feel very welcome.
Eve
2016-06-06T00:00:00Z
nice cottage in a convenient spot!
Stanley
2016-11-05T00:00:00Z
Donna welcomed us as we walked in, and she was very helpful whenever we needed it. She was just a text away, which again is one of the best things when you stay at her place she will respect your privacy.The place was wonderful for our family , perfect almost as it is well connected to Sydney's CBD. Would definitely recommend to my friends and family. Thank you Donna :)
Shrikant
2015-07-30T00:00:00Z
Donna is very welcoming , warm and discreet . The studio is located in the garden and allows you to be home. It is decorated with great care, pleasant, quiet and we stayed for 4 days with 2 teenage children. There is a supermarket 300 meters , the Sydney city center is 20 minutes by bus and it was a pleasure to spend each time by the Sydney Harbour Bridge . We definitely recommend the house of Donna !! Hervé (from France)
Hervé
2015-01-08T00:00:00Z
The studio is cozy and comfortable. Donna went out of her way to make our stay as pleasant as possible. We really enjoyed the generous touches she left in the kitchen that said 'welcome and stay a while.' The place was clean and well presented. Sleep quality was excellent.
Alan & Maggie
2015-04-27T00:00:00Z
Donna's place was perfect for our two night stay. We found the space and cost to be extremely well-priced for Sydney suburbs. There was plenty of room for the two of us and our pet labrador. Very close to local shops, restaurants and a dog park. Free street parking was easy. I would definitely stay again.
Monika
2016-10-03T00:00:00Z
Art der Unterkunft
Ganze Unterkunft
---
Objekttyp
Haus
---
Unterkunft für
4
---
Schlafzimmer
Willoughby, New South Wales, Australien
Bus stop across the street, train station 2.5ks, shops less than 1k, quiet, entertaining family, great garden, BBQ and 2 cats. 21 year son and 18 year old daughter at home but with jobs and doing uni and very busy social lives.
Easy access to public transport, shops and great bush tracks. 3 train stops to Chatswood shopping district and a 25 min ride all the way to city. Very good size comfortable living areas (2)to have room and feel relaxed.
As stated. It's a quiet cul de sac with friendly neighbors and plenty of wildlife that comes up to visit from the bush area that is practically at the doorstep of everybodys homes.
Absolutely superb stay. Even though it was only for one night (much to our regret) it was fantastic. Greeted in the driveway with a friendly hello and hand with the bags, shown to the room and made very welcome. Kevin and his wife are both wonderful and friendly hosts. Room was clean, airy, light and well appointed. Queen size bed was great and very comfortable, in a generous space, with plenty of room for luggage including a good-sized desk. Bedside tables with lamps and available power points an excellent addition! Couldn't have asked for more, would stay again without question.
Rob
2016-11-17T00:00:00Z
The host canceled this reservation 30 days before arrival. This is an automated posting.
Tanya
2016-11-28T00:00:00Z
Art der Unterkunft
Privatzimmer
---
Objekttyp
Haus
---
Unterkunft für
2
---
Schlafzimmer
East Killara, New South Wales, Australien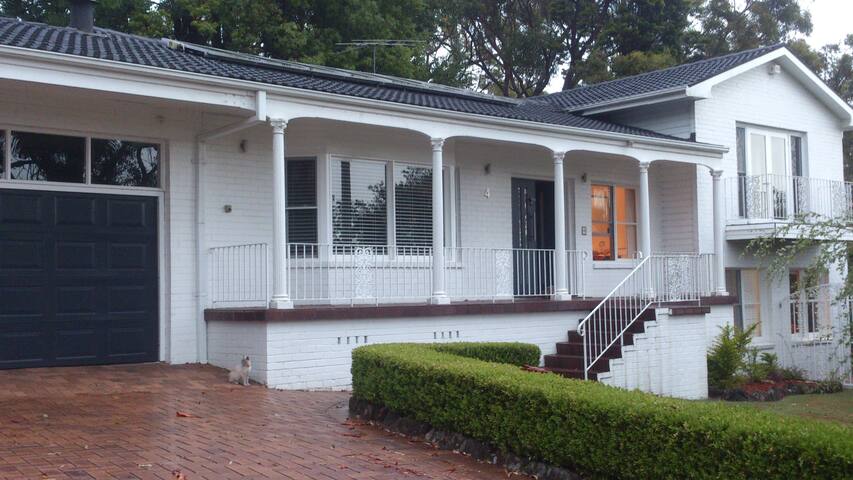 别墅内有电梯,游泳池,乒乓球桌,健身房,娱乐影视大厅,在顶层阳台,俯瞰美丽的森林公园。每一层房间都有独立空调,地暖,独立属于自己睡房的阳台。可以提供租车或机场,火车站接送服务。
20 分钟车程到达悉尼市中心,8分钟到达华人区和最大购物中心车士活(CHATSWOOD)
Gordon & Wife were fantastic host, very friendly and welcoming. The house is very comfortable, cosy and super clean. The views are stunning and very quiet at night. We love staying there. We have already recommended this homely space to our friends and looking forward to another opportunity to stay at this place again.
Carine
2015-11-27T00:00:00Z
房东gordon人很好,而且很细心!帮我推荐几个值得去的地方,担心我忘记,把路线和要去地方的名字都写在来让我带着.每天亲自开车送我到市区或火车站,有求必应!小女儿更是可爱,不怕生,每天笑呵呵的!很好的一家人,很高兴认识他们.
爽
2016-10-10T00:00:00Z
一个字:好!两个字:很好!三个字:非常好!五个字:好得不得了!哈哈
peng
2016-02-10T00:00:00Z
We'd like to thank Gordon and his family for great host during our trip in Sydney. It's a very nice and helpful family. The house was stunning clean, large and modern, and located in a quiet Killara neighbourhood closing to anywhere once you got a vehicle. Will stay in touch.
Joy
2017-02-08T00:00:00Z
Wow, that is a great house,we lived there for three nights, feel like home.Gordon is a very nice host, pick us up to train station every day and we know more about Sydney from him. We hope that we will come to Sydney again very soon and living there again!!
Nelson
2017-01-02T00:00:00Z
Our experience in East Killara with Gordon and his family was easy. It was our second time staying in shared accommodation, rather than entire home and it only enhanced our experience that week. Both Gordon and his wife are well educated and good communicators. Nothing was too much trouble. Their two children are delightful and were wonderful companions to our two older children when we were in the house.
Tania
2015-11-07T00:00:00Z
超好的體驗,感謝房東和太太。
Candy
2016-07-22T00:00:00Z
Luxury house with magnificent view! Quiet (URL HIDDEN) hearted host! Nice experience !
Hongbo
2016-08-03T00:00:00Z
Art der Unterkunft
Privatzimmer
---
Objekttyp
Haus
---
Unterkunft für
2
---
Schlafzimmer
East Killara, New South Wales, Australien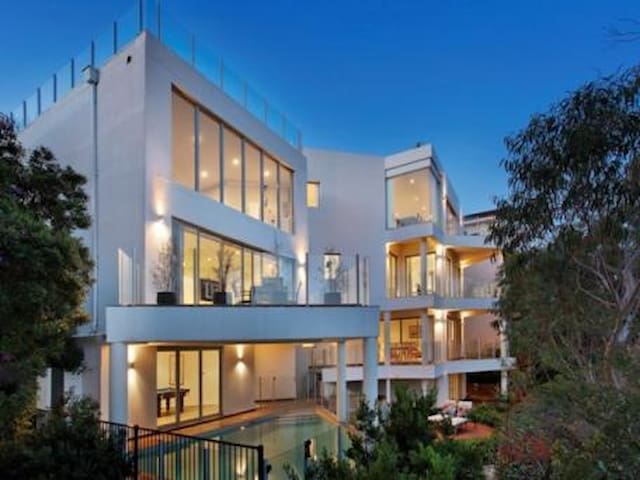 The house overlooks Middle Harbour bushland with water glympses and Chatswood in the distance. We are located near Buses (30mins to CBD) and 5 mins (1.5km) to local Forestville Shopping Centre with another smaller shopping centre 5 mins walk from home and 10 minutes to Chatswood. 5 Minutes to Frenchs Forest. Cost of ALL Utilities (Wi-Fi & Foxtel) and pool etc are included in the rent
PLEASE NOTE: The Above price is for an Individual. A Couple will pay $10 more which is $50. Thanks
Very quiet and safe neighbour hood. There is a French influence around the suburb with with French fates all around the year
Lizzie and Greg were absolutely wonderful. They were very kind and easy to talk to. The room and bathroom were very clean and comfortable. The view from their home is spectacular and in close proximity to the city. I enjoyed my stay and would recommend them to other travelers.
Chris
2017-01-04T00:00:00Z
Everything is extremely perfect.
Bei
2017-01-14T00:00:00Z
Had an amazing stay at lizzies listing! They were very welcoming upon check in. Both very friendly and approachable, had no issues at all during our stay. Overall extremely good value for money and would recommend to any type of traveller! Thank you Lizzie and Greg!
Laura
2017-01-03T00:00:00Z
Art der Unterkunft
Privatzimmer
---
Objekttyp
Haus
---
Unterkunft für
1
---
Schlafzimmer
Killarney Heights, New South Wales, Australien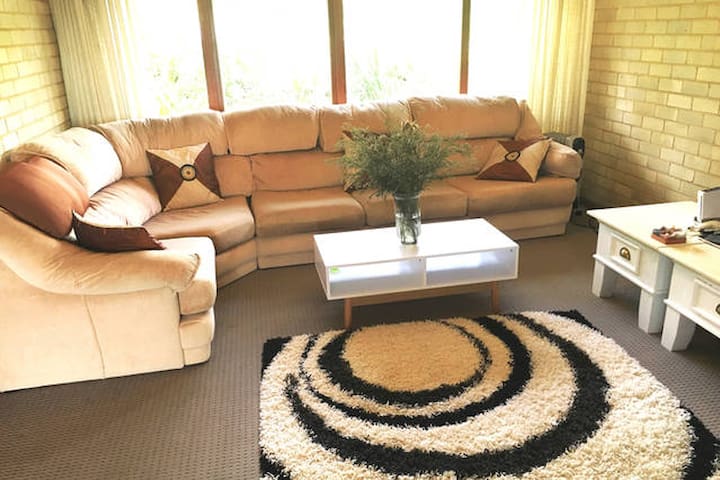 My place is close to City and Chatswood. It is also close beaches of northern suburbs like Deewhy, Manly etc. You'll love my place because of the outdoors space, , the neighbourhood, 15 min bus to city from bus stop, 30-35 min to Airport non peak hours. My place is good for couples and families (with kids).
Great value location. Great service from the host.
Michael
2017-03-01T00:00:00Z
Art der Unterkunft
Ganze Unterkunft
---
Objekttyp
Haus
---
Unterkunft für
6
---
Schlafzimmer
Castle Cove, New South Wales, Australien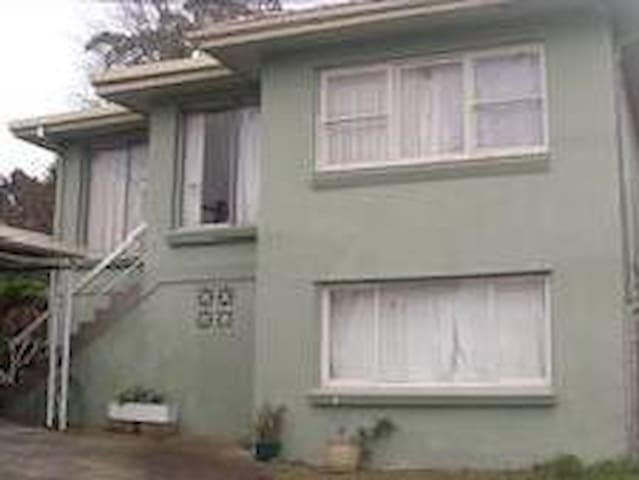 Sit in a very quiet area, 200m from a bus stop, buses go to Chatswood in 20min, Wynyard in 40min or Dee Why in 45min. If you have a car, Manly is 20 min away. The house is occupied by a family of 4, nice and easy going, still new in the area so happy to go discover around with you if you want it, but also quite aware of what to do to enjoy your stay in Sydney.
Enjoy a nice swimming pool, have a BBQ as well, or just chill in the sun in the backyard, this is Sydney lifestyle!
Es hat uns gut gefallen, haben uns wohl gefühlt. Besitzer haben uns viele hilfreiche Tipps über Sydney und allgemein Australien gegeben. Besitzer sind nett und zuvorkommend.
Tanja
2017-03-27T00:00:00Z
Ben is really really nice and welcoming, we learnt a lot about Australia thanks to him. The house is great and calm, not so far from Manly beach ; and the bedroom is soooo big and comfortable ! We had a really great time and strongly recommend !!
Florence
2016-12-10T00:00:00Z
Adam's home and family are very welcoming and it was great to be with them. The accomodation is comfortable and clean. Although near the main route to the city, it is in a quiet location and makes travelling to the city easy by car. We recommend staying there.
Judith
2017-03-06T00:00:00Z
Nice place, really comfy bed, nice people, very clean and tidy
Mathias.
2017-02-16T00:00:00Z
Ben and family are lovely. The house is located in a very quiet neighbourhood. We enjoyed running down to the beach at Flat Rock, although the terrain is a bit more hilly than we're used to.
Andy
2017-01-20T00:00:00Z
Great place to stay. Warm and hospitable host family, Very comfortable bed and spacious room. Central for our needs. We'd like to stay again Would love to stay there again.
Judith
2017-02-26T00:00:00Z
Art der Unterkunft
Privatzimmer
---
Objekttyp
Haus
---
Unterkunft für
2
---
Schlafzimmer
Killarney Heights, New South Wales, Australien
Private Sanctuary in the heart of Chatswood. The large studio with ensuite bathroom features a queen bed, separate entry (completely private) with its own courtyard in a lush garden with a pool. Quick walk (700m) to Chatswood Train/Bus Interchange and shopping/dining/theaters.
Massive size (45 sqm) room with private ensuite bathroom and convenient amenities include TV, audio, gas heater, refrigerator, microwave, electric kettle, toaster, unlimited Wifi, organic toiletries and many more. Completely private with a key for your own secure door with a separate entrance. The studio is located downstairs of our house with no internal access, which ensures the complete privacy.
Chatswood is an affluent and safe commercial hub in North Shore, 10 kilometres north of the Sydney CBD. (20 mins to Townhall station by train.) It is a great choice for travellers interested in convenient public transport, shopping, and dining with two major shopping centres (Westfield & Chatswood Chase) and numerous dining options and supermarkets (Coles, Woolworths and many more) that are open till late.
Yuna was a wonderful host, who met me when I arrived, showed me the room and gave me an overview of the area. The room was large, absolutely clean and looked out into the garden where all you could hear are the birds chirping away. You have a separate entrance down the side of the house (which is lit at night). The room was equipped with Wifi, fridge, microwave and some utensils and crockery, and some cool water was provided as well. Chatswood is a busy place with lots of high rise buildings, but the area around this house (which is not far from the business centre) is like an oasis, with large trees and bush around and very quiet. I woke in the morning to the sounds of kookaburras and cockatoos greeting the day. I'll look forward to staying there again.
Tony
2016-03-24T00:00:00Z
good location near train station easy go everywhere and get the foods.big room a comfortable double bed clean place very well stay !thanks Yuna and her husband
Lois
2016-02-07T00:00:00Z
You couldn't get better value accommodation so close to Chatswood. Had thought the location would automatically mean noise but the only time we were woken in the morning was by kookaburras. Choice spot.
Alex
2017-03-08T00:00:00Z
Great place to stay - very clean, has everything needed for a little stay, handy location and Yuna was more than friendly!
Helen
2017-04-03T00:00:00Z
Very good studio with independent entrance and ensuite bathroom for perfect privacy. Quite leafy area to hear birds singing every morning.
Weibin
2017-01-10T00:00:00Z
F房东很好很漂亮不过没啥机会交流,祝她生一个漂亮的baby!
Vivian
2016-06-27T00:00:00Z
Yuna was easily contactable and she was very welcoming. Great location and great studio.
Min
2016-05-26T00:00:00Z
good communication
Adam
2016-05-09T00:00:00Z
Art der Unterkunft
Privatzimmer
---
Objekttyp
Haus
---
Unterkunft für
2
---
Schlafzimmer
Chatswood, New South Wales, Australien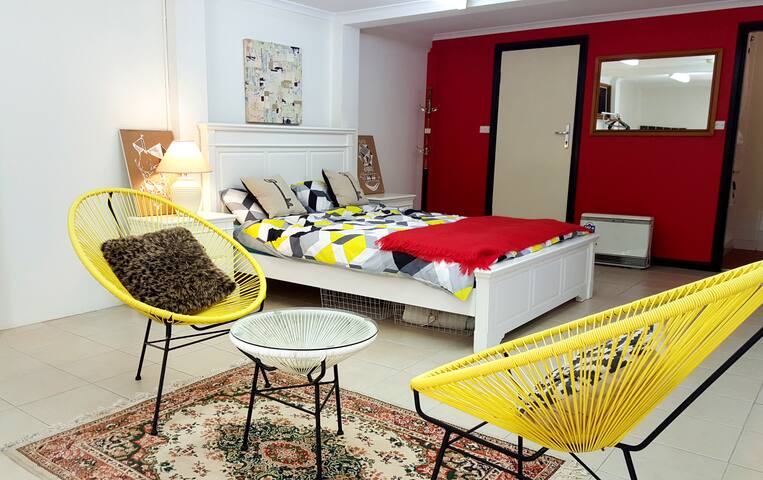 My place is close to Public transport, Shopping centres, Asian supermarkets. My place is good for couples, solo adventurers, and families.
It is a very comfortable convenient granny flat at the back of the house. Facilities including air conditioning, stove top, oven, fridge, washing machine, table, wardrobe queen size bed and sofa bed, fan are available for guest to use.
There are shopping centres very close by including Chatswood chase, Westfield, lemon grove. Cafes, Restaurants are all in walking distance and can be easily find from Mandarin centre or along Victoria Avenue starting from the train station
All as described. A very modern and clean flat. Nice quiet area but walkable to Chatswood and local transport. Friendly and attentive host. Overall very pleased
Andreas
2017-03-12T00:00:00Z
We stayed at Andy's place for close to 3 weeks. The place is as described in the pictures. Andy is readily available for any help you need.
Engaish
2017-03-31T00:00:00Z
Bel
2017-01-01T00:00:00Z
Art der Unterkunft
Ganze Unterkunft
---
Objekttyp
Haus
---
Unterkunft für
3
---
Schlafzimmer
Chatswood, New South Wales, Australien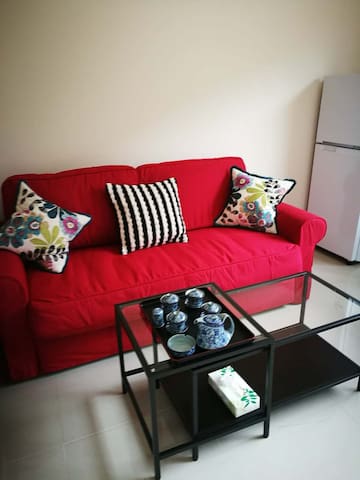 Private, spacious self contained ground floor accommodation which leads directly onto a garden. Private secure entry separate from the main house. Exclusive use of sitting room double bedroom and bathroom. Light filled, north facing & not overlooked. Close access to public transport and Chatswood a large shopping centre.
Spacious accommodation which comprises of a sitting room, double bedroom & bathroom. The area is light filled, sliding doors from the sitting room lead straight onto the garden. Private spacious outside seating is a great place to relax and unwind.
Our neighborhood is very multicultural. We are active in the community and have a great relationship with our neighbors who we socalise with. Visitors will enjoy great shopping and cultural events either in the Sydney CBD or Chatswood. Our regional theatre is a 20 minute walk away. The area is well known for a diverse range of eating options all prices and tastes are catered for.
Bobie war sehr freundlich und hilfsbereit während des Aufenthalts. Die Unterkunft ist ein bisschen zu weit weg von einem Supermarkt oder einer Bushaltestelle die regelmäßig angefahren wird. Dies ist aber der einzige Kritikpunkt. Ansonsten ist die Unterkunft schön eingerichtet und sehr sauber!
David
2015-12-04T00:00:00Z
If you're looking for a private space with a great backyard at a reasonable price, Bobie's place is it. To sum it up it basically felt like my own little flat while I was in Sydney. The train is about a 20-30 minute walk while there's a bus stop 2 minutes away making getting around quite easy. The food provided such as toast, milk and cereal was a nice touch as well. If youre looking to be north of Sydney you can't go wrong here. Communication. Was excellent as well!
Adam & Lisa
2016-11-24T00:00:00Z
Recommend ! The room is comfortable and we have private area to enjoy coffee with Wifi Bobie 's respond so quickly and helpful.
Ming
2015-02-24T00:00:00Z
Very beautiful placw with privacy , clean cozy , a place where to stay !
예린
2016-03-10T00:00:00Z
The house is nice as it shows in the picture clean and tidy. But even at 10 pm we were sitting in the garden just chatting host came and said us to go to bed because here is a silence area. And even we keep in talking in silence she came again and warned again. It was not a party or sth but if you want to stay in this place you need to sleep early and you can not even enjoy the garden.
duygu
2016-02-22T00:00:00Z
From the start to the end, absolutely smooth communication, very nice set up, really handy location, we would like to stay again. Flexible check in and out was such a bonus ! Thank you!
Eriko & Peter
2016-01-30T00:00:00Z
My wife and I enjoyed our nights accommodation at Bobie's house in Willoughby. The room was more than adequate with a comfortable bed and doona. Having a lounge that overlooked a garden with the spectacular orange blossom hanging over the stairs. Highly recommend this location and very close to the city. Thank you Bobie for your hospitality.
Peter
2016-07-25T00:00:00Z
For the price this place rocks. The place was clean and has a nice outlook from the deck. Bobie paid attention to detail, everything we needed was there. Only one negative, but a big one for us on the night, was that the floor above us was having a party playing loud music till 2am!
Roman
2016-11-12T00:00:00Z
Art der Unterkunft
Privatzimmer
---
Objekttyp
Haus
---
Unterkunft für
2
---
Schlafzimmer
Willoughby, New South Wales, Australien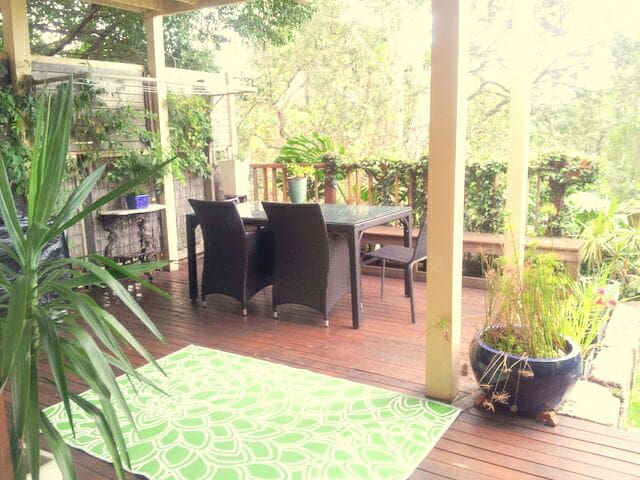 My place is good for couples, solo adventurers, business travellers, and families (with kids).
It was a great place
Donna
2017-03-11T00:00:00Z
Lovely home, Easy stay
Rochelle
2017-03-09T00:00:00Z
Nice place!
赵兴兰
2017-03-24T00:00:00Z
Art der Unterkunft
Privatzimmer
---
Objekttyp
Haus
---
Unterkunft für
5
---
Schlafzimmer
Chatswood, New South Wales, Australien
This is the one bedroom flat ( ground floor of my house) that has own entrance, private bathroom, bedroom,open plan kitchen, 80 m2 of your own space. That is a walking distance to Chatswood shopping center.
Very quite and peaceful location. Travel time from Chatswood Station to Wynyard Station (Sydney CBD) is 18 min, Town Hall ( Sydney CBD - 22 min). Walking distance from my house to Chatswood Station is 15 min ( 900 m) Travel time from Sydney International airport to my house by public transport plus walking time is one hour. ( There would be one change at Central Station )
That is a peaceful location opposite to small reserve. So you may be lucky to see lots of native birds including owls.
Amazing place with all the necessary furnishing. The house is in a private and green area, while still nearby to the public transport options and the Chatswood market. Tatiana is very helpful and we enjoyed our 2 weeks stay to the fullest. Would highly recommend this place for people looking for a private place which is fully furnished with all amenities.
Pankaj
2017-03-11T00:00:00Z
A large private space perfectly positioned for the amenities and train in Chatswood. Tatiana was very helpful prior to arrival and dealing with requests when I was there.
Philip
2017-03-15T00:00:00Z
Beautiful place, very stylish and comfortable. It also felt private and was quiet. Highly recommend staying here.
Nat
2017-02-18T00:00:00Z
Beautiful house, super clean and very neat. Definitely come back again one day
Ty & Eunji
2017-02-25T00:00:00Z
It's big, like a one bedroom unit with all mod cons, very clean and presentable, very comfy bed, close to Chatswood.
Graham
2017-02-15T00:00:00Z
Perfectly positioned near the quiet and beauty of the Sydney bush, but a hop skip and a jump to the centre of Chatswood, Tatiana's place was very clean and comfy with a heavenly soft but supportive bed. Tatiana welcomed us and and gave us the privacy we wanted, though she was there if we had needed, which we didn't. The place suited us entirely and we definitely recommend it! :-)
Annie
2017-02-24T00:00:00Z
It is very comfortable and clean unit. It is near a small park and very quiet day and night, but it is just about 20 min by walk to train station and business center.
Eric
2017-02-13T00:00:00Z
Art der Unterkunft
Ganze Unterkunft
---
Objekttyp
Haus
---
Unterkunft für
2
---
Schlafzimmer
Chatswood, New South Wales, Australien
Surrounded by national parks, this big house is the perfect place to enjoy nature whilst being 15 min drive from the beach and 10 min drive from Chatswood CBD. You'll be sharing the house with two great and quiet housemates. Your toilet is only shared with one person.
most beautiful house, with great views over the green suberbs. awesome (SENSITIVE CONTENTS HIDDEN) and the host was so nice and cool to deal with. thanks Felipe!
Ben
2016-10-20T00:00:00Z
Made to feel very welcome by host. Beautiful house and surroundings. Very quiet and peaceful !
Sandy
2017-01-07T00:00:00Z
Art der Unterkunft
Privatzimmer
---
Objekttyp
Haus
---
Unterkunft für
1
---
Schlafzimmer
Killarney Heights, New South Wales, Australien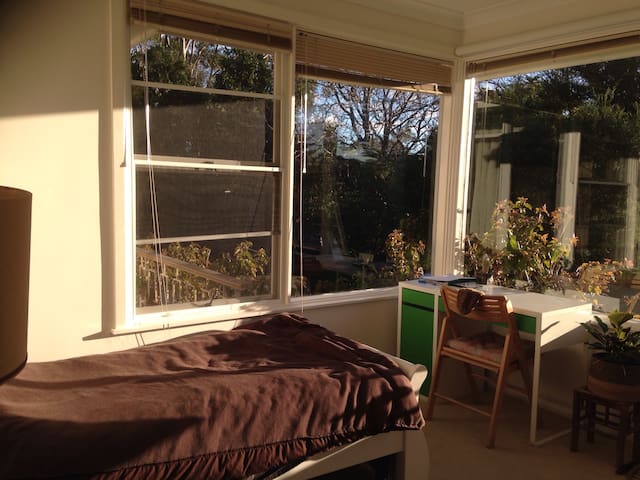 We are located near Buses (30mins to CBD) and 5 mins (1.5km) to local Forestville Shopping Centre with another smaller shopping centre 5 mins walk from home and 10 minutes to Chatswood. 5 Minutes to Frenchs Forest. Cost of ALL Utilities (Wi-Fi & Foxtel), Netflix and pool etc
Art der Unterkunft
Privatzimmer
---
Objekttyp
Haus
---
Unterkunft für
1
---
Schlafzimmer
Killarney Heights, New South Wales, Australien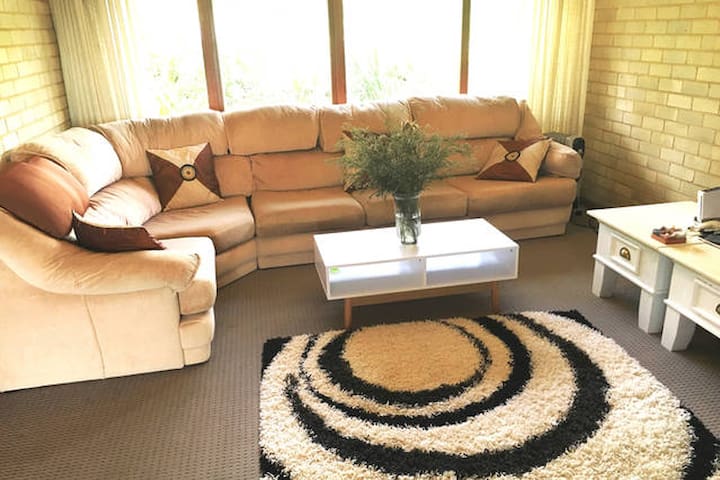 1

–

18

von

+ 300 Häuser zur Miete
Gib deine Reisedaten ein, um den aktuellen Preis zu sehen. Es können zusätzliche Gebühren und Steuern anfallen.