19 Ferienhausvermietungen
Isabella house has an open plan ground floor layout which makes it ideal for groups to holiday together.There is a large garden and decking area with BBQ for outdoor entertaining. The house sleeps up to 8 adults max and 2 children.
Isabella house is a stone built, detached property with off road parking for 3 cars, run by experienced holiday let owners since June 2011.We are fully insured for holiday let purposes and registered with County Durham tourist office. Our priority is to ensure guests have a great stay at our home and guests can contact us direct for that more personal experience. Isabella house has an open plan ground floor layout which makes it ideal for groups to holiday together.There is a large garden and decking area with BBQ for outdoor entertaining. The house sleeps up to 8 adults max and 2 children, the first floor has a family bathroom and 4 large bedrooms, consisting of,the master bedroom having a magnificent en-suite with wc , spa bath and power shower, 2 double bedrooms and a family room with double bed and bunk beds( bunk beds suitable for children up to the age of 12 yrs). Ideally located for outdoor holidays the area is criss crossed with footpaths and cycle paths and there are golf courses and horse riding stables on the doorstep. It is 10 minutes from the Derwent Walk which forms part of the coast to coast cycle track. The famous Beamish Museum is a 15 minute drive away and the beautiful Pennines just 10 minutes to the West. The historic city of Durham and party city of Newcastle are each 13 miles away with Northumberlands beautiful coastline with it's pretty fishing villages only 40 minutes drive. Also close by are Durham Cathedral and Castle, Hadrians Wall, Bamburgh Castle,The Metro shopping and entertainment Centre, Newcastle's famous bridges and quayside, Angel of the North and Alnwick Gardens. Closer to home there are 2 excellent village pubs just a few minutes stroll from the house. Both offer a warm welcome and sell real ales and good food.
Our host was fabulous, right from the day we booked the house. He responded to all emails very very quickly and answered any queries we had in addition to ensuring we had directions to the house and the contact number of the lady who would meet us upon arrival. We had a wonderful holiday and the house was exactly as described and was the perfect setting for a memorable dinner for my parents, brother, Aunt and Uncle when they visited. They fell in love with the house too. The house was very clean, spacious and had everything we needed. The neighbourhood was lovely and the people very friendly. We have absolutely no hesitation in recommending Isabella House to anyone at all and we will come back again for sure if the host will have us :)
Angela
2016-01-27T00:00:00Z
une très belle maison spacieuse située dans un village calme, avec un beau jardin, des chambres confortables, avec tout le nécessaire pour se sentir chez soi. La maison était très propre à notre arrivée avec une notice a l'entrée pour nous expliquer le fonctionnement des appareils électroniques, le wifi, les commerces... Que du bonheur! Une véranda lumineuse, un salon chaleureux, une cuisine super réquipée, on y trouve rapidement nos marques et on veut y rester plus longtemps. Mille mercis David
Marianine
2016-05-10T00:00:00Z
房东通过管家与我取得联系,妥善安排好了入住及离开的手续。整套房子与图片展示吻合,房间内的设施相当齐全,厨房的餐具、厨具应有尽有,同时配有洗衣机、烘干机、洗碗机和红酒保温柜。房间使用了双层玻璃,保温效果不错。离开时有一个苹果手机插头和数据线遗忘在房间里了,管家也答应给我们寄到伦敦来。我们全家8口人在这里过得非常愉快! 住在这个房间最好要有汽车,因为离镇子中心还是有一段距离,不过叫出租车很方便,到超市不到4英镑,到纽卡斯尔20镑左右。
YANJUN
2016-02-09T00:00:00Z
We had a wonderful time at Isabella House, we were met by a very pleasant and accommodating person who had to adjust to suit our late arrival. The property was everything we could have wished for, in an excellent location for the wedding, a village with shop, two pub/restaurants... Thanks again.
Michael
2016-08-25T00:00:00Z
A great house with loads of room had everything you would ever need. Would recommend to anyone looking to stay near Newcastle
Miles
2016-07-30T00:00:00Z
We had a great stay at Isabella house. It's set in a beautiful place, the house is spacious and well equipped with a lovely garden. There are pubs and other amenities within walking distance. Contact with David was easy and he was very responsive and helpful. Totally recommend staying here.
Lynette
2016-08-12T00:00:00Z
Art der Unterkunft
Ganze Unterkunft
---
Objekttyp
Haus
---
Unterkunft für
10
---
Schlafzimmer
Consett, County Durham, Vereinigtes Königreich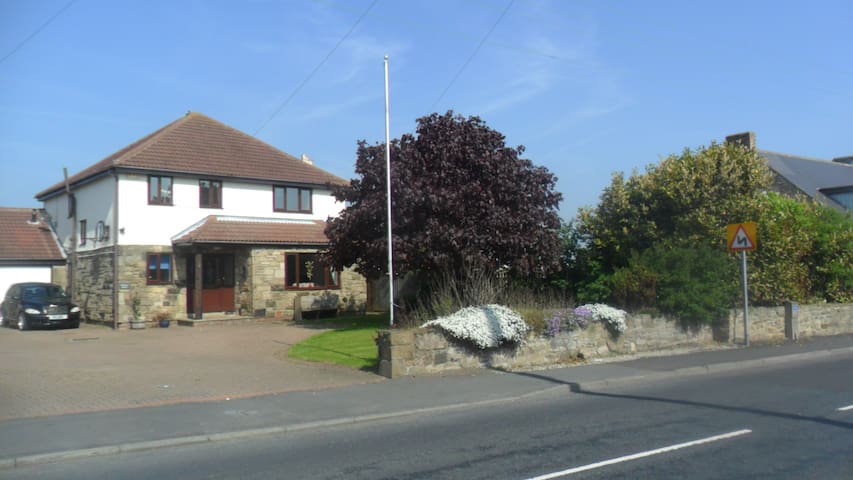 These luxury boutique cottages have recently been refurbished to a high standard, boasting spectacular views set in 20 acres of countryside. Guests have free access to swimming pool and all facilities of BEST WESTERN Derwent Manor Hotel.
Refurbished June 2014 to a very high standard A selection of 3,2 and 1 bedroomed properties, al with lounge and kitchen facilities hotel grounds. Guest have full use of leisure, restaurant and bar facilities whilst resident on site.
The accommodation was as described and very comfortable. Was very happy with the entire experience.
Trihan
2016-07-02T00:00:00Z
We did not meet Catherine, and some emails were not answered but as the property is privately owned but attached to best western chain - we were able to speak to someone to finalise our arrival. The property is exactly as in the pictures and we enjoyed our nights stay very much.
Rachael
2014-12-24T00:00:00Z
Really great cottage with lovely views across the valley. Quiet spot but with the amenities of the hotel nearby got the best of both worlds. We really enjoyed our stay and would love to come back. Sally
Sally
2017-03-09T00:00:00Z
Great weekend fantastic and clean, lighting needs to be improved throughout the cottage ladies struggled to see properly when applying make-up. However overall a great place and that was our only gripe, use of the leisure facilities were a great bonus.
Evan
2016-03-22T00:00:00Z
Cottage was just as described. Beds were very comfy. The restaurant in the hotel itself was brilliant. Tasty food that was reasonably priced. The waitress we had served us at dinner and at breakfast and she was fab!! there was some mix up with room numbers by reception which caused confusion but was resolved once we highlighted the issue. The shower kept going hot and cold but when it was colder wasn't unbearable so not a massive issue. Will stay here again without a doubt.
Natalie
2016-12-10T00:00:00Z
This is second time we have stayed in this lovely cottage and would very much recommend. Made initial booking, but did not really have any communication other than confirmation. Food at hotel in bar lovely, apart from mixed berry panacota which was a bit bland.
Norma
2015-08-25T00:00:00Z
This place was totally stunning. Fantastic 3 bedroom place in which all five of us were more then comfortable. The facilities in the best Western were available to us which was a lovely bonus. The decor was so classy, we all felt like royalty. Highly recommended and would definitely stay there again in the future and would make it 4 or 5 days not just one night.
Nikki
2015-07-13T00:00:00Z
Derwent Manor was what we were looking for. The location was quiet and a good base to explore the surrounding area. The cottage was well represented in the pictures and good value. We enjoyed meals in the hotel restaurant and the food was good. I would recommend this listing.
Jen
2015-05-22T00:00:00Z
Art der Unterkunft
Ganze Unterkunft
---
Objekttyp
Haus
---
Unterkunft für
6
---
Schlafzimmer
Northumberland, Vereinigtes Königreich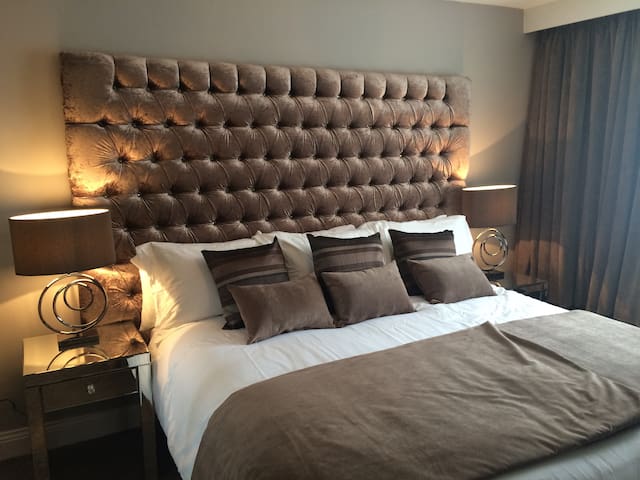 Vivimos en un bungalow con un piso superior que tiene dos dormitorios, sala de estar y cuarto de baño. Nos quedamos abajo y ofreciendo la zona de arriba para las personas que viajan y visitan el área local. Perfecto para una pareja o una familia pequeña.
La casa es esencialmente un bungalow, pero con un piso superior extendida con dos dormitorios, una sala de estar y cuarto de baño. Vivimos en la planta baja y el uso de la parte de arriba de la familia e invitados a permanecer siempre que lo deseen. Creemos que es un muy buen espacio para volver y relajarse después de un día caminando en el campo circundante o visitar uno de los pueblos cercanos un ciudades.
Shotley puente está en el hermoso valle de Derwent y nuestra casa está a poca distancia de ambos pueblos y Shotley Medomsley - ambos tienen un pub y restaurante local. La casa tiene vistas al Derwent Walk un antiguo tren 10 millas, que ya está disponible para los peatones, bicicletas, caballos y perros. Que serpentea por el valle de Swalwell a Consett y también forma parte de la ruta del ciclo costa a costa. Las atracciones cercanas incluyen el depósito de Derwent, Tanfield Railway y el Museo Beamish todo dentro de una unidad de 15 minutos. Consett centro de la ciudad con una gama de servicios locales es de 10 minutos en el coche y el centro de las ciudades de Durham y Newcastle se puede llegar en una media hora.
Rosie and Paul were the best hosts I've had so far in my life. They welcomed us at around 10:00 in the night, and told us the directions for the food places near by which served good Indian and Oriental food. We had Cheese, Beers/Wine, Water Bottles, kettle to make tea and coffee early in the morning. This place is a heaven for us truly. The house is cozy and we had a great stay and we miss Rosie and Paul. Paul played Piano in the morning for us and it was a wonderful experience staying at the place. We've got a great English Breakfast, Danish cakes and too much information about New Castle and Durham. Rosie suggested us that Durham is the place worth visiting and she had helped us visiting a wonderful place which was not part of our plan. Her Grandson Jacob (6 years) was interested in interacting with us, telling stories and has a pleasing smile all the way along. We got to know about the Irish culture a bit and I personally would like to visit Rosie and Paul again soon as we make plans to visit the North. I would travel 50 miles to get to their place if I'm going anywhere near. It's a great place to be and we miss Rosie already.
Mahesh
2016-08-28T00:00:00Z
Rosie and Paul are outstanding hosts! A stone's throw from the C2C en route to Tynemouth, their cottage was the perfect resting place after a long day of riding. They have thought of everything to make their guests comfortable. They are kind, caring, and the perfect picture of Northern English hospitality!
Rebecca
2016-05-03T00:00:00Z
Thanks Rosie for the glass of red on arrival you both made us feel very welcomed the pub you recommended for dinner was awesome and making sure we didn't get lost our accommodation was perfect the bed so comfortable and all the extra goodies you provided was a bonus I would definitely recommend this accommodation I just wished we had more time there Thanks again Jytte
jytte
2016-07-03T00:00:00Z
Words can't describe how kind and welcoming Rosie and Paul were. The property is beautifully decorated and immaculately clean. Breakfast was superb, with lots of choice, well prepared and very fresh. The location was good, quiet, easy parking, and close to link roads. Rosie and Paul were so friendly and kind, we felt like we'd known them for ages. The rooms were very spacious and light. The bed was huge, and very comfortable. We can't say enough good things about our stay, it was absolutely perfect.
sharon
2015-10-29T00:00:00Z
Word are not enough to describe our experience. Rosie and Paul welcomed us into their beautiful home with open arms and warm scones and cheese. It felt as if we had been friends for ages. They even helped with advice for what we wanted to do the next day. We had a lovely rest and a very hearty huge breakfast to help us on our way. Sorry to say this Rosie and Paul, but you will definitely see us again in the future ;-)
Werner
2015-08-08T00:00:00Z
After a long day on the bike, I arrived at Rosie's and was given a really warm welcome and a few snacks straight away. It was my first time using airbnb, and if every place is as good as Rosie's I think I'll probably live in airbnb's for the rest of my life! The rooms were spacious and in top condition, and a fantastic host who's so happy to help you out with anything. Cheers Rosie!
Tom
2016-08-01T00:00:00Z
Rosie was a fantastic host, and made my short stay very comfortable. The living quarters were huge and the company extremely welcoming. We were greeted with fresh scones, and a delicious home cooked breakfast in the morning. Will be staying there again when back near Newcastle. Thanks Rosie.
Courtney
2015-10-10T00:00:00Z
My family has nothing but praises for the cottage. It is cozy, tranquil, and has everything we needed for the night. Although located away from the hustle and bustle of a city, the neighbourhood has aplenty of amenities available a short drive away. Beyond that, Rosie and Paul were extremely easy-going and hospitable – from the sumptuous breakfast to the lovely tunes Paul played on the piano, it was undeniably one of the best stays my family has had during our 2-week holiday in UK. We were welcomed with some refreshments, much to our delight after a long drive from Scotland. If you are looking for a 6-star accommodation in County Durham with impeccable hospitality and top-notch full English breakfast then look no further.
Evelyn
2015-09-25T00:00:00Z
Art der Unterkunft
Privatzimmer
---
Objekttyp
Haus
---
Unterkunft für
4
---
Schlafzimmer
Shotley Bridge, England, Vereinigtes Königreich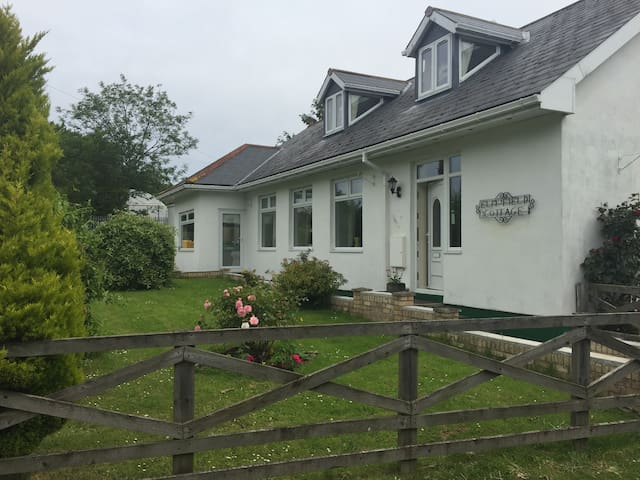 Garden Cottage is a gorgeous bolthole for two, and their well behaved dog. It is quiet, peaceful and secluded, sharing our large garden. Easily accessible and close to beautiful countryside, the North Pennines Area of Outstanding Natural Beauty, Northumberland National Park and Hadrians' Wall. Only 15 minutes from Corbridge and less than 25 minutes from Hexham, Newcastle and Durham. Great for walkers, for exploring Northumbria, or for simply relaxing and doing very little.
This lovely barn conversion is spacious and bright. The living room has a large table, doors that open straight into the garden with a sheltered seating area and lovely views. There is a TV, a bookcase full of books, materials for drawing and painting and OS maps of the surrounding areas if you fancy a walk. The large bedroom has a super comfy king size bed, hot water bottles, views over the garden and farmland, and amazing star lit skies. The well equipped kitchen has a gas hob, electric oven, microwave, electric kettle and toaster. The bathroom is a TINY but warm shower room.
Garden Cottage is about 10 miles from the lovely village of Corbridge, 15 miles from historic Hexham, 8 miles from Consett, and about 20 miles from Newcastle and Newcastle Airport. We are on the edge of the North Pennines Area of Outstanding Natural Beauty, beautiful Weardale and close to Hadrians Wall, and the amazing Northumberland Coast. There are lovely walks right outside the door, and further afield. There are good pubs close by, The Manor House Inn at Carterway Heads is within walking distance, The Lord Crewe at Blanchland is worth the lovely drive over the moors, and there are loads of pubs and restaurants in Corbridge and the neighbouring villages.
My partner and I absolutely loved the cottage. It's got beautiful original features, a fantastic shower and great views. It's a mile away from the road so it is really peaceful and quiet. There is a bird feeder outside one of the windows so you can just sit and watch all the local birds feeding in the morning. Jane and her husband were really nice and gave us recommendations about parking in Newscastle for an event we were attending and were to grab some food. I couldn't recommend this place highly enough and we cannot wait to come back!
Maddie
2016-11-11T00:00:00Z
Beautiful place. Absolutely immaculate. Very warm and cosy (despite being a very cold night) Well equipped kitchen. Lovely surprise to have cake on arrival and milk supplied for a cuppa! Really enjoyed our stay and would definitely recommend :-)
phil
2017-01-29T00:00:00Z
Fabulous stay at Jane's cottage. She and Hugh made us feel very welcome indeed. My dog got extra special attention too! The cottage is amazing - the bed is the most comfy I have ever slept in. The view is to die for and the location is perfect. Expect me as as frequent visitor if you can fit me in .... think might have to book early because you are going to be super busy!
Alison
2016-09-12T00:00:00Z
If you want peace and tranquility you will find it here. The cottage is light, warm, well equipped, with beautiful views. Fresh air, dark skies, and quiet. Jane took me to her local village yoga class and was always on hand if I needed anything but respected my privacy. I cannot fault it. I loved watching the birds every morning from the window.
Emma
2017-01-14T00:00:00Z
We had such a lovely stay here, Jane was a fantastic host and the cottage was beautiful. It had everything we needed and more and was super comfortable! We had a great time walking and exploring the local area and Jane had some great recommendations on where to visit! We loved getting to meet the dogs too. The cottage is very well equipped with an excellent kitchen space and a beautiful bedroom that gives stunning views across the rural landscape. We felt extremely welcome and wished we could have stayed for a much longer period of time.
Tom
2016-09-14T00:00:00Z
We have thoroughly enjoyed staying at the Garden Cottage this weekend. Great communication after booking and lovely warm welcome on arrival. The cottage is beautiful, warm and cosy, very comfy bed and very well stocked kitchen - lovely touches including candles and flowers. Our dog loved exploring the large garden and I particularly loved watching the abundance of birds feeding just outside the window. If you're looking for dog friendly places to eat we had a great pub lunch at the Golden Lion in Corbridge and also ate at the Lord Crewe Arms in Blanchland which was to die for! Fully recommend staying here - we very much hope to be back some time!
Jennifer
2017-02-21T00:00:00Z
Really enjoyed our stay at Jane's lovely cottage. The space is well thought out and stylishly decorated. The sitting room is very spacious and cosy, kitchen well equipped and bedroom warm and extremely comfortable. We didn't need any extra heating besides the underfloor heating that was left on throughout. The views are gorgeous and property setting is picturesque. Highly recommend those looking for a countryside retreat!
Mark
2016-10-15T00:00:00Z
Fine cottage is a beautiful place to stay in a quiet secluded location. It has everything you need for a relaxing break and lovely friendly hosts in Jane and Hugh.
Alison
2017-03-23T00:00:00Z
Art der Unterkunft
Ganze Unterkunft
---
Objekttyp
Haus
---
Unterkunft für
2
---
Schlafzimmer
Kiln Pit Hill, England, Vereinigtes Königreich
Art der Unterkunft
Ganze Unterkunft
---
Objekttyp
Haus
---
Unterkunft für
5
---
Schlafzimmer
Blackhall Mill, England, Vereinigtes Königreich
Our stone house has all the elements needed for a truly fabulous holiday, sleeping 4, the location is fantastic for Durham, Newcastle, Northumberland and the Dales. Fabulous for families, walkers, cyclists, fishing and golfing. The house is end terrace with wonderful views of the countryside.
Graeme and Maccine welcome you to Millfield House built in 1850 and located in the pretty hamlet of Maiden Law, 1 mile from the beautiful village of Lanchester with plentiful local amenities and restaurants. Set in the idyllic Durham Vale the house has beautiful views over the rolling countryside. Millfield House is ideally located to discover Durham, Newcastle, Northumberland and the amazing North East Coastline. Millfield House sleeps 4, a king size bed in the front bedroom with room for a travel cot or blow up mattress for a child under 7 years and two full size single beds in the rear twin bedroom. Recently renovated to a very high standard with a mixture of antique and contemporary furnishings and limited edition prints created by the owner. The kitchen is full stocked with plates, pots, utensils ready for you to cook should you wish. Towels and bed linen are provided and there is a hairdryer in the main bedroom. The bathroom is fully fitted with an electric shower over the bath. The area provides a fabulous holiday location, ideal for walkers, cyclists, fishing, wildlife watching, golfers, horse riding and National Trust members. Should you have small children, Hall Hill Farm and Mini Moos are only 10 minutes drive away, fantastic day out for all the family. Only a short car journey finds you in Durham City with the magnificent cathedral and castle and further east to Northumberland's Heritage coast and castles - Bamburgh and Alnwick.
Millfield House is located in the pretty hamlet of Maiden Law, a local pub serving delicious meals and a speciality wine/beer store are both with a few minutes walk. The larger village of Lanchester is only away with plentiful local amenities and restaurants. You can enjoy cycling and walks straight from the door.
Thanks to Maccine for making us very welcome - we had a lovely stay!
Laila
2016-02-02T00:00:00Z
The place is very accurately as discribed and more. Very comfortable stay.
Peter
2016-09-29T00:00:00Z
Maccine and Graham were the perfect hosts. They couldn't have been anymore accommodating. The house was exactly as it was pictured and described on her profile. The area, Maiden Law is so idyllic and beautiful, I would highly recommend checking the area out. Thanks Maccine and Graham, x
Anne
2015-05-25T00:00:00Z
Maccine greeted us on arrival and showed us around the house which was super. Plenty of room and suited us for what we had come to do. The area was lovely - attractive countryside and a pub across the road with a restaurant.
Jill
2015-08-25T00:00:00Z
A really lovely home with loads of space. It was perfect for a family of 4. Maccine was a welcoming, friendly host and was extremely helpful with any questions we had. The house was in a perfect location for exploring the north east.
James
2016-08-20T00:00:00Z
We stayed at Maccine's lovely little 2 bedroom house for 2 nights while I took part in the Great North Run. The house was perfectly situated for this allowing me to get a quick train from Durham to Newcastle. The house was exactly as had been described & was very clean, tidy & welcoming. Maccine had left a little welcome basket with milk, juice & homemade biscuits, a lovely touch. We were greeted on arrival & made to feel at home. We had a very comfortable stay.
Leah
2015-09-15T00:00:00Z
Maccine was very welcoming after our long journey, the house was warm and comfortable, great to have somewhere that our dog was accepted.
Simon
2016-01-14T00:00:00Z
The house was very comfortable and well equipped and was an easy 15 minute drive into Durham. We would definitely consider staying there again.
Rachel
2015-12-13T00:00:00Z
Art der Unterkunft
Ganze Unterkunft
---
Objekttyp
Haus
---
Unterkunft für
4
---
Schlafzimmer
Maiden Law, Lanchester, Vereinigtes Königreich
Cosy cottage with wood burning stove, sleeps 4/5 (double &three singles). Close for Beamish, handy for Newcastle &Durham. Lounge, kitchen/diner and private enclosed garden/yard, Ample parking.Free wifi.
The cottage has been recently refurbished and is a lovely welcoming space to relax with a wood burning stove. Please contact me to ask about discounts if you are looking for a long stay. Free wifi
The cottage is in a village location. There is a local pub which serves food There is also a tesco food store close and large 24 hour asda 1 mile away in Stanley.
Very nice and cosy place, with all the facilities you could want, and as described. Beds and bedding were all very comfortable. Plenty of seating in the lounge area, and comfortably got 5 people around the kitchen dining table.
Matthew
2016-10-25T00:00:00Z
The house was ideal for our short stay. It is beautifully decorated and furnished, had everything we needed. Mel was extremely helpful, accommodating our late arrival and answering all queries very quickly.
Michelle
2016-07-04T00:00:00Z
Was quiet neighbourhood easy to park, comfortable cottage.
Caroline
2015-07-06T00:00:00Z
Very, very friendly and helpful welcome, we arrived quite late at night but Melanie waired for us, with a smile! The cottage was quite practical, the beds comfortable. One downside: no Wifi and connection via mobile phone extremely slow, so not really possible to surf the internet.
Liesbet
2015-08-31T00:00:00Z
The cottage was everything we expected and more. We were very cosy and comfortable. We had a lovely meal which was also excellent value at the local pub, easy walking distance. The property is well situated, we visited Durham Gateshead and the coast at Seaham. Mel gave us very clear instructions so we found the property easily and her communication was excellent.
carol
2016-11-14T00:00:00Z
What a fabulous stay, just like the pictures very warm and inviting. Melanie was very accommodating to our specific needs. Had everything we needed. Will book again. Thanks Melanie
Leanne
2016-02-23T00:00:00Z
Everything was as expected. We needed somewhere close to Newcastle and this, while a little out of the town, was close enough. The local pub was great with live music and good food. Julie went out of her way to meet us a little later than we had expected to arrive so that was really appreciated.
Michael
2015-10-05T00:00:00Z
Great welcome we all really enjoyed our stay great place to be . Would recommend to all who want to enjoy the local area
Vicky
2016-08-19T00:00:00Z
Art der Unterkunft
Ganze Unterkunft
---
Objekttyp
Haus
---
Unterkunft für
5
---
Schlafzimmer
Annfield Plain, Vereinigtes Königreich
The living room bedroom is equipped with TV, so you can lie in bed and watch tv! Luxury decoration, reasonable layout, fully furnished, fully meet the home tourism, home party, birthday party, Party etc..
Art der Unterkunft
Privatzimmer
---
Objekttyp
Haus
---
Unterkunft für
2
---
Schlafzimmer
达拉谟, 英格兰, Vereinigtes Königreich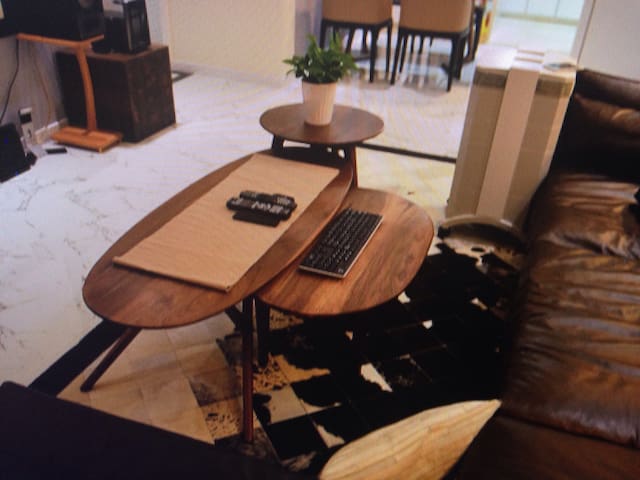 Art der Unterkunft
Privatzimmer
---
Objekttyp
Haus
---
Unterkunft für
2
---
Schlafzimmer
泰恩河畔纽卡斯尔, 英格兰, Vereinigtes Königreich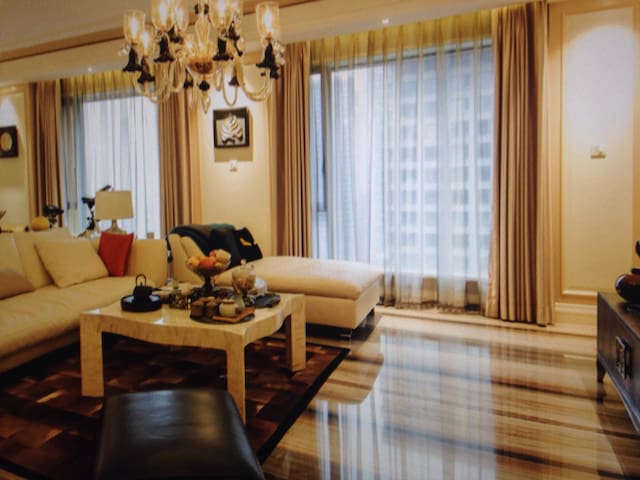 Homely, spacious accommodation on the edge of Chopwell Woods overlooking the Derwent Valley. Ideally situated for access by cyclists or walkers to Chopwell Woods - a 360 hectare mixed woodland, a real gem. Miles of paths allow fantastic walking and cycling into the heart of of this fascinating woodland.
Large loft room in spacious 4 bedroomed terrace house. The room comprises the whole top floor of the house and is up two flights of stairs so is quite private. There is a comfortable double bed, two chest of drawers for storage plus two arm chairs and a small table. There is a large velux window facing west, overlooking the village and surrounding countryside. Kitchen facilities include washing machine, dish washer, fridge, cooker etc. Tea and coffee is available ad hoc, and help yourself breakfast of cereal and toast with spreads. Please note the bathroom is on the ground floor and includes bath and shower. The house layout is suitable for mucky sports - back door from yard (with hosepipe) straight into utility room with tiled floor suitable for indoor storage of bikes and next to bath/shower room. Hose your bike then have a nice warm shower! Another compact double room is available on the first floor at the same rates. Request at the time of booking. I will provide a list of nice places to eat or takeaways.
Small friendly ex colliery village overlooking the Derwent Valley, where Gateshead, Durham and Northumberland meet. Beautiful area with many footpaths and cycle ways. Restaurants/eateries and take aways nearby.
Art der Unterkunft
Privatzimmer
---
Objekttyp
Haus
---
Unterkunft für
2
---
Schlafzimmer
Chopwell, Newcastle upon Tyne, Vereinigtes Königreich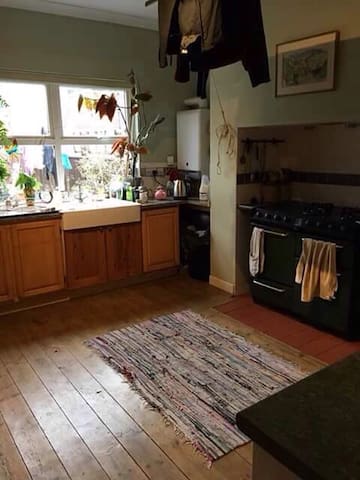 **One night stays available** *Please message us for details of our best price for your selected dates* In pretty Hedley on the Hill, this gorgeous, character cottage, situated on a quiet lane, is perfect for a cosy countryside break. The lovely loun
The property has 2 double bedrooms, 1 bathroom (shower and bath), lounge with wood burning stove and kitchen diner with Aga oven. In the lounge, you will find a selection of DVDs, books and magazines to while away a cosy evening, along with freeview TV and wifi. The kitchen is fully equipped and comes with fridge freezer, microwave, washing machine and dishwasher. The bedrooms are perfect for a wonderful nights sleep, with cotton bedding and towels and plenty of storage for all your belongings. A cot and highchair can be provided on request. There is space for storing bikes and well behaved dogs are welcome at a small supplement. Included in the rental is gas central heating, initial fuel for the fire, electricity, bed linen and towels. Additional items (groceries / drinks / celebration cakes etc) can be provided on request.
In the stunning, picture postcard village of Hedley on the Hill, this character cottage is ideal for a cosy, countryside break. Perfectly situated for many of the attractions of the North East; local market towns, fantastic walking and cycling, prestigious golf courses, award winning country pubs, the vibrant city of Newcastle upon Tyne and the dramatic Northumberland coast with its spectacular castles. Kielder Forest Park lies 30 miles to the north, with fantastic walking and sports activities along with the darkest night skies in England. This is a great base to explore this fascinating and beautiful part of Northumberland.
We spent 3 nights at Kirsty's beautiful cottage. It really is a little home away from home. It was by far the best equipped AirBnb I've ever stayed in, eggs, bread, cake and milk were there for us when we arrived. With a fire set up ready for us to light. The location is nice and secluded in the hills of Northumberland but not too much of a drive to Newcastle. Would definitely stay again.
Sam
2017-02-27T00:00:00Z
We had a great break at Madera Cottage. The area is beautiful and the cottage is cosy and really comfortable. We loved cooking on the Aga and found the instructions very helpful! Kirsty was in touch in the lead up to the visit with lots of useful information and available throughout. We would love to visit again in the future.
Emma
2016-10-16T00:00:00Z
Loved staying at Madera Cottage - nice cosy stone cottage in the countryside, away from all the hustle and bustle. Enjoyed the fireplace and using the Aga cooker, and really appreciated the breakfast hamper, especially as we arrived around 6pm and hadn't had time to get to the shops. The local pub was literally a few minutes walk down the road and the dinner there was great! Thanks for a great stay Kirsty
kerry
2016-08-10T00:00:00Z
Had a great stay in a warm cosy cottage, nice pub just a short walk away. Nice to have a warm kitchen in the morning due to the arga.
Patrina
2016-10-22T00:00:00Z
Great little cottage with a fantastic pub a short walk away. Fantastic base for visiting the North East. Kirsty's communication regarding the booking was excellent and made the whole process very easy!
Katy
2016-09-11T00:00:00Z
Beautiful house and extremely helpful and lovely host!
Victoria
2017-02-24T00:00:00Z
A lovely secluded cottage. Great walks and cycling and minutes from Newcastle If you need to leave the cottage.
Daniel
2017-01-16T00:00:00Z
We spent a lovely 3 nights here. Super wee house, very clean and well provided. Especially appreciated the welcome hamper. Great base for exploring the countryside, villages, wall etc. Would definitely recommend.
Sarah
2017-03-15T00:00:00Z
Art der Unterkunft
Ganze Unterkunft
---
Objekttyp
Haus
---
Unterkunft für
4
---
Schlafzimmer
Northumberland, Vereinigtes Königreich
Art der Unterkunft
Privatzimmer
---
Objekttyp
Haus
---
Unterkunft für
2
---
Schlafzimmer
Hedley on the Hill, England, Vereinigtes Königreich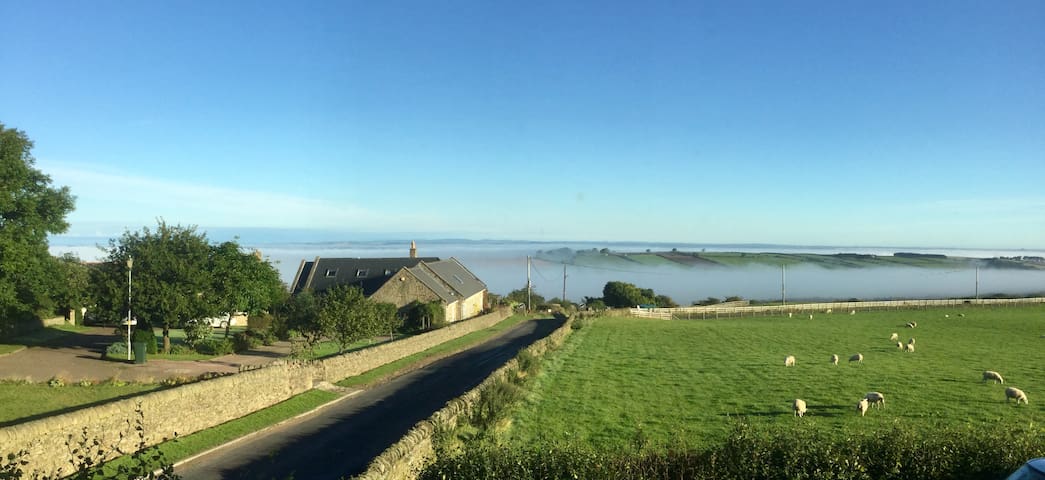 The Piggery enjoys the best of both worlds - close to the city centre with it's restaurants and dining, art galleries and museums nearby yet is far enough to enjoy the peace, tranquility and great views of the countryside. The property has a lovely ambiance and lots of outdoors space. The piggery is suitable for couples, business travellers, and families (with kids).
Art der Unterkunft
Ganze Unterkunft
---
Objekttyp
Haus
---
Unterkunft für
6
---
Schlafzimmer
County Durham, England, Vereinigtes Königreich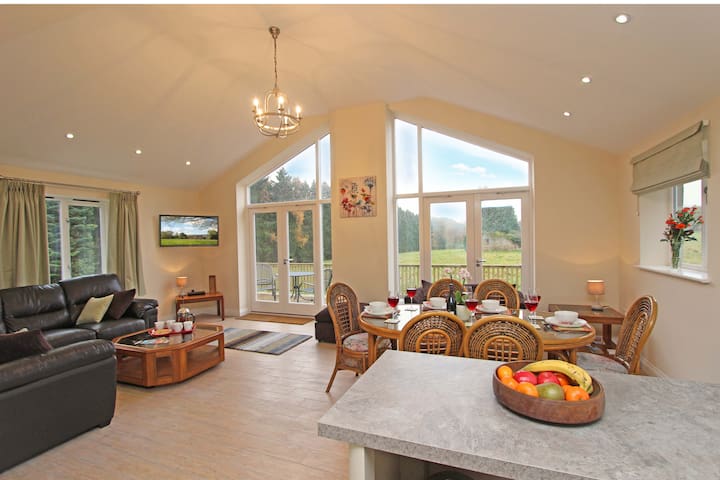 Schwalben 'Barn ist eine schöne umgebauten Scheune 7 Meilen westlich der historischen Durham City. Es bietet einen herrlichen Blick über sanfte Ackerland; geräumige 4-Sterne-Unterkunft; Spaziergänge; offene Kamine und eine Menagerie von Tieren. Perfekt für die ganze Familie.
Swallows Barn bietet für acht mit zwei geräumigen Haupt Schlafzimmer (eines mit Bad) und ein Drittel mit 2 Sätzen von erwachsenen Größe Etagenbetten schlafen. Gut weg von den Geräuschen der Stadt, sind die Nächte sehr ruhig, aber morgens sind oft von der lokalen Hahn angekündigt, seine Sachen auf dem Hof stolzieren. Während dieser Spaß für die Hennen und Frühaufsteher, so kann er auf Wunsch gesperrt werden, wenn ein Schlaf-in erforderlich ist! Neben dem Hauptschlafzimmer aus einem en-suite profitieren, gibt es ein Badezimmer mit Badewanne und Dusche. Der große, aus Stein gekennzeichnet Küche ist gut ausgestattet mit allem, was Sie mit einer Mikrowelle brauchen, Geschirrspüler und Elektroherd und Grill. Es gibt eine große gescheuert Kiefer Esstisch und eine gemütliche Sitzecke mit einem Holzofen, um das Gefühl von einem großen und komfortablen Landküche hinzufügen. Das sonnige Wohnzimmer hat einen herrlichen Blick über die Hügel und Felder. Es gibt eine große, gut ausgestattete Kamin und bequemen Sofas sowie einen TV, Video und CD-Player. Die Wasch- / Trockenraum neben der Küche enthält Platz für Kleidung sowie eine Waschmaschine, Trockner, Bügelbrett und Bügeleisen hängen. Bitte beachten Sie Preise beinhalten alle Bettwäsche und Handtücher.
Gäste können die Ruhe des Anwesens genießen. Es gibt viele ländliche Wanderungen in der Gegend mit reicher Vogelwelt und Tiere. Schwalbe Barn ist nur ein paar Minuten vom Dorf Langley Park fahren. Hier können Sie viele lokale Annehmlichkeiten wie Lebensmittelgeschäfte, Lebensmittelgeschäfte und lokalen Pubs und Restaurants. County Durham und Umgebung hat viele Attraktionen für alle Altersstufen, einschließlich: Die historische Stadt Durham mit seiner Kathedrale und das Schloss. Beamish Museum, das schöne Wear Valley sowie in der Nähe Avenida-Therme! Etwas weiter entfernt sind Alnwick Castle (bekannt als der Satz von Hogwarts in den Harry Potter Filmen), Hadrianswall, Gateshead Metro Centre (Ein Paradies für Shopper!) Und die interessanten Städte Newcastle und Sunderland. Der Nordosten hat auch fantastische Strände in Northumbria, Sunderland und East Durham.
Die Aussicht ist hervorragend und die Unterkunft Swallows Barn ist erwartungsgemäß eingerichtet. Die Umgebung ist absolut ruhig. An Georgie vielen Dank für die sehr leckeren Eier von den auf dem Hof freilaufenden Hühner. Wer das Ziel Durham hat und ggf. In der Region nach alten Schätzen (wie z.B. der Grundstein der heutigen Eisenbahn (Locomotion) oder eines der weltweit ältesten Segel-Kriegsschiffe (Trincomalee von 1817)) sucht, sollte die Gelegenheit nutzen.
Jens
2016-08-07T00:00:00Z
We had a wonderful time at this gorgeous cottage in the countryside. The setting was idyllic and the cottage was clean and cosy. The host Caroline looked after us well - there was nothing that wasn't thought of. We highly recommend staying here for a relaxing time in the countryside.
Caroline
2015-10-11T00:00:00Z
What a fantastic little haven Caroline & Jonathan have created in the most beautiful of settings. It's fair to say we were just a little cautious due to the lack of reviews but on arrival it was clear this was going to become one of our favourite AirBnb experiences. Firstly, the pictures do not do justice to the size, the cleanliness and most of all the charm of the beautiful Granary. Secondly, Caroline is clearly an expert in hospitality recommending the best local restaurants, providing files detailing local information and things to do and best of all providing freshly baked cakes which we devoured on arrival! Finally the location is ideal and just a short trip from Beamish / Durham and some of the lovely surrounding villages. We brought my girlfriends parents and were eager to make them AirBnb converts too, at the end of our trip it was mission accomplished and they're already angling for reasons to come back. We would not hesitate to recommend the Granary and cannot wait to return. **TIP -visit the Black Bull in Frosterley for fantastic food at very good value.
Gareth & Rachel
2015-05-04T00:00:00Z
We had a wonderful time at Swallow Barn and Caroline is a wonderful hostess. As we arrived a cake and tea were waiting for us and we felt like being home. The kids loved being here with all the chicks, cows and pig around.
Lena
2016-03-29T00:00:00Z
Great spacious cottage. Lovely welcome from owners. Beautiful views and dog friendly with on the door step walks.
Caroline
2016-11-13T00:00:00Z
We have just spent a lovely weekend at Swallows Barn. Caroline and John gave us a very warm welcome complete with home made cake! The cottage lived up to its pictures. It is a spacious and cosy barn conversion with roomy reception rooms, open fires and 3 very large bedrooms. The bedroom/bathrooms worked well for us as a couple with 2 elderly mothers. The views and surrounding area are beautiful with plenty to see. Also lots of local pubs to enjoy. Being close to Durham is also a bonus. We have already booked to return.
Christine
2016-05-09T00:00:00Z
We very much enjoyed our time. Caroline made us and the children very welcome. The house is as described and is warm, welcoming and clean. It is a really big space. The children loved the animals and lots to do running around outside. The only issue for us - children's tears when we had to leave!
Alan
2016-05-16T00:00:00Z
Swallow Barn is welcoming from start to finish. Homemade cakes and free range eggs and a ready smile from Caroline on arrival. Tranquil and beautiful surroundings and well appointed accommodation made this shine from home. Would love to return as didn't make the most of all the farm has to offer.
Emma
2016-05-31T00:00:00Z
Art der Unterkunft
Ganze Unterkunft
---
Objekttyp
Haus
---
Unterkunft für
8
---
Schlafzimmer
Esh, County Durham, Vereinigtes Königreich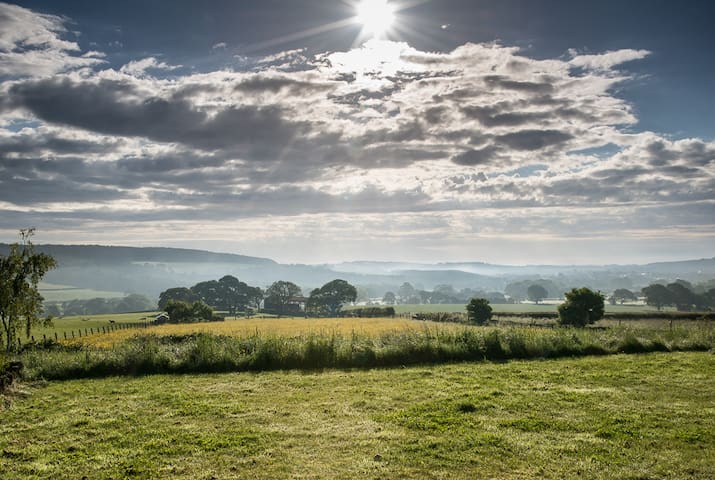 The Barn is close to the city centre with fantastic access to art and culture, restaurants and dining and beautiful parks and countryside - at The Barn you can experience the best of both worlds. You'll love the property because of the ambiance, the people, the outdoors space and the fantastic location. The cottage is a great option for couples and business travellers.
Art der Unterkunft
Ganze Unterkunft
---
Objekttyp
Haus
---
Unterkunft für
5
---
Schlafzimmer
County Durham, England, Vereinigtes Königreich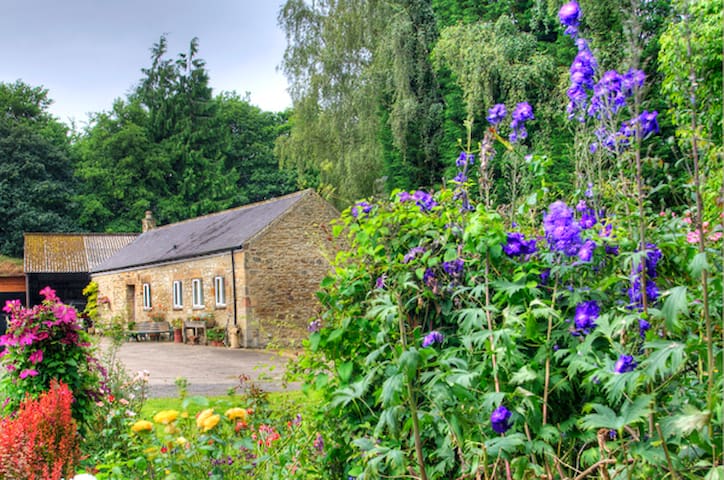 Art der Unterkunft
Privatzimmer
---
Objekttyp
Haus
---
Unterkunft für
2
---
Schlafzimmer
泰恩河畔纽卡斯尔, 英格兰, Vereinigtes Königreich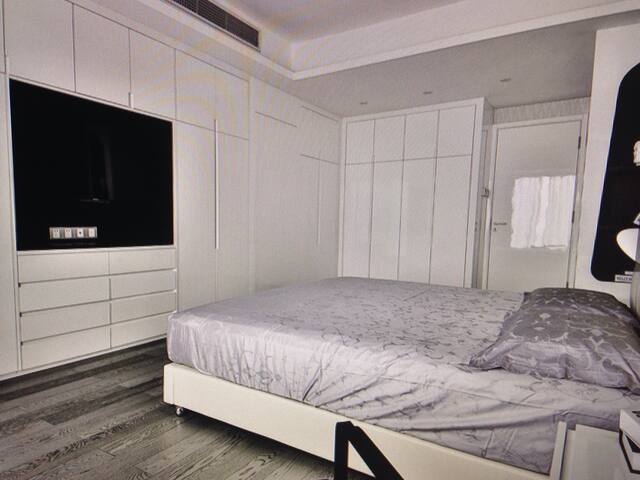 Ken was very friendly and welcoming. He was very patient and a great help when we arrived later than planned. This is a great place for a stopover just outside of Newcastle with a nice little pub just up the road. Ken was very helpful even going to the pub before our arrival to ask if dogs were welcome in the pub. My girlfriend and I had a very comfortable stop over which was perfect for my first Great North Run experience.
Mark
2015-09-14T00:00:00Z
Ken was busily mowing an overgrown lawn in an unkempt small garden and effected surprise as we arrived. So, not overly welcoming. As we moved through the house he tidied things out of the way as we went. The bedroom was very small, the small double bed pushed up against the window wall with dumbbells visible under the bed, a computer desk it was impossible to sit at and baby changing mat shoved between the wardrobe and the wall. The bed could not be climbed into from either side or the end, just the one side. So, hardly as advertised and well below expectations. The area was typical north east old miners houses with a couple of new builds. The first thing we noticed was the smashed cabinet housing the property's gas meters and the alleyway full of rubbish. All the windows were grimy with drawn and closed curtains. Immediately we began to have second thoughts. So, not particularly inviting and below expectations. After we'd seen the house, the room and the shared bathroom despite our misgivings we took the suitcase upstairs and went for something to eat. We decided against staying and returned to collect the suitcase. We left a scribbled note noting our disgust, letting Ken know that we thought he was extracting money from us under false pretences and left. Since then I have spoken with Ken detailing our disappointment at what he was offering. Whilst objecting to some of my forthright comments he did nonetheless agree to refund one night's fees. At this point however I have received nothing. Airbnb in my view need to vet their hosts fully because this was totally unacceptable.
Alan
2016-05-23T00:00:00Z
Ken has gone above and beyond the call of duty as a host during our stay and his attentiveness and generosity has made our stay even more enjoyable and memorable.
Anri
2015-10-05T00:00:00Z
Art der Unterkunft
Privatzimmer
---
Objekttyp
Haus
---
Unterkunft für
2
---
Schlafzimmer
High Spen, Rowlands Gill, Tyne and Wear, Vereinigtes Königreich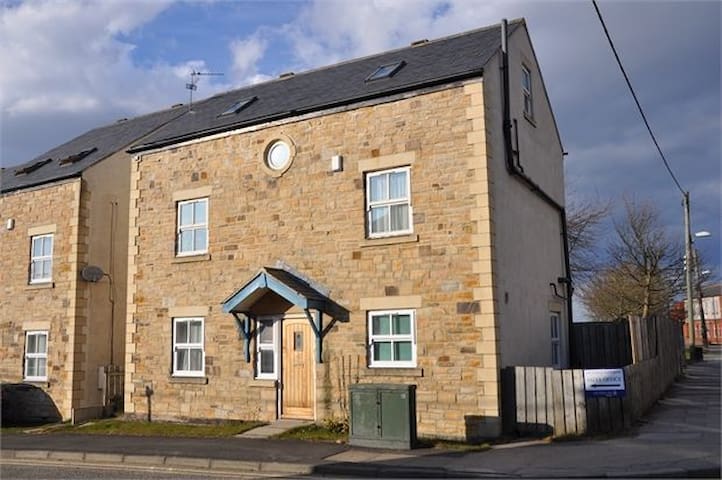 Our stunning home is situated in the peaceful village of rural Quebec.The property is surrounded by beautiful farmland and is a perfect spot for a quiet relaxing holiday in the country whilst being close to the historic city of Durham.and Newcastle.
Our Home has 2 bedrooms the main bedroom with french doors to an outside balcony with stunning views, along with a converted attic bedroom with velox windows which can be swung open or left closed, giving great views to front and rear , please note the bathroom is shared,and access to the attic bedroom is via the bathroom. The Bathroom on the 1st Floor is extremely spacious and contains a large corner shower and a large bathtub. Downstairs there is a lounge with great views,with access to the patio through patio doors.A television ,internet access, a wood burning stove,and dining table. the kitchen is equipped with freezer ,fridge. washer.cooker, Microwave,television, worktops utensils and cupboards,milk tea coffee and condiments are supplied along with breakfast cereals. There is a separate downstairs toilet. There are televisions in both bedrooms and also the lounge and kitchen.The house is suitable for two couples or a couple with two children.
We have a very open and fantastic view of the surrounding countryside, often with farm animals in the fields around the property. In a peaceful tranquil,small village with a pub and,country walks,.Several country pubs for food and drink and also local deliveries of Chinese and Indian foods
Vielen Dank für die Zeit bei euch, wir fühlten uns herzlich willkommen und haben die Tage in eurem Haus sehr genossen. Alles war wie in der Beschreibung angegeben und unsere Gastgeber haben sogar noch unser erstes Frühstück für uns bereitgestellt. Die Absprachen zur Anreise haben hervorragend geklappt und die Tipps zum Erkunden der Umgebung waren super ( bis auf die Angaben zu den Entfernungen ☺). Die einmalig schöne Landschaft ist einen Aufenthalt wert und Durham und Newcastle sind auch nicht weit weg. Viele Grüße C.
Christoph
2015-10-13T00:00:00Z
Wendy and Derek were wonderful hosts! A lovely house with everything provided, including an activity pack for our 3yo. A great house to relax in after a busy day at Beamish or in Durham. Thank you!
Joseph
2016-08-11T00:00:00Z
A beautiful location in the countryside but a 15 minute drive to the historic city of Durham. A nearby pub and shops make it a great option for a combined City and Country break. This is Derek and Wendy's house and contains so many personal items which make it feel so homely. They are discreet hosts but who are available with tips and advice. Thoroughly recommended.
Richard
2016-08-29T00:00:00Z
Derek & Wendy are a fantastic & hospitable couple who went out of their way to make us feel welcome. They were extremely accommodating and helped us throughout the weekend with their decent local knowledge of the beautiful countryside, local pubs and the city of Durham itself. Their home is beautiful, clean and well-appointed. We had a great weekend and I would recommend this stay without reservation.
Nicolas
2015-08-24T00:00:00Z
Wendy and Derek were lovely hosts who couldn't do more for you. Our stay here was very enjoyable, comfortable and relaxing!
Rachel
2016-05-31T00:00:00Z
Our hosts made us feel very welcome and were most friendly and helpful. The listing was accurate in every way. The house was filled with art and a loving atmosphere. Would stay here again.
peter
2016-10-16T00:00:00Z
Derek and Wendy were brilliant hosts to us during the time we stayed. House was really lovely with everything we needed Some facilities including the sauna were unavailable due to the weather and time of year However all in all, a very good trip
Dan
2016-03-28T00:00:00Z
What a stunning house and location! We were not disappointed! Didn't want to leave. For a rural location the connection to Durham by public transport was reliable and plentiful through out the day. Thank you Wendy and Derek for sharing your home!
Kirsty
2015-10-05T00:00:00Z
Art der Unterkunft
Ganze Unterkunft
---
Objekttyp
Haus
---
Unterkunft für
4
---
Schlafzimmer
Durham, County Durham, Vereinigtes Königreich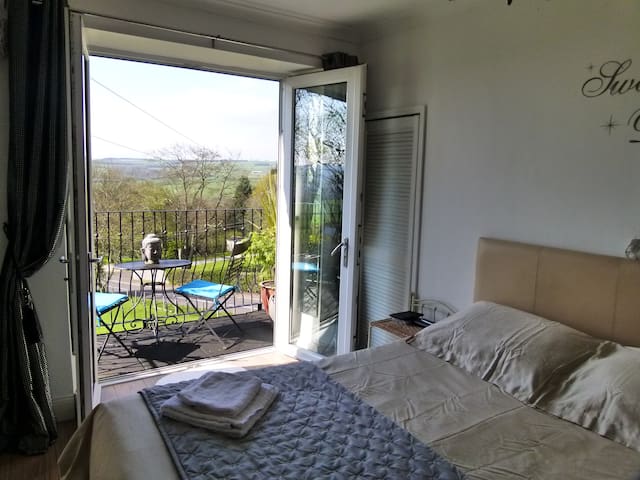 1

–

18

von

19 Ferienhausvermietungen
Gib deine Reisedaten ein, um den aktuellen Preis zu sehen. Es können zusätzliche Gebühren und Steuern anfallen.