+ 300 Wohnungen zur Miete
Double bedroom with the 100%city feeling. Perfectly fits for two. Easy access to super markets, Restaurants, national museum parks casinos and tourist attractions. Well known liberty shopping mall is within walking/DRailway/bus walking distance.
Fits for two people. With shared entire home 中文服务
Very friendly, peaceful and calm surrounding and neighbours true Sri Lankan cultural people around!!! You will love the feeling...
Sauberes komfortables Apartment mit Klimaanlage. Gute Lage um sich die Stadt anzuschauen. Isuru ist sehr nett und hilfsbereit. Kommen gerne wieder
Gloria
2016-03-27T00:00:00Z
Unterkunft wie beschrieben:)
Jasmine
2016-12-06T00:00:00Z
Isuru is a very nice and helping person. And thanks again Isuru for the ride to the airport!!!
Marcel
2017-03-01T00:00:00Z
Stayed for one night in Isuru's apartment, size of the room is perfect. Value for money. He offered to pick us up at the airport for reasonable price, Isuru is a perfect host with lots of great ideas of restaurants and pubs if you're interested.
Anna
2017-03-03T00:00:00Z
Isuru picked me up from the airport at 5:45 am in his little red car. Location is good about 15 mins by tuk tuk to fort area. Good for a couple of nights. Good Thai restaurant close by. Sparsely furnished If staying for longer and could do with more cooking utensils.
Martyn
2017-01-18T00:00:00Z
Isuru is very nice. He comes for us to airport in the morning (at 6 am) and explain the different street of Colombo. His guest house is in center, in heart of Colombo. It is simply, clean and the price is correct. This guest house is in tipical street. And i love this place. If i come back on Colombo, i go in Isuru !
Guillaume
2016-06-05T00:00:00Z
We thoroughly enjoyed our stay at Isuru's place in Colombo! This spacious room was perfectly located, allowing us to explore much of the city in the short time we had. Isuru was extremely friendly and helpful – he picked us up from Negombo for a reasonable fare, and recommended food places and activities in Colombo. We would highly recommend!
Ruby
2016-11-14T00:00:00Z
Despite the great communication I had with Isuru, my first impression was a mixed one. I was apprehensive when I was walking to his flat (apartment) passing the others, as the rest didn't look promising. But I changed my mind the minute I walked into his. It's a lovely little 2 bedroom flat with all the basic amenities you need, even for a long stay. The room I was given is a decent sized room with a double bed. Even though they don't live in that place, Isuru and his lovely wife make sure that the house is in great condition before a guest moves in. As a host, I cannot recommend Isuru enough as I saw how great with all his guests. As someone who was born and bread in Colombo he knows the city very well. On top of that, he goes out of his way to do whatever he can do to make his guests' lives comfortable. Location wise it's in a fantastic location, just a 2 minute walk from R.A.De Mel Mawatha (Duplication Road) near Kollupitiya Junction. Please note that even though the listing says it's a room with air-conditioning, I only used the fans and I believe that you need to pay a little extra towards the electricity bills if you would like to use the aircon. All in all it's a great find and I would highly recommend it to anyone who's looking for a place to stay in central Colombo.
Pradeep
2016-10-31T00:00:00Z
Art der Unterkunft
Privatzimmer
---
Objekttyp
Wohnung
---
Unterkunft für
2
---
Schlafzimmer
Colombo, Westprovinz, Sri Lanka
My place is close to the Galle face beach, nightlife, public transport, located in the city centre, walking distance to all the 5* hotels and amenities,fabulous restaurants, parks, and a 1 hour drive to the airport. You'll love my place because of the high ceilings, the location, the cosiness & the luxury. The property has been fully furnished to a high standard to give you all the comfort you need on your stay. The roof top pool is amazing!
My 2 bedroom/2 bathroom luxury apartment is spacious, 1300sq ft and is on the Mezzanine floor of a small, low rise brand new building of 26 apartments. Tiled floors throughout, high ceilings and white walls. There is private access to the apartment via a small set of stairs which is used only for this apartment. There is a brand new fitted kitchen with washing machine/dish washer and gas hob. There are 2 large bedrooms(with fitted wardrobes), both with Queen size beds and one with an ensuite shower room. There is a free parking space for 1 car/visitors.
The 'Ramada' hotel(4*)is a 1 minute walk from the apartment, as well as 'The Taj'(5*) as well as the famous 'Galle Face hotel' which is a 2 minute walk away. The 'Galle Face beach' is also a 2 minute walk away and has some great street food available at all times. If you prefer 5* dining, you can visit any of the previous hotels mentioned OR some of the top restaurants in Colombo known as 'Nehonbashi'(japanese), 'Echo' (Italian), 'The Bavarian' (German/steak), 'Yumi'(Japanese at The Taj) which are all a maximum of 5 minutes walk from the apartment.
Although the host was travelling she remained in constant touch and kept the house ready for our arrival. The house is ideally located in close proximity of beach and main tourist attractions
Rajendra
2016-11-14T00:00:00Z
Great apartment. Very spacious and the location is fantastic. Walking distance to most places. Secluded and therefore not noisy. Rooftop pool is great. Had some issues with checking in and water not working - but these were quickly resolved. Overall, I would definitely recommend Anoushka's apartment.
Manthi
2016-11-05T00:00:00Z
seemless checkin, and everything was exactly advertised. space was great for an active toddler, and the location itself was desirable. Apartment has an updated design, and very cosy. will stay again.
pin ping
2016-08-27T00:00:00Z
Anoushka's place is a hidden treasure. Modern, clean & comfortable, with access to a stunning rooftop pool. Perfect location with an easy stroll to the beachfront promenade, supermarket & atm's, and sunset drinks at the Galle Face Hotel. Anoushka was so helpful & friendly. I would definitely recommend this apartment & look forward to staying again in the future.
Alison
2016-12-04T00:00:00Z
I was in need of a place to rest and relax after being on deployment for 5 1/2 months. I was told about Airbnb 2 days prior and found this gem of a place. The apartment is spacious, super clean, great a/c, excellent internet, beautiful pool and a great 360 degree view of Colombo from the pool area. Anoushka was a great host and offered her personal time if needed. Don't waste your time and money in a hotel when you can have the comforts of home away from home. Definitely will do this again if ever in Colombo.
Carroll
2016-07-29T00:00:00Z
Excellent!
Nakul
2016-10-09T00:00:00Z
The flat is behind Ramada Hotel. Before we got there, the household told us the specific address, so the driver can find it. Good location, nice clean and spacious house.
Chang
2016-10-07T00:00:00Z
Totally recommend this place! Great location, clean, spacious, easy communication and nice flat overall. Thank you we will come back!
Hendrik
2016-08-24T00:00:00Z
Art der Unterkunft
Ganze Unterkunft
---
Objekttyp
Wohnung
---
Unterkunft für
4
---
Schlafzimmer
Colombo, Westprovinz, Sri Lanka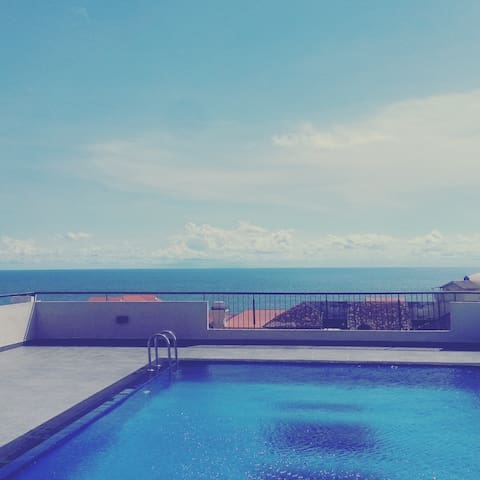 Fully furnished apartment exclusively for your use only with new appliances, large one A/C Bedroom and attached bathroom. Fully equipped kitchen, dinning, sitting and balcony. In a quiet residential neighbourhood, close to Supermarkets, Up-market Restaurants, shops, SSC (Sinhalese Sports Club) and SLTA (Sri Lanka Tennis Association) and a 2 minute walk to transport. I can also organize pick and drop off to & from the airport, Recognition Permit for a driving license and city tours.
It is spacious apartment with a large living space with Kitchen, Dinning and Sitting Room. There is a secured walk out balcony which is mosquito proofed so that you can keep the French windows open if you like. There is plenty of cupboards in the kitchen with all the necessary cutlery, crockery and cooking utensils. The bedroom too has many spacious cupboards and all bedlinen and towels are provided. Nearly all our appliances are new. We also have a washing machine as well as ironing facilities. Extra bed available on request at $10 a night.
Our apartment is in a residential area very close to all you would need by way of restaurants, shopping, malls, hospitals, banks, libraries, theater, cinemas, embassies etc. All the places have free delivery as well. The Cargills Supermarket is just across the road from us. Both the Duplication Road (R.A. de Mel Mawatha) & Galle Road Colombo's shopping and restaurant areas are just a few minutes away. The restaurant "Cafe on the 5th" a few minutes walk from us has short eats as well as a sit in restaurant with food from different countries including Sri Lankan.
Surekha und ihre Familie sind sehr liebevolle und zuvorkommende Gastgeber. Das Apartment ist sehr geräumig, sehr sauber und im schönen kolonialviertel. Surekha denkt an alles und hat uns auch ein Taxi zum Airport organisiert. Sehr empfehlenswert
Michaela
2016-04-05T00:00:00Z
Wir habens voll genossen im Cinamon District. Schöne Umgebung, Angenehme Wohnung, perfektes Restaurant in der Umgebung. Eine Oase etwas südlich vom stressigen Zentrum.
Helene
2017-02-03T00:00:00Z
Surekha was a well informed and thoughtful host. She helped us with our enquiries before our stay and organised two good drivers for us -one from the airport and one to show us the sights who was really great. The apartment is basic with no frills but has good air conditioning and a fridge.
Maria
2016-08-02T00:00:00Z
The hospitality Surekha provided me with was beyond exceptional. I needed a last minute place at 5Am. Surekha accepted me when many others didn't. Furthermore, I received arranged rides from airport, to DmV, and then to my rental car agency. The place was everything I needed and more. Air Conditioning worked great! Take advantage of Surekhas transporting options. I didn't at the beginning and a "Colombo Crow" Tuk Tuk driver ripped me off.
Patrick
2016-09-23T00:00:00Z
Surekha was simply easy and amazing to coordinate with! The home is beautiful and is an amazing find in the midst of all the Colombo hustle and bustle! Fully worth it!
MB
2016-04-30T00:00:00Z
Surekha's apartment was in an excellent location close to shops, restaurants and transport. The self contained apt was as described on the web site, spacious and private for exclusive use of the occupant. The A/C room provided relief after a tiring day. Surekha was helpful, accomodating and ever willing to help . I will book this apt for my next visit and will not hesitate to recommend to others. Excellent value for money.
Winston
2015-10-24T00:00:00Z
Surekha's apartment is really nice with a great location for exploring Colombo. The price was similar to what we paid previously for a private hostel room in Colombo, except that Surekha's was much nicer! The whole family are very friendly and Surekha's even kindly gave us a mini tour in her car when it was raining the night we arrived. A mosquito net in the bedroom would have been good, but we really thought the apartment was a great find and would definitely recommend staying here.
Hannah
2015-10-26T00:00:00Z
Ms.Surekha is very friendly and helpful. She had listed a lot of places that we could go around. The room is really clean, comfortable and quite.I hope that we can live there again.
Menglin
2016-11-14T00:00:00Z
Art der Unterkunft
Ganze Unterkunft
---
Objekttyp
Wohnung
---
Unterkunft für
2
---
Schlafzimmer
Colombo, Westprovinz, Sri Lanka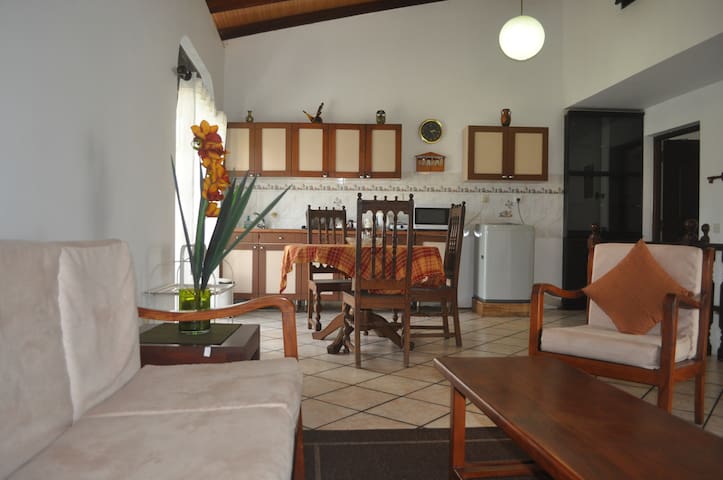 Compact bedroom with shared toilet (****no AC - fan ONLY) Colombos main hotspots for shopping, restaurants, sightseeing & leisure activities. Walking distance from the ocean, Barefoot cafe & Majestic city. The apartment is very centrally located and safe. About an hour from the (URL HIDDEN) equipped with all amenities and comforts.WIFI and over 70 channels on pay TV. Balcony for smoking. Very clean shared bathroom. 24/7 access to the property. Functional plug point in the room.
Excellent location. Can't say more about it!! it's central to everything Colombo has to offer... Barefoot café is on the next street, Gallery café, a multitude of various restaurants are all walking distance. The sea I just about 200 metres away.
Restaurants, The sea, Cafe's, Local attractions are within walking distance.
Die Tuk Tuk-Fahrer hatten so ihre Probleme mit der Adresse aber Anushka hat uns da vorab sehr geholfen. Generell gab's nette Hinweise von ihr, auch wenn wir sie persönlich nicht getroffen haben. Wohnung war wie beschrieben und wir wurden nett empfangen. Verhältnis Preis/Leistung stimmt! Wir sind nur eine Nacht geblieben, weshalb wir die Umgebung nicht besonders erkundet haben aber das Wasser ist nicht mal 100 Meter entfernt. Würde ich weiterempfehlen.
Lucas
2017-02-06T00:00:00Z
Such a nice place, good location, cozy rooms and helpful host. We enjoy the stay here. The place is near the sea and convenient living condition, hot water available and nice kitchen. Thanks for the host answering my question very patiently!!!!
Yihui
2016-08-07T00:00:00Z
位置还好 就房间窄了一点
婉兜
2016-01-24T00:00:00Z
The apartment is very cool, modern and comfortable! European style!)) Mistress of apartment - Anushka - nice responsive girl! We really enjoyed the time spent here! thanks a lot!!!!!!
Михаил
2015-08-23T00:00:00Z
host Anushka was very, very helpful to answer all questions and assist with my time here. Great location- near to the beach, shopping mall, very relaxing; good apartment, nice rooms; Highly Recommended!! and Thankyou so so much :-)
Tony
2016-12-10T00:00:00Z
Arrived Colombo was 8pm. I called the host to get the key almost one hour ~ other was ok ~clean and warming house
yulian
2016-05-05T00:00:00Z
Anushka is friendly and helpful. You reach the central station or Gangaramaya temple in 10-15 min by tuk tuk. My room was ok, but not clean. Good place to stay for 1 night.
Elena
2016-02-26T00:00:00Z
We only stayed one night in Anuska's place. We didn't get to meet Anushka as she was on holiday but she was very communicative and therefore we had no issues checking in etc. The accommodation is basic. It's a lived in, tidy and relatively clean apartment. Note the fan in the bedroom emits a loud ticking noise and makes it difficult for a light sleeper to sleep. The location however is great. It's a short and cheap tuk tuk ride to the fort area/train station and a cheap uber to and from the airport.
Eoin
2016-12-11T00:00:00Z
Art der Unterkunft
Gemeinsames Zimmer
---
Objekttyp
Wohnung
---
Unterkunft für
2
---
Schlafzimmer
Colombo, Westprovinz, Sri Lanka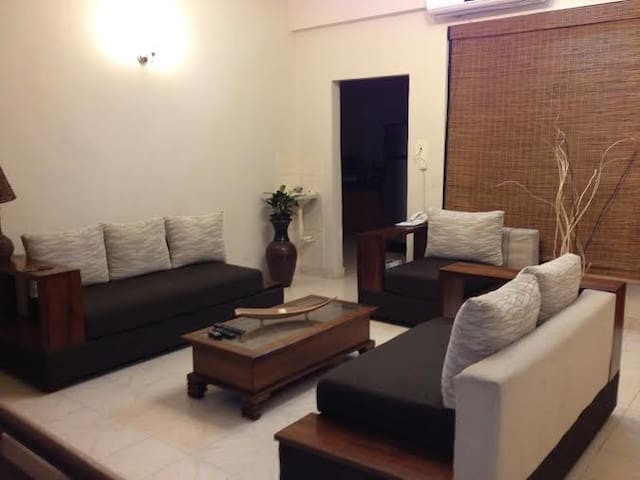 The Ironwood Room is a bright tastefully decorated room and has all the amenities to ensure that your stay here is a comfortable and relaxing one. It is situated in a highly residential area in one of the most centralized locations in Colombo. When you wish to relax with a cool drink in a quite place but also want to discover busy Colombo without travelling much this is the place to be for you.
Villa Anuja is a 2-bedroom apartment. The bright Ironwood Room is equipped with AC, a mosquito net over the bed and a ceiling fan. Furthermore you will find a big closet in the room that can be locked. Attached to the room is a private bathroom with a hot water shower. We are offering a simple breakfast that of course is, like everything else, included in the price. Breakfast will be served from 8 to 10 am.
Villa Anuja is located in a small very quiet side road. You will enjoy absolute peace. Still different restaurants , shops, a supermarket or a spa are only walking distance away.
Wir wurden freundlich empfangen von der Haushälterin, die leider nur wenig Englisch spricht. Wir hätten uns gerne besser verständigt mit ihr, denn sie war super freundlich und stehts am lächeln :). Das Zimmer war wirklich super, mit eines der besten unserer gesamten Reise! Total groß, schön eingerichtet und das Bad absoluter Luxus! Leider haben wir Jaqueline nicht persönlich kennengelernt, aber sie war sehr bemüht uns einen Flughafentransfer zu organisieren. Wir können die Unterkunft nur weiterempfehlen es war echt super und wir können nichts kritisieren!
Vanessa
2017-03-02T00:00:00Z
I just stayed for two nights at that nice place. Jacqueline arranged an airport pickup for me even if was in the middle of the night. The location was just right for me. Not in the center but everything close enough to explore. Hosts have been really nice and helpful, even though it was sometimes a bit tricky to communicate. I can recommend that place!
Kersten
2017-03-15T00:00:00Z
Amazing place and value for (URL HIDDEN) first stay with airbnb and it's all that I could ask for. Jacqueline is a wonderful host who ensured that we Reachd her place without any hassles. Gave us useful tips to reach our next destination.
KAVIN
2017-02-15T00:00:00Z
Very clean, spacious, super well located appartment in central Colombo, easily to reach and walk about, close to central sightseeing and locations, great breakfast, fast wifi, what else do you need. Thanks a lot and see you next time.
Anne
2016-12-26T00:00:00Z
Clean, spacious and an amazing shower, bed and aircon to escape to out of bustling colombo. Prema welcomed us and made us a delicious breakfast (that we selected from and array of choices). 20 minutes away from Colombo fort, in a quiet residential location with some quaint cafes around. Nice location!
Billie
2017-03-09T00:00:00Z
Villa Anuja is nestled in a quiet street close to some lovely cafes and eateries and only a short tuk-tuk ride from all of the major sights of the city. Jacqueline was swift to respond to messages and Prema, the housekeeper, although her English was limited, made a great breakfast and looked after me well. Recommended!
John
2017-03-01T00:00:00Z
We had a wonderful stay at Anu And Jacqueline's place. The place is really cozy and comfortable.The care taker perma was warm, welcoming and very helpful. I would like to suggest the small restaurant isso right in front of the premises. The food there is great. I definitely recommend the place to other travellers.
Sandun
2017-02-25T00:00:00Z
This place is amazing from several fronts. The location, service, room size and hospitality is truly marvellous. I spent 15 days here in Jan/Feb 2017 and enjoyed every single day. The breakfast was tops and i actually got a choice, which worked well. Prema is a wonderful caretaker/cook/cleaner she will make sure you have the best time. Only thing is that she does not speak english but that didnt slow or make things difficult. I highly recommend this place to anyone, Jacqueline is a wonderful host who actually engages her guests on a daily basis to ensure everything is as expected by her guests.
Mario
2017-02-06T00:00:00Z
Art der Unterkunft
Privatzimmer
---
Objekttyp
Wohnung
---
Unterkunft für
2
---
Schlafzimmer
Colombo, Westprovinz, Sri Lanka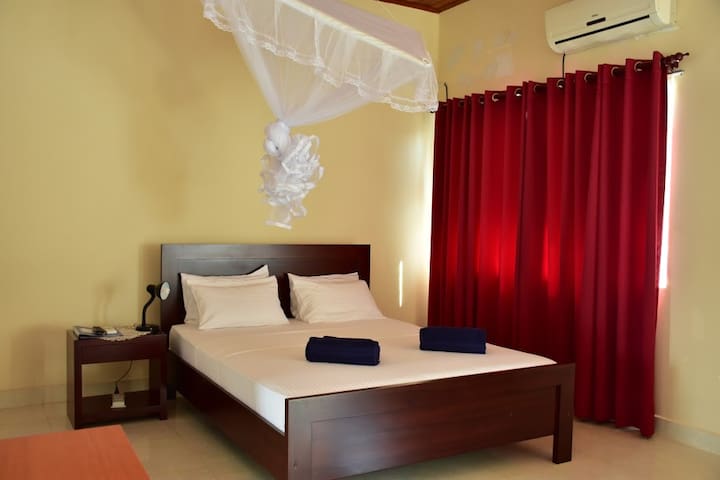 The most central location in Colombo! 2 bedroom 2 bathroom apartment in the heart of Colombo 3 (Alfred Place). Colombo 3 is an exclusive address that is central to almost everything there is to see and do in Colombo. * Apartment details and Facilities The apartment which was renovated and refurbished in October 2013 is located on the 2nd floor, in a building owned by my family . An elevator service is provided that opens onto the private balcony of the apartment, and the apartment itself is fully furnished with brand new amenities to make your stay as comfortable as possible. There are 2 large bed rooms and 2 bathrooms, living room and open style kitchen. One bedroom has an ensuite bathroom and the other is right outside the bedroom ( both have shower cubicles ). The bathrooms are fitted with brand new exclusive Italian tapware and shower heads. There is a fully functional open style kitchen with fridge, microwave, gas stove with oven, cutlery and crockery also provided. The living room has a 24" LED TV with Cable TV and DVD player. In addition the apartment comes with FREE WIFI. The entire apartment has new A/Cs fitted in both bedrooms as well as living room Fresh linen and towels are provided. Also equipped with a washing machine. ( A packet of detergent is provided as well). *Location and transportation In terms of location you cannot ask for a better address! It is close to almost everything that is worthwhile doing in Colombo and a great base for traveling to other parts of the country as well. Within our building there is a pharmacy, salon, clothes shop and small restaurant. There is a mini mart and cheap eating places right next door and the supermarket (Cargills Food City) and Durdans hospital are just 500 m from the apartment. The apartment is in close proximity to major international retail brands such as MANGO, Charles and Keith, Bennetton, Levi and local clothing retail stores such as Odel, House of Fashion (outlet store)Barefoot, Paradise Road etc. Trendy restaurants and shopping districts such as the Colombo Races Course, Gallery café, Chesa Swiss, Barefoot café are within minutes of the apartment. The Gangaramaya temple and Beira lake are just 4km away and the Dutch hospital shopping precinct just 5 km away. You can get a tuk tuk or bus as soon as you step outside of the apartment as there are several tuk tuks parked outside the premises and bus stops a few yards away. * Electricity Charges Extra The published rates include all taxes and other utilities except Electricity. Electricity will be payable as metered. This will depend on your usage. The electricity rate U.S.$ cents 0.30 per unit. We look forward to welcoming you to our country!
The apartment is located in an extremely safe and exclusive neighborhood. The building is in one of the most central locations in Colombo and everything you need is right outside your doorstep. A mini grocery, Indian, Sri Lankan restaurant (Raheemas) and pharmacy are right next door to the building. The supermarket (Cargills Food City) and Durdans hospital are just 500 m away. Flower Drum ( Great Chinese!), Cafe on the 5th (Sri lankan and continental cuisine ) and Dinemore (Fast food) are just a 5 minute walk from the apartment. Mitsi's Cafe which is just on the adjoining road and a minutes walk.
Great apartment, perfect size for 3 of us. Location was convenient for getting around easily. Manju was easy to communicate with even though we didn't get to meet unfortunately. Our stay was very enjoyable, the apartment was great, even if the lift seemed a bit dodgy!
Alice
2017-01-03T00:00:00Z
Best thing abt this place is the location. It was so convenient for us. Apartment is spacious enough for a small family. Manju is extreamly helpful and always available. She even gave us a lamp and a torch during few blackouts in Colombo. Our flight was close to midnight and Manju didn't charge us for late checkout. Appreciated. Also the building manger is very helpful. He is a nice man. Though the apartment advertised as brand new actually it's not a brand new apartment.
Yanga
2016-03-22T00:00:00Z
The photographs on airbnb did make the apartment look fresher and whiter but it was very comfortable and perfectly situated for what we wished to do in Colombo. It was great to be living in a home after staying in different hotels every night.
Julie
2016-09-04T00:00:00Z
We enjoyed our three nights stay in Roma&Manjus apartment. The place was well appointed and well equipped (just as advertised). It is conveniently located in a nice area of Colombo. Manju was a lovely host. We were offered to reach out to her any time we need something. Check-in was easy (even after midnight due to our rescheduled flight). Upon arrival we were more than happy to find cooled drinks in the fridge and snacks on the table. I recommend this place without any hesitation. Thanks again for this lovely stay!
Lars
2016-02-22T00:00:00Z
Manju's flat was immaculate. We loved the little touches of biscuits and breakfast left out for us. We made many friends - tuk tuk drivers, waiters and Sumith who works at the flat is a real character. He helped us loads. Because of the central location it is noisy but it didn't bother us. All equipment worked well. We loved cafe on the 5th a short walk away for dinner and plenty of tuk tuk's available outside the flat.
Wendy
2016-08-12T00:00:00Z
We stayed at Manju's apt for 10 days with our baby and we could not have found a better place. Although we didn't meet her personally, we were welcome by a very clean and neat place, a tray with coffee, tea, snacks and breakfast food on the table, and the very nice staff at the entrance of the building. Manju even offered to bring a baby bed with a mosquito net, which was very much appreciated. Overall, the apt was very comfortable, the rooms are large and shiny and the kitchen is equipped with everything one needs to cook. We especially enjoyed the little balcony with the private entrance from the elevator. I had the pleasure of meeting the owner's mother upstairs, who was really wonderful and kind to me. I highly recommend the apartment and the very good quality service provided by its owners.
Tsering
2015-11-04T00:00:00Z
The apartment was comfortable,clean,and above adequate for a family of four.The flat was very centrally located and we found it easy to drive down to all the tourist attractions.We very much enjoyed our stay.Thank you Manju!
Kenen
2016-08-20T00:00:00Z
The host (Manju) and her husband were very welcoming. The accommodation itself was basic though functional. On the plus side it is very centrally located. The air conditioning, the stove, refrigerator, washer and elevator worked well. The beds were comfortable. Our TV was not working but on mentioning it to Manju she had it fixed straight away. On the other hand the apartment was located near a junction and was very noisy. The windows were not double glazed and let in all the noise. The entrance was unattractive and the elevator located opposite a water bottling store needs a new carpet. There was no view as featured in one of the photographs. The furniture was very old and basic and probably needs replacement. There were leaks in the shower cubicle. Overall, it was adequate for our purposes, and possessing positives and shortcomings.
LAKSHMAN
2016-06-17T00:00:00Z
Art der Unterkunft
Ganze Unterkunft
---
Objekttyp
Wohnung
---
Unterkunft für
5
---
Schlafzimmer
Colombo, Westprovinz, Sri Lanka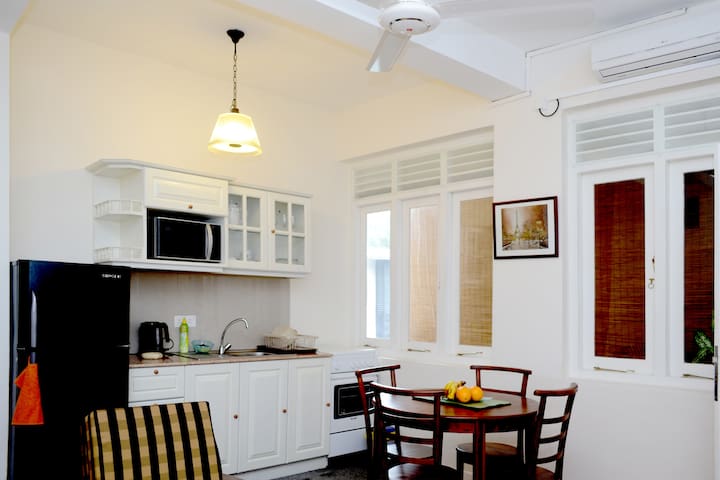 Spacious 3 bedrooom Apartment centrally located in the city of Colombo 7. The apt is fully mosquito proof and comes with a swimming pool. Walking distance to restaurants, Cafe's shopping malls (Odel) Medical Faculty,banks, hospital and the Vihara Maha Devi park.
Conveniently located in prestigious Rockwood Place Colombo 7 (Next to Ward Place), 3 Bedroom Rockwood Apartment is a great base from which to explore this vibrant city. Only 1 km from the city center, the apartment's strategic location ensures that guests can quickly and easily reach many local points of interest. A haven of rest and relaxation, the apartment will offer total renewal just steps away from the city's numerous attractions such as Odel Shopping Mall, Museum, Independence Square, Old Parliament, Galle Face Green, Vihara Mahadevi Park (Victoria Park) Food City Super Market is a 10 minute walk (or USD 0.5 on a Tuk-Tuk cab) from the apartment. Also many restaurants available in the neighborhood such as Coco Veranda, Odel food outlets, Urban Kitchen, and many more. At Rockwood Apartment, the excellent service and superior facilities make for an unforgettable stay. Its a large 2000 sq ft apartment that can house 6 adults comfortably and if needed on request additional beds can be provided for extra guests. Wireless Internet, Cable TV, Washing-machine, Fully Air Conditioned rooms, Fully Equipped Kitchen, Bed Linen and Towels are provided free of charge. Free parking and use of the Swimming Pool. All utilities bills are included in the rate.
It is a very safe neighborhood. The complex itself is very private as there are only 7 floors in the apartment. There is a mixture of Sri Lankan and foreign expats living in the complex. We have a 24 hour security who is very alert and helpful to all the guests living at Rockwood. Its walking distance to Sri lankan/ Indian Chinese and western restaurants. Cafes, bakeries, pharmacies, Banks and a money ex changer are all walking distance away. The mall Odel , Cotton Collection are some of the well known areas to shop again situated at close approximate . Food City only 5 minutes away where one can buy all your groceries. The Colombo Medical Hospital and College is 2 minutes away. The park and the kids play ground is walking distance from the apartment.
Alles war wie beschrieben. Deepika hat uns sogar 3 Sport-Kanäle im TV freigeschaltet, damit wir Olympiade schauen konnten (Fussball Endspiel). Das war wirklich klasse, vielen Dank nochmal dafür. Die Wohnung war sehr geräumig und optimal für eine 5 oder 6-köpfige Familie. Einzig das Haus und die Ausstattung sind nicht mehr zu neu. Für einen "Kurzurlaub" in Colombo ist diese Unterkunft wirklich zu empfehlen.
Marco
2016-08-22T00:00:00Z
comfortable 、clean、friendly and convenient.
静如
2017-01-14T00:00:00Z
Very nice apartment. It's close to a shopping mall and restaurants. Deepika has a very useful handmade map. Deepika was so nice to come to tell us how to use everything in the apartment. She also helped us book a minivan for 2: 30 AM and even told us to call her if the minivan doesn't show up...
Xiaofei
2017-02-02T00:00:00Z
Deepika's apartment is in a great part of the city and extremely easy to explore colombo. The area is extremely safe and the security within the apartment is also good. Check in was extremely easy and while Deepika was not there, she had arranged for some one to come to the apartment to help us. The apartment is extremely spacious and well maintained. While there was a problem with the wi-fi, she assured us that it would be fixed, but we were there only for a day so it was OK. There are supermarkets close by and food delivery as well. Good stay for a short trip.
Brenden
2016-12-30T00:00:00Z
First, communication with Deepika was very smooth. She was prompt with replying and very helpful. She was a great host, even coming by on our first day to check that we settled in OK and gave us a quick run down of stores and restaurants close by, which came in handy. She also provides a guest book with all this information and even a map! The apartment itself is great, very spacious with a kitchen and large fridge. In a very central location, we walked around a lot or took short rides in the three-wheelers to get to most places. Security was also very helpful, even ordering our van to the airport for us! Would definitely recommend, and if we ever stay in Colombo again I will be contacting Deepika!
Dylan
2016-12-14T00:00:00Z
We used Deepikas' place as a kind of base for our Sri Lanka trip stopping upon arrival and before departing for a few days. It was a great place, there are ATMs, a grocery store and Odels mall only a 10-15 walk away so we had everything we needed, the security guards were very friendly and helped us get Tuk tuks. We would certainly stay again this apartment ticks all the boxes for location, comfort and ease. We'll hopefully be back soon!
Gary
2015-12-05T00:00:00Z
Deepika was friendly and accommodating! Highly recommend the stay.
Adam
2017-03-29T00:00:00Z
这是我们在斯里兰卡住的最好的一次。整个Appartement 很大,每间房间都布置得非常安逸,舒适。起居室也很大,每一件小摆设都体现了主人超高的品位。储房一应俱全。我们两天里做了两次早餐,两次晚餐,真是过了把瘾。房东太太很热情,尽管我们到得很晚了,她还是开车过来跟我们打招呼。耐心,仔细地跟我们解释家里各样用品的使用方法。最让我们感到贴心的是,房东太太为她的房客准备了一个文件夹,里面周到,贴心地写下了她的联系方式;Appartement 周围的地形图,为我们带来很多方便。她还不厌其烦地为我们介绍科伦坡好吃,好玩的地方,询问了我们购物的意愿,当了回我们的购物指南,让我们倍感亲切。 我们是带着依依不舍的心情离开Apartment和科伦坡。我们一定会再度来斯里兰卡这个美丽的国家的,到时候来科伦坡还会再住这个Apartment的。超值。
Jian
2017-03-28T00:00:00Z
Art der Unterkunft
Ganze Unterkunft
---
Objekttyp
Wohnung
---
Unterkunft für
6
---
Schlafzimmer
Colombo, Westprovinz, Sri Lanka
My place is an self contained apartment just 2 minutes walk from food courts, Bambalapitiya railway station, Galle road, the Majestic cinema and the beach. You'll love my place because of the convenient location and the ambiance. My place is good for couples, solo adventurers, and business (URL HIDDEN)
This is a self contained fully air-conditioned apartment with one bedroom sitting room, kitchen, toilet and a private balcony
The neighbourhood is safe and we have 24 hour security down the lane.
Located in the heart of Colombo, Dilrukshi's place was quite beautiful and cozy. The place was furnished and well-equipped as to make the stay very conducive. Despite being a self-contained apartment, the place was quite big for couples/small group of friends. It's vital to mention the provision of motion sensing light fixtures which was quite helpful.
Santhosh
2017-01-03T00:00:00Z
Great nice place in the center of Colombo. Dilrukshi is always friendly and helpfull. Place looks exactly as at photos
Ilia
2016-12-12T00:00:00Z
Dilrukshi is very flexible and friendly! She is a caring and helpful host. The apartment is very clean and near plenty of food and shopping. You can get a taxi or tuk-tuk in a 1 minute walk. Cold AC, hot water, and fast internet. Great for relaxing after touring the whole island and preparing for the flight home. Highly recommended!
Matt
2017-03-05T00:00:00Z
Very convenient location. Near stores, restaurants. Dilruskhi is a very helpful and kind hostess. Her place is clean and quiet, My First Airbnb experience could not be better.
ANTONIO
2017-02-25T00:00:00Z
Nice apartment with good location.
Julie
2017-02-12T00:00:00Z
This is a gem of a stay! Dilrukshi and Dilo have taken every possible effort to make their guests feel extra comfortable. The space is huge and well furnished, with a fantastic Colombo bungalow vibe. It's equipped with anything you could possibly need, including an iron, blow dryer, microwave, kitchen utensils (and a big balcony!) AC, ceiling fans, WiFi and automated lights all worked perfectly. The hosts even provided some breakfast supplies, and were so nice to leave a delicious small snack for my late arrival. They were always a phone call away if I needed anything (they live next door), but gave me total privacy and free access to the space during the whole stay. Recommended!
Mattia
2016-10-19T00:00:00Z
Vi fick enkelt och snabbt kontakt både via sms o telefon. Perfekt lotsning till boendet där vår vänliga och hjälpsamma värdinna mötte med ett glas färsk juice. Lägenheten är trivsam med lugnt och bra läge.
Ingela
2016-12-30T00:00:00Z
Great quiet space, in a quiet lane, with private balcony, clean, comfortable, tastefully decorated, centrally located in a safe area, close to shops, cafes and tuk tuks which are great for getting around Colombo. Great communication by Dilrukshi throughout - she and her husband live next door and were available to help us when needed with regard local knowledge and arranging a taxi to Galle for us. Thank you so much Dilrukshi, we really enjoyed our stay with you and look forward to staying at your place again next time we visit Colombo.
Brenden
2017-02-28T00:00:00Z
Art der Unterkunft
Ganze Unterkunft
---
Objekttyp
Wohnung
---
Unterkunft für
2
---
Schlafzimmer
Colombo, Westprovinz, Sri Lanka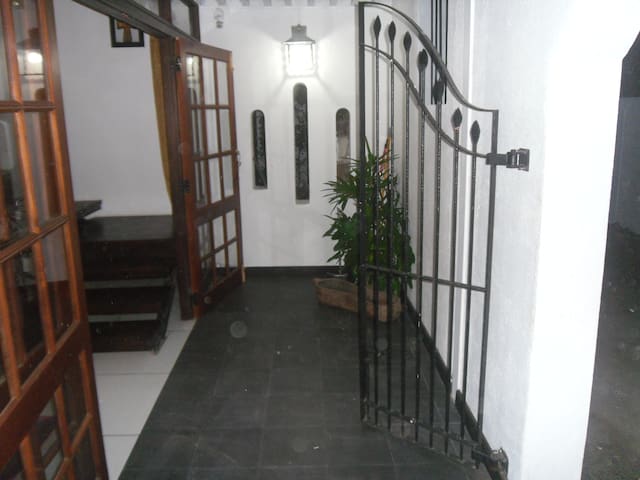 "PRIVATE" Family-Friendly, Large (1000 sqft) One Bedroom Apartment on the ground floor, with a living room, modern bath and full - kitchen. Centrally located in the heart of prestigious "Independence Avenue, Colombo 7 Cinnamon Gardens neighborhood...walking distance to Shopping malls, Independence Square, Parks, Cultural Centers, Art Galleries, Museum, Restaurants and Nightlife. Breakfast & Butler Service available upon request for an additional fee. The owners are happy to guide you...
"The Mosaic" apartment is located on the ground floor of a 10,000 sqft private home. The name of this apartment stems from a 140 year old Mosaic Floor at the Entrance/Foyer of this apartment. This apartment is ideal for Short-term, long-term and/or family with kids or elderly guest who don't want to deal with stairs. "The Mosaic" is a cozy single unit apartment with one "large" bedroom, living/family room, complete fully equipped kitchen with cooking facilities and an updated modern bathroom.
This Independence Avenue "street" in colombo 7 (location/neighborhood) is the most prestigious area in Sri Lanka. It cannot be compared to any other area as the conveniences, safety and security you are surrounded by is unparalleled.
I had the flat for a week, it has high ceiling and is very spacious and location is easily accessible in a good area. The bed is super comfy and nice clean newly done bathroom. Owners were very friendly and eager to help.
Khedara
2017-02-04T00:00:00Z
When looking for a place to stay in Colombo, Ann's place stood out instantly, and our stay and experience exceeded those expectations. Efficient, friendly and prompt responses to messages regarding our arrival, as well as Ann accommodating flexible arrival times. For those who haven't stayed in Colombo before - The location is spot on. The appartment had all the amenities, and the pictures don't do justice to how beautiful the home is. Tall ceilings, large rooms with a very large comfortable bed, not to mention the hospitality and welcoming. Would recommend this apartment!
Natasha
2017-02-16T00:00:00Z
This is the ideal place if you want to stay in the heart of Colombo for any purpose - family vacation, business trip or whatever! This is located in prestigious Cinnamon Garden area (Colombo 07) - just in front of famous Nelum Pokuna Theatre. It's a superb location with walking distance to Independence Square, Viharamahadevi park, Independence arcade and many more iconic places of Colombo, Good restaurants and cafes. Me, my husband and our daughter had a pleasant stay of 4 nights at this place. The place was safe, quite, clean and strategically located just by Independence avenue. The bed room/living room/washroom was as accurate as in the pictures and as in the description. The interior of the house been upgraded with all modern amenities (e.g. The water fittings were of Grohe brand and all the electric equipment were new and of high standard). The place was clean, the bed was comfortable and all the amenities were perfect and working perfectly. Ann and Nirosh are super hosts who made us having a homely feeling through out the stay. They are well knowledgeable about the city and the country if you need any guidance and tips of getting around, finding food, arranging a trip etc - you name it and they will accurately guide. When we booked the place, the gist question Ann was asking - Any special requirements for you daughter? That question explains how caring hosts they are. Ann has gone the extra mile of keeping kid food, some story books for my daughter, , fruit juice, some snacks for us to get over with our hunger and even a baby bath for our daughter. None of these were not included in the description and we found those as a pleasant surprise! We arrived there by midnight and Ann's husband Nirosh was there to welcome us personally despite of the late hours. Through out our stay they knew very well how to respect our privacy and was just a call away when we needed them. All though this is just 20 feet away from the road, we felt no noise from the traffic specially my daughter who is not tolerating disturbance during her sleeping time :) - the place is very well sound proof! I would like to give my highest recommendation of this place to any traveller (foreign or local)who is looking to stay solo, have some family time, Hv a business trip or stay with few friends in middle of Colombo and enjoy the city/country. Also this is a place where you get the value for money at its best!
Rajitha
2017-01-10T00:00:00Z
First impression is the beautiful old charming house in very easy-to-get-around area. Many must visit places are in the walking distance. This apartment is super spacious and so comfortable that you may even want to lie down there all day long and end up doing nothing. Everybody there is incredibly friendly and helpful. While the host can provide you all useful info about the city and great staying tips, the staff can even help your girlfriend wear a sari. The latter is actually the most impressive part.. :) If I visit Colombo next time, this place will definitely be my home away from home again.
Oleg
2017-01-26T00:00:00Z
Lovely apartment with good proximity to great spots and very friendly and helpful hosts. Awesome stay and highly recommended.
Carl
2017-03-28T00:00:00Z
Having spent a few nights at this apartment earlier in our visit to Sri Lanka (see our earlier review) we were so looking forward to our return visit and were not in any way disappointed. On arrival the staff and host came to meet us in the courtyard and were so delighted to see us it was like coming home. Also our hosts were just as attentive as they were during our first visit and were very kind in providing a few necessities in anticipation of our stay and were on-hand should we need anything. This is a truly exceptional place to stay and given its prestigious address is likely to be in demand so book early! Well done Ann and Nirosh for making their property available to visitors to Sri Lanka whether as tourists or just simply on a business visit.
John
2017-03-16T00:00:00Z
I did quiet a lot Airbnb the last years but this one was definitely the best ever! So comforting and easy going...Always helpful, even though we had like a million questions and requests;) thanks a lot for everything and let's stay in touch!! The apartment is located very nice close to lots of stuff to (URL HIDDEN) very clean and offers a high standard of everything necessary~ All the best, Chris
Chris
2017-03-06T00:00:00Z
Ann's place is a true gem. It is in a very safe yet vibrant neighbourhood with all amenities only a 10 minute walk away if that. Both Ann and her husband showed us such genuine kindness making this air b n b experience actually the best I have had so far. Not to mention their apartment is stunningly chic with SUCH a comfortable gigantic bed. Thank you again I will certainly be back next time.
Brittany
2017-02-09T00:00:00Z
Art der Unterkunft
Ganze Unterkunft
---
Objekttyp
Wohnung
---
Unterkunft für
3
---
Schlafzimmer
Colombo, WP, Sri Lanka
Modern minimalist design, spacious and recently renovated two-floor apartment in central Colombo, located above a photography studio. Bright and spacious living room, with terrace, open kitchen and dining area. 2 large bedrooms with air-conditioning and attached bathrooms. Amenities include Wi-Fi, flat screen TV, PS4, PS3, Nespresso machine. Perfect for one or two couples or friends traveling or families.
Modern, minimalist design, spacious and recently renovated two-floor apartment in central Colombo located above a photography studio. Bright and spacious living room, with a modern open kitchen, which includes an oven, a microwave, and a nespresso machine. The dining area overlooks the living space with a large couch, a flat screen TV and blu-ray player, PS4, PS3. Large french widows in the living area open up to a terrace facing a small street. The master bedroom with shower and toilet is located on the second floor, and the smaller bedroom with attached bathroom is on the first floor. Both bedrooms are air-conditioned. The apartment is perfect for one or two couples or friends traveling or families.
The location of the apartment is in the very center of Colombo, with Ward Place at only a five to ten minute tuc tuc drive away. The area is called Colombo 09 or Little Borella. Ward Place is a busy central Colombo street which has several ATMs, a lovely coffee shop called Coco Veranda, a supermarket where most essential food shopping can be done, as well as the shopping center ODEL which has a dialog phone shop where SIM cards can be purchased, lunch restaurants and Spa Ceylon White Spa outlet for relaxing after a long trip. Right next to ODEL you have the Victoria Park, which is lovely for a day time stroll. Ward Place and Victoria Park are part of the lovely residential area Colombo 07, which is great to get around both through walking and tuc tuc rides. Dining and Shopping During the day many great places to eat can be found close to Colombo 07 with a few favorites such as Sugar Bristo which serves breakfast, lunch or dinner and is located Crescat mall next to the Cinnamon Grand Hotel. A bit further on is one of the top 50 restaurants in Asia by the name Nihombashi for fabulous Japanese cuisine which is not to be missed. Other really good restaurants are Gallery Café and Barefoot Gallery, which both have unique souvenir shops. For a little bit of a french touch, the host especially recommends Café Français for fine french cuisine with a lively bar specially on a Thu-Sat evenings (near Victoria Park on Park Street), as well as Sugar 41 which is in Colombo 07, Cinnamon Gardens. Both places are at about 10min distance from the apartment with a tuc tuc. Other fantastic places to shop nearby is PR, a much recommended boutique which can be found down Horton Place, 7 min away from the apartment, housing a unique selection of cloths and products. A little bit further away, on Duplication Road in Colombo 03, we would recommend you to visit Atelier Touché for beautiful women's wear design.
房间很漂亮、很现代,感觉主人相当有品味,设施也非常全。出门去哪里都可以方便打到车。非常喜欢这个房子,希望下次来还可以再住:)
Yunyun
2016-09-20T00:00:00Z
The host canceled this reservation 61 days before arrival. This is an automated posting.
Amanda
2016-10-30T00:00:00Z
Had a nice stay here... The apartment is as described and Sandun seemed helpful. We had an issue with locking the front gate to the house - I was left with a padlock that was too small, after being told it would be rectified the following day, there was no such follow up. Other small complaints were that the towel upstairs in the main bedroom had not been cleaned and smelt of putrid body odour - was quite bad. Also only one tap (hot) working in the shower upstairs.. not a lot of use in such a hot climate. But otherwise, a very fine place.
Indra
2016-08-28T00:00:00Z
Nice host & helpful housekeeper.
Fanatique
2017-02-03T00:00:00Z
Everything is great, exactly as hoped. Thank you!
Leila
2016-09-02T00:00:00Z
Sandun's place is exactly like the photos. Modern, spacious and well appointed. It's a great place to base yourself for a longer stay in Colombo. Uber is a very useful and cheap way to get around Colombo and everything is between 10-20 minutes away from the apartment.
Christopher
2016-08-16T00:00:00Z
Sundan's place is awesome! Big layout and plenty of space. Central to get around by uber and our experience was lovely. Sundan was super flexible with our early morning check in and when we had asked for a late check out, communication was very easy! Sundan recommended a Jazz Fest that took place during a weekend we stayed in Colombo which was fun and funky. Would definitely love to stay again and recommend to others.
Sarah
2017-02-20T00:00:00Z
Absolutely loved the apartment and the interior. My stay was very pleasant and the location was super convenient. Will definitely stay here again. Lovely maid and host.
Nilu
2016-06-18T00:00:00Z
Art der Unterkunft
Ganze Unterkunft
---
Objekttyp
Wohnung
---
Unterkunft für
4
---
Schlafzimmer
Colombo, Westprovinz, Sri Lanka
We offer a spacious one bedroom furnished flat with its own complete kitchen.The bedroom and dining are air-conditioned. All windows have high quality insect-proof window screens. It is a perfect location to explore colombo or for Business travellers (long term bookings are possible). From the Airport it is within one hour's drive on the highway. You can walk to the restaurants, laundry services, banks, shopping, museum, park within 5-10 minutes. A quiet neighbourhood.
The apartment is painted antique white. The floors are polished cement. The exterior has a natural brick finish. All windows have bamboo shades and high quality mosquito-proof window screens. Cane light fittings. Free Wi-Fi.
The neighbourhood is safe and quiet.
einfache, freundliche und schnelle Kommunikation, unkomplizierte Schlüsselübergabe, nette Schwester, gute ruhige Lage im "Botschaftsviertel", geräumige 3 Zimmer Wohnung, könnte ein bisschen Auffrischung und vielleicht ein bisschen Deko und Personality vertragen
Annette
2016-03-12T00:00:00Z
This apartment is great. Its clean, comfortable, the bedroom is airconditioned and there is excellent wifi available. Its a great location close to everything you need and very secure. It is perfect for either a short or extended stay and Sharmila is an excellent host. I highly recommend this apartment and will definitely be returning to it when next in Colombo.
David
2016-07-23T00:00:00Z
Lovely little place. Very clean and nice touches like bottles of water and packets of coffee. Shamila was very helpful.
Jean
2016-09-15T00:00:00Z
Very easy to find. Large apartment for 2 people. Helpful instructions. Would recommend
Kate
2016-08-12T00:00:00Z
Very clean and tidy place. Has all your essential needs and the host was incedibly helpful and flexible with respect to keeping in contact witj is and making sure we were okay. Would recommend.
Jonathan
2015-12-15T00:00:00Z
Sharmila was an excellent host, though we unfortunately couldn't meet. She responded to every query I had prior to me booking extremely promptly, and ensured I was informed of who I needed to see etc. for access to the flat upon my arrival. I thoroughly enjoyed staying at Sharmila's flat - it is in one of my favourite parts of town, extremely central, yet peaceful. The flat itself is excellent - clean, well equipped kitchen, comfortable bed, small balcony, good shower with a pump (some showers in SL can be little more than a drip, so always good to have a pump) - all in all, I had an extremely enjoyable stay there, and would very much hope that I will be able to stay again on future trips to Colombo............
Jay
2016-03-10T00:00:00Z
We had a great stay at Sharmila's apartment. It is located in a quiet residential neighborhood but within walking distance to many restaurants and shopping areas. The apartment was very basic but had everything we needed. Sharmila was very accommodating and promptly responded to our inquiries.
Samantha
2016-11-27T00:00:00Z
Sharmila's place is at a very convenient location in Colombo with easy access to shopping malls, transport, restaurants etc. The place was clean and neat with all the ameneties mentioned in the description. Check-in/out time was flexible and Sharmila was very quick in responding to messages although she doesn't live there. Sharmila's is a perfect place for a holiday, I'd definitely stay there again.
Bimali
2016-01-12T00:00:00Z
Art der Unterkunft
Ganze Unterkunft
---
Objekttyp
Wohnung
---
Unterkunft für
2
---
Schlafzimmer
Colombo, Westprovinz, Sri Lanka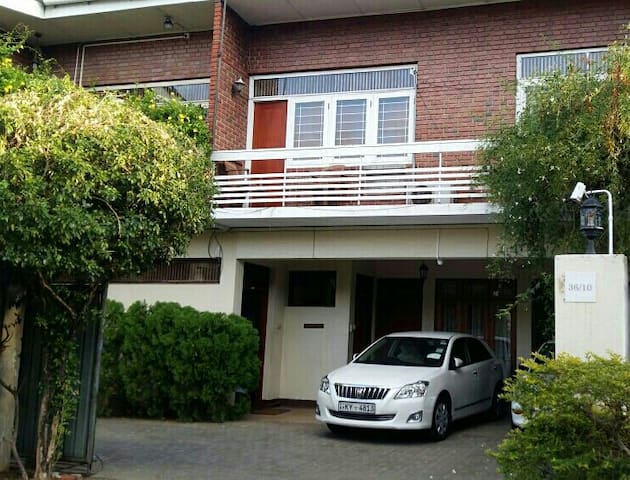 Located in a very convenient location in center of Colombo, and right across the street from the beach, my apartment is perfect for guests who are looking for a full apartment that is comfortable, safe and private. You can get to anywhere in Colombo from the apartment for less than USD 2-3 (15 minutes). Fully furnished. We provide everything you need for a comfortable stay - A/C, wifi and hot water, cable TV, cooker, microwave, kettle, mini fridge, cutlery, dishes, pans, bedsheets, towels.
Location: This apartment is located in a very convenient location in center of Colombo, right across the street from the beach and close to many shops and restaurants. It is also a safe area where you can find tuk tuks/cabs/Uber transport easily. You can get to anywhere in Colombo from this apartment for very low prices (less than 2 USDs) and in short time. (15 min). Apartment: Apartment includes spacious living room, bedroom, kitchen and bathroom. There is a brand new A/C, wifi and hot water. It is a safe and private space for both families and single travelers. The apartment building has 24 hour security. Guests get 1 reserved parking space. The apartment is fully furnished. You will get a comfortable bed, dining table, sofa, cable TV, a computer table and a cupboard to keep cloths. Cooking facilities provided include a cooker, microwave, kettle and mini fridge. Also included will be cutlery and some pots and pans. Iron and Ironing board will be provided. Washer/dryer is NOT provided. You will need to use the near by laundromat for this. (about 1 KM from the apartment). If you want to just dry a few clothes, you can use the cloth rack in the balcony area. We will provide bedsheets and towels. For longer stays (7 days or more), new bed sheets and towels will be provided. Insider tip: If you like running get on to Marine drive (10 feet from the apartment), and you can run all the way up the Galle Face, mostly along the beach!
Distance to top Colombo attractions Gangaramaya (Vihara) Buddhist Temple – 3.3 Miles Mount Lavinia Beach – 2.9 Miles Galle Face Green – 3.9 Miles National Zoo (Dehivala Zoo) – 2.2 Miles Colombo National Museum – 3.3 Miles Viharamahadevi Park – 2.9 Miles Independence Square – 2.8 Miles Dutch Hospital Shopping Precinct – 4.4 Miles Colombo Fort Railway Station – 4.7 Miles Old Parliament building – 4 .2 Miles There are tons of great restaurants within 1 mile of the apartment. (Beach Wadiya, Yaal Restaurant, MB Restaurant, Al Maas Indian Food, Orchid Chinese food, KFC, Global Spa Towers, Ozo Rooftop bar etc). Refer to guidebook section for a map. Also, there is a supermarket (Keells Super market) and a number of banks ATMs (Sampath, NDB) within a 2 mile radius of the apartment.
Rasitha ist ein buchstäblich perfekter Gastgeber. Er hat alles Erdenkliche gemacht. Äußerst freundlich, zuverlässig und zuvorkommend.
Anton
2017-01-02T00:00:00Z
This is a must try place. The host is always available if you need him and the place is clean and cozy.
Sahil
2016-12-29T00:00:00Z
All in all I had a pleasant stay in this apartment. It was a bit smaller than what I expected, but for a single traveller it was definitely more than enough space. The apartment does pick up a bit of noise from neighboring apartments, but not enough to bother me. The only thing I'd say was missing would be some drinking water. But like I said, overall I'm very pleased with my stay! :)
Eden
2016-12-30T00:00:00Z
I enjoyed a relaxing trip here. The host was kind. This apartment was spacious and kept clean.
수연
2017-01-23T00:00:00Z
I was doing a volunteer assignment in Sri Lanka, so I needed somewhere cheap and that would help me get all my 'business' needs met. I should have checked closer to the details of this accommodation, because it didn't meet a lot of those needs. Rasitha was helpful in following up if I needed anything (getting the TV fixed, getting a phone adapter, checking in and out) So I thought I would be objective to assist my fellow traveller make a wise decision. Things that can be controlled: Cooking utensils, stainless steel knives and forks, not plastic, and something to cook on other than a microwave A working TV, had to use slow internet for entertainment (Rasitha's offered to fix it if it was something I really wanted) A laundry and an iron (much needed on the road) Things that can't be controlled: The mosquito family in the building well The screeching of car tyres on the car park very early in the morning The lack of natural light to the degree you can't tell what kind of day it is outside. The sound of a ship passing all the time, that turns out to be a plumbing pipe through the building. The beach that is unswimable. Rasitha's building manager was always available to help when I needed (locking myself out, getting a phone adapter to me) and Rasitha always messaged to follow up so his hospitality was really good. If you just need somewhere to sleep, that's cheap, then this will do it. But if you like to enjoy a balcony, or natural light, or any sort of ambience, or if you are staying longer for business you may want to spend a little more money. It sucks to have to give a review like this, but that's what the trust economy is all about. I am sure Rasitha will address all these concerns and make everything available to the next traveller, he is a good host. And I should have double checked my needs before I arrived, so I don't hold any blame for my experience, it's my fault for accepting the standard I paid for. Good luck in your choice.
Peter
2017-01-13T00:00:00Z
Good place if you need "chip and chik" home stay for couple of nights. You can use Uber to get anywhere in Colombo from this apartment for very low prices and in short time.
Tatiana
2017-02-10T00:00:00Z
Russ is very helpful cuz he helps me changed the room booking from two nights to one night stay,. The apartment is nice as a whole with a big living room and bed room. The only thing is that you can not have sunshine in the room because it it so enclosed and the lighting and air in the room is not so good. It is quiet place to live for family travelers who want some privacy and space. Also the manager Chamin is very nice and friendly, good guy!
Allen
2017-03-17T00:00:00Z
Generally it's a easy stay.The position of the house is really convenient which is near the sea, city central & shopping area.There is also a good Chinese restaurant nearby.The facilities r useful, like the air conditioner, hot (URL HIDDEN) the way the showerhead holder Is broken.We can just shower with one hand holding it. The landlord is very nice.He kept contacting us about the stay. The PropertyManager helped us to get the lost (URL HIDDEN) really a help! But we have to mention that the house is on the 1st floor which makes it to get hardly sunshine(we can't hang the clothes too) and some little insects inside the room. Thanks!
Yixin
2017-01-28T00:00:00Z
Art der Unterkunft
Ganze Unterkunft
---
Objekttyp
Wohnung
---
Unterkunft für
2
---
Schlafzimmer
Colombo, Westprovinz, Sri Lanka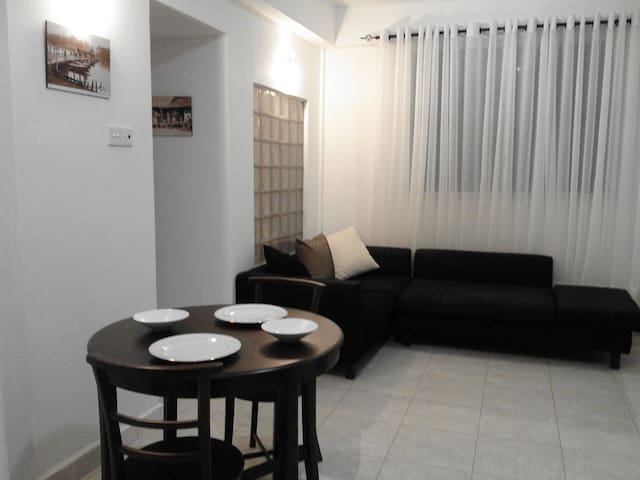 Mitt ställe ligger nära centrum, fantastisk utsikt, restauranger och mat, konst och kultur och parker. Du kommer att älska mitt ställe på grund av den sköna sängen, köket och ljuset. Mitt boende passar par, ensamäventyrare och affärsresenärer.
Sanna's place was immaculate! It was everything you could ask for, great location and nice place. It was a shame that I couldn't meet Sanna as she was away on holiday. However it may not be great for those who are light sleepers as there are train tracks nearby. Other than that I would recommend this place to anyone!
Sky
2017-01-03T00:00:00Z
I stayed at Sanna's for two separate nights after flying and flying out of Colombo. It was a comfortable stay and Sanna was very helpful by booking me a cab to the train station and also letting me leave some extra things while I went down to Galle for some beach time. Highly recommended.
Lisa
2017-02-25T00:00:00Z
Loved our stay here. Sanna is such a patient host that looked in to every detail and made sure we had everything we needed. Kudos for a wonderful service!
Sharon
2016-09-17T00:00:00Z
Nice location with a nice host.
Alex
2017-03-07T00:00:00Z
Sanna's apartment is a very nice place to stay. The apartment is really nice, with a comfortable bed and fast wifi. The apartment is well located, with good restaurants nearby. Sanna's incredibly helpful and friendly.
Dean
2017-01-16T00:00:00Z
We stayed at Anna's place for one night. Alex and Anna are very positive and helpful persons. It was great experience, They also helped us to organize our trip to Kandy
Radmir
2017-01-20T00:00:00Z
Sanna's place is centrally located and the ocean view from the bedroom balcony is great ! The bed was comfortable and the bathroom was neat and clean. It's an upscale home for sure !
Keshav
2017-01-08T00:00:00Z
The host canceled this reservation 2 days before arrival. This is an automated posting.
John
2017-01-20T00:00:00Z
Art der Unterkunft
Privatzimmer
---
Objekttyp
Wohnung
---
Unterkunft für
2
---
Schlafzimmer
Colombo, Westprovinz, Sri Lanka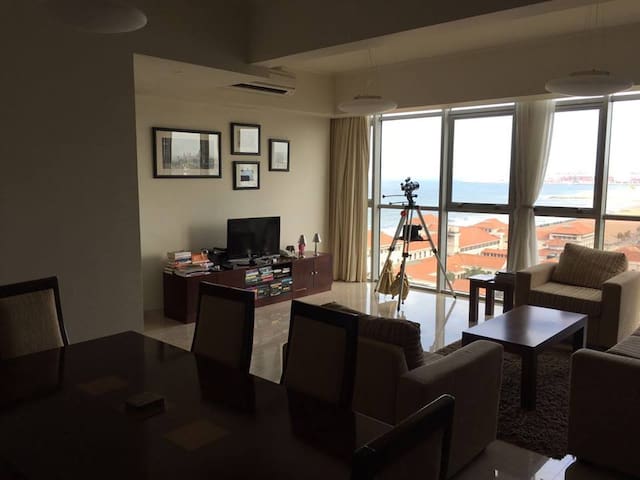 This strategic creation is about how to offer spacious resort styled hotel grade luxury stays, yet right in the Colombo city center! Palm tree fringed more than 3000m2 resort with sun bathing facility is equipped with so much of recreational facilities to engage individuals & families creating life styles for them. An ambience created by international travelers of both business and holidays. After all, this apartment on 26th floor awaits you with a spectacular view from its balcony.
*Water, gas and internet (wifi) are free. *Electricity is charged at the rate of USD 0.25 cents per unit consumed. Electricity deposit of USD 15 a day is payable at the check-in. * Bookings made for two guests entitle only one bedroom with the sole occupancy of the apartment. However, if the same two guests need to occupy both the bedrooms, then an additional fee of USD 15 a day applies. VALUE ADDED SERVICES OFFERED; * Airport transfers (pick-up's and drop off's) * Colombo city sight seeing tours * Islandwide (tailor made) tour package arrangments meeting your areas of interets * Rent-a-car (Self drive or with driver) * Train ticket reservations/ bookings * Mobile SIM cards with data (3G/4G) at pickup in the airport or at check-in the apartment * All the above mentioned value added services, with a professional approach to them, are provided ensuring reliability and cost effectiveness while deploying our own resources and operations. ___________________________________ About The Space (2 Bedrooms fully furnished and equipped Apartment): Centrally and Strategically located in the heart of Colombo's commercial hub, this unique condominium is yet spaciously designed to offer resort styled apartment stays with hotel grade luxury and tranquility. The condominium is just hand's away from all the government and private institutions, foreign missions, landmarks, facilities and Colombo city tourist attractions. Features; - 2 bed rooms, 2 bathrooms, living area, dinning area, kitchen and the yard adjoining to the kitchen. - Living area extended to the balcony with spectacular view. - All the bed rooms, living and dinning areas are air conditioned with noiseless spit AC's, and additional ceiling fans. - All the furnitures are of refine Mahogany wood (supplied by Mahogany Masterpeice) - All the windows and the balconies are protected with additional safety grills (children/ parents friendly) - Pantry Cupboards with Hob & Hood (both gas and electrical hobs) - Fully equipped kitchen with all household appliances, detailed kitchen & table wares and kitchen utensils of imported brands (Royalford, Philips, Kenwood, Tefal, Moulinex, Samsung) - Intercom, telephone, broadband internet (wifi) - Central Gas system - Hot Water (Geyser) in Bathrooms and Kitchen - International TV channel System - Samsung SMART TV 48" - 5.1 Home Theatre/ Home Cinema system Other Facilities within the premisses: - Covered/ secured car parking for each apartment. - Efficient Building Management System through a prominent condominium management corporation. - Standby Power - Elegant lobbies/ receptions in each of the 3 towers - Over half an acre of landscape garden on the podium level - Sun bathing beds - Swimming pool, Lap pool & Kiddies pool - 2,000 SqFt Gymnasium - Additional parking slots for 40 visitors at a time - Large Club house and 2 multi-purpose function rooms - BBQ Pits - Business Centre - Squash Court - Steam Room - Indoor Games Room In addition to the short term rents, long term rents of 1 to 3 months can also be discussed. Pls contact the owner (the host).
Government institutions near by such as Board of Investment (BOI), Central Bank of Sri Lanka, all the government departments such as Department of Census & Statistics, Examinations, Information, Inland Revenue, Labor, Meteorology, Immigration & Emigration and all others. All the ministries such as Ministry of Foreign Affairs, Tourism, Social Welfare, Education, Transport. All the hotels such as Hilton, Galadari, Oberoi, Cinnamon Grand, Cinnamon Lake, Kingsbury and restaurants such as Manhattan Fish Market, TGI Fridays, The Boardwalk, Cioconut Lounge, Taprobane, WIP Work in Progress, Glasse, McDonalds, KFC, PIzza Hut, Dominos. Major universities such as University of Colombo, The Open University of Colombo and many other international universities and institutions. Main points of all the major transportation means such as Colombo railway station, Colombo public & private bus station. Tourist city attractions such as Gangaramaya Temple, Galle Face Green/ Beach, Colombo World Trade Center, National Museum of Colombo, National Zoological Garden, Colombo Dutch Museum, Beira Lake, Royal Colombo Golf Club, Colombo Race (website hidden). Lucia's Cathedral, Town Hall, Parliament of Sri Lanka. Super/ Hypermarkets nearby are Keels, Cargills and Arpico super centers. Shopping malls nearby are Majestic City, Liberty Plaza, ODEL, House of Fashions, Fashion Bug, French Corner.
The apartment was clean and had all the requirements at hand.
Samuel
2017-03-13T00:00:00Z
Wow, what a great apartment. I will leave this short as we are returning for a second stay next week. I will then complete a longer, more in depth review. For now, all I can say is I highly recommend the apartment, and Mr Gunawansha has proved to be an outstanding host. More to follow later.....
Imtiaz
2016-04-15T00:00:00Z
Gunawanshas modern and clean appartment was very nice and well located. Central, near to train station, beach and supermarkets. Safe area too, with nice park near. Gunawansha and his Sister Samanthi are extremly helpful & serviceable with all things you might need, from buying train tickets in advance over organizing taxis and tuktuks to giving tips about Colombo or else where in Sri Lanka. Everything worked out perfect for us and Gunawansha was still available online even after we had moved on further into the country. Best way to start your holidays in Sri Lanka!
Carolin
2015-09-28T00:00:00Z
Fantastic. Great apartment, great location and a great host who went out of his way to accommodate our requests. I can recommend this apartment without any hesitation.
Harsha
2016-03-10T00:00:00Z
This is a great place to stay in Colombo! We were here for almost a week. The apartment is really nice, with all you need in the kitchen and very comfortable beds. Nice balcony with e fantastic view over the city. The facilities as pools and playground are fantastic! absolutely a place we can recommend to stay! The owner is great and gives good adviceses in how to get the best out of your stay.
Mia
2017-03-20T00:00:00Z
Gunawansha was a fabulous host and helped us with booking transportation and travel during our stay. The apartment is great, suitable for kids. The block has a wonderful pool area and playground.
Kate
2017-01-16T00:00:00Z
Appartement parfait pour 4 personnes
German
2017-03-03T00:00:00Z
We were looking for a nice place to stay in our last 2 days in Sri Lanka. And this place was perfect! A beautiful, clean retreat from the hussel of Colombos streets. Excellent location. Cheap tuk tuk to everywhere we wanted to see. Loved it!
Luke
2016-08-27T00:00:00Z
Art der Unterkunft
Ganze Unterkunft
---
Objekttyp
Wohnung
---
Unterkunft für
4
---
Schlafzimmer
Colombo, WP, Sri Lanka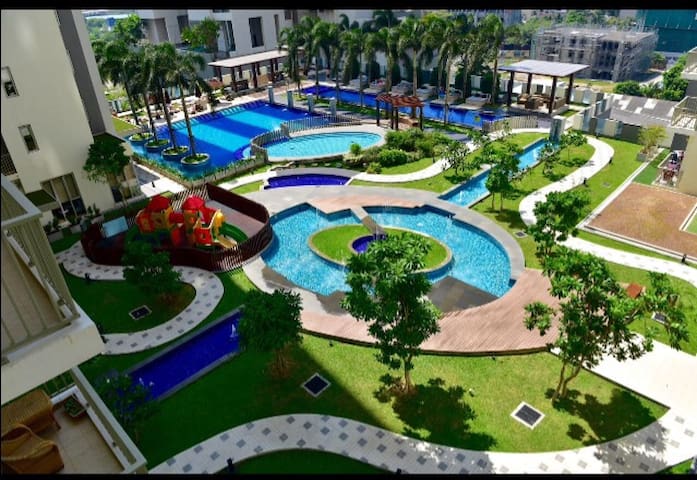 Tucked in a quiet, absolute tranquility of a high rise 5 Star condominium tower – Park Tower, Havelock city, Colombo 5, Our apartment is clean and tastefully furnished. It has an unobstructed view with panoramic view of Colombo City from the airy balcony. The space is bathed in natural sunlight throughout the day, getting a taste of both the morning sun as well as the glow of sunset by day's end. With zero street noise, you will find it very peaceful and quiet throughout your stay!
The layout can comfortably accommodate a single person, a couple, 4 adults, or a family with 2 small children. The property features include spacious club house with pool, Jacuzzi & gym. 3 acre landscaped garden with jogging track & children's play area in the second floor level. A car parking space is available in the Basement and ample parking for visitors. Modern conveniences - Living hall and Master Bed room is equipped with Samsung 40" Led television (with cable tv) - DVD player plus a good selection of original DVDs. - Fully Air-conditioned Apartment - Full range cooker, refrigerator, microwave, oven toaster, juicer, rice cooker. - Iron and ironing board, hair dryer, valuables, full- length mirror, adjustable shower water heater (hot/cold), 220v outlets and universal plugs throughout the unit. -The kitchen is fully stocked with cookware, cutlery, dinnerware, glasses, utensils, little kitchen tools like a bottle/wine opener. -You will be using high thread count fresh linens and plush towels. -Shampoo,tooth paste/ brush and soap . -Blackout window treatments ensure you have a good night's sleep. -Free use of unlimited WI-FI internet, cable tv. -Survival pack includes Bread,Fruits, water Tea, coffee, sugar and milk -Centralized cooking gas supply -CCTV secured building -Once a week cleaning and changing of linen -24 hr Security at the premises and each access points to property - Club house facility incl of Children swimming pool and Jacuzzi -In house convenient store, laundry, salon/ spa, restaurant
It's resort ambiance and cosmopolitan foreign and local residents.
Had a "home away from home" experience. Very accommodating, helpful and obliging host, Thanks to Senthuran and Priya. It is a premium property with good security and aminities. The decor is tastefully done, with all modern amenities required for very comfortable living. Due to time constrain could not explore the pool, gym and other facilities. Overall we are a satisfied guests and would not hesitate to recommend others or come back.
Chiranjib
2016-10-07T00:00:00Z
Its a lovely flat. Very quiet due to the great location. The pictures provide an accurate of description of the flat. The flat is newly refurbished so all of it is in immaculate condition. The facilities of Havelock City is also very impressive, pool, gym & the lovely grounds. Priya is very helpful & the check in process was easy. Definitely would come here again(URL HIDDEN)
Suri
2016-10-31T00:00:00Z
This apartment was very comfortable and convenient. Matched the pictures and information given by the host. Recommended as a good place to stay for convenience.
Gillian
2017-02-02T00:00:00Z
we had a great stay here, everything is just perfect. the care taker Priya also gave us a good care. food amd water are prepared for us. simply perfect. highly recommend
William
2016-10-02T00:00:00Z
It is nicely maintained apartment and will stay again if visit Sri Lanka again.
BEN
2016-10-05T00:00:00Z
My second stay at this apartment. It was just as good as the first time. Excellent location. Its a very quiet apartment, Colombo can get very busy & noisy. The description & the pictures are an accurate reflection of the apartment. The complex its situated in, is also great, with a small supermarket, lovely grounds, restaurant & swimming pools. I would wholeheartedly recommend it & I am looking forward to another stay there, when I am back in Colombo.
Suri
2017-03-29T00:00:00Z
This is a great place to stay in Colombo. The apartment is large, with two bedrooms and two bathrooms, a big sitting area, balcony and kitchen. It's all spotlessly clean and brand new. Everything in the apartment is to a very high standard - rather like a huge, elegant 5 star hotel suite. The Havelock City complex is a major draw. There is a large pool, children's pool and jacuzzi and a big gym - all set amongst 6 acres of tropical gardens. It is also centrally located and it's easy to call an Uber or local 'PickMe' to nip into central Colombo in 5 - 10 minutes. The view from the balcony is stunning: 10 floors up, there is a panoramic view of Colombo, and the skyscrapers around Fort twinkle in the distance. Senthuran and his sister Priya are easy to deal with and attended to all our requests very quickly and professionally. I highly recommend this apartment, and it's especially good value if you are two couples or a family.
Paul
2016-08-19T00:00:00Z
We highly recommend this apartment in Colombo. The place is very clean, spacious, and comfortable. Great beds, nice bathrooms, good wifi, and a balcony with a lovely view of the city. The TV has cable with news and HBO if you want a night in. There is a small market in the building where you can get essentials, and tuk tuks are easily found at the end of the driveway. It was nice to see another part of town and the main tourist attractions are a short drive away. Priya, who checked us in and out, was very accommodating and the process was easy. It was a very nice place to retreat to after long days of sightseeing. Note that electricity in Sri Lanka is expensive, so be mindful of your use of the AC. We would stay here again!
Seth
2016-11-26T00:00:00Z
Art der Unterkunft
Ganze Unterkunft
---
Objekttyp
Wohnung
---
Unterkunft für
4
---
Schlafzimmer
Colombo, Westprovinz, Sri Lanka
Cannot be compared to any other location in Colombo.You can observe wide Colombo city view& the Indian Ocean view.Majestic city shopping mall,Durdans hospital,Galle Face Green,ODEL,Casino,Beach in walking distance.ROOF TOP INFINITY SWIMMING POOL.
Uniqueness of my apartment is its lacation. Which is close to many tourist attract places like Galle Face Green, Majestic city Shopping mall Liberty Plaza ODEL clothing center Independence arcade House of fashion Colombo National Museum Zoological garden Gangaramaya Temple Viharamahadevi park Old dutch hospital shopping complex Marine Drive Casino Marina Bellagio Casino Night clubs and all 5star hotels in colombo like Taj ,Hilton, Galleface Hotel, Galadari Hotel,Mirage Hotel, OZO. My apartment is in 8th floor and its facing the sea.you can observe beautifull sunset and experience the natural sea breez in the apartment. You can access to the rooftoop swimming pool and the gymnasium. I assure you the cleanliness of the apartment and a comfortable stay.
For fresh big fleshy crabs you can go to Fat crab next to the apartment. For absolute Thai food you can go to Siam house in melbourn avenue. For Chinese food Chinese dragon restaurent will be the best in milagiriya avenue. If you are looking for vegetarian restaurent Dwaraka vegetarian restaurent in jaya road in marine drive. If you want to buy grocery items and liquor Keels supermarket is in walking distance. All the directions will provide after the booking.
This is fabulous spacious and well maintained apartment. Everything works. Easy location for business and fun. Great views. Top floor. We loved sunset on roof top infinity pool. Gets windy on top floor ... but worth it. Food /Supermarkets within 100 yards . Beach is 20 yards ... but not for swimming. There are swimming beaches within 10mins tuktuk Hosts are charming and very very helpful. Will be staying again ... thanks
Raj
2017-03-18T00:00:00Z
The apartment was very clean and well furnished. It is located right next to the ocean, and the views from the balcony door were stunning. It's located a few kms from Galle Face Green and is very close to some of the most-happening streets in Colombo. Ishara was super friendly and helpful, very prompt in her responses to all my queries, and she ensured that our stay in Colombo was very memorable. I would definitely stay in this apartment if I visit Colombo again.
Rakesh
2016-12-20T00:00:00Z
Место чудесное, квартирка чистая и свежая. Дом новый и видно что сдается квартира совсем недавно. Вид с кровати на волны океана завораживает! Ishara очень приятная и улыбчивая девушка, помогла с трансфером в аэропорт. В целом эта квартира отличный вариант, когда нужно остановиться недалёко от аэропорта.
Tatyana
2017-03-23T00:00:00Z
This is a great place to stay. Well maintained, clean and beautifully located 3 bedroom flat. It has panaromic sea view and located on a higher floor. A nice infinity swimming pool on the terrace is an added feature of this building. It's easily accessible to nice restaurants and shopping places. Tuk Tuks are easily available from below the building. All the rooms are airconditined and the kitchen is well equipped. It has 2 nice bathrooms and a balcony attached to the hall and 2 bedrooms. Overall, we had a good and pleasant stay and would definitely stay the next time as well.
Sunil
2017-01-30T00:00:00Z
美女房东超级贴心。而且还载我们去车站。 帮我们解决了好多问题
雷
2017-01-22T00:00:00Z
the house is very clean,the household is very nice.the span tower is very new and modern.the swiming pool is very beautiful and very enjoy to see the sunset.
敬艳
2017-02-22T00:00:00Z
Very clean and convenient place. Very close to the train (which made me thankful for a white noise app at night), and the proximity to the pool was undersold. It is very clean and right above the apartment - a quick flight of stairs (or elevator) up - and then you can stand in the pool to read or just look out at the Ocean. The gym was less impressive. Above all, Ishara was exceptionally attentive to ensure we had everything we needed.
Dave
2017-03-10T00:00:00Z
The host canceled this reservation 16 days before arrival. This is an automated posting.
Leon
2017-04-05T00:00:00Z
Art der Unterkunft
Ganze Unterkunft
---
Objekttyp
Wohnung
---
Unterkunft für
6
---
Schlafzimmer
Colombo, Westprovinz, Sri Lanka
Heart of Colombo, Secure, Attached bathroom, Air conditioned, hot water, 2 bed rooms, Walking distance to bus and train station, Friendly.
This space has a 2 bed room apartment. The above price is for one room. Full apartments could be rented as well
The apartment is located in the middle of Colombo. 10 minutes walk to Railway Station, 1 minute walk to bus stop, Many shops and restaurants within walking distance.
Great place! Everyone was very nice and friendly and everything was clean. We checked in at 1am and it was not a problem.
Hannes
2017-03-31T00:00:00Z
Lovely comfortable and clean apartment with air con! We had one of the best nights sleep we had in Sri Lanka here .
lui
2017-03-20T00:00:00Z
Reshan and his family are very good hosts and the room and amenities are excellent. The neighborhood is very chilled and has a lot of very good restaurants just 1 minute across the gate. Also an excellent supermarket only 5 minutes walking. With a lot of buses ready to drop you off wherever you want in a very short distance from the center and all main areas. Highly recommended to enjoy amazing full power Colombo.
Joao y María
2017-04-06T00:00:00Z
For a first experience with Airbnb, it was really good. Reshan and his family are very nice... This is also a perfect location. Don't hesitate, it's great...
Geraldine
2017-03-18T00:00:00Z
First time in colombo, and taking this place was a good decision by me :) Everything was perfect and the Internet just added to my comfort. Thanks to his family and what a sweet Aunty, she made me feel at home. Next time I won't have to go through options to book a place in colombo. Thanks and God bless you and your family :)
Govind
2017-03-10T00:00:00Z
Art der Unterkunft
Privatzimmer
---
Objekttyp
Wohnung
---
Unterkunft für
2
---
Schlafzimmer
Colombo, Westprovinz, Sri Lanka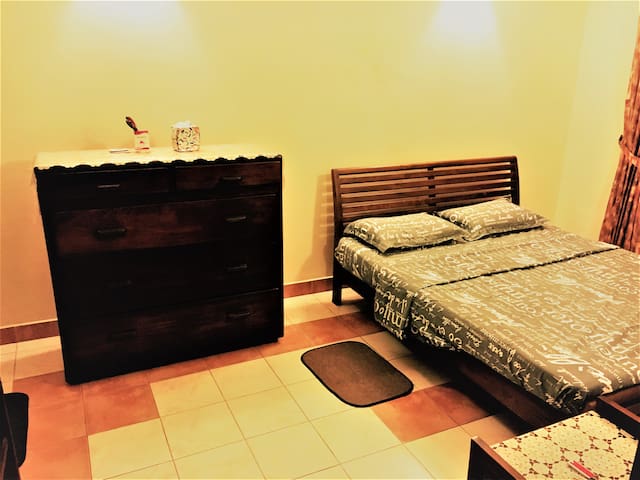 The apartment is situated right opposite the beach and is close to the city center, shopping malls, public transport, super markets, banks, currency exchange, restaurants, etc. You'll love the place since it is a fully air conditioned, cozy apartment for short or long term stays, equipped with all amenities & from which you could truly enjoy the most amazing sunset & sea view. It is ideal for couples, solo adventurers, business travelers, families (with kids) and small groups.
The uniqueness of the apartment is that it is right across the road from the beach. Watching the sunset from one of the rooms or the balcony is an absolute pleasure. The fact that the entire apartment is air conditioned, enables you to return to your cozy spot after a long warm day and either relax on the sofa with a chilled drink and cable TV or head over for a relaxing bubble bath.
The neighborhood comprises of a number of restaurants, banks, grocery stores, super markets, etc and is just walking distance away to everything you need, as it is located in the heart of the city.
Thank you for your consideration.
봉우
2017-02-24T00:00:00Z
This is a great apartment. Easy to get around town from here, and plenty of options for restaurants. The views from the balcony are amazing. Clean, with wifi and air conditioning, and some snacks and drinks to welcome us.
Sean
2017-02-08T00:00:00Z
Great location, cool and comfy. OK it can get a little noisy in the morning as it's closed to everything, the bathrooms could have been a touch better but the value the apartment offered was spot on for my trip and visit to Colombo. These however can be overlooked as the price point is good for Colombo 4. I especially valued the host communication and support while I visited and was re-assured by their friendly and good natured approach.
martin
2017-02-19T00:00:00Z
Niet zo een rustig omgeving , veel geluid van openbaar vervoer (Treinen die tot laat door rijden en weer vroeg begin en veel toeren ) Dit is Geen appartement voor lang verblijf . Winkels (Majetic City) ligt op ongeveer 20 minuten lopen . All- Maass heeft lekkere lokale eten en is net een paar minuten lopen van dit appartement voor betaalbare prijzen.
Shaan
2017-03-07T00:00:00Z
Perfect place for both Business and Family trip. Location is really awesome as you have most of the things near by from beach, shopping areas, public transportations, hotels. Also its not that lonely which you cannot travel late due to Galle road being adjacent to it. I loved my stay and special thanks to Sushant and Dhanu for helping me out with everything.
Bhavin
2017-03-26T00:00:00Z
Dhanu and her family are the perfect hosts ! Their welcoming and their support during our stay were incredible. They have been available at anytime for helping us to make our journey in Colombo a great moment. The flat is nice and clean as expected. The furnitures are new. The beds are very comfortable and the WIFI works perfectly. We loved the balcony and the view to the sea front for the sunset. Thanks a lot Dhanu !
Thakvyka
2016-12-23T00:00:00Z
This apartment was great for our visit. It was clean & mostly updated. Dhabi & her husband Sushan have done a beautiful job, the beds were comfortable, the furnishings beautiful & comfortable as well. And the AC was excellent! These hosts also met us on arrival, showed how everything works and left us some treats & refreshments. This apartment was close to shopping and restaurants. It should be mentioned that it is just across the street from the beach, but it is not a swimming beach, there is a strong undertow, but it is lovely to hear the ocean waves and to sit on the rocks & just relax. You can walk about 5 minutes down to a sandy area, but again, only to walk along & relax. For swimming take a taxi or tuk-tuk to Mt Lavinia Beach a few kilometers away. Overall, this is a wonderful apartment and we highly recommend to to travelers looking for something safe, clean & affordable!
Sheldon & Kate
2017-04-08T00:00:00Z
とても丁寧におもてなしいただきました。 ベランダからの景色も最高でした。 色んな素敵な場所を教えていただき、楽しい滞在となりました。 スリランカがさらに大好きになりました。 ありがとうございました。
Haru
2017-02-12T00:00:00Z
Art der Unterkunft
Ganze Unterkunft
---
Objekttyp
Wohnung
---
Unterkunft für
3
---
Schlafzimmer
Colombo, Westprovinz, Sri Lanka
Colombo - Airbnb
:
Durchschnittlich

4.76

von

5

Sternen aus

674

Gäste-Bewertungen
1

–

18

von

+ 300 Wohnungen zur Miete
Gib deine Reisedaten ein, um den aktuellen Preis zu sehen. Es können zusätzliche Gebühren und Steuern anfallen.