29 Ferienhausvermietungen
Secluded cabin sits in the woods on Pink Mountain. Perfect place to getaway and enjoy North Georgia's Beauty. Wood burning fireplace, rocking chairs on porch, & wood floors complete the picturesque setting. 20 mins to Helen's Alpine Village.
Handcrafted log beds sleep 7 comfortable, queen in master bedroom, 2nd bedroom has a twin over full-size log bunk bed and a full-size log bed. Also includes a mini crib for those with small babies. Kitchen includes all the amenities of home, linens and quilts on the beds make the cabin feel like home. There is a cabin theme throughout, bear coffee table, themed lamps and deer curtains, all give our home a rustic, warm atmosphere to enjoy while nestled in the woods. Televisions, DVD players, and central heat and A/C make this a true a sanctuary tucked away on the mountain. Hiking on Yonah Mountain, 20 minutes to Helen, 20 minutes to Babyland, and near canoeing, ziplining. Come enjoy Oktoberfest and the leaves changing in the fall.
Rural, tucked away. The drive up the mountain is easy and ends with a single lane dirt road coming to the driveway. The community shares some common areas. This is NOT a high end, gated, community but is a rural retreat. There is NO view - except trees! The house is in the woods, it is on the lower part of the mountain so it is easily accessible. It is just tucked away in the trees.
The Cabin was great, a cozy mountain lodge tucked away in the foot hills of the Blue Ridge Mountains. John was proactive in assuring we we are set and had the information we needed. His cabin manual had details for everything you need to know from per-arrival to departure. We had LOTS of rain so we spent a good bit of time in the cabin, and we felt right at home, like we were borrowing a friends cabin.
Adam
2015-10-04T00:00:00Z
Wonderful mountain cabin for a family! We loved our Memorial Day stay with close access to Helen, Tallulah, Toccoa.
Justin
2015-05-25T00:00:00Z
It's was great. Beautiful nature your isolated form your neighbors. It's great place
Alberto
2015-06-15T00:00:00Z
From the beginning I felt welcome into their home. When you get there, there are pictures all over the wall. It really makes you feel right at home. John touched base multiple times to ensure everything was great. This place was immaculate! So clean and well kept. The best part was it was away from all the craziness of Helen during summertime but close enough if you wanted that experience. Lots of fun hikes in the area too. Plenty of peace and quiet, just what we were looking for!
Alexandria
2016-07-19T00:00:00Z
John was a great host. He always checked in and made sure we had everything we need. Definitely will recommend his for future AirBnBers
Charmant
2016-08-01T00:00:00Z
Our family absolutely loved this quiet mountain retreat. We are used to country living, so this was perfect for us. The host, John, sent a very informative email a week before our arrival that touched on all of the important info regarding the home, so I was very confident as we approached it, as we had perfect directions. The home is lovely, and is perfectly suited for a family of six, as long as the kids can get along to share a room. My husband and I enjoyed the back porch and deck as the kids settled in at night watching Netflix and playing their own Playstation. The house is fully furnished because it is a second home, and we were given full access including Wi-Fi and toiletries as needed. We also appreciated the flexible check-in/check-out time, as it helped us to change plans due to mother nature. Although this cabin is located in Cleveland, GA, it is nestled on a gorgeous mountain with beautiful views on the approach, and is really only a 20 minute scenic drive to Helen, GA, which was our main destination (Dahlonega was the other) We truly enjoyed ourselves here, on the quiet mountain, and now, my husband and I get to bask in the enjoyment of being the most awesome parents for booking this quaint cabin instead of a " lame" hotel room. We will definitely stay here again if we ever come again to this area with the children.
Crystal
2014-08-04T00:00:00Z
Cannot say enough about how great our weekend was at the cabin - great location for hiking, wine tasting, and relaxing - and John could not have been more accommodating. We will definitely return to this hidden retreat, just over an hour outside of Atlanta.
Ashley
2015-11-01T00:00:00Z
When we arrived at "Cabin on Pink Mountain" we were immediately impressed with our choice of a vacation rental. The experience was definitely what we had hoped for. The location is a setting which seems like you are the only one around which we loved, very peaceful. Also, it was only a few miles to many restaurants, lot's of shopping many wonderful places to visit. The cabin was very welcoming and has everything you need for a great vacation. Thank you John. Donny & Vickie Boyl(URL HIDDEN) Hendersonville, NC
Vickie
2014-10-05T00:00:00Z
Art der Unterkunft
Ganze Unterkunft
---
Objekttyp
Haus
---
Unterkunft für
7
---
Schlafzimmer
Cleveland, Georgia, Vereinigte Staaten
Cameron House Retreat is nestled in the foothills of Northeast GA wine country, at the base of Mt. Yonah. This 5 bedroom, 2 bath home is sure to impress. Our home is located halfway between famous Alpine Helen and historic Cleveland, just off Hwy 75
The area is quickly becoming known as THE premier spot for excellent wines, with more than a dozen local, highly rated wineries for enthusiasts to tour and taste! Convenient to restaurants, boutiques, sports activities, nature trails with beautiful waterfalls, scenic drives and quaint towns, Cameron House Retreat is the ideal vacation spot for adults and children alike. Kids can spend hours tubing down a lazy river, go miniature golfing, go carting, panning for gold, or enjoy a day at the water park, all minutes away! Enjoy roasting marshmallows by a campfire down by a private lake, take a rowboat out for a little fishing, a pedal boat out for a little paddling, or just sit on the dock and take in the breath-taking million dollar views. With wrap around porches, a hot tub and a warm and cozy environment, our home is a stand-out. With many nooks and crannies, it is small enough to curl up in a favorite corner with a book, yet large enough to secure the privacy of up to 14 adults, and 3 infants! Each area has it's own unique theme and personality. The downstairs has a fully equipped farmhouse style eat-in kitchen, a den with a gas fireplace, 2 bedrooms, a full bath, a dining room, laundry room, and a large living room with a wood burning fireplace for chilly nights. One flight up leads you to the master bedroom with vaulted ceilings and private terrace, another guest bedroom, and full bath, and a private wing that sleeps 6. Be prepared to be enchanted by our relaxing and secluded mountain retreat. And please don't think of it as going away, just think of it as coming home...
The neighborhood is unique because it is situated on quiet secluded acreage, yet the Alpine town of Helen, (the major attraction), is only 4 miles away, and Cleveland downtown is only 3 miles away. Lots to do and see in these areas, but the real vacation is relaxing at Cameron House Retreat!
We had a great stay at the Cameron House Retreat. The house was very comfortable and clean. Perfect for a big group! The kitchen was well-stocked; no need to bring vegetable oil, pots, pans, coffee, aluminum foil, etc!
Julie
2016-10-09T00:00:00Z
The place was beautiful and uniquely decorated. Robert and Deborah were so welcoming and stocked the house with plenty of towels, kitchen stuff, anything we needed. Each bedroom had a different and fun theme. The pond / fire pit area was a great place to hang out. We took the boats out and threw Frisbee around for hours during the day and built fires at night for smores !
Shaila
2016-10-02T00:00:00Z
Beautifully decorated in every way, plenty of space for 4 generations to spend time, this is such a beautiful home and it was the perfect place for our family to come together to celebrate my Dad's 80th birthday! A welcome basket of baked treats and a bottle of local wine were waiting for us. We enjoyed the paddle boat and dingy, swing set, the hot tub and fire pit, the fireplace warmed us on the chilly nights. Plenty of fresh and fluffy towels for our crowd, cribs and a high chair for the 2 little babies were a great help and very appreciated. Communication with the owners was always quick and very friendly. We would love to visit again and I would highly recommend a visit to this lovely home
Mary
2016-04-11T00:00:00Z
Great house. It's well equipped and comfortable. We had 10 people, including 2 kids and everything went great including the supplies for the kids, next time we're in town this house will be the first one we look at.
Michael
2017-02-12T00:00:00Z
Totally awesome house and vacation! The hosts made sure everything was perfect and checked in with us periodically. The house was well stocked: plenty of towels, pillows, spices, all the extras you forget to bring, the kitchen was set up to handle cooking and serving for our giant bunch, outdoor chairs, bikes, boats etc! The house was set up with high end furniture and décor which certainly didn't give the feeing of a rental. Our group did outings during the day, fishing and boating in evenings and at night played music in the super large family room. (with trips to the hot tub in between) One of the best vacations ever. I highly recommend Cameron House Retreat.
sharon
2016-07-03T00:00:00Z
I would highly recommend Robert and Deborah's home to anyone looking for scenic views of the Northern GA mountains, while being secluded, and also so close to Helen, GA. The house is charming, warm, and spacious. We will be back!!
Francois
2017-01-22T00:00:00Z
We absolutely loved our stay! Robert And Deborah have a lovely place with plenty to do and everything we could possibly need. They were very communicative and kind hosts, checking in to make sure everything as perfect. Thank you both for sharing your lovely space with us!
Miranda
2016-10-30T00:00:00Z
We stayed at Cameron House for a girl's weekend and we had SO much fun! Our group consisted of 8 girls and there was plenty of space for everyone. The house was amazing-- amazing views, a great porch to relax on, a hot tub, and a fun game room! It was close to Yonah Mountain for hiking, and was only around 10-15 minutes away from some great restaurants. Robert and Deborah were SO hospitable-- you can tell they are professionals in this business and treat everyone with respect! They also gave me some great restaurant recommendations that my friends and I loved! This house has everything you need for a great weekend and more! We definitely are going to come back!
Jamie
2017-03-05T00:00:00Z
Art der Unterkunft
Ganze Unterkunft
---
Objekttyp
Haus
---
Unterkunft für
14
---
Schlafzimmer
Cleveland, Georgia, Vereinigte Staaten
Cabin at the base of the Blue Ridge Mountains in the heart of wine country. Gazing up at the millions of stars and roasting marshmellows is a must. Wake up and go for a brisk walk among the birds and mountains.
This cabin was exaclty as described. It was rustic in a sense yet quite tastefully decorated and very well equipped. Our family of five found it spacious and comfortable. The host was responsive and obviously cares about the experience his guests have at his cabin. We all really enjoyed the outdoor shower and the firepit. Plenty of activities closeby to do in Helen and the surrounding area. We cooked a great meal on the barbecue and every other thing we needed was found in the kitchen. There was even rosemary growing in the backyard...(URL HIDDEN)
Mike
2015-07-19T00:00:00Z
Beautiful, clean and well maintained. Very comfy living area, easy to use and well-stocked kitchen, and great beds. Really enjoyed using the fire pit outside, and outdoor shower is great. Would happily return!
Rebecca
2015-11-29T00:00:00Z
My husband and I had a very comfortable stay at Randall's charming mountain cottage. The cabin itself has a very rustic and cozy vibe, which we loved and was exactly what we were looking for. There was a great fire pit out front where we enjoyed a few bonfires in the crisp fall weather (you will need to pick up some firewood on your way through town if you plan on doing this). The rooms and beds were SO comfortable, clean and there were ample amounts of bottled water to stay hydrated during our stay - nice touch! Great kitchen if you plan on doing any cooking. Well stocked with any utensils, etc. you would need. The only downside is that our trip to the area was too short (just in town for a wedding weekend). If we find ourselves back in Cleveland, we would love to stay here again.
Megan
2015-10-18T00:00:00Z
This house was fantastic! Very cozy and stocked full of everything we needed for a long weekend. The outdoor shower was great, and the candle light evenings were fun. The seclusion of the house was great as well, felt like we were all alone on the mountain. Very close drive to Helen and a nice cafe just down the street. Highly recommended!
Niko
2015-07-05T00:00:00Z
Just what we were looking for to get away from the city and unwind. The cabin was very unique and the outdoor shower was hit.
Peter
2016-11-06T00:00:00Z
My family spent Christmas 2014 in Randall's beautiful cabin and we had a great time. The pictures do not do this charming set up justice! The cabin appears to be a former barn restored into a cozy yet eclectic home. Typically, my family has to bring along serving dishes and pots/pans to accomodate our large meals but everything we needed to prepare and serve numerous "foodie family" meals was available in the well stocked kitchen. The water in the area can taste a bit "minerally" and the host left bottled watered in every bedroom/bathroom--nice touch. We would recommend this cabin for groups of up to eight people but do keep in mind there is only one indoor shower (the outdoor shower is adorable but wasn't a great option in December!). Overall great time!
Quinn
2014-12-26T00:00:00Z
Even though I did not get to meet him, Randall was a great host. The house was just as advertised and Randall had lots of perks to make our stay there easy. The cabin is sort of a country/modern quirky chic. Plenty of towels, plates, cups, etc., and it easily slept our 8 folks with the large king, and 3 very comfortable queen beds. Great down comforters, though it was too warm to need them. Had a wonderful time looking at all the pottery and home decorations all over the house. We did try out the outdoor shower the second night of our stay and thoroughly enjoyed it, though we couldn't find how to turn on the lights (though we didn't think to look before it got dark)-- didn't cause a problem. Bedrooms were plenty large. VERY nice stemware- made me wish I had brought more wine, and the kitchen was nicely done- big sink, tasteful concrete countertops, and nice cabinets. We didn't get to use the firepit, but it looked inviting. Very good value for the money, and already recommended it to a friend. A couple of negatives were basically inconsequential to us but were: the front screen door needs a bit of work, and the driveway to the house is a bit rough--but hey it's a mountain hideaway....The water pressure was not fantastic, but was totally adequate. Upstairs bathroom was modernized, incorporated a lot of imagination into making it nicely done, but is a bit small-- we dealt with it with no problem. All in all a very good value, and Randall seemed to have worked hard to give a LOT of character to his airbnb. Many thanks!
Laura
2016-05-31T00:00:00Z
My family (my wife and I, two daughters and one of my sons–in-law) met at Randall's cabin in Cleveland, Georgia to celebrate my wife's birthday. We had a wonderful time. Randall's place is a two story wooden structure with a bedroom and bathroom, living room/dining room and kitchen downstairs, and two spacious bedrooms and a half bath upstairs. The cabin was extremely clean and more than well equipped. While we were only 5 people, there were sufficient dishes and silverware to accommodate at least 10 more dinner guests. The stove was a modern glass-top variety, the refrigerator was clean and spacious and the dishwasher worked perfectly. Randall has amassed a huge collection of decorator items and these are distributed throughout the cabin. The furniture in the living room was comfortable to sit in or lounge on, and the mattresses on the beds were quite comfortable. The upstairs bedrooms have sliding glass doors leading to balconies. There were more than sufficient towels, cleaning supplies, pots and pans, etc. There was always a sufficient supply of hot water. There is a coffee maker. There is central air conditioning. The water at the cabin does have a slight iron taste (not surprising, given the soil type in the area). The taste of the water was not unpleasant, but we did buy a couple of 2.5-gallon containers of water for drinking and cooking. While the cabin is close to a few other houses, none are close enough to detract from the pleasant feeling of privacy that we had during our stay. The loudest noise we heard was the sound of crickets and amphibians at night. One morning a bear visited the yard briefly, found nothing interesting, and quickly moved on to another property. Since there is only one indoor shower, I felt that the demand on it would be high, given that there were five of us. However, the outdoor shower, complete with hot and cold running water, and surrounded by an enclosure open to the sky, was the favorite showering place for the members of our group. Each of us used the outdoor shower more than once, and with its wooden floor to stand on, no one had to go back inside with muddy feet. Courtney Lane, the last road link leading to the front yard of the cabin, is a relatively steep dirt road with some rock surface, and could have some slippery patches if there is heavy rain, but we did not have any difficulty driving into or out of the front yard. We prepared some meals at the cabin (breakfast every day, and two dinners) and found some surprisingly good restaurants in nearby towns. Cleveland and Helen have food markets, but there is not a market of any size in the immediate vicinity of the cabin. We went tubing on the river at Helen, and the family went zip-lining there as well. Saturday traffic leading into Helen was quite heavy. We enjoyed our stay at Randall's place, and were sorry...
Ronald
2016-07-27T00:00:00Z
Art der Unterkunft
Ganze Unterkunft
---
Objekttyp
Haus
---
Unterkunft für
8
---
Schlafzimmer
Cleveland, Georgia, Vereinigte Staaten
Picture a two story l log cabin in a gated community with streams, a waterfall, & walking trails.Your spacious bedroom, shared bath, & laundry area are upstairs. Downstairs is a living room with wood stove & galley kitchen. Sun & covered porches offer views of woods & streams. Jack, a 20 lb terrier mix, & Miss Moffat, Jack's cat, share the downstairs sleeping area with their owner Carolyn. We are an inclusive family, seeking to provide a sanctuary for those seeking a quiet place to just be.
From the moment that I met Carolyn, I felt like I was a part of the family. Her adorably adorned cabin-home was exactly what I was looking for while on a business trip for a few nights. It was away from the city, private, refreshing, and like I said it just felt like a home away from home. Carolyn treated me like a long lost son, even blessing me with free breakfast and coffee at her AWESOME coffee shop, Sweetwater Coffee House, that's just a short drive up the road. The entire town was like out of an old time movie and I wish I got to spend more time there. I love the smaller town atmosphere and I can't wait to stay with Carolyn again!
Cody
2017-04-02T00:00:00Z
Art der Unterkunft
Privatzimmer
---
Objekttyp
Haus
---
Unterkunft für
2
---
Schlafzimmer
Sautee Nacoochee, Georgia, Vereinigte Staaten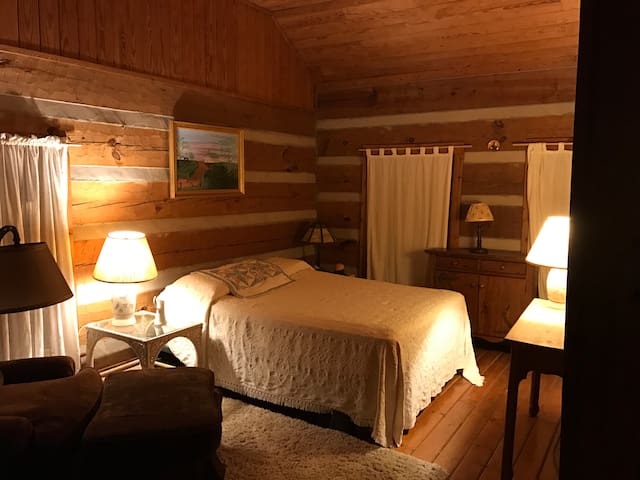 The cabin sits on small creek, in a quite wooded neighborhood, at the base of Mt Yonah. Sleeping arrangement is hideaway bed fitted with flannel sheets. Coffee and cook your own breakfast ingredients included.
We have tons of local hiking trails and waterfalls to explore, plus plenty of rivers for fly fishing. Also, Mt Yonah is considered the rock climbing school of Georgia. Ask me about one of my guided fly fishing trips or casting lessons.
Had a good time it was convenient to town.
chris
2017-02-27T00:00:00Z
This was perfect for a weekend getaway. We only stayed for a day and it was perfect. We were able to go fishing and hiking and the cabin was only 10 minutes down the road. Everything was as it was advertised and it was cozy and clean. We would definitely stay there again :)
Ariel
2017-04-09T00:00:00Z
We had a great time in our getaway The cabin is cozy and comfortable! The hide a bed was fine. Stephen thoughtfully left some fresh nibbles for us. The location is nestled in a quiet, wooded neighborhood outside town. Check-in was a breeze too. Thanks for hosting!
Ron
2016-12-31T00:00:00Z
Enjoyed staying at Stephen's cabin. Nice quiet little place
Tyler
2017-04-02T00:00:00Z
Cute little house. Stephen was very attentive.
Will
2017-01-02T00:00:00Z
Stephen was a great host and his cabin is exactly as described: cozy, clean, and very homey. Perfect for a nice getaway in the mountains. Stephen even stocked up the fridge for me (soft drinks, fruit, eggs, etc.) which was a pleasant surprise and I had fresh towels, soap and linens ready to use when I arrived. He was always available to take my calls, anwered all my emails quickly and sent me some useful information before I got to his place. Overall, this was a great experience and I highly recommend this cabin to any guest.
Ninon
2016-12-25T00:00:00Z
Perfect no frills place to take in some weekend hiking in the area! Minutes from corner shops and trailheads. All the basics you need for simple cooking, showers, and sleep!
Justin
2017-01-29T00:00:00Z
great location, close to downtown Helen. Wish there was a real bed, not pull out couch or blow up mattress. Quiet and relaxing, no wifi or cable. So bring a book or cards.
Joann
2017-03-05T00:00:00Z
Art der Unterkunft
Ganze Unterkunft
---
Objekttyp
Haus
---
Unterkunft für
4
---
Schlafzimmer
Sautee Nacoochee, Georgia, Vereinigte Staaten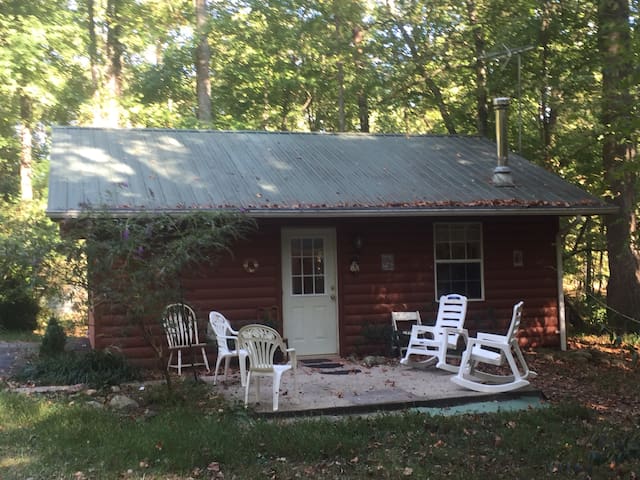 Spacious yet, cozy. 3 bdrs - 3 bths - 2 flrs overlooking N. Georgia Mts.Screened in porch, with Jacuzzi and Mt. View. 2 fireplaces. Lower porch w/fenced Kennel 4 pets. Large wooden deck w/vast eating area, bar, x-large hot tub, Bar-B-Q & chimney.
Serenity is awesome! Very spacious and has everything you'd need. It's pretty close to Helen which was great as well. The check-in/out process is hassle free and convenient.
Vijay
2016-04-11T00:00:00Z
All the instructions to get to the house/getting the key/etc were super user friendly. The house was on top of a mountain with a beautiful overlook. We had a great time for my brother's bachelor party and would stay here again.
Paige
2016-05-02T00:00:00Z
The cabin was amazing, the views were gorgeous, close to Helen and a lot of cool places. We didn't spend a lot of time in the cabin, but there were plenty of things to do and keep you entertained in it. We did not need to bring anything to the cabin
Natalia
2016-02-09T00:00:00Z
Great Experience! Kevin was a great host as he was quick to respond to emails and he provided all the necessary info for an amazing weekend in the mountains. His 2 hot tubs and full outdoor deck with a fireplace proved to be a hit with our friends. The cabin is easy to find and only a 10 minute drive into Helen. We fully recommend this place to anyone who is looking for a nice getaway with family or friends. We will definitely be back!
Dustin
2015-12-14T00:00:00Z
We had an awesome time on this trip. The cabin was just as the pictures showed on the internet. The cabin had everything we needed - except a pizza cutter - which we bought and donated to the cabin. We loved the screened in porch - where we played cards every night!!! We also enjoyed the 2 living areas...The kids had the lower level and we stayed on the main level...having the 2 hot tubs was also nice. It was also nice to have a run for the dogs - very nice and we will be booking again !!! Thanks Kevin for opening your home to us !!! Phillip, Vicki, Kaleb and Kalli Smith, Mary Price, Chandler Reeise and Cameron Zuber...
Vicki
2015-08-03T00:00:00Z
Lovely house and comfortably slept eight. Great view to go with the multiple hot tubs and fireside sitting in the cold weather. I liked that it was quite clean, but also a little homier and more lived-in than the more rental-only and antiseptic cabins. Definitely recommended and I'll be looking it up again on my next trip to the Helen area.
Evan
2014-11-03T00:00:00Z
What a great visit! The cabin was wonderful and exactly what we were looking for. The indoor and outdoor spaces were lovely, especially the screened porch, where we sat for every single meal :) Highly recommend for a group of up to 8 people for a relaxing getaway and/or Bachelorette Party! PS if you do a wine tour with VIP Southern Wine Tours, Mike was a great driver and Cenita was our favorite winery!
Alison
2016-08-29T00:00:00Z
Huge house with wide variety of games and movies. Perfect location and very clean!! Would gladly stay here again !!
April
2016-10-29T00:00:00Z
Art der Unterkunft
Ganze Unterkunft
---
Objekttyp
Haus
---
Unterkunft für
9
---
Schlafzimmer
Sautee Nacoochee, Georgia, Vereinigte Staaten
My place is close to Helen, Ga and Yonah mountain which has great views, family-friendly activities, shopping, restaurants and dining. You'll love my place because of the Hot Tub in cool nights, wood burning fireplace inside, outdoors space, the location, the people, the ambiance. My place is good for couples, solo adventurers, business travelers, families (with kids), and furry friends (pets).
Upstairs has two bedrooms, kitchen and living space. Living area has big wood burning rock fireplace. Double doors open to giant deck under dozens of lights and seasonal views of the mountains. The deck which wraps around the house hosts big 91" x 91" hot tub, ready for your dip. Upscale Hot tub has Bluetooth stereo, 45 jets and it operates quietly, but gives powerful massage, if wanted. The yard has lots of little features, including fenced in yard for dogs, firepit and statues. Downstairs has king bed and a pooltable in game room. There is also another bathroom, and washer and dryer available for use.
The neighborhood is well maintained small community on the side of the mount Yonah, six miles from resort town Helen Ga. Helen has a bunch of restaurants and shopping if you get tired of relaxing mountains.
This is a beautiful home with three spacious rooms, a lovely deck with a gorgeous view of the Georgia Mountains and an extra large hot tub for relaxing while taking in the views. The woodburning fireplace in the living room creates the perfect ambiance for cozy evenings. The hosts were exceptional and provided all of the amenities to indeed make this feel like a second home. We will most definitely stay here again in the future.
Scott
2016-12-04T00:00:00Z
The owner was very personable, and very accommodating with whatever he could do. His two places we stayed had amenities that added so much to his cabins, which was really appreciated.
Rebecca-Rose
2017-03-15T00:00:00Z
Heikki's place offered a(URL HIDDEN)view with a deck that I loved more than some of my own relatives. The hot tub was comfortable, well-maintained, and large. My friends and I had a great time in a large space with lots of amenities. Would definitely come back, the only thing I would recommend to the next guest is to be sure to bring extra paper products (paper towels and toilet paper). Stay here, you won't be disappointed!
Timothy
2017-04-02T00:00:00Z
The home was clean, quiet, and had all the amenities we were looking for! Heikki was very quick and responsive to everything.
Kari
2017-03-12T00:00:00Z
Hot tub was very nice. Pool table was great, plenty of room. Thought 189.00 per night in Jan would have been better, since you can't walk downtown from this house. But we loved staying here and the owner was very nice and helpful. Huge porch.
Thomas
2017-01-16T00:00:00Z
It was a great relaxing trip, close to the cute town of Helen which was great. All in all a cute little cabin.
Seth
2016-12-29T00:00:00Z
Art der Unterkunft
Ganze Unterkunft
---
Objekttyp
Haus
---
Unterkunft für
8
---
Schlafzimmer
Sautee Nacoochee, Georgia, Vereinigte Staaten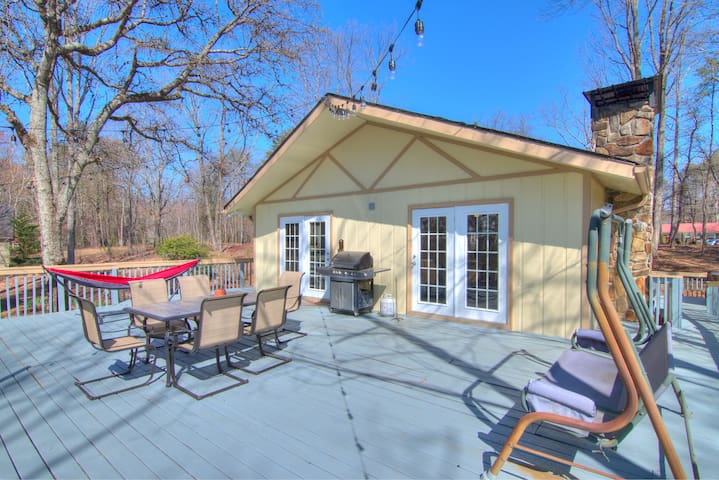 Situated on 3 acres of Chicimauga creek front! Step back in time in this lovely log cabin, which offers an eclectic combination of tasteful antiques and modern conveniences. You will be welcomed by our wood carved bear and her cub on the front porch
Beautiful wrap around porch offers views of the creek and wild life while soaking in the hot tub under the stars. ( Our hot tub is drained, cleaned and treated before each and every guest arrival:) Screened porch has rocking chairs and a daybed for quiet naps. A fire pit on the creek with picnic tables allows you to enjoy the creek view even on chilly nights and neighbors a twinkle lighted gazebo and a double swing for cozy conversations. A pathway on the property leads you to a small island in the creek which offers a picnic table for intimate picnics. Large tubes are provided seasonally to fully enjoy the creek. Walk the creek past the island to the waterfall approx. 1/2 mile walk west and enjoy nature's beauty along the way. One king bedroom and one queen bedroom and one full bath on the main floor offers easy access for those having difficulty with stairs. Main floor offers a fully equipped open area kitchen for making family meals. Large master king bedroom suite on second floor offers an executive desk work area for those who are on a working vacation. Loft area has a comfy futon that will sleep two. Finished basement offers a fold out sleeper for two and is home to a full size Pool table and Foos ball table. Main floor is a large open living area, dining room and kitchen and is home to an old fashion stand up shuffleboard/bowling table which allows all ages to join in a family game that needs no exact skill. Also a game table on the main floor offers a place to put together puzzles, play cards, checkers and chess. This drop leaf table opens to allow additional seating for large family dinners in addition to the dining room table which seats 8 and a bar area that seats 4. A large warm morning stove sits in the middle of the living area and allows you to enjoy a warm fire ambiance. Double glass doors offer access to the screen porch which also has two tables for four for outdoor dining. Breath in the fresh mountain air, marvel at the many humming birds and butterflies in the summer. Chase lightning bugs in the back yard. Sip wine from one of our many local wineries and star gaze from the outdoor hot tub. Pan for gold in the creek. Play horseshoes in back yard. This cabin is beautifully decorated for Christmas from Thanksgiving to Jan 7th. Treat yourself and your family to an enchanting vacation experience which will make magical memories to enjoy for years to come. For smaller groups or additional accommodations for a large group please see our Love Nest cabin which sleeps 4 adults 2 children 1 mile from this cabin at (URL HIDDEN) or our Moonlight Kiss cabin which sleeps (EMAIL HIDDEN)
Real log cabin home with a large screened porch located on 3 acres of wooded creek front. Amazing creek views from wrap around porch. Antiques mixed with tasteful decor makes for a unique and relaxing hide away. Screened porch is home to rocking chairs and a day bed for quiet naps overlooking forest and creek. Breath in the fresh mountain air and day dream... Hot tub under the stars. Walk to the nearby waterfall and experience nature in it's purist form of wild flowers, damsels, dragonflies, butterflies, humming birds, small trout and deer. You may encounter an otter or beaver along the way! Build a fire in the fire pit and roast weenies and marshmellows in the light of the moon and count the fire flies or have an oyster roast in the stone barb- b-que pit. Picnic on the creek. Share quiet conversation in the twinkle lighted gazebo or the double swing on the creek. Cabin is decorated for Christmas from November 24-January 10th Food baskets, firewood and flower arrangements available with advance notice for a
This charming and spacious cabin and the beautiful property it is nestled in made for a delightful family getaway. It's a one-of-a-kind, thoughtfully decorated, indulgently equipped, intimate hideaway that left us all enveloped in wonder and awe. Visiting nearby Anna Ruby Falls, Brasstown Bald, and such was a treat but we didn't want to be away from the cabin for too long! Our only regret - we wish we could have stayed longer. Debra and Jeff, thank you for such a wonderful place, and for being readily available to us without at all being intrusive. We have every intention of coming back many times!
Toby & Trisha
2016-10-30T00:00:00Z
Great cabin and community. We loved the area and close proximity to Helen. Cabin is just as pictured, nicely appointed. Great amenities, perfect for 'kids' of all ages.
Cynthia
2016-02-08T00:00:00Z
The log cabin is very nice and spacious. All furniture and amenities are well kept. I can not say enough good things about the cabin. You will have plenty of space for up to 10 people and not feel over crowded. Debra is a pleasure to work with and responds very quickly. The owner actually lives down the hill from this cabin so if you have any issues, they are close by. The hot tub was very nice and clean. The fire pit area by the creek is very relaxing and well set up. Beds are comfy and some have TVs in the rooms. WIFI is free and easy to get connected to. Parking is spacious for 4 cars but they can accommodate more on their land directly across the street from the cabin. The kitchen is nice with plenty of dishes and cookware. Stuff you should know: This cabin is directly off a main street but it does not get to much traffic. Just be aware this is not a "off the beaten path" kind of cabin. We still felt it was private though, so not a big deal at all. The walking path to the waterfall didn't really seem like much of a walk, but then again we could have went the wrong way. They provide some board games and puzzles as well as the foosball, pool table and shuffle board. We would stay here again!
Russell
2017-01-02T00:00:00Z
Shea was very welcoming and sweet...
Janet
2016-04-10T00:00:00Z
This is a lovely property! It is well appointed and very comfortable. We enjoyed the easy access to the babbling creek and sitting on the screened-in porch. Working with Debra was great, she responded quickly to all inquiries. Two things that did NOT negatively impact our stay but other renters may want to note: 1) There is no cellphone service (Verizon) inside the house and service outside was very spotty, however, the wifi internet was fast and reliable and there are phones available throughout the house if you need to make calls. 2) The house is situated very close to another property and a two-lane highway so privacy is somewhat limited. If you're into wine, be sure to visit Yonah Mountain Vineyeards! We also enjoyed a delicious German lunch at Hofer's of Helen (but generally recommend seeking a more authentic experience outside the town, which is a tourist trap). One of those experiences is Anna Ruby Falls in Unicoi State Park, a gorgeous and short hike very close to the cabin.
Kelly
2016-05-23T00:00:00Z
Art der Unterkunft
Ganze Unterkunft
---
Objekttyp
Haus
---
Unterkunft für
8
---
Schlafzimmer
Sautee Nacoochee, Georgia, Vereinigte Staaten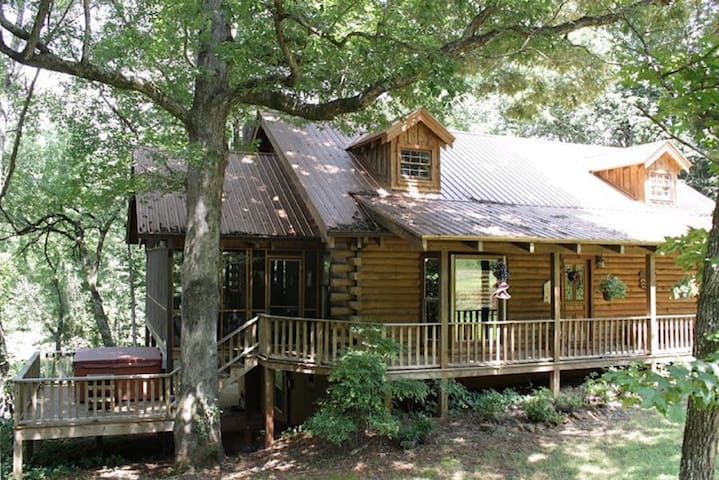 My place has great views, and it is close to restaurants and dining and family-friendly activities. You'll love my place because of the location and the outdoors space. My place is good for couples, solo adventurers, business travelers, families (with kids), big groups, and furry friends (pets) with pet fee.
Welcome to Yonah Jump Start, a house on the tallest mountain in the area. Nestled in the North Georgia Mountain is your little piece of heaven. This 3 bedroom/3 bath home has The most amazing mountain view! Big windows take it all in. Spacious living room with two walls of windows and Electric fireplace. Dining room seats 12. Queen bedroom on main, galley kitchen w stainless appliances, pantry, "The Big Red Room" with 8' pooltable, Table Tennis and 55" tv with surround stereos and bluray player and access to deck. Media room in terrace level with 60" tv, bluray player, XBox with steering wheel and seat setup for Forza challenges. There is access to deck from Media room. Second level has loft and private bedroom with private bath, terrace level offers yet another living room and a big mountain view, spacious bedroom/bathroom, laundry room . This home has 2 huge decks, one with a permanent swing, gas grill and patio furniture, third upper deck, 2 balconies, Hardy board and cedar siding, attic fan. Well loved. Easy access, all good quality asphalt roads, just 5 miles from Helen, Ga. Good for motorcycles as well. Parks up to 4 cars in yard, no curbside parking allowed so neighbors can access their cabins. In addition to 3 bedrooms, there are 4 queen size sleeper sofas all in different areas. The house is fairly large and there is lots to do!
The neighborhood is residential located on the side of Mount Yonah. There is a great trail to the top starting from the other side of the mountain. The house is 5 miles from resort town Helen Ga, and 7 miles from Cleveland Ga for shopping, restaurants and activities.
Heikki is a wonderful host We went there for a wedding and the cabin had everything we needed We even had coffee the view is amazing plenty of things for kids to keep occupied I recommend this cabin for large groups Can't wait to come back in the summer
Nicole
2017-03-15T00:00:00Z
Great house with amazing views. Would definitely recommend.
Keith
2017-03-26T00:00:00Z
We loved this house! A perfect fit for Christmas for our large family group. There is separate private spaces for each person or couple but also had plenty of space when we had family activities for all! Our favorite space-that wonderful large dining room table in a room with fireplace and wall to wall windows. The kitchen was stocked beyond expectation, the game room and media room were also fun favored spaces. The setting for this house is an added bonus. We loved having access to outdoors and the wonderful mountain top view right outside almost every door with all the amazing porches. This great mountain side neighborhood is alpine themed to match the nearby fun town of Helen that is an endless supply of family activities, especially at Christmas! The close by town of Cleveland had everything we needed. Thank you to our Host for making us feel so welcome in this lovely home and a quick response to any communications. Wonderful week!
Lisa
2016-12-29T00:00:00Z
We enjoy that weekend. Really clean and we have all to have a nice weekend.
Ernesto
2016-12-12T00:00:00Z
Heikki was an outstanding host. Very responsive and the house was amazing. It was perfect for our family vacation. The view is incredible, the house is convenient to everything and has everything you would need. It's an awesome house. Next time I go to Helen I'll definitely stay here again.
Richie
2016-10-30T00:00:00Z
Our group of 14 had a wonderful time! Plenty of space, and things do. Great location near Helen, GA. I would definitely recommend to others.
Warren
2016-12-18T00:00:00Z
Art der Unterkunft
Ganze Unterkunft
---
Objekttyp
Haus
---
Unterkunft für
14
---
Schlafzimmer
Sautee Nacoochee, Georgia, Vereinigte Staaten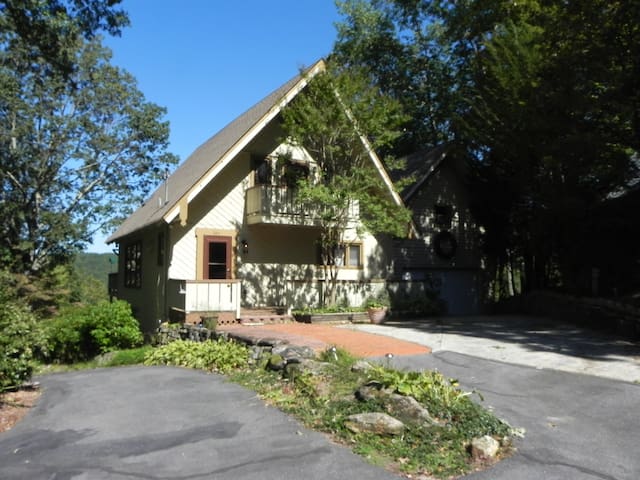 My place is close to restaurants and dining and family-friendly activities. You'll love my place because of the privacy and location. It is deep in the woods up on the side of a mountain but only 5 miles from downtown Helen. the ambiance, the outdoors space. It is very quiet and surrounded by wildlife.. My place is good for couples, solo adventurers, business travelers, families (with kids), big groups, and furry friends (pets).
Art der Unterkunft
Ganze Unterkunft
---
Objekttyp
Haus
---
Unterkunft für
8
---
Schlafzimmer
Sautee Nacoochee, Georgia, Vereinigte Staaten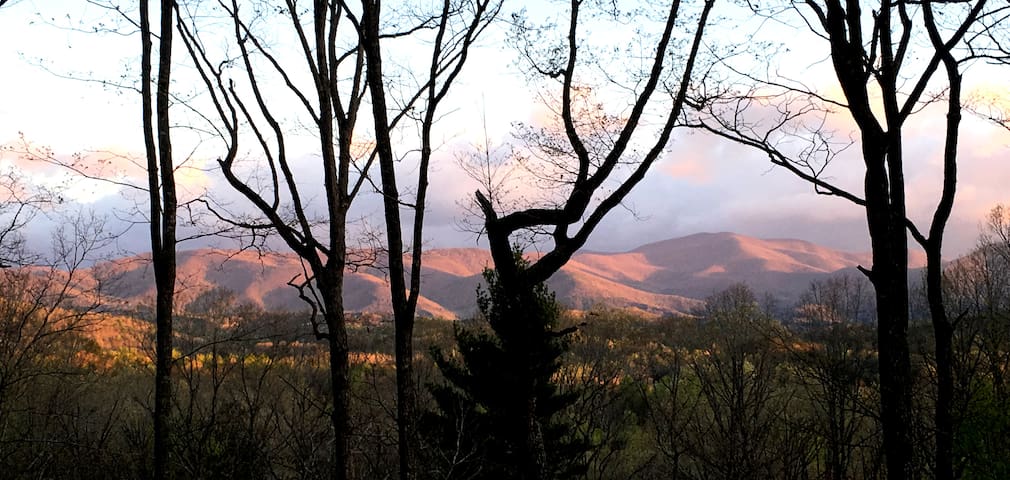 Very unique one bedroom carriage house above our barn. Close to Dahlonega and Lake Lanier. Beautiful equestrian and sunset views. Gated secluded property makes a great weekend getaway
Quiet horse farm near Helen, Ga and Dahlonega, Ga
Very quiet and private The carriage house is located above the barn. It is a working barn and from time to time we use the barn for equestrian activities.
Dave's place is awesome!
Jeremy
2017-03-25T00:00:00Z
My fiancé and I stayed at Dave's barn recently while visiting north GA to celebrate an anniversary. The pictures do not do it justice! It was far and away the best Airbnb we have stayed in! It was beautiful, clean, and waking up to a sunrise with a field of horses couldn't have been better. It was a great getaway not too far from the mountains, zoo, or Dahlonega. If you're up this way, I'd 100% recommend staying here and enjoying a very beautiful and unique guest barn.
Matt
2016-07-25T00:00:00Z
Everything was exactly as described and I would recommend the property to anyone wanting to stay in the area!
Zach
2016-10-24T00:00:00Z
As the other reviews have indicated, this property was very clean and modernized. Everything was just as advertised. We had a relaxing and enjoyable stay, and will definitely return in the future.
Ben
2017-02-04T00:00:00Z
This home was lovely, the scenery pastoral and convenient to many fine wineries and a day spa. The home was spacious, exceptionally clean, nicely decorated and everything was provided. Hosts made our stay truly enjoyable.
Juli
2017-02-26T00:00:00Z
I had an amazing time at this property! It was clean and even had extras like a single cup coffee maker with cream in the fridge! It was quiet and easy to find and the property was beautiful!
Karlene
2016-10-02T00:00:00Z
So peaceful! And the space is beautiful and cozy! It was so clean and had so many extras left for us by the host. We loved the horses right outside our window. Would definitely come back!
Kate
2016-11-20T00:00:00Z
Great and relaxing place to getaway from the hustle and bustle of everyday life! The Carriage House was exactly as described, the pictures don't do it justice! Checking in and checking out was a breeze and provided the easy weekend I was looking for. Thanks Dave, I would definitely book again.
Erin
2016-08-15T00:00:00Z
Art der Unterkunft
Ganze Unterkunft
---
Objekttyp
Haus
---
Unterkunft für
2
---
Schlafzimmer
Murrayville, Georgia, Vereinigte Staaten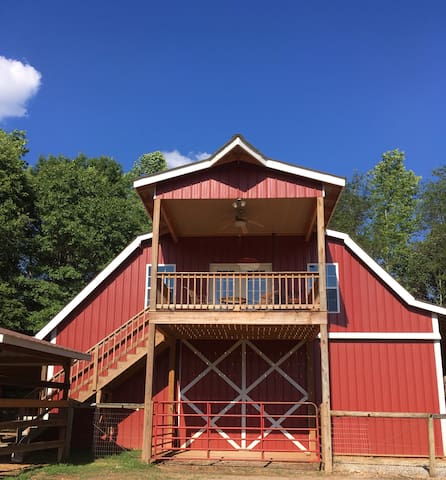 2 Queen-Size-Betten mit kleinen Deck. Gemeinsames Bad im Haus des ehemaligen Hausmeister auf historischen Bauernhof von 22acs. Mit Blick auf Tal, die Berge und Big Red Barn. Herz Kiefer Fußböden und Wände.
Es ist ein 1940 Caretaker Cottage vor kurzem renoviert, aber immer noch recht rustikal und dennoch ruhige und wunderschöne Aussicht und die Landschaft.
Helen ist 4 Meilen vom Haus entfernt.
Lovely stay!
Taegen
2017-03-19T00:00:00Z
Loved the room in the caretakers house. The property is wonderful and Melody was a pleasure to work with. Although the location is secluded but close to hiking, wineries, and the charming town of Cleveland. I love the Cottage winery; such wonderful people.
Brian
2017-02-05T00:00:00Z
We communicated a lot with Melody but our schedules did not allow us to meet in person. Maybe next time!
Laura
2016-11-14T00:00:00Z
Art der Unterkunft
Privatzimmer
---
Objekttyp
Haus
---
Unterkunft für
4
---
Schlafzimmer
Helen, Georgia, Vereinigte Staaten
Awesome place. Annie was incredibly friendly and accommodating. The views are amazing and the picture doesn't do it justice. Sitting on the patio with a fire going watching the sunset was really nice. Will definitely stay there again if we're in the area
Eric
2017-04-10T00:00:00Z
Art der Unterkunft
Privatzimmer
---
Objekttyp
Haus
---
Unterkunft für
4
---
Schlafzimmer
Helen, Georgia, Vereinigte Staaten
Beautiful house with scenic views. Close to great wineries and the town of Dalohnega. Highly recommend
Andrew
2017-04-09T00:00:00Z
Art der Unterkunft
Ganze Unterkunft
---
Objekttyp
Haus
---
Unterkunft für
4
---
Schlafzimmer
Dahlonega, Georgia, Vereinigte Staaten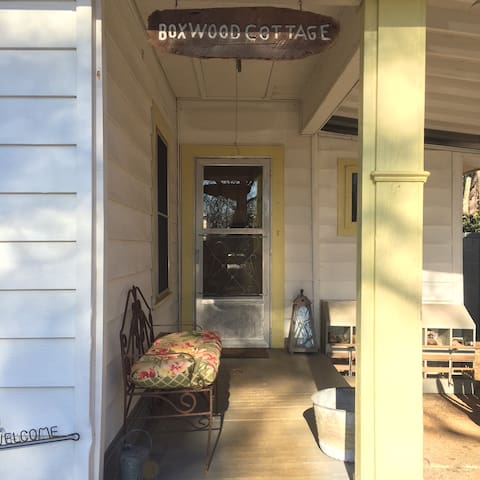 We loved our stay at Charlie's cabin. Fantastic location. Plenty of walking, hiking and river access nearby. Was very quiet this time of year and pleasant to walk the dogs up the quiet roads. Easy drive to Dahlonega. Enjoyed the nearby stables. Plenty of room for our whole family - and 3 bathrooms a nice bonus. Kitchen was cozy but had everything we needed. It was exactly the time away we were looking for and the fall landscape could NOT have been more beautiful. This cabin was exactly what we were looking for. It was perfectly clean when we arrived and well stocked. Easy to get in. No problems at all, and Charlie happily responded to all pre-trip questions.
Cori
2016-11-27T00:00:00Z
The cabin is gorgeous and the view is beautiful. We enjoyed the private setting.
Deb
2017-03-06T00:00:00Z
The cabin was the perfect amount of secluded. Only 15 minutes from Dahlonega, but deep enough in the woods that you felt perfectly alone. The cabin was very nice and had all modern amenities while feeling rustic. Would definitely go back.
Tyler
2017-04-07T00:00:00Z
This cabin was conveniently located and quietly situated in a nice community. The view from the back porch was wonderful with mountains off in the distance. Charlie did a great job with communication and stocking the cabin with all the necessities. Our family enjoyed the stay - including the dogs!
Sarah
2017-01-01T00:00:00Z
The house is easy to find, great combination of out in the woods/remote and close to town! Back porch view is gorgeous. I had a fire going in the fireplace every night. House is comfortable and well-equipped. I really enjoyed my stay and Charlie was a perfectly helpful and responsive host!
Chrissy
2016-11-23T00:00:00Z
Easy to get to with all the basic things you need for a getaway. Charlie was easy to reach and communicated well. One of the bedrooms is a loft space which with having a baby forced some early rising for the whole house. Each room had an attached bathroom which was nice. The communal hangout space was nice.
Anna
2017-04-02T00:00:00Z
Charlie was good about responding but we arrived to a cabin full of guests from the previous night. I had to confront them and get it resolved then found out the place hadn't been cleaned. We waited around for it to get cleaned and this delayed check in by a few hours. Awkward situation because the cleaner was never scheduled to come clean. So even if the previous guest had stuck to the one night they had booked I would have arrived to an empty house full of their mess. Either way slightly disappointed with the whole thing. Prolly will just stick to hotels.
Vincent
2016-10-02T00:00:00Z
This cabin is AWESOME! It's very rustic, and way out in the woods. We had six people that all slept comfortably. There are also three full bathrooms. We would highly recommend.
Jessi
2017-03-12T00:00:00Z
Art der Unterkunft
Ganze Unterkunft
---
Objekttyp
Haus
---
Unterkunft für
6
---
Schlafzimmer
Dahlonega, Georgia, Vereinigte Staaten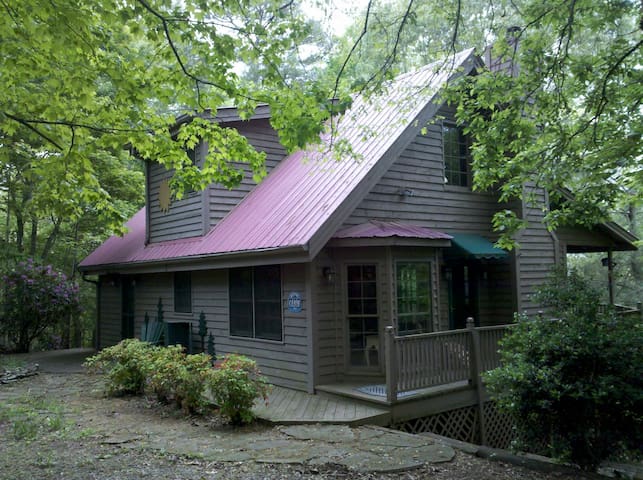 Ruhig Kellerwohnung auf Winterberg außerhalb von Dahlonega, GA. Zimmer verfügt über einen eigenen Eingang, so dass Sie kommen und gehen können, wie Sie möchten. Zimmer komplett mit Queen-Size-Bett, einen kleinen Kühlschrank, Mikrowelle, WLAN und einem 83" Flachbild-TV. Nur wenige Minuten von Dahlonega Square und lokale Weingüter!
Hat eine Wohnung fühlen.
Ruhig und holzig
Jessica was a great host! She was super flexible with check in and check out time and made our trip super relaxed and sample. She was very easy to get in touch with and communicated really well about the rental. This is the perfect place to stay for nice little get away near Dahlonega!
Lauren
2016-07-15T00:00:00Z
Wonderful weekend getaway! Jessica's space is perfect for couples. The room was comfortable and private. Nestled in a quiet neighborhood and a short drive from downtown and the wineries. We will definitely be back, thank you again Jessica!
Ashley
2016-11-06T00:00:00Z
Jessica is the perfect host, and her apartment is ideal for an individual or couple. I will certainly stay there again.
Daryle
2016-09-28T00:00:00Z
Everything was as described. It's like a studio apartment with a large bed, very clean bathroom, microwave, and mini fridge...not to mention the ginormous TV
Michele
2016-10-04T00:00:00Z
Great place. Huge tv. Only 10 minutes from downtown. Convenient access.
Andrew
2017-02-19T00:00:00Z
I loved staying here! I have never stayed at a host's home in a private room, so I wasn't sure what to expect. First, Jessica was so helpful and responsive. I was able to get in the house with no trouble. I also really appreciated the privacy; not a soul bothered us while we were there for the night. Everything was very neat and clean as well.
Lauren
2016-07-22T00:00:00Z
Jessica was very accommodating and helpful. My husband and I planned a road trip through mountain towns in Georgia. We are new to AirBnb and didn't quite know what to expect. We were very pleased staying at this location and it is definitely up in the mountains! We went to eat in the cute town and when we got back, we grabbed our flashlight and went for a walk to do stargazing. Jessica's place was just like the pictures and super comfy for our stay.
Susanna
2016-07-28T00:00:00Z
Thought the bedroom in general was very nice. Jessica was a great host (even thought I personally didn't get to meet her). She replied in a timely manner, and ensured we had a comfortable stay. The only thing that bothered us was the area in general. It can be a bit dangerous to travel the roads at night since it is a mountainous area. However, there is much to do in the area.
Geoffrey
2016-12-18T00:00:00Z
Art der Unterkunft
Privatzimmer
---
Objekttyp
Haus
---
Unterkunft für
2
---
Schlafzimmer
Dahlonega, Georgia, Vereinigte Staaten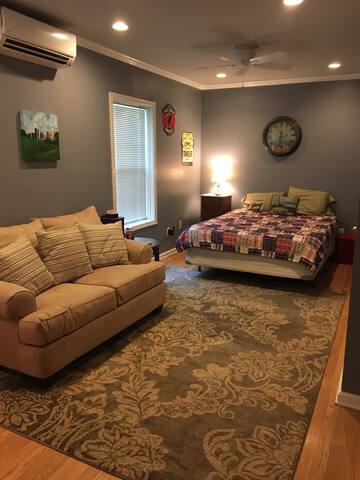 Checking in was a breeze. We had a long drive before our arrival, and Karen made sure that we had everything we needed to check in and start using the cottage. As soon as we were settled in, I received phone instructions for operating everything, which was a great addition to the detailed written instructions that were already in place. The hot tub on the deck was a great place to relax. We were very busy during our visit, and wished we would have had more time to spend at the cottage. The beds were very comfortable, and the entire cottage was clean. We cooked several meals, and found everything that was required. We hope to make it back when we have more time to enjoy this beautiful cottage and friendly, comfortable area. The Dahlonega community was wonderful, with great local shops and restaurants. We recommend this host, property, and community.
Jim
2015-10-05T00:00:00Z
Great stay at the cottage, although I wish we had had more time to enjoy it! We came for a busy wedding weekend, but really enjoyed spending our down time relaxing on the back porch looking out over the mountains. The cabin was very comfortable and clean, had all the amenities that we needed. Great communication with Ben to check in and out and provide details on how to work the hot tub (which I wish we had time to use!). Beds were very comfortable and the place was easy to find (although the road was not paved, we had no trouble in 2wd cars).
Emily
2016-09-26T00:00:00Z
it was a great time. Clean and nice.
Matthew
2015-10-12T00:00:00Z
Place was nice and cozy, with clear and accurate instructions. Check in and check out was easy and great. Enjoyed the place greatly.
Eva
2016-06-13T00:00:00Z
Beautiful place. Very relaxing getaway.
Marc
2017-02-20T00:00:00Z
Wonderful stay. Karen is a terrific hostess. She paid attention to the little details. The place is what we wanted; quiet, romantic and secluded. Close enough to town so that we could enjoy that as well. Can't wait to visit again.
John
2016-12-11T00:00:00Z
the cottage is very pretty and there were deer eating in the yard each morning.. the jacuzzi was hot and delightful
tami
2016-10-10T00:00:00Z
The pictures don't do the Rockhouse Cottage justice, especially with respect to the surrounding landscaping and nestled woods. The private decks, especially the hottub off the master bedroom, are cozy, and we spent most of our time there. The king-sized bed is exceptional and roomy, and the jacuzzi tub is very relaxing. Everything we needed was provided, which was a relief and a convenience, and the ease of check-in and finding the cottage with directions was simple: they make it smooth and seamless, which adds to the pleasantness of taking a vacation. A terrific getaway for a couple!
Rachel
2016-10-13T00:00:00Z
Art der Unterkunft
Ganze Unterkunft
---
Objekttyp
Haus
---
Unterkunft für
6
---
Schlafzimmer
Dahlonega, Georgia, Vereinigte Staaten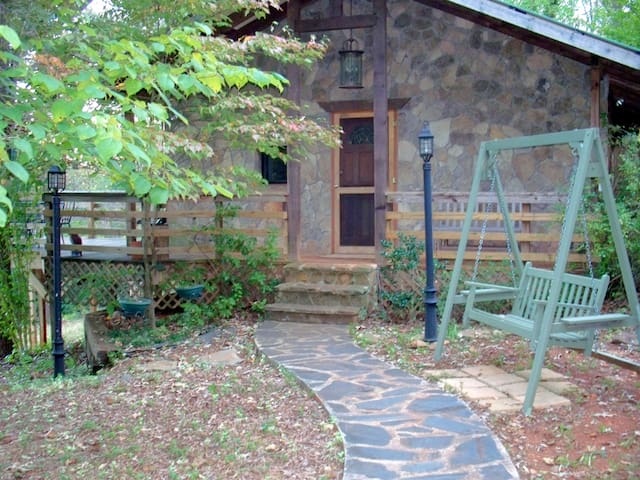 Serenity Place Farm is at the center of abundant award winning vineyards and wineries. Enjoy a tasting, a stroll around the manicured grounds, a cheese and charcuterie board, or an elegant dinner. Close to scenic parks, mountains, lakes, colleges, national forest, boating, horseback riding, historic towns, museums, festivals and markets, art galleries Fine restaurants, live music, theater, shopping, a short drive from Atlanta.
We have three large, pleasant bedrooms all on one level, as well as sofas and a sunroom with queen air mattress if needed. The cheerful master suite, With King antique oak sleigh bed, memory foam mattress, large fluffy pillows and down comforter has a luxurious bathroom with deep soaking tub, huge glass enclosed shower, and sunny sitting area. The other rooms each have their own pleasant full bath, big comfy beds, cheerful sunny window seat, built in cabinetry and playful touches. There's a rocking chair front porch, with a wicker swing, geraniums and ferns, and a broad deck overlooking more than 3 acres of natural paths, cozy seating areas, fire pit, woods, a sparkling stream and wildlife. Stroll the quiet hills and woods to enjoy the serenity and calmness of the mountains. A bit further afield our neighbors have riding stables where you can prearrange a trail ride, or tour the dairy and creamery up the road and enjoy the freshest, richest ice cream you can imagine, or take home fresh cheeses, butter, meats and jams. The heart of the region is the abundance of small and medium cottage wineries and vineyards, where you can go for a tasting, a tour or an elegant dinner. Among them are Yonah Mountain, Montaluce, Three Sisters, Wolf Mountain, Cottage Winery and Chateau Elan. Visit the lovely streets, shops, and charm of historic Dahlonega, the first gold rush town, with a college vibe and busy square, and on weekends impromptu bluegrass bands practicing in the square. With chocolatiers, many unique restaurants, live theater, a bursting general store, gift and antique shops and an Irish pub called Shenanigans, there's something for everyone. Hike to Amicalola falls, golf, explore parks and forests, kayak or canoe beautiful Lake Lanier, drive the winding blue ridge mountain roads. River rafting and kayaking, sailing, fishing and swimming the lake are popular activities. A few miles up the road is the top destination in the area, Alpine Helen, a beautiful bavarian styled mountain village filled with quaint shops, authentic German food, fairs and festivals, and fun zip line, rafting, riding, fishing, golf, live music and dancing. In nearby Gainesville there are universities, Botanical Gardens, theater, shopping, and everything you can expect in a pleasant small city. Continue another half hour and be in the limits of the great city of Atlanta with its big city vibe, buisiness, football, baseball, the Fox Theater, amazing shopping, dining and night life.
We live in a small quiet cul de sac neighborhood, with cows in the corner pasture shady trees and wildlife all around. You might wake up to a rooster crowing or see a deer nibbling on my herbs ( take a picture then shoo it away!) Our neighbors are wonderful and will greet you with a smile and maybe a chat on your morning stroll.
The neighborhood was beautiful, peaceful and secluded. The house was very spacious and comfortable. The location was perfect as we were a short drive away from hiking trails and Dahlonega.
Sarah
2017-04-03T00:00:00Z
This is a delightfully warm and inviting home where I immediately felt at ease and comfortable. Lots of little but thoughtful touches abound to make the experience even more pleasant than expected. I understand that Ellie is an artist, and that is easy to see in the way she has decorated the home.
Patrick
2017-03-10T00:00:00Z
This was a great place to stay! We had the entire house to ourselves. Everything was updated and very clean. The front of the house is so pretty, with a huge porch, complete with a swing. There is a nice entry that leads to the family room, kitchen and dining room, all open concept. These look out onto a sunporch, a deck and the beautiful backyard. Off the kitchen, is a huge master bedroom and very large updated en suite bathroom with a huge tub and a wonderful seperate shower. The bed was very comfortable. There is also a sofa and a table and chairs in this room, as well as a door out onto the sunporch. On the other side of the house are 2 bedrooms, one is an en suite. The other has a bathroom directly across the hall. Also off of the family room is another living area that can accomodate more people on either the sofa or air mattress. Out back there is a deck, a sunporch, and an area with a fire pit, as well as land that you can walk. The trees are huge and everything was really nice. Ellie was excellent about communication. We plan to return!
Michelle
2017-03-26T00:00:00Z
Ellie was extremely welcoming and a pleasure to work with in securing a home for our needs. We had three people in our party that benefitted from the one-level living space and limited steps. Ellie welcomed our son's service dog warmly. She greeted us and showed us around her home, making us feel comfortable, and answering our questions. She provided ample instructions and information on the home's very nice amenities and appliances. She left us some special New Year's Eve treats for our kids and even farm-fresh eggs for breakfast(URL HIDDEN)Speaking of cooking, with three cooks in our family, we enjoyed the nicely appointed kitchen, cooking many of our meals there. The gas fireplace was really lovely as it was very cold and rainy. We spent most of the time playing games and putting together a puzzle in the den and cozy library. The large, flat-screen t.v. with a Amazon Fire-Stick gave us plenty of options for a family movie at night and a variety of music choices during our game play. The huge soaking tub in the master bedroom was a hit as well! I wish I could take that whole bathroom and put it in my house! There are multiple common rooms to enjoy I this home as well as ample space in the bedrooms, especially the master, to hide away and have some quiet time. We enjoyed her recommendation of the nearby creamery as a simple outing. Of course, Helen was a fabulous outing as well and just down the road(URL HIDDEN)would recommend this home to friends and family who want to have a very comfortable, peaceful place to stay in a lovely neighborhood, near many North GA destinations. We would like to return in the spring or fall to enjoy the multiple outdoor seating areas as they looked inviting.
Karen "Korky"
2017-01-01T00:00:00Z
This was my second stay at Serenity Place Farm, and as before, I enjoyed a peaceful, restful night in this beautiful home. I was able to get to my early morning appointment feeling rested and refreshed. I would like to point out the convenience of the location to people who have business in the Gainesville, GA area. This location is less than a half hour away from that city which is home to various major poultry companies, Brenau University, and Northeast Georgia Medical Center, making it an outstanding place to spend a quiet, comfortable night before the next day's meeting or medical appointment. Although this home is located conveniently near the main highway, it is tucked in to a wooded area, making it feel miles away. Ellie has obviously spent considerable effort making this a comfortable and inviting environment. She has also made the house very user friendly, with convenient storage, great kitchen and bathrooms, and broadband Internet service. I was especially delighted to discover a breakfast quiche she made with fresh eggs from her own chickens, waiting in the refrigerator! The next time I find myself needing to travel to the Gainesville area, Serenity Place Farm will be my first choice!
Patrick
2017-03-24T00:00:00Z
Ellie's home is wonderful! In a quiet neighborhood, the house is spacious for several guests to fit comfortably. The kitchen includes all the necessities, and the fire place makes everything extra cozy. I recently stayed with 7 of my friends, and we had an absolute blast. I'd highly recommend staying in Ellie's home! There was even a breakfast quiche left for us in the morning!
Samantha
2017-03-12T00:00:00Z
I stayed here for business in the area. The check-in process was smooth, the house was clean and pleasant and is very quiet. The place is interestingly decorated with artwork and musical instruments and is warm and welcoming.
James
2016-12-13T00:00:00Z
Ellie's lovely home was very warm and inviting the minute we walked on the porch with the welcoming Christmas tree. Knowing she had only recently moved in, she also went the extra mile of having a beautiful tree also inside. The spacious home met all the needs of my family and we loved every room of the house. This was a special time for me and my daughter to spend undivided time with my grandchildren: aged 7 & 2 and this home provided exactly what we needed. We cooked, relaxed watching movies & visited a couple of small towns in the area. I had the pleasure of sleeping in the master bedroom and thoroughly enjoyed that awesome bedding. We would love to return in the future. If you're planning a visit to the area, you will not be disappointed in the selection of her home.
Vanessa
2016-12-26T00:00:00Z
Art der Unterkunft
Ganze Unterkunft
---
Objekttyp
Haus
---
Unterkunft für
9
---
Schlafzimmer
Clermont, Georgia, Vereinigte Staaten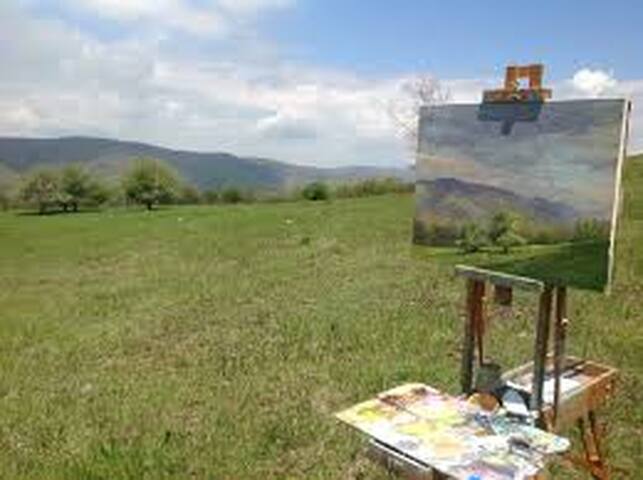 1

–

18

von

29 Ferienhausvermietungen
Gib deine Reisedaten ein, um den aktuellen Preis zu sehen. Es können zusätzliche Gebühren und Steuern anfallen.