75 Ferienhausvermietungen
Die viel Komfort und Wärme eines modernen Hauses, während die Tradition und Kultur des Ortes zu respektieren, aus zeitlosen Materialien: Tuffstein, Holz und Basaltstein. Das ist der Geist, der iRoom Civita, eine Oase der Ruhe in Borgo schönsten in Italien stammt.
Civita ist ein wunderschönes Dorf während des Tages, aber wer kauft einen unübertroffenen Charme der Einstellung der Sonne, wenn es ein intimer Rückzugsort für ihre Gedanken wird. Damit Sie die ganze Aufregung zu genießen, die diese magische Ort zu bieten hat ich iRoom Civita geschaffen: eine gemütliche Wohnung, die von wesentlicher Bedeutung ist, die Materialien der lokalen Tradition mit aber bietet allen Komfort eines modernen Hauses, um einen unvergesslichen Aufenthalt zu gewährleisten.
Civita ist ein kleines Dorf, wo jeder Ort von zwei Minuten erreichen: Restaurants, Bars, Geschäften und einer malerischen Aussicht sind nur wenige Schritte von Ihnen entfernt! Meine Unterkunft liegt im Herzen des Dorfes, auf dem Domplatz, Veranstaltungsort und Treffpunkt für diejenigen, die Frieden von Civita wollen.
My husband and I stayed here on the last night of our honeymoon. We had been exploring other parts of Italy for the past two weeks, and this was the perfect end to our trip. Our AirBnb was the most comfortable and well equipped place that we stayed during our time in Italy. It was a quiet town, with absolutely beautiful views. We ate at a family run restaurant that night called osteria al forno di agnese. It was to die for! This was the perfect end to our honeymoon.
Shane
2017-03-25T00:00:00Z
You could not ask for a more ideal location! The space is lovely, clean and central to everything! The hosts are kind and welcoming! Thank you for a most wonderful visit!
December
2016-08-30T00:00:00Z
Great stay. No problems with the apartment. A beautiful location to just relax.
Fr. David
2015-11-01T00:00:00Z
Pierpaolo and his mother and father were an absolute pleasure to communicate with. Pierpaolo was always quick to respond and provided us with amazing tips on what to see and do in nearby Orvieto. Although we did not get to meet Pierpaolo we did meet his mum and dad who walked us to their apartment in Civita. The apartment itself is very comfortable, clean and well appointed. It was an absolute dream to be able to stay here and we are so thankful to Pierpaolo and his family for giving us the opportunity to stay in such an amazing place. Civita is an absolute gem and staying here is an absolute must!
Claudia
2016-09-17T00:00:00Z
This is one of the most amazing airbnb experience we ever had. Right in the center of Civita, this Airbnb was very charming and Pierpaolo welcomed us very kindly.
Jules
2016-08-14T00:00:00Z
Замечательный дом в прекрасном месте. Дом был очень стильным, красивым и чистым. Pierpaolo был очень радушным хозяином. Встретил, все показал и рассказал. Хозяин сделал намного больше, чем мы ожидали. Спасибо большое, мы идеально провели свой день в Чивита-Баньореджо!
Andrey
2015-08-14T00:00:00Z
Really a fantastic and magic place!!!! I loved stay in this apartment!! A wonderfull experience! Pierpaolo was great!! Thank you for everything! The next time i will stay for more days!!!
Roberta
2016-06-15T00:00:00Z
Lui non poteva ma ci ha affidati ai suoi genitori che sono stati molto carini, gentili e premurosi. Tutto come da aspettativa. Consigliatissimo!!!!
Lorenzo
2016-09-10T00:00:00Z
Art der Unterkunft
Ganze Unterkunft
---
Objekttyp
Haus
---
Unterkunft für
3
---
Schlafzimmer
Civita, Latium, Italien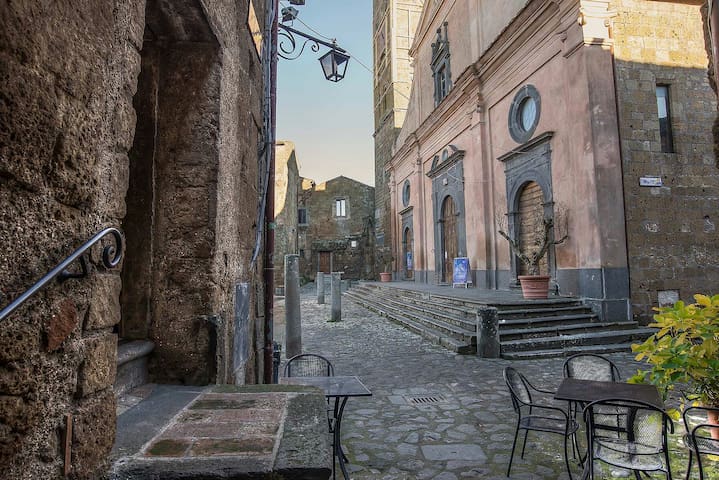 L 'Wohnung befindet sich im Herzen des bezaubernden Dorf Civita di Bagnoregio entfernt und bequem Platz für vier Personen. Die Atmosphäre ist gemütlich und einladend. Was ich möchte, den Gästen zu vermitteln, ist das Gefühl von zu Hause weg zu Hause zu sein.
Die Wohnung befindet sich auf I und II Etage eines Gebäudes aus dem Mittelalter, die die ursprüngliche Struktur bewahrt. Der Boden ist aus antiken handgefertigten Terrakotta, Holzbalken und Tuffsteinwänden. Die Dekoration wurde von lokalen Handwerkern hergestellt. Während voll und ganz die Natur des Ortes und den Geist des Hauses zu respektieren, werden Sie alle Annehmlichkeiten für einen angenehmen Urlaub benötigt finden.
Die Stille durch den Klang der Glocke gebrochen und der Kreis von nur schläfrig Katzen: Das ist die Nacht von Civita
Paola is so kind and treated us very kindly! so fantastic place it is! I love those stones, plants, flowers and everything there in the old Village. the most important thing is the tasty design and decoration in the apartment! I couldn't stop thinking of stay there for a long time. it's better more than I can say anyway!
Iris
2016-06-13T00:00:00Z
Very nice place, prepared with a lot of love and eye for detail. Will definitely be back! Is the perfect place if you want to visit and enjoy Civita di Bagnoregio, central and cosy.
Mako
2016-11-12T00:00:00Z
Great beautiful BnB. It was a truly wonderful space in an amazing little town. I look forward to returning for a longer visit with the whole family.
Patrick
2017-04-06T00:00:00Z
Paola and Roberto were wonderful and welcoming and agreed to accommodate our family of four last minute. We found Civita to be magical and the apartment was beautiful and perfect for our needs. Thank you Paola and all the best to you and your Jayhawk! Carolyn
Carolyn
2016-05-31T00:00:00Z
Art der Unterkunft
Ganze Unterkunft
---
Objekttyp
Haus
---
Unterkunft für
4
---
Schlafzimmer
Civita, Latium, Italien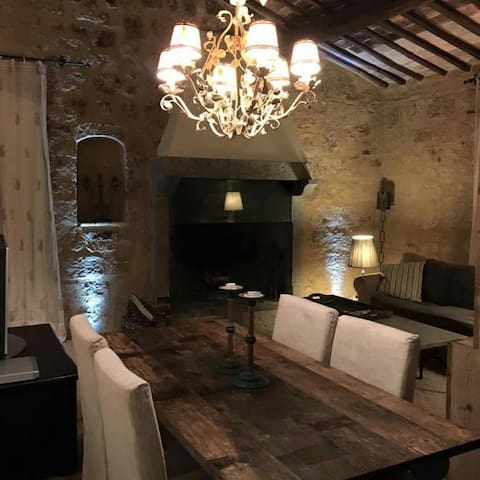 Romantic ground floor apartment in one of the most picturesque streets of the village. It is located near the main port of the ancient town, it has a separate entrance on the ground floor, and features a beautiful suite in the tower.
Civita di Bagnoregio - Unique and romantic ground floor apartment comprises entrance hall, living room with fireplace, quaint and spacious lounge and charming suite, which offers uniqueness and character to its guests. ancient house, recently restored, draws the quaint charm of this sensational place entirely in tuff and offers guests all the comforts and at the same time manages to resonate to another age.
The historic center, near the main square and commercial activities. Adjacent, in the alley near, a stocked grocery store, full of delights of the place and advice pratici.Aperto all day.
Atmosfera fantastica che ti porta indietro nel tempo. Ottima accoglienza. Unici punti a sfavore sono il bagno e la cucina poco curata.
Roberto
2014-12-30T00:00:00Z
La casa di Marcella è fantastica, accogliente e curata con amore. Rispecchia l'atmosfera unica di Civita. Assolutamente da consigliare
Alberto
2016-12-04T00:00:00Z
Art der Unterkunft
Ganze Unterkunft
---
Objekttyp
Haus
---
Unterkunft für
4
---
Schlafzimmer
Civita, Latium, Italien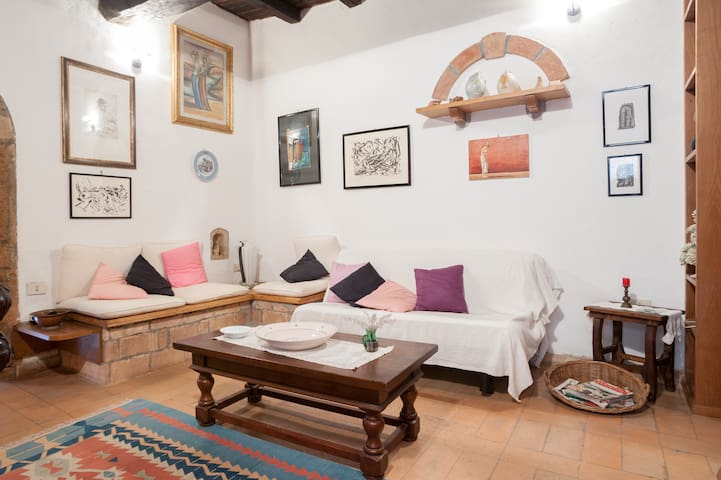 イタリアのアートとデザインが共存カサドールアルティスタ、リラックスして瞑想するのに最適な場所へようこそ。 DWAデザインスタジオによってフランチェスコ・シミティやインテリアから委託アート作品で、イタリアの穴場この隠された宝石で夜を過ごします。チヴィタでのご予約からの収入は、彼らが地域社会のための新しい文化的なプロジェクトを実現する手助け、バック町に寄付されます。
イタリアのアートとデザインが共存カサドールアルティスタ、リラックスして瞑想するのに最適な場所へようこそ。 DWAデザインスタジオによってフランチェスコ・シミティやインテリアから委託アート作品で、イタリアの穴場この隠された宝石で夜を過ごします。チヴィタでのご予約からの収入は、彼らが地域社会のための新しい文化的なプロジェクトを実現する手助け、バック町に寄付されます。 カサドールアルティスタは、2つのレベルで戸建石造りの家、です。 1993年、家は部分的崩壊を受けて、今日のあなたはまだ元の構造の一部であった古代の壁を見ることができます。バニョレージョとAirbnbの都市の介入のおかげで、それは今ここに滞在したいすべての人のための感動的なスペースとなり、アーティストの飛び地に変換されています。フランチェスコ・シミティ蘭とイタリアのルネサンスの歴史的絵画に触発された技術では、家の内側の作品を終えました。彼は、ファブリックからブロンズ彫刻に至るまで、技術のミックスを使用しました。メーカーDWAによって設計された家は、元の構造に敬意を払って、1~5人を収容するように設計されており、勉強、仕事、そして残りの滞在する4つの異なる領域に分割されています。 家の中で最もオリジナルの要素の中で、スタジオ内に設置偉大な芸術家のテーブルには、ソファやベッドに変換することができます。家は生地のため、このようなカッシーナ、ニモ、およびクヴァドラなど現代的なデザインのブランドのいくつかの歴史家の助けだけでなく、Bitossi、Mariotti-Fulget、Eligoのようないくつかの若いブランドで提供されています。彼らはまた、このようなソースからの巧みなとダヴィデAquini、フィレンツェに拠点を置く、芸術団体などの新興デザイナーを組み込みます。
チヴィタディバニョレージョは10人の住民の小さな村です。そこいくつかのバー、レストラン、ショップがありますが、それは非常に小さなコミュニティだとして、私たちは、あなたが常に営業時間についての私達に確認することをお勧め!そこ食料品店や薬局は町ではありませんが、最寄りはバニョレージョ(チヴィタから約10分徒歩)です。
Art der Unterkunft
Ganze Unterkunft
---
Objekttyp
Haus
---
Unterkunft für
5
---
Schlafzimmer
Civita, Latium, Italien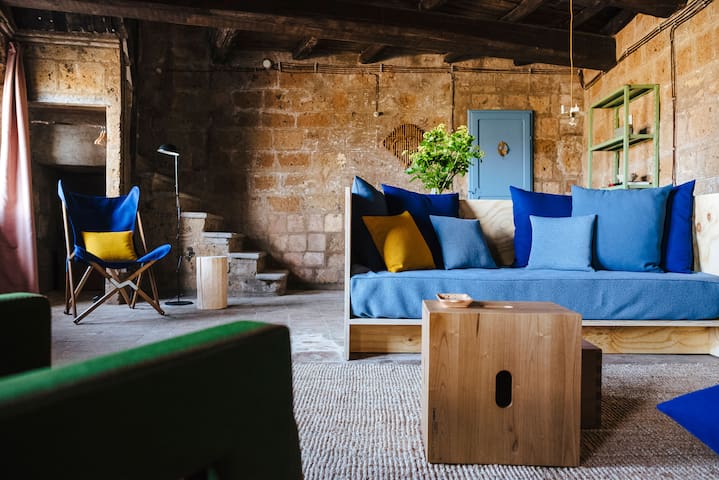 This is a lovely place in a very sweet town. It has been restored with original features and is a lovely getaway spot
The stunning town and history ..
This is a delightful area, close to orvieto and civil Di bagnoregio and lake bolsena.
The host canceled this reservation the day before arrival. This is an automated posting.
Alessandra
2016-12-30T00:00:00Z
A little flat in a tiny village nestled in Toscana. I saw no english nor heard any. No tourists here! The flat's views form its windows are overlooking incredible plush valley. We made dinner and sat out on what seemed like hundreds year old stairs overlooking the view. Then walked into the little centro piazza where it seemed the whole town had gathered for the Friday night. Very magical.
Benjamin
2016-08-07T00:00:00Z
Art der Unterkunft
Ganze Unterkunft
---
Objekttyp
Haus
---
Unterkunft für
4
---
Schlafzimmer
Civitella D'agliano, Latium, Italien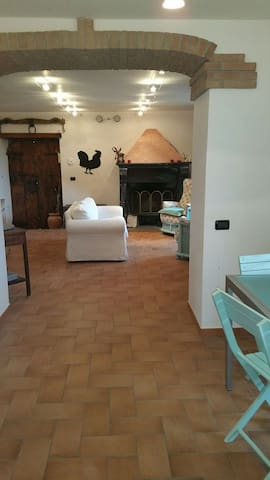 Located in a medieval village, near the main tourist town of Orvieto, Civita di Bagnoregio , Lake Bolsena and Viterbo . In this place it seems the time has stopped . We can host 2 people or lone traveler.
L'alloggio si trova ai piedi del borgo del paese , facilmente raggiungibile in auto. La casa ristrutturata nel 2012, è dotata di una stanza privata con ingresso indipendente,bagno interno privato e l'utilizzo di un piccolo spazio esterno.
Il piccolo borgo di origine medioevale, si trova arroccato su una collina nella Valle del Tevere. Caratterizzato da numerosi vicoli, il centro storico si sviluppa intorno alla Torre dei Monaldeschi risalente al XI secolo, al bastione e alla chiesa parrocchiale. E' possibile godere di paesaggi e scorci naturali, il tutto nella suggestiva zona dei Calanchi.
Although we did not end up staying with Emanuela she was very friendly and helpful to deal with and was very understanding about our change of plans.
Mary
2016-08-24T00:00:00Z
Art der Unterkunft
Privatzimmer
---
Objekttyp
Haus
---
Unterkunft für
2
---
Schlafzimmer
Civitella D'agliano, Latium, Italien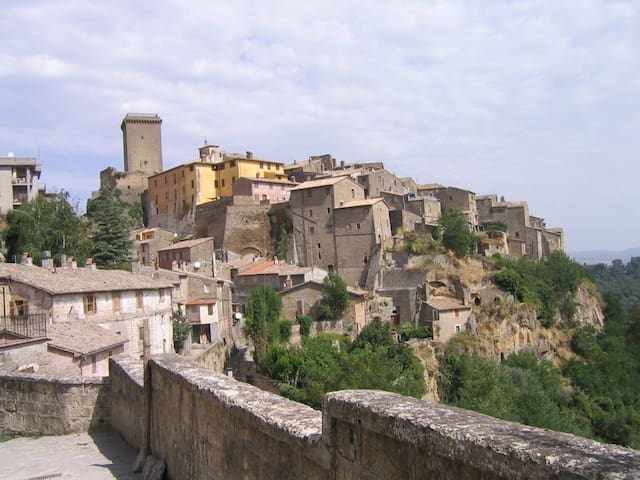 Il mio alloggio è vicino a:Lago di Bolsena ,Civita di bagnoregio , Bomarzo , Orvieto , Viterbo. Ti piacerà il mio alloggio per questi motivi: Borgo medioevale con atmosfera unica , da vivere una volta nella vita . Il mio alloggio è adatto a coppie, avventurieri solitari, famiglie (con bambini) e amici pelosi (animali domestici).
Soggiorno piacevole in una casetta su due piani comoda e ben organizzata al centro di un borgo storico.
simonetta
2016-12-11T00:00:00Z
Art der Unterkunft
Ganze Unterkunft
---
Objekttyp
Haus
---
Unterkunft für
6
---
Schlafzimmer
Civitella D'agliano, Latium, Italien
I'm an Italian who lives in London. Some years ago we bought this rather special country house. It's in the most secluded location, shaded by olive and fruit trees and with a splendid view over the hills and valleys of Central Italy.
THE HOUSE IS ONLY RENTED ON A WEEKLY BASIS, FROM SATURDAY TO SATURDAY! Up to eight people can be comfortably accommodated in the main house and two more, on request, in the separate medieval tower. On the ground floor the house has a large, well equipped kitchen opening to a big dining room and a very spacious sitting room with huge open fireplace. A double and a single bedroom plus a bathroom are also on the ground floor. An external staircase and loggia lead to the first floor where there are two more bedrooms (one double and one triple) and one bathroom.
Carpinetta is a haven of peace, tranquillity and total privacy, completely immersed in nature and abounding in the most amazing wildlife and yet it's only a short distance by car to local villages where shops, banks and restaurants can be found. From here it's easy to explore the many beautiful medieval villages and historical towns of Alto Lazio and Umbria and Tuscany. In a word Carpinetta is the perfect location for those - like us - who love to be where nature and culture can be enjoyed at the same time. Carpinetta is not just a holiday house, but very much a home for us and we are delighted to share it with our guests.
Art der Unterkunft
Ganze Unterkunft
---
Objekttyp
Haus
---
Unterkunft für
8
---
Schlafzimmer
Civitella D'agliano, Latium, Italien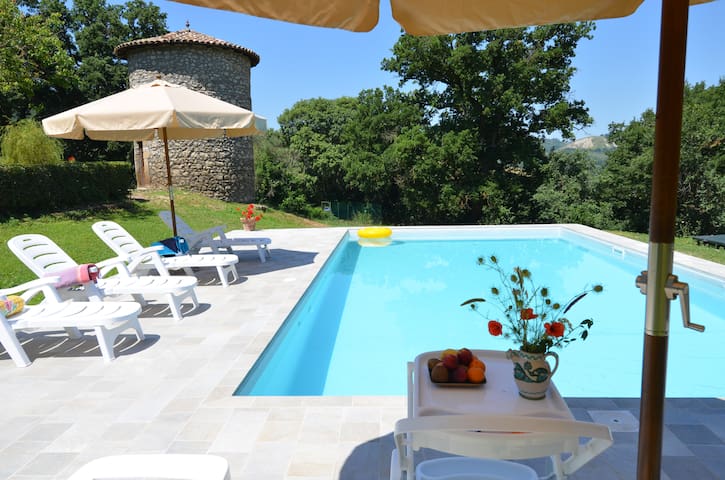 Altes Bauernhaus in den schönen Hügeln der Tuscia. Auf halbem Weg zwischen der Stadt der Päpste von Viterbo und der wunderschönen Kathedrale von Orvieto. Berühmt für seine Grechetto Doc Civitella d'Agliano ist nur wenige Kilometer vom Lago di Bolsena.
Master-Schlafzimmer-Suite in einem echten Landhauses. Die Unterkunft für die Gäste mit einem Doppelzimmer mit eigenem Bad und ein Wohnzimmer, die bei Bedarf mehr 2 Personen dank einem komfortablen Schlafsofa Platz finden.
Mit einem angenehmen Spaziergang von wenigen Minuten können Sie das Stadtzentrum erreichen, ein mittelalterliches Dorf, die mit allen Einrichtungen (Bar, Apotheke, Bank, Supermarkt, etc.).
Art der Unterkunft
Privatzimmer
---
Objekttyp
Haus
---
Unterkunft für
4
---
Schlafzimmer
Civitella D'Agliano, Latium, Italien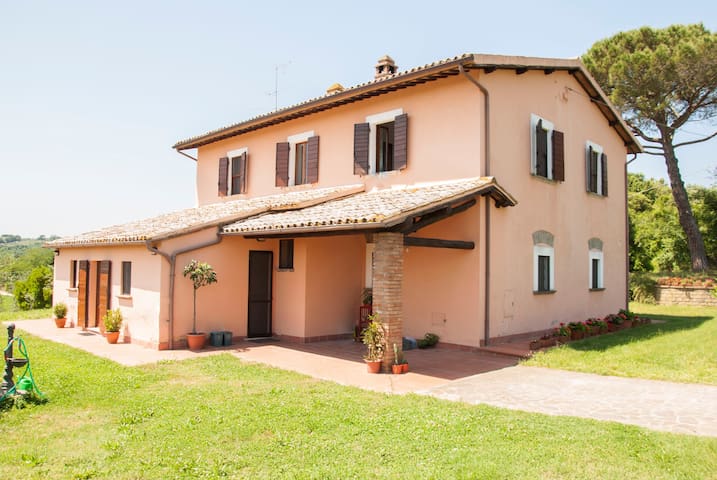 55 qm plus ein Mezzanin von 25 m. Es kann 4 bis 8 Personen. Lively Wohnung, ideal für eine Gruppe von Freunden, zwei Paare oder eine Familie mit 3-4 Kindern. Privater Garten, Grill, Zugang zum Pool (14x6m). 10 Minuten Fahrt von Orvieto
Maximaler Komfort, Ruhe in der grünen, ganz neu. Das Gästehaus befindet sich im Bauernhaus Immobilien integriert
Lavanda & Rosmarino befindet sich in einer strategisch günstigen Lage befindet. Vor den Toren der charmanten Stadt Canale Nuovo haben die Gäste einen einfachen Zugang zu den Geschäften für jeden Bedarf, vom legendären Donatello, wo man das beste Fleisch kaufen kann, die er selbst produziert, Bars, Tabakladen, Basar, und sogar zwei Damen Friseure
We hebben een week bij paolo geweest en om het kort samen te vatten fantastisch ! Alles was zoals vermeld,heel proper en een geweldig zwembad.Paolo was zeer hulpvaardig,hij is mee gereden om te tonen waar de dokter was voor mijn zoon. TOP
GUY
2016-08-30T00:00:00Z
This was one incredible place. From first communication with Paolo it was great. The apartment is an easy short drive from Orvieto. It was the most cared for airbnb that I have stayed in. It is clear that Paolo cares deeply about architecture and design. The apartment was spotless, very large and everything worked extremely well. When we got there he told us of the great things we need to do near by (including telling us about Civita di Bagnoregio, which was an incredible find). He made us dinner reservations at a fabulous place in Orvieto. Unfortunately it was still a bit chilly to use the pool and we weren't there long enough to grill. I like this so much, that I think it might be a good place to use as a home base in our next trip to Italy. Do not miss this place if you are arounds.
dan
2016-04-28T00:00:00Z
We, a family of 5 with 3 young children, had an outstanding fortnight in Paolos wonderful and brandnew holiday house, casa 3. The house is spacious enough, well decorated and modern equiped, everything in mint condition and super maintained. Modern bathrooms and great airco in every room. A big and clean pool outside, next to the house, with stunning views on the outskirt hills of Orvieto. Paolo is an upmost attentive host, great to talk to (english and french!) and will guide you into the beautiful area and beyond. Although his place was not mapped on our GPS, route description from himself was excellent and a 5min drive from Orvieto down. We highly recommend this place to every family who wants to visit Central Italy. But be aware this place will be completely booked if you hesitate ;-)
Ben
2015-08-19T00:00:00Z
Perfect. This is a rare find and a spot definitely to be revisited for us. Paolo is a professional in every way(even picked up some milk for us before we arrived). This apartment is 100 percent new and in perfect condition. Leaves absolutely nothing to be desired.
Scott & Susan
2016-04-11T00:00:00Z
휴식을 위한 최고의 숙소!
Si Eun
2017-03-28T00:00:00Z
The apartment and the location are just fantastic and our party of 6 were accommodated with ease. The apartment facilities are very good and simply put 'everything just worked'. The onsite shared facilities are also excellent. Whilst there are 3 apartments that share the pool including some of the facilities, there was never a point where it felt crowded. You genuinely feel as if you are the only people staying. Paolo is absolutely an excellent host. He met us on our arrival, helped us settle in and then spent some time with us sharing info on the local area. He was always available to help with any enquiry and informative on local things to do and where to eat. He made our stay that much nicer. Orvieto is a beautiful little town a short drive away and very easy to get to and provided us something to do everyday for the 5 days we stayed at the apartment.
Milan
2016-07-30T00:00:00Z
Nádherné ubytování nedaleko malebného městečka Orvieto. Vše proběhlo hladce a s ubytováním a dalšími službami jsme byli spokojení.
Babbů
2016-06-26T00:00:00Z
We had a lovely two-day stay at this beautiful place in Orvieto. The spacious apartment was newly renovated and well- equipped. The outdoor facilities were excellent, particularly the pool area. Paolo was the perfect host, very friendly and helpful - also when we left the kids' vital iPad behind after check-out... We can highly recommend this place!
Klaus
2015-07-19T00:00:00Z
Art der Unterkunft
Ganze Unterkunft
---
Objekttyp
Haus
---
Unterkunft für
6
---
Schlafzimmer
Orvieto, Umbrien, Italien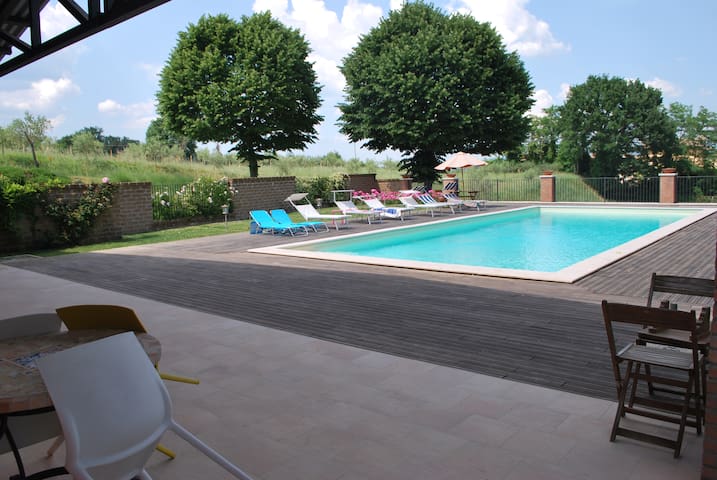 Meine kleine Farm erinnert an alte Zeiten. Mit mehr als einem Hektar Garten, ideal für Ihre Haustiere. Es befindet sich auf 13 km von der wunderschönen Stadt Orvieto, 7 km vom wunderschönen Bolsena-See und 8 km von der sterbenden Stadt Civita di Bagnoregio entfernt. Jedes Detail wird Sie zurück in die Zeit ....
Das Haus ist etwa 120 Quadratmetern auf zwei Etagen. PT: Terrasse mit Marmortisch, Küche mit Tisch, komplett mit allen Geräten, Wohnzimmer mit TV, Bad mit Dusche und Waschmaschine. P1: zwei Doppelzimmer, Möglichkeit ein Einzelbett hinzuzufügen, Bad mit Badewanne Großer umzäunter Garten Und Poggio von 1 Hektar in Prato Tuffstein und unterhält eine optimale Temperatur
Die Gegend ist sehr schön! Typische Landschaft Umbriens Nur wenige Kilometer von Orvieto, Viterbo, Lago di Bolsena, Civita di Bagnoregio und eine Stunde Fahrt zu den schönen Stränden von Capalbio und Argentario. In einer Stunde und eine Hälfte zu besuchen Rom und Florenz
Art der Unterkunft
Ganze Unterkunft
---
Objekttyp
Haus
---
Unterkunft für
4
---
Schlafzimmer
Orvieto, Umbrien, Italien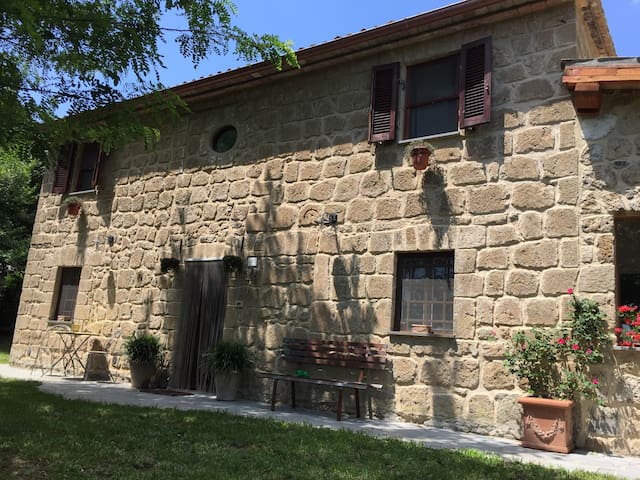 Einfamilienhaus mit privatem Pool in der Nähe von Orvieto und dem Bolsena-See. Toller Ort für einen erholsamen Urlaub. Der Poolbereich ist eingezäunt, so dass es für Familien mit kleinen Kindern geeignet ist. Der Garten ist komplett eingezäunt, so ist es auch für Hunde geeignet.
Es liegt etwa 10 km von der bekannten Stadt Orvieto und 10 km vom See von Bolsena. Der Bahnhof von Orvieto Scalo ist 12 km weit entfernt. Wenn Sie zu besuchen Rom und Florenz wollen, ist die Reise von rund 1:30. Die nächsten Einkaufsmöglichkeiten (Supermarkt und einige andere) sind im Dorf von Torre San Severo (2 km vom Hotel entfernt). Weitere Geschäfte und Supermärkte sind in Porano und Bolsena (beide bei 10 km). Es gibt einen großen Supermarkt in der Nähe der Autobahnausfahrt in Orvieto, das ist offen alle Tage (auch am Sonntag), bis 20 Uhr. Entfernung zu den Restaurants: Il bosco del pesce 1 km vom Hotel entfernt, Il conte in 2,5 km, Fuorimano auf 3,5 km. Andere Restaurants, die wir Beratung: Il boccone del Prete (in der Nähe Porano, sehr charakteristisch in einer Höhle), Il Corsica und La Palomba im historischen Zentrum der Stadt Orvieto. Nächster Golfplätze: Acquapendente Golf Club in 15 km, der Golfclub Nazionale Resort ist 70 km weit entfernt.
Art der Unterkunft
Ganze Unterkunft
---
Objekttyp
Haus
---
Unterkunft für
5
---
Schlafzimmer
Orvieto, Umbrien, Italien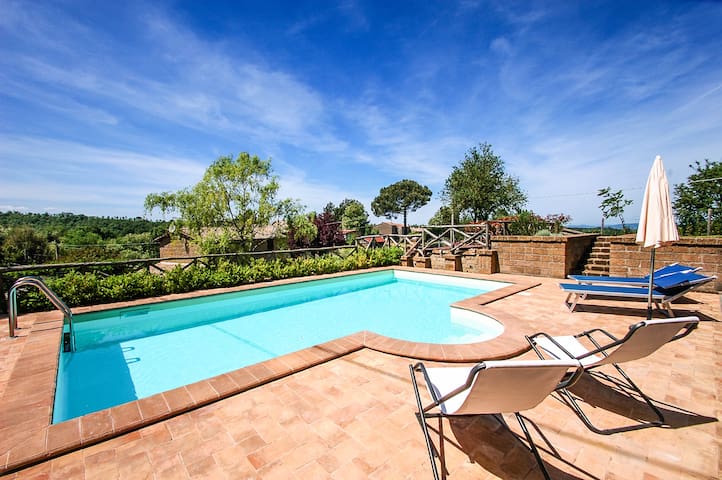 40 sm appartement in de structuur Lavanda & Rosmarino. Het is geschikt voor 2-4 personen, intiem, ideaal voor koppels of gezinnen met 1-2 kinderen. Gemeenschappelijke ruimtes: groot zwembad, barbecue, parkeerplaats, wasserij. 10 minuten. rijden van Orvieto
Maximaal comfort, vrede in het groen, gloednieuw. Het pension is geïntegreerd in het pand boerderij
Lavanda & Rosmarino ligt op een strategische (URL HIDDEN) buiten het charmante stadje Canale Nuovo, de gasten hebben gemakkelijke toegang tot winkels voor elke behoefte, van de legendarische Donatello, waar u de beste vlees die hij zelf produceert, bars, tabakswinkel, bazaar, en zelfs twee dames kappers kunt kopen
Had the best stay! Paolo is a great host, so kind and helpful. Our apartment was beautiful and had everything we needed plus the property is just stunning. Definitely will return.
Ashlee
2016-08-07T00:00:00Z
The host canceled this reservation 20 days before arrival. This is an automated posting.
Stefano
2015-12-10T00:00:00Z
Art der Unterkunft
Ganze Unterkunft
---
Objekttyp
Haus
---
Unterkunft für
2
---
Schlafzimmer
Orvieto, Umbrien, Italien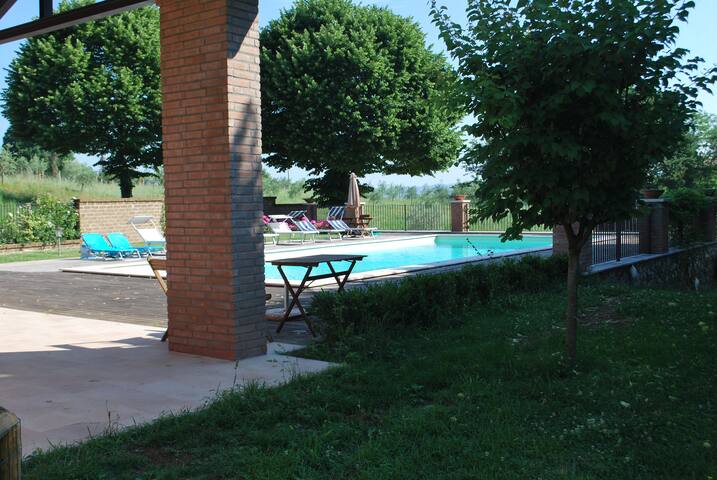 Haus liegt etwas außerhalb eines kleinen Anteils von Orvieto in der grünen Landschaft, zwischen Kastanienbäumen und Feldern. Orte für entspannende Spaziergänge
Stille, Ruhe und kühl, für einen erholsamen Zeit in den grünen Hügeln von Orvieto, einschließlich der Orte der künstlerischen Kultur, Essen und Wein. Das Haus bietet Platz für bis zu 6 Personen
Haus liegt etwas außerhalb eines kleinen Anteils von Orvieto in der grünen Landschaft, zwischen Kastanienbäumen und Feldern. Orte für entspannende Spaziergänge
Io che mi sono iscritta al sito alla fine non sono potuta partire. La mia collega e sua cugina sono rimaste molto contente della casa e pure della natura circostante, ovviamente, essendo un punto strategico per diverse gite sia nell'orvietano che verso il territorio laziale. La casa è molto graziosa, curata nei particolari e dotata di tutti gli accessori che possono essere utili durante il soggiorno e così evitare di portarli con sé.
Silvia
2016-03-31T00:00:00Z
Our family had a great time staying at Gulio's country house. It is a lovely country house with modern touches (I did not expect to find a microwave and a dishwasher in the kitchen, but they sure did come handy). The location is great, among quiet country side and close to Orvieto and other tourist destinations. Gulio is a great host and the house is well taken care of. Kids really enjoyed the green yard.
Aleksandra
2015-10-12T00:00:00Z
Il soggiorno è stato perfetto: Giulio è gentile e puntuale, attento alle nostre esigenze, cordiale e disponibile. L'abitazione è grande, calda in inverno, accogliente e completa di tutto il necessario, più i confort. Siamo stati in 6 amici + uno. Prezzo Conveniente, collegato con Orvieto. Perfetto per Umbria winter jazz fest
Francesco
2014-12-30T00:00:00Z
La casa si presta meravigliosamente per ospitare una famiglia! L'abbiamo trovata pulita e molto ben dotata degli accessori necessari sia in cucina sia in bagno sia nel locale soggiorno con a disposizione una serie infinita di film da vedere. L'ambiente è molto familiare ed accogliente, d'inverno ti invita più a stare in casa con il camino acceso che andar via a visitare le città vicine. Giulio è stato molto cortese e disponibile ad affidarci la sua casa. Sicuramente da consigliare ad altre famiglie. Grazie ancora Fabrizio.
fabrizio
2016-01-02T00:00:00Z
Art der Unterkunft
Ganze Unterkunft
---
Objekttyp
Haus
---
Unterkunft für
6
---
Schlafzimmer
Orvieto, Umbrien, Italien
La Casetta dei Nonni It is a completely independent apartment sits in a quiet residential area in the hills of Orvieto a few steps from the historic center of Orvieto and Civita of private parking Bagnoregio.Dispone.
La Casetta dei Nonni is located on two floors connected by a staircase (URL HIDDEN) first floor is the master bedroom and bathroom on the second floor luminossissimo a living room with sofa bed and kitchen.
Perfect location, and very clean and quiet apartment. Two minute walk from a great winery. Host was very friendly ad helpful. I will definitely recommend staying here to my friends.
Ben
2016-01-10T00:00:00Z
Persone fantastiche e gentilissime. La casa è molto bella e vicino ad orvieto.
Massimiliano
2016-02-15T00:00:00Z
Art der Unterkunft
Ganze Unterkunft
---
Objekttyp
Haus
---
Unterkunft für
4
---
Schlafzimmer
Orvieto, Umbrien, Italien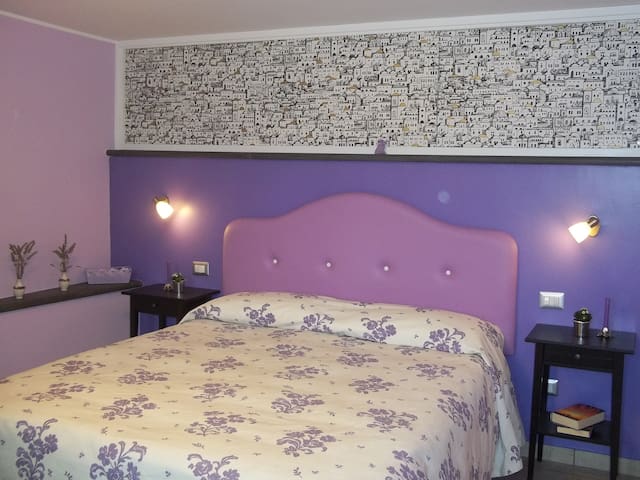 Deliziosa casa indipendente disposta su due livelli, cucina e soggiorno con camino al piano terra, camera e bagno al secondo. La casa affaccia interamente su Civita di Bagnoregio e la Valle dei Calanchi, ed ha tutti i servizi disponibili vicino!
La casa è situata in una via tranquilla e silenziosa; vicino alla farmacia, al forno, al bar, la posta e a tutti i servizi. Ottimi ristoranti a pochi passi da casa.
Lubriano è un piccolo Borgo di origini Etrusche di soli 900 abitanti. Si trova a 3km da Bagnoregio, 5km da Civita, a 13km dal lago di Bolsena, 15km da Orvieto e 30km da Viterbo.
The main photo tells about the main asset of this place, the view towards Civita di Bagnoregion is just great (in the evening). Beside that there is a good wide and comfortable bed. Raffaela answers fast and gives a warm welcome, a stay without Problem. Should you have problems operating your phone (edge...) it's an old house with thick walls, get it outside and you'll see the village has 4G. The Restaurant down the house is a good Option to dine and enjoy local wines without coming home concern.
Jean-Yves
2016-05-23T00:00:00Z
Location, casa e host da cinque stelle. Raffaela è stata una host impeccabile, flessibile, disponibile, premurosa. Dopo la nostra partenza ci ha persino chiamate per vedere se andasse tutto bene e ci ha consigliato dei posti da vedere nelle vicinanze. Casa piccolina ma accogliente, e poi la vista... Penso la vista migliore di fronte alla quale potersi svegliare. Tutto consigliatissimo, dalla location, alla casa, alla host. Grazie mille ancora Raffaela, se mai torneremo in Toscana io e le mie amiche soggiorneremo di sicuro da te!
Francesca
2016-08-19T00:00:00Z
La casa de Rafaella es muy cómoda y amplia. Esta ubicada en la entrada de Lubriano a pocos metros del mercado panadería y farmacia. Posee una vista hermosa de civita Di bagnoregio desde la habitación. Ella es muy amable y servicial. Pese a que se retrasó el vuelo y llegamos mucho más tarde de lo previsto fuimos calidamente recibidos. Fue una estancia hermosa y esperamos volver pronto.
Sergio
2016-06-09T00:00:00Z
Raffaella è stata gentile e disponibile. La casa accogliente e pulita. La vista dalla finestra è fantastica e la strada silenziosa nel centro del paese. Siamo stati benissimo. Speriamo di ritornare presto. Grazie di tutto. Luca, Cristina e Maria Cristina e...Otto (cane)
luca
2016-09-25T00:00:00Z
Raffaella è stata un host molto gentile e cordiale. L'accoglienza è stata calorosa e la casa è deliziosa per una coppia, situata in una posizione strategica con vista panoramica sulla valle dei calanchi e Civita di bagnoregio. La raccomando vivamente.
Massimo
2017-01-04T00:00:00Z
We had a wonderful stay here and the view out the window was unbelievable! We felt welcome immediately and had all our need s met! Close to many beautiful locations such as Orvieto ect. We loved our stay and even extended it!
lual
2016-10-07T00:00:00Z
This place is exactly as described. And an incredible view in the morning to wake up to.
Paul
2016-09-24T00:00:00Z
Amazing view and comfortable lodging. Raffaela was very flexible on meeting us, and everything was clean and comfortable. Highly recommended that you wake up to watch the sunrise from the porch.
Jay
2016-10-04T00:00:00Z
Art der Unterkunft
Ganze Unterkunft
---
Objekttyp
Haus
---
Unterkunft für
2
---
Schlafzimmer
Lubriano, Latium, Italien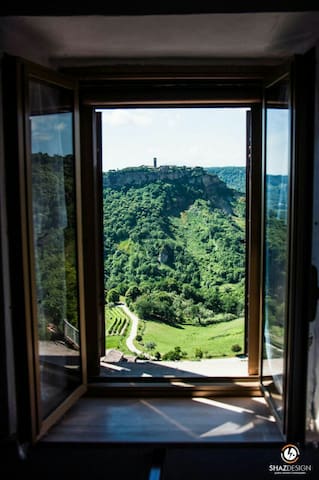 Art der Unterkunft
Ganze Unterkunft
---
Objekttyp
Haus
---
Unterkunft für
16
---
Schlafzimmer
Orvieto, Umbrien, Italien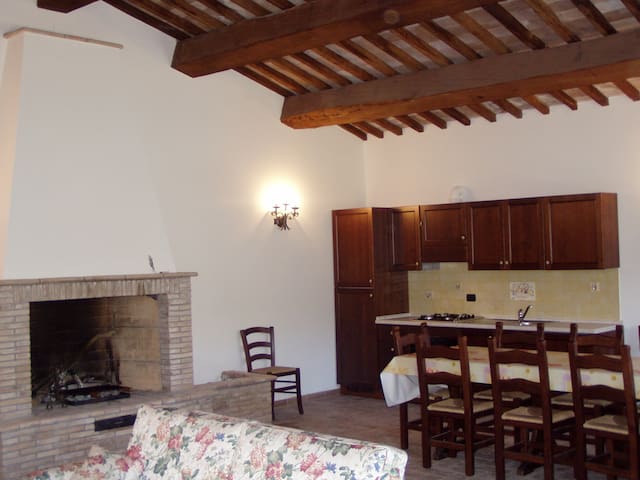 La casa è a poca distanza da Civita di Bagnoregio, Orvieto, Parco dei Mostri di Bomarzo e il Lago di Bolsena Ti piacerà la comodità del letto, la vista mozzafiato dei Calanchi la cucina locale e i vini. La casa è adatta a coppie, famiglie e gruppo di amici.
The apartment, up to 4 people, has old style interiors with wooden ceilings and cotto floors. This house for rent is on 2 levels. The entrance is from the Tower square in the center of the village in the very heart of Lubriano tiny streets. From cross the road a terrace with a view over a unique Italian landscape: Civita di Bagnoregio, the extraordinary village with a striking position atop of a volcanic tuff mountain, reachable only through a bridge by walk. The apartment is composed of a very conformable living room is enriched by a fireplace (try it in winter, enjoying a glass of red Italian wine). One sofa, a wooden table for 4, a bookshelf, an old stile plate rack and a vine storage, the wooden ceiling contribute to create the old village lifestyle atmosphere. Next to the living room, the small kitchen is well equipped. From the living room, a wooden stair leads to the second floor, where the bedrooms are. The doubled room is very spacious, tasteful and refined, with a sophisticated atmosphere. It features a king size double bed, a charming drawer, a desk with chair, a wardrobe and a conformable leather reclinable armchair. On the same floor, another quiet living room with cotto floor, is furnished with 2 single beds, drawers
Lubriano is a nice historic village in Bolsena Lake countryside, at the border of Lazio, Umbria and Tuscany. The unique view of Civita di Bagnoreggio and the Calanchi valley made it an unparalleled holiday destination in Italy, being close to Rome (1 hour 1/2 driving), surrounded by spectacular art cities, as Orvieto and Todi, natural hill's countryside with olives trees and vineyards, the Bolsena Lake (largest volcanic lake in Europe) and the Tiber River Valley, and many spots to taste good Italian wine and food. Also the spiritual and religious history, with Etrurians, Romans and Medieval Catholic imprinting, gives to the place an incredible atmosfere.
casa bellissima, caratteristica, pulita, luminosa e a pochissimi passi da Civita di Bagnoregio. proprietari gentili ed onesti. tutto secondo le aspettative. consiglio vivamente di soggiornare in questa casa.
Emanuela
2016-08-01T00:00:00Z
Localizated in small town that is great access point for visit Civita, great views of Civita cliffs across the valley. House is beautiful old stone house in the town center. Hosts were very nice and helpful. Great experience.
Seon
2016-09-08T00:00:00Z
Great spacious apartment in the centre of Lubriano in a characteristic building in the old town. We found everything warm, clean and comfortable. Grazie
Alice Kiandra
2016-12-30T00:00:00Z
Awesome stay. Very cozy and comfortable. Big bedroom master.
Alain
2017-03-20T00:00:00Z
L'appartamento è molto carino, l'abbiamo trovato pulito e accogliente per non parlare dell'ubicazione. Lubriano è a dir poco perfetta per la vista su Civita di Bagnoregio.
Andrea
2017-02-27T00:00:00Z
La casa è bellissima e porta molto bene i suoi 400 anni. Anche Lubriano è un paese affascinante. Notevole è il panorama sulla valle dei Calanchi e Civita. Claudio e sua moglie sono stati molto gentili e disponibili. Peccato che il soggiorno sia stato molto breve in quanto i posti da visitare nei dintorni sono molti. Un esperienza da ripetere.
Ivan
2016-09-05T00:00:00Z
Un posto fantastico!
Serge
2016-10-10T00:00:00Z
Lubriano è un paesino piccolo ma vivace e interessante con vista super panoramica. La casa è proprio antica e accogliente.
stefano
2016-12-26T00:00:00Z
Art der Unterkunft
Ganze Unterkunft
---
Objekttyp
Haus
---
Unterkunft für
4
---
Schlafzimmer
Lubriano, Latium, Italien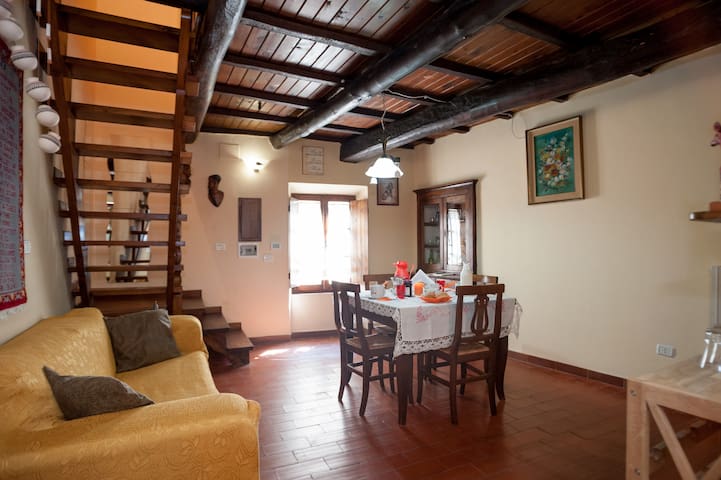 Civita - Airbnb
:
Durchschnittlich

4.56

von

5

Sternen aus

107

Gäste-Bewertungen