Beautiful barn home at the foot of Massanutten Resort with gorgeous view of mountains, movie theater in basement, pool table, hibachi grill, large decks, fire pit, large patio, spacious rooms, fireplace and within 10 minutes of four season resort.
This unique home is not only used as a vacation rental but also a wedding venue. The barn home offers two master suites with queen-sized beds, two rooms with two twin beds in each and a large basement with sleeper sofa so the home will comfortably sleep 10 guests. The home offers a large deck overlooking the mountains with an inclosed portion which contains a hibachi grill. The basement offers a movie theater style TV with a pool table and board games to entertain guests of all ages. The main floor offers an open floor plan with a large family room area with gas fireplace and large kitchen. The back of the home offers a large patio with fire pit perfect for a relaxing evening.
Our location is unique and perfectly placed with easy access to nearby activities, yet located in a quiet rural community to ensure you will have a peaceful stay. We are just a few minutes from the Massanutten Resort offering a variety of activities to include skiing, snow tubing, water park, ice skating, horseback riding, zip lines, art classes, hiking trails and a golf course. We are just twenty minutes from the City of Harrisonburg offering a variety of shopping and dining options. The Shenandoah Valley also provides various vineyards, historic sites, hiking trails, water access points for fishing and scenic views. We are ten minutes from Skyline Drive!
Laura was very friendly and greeted upon arrival! Overall stay was great and Laura was available for any questions or concerns. Definitely will consider coming back and the Barn is Beautiful!
Seth
2016-01-17T00:00:00Z
LOVELY home with fantastic amenities for entertaining.
Heather
2017-02-26T00:00:00Z
Laura was extremely helpful when we were prepping for our trip! She answered questions quickly via text and email. The house has gorgeous views and lots of space. The house was actually bigger than what we thought it would be from the pictures. Very close to Massanutten which was awesome!!! Great location for what we wanted to do. May request to stay again for a JMU game. The house was stocked with the basics. Thanks for a great stay.
Christine
2016-02-14T00:00:00Z
My friends and I stayed at the barn for a long weekend and had an amazing time. The house is huge and beautiful, and Laura and her husband were very welcoming, easy to communicate with, and flexible. We would definitely come back.
Kelsey
2016-05-31T00:00:00Z
Great home....Laura and David were so easy to work with when planning our trip. Super close to Massanutten for skiing, tubing and the water park.
Katharin
2017-01-02T00:00:00Z
We had a perfect weekend. Laura's house is beyond beautiful. The house is huge and upscale. The views of the mountains,fields, and cows, were breathtaking. I stayed at the house with some girlfriends and our daughters. Massanutten is about a mile away. The location of the house was perfect. The property is also used for weddings. I would highly suggest getting married here.
Jennifer
2017-01-16T00:00:00Z
We stayed over President's Day and had a great time! The house is so beautiful and comfortable. The downstairs movie room was amazing! We built a fire in the backyard fire pit. Views are amazing as well. It's about 5 minutes from the Massanutten resort and a 15 minute drive to the Shenandoah Mountain National Park entrance.
Grace
2017-02-20T00:00:00Z
Laura's home is remarkable. The view is impeccable and I would stay again in a heartbeat. 10/10.
Patrick
2017-02-05T00:00:00Z
Art der Unterkunft
Ganze Unterkunft
---
Objekttyp
Haus
---
Unterkunft für
10
---
Schlafzimmer
Elkton, Virginia, Vereinigte Staaten
Beautiful cozy home with views of the mountains including cycling and hiking trails from master bedroom. We are minutes away from Skyline Drive! This home features 3 bedrooms and 1 1/2 bathrooms. Let us know if you would like to know more about our special accommodations for cyclists! Our home can sleep up to 7 people. Sit by the fire pit at night for a little outdoor relaxation and warmth.
This is our family weekend home. You will find that it is cozy and perfect for a trip to enjoy the Shenandoah Valley! We love to recycle and repurpose so if you are looking for a family fun spot, this is it. We appreciate each little gift that we have in our moments together as family. We spend our time outside enjoying the Shenandoah Valley and rest easy in the comfort of our home. You can see the mountains surrounding and sunrise and sunsets are our favorite part of the day!
We are minutes from the entrance of skyline drive! Take a hike, a bike tour or a drive! We love being minutes from Massanutten without the crowds and resort fees.
This house was perfect for our group of 5 to stay in the Massanutten area for our friend's wedding. We loved being able to unwind in the living room after the festivities and it felt a lot more relaxing than staying in a hotel would have. Our friends' 4-year old thought it was my house, which I think is a good example of how homey and welcoming it is!
Amy
2016-10-09T00:00:00Z
Stayed one night with my wife and friends. We went horseback riding and this home was 15 minutes away from the ranch. We were able to check out Jenny's recommendations and fell in love with Ciro's. Will come back soon!
Nick
2017-03-12T00:00:00Z
This AirBNB in Elkton, VA was a great location for a place to rest after a day on Skyline Drive (only a few minutes away). It was a large clean space that truly reminded you of your own home. The house provides a fully stocked kitchen if you were staying for an extended period of time. They also gave advice on local places to eat. We didnt get an opportunity to use the outside firepit, but there was one, which could be really nice on a fall evening! This is nothing against the property---but there is a lot of train activity in the area--so if you're not use to trains using their horns--you may get woken up. Also, keep a snapshot of the what the house looks like because the GPS takes a bit further away. The Wifi was a great bonus! Overall, this house was fabulous and Jenny was very quick to respond to any messages! I would love to stay here again!
Elizabeth
2016-10-04T00:00:00Z
The house is located about 10-15 minutes to Massanutten Resort. We came for a girls weekend of snow tubing. Entering the house at night was a little scary, as there was no light. However, once inside the house is exactly like the pictures. We had a great weekend and loved how Jenny provided wifi, apple tv, and kitchen supplies. One bonus is the hot water!! 6 girls were ALL able to take a shower and there still be hot water!! We had a great weekend at Jenny's!
Phaedra
2017-01-29T00:00:00Z
Great place, communicative host.
Ran
2016-08-14T00:00:00Z
Found this lovely little gem while searching for a place to park family for our country wedding! House was delightful - easily accommodated 6 and was perfectly located for all events and activities. Jenny was great about feedback and our family adored the home-like stay! If you want to be near the Shenandoah National Park and Massanutten - but not in them - this is a perfect family spot!
Jenn
2016-06-27T00:00:00Z
Cozy, well-located to the Shenandoah and wineries. Everything you need to cook is there for you.
Nick
2016-10-23T00:00:00Z
My family of 5 stayed here 2 nights while on a cross country road trip. The house is very close to all the great restaurants that Jenny recommended and the grocery store. We were more than comfortable in this adorable home! We sat on the front porch and watched a storm roll in; we sat on the back porch and watched fireflies dance . It was better than home! When we weren't relaxing in the house, we were hiking on the Appalacian Trail. From the house, it was only a 10-15 minute drive to the amazing Shenandoah National Park, where we hiked and played in a waterfall all day! I can't wait to visit again!
Natalie
2016-08-04T00:00:00Z
Art der Unterkunft
Ganze Unterkunft
---
Objekttyp
Haus
---
Unterkunft für
7
---
Schlafzimmer
Elkton, Virginia, Vereinigte Staaten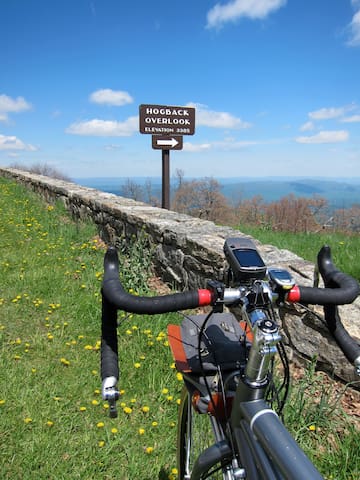 Our home sits on 43 acres, has 77 windows & many porches to enjoy the expansive view of Massanutten, the Shenandoah River & the Blue Ridge Mountains! The yard is equipped with a gunite pool and hot tub, plus horses & cows grazing in the pasture. Convenient location to everything! We are 1 mile from Massanutten 4 season resort (Spa, water park, zipline, golf, horseback, miniature golf, skiing, tubing & ice skating), 10 min to Harrisonburg, 15 min to the National Park & 40 min to Charlottesville.
Inside you will love the kitchen, Large but cozy Den, Parlor for a touch of the piano or to sit and read a book, etc.. There are four levels. 1st Floor, 2nd floor, wide staircase leading up to the huge attic and walk out basement w/ 10' ceilings and full windows.
Art der Unterkunft
Ganze Unterkunft
---
Objekttyp
Haus
---
Unterkunft für
16
---
Schlafzimmer
Elkton, Virginia, Vereinigte Staaten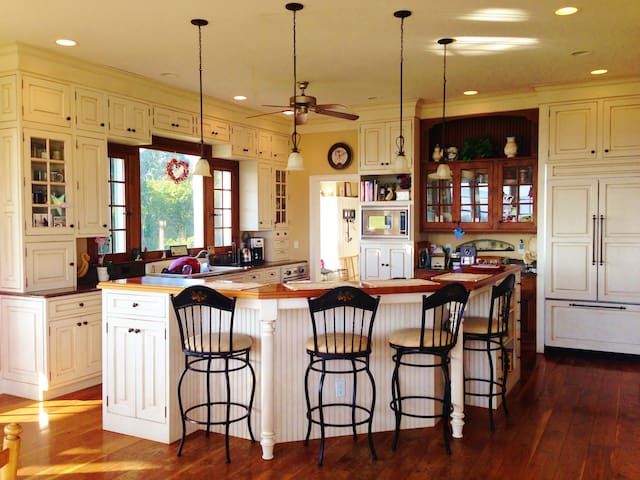 1

–

3

von

3 Ferienhausvermietungen
Gib deine Reisedaten ein, um den aktuellen Preis zu sehen. Es können zusätzliche Gebühren und Steuern anfallen.