Departamento de estreno con 80 mts2 Ambiente tranquilo y sin bulla. Buena ubicación cerca a la plaza central. * Sala, Comedor, 2 Dormitorios, lavandería y cocina TOTALMENTE AMOBLADOS. * Cuarto principal tiene baño propio y cama Queen. * Baño para visitas. * Lavandería con lavadora y secadora. * Espacio para un pequeño estudio. * Therma * Piscina, área de parrilla y juegos para niños en área común. * Cochera * ascensor para 4to piso. * Balcón fuera de la sala. * Vigilancia las 24 horas.
Art der Unterkunft
Ganze Unterkunft
---
Objekttyp
Wohnung
---
Unterkunft für
4
---
Schlafzimmer
Chaclacayo, Peru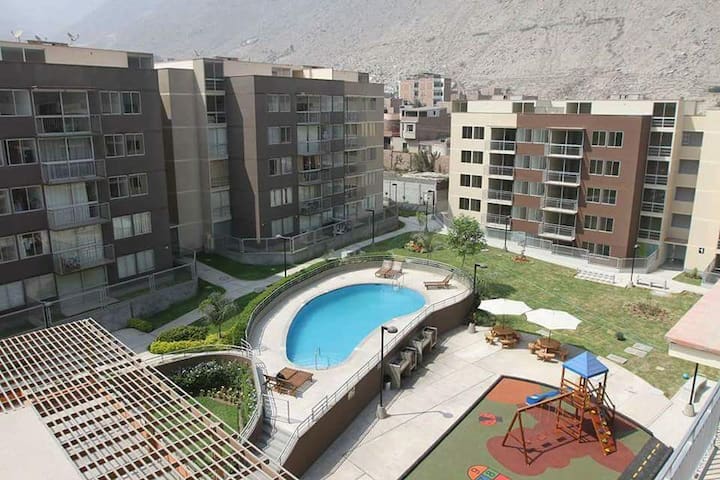 Sol todo el año y muchas áreas verdes cerca a Lima. Encantador departamento totalmente amoblado de 115m2 -primer piso- que se encuentra en exclusivo Club House (piscinas, canchas de Futbol, Basquet, Tenis, Fronton, amplia zona de parrilla y lago)
El interior del departamento está en perfecto estado y es muy acogedor
Vecindario exclusivo (Club House) y tranquilo. Muchas áreas verdes para disfrutar del sol, la naturaleza y realizar diversas actividades (parrillas, partidos de futbot, tenis, fronton, basquet, voley, nadar en la piscina). También pueden entrar en pequeños barcos a una laguna llena de vida (peces, ganzos, patos). A 2 cuadras del departamento está la zona comercial, capilla y posta médica.
The property is located on a family oriented community which worked really good for us, the kitchen has everything if you plan to cook everyday like we did. We really enjoyed the house. Javier was friendly and nice during the transaction, he even gave us a ride to a place to eat after we picked up the key. Thank you for letting us stay over.
ELY
2016-07-30T00:00:00Z
Nos sentimos como en casa, la ubicación de la vivienda y la comodidad dentro de ella fueron excelentes, un lugar muy tranquilo y seguro.
pilar
2016-05-23T00:00:00Z
El dpto es amplio. La zona es tranquila.
Patty
2016-08-13T00:00:00Z
Art der Unterkunft
Ganze Unterkunft
---
Objekttyp
Wohnung
---
Unterkunft für
5
---
Schlafzimmer
Chaclacayo, Lima, Peru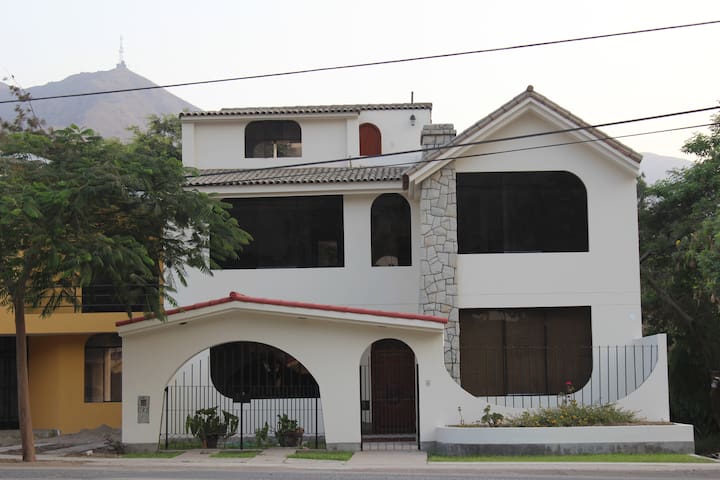 Linda und Übungsraum in einer Wohnung in einem Wohngebiet. Es hat Zugang zu einer Terrasse, Küche und Waschküche. Die Küche nur für das Frühstück, andere Optionen mit dem Host zu koordinieren. Die Wäsche ist für die Verwendung einmal pro Woche, zusätzliche Koordination. Es verfügt über Internetzugang.
Unsere Wohnung befindet sich in einer ruhigen Wohngegend und sehr sicher gelegen. Nähe können Sie Busse oder Taxis nehmen. Ebenfalls in der Nähe Sie Unterhaltungsmöglichkeiten, Supermärkte und Geschäfte. Sie finden einen Park für diejenigen, die Sport mögen.
Es ist ein Wohngebiet, in dem einige Banken, Supermärkte und Einkaufszentren befinden. Für diejenigen, die tanzen zu gehen, mögen auch 15 Minuten sind Spaß Versicherung Orte.
When I arrived at the airport Fany had already waiting for me! When I arrived at her house she had directions, wifi passwords and maps all prepared for me! She walked with me at night to ensure I had a grasp on where I was! After spending a week with her family I now feel like I have a family of my own in La Molina Peru! Her sons and husband made me feel welcome and helped me in any way possible! Fany's sister Marible showed me different parts of Lima and was a very beautiful and unexpected surprise! I highly recommend anyone that visits Peru to stay with Fany and her family! I already can't wait to visit and stay with them again! Muchas gracias
Pete
2015-11-23T00:00:00Z
Fany was very welcoming and helpful. The whole family made me feel like a part of the family. They all could speak some English so that was very helpful as well. The neighborhood was very nice and safe.
菲
2016-09-02T00:00:00Z
Great experience in Lima. Fany and her family made us feel at home. The place is just as in the photos. Perhaps you have to add to your travel budget a few soles for move to historical Lima, Miraflores or Barranco (20 ~ 25 per trip). The neighborhood where is Fanny's place is really quiet and residential, you can get good restaurants near to it, just ask to Fany or her family, they are always attentive to what you can need.
Gilberto Andres
2017-02-26T00:00:00Z
Fany fue una excelente anfitriona, es extremadamente amable. Siempre estuvo pendiente de nosotras y nuestras necesidades, estuvo a punto de no llegar el taxi que nos llevaría al aeropuerto y ella se comunicó con el taxista varías veces para presionarlo, gracias a eso no perdimos el vuelo
Mariana
2016-06-05T00:00:00Z
Fany is a great host, she provided me with anything i needed and helped me if i needed, she made me felt like home. The neighborhood is very calm and the house is near one big avenue that passes buses that can take you to one of the central parks of lima, the park kennedy. The trafic in lima is a little bit complicated and it takes a time to understand how the buses work, but Fany was always trying to make me understand how it was and teaching me how to use them. She worries a lot with her guests, one day i came home a little bit later than usual and she called me to see if everything was ok. That and many other things classified my stay as perfect.
Gabriel
2015-09-12T00:00:00Z
Fanny una anfitriona de lujo!!! Muchas gracias.
Marice
2016-01-08T00:00:00Z
Very nice and friendly family! The room is clean and cozy... near to many restaurants and park... highly recommended!
Rayan
2017-01-04T00:00:00Z
Fany nos recibio con los brazos abiertos desde un inicio. Su alojamiento es confortable pues esta ubicado en un sitio tranquilo y sin ruidos. Siempre nos apoyo en todo momento para sentirnos protegidos e hizo todo por ayudarnos. Recomendamos el alojamiento de Fany (para 1 persona sola de preferencia). La calidad de recibimiento de Fany fue excelente, es una persona muy amable y sonriente.
Sheena
2016-12-10T00:00:00Z
Art der Unterkunft
Privatzimmer
---
Objekttyp
Wohnung
---
Unterkunft für
2
---
Schlafzimmer
Lima, Lima, Peru
It is a well-lit cozy apartment, located close to bus stations (stops), local trade, main avenues, universities, etc.
It is a safe area, and with much access to trade.
Art der Unterkunft
Privatzimmer
---
Objekttyp
Wohnung
---
Unterkunft für
1
---
Schlafzimmer
Lima, Peru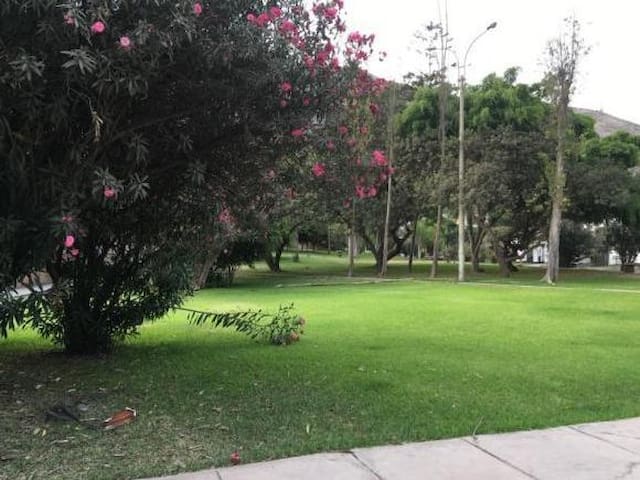 It has about parks and green areas. Terrace overlooking the Polo Club, full of green areas. Many restaurants typical and international food. . You'll love my space because it is located in a residential neighborhood in a very quiet and safe, full of parks and green areas district. The room is comfortable, to relax or work. - Very close to restaurants, menus, banks, exchange houses, shopping centers and supermarkets.
Art der Unterkunft
Privatzimmer
---
Objekttyp
Wohnung
---
Unterkunft für
1
---
Schlafzimmer
Lima, Peru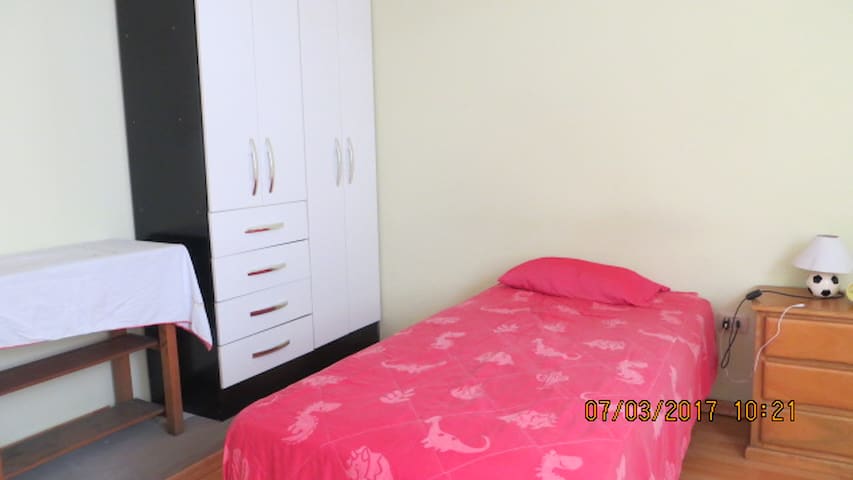 Our wonderful 3 bedroom apartment will guarantee an exceptional stay. This lovely place is centrally located, close to Jockey Plaza and facing Club Golf Los Incas. Enjoy the view!
Outstanding View to Golf Los Incas.
Lots of green areas and fresh air away from pollution.
Amazing host and amazing place highly recommended!
Josue
2016-07-10T00:00:00Z
Lindo apartamento, muy grande, con una cocina amplia y una vista bonita de Lima. En el piso 4 hay un gimnasio y para pedir las cosas hay un delivery. Sebastian muy educado y dispuesto a ayudar.
Ximena
2016-02-04T00:00:00Z
The apartment at Cerros de Camacho is simply spectacular! Confortable, very big, modern and with a view of the city of Lima second to none. Security people were polite and attentive. I'm recommending it to my friends with no doubt they will enjoy it as much as we did. I'll definitely comeback.
Enrique
2016-04-15T00:00:00Z
Sebastian welcomed us warmly and was very punctual; the flat is really convenient, very large and has an amazing view. We were a family of 4 with many suitcases (14!) and it was an excellent option for us, with plenty of room.
fanny
2015-11-15T00:00:00Z
Sebastián fue muy amable y atento en todo momento. Envió información precisa del apartamento y preparó muy bien todo. El apartamento es genial. Amplio y con una linda vista del Golf y el área alrededor. La decoración y equipamiento del apartamento son más que suficientes para una estadía corta y probablemente una más larga. El edificio es muy cómodo y seguro. En resumen, la estadía resultó mucho mejor de lo esperado. Si se presenta la oportunidad, lo tomaría de nuevo.
Juan de Dios Roger
2015-04-12T00:00:00Z
This is the second time we stay at Sebastian's place. We were playing a tournament at the golf course. The location was perfect. It is also extremely nice.
Michael
2016-10-24T00:00:00Z
Great apartment at a great price. Thoroughly enjoyed my stay there. Sebastian was attentive and helpful throughout the stay.
David
2015-10-20T00:00:00Z
Excellent!
Collin
2017-02-03T00:00:00Z
Art der Unterkunft
Ganze Unterkunft
---
Objekttyp
Wohnung
---
Unterkunft für
6
---
Schlafzimmer
Lima, Lima, Peru
Lindo departamento ubicado en una zona céntrica, La Molina. Puede encontrar restaurantes, estación de gas, Universidades, institutos, colegios, tiendas, etc. Esta a dos cuadras de la principal av. Javier Prado, donde podrás encontrar todos los buses públicos que te lleven a todo Lima ! en cualquier momento del día. El departamento esta completamente amoblado, no necesitas traer nada! solo tus accesorios y nada mas ! =)
Un departamento exclusivo!
La zona es muy tranquila y céntrica para tomar cualquier bus que te lleve a cualquier zona de Lima. Tienes dos supermercados y muchos restaurantes de buena categoría.
Art der Unterkunft
Privatzimmer
---
Objekttyp
Wohnung
---
Unterkunft für
3
---
Schlafzimmer
Lima, Lima, Peru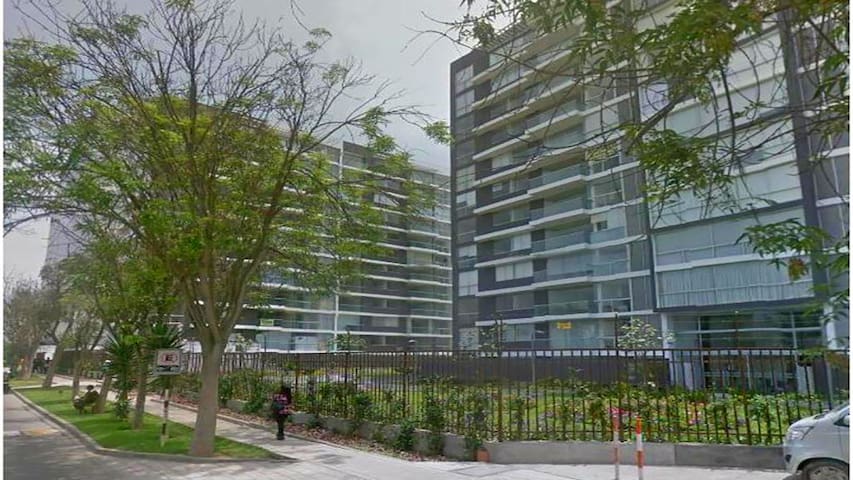 El alojamiento es perfecto para estudiantes de CENTRUM, ESAN, UPC, llevo recibiendo estudiantes desde 2012. Privacidad, áreas verdes, centros comerciales cercanos, Centrum esta a 300 metros puedes ir a pie saliendo del edificio al lado derecho, Esan y UPC se encuentra a 1000 metros bordeando el lado posterior de la Universidad, saliendo del edificio al lado izquierdo.
Privacidad en su habitación, cuenta con una cama, mesa para PC closet, canasta para ropa sucia. Se proporciona dos juegos de sabanas para recambio y cobijas. Las habitaciones tienen luz y ventilación natural, cuenta con cortinas black out. Se le entrega una llave de su dormitorio.
Zona con Areas Verdes, vigilancia permanente
Art der Unterkunft
Gemeinsames Zimmer
---
Objekttyp
Wohnung
---
Unterkunft für
2
---
Schlafzimmer
Lima, Lima, Peru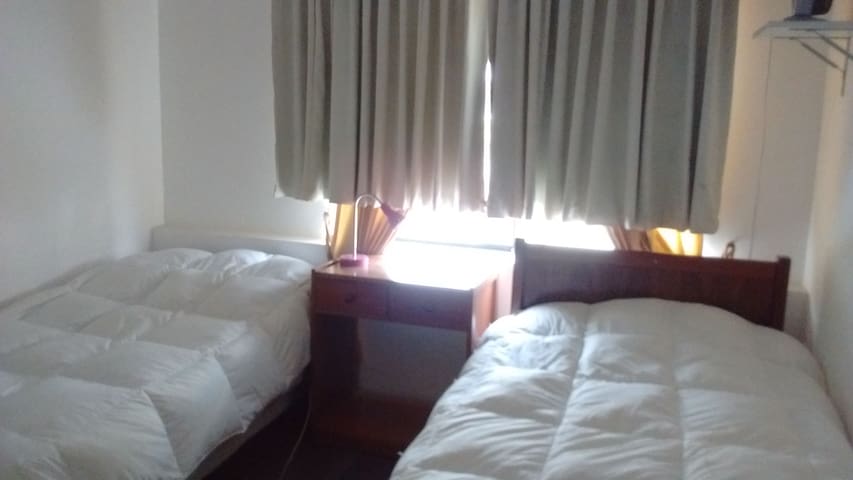 Eine schöne Wohnung im ersten Stock in einem schönen und sicheren Nachbarschaft mit 2 Standard-Zimmer, Küche und Service-Bereich, in unmittelbarer Nähe zu öffentlichen Verkehrsmitteln und die Straße überqueren, ist die Jockey Plaza (Die größten und wichtigsten Einkaufszentrum in Lima) und in der Nähe zu wichtigen Bürogebäuden. Wir bieten Ihnen alle Informationen, die Sie benötigen könnten. Jeder Willkommen!
Einige feets von de Wohnung ist "Javier Prado Avenue" die größte und wichtigste Straße in Lima (geht von Osten nach Westen) und ein paar Blocks ist "Trebol de Javier Prado" (geht nach Norden nach Süden)
Art der Unterkunft
Ganze Unterkunft
---
Objekttyp
Wohnung
---
Unterkunft für
6
---
Schlafzimmer
Lima, Peru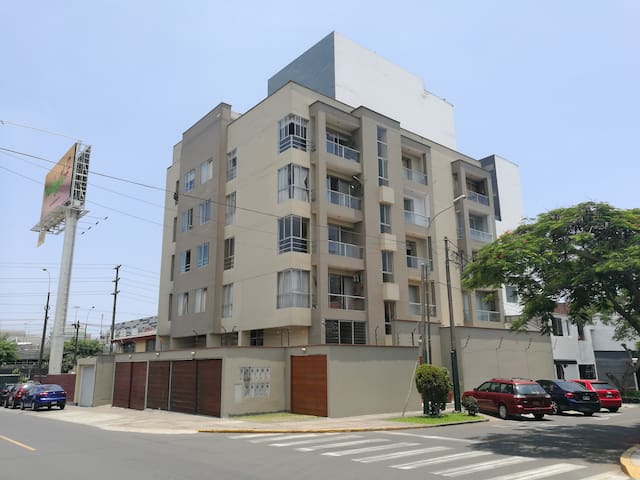 The apartment is a very nice place, Located in a savety neighborhood.. and near to the center of entertainment in lima. Ideal for family or group os friends that want to meet the amzing things, food of Perú.
Art der Unterkunft
Privatzimmer
---
Objekttyp
Wohnung
---
Unterkunft für
3
---
Schlafzimmer
Lima, Peru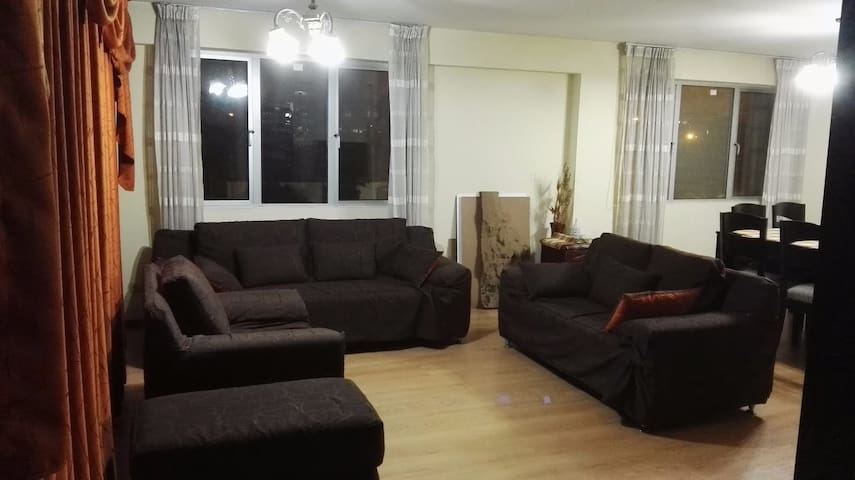 Room in shared apartment in secure condominium and in a good area of Lima. The department is close to the US embassy, gold museum, ESAN, PAD Piura, UPC. The room is small and has closet, separate bathroom. Recommended for short stays.
Safe and quiet apartment in condominium. Common areas: living room, kitchen, refrigerator, washing machine, wifi throughout the department.
residential area close to banks, shopping center, gold museum, jockey plaza, US Embassy, universities (UPC, ESAN, Piura PAD)
Alojarme en el apartamento de Pamela ha sido genial!. Es un espacio bonito, limpio y organizado. Un conjunto de apartamentos agradable y seguro. La habitación cómoda para los días que estuve, contaba con un closet de adecuado tamaño para poder acomodar mi ropa y una cama muy comoda. La zona es una zona segura, uno sale a caminar a la calle y no siente temor pues es un lugar tranquilo. El apartamento esta ubicado estratégicamente, pues a pocas cuadras caminando queda un supermercado, una plaza de mercado en donde encontré un excelente ceviche, frutas de todo tipo y otras cosas que me encantaron!. Si les gusta caminar pueden llegar al jockey plaza en aproximadamente 20 minutos, lo cual sugiero pues la ciudad es un caos con tantos vehículos, además de que los taxistas son careros y en algunas ocasiones groseros con los pasajeros, recomiendo antes de montarse al taxi preguntar a dónde vas y negociar el precio. En aproximadamente 5 cuadras encontré la avenida principal en donde se puede tomar bus para ir a cualquier zona de la ciudad. Aunque mi viaje fue de negocios, me tomé un día mas para conocer la ciudad y conte con la suerte de que Pamela me diera un tour en bus al Santuario Arqueológico De Pachacamac ubicado a 40 minutos de la zona, de regreso me llevo a una plaza de mercado en donde encontre una comida criolla deliciosa y finalmente me acompaño a comprar algunos recuerdos para mi familia y negocio con el taxista que me llevo al aeropuerto. Definitivamente muy recomendada la experiencia de hospedarme en el apartamento de Pamela. Me llevo una buena imagen de Perú y una nueva amiga :). Lo único que no me gusto, fue el cielo de Lima... Siempre esta gris :(
Catalina
2016-06-04T00:00:00Z
te recomiendo
Eunji
2017-01-29T00:00:00Z
Despite major toilet and shower problems, the room and the apartment were great, well located (if you want to stay in Surco) and in a safe condo.
Davi
2016-06-24T00:00:00Z
Pamela, es muy cordial, amable y dispuesta a orientarte en lo que quieras. Lástima que la habitación es pequeña, creo que esta bien para estadías de pocos días ( cortas )con poco equipaje, yo tuve full me resultó pequeña. La zona es tranquila , me ubique muy bien.
Edith
2015-09-20T00:00:00Z
Muy buena experiencia Pam se preocupó en todo momento de que mi experiencia fuese grata. Una gran anfitriona y totalmente recomendado el lugar!!
Pablo
2016-09-30T00:00:00Z
Muy atenta para la instalación y guía por los lugares cercanos para comprar y conocer el distrito. El complejo departamental es muy seguro y la gente amable.
Eréndira
2015-10-04T00:00:00Z
Good place. Well located, specially if visiting La Molina, Surco o eI El Polo.
Nora
2016-08-13T00:00:00Z
Prior to my arrival Pam has been helpful in arranging for safe transportation to her place on my behalf. Smooth check-in and check-out. The room and bathroom are very small. I stayed a week and luckily I had few clothes with me as the space is limited. Due to the room's size the closet door does not open fully. The location is convenient if you are going to the Jockey Centre for an Expo etc. If you are coming to tour Lima then it usually takes 35-45 min to get to the 'tourist' areas by taxi.
Dorota
2015-08-31T00:00:00Z
Art der Unterkunft
Privatzimmer
---
Objekttyp
Wohnung
---
Unterkunft für
1
---
Schlafzimmer
Lima, Lima, Peru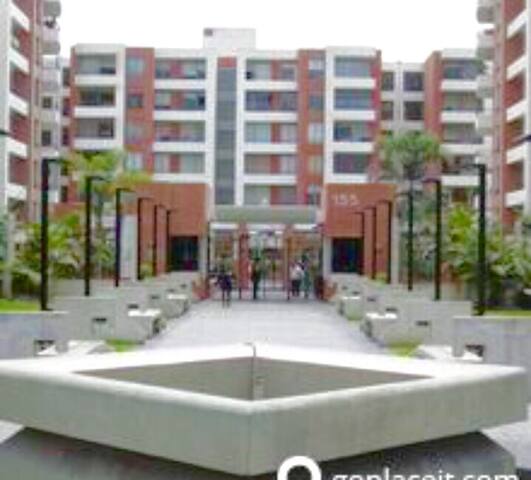 Full equipped and nicely furnished flat. Located at quiet street with permanent safeguards at both entries of the block. All of the comforts of home in the best Eco Friendly District.
Accès facile et rapide (5 minutes en voiture) aux principaux endroits comme Tottus (Av. La Fontana) et Supermarchés Vivanda (La Molina Av, près de Molicentro) et Moliplaza Shooping Center (Raul Ferrero Av) avec de grandes options de restauration. o Brujas de Cachiche, Bravo Restobar, Nanka, etc. o Don Ignacio, Kintaro, O MEI, El Hornero, meilleur Cevicherías (Segundo Muelle, Punta Sal, Señor Limón), à proximité de Javier Prado et La Molina Avenue.
I highly recommend!!!!! I had the most wonderful stay with at this apartment. Mari is a great host, friendly, and sincere. Her English is excellent and showed me everything I needed. She made me feel welcome from the beginning. This apartment has everything you will need including a small laundry. This apartment is on a very safe street with security. I never felt in danger and perfectly safe. The apartment is beautiful with wood cabinets and floors. You will simply love this place. Thank you Mari
Thomas
2016-09-19T00:00:00Z
Thanks for everything Mari. The place was great and we appreciate all your help while in Lima. Awesome spot!!
Daniel
2016-10-24T00:00:00Z
Excelente departamento, muy buena atención de la dueña y su familia, ayudan hasta en el mínimo detalle. La ubicación y seguridad muy buenos.
Vilma
2017-02-02T00:00:00Z
We had a marvelous time in Peru visiting family and learning about Lima, the city they live in. In years past, when attending meetings for my job, I learned that when the food was good, the meeting was considered a success. NOW in my first international travel, I learned that when the accommodations are good, the trip is a success. Before beginning the day with our two beautiful grandbabies, we spent our early mornings cooking breakfast, drinking coffee, and chatting before visiting our family, the parks, the markets, the restaurants, and experiencing the "exhilarating fun" of Lima traffic. When late evening came, we had this beautiful and relaxing, quiet apartment to return to. One thing I particularly liked was that the apartment is the first one in the building and we were able to park right at the door. Mari provided more than advertised. She was accommodating, willing to answer questions, and help in any way she could. She was a delightful person to meet and speak with(URL HIDDEN)
Gay
2016-05-19T00:00:00Z
Departamento muy bacano, una buena recepción por la hermana de la anfitriã muy amable voy volver más vezes
Fabio
2017-01-23T00:00:00Z
Muchas Gracias Mari por la gran atención, muy cómodo el departamento y el sector muy tranquilo.
Kevin
2017-02-17T00:00:00Z
Art der Unterkunft
Ganze Unterkunft
---
Objekttyp
Wohnung
---
Unterkunft für
2
---
Schlafzimmer
Lima, Lima, Peru
Abt mit feinen Oberflächen. 3 Schlafzimmer, 3,5 Badezimmer, Jacuzzi, A / C in 2 Schlafzimmer., 2 Terrasse, Grill, Weinkeller, Küche, Waschmaschine und Trockner. / Apt. Mit einzigartigen Oberflächen, 3 Schlafzimmer, 3,5 Badezimmer, A / C, 2 Terrasse, Grill, Weinkeller, Waschmaschine und Trockner.
El departamento esta exelente, super bien equipado y los anfitriones son siper amables y nos facilitaron todo. Muy recomendable!!
Juan
2017-01-21T00:00:00Z
Excelente anfitriona. Bien ubicado con todo lo necesario para una excelente estadía. Barrio apacible y céntrico. Apartamento muy cálido y bien decorado.
Maria Elena
2015-12-14T00:00:00Z
Le logement est très agréable, il était très propre et le ménage a été fait pendant notre séjour. Il est meublé et agencé avec beaucoup de gout. Il est par contre un peu bruyant. Je le recommanderai sans hésiter. Pierre
Pierre
2016-09-11T00:00:00Z
El departamento muy bonito , bien ubicado , muy limpio y con todo lo necesario
Gonzalo
2016-01-02T00:00:00Z
Diego's place is 5 stars easily. The location is great, the apartment is beautiful and he communicated well, the whole experience was great. Definitely stay here if it's available.
David
2016-10-24T00:00:00Z
Muy bonito el edificio, muy bonito el departamento. Lleno de detalles, una zona muy agradable de terrazas. Cerca de centro comercial el polo y jockey plaza. Tambien tiene un plaza vea a walking distance
Joyce
2016-12-04T00:00:00Z
El dpto es muy lindo y espacioso, super recomendable, la terraza y el jacuzzi se llevan los aplausos.
Juan
2016-12-10T00:00:00Z
Diego, n'a pas été present mais son ami nous a accueilli et presenter les lieux. Il nous recommandais des endroit et nous repondais assez vite a nos question. Un grand merci a lui :)
Stéphane
2015-10-24T00:00:00Z
Art der Unterkunft
Ganze Unterkunft
---
Objekttyp
Wohnung
---
Unterkunft für
5
---
Schlafzimmer
Lima, Lima, Peru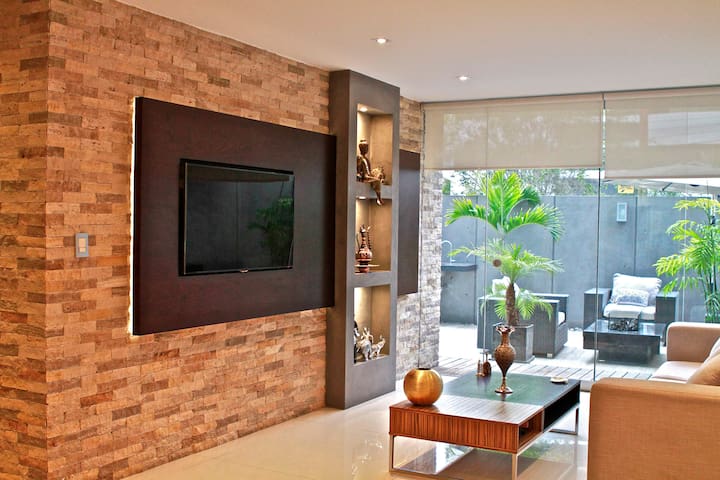 Hallo, wenn Sie besuchen Lima oder einen schnellen Boxenstopp. Dies ist der perfekte Ort zu bleiben. Gemütlich, Modern, sauber Studio-Appartement. Es befindet sich in Olimpo, Gated, in der Nähe von La Molina 10 Minuten entfernt für die US-Botschaft und 5 min entfernt von Jockey Plaza Mall, Schulen,
Dies ist eine komfortable Studio zu mieten. Sorgfältig Design, neuen Geräten (Smart TV), Netflix, komplett ausgestattete Küche, gemütliche Möbel, in der Nähe Transport, bodega, Bäckerei, Park in der Nähe zu Fuß zu erreichen, 20 min entfernt von Museen, Strand und Sehenswürdigkeiten. 24 Stunden Sicherheit. Angebot persönliche Betreuung sicherstellen, dass Ihr Aufenthalt sehr gut willkommen, ich lebe in dem Gebäude in der 6. Etage, ich kann Sie auf Ihrer Reise durch Beratung anbieten und Tipps, wo gute Angebote und Platz zu finden, wo zu besuchen. Ich lebe in der Nähe einer großen Straße, die zu jedem Teil in lima verbindet. Sie können den Transport, die Sie überall in der Stadt nehmen kann oder kann ich Ihnen eine private Taxis Dienstleistungen anbieten.
2 Big Parks in der Nähe.
Michael was a great host to us! He helped us with everything: arranging cabs, let us know where to eat, show us the way to ATM. Great apartment as well. We loved it!
Marc
2015-07-03T00:00:00Z
The Host and Family made me feel extremely welcomed. From recommending things to do, to actually hosting me for lunch in their unit, taking me salsa dancing. It was like being apart of their extended family! The unit was as described. Any small issues we had were for the most part immediately rectified. Very fast internet.Nice appliances. The location is about 20 minutes from the touristy areas, but it is easy to cabs. Not that far from a Major mall named Jockey Plaza. The area is a secured neighborhood. Lots of bodegas. I felt less like a tourist here more like I was living like a modern Peruvian. The building is under construction in some areas, so the only inconvenience was that there was banging early mornings making it hard to continue to sleep. Which the Host tried to appease. Overall I would go back to stay again!
Abenaa
2014-09-13T00:00:00Z
Regular
Carlos
2017-01-22T00:00:00Z
El alojamiento es muy cómodo , la atención de Michael muy buena. Recomendacion 100%
Zeidela Janet
2017-03-08T00:00:00Z
If your expectations are not too high, this place will do fine. The location is not touristic at all, but it is convenient if you have your own transport. The pictures are nicer than the actual place, so don't be disappointed. But overall is good value for money.
Sergio
2016-12-18T00:00:00Z
If you are travelling to peru Michael's house is perfect for you, not just because the house is nice ,the hood secured,shop near to the house, but in fact the real experience is to be be with the owner Michael ,he speak English so well so if your Spanish is like mine that will help, and he will take care of you and you can ask him everything if you need a help to plan something for example see the machu pichu. With Michael you Will leave the Peruvian experience.
Joseph
2016-02-13T00:00:00Z
Awesome place with an awesome host! Michael was kind enough to pick me up from the airport and took me to the quiet crib just outside the busy center of Lima. It has everything you would need and Netflix was a great plus. Thank you for a great stay!
Alex
2015-06-23T00:00:00Z
A friend visited me in Lima so we stayed at this apartment for a week while she was here, because it is walking distance from the school I am working at. This was my second stay in Michael's apartment building. The studio is the perfect size for two people. It was very clean and had all the necessities for our stay (towels, toilet paper, etc.). Michael is the best host I have ever had. He was always available to answer questions and help us with anything we needed. He made recommendations for restaurants and spas, and even took us out to some local bars a couple nights during our stay. We felt like locals and had so much fun! He is also opening a coffee bar on the first floor of the building, so one night we all hung out there and he made us a delicious juice. Lastly, he kindly arranged a couple airport transfers for us when we needed them. I will stay with Michael once more before I move back home, and I am really looking forward to it!
Victoria
2016-04-25T00:00:00Z
Art der Unterkunft
Ganze Unterkunft
---
Objekttyp
Wohnung
---
Unterkunft für
2
---
Schlafzimmer
Lima, Lima, Peru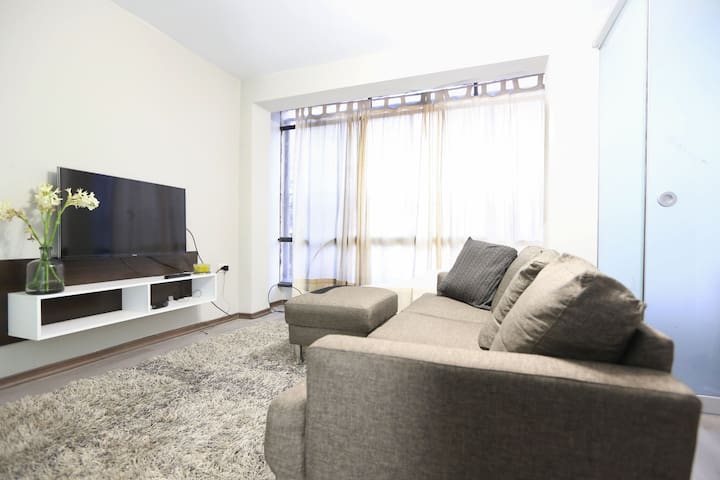 Amplia habitación , cuenta con closet y cajonería para ropa , baño completo compartido con agua caliente , conexión wifi de alta velocidad, sala de estar, vista a la calle , primer piso Zona 100% segura distrito residencial de Lima , La Molina.
Distrito Residencial muy seguro con ampliar zonas verdes , ideal para salir a correr en las mañanas . Movimiento de Ejecutivos durante el día pues se encuentra frente a la sede principal del banco de crédito
Art der Unterkunft
Privatzimmer
---
Objekttyp
Wohnung
---
Unterkunft für
3
---
Schlafzimmer
Lima, Lima, Peru
private room within a department that is in the Manuel Olguin Avenue. They can easily walk to the mall and the Polo Jockey Plaza mall. The apartment has a full kitchen that can be used, like a washer / dryer. We are a couple, newly married and we like to accommodate people of all nationality. We can recommend places to visit and restaurants with excellent food. The building has a gym, heated pool and regular pool.
The room has a double bed, they are an additional $ 10 if two people. The bathroom is for exclusive use and is at the front of the room. The apartment has a full kitchen that can be used, like a washer / dryer. Always leaving them clean and in order.
A nice building with a bunch of complementary services. The apartment was completely equipped
Ramiro-Ernesto
2016-01-26T00:00:00Z
Everything was great. It was everything that was expected. Quite, calm, clean and the owners were nice and very professional. Loved my visit there and I would highly recommend this place to anyone.
Olga
2016-08-18T00:00:00Z
Todo muy limpio y ordenado. Super recomendable!
Joy
2016-09-16T00:00:00Z
Ernesto y Fabiola son anfitriones muy atentos y amables. El departamento es acogedor como en casa. La vista es genial. Los espacios comunes son ideales para relajarse y la seguridad y atención del edificio es A1. Les recomiendo visitar este hermoso y Pacífico lugar.
Orion
2016-01-18T00:00:00Z
Fabiola y Ernesto fueron unos anfitriones excelentes, el lugar es muy bonito y las fotos son exactamente como es el lugar, nos sentíamos en casa durante toda nuestra estadía.
Ivonne
2016-04-30T00:00:00Z
Cuando llegue a el sitio , Fabiola esta listo y me gusto mucho el sitio . Yo puse tener un espacio tranquillo y perfecto para ser comodo . Tambien . Ellos trabaja todos el dia y tenia todos el espacio para me sentir como en mi casa .
Rob
2016-02-28T00:00:00Z
Arriving from a long transcontinental trip and finding two nice smiles was the best welcoming possible! Their nice assistance made me feeling at home in Lima all my staying long. The flat is moder and the room corresponding to the description. The facilities (especially the swimming pool) were of high standards and made my staying more sustainable. Muchas gracias and hasta luego!
GIORGIO
2016-03-23T00:00:00Z
Sin corazón
Armando
2016-11-29T00:00:00Z
Art der Unterkunft
Privatzimmer
---
Objekttyp
Wohnung
---
Unterkunft für
2
---
Schlafzimmer
Lima, Lima, Peru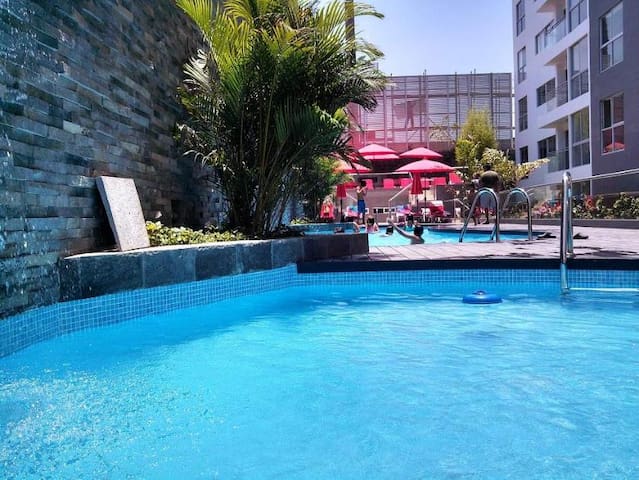 Bienvenido viajeros! Nuestro departamento se encuentra a unas cuadras de la embajada de USA y del C.C. El Polo. En la Av. Encalada pueden tomar bus/taxi. Ademas hay tiendas, panaderías, restaurantes a una cuadras. Welcome travelers! Our apartment is extremely close to the US Embassy as well as the El Polo mall. You can easily take a bus/taxi at the Encalada Av. Groceries stores, bakery, and restaurants are within walking distance.
Art der Unterkunft
Privatzimmer
---
Objekttyp
Wohnung
---
Unterkunft für
2
---
Schlafzimmer
Lima, Peru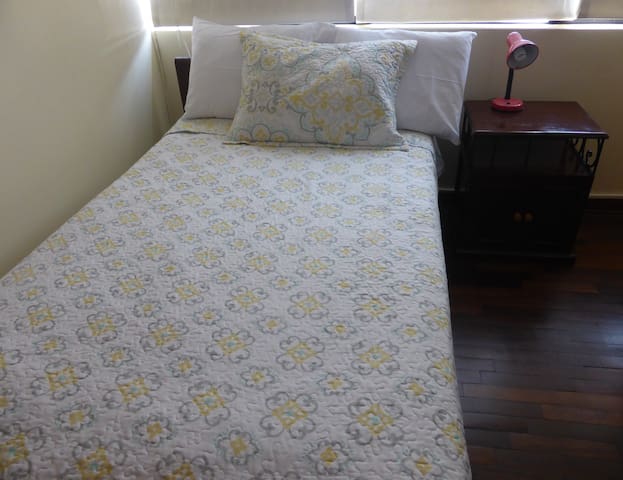 ¿Viajes de turismo o estudio? Te brindamos todas las comodidades en exclusivos departamentos ubicados en Surco (200m2, full amoblado, 3 dormitorios) donde encontraras todo lo necesario para un viaje placentero.
Hermoso departamento, completamente amoblado, 3 dormitorios, 3 baños, sala, comedor, cocina, lavandería, cochera. Finamente acondicionado con pisos parquet, closet de óregon. Área Total: 200m2 - Área construida: 150 m2. Comodidad y confort.
We are located in Surco, one of the best districts of the city, in an exclusive zone, close to malls, supermarkets, universities, banks, museums, restaurants, casinos, etc. We are in Alonso de Molina Avenue. Nos ubicamos en Surco, uno de los mejores distritos de la capital, en una zona exclusiva, cerca de centros comerciales, universidades, supermercados, bancos, restaurantes, museos, casinos, etc. Estamos localizados en la avenida Alonso de Molina paralalela a la Av. Primavera.
Acabamos de llegar y la atención de parte de la anfitriona fue excelente, el departamento muy bien equipado, muy cerca de un supermercado, el barrio tranquilo a pocas cuadras del museo de Oro. Recomiendo el lugar en un 100%.
Natalie
2015-11-18T00:00:00Z
Muy mala experiencia en Casa Sur. Estuve con 3 compañeros de mi maestría hospedado durante dos semanas en las cuales estudiamos en Centrum Carolica. Dejo mis comentarios resumidos - es complejo contactar al anfitrión, a mi llegada a Perú, 2 días antes del ingreso al apto escribí y no recibimos respuesta. - La dirección que aparecía en la app no corresponde a la realidad por lo que tuvimos que contactarla telefónicamente después de buscarla por 2 horas - Se nos entregó al apto en pésimas condiciones y absolutamente sucio - Para dos semanas de hospedaje de 4 personas nos entregaron 4 cuchillos, 4 cucharas, 4 tenedores y únicamente 2 ollas - A pesar que las 4 personas hospedadas íbamos a la misma universidad se nos entregó únicamente 1 juego de llaves - Encontramos en el depósito, el cual estaba sin llave, un ventilador, y al ser verano era absolutamente necesario al no Tener AC. Inmediatamente la anfitriona nos comentó, no de buena forma, que no podíamos usarlo y que estaba prohibido No recomiendo este lugar y consideró, por las experiencias de mis compañeros que asistieron a la maestría en Centrum, qué hay muchas mejores opciones igual de competitivas en precio pero mucho mejores en calidad.
Carlos
2017-01-22T00:00:00Z
We had a very comfortable stay at Rocio's place. She went above and beyond ensuring we had a great experience at her place. If we needed anything we just text Rocio and she would make sure our need was satisfied right away. The apartment is modern, very functional, spacious and with good layout. Security is very good. The neighborhood is relatively quiet with good restaurants at a 5-minutes drive. We would definitely consider returning to the same place on our next trip to Lima.
Masako
2016-12-21T00:00:00Z
Excelente lugar, súper acogedor, te hacen sentir en familia, muy buenos anfitriones
Sabrina
2014-10-07T00:00:00Z
Me hospedé en el departamento Casa Sur por trabajo aproximadamente un mes y medio. Mi experiencia fue grata ya que se encuentra ubicado en un distrito tranquilo y familiar, además tiene parques, restaurantes y supermercados a una distancia a pie. Por otro lado, el departamento estaba limpio y en buenas condiciones y la dueña del departamento, Rocio, siempre mostró una actitud amable y amigable. Realmente siempre se preocupó de que no me faltara nada en el departamento y de mostrarme las amenidades dentro de la colonia. De hecho, un día se tomó el tiempo de mostrarme algunos atractivos de la ciudad de Lima
Doris
2016-04-17T00:00:00Z
El departamento esta bien ubicado, cerca a las universidades y en una zona tranquila. Es como se muestra en las imágenes, acogedor y equipado. El trato de la anfitrión es cordial, atenta y genera confianza, nos olvidamos unos documentos en el departamento y estuvo presta a ayudarnos con el envío. Totalmente recomendado.
Rodrigo
2016-02-29T00:00:00Z
Las fotos publicadas por el anfitrion coincidian con la realidad, el apartamento esta muy bien ubicado cerca a las Universidades de la zona.
Bernardo
2015-04-26T00:00:00Z
The listing was accurate and the place was pretty nice. Rocio was extremely friendly as well. The place was lacking on some cooking supplies, but Rocio was very helpful in providing what was missing when asked. I'd definitely stay here again.
Michael
2015-05-15T00:00:00Z
Art der Unterkunft
Ganze Unterkunft
---
Objekttyp
Wohnung
---
Unterkunft für
4
---
Schlafzimmer
Lima, Departamento de Lima, Peru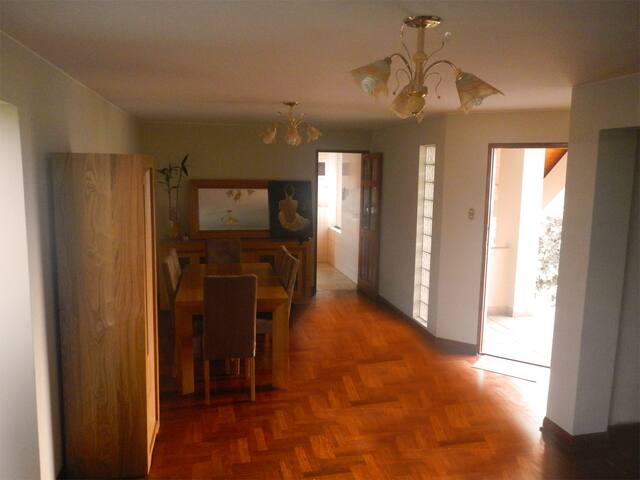 Gib deine Reisedaten ein, um den aktuellen Preis zu sehen. Es können zusätzliche Gebühren und Steuern anfallen.