Gib dein Check-in-Datum im Format TT.MM.JJJJ ein
Gib dein Check-out-Datum im Format TT.MM.JJJJ ein
Inserate, die du buchen kannst, ohne auf eine Bestätigung des Gastgebers zu warten.
Gib deine Reisedaten ein, um den aktuellen Preis zu sehen. Es können zusätzliche Gebühren und Steuern anfallen.
Diesen Juli und August kannst du eine dieser 100 hervorragend bewerteten Unterkünfte aus jeder Preiskategorie ausprobieren, um Sonoma aus der Sicht eines Einheimischen kennenzulernen. Dank 24-Stunden-Check-in, Sofortbuchung sowie einheimischen Weinen und Snacks kannst du dich einfach zurücklehnen und deine Reise genießen.
This is a 3 bedroom, 3 bath house with a front living area, kitchen, family living/dining area. The guest bedroom has a queen size bed, Direct TV, with private bathroom, shower and plenty of closet space.
High speed WiFi, Direct TV, and Netflix are provided. Travelers will have access to a formal front room, kitchen, and family room with TV. There is a bathtub in another bathroom, a queen bed in another bedroom, and a laundry room with washer and dryer. There is also a fenced in backyard with patio furniture. Guests are welcome to use the kitchen for all meals. Breakfast items are provided. There is also an apple, peach, and pecan tree that guests may pick from. I have a small friendly dog and pets are welcome!
The house is in a crime free neighborhood within walking and biking distance to restaurants and fast food. There is no public transportation, but the house is centrally located and very close to grocery stores, drug stores and restaurants. The house is walking distance from the beautiful Pecos River. It is a short drive to the Carlsbad Caverns National Park, Living Desert Zoo and Gardens and the Fiesta Drive-In. Hiking, golfing and water recreation are just a few of the numerous activities to enjoy under the sunshine filled days in Carlsbad!
We enjoyed our stay with Kathy very much!!! One of our all time best AirBNB stays! The house is in an older neighborhood that is tidy and well kept. It was very quiet and my wife felt safe. The guest room was very comfortable, with a great bed and a small private bathroom. The bathroom down the hall was also usable if you wanted a bathtub. The place was as advertised – we used the kitchen a lot and the family room and TV, and wifi worked well. Kathy was extremely hospitable and welcoming. She made us feel part of the family right away. We asked for a lot of little things (date change, cooler and gel packs for our picnic lunches, pots and pans and mixer, etc. etc) and she always immediately made everything happen to our liking. Just a great all around lady! Her high school son is a quiet but very nice young man. They are very careful to give you as much privacy as you wish. And who can forget the great Romo-cop, who prowled the house looking for petting – he goes by Romo and is a great little dog. We can't recommend this place enough. Thanks for the wonderful stay, Kathy et al!
Brad
October 2016
Kathy's home was just the perfect place for us to stay during our visit to the caverns! She was very polite & responsive from the very beginning and we enjoyed our weekend as her guests.
Karen
August 2016
Kathy was out of town our first two nights but Romo (her dog) was an awesome host. He made us feel welcome and kept us entertained. House is an easy 30 min drive to the Caverns and walking distance to restaurants. Nice, comfortable house in a quiet residential neighborhood. City's waterfront park and the Living Desert Zoo were close by & worth visiting. Definitely nicer to stay in a house than a cold hotel room!
sandra
October 2016
Awesome place, comfy beds, and great host. Loved all the music references and decor!
heather
August 2016
Kathy Alpers was an amazing host and her house was absolutely beautiful and welcoming! I really appreciated her kindness. The neighborhood was very beautiful as well!
Emma
September 2015
Kathy was very sweet and accommodating. I booked a last minute stay in home for one night and couldn't arrive till late in the night. She said it was no problem and left the door unlocked and the room ready for when I arrived. The room was very nice and comfortable with a private bathroom, which I always like. I was able to meet Kathy the next morning and she was very warm and welcoming and didn't make me feel rushed in any way. I appreciate the room and kindness. Thank you!
Caitlin
June 2016
After a 8 hour drive through the desert, Kathy' home was wonderful to rest and relax. She also has a large yard which my dog appreciated
Georgette
November 2016
Kathy was so friendly and welcoming and her home was quiet and peaceful! Just had a quick overnight stay but was very comfortable. Her dog Romo is so sweet and quiet, hardly knew he was there!
Morgan
October 2016
Art des Zimmers
Privatzimmer
---
Art der Unterkunft
---
Unterkunft für
4
---
Schlafzimmer
1
Carlsbad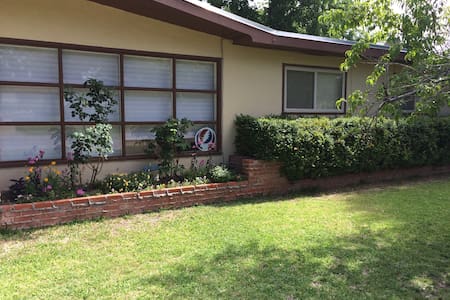 Comfortable home and guest space with private 3/4 bath off bedroom. Patio with hammock and grill for doing your own steaks. Shared living room and kitchen with breakfast ingredients provided. WiFi. Bicycles for exploring the "beach".
This is a small town, a whole different culture- where cowboys are real and the desert goes on and on. We have the world famous Carlsbad Caverns that amaze everyone, even after the fifth visit. There is a wonderful Living Desert State Park, which is also worth a day to see the flora and fauna of this desert in a zoo/arboretum setting. Shared kitchen, and breakfast ingredients. Patio with hammock and grill and bicycles. Washer and "solar" dryer. Shared living room with recliners and couch. The earth is the Lord's, and so is our house. Or in Spanish we say"Esta en su casa" Interaction obviously depends on preference of the guests. We have good Chinese, Italian, Mexican, Barbecue, etc. restaurants, all quite close since this is a small town. The bedroom and bath are a private area big as most motels. But we also really enjoy getting to know our guests.
We are easy to find and a short walk from the park and river Limited public transport since this is a car culture- or a truck culture where the bigger and noisier your truck, the more cool it is! But if you want to really be uncool, you can walk or ride our bikes along some beautiful parks and paths. As for who we are, Ronda is a social worker and nursing home admissions officer, and Nick is half time pastor with the Mennonite church here and half time trying to sell solar. We have two sons in college and have lived in Mexico for 5 years, as well as other places.
Es ist großartig in einem fremden Haus so herzlich aufgenommen zu werden. Nicholas und Rhonda freuen sich sehr über Gäste und bieten einem neben einem geräumigem sauberen Zimmer freundliche Gastfreundschaft. Außer der Übernachtung haben wir am Abend beim Eis zusammen gegessen und Nicholas hat es sich nicht nehmen lassen uns ein Frühstück zuzubereiten.
Sonja
April 2015
Nick and Ronda were absolutely WONDERFUL hosts, and made me feel very welcome and comfortable during my stay. They provided me with everything one could possibly need, including a fully-stocked bathroom with any essentials I may have forgotten. They even had a basket of snacks waiting for me, and were generous enough to invite me to dinner that evening AND cook me up a mean french toast and scrambled eggs the following morning. We had great conversations and getting to know them in the brief time we had together was delightful. It didn't hurt that the bed was very comfortable as well. If you plan to visit Carlsbad Caverns (which is almost certainly why you're reading this review), I highly recommend staying with Nick and Ronda.
Christopher
May 2015
Nick and Ronda are the nicest host I never met! They prepared breakfast for us and gave us very useful suggestion about the Carlsbad Caverns. The distance to there is close and there are many restaurants around. The place is clean and comfortable. Highly recommend you to stay here if possible.
Hsiang-Chu
August 2015
We stayed May 2015 to take the Carlsbad Lower Cave tours.
Katie
May 2015
My daughter and I needed 2 beds, and Nick and Ronda were able to accommodate us. What a nice couple they are! Rooms were clean and homey. Definitely one of my best Airbnb experiences.
Kirk
June 2015
Nick was a great host. Offered us anything in his cupboards and refrigerator. Really nice bedroom with a great bathroom and shower. You can hear the trains at night and I like them. Would definitely stay again.
Naomi and Joe
April 2016
Nick and Ronda were so great! They are such wonderful, kind people. It truly was a blessing to have met them.
Emma
February 2016
Nick and his wife could not have been kinder and sweeter. They had ice cream waiting for me when I got in and, unexpectedly, cooked breakfast the next morning. We had some great conversation along the way. I cannot recommend them enough - especially considering the price gouging that goes on at Carlsbad hotels! Stay here for your next visit to the Caverns.
Dale
May 2015
Art des Zimmers
Privatzimmer
---
Art der Unterkunft
---
Unterkunft für
2
---
Schlafzimmer
1
Carlsbad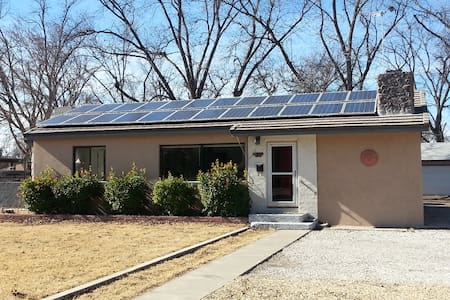 Our apartment is close to the airport, and 30 min + or - to Carlsbad Caverns, Living Desert State Park, Sitting Bull Falls, Pecos River Water Park. The apartment is good for couples, solo adventurers, and business travelers. You will have WiFi and Dish Network with over 200 channels. The bed is a queen bed. Snacks, coffee and tea are provided for your convenience. It is private, feel free to come and go. A beautiful view of the stars. Quiet county atmosphere.
Either myself or my husband may be reached by phone. We both work and I work out of town. This is a seperate, private space so feel free to come and go as you please. We will respect your privacy.
The place was exactly as advertised, very clean, private and we felt right at home. A quick drive to local restaurants, the living desert and zoo and a 30min drive to the Caverns. Liz and James were very respectful of our privacy and they were very accommodating to our late arrival. Great value and I would highly recommend for any couples or solo travelers to Carlsbad.
Ryan
November 2016
I cannot recommend Liz's apartment enough, it is a 5+ listing. The apartment is light and cool with lots of room for 2 people. There are quite a few extras like a washing machine, lotion, and even some chocolates and tea (thanks Liz). Needless to say, we felt very welcome. Liz's communication was just perfect. The home is centrally located and it was very easy to get to Carlsbad Caverns and Guadalupe Mountains National Park. This was the perfect listing for our weekend. I will absolutely stay here if we come this way again, and would happily recommend the listing to any friends.
Jewel
July 2016
The place is a cozy studio apartment, nicely decorated, and very comfortable. Jim and Liz were very welcoming, with personalized notes and snacks. They are respectful of privacy and were very gracious during our brief interaction. It is in a great location for visiting Carlsbad Caverns! It is quiet and off the main roads, but with quick access to restaurants and grocery stores. The only issue we had is that the A/C was set to 80 when we arrived (clearly an oversight), and because we visited in August, it took quite a while for the place to cool off the first night. The second night, however, was no problem. Would definitely stay here again!
Brandon
August 2016
This studio apartment was perfect for our visit (family of four - the unit sleeps 2, but Liz was fine accomodating us since we were traveling with air mattresses) to Carlsbad Caverns. Very easy trip from the unit. It would also work well for a couple or single person spending more time in the Carlsbad area. Fully equipped (no dishwasher, but that is not a problem for most stays) and very comfortable. Nice bed, nice towels, good water pressure and temperature for showers. One could be very comfortable living full-time in such a place. Bathroom is very nice. I think much of it is pretty new. It is also very private and quiet, about a half mile off the main street going through Carlsbad. We were able to come and go freely and not disturbed by anything. It is probably larger than the photos indicate. I'd guess about 400 sf. spread across three areas (kitchen/dining, sleeping, living) and the bathroom.
Ken
July 2016
We were in the area to visit both Guadalupe Mountains National Park and Carlsbad Caverns National Park. The location made it easy to get to both places, since it is right off the National Parks Highway that connects them. It was nice to come back after a long day of hiking to a hot shower and a comfortable bed. And, the well-stocked kitchen meant we could also have a delicious hot meal when we got back as well. Liz had decorated the apartment for Christmas, and we brought our stockings, so it was easy to make the place look special for the holiday. On Christmas Day, Liz even brought over some homemade tamales (and they were delicious!). I would definitely recommend Liz's place to anyone traveling to the area who is looking for a cozy, comfortable place to stay. You won't be disappointed!
Rebecca
December 2016
Liz made us feel very welcome. It is a wonderful place to stay, very convenient and nice. The amenities were fantastic with a washer & dryer, snacks, drinks, etc. We were close to Carlsbad Caverns. It was a perfect place to stay.
Ken
June 2016
BEST AIRBNB I'VE EVER BEEN TO!
Michael
August 2016
This was a very clean, organized with everything you need to enjoy your overnight stay. We were really glad it was a short distance to Carlsbad caverns. Even though Liz wasn't there, she was very responsive to messages and gave us a all the needed information to find the place. We would stay here again!
Diane
November 2016
Art des Zimmers
Ganze Unterkunft
---
Art der Unterkunft
---
Unterkunft für
2
---
Schlafzimmer
0
Carlsbad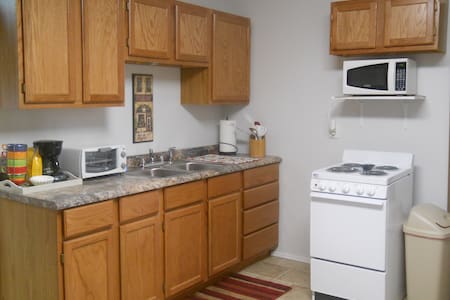 This charming 2 bedroom, 1 bath home is just under 1200 sq. ft. Hard wood floors, high ceilings and a huge backyard. Watch the squirrels run in the 4 pecan trees out back and depending on the time of year, you can pick pomegranates right off the bushes. In addition to the two beds, there is a queen size air mattress with built in pump and a sofa and love seat to accommodate sleeping arrangements. Cable TV, WIFI, full kitchen, premium bedding and perfect location!
We have combined the charm of a 100 year old home with some of the modern necessities of todays world. This home is perfect for couples or a family. We have books to read, games for the family to play and a big back yard for squirrel and bird watching. Welcome home! The home is yours for your stay. You have a full kitchen, dining area, TV's in both bedrooms and in the living room. The backyard is big and the deck is equipped with a gas grill and table for six, so you can prepare a BBQ dinner or just sit back, relax and enjoy the warm evenings. In the guestbook you will find upon arrival are some suggestions for restaurants, activities and must sees!
Located in a great location! Within walking distance is the Pecos River, grocery store, The Blue House Bakery and Café and shopping. Carlsbad is a small town, so many things are within walking distance or just a short drive away.
We had a lovely weekend at the Brennan House, visiting Carlsbad Caverns and seeing the Bat Flight, before heading on to catch the full moon rising over White Sands National Monument. We were so happy to have our group (2 parents, 2 small kids, 1 grandad, and 1 au pair) stay all together rather than in separate hotel rooms. With the air mattress provided plus another that we brought along, we had plenty of room. Everything in the house was just as advertised, the 24 hour check-in worked perfectly, and the Albertson's a block a way made meal preparation a snap. Many thanks to April for a delightful stay!
Moire & Kristian
October 2016
Nice place.
Norman
November 2016
The Brennan house was full of charm and beautiful updates. We had a family of 5 with 2 kids and fit cozily. The kitchen had all the amenities to cook meals. The porch was a perfect spot for a morning cup of coffee. We were also thankful for the refridgerated air and wifi! There was only one bathroom but we made it work. Thank you for the hospitality !
M.
August 2016
We had a wonderful stay at the Brennan house. It was beautifully decorated and had everything that we needed from kitchenware to soft fluffy towels - plenty of them for all four of us. April is the most organized Air BnB host I've ever stayed with. From the code keyed door to the detailed instruction notebook, she couldn't have done anything that would have made things easier for us.
Laura
July 2016
This is a wonderful house in a great location. Relaxing on the back deck is awesome.
Ivy
October 2016
April, your place is lovely! It is even warmer and more inviting than it appears from the photos! Your sheets and towels are deliciously soft and the mattresses have just the right amount of firmness. In spite of being 1/2 block from the Albertsons and the health food store, we were not disturbed by sound even once. And the Blue House, a delicious and inexpensive breakfast nook, is just a gentle one block walk from the house. The house was well stocked with supplies. The TVs are Smart and the WiFi reliable. You provided all the cooking appliances and utensils we needed. Thank you for providing us with a comfortable home base for our time in New Mexico.
Andrea
January 2017
The house was better than expected. I loved the Christmas touches. It was very clean and welcoming. I knew about the Blue House coffee house from prior visits and personally, I really liked being able to walk there each morning. The area was very convenient.
Cindy
December 2016
The experience was perfect. Upon arrival there is a private car port for you to utilize. Walking up to the door is a bench swing and sitting area on the front porch. Inside awaits an impecably clean and wonderfully decorated interior. The couches (couch and love seat) and beds were comfortable. During our stay we utilized the couch, both beds and two queen sized air matresses (one provided by April, that was the tallest one I've ever seen, with a built in pump to boot). Plenty of room as we were a party of eight. The backyard is huge, complimented with a deck to relax on, eat on and even cook out on as there is a grill present. Plenty of large trees on the property for shade too. April provides plenty of towels, utensils, bathroom/shower products and made our engagement extra special with a gift. Albertsons is in walking distance and Walmart is down the road for anything you might need. An array of local and chain restaurants are there if you feel like eating out. If any questions arise during your stay, April is easily accessible and friendly as well. If you're looking for an unforgettable stay to compliment an excursion to the caverns, or just a quiet place to get away from it all, stay at the Brennan house. You will not be disappointed.
Philip
August 2016
Art des Zimmers
Ganze Unterkunft
---
Art der Unterkunft
---
Unterkunft für
6
---
Schlafzimmer
2
Carlsbad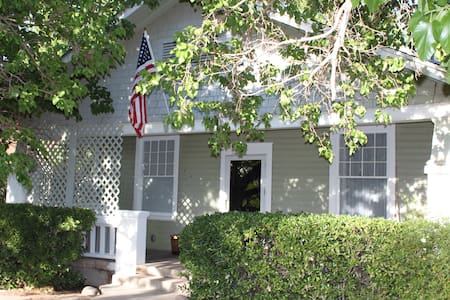 Our Beautiful Inn was built in 1912. We have 4 lovely rooms available ranging in price from $169 per night to $209 per night. Ask us which suite would work best for you!
Tonk und Julie sind sehr freundliche, aufgeschlossene und hilfsbereite Gastgeber. Sie prägen mit ihrer herzlichen Art die Wohlfühlatmosphäre in ihrem Bed and Breakfast. Wir waren in dem Zimmer "Cotton eyed Joe", das hübsch eingerichtet und sauber war. Wir haben uns sehr wohl gefühlt!
Claudia
June 2016
Ein wunderbares B&B. Stilvoll und mit allem nötigen ausgestattet was man benötigt. Der Kontakt zu Julie war sehr herzlich und unkompliziert. Wir können das B&B jederzeti weiter empfehlen!
Dörthe
October 2016
Tonk and Julie and the Fiddler's Inn were wonderful! The room was clean, quaintly decorated with Christmas lights and the beds were INCREDIBLY comfortable. There was complimentary breakfast at a great coffee shop and bakery just a half block away. We were a group of 4 and highly recommend staying here when in Carlsbad. We would stay here again in a heartbeat.
Anna
December 2016
I had a wonderful stay at Tonk and Julie's property. My suite was just beautiful - it was very well appointed with everything I needed the room itself was just gorgeous - a big poster bed, plenty of space and beautiful furniture. It was lovely. It was also great to be able to sit out in the garden in the afternoon and to have a well needed hot tub at the end of the day. It's a great location - central to everything....and the breakfast at the bakery two doors down was just a treat. I really enjoyed my stay.
Sue
September 2016
So flipping comfy! We weren't expecting an experience like that. The place was beautiful, had a private outdoor area for hanging out, and the breakfast spot next door (voucher came with rental) felt like it was in Austin. Anytime I'm going to explore Carlsbad, I'm staying here.
Solve
July 2015
Kim and I stayed with Tonk and Julie at the beginning of a six week road trip that spanned from Texas all the way up to Canada, Alaska, and ten other western U.S. states. We were thrilled at how nice the BnB was during our first visit Six weeks later we stayed with the Chester's a second time, on the drive home. After staying in a wide array of other lodges, BnB's, and hotels (including some five star hotels costing three times as much as Fiddler's Inn) Kim and I agreed that Fiddler's Inn was the classiest, most fun and best value of the lot. This BnB is truly exceptional, starting of course with the lovely owners.
Ken
July 2015
Great, wonderfully decorated, clean room. Most comfortable bed we can remember sleeping on. Located close to the main drag of Carlsbad. Free breakfast at cafe a block away. Discounts at local restaurants when you stay here. Wonderful, responsive hosts. We were in town for our honeymoon and it was the perfect little respite after a long day exploring the caverns. Highly recommended.
Nickolas
October 2016
Fiddler's Inn was really beautiful and cozy. We loved our stay here, and we especially enjoyed the morning breakfast on the sunny porch at the cafe down the street (included in the price of the Fiddler's Inn). Fiddler's Inn is easy to find in town, and we had no problems with our entry or stay.
Lindsay
July 2016
Art des Zimmers
Privatzimmer
---
Art der Unterkunft
---
Unterkunft für
4
---
Schlafzimmer
1
Carlsbad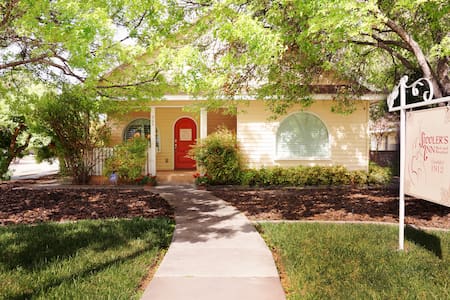 My place is close to restaurants and dining and family-friendly activities. You'll love my place because of the location and the kitchen. My place is good for couples, solo adventurers, business travelers, families (with kids), and furry friends (pets).
Art des Zimmers
Ganze Unterkunft
---
Art der Unterkunft
---
Unterkunft für
6
---
Schlafzimmer
3
Carlsbad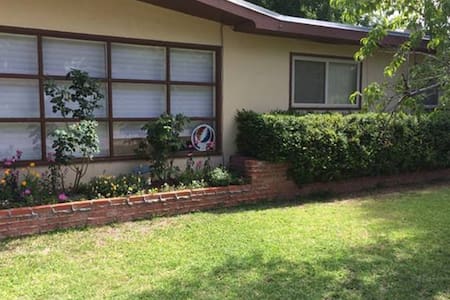 My place is close to Downtown shopping restaurants and theater, nightlife. You'll love my place because of Walled private garden, the neighborhood, the comfy bed, the kitchen, stocked spice cabinet . My place is good for couples, solo adventurers, business travelers, and families (with kids).
Elin's and her friends, neighbors are all very kind and helpful. House is clean, big and has everything we need. Kitchen is wonderful. I can tell owner uses heart in the home and the business.
Jian
December 2016
Art des Zimmers
Ganze Unterkunft
---
Art der Unterkunft
---
Unterkunft für
4
---
Schlafzimmer
2
Artesia