Briar Lodge sits in gated grounds offering rural tranquility and easy access to Dorking, Horsham, Gatwick and the M25, with excellent rail links into London. A perfect base to explore Surrey's stunning National Trust sites, with golfing, fishing, cycling,rambling and country pubs all within easy reach.
Purpose built, Briar Lodge offers complete privacy and secure parking. Outside, there is a patio area and bbq with views across the fields and woodland and access to the garden and terrace to the main house in the summer. Inside we have provided everything we would like to find on a short stay. There is an en-suite shower room with plenty of towels and toiletries, a flat screen tv with free view and wifi, complimentary bottled water and fruit as well as a hair dryer, iron and ironing board. A fridge, toaster, kettle and coffee machine are provided and a substantial freshly prepared continental breakfast using the finest local produce is served to your room to enjoy at the breakfast bar or (weather permitting) on the patio or terrace. Guests are requested to advise in advance of any special dietary requirements. A travel cot is available on request. The cabin is a comfortable size for two and will accommodate a travel cot. If travelling with a tot, access to the garden will help tire them out! Also, Room One at Briarwood is now available. A spacious ground floor ensuite, with king size bed, double walk-in power shower, plenty of towels and complimentary toiletries. There is a fridge with complimentary chilled soft drinks, tea and coffee making facilities with a selection of 'Tea Pigs' teas. Fully loaded smart tv with Netflix and Sky movies and wifi available. Private sitting room. Underfloor heating throughout....and fab White Company bedding. Click on my profile picture to see full listing and details
Located in an area of outstanding natural beauty and perfectly placed to enjoy outdoor pursuits as well as satisfy even the most ardent of shoppers, it would be hard to find a more perfectly located space to stay. Ideal for a stopover before catching an early flight from Gatwick, or to catch your breath on the way back or simply for taking some much needed time out.
Catherine was a wonderful and welcoming host, the directions she gave to the place were really helpful and the property is located in a lovely, peaceful setting in the Surrey countryside. The cabin itself is exactly as the pictures show, the perfect size for two. There are some great fixtures and tasteful little extras; the Bayliss and Harding toiletries provided were a nice touch and the breakfast brought by Catherine the next day was delicious! We found we had everything we needed for an overnight stay and could happily have stayed longer. We really enjoyed our stay and would highly recommend!
Jess
2016-04-25T00:00:00Z
Staying with Catherine was such a lovely experience. We were treated so well. We wanted to escape from the city and Catherine's place was just perfect for this. We went for some lovely dinner at a local award winning pub then went for a walk on the premises and played with the dogs in the garden. We slept so well on the lovely bed and the amazing soft sheets. The log cabin has only recently been refurbished so everything is new. In the morning Catherine did us breakfast outside which was fantastic! We certainly felt spoiled staying here. We would highly recommend this place to stay.
Kate
2016-08-14T00:00:00Z
Catherine made us feel very welcome. We nearly had to cancel due to childcare problems and she actually offered to have our children for us! Luckily for her she didn't need to in the end. Then she gave us a lift to the party we were going to so well above and beyond the call of duty! The accommodation was very comfortable and beautifully finished and the breakfast in our cabin ( at a time our choice) was delicious. Fresh coffee, croissants, eggs and cold meats & cheese.
Parina
2016-05-23T00:00:00Z
What can I say that hasn't already been said!? This beautiful location is an excellent find and we could not have hoped for friendlier or more helpful hosts, who clearly have impeccable taste and take great pride in the accommodation they offer. Highly recommended, with many thanks : )
Charlotte
2017-01-22T00:00:00Z
The best airbnb we've experienced. The photos don't do the space justice. Incredibly tasteful design. Catherine went above and beyond as a host with small touches that make a huge difference. If you're thinking about booking the cabin don't hesitate as you won't be disappointed.
Luke
2017-03-19T00:00:00Z
Do yourself a favor and book this for a night! This was our last night in Europe after visiting London, Salzburg and Budapest! We were exhausted and this little cabin provided us with just enough pampering and good rest before our long trip back home. The cabin is PERFECTLY stocked! Loved the robes and she even had a small snack for when we came in. Plus whatever you could want-tea, hot chocolate, coffee. She made us breakfast the next morning that was delicious! Was even kind enough to give us a ride the next day! Wonderful host!
Sydney
2017-02-06T00:00:00Z
Tremendous!
Ben
2016-12-31T00:00:00Z
Catherine was an amazing host that helped us get to the cabin and enjoy our little getaway from London. The facilities are amazing and the breakfast is better than any hotel!
Gerard
2017-03-05T00:00:00Z
Art der Unterkunft
Ganze Unterkunft
---
Objekttyp
Wohnung
---
Unterkunft für
2
---
Schlafzimmer
Dorking, England, Vereinigtes Königreich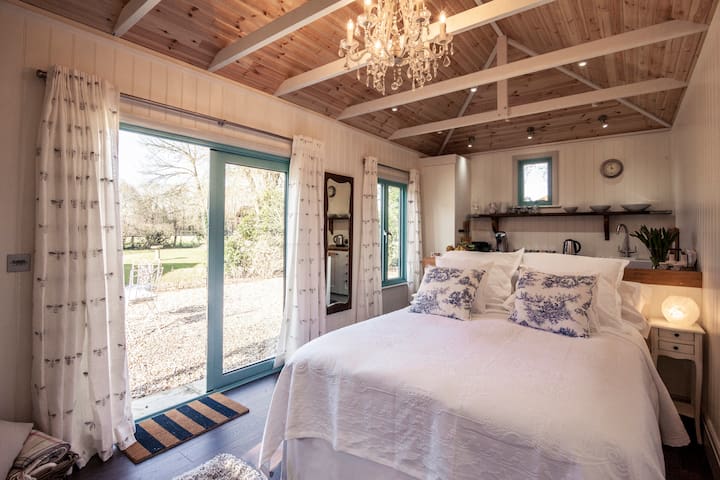 Genuine rural location within sight of the Wembley Arch. 3 timber stables. Converted to a basic but comfortable standard. Double bedroom, sitting room with wood burner & kitchen with shower / toilet / bathroom off. All situated on the opposite side of the lawn to the main house. The Plough Inn serving great food + village shop are opposite. Under an hour to Gatwick (Thom can get you there + look after your car) & perfectly located for exploring the Surrey Hills by bike, feet or on horse back.
3 timber stables. Converted to a basic but comfortable standard. Double bedroom, sitting room with wood burner & kitchen with shower / toilet / bathroom off. All situated on the opposite side of the lawn to the main house.
This is a cheerful and welcoming little hamlet in the middle of the Surrey Hills AONB - the usual mix of young families, retired couples , commuters and homeworkers. We are surrounded by other villages, pubs, working farms and larger estates (both private and owned by the National Trust or Forestry Commission).
We were looking for a short retreat from the hustle and bustle of London and we could not have picked a better place than Thom's home in Coldharbour. It is located in a charming, quaint little village. There is a pub (we'd recommend the food!) and a small village shop. You are seconds away from woods and fields, and we enjoyed going for walks and even a jog on Sunday morning. The place itself is very cosy, with a fireplace to keep you warm. All the essentials are there. Thom is a very helpful, welcoming, and friendly host. We would definitely recommend this place! When Thom dropped us off at the Dorking train station, we felt re-energized to go back to London.
Monique
2016-11-06T00:00:00Z
If you are looking for a rustic acommodation in a quiet village with a beautiful surrounding, this is the place. The cottage is warm and cosy, Thom is a great host, eager to please and very helpful! Very recommended!
Gloria
2017-03-05T00:00:00Z
Thom's place is exactly as described, and suited me perfectly. It was a nice touch to walk in to a cosy place, with the logburner going. Great to be able to walk down to the pub for supper. Comfortable night's sleep with a good hot shower in the morning. Needed to leave really early in the morning so didn't use any breakfast items kindly left. Great stay, would highly recommend and would definitely stay again in the future.
Gillian
2017-02-23T00:00:00Z
Thom's place is situated in a very pretty, quiet village in the beautiful surroundings of the Surrey Hills. The property is a converted stables and feels a little run down and could do with a good clean. The conversion is very basic so don't expect any luxuries, just the bare essentials here. Indeed, the stables doors still remain with big gaps around the edges that allow the outside weather to come in and provide no soundproofing when the dustmen come around early Monday morning! There is a wood burner that provides plenty of heat and creates a nice, cozy feeling and overall the place feels fairly spacious. Thom is a great host, eager to please and very helpful. We enjoyed our stay here but felt it was slightly overpriced for what you get but I guess that is the Surrey Hills for you!
Darryl & Katia
2017-01-09T00:00:00Z
Great place with a friendly host to explore the outdoors. Was warm and cosy even in temperatures below freezing.
Gautham
2017-01-21T00:00:00Z
Great location with walks from the farm and a lovely pub opposite.
Alison
2017-03-26T00:00:00Z
Great are for walking or cycling, excellent converted stables which are really warm with a fireplace creating a cosy atmosphere. The pub next door has a lot of charm and Thom was very welcoming before we arrived providing everything we needed for a relaxing weekend.
Peter
2017-01-16T00:00:00Z
Perfect break. It surpassed our expectations. Thom and everyone we had dealings with added that little bit extra to the days we spent there. Village pub staff were very helpful and good food. It made the ideal start to our holiday and I have no trouble recommending Thoms place. 5* +++
Antony
2017-03-17T00:00:00Z
Art der Unterkunft
Ganze Unterkunft
---
Objekttyp
Wohnung
---
Unterkunft für
4
---
Schlafzimmer
Coldharbour, England, Vereinigtes Königreich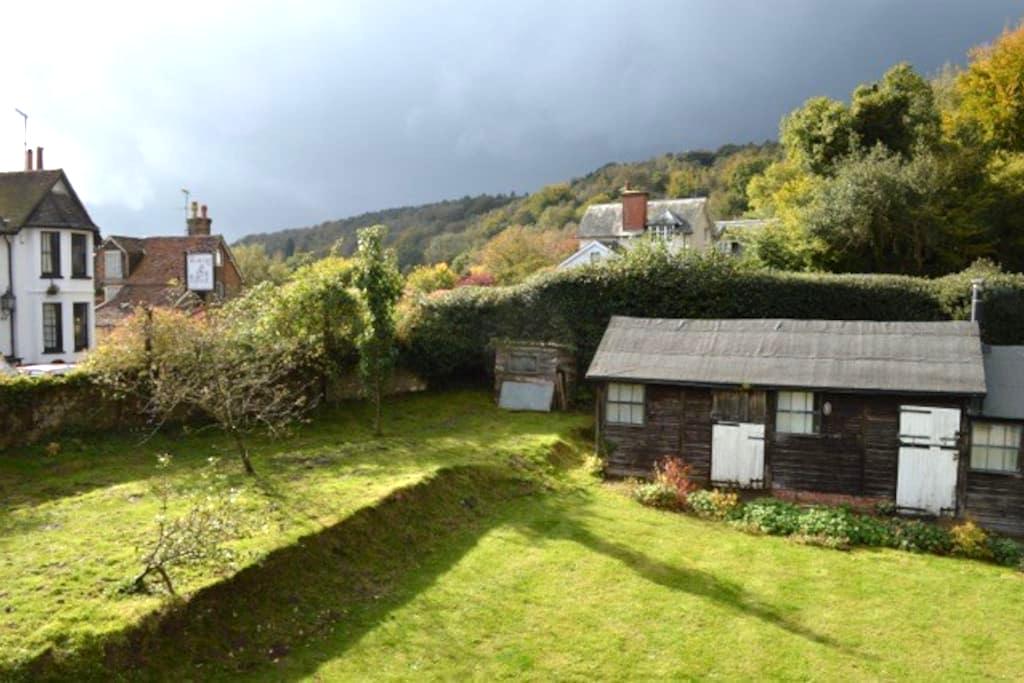 Bien equipado, alojamiento autónomo sólo una hora de Londres. Ubicado en los jardines con habitación doble, cocina, cuarto de baño con bañera y una gran sala de estar / comedor. aparcamiento privado y maravillosas vistas a jardines. El mejor de Sussex y Surrey paseos / rutas de ciclismo. Rodeada por un gran jardín privado en una zona rica en el magnífico entorno natural, cerca de los animados centros comerciales y de arrastre de Horsham. caja de desayuno disponibles, incluyendo pan fresco, mermelada hecha en casa y mermeladas.
Alojamiento privado para dos. Una cama adicional se puede suministrar para su uso en la sala de estar, si es necesario. Cuna también está disponible bajo petición. facilidad de aparcamiento fuera de la carretera Dorking. 10 minutos de la ciudad ocupada de compras de Horsham; sólo una hora en coche de Londres. trenes directos desde Horsham a Londres y la costa. Cerca del enlace Downs paseos y fácil de proximidad para Gatwick. para guardar bicicletas disponibles. Tenga en cuenta que no hay recepción de televisión en el alojamiento.
Kingsfold es una pequeña aldea, entre Horsham y Dorking, que comprende principalmente un bar - con buena comida y bebidas amistosos. El apartamento es autónoma, y apartado de la carretera ocupada Dorking, así que un coche es necesario. Un montón de aparcamiento privado disponible. Rodeado por un gran terreno, con los conejos silvestres, aves y hasta ciervos. Un montón de paseos y rutas para bicicletas cerca. La ciudad comercial muy concurrida de Horsham es de 10 - 15 minutos en coche, con todas las comodidades.
The Flat is beautifully presented with a gorgeous view over the gardens. Perfect for a peaceful few days but close to all local amenities and the sea (30 minutes away)! Emma was a wonderful host providing easy communication before arrival and a warm welcome. We really appreciated the delicious basket of delights for breakfast each day. I would whole heartedly recommend and a return visit has already been booked!
Jenny
2017-03-13T00:00:00Z
Really comfortable beautiful apartment, centrally located for walks in fabulous countryside or a half hour trip to the beach at Worthing. Our host Emma could not be more accommodating.
Angus
2017-04-12T00:00:00Z
My husband and I had a wonderful two nights stay, the accommodation was lovely and Emma and her husband are truly delightful people. We loved wandering around the grounds and it was such a lovely surprise discovering the bluebell woods.... Breakfast was also really delicious and we couldnt fault it...wonderful!
Anita
2017-04-09T00:00:00Z
Art der Unterkunft
Ganze Unterkunft
---
Objekttyp
Wohnung
---
Unterkunft für
3
---
Schlafzimmer
West Sussex, England, Vereinigtes Königreich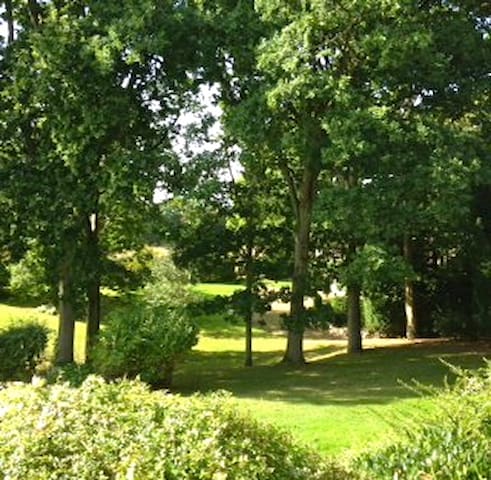 Built as groom's self contained accommodation in the corner of a working livery yard. Adjacent to our house but with private outlook. The Plough Inn serving great food + village shop are opposite. Accommodation consists of bed room, sitting room (including wood burner) + small kitchen and shower room / toilet. Good for exploring the Surrey hills by bike or on foot + for somewhere to stay before a Gatwick flight. (parking and lift to + from the airport by arrangement). Basic but atmospheric.
You are in the corner of a working yard. It is pretty basic but you will be perfectly comfortable and certainly enjoy your stay. We are all very relaxed here!
This is a cheerful and welcoming little hamlet in the middle of the Surrey Hills AONB - the usual mix of young families, retired couples , commuters and homeworkers. We are surrounded by other villages, pubs, working farms and larger estates (both private and owned by the National Trust or Forestry Commission.
We had a great stay, a very warm welcome and the perfect location for exploring Leith Hill on foot during the day/resting by the fire at night. Thom have us a very warm welcome and the accommodation was very cosy, exactly what we wanted!
Dave
2017-01-02T00:00:00Z
Fab place, beautiful location, warm and toasty accommodation, great host and loads of horses for my girls to fall in love with!
Abby
2017-02-17T00:00:00Z
Quiet countryside stable, friendly (URL HIDDEN) aware you are right next to the horses but we didn't mind at all.
Shane
2017-03-12T00:00:00Z
Thom's place is fantastic! Rustic charm yet incredibly comfortable and warm with the roaring fire. Amazing host as well and beautiful scenery all around. Thoroughly recommend it!
Jason
2017-04-05T00:00:00Z
Amazing location! We had a beautiful sunny walk up to Leith Hill Tower and a meal at the Plough Inn, which we highly recommend. The wood burning stove was definitely a highlight of the trip! Very cosy and had everything we needed. Great to meet Thom and his family! Lovely hosts and made us feel very welcome. We will be back!
Alex
2017-03-26T00:00:00Z
Amazing place. Cosy space, great walks on the doorstep and pub a stone throw away - we'll be back!
Edward
2017-01-09T00:00:00Z
Just what we needed for a quiet weekend away and an excellent location from which to explore the surrounding area. Thom and Jane were great hosts and I'd happily recommend the stay to friends and family. Being a city girl I especially liked the fact that we had horses in the neighbouring stalls during the day! The one thing I'd do differently next time is to bring warmer clothes as it got a bit cold despite the wood burner.
Stephanie
2017-02-19T00:00:00Z
I spent a week-end with a friend at Thom's . We were looking for some time away from London (but not too far) and beautiful walks. This was the perfect place to be. The accommodation felt really cosy. There's a wood burner that's perfect for drinking wine and chatting next to. The pub next door serves nice food and has friendly staff (although the food isn't cheap). There's a tiny shop with lovely food next to the pub (again this is not cheap do maybe bring your own supplies). There many walks on our doorstep. Thom kindly provided us with maps of the area. The communication with Thom was easy and friendly and he was flexible on check in and check out time. All in all we had a wonderful weekend. I highly recommend it. Just make sure you bring wooly socks and jumpers in winter as the accommodation is a former stable with cold floor.
Melodie
2016-12-05T00:00:00Z
Art der Unterkunft
Ganze Unterkunft
---
Objekttyp
Wohnung
---
Unterkunft für
4
---
Schlafzimmer
Coldharbour, England, Vereinigtes Königreich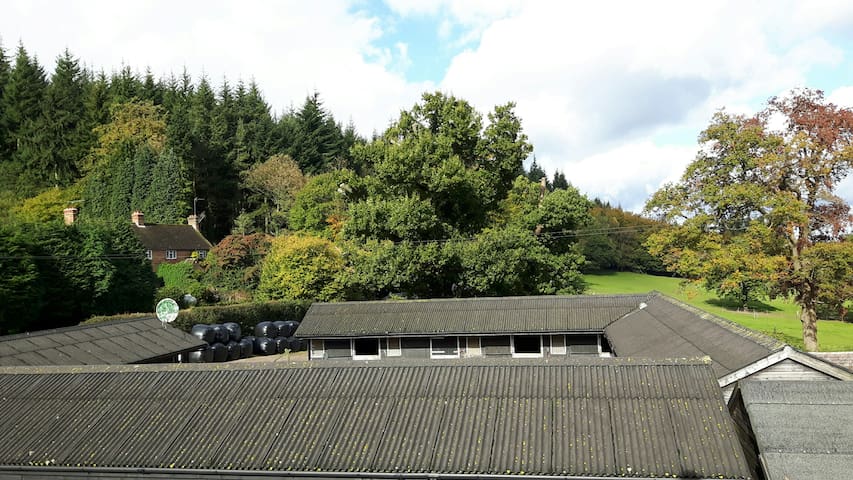 Dan's house is absolutely beautiful - probably the nicest house I've ever been in with a beautiful bedroom and bathroom. The breakfast provided was plentiful nutritious and delicious. He is an incredible host, extremely welcoming and easy to talk to and he and Chris had a lot of brilliant suggestions of what to do in the local area including recommending a number of good places to eat and walk. My boyfriend and I would love to go back for another visit.
Louise
2014-11-24T00:00:00Z
Really couldn't recommend this amazing accommodation enough. Best airbnb experience we have had to date. Awesome hosts that made us feel very comfortable. Thankyou!
Kieran
2016-07-19T00:00:00Z
Thank you Daniel for letting us stay in your very beautiful home. We loved the chocolate treats in our room, the lit fireplace and warming throws too. A big thank you again.
Alia
2015-11-25T00:00:00Z
This is a beautiful Victorian house, in a peaceful location. Perfect location to explore the surrey hills, numerous walks at your doorstep. Dan went above and beyond in making our stay easy, enjoyable and a pleasure, an extremely hospitable host. A true gem in surrey.
Ashu
2017-04-04T00:00:00Z
This was our first AirBnb stay and we were not disappointed! Daniel communicated well beforehand and gave good directions to his home. Upon our arrival, there was a lovely fire started in our room. Daniel's home is every bit as lovely as the photos suggest and he has thought of every detail when it comes to guest comfort, from the bottled water and truffles in our room, to the soaps and bath tablets in the bathroom. We had hoped to take a day trip to Stonehenge and Dan helped us arrange a car rental and reservations and saved us half of the entrance cost! We returned to Banoffee pie which was a first for us and so delicious! That evening we were given an excellent recommendation for supper and we enjoyed a delightful meal at The Dolphin pub. Each morning Dan served a delicious breakfast with many options. It really felt as though we were guests of honor. Overall, our stay at Mynthurst was a delightful experience. I only wish we had more time to visit with our hosts.
Sandy
2015-03-03T00:00:00Z
Daniel made us feel extremely welcome. He was a great host. The place itself was beautiful and the room we stayed in super comfortable and luxurious! Everything was immaculate in the house. We really enjoyed our stay and would definitely like to visit again.
Rebecca
2016-01-03T00:00:00Z
We had a great time during our stay in this Victorian Country House. The surroundings were peaceful and quite, good place to shake off stress and other unhappy things. The rooms we used were beautifully decorated. It was a great pleasure to be the guests of Daniel with his wonderful stories about Australia, his long-stay on the remote island for his PhD, the garden, the house and of course Chris. Drinking tea together gave us a warm welcome and we rarely had such great breakfasts! We also used the extra room which was no problem. All of Daniels suggestion for dinners, walks, shopping, etc. were excellent. We were happy to have a (rental) car during our stay, it would have been difficult without. All positive reviews for these suite of rooms are true(URL HIDDEN)
Riet
2015-05-27T00:00:00Z
We had a wonderful stay in Leigh. The property was beautiful and we felt very lucky to stay in such a unique place. Daniel and his partner were fantastic hosts, and Daniel was kind enough to drive us to the airport on our departure. He also offered us the most delicious array of breakfast foods! We felt very welcomed here and would definitely stay at this property again.
Blaze
2016-06-25T00:00:00Z
Art der Unterkunft
Privatzimmer
---
Objekttyp
Wohnung
---
Unterkunft für
2
---
Schlafzimmer
Leigh, Reigate , Surrey, Vereinigtes Königreich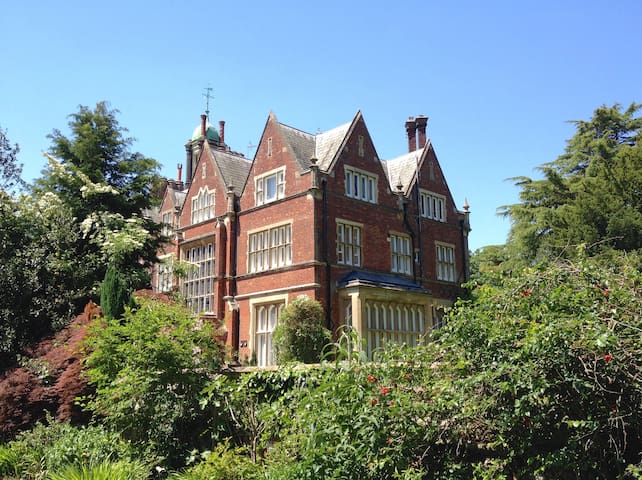 Der Anhang ist eine moderne Ergänzung zu unserem schönen alten Bauernhaus, direkt neben dem Cricket-Grün und befindet sich in der Surrey Hills, in der Nähe Cranleigh, Guildford, Dorking, Horsham und ca. 45 Minuten von Flughäfen Gatwick und Heathrow, 1 Stunde nach Brighton und 1.5 Stunden nach London. Es gibt ausgezeichnete lokale Annehmlichkeiten wie ein wunderbares Dorfladen, gute lokale Einkaufen in Cranleigh, und die schöne Landschaft zu Fuß in. Unsere Anlage ist ideal für ein, zwei oder drei Personen zu bleiben.
Debbie was accommodating and incredibly helpful, we thoroughly enjoyed our time at her annex and are very grateful to have stayed there
Annelies
2017-03-08T00:00:00Z
Debbie's farmhouse is a lovely, authentic and cosy place. The view is stunning and Debbie and her husband make you feel very welcome. A wide breakfast assortment is provided.
Lisa
2017-03-05T00:00:00Z
The host canceled this reservation 86 days before arrival. This is an automated posting.
Paul
2017-03-07T00:00:00Z
Debbie's place is in a beautiful village/farm location, tucked away and peaceful, with beautiful views. It is close to nearby landmarks, walking distance from village shop and pub. The accommodation is super comfy and cosy, roomy and charming and very well equipped. Delightful place to stay.
Esme
2017-02-28T00:00:00Z
Art der Unterkunft
Ganze Unterkunft
---
Objekttyp
Wohnung
---
Unterkunft für
3
---
Schlafzimmer
Ewhurst, England, Vereinigtes Königreich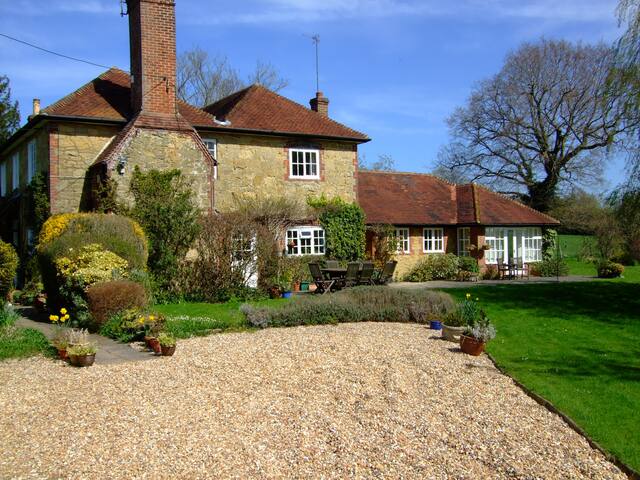 Cette ferme rurale unique est situé un long privé en voiture une heure de Londres. Entouré de terres agricoles ouvertes et de bois. L'espace est dans une maison familiale avec une annexe voisine avec sa propre entrée. Il contient une salle de démarrage, les escaliers plan ouvert menant à la cuisine mezzanine / salle à manger. Il y a 2 chambres (1 x doubles et 1 x jumeaux) reliés entre eux partageant une salle de bains.
Petit déjeuner continental sur demande.
Nous ne disposons pas des voisins!
My mum, two sisters and I stayed with Nina for the weekend. We had a thoroughly enjoyable and relaxing stay in the separate apartment space, beautifully decorated by Nina and surrounded by lovely countryside. Not much O2 signal but there was wifi which worked well. We appreciated the lovely luxury products throughout and enjoyed a lovely breakfast hamper and fresh eggs from the farm. Nina was friendly and welcoming (and the dog and cat were gorgeous!) and we would stay again.
Gemma
2017-03-18T00:00:00Z
Great place to stay and thanks for letting the girls use the trampoline! They had great fun! Thanks for the recommendation of The Chequers Pub... well recommended!
Becky
2017-04-10T00:00:00Z
Nina and her family were very nice and welcoming. It is a beautiful farm. My daughters loved feeding the pig and picking up eggs. The farm is located in a beautiful part of England.
Veronica
2017-04-09T00:00:00Z
Art der Unterkunft
Ganze Unterkunft
---
Objekttyp
Wohnung
---
Unterkunft für
4
---
Schlafzimmer
Rudgwick, England, Vereinigtes Königreich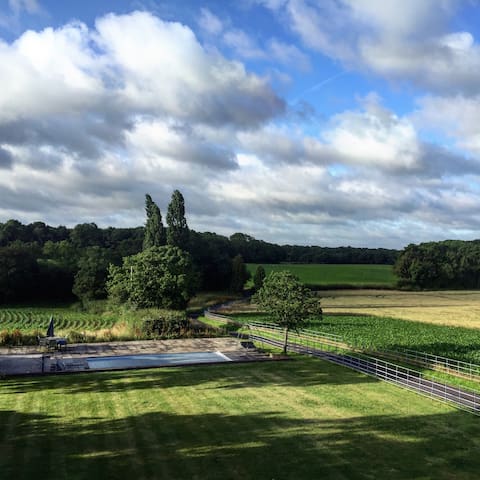 Delightful and spacious one bedroom flat in the old market town of Dorking. Stunning walking and cycling in an area of outstanding natural beauty but also close to the hustle and bustle of London which is 50 minutes on the train. By car Gatwick 20 mins and Heathrow 45 mins. Beautiful self contained flat within a unique Victorian Gothic house. One bedroom with a king sized bed. Fully fitted bespoke kitchen with all amenities including a dishwasher. Electric power shower. Easy on street free parking. TV and wifi The flat is completely self contained with it's own access, but the garden is private. We will be there to meet and greet the guests and show them the ropes! We are a professional couple and have lived in Dorking for the past 40 years. We enjoy walking in the country to the local pubs, visiting London, Dancing, Eating out and going to the Theatre.
Rebecca and Jonathan very friendly and helpful. We had an excellent break with them. Flat warm and cosy.
Jon
2016-10-09T00:00:00Z
Wonderful stay - the flat is beautiful, clean, cosy, and private. Rebecca and her family made us feel very welcome, and were helpful and flexible when it came to check in and check out times. A lovely welcome basket was also waiting for us when we arrived - which was much appreciated as when we arrived in the evening :) we really did have everything we needed - kitchen fully equipped, DVDs, maps and local waking guides, and even some handy restaurant suggestions. Location excellent - short walk into the centre of Dorking, and surrounded by beautiful countryside. Highly recommend!
Lucy
2015-08-17T00:00:00Z
This self-contained and secure flat is great value for money and a very pleasant space to stay in for short or longer periods. The hosts are very discrete and you have complete freedom to come and go as if it was your home. The living room features a sash window with garden views, a fireplace, coving, picture rail, sofa, sofa-bed, folding table and chairs, dresser, 2 lamps and a small flat screen TV. The bedroom features a sash window with limited view of the front garden, serviceable 5" bed and bedlinen, chest of drawers, 2 bedside tables, 2 lamps and a bookcase. The high quality bespoke kitchen features electric fan oven, gas hob, large fridge/ freezer, granite worktop, belfast sink, kettle, steamer, cookware, crockery, cutlery and a very generous supply of groceries. The shower room has a double glazed window, modern and efficient corner shower, serviceable towels and a generous supply of toiletries. The decoration is superior with quality floor tiles throughout the split level footprint and neutral unmarked paint on the walls. The fresh flowers on the fireplace were a great finishing touch. My overall impression was extremely good. I unreservedly recommend this property.
Katherine
2014-10-16T00:00:00Z
We enjoyed our stay at Rebecca's apartment. It was very clean and the kitchen was very well equiped. The welcome pack was very generous. The location was lovely, and quiet. The garden outlook was pretty, although as stated in the description it is private for the owners. Flexible check in and check out times was appreciated. Rebecca was also very responsive to queries and requests.
Gerri
2014-09-08T00:00:00Z
Rebecca and Johnathan made me feely very welcome and I was delighted with my small welcome goody pack of eggs, bread, milk, coffee and butter to kick start my time in Dorking. Lovely couple and I had a wonderful stay in their beautiful Gothic retreat
Garry
2016-11-18T00:00:00Z
Rebecca was a welcoming host. We enjoyed our stay very much.
Dolores
2014-09-30T00:00:00Z
This comfortable basement apartment is our "go-to" place in Dorking. As on previous trips Rebecca was a gracious host, going "the extra mile" to make our stay welcome. Rebecca and her husband are discrete but also attentive if contact is necessary. All the little touches were there as before - for us (a couple) and our family (both daughters have now slept there too) the Gothic retreat in the Surrey Hills is a home from home. Had some great excursions too to very convenient National Trust properties (Poulsden Lacey, for example) and excellent visits to the local Dorking vineyard, Denbies Wine Estate.
Antony
2014-05-05T00:00:00Z
Rebecca was a great host, and the home was warm, clean and comfortable. I recommend this location to anyone wishing to stay in the Dorking area.
Dan
2015-02-17T00:00:00Z
Art der Unterkunft
Ganze Unterkunft
---
Objekttyp
Wohnung
---
Unterkunft für
2
---
Schlafzimmer
Dorking, England, Vereinigtes Königreich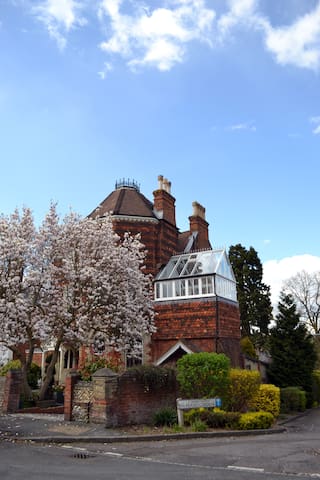 Ouvrez Stay Ended - aucun dépôt. Carylls Country House -.. 1 & 2 Chambre meublés indépendants Appartements à partir de £ 40 P / N dans Faygate (Nr Gatwick 6m, Horsham 3m et Crawley 3m Move in Aujourd'hui hebdomadaire laisse seulement, y compris les factures (sauf prépayé électricité mesurée à puce) Payez vos frais hebdomadaires, aucun dépôt, séjour pour 1 semaine, 1 mois, ou 1 an +. haut débit gratuit illimité, un parking de voiture 1 ou 2 voitures, cuisine entièrement équipée, 5 acres jardins communaux. les chiens sont acceptés. commentaires sur Tripadvisor.
Ouvrez Stay Ended - aucun dépôt .... Carylls Country House existe pour vous fournir instantanément avec un foyer sûr et sécurisé pour aussi longtemps que vous avez besoin. Juste livre, payer et passer. Votre séjour est ouvert terminé. Réservez pour 1 semaine et rester aussi longtemps que vous avez besoin. Vos frais de long séjour est actualisée. Parlez-en à Michael ou visitez la page d'actualisation sur le site fastlet. Quelle que soit votre situation est: • Entre les maisons • les constructeurs à la maison • Besoin d'une 2ème maison • rupture de la relation • Votre nouvelle maison est pas tout à fait prêt • Il y a urgence d'inondation, d'incendie etc ... • Vous avez des relations à venir sur pour les vacances • Un collègue de travail se déplace miles vers et depuis la maison tous les jours.
Lesen Sie die Bewertungen auf Tripadvisor und hören von Vergangenheit und Gegenwart Gäste bei Carylls. Lesen Sie unsere Rabatt-Seite für detaillierte Informationen und Einsparungen. Finde uns auf (SENSITIVE CONTENTS HIDDEN); (URL HIDDEN) Carylls Landhaus und über unsere Weihnachtsspende an die Obdachlosen Hilfsorganisationen für jeden 1K 'Likes' wir erhalten und die neuesten Nachrichten aus Carylls lesen.
Art der Unterkunft
Ganze Unterkunft
---
Objekttyp
Wohnung
---
Unterkunft für
4
---
Schlafzimmer
West Sussex, England, Vereinigtes Königreich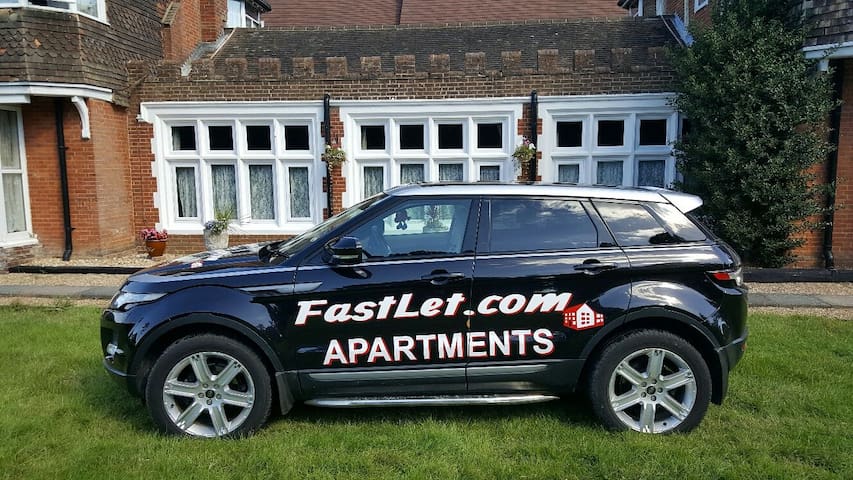 Raleigh is one of our luxury Apartments. It retains the original oak panelling from when Carylls was an 18th Century Manor House and a private dwelling. It has its's own front door and is light and airy but with a cosy home from home feel to it.
Carylls offers a unique Instant Let Service - clients do not have to pay out hefty deposits or go through referencing or credit checks - they just pay, move in the same day if they wish, and stay for as long as they like paying on a weekly basis. This makes us an ideal choice for people who are between homes but do not want to enter into 6 month or yearly contracts.
Carylls is situated in the middle of the tranquil beautiful surroundings of the West Sussex countryside but with easy access to Crawley, Horsham, Brighton and other towns. If you feel like a trip to the seaside, Worthing can be reached on the bus in about an hour and a half - less by car.
Art der Unterkunft
Ganze Unterkunft
---
Objekttyp
Wohnung
---
Unterkunft für
2
---
Schlafzimmer
Faygate, Nr Horsham, West Sussex, Vereinigtes Königreich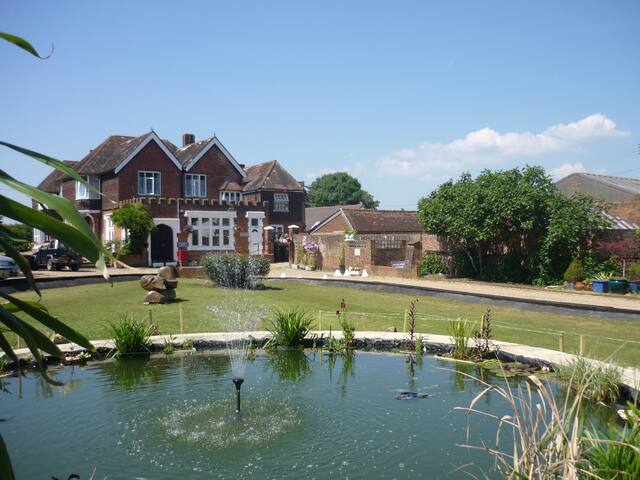 Gib deine Reisedaten ein, um den aktuellen Preis zu sehen. Es können zusätzliche Gebühren und Steuern anfallen.