Unterkünfte in Canberra bei Airbnb finden
Entdecke ganze Unterkünfte und Privatzimmer, die sich perfekt für jede Art von Reise eignen.
Ferienwohnungen in Canberra
Die beliebtesten Ferienwohnungen in Canberra
Weitere Ferienwohnungen in Canberra
€79
Freshly renovated 2 bedroom unit
---
Ferienunterkunft

· Canberra
I can't hide from the fact that the outside of my building is ugly! But you won't be disappointed once you walk across the front door. Conveniently located and completely renovated. Enjoy our comfortable 2 bedroom apartment for 2 nights or 2 months! With comfortable leather lounges, flat screen TV and DVD player and yummy soft throw blanket, you may never leave to explore Canberra. My unit has all the things you need to feel right at home including free WIFI. It offers 2 large bedrooms both with wardrobes for your clothes. The main bedroom has a Oh-so-comfortable queen size bed and the 2nd bedroom is furnished with 2 single beds. If you really need too; another person could sleep on the lounge using the extra blankets provided. My kitchen has all new appliances with stove, oven, microwave and fridge/freezer. A large breakfast bench with cool stools to seat you for casual meals and a compact dining setting for 4. The bathroom has also been given a complete facelift and is clean and I provide a washing machine & clothes dryer, for your use as well. With plenty of storage and an allocated undercover car space for your car (could actually fit 2 cars if squashed in close) I am sure you will love my unit as much as I do. I don't smoke but I don't mind if you do so on the lovely little balcony with it's own little outdoor setting. Please enjoy my home and my town. You can use anything within the unit and the allocated undercover car space for your vehicle. I'm overseas so you'll always will have the whole place to yourselves. Any interaction would be with my mum and dad (who have kindly offered to oversee this for me) . They are very cool and helpful so you can call them if you have any problems or questions. Hawker is a suburb of Belconnen with the local shops are just a very short walk from the apartment. Woolworths, bakeries, butcher, chemist and some good restaurants all at your fingertips. A licenced bowling club and soccer club also within walking distance with great bistros to choose from. It is located just 15 minutes drive to the city centre, all most major tourist attractions in the Capital. I supply all linen and towels you may need during your stay. Please use any of the small things I have left behind and if you finish something just leave a note for my parents so we can refill it.

Mehr lesen
Andrew
Kim was a great host. She communicated really well. Her apartment was beautifully appointed. Very modern / contemporary feel. Very relaxing stay. The apartment was close to some nice restaurants, shops and a service station which was handy. A 10-15 minute drive to Canberra Central which was great. I highly recommend her apartment..
Betty
Our family of 4 had a wonderful stay at Kim's place! The apartment is as described - newly renovated with everything you need for a comfortable stay (even fresh milk, little portions of jam and Vegemite and Weetbix!) It's very well located, close to shops and all the attractions in Canberra. Kim was very helpful and responded really quickly to questions. Would stay here again on our next trip! :)
Satish
Kim was very welcoming and was waiting for us in the car park of the building on agreed time. She showed us the apartment and explained everything. The accommodation is as described and very well well maintained.
Bruce
Kim made sure that the unit was uniquely prepared for us and what we needed. All essentials plus more were provided and the description of the place matched it reality. Hawker is in an older area of Canberra but a suburb that is undergoing a second life and it is becoming highly sort after. There is a great little shopping centre close by, check out the fresh bakery.
Mitch
Kim's communication was excellent, I knew exactly where to go and what to do. The apartment was perfect for our little family. The kids' room even had a few toys to discover. The apartment felt recently renovated, so we were extremely comfortable during our stay. Definitely staying there again.
Gerard
We had a great time staying at Kim's apartment. Kim was responsive throughout and very accommodating about checking in after-hours. Unit was tastefully done up, user friendly and very comfortable. Nice quiet neighbourhood and only a short walk to shops. Highly recommended. A must stay again!
Jenni
This was the second time that we have stayed at Kim's lovely apartment and once again we were not disappointed. Modern and clean and minutes away from the supermarket, bakery and restaurants. Not to mention only a 15 minute drive to Canberra city centre and all sightseeing attractions. Everything you need is in the apartment - crockery, cutlery, pots and pans, all bedlinen, plenty of towels, plus a washing machine and dryer. All you need to buy is your food. Lots of other thoughtful extras too! Kim's communication is great and we highly recommend her apartment to anyone wanting to stay in Canberra. Thank you again Kim.
Kylie
Great Apartment! Clean / well styled / comfortable an well priced. Location was perfect for what we were looking for and Kim was lovely and helpful. Would definitely recommend and use again. Thanks Kim!!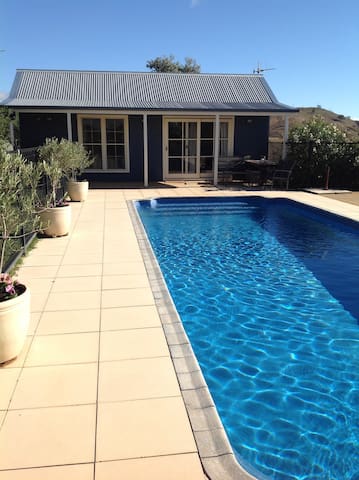 €97
Amazing Views Pet Friendly Bnb
---
Ferienunterkunft

· Canberra
Modern, self-contained, pool house, and working sheep/cattle property in a peaceful country setting, 20 minutes from Yass. Great water views overlooking Murrumbidgee River and exclusive use of swimming pool. Break your trip with your four legged friend/s.. or stay awhile. See the stars, and hear the silence. The space consists of a queen size bed with a modern ensuite bathroom, and a sitting area with a sink, refrigerator, microwave and stove. The cooking space is quite small and best for fairly basic food preparation. Also included is a TV. (32" flat screen) and a DVD player. There are ceiling fans if required and gas heating, and an oil heat bank heater for the cooler weather. A 'Tastic' heater is in the bathroom for extra comfort. Enjoy exclusive use of our 10m pool, BBQ and deck. We will take children, over 5 yrs old, who are able to swim, but would insist that parents supervise at all times. A futon or fold up bed is available as an extra bed, and the charge for extras per night is $30.00. You will find some up to date magazines to relax with while here, DVDs and complimentary chocolate. Our guests are welcome to use the swimming pool and deck with elevated views of the surrounding spectacular scenery. We endeavour to keep the pool sparkling, but cannot always guarantee perfection. No diving please, for your own safety. A BBQ is available for use on the deck. We provide old fashion country hospitality, and will be on site if anything is required, otherwise we will respect your privacy. We are always contactable. We're willing to help with advise and information on the local area for sight seeing or where to eat etc. A two course home cooked meal is available here for $35/person on request. It is served in your accommodation for you to relax and enjoy in peace. This is a peaceful rural working property, 20 minutes drive from the town of Yass, with great views of Burrinjuck Dam. It is within easy reach of Canberra for sight seeing. Ie The National Gallery of Australia, Australia Museum, The Arboretum, High Court of Australia, The National War Memorial, National Capital Zoo and Aquarium, Floriade to name a few. A good place to stay to break a long journey and see more than just a motel room. There is no public transport from Yass to our B&B . Continental breakfast is included, and if you require an evening meal, I can provide a two course dinner for $35/person.. Please give advance notice if this is required, preferably when booking. We are a pet friendly B&B, but expect your dog to be clean and obedient. We charge $10 extra for one dog/night, and $15/night for two dogs/night. We ask that you provide your pets bedding as they are not allowed on the bed or sofa under any circumstances. Please note that we do not have credit card facilities.

Mehr lesen
Jeremy
Perfect in every way! Beautiful scenery. Amazing view. Awesome drive up! Jacquie made me an amazing roast lamb dinner followed by flour less chocolate cake - very reasonably priced. Bed was very comfortable - the place was in great condition and very well furnished. I could not ask for more on a long road trip - always try airbnb vs motel! AAA+++++
Kerry
This is my favourite airbnb property!! Most of all the views are breathtaking!! It was a lovely country drive from the motorway and we were warmly welcomed on arrival by Jacquie and Tom who proceeded to show us around. This is such a beautiful and peaceful spot. The property is well equipped and we were very comfortable for our overnight stay - we both slept like logs!! The pool is an extra bonus, although we didn't get to try it out, and is a lovely spot for an early evening drink. I would love to stay here for a longer stay.
Bruce
We were made welcome in that there was simply no fuss. The amenities were quickly dealt with and we were able to settle in immediately.
Scott
This is an oasis. Just amazing. The pool house is so well thought through. Everything you would ever need in a small space. Perfect for 2. The pool is warm. The view incredible. Jacquie is very helpful and friendly. To say this is unique is to understate this little gem. Do not hesitate to book this.... because otherwise someone else will!!!
Michael
What a location. Miles from anywhere with the most fantastic view. Ideal for those seeking solitude and wanting to have a retreat. Immaculate and comfortable accommodation. Do your shopping in Yass on the way and stay put here soaking it all up and recharging your batteries.
Dave
Jacquie was a great host during our stay and her bnb was incredibly relaxing and picturesque. The continental breakfast gave a welcoming touch to our stay. Our two dogs got a long well with Tom the Labrador and they also enjoyed a cheeky dip in the pool with us! Overall it was a very enjoyable, clean and comfortable place and we would highly recommend Jacquie's hospitality and amazing bnb to all!
Steve
Warm welcome and a lovely position, views are amazing, totally quiet and peaceful, pool house nicely equipped and furnished, wish we could have stayed longer!
Sophie
Jacquie was an absolute delight to deal with on all fronts! She replied quickly to all communication and was happy to accommodate our late checkin. The space is absolutely perfect for a little getaway, and includes all the comforts of home! We arrived at night, and woke to the most stunning views in the morning! I'd have no issues at all recommending Jacquie as a host, and I hope to stay again in the future!
€89
Laurobel Cottage - Rural Farm Stay
---
Ferienunterkunft

· Canberra
The warm and tranquil atmosphere of the cottage is evident the moment you step inside. Open plan lounge/dining opens to outside sitting area giving splendid views of the Tinderry & Clear Range mountains. Escape to Laurobel Cottage, nearby to Canberra City and Cooma NSW. Breakfast Hampers can be arranged with a minimum of 48 hours notice. There are 2 queen and 1 king size comfortable beds and a single sofa in the common area. Babies 12 months and under can stay for free... Situated in the Snowy Mountains Region and just 30 minutes South of the Australian Capital Territory, Canberra, Laurobel Cottage makes for an ideal choice for travellers visiting both Canberra and or the Snow fields. Guests have access to the entire cottage and most sections of the farm. Enjoy bush walks and view or take part in feeding the beautiful and gentle Alpaca family, goat family and Angus cow herd. We are happy to interact with our guests should they request it and equally happy to leave them alone should they want to keep to themselves. There are no immediate neighbours to disturb and guests can enjoy the surrounding countryside by walking, picnics or just enjoy the experience of being on a rural property. The snow fields are within easy reach of the farm and Canberra is also close by for those travellers who are seeking a central location to both without the expense of either. Use of the swimming pool, walking tracks and scenic views are all on offer at Laurobel Cottage!

Mehr lesen
Shanice
The stay was awesome!! Awesome view of the night sky and the morning sun. The hosts were friendly and thoughtful. The farm animals there were cute and gentle. Even in the cold night, the rooms were warm and cosy. Overall, an awesome night stay that's not to be missed!
Martina
Wonderful farm stay experience! Enjoyed meeting Diane & Dave, who are lovely hosts & made us feel very welcome. The cottage was very comfortable with plenty of room for x2 adults & x2 kids. Everything was well catered for, and the kids loved meeting all the animals! Thanks Dave for the time you took to educate the kids about the farm and the animals, it was much appreciated. I'd highly recommend this as a farm stay experience!
David
Diane and Dave did everything possible to make us welcome and comfortable. The directions were clear and the check-in was easy. We found the kitchen was well stocked with different breads, butter, jams and other spreads, breakfast cereals, milk, juices, soft drinks and fresh eggs from their own chooks. We did our own cooking and appreciated the kitchen with a large fridge and freezer. The beds and linen were also very comfortable - better than we get at home. The scenery on the farm is beautiful, just like the picture in the listing. The animals on and around the farm were really nice, especially for our kids. Dave organised a feeding of the Alpacas and cows for our kids to help with. There were also rabbits, kangaroos, donkeys (nearby) as well as may native birds. We visited during a cold snap, but the cottage was very warm. The reverse cycle air conditioner heated the whole house. There is also a wood burning pot bellied stove inside which is not necessary for warmth, but essential for toasting marsh mellows. For our kids (3 and 7 years) just being on the farm was entertainment enough.
Shima
Awesome place to relax. Clean and every thing ready to use. Strongly recommend to stay in this amazing place. Diane and Dave , you are really good host. Hope to see you guys again.
Clare
Would definitely recommend Laurobel Cottage. Very friendly and welcoming hosts. The cottage is beautifully set up, clean, comfortable and well equipt. The alpacas are adorable but the two goats, Rainbow and Raindrop were my favourite - so much personality!
Dora
It was a fantastic holiday for our family. Diane and Dave were so helpful, the cottage was clean, nice and comfy beds, the animals were friendly and the surrounding was amazing. Highly recommended!
Koushik
Dave and Diane are kind and they are just amasing. We enjoyed our stay and my son enjoyed feeding alpacas. We would love to visit Lourobel Cottage again.
昕昕
Diane is very friendly and nice, giving us lots of advice. The cottage we lived is amazing and unique, and the 3 bedrooms meet everyone's expectation. I will recommend to my friends.
Entdecke weitere Reiseziele