Can Pinell is an old farmhouse. It's completed renovated. It's located in a rural setting on the edge of a Nature Reserve. It's connected to Barcelona just 45 min and the beach in 25 min.
The house is located at the foot of Montseny and has fantastic views of the entire mountain. It is ideal for trekking and cycling. It is well connected by car and train to Barcelona and Girona in just 40 minutes It is also close to the race track Catalonia-Barcelona, and shopping center La Roca Village
The house is located on the outskirts of Santa Maria de Palautordera. In the area there are many typical Catalan food restaurants. There are companies that organize outdoor activities, and different marked routes for trekking and mountain bike
Super schönes Haus, genialer Garten mit frisch gepflanzten Obstbäumen, sauberer Pool und genug Holz zum Grillen da :) Alles war noch schöner als auf den Bildern. Es hat uns sehr gut gefallen und Marc hat uns sehr nett empfangen. Von den Nachbarn unter uns haben wir nichts gehört, weder Lärm noch Beschwerden. Wir kommen gerne wieder mal!
Johannes
2016-06-13T00:00:00Z
Magnifique maison, aménagée avec beaucoup de soin, nous avons passé un très bon séjour. Marc est un hôte très serviable et à l'écoute. Comme il nous l'a indiqué, le gare qui se trouve à 5' de la maison est un moyen de transport idéal pour visiter Barcelone. Le train arrive juste en face de la casa Batllo.
franck
2016-08-07T00:00:00Z
Definitely a wonderful place! This farm has been renovated with high quality materials. We really enjoyed our stay in that place. Plenty of space available in and out (bbq organized outside highly appreciated by all of us). Marc was a perfect host, he was waiting for us despite our delay on arrival and provided a warm welcome. I can only highly recommend this place to all Airbnb community.
Martin
2016-06-06T00:00:00Z
Thank you Marc for hosting my family this weekend. We had the best ever time in your beautiful house and didn't want to leave! The whole place has been renovated to such a high standard that it was a privilege to be staying there. The location is amazing, the pool perfect, the outside eating space and bbq brilliant. One of the highlights was being able to catch a train at the airport in Barcelona then walk from the local station to the house, through the woods. Marc was extremely friendly, spoke English really well and helped us with everything - it was a pleasure to meet him. There is so much to do there we need to go back, maybe in the winter, when we could walk on the trails all day then spend the evenings curled up in front of the huge fireplace.
Ann
2016-09-12T00:00:00Z
Nous avons séjourné, chez Marc et sans oublier Teressa sa maman ,2 personnes exceptionnelles!!!! De part leurs gentillesses, leurs aides sur tous types d informations ( ballades, trains ,restaurants, magasins, et même problème de connexion internet, résolu le lendemain) on en attendait pas mieux! !! Ils sont aux petits soins pour vous , du début de la réservation, jusqu'à la fin de votre séjour. C est extraordinaire! !!! En ce qui concerne le gîte, tout était super bien, très propre (et on l a ressenti, à la seconde ou nous avons passé la porte d entrée), très fonctionnel, joliment décoré, et d un calme olympique, bref la détente totale! !! Comme l avait mentionné un autre voyageur, on ne devrait pas dire que tout était génial, car Can Pinell risque d être victime de sont succès, et je ne trouverai plus de date pour y retourner! !! J'aurais pu me ressoudre, à un seul mot, comme magnifique ou encore sensationnel, mais par respect envers eux , je leur devait un peu plus. Merci à vous, pour le plaisir que vous procurez, ne changez surtout rien, très bonne continuation, triste de vous avoir laissé, mais j espère, au plaisir de vous revoir très vite.
rachel
2016-08-14T00:00:00Z
We loved staying with Marc. He was kind and helpful, and did more than just offering a beautiful home. For instance, one day when we were traveling to the coast, he recommended a wonderful town and restaurant to us. Another time he sent us Barcelona train schedules to make getting around easier. The house is wonderful -- recently renovated with a beautiful pool in the backyard. We really enjoyed both the house and Marc's outstanding hospitality.
Philip
2016-07-07T00:00:00Z
Les photos sont le reflet exact de la maison Et de son entourage en pleine nature mais à quelques kilomètres du village où se trouvent toute commodité. Ce mas catalan est somptueux, la décoration raffinée et sobre. D'une propreté immaculée. Un service de nettoyage nous a été offert au bout D une semaine car nous restions 15 jours. Parmi mes nombreuses expériences de location Airbnb, sans aucun doute, Marc et sa maman ont été les hôtes les plus attentionnés et sincères dans leur désir de satisfaire leurs invités. Leur gentillesse, disponibilité et motivation à rendre notre séjour le plus agréable possible ont contribué à le rendre inoubliable.
Christine
2016-07-30T00:00:00Z
What a magnificent house!! Absolutely beautiful restored, spent only two nights but felt immediately like home. Marc was a very good host and made sure everything went perfect! We recommend to everybody!
Carmen Roxana
2016-09-30T00:00:00Z
Art der Unterkunft
Ganze Unterkunft
---
Objekttyp
Wohnung
---
Unterkunft für
10
---
Schlafzimmer
Santa Maria de Palautordera, Catalunya, Spanien
Cozy ground level holiday home with spacious living/dining room and kitchen. The living room has a comfortable sofa/bed, fireplace, TV and internet connection. There is one double-bed room and one complete bathroom. We're just a one minute from train
Ground level of a three-story family home. Very cozy in the winter and cool in the summer.
House is in a quiet, yet centric location and just a one minute walk from the train station.
Wir verbrachten auf unserer Reise von Spanien zurück nach Deutschland eine Nacht in der Wohnung von Empar und Ramón. Die beiden begrüßten uns bei unserer Ankunft sehr herzlich. Nachdem uns Ramón bei der Suche nach einem Parkplatz für Auto und Anhänger geholfen hatte, bot uns Empar Getränke und Obst zur ersten Erfrischung an. Auf unsere Frage nach einem Restaurant erhielten wir eine sehr gute Empfehlung von Ramón, der sich auch noch die Mühe machte, uns zu verschiedenen Restaurants zu führen, da an unserem Aufenthaltstag viele Gaststätten geschlossen hatten. Die Beschreibung in airbnb entspricht der sehr sauberen und geschmackvoll gestalteten und eingerichteten Wohnung, in der wir uns sehr wohl gefühlt haben. Wenn sich die Möglichkeit bietet, kommen wir gerne wieder.
Alexander
2014-09-03T00:00:00Z
Unser Aufenthalt bei Empar war ganz gut. Die Unterkunft ist wie beschrieben und Empar und ihr Mann sind sehr hilfsbereit. Die Unterkunft ist sauber und gut gelegen. In 40 Minuten ist man mit dem Zug in Barcelonas Zentrum. Im Hochsommer würde man sich etwas mehr Luft wünschen - die Wohnung ist im Keller und hat leider keine Fenster.
Manuel
2015-07-21T00:00:00Z
Die Unterkunft ist sehr schön. Empar ist sehr freundlich und zuvorkommend. Hatten sogar frischen Blumen auf dem Tisch)) . Für Unterkunft kann ich weiter empfehlen
Dimitri
2014-09-24T00:00:00Z
Hatte 5 Nächte gebucht und bin nach der 1. Nacht wieder abgereist. Schlaf war nicht möglich. Unterkunft befindet sich im Kellergeschoss des Gebäudes. Gastgeber hat oben drüber eine laute Party gefeiert. Es gibt im Nebenraum eine Maschine die starke Geräusche und Lärm macht. Wurde mitten in der Nacht gebeten mein Auto weg zu fahren (obwohl der Parkplatz mir bei der Ankunft zugewiesen war) Die Bilder zeigen nicht, dass es keine Fenster zum Lüften gibt. Das gezeigte Doppelbett ist ein Sofa und war nicht zum Schlafen bereit, die anderen 2 Einzelbetten sind sehr smal und kurz 80 x 190 4 Nächte werden mir von Airbnb erstattet. Die Rückerstattung für die erste Nacht ist noch offen, wir haben Airbnb um Unterstützung und Hilfe gebeten und hoffen auf die Einsicht des Gastgebers. Die Unterkunft ist sauber.
Heike
2015-08-31T00:00:00Z
Empar's home is cosy and well set up with everything you need. The house is downstairs from where Empar and Ramon live, and they are very warm, kind and helpful people. The house has no windows but has a few skylights to let natural light in, and the house maintains a pleasant feel. The house was very clean with lovely linen and towels. There are various shops within walking distance and the train station is only 5 minutes away.
Anthony
2015-09-07T00:00:00Z
La verdad que muy bien, Empar y Ramón son un encanto, nos sentimos como de la familia. Son muuuy atentos.
paul
2014-11-30T00:00:00Z
Super séjour, Empar et son mari Ramon nous ont formidablement acceuilli (patisserie de bienvenue). Le logement conforme aux photos reste frais la journée ce qui est appréciable lorsque l'on s'est promené toute la journée. Petite ville sympathique avec parc à proximité pour promener notre petit chien. Situation idéale pour aller à Barcelone par le train et ne pas s'ennuyer avec la voiture, plage à 20 mn de voiture et parc national de Montseny pour petites randonnées. Merci pour ce merveilleux moment,je n hésiterais pas à recommander le logement de Empar.
alain
2016-07-30T00:00:00Z
Мы отдыхали в Ллинарсе в июле 2014 и это было одно из самых лучших путешествий! Огромное спасибо хозяевам за гостеприимство и внимание. Ампар и Рамон заботились о нас, как о родных: предупредили о всех трудностях, с которыми мы можем столкнуться, рассказали про сам городок, делились просто историями из жизни :) Очень много было моментов, которые были сделаны для нас от души, и это на 100% сделало наш отдых просто незабываемым. Сам дом очень удобно расположен и в Ллинарсе - все магазины рядом, автотрасса рядом, и по отношению к другим городам: добраться до пляжа в Матаро можно за 20 минут на машине, до Барселоны 35 минут, до Жироны 50 минут. В доме есть все для жилья, описания полностью соответствуют тому, что написано в профиле. И мы точно планируем посетить Ампар и Рамона в следующем году. Навестить этих замечательных людей, погрузиться в жизнь Ллинарса, и посмотреть еще раз на Барселону. Очень рекомендую ехать к Ампар тем, кто не хочет слышать родную речь во время отдыха, а хочет целиком погрузиться в испанскую жизнь(URL HIDDEN) спасибо :)
Renata
2014-07-19T00:00:00Z
Art der Unterkunft
Ganze Unterkunft
---
Objekttyp
Wohnung
---
Unterkunft für
4
---
Schlafzimmer
Llinars del Vallès, Katalonien, Spanien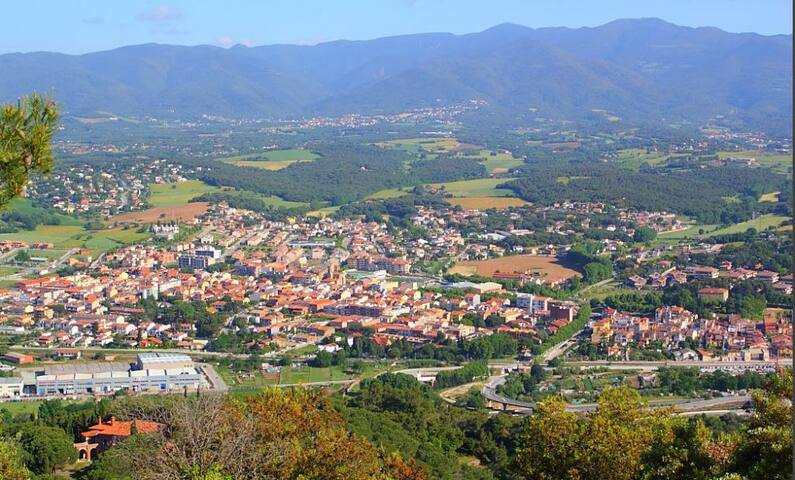 Lugares de interés: Estoy a 10 minutos del circuito de Montmelo, Parque Natural El Montseny y La Roca Village, hay tren y autobus a 5 minutos del piso.
Piso tranquilo con todos los servicios. Habitación individual con baño privado.
Un pueblo muy tranquilo y acogedor
Ottimo posto per raggiungere in 35min il circuito di F1, anche meno (25min) facendo l'autostrada che sono poi 85cent. Avere le chiavi di casa ti da massima libertà di orario, casa accogliente. Sotto casa si trova sempre qualche parcheggio a due passi.
Matteo
2017-03-11T00:00:00Z
Posto perfetto per raggiungere in 25min il circuito di F1. Sono stato qui per lavoro 5 giorni e mi sono trovato molto bene. La padrona di casa non parla inglese ma in qualche modo ci si capisce tranquillamente. Se non si trova posto sotto casa c'è un parcheggio sempre libero poco più avanti. Avere le chiavi di casa permette massima autonomia e la posizione della camera e del bagno permettono discrezione. Consiglio questo alloggio per chi ha bisogno di un onesto appoggio per la notte magari per lavoro e vuole spendere cifre molto basse.
Stefano
2017-03-03T00:00:00Z
Art der Unterkunft
Privatzimmer
---
Objekttyp
Wohnung
---
Unterkunft für
1
---
Schlafzimmer
Llinars del Vallès, Catalunya, Spanien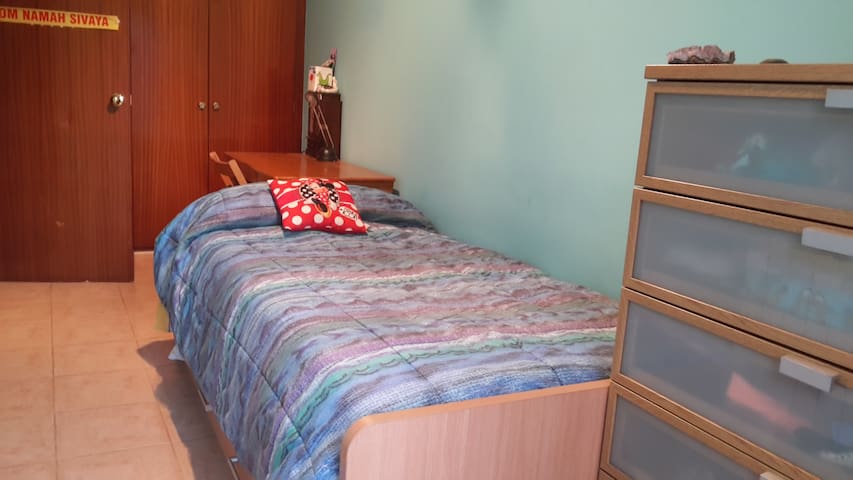 Piso Nuevo, luminoso, fresco. Con Mobiliario y electrodomésticos nuevos. Buena Atencion, amabilidad. Habitación con 2 camas, escritorio, armarios. Terraza soleada. Bien comunicado, parking, cerca del Centro, supermercado, ayuntamiento, tren. Pueblo autóctono. Cerca de zonas de Montaña, hipica, rutas turísticas, Ríos, restaurantes. Rodeado de varias Reservas Naturales, y rutas turísticas de Montaña. Con vistas al parque natural del Montseny. Este parque natural es el más antiguo de Cataluña y también es uno de los más importantes, puesto que en una zona relativamente reducida se encuentran comunidades vegetales típicas de los tres grandes biomas europeos: el mediterráneo, el eurosiberiano y el boreoalpino.
Ofrezco Servicio de transporte turístico a los alrededores. Precio no incluido. Zona de Playa, ciudad. A media hora de zonas de playa, a 40 min costa brava. a 40 min de Barcelona. Piso Nuevo, luminoso, fresco. Con Mobiliario y electrodomésticos nuevos. Buena Atencion, amabilidad. Habitación con 2 camas, escritorio, armarios. Terraza soleada. Bien comunicado, parking, cerca del Centro, supermercado, ayuntamiento, tren. Pueblo autóctono. Cerca de zonas de Montaña, hipica, rutas turísticas, Ríos, restaurantes. Rodeado de varias Reservas Naturales, y rutas turísticas de Montaña. Con vistas al parque natural del Montseny. Este parque natural es el más antiguo de Cataluña y también es uno de los más importantes, puesto que en una zona relativamente reducida se encuentran comunidades vegetales típicas de los tres grandes biomas europeos: el mediterráneo, el eurosiberiano y el boreoalpino.
A pie de montaña, cerca del centro, mucha zona de parking exterior. A media hora de zonas de playa, a 40 min costa brava. a 40 min de Barcelona.
Art der Unterkunft
Privatzimmer
---
Objekttyp
Wohnung
---
Unterkunft für
2
---
Schlafzimmer
Santa Maria de Palautordera, CT, Spanien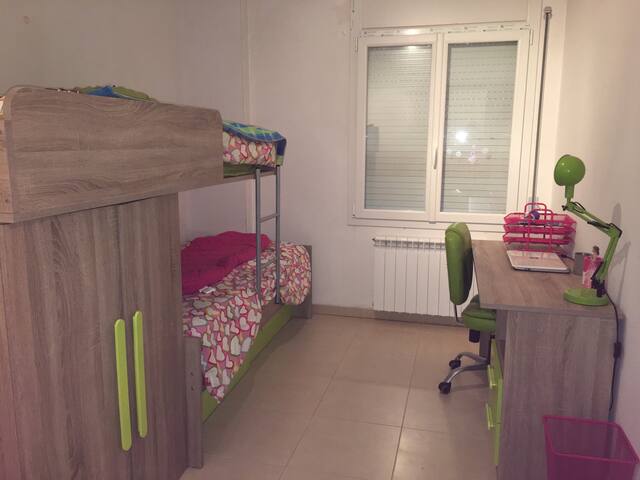 El Totxet, es un loft con capacidad maxima para 6 personas, dispone de una cama de matrimonio que esta separada con un panel sin puerta. y las otras camas estan situadas en el salon comedor. La piscina dispone del sistema salino para mantener el Ph del agua en perfecto estado, esto respeta la piel , ojos y cabello
De vacaciones loft de alquiler, con capacidad maxima para 6 personas. 30 € por persona / noche. Se admiten mascotas con condiciones. Te encontraras piscina, barbacoa, parque infantil. En el loft encontrará 1 cama doble, 1 sofá-cama para dos personas y 2 camas individuales, 1 sala de estar, cocina (con todo Estris) vestidor, inodoro, lavabo y ducha. Calefaccion, wifi, tv., Nevera, microondas, cafetera, tostadora, liquadora etc. Se encuentra en el Parque Natural del Montseny, ideal para pasear, hacer senderismo, montar en bicicleta, etc ..
tranquillo.
Hemos tenido una estancia muy agradable en el Totxet. Es un lugar muy tranquilo y encantador. El apartamento dispone de todo lo necesario... microondas, nevera, batidora.. Con varios espacios exteriores que son un lujo. Los anfitriones (Marga y Jose) son muy amables y atentos, y estuvieron pendientes de que estuvieramos a gusto y no nos faltara de nada. Muy buen lugar.
Maria
2014-08-30T00:00:00Z
La casa estaba genial y el trato de Marga y José fue fantástico. Si podemos, repetiremos cuando haga mejor tiempo.
Pablo
2016-11-27T00:00:00Z
Lugar muy acogedor, en pleno valle. Muy recomendable
Sergio
2016-03-11T00:00:00Z
Muy recomendable, la atención, la casa, el lugar. Todo perfecto!
Daniela
2016-11-06T00:00:00Z
Una casa i un entorn ideals per a un dia de barbacoa i piscina. Els amfitrions ajuden a fer-ho tot fàcil. Un plaer!
Guillem
2014-09-15T00:00:00Z
The host canceled this reservation the day before arrival. This is an automated posting.
Alex
2016-11-18T00:00:00Z
Todo fantástico! Perfecto fin de semana, en un lugar súper acogedor y con unos anfitriones súper majos! Volveremos a ir seguro!
Alicia
2016-10-31T00:00:00Z
Una experienca magnifica con Jose y Margarita. Gracias a vosotros. Nous avons passé un super moment chez nos hôtes. Le logement est propre et bien illuminé. Le cadre est reposant et la vue superbe. Le piscine un vrai régal. Nos hôtes ont été attentifs à nos besoins. Place pour garer son véhicule sans pb. Nous recommandons +++. Expérience à renouveler le plus rapidement possible.
soundos
2015-07-26T00:00:00Z
Art der Unterkunft
Ganze Unterkunft
---
Objekttyp
Wohnung
---
Unterkunft für
6
---
Schlafzimmer
San Pedro de Vilamajor, Katalonien, Spanien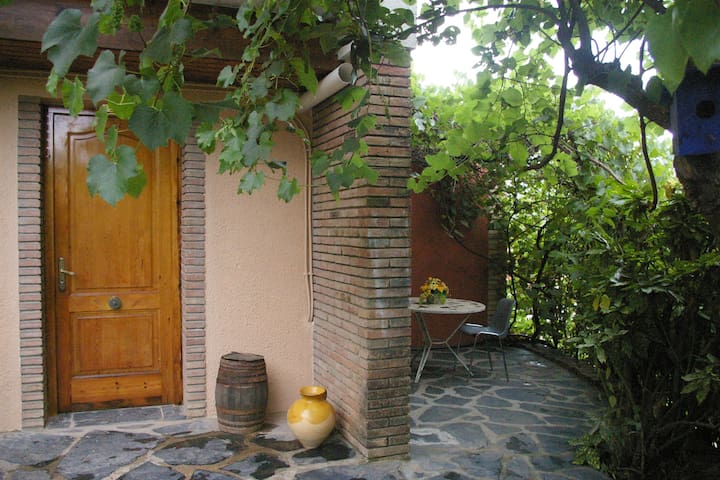 Full floor, fully equipped with all the details , in the center of Llinars . A 5 km of The Rock Valles and 17km from the Circuit de Catalunya .
The accommodation is comprised of a suite double room with en suite bathroom . THE bathroom is all equipped and shower . Has one double bedroom , one bathroom with bath , an office with closed area , a room for the washer and dryer , living room , the kitchen is open and gives directly into the dining room and hall .
The neighborhood is a quiet area a few meters walk from the town center . It has beautiful parks to enjoy the outdoors and long walks.
Art der Unterkunft
Ganze Unterkunft
---
Objekttyp
Wohnung
---
Unterkunft für
5
---
Schlafzimmer
Llinars del Vallès, Catalunya, Spanien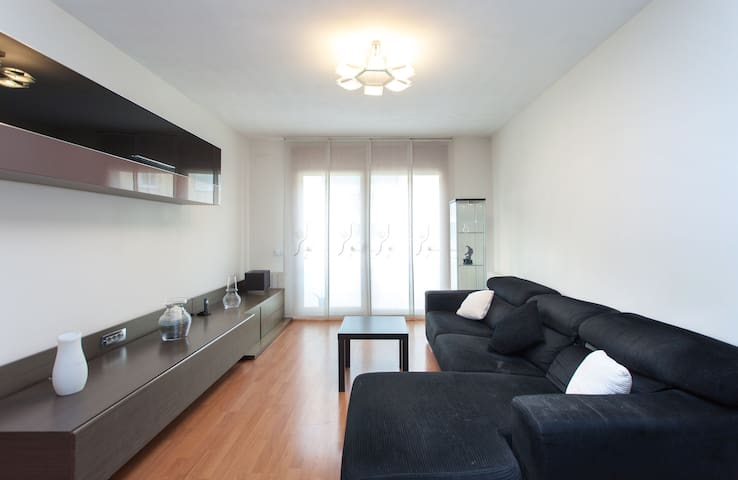 Acogedor apartamento con piscina en Sant Antoni de Vilamajor. A 40 minutos caminando de la estación de tren de Cardedeu (linia de tren dirección BCN y aeropuerto). Esta cerca del parque Natural del Montseny, del circuito de Montmeló, del centro comercial La Roca Village, a 30km de Barcelona, 20km de la playa y 40km de Girona. Recomendamos a nuestros huéspedes que vengan en coche.
un gran apartamento tipo loft, completamente equipado y moderno. con television satélite y wifi. Ideal para parejas con ganas de explorar Barcelona y sus alrededores. Cerca de tren y autopista
la casa esta en una urbanización tranquila y bien comunicada. Hay un supermercado a 15 minutos caminando.
Estancia agradable, tranquila, y con todo tipo de comodidades.
Judith
2016-12-11T00:00:00Z
Anfitriones muy atentos, apartamento muy espacioso y con todos los detalles. Da la sensacion de estar como en casa ya que dispone de todos los complementos de cocina, baño y estancia. Totalmente recomendable.
Carlos
2017-01-22T00:00:00Z
Sr Barbas: Estuvimos 1 semana en marzo. (pareja 27 y 33 años) La casa: Impresiónate y acogedora casa, construida en un único ambiente. Cocina espaciosa con una gran isla central, mucha zona de trabajo, gran surtido de pequeños electrodomésticos para preparar todo tipo de alimentos, todos nuevos y de gran calidad (nevera, campana, vitrocerámica, lavavajillas, secadora, lavadora, aspirador...) además de todo lo necesario y más para cocinar y comer. También cuenta con un buen surtido de productos de limpieza. Baño espacioso con una gran ducha, secador de pelo y una buena dotación de toallas. Además de un botiquín. Impresionante salón comedor con una larga mesa, un cómodo sofá de piel y una moderna y gran televisión. Además cuenta con un reproductor de DVD, una videoteca y con las videoconsolas wii y ps2, juegos, mandos y micrófonos. También hay disponible una extensa biblioteca, un piano electrónico, una batería electrónica y una bonita colección de guitarras eléctricas y españolas. Dormitirio con una cama de 160 x 200, colchón muy cómodo y bueno. Sábanas y ropa de cama de recambio y un armario con mucho espacio de almacenaje. Todo en la casa se encontraba muy limpio y ordenado. El exterior: Gran terreno privado con bancos, zona ajardinada, piscina de gran tamaño (con vallado de seguridad para niños), espacio para aparcar varios vehículos. Hay dos perros en el terreno, muy cariñosos e inofensivos ( los dueños desde el primer minuto nos ofrecieron la posibilidad de que los animales estuviesen atados y apartados en el caso de que no nos gustasen los perros). El lugar: La casa está ubicada en una zona tranquila, un ambiente idílico para escapadas románticas, se encuentra en un pequeño pueblo a menos de 5 minutos de Cardedeu y a escasos 20 minutos en coche de Barcelona ciudad. Tambien hay cercana una estación de renfe la cual permite moverse a múltiples lugares sin necesidad de vehículo. Para los amantes de la naturaleza, recomendable una visita al montseny el cual se encuentra muy cercano. A unos 10 minutos esta ubicado el bonito y exclusivo centro comercial al aire libre la Roca Village donde poder realizar compras. Los anfitriones: Muy simpáticos y educados, estuvieron en todo momento atentos a nuestras posibles necesidades pero sin vulnerar jamás nuestra intimidad, una buena e inmediata comunicación mediante (SENSITIVE CONTENTS HIDDEN). Se prestaron a informarnos de actividades y lugares que visitar o donde comer bien por la zona.
Cristina
2017-03-12T00:00:00Z
La casa está situado en una zona residencial, muy tranquila. Laura y su familia fueron muy flexibles para acordar la hora de llegada y de salida del apartamento. El apartamento muy limpio y con todo lo necesario (utensilios de cocina, toallas, jabones, etc). Apartamento muy bonito y luminoso. Lo recomendamos 100%! :)
Clara
2017-03-26T00:00:00Z
L'estancia ha sigut genial, tal i com esperàvem. Ja desde la reserva ens van donar tot tipus de facilitats. Són flexibles en les hores d'entrada i sortida. La rebuda molt amable. L'apartament està totalment equipat i més. Tot és molt maco i els espais són grans. Està com a les fotos, inclús millor. La zona és molt tranquila, ideal per desconnectar. Hi ha un supermercat a 5 minuts en cotxe.
Sergi
2017-04-09T00:00:00Z
Perfect place for us! We enjoyed a big kitchen and quietness of this place.
Milan
2017-02-27T00:00:00Z
Molt contents de l'estada, la casa es genial i sobretot la cuina molt ben equipada. Molt ben rebuts i amb totes les facilitats. Gracies per tot , records.
Des
2016-11-19T00:00:00Z
Nuestra estancia de fin de semana ha sido genial. Apartamento muy bonito, espacioso y cuidado. Los dueños muy atentos con nosotros. Repetiriamos!!
Marta
2017-04-02T00:00:00Z
Art der Unterkunft
Ganze Unterkunft
---
Objekttyp
Wohnung
---
Unterkunft für
2
---
Schlafzimmer
Sant Julià d'Alfou, Catalunya, Spanien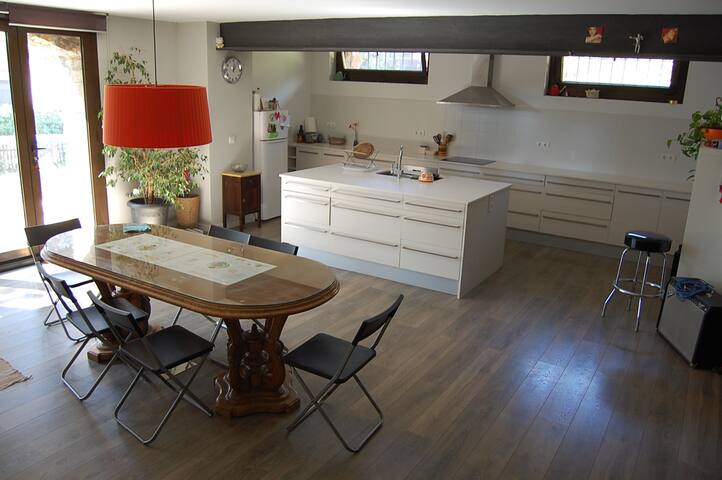 Appartement entièrement équipé, construit avec du bois naturel aux pieds du Parc Naturel du Montseny. A 50 minutes de Barcelone et de Gérone à 20 minutes des plages de Areny et du La Roca Village Shooping Center. Nous utilisons les énergies renouvelables
Possibilité de rester dans le Parc Naturel de Montseny, a déclaré une réserve de biosphère par l'UNESCO en 1978. Dans cet environnement de tranquillité, à seulement 50 km de Barcelone et de Gérone, vous pouvez profiter de nombreuses activités de plein air et de la nature. Nous sommes situés dans la ville de Sant Esteve de Palautordera Barcelone, à 15 minutes de la Roca centre commercial et à 20 minutes de la plage Arenys de Mar. Appartement / studio construit avec du bois naturel en utilisant des critères de l'architecture durable (station éco) et les énergies renouvelables (solaire et géothermique). L'étude a: cuisine entièrement équipée, salle de bains avec douche, chauffage et climatisation, WIFI gratuit, télévision et musique.
quartier calme, il est une zone résidentielle à 3 minutes à pied du centre du village où nos clients trouveront des bars, des restaurants, des magasins, des supermarchés, etc.
Très content de notre séjour. Les photos sont très fidèle à la réalité. L'accueil est très très sympathique et serviable. L'environnement est très calme et nous le recommandons vivement à tous tous ceux qui souhaitent passer quelques jours en toute sérénité, particulièrement les couples qui cherchent un voyage en amoureux. Nous recommandons également le service des massages proposés.
Carlos
2016-06-20T00:00:00Z
Estuve con mi marido y mi bebé un fin de semana de diciembre. Nos gustó mucho el entorno. El pueblo, Sant Esteve de Palautordera, tiene bastantes servicios para ser pequeño y tranquilo y el alojamiento está a tres minutos caminando del centro. Nos gustó que el alojamiento, que es tipo hotel rural, sea respetuoso con el medio ambiente. El apartamento es tal cual aparece en las fotos, incluso me pareció algo más grande. La calefacción estaba a un nivel confortable y la cocina tenía lo esencial para hacerse un desayuno y calentarse comida en el microondas. Lo mejor, sin duda, fue el servicio de masajes. Gracias Ana, ya tenemos ganas de repetir. Los preparativos y la llegada también fueron muy personalizados, pero la recepción está abierta de 10 a 13 h el fin de semana. El problema es que el precio no nos permite planificar visitas más extendidas o más frecuentes.
Irene
2016-12-18T00:00:00Z
Nous avons été très bien accueillis et avons passé un excellent séjour. La chambre est fidèle aux photos, très proche du centre ville. Le village est charmant et agréable !
Laura
2016-08-15T00:00:00Z
El apartamento está muy bien, es muy acogedor y sobretodo, está muy limpio. Es una magnífica experiencia si quieres desconectar de la ciudad porque es muy tranquilo, además, es un buen lugar para todos aquellos a los que les gustan las excursiones y la naturaleza.
David
2015-09-15T00:00:00Z
Al entrar a la habitación vimos mucha suciedad, algún fruto seco en el suelo, polvo... Pero lo más impactante fue estirarse en la cama y ver como justo al lado de ésta había un PRESERVATIVO USADO, tirado en el suelo, creo que es algo que se ve sin problemas si se limpia un mínimo la habitación. Cuando subieron a limpiar al día siguiente seguía habiendo algo de suciedad y al ir a coger mi toalla para ducharme, la chica se la había llevado, supongo que confundiéndola con una del hotel...
David
2017-01-03T00:00:00Z
Apartamento de madera de muy buena calidad, tal como aparece en la foto, con cocina y ducha de hidromasaje (en nuestro caso con terraza). La verdad es que tanto las personas del centro tuvieron un trato muy bueno con nosotros. Totalmente recomendable para gente que quiera ver St Esteve, rutas de senderismo e incluso hacerse masajes en el centro.
Victor
2016-01-04T00:00:00Z
Tracte immillorable! Experiència molt positiva. Ens hi hem sentit com a casa!
Pidu
2017-02-26T00:00:00Z
Art der Unterkunft
Ganze Unterkunft
---
Objekttyp
Wohnung
---
Unterkunft für
2
---
Schlafzimmer
St Esteve de Palautordera, Katalonien, Spanien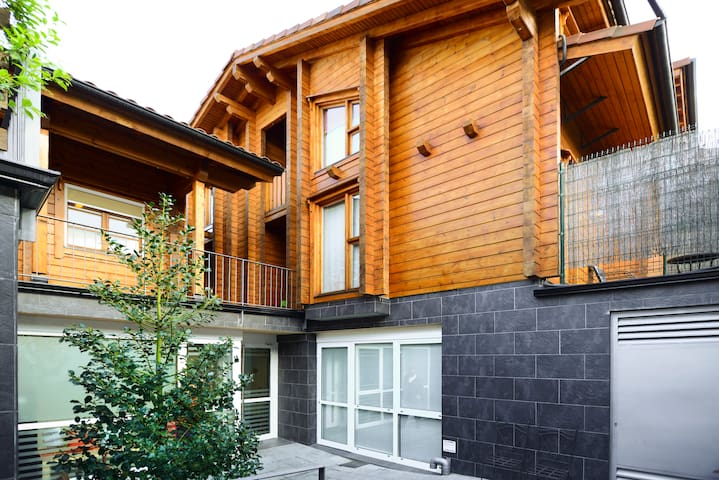 Voll ausgestattete Wohnung mit Naturholz am Fuß des Parc Natural del Montseny gebaut. Ein 50 Minuten von Barcelona und Girona 20 Minuten von den Stränden von Arenys de Mar und Roca Village Shooping Zentrum. erneuerbare Energien
Diese Wohnung bietet Ihnen die Möglichkeit, am Fuß des Naturparks Montseny zu bleiben, einen Biosphärenreservat von der UNESCO im Jahr 1978. In dieser ruhigen Umgebung erklärte, nur 50 km von Barcelona und Girona werden mehrere Aktivitäten genießen im Freien und in der Natur. Wir sind in der Barcelona Stadt Sant Esteve de Palautordera, 15 minuts des Felsens Shopping Center und 20 Minuten vom Strand in Arenys de Mar. Wohnung / Studio mit Doppelbett mit Naturholz gebaut nach den Kriterien der nachhaltigen Architektur (Eco-Resort) und erneuerbaren Energien (Geothermie und Solar). Die Wohnung verfügt über: voll ausgestattete Küche, Bad mit Dusche hidromassatge, Heizung und Klimaanlage, kostenlosem WLAN, TV und Musik ausgestattet. Haushälterin ist im Preis inbegriffen.
ruhige Nachbarschaft ist ein Wohngebiet, 3 Minuten vom Zentrum entfernt, wo Sie Bars, Restaurants, Geschäfte, Supermarkt, usw.
Desde el primer momento que contacté con Carme me ayudó en todo lo que necesité: qué se podía hacer en el pueblo, qué tipo de tiendas para comer podría encontrar, restaurantes... Luego básicamente funciona como un hotel pero con una atención más personalizada y ayudándote en todo lo que puedan. El pueblo donde está situado el apartamento es muy pequeñito, ideal para descansar pero se necesita coche para poder ir a otros sitios y hacer rutas por el Montseny. Imprescindible los masajes que ofrecen y si está despejado, mirar al cielo por las noches.
Eugenia
2015-08-13T00:00:00Z
muy agradable y perfecto para una escapada al Montseny
Benet
2016-12-28T00:00:00Z
Vam estar molt a gust. Ja coneixem el poble però no aquest allotjament. Sense dubte que tornariem a repetir.
JuLi
2016-10-30T00:00:00Z
great place....quite and comfortable.....next time will be there again.. see u my sweet room
Lei
2016-02-26T00:00:00Z
Buena experiencia, buen trato y servicio. Genial para descansar y respirar un poco.
Antonio
2015-12-08T00:00:00Z
Molt ben ubicat, i un lloc molt tranquil, personal molt atent i simptic
Núria
2016-08-14T00:00:00Z
Ottima accoglienza anche se siamo arrivati molto più tardi dell'orario indicato. Descrizione della camera precisa e localizzazione comoda al centro del paese anche se vicino al verde della campagna. Servizi ottimi nella Spa inclusa nella struttura.
Massimiliano
2016-08-04T00:00:00Z
Art der Unterkunft
Ganze Unterkunft
---
Objekttyp
Wohnung
---
Unterkunft für
2
---
Schlafzimmer
Sant Esteve de Palautordera, Katalonien, Spanien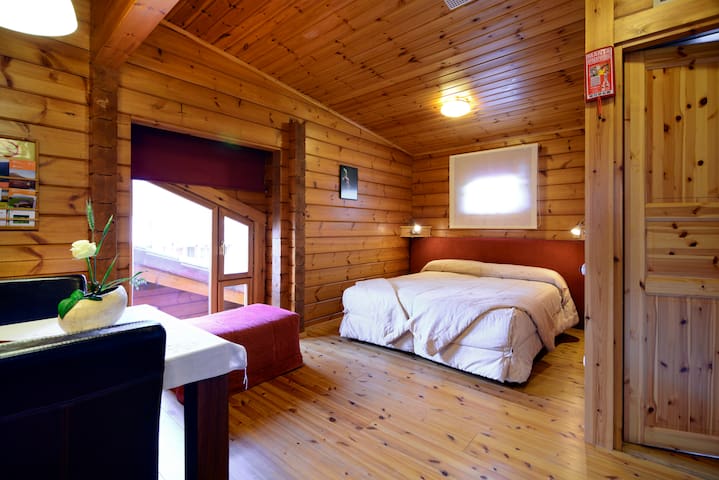 Carme was very helpful in accommodating a Sunday arrival and was willing to meet us outside of the spa's regular hours. The place was very clean and quiet, and the spa services (I had a sports massage followed by a sauna) were amazing and affordable!
Brianne
2014-12-31T00:00:00Z
Art der Unterkunft
Ganze Unterkunft
---
Objekttyp
Wohnung
---
Unterkunft für
2
---
Schlafzimmer
Sant Esteve de Palautordera, Katalonien, Spanien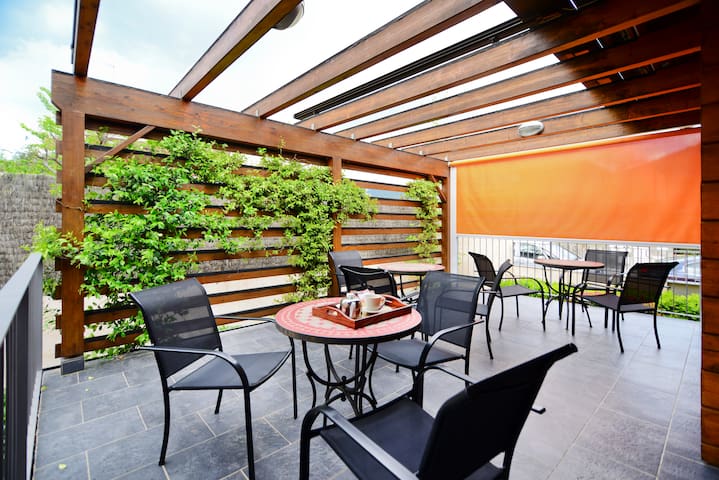 This apartment, located in Arenys de Munt, is ideal for 5 vacationers. It offers 2 bedrooms and a furnished balcony.
This apartment, located in Arenys de Munt, is ideal for 5 vacationers. It offers 2 bedrooms and a furnished balcony. The lounge is perfect for unwinding after a day in the sun. Curl up on the comfortable sofa and enjoy a good book or take advantage of the amenities on offer, including a radio. The kitchen is well-equipped for cooking up your favorite meals. Enjoy your feast around the dining table which seats 6 or outside, on the balcony enjoying views of the mountains. The apartment has 2 comfortable bedrooms, 1 including a double bed with a private bathroom including a shower and toilet and the other one with a double bed. There is allso a convertible sofa in the living room for 1 person. Separate toilets are available. The apartment features a central heating, a washing-machine, ironing equipment, a vacuum cleaner, cleaning products and a fan. Notice that towels, bed linen and tourist tax are included in the rental fee. End cleaning has to be done by the guests or can be available with additional fees to be paid on site. Parking is available nearby or private parking on site for 10€ per night. Smoking inside is not allowed. Pets are not allowed. Parties are not allowed.
This apartment, enjoys a privileged location that will allow you to enjoy your stay in the area. Many activities await you in the surroundings such as Hiking, Scuba diving, Swimming, Sailing, Fishing, Snorkelling, Roller skating, Mountain biking, Cycling, Golfing and Water sports. Arenys de Mar beach is 4 km away from the apartment. You will also find great bars and restaurants at 2 km
Art der Unterkunft
Ganze Unterkunft
---
Objekttyp
Wohnung
---
Unterkunft für
5
---
Schlafzimmer
Arenys de Munt, Spanien
Duplex accommodate 4 + 2, close to the beach Arenys de Mar. In the heart of Maresma and 35 min from Barcelona.
il nous a fait sentir par la présentation de la maison
BERTRAND
2016-08-19T00:00:00Z
Accoglienza fantastica, ci hanno messo subito a nostro agio. La casa veramente bella e spaziosa, dotata di tutti i comfort. Le comodità erano maggiori rispetto all aspettativa. Marcel e la sua compagna sono stati gentilissimi e disponibilissimi riguardo ogni nostra richiesta. Il quartiere tranquillo e a pochi minuti dalle spiagge e dai tutti i servizi. Quando torneremo di nuovo in Spagna rialloggeremmo molto volentieri da Marcel. Vacanza fantastica grazie all appartamento e alla gentilezza, simpatia e disponibilità di Marcel e Anna.
Michael
2016-07-14T00:00:00Z
Nous avons été pris en charge par Conchi à notre arrivée (personne de confiance des propriétaires). L'appartement correspondait au descriptif annoncé, cependant l'accès à la machine à laver est réservé à Conchi, nous avons pris rendez vous avec elle pour nettoyer notre linge. Bien que ne parlant pas le français et nous très peu l'espagnol elle a parfaitement rempli son rôle, Conchi étant très agréable, très disponible et surtout patiente avec nous. Les propriétaires étant tout aussi attentionnés avec leurs hôtes . On avait accès à internet très facilement et tout était à disposition, aucune réserve sur l'appartement, avec de la documentation sur Barcelone . Le plus de cet ...appartement la vue sur la terrasse et la clim !!!! Ensuite le village d'Arenys de Munt a du charme car il est situé entre mer et petite montagne, et la plage est rapide d'accès même en voiture. Lors de notre visite à Barcelone (arrivée en plein centre ville) nous avons pris une navette près de l'appartement pour rejoindre la gare située à quelques minutes de l'appartement. Nous avons passé un séjour très agréable et nous avons pu constater encore une fois la gentillesse des Catalans (Marcel Anna Conchi et les autres) et des Espagnols.
STEPHANE
2015-08-09T00:00:00Z
Marcel's property is homely, quiet and well equipped. We had decided to drive down and Marcel allowed us access to his parking. We had an amazing experience and holiday, a big thank you to Marcel!
Russell
2015-08-29T00:00:00Z
The host canceled this reservation 37 days before arrival. This is an automated posting.
Núria
2015-11-23T00:00:00Z
Art der Unterkunft
Ganze Unterkunft
---
Objekttyp
Wohnung
---
Unterkunft für
6
---
Schlafzimmer
Arenys de Munt, Catalunya, Spanien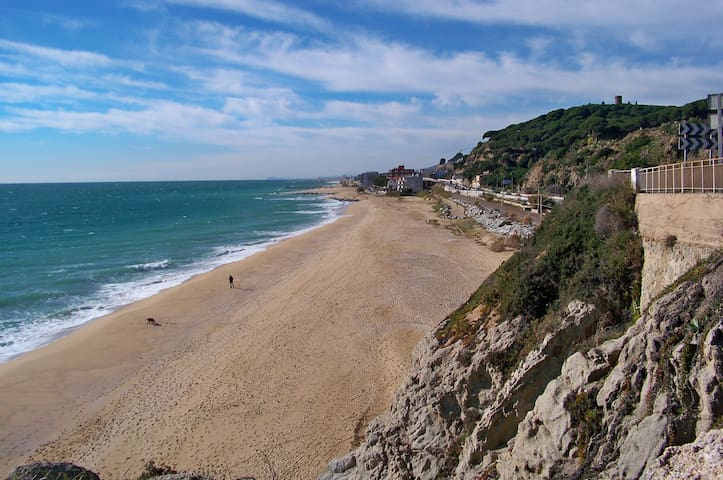 Art der Unterkunft
Ganze Unterkunft
---
Objekttyp
Wohnung
---
Unterkunft für
2
---
Schlafzimmer
Sant Esteve de Palautordera, Katalonien, Spanien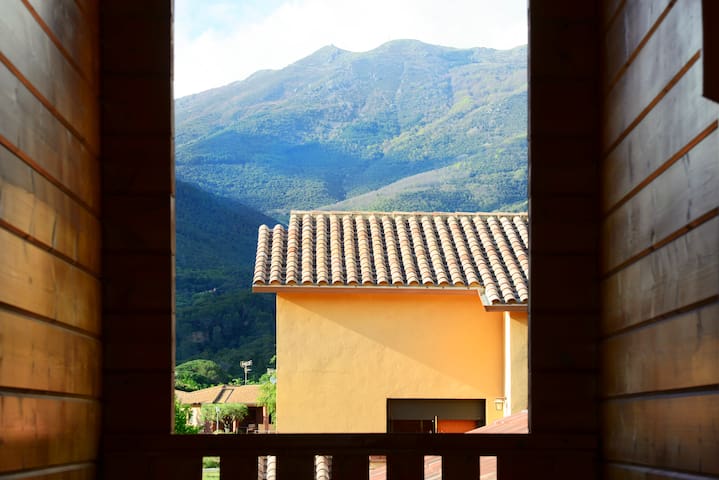 Gemütliche Unterkunft in Montseny Naturpark, ist der ideale Ort zum Entspannen, genießen in der Natur und entspannen. Während Sie ausgezeichnete Mahlzeiten und Dorfleben voller entspannte, freundliche und entspannte Atmosphäre genießen können.
Das Hotel liegt in den Ausläufern des Naturparks. Nun mit Barcelona und Girona verbunden. Es ist eine landwirtschaftliche Fläche, bewohnt von friedlichen Menschen, die die Natur lieben und schätzen die Ruhe. Die apartartamento befindet sich im ersten Stock des Hauses. Es verfügt über zwei Doppelzimmer, beide zu Sonnenaufgang orientiert auf die Landschaft und Wald mit Blick auf. Und zwei geräumige Einzelzimmer. Das Haus verfügt über viel Licht, 360-Grad-Blick auf die Berge und die Landschaft. große und komfortable Küche mit 5 Flammen, und Speisezentrum, das Haus hat einen schönen Holzofen und einen kleinen Garten von Pflanzen. Ideal zum Lesen, Arbeiten oder einfach nur zu sein, und zu plaudern.
Wir sind in einer sehr ruhigen Gegend, die Nachbarn sind freundlich und offen, einige von ihnen sind Bauern, andere gehen nach Barcelona täglich zu arbeiten, die Umwelt atmet Gemeinschaft Atmosphäre. Die Nachbarschaft der Farm leben mehrere Familien mit kleinen Kindern Jahre 1-6, die Menschen lieben zu treffen und spielen mit anderen Kindern. Wenn Sie mit Kindern veniís und wollen neue Freunde zu treffen, ist das Geschenk, das ich kann :)
The stay with Olga was really nice, the location of the house it's perfect , offers quite nature walks. Olga gave as good information for our stay and was very helpful, thank you ! La estancia con Olga fue muy buena, la casa esta situada en un entorno lleno de lugares bonitos para pasear en la naturaleza. Olga nos dio información útil para nuestra estancia, recomendamos el lugar y la anfitriona, gracias Olga!
Florian And Sara
2015-11-21T00:00:00Z
Olga is a fantastic host! She was very welcoming during our short weekend stay at her house in Dec'14. She was also very helpful and responsive at all times, from directing us to her house on the first day to sharing local info on hiking routes. I would strongly recommend her airbnb for the clean rooms and the nice rural scenery you see on all sides of the house. The kitchen and the living room are very accessible. Great way to discover Montseny! Two tips. Pack in some warm clothing if you are traveling in winter. Second, if you are not traveling by a car, get directions from Olga. There is a convenient bus from P'tordera that takes you fairly close to the house. The bus from S. Celoni is not as frequent (to the best of my knowledge).
Jagdish
2014-12-09T00:00:00Z
My friend and I stayed at Olga's for a week and the entire experience was wonderful! She was the perfect host - warm, welcoming and quick to respond to messages even before we arrived. She helped with directions, figuring out what to pack and recommendations for things to do in the area. The apartment is beautiful - accurate to the pictures, very clean, sunny and the kitchen window looks out over the mountains. We cooked a lot, and when we wanted to go out there were a few great restaurants in town. A highlight of the trip was sharing meals with Olga, her friend, who was also staying at the apartment, and another couple that came to stay towards the end of our trip. Everyone was so warm and friendly. The neighborhood is also amazing. It's a quiet, friendly village nestled just at the foot of the mountains. Olga's neighbors were all incredibly sweet and quick to offer ideas for things to do. Coming from big city USA, it was amazing to be greeted and welcomed by every neighbor we met. There is a farm right next door (go there for the fresh eggs!) and 15 min walk down the street is the supermarket, natural food store, cafes and a delicious bakery. The lake is a 15 min walk in the other direction, and I loved going running there in the mornings. The whole area felt incredibly safe and friendly. I could write a lot more because we really had a magical trip. Between driving through the mountains, hiking, exploring the villages, going down to the Costa Brava beaches, and more, there was always a lot to do. Most of all though, we were blown away by the warmth of Olga, her friends, the village and the natural beauty of the area. I highly recommend this spot; we hope to return someday soon!
Abby
2016-07-20T00:00:00Z
La estáncia en casa de Olga ha sido estupenda. La ubicación es exactamente la descrita. Ella es una persona cálida y agradable que nos ha facilitado tanto la llegada como las visitas. Muchas gracias Olga. Hasta siempre
Marina
2016-08-20T00:00:00Z
Hem passat un cap de setmana genial. Un lloc molt tranquil per a desconnectar, fer una bona caminada i menjar bé. Encantada també de l'Olga, molt atenta. Gràcies
Irene
2017-03-06T00:00:00Z
Muchas gracias Olga por hacernos sentir en tu casa en nuestra estancia el fin de semana. Tus consejos sobre los alrededores,y las visitas a realizar, nos gustaron mucho. Un abrazo fuerte de Cristina y mío.!!
Esther
2015-05-04T00:00:00Z
Notre séjour chez Olga s'est très bien passé. Elle nous a mis à l'aise en nous présentant sa maison, en nous proposant de partager sa cuisine, en nous indiquant que nous pouvions allumer la cheminée. Nous étions comme chez nous. Un grand merci à Olga car nous avons pu cuisiner et partager le repas de Noël chez elle.
florence
2015-12-28T00:00:00Z
We had a very nice stay at Olgas place. Olga was supernice, but we didnt get to talk to her that much. But she was very good at informing about travelroute and the village on email. The neighbourhood was very nice as well were Olgas (SENSITIVE CONTENTS HIDDEN) and neighbourhood.
Bia
2016-11-20T00:00:00Z
Art der Unterkunft
Privatzimmer
---
Objekttyp
Wohnung
---
Unterkunft für
2
---
Schlafzimmer
Sant Esteve de Palautordera, Catalunya, Spanien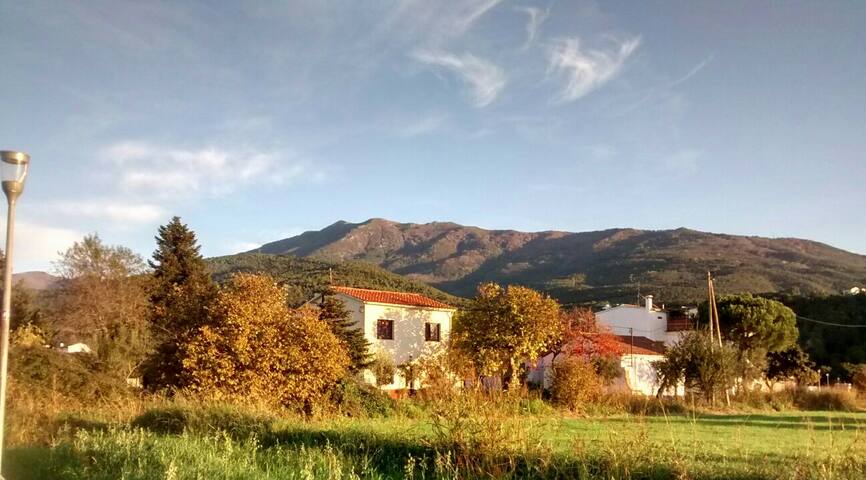 Apartamento nuevo en Arenys de Munt, cerca de Barcelona y de la playa. Alojamiento tranquilo en un pueblo tranquilo. A quatro kms. de la playa y a 40 kms. de Barcelona. Con jardín delantero y patio trasero. Para no fumadores. Se admiten animales. Número del Registre de Turisme de Catalunya : HUTB-006001.
El alojamiento está a medio camino entre Barcelona i la Costa Brava, dos lugares fantásticos.
Del barrio y del pueblo destacamos su tranquilidad.
Nous avons été très bien accueilli. Logement agréable, bien équipé proche des petits commerces. Proche de Barcelone et permettant d'être au calme le soir, pratique avec des enfants. Francesc et sa femme nous ont mis à l'aise. Bonne documentation sur les activités alentours.
Laurianne
2016-07-30T00:00:00Z
Art der Unterkunft
Ganze Unterkunft
---
Objekttyp
Wohnung
---
Unterkunft für
5
---
Schlafzimmer
Arenys de Munt, Catalunya, Spanien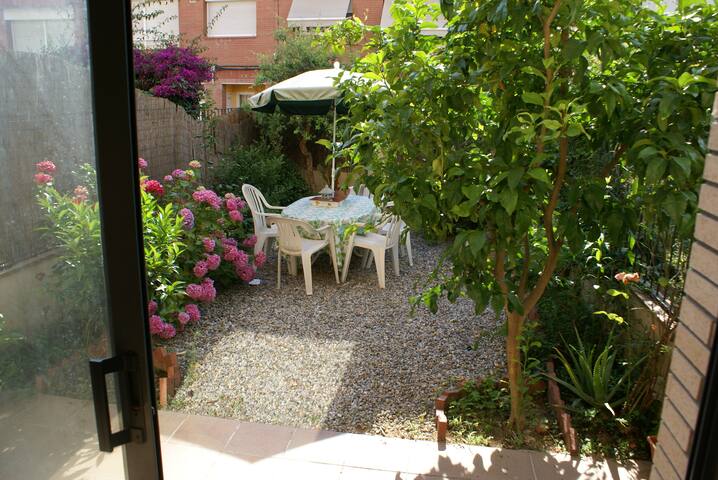 Gemütliches Haus, umgeben von Feldern und Eichenwäldern. In Montseny Naturpark, Biosphärenreservat von der UNESCO, ist es ideal für körperliches Training, Walking, Kreativität und natürliches Leben.
Das Hotel liegt an den Hängen des Montseny Bergen, in der Nähe der Straße und 10 Minuten vom kleinen Dorf. Wir sind umgeben von Feldern, bewohnt von friedlichen Menschen, die Ruhe und schätzen die Natur lieben umgeben. Dies ist eine Wohnung im ersten Stock von einem zwei Ebenen Haus. Vermietung zwei große und geräumige Zimmer Sonnenaufgang orientiert. Sowohl mit großem Doppelbett. Im Erdgeschoss gibt es einen privaten Garten, in dem um einen Kaffee zu lesen oder zu schreiben, haben sie, um die Vögel zu hören und Himmel Änderungen nachdenken. Das Haus verfügt über viel Licht, 360-Grad-Aussicht auf die Berge und die Landschaft.
Die Nachbarschaft ist es ruhig, und die Leute sind freundlich, einige von ihnen sind Bauern, und es gibt auch viele Menschen, dass seine in Barcelona arbeiten und täglich in die Stadt ziehen.
A la llegada propia Olga estaba de vacaciones. Ella se ha ampliado a través del correo electrónico a la altura de la casa, el camino hacia ella, y cuando iban a llegar. Misma nos Cuando llegamos había una extensa carta manuscrita acabado con más tipos de consejos en la zona. Las nuevas instrucciones de la casa y el jardín fue escrito. Sí Olga es una muy amable una mujer agradable. La casa que ella es una hermosa casa que está decorado con cuidado. Las tres habitaciones que utilizamos Olga y todo el mundo dormía. Olga es una excelente cocinera de platos naturales y macrobióticos. Además, ella es muy creativa y le gusta hablar sobre una variedad de temas con los invitados. Eso hace que una mujer simpática Olga.
Vincent
2014-07-19T00:00:00Z
Our experience with Olga was wonderful. We came to Montseny to explore the Spanish countryside and get away from the bustle of Barcelona. Her house was perfectly located for hiking, but was also quite close to the village of Sant Esteve, so buying food and eating at a restaurant was not difficult. We were also able to arrive fairly easily and cheaply without a car; we just took a train and then a bus. Olga is a warm and welcoming hostess who really cares about her guests. She made a delicious macrobiotic vegetarian dinner for us one night and even used her extensive knowledge of Chinese medicine to cure my annoying belly ache! We really enjoyed talking with her about the area, our backgrounds, and life philosophies. So glad we got to meet her. We would recommend her without hesitation! One thing: it was quite cold in the house (it's very rural and in the mountains, and most people do not use central heating) so pack wisely in the winter or you will be chilly!
Sophie
2015-01-01T00:00:00Z
L'Olga és una amfitriona, atenta, tranquil·la i sobretot molt acollidora i fa que a casa seva et sentis com a casa, el primer dia tot i que no ens vàrem veure, va estar pendent de nosaltres a través del mòbil i va atendre les nostres consultes, i en el segon dia vàrem tenir una conversa molt agradable mentre sopàvem.
Montse
2015-10-13T00:00:00Z
Olga fue una anfitriona perfecta. Su casa es muy acogedora, ubicada en un entorno natural que permite hacer caminatas con grandes vistas, como la ermita de Santa Magdalena o el Castell de Montclús. La recomendamos.
Pato, Claudia & Matías
2015-04-08T00:00:00Z
Estuvimos muy a gusto en la casa de Olga. Está situada muy cerca del Montseny, y puedes ir caminando hasta un castillo y un pantano muy bonito. Olga fue muy amable con nosotros. Nos dejó las llaves y teníamos libertad para ir y venir cuando quisiéramos. Además la habitación es bonita y grande, y con una ventana que tiene buenas vistas. Muy recomendable.
Inés
2015-01-07T00:00:00Z
L'estada a casa de l'Olga ha estat genial. L'habitació és gran i ventilada, la casa molt agradable, la ubicació molt convenient (ni en mig del poble ni massa lluny) i l'esmorçar inmillorable! L'Olga, a més, ha estat una amfitriona amable, generosa i tranquil·la, que m'ha fet sentir a casa. Recomano molt aquest allotjament, i jo mateixa el tornaré a escollir si he d'anar a Palautordera.
Anna
2014-06-10T00:00:00Z
We had a great time in Olga's place, she is a very charming and friendly hostess. She prepared us an excellent veggie dinner. We've stayed there with our two dogs and that's very kind of her because she doesn't have dogs. Her house is comfortable, warm, clean and in a nice location, perfect to discover el Montseny, I'd recommend this place to stay for sure. --------------------------------------- Hem passat un cap de setmana genial a casa l'Olga, és una noia encantadora. Ens va preparar un sopar vegetarià boníssim, i tot i no tenir gossos, va ser molt amable en permetre allotjar-nos a amb els nostres dos gossos, cosa que diu molt d'ella! La casa és acollidora, calenteta, ordenada i ubicada en un lloc perfecte per començar a explorar el Montseny. Recomanable totalment.
pilar
2014-11-24T00:00:00Z
Vem allotjar-nos una nit a casa l'Olga i la veritat que molt bé, perfecte pel que buscavem, un lloc proper al casament que teniem amb el necessari per a dormir còmodament.
Nuria
2015-06-01T00:00:00Z
Art der Unterkunft
Privatzimmer
---
Objekttyp
Wohnung
---
Unterkunft für
6
---
Schlafzimmer
Sant Esteve de Palautordera, Katalonien, Spanien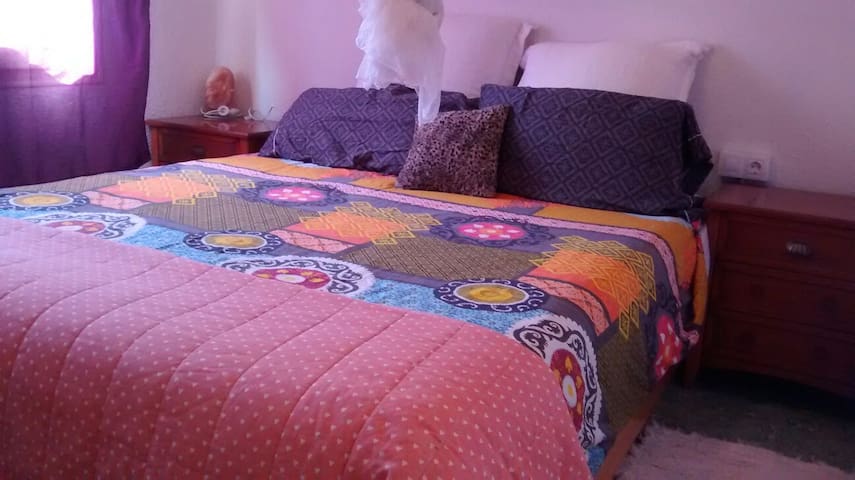 Junio 1000€/semana, Julio 1300€/semana, Agosto 1500€/semana y Septiembre 1000€/semana. Playa a 1,5 kilometros. 1ª Planta duplex. Amueblado. Trastero. Terraza. Piscina. Jardín Lugares de interés: parques, increíbles vistas, la playa, restaurantes y comida, y arte y cultura. Te va a encantar mi lugar debido a la comodidad de la cama, la cocina, los techos altos, las vistas, y el espacio acogedor. Mi alojamiento es bueno para parejas, aventureros, viajeros de negocios, y familias (con hijos).
Art der Unterkunft
Ganze Unterkunft
---
Objekttyp
Wohnung
---
Unterkunft für
5
---
Schlafzimmer
Sant Andreu de Llavaneres, Catalunya, Spanien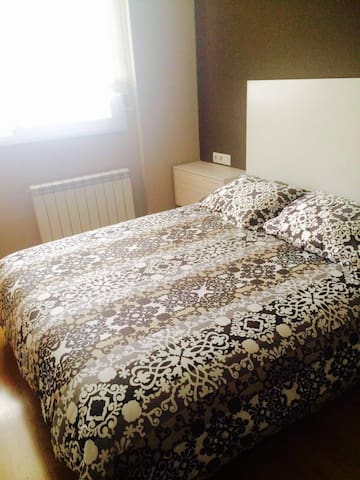 Bed & ideal for people who need to stay for work or studies, Breakfast for those who want to unwind and have the experience of living in the center of a village at the foot of incredible mountains of Montseny and Montnegre, or to spend a relaxing days good restaurants and food, family activities, excursions, popular culture. It is close to the beach as well. You'll love it because of the outdoor areas, light, comfort of bed, and the cooked option.
For the situation room, halfway between Girona (30 ') and Barcelona (30'), on foot of mountains Montseny and Montnegre, 10 'from the beach. By the light and tranquility of the floor, and the options offered by the area. Perfect communication speed train and motorway. Easy access to all services.
I recommend mountain hiking, good food in any restaurant nearby, cultural visits nearby villages fairs and exhibition of regional traditions.
The host canceled this reservation 2 days before arrival. This is an automated posting.
Monica
2016-11-10T00:00:00Z
Art der Unterkunft
Privatzimmer
---
Objekttyp
Wohnung
---
Unterkunft für
2
---
Schlafzimmer
Sant Celoni, Catalunya, Spanien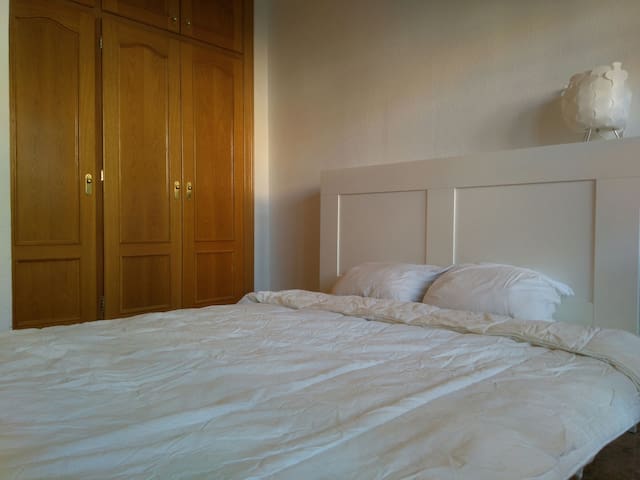 Canadà Parc - Airbnb
:
Durchschnittlich

4.5

von

5

Sternen aus

184

Gäste-Bewertungen
Gib deine Reisedaten ein, um den aktuellen Preis zu sehen. Es können zusätzliche Gebühren und Steuern anfallen.