+ 300 Wohnungen zur Miete
Since I started hosting in April 2016 I have thoroughly enjoyed sharing my home with guests from everywhere. It is wonderful to meet people of many walks of life from different part of the globe! Being a Host of AirBnB has given me an amazing opportunity to meet travellers of kindred spirits, exchanging stories and ideas. Staying with me means waking up to breathtaking sunrises and relaxing at sunsets on the Balcony. Your Ocean View Room, is in the heart of the City where there is everything.
The Apartment has 2 bedrooms. Both bedrooms has its own bathroom and toilet. My cat Lily and I, live in the Northern bedroom and the second room, the Southern bedroom is available for guests to stay. Both rooms are far apart, separated by the lounge and the kitchen. It's private. The apartment is located in a complex which has 2 pools and a spa for your use. Your lockable room is clean and airconditioned and you have your own private ensuite. Instead of the Queen size bed as in the pictures in this album I have upgraded your bed to a King Size bed for your comfort. A huge balcony where you can enjoy meals or drinks as well as a desk for your use. You are welcomed to use the kitchen as well as the lounge room. There is no available parking in the building complex itself however, there are Free parking at the back of the premises in the public area. The Complex is Fully secure, The BBQ area is available to be used upon request. Located on the waterfront in the heart of the city, and both, your room and the balcony command exquisite view of the ocean
Centrally located in downtown Cairns, in the restaurant area, right on the waterfront, called The Esplanade. Aquarius Apartment is 2 minutes walk to the famous Cairns Lagoon !!! 5 minutes walk to the Lake Street Main Bus Stop. 7 minutes walk to Cairns Marlin Marina where all the tour boats depart to the Great Barrier Reef . 5 minutes to Woolworths Groceries for all your need. 4 minutes walk to the Night Market and 10 minutes walk to Cairns Central Shopping Centre where you can shop till you drop . If you have a car there's free parking on Abbott Street at the back of the complex
Wir wurden von Casimah bereits bei unserer Ankunft herzlich willkommen geheißen. Im Appartement angekommen, fiel unser erster Blick direkt auf die Uferpromenade und das Meer. Herrlich schön! Unser Zimmer war ausgestattet mit einem großen Bett und eigenem Bad. Die Einrichtung war sehr geschmackvoll und das Bett bequem. Wir haben super geschlafen. Handtücher waren vorhanden! Casimah gab uns auch extra Handtücher für Strand und Ausflüge. Küche, Wohnzimmer und natürlich die große Terrasse durften wir jederzeit benutzen. Unser Aufenthalt war besonders schön, da Casimah uns mit ihrer lieben Fürsorge immer mit Rat und Tat zur Seite stand. Angefangen mit dem Tipp, wo es das beste Obst gibt, was wir unbedingt sehen müssen oder beim Buchen von Ausflügen, bei allem war sie uns behilflich. Ich, Rebecca, habe sofort mit Lily Bekanntschaft geschlossen, der freundlichen Katze von Casimah. Sie leistete uns Gesellschaft und ist in der Woche meine kleine Freundin geworden. Ganz besonders hat uns gefallen, dass wir bei Casimah Gast waren. Ihre offene Art und ihre Neugier, was Menschen, Kulturen, Sprachen, Musik und vieles mehr angeht, bescherte uns einen unvergesslichen persönlichen Aufenthalt in Cairns. Wir werden sicher wieder kommen. Rebecca und Elisabeth
Detlev
2016-07-16T00:00:00Z
Es war absolut fantastisch! Casimah ist so freundlich und hilfsbereit wie es nur geht. Die Unterkunft ist schön und bietet einen traumhaften Ausblick auf das Meer und den Hafen bzw. die Bucht. Auch von der Lage her könnte ich es mir nicht besser vorstellen. Direkt bei der bekannten Lagune zum schwimmen, einem langen Weg zum spazieren oder Joggen und auch Sportgeräte direkt vor dem Gebäude. Zudem nutzen wir (meine Freundin und ich) den hauseigenen Tennisplatz. Fazit: Es hat unsere Erwartungen übertroffen und wir waren von der Gastfreundlichkeit beeindruckt. Wir wollen definitiv wieder kommen. It was absolutely fantastic! Casimah is very friendly. The Location is Perfect. The Apartment is very comfortable and the view is amazing!
Louis
2016-06-10T00:00:00Z
Ich habe mit meiner Tochter 11 Nächte in Casimahs schöner Eigentumswohnung verbracht und wir haben uns sehr willkommen und wohl gefühlt. Wir haben sofort bei Ankunft zwei Schlüsselsets für das Haus, Apartment und unser Zimmer bekommen, so dass wir uns unabhängig bewegen konnten. Wir hatten aber nicht das Bedürfnis, das Zimmer abzuschliessen. Das helle, aber gut verdunkelbare, Zimmer ist mit einem bequemen großen Bett und einem großen Einbauschrank mit ausreichend Bügeln und Fächern ausgestattet. Ein kleiner, mit einem Vorhang vom Wohnbereich abtrennbarer Flur verbindet verbindet das Schlafzimmer mit dem Duschbad und der separaten Toilette. Casimah war sehr aufmerksam und bemüht, dass es uns gut geht und an nichts fehlt. Sie hatte sich und ihr Zuhause gut auf ihre ersten Airbnb Gäste vorbereitet und kleine hilfreiche Hinweisschilder und Bedienungsanleitungen in ihrer Wohnung verteilt. Da sie selbst viel Reiseerfahrung hat, hat sie auch an Details wie verschiedenfarbene Handtücher für jeden Gast gedacht. Sie hat Tee und Kaffee zur Verfügung gestellt. Wir haben die Waschmaschine benutzt und die Wäsche auf dem Balkon mit der fantastischen Aussicht getrocknet. Den grossen Balkon haben wir aber auch sonst sehr gerne und viel genutzt, ein Highlight. Da wir ohne Auto gereist sind, war die zentrale Lage besonders ideal. Wir sind dankbar, dass Casimah uns als Freunde zum Flughafen gebracht hat und meiner Tochter noch eine Brotzeittüte mitgegeben hat. Der Aufenthalt bei Casimah im Aquarius war sehr schön und weiterzuempfehlen. Besonders gerne habe ich auf dem Balkon gesessen und die traumhafte Aussicht genosssen. Thank you Casimah!
Angela
2016-04-28T00:00:00Z
Unsere Zeit in Cairns bei Casimah war fantastisch. Casimah hat alles in ihrer Macht stehende getan, dass wir uns von der ersten Minute an zu Hause und willkommen gefühlt haben. Sie hat uns persönlich in der Wohnung empfangen, uns neben unserem Zimmer und Bad auch alles andere im Apartment gezeigt und uns gleich mit einer Karte und vielen wertvollen Tipps für die Stadt versorgt. Das Apartment selbst ist wundervoll. Wir hatten unseren eigenen Bereich mit unserem Zimmer, Bad und abgetrennter Toilette und konnten den großen Wohn- und Küchenbereich sowie den Balkon mit dem umwerfenden Blick auf den Hafenbereich von Cairns (schaut euch einfach die Bilder an!!!) jeder Zeit und frei benutzen. Alles in der Wohnung war sehr sauber und gepflegt und mit viel Liebe und unzähligen Stücken von Casimahs eigenen Reisen um die ganze Welt eingerichtet. Rundum ein wunderschöner Ort zum wohnen und wohlfühlen. Wir standen schon vor unserem Aufenthalt in Cairns per Mail mehrfach mit Casimah in Kontakt und sie war so lieb und hat für uns sowohl eine Tour zum Reef, als auch eine Tagestour in den umliegenden Regenwald organisiert und reserviert. Sie hat schon während des Kontakts per Mail großen Wert darauf gelegt, alles an unsere Wünsche und Erwartungen anzupassen und hat diese voll und ganz erfüllt, wenn nicht sogar übertroffen. Für uns hat alles bei den Touren reibungslos und perfekt funktioniert, die Touren selbst haben uns beiden sehr gut gefallen und genau unsere Erwartungen und Ansprüche erfüllt. Wir hatten den absoluten Luxus uns dank Casimah um nichts weiter kümmern zu müssen und konnten ganz einfach die letzen Tage des Urlaubs in vollen Zügen genießen. Casimah war jederzeit für Fragen, persönliche Tipps oder einfach eine Runde quatschen auf dem Sofa für uns da. Wir haben uns bei ihr wirklich sehr wohl gefühlt, hatten ein wunderbares Verhältnis zu ihr und würden sicherlich jeder Zeit wieder zu ihr gehen, sollten wir es wieder einmal nach Cairns schaffen. An Herzlichkeit und Gastfreundlichkeit ist Casimah wohl nicht zu übertreffen und ich kann nur jedem der Cairns und die Umgebung besuchen möchte sagen, wenn ihr bei Casimah wohnt, seit ihr in den besten Händen. Und zu guter letzt noch: Danke Casimah!!! Für die wundervollen Tage in Cairns, die wir wirklich sehr genossen haben. Pass auf dich auf und wir hören von einander! Bis ganz bald, Leslie und Tabea
Tabea
2016-09-29T00:00:00Z
Casimah是一个非常热情的人,来之前就一直和我们保持沟通,让我们一落地就很快速的找到住宿,从机场打车大约需要25刀,十分钟左右的车程。casimah家里很干净,她很贴心的准备了很多中国客人会用到的东西,有一只可爱粘人的猫叫lily,最赞的是阳台,可以看到非常美的海景。地址非常赞,所有地方步行就可以到达,而且第二天如果出海的话非常方便,步行十分钟以内就可以到达港口。楼下全部是吃饭的地方,不过不要去吃中国夜市中国自助餐。casimah下班后等着我们回家陪我们聊天,很平易近人,你在这里不感觉是陌生的环境,而且家里的感觉,也有充分的私密空间。强烈推荐
Lena
2016-12-02T00:00:00Z
Loved my stay here!! Casimah is super helpful and responsive. She helped me book some tours for my visit, offered suggestions for meals and even called the cab for me on my way out! The room is great, bathroom and everything is really clean despite the age of the building. Lily is cute and fun hahaha and the view just can't be beat. You are in a fantastic location! A lot of the other young travelers I met were staying further into the city, where it can be 25+ min walks to the attractions and stuff but staying here is right in the action. I would absolutely recommend staying here!
Angela
2016-09-04T00:00:00Z
房子干净卫生,阳台和房间面朝大海,非常漂亮!且房子装修有品位,床铺舒适,女主人热情大方,值得一选。
雯
2016-07-07T00:00:00Z
Nous avons passés 3 nuits dans ce logement très bien situé, confortable et doté d'une magnifique vue. Ce fut de très bons moments, Casimah est une hôte très attentive, parlant le français qu'elle a acquis en vivant quelques mois en France, l'un des nombreux pays qu'elle a visité. Nous avons particulièrement apprécié son accueil et la remercions vivement.
Bernard
2016-11-26T00:00:00Z
Art der Unterkunft
Privatzimmer
---
Objekttyp
Wohnung
---
Unterkunft für
2
---
Schlafzimmer
Cairns City, Queensland, Australien
Die elegant gestaltete Wohnung Dachgeschoss Meerblick in einer ruhigen Umgebung, nur einen kurzen Spaziergang vom Herzen der Stadt und der Esplanade. Parkplatz im Untergeschoss ist im Preis inbegriffen.
Dieses 4,5-Sterne einzigartigen Selbstversorger-Apartment ist für Urlaub oder Geschäftsreisende geeignet. Ein kurzer Spaziergang zu den Restaurants, ein Casino, Esplanade, Clubs, Cafés und Touristenorientierte Einrichtungen. Buchstäblich alles Cairns zu bieten hat, beginnt genau hier. Um alle unsere Gäste bieten wir einen Rabatt von 10% für alle Touren und Ausflüge rund um Cairns von unserem Geschäftspartner, Cairns Tour Beratung & Buchung Centre.
Diese Wohnung ist nah an alles. Es ist der perfekte Ort, um zu entspannen und genießen Sie alles, was in den Tropen zu bieten haben. Die Wohnung befindet sich in der Nähe von Cairns 'öffentlichen und privaten Krankenhäusern.
Andrea war sehr freundlich und hat uns nett empfangen. Das Apartment ist wunderschön und hat einen tollen Ausblick. Würde ich auf jeden Fall weiterempfehlen. Außerdem bekommt man 10 % auf Touren bei einem bestimmten Anbieter, was sehr hilfreich ist.
Natalie
2016-01-17T00:00:00Z
Andrea hat uns sehr herzlich persönlich willkommen und alles erklärt, einschließlich der Einkaufsmöglichkeiten und Touren. Wir haben einen ordner mit allen möglichen Touren vorgefunden, der uns deren Planung sehr erleichtert hat. Sie hat auch einen Rabatt bei einem Tour Vermittler, den wir in Anspruch nehmen konnten. Er hat alles ehr gut funktioniert und wir können dieses Appartment jedem weiterempfehlen.
Rolf
2016-11-01T00:00:00Z
Great location near the Esplanade with easy check-in. Good value!
Tara
2016-08-11T00:00:00Z
Our stay at Andreas apartment was phenomenal! The apartment is exactly as it is advertised. It was all clean and perfectly tidy. Everything we needed was provided. Furthermore the whole complex is amazing with a pool etc. Even though it is located next to a street we never had any trouble sleeping. The view from the balcony is beautiful and the apartment is located right in the heart of Cairns, close to the center and the ocean. Andrea was a perfect host. She was clear in her communication and made it an amazing time. She even provided material for activities and tours around Cairns. Something that has been amazing and unique to us is that she picked us up at the airport and drove us there again at the end of our stay. Moreover she even offered to take us grocery shopping and show us around the city. All in all it has been a wonderful experience staying in Andrea's apartment.
Michelle
2015-07-12T00:00:00Z
Very helpful! Beautiful place in a great location!
Filipe
2015-11-27T00:00:00Z
The property was exactly as described. Ocean view from the top floor apartment patio was very nice. Andrea pointed us to a specific tour booking facility for a 10% discount we used on two activities, one of which was bungy jumping. What a rush!!
Craig
2016-08-08T00:00:00Z
The apartment was amazing as described in the overview and other reviews. The checkin process was smooth. I would highly recommend for your stay !!
Steph
2016-08-05T00:00:00Z
Nice flat and location
Sujay
2016-09-25T00:00:00Z
Art der Unterkunft
Ganze Unterkunft
---
Objekttyp
Wohnung
---
Unterkunft für
2
---
Schlafzimmer
Cairns North, Queensland, Australien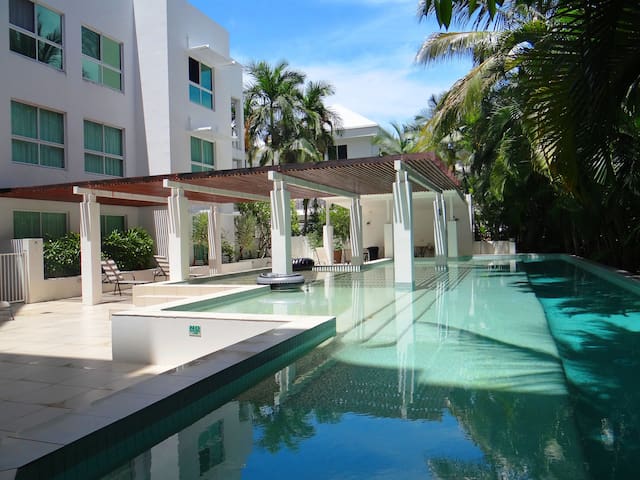 Unser ist eine Resort-Stil Wohnung direkt im Zentrum der Stadt, verfügt über ein großes privaten Schlafzimmer zur Verfügung. Inbegriffen ist ein Einzelbett, Kaffeezubereitung liefert, Kühlschrank, Stauraum für Taschen / Koffer. Die gemeinsamen Wohnbereiche sind mit den Eigentümern geteilt. Nur eine Minute entfernt von der Esplanade, ist es eine sehr günstige Lage. Die Anlage verfügt über einen schönen Pool, die Sie entspannen können, an einem warmen Tag und die apt verfügt über einen eigenen Deck / Entertainment-Bereich für Sie ein Glas Wein, wenn am Ende des Tages zu sitzen und haben.
Durch die zentrale Lage. Nur ein kleiner Spaziergang von der Promenade und das Stadtzentrum.
Great location, walking distance to the Pier and Esplanade, yet a quiet neighborhood to "act as a local". Just sitting on the desk with a book and coffee was magic. The host was friendly and helpful. Thank you Mani!
Amy
2016-12-18T00:00:00Z
Mani is one of these rare people with whom you feel immediately welcomed and easy. We had some conversations and I feel he is a really honest and descent person. The location near the promenade was excellent. All in all I would like to stay with him again or if not possible spent him a visit.
Olaf
2016-10-25T00:00:00Z
Mani was an awesome host and the room was perfect for me to come back to after a night on the town. Thanks again!!!
Ben
2016-09-17T00:00:00Z
Mani was a friendly and considerate host. His place was perfect for my stay, with a nice pool and short walk to the esplanade and main shopping strip in town. Would happily recommend, and stay again.
Tim
2016-10-01T00:00:00Z
Maybe there are some alternatives on (URL HIDDEN)
Thomas
2017-01-16T00:00:00Z
Everything was good. The luxury apartment was located close to the town walking distance. And the owner was kind trying I was comfy.
MAGDALENA
2016-10-14T00:00:00Z
This was my fort air BnB experience and it really exceeded my expectations. Couldn't have been happier!
Helena
2016-10-21T00:00:00Z
Mani is very friendly and welcoming, plus the place is really close to the center of town.
Enrique
2016-11-13T00:00:00Z
Art der Unterkunft
Privatzimmer
---
Objekttyp
Wohnung
---
Unterkunft für
1
---
Schlafzimmer
Cairns North, Queensland, Australien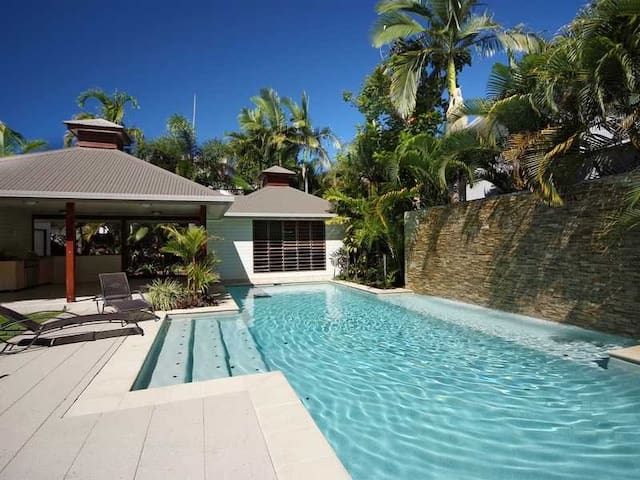 Our recently purchased 2-2-2 Apartment was easily in the best Apartment complex in Cairns we saw. If you see a better one tell us! With more swimming pools than days of the week, a full gym and well-looked after gardens it's also just minutes to town
The landscaping and pool area are as good as many, even most 4 and even 5 star hotels that I have been to. We still haven't been in every one of the pools. Doesnt matter how busy it is I can almost guarantee you you wont have to share a pool with anyone else. No kid soup!! Also has a tennis court, gym and shop downstairs. Our apartment itself is spacious enough, comfortable and cool. It could do with some art on the walls I think... Working on that. There is a reasonable sized balcony with outdoor furniture and place to hang out clothes, a sofa area inside that can seat 5, a dining table that I never use (but you're of course welcome to), a laundry room to wash clothes and of course your room and own bathroom.
We're probably a 20-25 minute walk to the most central part of Cairns or 5-6 minutes in a car. That kind of distance is walkable but you may get sick of doing it twice a day. Its green outside and there are a couple of take-away places a very short walk away including a subway, a Japanese place and a pie shop, coffee shop and fish and chip place. This apartment is not right in the centre of town but it is easy to get there. It is 1.5klm to the water from our house and that is the beginning of the restaurants and shops etc along the esplanade. The airport is around 10-15 minutes ride or around $25-30 in a cab.
Der Apartmentkomplex ist super schick und gepflegt, der Pool ist klasse! Kristen war uns ein wunderbarer Gastgeber und hat uns tolle Infos uns Tipps gegegeben und uns am Abreisetag sogar zur Autovermietung gefahren. Das Zimmer hat ein eigenes Bad, Fernseher und Klimaanlage und bietet ausreichend Platz. Zum Zentrum sind es etwa 25 Gehminuten oder alternativ eine kurze Taxifahrt für etwa 11 Dollar. Insgesamt absolut zu empfehlen! Vielen Dank an Kristen für den tollen Aufenthalt!
Stefanie
2015-03-03T00:00:00Z
Kristen ist ein sehr zuvorkommender, lustiger und hilfsbereiter Gastgeber. Wir fühlten uns sofort willkommen und heimisch. Wir bekamen viele Tipps und auch die poolanlagen waren super :-) wir kommen gerne wieder.
Nicole
2016-12-19T00:00:00Z
霍霆是一位很好的房东,中文说的很好,家里布置也很不错,防晒的芦荟水都会准备都知道凯恩斯会晒得不行不行的。下次还会来!期待霍霆来北京的相聚!
之间有海
2016-02-17T00:00:00Z
Kristen was our host and very good throughout including kindly collecting us from the airport and dropping us into town the following morning. He was both informative and helpful it helps that his job locally is a guide to Chinese visitors. He speaks fluent mandarin which I'm guessing is handy!!the room was adequate for the price and was within a complex comprising of swimming areas and a small convenience shop. We hired a car which proved handy for getting to and from the accomodation. He made us feel very welcome in his home .
Angela
2014-09-20T00:00:00Z
My wife and I stayed the last two nights of our honeymoon with Kristen and Xin. We had an amazing time there. They made us feel very welcome and invited us to spend time with them in the evenings. We had a couple of interesting discussions, although Kristen might be working as a sales man for Netflix :-) Can absolutely recommend their place to anyone!
Corina
2015-08-08T00:00:00Z
Kristen's apartment is very clean and lovely. We felt very welcome when Kristen offered to pick us up from the airport to his apt as we were very lost upon arriving. Kristen is very helpful by helping me to activate my SIM card which I'm very appreciative about it. The apartment is close to the airport so getting back home is easy. It is also very accessible to cairns central shopping centre with just 15mins walk away. We had some nice chat with Kristen and him telling us tips to the reef. Although it was a short stay, we love it there. The apartment is also very safe with the high fencing gates. Would definitely stay with Kristen when we visit cairns again!
Zarinna
2015-05-05T00:00:00Z
Kristen was amazing! It was the perfect first place to stay. He is very informative & easy to talk to. We now have great future travelling plans. Location was ideal and the pools were beautiful. Would definitely stay here again.
Darin
2016-11-22T00:00:00Z
Let me start by saying Kristen place is amazing it's like staying in a 5 star hotel. The grounds around the apartment are beautiful with countless swimming pools and outdoor bbq's . Its almost always empty it feels like you have the complex for yourself you see so few people there is also a small shop with things like crisps drinks and snacks. The room is gorgeous it has everything you need it's very clean and you also have your own bathroom which is always a bonus when using airbnb. Kristen is a genuine guy who made us feel very welcome from the very start, he picked us up from where we were staying before we came to his place as he was in the area ,and answered any questions we had about things to do and places to eat. Couldn't of asked for a better place hopefully he'll have us again if we ever return to cairns!
Jacob
2015-05-24T00:00:00Z
Art der Unterkunft
Privatzimmer
---
Objekttyp
Wohnung
---
Unterkunft für
2
---
Schlafzimmer
Westcourt, Queensland, Australien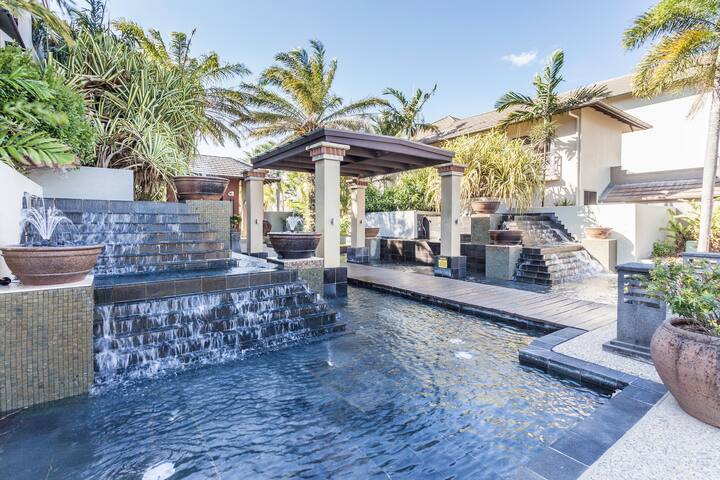 This Deluxe studio apartment on the top (12th) floor is in THE BEST LOCATION IN CAIRNS. It's in the heart of the city with stunning ocean and city views from a private balcony. BONUS!! FREQUENT FLYER POINTS - If you have a Qantas Frequent Flyer membership, exit the Airbnb website and use the Qantas website, choose "book - Airbnb".
Perfectly positioned right on The Esplanade in the heart of Cairns, your private studio boasts spectacular views of the ocean and city and has its own entrance, bathroom and balcony. You are not sharing the space with anyone else and it's also only a 5 minute walk to the ferry terminal for trips to the reef. Features:- -King size bed. -Free wifi -Private entrance, large balcony with spectacular ocean views and large bathroom. -Large flat screen tv with Foxtel and tons of free to air channels. -Small fridge, kettle, complimentary tea/coffee. -Whisper quiet ducted air-conditioning. -Huge walk-in shower. -All sheets and towels provided. -Iron, ironing board. -Hair dryer. -Beautifully landscaped pool overlooking the ocean. -Fitness centre -bbq area. DOWNSTAIRS- -IGA supermarket open every day 6am til midnight, -BWS liquor shop, -several fine dining restaurants, -ATM, -hairdresser, -clothes shop -massage studio -tour bookings agency Relax with a glass of wine on the balcony at the end of a hard day's exploring the wonders of the Great Barrier Reef or World Heritage Rainforest while you have arguably the best seats in town to be amazed by the nightly show of thousands of flying foxes whizzing around the sky at sunset. Plus, dozens of world class attractions, restaurants, bars, cafes, tour booking agencies, shops, cinemas and even a casino all at your feet for you to explore. Max 2 people permitted. GLBTI friendly.
Mantra Trilogy is a multi-use resort with a mix of hotel, holiday guests and long term residents. You couldn't wish for a better location. You have wall to wall dining, supermarkets, cafes, restaurants, shops, the Esplanade and much more literally right at your feet.
Schön gelegene Einzimmerwohnung in der obersten Etage eines zwölfstöckigen Wohnhauses. In dem Komplex ist auch ein Hotel untergebracht. Die Wohnung hat alles was mit für einen Aufenthalt in Cairns braucht. Gefüllter Kühlschrank und Wasserkocher für Tee und Kaffee sind vorhanden. Das Highlight ist der Blick vom Balkon auf die Lagune und das Meer. Zum Abend starten 1000e Flughunde Ihren Beutezug....ein Spektakel! Scott ist ein sehr netter Gastgeber. Es hat alles prima geklappt.
Silvio
2016-10-12T00:00:00Z
This apartment is a good size (studio apartment with large bed, modern bathroom and a decent sized balcony). The location is perfect with supermarket and bottle shop in the same building. I was worried about the bed being to singles put together but it was one of the most comfortable beds I have ever slept in. Really convenient apartment, location and amazing view. Would 100% recommend this apartment, you'll get value for your money and Scott is really professional. Thanks for having us Scott!
Jade
2016-01-01T00:00:00Z
My Mother and her partner spent two days at the apartment last week. We were totally satisfied with the apartment. The host was very helpful, full of local knowledge and provided fantastic service. The apartment has a superb location, centrally located near transportation, restaurants and sightseeing. The apartment was safe, clean, comfortable and well lit. We would definitely return to this property.
Simon
2016-01-13T00:00:00Z
We had a great time at Scott's apartment. It had everything we needed and you wake up to the most amazing view. Scott gave an overview of the city to us which made settling into the apartment very easy. We would definitely stay here again if we visit the city.
Himanshu
2015-12-26T00:00:00Z
Scott's place is in a perfect location with an amazing view. We came for a short stay so the size of the unit was fine Scott was very kind to accommodate an earlier arrival time. I would recommend this unit to others. Thanks, Scott
Lynn
2016-12-03T00:00:00Z
Sotts place is just amazing! The apt is super nice and comfortable in the heart of the city! Whit a fantastic view from the 12th floor! Great experiencenice!!
Marco
2016-01-07T00:00:00Z
My boyfriend and I stayed in Scott's private apartment for three nights, and we had a great time. The apartment itself is in the heart of the city and the balcony has a spectacular view of it. The apartment itself was very clean and well stocked, including complimentary drinks. Scott was a very friendly host. We didn't see him too much, but he communicated quickly and eagerly to make us feel welcomed. He also runs a kickass ice cream shop, Nitrolato, that you should check out, even if you're not staying here!
Jennette
2015-10-24T00:00:00Z
This top floor room in the Mantra Trilogy was convenient to the Esplanade, wharf, Cairns town centre and the convention centre where I was attending a conference (15min walk). There are a lot of restaurants nearby, a large supermarket and a major bus stop less than 5min away. The room was spacious and comfortable (like a mid-range hotel room); bathroom was huge and the shower head had good water pressure. Complimentary drinks in the bar fridge and a voucher for free coffee were a nice touch. The pool/gym area was well-kept and easy to access and there was a great view from the balcony. I had a slight problem with a few sugar ants in the room (nothing a bit of insect spray couldn't fix) and occasional bad digital TV reception (probably due to weather). Also the corridor between the lift and the room has an odd smell but it's only a short distance. Overall I enjoyed my week-long stay here and would recommend this room if you're after something similar to a hotel at probably a slightly lower price.
Lauren
2016-06-05T00:00:00Z
Art der Unterkunft
Ganze Unterkunft
---
Objekttyp
Wohnung
---
Unterkunft für
2
---
Schlafzimmer
Cairns City, Queensland, Australien
Eine Wohnung in der Nähe der Stadt (3 Blocks von der Innenstadt) mit Pool in der Anlage. Dies ist meine Heimat, so dass es dieses Gefühl hat, und ich bin ein funktionelles selbst bewusst Nerd, so gibt es WiFi und andere kleine Trödel ist, dass das Leben mehr Spaß machen.
Es gibt einige Bücher, wenn Sie daran interessiert sind, eine nach unten Tag Lesung mit und es gibt eine gute Küche für Lebensmittel. Die Wohnung befindet sich auf fast alles, was in Cairns Stadt in der Nähe so zu Fuß fast alles, was Sie benötigen.
Cairns ist ein kühles Plätzchen. Es ist alles, was von der Dekadenz zu Schonern mit Handwerkern in einem örtlichen Pub und alles dazwischen bekam. Deshalb habe ich es liebe und ich denke, auch Sie.
sehr empfehlenswert! top lage und der pool ist genial! die wohnung hat alles was man sich wünschen kann und wir hatten eine tolle zeit!
Jana Danielle
2016-10-14T00:00:00Z
Auch wenn wir Joe nie persönlich kennengelernt haben , war er jederzeit per Email erreichbar und sehr hilfsbereit. Die Wohnung ist sehr groß und schön, wenn man will , kann man sogar den Pool benutzen. Ich würde jederzeit wieder dort übernachten . Zumal wir auch das Glück hatten , die Wohnung für uns alleine zu nutzen.
Bojan
2014-02-20T00:00:00Z
Die Wohnung entsprach genau den Bildern und war sehr schön. Alles war sauber. Joe war zwar selbst nicht da, hat aber dafür gesorgt, dass alles reibungslos funktioniert hat.
Anne
2015-06-02T00:00:00Z
The place was really cozy, comfortable. We stayed 7days with 27 months old child, Joe's mother helped us so much and responsed very fast. It's a little bit hard to walking to city, but other things are very good. Thanks again!
hoyoun
2017-02-02T00:00:00Z
We stayed at Joe's apartment for 4 nights. Joe gave us specific instructions about the apartment beforehand, so finding it was very easy. He also kept contact the whole time we were there and we met his wonderful mother, who gave us tips of places. The apartment was clean and equipped with everything we needed. We especially enjoyed the pool and terrace. It's about a 15 minute walk to the Marina, where boats to the great barrier reef leave and shorter to shopping and the Center. Joe's place was excellent value for money and we recommend it. Thanks Joe! :)
Kati
2016-12-10T00:00:00Z
Merci à Joe et à Tracey de nous avoir accueillis pour notre arrivée en Australie. L'appartement est spacieux, propre et la chambre est tres confortable.
Jade
2017-02-22T00:00:00Z
We spent 3 days in Joe's apartment and we had a great time! The apartment is nice, very clean and well furnished. Joe is kind, friendly and he wrote us everything we needed to know about the accommodation. I strongly recommend this accommodation and we will come back if we will have another vacation in Cairns.
Salvatore
2017-01-07T00:00:00Z
My wife and I stayed here after 2 nights on a boat diving. It was the perfect place to get over the basic cabin we had been staying in just beforehand. The property is a little confusing to get to, but clear instructions are given and if you follow them you can't go wrong. The bedroom was comfy, communal areas clean and tidy, and it's only a short walk to the town centre. Didn't get to see the pool or grounds, but would definitely recommend staying here.
Tom
2017-01-11T00:00:00Z
Art der Unterkunft
Privatzimmer
---
Objekttyp
Wohnung
---
Unterkunft für
3
---
Schlafzimmer
Cairns, Queensland, Australien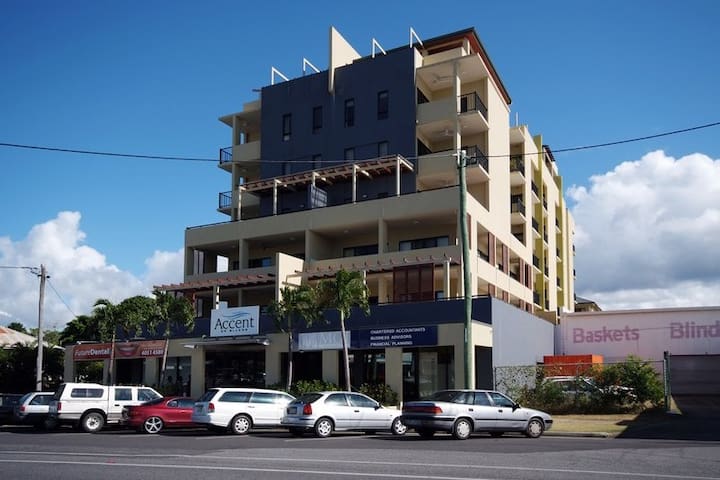 My place is close to the picturesque Cairns Esplanade and then an easy walk to the Cairns Lagoon and CBD. There are plenty of restaurants and dining options within a 5 - 10 min walk, as well as a small supermarket and bottle shop. For families, Muddy's Playground on the Esplanade is a great spot for kids. You'll love my place because of its convenient location enabling you to walk and enjoy the great outdoor experiences that Cairns has to offer, or stay in, relax, read a book or go for a swim.
Should you have young infants, we have a port-a-cot available for use.
Our unit is ideally located a short walk from the picturesque Cairns Esplanade.
Stacy was there to greet us at the apartment when we arrived in Cairns. She was so pleasant and helpful in explaining all the facilities available and made us feel very welcome. She had already made up the travel cot for our baby Joshua and there was even a bottle of wine and essential provisions provided. During the week when we had queries such as where to park the hire car she was contactable and always ready to help. The apartment was lovely and very spacious, clean and homely. I cant think that there was anything missing from the flat that we would have needed. The location is a short walk to the Esplanade and a pleasant walk down to the city centre. Altogether a wonderful experience in beautiful surroundings. If we come to Cairns in the future we would hope to stay again.
Sam
2016-06-25T00:00:00Z
"I would DEFINITELY stay at Stacey's in Cairns。again to find another apartment in Paris or other locations they service. All things has been amazing to work with from beginning to end. The house has everything we need and we enjoyed wonderful 4 nights here。 The location is quiet and esay to walk to the beach。 We appreciate very much the friendly support by Stacey。Her helpful imformation and right away reponses to our question。 Everything is exactly i see on the (URL HIDDEN) is highly remonmendable when you are in cairns。
Helen
2016-08-26T00:00:00Z
Great stay, ideal location near everything! Wonderful host and accommodations! Very nice furnishings. Thanks Stacey!
Hugh
2016-11-05T00:00:00Z
Stacey is definitely a great host! She considering us a lot, and also welling to help us if we have any problems! And the stay was just so perfect! Highly recommend Stacey's place to everyone who want a stay in Cairns!
Weile
2016-11-22T00:00:00Z
Great appartment in a quiet location close to the esplanade. Friendly and helpful host. There was a bottle of wine on the table and a bottle of milk I the fridge, a nice selection of teas on the sideboard and a fast internet connection in the flat... Next time we travel to Cairns we'll definitely go back to Stacey and Derecks place.
Christoph
2016-08-07T00:00:00Z
We had a great stay, the apartment was lovely and Stacey was very friendly and helpful - could not recommend more highly.
Paul
2016-10-09T00:00:00Z
We had a fantastic time! We walked into the city centre most days along the esplanade which took about 25mins. Great to have so much space and loved using the pool as well. Stacey's communication was great!
Richard
2016-09-23T00:00:00Z
The apartment is just so perfect. Beautiful location, close to Esplanade and other tourist attractions. Stacey was extremely hospitable and had made very thoughtful arrangements for us considering the fact that we had our 2 year old toddler traveling with us. We were really obliged by the special gestures she had made on arrival by keeping a bottle of wine, milk and lots of toys. It was so well thought after. Thank you once again for everything. Cheers! Nimish, Ruchita & Aduit
Ruchita
2016-11-09T00:00:00Z
Art der Unterkunft
Ganze Unterkunft
---
Objekttyp
Wohnung
---
Unterkunft für
5
---
Schlafzimmer
Cairns North, Queensland, Australien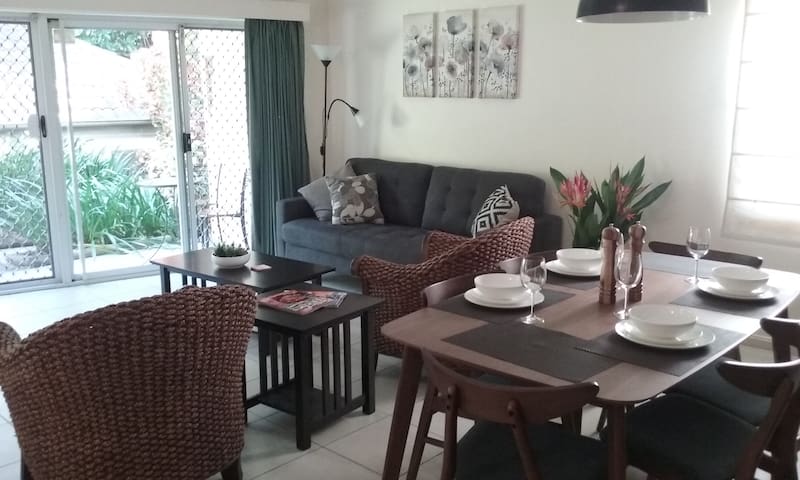 Unsere kühlen 2 br Wohnung verfügen über einen gemütlichen geräumigen Wohnbereich mit einem Fernseher ein Haus cinema.A separate Küche und Speise table.2 Räume mittlerer Größe, Wäscherei, 1 Dusche und 2 toilet.We sind 10'walking an der Haupteinkaufsstraße und 15 'an alle pubs.20'walking dem schönen öffentlichen Bade wecken. Hallo zusammen, mein Haus ist ein altes Queenslander, tue ich mein Bestes, um es sauber zu halten, aber immer noch einige Ameisen bekommen im Haus, für Leid, dass es in den Tropen ist, ich liebe es immer noch, ich hoffe, dass Sie es auch lieben :)
Wir sind nah an der Innenstadt und als ich ein Reisebüro bin ich Zugang zu besten Preis für jede Reise um. Ich habe ein Auto, das ich für $ 40 plus freien Zugang zu Fahrrädern und viele Karten und kostenlose Info verleihen können. Mein Zuhause ein glücklicher Ort für glückliche und freundliche Vermutung! Mi casa es tu casa!
Ganz nah an alle, Schwimmbad in 20'walking, besondere den botanischen Garten 3 km, Supermarkt 10 ', werden wir unser Bestes tun, damit Sie Ihren Aufenthalt genießen!
Wir können es nur jedem empfehlen, wir wurden super nett empfangen und Sie haben uns in vielen Sachen gute und hilfreiche Tipps gegeben. Die Unterkunft war genau wie beschrieben.
Franziska
2015-07-25T00:00:00Z
Good place. Friendly and helpful host.
Nomaan
2016-10-10T00:00:00Z
Was great stay! Accurate description and not a long walk to main attractions! Thanks, Brian
Brian
2016-11-14T00:00:00Z
We didn't meet Carolina in person because we rented her unit for our son who was travelling in Australia for 6 months and wanted to visit Cairns for 2.5 weeks. We had contact with Carolina through E-Mail and SMS. She always responded very promptly and was very helpful and friendly. Carolina promised us to take good care of our son during his stay and made us feel very relaxed. As Carolina works in the tourism business she adviced our son about what to do while in Cairns and also helped him to organize a diving course. Everything worked out very well and he really loved to stay with Carolina. We can thus highly recommend her to anyone travelling to Cairns. Oana and Joerg
Oana
2016-02-19T00:00:00Z
it was very good. pia was very helpful host. the room was comfortable. she managed me how go to airport. it was very easy to get the airport. thank you so much!
Haruka
2016-10-19T00:00:00Z
Pia left the key under the mat for us when we arrived, and we made ourselves at home. The room was very cozy and wifi connection was great. Pia was highly responsive with any questions we had. We really enjoyed our stay here!
Dexter
2016-10-07T00:00:00Z
房间不错,房主也非常热情,会提供各种帮助建议,地理位置一般,但房主会免费提供自行车,总体来看性价比很高。
XIANZHANG
2015-08-28T00:00:00Z
The room is well equiped, it's good to have air conditioner in that climate. It is also in walking distance to the city centre.
Federico
2017-03-02T00:00:00Z
Art der Unterkunft
Privatzimmer
---
Objekttyp
Wohnung
---
Unterkunft für
2
---
Schlafzimmer
Parramatta Park, Queensland, Australien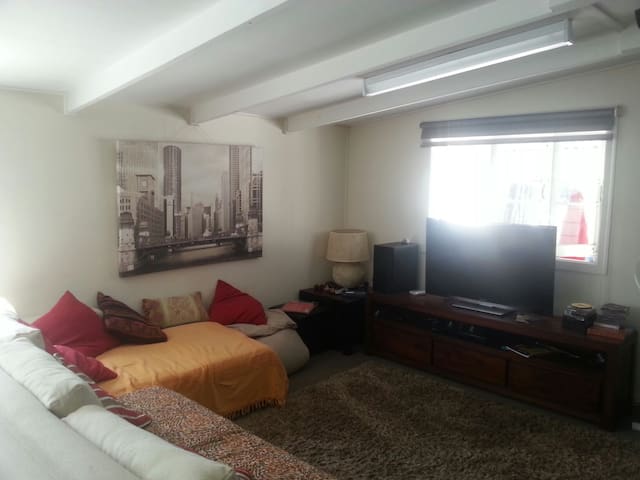 This beautiful, fully air conditioned first floor apartment is at a very private location within a small, modern, secure complex. The apartment is fully furnished, self contained and comes with all the essentials and much more. Unlimited super fast WiFi net, internal laundry, breezy balcony, secure carpark (if needed). Walking distance to Cairns Central, city center, Esplanade, shopping and night life. Public transport, fast food restaurants are just around the corner. Tropical pool and BBQ area in the complex.
Exceptionally presented first floor apartment at a blue-chip location. Walking distance to everything that Cairns has to offer. Freshly painted throughout. Air conditioning throughout, ample storage, secure carpark located under the building. お部屋には寝室が一つ。(クィーンサイズベッド)リビングルームとキッチン、洗濯機完備。屋根付き駐車場付き。とても明るいお部屋です。WIFI、エアコン完備。アパート内にはプールとバーベキューエリアもありますので、自由にご利用いただけます。
Small, modern complex with quiet neighborhood. Pool, BBQ area is at the back of the complex.
Art der Unterkunft
Ganze Unterkunft
---
Objekttyp
Wohnung
---
Unterkunft für
2
---
Schlafzimmer
Parramatta Park, Queensland, Australien
1 KING SINGLE bed in modern spacious apartment 1km from CBD. Wardrobe, good ceiling fan and air con, share bathroom with owner. Private patio, pool in complex. Undercover parking. 2 free bicycles. Free internet. Free airport transfer if possible, (taxi $20). Washing machine. Kitchen available to prepare light food or hot drinks. Clothing optional if all parties agree. Note: Also listed a queen size bed in bedroom with ensuite in the apt. (listed/booked separately $85). .
Quiet location that's a short walk to Cairns Esplanade, it's a good central location to all shopping and tour requirements. This is a LGBT friendly home. Large pool in complex and shady, private patio to relax on. Undercover parking is available free of charge. All linens and toiletries supplied.
The apartment is located about 1 km the CBD in a partly commercial, partly residential district. The immediate surrounds are not particularly pretty. You will be 700 m from the esplanade; a boardwalk along the bay where you can watch shore birds on the mudflats at low tide, do athletic parkour or promenade at sunset. Cairns Central Mall is 3 blocks away. There is a little shopping complex 200 m away comprising a small supermarket, an Italian deli and a few take away shops; pizza, Middle Eastern, Chinese. The neighbourhood is quiet and safe.
Alex is a fantastic and friendly host. He offered to transfer me to and from the airport, therefore saved me a significant sum taxi rides. He was engaging and helpful at all times. The apartment is a conveniently short walk to the Cairns Central shopping mall which itself is full of amenities. And from there I caught a short bus ride to the touristy CBD.
Chun Yat
2017-01-06T00:00:00Z
Superbe appartement près du centre et de la promenade de bord de mer. Un hôte cultivé polyglotte et sympathique
Guillaume
2017-03-13T00:00:00Z
I spent a week in Alex's place during my trip to Cairns. He was one of the most interesting people that I've ever met in my life. The place was centrally located and away from crowds from the main streets. I really enjoyed my stay and guarantee that Alex will look after so well! Highly recommend!
Tsogbayar
2016-12-30T00:00:00Z
Alex was quick to reply to messages and very welcoming with very easy check in and out procedures. His place is in a great location, and is beautiful, clean, nice and quiet - a great place to stay!
Eridani
2016-12-13T00:00:00Z
Alan was a very friendly and nice owner.He pick up and drove me to the airport ,the apartment very comfortable and clean 這是一個舒服暫住的地方。干淨,走去市中心約15至20分鐘,不過都好容易去.
Shari
2017-03-18T00:00:00Z
Alex is so kind and can speak various language. He told me his recommendation not only cairns but also Sydney because I will go to Sydney after cairns. This house is a little far from nightmarket but no problem because I can walk there easily. Totally, my stay in cairns was wonderful:-)
Tomohiro
2017-02-03T00:00:00Z
One of the best things in Cairns was living in Alex's apartment. He is a kind considerate and knowledgable man. All the talks and communications were pleasant. The apartment is extremely tidy and clean. The decoration is also impressive. It's quiet close to both Cairns central and the beach. It is so lucky to meet Alex and his place.
Xuchen
2016-11-19T00:00:00Z
Alex is a warm and welcoming host. Incredibly accommodating and extremely helpful. His home is a very comfortable place to stay and his worldliness and life experience is a wonder to briefly share in. You cannot go wrong spending time in Alex's care!
Nicole
2017-01-02T00:00:00Z
Art der Unterkunft
Privatzimmer
---
Objekttyp
Wohnung
---
Unterkunft für
1
---
Schlafzimmer
Cairns City, Queensland, Australien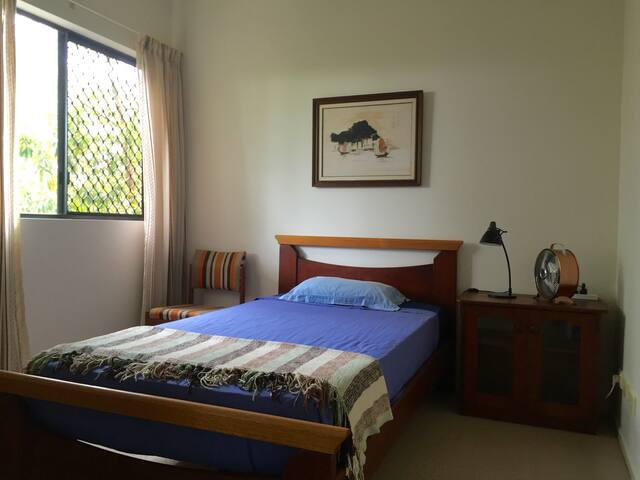 Mein Platz ist gut für Paare, Solo-Abenteurer und Geschäftsreisende. Wombat Wohnung liegt nur 5 Minuten zu Fuß zu transportieren und Einkaufszentrum, einen 10-minütigen Spaziergang zu den Restaurants und Restaurants. Ein 15-minütigen Spaziergang zum Strand und Nachtleben. Diese großzügige 1-Zimmer-Wohnung hat ein Doppelbett, Schrank hängen Raum und hat eine große Brise! Dies ist eine große Selbstversorger-Studio in einem sauberen, freundlichen Wohngemeinschaft Umgebung. Es verfügt über ein eigenes Bad, Küche und Waschküche.
Davids klimatisiertes Appartment ist sehr gut ausgestattet, gemütlich und im Zentrum von Cairns gelegen. Parken, Wäsche waschen, Kochen usw. Ist kein Problem. Weiterhin ist David uns als alteingesessener "Cairnser" eine große Hilfe sowie immer für einen netten Plausch zu haben gewesen. An- und Abreise haben sich äußerst unkompliziert gestaltet. Vielen Dank für die tolle Zeit bei dir Dave!
Christoph
2017-01-01T00:00:00Z
Such a good price and nice and private, even though the apartment is part of a share house. Could do with some new pillows on the bed. David was really welcoming and happy to help
Andrew
2016-09-13T00:00:00Z
David was easy to contact and very welcoming - location central and quiet.
Donna-marie
2016-11-18T00:00:00Z
David was an excellent host . He gave us some perfect advice for the road trip . The location is perfect . Recommend it for sur . Thanks a lot David !!
Pauline
2016-11-25T00:00:00Z
I had a great stay at David's. He was fast at responding and easy to communicate with when booking the apartment. When I arrived his place was easy to find, a short walk from cairns central and near bus stops. His apartment was nice and cosy with a amazing queen bed. The wifi was fast and air con was great. I chatted with David when I arrived who gave me great information on places to visit and anything I asked. I would recommend staying here. It was exactly what I wanted, a nice central place to stay that was cool and comfy. I would stay again
Will
2016-10-16T00:00:00Z
Great hospitality. Very friendly and welcoming and provided all the little extras like sunscreen and milk.
Jandie
2017-01-10T00:00:00Z
Amazing host, very welcoming , amazing hospitality , did everything possible to make me feel welcomed and provided me with more then everything i needed. Invited me into his home for dinner, offered to take me around if i needed a lift any where . Overall a very good person .
George
2016-11-23T00:00:00Z
David was super nice. He told us about many places to visit in the area! Has cookware in the house witch made it easy to cook your own food. Located close to downtown!
Adam
2016-10-07T00:00:00Z
Art der Unterkunft
Ganze Unterkunft
---
Objekttyp
Wohnung
---
Unterkunft für
2
---
Schlafzimmer
Cairns, Queensland, Australien
Your room comes with the following *Queen sized bed fitted with comfortable and quality linen and pillows in a double sized room *Shared bathroom with just myself ( shower and toilet ) *Towels provided *Air Conditioning/ceiling fan/screened window fitted with block-out shutters *Cupboard space to hang clothing and store bags I am located very close to everything around Downtown Cairns by walking/bicycle/bus or taxi. It's a leisurely 15 minute walk to The Esplanade ( 6 blocks ) Cairns Central Shopping Centre is a 10-15 minute walk ( 2.5 blocks ) where you have access to Coles supermarket, the Train station( Kuranda) & bus terminal (Kuranda & local buses) Please see the maps in the photo album. Your welcome to come and make yourself at home as long as you have respect towards other people. As I want you to have fond memories of your stay in Cairns. Please read the HOUSE RULES. Note: I sanitise all linen and protective layers on the mattress and pillows between each and every guest! The bathroom is also bleached and steamed down between guests.
As stated above, I am located on the very edge of the Cairns CBD. The Esplanade, Cairns Central, The Marina are all within walking distance. The Apartment is located and overlooks Lilly Creek park bikeway that runs alongside the complex giving it a very tropical outlook from the living area located outside. This giving you a feeling of being in the tropics but still having the convenience of access to the areas of downtown. The bike path/ walkway that runs alongside Lilly Creek can be used as a short cut walking into Cairns Central or The Esplanade and takes 5-10 minutes of(URL HIDDEN)maps times. This is a link to Cairns Bicycle paths (URL HIDDEN) (URL HIDDEN)
Robert ist sehr nett und hilfsbereit. Er hat mir alle nötigen Informationen und Wegbeschreibungen gegeben, damit ich am frühen Morgen ohne Probleme meinen Weg vom Busbahnhof zu seiner Wohnung finden konnte. Zusätzlich war er sehr hilfreich beim Tipps geben, was man in Cairns und Umgebung unternehmen kann. Generell habe ich mich sofort zu Hause gefühlt. Robert hat Frühstück und eine Waschmaschine zur Verfügung gestellt. Ich hatte mein eigenes Zimmer, wie auf den Fotos sichtbar, und habe das Bad mit Robert geteilt. Nach meiner Zeit in Cairns hat mich Robert zum Flughafen gefahren, was sehr hilfreich war. Robert macht alles, damit man sich wohl fühlt und ich empfehle jedem, bei ihm zu übernachten.
Christine
2016-03-10T00:00:00Z
I've been in his accommodation almost for a week. His house is so clean and comfortable with ceiling fan and air-conditioning and also he is nice person as he picked me up at airport to his accommodation as well as drop me to airport last day. I strongly recommend you to stay his place if you look for somewhere to stay!
愛
2016-02-05T00:00:00Z
由于我的英语很不好,所以只能用中文评价了。 Robert是一个非常热心肠的房主,很友好很温和,我和老公到达凯恩斯的时候,他来机场接了我们,在他家住的三个晚上很舒适,给了足够自由的空间,如果我英语好一些的话,我想一定可以有一些很棒的交流! 最后一天离开凯恩斯也是Robert送去机场的,觉得非常感谢他!
Min
2015-09-09T00:00:00Z
It was such a wonderful experience staying with robert. He picked me up from the airport and was so acommodating to allow me to check in early as i really needed to be horizontal after my super long flight to cairns. He has great insights on all types of attractions in and around cairns. He was such a gentleman helping me carry my many pieces of luggages and so entertaining with his many stories of his experiences travelling around the world.
Sue
2016-01-19T00:00:00Z
Robert is an awesome host who has amazing knowledge, warm heart and wonderful experiences. My flight was delayed and he picked me up from the airport at 12:30 AM with a broad smile. He had a bicycle which I used frequently. His room and arrangements are very friendly, homely and comfortable. I would like to book his place whenever I'm in Cairns next time.
Mohammed Didarul Islam
2015-09-22T00:00:00Z
Me and my girlfriend stayed for a few nights and Robert couldn't have made us feel more welcome. The room was comfortable, clean, private and had air con which is a must! Great guy, great place, very reasonable price, great stay. You wont be disapointed.
Jake
2015-03-25T00:00:00Z
Robert was extremely helpful and friendly during my brief stay. The flat is situated a short 15 min walk from the town centre and rooms have really good air conditioning which was useful in the cairns summer. The flat is very homely with a balcony, and I would recommend to others. At that price and with potentially a friendly airport pick up, definitely a bargain
Deen
2016-01-05T00:00:00Z
Robert was a fantastic host! I couldn't have asked for anything better. Everything including the bathroom was very clean, the bed was super-comfy and the room was cold enough due to the air-con. Robert let me store my luggage in his apartment until the evening and offered me a lift to the city. Staying at Robert's flat was a real pleasure!
Oliver
2016-03-28T00:00:00Z
Art der Unterkunft
Privatzimmer
---
Objekttyp
Wohnung
---
Unterkunft für
1
---
Schlafzimmer
Parramatta Park, Queensland, Australien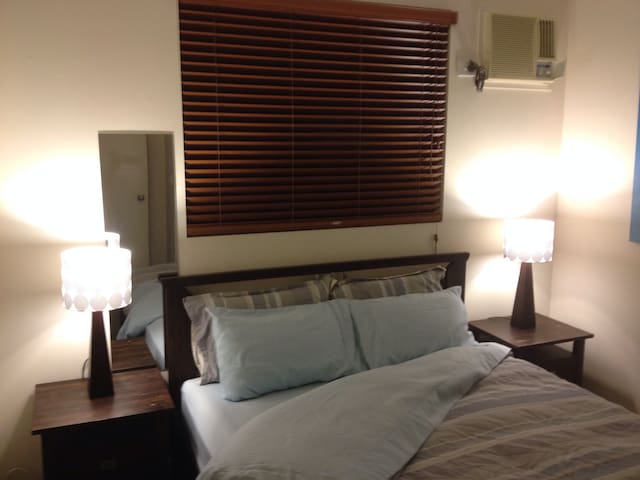 Hidden treasure in Cairn's, this partly furnished one bedroom, one bathroom unit is available.Within walking distance to the Cairns Esplanade, boardwalk,shopping centers, & public transport. Note* Please read house rules.
We had a great stay, thank you very much! Nothing bad to say: friendly host, lovely dog, and it was clean. The only thing to note is that if you're noise-sensitive it might not be the best place stay because of the traffic
Oriane
2017-01-05T00:00:00Z
Nick was super friendly and the place was great! Bus stop right on the same block so convenient. You could still walk to city but took me 25ish minutes. The air-conditioning was awesome which is so necessary in this weather and the separate key to the room made it feel very secure. And all of this at great value as well! Would definitely recommend staying there!
Josh
2017-02-11T00:00:00Z
Close to city, easy to walk to and public transport right outside. Air con was a blessing as it was so humid outside! Would definitely recommend Nicks place!
Nicola
2017-01-09T00:00:00Z
The place was very clean and nice. The room had air conditioning and the dog is very cute :)
Linde
2017-01-22T00:00:00Z
Bonne chambre, propre. Airbnb proche d'un arrêt de bus, restaurants et magasins. Nick est très accueillant.
Fabien
2017-01-15T00:00:00Z
The accommodation was in a good location and the room was just what we needed. Their dog was super cute and friendly and we had a really lovely stay.
Luke
2017-02-15T00:00:00Z
Nick is a friendly host, he lent us his computer for transferring the photos.
Athena
2016-12-28T00:00:00Z
Nick's place is a really nice place to stay in Cairns, within a walking distance to the Esplanade and all the main attractions, as the Botanical Gardens. Nick was a great host and helped me and my girlfriend with any question that we had, even offered us to take us to Crystal Waterfalls close to Cairns. The room was all that we needed and helped us to have a nice stay in Cairns. Thanks for everything Nick!
Sebastián
2017-04-01T00:00:00Z
Art der Unterkunft
Privatzimmer
---
Objekttyp
Wohnung
---
Unterkunft für
2
---
Schlafzimmer
Cairns North, Queensland, Australien
A stones throw away from the hussle and bustle. Enjoy your sundowners on this recently furnished, modern, homely, 'penthouse' balcony before your short stroll or drive to the city or cook at home in a great kitchen whilst enjoying Foxtel and NBN.
Keeping in mind we are so close to the city center in a residential area there is on occasion some noise from neighbouring apartments especially on the weekend.
We are two friends visiting Cairns and the Great Barrier Reef. The apartment is just as described: clean, well equipped and faces a beautiful park and mountains in the distance. The Esplanade is about a 15-20 minute walk or 5 minute taxi ride. Simone and Kevan are wonderful hosts being both accessible and responsive. The wine, milk and Maltesers were such a nice and thoughtful touch. We also enjoyed their recommendations on restaurants and activities.
Olivia
2016-11-23T00:00:00Z
Fantastic apartment, really cozy! Felt just like home :) Thank you to both of our hosts for making our stay so comfortable and easy.
Magali
2017-02-06T00:00:00Z
非常舒适的2房单元,主卧还有小阳台。 厨房很齐备。大阳台真的很安逸。如果不是天冷,晚上都想在阳台上。
楣
2016-08-21T00:00:00Z
Their house is very awesome! I can't speak English well but it doesn't matter. They are so kind and try to understand of me. Their house has a very nice view. Especially, the morning and night views on the terrace are fantastic. I feel so comfortable and refreshed. And the interior looks wonderful. So when I stay their house, I feel excited without doing anything. They are very delicate. I was impressed because they provided welcome gift and they write every bit about delicious restaurant, surrounding tourist attractions, transporations etc. So we were able to walk around easily. I recommend their house to anyone.
수인
2017-01-22T00:00:00Z
Simone's place is more than comfortable with both bedrooms having their own bathroom and own control air conditioning unit. We were very happy with Simone's place and would highly recommend it.
jianfen
2016-10-24T00:00:00Z
Simone and Kev's place was fantastic. Spacious, Everyting Clean, Good location, and even nice smell when we enter for first time! They were so kind, nice people. Their information book was really helpful as well! Definitely will stay here next time for sure.
Jieun 지은
2016-09-02T00:00:00Z
I really enjoyed staying in their room because they keep it so clean. Also, they respond to my email soon. So I didn't worry about anything.
Kotomi
2016-07-20T00:00:00Z
The apartment is lovely, beds were super comfy, everything is new and clean. Apartment is stocked with useful amenities, bbq area and balcony are nice to use. Definitely recommended for families or freinds staying in cairns. Loved it
Aimee
2017-02-22T00:00:00Z
Art der Unterkunft
Ganze Unterkunft
---
Objekttyp
Wohnung
---
Unterkunft für
4
---
Schlafzimmer
Cairns North , Queensland, Australien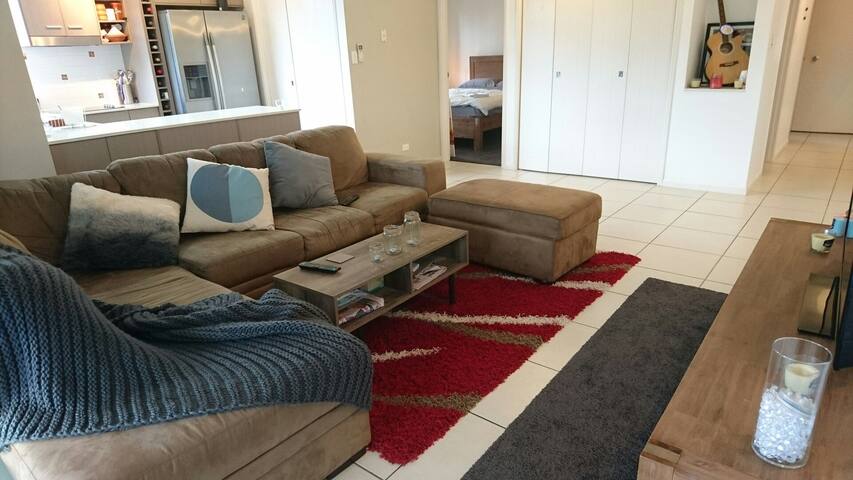 Mein Platz ist in der Nähe von Restaurants und Gastronomie und Kunst und Kultur. Sie werden meinen Platz wegen der im Freien Raum, das Licht, der Nachbarschaft und dem bequemen Bett lieben. Mein Platz ist gut für Paare, Solo-Abenteurer und Geschäftsreisende.
The location was nice with cool swimmig pool. It wasn't in the city center, but in walking distance, so it wasn't an issue. Clare was helpful with check-in etc, so all very good. We recommend this place. Thanks a lot!
Maciej
2017-01-22T00:00:00Z
Our second stay at Clares place. It was again a great hotel style room in a convenient location. Clare is easy to communicate with and helpful with everything. We would highly recommend the place.
Barbara & Jonathan
2017-01-26T00:00:00Z
Take uber to go there
Eddie
2017-04-05T00:00:00Z
Perfect location in city, very modern & clean. Lovely apartment, better than expected. Would recommend for cairns city stay. Apartment amazing on inside for money, from outside building you wouldn't expect.
charlotte
2017-01-11T00:00:00Z
Modern and clean place. Clare was quick to respond and easy to communicate with. Location is about 15 min walking away from beach so be mindful of this detail when it's 100 degrees outside.
Alea
2016-12-29T00:00:00Z
Was just outside the city center but not a long walk into town. Everything was very nice and clean. They were extremely helpful when it came to booking tours!
Shanna
2017-03-19T00:00:00Z
Clare's place was the perfect place for us in cairns . It was modern and clean and in a great location so we were able to walk everywhere . We will definately stay again if we return to Cairns
Danielle
2017-02-20T00:00:00Z
Quality stay highly recommended
Joanna
2017-01-01T00:00:00Z
Art der Unterkunft
Ganze Unterkunft
---
Objekttyp
Wohnung
---
Unterkunft für
2
---
Schlafzimmer
Cairns City, Queensland, Australien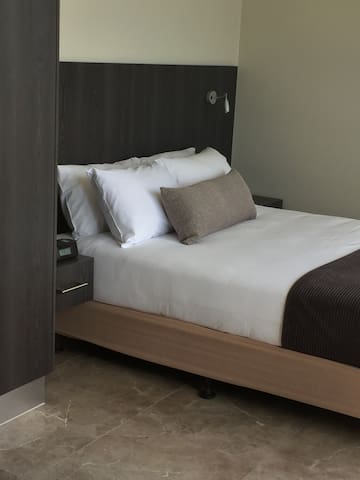 我可以說英文和中文,如果您有興趣及問題,歡迎傳訊息給我! I can speak English and mandarin,please text me if you are interest my property!
[目前我們有一間大雙人床的空房,如果您們有三個人一起旅行,我們提供加床服務$25澳元!如果我們有空閒可以安排免費的機場接送服務。] [We have a Queen size bedroom available now,if three people travel together,please ask for an extra single bed.Only $25 extra!We'll organize free airport transfer,if we have free time!] 我和我的好朋友住在這間舒適的公寓,公寓一共有三個房間,我們住在其中一家套房,另外兩間提供給民宿客人,目前有一間房間有一位房客入住,所以暫時只有一間空房,廁所和沐浴是分開的,最多三個人共用。我們提供免費的光纖網路、冷氣還有簡單自助早餐(吐司果醬、麥片、牛奶及茶)。如果您抵達的時間剛好我們不需要工作,會安排免費機場接送哦! I live with my closed friend in this cosy Unit,we have two bedrooms for sharing in our house while we are in the third bedroom at the side of the house.The price includes for one bedroom,Free wifi,air condition,and breakfast.If we have time,we'll pick you up from airport! 當我們有兩間空房的時候,很歡迎一起旅行的朋友和家人,適合四個人入住兩間房!此時衛浴和廁所就是您們獨享了,我想我們家是最好的選擇:) If we have two bedroom available,Welcome people who traveling together,suitable for four people live in two (URL HIDDEN) you have your own bathroom and toilet!I think our place is nice choice!
距離市區步行皆可抵達,近凱恩斯中央商場與公車站,步行三分鐘可到麥當勞與肯德基。 You can go around Cairns city on foot,close Cairns central shopping center,3min walk to McDonald's and KFC.
Wir können die Unterkunft auf jeden Fall empfehlen! Man fühlt sich wie zuhause und hat alles, was man benötigt. Den Hafen und das Zentrum kann man zu Fuß innerhalb von 20 Minuten erreichen.
Katharina
2017-04-02T00:00:00Z
Wir waren etwas früher angekommen und Daisy hat ihre Arbeit unterbrochen, um uns in die Wohnung zu lassen. Das war echt schon toll. Wir hatten alles was wir brauchten. Die Lage ist ideal. 3 Blöcke vom Einkaufszentrum, ca 15 min zum Meer. Daisy hat uns Fahrräder zur Verfügung gestellt und konnten damit alles noch besser erreichen. Selbst bei der Abreise durften wir noch unser Gepäck im Wohnzimmer stehen lassen, weil unser Flug erst abends ging. Ihre Mitbewohnerin hat uns sogar zum Flughafen gebracht. Echt eine tolle Erfahrung. Gerne wieder!
Cindy
2016-07-15T00:00:00Z
房间很干净 房主非常热心 适合旅游住宿
杰
2016-11-10T00:00:00Z
Daisy is an excellent host, extremely friendly and helpful, her house is clean and neat, really cant think of anything to complain, highly recommend to anyone who going to Cairns:)
Alex
2016-04-17T00:00:00Z
Everything was there and the room is tidy and comfy. They got a big wardrobe which is perfect for girls ;) We really felt like home and had a great time staying in Cairns and Daisy's house. Grateful that Uta drove us to the airport! Daisy and her friends were so nice and so interesting, and they treated us as friends. We look forward to come back again and would love to stay there. :D
Sik
2016-05-22T00:00:00Z
Daisy was very welcoming and warm-hearted. The best thing was that she even lent us two bikes! The flat is in walking distance to the city centre. Would definitely recommend!
Kathrin
2016-08-26T00:00:00Z
Daisy runs an extremely spic and span well equipped home. Strongly recommended.
Arnold
2017-03-16T00:00:00Z
Good location, nice and modern house, easy to communicate with the host. I highly recommend this place.
Mali
2017-01-06T00:00:00Z
Art der Unterkunft
Privatzimmer
---
Objekttyp
Wohnung
---
Unterkunft für
3
---
Schlafzimmer
cairns, Queensland, Australien
Mein Zuhause ist wenig, aber ein gemütliches Zuhause, ca. 3 km von der Stadt Stadt CBD, 1,5 km zum Flughafen. Dies ist kein Partyhaus, sondern gibt Ihnen das gleiche Gefühl wie zu Hause. Wifi verfügbar ist, auch dort gibt Parkplätze, in der Nähe von Bushaltestellen.
Unser Aufenthalt bei Megan war wirklich schön. Megan ist ein liebenswerter Mensch und ein toller Gastgeber. Sie hat uns vom Flughafen abgeholt, da wir erst sehr spät angekommen sind und hat uns sehr herzlich aufgenommen und empfangen. Wir haben uns wie zu Hause gefühlt. Sie hat sich sehr viel Zeit für unsere Fragen genommen. Sehr empfehlenswert also. Lage ist auch gut.
Maren
2017-02-25T00:00:00Z
Really nice and professional. Warm welcoming and clean house.
James
2016-07-04T00:00:00Z
A very nice and clean apartment. Comfortable bed. We could use the kitchen and do our laundry. Megan is a very friendly and helpful hostess. Nice location, walking distance to the esplanade and close to the botanical gardens. The swimming pool is just across the street, which is also worth a visit. (Only 5.50 USD to swim in an Olympic pool!)
Irene
2016-07-02T00:00:00Z
Comfortable bed. Clean room and bathroom.
Melanie
2016-08-12T00:00:00Z
We ducked up to Cairns for a 4 day getaway and had a lovely stay at meg's place. Very well presented and conveniently located near public transport. We pretty much had the place to ourselves most of the time. Recommended stay.
Colin
2016-09-25T00:00:00Z
She's house is so great!! She taught me about house rule so kindly! I'm not good at English but, Megan makes me happy! Thanks to Megan, I could relax! I'm appreciate her. I want to stay her house again!
syuto
2017-03-23T00:00:00Z
Megan is fantastic, super friendly and welcoming. Her home is absolutely lovely-big apartment on the top floor and walk up with our big bags was not bad at all bad! Beautifully decorated home which is so spacious and bright. The bedroom and bathroom are a great size -the photos and description don't do it justice. Really close to town and the airport. Would have loved to stay longer!!
Tanya & Greg
2017-03-26T00:00:00Z
Megan was a lovely host and very accommodating. My flight didn't arrive until very late and she stayed up to welcome me (even though she had a huge week at work herself). The apartment was tidy and clean and very close to everything. Megan was friendly, respectful and made a delicious coffee! I would definitely stay again.
Sarah
2016-10-01T00:00:00Z
Art der Unterkunft
Privatzimmer
---
Objekttyp
Wohnung
---
Unterkunft für
2
---
Schlafzimmer
Cairns North, Queensland, Australien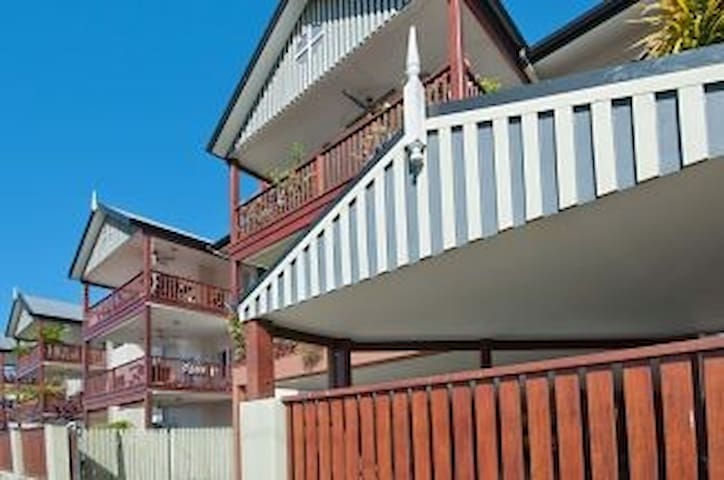 Mein Platz ist in der Nähe eine tolle Aussicht, Restaurants und Gastronomie, Strand, familienfreundliche Aktivitäten und Nachtleben. Mein Platz ist gut für Paare, Solo-Abenteurer, Geschäftsreisende und Familien (mit Kindern).
Joe's apartment is in an excellent location- close to the promenade, lagoon, public transport, a shopping centre and the famous Gilly's. Joe was very accommodating ensuring he was ready with the key upon our arrival. The balcony overlooks the city and has a wonderful ocean view. Our stay was short but we adored our time and can't wait to come back!
Joshua
2016-11-17T00:00:00Z
The flat is in a great location and has a balcony with a view of the ocean. It is also walking distance from the shopping mall, bus stops, shops, and restaurants. The flat was clean and had everything we needed (towels, soap, silverware, plates, cups, etc.). The flat was comfortable for two people. Joe was very friendly and even volunteered to pick us up from the airport. Highly recommended. Thanks, Joe!
Wynne
2016-11-10T00:00:00Z
Joe was quick to respond to any questions and the place was well furnished and in a great location. As an added bonus, it has a large outside patio which had a perfect view of the New Year's Eve fireworks on the Esplanade.
David
2017-01-02T00:00:00Z
The accommodation has a great view over Cairns and is located close to the city. But we could not sit on the balcony to enjoy the view, because the air conditioner is blowing very hot air on the balcony, which is uncomfortable during the hot summer in Cairns. Nevertheless, it is a good accommodation to stay in. It provides a parking spot for the car in is like a hotel room. Check-in was very easy.
Katharina
2016-11-28T00:00:00Z
Comfy studio room above the best western. Great view of the waterfront and walk any and everywhere from here!
Linda
2017-01-15T00:00:00Z
This place was great for a quick and easy place to stay - located directly across the street from a mall and not too far from the airport. Joe was very responsive as well. Only downside for us was that they were painting the hallway of the floor we were staying on while we were there. Otherwise great place!
Oliver
2017-01-30T00:00:00Z
Amazing place! I remember reading a few negative comments by previous visitors and although they are true, I think you can always find something wrong, even with the best place. This is definitely the nicest place I have ever stayed in my entire life!
Bianka
2017-02-09T00:00:00Z
The unit was fine, very small but fine.
Kym
2016-09-28T00:00:00Z
Art der Unterkunft
Ganze Unterkunft
---
Objekttyp
Wohnung
---
Unterkunft für
2
---
Schlafzimmer
Cairns City, Queensland, Australien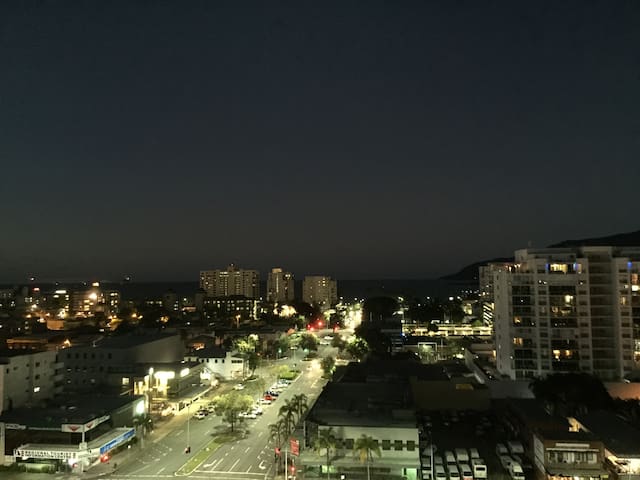 Cairns City - Airbnb
:
Durchschnittlich

4.84

von

5

Sternen aus

1288

Gäste-Bewertungen
1

–

18

von

+ 300 Wohnungen zur Miete
Gib deine Reisedaten ein, um den aktuellen Preis zu sehen. Es können zusätzliche Gebühren und Steuern anfallen.