Απολαύστε ένα άνετο δωμάτιο σε ένα ζεστό και φιλόξενο σπίτι, που διευθύνεται από έναν συγγραφέα, ομιλητή και φωτογραφικό καλλιτέχνη, και η μητέρα με δύο γιους. Προσφέρουμε μια χαλαρή και χαλαρή διαμονή στην καρδιά της βικτωριανής Windsor, με εύκολη πρόσβαση στο ιδιαίτερα επιθυμητή πόλη
Questo è un piccolo angolo di perfetta sul retro della casa; ha una bella atmosfera, tranquillo e confortevole, con un tetto spiovente e una luce cielo quindi è molto luminoso e arioso; accanto alla doccia e con vista sul giardino sul retro, proprio nel cuore del centro storico il centro di Windsor. La vostra camera ha un comodo letto singolo, una scrivania e sedia, cassettiera, e armadio; vi è una spina convertitore internazionale con hub USB, un asciugamano è fornito, e asciugacapelli, una fornitura di emergenza di articoli da toeletta e di un ferro da stiro è disponibile! C'è tutto WiFi importante
Η γειτονιά είναι ασφαλή, ήσυχο και φιλικό, είναι επίσης 5 λεπτά με τα πόδια από το κέντρο της πόλης. Είναι ένας τουριστικός προορισμός και γι 'αυτό είναι μια πολύ επιθυμητή πόλη.
Melanie ist der Prototyp der Gastgeberin schlechthin. Man fühlt sich sofort zu Hause. Sie macht kein großes Trara, alles ist einfach nur offen und freundlich. Das Zimmer war klein aber sehr fein und hell. Das Bett super kuschelig, genau richtig, als hätte ich selbst die Matratze ausgesucht! Wir Airbnb-ler durften praktisch das ganze Haus benutzen (was ich bei meinen Gästen nicht so unbedingt möchte) und da das Wetter schön war (in England!!) habe ich auch lange draußen im Garten gesessen. Idyllisch. Und ich bilde mir ein, wir hatten dieselbe Wellenlänge - oder, Melanie??
Iris
2016-07-18T00:00:00Z
Das Zimmer ist sehr hübsch und genau wie abgebildet, das Bett sehr bequem, die Aussicht auf den romantischen Garten zauberhaft. Leider habe ich Melanie während meines Aufenthalts nicht persönlich kennen gelernt weil sie übers Wochenende verreisen musste, aber ich wurde von ihrem jüngeren Sohn erwartet und rumgeführt. Der gute Geist von Melanie war im und ums Haus herum spürbar. Ich habe es sehr genossen, meinen Frühstückstee auf dem besonnten Sitzplatz im Garten zu trinken. Sollten mich meine Wege mal wieder über London führen würde ich sehr gerne wieder bei Melanie wohnen und hoffen, sie dann persönlich kennen zu lernen.
Doris
2015-05-26T00:00:00Z
Lovely room, friendly family. Good experience.
Sheila
2015-04-22T00:00:00Z
Host welcome was amazing, listing was accurate and my experience was wonderful. Melanie and family was incredible.
Neil
2015-04-13T00:00:00Z
I was really looking forward to meeting Melanie, but due to unforeseen circumstances she was not able to be there, but her sons did a great job of making us feel welcome. The room is a lovely serene blue, just as pictured and is a very peaceful space. The location is great and very centrally located to Windsor town centre, castle and train station. Although there is no parking, we were able to get 24hr parking in the Alma Rd Carpark (a 5min walk)for £8. Even though absent, Melanie still made every effort to make sure we were well looked after. We would happily come here again.
Jane
2016-04-28T00:00:00Z
A great experience, I wish I could have stayed longer and hope to return. Melanie was really warm, welcoming and friendly. The room is clean and fresh with a couple of nice additions that really added value. Truly exceptional value for money.
James
2015-10-17T00:00:00Z
Always good to stay here. Lovely warm home close to the centre and very close to local pubs for food.
Glen
2016-02-26T00:00:00Z
Melanie's home is a great stop-over if you're flying through Heathrow because of the distance... But if you have time to stay longer and you're looking for a kind, welcoming home that enriches your travel experience, you couldn't possibly do better. The room was clean and comfortable, the house in a safe neighborhood just minutes from plenty of things to do and easy transportation to London. But most of all, Mel and her family will make your stay an absolutely lovely one! This was my first AirBnB, and now I'm afraid I'm a little spoiled!
Kate
2016-01-02T00:00:00Z
Art der Unterkunft
Privatzimmer
---
Objekttyp
Haus
---
Unterkunft für
1
---
Schlafzimmer
Windsor, Vereinigtes Königreich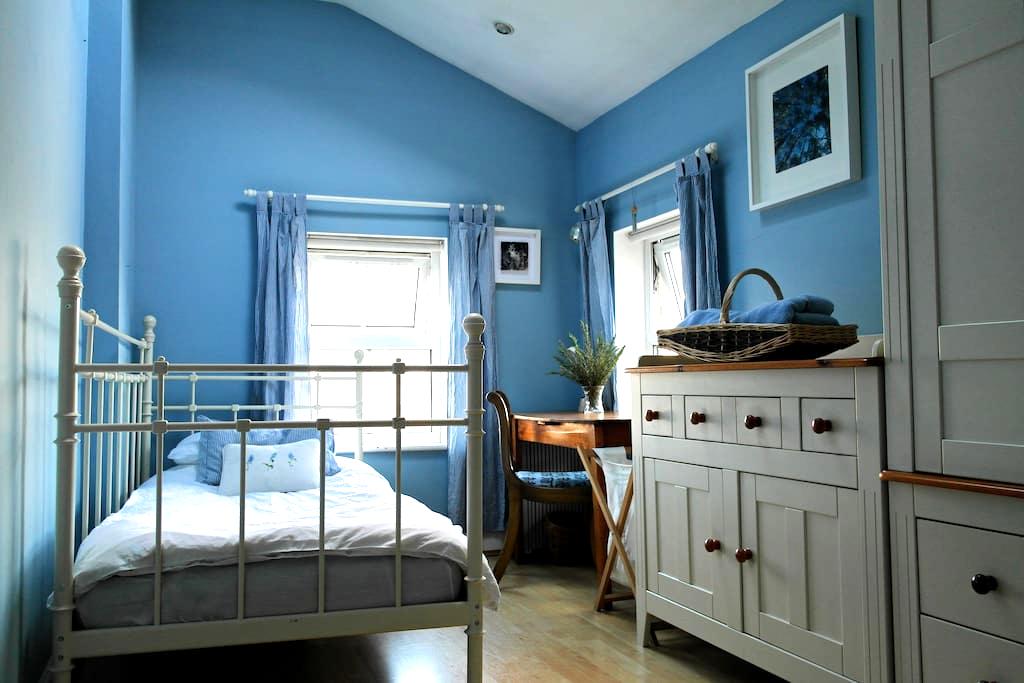 Απολαύστε ένα άνετο δωμάτιο σε ένα ζεστό και φιλόξενο σπίτι, που διευθύνεται από έναν συγγραφέα, ομιλητή και φωτογραφικό καλλιτέχνη, και η μητέρα με δύο γιους. Προσφέρουμε μια χαλαρή και χαλαρή διαμονή στην καρδιά της βικτωριανής Windsor, με εύκολη πρόσβαση στο ιδιαίτερα επιθυμητή πόλη
Una habitación cómoda en un hogar acogedor, justo en el corazón de la histórica Windsor Town Center. Su habitación tiene una cómoda cama individual, escritorio, cómoda, armario, almacenamiento y cajones de noche, hay un enchufe internacional convertidor con concentradores USB, se proporciona una toalla y secador de pelo; un suministro de emergencia de artículos de tocador y una plancha está disponible! Hay una vista del jardín trasero, por lo que es ligero y alegre! Hay toda WiFi importante
Η γειτονιά είναι ασφαλή, ήσυχο και φιλικό, είναι επίσης 5 λεπτά με τα πόδια από το κέντρο της πόλης, με πολλά μπαρ, καφετέριες και εστιατόρια. Είναι ένας τουριστικός προορισμός και γι 'αυτό είναι μια πολύ επιθυμητή πόλη.
Ich habe meinen Aufenthalt bei Familie Gow sehr genossen! Das Zimmer ist freundlich und komfortabel. Das Bett total bequem. Während meinem Aufenthalt habe ich alles gefunden was ich brauchte. Sogar ein Bügeleisen! Melanie hatte auf alle meine Fragen eine Antwort und gab mir Ratschläge :-) Thank you! Ich würde jederzeit wieder kommen! PS: Ja, Leo ist sehr niedlich und verspielt :-)
Anja
2016-01-11T00:00:00Z
Melanie was an awesome host. I was extremely tired from my backpacking trip and decided to stay in Windsor for one day before my flight. She has an inspiring story and I highly recommend that you talk to her. She's got some amazing wisdom. Overall, I highly recommend Melanie!
Raj
2015-05-22T00:00:00Z
Melanie is a fantastic host. Very welcoming and extremely helpful. Room was exactly what I was after and for a very reasonable price. House and room were clean and everything you could need is provided. I definitely recommend staying here and will stay here if in Windsor again.
Anthony
2016-02-22T00:00:00Z
good and safe location,nice hostess and her sons,
AILAN
2015-03-02T00:00:00Z
Melanie was very helpful and reliable in discussing with me regarding questions and queries before arriving. Upon arrival, Melanie was very friendly, showed me around her house, and offered snacks etc. The house was nice and she was very flexible to accommodate my travel and time needs. Overall, was a pleasant and nice stay.
Alex
2016-09-04T00:00:00Z
Definitely the best Airbnb! I have share the link to my friends. The host is really friendly hand helpful. She gave me so lots of wonderful suggestion about my trip. The room is fantastic!! Everything you want in this "home"!!! The host's book and experience are amazing!! If I can come back, I definitely will choose this Airbnb again!
Olivia
2016-08-23T00:00:00Z
Melanie was extremely helpful in giving me directions around town when I arrived. I was welcomed to join in with her family in the evening, rather like a homestay, but completely free to follow my own agenda. Being able to use the kitchen was wonderful, and also enjoyable to have a conversation while making dinner. The bedroom itself is small, but well kept and with everything you would need: towel, outlet, desk, small wardrobe and water glass. The stairs are a bit narrow, and there is a bit of a charming creak to the floor. I never had any hesitation about walking around the neighborhood on my own; it feels very safe.
Teagen
2015-07-11T00:00:00Z
Fabulous stay..perfect location and everything was just great. Loved it
Jon
2017-03-18T00:00:00Z
Art der Unterkunft
Privatzimmer
---
Objekttyp
Haus
---
Unterkunft für
1
---
Schlafzimmer
Windsor, England, Vereinigtes Königreich
Bright double room on 2nd floor of spacious house a stone's throw from the River Thames and great road/rail links to LONDON/HEATHROW. - bathroom with bath&shower, - continental breakfast - Linen - TV in room and free Wifi - Free Parking
You'll be made to feel welcome and relaxed, the bed is comfortable, the room is sunny and south facing, and the surroundings are leafy, quiet and beautiful.
The house is in the Riverside area of Maidenhead, with lots of mature trees and pretty houses. It's a short walk along the Thames Path in one direction to Boulter's Lock where you can sit and watch the boats going and in and out, or have a drink in the bar there overlooking the river. Alternatively, it's a half an hour along the river in the opposite direction to charming Cookham village of Wind in the Willows fame, where are numerous pubs and restaurants.
Catherine und Bella (ein sehr freundlicher Hund) haben uns herzlich willkommen geheißen. Für zwei Nächte durften wir Catherines Gäste sein und es war wirklich schön. Catherines Zuhause hat wirklich ein besonderes Flair. Es ist ein einziges Kunstwerk. Der Garten mit Pool ist ebenfalls einmalig und wir haben es sehr genossen dort gemeinsam mit Catherine zu Frühstücken. Für unseren Ausflug nach Oxford hat Sie uns gute Tipps gegeben so das wir uns schnell zurecht gefunden haben. Das Zimmer ist ordentlich und das Bett bequem. Man hat einen großen Schrank im Zimmer, in dem man sehr gut Kleidung aufhängen kann. Das Bad ist separat über den Flur zu erreichen. Vielen lieben Dank für die schöne Zeit!
Ilona
2015-08-12T00:00:00Z
Netter Empfang, etwas chaotische Organisation. Ein Missverständnis (wir gehen davon aus, dass es nicht an uns lag) führte dazu, dass wir erst einen Tag später als geplant anreisen konnten, weil Catherine vorher keinen Platz hatte für uns. Positiv: Catherine war sehr hilfsbereit und hat uns bei der Abreise eigens mit ihrem Auto in die Stadt gefahren.
Stefan
2016-09-05T00:00:00Z
A lovely interesting character home in a residential setting, very quiet. Catherine is a lovely lady, friendly and welcoming. The double bedded room is very comfortable with a chair, bedside tables and lights, TV, wardrobe and hairdryer. The bathroom is down the hallway a few paces but large, bright and clean with bath and shower facilities. The family kitchen is available to warm meals and make tea etc. The property is a car ride from the main town. Not sure about local facilities but as I was driving I popped into the garage/co-op about a mile from the property for supplies. A very homely comfortable stay with a lovely greeting each day from the dog too!
Angela
2017-02-07T00:00:00Z
We had a wonderful week staying in Catherine's House full of interesting artifacts and situated by the River Thames. We were made to feel very welcome by her and the friends and neighbors that we met. It is a very quiet location and easy to access from Heathrow. A few yards down the path from her garden is a very beautiful stretch of river and towpath walk into Cookham or the other way to Maidenhead. Thankyou Cath for a most enjoyable start to our tour of the UK.
Ross
2015-10-24T00:00:00Z
Catherine was excellent, warm and friendly, we had a cup of tea on arrival even though we happened to be an hour early. Lovely accommodation, separate bathroom but it was very acceptable. We enjoyed a lovely walk by the Thames nearby and a meal locally.
Shelly
2016-03-02T00:00:00Z
Beautiful setting, extremely warm welcome, and very interesting friend (I've never met a taxidermist before). I'd highly recommend staying at Catherine's!
Windsor
2015-03-12T00:00:00Z
All good - as it always is when you stay with Catherine!
tim
2017-01-05T00:00:00Z
Ideal place to out one's head down! Quiet and nicely situated Perfect host: look forward to staying again
Robert
2015-10-15T00:00:00Z
Art der Unterkunft
Privatzimmer
---
Objekttyp
Haus
---
Unterkunft für
2
---
Schlafzimmer
Maidenhead, Vereinigtes Königreich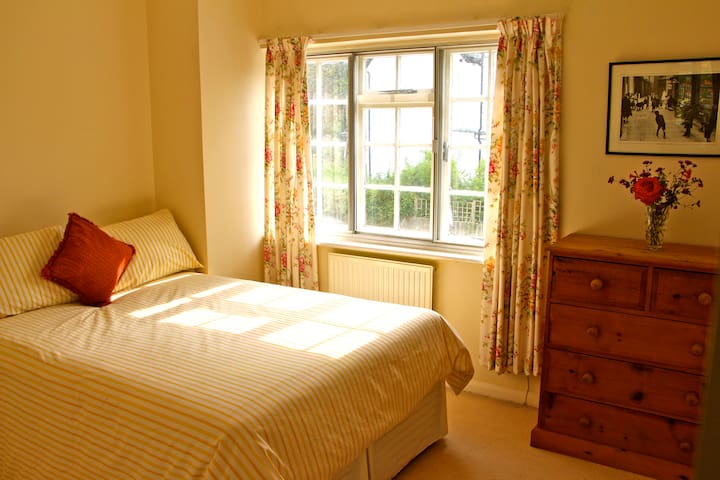 Lovely refurbished 2 bed cottage in an area of Outstanding Natural Beauty, very close to both Marlow, Maidenhead, Henley & London. Local michelin star restaurants include The Fat Duck, The Hand & Flowers and The Royal Oak Paley Street. Easy access to the M4, Heathrow & all major road networks. Maidenhead to Paddington on the train in only 25 minutes. Located in secure location behind electric gates with ample parking. Complimentary continental breakfast included. (see below) Pet Friendly
Pinkneys Green is a village within the north-western bounds of the town of Maidenhead in the English county of Berkshire. Just 3 miles from Marlow. 2 miles from Cookham and 7 miles from Henley-on-Thames. The open, meadow-like expanse of Pinkneys Green and the heavily wooded Maidenhead Thicket both belong to the National Trust and provide a pleasing contrast for the two halves of this short, almost level walk. Maidenhead Thicket is perhaps at its most attractive in spring, when a mass of primroses bloom.
A wonderful few days spent here. Katie was a great host, thoughtful and helpful. She made sure we had everything we needed and her communications excellent. The property itself was perfect for a peaceful escape from city living. It had everything we needed, was in great condition and very well decorated / dressed throughout - a real home from home. The location was perfect as a base for walking (we took our dog) and cycling and it's only a short drive from a variety of great places to visit. No shortage of amazing farm shops nearby too which we made the most of. This is certainly a highly recommended place to stay. Thanks for a wonderful stay Katie!
Richard
2016-06-02T00:00:00Z
Katie was very friendly and accommodating during our conversations before our arrival, and the gentleman who greeted us when we arrived was friendly and polite too. The cottage itself was clean, comfortable, very homely and so quiet. The kitchen was equipped well enough for our needs. Would definitely stay again and recommend to anyone.
James
2016-10-16T00:00:00Z
Excellent communication from Katie throughout. I had trouble finding her place in the dark, but she talked me through it in the dark and met me at the top of the drive to guide me in. She made sure the place was lovely and warm for our arrival. Great kitchen set up and we enjoyed cooking our supper there in the evenings. Beautiful location and perfect for where we needed to get to over the few days (Watford, High Wycombe, Oxford and London). All in all a great experience and I would definitely stay here again and recommend it to visiting family from America.
Tracy
2016-10-02T00:00:00Z
Really enjoyed our overnight stay at Katie's place. It's immaculate, clean, very well furnished and very tranquil - and we were overwhelmed with how they kitted the place with food and refreshments to make the stay more relaxing and easy. Lovely countryside around the area, and local pubs for good food. A very comfortable, modern and spacious accommodation we definitely recommend.
Steve
2016-04-10T00:00:00Z
Once again, a lovely stay at Katie's comfortable, pretty cottage. Everything is available to make guests feel welcome; convenient location with direct access to motorways, great towns of Maidenhead, Marlow, Windsor, High Wycombe; good food at the local pub; every possible amenity at the cottage. Katie is a great host!
Jenny
2016-09-06T00:00:00Z
This is an excellent cottage and Katie is an excellent host. Katie allowed us to check in early and met (EMAIL HIDDEN)munication was superb throughout. The cottage is spacious and well equipped, very quiet and extremely clean. Overall a perfect stay.
James
2016-11-18T00:00:00Z
The cottage was immaculate, well equipped, and in a very quiet spot down a gated drive. We booked it as a last minute, spur of the moment overnight trip away, and were extremely happy to have been able to find somewhere so lovely to stay.
Susan
2016-05-08T00:00:00Z
This is exactly what we where looking for, a quiet place to relax before heading back into the city. The photos and description give an accurate sense of the space, but neglects to explain the beautiful surroundings and peaceful street. Katie was very patient with us when our GBPs sent us the wrong way and she came to the rescue. We would definitely recommend this to anyone passing through the area or is in need of relaxing break.
Megan
2016-07-30T00:00:00Z
Art der Unterkunft
Ganze Unterkunft
---
Objekttyp
Bungalow
---
Unterkunft für
3
---
Schlafzimmer
Maidenhead, Vereinigtes Königreich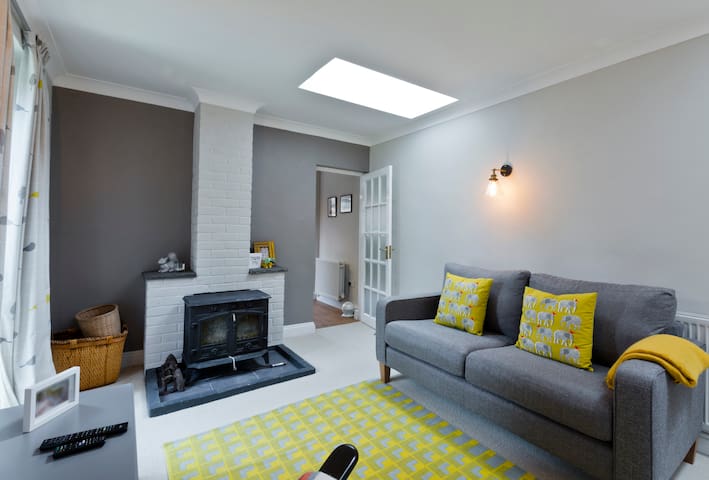 Picture yourself in a very comfortable and exceptionally spacious en-suite bedroom with Super-King sized Hypnos bed, Egyptian cotton bedding and fluffy towels, in a quiet unique setting, minutes from Maidenhead town centre, with FREE Infinity WiFi and parking.
Having lived overseas for many years notably Africa and the Middle East our home is a reflection of many fascinating countries. It is relaxed, clean and tidy, a genuine home from home, we enjoy it and hope you will enjoy it too!
Situated in a very quiet residential but central area of Maidenhead our home is perfect as a base to commute from, to explore the area and London, or to attend any of the many prestigious local events in Buckinghamshire, Berkshire and Surrey.
Another 5 star stay at Alex's! About one year after our first stay we came back, this time not as just guests but as friends. Alex's home is spotlessly clean, tastefully decorated (the holly was a nice Christmasy touch!) and has all the comforts you could ask for and a great family atmosphere. We were even treated to a home cooked dinner. We could not recommend Alex's listings enough!
Augusto & Brian
2016-12-13T00:00:00Z
I have stayed at Alexs' several times and keep coming back as it's the best accomodation at a very competative price. My husband & I have become dear friends with Alex as it feels like being at home when we're there. You won't find a more interesting & hospitable host in Berkshire...
Augusto & Brian
2016-11-06T00:00:00Z
Alex was lovely, welcoming and friendly. The listing is exactly as in the pics. And the neighbourhood is quiet and peaceful. My room looked out onto the garden. I had the large double with en-suite. very comfortable. Highly recommended.
Lavina
2016-09-18T00:00:00Z
Alex sets the bar for Airbnb hosts, the whole experience was amazing and it has given us tips for our own Airbnb hosting. We will be back.
Ben
2016-08-01T00:00:00Z
What can I say. This was by far, one of the best Air BnB's we have stayed at. Alex was warm, friendly, and informal from the minute she invited us into her gorgeous, modern (yet homely) home. She spent so much time with us discussing the area, taking an interest in our lives, whilst sharing personal stories and most importantly, demonstrating what an Air BnB should be like. The room itself is gorgeous, and Alex pays great attention to detail, from the individual soaps, to the wrinkle-free Egyptian cotton sheets. Alex is so warm and I feel I've known her for longer than 24 hours. I would HIGHLY recommend this listing. Thank you Alex, you were exactly what we hoped you'd be and more. Kindest regards, from us both X
Hema
2016-10-30T00:00:00Z
Our time at Alex was better than anything i've experienced at a hotel. She was so welcoming and understanding. She has great people skills and was a lovely person to be around. If i ever stay in the U.K. again i will with out a doubt stay again. The neighbourhood is nice and quiet and the house was a small stroll to the station. I made some unforgettable memories in the U.K. and Alex helped made a few of them. I hope to one day see Alex again not just to stay but because she's become a friend and made us feel welcome and like we were at home in another country.
Damian
2016-06-23T00:00:00Z
Alex made us very welcome and helped us feel at home with her relaxed approach. Very comfortable bed and excellent power shower in the en suite. A special thanks to Alex for allowing my very pregnant daughter to come and spend some time with me in the lounge for a chat and a cup of tea.
Julie
2016-08-21T00:00:00Z
As a regular traveller to Maidenhead I always aim to stay with Alex. The house is spacious and light with a home from home feel. Superb.
Ian
2017-03-23T00:00:00Z
Art der Unterkunft
Privatzimmer
---
Objekttyp
Haus
---
Unterkunft für
2
---
Schlafzimmer
Maidenhead, Berkshire, Vereinigtes Königreich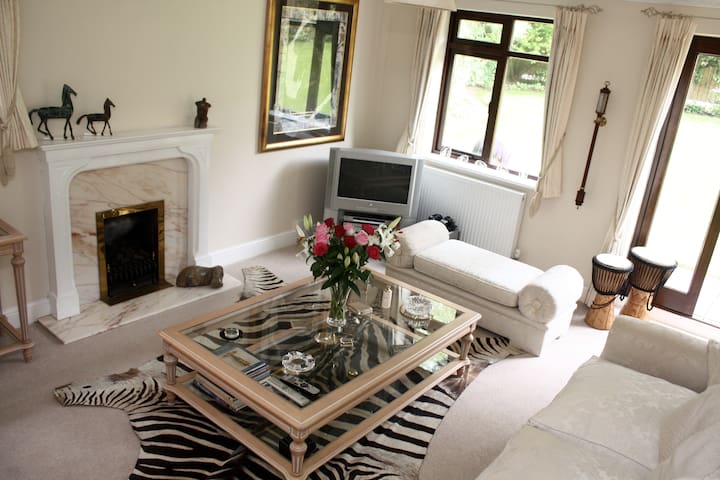 Feel at home in our comfy single. Peaceful yet conveniently located only minutes from Maidenhead Town and station with trains to London and handy road access for M4, Heathrow and M40. Our home has FREE Infinity WiFi, parking, and attractive garden.
Having lived overseas for many years notably Africa and the Middle East our home is a reflection of many fascinating countries. It is relaxed, clean and tidy, a genuine home from home, we enjoy it and hope you will enjoy it too!
Situated in a very quiet residential but central area of Maidenhead our home is perfect as a base to commute from, to explore the area and London, or to attend any of the many prestigious local events in Buckinghamshire, Berkshire and Surrey.
Thanks for accommodating my changing plans this week and for the wonderful dinner on Tuesday.
Simon
2016-10-07T00:00:00Z
Really nice laid back hosts. Made to feel most welcome in their clean and comfortable home. I rebooked as soon as I left!!
john
2015-09-22T00:00:00Z
Thanks again for your hospitality. Staying at your house is so pleasant and easy. See you in a couple of weeks.
Simon
2016-03-04T00:00:00Z
I had a wonderful stay at Alex's place. The room is cosy, warm and spacious. The house is charming, wifi signal is great, warm water is actually very warm, WCs are meticulously clean. but what I want to stress out is the superb job Alex does as a concierge. In the room, I had a binder with all sorts of information on Maidenhead, restaurants, local landmarks, even some menus! Previous to my arrival, I got a really lengthy email, in which she explained me all the existing options to get ti Maidenhead from London, with an additional map of the town, as well as bus schedules. Alex answered all my questions in the most polite way ever, and really made me feel very chilled, welcomed and free to come and go as it pleased me. Definitely would recommend.
Filipe
2016-01-29T00:00:00Z
This experience was exactly as described and Alex was a warm and welcoming host. It was a very convenient location to get to Maidenhead train station. Clean facilities and a good nights sleep (very important). Alex takes a lot of pride in hosting and is very interested in people which gives a good vibe. highly recommend.
Alanna
2015-11-30T00:00:00Z
Alex's place was very comfortable, great value and well equipped. Thanks again. Iain
Iain
2017-01-24T00:00:00Z
Tunsin itseni erittäin tervetulleeksi tähän kotiin. Alex hoiti yhteydenpidon esimerkillisesti. Ohjeet juna-asemalta majoituspaikkaan olivat yksityiskohtaiset ja tarkat. Näkymä makuuhuoneesta puutarhaan oli kaunis. Nukuin ensimmäisenä yönä 11 tuntia. Voin lämpimästi suositella majoittumista Alexin kodissa.
Soili
2016-09-04T00:00:00Z
I had a lovely stay at Alex`s home. Alex made me feel at home from the moment I arrived. Before my arrival, Alex had sent me very helpful tips on how to reach her house by car. The neighbourhood is good, quiet and pleasant. A short walk to Maidenhead centre or train station and a quick drive to the motorway. I had an enjoyable stay; the house is clean and full of light and I truly recommend it.
MICHELA
2015-10-14T00:00:00Z
Art der Unterkunft
Privatzimmer
---
Objekttyp
Haus
---
Unterkunft für
1
---
Schlafzimmer
Maidenhead, Vereinigtes Königreich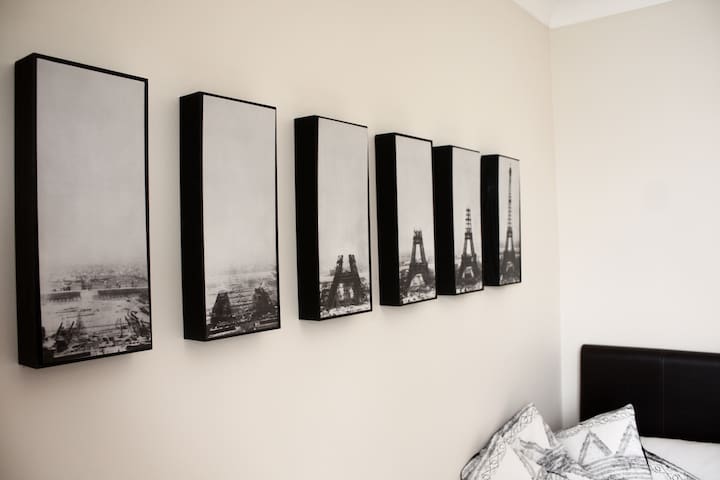 Beautifully decorated, fresh and light room overlooking grass tennis court and fields with horses. The room is a large single with a wardrobe, chest of drawers, basin, desk and basics such as kettle, toaster . microwave and fridge but you also have the use of another room at the front of the house where you can eat and prepare food. There's also a smart TV. I leave you breakfast basics and you can eat them whenever you want and in the separate dining area if you prefer.
This is a lovely light room with a view over the grass tennis court and onto fields of horses looking towards Cliveden. This room can be single, twin or double. It has a kettle, toaster and microwave in the room and the use of a small separate dining area.
Nice walks, great restaurants, traditional village and quiet setting.
Wonderful place, great Host and would always try to book here if I am in the area.
Oliver
2017-03-30T00:00:00Z
Pleasant and peaceful stay. Would stay again
Colin
2017-03-17T00:00:00Z
Good value and friendly
david
2017-03-12T00:00:00Z
A really good night's rest. Thank you Judy.
Debbie
2017-01-12T00:00:00Z
Friendly helpful host and good location for Pinewood.
Jacky
2015-07-17T00:00:00Z
I have stayed with Judy before. It is a lovely house. I have everything I need in the room. I will stay there again.
William
2016-04-30T00:00:00Z
Spent 5 days in total at Judy's family home. Accommodation is just as listed. Judy's a kind, friendly and helpful host and I'd be happy to stay there again.
Jacky
2015-07-16T00:00:00Z
Judy is a brilliant host - very helpful and accommodating, always willing to go the extra mile to ensure a pleasant stay. The house itself is in a very quiet and peaceful location, but is easily accessible and has been useful for my work commute - only 15-20 minutes from Pinewood Studios. I would definitely stay here again!
Zarah
2016-07-02T00:00:00Z
Art der Unterkunft
Privatzimmer
---
Objekttyp
Bed & Breakfast
---
Unterkunft für
1
---
Schlafzimmer
Burnham, Bucks, Vereinigtes Königreich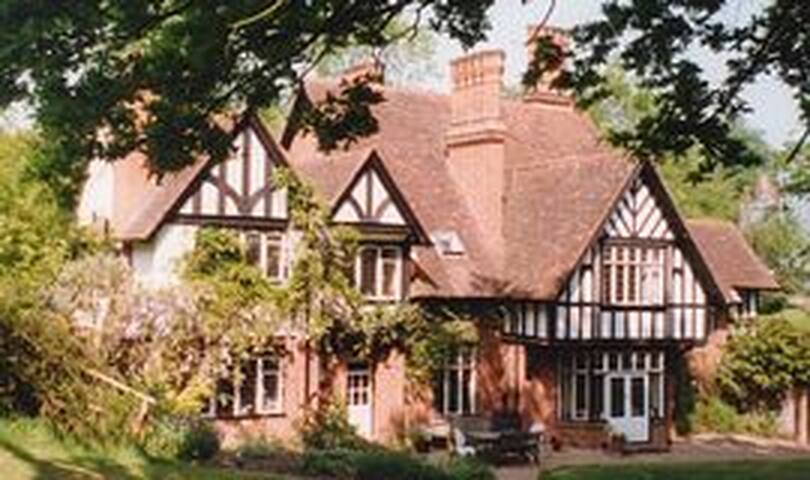 This warmly decorated and elegant listed 5 bedroom rare Elizabethan cottage, set in serene and expansive garden with park views. Quiet and secluded, yet accessible, perfect for family or birthday gatherings, and weekends with friends. Three fireplaces, Sonos music player, Wifi, Philips hue lighting, stone tile underfloor heating, AppleTV, fully fitted kitchen with range cooker, and flexible bed arrangements. Scenic views with lots of wildlife! Garden dining for 18!
The fabulous listed detached and private cottage is a unique experience offering a glimpse of times past with the amenities of a beautiful modern home. Set on Hitcham's winding Lane, located in heart of Hitcham Park, the best of both worlds, a pocket of countryside with easy accessibility to shops, restaurants, and attractions. The Cottage and Garden is for your exclusive use and pleasure, though wildlife, ducks-parrots-red kites-heron-squirrels-muntjac deer-cows, and the rare Mr. Fox is likely to also make an appearance. Accessible to London 45 min drive. 4-6 min drive to all necessities/pubs, etc. Perfect for family gatherings, quiet friend get-togethers, and small neighborly celebrations (No STAG parties) however, we would love to host your Hen. -American Refrigerator/Freezer/sparking water. -Dishwasher -Largest capacity washer and dryer in own utility room -Garden, with lawn games -Wireless High Speed Internet, (code is posted in the kitchen) -3 working fireplaces, 5 in total -Philips Hue dimmable lighting throughout -Underfloor heating under all the natural stone tiles on the main floor, to include the stone wall shower room. -Fully-equipped kitchen including range cooker, fridge, toaster, kettle, microwave, etc. During Englands warmer months, enjoy a morning Nespresso coffee in the garden with the birds, or relax under the stars with a glass of wine. -Hotel-style beds with excellent quality mattress -Black out blinds in all bedrooms, so you're sure to have a restful stay. -Cealing fans in room #1-2-3, remote controlled, two directional fans for warmer winters and cooler summers -On request we have two portable cots, a high chair, and a king air mattress. -Linens and 1 towel pr guest A cozy breakfast nook comfortably seats 12, and our formal dining room seats 6-8 (near a working fireplace, smokeless-woods). The kitchen is fully equipped with a 100cm electric range cooker with a double oven. A washing machine and tumble dryer and microwave in the utility room. The pantry is full of dishes, bowls, jugs - everything you could possibly want. So if you are real foodies you won't be short of utensils, pots and pans. SLEEPING ARRANGEMENTS The house can very comfortably sleep 10 people (with 2 people per bedroom) and at a squeeze can accommodate up to 16 plus. UPSTAIRS BEDROOM #1 The ceilings are high and the room is large. Huge imported American King bedroom four-poster bed with en suite bath, rocking chair/recliner, bathtub room, decorative fireplace, and single trundle bed. A long, narrow windowless BONUS room is only accessible through bedroom #1's hall, you could fit a cot, 2 toddler beds or air mattress. There is a small completely enclosed hallway connecting the bedroom and bonus room where you could put a toddler bed or cot in a push) UPSTAIRS BEDROOM #2, The ceilings are high and the room is large. Located in the middle of the hallway, with a king bed and red toile accents. There's a single-trundle bed beneath the king and a decorative fireplace. UPSTAIRS BEDROOM #3 The ceilings are high and the room is large. Light blue walls located in the corner of the house, with two windows. This room has an huge American King bed, two single-trundle beds beneath it. The room has a sink basin. A family bath and shower room are adjacent. UPSTAIRS BEDROOM #4 The ceilings are high and the room is small with a single bed (Daybed) and a single-trundle. This bottom trundle is more suitable for a child. The room is adjacent to a 1/2 toilet. MAIN FLOOR BEDROOM #5 (wheelchair accessible) is a medium-sized room with an adjustable king bed, a working wood fireplace, and beautiful garden views. This bedroom has access to a built-in closet in the hallway and drawers under the stairs. It might be my favorite room in the house for the prolific morning birdsong in the summer, when the windows are open all night long. The large SITTING ROOM has a fireplace. The sofa in this room is long (imported from America) and down feather-filled, it's very comfortable and can sleep one tall adult. There is also a small double pull-out sofa mattress suitable for 2 people, if you move the coffee table. *Please note if you're looking to have more than 10 people, please stagger your shower use. New on demand water heater coming some time in spring. *The trundle beds, have a standard size single real mattress, which you can move around the room as you please, and slide back under the bed when not in use. Having the trundle beds out is fun, and likely the most comfortable sleep over you will have. :) We hope your family and friends enjoy the versatility, good value, and intimacy the trundle beds create as much as we do! In America, we call it as slumber-party. **For PRICES, please use the Airbnb site with your dates and guest numbers rather than messaging me, as you'll get a faster and more accurate answer! If the dates say AVAILABLE, send a booking request. All questions are welcome, I am happy to talk. :)
We are are spoiled for choice when it comes to restaurants in the area. We can recommend real English pub food, restaurants with views, etc. Extremely convenient 15 min walk to the villiage centre.
I love it here, the garden is so delightful. I loved the house in general, the massive old wood beams with the fresh clean interior was a joy to be around. Sleeping in that comfy bed then having espresso from the Nespresso machine while standing on the warm kitchen floor was perfect. There are so many wonders here and things to explore I'm certain that i didn't see all of the little treasures that the property has to offer. I'll stay here again when I'm back in England.
James
2017-02-02T00:00:00Z
A lovely english home in the countryside, within an hour ride by car from several areas of london. Private and secluded, beautiful gardens and spacious for good size group. Comfortable and welcoming. Problems with the dishwasher unfortunately did effect our stay due to the nature of our visit, being on a intense teacher training yoga week where we had a paid caterer and assistant whose work was effected by this. The hosts did try their best to sort this however it wasn't possible during our stay. Good value for money too ..i would definitely stay again. Thank You
Samantha
2017-03-23T00:00:00Z
Great house - we loved it. Such a nice weekend away.
David
2017-04-09T00:00:00Z
We stayed here as it is a good central location for us as a group of friends. The cottage was clean, tidy, well equipped, and easily spacious enough for our group of 10 adults, 2 toddlers and 2 babies! Unfortunately the dishwasher wouldn't work for us, though they organised a plumber to come out straight away to look at it which was great. The garden isn't totally secure so beware of that if you take dogs. There was a roll of stock fencing in the garden which we used to block one of the gates which wasn't secure so be aware if you have pooches that like to explore! Estelle and Victoria communicated very well and answered all questions in the run up to the trip to make sure we knew the best pubs etc in the area. Highly recommended.
Jack
2017-03-12T00:00:00Z
Stayed here for Valentine's Day with my boyfriend. We had a lovely stay at Estelle's cottage. It is a spacious cottage in the countryside but a 15 minute walk to the local village with restaurants, cafes and little shops so really we had the best of both worlds! The area was beautiful and estelles grounds were amazing, we saw many wild parrots, a red kite (massive bird of prey), a deer, ducks and many other animals. The cottage was decorated beautifully and unlike many airbnb's the bed was extremely luxurious and comfortable, the sofa was huge and very comfortable and everything was just great! We had a very comfortable stay and the cottage was not lacking anything, it was just perfect Thanks Estelle for a great stay, we hope to come back soon
Camilla
2017-02-15T00:00:00Z
A beautiful cottage that feels both spacious and cozy. The grounds are well kept and attractive and waking up to healthy cows looking into the grounds was a real treat for us londoners! The communication in advance was spot on and very accommodating for our needs. I only wish our stay had been longer.
Hannah
2017-03-14T00:00:00Z
Stunning garden with beautiful walks from the house. Go in spring for primroses and daffodils. We spent hours on the swinging sofa in warm April sun. Had the feel of a top end hotel in the bedrooms. Thoroughly recommend.
Charlotte
2017-04-02T00:00:00Z
Lovely place, we all had a great time.
Mikaela
2017-03-26T00:00:00Z
Art der Unterkunft
Ganze Unterkunft
---
Objekttyp
Haus
---
Unterkunft für
16
---
Schlafzimmer
Burnham, England, Vereinigtes Königreich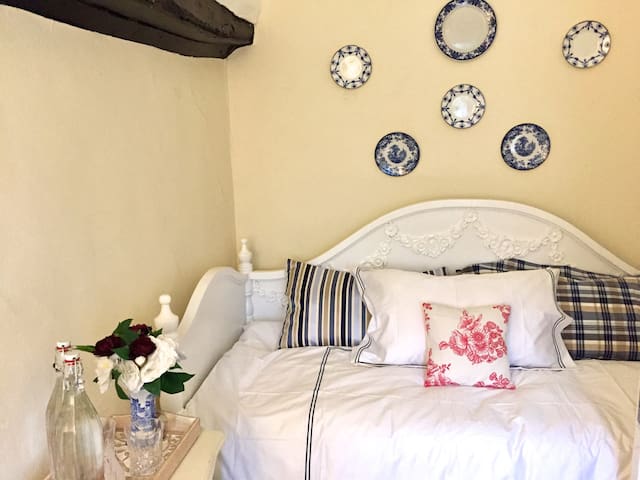 Part of a stunning Victorian manor house steeped in history and built for the Sheriff of Buckinghamshire back in 1867. HH is close to Taplow Train Station - 5 mins drive and 35 mins train journey to London Paddington Windsor - 10 mins drive Heathrow Airport - 20 mins drive 2 x Michelin star restaurants - Bray (Fat Duck & The Waterside) 10 mins drive to River Thames Its great for couples, solo adventurers and business travellers.
The manor house was built for the Sheriff of Buckinghamshire in 1867 and the building works were approved by Benjamin Disraeli (who became Prime Minister). friend of Sir George Hanbury, who would visit. In the WWII it was used for the secret police and Winston Churchill would visit the manor house.
Full of country lanes, restaurants and pubs with good food. We recommend the Oak and Saw in Taplow, the Feathers at Cliveden, The Crown in Bray, the Riverside Brasserie in Bray and the Bel and Dragon in Cookham. There are also Michelin star restaurants within 10 mins drive - The Fat Duck (Heston Blumenthal) and Waterside (Michel Roux) in Bray and Tom Kerridge's Hand and Flowers in Marlow. The Cliveden Hotel which is 5 mins drive away is also fantastic for lunch, tea, dinner or for walking around its gorgeous grounds. Its history is . . . (URL HIDDEN) The house is very convenient for Windsor, Beaconsfield, Maidenhead and the Thames and Jubilee Rivers. It is also easy commutable distance into London by car or train. Surrounding areas are steeped in history with Windsor Castle 10 mins drive away, Runnymede (where King John signed the Magna Carta) - for more information: (URL HIDDEN) For Downton Abbey enthusiasts, Highclere Castle which is where it was filmed is 50 mins drive away. For more information: (URL HIDDEN) Our property is also next to Taplow (2 mins drive), the village's name is Anglo Saxon in origin, and means Tæppa's barrow; the Anglo-Saxon burial mound of Tæppa can still be visited, and important artefacts excavated there are now in the British Museum, notably a gold belt buckle. Taplow was recorded in the Domesday Book of 1086 as Thapeslau. Taplow Court nearby is also the site of an early Iron Age hill fort and was the site of the manor house.[6][7]
Art der Unterkunft
Ganze Unterkunft
---
Objekttyp
Haus
---
Unterkunft für
8
---
Schlafzimmer
Burnham, England, Vereinigtes Königreich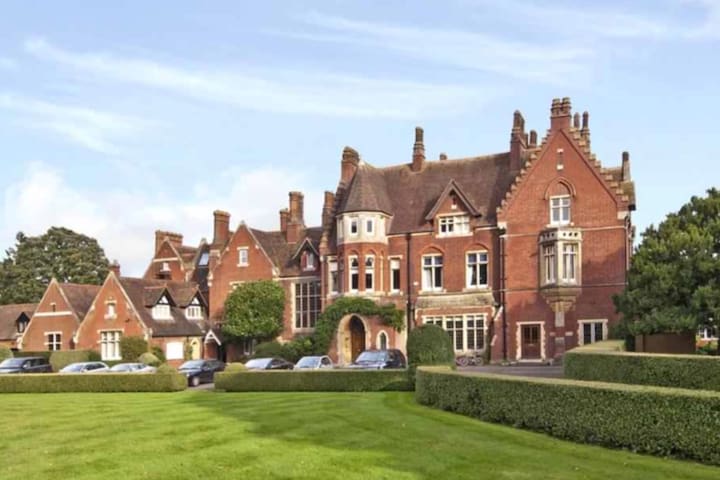 A luxury double-bed room en-suite with both shower and jacuzzi bath.
We have a spacious en-suite double-bed room with both shower and Jacuzzi bath for the guests. There is also a separate study area attached to the bedroom. Guests will be sharing the rest of the house with us and are welcome to use other house facilities. It is also possible for guests to book more than one room but you need to make enquiry in advance. Our house is about 20 minutes drive to Heathrow Airport. The nearest train station Burnham, Berkshire is within walking distance where there are direct services to London Paddington and Oxford. We are happy to pick you up ( free of charge) from the Burnham station and may provide transport to some of the tourism attractions such as Windsor Castle. It is also possible (depend on my work schedule) for us to take you from\to the Heathrow on your request for a £20 extra charge plus parking fee (It needs to be booked and prepaid when the booking is made) . Alternatively, we can book a mini cab for you from our local taxi company which costs approximately £25. Our detached house has four bedrooms, four bathrooms and a large back garden with attractive plants and flowers. The front forecourt has a private parking space for 3 cars. We have fully-equipped kitchen, a good size living room and a separate dining room. Wireless internet connection is available. Our house is located in an attractive London outskirts suburb between beautiful tranquil rural countryside and busy exciting city activities. There are a few supermarkets which are reachable on foot. There are also a few good local pubs and restaurants lie in Burnham village where you can walk to. The famous historic town Windsor Castle is 10 minutes car journey away and Burnham Beech is your choice of early morning jogging destination. We are also very close to the Olympic Rowing Event site – Dorney Lake and River Thames in Maidenhead. We are very flexible in welcoming guests from different culture background and love to make friends. The only two requirements for our guests are described in the house rule, i.e. no smoking and no shoes inside the house. We provide slippers for our guests, however, you can bring your own ones as you wish. For guests who stay more than one week, we would like you to clean the room once a week which can be down by us with extra charge of £10 per week.
Fantastic stay, a great room and a wonderful couple - couldn't have made me feel more welcome. I have already made a repeat reservation!
Elaine
2013-04-26T00:00:00Z
The Sings are a lovely couple. They really make you feel welcome and relaxed. We were only here for one night but would definitely stay here again if we were in the area. Plus you get the bonus of being provided with very comfortable slippers during your stay! :)
Hannah
2014-03-28T00:00:00Z
I have been in many B&Bs and so far Sing and BeiBei place stands out. It is a family house and everything is clean, so it is a huge advantage if you are concerned about the cleanness of the place. The hosts are very warm and friendly. They do all they can to make you feel as comfortable as possible during your stay and that is something you look for when going to stay somewhere new!
Mehdi
2014-12-07T00:00:00Z
Lovely large room with ensuite, and really comfortable bed. Had everything we needed and the most friendly, nice people you could ever meet! Thanks so much!
Adam
2016-08-07T00:00:00Z
I think this was, by far, my best experience with Airbnb. Sing and his wife are gentle and helpful, always looking for the wellbeing of their guests. I would recommend 100%.
Miguel
2015-10-17T00:00:00Z
Had a great sleep , such a lovely couple . Couldn't do enough for you .
Scott
2016-09-26T00:00:00Z
Sing & Beibei are gorgeous. I stayed at theirs place for 6 weeks and I really, really loved it. They were so kind, friendly and warm. I had a great time and will totally return to them. The place was very clean and cosy. The room was really big and the bathroom was great too. I was there with my own car, so I´m not really sure how the public transportport is, but there was a train station in the near and you got really easy to London etc. It is really a great area where they are living, much to see. I had a really great stay!
Lilith
2016-11-24T00:00:00Z
Very cozy house and they are very very nice!
Xiaoxiao
2015-11-24T00:00:00Z
Art der Unterkunft
Privatzimmer
---
Objekttyp
Haus
---
Unterkunft für
2
---
Schlafzimmer
Burnham, Vereinigtes Königreich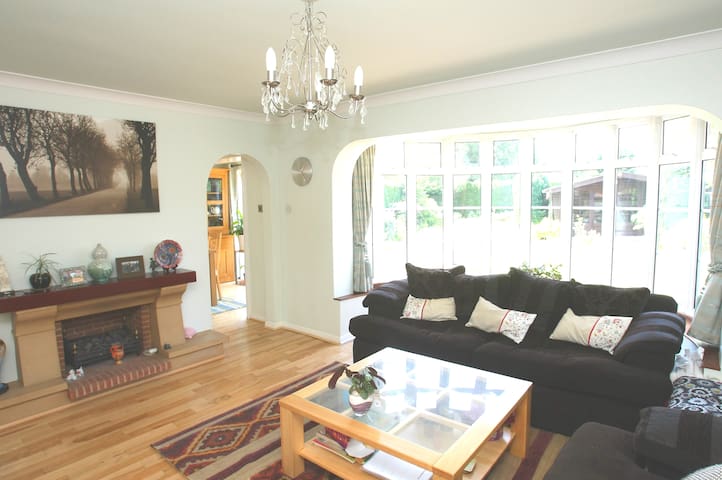 My place is close to Burnham Beeches, Beautiful golf courses, Windsor, Slough, close to motorway access, frequent trains from Burnham and Taplow, family-friendly activities. You'll love my place because of Beautiful interior - stylish, modern and cosy. Just been renovated with all new fittings and furniture. . My place is good for couples, solo adventurers, business travelers, and families (with kids).
Art der Unterkunft
Ganze Unterkunft
---
Objekttyp
Wohnung
---
Unterkunft für
2
---
Schlafzimmer
Burnham, England, Vereinigtes Königreich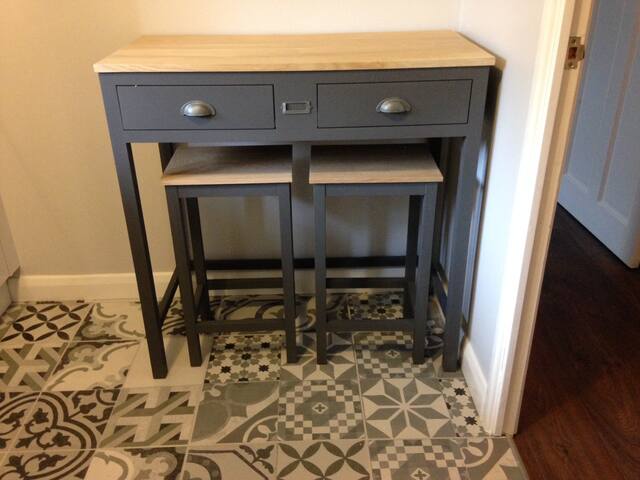 Our place is a country cottage - just 30 minutes from central London - and ideal for scenic walks along the river Thames at Windsor & Eton, Cliveden, Cookham or through Burnham Beeches forest. The cottage is part of the Orchard Poyle estate, with historic links to the Royal family and the suffragette movement. Now quietly situated next to the former farm, it offers a place to stay among the oak trees off a quiet country lane. We are also within easy distance of Slough for business events
Hi, the space is a detached cottage that you will have the keys to like your own home. It was previously the lodging for the visiting coachman and Palka and I live in the cottage next door if you should need anything. There is plenty of under cover car garaging and we have two bikes available for your daylight use - they have no lights!
Burnham provides easy access to London, Windsor, the Chilterns and Oxford as well as different amusement parks such as Legoland. Local pubs are great for food
Great place. Great host
Craig
2016-10-13T00:00:00Z
Alex contacted me upfrint with useful information and let me know that a friend would welcome me on his behalf as he was not in the country. Melissa was a great deputy host. The cottage is in a secluded setting, close to the beautiful Burnham Beeches park. It is big and has all required amenities. My only point of critic is the shower which delivers boiling hot water at the start for several minutes, then switches to cold water within seconds.
Marcel
2016-11-03T00:00:00Z
We have had a fantastic week in Burnham. Alexander's place is cosy and filled with light. We were made to feel very welcome, and there were lots of thoughtful touches. We had everything we needed during our stay. The bed is very comfortable. The kitchen has everything you might need. The location is great, very picturesque with some lovely woodland walks on the doorstep, and close to all amenities.
Rachel
2016-10-28T00:00:00Z
It has been a lovely time in the cottage. It was very clean, tidy and fully equipped with everything. The village is amazing and has lots of farms and horses. Thanks to Melissa for hosting us and provide advice for places to visit.
Fawaz
2016-11-09T00:00:00Z
The cottage is in a lovely area, nice and secluded. We used it as a base to go to Legoland which was about 15 mins away. Cottage was nice, the bed was extremely comfy. Everything we hoped it would be
Danny
2016-10-30T00:00:00Z
We definitely recommend this property, particularly for exploring the locality. Great for Windsor, and access to London. We were out visiting all day every day, so the comfortable bed was especially welcome.
Dominic
2017-04-08T00:00:00Z
Great place to stay. As Arnie would say 'I'll Be Back'. Thanks Alex
Keith
2017-04-11T00:00:00Z
Great little cottage in the countryside.
Colin
2016-12-22T00:00:00Z
Art der Unterkunft
Ganze Unterkunft
---
Objekttyp
Haus
---
Unterkunft für
2
---
Schlafzimmer
Burnham, England, Vereinigtes Königreich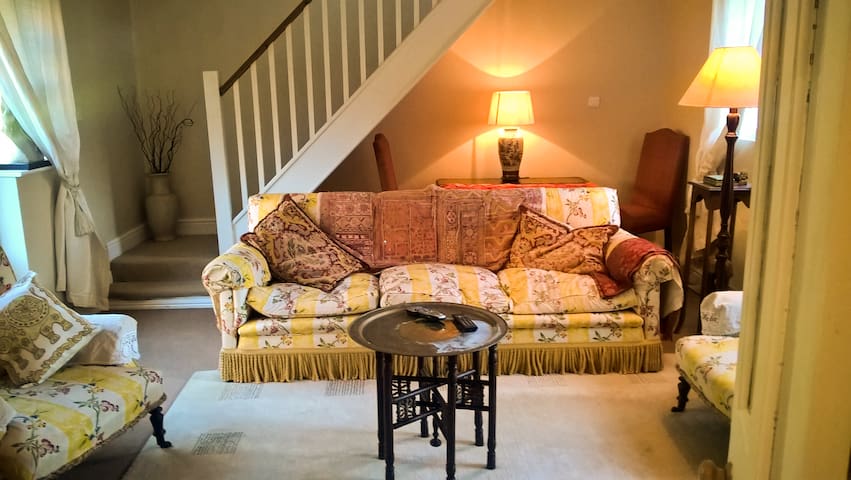 A spacious double room with private bathroom in a stunning, quiet location overlooking parkland. Easy access to London, Windsor and the beautiful Thames Valley. Full English breakfast included, great pubs and Michelin starred restaurants close by.
Michael and Lucy were wonderful hosts and did everything they could to make our stay enjoyable. Their recommendations for food and drink were spot on. The room was spacious and well appointed and the bed the most comfortable we slept in our entire trip. The breakfast was delicious and plentiful. Our only regret was that we had only planned on for one night.
suganya
2016-08-18T00:00:00Z
Another perfect stay. Thank you!
mark
2015-05-29T00:00:00Z
In a word, superb! Mike and Lucy welcomed us warmly into their delightful family home in the countryside. Spacious, immaculate room, en suite, with supremely comfortable bed and all the trimmings. Great views across the fields, great breakfast, great ambience - try it!
John
2015-03-25T00:00:00Z
We were made to feel welcome, with a lovely cup of tea in the garden, as soon as we arrived. Lucy and Mike were warm and genuine hosts and so interesting to talk to. Thank you so much for your brilliant hospitality while we were attending my partner's son's wedding! Everything made this happy occasion even more special - the location, so near the church and venue, the peaceful and quiet country views, the spacious and airy double aspect bedroom (in effect a private suite), and not forgetting Mike's wonderful breakfasts! I mustn't forget, a special thank you to Mike for driving my partner back to the wedding venue to pick up the car we had left behind the day before. None of our stay could have been more perfect ... I heartily recommend Lucy's and Mike's warm and comfortable home.
Frances
2016-08-30T00:00:00Z
This was may 3rd time back, it's such a peaceful place after a days' work! Michael and his wife always come up with new ways of making me feel comfortable and at home, with attention to the slightest details. Thank you both, I'll be back!
Hartmut
2016-02-24T00:00:00Z
Michael has a splendid home, in an excellent location. He made us very wellcome, and recommended excellent place for dinner. Very convenient for Heathrow.
Frank
2016-05-08T00:00:00Z
Our second stay and once again everything was perfect.The room is lovely and spacious and the breakfast was delicious. Delightful and friendly hosts, would highly recommend and hope to return again.
David
2016-08-07T00:00:00Z
Michael made us feel very welcome in his lovely home. The house is set in lovely countryside but easily accessible. The room was very comfortable and the breakfast delicious. We will definitely be back.
Fiona
2015-07-20T00:00:00Z
Art der Unterkunft
Privatzimmer
---
Objekttyp
Bed & Breakfast
---
Unterkunft für
2
---
Schlafzimmer
Burnham, England, Vereinigtes Königreich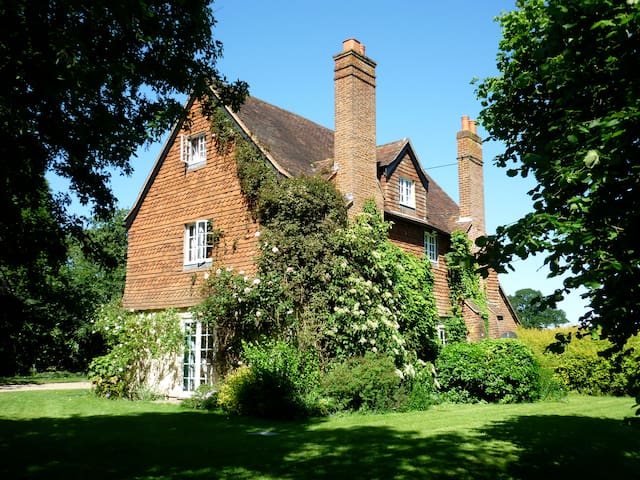 Newly Refurbished Luxury En Suite double rooms with designer furniture and all amenities in professionally run modern houseshares. 20 min train to Central London and 2 min to Slough, in affluent and green neighbourhood. Rents from 1 month.
Art der Unterkunft
Privatzimmer
---
Objekttyp
Haus
---
Unterkunft für
1
---
Schlafzimmer
Burnham, Vereinigtes Königreich
Light and spacious apartment above covered parking in a stand-alone barn in the grounds of our house, 250m from the River Thames. Modern furniture, TV, wifi, full kitchen, washing machine. Great location for eating out and for access to countryside. Close to Windsor, Eton, Marlow, Cliveden National Trust and lovely river walks. 5 minutes from Maidenhead station. We are near a railway line. It is only for 2 people but can take a baby cot (not provided).
The apartment is a spacious studio, built a few years ago as an annexe to our house. It's has a comfortable double bed, sofa, dining area, desk, fully equipped kitchen and bathroom with a shower (no bath). It's at the bottom of our garden, next to an apple orchard. It's a short walk from the River Thames, with lovely walks in both directions. You're welcome to use the garden outside the apartment and there's a table and chairs for guest use.
We're very well placed for access to London (we both commute every day) but we're also surrounded by beautiful countryside, and some great places to visit, and some very good pubs and restaurants.
What a lovely stay in Maindenhead! Perfect place with a great location close to the river and easy to get to everything. George and Chris were lovely and made the whole experience easy and enjoyable! Great airbnb option!
Laura
2017-04-02T00:00:00Z
The host canceled this reservation 10 days before arrival. This is an automated posting.
Max
2017-04-04T00:00:00Z
Lovely comfortable studio, great host and good location. Trains were a bit noisey but got used to it.
Tracy
2017-03-12T00:00:00Z
Thank you for a great stay, was such a lovely place and area. Would definitely stay again. Lovely views close to the river.
Psyona
2017-04-08T00:00:00Z
perfect venue for a relaxing night
Andy
2017-04-05T00:00:00Z
Lovely stay. The studio is big, by studio standards, well equipped and gets great light. Didn't meet our hosts, but everything was in perfect order, & right on the river. Lovely. Would definitely stay again! Thank you! H&V
Henry
2017-04-09T00:00:00Z
Really cozy and clean studio flat in an nice and familiar location. We had a very comfortable stay. The kitchen offers everything you need to care for your own. If we are back in Maidenhead some day, we will definitly come back.
Dirk
2017-03-20T00:00:00Z
Was a great little place to find for us and everything was described and layed out by George perfectly. Would stay again
Jonny
2017-03-23T00:00:00Z
Art der Unterkunft
Ganze Unterkunft
---
Objekttyp
Wohnung
---
Unterkunft für
2
---
Schlafzimmer
Maidenhead, England, Vereinigtes Königreich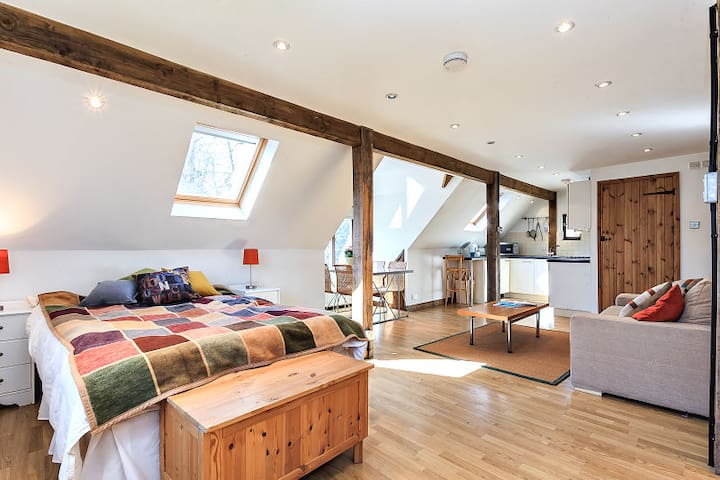 This room has recently been redecorated and there's a new en-suite. We provide a basic continental breakfast left in your room for you to eat whenever you want it (cereal, toast, tea/coffee). You can use the microwave to heat up a simple evening meal or use one of the many take-aways or restaurants locally. There is a desk, TV, fridge , microwave, toaster and kettle. There's also room for a cot or single guest bed for child. This is a quiet and happy semi-rural family home with dogs and hens
This is a lovely large room with a new en-suite. There is a desk, and you have a smart TV, kettle, toaster, microwave and fridge. I leave breakfast basics in your fridge and you can have breakfast when you want it. There's also a microwave if you want to cook a simple supper. There are loads of great restaurants and pubs near us.
We are semi-rural but we do have wifi! The local village still has a weekly market and butchers, bakers etc Many buildings are medieval. If you want a walk then there are some woods at the end of our lane. There's plenty to do locally, a golf course next door, wake boarding, windsurfing, water ski-ing, cycling, swimming, go-karting, Go-Ape and of course Windsor Castle, Eton, Legoland, Harry Potter World and some great restaurants such as The Fat Duck, Waterside and Hinds Head, Royal Oak and Luke's Diner. We are next door to Cliveden National Trust which is beautiful any time of the year.
It was in a very quiet and beautiful place. We could enjoy a life in a countryside in UK.
Uno
2015-07-05T00:00:00Z
Great location, close to Heathrow. Nice rooms and beds. Beautiful home. Thanks!
duncan
2015-05-30T00:00:00Z
It was my first Air bnb stay.... I found the stay a little 'uptight' perhaps it was the confusion over what I thought was sour milk left in the fridge and interrupted the hosts evening out as she had to return to explain the milk was creamed and not gone off, which of course was fine but it did make me feel like I had in convinced the host. Over all though the room was v comfortable and the facilities were well thought out.
Colleen
2015-06-07T00:00:00Z
Judy was very welcoming when I arrived she even offered me a bicycle to use to go to the local pub!
Keith
2015-07-01T00:00:00Z
I thoroughly enjoyed staying here. It's a lovely house just down the road from Cliveden. A fabulous warm welcome, 2 gorgeous dogs, Holly and Roxy, great nights sleep and beautiful fresh eggs on the table in the morning which you can cook from their free range chickens. I would recommend this Air BnB to anyone.
Karen
2015-09-21T00:00:00Z
Judy was great. she was there to greet me. house rules were clear. even holly the lab made sure I knew my place (in a nice way). easy and just as advertised. thank you
Robbie
2015-06-22T00:00:00Z
My first experience of Airbnb. Encouraged to use again. Provided me with just what I was looking for - a comfortable and warm room for a couple of nights in the area without stretching to the expense of a hotel. Nice friendly welcome.
Bill
2015-08-11T00:00:00Z
We booked to stay with Judy for a friends reunion with 6 adults, 2 children, and 2 babies, so quite a large diverse group. Judy worked really hard both before and during our stay to make sure we had everything we needed. Rooms were big and well decorated. We used the dining room to relax and have a chat after the kids and babies had gone to bed and this worked really well for us. Really great location close to Cliveden Manor, with a lovely pub, The Feathers nearby.
Penelope
2015-06-14T00:00:00Z
Art der Unterkunft
Privatzimmer
---
Objekttyp
Bed & Breakfast
---
Unterkunft für
2
---
Schlafzimmer
Burnham, Buckinghamshire, Vereinigtes Königreich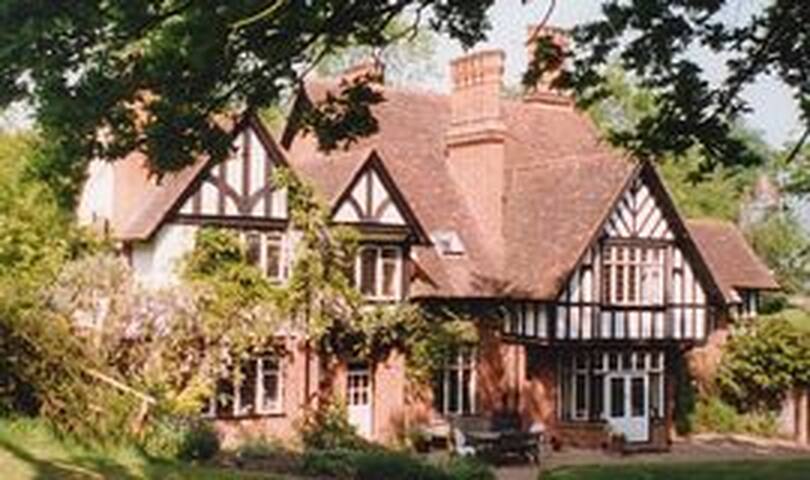 Comfortable and quiet double bedroom in lovely modern apartment in Maidenhead just 20 minutes' walk to the train station, with connections to Windsor, London, Bray and Marlow. We are offering one of our double bedrooms and private guest bathroom. Parking space available on request.
A fully furnished clean, bright room. Large wardrobe at your disposal and a comfortable small double sized bed. Desk, welcome tray, 40' TV screen, aroma diffuser and access to high speed Wi-Fi to make you feel home. An adjacent private bathroom solely for guest use with bath, shower and toilet.
Maidenhead is a well connected area. We are situated in a very quiet development, near River Thames and just a 10/15 minutes walk to the town centre, close to Bray where you can wine and dine at Heston Blumenthal's award winning restaurants such as the Fat Duck and the Hinds Head. We are also close to Windsor and Marlow which are fantastic spots to explore.
Want to know how I feel about this place, read all below messages. This place is absolutely perfect and I'll return whenever I can, a no brainer. The appartment is new, clean, comfortable with all luxury you can imagine. The hosts are great, you'll feel at home immediately. I could continue for long but I need to keep some imagination for next week :)
Pierre
2017-02-22T00:00:00Z
I had an amazing stay at Xiaole's place. Made feel welcomed and had everything ready for my arrival. The location is really good, with the high street for shops and eateries being walking distance. Accommodation is immaculate, clean and well maintained. Could not fault it.
Umesh
2017-03-10T00:00:00Z
Xiaole was a great host would recommend for anyone staying in the Maidenhead area.
David
2017-03-24T00:00:00Z
No disappointments here. Clean tidy comfortable . Kind caring hosts . Will use again when in area .
Lydia
2017-01-03T00:00:00Z
Hands-down the best Airbnb I've stayed in so far. Better than a room at a Holiday Inn Express, and cheaper. Xiaole and François are lovely, friendly hosts, who have put their heart and soul into creating a perfect Airbnb room and bathroom in their flat. The attention-to-detail is remarkable, and nothing is too much or too hard - they make sure guests are completely happy. There is a selfish part of me that wants to keep this Airbnb all to myself - it is that good. I can't think of anything they could do better. So good I booked it again for a second week. Recommended +++++
Yohan
2017-02-03T00:00:00Z
My second stay at Xiaole's was as good as the first - peaceful, relaxing, and comfortable. For someone working on a hectic project in the area, it was great to know that I had a hassle-free and friendly place to stay at the end of each day. Like I said in my previous review, this is the best Airbnb I've stayed in so far - it's better than hotel quality, and significantly cheaper. Keep it up guys!
Yohan
2017-02-10T00:00:00Z
What an top-draw apartment, prefect well design , excellent communication with the hosts . I am 100 percentage sure when next I need to stay in Maidenhead. I know where I will be staying . Highly recommended
Quadri
2016-12-15T00:00:00Z
Really great room and exceptionally clean and modern. Will stay again
Julian
2017-02-23T00:00:00Z
Art der Unterkunft
Privatzimmer
---
Objekttyp
Wohnung
---
Unterkunft für
1
---
Schlafzimmer
Maidenhead, England, Vereinigtes Königreich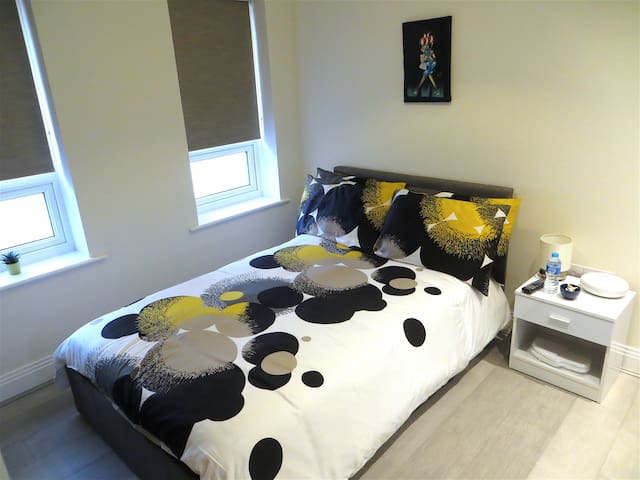 Specious one bedroom apartment situated in quit residential street , close to shops , public transport , airport and have an easy access to M4 and Windsor. The apartment is sleep 3 but can accommodate up to four as we can provide en extra guest bed. The apartment also benefit with own private access , allocated parking , internet and fully equipment kitchen. The apartment is good for families ( with kids ) solo adventures and business travelers . Fill at home , away from home
Great host, a warm and cosy place.
Sandeep
2017-03-03T00:00:00Z
The flat has everything you need. Its in a nice quite location. Vladimir was very helpful to our needs and we would be happy to stay there again. Big Thank you to the host!
Ekaterina
2017-03-24T00:00:00Z
Art der Unterkunft
Ganze Unterkunft
---
Objekttyp
Wohnung
---
Unterkunft für
2
---
Schlafzimmer
Slough, England, Vereinigtes Königreich
Burnham - Airbnb
:
Durchschnittlich

4.97

von

5

Sternen aus

1051

Gäste-Bewertungen
1

–

18

von

+ 300 Unterkünfte
Gib deine Reisedaten ein, um den aktuellen Preis zu sehen. Es können zusätzliche Gebühren und Steuern anfallen.