Imagine finding a place in Sydney, hidden away, with water views in the middle of the bush. With a unique vehicular ferry. Where you could have a day out fishing on the river, have a relaxing picnic, sit by the water, with a glass of wine and some de
Imagine finding a place in Sydney, hidden away, with water views in the middle of the bush. With a unique vehicular ferry. Where you could have a day out fishing on the river, have a relaxing picnic, sit by the water, with a glass of wine and some delicious fish and chips, a restaurant for a great family occasion enjoying fresh seafood or even somewhere you could get married and have a wedding reception to remember for a life time. Well Berowra Waters Marina and penthouse can offer this and much more.
.
A great place for a weekend away. We went out on a BBQ boat for the day (which we received a discount on), and enjoyed a relaxing afternoon and evening enjoying the penthouse and view. The kitchen we great as we could cook our meals, but the cafe, restaurant and bottle shop downstairs were very handy. Definitely recommended.
Cameron
2017-02-18T00:00:00Z
Excellent facilities, very helpful host with awesome check in and out times! Pics dont do it justice! Amazing place
Simon
2017-03-25T00:00:00Z
Michael was an excellent host and communicator. Extremely flexible and accommodating. The wine and chocolates on arrival were a lovely touch. Beds were comfy and the place was well appointed and clean. Great for groups and the fish and chips downstairs was excellent. Easy parking. Two flights of stairs so be aware for mobility impaired guests. Amazing views. Quiet and beautiful.
Cherene
2016-08-22T00:00:00Z
I stayed at the Penthouse with 5 colleagues for a work retreat. Michael was a great host - flexible, communicative and organised. We used the suggested caterer "Secret Dining" and had great, flavoursome and tasty food served right to our table. I would not hesitate to recommend the Penthouse for a work retreat and hope to be back in the future.
Maria
2016-04-09T00:00:00Z
We actually felt the photos didn't do this apartment justice. The space was amazing and so comfortable. We thoroughly enjoyed our stay here. Michael was a brilliant host helpful every step of the way. Would stay again.
Ingrid
2016-12-05T00:00:00Z
Host was amazing really helpful, flexible, friendly - gave lots of helpful information up front even stuff well beyond his scope just to be helpful (eg the contact numbers for restaurants / caterers)
Alison-Kari
2016-07-11T00:00:00Z
Michael's place is everything it promises to be, and so much more. We all wished we could have stayed another day to soak up the splendid view of the marina and relax for a bit longer. The house is perfect for large groups with the long table, sofa and all you need in the kitchen to cater for big groups). Thanks Michael for being a great host! The late checkout on Sunday is definitely a plus - as we all arrive Friday evening after work, we get to enjoy our week end a bit longer.
Sandra
2017-03-11T00:00:00Z
Michael provided clear and precise instructions prior to checking in. His penthouse overlooks the Hawkesbury River, and is the perfect getaway from the hustle and bustle of Sydney. Penthouse is well maintained, and has all the necessities for a relaxing time with family and friends. Another big plus is the awesome fish and chips just below the Penthouse.
Victor
2016-09-18T00:00:00Z
Art der Unterkunft
Ganze Unterkunft
---
Objekttyp
Wohnung
---
Unterkunft für
10
---
Schlafzimmer
Berowra Waters, New South Wales, Australien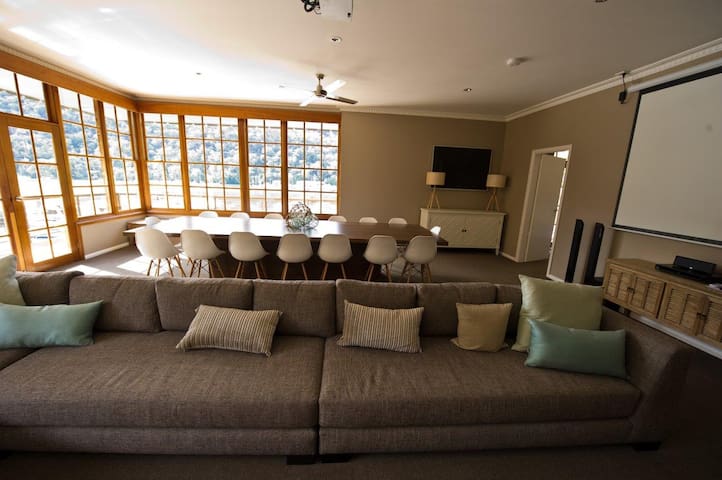 Genießen Sie Ihren Sydney Urlaub wie zu Hause weg von zu Hause. Entspannende Aussicht, Schwimmbad und Grill nach einem Tag der Erkundung der Stadt und anderen touristischen Destinationen zu genießen. Nah an allen transpo und Sydney City. 100 m zu Fuß mit dem Bus und 10 Minuten mit dem Busbahnhof und Westfield zu trainieren.
Voll Selbst contained..mini Kühlschrank und Kochutensilien. Die Gäste können den Pool, Grill und Blick auf den Pool im Sommer genießen. 1 Queen-Schlafzimmer mit 1 Wohn- / Sitzbereich. Mit 2x Schlafsofas. Handtücher und Bettwäsche sowie Seife, Shampoo. Der Raum befindet sich im Erdgeschoss eines Split-Level-Haus gelegen, so dass Sie Ihre eigene Privatsphäre haben, von uns entfernt die Eigentümer.
Frieden und Ruhe.
We were greeted with a huge smile, and a walkthrough of the accomodation - there was so much stuff included (foil, condiments, shampoo, etc.) that it felt like staying in a holiday home you own. Spotlessly clean, super helpful at every turn, and we were even delivered a plate of BBQ food by the family as a warm gesture of hospitality. I can't speak highly enough of the stay, and the accomodation under promises and over delivers - exactly what we all want! Thanks for having us stay Genie and family.
Brad
2015-10-26T00:00:00Z
We had a beautiful stay at Genie's apartment. It was beautiful and clean and exactly as described in the pictures. The kids loved the free wifi and all PlayStation. Genie left us fruit, tea, coffee, milk and bread which was so kind of her. This apartment was a perfect location for us as its close to our sons boarding school. Will definitely stay there again and would highly recommend to anyone. A+++++++ thanks Genie
Ashlee
2016-10-22T00:00:00Z
My husband and I with two kids(6 & 2yrs) stayed at Genie's place for 7 days in Nov 2016. The place is located in a quite and calm neighbour hood with lot of greenary around. We being from singapore we loved the cold weather during our stay. House was kept clean and cozy. Though public transport bus was available at a walkable distance we didnt use it as we had rented a car. Parking was not a problem here. Genie was kind enough to have us use their car porche and parked their car in driveway. Nearest food and shopping centre is at hornsby which is less than 10mins drive. Shops at westfield close by 5.30pm except for the supermarkets and restraunts. There are quite a few indian restaurnts in hornsby which was very convinient. We tried Dosa world and majaa indian restraunt and they both were excellent. Didnt get a chance to try others. We also found an indian grocer in hornsby. While travelling to city we parked our car at hornsby train station where parking is free and took train to the city. Which worked well for us as we were told finding parking in the city was tough and was also expensive. All in all stay at Genies place was excellent and was very convinient to travel around. Genie is an excellent host she was very helpful in making our stay memorable. Will definetly go back.
Neethu
2016-11-12T00:00:00Z
Had a very easy stay at Genie's. Very accommodating and comfortable
Dave
2016-09-04T00:00:00Z
Lovely quiet apartment in beautiful rural area. Wonderfully welcoming hosts.
Thomas
2016-11-27T00:00:00Z
Family of four. We only stayed for 4 nights but from beginning to end Genie was a great host, from fresh fruit to organizing transfers to the airport to offering to taking us into the City. Despite leading a busy life themselves She was always on hand & willing to go the extra mile when we called on her & to make our stay comfortable. The property was neat & tidy games for the kids/big kids PS3, wii console & foxtel along with good WiFi & Netflix everything needed to make our stay functional. It's not the Ritz but bassed alone on hospitality & price your onto a winner. If you intend on spending alot of time in the Sydney CBD due to how far the accommodation is it will be a mission & requires planning. But as She was so nice it was worth the 40 minute train trip but it will be a struggle if you have little ones. If she wasn't so hospitable we may have recognized a tone of inconveniences so well done & thank you Genie.
Adam
2016-09-13T00:00:00Z
We had a wonderful 6 night stay whilst transitioning between a house sale and purchase in the local area. The unit was a good size, well equipped, and enjoys an amazing bush outlook. Genie and Ronnie were terrific hosts, sharing some conversation and drinks during the stay and being very responsive to our needs. Our girls enjoyed the pool and playing with the beautiful dog Dorothy. Thanks for your hospitality!
Troy
2016-01-24T00:00:00Z
The stay at Genie's place was good in general. The house apartment is quite spacious. Genies and Ronie are nice people and the communication was smooth. A small point to mention: if you come with your family, there is no real possibility to cook in this apartment because there is no stove (only a small electric stove) and the fridge is very small. Also in the bedroom, if you want to put your clothes in the wardrobe, there is no real possibility because there were stuff inside. In relation to the location, if you don't have a car, it is very difficult to move (there is a bus nearby but we didn't use it). I think the price was quite high for this apartment but it is my opinion. However if you don't really mind about the above things, I would recommend to stay at Genie's place.
Daniel
2017-03-05T00:00:00Z
Art der Unterkunft
Ganze Unterkunft
---
Objekttyp
Wohnung
---
Unterkunft für
4
---
Schlafzimmer
Hornsby Heights, New South Wales, Australien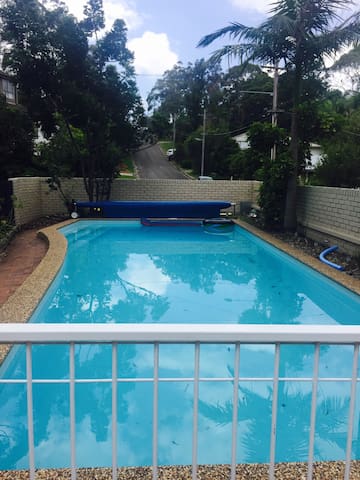 Sur un calme (très longue route) est notre contemporain, lumineux et aéré architecte studio autonome, ce qui est idéal pour un couple ou voyageur. Situé dans un cadre boisé, qui soutient le parc national Berowra Valley.
L'appartement est situé par la porte principale de la propriété avec sa propre entrée, une fois que vous entrez dans l'appartement vous marcherez un bois escalier Jarrah au studio qui possède tout le confort d'un hôtel haut de marché avec des planchers de tapis de haute qualité pour calme confort, une entreprise, un lit queen size, avec des draps en coton égyptien et des oreillers en plumes européennes. La salle de bain a une vue magnifique sur un beau jardin et tuiles tropical au plafond, une douche, WC et lavabo, serviettes, linge de maison et dans la salle principale, il y a une kitchenette commodités - micro-ondes, poêle à frire électrique, petite hauteur comptoir réfrigérateur, plaques , ustensiles, etc. Premier jour de votre séjour le petit déjeuner est fourni - frais sans œufs fermiers, pain, beurre, lait, thé / café et des biscuits. Aussi des herbes fraîches de saison de mon jardin. Wi-Fi Internet, Samsung 36 "HD TV sont inclus. Ceci est une maison NON FUMEUR. DEUX PERSONNES maximale. Les animaux domestiques sont autorisés par l'approbation préalable. Nous voulons que votre séjour soit aussi agréable et détendu que possible afin que vous puissiez profiter du meilleur des deux mondes - la vôtre et la nôtre!
Vous entendrez le chant des oiseaux que vous appréciez la nature environnante et oasis sûre. La zone conviendrait à un couple qui aiment la marche de brousse et / ou si vous voulez faire l'expérience de la brousse australienne sans voyager à l'extérieur de Sydney comme "Crosslands Reserve" est à seulement quelques minutes où vous pourrez profiter de magnifiques promenades et découvrir les plaisirs de cette région a à offrir. Faites une promenade le long de la place des Vents de sentiers d'interprétation. Il est une promenade facile le long de la promenade sur le sel des marais et à travers les bois, avec des vues panoramiques sur la vallée.
Thanks for a lovely stay. Very trendy and well equipped flat in great location to explore Berowra national park- a beautiful area! Super comfy bed too. Jen was very accommodating and great to communicate with. We appreciated the information book provided aswell.
Anna
2016-05-30T00:00:00Z
We loved our stay with Jen & Ian. Their place is beautiful, like the photos, and in a lovely natural area about 50 minutes from the Sydney international airport. Just what we needed after the long flight from North America. Highly recommended!
Paul
2016-04-07T00:00:00Z
I stayed for 3nights. when I entered this house, I was surprised that House is really beautiful and amazing. Most of things in house were organized well and there are everything traveller has to need to stay and to travel. Moreover Jennifer and her family are kind. In my opinion, This house is way much better than hotels. Around the house, there are a lot of natural things like singing birds, camping area and place you can have a nice view. If I have a chance to visit Hornsby again, I totally visit here. Thanks to host, I have a good memory that I never forget.
Jaeung
2016-02-22T00:00:00Z
Great place!
Zina
2016-10-02T00:00:00Z
Jen and Ian's place was great! It looks exactly like the pictures :) Pros: Clean, modern, welcoming studio The bathroom was my favourite part because it was really very clean and new. Great shower! Ian and Jen themselves were great hosts. They lived in the house attached to the studio. The house itself was great looking and very impressive. They even showed us around the area on the first night for us to get our bearings. They were most welcoming! The place was so comfy and cute. It made us want to come home after a long day and relax. Cons: Location! That was the biggest gripe for us. Hornsby is a bit far away from the city and even from Hornsby town hub itself. The house is at the very end of an extremely long road so it takes about 20 min for an infrequent bus to get us to the Hornsby centre where we can then catch a 40-50 min train to the city. So it was rather inconvenient unless you have a car. If you have a car, I would not hesitate to book here. The kitchen was nice but lacked a stove for any real cooking so keep that in mind. Overall we loved our stay here and would have definitely stayed longer if it was in a more convenient location. Overall 4/5 -Sarah and Lee
Lee
2016-12-16T00:00:00Z
Het is een mooi, ruim en gezellig appartement, smaakvol ingericht. Alles was goed geregeld en schoon. Als je Sydney centrum wil bezoeken kan je beter de bus nemen naar het treinstation van Hornsby, parkeren bij het station voor hele dag is $40. Westfield shopping center is enorm groot en heeft ontzettend veel eetgelegenheden, eerste 3 uur parkeren gratis.
peter
2017-03-04T00:00:00Z
i could not speak more highly of this studio apartment! My 3 weeks there was perfect. Helpful hosts, relaxing surroundings and it was close (but not too close) to shops, resturants and anything else you ever could need. It was all the small and thoughtful extras that really made my stay pleasant and easy.
Gabrielle
2016-09-24T00:00:00Z
Loved staying in this beautiful place, so glad I booked it. It's so modern, comfortable, clean and has everything you need. Jen even gives you bread, spreads and eggs for breakfast. Towels are so fluffy and the bed is very comfortable. If you have time, visit the nature reserve/creek at the end of the street.
Juliet
2016-04-18T00:00:00Z
Art der Unterkunft
Ganze Unterkunft
---
Objekttyp
Wohnung
---
Unterkunft für
2
---
Schlafzimmer
Hornsby Heights, New South Wales, Australien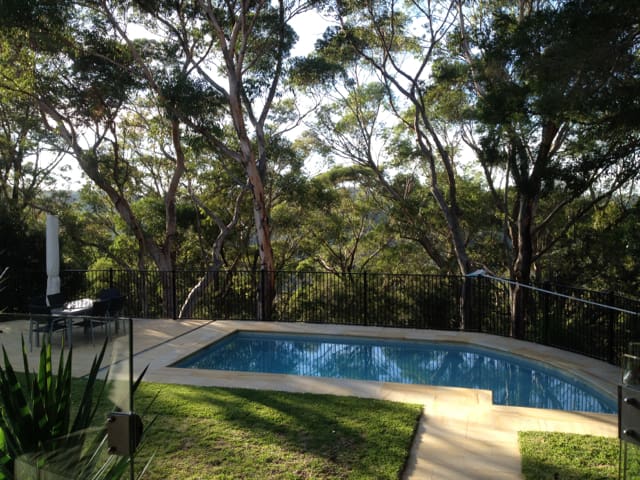 Stradbroke Lodge является частным автономным одноуровневые апартаменты, расположенные на спокойной 25 акров собственности Stradbroke дом, только 45 минут от Сиднея. С массивной палубы открывается потрясающий вид на видом на озеро и долину Хоуксбери региона.
Большой безукоризненный две спальни автономный одноуровнневой домик, с большой оборудованной кухней, гостиной с центральным прекрасным видом на воду и пирамиды световой люк. В каждом номере есть прекрасный частный перспектива прекрасного сада или озера с богатым животным миром. Выходите на большой солнечной скользкой частной палубе, с видом на долину и кустарника.
Аркадия северная Гринбелт Сиднея, с доступом к системе реки Хоуксбери, что ветры свой путь из южных горных районах до северных пляжей Pitwater. Из пика КБР находится всего в 45 минутах езды по автомагистрали М2, Hornsby и Castle Hill две очень большие торговые центры находятся всего в 20 минутах езды. Поезда в КБР уйти от Хорнсби станции очень регулярно, и Касл-Хилл также будет иметь поезда в течение нескольких лет. Не нужно далеко ехать, поскольку есть прекрасные рестораны и кафе в районе, с наградами столовой на воде, чтобы ловить рыбу и чипсы вниз по дороге на реке.
Stradbroke Lodge is a relaxing rural retreat with lovely views of the dam, and ducks to feed. It is a very well appointed, self contained cottage with comfy beds and a great deck to relax and have a glass of wine on. Will be going back next year without doubt. Lorraine.
Lorraine
2017-01-06T00:00:00Z
Art der Unterkunft
Ganze Unterkunft
---
Objekttyp
Wohnung
---
Unterkunft für
4
---
Schlafzimmer
Arcadia, New South Wales, Australien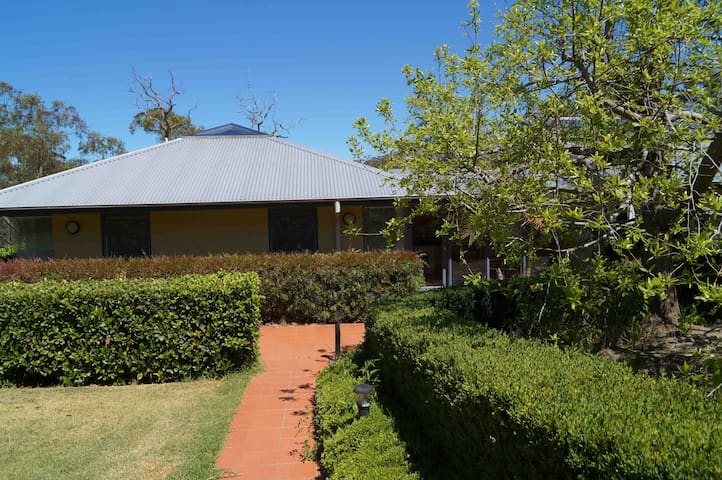 Gib deine Reisedaten ein, um den aktuellen Preis zu sehen. Es können zusätzliche Gebühren und Steuern anfallen.