Sit back and relax at our inviting bed and breakfast close to downtown historic Ritzville, Washington. Keeley Cottage is a two-bedroom guesthouse for rent to travelers and motorists needing a rest. A more private option than a hotel or motel, with all the comforts of home.
Ruth was here to welcome us and present us the house. The house was clean and perfect, even with a Netflix account :). She asked us before we arrived what we usually take for breakfast and everything was there in the fridge! The only small problem is the train noise, if you are used to quiet night, expect regular train horn.
Laurent
2016-07-13T00:00:00Z
Ruth and her family were amazing hosts! The house was perfect for us and we loved the location. Lots of extras like farm fresh eggs and a stocked kitchen. She responded quickly to my messages before and during the stay. Enjoyed staying at a rental where they provide such a high level of customer service. Thank you!
Kara
2016-07-31T00:00:00Z
Ruth was EXTREMELY helpful and nice. Her house is impeccable, every ammenety you could need and then some. She was very responsive to our requests but was not at all in our way. You can tell she takes great pride in her BnB, every room is beautiful, cleaned and adorned in a way that you can tell she pays very close attention to detail. We were tired from the road and booked on short notice but Ruth made us feel right at home when we arrived. You saved us big time Ruth!! We didn't get a chance to explore the town much since we had to hit the road immediately but it's a very cute and sleepy town but tons of activities available judging by the myriad pamphlets left in the house by Ruth for her guests. If I ever come through this way I'm definitely gonna shoot Ruth a message. She is a Super Host for a reason!!!!
Travis
2016-07-19T00:00:00Z
Host made us feel very welcome. Thank you for letting our kids see your baby bunny rabbits and chicks. They were so cute!
Laura
2016-07-19T00:00:00Z
Charming cottage in a wonderful town. Linda was a great communicator and the amenities were appreciated. Lovely listing. I'll be back.
Daniel
2016-05-20T00:00:00Z
Ruth's home is great. We did not use it to our full advantage as we blew in late and left early but it was perfect. Ruth has provided all the basic essentials plus a little more. She provided fresh eggs from her backyard chickens along with plenty of other eats. The house was very clean.
Tamara
2016-07-25T00:00:00Z
Oh this cottage was so perfect for our family! Breakfast was wonderful and Ruth's hospitality and communication exceptional. Definite 5 stars in every category! We will absolutely be back in our future travels!
Summer
2016-08-28T00:00:00Z
Was a very nice, clean place. Ruth was a great host and made sure everything was in order even though we checked in late. She also provided really good breakfast! :)
Rishav
2016-05-23T00:00:00Z
Art der Unterkunft
Ganze Unterkunft
---
Objekttyp
---
Unterkunft für
7
---
Schlafzimmer
Ritzville, Washington 99169, Vereinigte Staaten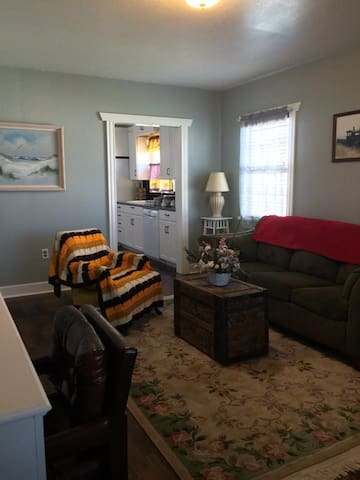 Cozy light-filled three bed one bath Victorian frame house in Charles Village/Waverly. Newly renovated first floor with a bright open plan kitchen to make your home, away from home, for you and your family.
Art der Unterkunft
Ganze Unterkunft
---
Objekttyp
---
Unterkunft für
3
---
Schlafzimmer
LaCrosse, Washington 99143, Vereinigte Staaten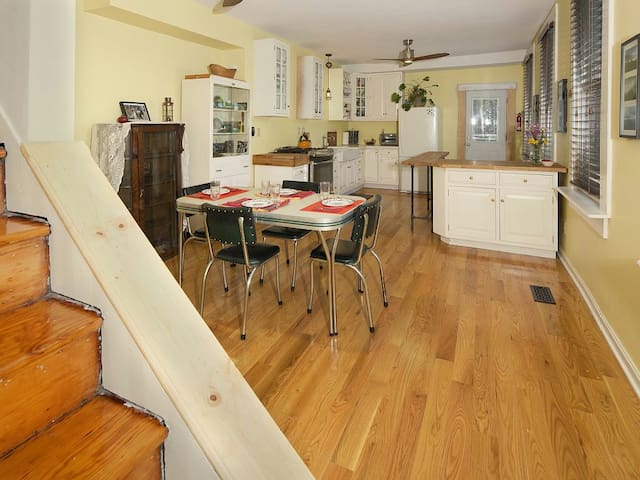 Our Tuccannon River Farm Bunkhouse is comfortable and cozy and the perfect getaway for couples or friends looking to unplug. With a small kitchenette, and private bath you'll feel right at home on our small farm. There are chickens, turkeys, cattle and horses along with 1/4 mile of Tuccannon River access year round. So bring your hiking shoes and a good book and plan on staying awhile. There is also rainbow trout, stealhead and salmon fishing along with numerous swimming holes at the river only a short walk from the bunkhouse.
Art der Unterkunft
Ganze Unterkunft
---
Objekttyp
---
Unterkunft für
2
---
Schlafzimmer
Dayton, Washington 99328, Vereinigte Staaten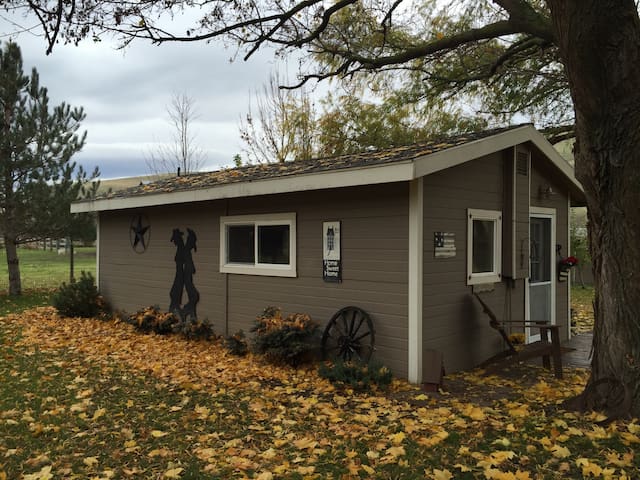 A private guesthouse from which to explore the Palouse region and participate in WSU or UI activities. Full kitchen, private patio, and laundry, nestled on the site of one of Colfax's historic homes. Quiet neighborhood, close access to Highway 195.
The Potting Shed Guesthouse is a charming one-bedroom cottage with additional sleeping space available in living room. Full kitchen with all utensils, cooking and serving ware, private patio with BBQ, laundry, High-Speed Wireless Internet, Cable TV in living room and bedroom. Off-street parking.
We are located within city-limits of Colfax; close access to Highway 195. Pullman (WSU) is only 15 minutes away. Moscow, ID (UI) is only 25 minutes away. Spokane is one hour North of us.
Bobbi was so accommodating, nice, and so easy to work with. The house is just lovely and very relaxing. We wished we could have been there longer, but this was a quick trip. Highly recommend this location!
Ines
2016-09-05T00:00:00Z
What a wonderful place to stay! The Potting Shed is spotlessly clean and full of charm. Hope to stay at this place in the future!
Audree
2017-02-25T00:00:00Z
Bobbi's place is absolutely gorgeous. It has a very unique style that immediately catches your attention. She also went to the effort of putting up a Christmas tree and some lights before we arrived. Beyond the pure detail, the place is much more comfortable and convenient than any hotel. There was everything you could possibly need for your stay within the walls of this space. If you need a place to stay in the pullman/colfax/Moscow area, this is the place to stay.
Rachel
2016-11-27T00:00:00Z
Awesome!
Christopher
2016-12-12T00:00:00Z
I was constantly enjoying the little details in the cottage—Bobbi really has thought of everything you'll need for a relaxing stay! She came out to greet us when we arrived and had great recommendations for the area. The cottage is situated behind the main house on a quiet residential street not far from the shops and restaurants in Colfax and has great space and morning light. Highly recommend this spot!
Justin
2016-04-19T00:00:00Z
This was a great little house in Colfax. Bobbi has provided everything you might need for a comfortable stay - plenty of kitchen utensils, nice soft towels and robes, games, DVDs, and a pleasant little patio with grill. She even provided a booster seat for our toddler, which was much appreciated! The Palouse is beautiful and Colfax is a great location to see it from.
Amy
2016-05-02T00:00:00Z
Bobbie was great! It was our first Airbnb and everything went perfect! Her communication before we arrived was very helpful and when we checked in she was so warm and friendly. The place was so cute & clean. We would love to stay there again.
Thea
2016-08-16T00:00:00Z
Bobbi was there to welcome us when we checked in to her lovely Potting Shed guest cottage. I enjoyed meeting Bobbi and sharing experiences as hosts for Airbnb. The cottage had everything my husband, son and I needed to rest comfortably after a long drive across state to move my son's belongings home from WSU. The beds were very comfortable, and the Keurig espresso maker was a wonderful amenity in this cozy, well-appointed guest house. All you need to have some quality time in the Palouse is furnished, wifi, DVD movies and games. Probably one of the sweetest places to stay near WSU, that really felt like home. The private patio provided a serene respite and was so pretty with flowers, BBQ and table/chairs. Bobbi was a wonderful host and I highly recommend her cottage!
Brenda
2016-05-17T00:00:00Z
Art der Unterkunft
Ganze Unterkunft
---
Objekttyp
---
Unterkunft für
4
---
Schlafzimmer
Colfax, Washington 99111, Vereinigte Staaten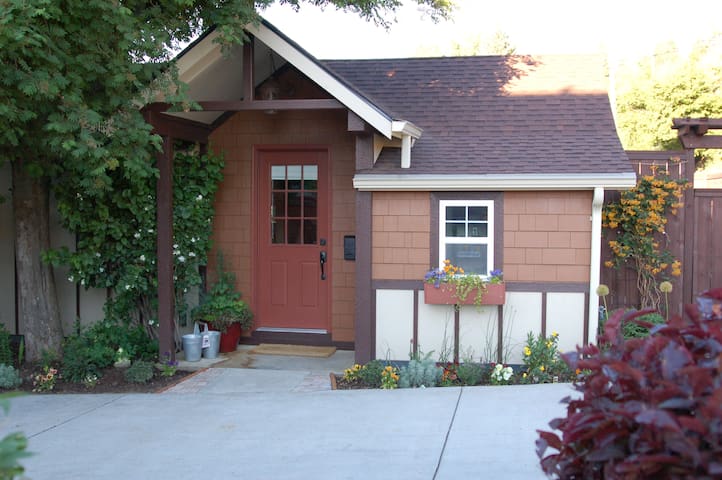 Nestled in a loft in historic downtown Colfax, WA -- this loft apartment offers luxurious seclusion from the hustle and bustle. You can explore the beautiful Palouse or you can open the drapes and enjoy the beautiful light that wraps around this lovely apartment.
The kitchen is fully appointed to encourage gourmet cooking, or you can order in from Westside Pizza, or you can visit one of our local restaurants. There is plenty of seating for you to watch the Coug game or to entertain friends. There is a balcony to enjoy people watching or soaking up the sun. The queen sofa bed allows for extra guests or children. Local attractions provided.
The downtown neighborhood is pretty quiet in the evening. If you decide to step out, you can find a bar in the next block, and a delicious Mexican restaurant as well. You can order in from Westside Pizza (menu provided)
A lovely place! Fully stocked with everything for a comfortable stay. Beautiful decor and Wendy even put up a Christmas tree
Kris
2016-12-31T00:00:00Z
The Cougar's Loft is a great place to stay! Very easy check-in/out, very spacious, clean, quiet, and beautifully decorated. Loved having the convenience of a washer & dryer. The drive to Pullman is an easy drive. We would definitely stay here again.
Gina
2017-02-27T00:00:00Z
We had a wonderful weekend getaway in Wendy's cozy, well-decorated loft. She made us feel welcome from the moment we walked through the door. We loved the kitchen, the fireplace, the comfort of the furniture and bed, and everything else. A great experience all around!
Joshua
2017-01-10T00:00:00Z
Best Airbnb I have stayed at - spacious, quiet, private. Great location and very hip decor. Washer / Dryer was a plus - LARGE dining and living space - very cozy bed in bedroom. The Cougar Loft is a great place to stay and you will love the Cougar Theme.
Brian
2016-11-28T00:00:00Z
A great place to stay in Colfax, central to downtown and the Palouse region, very close to groceries and local eats. Very nicely decorated and appliances and accessories are all there. Great location for a couple, two couples, or for a single artist "retreat". Quiet and spacious. We'll be back.
Mike
2017-02-15T00:00:00Z
Art der Unterkunft
Ganze Unterkunft
---
Objekttyp
---
Unterkunft für
4
---
Schlafzimmer
Colfax, Washington 99111, Vereinigte Staaten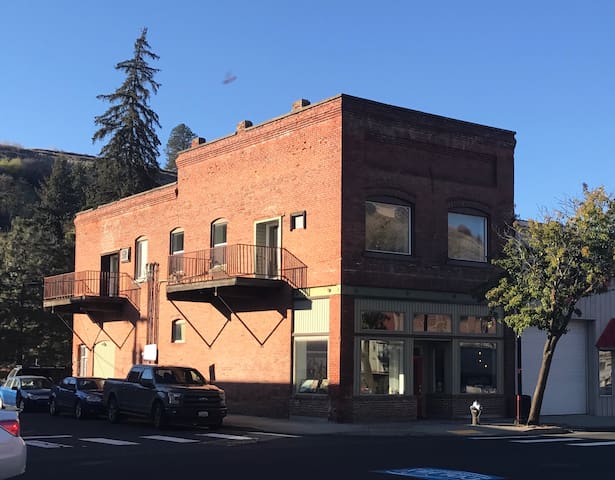 Our cabin retreat on Badger Lake is quiet along with having great views of the lake. The cabin comes with a nice deck, all new appliances and a private dock you can use for your boat, fish off of or take a dip in the lake. You'll love our place because of the coziness, the views, the location, and the cute decor. My place is good for couples, solo adventurers, hunters, fisherman and families (with kids).
The decor is what sets this place apart as it have a nice beach theme to the cabin. The cabin is open and spacious along with a DVD player for movies, and board games for family entertainment.
Badger Lake is great in that it is private so it is quiet and the fact that the lake is well stocked with fish.
Great clean place
Richard
2016-11-08T00:00:00Z
We arrived at night too late to really enjoy the beautiful Lakeview from the living room. The hosts were very helpful in making sure we found our way there. Will defiantly stay again so my husband can try the fishing
Brenda
2016-10-23T00:00:00Z
Very nice. Bring a book!
Edward
2016-11-20T00:00:00Z
All good.
Bob
2016-11-25T00:00:00Z
What a great weekend at David's cozy cabin. The space was charming and clean, and the view of the lake was stunning. The decor and furnishings were comfortable and the location was ideal (no internet, no cell service!). Will definitely make plans to stay here again!
Thom
2016-10-30T00:00:00Z
This home is lovely, beautifully remodeled and decorated. The bed was comfortable, and the futon wasn't too bad, either. The deck out back was nice to hang out on and the view was gorgeous. The neighborhood was a retirement community and mostly mobile homes (this appeared to be a house, though. ) So, it felt safe and very relaxing. Downsides: The water has a very strong sulfur smell. (Kinda yucky to bathe in.) No cell service or WiFi Property manager in a house down the road, if you need anything. During our trip there, the house was still under construction. But, this will be a beauty once it's completely done.
Tammy
2016-09-23T00:00:00Z
Place was a nice get away, no cell or internet service to disconnect for things. Will defiantly want to return!
Conrad
2017-02-21T00:00:00Z
It was a memorable experience in a beautiful setting. The cabin was cozy and comfortable. David is a great host. Overall a wonderful place for a romantic get away or for family fun.
Drisan
2016-11-27T00:00:00Z
Art der Unterkunft
Ganze Unterkunft
---
Objekttyp
---
Unterkunft für
4
---
Schlafzimmer
Cheney, Washington 99004, Vereinigte Staaten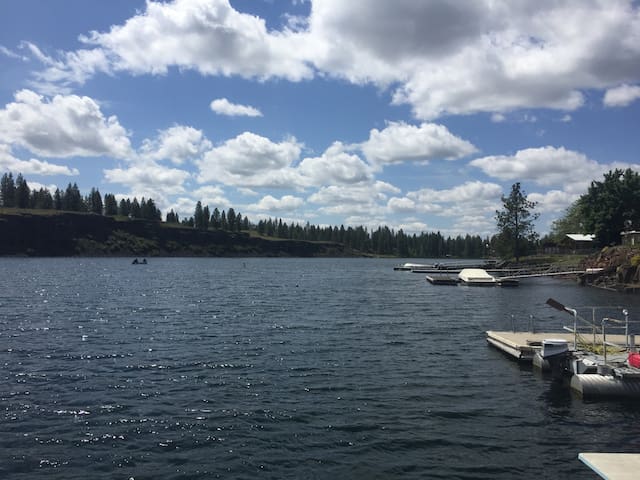 My place overlooks a 300-acre lake with 2 lakefront resorts open April-September and public boat launch/lake access (1/2 mile away). It takes about 15 minutes to drive to the town of Cheney and Eastern Washington University. My property itself is 6 acres, with room for camping, outdoor activities & storage. You'll love my place because of the views, the location, and the outdoors space. Singles, couples and campers welcome. Free landline use; cell service can be spotty.
We actually arrived about 40 minutes early, it was unexpected but they were still very welcoming. They let us in, no problem. It's just as described, we got our own bathroom, and they let us have our space. I love the cute guest book that they have in the room. All "reviews" in there were positive. According to the guest book, if you want to hang out with them, they're open to it. The cat and dog were adorable. The backyard is awesome!
Jan Denise
2016-09-19T00:00:00Z
Art der Unterkunft
Privatzimmer
---
Objekttyp
---
Unterkunft für
2
---
Schlafzimmer
Cheney, Washington 99004, Vereinigte Staaten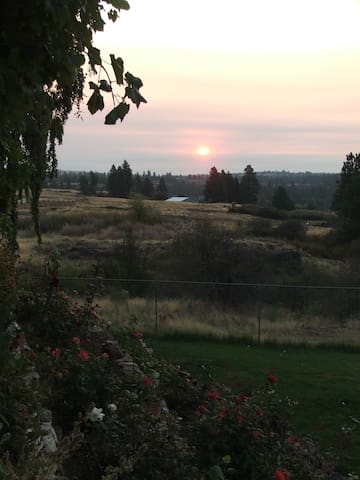 This is a rustic lodge that is perfect for anyone to getaway. The lodge is fully furnished with all amenities (toiletries, cooking utensils, BBQ, hottub, etc.), except for food and beverage.
Our lodge is predominantly used as hunting lodge, but our season is closed during the late Spring and Summer months, so it will be available for rent during this time.
Art der Unterkunft
Ganze Unterkunft
---
Objekttyp
---
Unterkunft für
10
---
Schlafzimmer
Cheney, Washington 99004, Vereinigte Staaten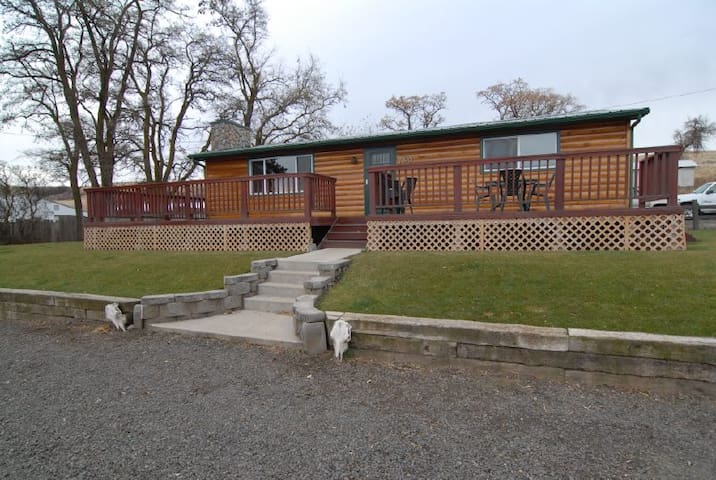 Our home is close to Eastern Washington University, restaurants and dining, 20 miles from Spokane. You'll love my place because of its serenity, comfy bed, coziness, the light. My place is good for couples, solo adventurers, and business travelers. Please e-mail me immediately if you instant book!
Our home is close to Eastern Washington University, restaurants and dining, 20 miles from Spokane. You'll love my place because of It's serenity, many sitting venues, the comfy bed, the coziness, the light. My place is good for couples, solo adventurers, and business travelers. Your suite has a private entrance. An outdoor heater on the deck will enable you to experience more outside time. There are several venues on our property. Grab your mug of coffee or glass of wine and wander about. We enjoy visiting with our guests and we will definitely respect your privacy. Please do not hesitate to tell us what we can do to ensure a pleasant stay with us. We are in Eagle country. EWU is 12 minutes away. This cozy suite is so convenient for visiting with your student. Please e-mail me immediately when you instant book. I want to make your arrival and stay most wonderful.
We live in the country. It is a peaceful retreat.
This place was awesome. It was very peaceful with beautiful landscaping. The apartment was tastefully done. It is close to Eastern Washington University.
Joyce
2016-10-09T00:00:00Z
My husband and I were very happy staying at Skeeter Holler Farm. It was quiet and peaceful, yet close to EWU campus for visiting with our daughter. Melvie and Robert made you feel very welcome. We will for sure book it again when needed.
Jaime
2016-11-15T00:00:00Z
Skeeter Holler Farm was the perfect spot for my husband and I! We came over from Port Angeles to St. John for the sprint boat races and after a long hot day in the sun this little spot was the perfect place for us to relax for the evening. We would have loved to stayed longer and next time we will plan for it!:)
Michelle
2016-08-30T00:00:00Z
Art der Unterkunft
Ganze Unterkunft
---
Objekttyp
---
Unterkunft für
2
---
Schlafzimmer
Cheney, Washington 99004, Vereinigte Staaten
Schierman Sanctuary is a nearly 40-acre private family-made wildlife park in the heart of the Palouse, in E. WA State. Explore the vast scablands, rolling hills, local lakes and rivers, from an exclusive central location with lawn camping & fire pit.
The Schierman's have owned this farmstead for nearly 100 years. In the last 50 years, it has been transformed from a farm to a sustainable wildlife park by owner Tom Schierman and sons, James and Jon. This summer it will open to guests and private events. The farm is being developed into an exclusive rustic retreat and private campground for group stay, camping, workshops, photography tours, private parties, weddings, reunions, and recreation both on the grounds and around the Palouse.
It's pretty quiet and peaceful. Sure it's in farm country, so it not the forest, but we like it because it is so unique. Photographers and travel writers have coined the term 'Tuscany of America' for the Palouse. There are so many mysterious lakes, ghost towns, fishing streams and rivers, county and state parks, abandoned railroad trails, soft rolling hills and rocky scablands within a few minutes reach. Schierman Sanctuary is centrally located between several Eastern Washington college towns and major cities. There are numerous small events in the area and always something to do on the Palouse. St. John hosts sprint boat races two time per year. A local group of hangliders and paragliders have access to several buttes and great places to fly around the region.
Tom and James were wonderful hosts. We couldn't have asked for a better place to call home while exploring the Palouse. Tom was kind to share fruits and veggies from his garden. It was also a treat to hear him tell the local history. I will definitely visit Schierman Sanctuary again.
Jason
2016-08-18T00:00:00Z
If you are going to Palouse or any of the surrounding areas, I implore you to stay with James. He was warm and welcoming and loves the area. His father was also just as amazing in welcoming us onto their property and setting up our camp. They have the perfect location for enjoying the outdoor Palouse area. Quail and various birds roamed the property along with a litter of kittens.
Dillon and Maggie
2016-07-19T00:00:00Z
James and Tim were incredibly hospitable. They showed us to our campsite and built us a fire. The country side was exactly what we were looking for. Coming from the city, the stargazing and quiet campfire hit the spot.
Stephanie
2015-07-19T00:00:00Z
James and his father Tom were the most gracious hosts. The property is beautiful and meeting them made it come to life even more. This was a great spot for just the two of us, but it would ideal for a close group of friends too. Thanks Tom and James!
kathryn
2016-09-11T00:00:00Z
We couldn't pass up the opportunity to camp on the Palouse, and this spot did not disappoint. It's a remote, green oasis in the middle of rolling wheat fields. James and his dad Tom obviously put a lot of work into their property, and are very generous to open it for others to camp on. They had a campfire and fresh water waiting when we arrived, visited with us just the right amount, and then disappeared to let us enjoy the peace and quiet (and the stars!) on our own. We will definitely be back, and will bring friends along next time, as there is plenty of room for everyone!
Jessica & Josh
2016-07-28T00:00:00Z
Our host, James, was very welcoming and walked us around the property and the camping area and made us feel at home right away. The farm is in a tranquil setting with plenty of sun and a small grove of trees for some nice shade. The town of St John is a 5 min drive away and has a small store with groceries, a gas station and a few restaurants. Colfax is 30 min drive away and has plenty of restaurants, services and a large supermarket. We had a great experience camping at this site and would recommend it! The Palouse is beautiful!
kimberly
2015-05-27T00:00:00Z
Lucky for us we found this hidden oasis to glamp (more like camping in a glam setting) near Spokane on our way to Yellowstone Park! Tom (James' dad) was a lovely host filling us up with delicious fresh cucumbers and tomatoes from his veg garden. They have enormous wheat fields with lake, barns, and other special memorabilia to explore. Just ask Tom for his many amazing stories to fill the day :)
nelee
2015-08-16T00:00:00Z
Our experience at "The Oasis" (Palouse Country Camping) was perfect. It's a beautiful property with lots of things to do and they were great hosts! Tom met us upon arrival and was very kind and gracious offering several tips and assistance in terms of directions, activities, photography opportunities, and even offered to show us around. There are many opportunities for exploration and activities on the property including two ponds that provide opportunities to observe wildlife. We felt very welcome and wish we had more time to spend exploring the local area and playing the games they have set up on the property. The bathroom is typical of a camping experience, similar to a port-o-potty but made of wood and it worked perfectly well for us and the experience we were looking for. There are two fire pits. Tom also pointed out local wildlife and checked in to see what else he could offer, providing us a tour of his garden and information about his crops. This was a benefit to us as we learned much more about the local area, farming and culture than we would have otherwise. We had a really fun camping experience that was graced by Tom's hospitality and giving nature. We would definitely recommend their property for your experience in the beautiful Palouse region.
Sarah
2015-06-07T00:00:00Z
Art der Unterkunft
Ganze Unterkunft
---
Objekttyp
---
Unterkunft für
16
---
Schlafzimmer
Saint John, Washington 99171, Vereinigte Staaten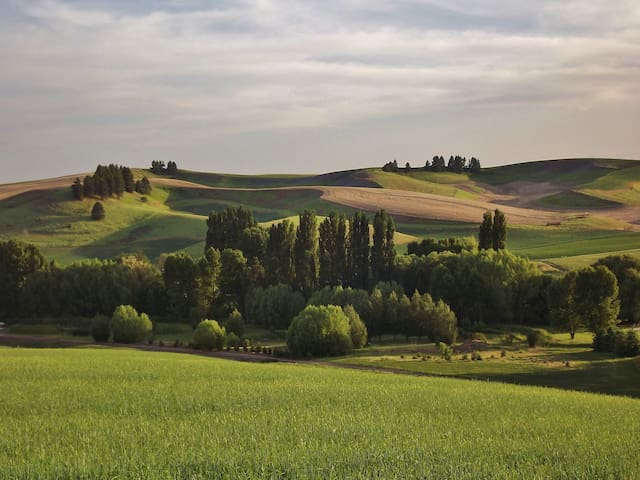 An exclusive, private and authentic western lodge with all of the modern conveniences... Our place is close to Nature! You'll love the place because of the location. The coziness, the privacy and tranquility abounds. Our place is good for couples, business travelers, families (with kids), and groups such as sports teams, church groups, family reunions, company retreats, etc. Located on a 30 acre pine covered ranch, all just 27 miles and 2 turns from downtown Spokane! Enjoy... -Rick
A modern, full service (former) hunting Lodge that will accommodate groups, but with the ambiance and coziness for a private couples getaway...
This was a beautiful lodge in a beautiful environment. It was just stunning with all the windows. Magnificent views of huge pine trees and secluded enough not to have noisy neighbors. My boyfriend and I went there looking for snow, and we found it. We are from the dessert, so every year we plan a vacation in the snow. Cheney is about 30 minutes south of Spokane, which was perfect. We flew into Spokane, rented a car and ended up driving to Couer d'Alene for the day. The Jacuzzi tub in the master bedroom was great. The mattresses all had their own issues, and I would suggest bringing your own pillow, if possible. Also, bring some DVD's, While they do have a lot of VHS tapes, we found the VCR player on the mail floor unable to operate. The downstairs VCR player does play VHS tapes though. This place is awesome for a family with kids. They have a bedroom on the main floor, a master bedroom upstairs, and 3 bedrooms downstairs, sleeping a total of 10 people. I believe there is also a sofa bed too. The beds all have their own issues, just be aware. If you're in the area, you have to go to the Leverfe Bakery and Café, in Medical Lakes (about 20 minutes away). It's a small, family owned bakery that bakes all their desserts fresh. They have the best pull-a-part bread, huge Cinnamon rolls, best German sausage, French toast, and much, much, more. Overall, I would suggest this place for a family vacation.
Carol
2017-02-27T00:00:00Z
Art der Unterkunft
Ganze Unterkunft
---
Objekttyp
---
Unterkunft für
16
---
Schlafzimmer
Cheney, Washington 99004, Vereinigte Staaten
Located just 40 minutes from Spokane, Wa, this spacious, family friendly home is the perfect place for a quiet, relaxing get-a-way. Year round access makes it easy to enjoy summer and winter. Just 15 minutes from Cheney, Wa (home of Eastern Washington University) and 85 minute drive to Pullman, Wa (home of Washington State University) and 45 minute drive to Gonzaga University. I have most of the summer blocked out but if you are interested in renting during the summer, please send me a message!
Open floor plan. TV room with Direct TV. Wireless internet, however, the speed is a bit slow. On the main floor there is a room with a queen. Another room with a full and a master with a king. There is a full bathroom in the hallway. The master has a stunning view of the lake and has a private entrance to it's own full bathroom and walk in closet. Downstairs is a studio apartment with a queen bed and couch. This area is accessed from the lake side.
Tracia was so easy to communicate with! Her lake house was beyond amazing and completely exceeded my expectations. Loved her style and how comfortable her home was. She has everything you would need. Lots of outside seating too! Can't wait to visit again!!!
Jasmin
2016-08-26T00:00:00Z
Tracia was willing to show me around the house and how everything works. The house is very warm and welcoming, me and my guests enjoyed every bit of it. The listing was accurate just as posted and the neighborhood is quiet and just the place to unwind with family on a weekend or vacation.
Amos
2016-05-11T00:00:00Z
The host canceled this reservation 19 days before arrival. This is an automated posting.
Jugadh
I didn't have a chance to meet Tracia, but she was available whenever I had questions, I really appreciate that. House by the lake is a great retreat for a group of friends like ours and Tracia has taken care of many details for us. We enjoyed our stay full of swimming, kayaking, grilling and just resting in the sun and by the lake! I would mention that you'll probably want to focus on activities that don't require much of open space, so plan less volleyball more water, patio and indoors fun. Internet isn't fast indeed and cell service is unavailable, so make sure to get and share the landline number with your friends.
Andrey
2016-09-17T00:00:00Z
Incredible place. Incredible owner! Very responsive!
Doug
2017-02-12T00:00:00Z
Tracia was so easy to communicate with and the house was everything we hoped for and more. My kids couldn't get enough swimming and fishing in during the daylight hours !! What an amazing place.
Torie
2016-07-31T00:00:00Z
Tracia is a very hospitable host who is easy to communicate with and very willing to help in any way she can. We really enjoyed ourselves and would love to visit again! The view from the lake is much more stunning than the profile pic can give justice to, and in a very friendly neighborhood too.
kristen
2016-06-13T00:00:00Z
We spent 4 nights at Tracia's cabin what a wonderful place! The lake is very peaceful and the private dock is great. My family enjoyed watching for the turtles and just enjoying the sun, water and kayaks. The house itself is plenty of room. The kitchen is well supplied if you wanted to cook (we chose bbq and take and bake pizza). Tracia was a great host. Excellent communication and makes you feel very welcome. On the "repeat holiday" list.
Paul
2016-07-26T00:00:00Z
Art der Unterkunft
Ganze Unterkunft
---
Objekttyp
---
Unterkunft für
8
---
Schlafzimmer
Cheney, Washington 99004, Vereinigte Staaten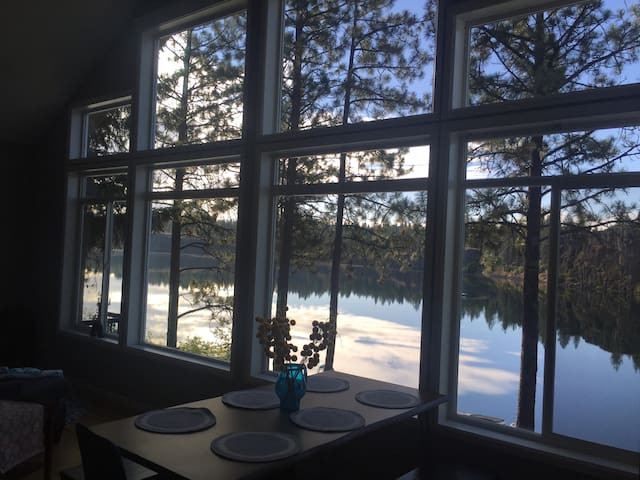 1

–

12

von

12 Unterkünfte
Gib deine Reisedaten ein, um den aktuellen Preis zu sehen. Es können zusätzliche Gebühren und Steuern anfallen.