96 Ferienhausvermietungen
Our little Gite sleeps 2, it is on the edge of the small village of Droux near Rancon. The historical towns of la Dorat, Bellac and Magnac Laval are only 10 mins away which have all the amenities you will need for a perfect holiday or little break. The Tour de France will be coming through our village, past the little Gite on the 5th July 2016.
A Quaint Petite Barn conversion. a character property with beams. It has its own garden and parking in the rural Limousin, being the Lake District of France, ideal for a holiday, short break and a good base for house hunting.
Diane is a lovely, friendly host. She and her husband have created a wonderful, cozy place where you can huddle up and relax, and pretend for a moment the rest of the world doesn't exist. The gite is absolutely charming, and located in the most beautiful countryside. It has everything you might need, including a sweet welcome package. We were sorry to only be able to spend two nights, since we'd have loved to stay longer. So if you're looking for a charming place in the French countryside, don't hesitate to stay at Diane's gite! I'm positive you will love it!
Guusje
2015-09-08T00:00:00Z
Dear Diane, it was a wonderful stay in your lovely little gite. We enjoyed everything. It is a perfect place to relax. Thanks to your great hospitality and the lovely little gifts at our arrival, which gave us a cozy start in a beautiful week off. Thank you, Yvonne and Martin
Yvonne
2016-07-24T00:00:00Z
We've had a perfect 10-night stay. Phill and Diane really created paradise on earth. The gite is just as beautiful as on the pictures, and everything you could think of is there. The view from the garden is sumptuous - the sunset is gorgeously different every day and the stars were brighter then we ever saw before. We loved the area. There are a lot of characteristic villages nearby and the countryside looks like the movies. We could have stayed forever without being bored. Diane and Phill are wonderful and welcoming people, it couldn't have been better. Thank you!
Margriet
2015-08-13T00:00:00Z
Nous avons passé un séjour très agréable dans un gîte charmant et confortable. Rien ne nous a manqué. Un petit jardin rien que pour nous avec un barbecue à notre disposition et une multitude d'attentions. Diane est une personne extrêmement attentionnée. Elle sait est être discrète, nous avions l'impression d'être chez nous, et chaleureuse pour autant. La région est belle. Il y a beaucoup de promenades à faire. Nous encourageons chacun à passer quelques nuits dans ce très joli endroit.
Julien
2015-08-22T00:00:00Z
My girlfriend and I had a wonderful experience staying at Diane's for two days. The gite was comfortable, clean, well decorated and very well equipped, with a lovely terrace to have breakfast on. Diane was very welcoming, and had a bottle of wine, fresh bread and croissants waiting for us. The area is peaceful, with a number of pretty villages close by, with some really good eating places. Overall, we had a wonderful time, and we would strongly recommend Diane and her gite for a couple's retreat in wonderful Limousin.
Paul
2015-08-01T00:00:00Z
Our stay at Diane was amazing. Diane is a great host. The gite is beautiful and well designed. Everything we needed was there. Diane welcomed us with some breakfast and a good bottle of wine. The private garden in front of the house was lovely. We would love to come back!
Sven
2015-07-29T00:00:00Z
The house is exactly as described : a lovely cottage, very english, very welcoming, quiet, with everything one could need for a relaxing break ! The bed is comfortable, and the house is clean and tidy, we can see it's been wisely thought and made with love. The kitchen has everything you might need. A cute little garden allows to take a sunbath or meal outside. Diane has greet us warmly and provided us with useful tips on what to visit. Even under rain, the countryside was nice. We strongly recommend this accomodation, and we definitely enjoyed our stay there !
Audrey
2015-08-16T00:00:00Z
Diane et Philip vous accueillent avec beaucoup de gentillesse et de bienveillance dans une charmante maisonnette so british ! Décoration soignée ou rien ne manque pour passer un agréable moment comme à la maison. Très rapidement et facilement accessible depuis l'A20. Si vous y sejournez même pour un court séjour, faite la balade le long de l'ancienne voie ferrée de Droux ! Plusieurs parcours sont proposés sur le plan devant la bibliothèque, c'est top !
Ti
2015-07-09T00:00:00Z
Art der Unterkunft
Ganze Unterkunft
---
Objekttyp
Haus
---
Unterkunft für
2
---
Schlafzimmer
Droux, Limousin, Frankreich
Kleurrijk, vrijstaand vakantiehuis in het middeleeuwse centrum van Bellac. Vier verdiepingen, met een grote tuin en een weids uitzicht. Mooie natuur, autoluw. In modern Bellac kunt je winkelen, zwemmen, terrasje pikken, naar de bios, uit eten.
Uniek is de vrijstaande ligging van het forthuis uit 1630 met originele nissen, trapjes en stenen vensterbanken. Daarnaast is er de bijzonder grote tuin met een weids uitzicht op de bossen en een oude spoorbrug in de verte- aan de overkant van de rivier. Hier kunt u elke avond de zon onder de horizon zien zakken. Het huis, dat nog originele elementen bevat, biedt ruimte aan 5 personen.
Het weidse uitzicht in de paradijselijke tuin met schitterende zonsondergangen. Het geluid van de rivier 'Le Vincou', die beneden het huis stroomt. Het middeleeuwse centrum van Bellac met zijn nauwe, pittoreske straatjes. De rust, de vriendelijkheid van de buurtbewoners. Het openbare zwembad op hete dagen. De bossen en vele meren zijn op 10 minuten loopafstand. De wandelpaden (200 km) door het natuurgebied van de Monts de Blond (op 15 km afstand).
Accueil très chaleureux de la voisine qui gère le gîte pour Marcia, notre équipe s'y est très bien sentie!
Lena
2015-10-17T00:00:00Z
All was ok
Manuela
2016-11-18T00:00:00Z
Maison ancienne mais très sympa, confortable, située juste en dessous de l'église avec une superbe vue. Tranquillité assurée. Avec ses escaliers mieux vaut de bonnes jambes et pas de pertes d'équilibre donc peut être à éviter pour des personnes âgées. Marcia est très gentille et accueillante. Bon séjour à vous !
lucie
2016-11-01T00:00:00Z
Bel accueil. Avons passé un agréable séjour.
Hugues
2017-02-25T00:00:00Z
The directions to the church were very easy to follow. I parked my car in front of the church, as suggested by Marcia, because the streets in the medieval center are very steep and very narrow. A nice lady welcomed me and it turned out to be the neighbour who also takes care of the garden. She gave me homegrown potatoes, lettuce and rhubarb. On the kitchen table was a bottle of wine waiting. I felt immediately very welcome after a long and tiring drive. The house is ancient and still very authentic, but you can also see and feel the love Marcia put into this project to make it meet with today's standards. The art and colours used make this house a home. From the street you may think it's a rather small house, but once you entered on street level, you will find a spacious home, with all the floors that are hidden from the streetview. The bed I used was very comfortable (-2 level) and the view at all floors is magnificent! I had a couple of nice days and used the garden for dinner and reading a book. It is a marvelous garden that can be reached by a small path around the house. If you care for a lot of luxury, this may not be the place for you, but if you love nature, relaxing and old and authentic, this is the place to be. Due to appointments during the days I didn't got to see a lot of Bellac itself, other than the wonderful medieval center with its narrow streets and old houses. I was here by myself, but the house is very suitable for families as well. There are three floors available. Keeping in mind that this house was built somewhere in the 17th century, one can imagine that the house is not soundproof inside and that the beautiful old wooden floors are not level. I had some trouble keeping in mind not to throw toiletpaper in the toilet due to the septic tank, but believe me: once you have to dig in the toilet to get the paper out, you'll remember it the next time! The wifi for checking my email worked fine once I followed the clear instructions for the wifi-device.There was a wide range of pans and other utensils in the kitchen and many, many books in the livingroom. Too bad I had too little time. If I'm ever back in the area, I will certainly return to this place!
Leonore
2015-05-31T00:00:00Z
Art der Unterkunft
Ganze Unterkunft
---
Objekttyp
Haus
---
Unterkunft für
5
---
Schlafzimmer
Bellac, Limousin, Frankreich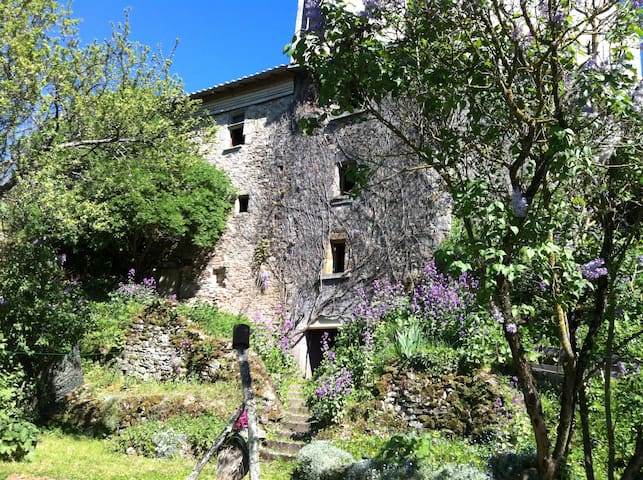 Das Haus befindet sich auf dem Gelände eines 10. Jahrhundert Schloss gebaut Dieses einzigartige Haus stammt aus dem 15. Jahrhundert zurück und sorgfältig konserviert wurde, beibehalten ursprünglichen Elemente wie Dielen, und ätzend Fliesen Lehmbau Wände.
Dieses einzigartige Haus stammt aus dem 15. Jahrhundert zurück und sorgfältig konserviert wurde, beibehalten ursprünglichen Elemente wie Dielen, Fliesen und Lehmbau Wände. Das Haus wurde im Januar Sunday Times 50 fabelhafte Villen an der Nummer 7 gekennzeichnet. Das Haus befindet sich auf dem Gelände eines Schlosses des 10. Jahrhunderts gebaut, die zu den Grafen von March. Es bietet spektakuläre Aussicht auf das Vincou Tal. Die Liegenschaft befindet sich erhitzt über eine große, moderne und effiziente 'Godin' Holzofen in der Lounge, die zu den Zimmern über eine neu installierte Wärmeübertragungsabgasanlage hat. Es gibt auch neu installierte elektrische Speicher Heizkörper in diesen und anderen Räumen. Holz für den Ofen ist im Reisepreis geliefert. Das Haus wurde nach den Standards früherer Zeiten gebaut. Folglich können Sie Funktionen stoßen, die seinen besonderen Charakter widerspiegeln, sondern der gebotenen Sorgfalt und Aufmerksamkeit verdienen, zum Beispiel unebene Böden Es gibt eine kleine ummauerte Terrasse auf der Rückseite mit Blick auf Süd-West mit herrlichem Blick über das Tal Vincou und dem Eisenbahnviadukt. Patio-Set für 8. Protokolle für die großen Holzofen ist im Preis inbegriffen. Die Möbel sind antik mit zeitgenössischen Bildern an den Wänden. Es kann 8 Personen in 4 Schlafzimmern unterbringen. Das Haus verfügt über WiFi DVD Waschmaschine Geschirrspülmaschine 2 loos 2 Bäder Und schließlich - das lokale Theatre du Cloitre verfügt über ein ausgezeichnetes Jahresprogramm:
Sie sind 3 Minuten zum Boulangerie Bank kleiner Supermarkt und Pâtisserie gehen. Es gibt einen Tennisplatz und Freibad mit Rutschen (Männer passen - nur erlaubt Speedos) innerhalb von zehn Minuten zu Fuß vom Haus entfernt, ein Bouleplatz am Flussufer Café fünf Minuten zu Fuß entfernt, lizenzierte Fischerei auf alle zur Verfügung die Flüsse und Seen in der Nähe, und es gibt einen Golfplatz außerhalb der nahe gelegenen Stadt Montmartre. Das Gebiet ist eines von großer historischer Bedeutung, über viele Jahrhunderte. Es gibt eine Vielzahl von Orten in den Spuren von Richard Löwenherz im Bereich von Coussac Bonneval und dem Chateau de Bonneval zu Arnac-Pompadour zu besuchen, die ein feines Schloss bietet. Wir sind auch sehr nah an den Blond Berge, die herrliche Wanderungen haben, und das alte Dorf von Montmartre, wo eine Kunst oder antike Show ist oft im Gange. Die nächste große Stadt - 25 Minuten - ist Limoges, "Die rote Stadt", berühmt für seine Porzellan und Emaille. Es ist eine wunderbare Mischung aus dem alten und dem neuen. Die Gedenkstätte des berüchtigten WWII Massaker in Oradour-sur-Glane. Poitiers ist eine einstündige Fahrt entfernt - Heimat von Eleonore von Aquitanien, Ort von vielen schönen romanischen Kirchen, und im Wege der vollständigen Gegensatz dazu gibt es Futuroscope
Our month stay at Gandalf's house was magical! Relaxing but convenient location. The town is conveniently located and the house is in the perfect spot within the town - beautiful views but within easy walking distance to everything! The house: kitchen, bathrooms, livingroom & bedrooms had everything we needed (including dishwasher and washing machine!) & more, and the spacious patio was where we happily spent every night watching the sunset. The town had everything we needed and other major villages were just a short drive away. From the little shops to the market days and nights to our daily visit to our favorite patisserie, to the friendly locals as well as the other visitors to the area, our life in Bellac couldn't have been better! All of those small but important details - like getting the keys, having the house cleaned, figuring out the internet password (that was obvious) were taken care of by a couple who lived right in town - which was great! We DO plan to go back as soon as possible!
Susan
2013-07-05T00:00:00Z
We spent a delightful 2 days in Bellac. The weather was cool and rainy, but this remarkable property made up for it. The roaring fire in the living room kept us warm. The kids loved exploring all the rooms and sleeping in the attic bedroom. The only thing we regretted was not being able to sit out on the terrace. The view is amazing. The house was plenty big enough for our group of 7, with room to never feel crowded and have plenty of personal space. Thank you for making our stay in Bellac great.
Randy
2016-05-24T00:00:00Z
nous avons passé un agréable séjour, la maison était prête à notre arrivée. Nous avons passé un bon weekend et pu profiter de la terrasse. La maison était bien chauffée. Maison atypique dans un cadre très agréable, très belle vue.
Julie
2016-05-17T00:00:00Z
We had a really lovely week in a very beautiful and unique house. We booked this a memorable trip for elderly parents and they loved it. The setting in Bellac is perfect and the views stunning.
David
2015-05-16T00:00:00Z
This historic house is a must for anyone who likes nooks and crannies, beams and every kind of curiosity. The history of the house is explained inside so I leave it to you to discover! The house is wonderfully equipped - I found everythingthat I needed to prepare a feast in the kitchen. It is also a brilliant position for sightseeing, or just for a lazy day. I urge you to visit Gandalf's house now!
Philippa
2014-05-03T00:00:00Z
We had a fabulous stay in Michael and Mary's brilliant place for four nights. Great area for running and riding! Michael was a great host and always readily available if required. If you want some real history this is the house! Peter
Peter
2014-09-13T00:00:00Z
La maison - admirable! Il a surpassé les attentes! Est parfaitement disposé dans la ville admirable! Les citadins très amicaux! Les maîtres préventif, tous ont prévu tous ont expliqué. Si la possibilité il sera obligatoire j'irai là-bas et je conseillerai à tous les amis! The house is wonderful! It surpassed our expectations! Beautifully located in a wonderful city! Very friendly residents of the city! The owners of the warning, all provided and explained everything to him. If you get a chance be sure to go there and I will advise all my friends!
Ольга
2012-07-19T00:00:00Z
C'est un lieu magique - mais aussi impeccable d'un point de vue pratique. Une merveilleuse expérience.
Nicolas
2016-12-30T00:00:00Z
Art der Unterkunft
Ganze Unterkunft
---
Objekttyp
Haus
---
Unterkunft für
8
---
Schlafzimmer
Bellac, Limousin, Frankreich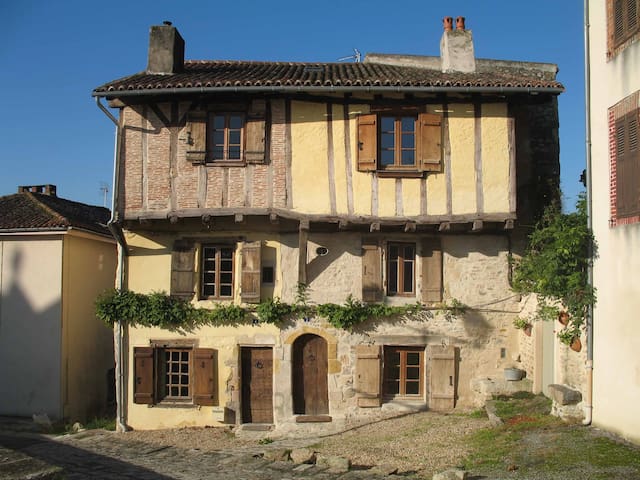 Very unique decoration. Kitchen, bathroom, refrigerator, washing machine, TV, central air conditioning, heating everything. Security, 24 hours monitoring, property service. Downstairs hall there is a simple meal, health and delicious.
Art der Unterkunft
Privatzimmer
---
Objekttyp
Haus
---
Unterkunft für
2
---
Schlafzimmer
Bellac, Nouvelle-Aquitaine, Frankreich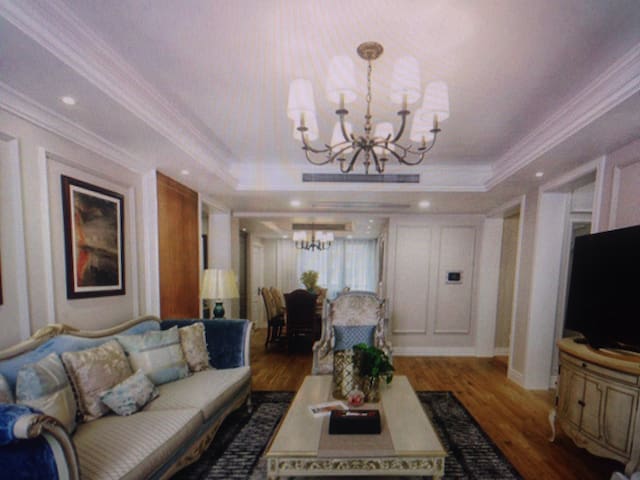 A short stroll to the medieval 'Pont de la Pierre' bridge over the river Vincou in the old town of Bellac, our rural cottage has been sympathetically renovated with queen and twin bedrooms, each with en-suite, plus living / dining / kitchen.
The fully equipped kitchen includes gas hob and electric oven, microwave oven, refrigerator and front-loader washing machine. Cookware, crockery, glassware and cutlery are provided. The open-plan lounge/dining area includes a dining table seating 4-6 people, with a comfortable sofa and separate chair in the lounge area. A TV with English FreeSat satellite channels is provided in the lounge area. On the first floor is a twin bedroom with ensuite and on the second floor is a generous sized bedroom with queen bed and ensuite. Each bedroom has a wardrobe for hanging clothes, plus further storage space and drawers. The cottage has a small courtyard with outdoor table and 4 chairs for al-fresco eating and drinking, though most will prefer to take a picnic basket to the riverside 2 minutes away!
We're in a lovely peaceful spot on the edge of the old town near to the river. There is a cafe/bar just across the medieval Pont de la Pierre bridge (about 150m from your front door) with a river terrace which is perfect for lazy afternoons or long summer evenings. Take a short walk up the hill beyond the church and you will find the local supermarket and other shops, cafes, bars and restaurants, the library and the tourist information office. Le Cheval Blanc is a good typical French restaurant up in the main part of town (walking distance, and downhill all the way back!) and there are several other options for eating and drinking. There are also several large supermarkets within a five-minute drive which can supply anything else you might require for your stay. A variety of countryside walks are available from the front door, and many others are just a short drive away in the Monts de Blond. A little further afield, we can recommend some more excellent restaurants in the surrounding villages. For leisure activities, there is an outdoor swimming pool (open Jul/Aug/Sep) in Bellac and we are a 30-minute drive from the lake at Saint Pardoux which has sandy beach for swimming / lounging, and facilities for other water activities, as well as a tree-top adventure park for the kids (big or small).
Petit cottage charmant et hôte acceuillant
Martin
2016-08-01T00:00:00Z
Art der Unterkunft
Ganze Unterkunft
---
Objekttyp
Haus
---
Unterkunft für
4
---
Schlafzimmer
Bellac, Aquitaine Limousin Poitou-Charentes, Frankreich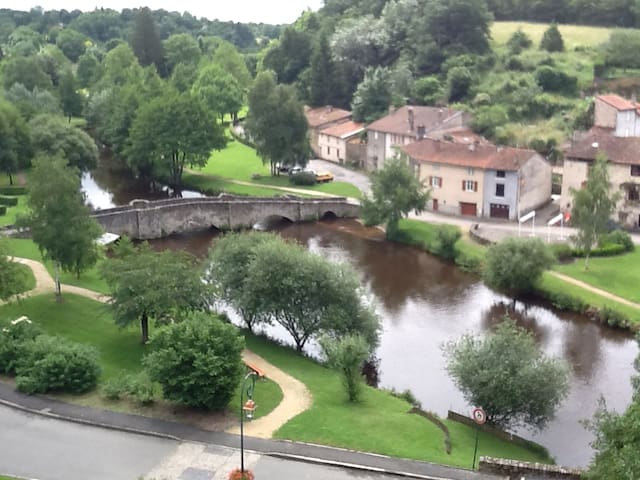 beautiful open plan cottage set in beautiful countryside ideal for walking cycling or for just lazy days relaxing . The 3/4 acre garden has a swiming pool, decked area for sunbathing or if preferred a shaded area under a pergola
Un séjour bref mais très agréable chez Michelle! La maison est bien tenue et le jardin est un véritable plus avec sa terrasse, sa piscine, et vue sur les champs alentours.
Bénédicte
2016-08-29T00:00:00Z
We stayed at Peartree Cottage on our road trip through France and very much enjoyed our stay. It was very comfortable and a hidden gem in terms of both the location in France and being such a lovely place. The 2 bathrooms and great showers were a treat for a family of four. Very friendly hosts and I would recommend staying here.
Peter
2017-03-17T00:00:00Z
le logement était comme sur les photos aucune mauvaise surprise. Le point négatif est que la personne ne parlait pas Français, pour les explications c'était très compliqué, le règlement était également en Anglais...Lors de notre arrivée avec les enfants la maison n'était pas (URL HIDDEN) a fallu chauffer avec les radiateurs d'appoint qui on mis du temps à tout chauffer. il y avait tout le nécessaire dans la maison qui était bien équipé mais pour l'été.
Luis
2016-04-15T00:00:00Z
We just want to take the opportunity to thank Michelle for the very warm welcome to her Peartree Cottage... The place was perfect for our family stay... Michelle thought for everything we may need Milk, bread, coffee tea, beer wine eggs...etc, something to be Honest we didn't except. I am sure the place will be even enjoyable in warm weather to take advantage of the beautiful garden and swimming pool...
Rachid
2016-02-18T00:00:00Z
Art der Unterkunft
Ganze Unterkunft
---
Objekttyp
Haus
---
Unterkunft für
4
---
Schlafzimmer
Saint-Bonnet-de-Bellac, Limousin, Frankreich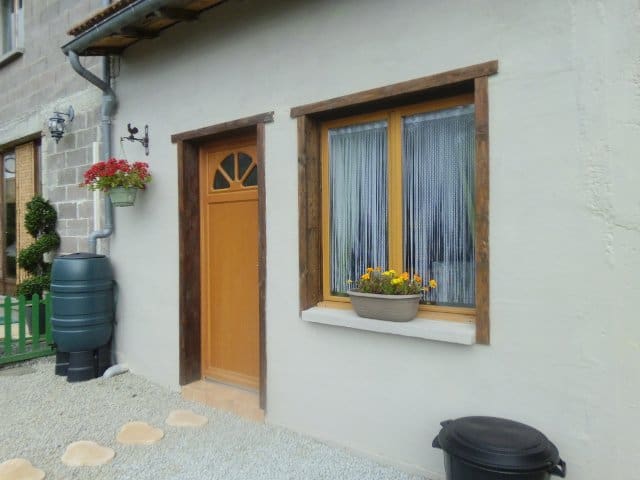 After we were hit first fell in love with the area, we went looking for a suitable home, we found when this beautiful nature cottage. It is a natural cottage with modern comfort, so it is wonderful to enjoy.
From all rooms you can admire the surrounding countryside and in the spacious garden terrace you sure unwind. The house stands on a plot of 1000m² along a very quiet street. An oasis of calm prevails and that while it is removed barely two kilometers from the city center. Directly opposite the house is given an old chapel that his name "Chapelle de Lorette" in our part of the town of Bellac. You can go to sleep at night with the crickets and get up in the morning with the chirping of the birds, relax.
Bellac is a town in the French department of Haute-Vienne, Limousin region and employs 4,500 inwoners.Het house is two kilometers from the town with all shops (Carrefour, Intermarché, Netto, Lidl). Water sports and adventure we suggest Lac de St Pardoux that only 15km. A historic trip to Oradour-sur-Glane is also highly recommended. See porcelain in Limoges. The atmosphere around the numerous castles that can be found along the Route Richard Coeur de Lion. Glove workshops visit in St Junien.
Art der Unterkunft
Ganze Unterkunft
---
Objekttyp
Haus
---
Unterkunft für
6
---
Schlafzimmer
Bellac, Limousin, Frankreich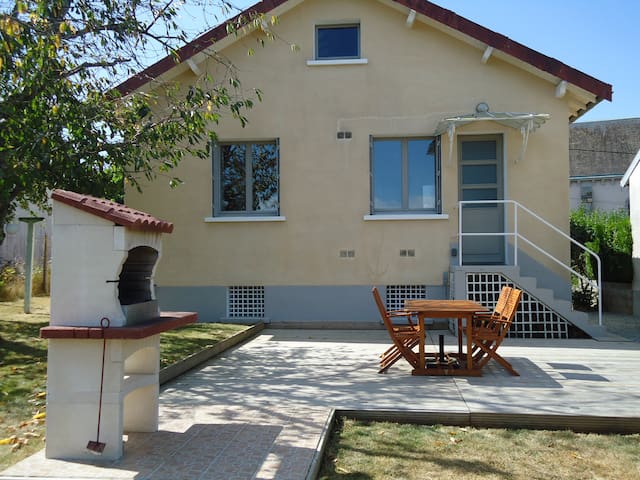 Situated in the heart of the hamlet of La Maillerie, offers comfortable accomodation for 4 people. It overlooks a garden and terrace where you can enjoy the beautiful summer evenings. The house has a garage for one vehicle. A few steps from the house flows the river Gartempe to the delight of fishermen and bathers.
Art der Unterkunft
Ganze Unterkunft
---
Objekttyp
Haus
---
Unterkunft für
4
---
Schlafzimmer
La Croix-sur-Gartempe, Limousin, Frankreich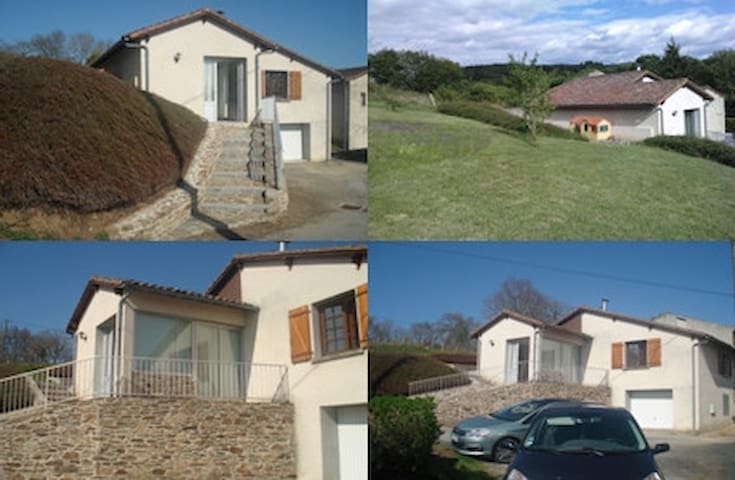 Le cottage du Theil est une petite maison au charme anglais nichée au cœur des Monts de Blond, dans un hameau très tranquille. La douceur et le repos sont assurés. La ferme voisine avec ses animaux saura émerveiller les enfants. De nombreuses promenades en famille sont à découvrir sur les sentiers des Monts ; possibilité de pêcher dans notre étang privé ; de nombreux centres équestre à proximité ainsi que de belles découvertes culturelles. La campagne profonde à 1/2 heure de Limoges.
Un intérieur cosy décoré et meublé avec élégance. Une terrasse ouverte sur le jardin anglais permet des moments de détente et de douce quiétude où il est agréable de prendre ses repas et faire un barbecue.
Notre cottage est situé dans un minuscule hameau ; une ferme avec quelques animaux de basse-court est voisine de notre maison.
Art der Unterkunft
Ganze Unterkunft
---
Objekttyp
Haus
---
Unterkunft für
6
---
Schlafzimmer
Cieux, Nouvelle-Aquitaine, Frankreich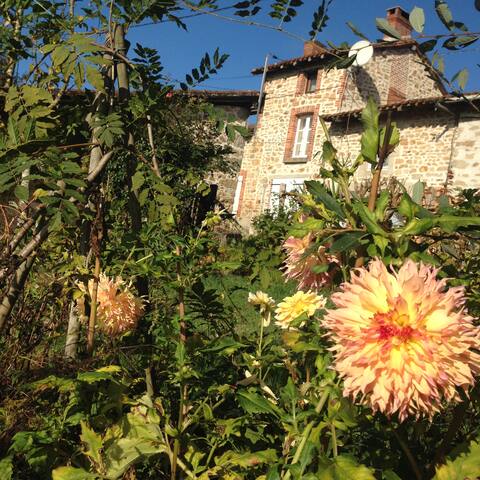 Eine seltene Überlebende; 15. Jahrhundert mittelalterliche Stadthaus eine rustikale und originell. Eine Mischung aus Pablo Picasso und Game of Thrones.
Ein magisches Haus in einer wunderschönen Gegend, beginnt der Urlaub, sobald Sie Ihren Fuß nach innen gesetzt! ~ Sue und Jim - Das Haus befindet sich auf dem Gelände eines Schlosses des 10. Jahrhunderts gebaut, die zu den Grafen von March. Es bietet spektakuläre Aussicht über das Tal Vincou. Das Haus is15th Jahrhundert mit original Eichenwendeltreppe mit Original-Stufen (eher abgenutzt und wackelig). Fliesenhalle mit 1930 Herd Holzfeuerung. Waschraum mit Dusche, Waschmaschine, Waschbecken und Toilette. Twin Schlafzimmer mit zwei Einzelbetten mit einem komplett restaurierten original antiken Breton Box Bett (lit-clos) -possibly die einzige heute im Einsatz. Ursprüngliche 15. Jahrhundert Eiche Wendeltreppe mit den Original-Stufen. Erster Stock Küche verfügt über einen Herd mit Gasherd und elektrischem Ofen und Grill, Mikrowelle, Geschirrspüler, Doppel Abtropffläche Spüle, Kühlschrank mit Gefrierfach, Limoges Geschirr. Wohnzimmer mit Doppel-Sofa und zwei Sesseln. Kalkstein Kamin mit großen Holzofen. Juliet Balkon der Vincou Tal. Hauptschlafzimmer mit verkleideten Kamin, Eiche Schrank und 17. Jahrhundert Kommode. Schöne Aussicht auf Tal und der Kirche. Fliesen- Schlafzimmer mit dem 17. Jahrhundert Schrank und große Einzelkastanienschlittenbett. Badezimmer mit Badewanne mit Dusche. WC Dachgeschoss Schlafzimmer mit großen Eichenschlittenbett und kleine Einzeleisenbett. Herrliche Aussicht auf die Kirche. Es gibt eine kleine ummauerte Terrasse auf der Rückseite, Südwestlage, mit herrlichem Blick über das Tal Vincou und dem Eisenbahnviadukt. Patio-Set für 7. Das Haus wurde im Januar Sunday Times 50 fabelhafte Villen an der Nummer 7 gekennzeichnet. Protokolle für den großen Holzofen ist im Preis inbegriffen im Preis inbegriffen. Das Haus wurde nach den Standards früherer Zeiten gebaut. Folglich können Sie Funktionen stoßen, die seinen besonderen Charakter widerspiegeln, sondern der gebotenen Sorgfalt und Aufmerksamkeit verdienen, zum Beispiel unebene Böden Kleine Kinder sollten beaufsichtigt werden. Dies ist ein historisches Gebäude und so nicht ganz ohne zu verderben den Charakter bewiesen zugarmes werden. Das Grundstück ist über eine große, moderne und effiziente Holzofen in der Lounge erhitzt, die eine neu installierte Wärmeübertragungsabgasanlage oberhalb der Zimmer. Es gibt auch neu installierte elektrische Speicher Heizkörper in diesen und anderen Räumen. Holz für den Ofen ist im Reisepreis in diesem Hotel geliefert. Die Möbel sind hauptsächlich antike, mit einer Mischung aus modernen und Kunst. Es kann 7 Personen in 4 Schlafzimmern unterbringen. Vier Minuten zu Fuß zu den Geschäften, Restaurants und Bars. Freibad und Tennisplätze in der Nähe. Mit dem Flugzeug: aus Großbritannien Von Stansted, Birmingham, Bristol, Liverpool oder Southampton nach Limoges Bellegarde Flughafen (45 Minuten mit dem Auto oder dem Taxi zum Haus) Mit der Bahn: aus Großbritannien Eurostar von London St. Pancras nach Lille oder viva Paris dann Limoges oder Lille - Poitiers mit dem TGV, dann Poitiers - Bellac mit dem Zug. Das Haus ist 10 Minuten von der sehr kleinen Bahnhof zu Fuß. Wenn im Voraus gebucht kann es für diejenigen Kohlen Fußdruck recht günstig und besser sein. Wenn Sie große Taschen haben könnte es mit dem Auto abgeholt werden arrangiert werden.
Der Aufenthalt in Bellac im Hobbit-House von Michael und Mary war super! Trotz mittelmäßigen Wetters konnten wir einiges unternehmen und umso gemütlicher war es im Wohnzimmer, wenn der Kamin geknistert hat. Alles war sehr sauber, die Kommunikation war klasse und Bellac selbst ist auch ganz schön. Dafür haben wir die 1200 km von Erfurt/ Deutschland gerne auf uns genommen! Danke! Silvester 2013
Juli
2014-01-04T00:00:00Z
Excellent séjour, dans une magnifique maison du moyen âge.
Cédric
2016-12-26T00:00:00Z
Following a really last minute booking and some great and helpful comms from Michael, we travelled to Le Petit Fort. After a ten-minute walk to the station we found the house quite easily - and what a house! Oozing character and charm with loads of great, quirky decorative touches, the place is a great place in and of itself - if you were confined to the house for your trip, it'd still be worth it (so long as you're sure on your feet - the stairs are not for the elderly or nervous!) Assuming you're not house-bound, Bellac is a good base for travels in the area with regular trains - we visited Limoges, Le Dorat, Poitiers and Angoulême by rail, plus a couple of other villages on the bikes. Bellac itself offers all the basic shopping you'll need, and down the hill from the house you can get the best burger in town and a good pint at the picturesque Café De Pont De Pierre (I think that was its name!) All in all it was a lovely stay in a lovely house that'd easily sleep loads of you - get booking!
Lee
2015-07-05T00:00:00Z
Stairs are challenging: think parcour! incomparable view, excellently appointed, will take time to fill your bath but the hot water is plentiful.
Karen
2017-03-11T00:00:00Z
This place is a little gem - I went to do some writing and got a great deal done. It's so very characterful (in a great way, not estate agent way!) and the photos simply don't do it justice at all - it's over four floors with a fantastic winding staircase dating from the 15th C I think?! It stays very cool in the Summer and it was just a delight to sit in the main sitting room, with the door open onto that great view of the viaduct and little old houses down into the valley. I myself didn't go for the enclosed lit experience - I think I could have been a bit tall! Despite its total rustic charm, it's got all mod cons, and nice bathrooms e.t.c. I would certainly go back again. I miss it already.
edward
2012-08-13T00:00:00Z
Le Petit Fort Hobbit house is very special. We stayed for 12 days - my husband, myself, my 16 year old son and my 80 year old father. At the end of our 12 days there we were still discovering its quirky features and pointing things out to each other. It is hard to do this house justice in writing. It is a step back in time but very cosy and comfortable and absolutely beautiful. The pictures give a flavour but there is so much more to it. Michael and Mary are wonderful hosts. We asked many questions in advance and their responses were really informative. They are clearly experienced hosts providing excellent guidence and recommendations. Bellac is a lovely rural town - quiet and relaxed with good places to eat and lovely riverside walks. We made the most of wonderful fresh local produce and cooked a lot ourselves. The weather turned colder towards the end of our stay and we had an excuse to light the stove. It was very homely and made me want to experience the house in winter too. The surrounding countryside is stunningly beautiful with lots of charming villages to visit. Limoges is lovely city and well worth a visit particularly when the brocante market is on. In short, I would say that this house alone is a good enough reason to visit this part of France. Go for it. I can't imagine anyone could be disappointed!
Grainne
2015-09-19T00:00:00Z
I would stay here again in a heartbeat! A quirky, beautifully restored house full of real character and fabulously located in a lovely town. Despite cold weather, the house was cosy and easy to keep warm. Everything you need for a comfortable stay is there. There are plenty of places to go and the town is very friendly. Loved it!
Kirsten
2013-04-03T00:00:00Z
Unfortunately the listing was not accurate... THIS PROPERTY IS BY FAR THE BEST, MOST UNIQUE, MOST BEAUTIFUL FRENCH HOUSE WE HAVE EVER STAYED IN!!!!! We were made to feel wonderfully welcome with our beds made up - perfect for a long days journey and really quite rare this day and age! We also then found a lovely bottle of fizz chilling in the fridge and set to work straight away on consuming it on a beautiful evening overlooking what can only be described as a heavenly french view. To complete the experience, the "handy man" left a note on our arrival stating the dishwasher was not working and he will be in to fix it immediately at an acceptable time to us. He was fabulously friendly and more than happy to not only fix this extremely minor issue but also absolutely anything we had problems with! Our neighbours were equally friendly and helped us on a number of occasions with places to go, things to do and general advice. So warm and friendly. Finally, Michael is also famous in Bellac. We went to a number of bars and restaurants who praised The Hobbit House on its true beauty and what a wonderful person Mike is to have in the village. Bellac is certainly full of love :) Our children age 7 and 10 LOVED it. The chimes of the church bells were enchanting, the decor of the house mesmerising - everything about it was fantastic. On entering the house we were blown away! Everyone stops to admire the outside but once you are inside, its even more special. We arrived home in the early hours of this morning and we are already wishing we were back in Bellac, in Rue De Fort, sitting on the veranda watching the sun going down, hearing the faint rush of the river, the chimes of the bells and the trains whoosh along the viaduct....
Leanne
2015-08-23T00:00:00Z
Art der Unterkunft
Ganze Unterkunft
---
Objekttyp
Haus
---
Unterkunft für
7
---
Schlafzimmer
Bellac, Limousin, Frankreich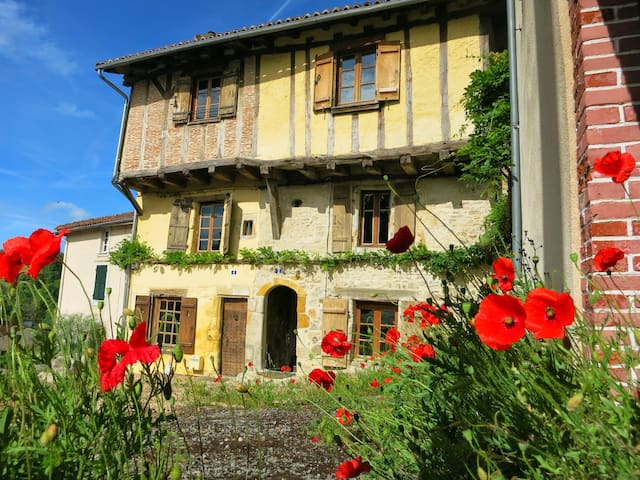 Das Anwesen befindet sich in einem kleinen Weiler Les Clides 1 Meile von Mezieres sur Issoire entfernt gesetzt. Es befindet sich etwa 50 Meter von einem sehr ruhigen Gasse zurück und genießt eine große offene Rasenfläche auf der Vorderseite der Eigenschaft, auf die Rückseite des Hauses ist eine gemeinsame Rasenfläche und einem Pool über dem Boden. Das Haus ist Plan die Treppe hinunter mit dem Bad auf der gleichen Etage geöffnet, sind im Obergeschoss 3 Schlafzimmer.
Art der Unterkunft
Ganze Unterkunft
---
Objekttyp
Haus
---
Unterkunft für
6
---
Schlafzimmer
Mézières-sur-Issoire, Nouvelle-Aquitaine, Frankreich
Mein Platz ist gut für Paare, Geschäftsreisende, Familien (mit Kindern) und große Gruppen.
Art der Unterkunft
Ganze Unterkunft
---
Objekttyp
Haus
---
Unterkunft für
5
---
Schlafzimmer
Mézières-sur-Issoire, Aquitaine Limousin Poitou-Charentes, Frankreich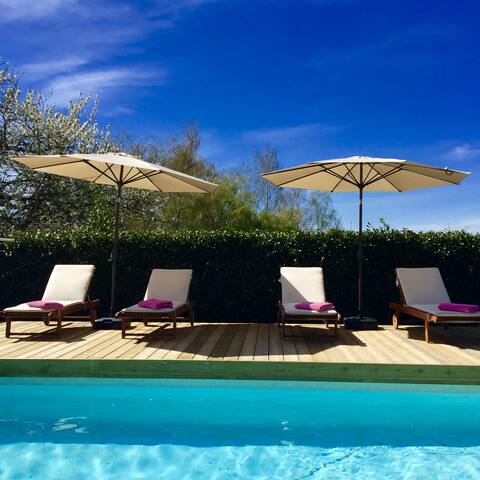 La Sagne Barrat est une maison de maître entourée de sa propriété en fermage de 150 hectares, dont un parc d'un hectare au pied de la maison. Elle est idéale pour des vacances en famille ou pour des adultes en quête de calme et d'authenticité. Elle a conservé toute la chaleur que notre famille aime toujours à retrouver.
Construite entre les 13ème et 19ème siècles, La Sagne Barrat a la marque de ces époques, que l'on retrouve dans son mobilier. Au rez-de-chaussée se trouvent un vaste salon, un « petit salon », la cuisine et la salle à (URL HIDDEN) de la grande cheminée du XIIIème siècle; côté pratique, n'oublions pas la buanderie avec sa machine à laver et la table à repasser. Les cinq chambres sont à l'étage où l'on accède par deux escaliers dont un "de service". Les 3 salles d'eau y sont harmonieusement réparties. Le calme est absolu, la vue sur la campagne marchoise magnifique.
Notre campagne, arborée et vallonée, est paisible. Tout près (à 3,5 km), se trouvent Le Dorat, célèbre pour son impressionnante église collégiale, et Magnac-Laval, sur la Route des étangs. Plus loin, Limoges et sa porcelaine, Saint-Junien et ses tanneries (gants Hermès, chaussures Weston,...), Oradour-sur-Glane et son mémorial, les Monts de Blond et leurs forêts…...
Art der Unterkunft
Ganze Unterkunft
---
Objekttyp
Haus
---
Unterkunft für
9
---
Schlafzimmer
Magnac-Laval, Nouvelle-Aquitaine, Frankreich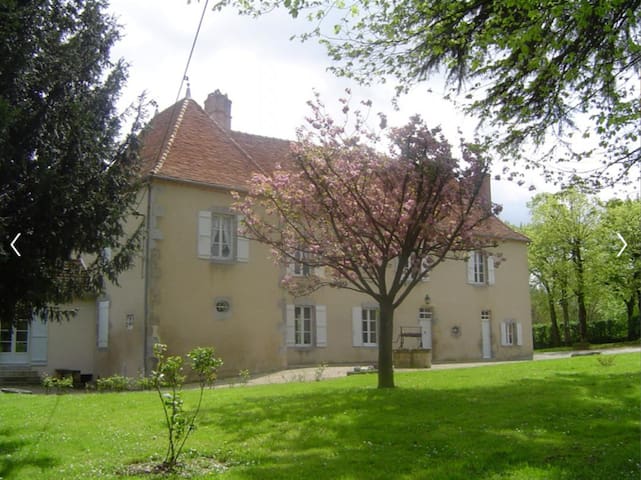 This authentic station, Gare Blond Berneuil is a spacious holiday home for eight people. with private pool. It exudes plenty of nostalgic atmosphere of the past by retaining many original features and of course the little train that runs over.
This authentic station, full of character, has been converted into a cozy holiday home for 2-8 people and offers all comforts, with eg. A large private pool and WIFI. And do not be put off by the size of the house, because despite the size, it is also for couples very intimate and cozy. For the price in the low season you have to make sure not! In non-holiday periods, the price is determined by the number of people renting, called scale. This makes renting the station is also attractive for smaller groups! And how many people can now actually say they slept in a real station?
The station La Gare Blond-Berneuil is completely detached and quiet on a dead end street (D83A), resulting in a "station square" with a catalpa tree for shade. No crowds, just directing traffic so you and once a week garbage. The house is located on the still existing line Poitiers-Limoges. Between the villages of Berneuil Blond and the D83, 35 km north of the city of Limoges. passing a day there are a few trains. Just around the house is shielded the yard of the railway. Absolutely safe for children and dogs. The immediate area is very rural and hilly forests, meadows, lakes, rivers etc. GPS coordinates: N(PHONE NUMBER HIDDEN)
Art der Unterkunft
Ganze Unterkunft
---
Objekttyp
Haus
---
Unterkunft für
8
---
Schlafzimmer
Blond, Limousin, Frankreich
Newly decorated and refurbished comfortable and spacious 3 bedroom home with large garden in the charming town of Le Dorat with its wide range of amenities. Situated 45 minutes from Limoges airport and just over and hour from Poitiers airport. 6 Hours drive from Calais by car. Limoges and Poitiers are accessible in around 1 hour by direct trains from Le Dorat. Paris in under 3 hours. On the Route de Haute Limousin. Large lakes, exquisite countryside and more are within short distances.
We are on the Route de Haute Limousin. Large lakes with water sports, man made beaches, forests, hiking, cycling, exquisite countryside and more are within short distances. Le Dorat has a thriving cultural calendar with a large programme of events throughout the year. The town, a Unesco World Heritage site, has a SNCF station (Paris in under 3 hours), 2 patisseries, banks, bars, restaurants, butchers, cinema, large supermarket, petrol station and much more. There is a weekly market on a Friday morning.
Art der Unterkunft
Ganze Unterkunft
---
Objekttyp
Haus
---
Unterkunft für
7
---
Schlafzimmer
Le Dorat, Nouvelle-Aquitaine, Frankreich
La Maison Mignonne is newly-renovated stone cottage, situated in a quiet hamlet in the Haute-Vienne region of South West France. It has been sympathetically restored, combining traditional character with contemporary comfort. There are two bedrooms (one with a double bed and one with two singles), bathroom (with bath and shower), and open plan lounge-kitchen downstairs. All mod cons are provided: dishwasher, washing machine, microwave, fridge-freezer, wood-burning stove, TV. Yurt also available
Our guests are often content to spend lazy days by the pool and generally take things very easy indeed. However, there are plenty of delights to explore across the region, whether you enjoy great food, history, culture, wildlife, sports or adventure. We are happy to help tailor your itinerary to your particular interests. The local area boasts many markets, brocantes (antiques markets) and vide greniers (car boot sales). The nearby town of Le Dorat hosts regular night markets during the summer months, and Limoges holds a famous flea market on the second Sunday of each month
Lækkert hus, fine senge, friskt brænde hver dag, meget venlige folk, alt i huset fungerede fint og dejlig natur i området.
Patrick
2016-10-16T00:00:00Z
Art der Unterkunft
Ganze Unterkunft
---
Objekttyp
Haus
---
Unterkunft für
4
---
Schlafzimmer
Bussière-Poitevine, Aquitaine-Limousin-Poitou-Charentes, Frankreich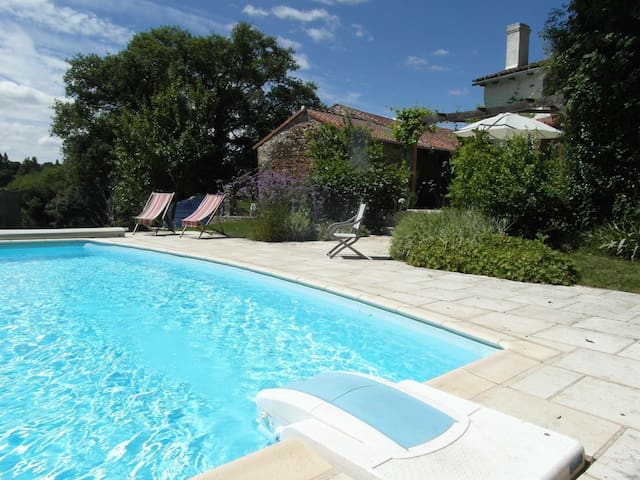 Au coeur du Limousin, vous trouverez le calme et la quiétude propre à la campagne. Dans le domaine familial de la Thibarderie, vous profiterez des Gîtes rénovés dans un corps ferme agréable. Par la grande cour vous accédez à la demeure (170 M2), s'ouvrant sur une façade arrière avec pelouse. Une terrasse couverte agrémenté d'un SPA, vous permettra de profiter de moments à l'extérieur sans vis à vis, privatif et indépendant.
Le gîte est totalement indépendant et privatif dans la Ferme, vous pouvez profiter de l'air de campagne près de plans d'eau et vous promener dans les chemins alentours.
Vous profiterez d'un cadre agréable en pleine campagne, isolé du bruit d'axe routier.
Art der Unterkunft
Ganze Unterkunft
---
Objekttyp
Haus
---
Unterkunft für
12
---
Schlafzimmer
Magnac-Laval, Nouvelle-Aquitaine, Frankreich
A charming and comfortable Farmhouse with 5 en-suite bedrooms, a large well equipped kitchen, the hub of the home is the large dining room with the log fire, bread oven feature, lounge with TV and lovely gardens- Happy Memories.
A great place for a group get together, comfortable rooms and plenty of equipment makes this a wonderful location, with space to watch TV, play games in the grange and to chat around the communal table. Each bedroom has its own bathroom so an ideal environment for generations and friends to get together.
We are situated on a farm which specializes in Limousin Beef, it is usually very quiet, we are also on the edge of the Rancon Forest and surrounded by fields, its a great terrain for cycling and walking with national parks and lakes nearby.
Un séjour très agréable. Les chambres sont chaleureuses et accueillantes comme les propriétaires. Environnement paisible et champêtre avec près et vaches. Tout y est pour que l'on se sente bien .
Aude
2016-01-02T00:00:00Z
gite bien situé pour notre réunion de famille. salle de bain dans toutes les chambres et salle de jeux pour les enfants extra
brun
2016-10-31T00:00:00Z
Accueil très chaleureux par des gens charmants. Un cadeau de bienvenue nous faisant sentir que nous étions attendus avec plaisir. Le cadre est magnifique et idéal pour un séjour en famille. Des prés accolés à l'habitation ont fait le bonheur des enfants . Séjour très reposant. Aucun bruit dans ce logement idéalement conçu avec une salle de bain dans chaque chambre. Quoi rêver de mieux quand une grande famille a besoin de se préparer vite le matin...! Un grand salon avec poele, une cuisine très fonctionnelle avec deux points d'eau, une salle de repos, une salle énorme de réception, bref nous sommes ravis de ce séjour. Un grand merci à Catherine et Jerome pour avoir contribué au bon déroulement de notre séjour !!!!
Willy
2015-12-28T00:00:00Z
We were a family of 15 people for 3 days. Catherine and Jim welcomed us really well and we immediately felt good in the house. The place is calm and stressfree, ideal for family moments. The positive points of the house are: everything is at disposal to feel confortable/ the house itself is really charming and cosy/ the beds are great and each bedroom has its own clean and perfect bathroom/ space enough for 15 people/ big playroom The points to improve are: no wifi except on a corner of the ground bedroom+ phone connection is hard anywhere in the house/ extra costs not included in the reservation are high (central heating , electricity, extra wood for fire (much cheaper at the supermarket), cleaning if you dont do it yourself)/ no heating and cleaning in the playroom
Camille
2017-01-02T00:00:00Z
Logement adapté pour une réunion de plusieurs familles, spacieux et bien équipé avec une grande cuisine, mais nous avons eu plusieurs surprises : contrairement aux autres maisons AirBnB, le prix du ménage et du chauffage n'apparaissent pas dans le prix au moment de la réservation. Et alors que nous ne pouvions plus annuler la réservation sans perdre 50% de la location, nous avons eu la désagréable surprise d'apprendre que le nettoyage coûtait 170 € en plus, le chauffage en sus de 86 € pour 48H de location et quelques bûches de chauffage encore en sus pour 20 €. Pour une réunion de familles de 48H seulement (et pas 1H de plus autorisée par le propriétaire), nous avons trouvé cette pratique étonnante et éloignée de nos réservations de maisons précédentes où les prix de ces prestations etaient soit clairement affichées à l'avance, soit la plupart du temps incluses dans le prix de location. En bref, logement adapté mais problème de clarté des conditions de location. La note finale nous a surprise.
Olivier
2016-11-13T00:00:00Z
Catherine et Jim ont été adorables et pleins de petites attentions : nous venions pour Noël et à notre arrivée, ils nous ont offert des gâteaux, champagne, des bonbons, chocolats et présents pour les enfants! De plus, très discrets mais toujours présents pour répondre à toutes nos questions ! Le gros atout de cette maison est que chaque chambre dispose d'une salle de bain et wc ainsi qu'une salle de jeux où nous avons bien profité de la table de ping pong! Cette maison est vraiment très bien pour en séjour en famille!
Elodie
2016-12-27T00:00:00Z
Art der Unterkunft
Ganze Unterkunft
---
Objekttyp
Haus
---
Unterkunft für
15
---
Schlafzimmer
Rancon, Limousin, Frankreich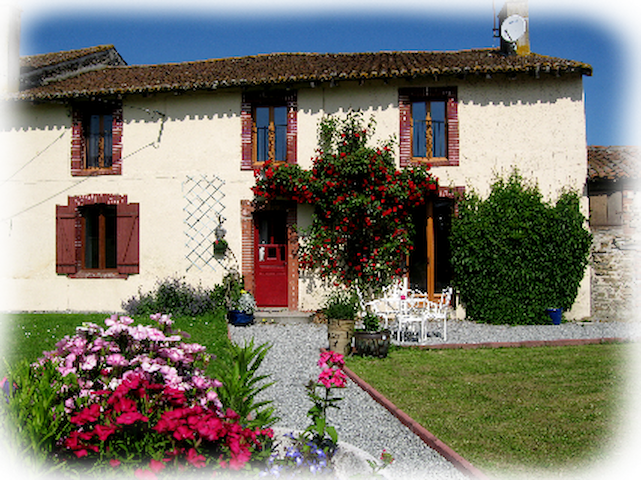 1

–

18

von

96 Ferienhausvermietungen
Gib deine Reisedaten ein, um den aktuellen Preis zu sehen. Es können zusätzliche Gebühren und Steuern anfallen.